The WordPress admin dashboard, often called WP Admin or WP admin panel, is essentially the control panel for your entire WordPress website. It's where you create and manage content, add functionality in the form of plugins, change styling in the form of themes, and lots, lots more.
If you're using WordPress, the WordPress admin panel is going to be a big part of your life. For that reason, it's important to understand where to find the WordPress admin, what it lets you do, and how you can use it to manage your site.
How Do You Access The WordPress Admin Dashboard?
By default, you can always find the WordPress admin dashboard by appending /wp-admin to the URL of your WordPress installation. Most of the time, that means you can find the WordPress admin at:
https://yourdomain.com/wp-admin
How Do You Log Into Your WordPress Admin Area?
If you're not already logged in and you try to access your admin dashboard by appending /wp-admin, WordPress will automatically redirect you to the WordPress admin login page without any further action required on your part. But you can also always manually go straight to the WordPress admin login page URL by visiting:
https://yourdomain.com/wp-login.php
We do recommend changing the default login URL. Why? Because all of the bots, hackers, and scripts out there scan for this common URL. Changing it to something else can be a simple and very effective way to drastically decrease the number of bad login attempts to your website. You can make yourself less of a target, better protect yourself against brute force attacks, and decrease the bandwidth used by the bots that hit this URL repeatedly. This is not a fix all solution, it is simply one little trick that can harden your security. You can reset your WordPress password by clicking the "Lost your password?" button.
Check out our tutorial on how to change your WordPress login URL.
Locked out of your WordPress admin dashboard? Here's what to do.
How Do You Use The WordPress Admin Area?
When you first sign into the WordPress admin dashboard, you'll see the default screen with widgets such as activity, quick draft, WordPress events and news, and at a glance. This screen gives you a quick overview of all the details for your WordPress website:
But while the dashboard page is good for a quick overview, you'll spend most of your time in other areas of the WordPress admin dashboard.
To access those areas, you can use the various menu options in the sidebar. WordPress includes a number of options by default, but many themes and plugins add additional menu items (so you might see something slightly different on your own WordPress site):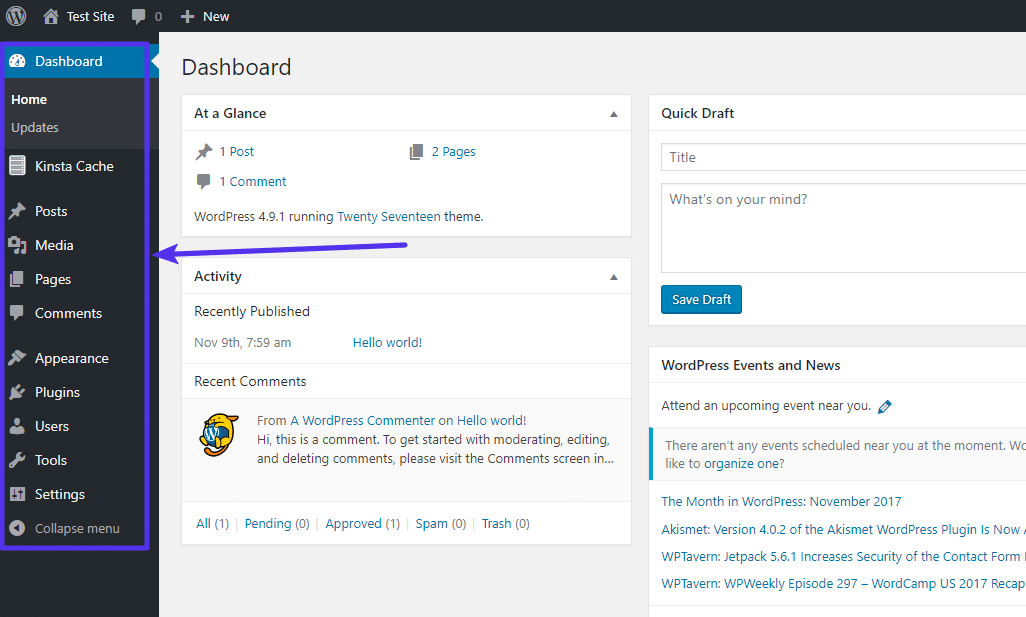 For example, in the screenshot above you can see that we add a special menu item specifically for Kinsta Cache to help our customers automatically manage the server-level caching that we implement for them.
Creating A New Blog Post With The WordPress Admin Panel
Let's say you want to write your first blog post using WordPress. Here's how the WordPress admin area helps you do that:
First, you'd hover over the Posts menu item to reveal a set of submenu items. Then, you'd click on the Add New button: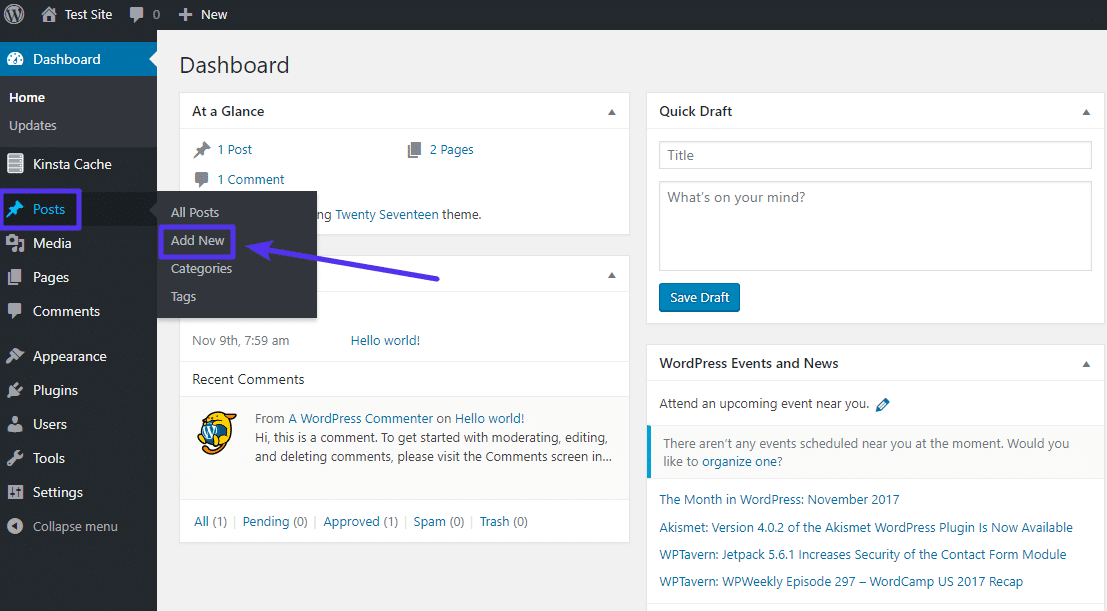 This opens up the Add New Post screen where you can enter a title, write your blog post in the text editor, upload images, assign categories, and more: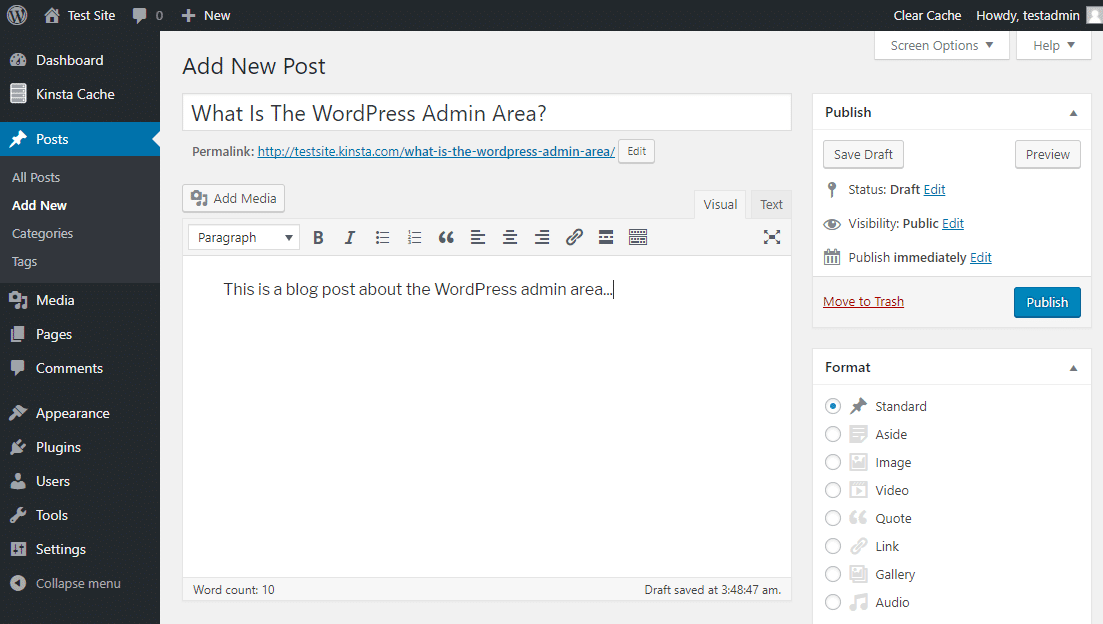 Managing How Your Website Looks With The WordPress Admin Area
Another thing that the WordPress admin area lets you do is modify how your WordPress site looks by choosing and customizing "themes."
To work with WordPress themes, you just need to hover over the Appearance menu item to expand a list of theme options: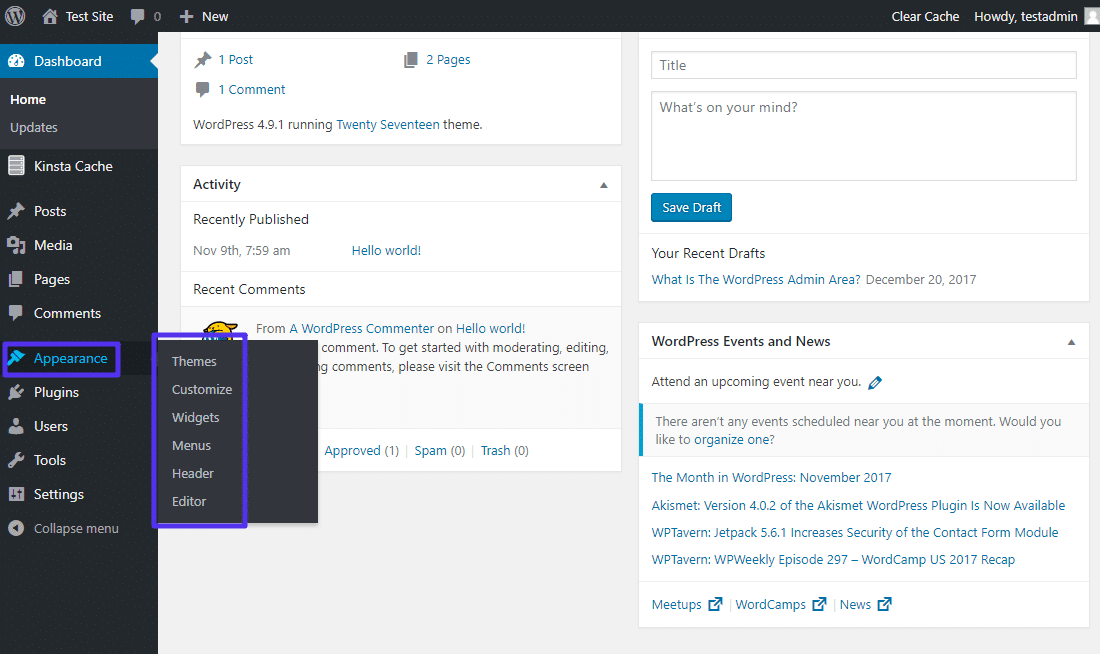 Plugins, Settings, Users, Comments, And Lots More!
By exploring the other menu and submenu items of the WordPress admin panel, you can control pretty much every aspect of your WordPress site, from settings to users, plugins, comments, and most everything else!
Can You Change How The WordPress Admin Panels Looks And Functions?
Yes! There are a number of methods that you can employ to change how the WordPress admin panel looks and functions. We'll go through a couple of the most common:
Hiding Admin Panel Elements That You Don't Use
If there are some elements that you don't use, WordPress lets you hide them to simplify your workflow. To do it, click on the Screen Options button in the top-right corner of any WordPress admin page: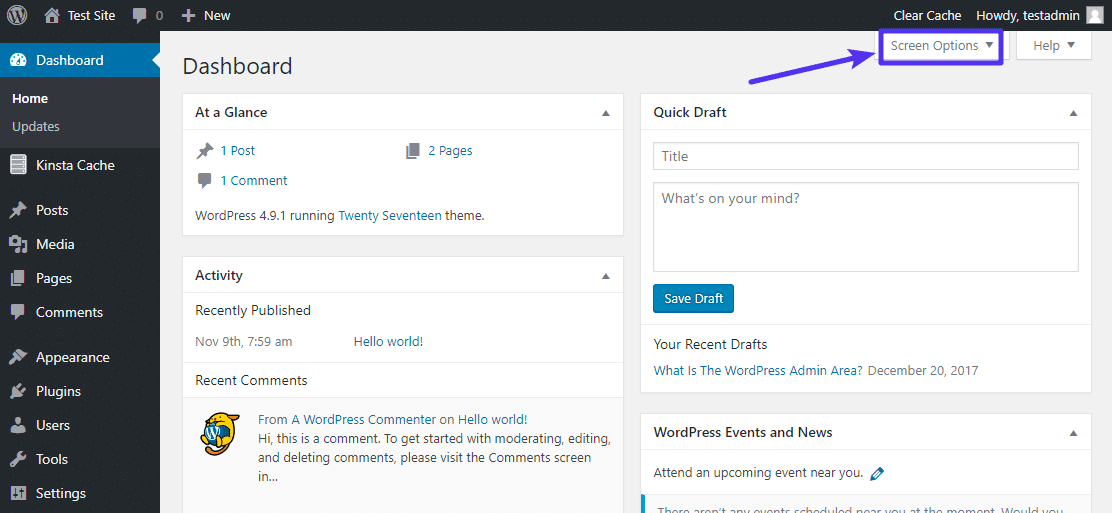 Then, uncheck the boxes for the items that you no longer wish to see:

Changing Color Schemes For The WordPress Admin Panel
On a more aesthetic front, you can change the actual website color scheme for your WordPress admin panel by going to Users → Your Profile and selecting a new Admin Color Scheme: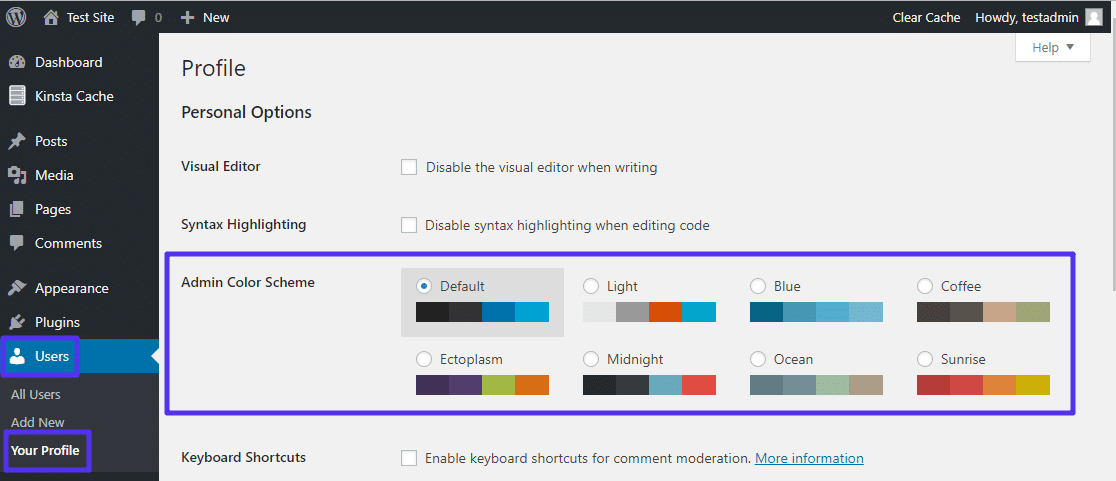 And you can also find WordPress plugins that let you use admin themes for more advanced style changes.
What Is The WordPress Toolbar?
The WordPress Toolbar, formerly known as the Admin Bar, is a small bar at the top of your screen that's present both when viewing the live version of your website and when browsing the WordPress admin panel (assuming you're logged in to WordPress).
Regular visitors to your site will not see the Toolbar. But if you're logged into WordPress, you'll see a floating bar like this on every page on your site: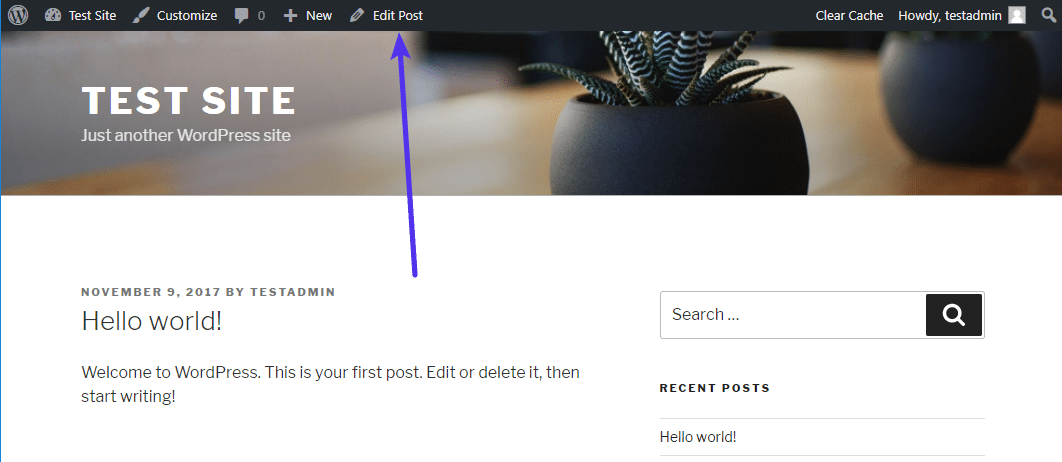 You can use the various menu options on the Toolbar to quickly perform actions, no matter where you are on your site.
Can You Turn Off The WordPress Toolbar?
Yes! If desired, you can turn off the WordPress Toolbar by going to Users → Your Profile and unchecking the box for Show Toolbar when viewing site: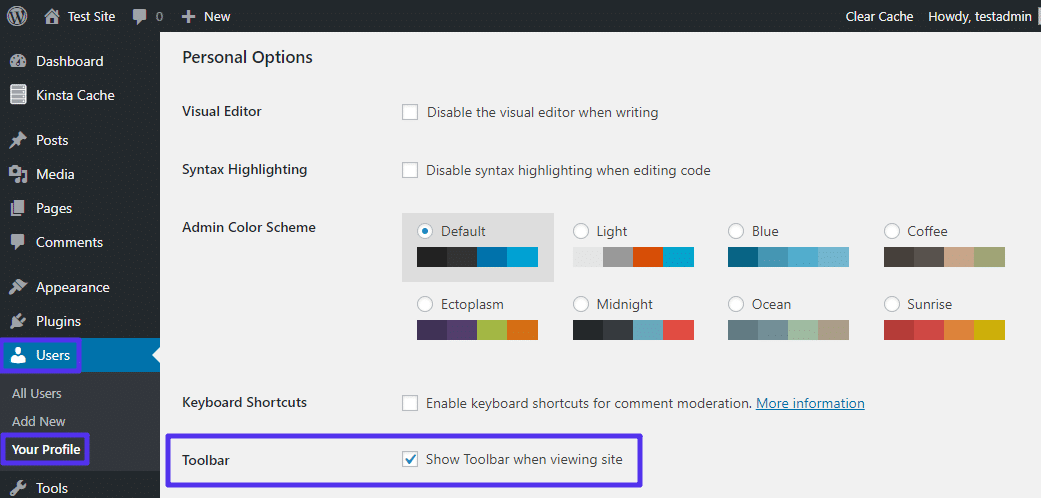 Further WordPress Admin Customization
Customizing the WordPress admin dashboard can come in quite handy when you're working with clients. Or perhaps you just want to simplify things for yourself. There are a lot of things that can be done, such as:
Hiding or changing things in the admin menu.
Organizing things via drag and drop.
Hiding the WordPress toolbar, or hiding it only for non-admins.
Branding the dashboard with your logo and colors.
Creating entirely new custom menus.
We recommend checking out some of these free plugins:
Test It Out With A WordPress Admin Demo
If you're interested in playing around with the WordPress admin dashboard, OpenSourceCMS.com hosts a WordPress admin demo that gives you full access.
To use it, just head here and log in with these credentials:
Username: opensourcecms
Password: opensourcecms
And that wraps up our introduction to the WordPress admin dashboard.