WooCommerce CBD
Build a powerful, customizable, scalable online CBD store by combining WooCommerce with the state-of-the-art, award-winning MyKinsta WordPress hosting platform.
Why WooCommerce and Kinsta For Your Online CBD Store?
The business of cannabidiol (CBD) is rapidly rising in popularity around the globe. And like any other business, it's important that CBD online store owners have full ownership and control of their website.
Proprietary website builders like Wix and Squarespace can decide they don't want to host your CBD site at any time. If they do, you're out of luck and will have to rebuild your site from scratch somewhere else.
When you build your CBD store using WordPress and WooCommerce, you own your website's code and aren't beholden to any specific platform.
Most important, when you choose Kinsta CBD hosting for your WooCommerce CBD store, you gain access to MyKinsta, our award-winning WordPress hosting platform that provides blazing fast load times that can boost your revenue, SEO, ROI, and user experience.
We're Obsessed With Speed and Infrastructure
Every 1-second delay in page load time decreases your conversion rates by 7%. For ecommerce site owners, those delays can result in major dips in revenue.
Choose a web host that puts speed first. At Kinsta, we continue to provide the fastest hosting experience possible built around the most advanced infrastructure around.
Kinsta can speed up your website by up to 200%
Google Cloud's C2 Machines
Kinsta's architecture is built on Google Cloud Platform's premium tier network and finest C2 machines. Reduce latency further with our WooCommerce cloud hosting by selecting a data center closest to your web traffic (we have 29 spanning 5 continents).
Server-Level Caching
Our lighting fast server-level caching includes rules to ensure proper WooCommerce functionality. By default, certain pages like cart, my-account, and checkout are excluded from caching.
High-Performance and HTTP/3 Enabled CDN
Powered by Cloudflare, take advantage of our free premium CDN (content delivery network) solution at no additional cost for all Kinsta plans.
We Secure Online Stores at the Highest Level
We monitor your sites every two minutes for uptime, have very tight software-based restrictions in place, detect DDoS attacks as they happen, and proactively stop malicious code from entering our network.
Enterprise-Level Firewall
Kinsta protects all sites using Cloudflare's enterprise-level firewall that includes free DDoS protection. We support two-factor authentication, IP Geolocation blocking, and automatically ban IPs that have more than 6 failed login attempts in a minute. Strong passwords are also enforced on all new installs.
Fully Encrypted
We only support encrypted SFTP and SSH connections (no FTP) when accessing your WordPress sites directly and offer free Cloudflare certificates to enable HTTPS.
Hack-Fix Guarantee
We have hardware firewalls, active and passive security, and other advanced features to prevent access to your data. If for some reason your site is compromised, we'll fix it for free as part of our guarantee.
Leverage Local Development and Staging for
Free
Comprehensive staging environments, backups, and a local development tool give you everything you need to design and scale your WooCommerce CBD store.
DevKinsta
Design, develop, and deploy your WooCommerce CBD store from the comfort of your local machine. DevKinsta is free forever, available for macOS, Windows, and Ubuntu, and is used by 42,200+ developers, web designers, and freelancers.
Selective Push
Get granular control on what you want to push live from your staging environment. With the ability to push files, databases, or both, this functionality is even more useful on a WooCommerce CBD site where subscriptions and purchases are frequent.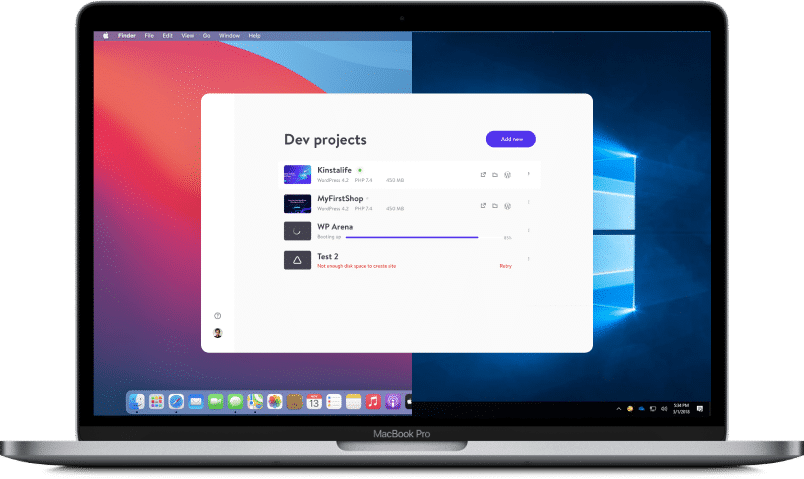 Custom-Designed
Performance Monitoring Tool

for Ecommerce Sites

Kinsta APM is included for free in all Kinsta plans. By simply enabling it in the MyKinsta dashboard, you'll be able to:
Troubleshoot WooCommerce and other ecommerce plugins
Identify the reason your payment gateway is timing out 
Gain insight into how MySQL queries and AJAX calls are slowing down your online store
Find out which WooCommerce add-ons are slowing down your WordPress site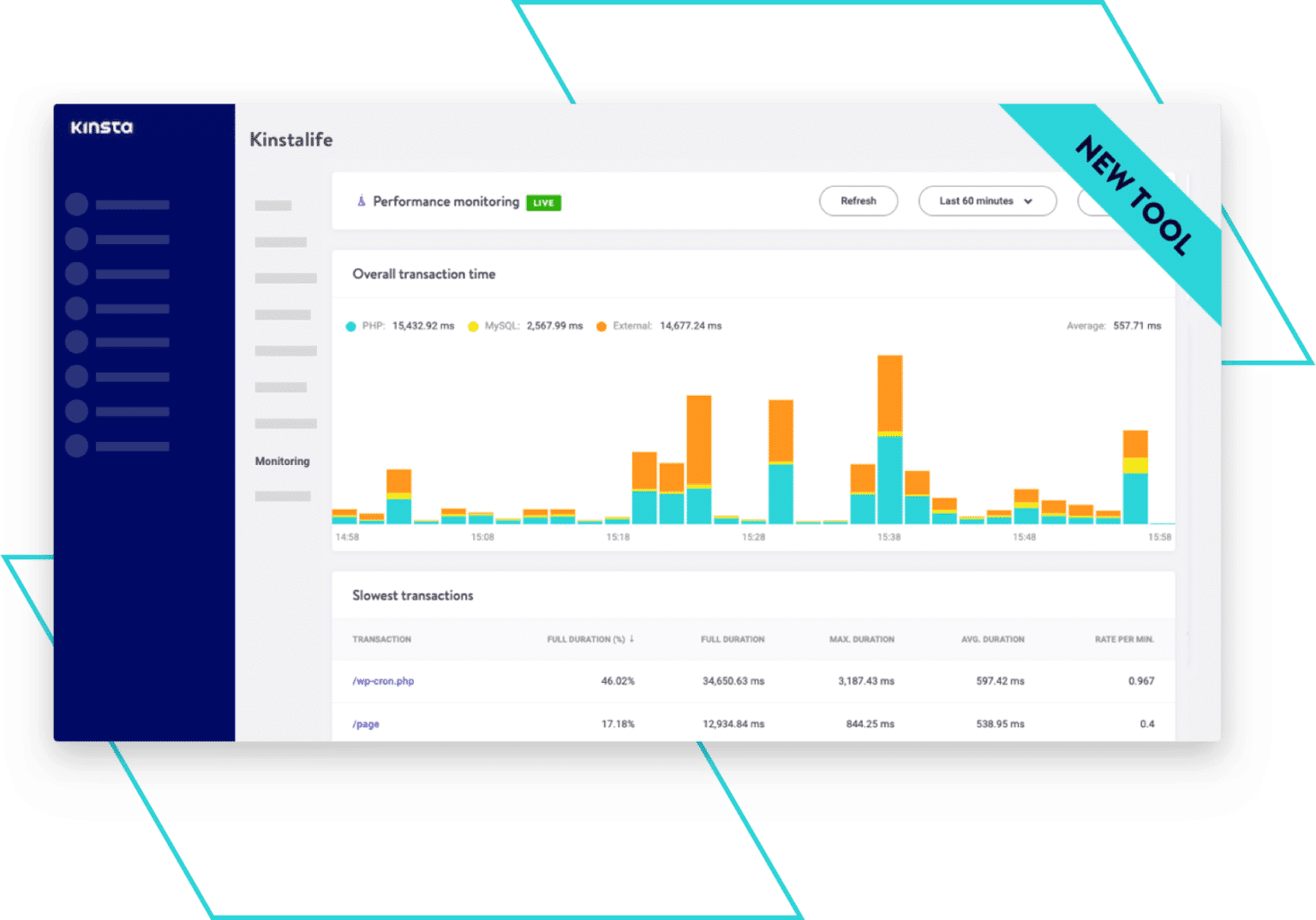 World-Class Support That Bends Over Backwards For You
Website issues can happen at any time, including weekends, evenings, and holidays. Having expert support a click away can mean all the difference, especially when it comes to missed sales.
Kinsta's team of expert support engineers is available 24/7/365. With an average response time of 1 minute and 27 seconds and a 39-minute close time, you can be sure your website issues will be taken care of swiftly.
Combine all that with the fact that we check your site 720 times a day for uptime, and you have full coverage of all issues at all times.
Free unlimited basic migrations from any host
Migrating your site can be stressful which is why we have a dedicated team of experts ready to help. Save time and money by taking advantage of Kinsta's free and easy WordPress migration service.
Request your free migration
Supercharge Your WooCommerce CBD Store With Premium Add-Ons
Take your CBD store to the next level with a selection of premium add-ons that are all easily accessible right from your MyKinsta dashboard.
Nginx Reverse Proxy
Nginx, pronounced "engine-ex," is an open-source web server used as a reverse proxy, HTTP cache, and load balancer.
It's built to offer low memory usage and high concurrency. Rather than creating new processes for each web request, Nginx uses an asynchronous, event-driven approach where requests are handled in a single thread.
Nginx supports the ability to load WordPress from a subdirectory while a separate website (WordPress or otherwise) loads at the root domain.
With Nginx, one master process can control multiple worker processes. 
Redis
At Kinsta, page caching is already built-in for all sites running on our platform. However, some more dynamic sites do not make the best use of page caching.
Ecommerce sites, membership sites, forums, discussion boards, blogs with extremely active comment sections, and other types of highly dynamic websites will benefit greatly by using Redis.
Redis cache allows for the reuse of cached objects rather than requiring the MySQL database to be queried a second time for the same object. 
This reduces the load on a website's MySQL database, while simultaneously decreasing the response time of the site and increasing the site's ability to scale and handle additional traffic.
Automatic External, Hourly, and 6-Hour Backup Options
External backups can be configured for either a weekly or monthly frequency. You also have a choice between backing up your files only, WordPress database only, or both.
Your ecommerce site is a continuously changing site. Our hourly and 6-hour backup options could be a perfect fit. Rest assured that you can upgrade or downgrade this add-on at any time.
These are additional restore points. When you have the hourly backups add-on enabled, automatic daily backups are still taken and available to restore.
Scale Visits and Disk Space
A peak in traffic shouldn't have you scrambling to change your plan. Our transparent overage pricing lets you calculate in advance. For large sites with a lot of files or images, increase your plan's disk space with our monthly add-on.
For additional flexibility, you can increase the storage space of your hosting plan with a few clicks inside the MyKinsta dashboard.
Thousands of five-star ratings.
And counting.
Absolutely fantastic – cannot rate highly enough in terms of speed, support, and UI. Went from WP Engine to Flywheel, then to Kinsta and couldn't be happier.
Maintaining many global WordPress sites, we've become well acquainted with all the major hosting providers. No one is running our sites as fast as Kinsta.
When we first migrated to Kinsta, the speed difference over our previous VPS was unbelievable. It's been a treat to run our WordPress sites on Kinsta, with total confidence in everything they do to make WordPress run optimally. From caching, backups, and developer tools to their fast and reliable support. It allows us to focus on our business and not on the server, knowing we are in the best possible hands when it comes to managed WordPress hosting.
Great performance and the best technical support! Moved from WiredTree at which I experienced a lot of downtime since the acquisition. I'm amazed how my website's performance drastically improved and is loading fast now. They do have the best support too. Specifically, the technical knowledge compared to the other hosting providers. Really glad I switched to Kinsta!
Really love the level of experience and support Kinsta's live chat engineers provide. The 24/7 support is a game-changer for large sites, especially ecommerce.
Living in Australia, we're used to unavailable live support from international services. This has changed with the Kinsta Support team who are professional, polite, always available and eager to help. Our search for a new hosting provider was due to hosting security concerns and unresponsive hosting partners. Migrating to Kinsta was a straightforward and surprisingly pleasant process. Since migrating iCompareFX.com, we are seeing faster website speeds, higher conversions within a more secure environment.
Kinsta is the best WordPress host I've had so far. They are quick to help, easy to deal with, and really know their stuff. Plus their servers are super fast!
Hands down, Kinsta is the best WordPress hosting provider I have come across after trying out heaps of hosting solutions for the past 10+ years. From speed, uptime, performance, CDN, UI, and backups to the migration, Kinsta has been beyond fantastic! Their professional customer support is simply impressive, and I couldn't ask for more. I do not think I will ever be thinking of switching to another hosting provider, at least for many years to come!
Kinsta provides us with enormous relief in the daily routine of monitoring and maintaining a fast and secure WordPress website. There is no better feeling for our customers and us!
We truly cannot say enough about the level of customer service that Kinsta provides – it's always a great experience, with very personable and helpful support.
Kinsta saves us time so that we can focus on building our business instead of worrying about hosting or downtime. It's quick and easy to use, has good support, and the websites load quickly and have excellent uptime.
30 day money-back guarantee

and the most flexible plans in the industry
Easily upgrade or downgrade

2 months free if paid yearly

No fixed term contracts

Instant prorated refunds
FAQ
Does Kinsta host CBD websites?

Yes, Kinsta does host CBD websites as long as they meet the requirements of our Terms of Service Client Content section.
Does WordPress allow CBD?

WordPress.com does not currently allow you to host CBD sites, but Kinsta does allow you to.
Does Kinsta offer a money-back guarantee?

Yes, Kinsta offers a 30-day money-back guarantee, as well as the most flexible plans in the industry. Prorated refunds are instant when a customer request is made.
Does Kinsta offer free migrations?

Kinsta offers unlimited free basic migrations from all hosts including WP Engine, Flywheel, SiteGround, Pagely, Pantheon, Cloudways, GoDaddy, DreamHost, Bluehost, HostGator, A2 Hosting, tsoHost, WPX Hosting, & Savvii.
Are there any banned plugins?

Yes, some plugins are banned at Kinsta because we've optimized our platform for high performance, reliability, security, and our sysadmin team has identified an issue with it.
Does WooCommerce accept CBD?

Yes, you can sell CBD from the WooCommerce platform. However, you will have to find a payment gateway that accepts CBD payments, as currently, WooCommerce payments will not accept CBD transactions.
Can I sell CBD using the Stripe payment gateway?

No, currently Stripe does not support using their gateway for CBD transactions. You will need to find another payment gateway to use, such as Square.
Ready To Launch Your CBD Store?
Kinsta's speed obsessive architecture along with its auto-scaling and WooCommerce optimizations make it a perfect solution for your online CBD store. Join the 26,150+ companies using Kinsta and get started today.