Do you use LinkedIn? Chances are you have a personal profile on it but, if you aren't actively looking for your next career opportunity, then you probably don't use it that much.
In a minute, I'll tell you why you need to create a company page on LinkedIn and how to do it but first, let me tell you this: if you don't regularly check LinkedIn, you are not alone. The average LinkedIn user only spends 17 minutes on it per month. It's easy to neglect this social network.

LinkedIn: The Largest Professional Network in the World
LinkedIn was founded in 2002 by Reid Hoffman and ten other co-founders, several of whom belong to the so-called "PayPal Mafia" as does Hoffman.
What is Paypal Mafia? It's a group of former PayPal employees who went on to start their own successful companies: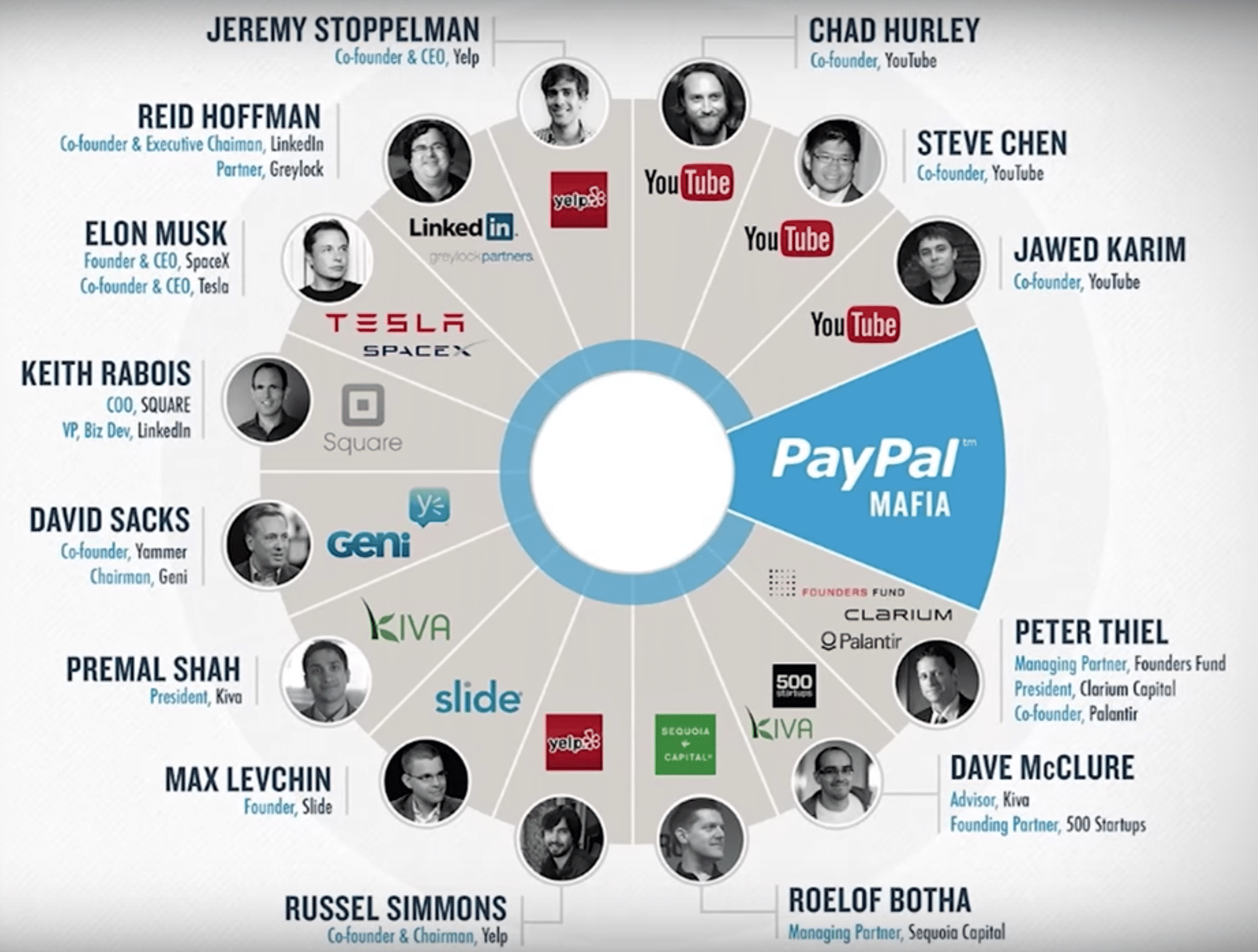 Probably the most famous PayPal alum is Elon Musk, known as being the crazy genius behind Tesla and SpaceX. But there are quite a few other former PayPal employees who have done very well for themselves. In fact, six of them, including Reid Hoffman, became billionaires.
This is an important detail of LinkedIn history because the all-star founding team and their Silicon Valley connections undoubtedly played a huge role in the company's success.
In 2003, LinkedIn raised a series A Investment round which was led by Sequoia Capital, a venture capital company known for their investment in numerous "unicorns" such as Google, Apple, PayPal, YouTube, WhatsApp, and more.
And the LinkedIn team did not disappoint. In 2004, the company reached 1 million users, in 2006 it had its first profitable month, and in 2007 it hit 10 million users.
In 2008, after several venture capital companies purchased a 5% stake in LinkedIn for $53 million, the company was valued at $1 billion (post-money valuation).
In 2010, it was valued at around $2 billion, though by the end of the year its value dropped to around $1.5 billion. That same year it was ranked No.10 on Silicon Valley Insider's Top 100 list of most valuable startups.
LinkedIn grew explosively between 2010 and 2011, going from around 500 full-time employees to around 2,100 full-time employees, and it had an IPO in 2011.
LinkedIn continued to grow at a fast pace, but in 2016 it experienced a bit of a hiccup when their shares dropped by 43.6% in a single day, causing them to lose $11 billion in market capitalization. What happened?
Apparently, investors were not impressed by LinkedIn's 2016 forecast (the company made a prediction that the Q1 revenue would be $820 million instead of the expected $867 million that the analysts were forecasting) and decided to jump ship.
However, this "disaster" didn't prevent LinkedIn from getting acquired by Microsoft for $26.2 billion, which was the largest Microsoft acquisition at the time.
Today, LinkedIn has over 575 million users, with more than 260 million monthly active users. It's the largest professional social network in the world.
Want to learn more about LinkedIn? Check out our Mind-Blowing LinkedIn Statistics and Facts.
Why Your Business Needs a LinkedIn Company Page
You might be wondering why should you bother to create a company page on LinkedIn, a social network on which users only spend 17 minutes a month (on average).
Here are the three main reasons:
#1 Lead generation
LinkedIn is an excellent place to reach potential customers.
In fact, according to HubSpot, LinkedIn is 277% more effective at generating leads than Twitter and Facebook.
It's not surprising that 79% of marketers see LinkedIn as a "very good source of leads" and B2B marketers report that 80% of their social media leads come from LinkedIn.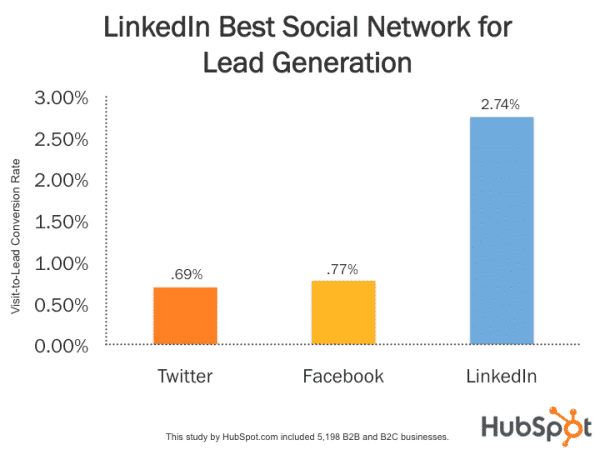 A great resource out there on using LinkedIn for lead generation is "The Sophisticated Marketer's Guide to LinkedIn" (2019 edition is already available!).
The guide advises building an organic presence on LinkedIn by:
Creating a LinkedIn page. "With a LinkedIn Page, you can find your place in the world's professional community, telling your company's story and giving customers and prospects a place to learn about your business, your employees, and your brand."
Using Showcase pages. "Use Showcase Pages to create dedicated pages for your more prominent brands, business lines, products, and initiatives so you can extend your LinkedIn presence."
Creating long-form posts. "Using an intuitive blogging tool that seamlessly integrates with your profile on LinkedIn, you can publish new and previously published content on LinkedIn to quickly grow your audience and network."
Taking advantage of Native Video. "Native video show up directly in the LinkedIn Feed as standalone posts, letting you engage with business decision-makers throughout the buyer's journey on LinkedIn."
Participating in LinkedIn Groups."Groups provide a place for professionals in the same industry or with similar interests to share their insights and experiences, ask for guidance, and build valuable connections. And they offer a prime opportunity for your company to establish itself as a thought leader, whether you participate in discussions taking place in established LinkedIn Groups or create your company's own LinkedIn Group."
The guide also advises to boost your organic strategy with paid advertisement through Sponsored Content, Sponsored InMail, and Dynamic Ads.
But that's not the only guide available.
We also have produced a juicy in-depth guide covering how to use LinkedIn for Marketing Success you might want to check out.
#2 Recruitment
Everyone from Inc to Entrepreneur to Forbes is talking about hiring top talent. And it's understandable.
After all, recruiting and retaining great people is one of the biggest challenges of running a business, and the stakes are high.
Noah Kagan, well-known entrepreneur behind AppSumo, says:
"After working at Facebook, Mint and now AppSumo […] I know that the best people output significantly more and can grow a business 100x more than a just-okay person."
He explains that recruiting top talent is just like dating: the best people are already taken. They are already working at a great company, getting paid well, and are content with their job.
So, Noah argues, you should build relationships in advance so that top performers would think of you when they are ready for their next career opportunity.
Now, think about it: what is the best way to reach out to a professional that you are impressed by but don't know personally?
You guessed it. LinkedIn.
You see, if you email someone, they will want to check you out and go on LinkedIn anyway, so why not save them the trouble and contact them there?
That way, they can check you out with one click and make sure that you are a serious person.
And with another click, they can take a look at your company's page to see whether it's a place that they would like to work at.
And what about people who are actively looking for their next career opportunity?
Well, they are on LinkedIn as well, scouring through job postings. They might stumble across your job ad through their network even if they haven't heard of your company before.
In short, if you want to attract top talent, you need to have a company page on LinkedIn (in fact, not having one might even repel great people because it looks suspicious).
#3 Publicity
You probably want to get featured in the media. Who doesn't like free publicity, right?
Well, if you want to increase the chances of that happening, you need to understand how it works:
A writer gets an assignment from an editor that requires a mention of a company in your field.
That writer decides to mention your company.
They go to the company's website to find the information that they need.
However, if they can't find what they need on your website, then the next place they go to is LinkedIn.
And what happens if they can't find it on LinkedIn either?
Simple. The writer drops the idea of mentioning your company and goes with one of your competitors instead. So make sure that your company has a great website and a solid LinkedIn page.
How to Create a Company Page on LinkedIn (5 Steps)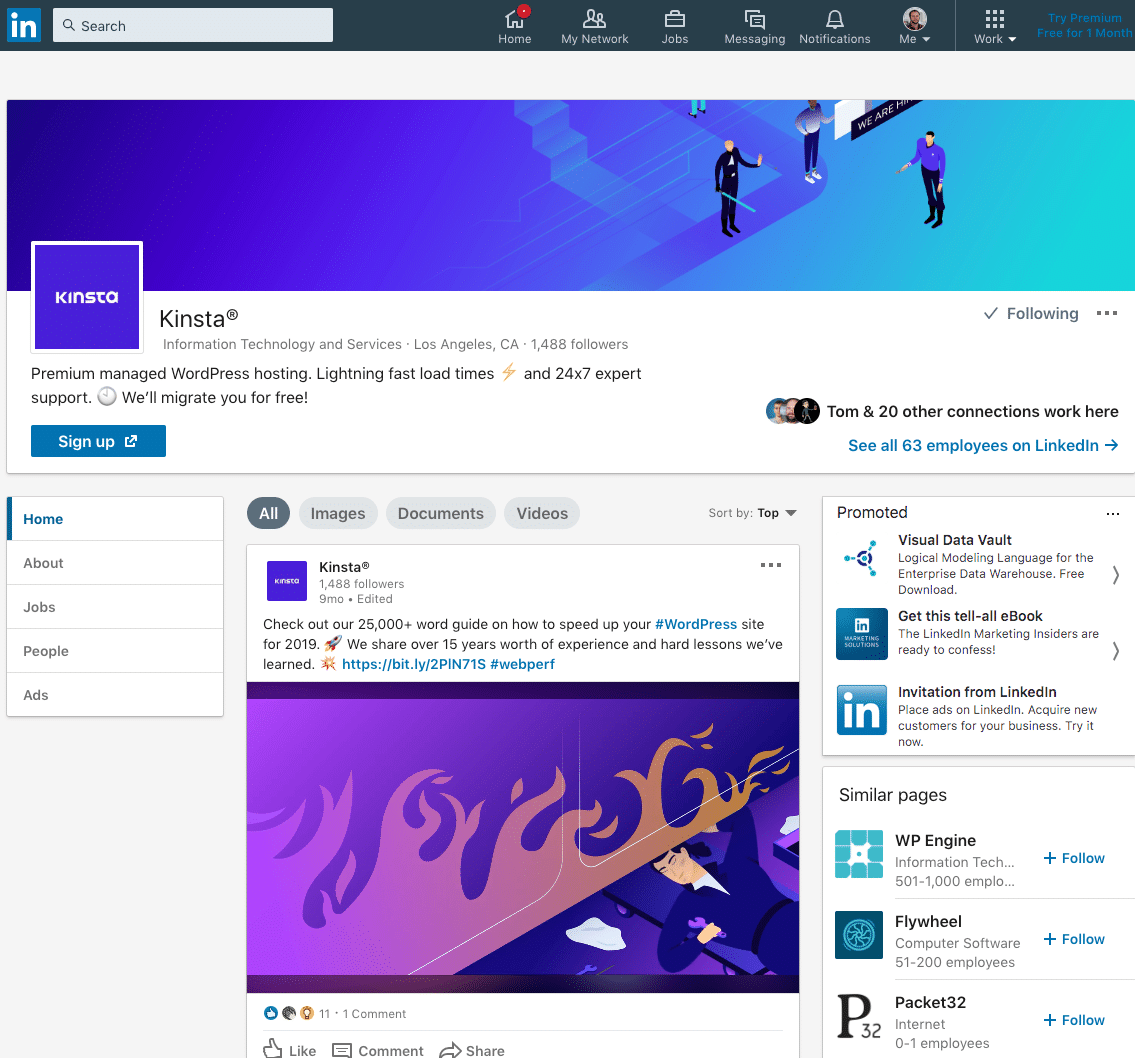 Fortunately, creating a LinkedIn company page is very simple, and you can do it today:
Click the "Work" icon in the top right corner of your LinkedIn homepage.
Choose the "Create a company page" option.
Choose either the "Small business" option or the "Medium to large business" option depending on the size of your business.
Enter the Page Identity details, Company or Institution details, and Profile details.
Click "Create page."
Here are all the steps: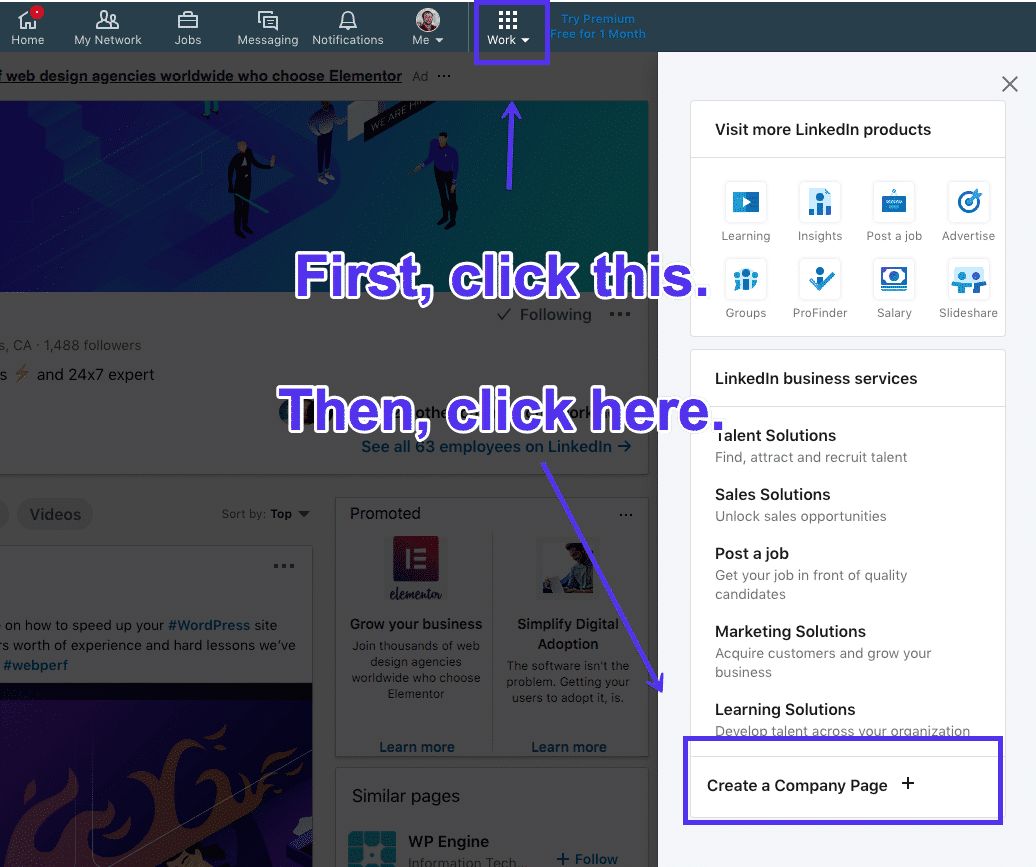 Don't forget to verify that you have the right to act on the company's behalf by ticking the checkbox:
Keep in mind that if your LinkedIn account is new or if you don't have enough connections then you might get an error message.
This means that you need to build out your profile and expand your network if you want to have a company page.
Once you have created your page, click "Start building your page!" and add more details.
Getting the Best out of Your LinkedIn Page
The 5-step process of creating your LinkedIn company page is just the start, you need to optimize that company page if you want to get results. To do so, you should take care of the following aspects.
Create an Engaging LinkedIn "About" Page
The "About" page is the first thing a person sees when they click on your company's profile on LinkedIn.
You need to do three things in it:
#1 Tell Your Story
Remember how back in high school you'd memorize dates for a history test and then forget them the second you walked out of the classroom? Memorizing those dates was hard because humans aren't wired to remember facts, we are wired to remember stories.
But what does this have to do with your LinkedIn page? Well, if you present your company page visitors with a set of facts, their eyes will glaze over and they won't remember much once they leave the page.
On the other hand, if you tell a story and do it well, people will remember it for a long time. And they will remember your company as well.
#2 Sell Your Products or Services
No, I don't mean literally asking people for money in exchange for a product. I mean conveying the value of the product/service you're selling.
Here it's important to understand the difference between the features and the benefits:
A feature is a characteristic of a product (example: "These shoes are waterproof").
A benefit is the value your customer will get from that product (example: "These shoes will keep your feet warm and dry!").
There's a saying in copywriting: "Features tell, but benefits sell".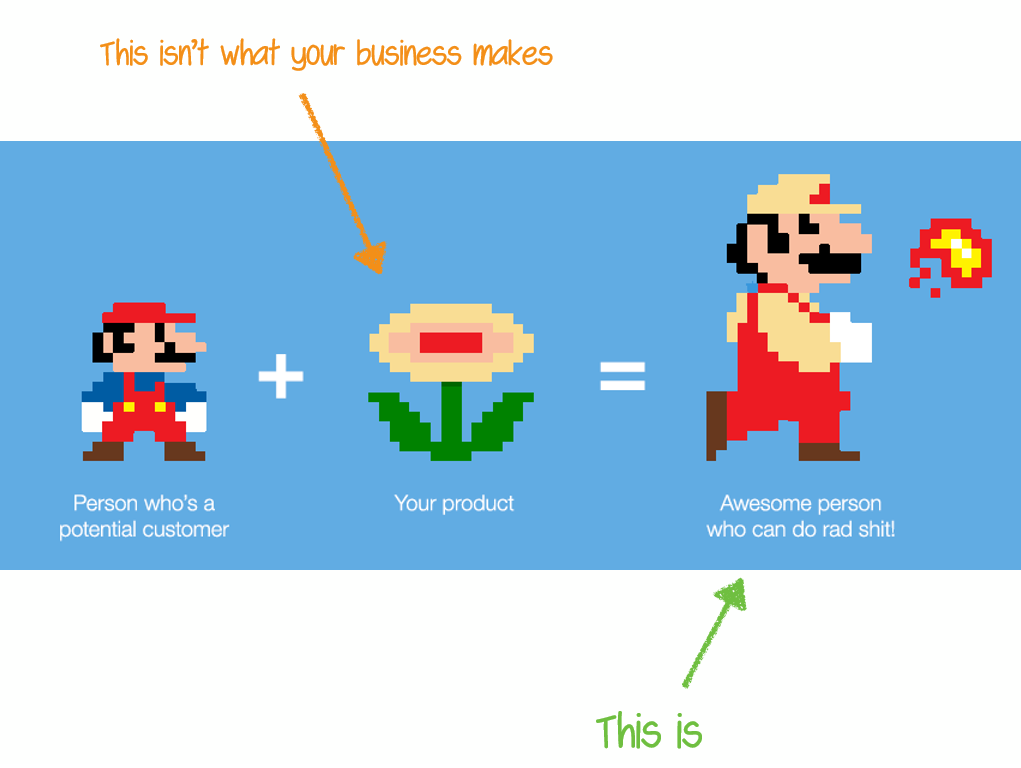 It's important to understand that while listing the main features of a product can be useful, you must always sell on benefits.
Don't just tell people what your product does, tell them how it will make their life better.
#3 Provide Social Proof
We are social creatures. We have evolved to look at others when we are unsure of what do do.
That's why social proof is so important. No one wants to be the first one to try a new product.
Okay, that's not entirely true, there is such a thing as early adopters who want to try everything under the sun.
But most people are not like that. Most people don't want to take a chance on an unknown company. They want a sure thing.
And providing social proof can help potential customers who are still on the fence make a decision.
It's okay if you are just starting out and don't have any social proof to speak of yet. You should work on acquiring some!
However, once you get something, whether it's a customer testimonial, or a media mention, or a feature in a prestigious publication, you need to add it to your "About" page.
An "About" page that tells your story, sells your product, and provides social proof is a great way to introduce your company to potential customers.
Provide an Employee List
You might be a bit hesitant to provide an employee list.
However, it works as social proof for people who might be interested in working in your company because it shows that you are a legit business, not some dodgy place where the employees are so ashamed of working there that they won't even put it on their LinkedIn profiles.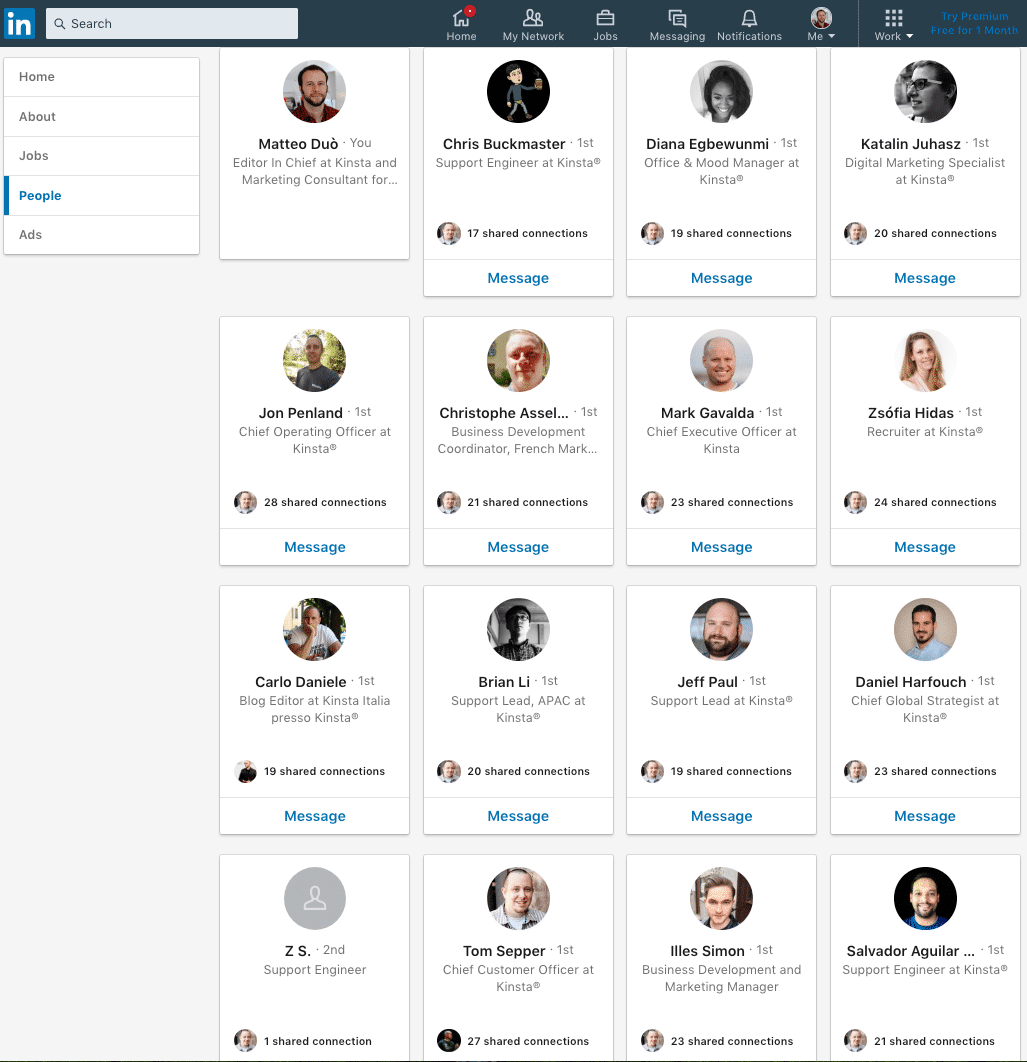 Moreover, an employee list is a valuable resource for writers because it allows them to quickly check the company structure, understand who is doing what, and reach out to the right person.
For example, if a writer wants to ask a question about your marketing strategy, they can simply message your marketing person on LinkedIn.
This is important because you will get busier and busier as your company grows and might miss a big media opportunity simply because you didn't check your inbox in time.
Meanwhile, your employees will probably be more available than you, so providing writers with a way to contact them directly is a good idea.
Regularly update your page
You don't want your page to look neglected. But what should you post?
"The Sophisticated Marketer's Guide to LinkedIn" advises to follow the 4-1-1 rule which was coined by Tippingpoint Labs and Joe Pulizzi, Founder of the Content Marketing Institute:
"For every ONE self-serving tweet, you should retweet ONE relevant tweet and most importantly share FOUR pieces of relevant content written by others."
Yes, the 4-1-1 rule was originally created for Twitter, but you can apply it on LinkedIn as well.
For every one promotional update share one relevant post from a thought leader in your field and four pieces of relevant content written by others.
That way, your followers will see that you consistently provide value and will continue following you.
Show Why Your Company Is a Great Place to Work
In the previously mentioned "Top Talent Acquisition: 4 Steps to Hiring the Best Talent in the World" article, Noah Kagan explains that to attract top talent you need to show them why your company is a great place to work at. He shared an image that he saw on a Craiglist job ad: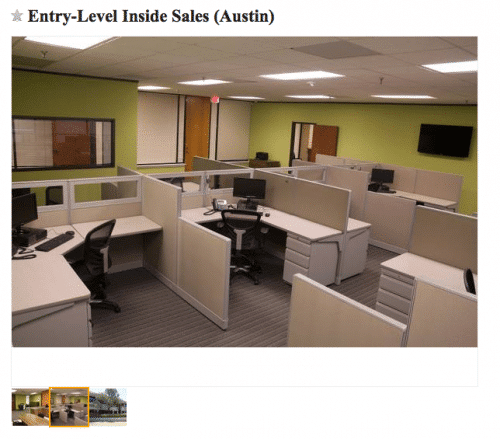 Yeah, merely looking at this picture makes one want to go and get a prescription for antidepressants, so it's probably safe to say that very few people would apply to a job posting like that.
With your company page on LinkedIn, don't make the same mistake.
Think about what makes your company a great place to work. Then make sure to mention it on LinkedIn.
For example, here's Noah's picture: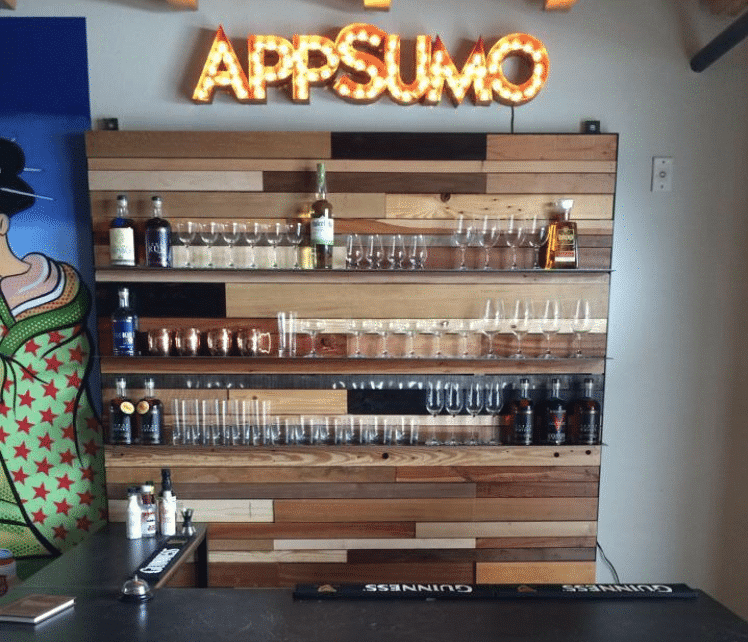 Now, a bar at the office is pretty cool, but what's more important is that it shows that AppSumo is a relaxed, friendly, casual workplace where people don't take themselves too seriously.
Advises Noah:
"Make your pages genuinely you. Don't try to be whacky if you're not. For example, as a law firm, you can say you work your asses off, get paid very little but do work that is the most meaningful thing you've ever done. Tell the story of your company and the story of why this position is valuable to you. Even if you don't have the resources of Google. Add your faces on your page. Add your attitude."
Bottom line is: find what's appealing. Maybe it's a cool office space. Maybe it's a flexible work schedule. Or maybe it's the opportunity to work remotely (check, check, and check for Kinsta). Whatever it is, mention it on your company page, and emphasize it in your job ads.
Remember: when it comes to top talent, you are evaluating them and they are evaluating you, so make an effort to impress them.
Your Company Page Is Not About You
There's a joke in copywriting that goes like this:
"What is everyone's favorite radio station? WII FM!"
WII FM stands for "What's in it for me?"
This joke is a reminder that people don't care about you, they care about themselves, which is why you should focus on them.
This might sound confusing, I know.
How can you tell your story, sell your product, provide social proof, and show off the perks of working at your company without talking about yourself?
This goes back to the concept of "features tell, benefits sell" that I have explained earlier.
Let me explain it with a short and clear example:
"These shoes are waterproof" is talking about yourself, "These shoes will keep your feet warm and dry" is talking about your potential customer.
In both cases, you are talking about your product, sure but with a different focus. With former, the focus is on the product; with the latter the focus is on the person you are selling that product to.
You need to apply this principle to your company page as a whole. Everything on it should be calculated to appeal to the potential customers and potential employees.
Summary
LinkedIn is the biggest social professional network in the world with over 575 million registered users and over 200 million monthly active users.
It's where professionals go to look for their next opportunity and where writers go to look for information on a company they want to mention in an upcoming piece.
It's also where business executives go to check whether a company they consider working with is legit.
Don't make the mistake of overlooking LinkedIn just because you don't check it every day. Get on it and create your company page today!