We expect a lot from our email clients these days. It's not enough to just compose, send, and receive emails. The best email clients help us organize our inboxes, manage our schedules, keep track of contacts, and more. They also integrate with our other tools, like video conferencing apps.
Microsoft Outlook is rich with these bonus features, so it's no surprise that it has 200 million monthly users.
But is it the best email client out there?
This article looks at 11 Outlook alternatives, their features, how much they cost, and whether you should choose them over Microsoft Outlook.
Overview of Microsoft Outlook
Microsoft Outlook is an email client or application that lets you access and manage your email.
But it's also more than that.
Outlook provides calendars, appointment setting, task management, web browsing, and more. It has desktop, online, and mobile versions.
The History of Microsoft Outlook
The Microsoft Outlook we know today evolved from a few sources.
When Outlook was first released with Microsoft Office 97, it replaced Microsoft's previous email client, Microsoft Exchange Client, and its time management software, Microsoft Schedule+.
The web-based version of Outlook, available to Office 365 and Exchange Online subscribers, is called Outlook on the Web. It first shipped in 1997 as Outlook Web Access (and is still often abbreviated OWA) as part of Exchange Client 5.0.
Also, in 1997, Microsoft acquired Hotmail, one of the first free, web-based email services. Hotmail became MSN Hotmail, then Windows Live Hotmail, and finally Outlook.com. Outlook.com is not a desktop email client but a free email service.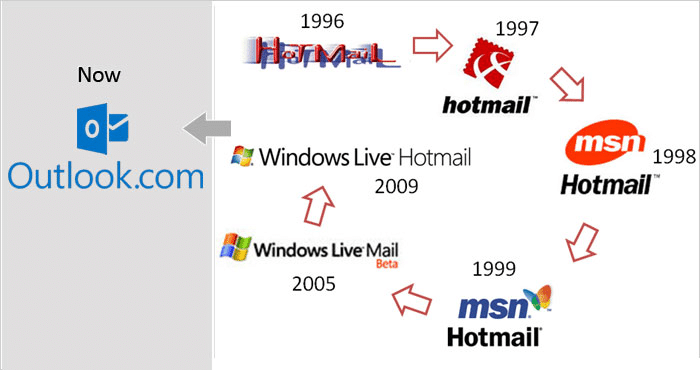 Outlook Market Share
There are a lot of email clients out there (we'll introduce you to several of them in a bit), but most people use an email product from Apple, Google, or Microsoft.
So how does the market share of Microsoft Outlook compare to Google and Apple email clients? It depends on what kind of device you're using.
Outlook does best on desktops with a 37.2% share of email opens. That's second only to Apple Mail with 61.8% of opens, leaving just 1% for all other clients.
On mobile, the story is different. Apple iPhone and iPad combined have a 90.8% market share. Google Android is a very distant second at 7.4%, and no other mobile client has a significant piece of the pie.
Outlook.com has a 3.2% webmail market share, while Gmail dominates the web-based offerings at 89.1%.
Key Features
Before comparing Microsoft Outlook to its key competitors, let's look at what it offers. Outlook has far too many features to cover here, but these are some of the main things you should know about.
Email
Email is Outlook's core function. It has the typical email client capabilities like receiving, composing, and sending emails. You can organize your mail into folders and set up rules to automatically deliver mail to the correct folder.
Calendar
Outlook Calendar lets you view multiple calendars at once and schedule meetings and appointments. While you can use it as an individual, it's most useful for teams. You can invite members to a meeting, view conflicts, RSVP, or suggest alternative times.
Tasks/To Do
Outlook's classic Tasks feature is being phased out to integrate with Microsoft To Do.
To Do lets you create lists of tasks, set due dates, get reminders, and share your to-do lists with others.
Notes
You can create digital notes for yourself and display them in Outlook or on your desktop. You can also color-code your notes or organize them into lists.
Integrations
Outlook has integrations with popular applications, including:
Microsoft Teams
Asana
Zoom
Microsoft OneDrive
Pricing
You can use the Microsoft Outlook mobile apps and Outlook.com for free.
Most Windows computers come with the Outlook app included, but if yours didn't, you'd have to purchase the desktop client. You could make a one-time payment and get standalone Outlook for $159.99 or Office Home & Business for $249.99. You could also go with one of several Microsoft 365 subscription plans.
Microsoft 365 Personal is $69.99 per year or $6.99 per month. The Microsoft 365 Business plans start at $5 per month per user.
Subscribing to Microsoft 365 gives you access to Outlook for the Web as well.
Why Choose an Outlook Alternative?
For all its benefits, Microsoft Outlook has some downsides.
Price
Outlook doesn't have a free desktop email client. That alone causes many people to seek an alternative.
System Requirements
Microsoft applications are built for Windows, where they work best. Outlook does have a Mac version, but if you're running Linux, you'll need to find a different email client.
Ease of Use
It's a matter of opinion, but some people think Outlook is hard to set up and use. For example, on the software review site G2, Outlook is rated 8.7 for ease of use and 8.0 for setup.
Google Workspace is rated 9.2 for both categories, while Spike gets 9.5 and 9.7.
Extras
Outlook has more bells and whistles than the majority of email clients, but it can't do everything.
Maybe you're looking for a unique feature that Outlook doesn't have, like the ability to assign an email to a teammate.
Keep reading to find out about 11 excellent Microsoft Outlook alternatives.
Top 11 Outlook Alternatives
1. Thunderbird
Thunderbird is an open-source email client from Mozilla. It's free to use and has Windows, Mac, and Linux versions. It's generally considered easier to set up than Outlook.
It doesn't come with a calendar like Outlook, but you can download Mozilla's Lightning Calendar, which is fully integrated with Thunderbird.
Thunderbird's interface takes a hint from Mozilla Firefox and other popular browsers and lets you open multiple emails in separate tabs. There are a lot of options to customize the look and feel of your inbox, as well as add-ons to add functionality.
However, compared to Outlook, the appearance of Thunderbird is a bit dated and cluttered. Another downside is that it has no mobile version.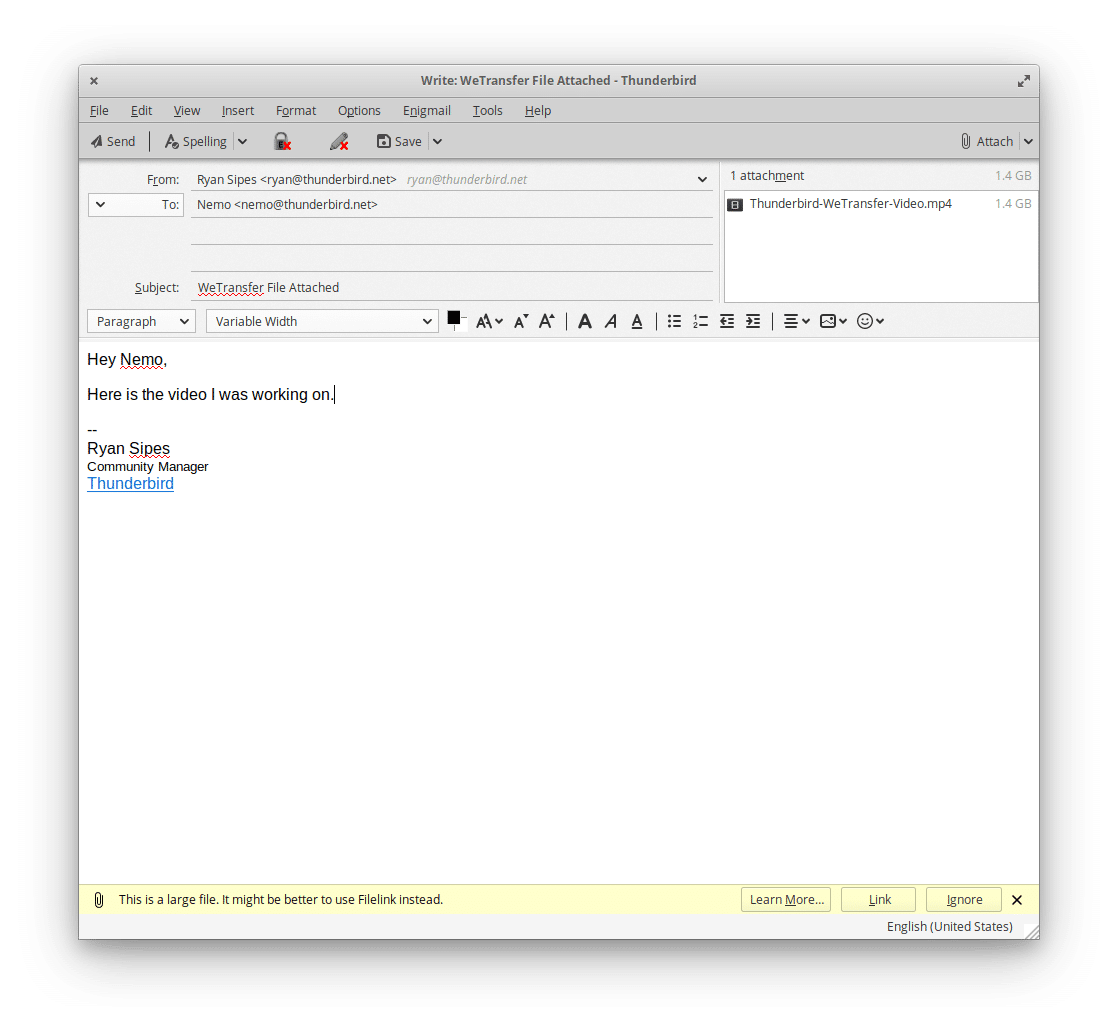 Key Features
Desktop email client
Supports IMAP, POP3, and SMTP protocols
Multi-tab email interface
Address book
Search bar and email filters
Message archive
Do not track and remote content blocking
Phishing protection
Customization options and add-ons
What It Does Best
Thunderbird has many of the same features as Outlook — but it's free.
Pricing
Did we mention that it's free?
2. Gmail/Google Workspace
Let's start by clarifying the difference between Gmail and Google Workspace.
Gmail is a free email service from Google that consistently ranks highly among free email clients. Google Workspace is the G Suite business version. With Google Workspace, an administrator can create, edit, and delete accounts within their organization.
Google Workspace users can create email addresses with a custom domain, like [email protected], while Gmail users can only make Gmail.com addresses. Google Workspace offers shared drives and more storage space.
Depending on your needs, both Gmail and Google Workspace can be appropriate Outlook alternatives.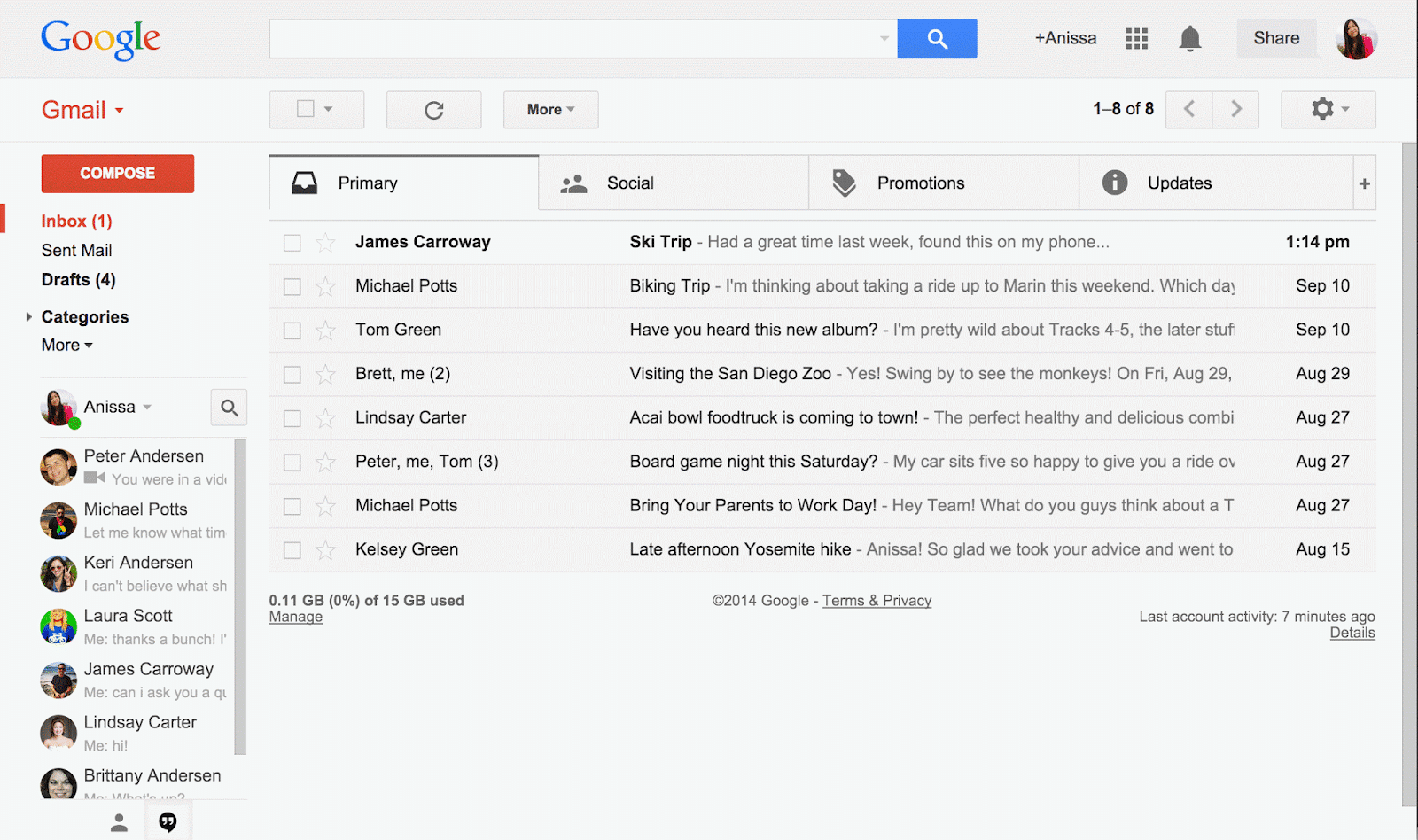 While Gmail is usually used as an email service, you can also use it as an email client for multiple email accounts, including non-Google addresses.
The pricing for Google Workspace's business plans is comparable to Outlook's, but what you get is different. Google Workspace has no desktop version.
On the other hand, the free web version (Gmail) can be used as a mail client for emails from multiple providers, while Outlook.com can only be used with Microsoft email addresses.
Google Workspace also has its calendar — Google Calendar. Like the email, this can only be accessed from a browser, while Outlook has a desktop version.
Key Features
Web-based email
Calendar
Video meetings
Automatic email filters and categories
Intelligent writing suggestions
Event details in the email used to create calendar events
Spam filters
Enhanced security on higher-tier plans
What It Does Best
Gmail and Google Workspace are part of the Google ecosystem, handy if your company already uses solutions like Google Drive, Google Docs, or Google Calendar.
Pricing
Gmail: Free
Business Starter: $6/month/user
Business Standard: $12/month/user
Business Plus: $18/month/user
Enterprise: Custom
3. eM Client
eM Client is an email client for Windows and Mac that offers many of the same features like Microsoft Outlook, including calendaring, tasks, and notes.
It has a clean, modern-looking interface that's intuitive to use.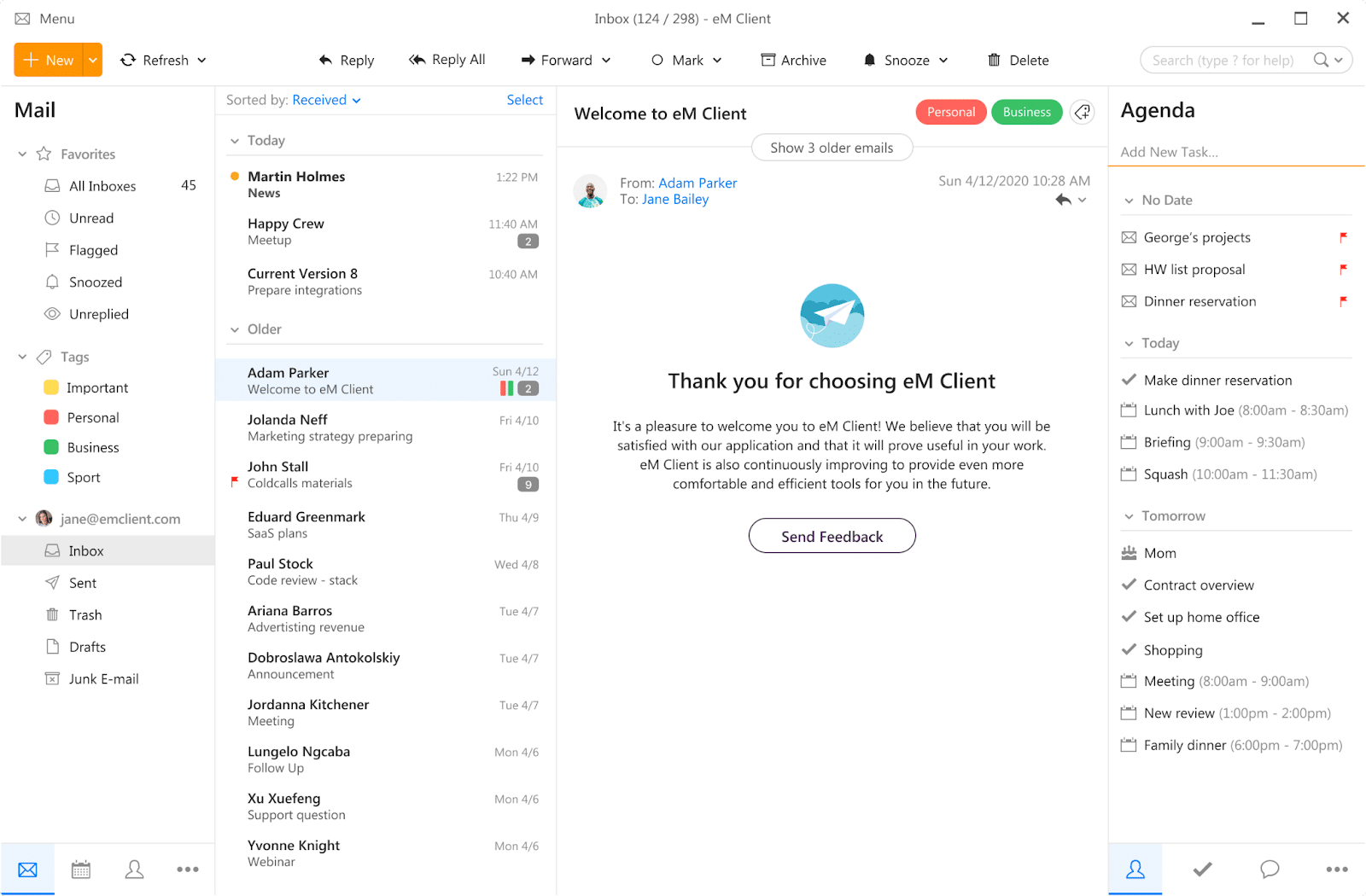 eM Client promises a "superfast" search that works even within documents like PDFs. It has integrations with Dropbox, Gmail, Google Calendar, and Google Drive.
Overall, eM Client is similar to Microsoft Outlook, and reviews vary on which is better.
One point in eM Client's favor is its free version. However, its features are pretty limited. For example, you can only use it with two email addresses, and the only customer support option is the user forum.
Key Features
Desktop email client
Calendar
Tasks
Notes
Instant translation of emails
Snooze emails
Customizable interface
Chat instant messaging
PGP encryption
What It Does Best
eM Client is an email client much like Outlook but with slightly better security and a distraction-free interface.
Pricing
Free
Pro for Individuals: $49.95
Pro for Companies: $188.95
4. Mailbird
Mailbird is an email client for Windows. It has a free version that you can use with a single email account and paid plans for personal and business use.
There's also a clutter-free interface that's highly customizable.
While Mailbird lets you organize emails into folders, it doesn't have Outlook's automatic sorting options.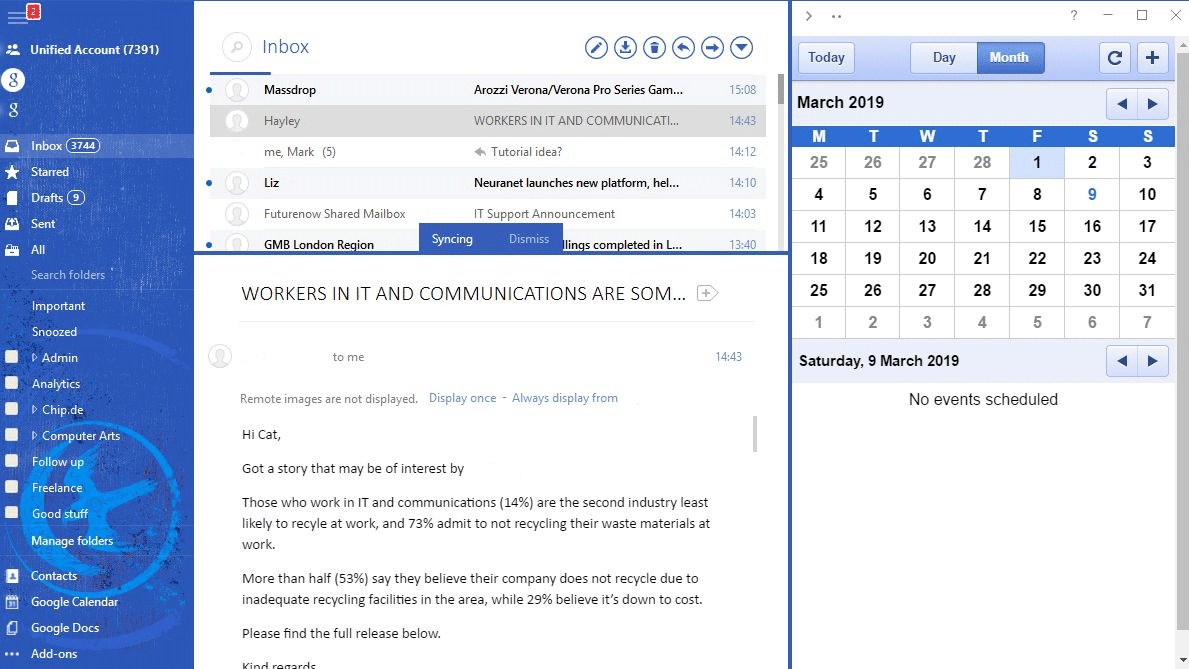 Mailbird integrates with a wide range of applications, including but not limited to:
A macOS version of Mailbird is being developed.
Key Features
Email client for Windows
Supports IMAP and POP3 accounts
Snooze email
Integration with many apps
Customizable themes
Multi-language support
What It Does Best
Mailbird offers a ton of useful integrations.
Pricing
Free
Personal: $3.25/month
Business: $99.75 or $4.92/month
5. Spark
Spark is an email client for Mac, iOS, and Android.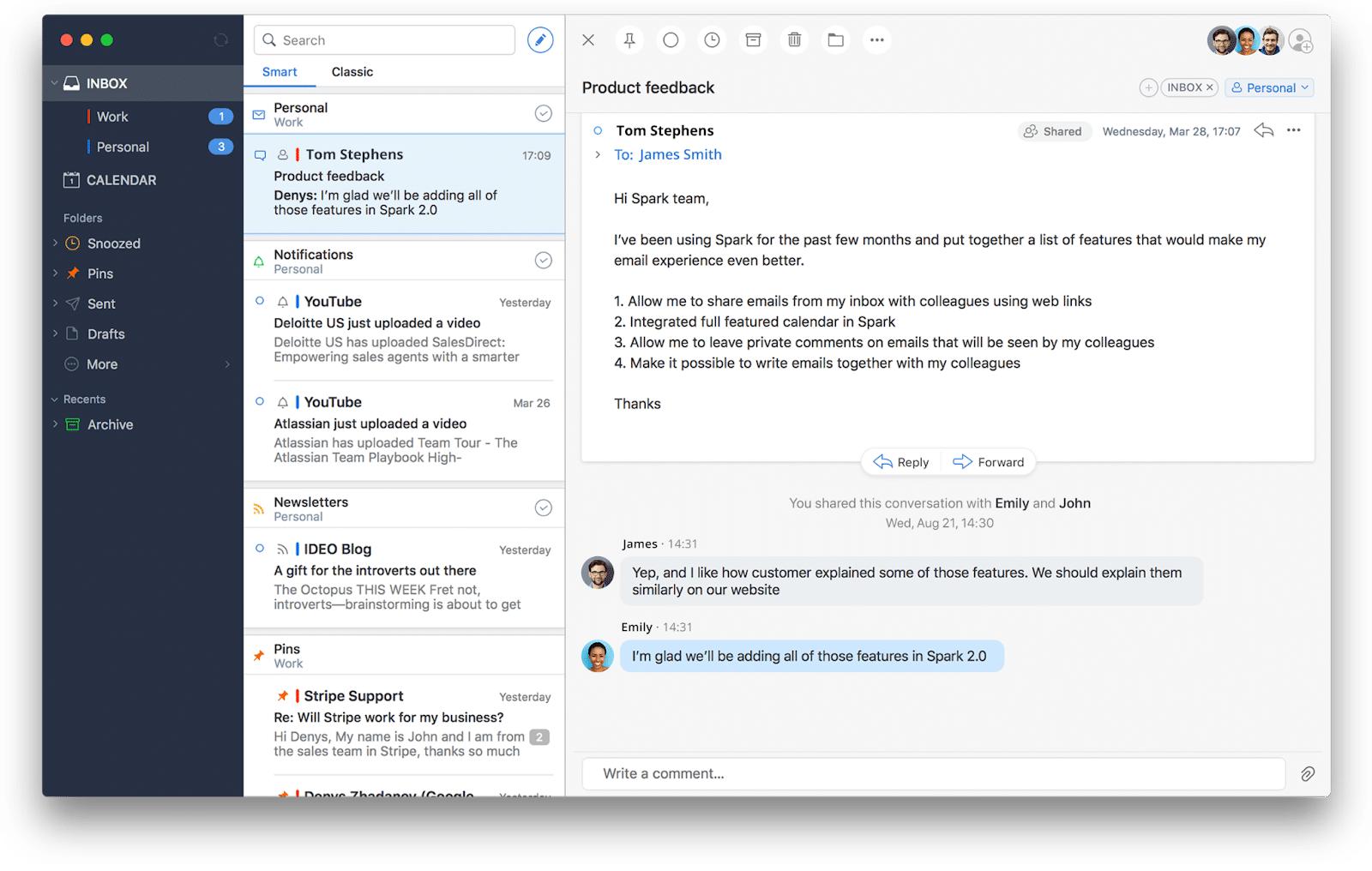 Spark learns as it goes, automatically sorting and prioritizing the emails in your inbox.
Team collaboration is its biggest strength — you can work with others on a shared email draft or leave comments on emails that only your team members can see. You can also delegate emails to a specific person, set deadlines, and get a notification when they're complete.
Not every user is thrilled with Spark's privacy practices. For example, once you've set up your email accounts on one device, you'll never have to enter all of your passwords or other details again. When you install Spark on another device, you enter the details of one of the accounts, and all of your inboxes are automatically synced.
It's very convenient, but it also means that your email passwords are stored on the server. This means if a hacker got access to one of your email accounts, they could get into all of them.
Spark is free for individual use, but you pay for the team collaboration features.
Key Features
Email client for Mac, iOS, and Android
IMAP and POP3 support
Cross-device account sync
Automatic categorization
Email pin
Email snooze
What It Does Best
The premium version offers a strong set of collaboration features.
Pricing
Free
Premium: $6.39/user/month
Enterprise: Custom
6. Mailspring
Mailspring is an email client available for Windows, Mac, and Linux. It has a relatively simple design that's easy to understand and tends to work faster than Outlook.
It has a variety of layouts and themes to choose from.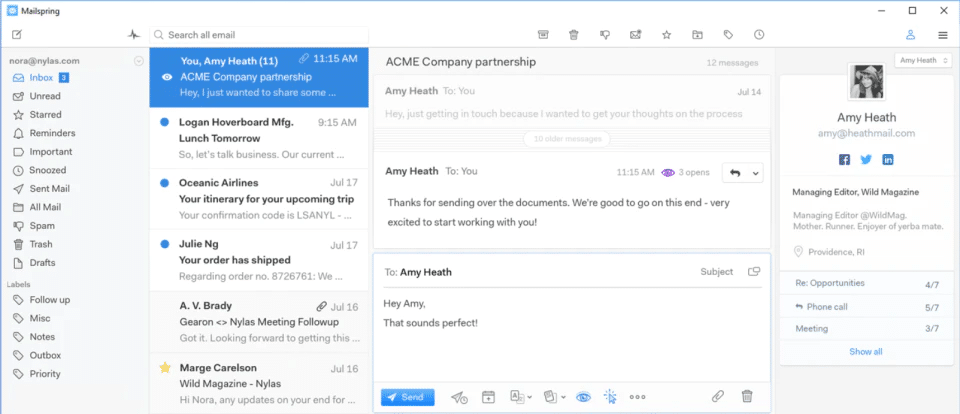 Mailspring offers activity tracking, meaning you get notified as soon as contacts read your email messages, and link tracking, so you can see who's tracking your links.
A free version of Mailspring lets you connect up to four email accounts. It's lacking some of the fancier features like read receipts and email snoozing.
Key Features
Desktop email client for Windows, Mac, and Linux
Connects IMAP and Office 365 accounts
Activity tracking
Link tracking
Email snooze
Customizable layouts and themes
Localized into nine languages
What It Does Best
Mailspring has an intuitive design without the bloat of Outlook.
Pricing
7. Shift
Shift was designed to help you, well, shift between multiple Gmail accounts. It has since evolved and can connect to Microsoft email and other apps, like Slack and Facebook Messenger.
You can search all your accounts at once or quickly flip through them.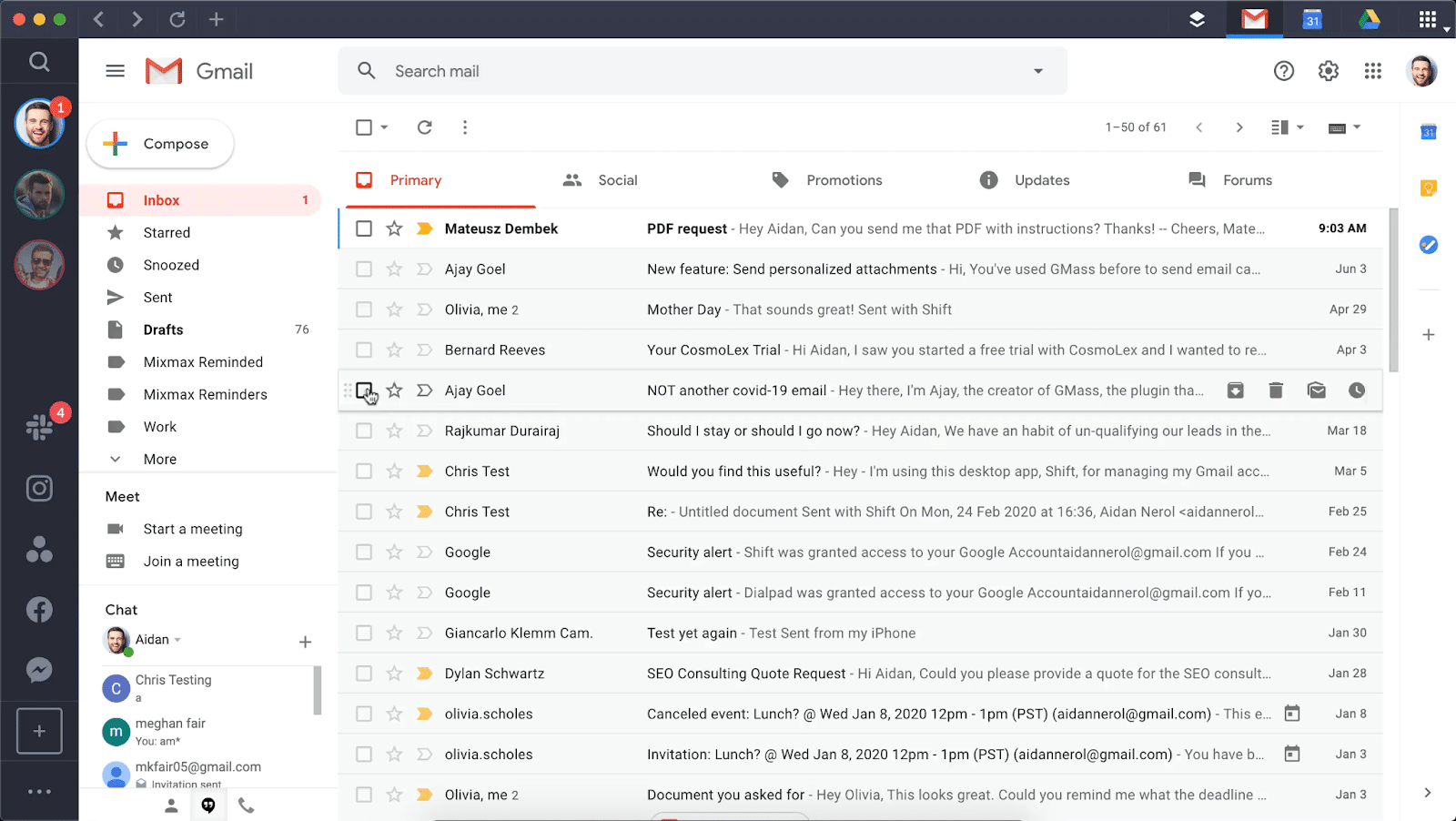 While most reviewers love the concept of Shift and its integrations, many find that it has a lot of bugs and works slowly.
Shift has a free version that allows two email accounts, one app, and shared workspaces. The premium versions also allow you to add Chrome extensions and Google services, among other features.
If you use multiple accounts to do sales and marketing through email, check out our post on Email Marketing Best Practices.
Key Features
Desktop app for email and other services
Multi-tab display
Search across all accounts
Create shared workspaces
What It Does Best
Shift is a user-friendly desktop app for unifying Gmail, Microsoft email, and other apps and services.
Pricing
Free
Advanced: $99.99/year
Teams: $99.99/year/user
8. Spike
Up until now, many of the email clients we've covered have had a similar look.
Spike is different.
The user interface is designed to look and feel like a chat. The emails you receive are converted into chat bubbles and appear as a single conversation.
The replies you send back will look like regular emails to the recipient (assuming they're not using Spike).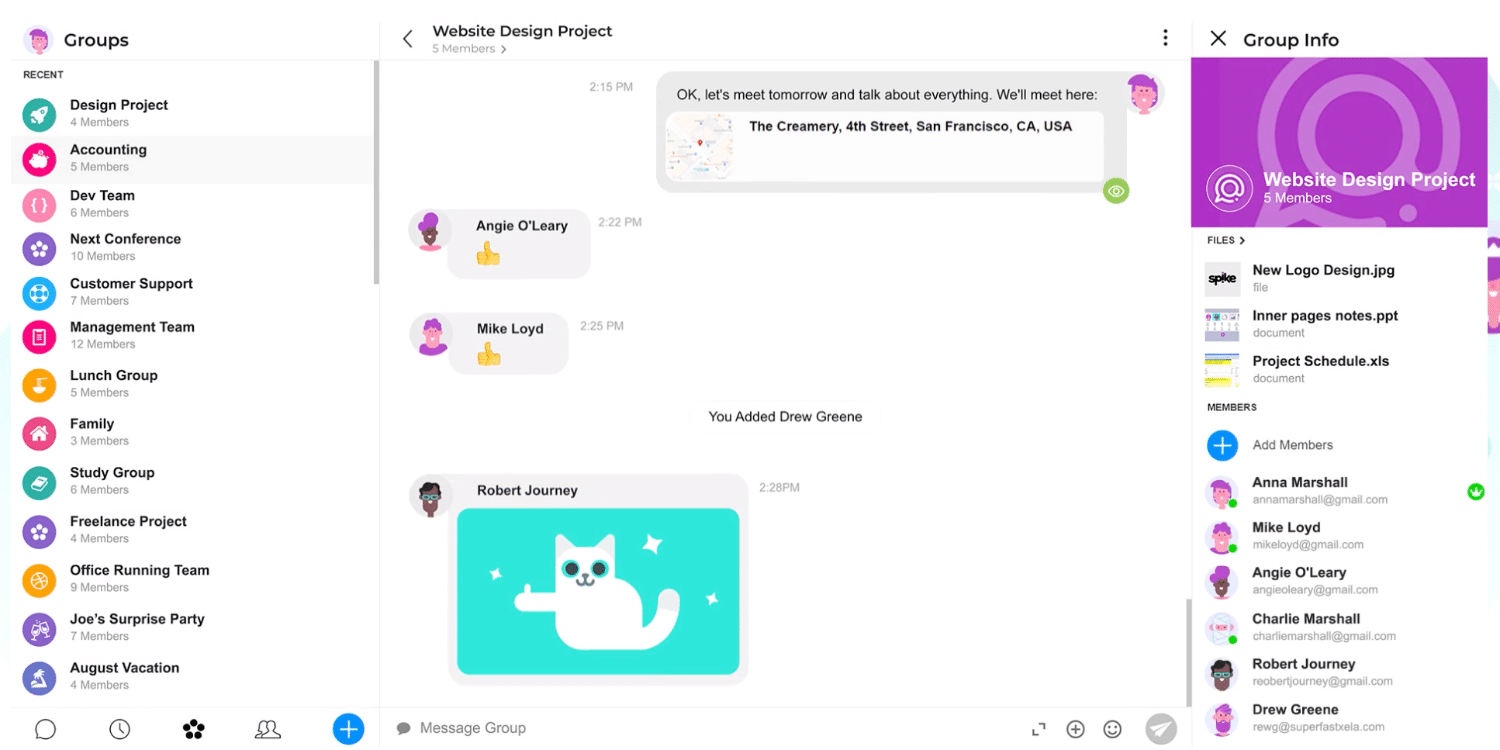 Spike also offers notes, tasks, and video chats.
Spike is available for Windows, Mac, iOS, and Android. There are a variety of pricing plans, including a free one. The free plan lets you connect unlimited personal accounts and use some features that are considered premium with other clients, including email snoozing and shared notes.
Key Features
Chat-like email client for Windows, Mac, iOS, and Android
@ mentions
Email snooze
Email pin
Custom templates
Tasks
Notes
Audio and video calls
What It Does Best
Spike turns your emails into a single chat conversation.
Pricing
Personal: Free
Solo: $12/user/month
Team: $8/user/month
Business: $7/user/month
Enterprise: Custom
9. Pegasus
Years before Microsoft Outlook existed, there was Pegasus. On its website, Pegasus boasts that it's the "internet's longest-serving PC email system."
Created in 1990 for use on the now-defunct NetWare server operating system, Pegasus is now a Windows-only client and is still maintained by its original creator.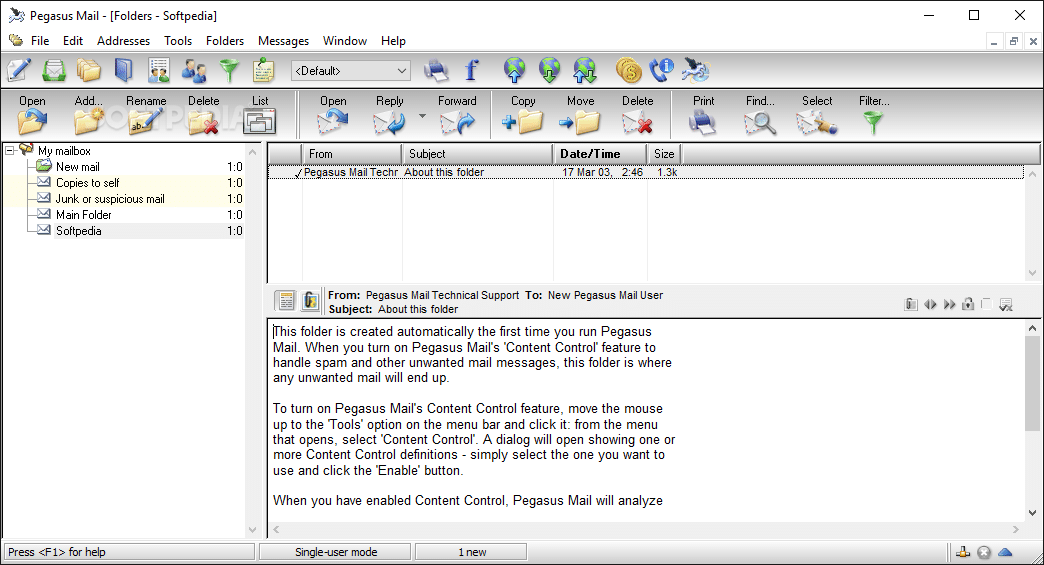 Honestly, there's not much reason you should use Pegasus (also called Pmail) over Microsoft Outlook in 2022. But it's free to try, and it does have modern features like rule-based filtering and search.
Key Features
Desktop Windows email client
Manages multiple accounts
Supports POP3 and IMAP
Filters
What It Does Best
Pegasus Mail is a desktop Windows client suitable for people who enjoy the retro Windows XP experience.
Pricing
Totally free.
10. Protonmail
ProtonMail is an email provider rather than a client, but it's a great alternative if you aren't satisfied with Outlook's security features.
Open source and based in Switzerland, ProtonMail provides end-to-end encryption for your emails.
One of the many security features that ProtonMail offers is self-destructing emails. You designate an expiration date for your email, and it's deleted from the recipient's inbox at that time.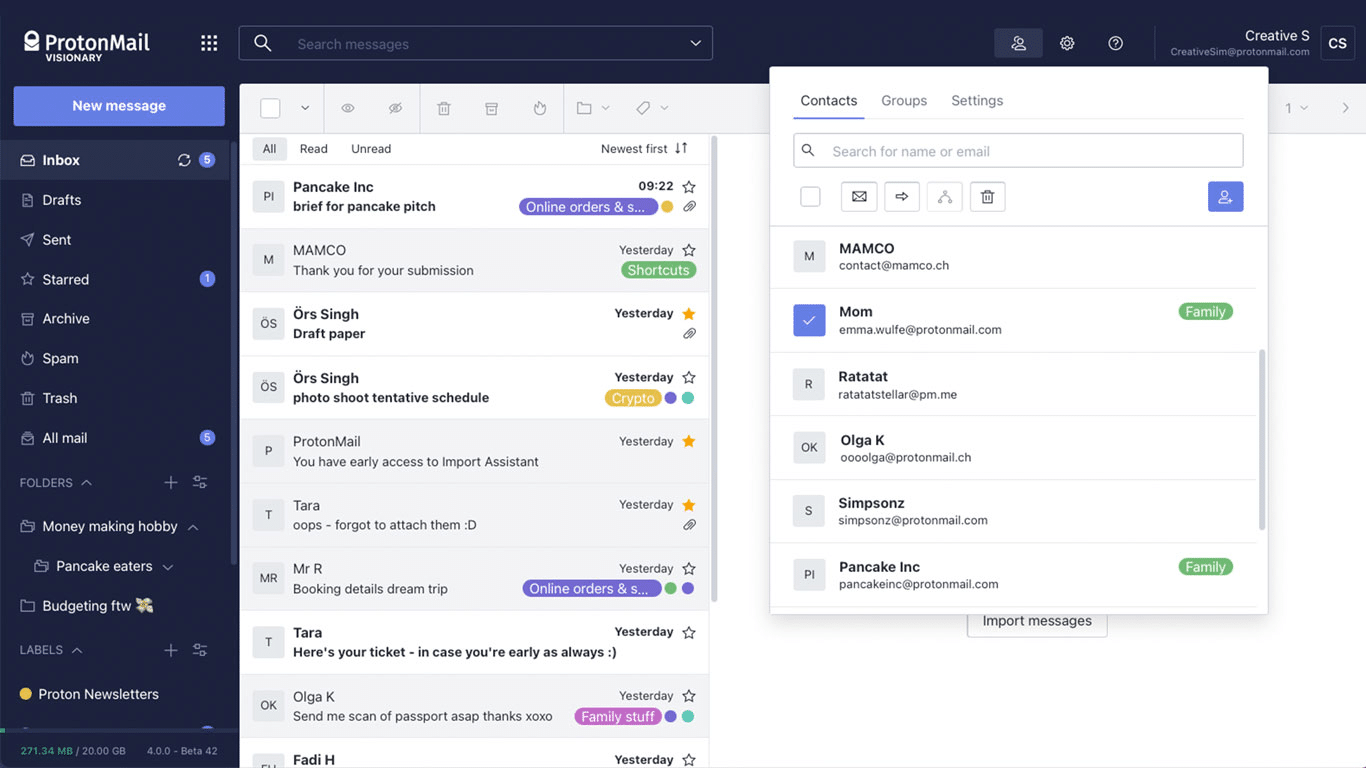 With ProtonMail, your email is even protected from ProtonMail. Your data is stored using zero-access encryption, so ProtonMail itself doesn't know your password and can't decrypt your emails.
ProtonMail is a web-based email and offers mobile apps for Android and iOS.
Key Features
Web-based, Android, and iOS email
End-to-end encryption
Zero-access encryption
Self-destructing emails
Custom domains with paid plans
What it Does Best
ProtonMail is one of the most secure email clients in existence.
Pricing
Free
Plus: $5/month or $48/year
Professional: $8/month or $75/year
Visionary: $30/month or $288/year
11. Front
Front is an email app designed to improve communication with your team and customers.
It offers collaboration features like shared inboxes and the ability to assign emails to teammates, so you know who's going to reply to what.
You can comment and @ mention other users on email threads to have discussions with your team.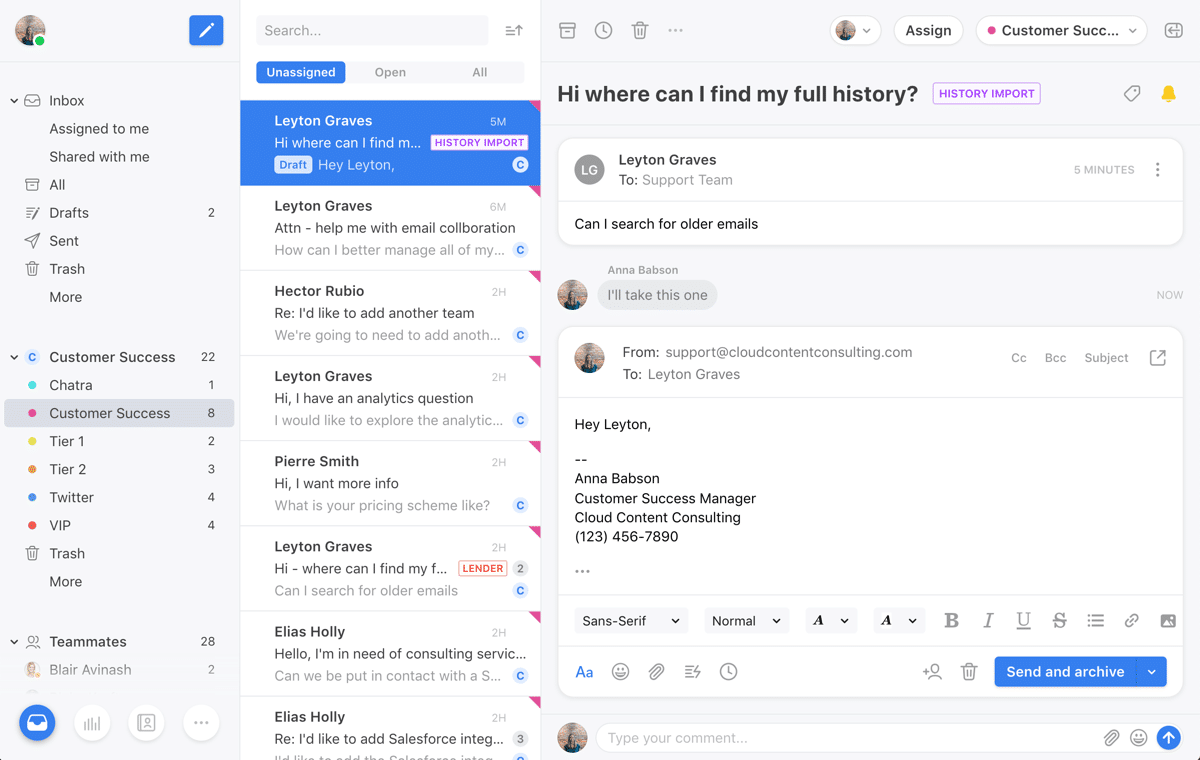 Front doesn't just bring together email accounts, but also social media and other apps.
Analytics give managers insight into the team's performance in real-time.
As you can probably tell, Front is aimed at business use, so there's no free or individual plan. It is perfect for B2B email marketing.
Key Features
Email client for Windows, Mac, iOS, and Android
Shared email drafting
Comments and @ mentions
Assign emails to team members
Message templates
Custom automation
Analytics
What it Does Best
Front is a feature-rich team collaboration platform.
Pricing
Starter: $19/user/month
Prime: $49/user/month
Enterprise: Custom
Summary
Microsoft Outlook is one of the top email clients globally, but it's not for everyone.
For one thing, it gets expensive if you need a desktop client. And depending on your needs, you might want something more focused on team collaboration or security.
Luckily, there are plenty of alternatives to try.
Settled on an email client and ready to start making email work for your business? Let us know which one you're going to try in the comments.