In 2019, the team collaboration software market reached $9.5 billion globally.
And with the COVID-19 situation leading to a major shift towards remote work, collaboration and chat tools are more important than ever.
Businesses are rushing to implement collaboration software to keep their productivity high in these uncertain times.
As you probably already know, besides the alternatives the two clear market leaders in the sector are Slack and Microsoft Teams.
It's a fierce market competition — more on that below — that goes beyond the number of users as Slack in 2020 filed a competition complaint against Microsoft in Europe alleging that Microsoft "illegally tied its Teams product into its market-dominant Office productivity suite".
In short: it's game on between the two companies.
Setting aside legal disputes for a moment and focusing back on productivity, which of the two options is the best choice for your business?
In this post, we'll compare Microsoft Teams vs Slack and do a deep dive into their features, pricing, user experience, market shares, to help you answer this key question and pick a winner.
Microsoft Teams vs Slack — Market Share
If you looked at the market share in the collaboration software space even a few years ago, it would have looked completely different.
Slack was in a clear lead with Microsft Teams growing among enterprise customers but not so fast that Slack was worried. In 2023, it's a different story.
In 2019, Microsoft Teams surged past Slack in the number of daily active users — hitting 13 million in July.
And it shows no sign of slowing down from its new growth rate.
COVID-19-related stay-at-home orders led to more remote working, skyrocketing Microsoft Teams' user base to a reported 75 million in the first half of 2020.
Slack is still growing too, of course, but not at the same breakneck pace.
Will Microsoft Teams Kill Slack?
Is Slack in danger of losing the battle for the collaboration market? Let's examine the data.
Microsoft Teams is adding massive numbers of users through large organizations, schools, government workers, and its existing Office 365 customer base.
If you're Slack, this is a pretty scary graph:
As of the end of 2019, Microsoft has clearly taken over the lead within enterprises and government organizations, used by 65% of surveyed respondents.
But Slack is still the clear leader within the startup sector and among developers and other young, tech-savvy workers.
If you're Microsoft Teams, this is a pretty scary graph:
Microsoft is making little headway in this market segment and Slack is showing little signs of letting up its hold on startups any time soon.
Microsoft might have more users, recruiting thousands at a time from big companies, but the avant-garde techies of funded startups still favor Slack. So it looks like the battle for office communication and team cooperation is still undecided.
Microsoft Teams vs Slack — Features Overview
| | | |
| --- | --- | --- |
| Feature | Microsoft Teams | Slack |
| Channels (Teams) | ✔ | ✔ |
| Private Messages | ✔ | ✔ |
| No. of Users | Up to 500k with free plan | Unlimited |
| Unlimited Messages | ✔ | ✔ |
| Comprehensive Message Search | ✔ | ✔ (Up to 10,000 messages with free plan) |
| File Sharing | ✔ | ✔ |
| Guest Access | Limited to 5 per account even for paid plans | Unlimited collaboration with external users for paid plans |
| Screen Sharing | ✔ | ✔ (Not included in free plan) |
| Video & Audio Calls (1-on-1) | Unlimited | Unlimited |
| Video Conferences | Up to 250 users with paid plans | Up to 15 users with paid plans |
| Web, Desktop & Mobile Apps | ✔ | ✔ |
| Shortcuts & Productivity Tools | (40+ Shortcuts for Desktop App) | (50+ Shortcuts for desktop app with most available for web app as well.) |
| Bots & Workflow Tools | ✔ Who Bot (Paid only) and Third-Party Chatbots | ✔ SlackBot |
| Integrations | 472 apps to choose from | Up to 10 for free plans, with 2,000+ apps to choose from |
Both Microsoft Teams and Slack offer a comprehensive list of features that will help your team collaborate and get more done.
Features like private and public channel (or team) messaging, searchable message history, video conference calls, screen sharing, file sharing (with permission controls from Office 365 suite like SharePoint), and more, help companies work closely together, even though they're not physically in the same office.
In terms of the features, both solutions are quite evenly matched. Slack has the advantage in some areas, while Microsoft Teams has an advantage in others.
One key difference is that collaboration with outside teams is very limited with Microsoft Teams. It has a limit of five users even on paid plans unless you buy more licenses, where Slack allows unlimited external collaboration with paid plans.
Microsoft Teams offers more robust video conferencing. It can support video conferences of up to 250 users or live events with up to 10,000 people (using a combination of Teams, Microsoft Stream, and Yammer).
This showcases the real strength of Teams — the rest of the Office 365 suite supports and extends its functionality. Many of the features unique to Teams are only useful for larger enterprises or organizations, though, so it's not an objective advantage.
Microsoft Teams vs Slack — Comparing Free Plans
But which comes out on top when you strictly look at what's offered in Microsoft Team vs Slack's free plans?
First things first, Slack offers unlimited users and messages with all plans, and Microsoft Teams offers up to 500,000 (basically unlimited for most companies) and unlimited messages.
One big difference is that Slack only lets you search up to 10,000 archived messages in free workspaces.

Microsoft doesn't have an artificial limit here, letting you search your entire message history freely.
The free Microsoft Teams plan also includes screen sharing, while you would need to upgrade to a paid plan to use that feature in Slack.
Team video calls and small-scale video conferencing are also included as part of the free version of Microsoft Teams. But with Slack, you are limited to strictly one-on-one audio and video calls with the free version.
Of course, many companies already use a separate solution like Zoom for video meetings, so it's not a deal-breaker.
Overall, Microsoft Teams' free plan has more unlocked features than Slack's and fewer limitations.
But unless your team relies heavily on screen sharing or video calls, Slack's user experience won't feel limited.
Microsoft Teams vs Slack — Pricing
It's time to dive deeper into Microsoft Teams vs Slack paid plans and pricing. Which paid plan is the best value?
Let's start off by taking a closer look at Slack's plans.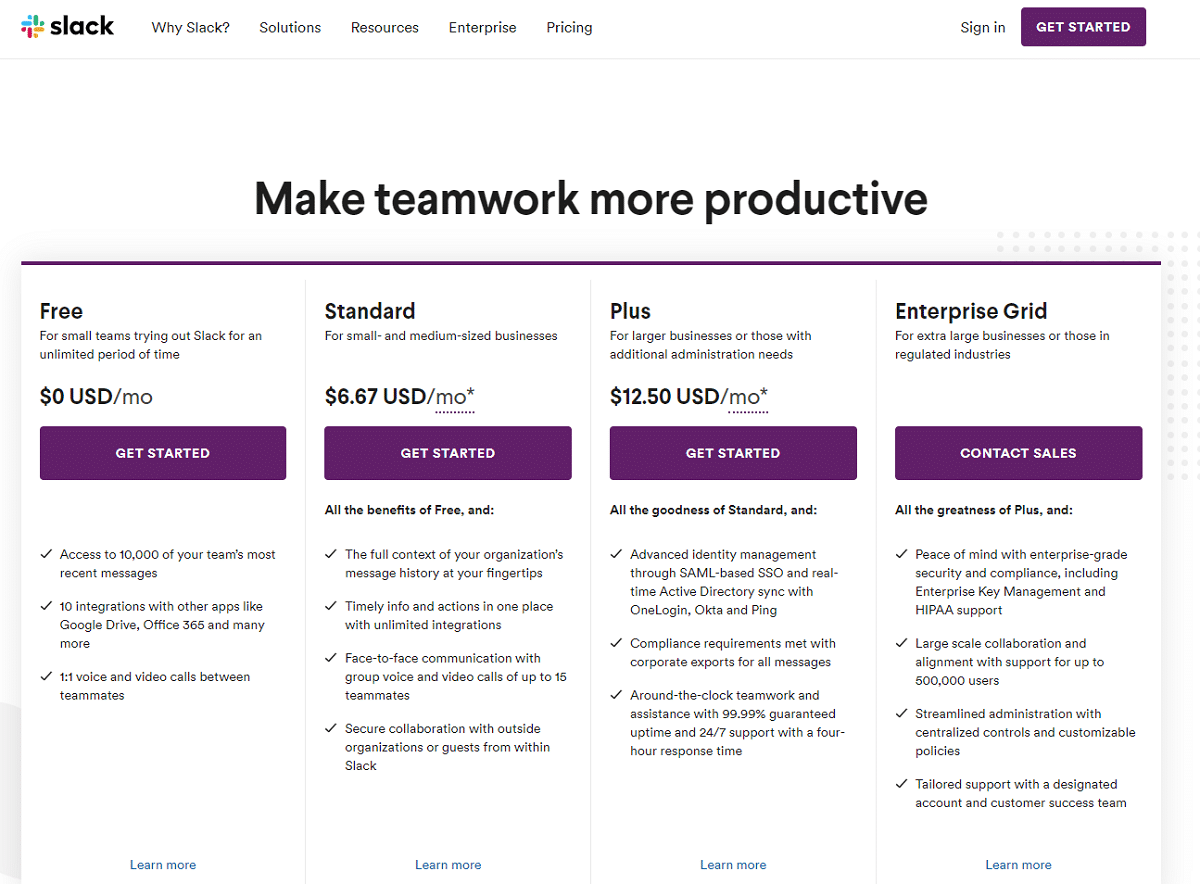 Slack's basic plan "Standard" starts at $6.67 per user per month.
It removes the limit on searchable messages, apps and integrations, and video calling. It also includes 10GB  of file storage per user, instead of 5GB in total for the workspace.
It also allows your workspace to add guests and external collaborators, perfect for agencies and consultants who work closely with partners and clients.
You can set custom retention policies for messages and files to ensure compliance with any industry or local regulations.
Finally, it enables "user groups," a way to group users beyond channels, to message entire teams or departments.
"Plus" costs $12.50 per user and includes more advanced compliance and security options, priority 4-hour response time support, and 20 GB storage for each user.
Next, let's take a closer look at Microsoft Teams' plans and pricing.
Note that there are no paid plans for exclusively Microsoft Teams, but instead Microsoft 365 plans that include a premium version of Teams, and other apps.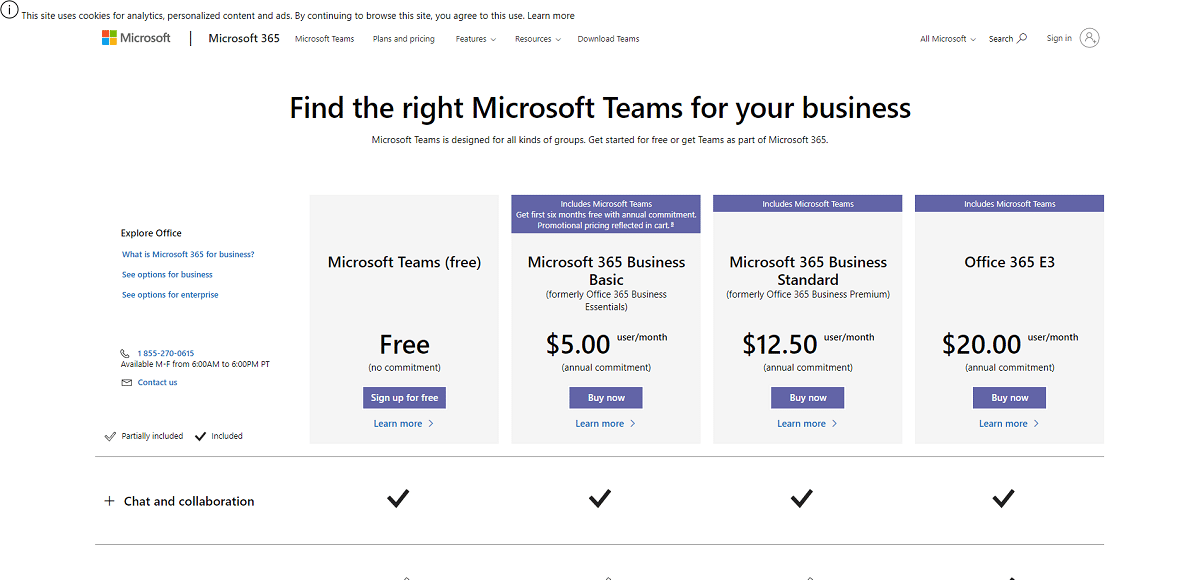 Microsoft's paid plans start with "Microsoft 365 Business Basic", at $5.00 per user per month for a collection of their collaboration tools, including Teams and SharePoint. This plan doesn't include access to the desktop versions of the Office 365 suite like Word and PowerPoint.
You get meeting scheduling and recording, 1TB of OneDrive storage per user, and security features like single sign-on and enforced multi-factor authentication.
The cheapest tier also includes administrative tools for managing your users and compliance.
"Microsoft 365 Business Standard" is priced at $12.50 and doesn't impact the available Teams features. Rather it gives your team access to the full desktop versions of Word, Excel, and PowerPoint.
Microsoft's cheapest plan is slightly cheaper than Slack's but it's only a buck fifty per user. It's not enough of a price advantage to make it an obvious choice for small businesses.
The second-tier plans cost the same at $12.50, with the advantage of more advanced features for both plans.
The real price advantage comes if your company is already paying for the Microsoft 365 suite. The business and enterprise plans already include access to premium Teams.
So if your company already pays for Microsoft 365, you could get the premium version of Teams without paying more.
Microsoft Teams vs Slack — User Interface
Next, let's take a closer look at the UI. Specifically, we'll consider how easy it is for new users to go from clueless, to efficiently using the platform to collaborate and manage projects.
Slack's user interface is sleek and has become the industry standard.
But not only that, in recent years, Slack has doubled down on creating a natural onboarding process, with a step-by-step tutorial for new users.
Of course, there's nothing complicated about getting started, even without the guide. You can manage and add new users to your workspace in the "People" tab.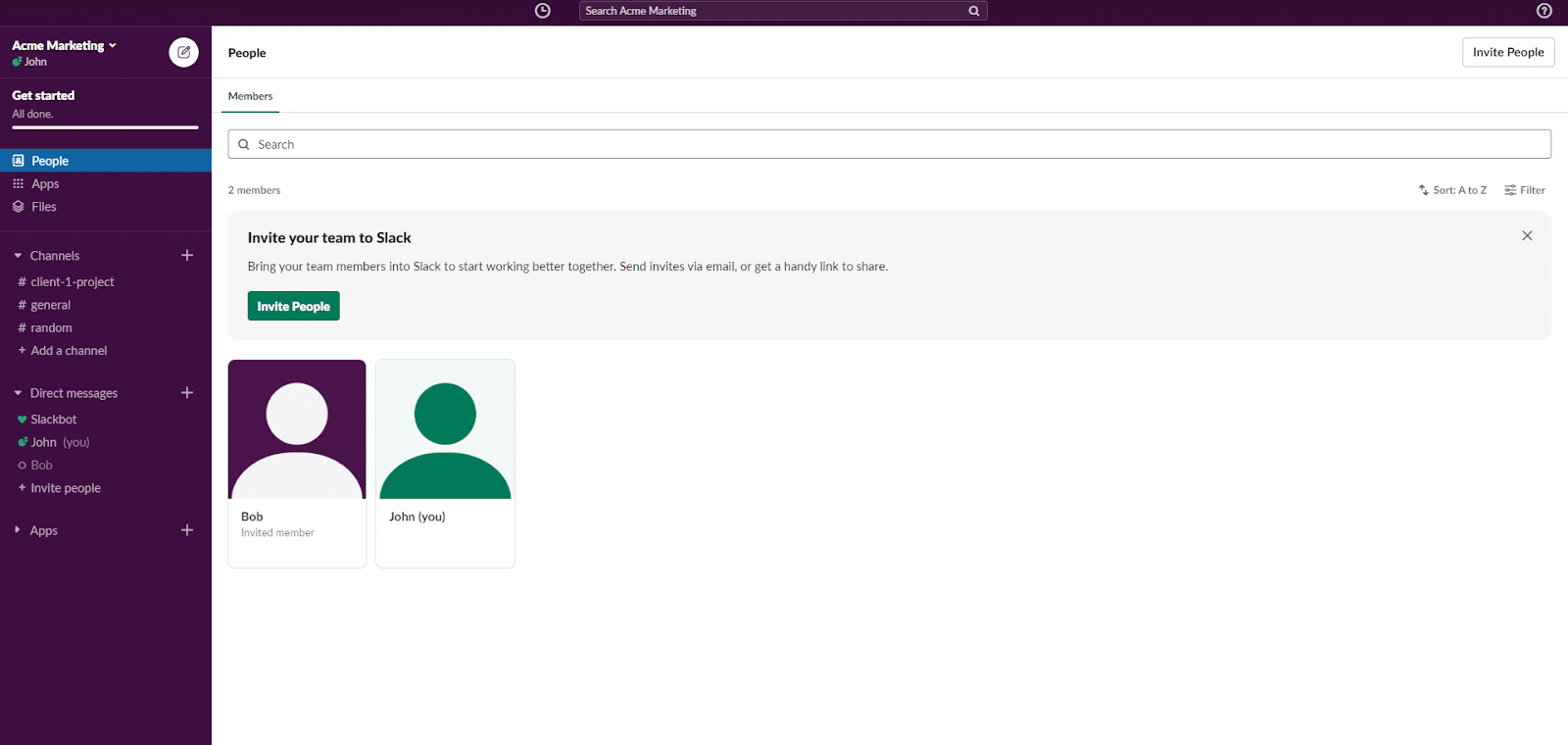 Potential users will receive an invitation by email. If they already have a Slack account, your workspace will be added to their existing account, with no need to create or remember a new password.
You can easily add a Slack channel by clicking the "Add a channel" link in the sidebar menu (in the channels section).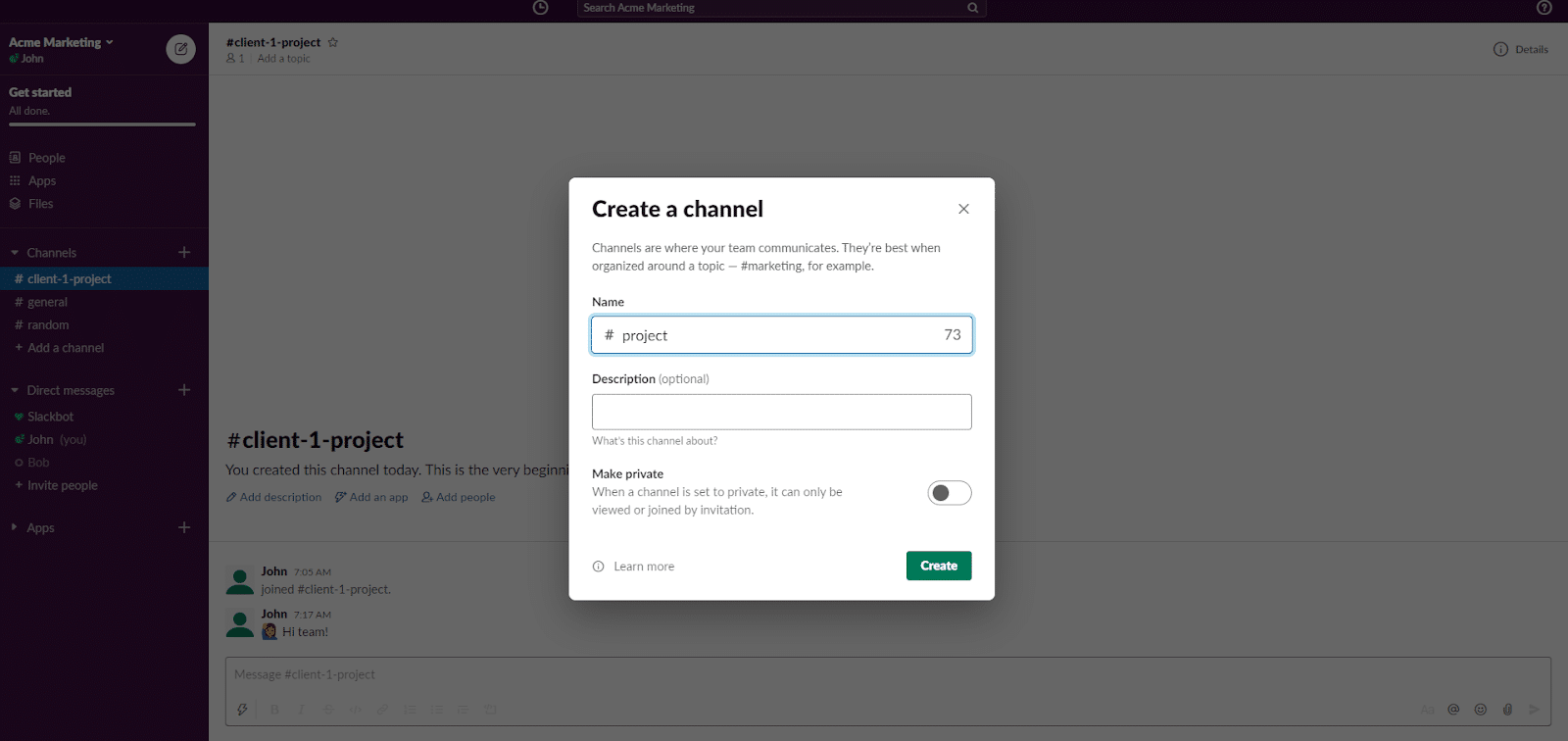 Sending a message to your team is as easy as going to a channel and starting to type. You can target a message in a channel to a specific person (or multiple people) by using @ and their username.
This will make sure Slack notifies them of the message you send them.

There's a lot more to Slack, and we'll cover other parts of the UI in the sections on bots and shortcuts below.
Next, let's take a closer look at the user interface of Microsoft Teams.
Most Slack competitors imitate, and Microsoft Teams is no exception. The touch and feel of the UI aren't very different.
Microsoft Teams offers some guidance after signing up in the form of docs and a tutorial video. But it doesn't include a step-by-step interactive tutorial like Slack.
The "teams" replace the "channels" menu-section from Slack. Each team can have different channels to keep communication separate for different projects (one of Slack's main selling points).
If you've used Slack before, the channels aren't the only way the UI will remind you of Slack when you first open it. When you click a button or menu, it opens up a light-box rather than a completely new page.
For example, you can create new channels by clicking the "Create more channels" button on any team page.
Like with Slack, you can also @ someone to make sure they notice your message.

The ability to create multiple teams with their own channels can be helpful for larger companies and organizations.
Both tools are easy to use, but Slack has a slight edge when it comes to the step-by-step tutorial and general UX.
Microsoft Teams vs Slack — Shortcuts & Productivity
Next, let's look at which tool has the best keyboard shortcuts and other productivity tools.
Slack is a productivity innovator, with shortcuts and productivity hacks for just about everything. Even Slack's web app has a comprehensive list of keyboard shortcuts you can use to boost your productivity.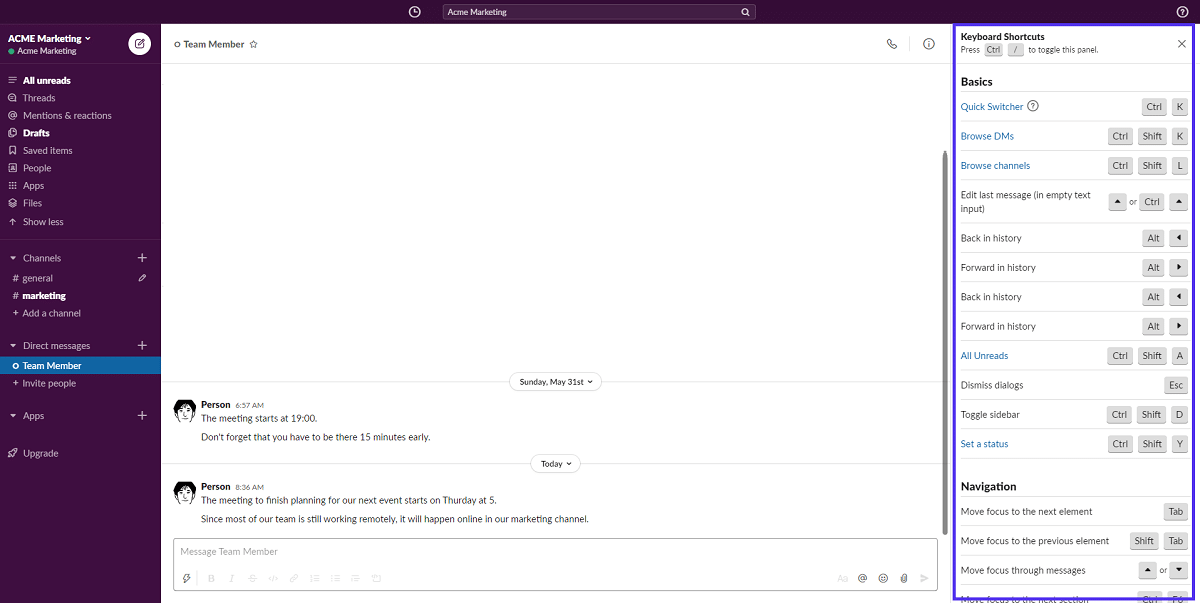 You can toggle this list by pressing Command + / on Mac and CTRL + / on other computers.
Some of our favorite shortcuts are:
Editing a sent message by simply pressing the ↑ key.
Read all unread messages by pressing CTRL(⌘) + SHIFT + A.
See all starred messages with CTRL(⌘) + SHIFT + S.
Mark any message as unread with ALT + left click (mouse).
Use SHIFT + ALT (Option) + ↓ to jump to the latest unread message.
Beyond shortcuts, Slack also has advanced search options that can help you find the messages you are looking for faster.
For example, you can find messages by emoji with the "has:" search parameter. This is great if your team uses a specific emoji to identify closed deals or priority messages)
If you're already a user but haven't yet mastered Slack, make sure to check out our guide on how to use Slack, including 18 little-known productivity hacks.
Microsoft Teams has, of course, followed suit and tried to implement similar productivity-boosting shortcuts, but they aren't as organized or intuitively useful as some of Slack's finer touches.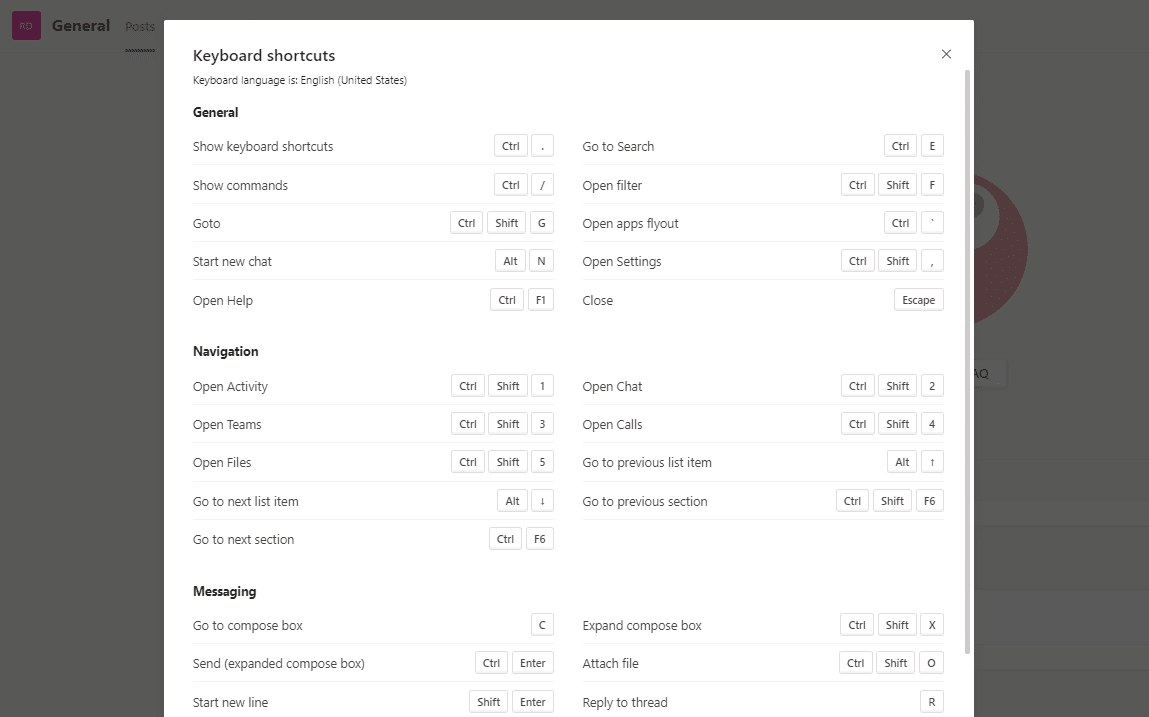 Notice how most of the shortcuts are just about opening a specific tab, rather than helping you quickly complete an essential task.
We miss shortcuts like editing a recent message with a single key, easily marking messages as unread, and similar that can speed up our work.
Slack is the clear winner in terms of shortcuts and productivity.
Microsoft Teams vs Slack — Bots and Workflows
In this section, we'll do a deep dive into the bots and advanced workflows possible with each tool.
Slack's trusty "Slackbot" is automatically included with every workspace.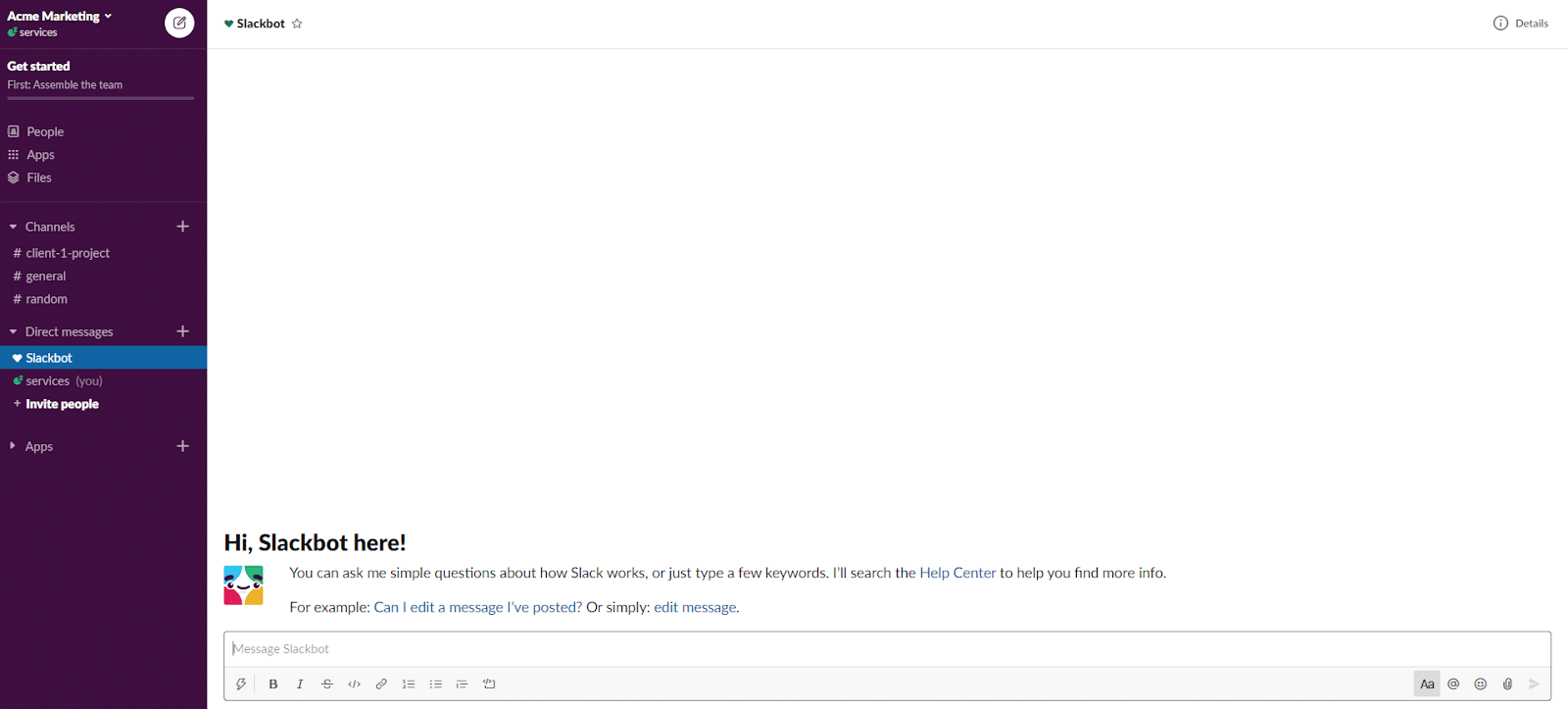 You can ask questions about how to use Slack, set reminders, and more. Generally, Slackbot just makes your Slack life easier. Good robot. 🤖
Slackbot is smart and has many useful features that will help you automate simple workflow right off the bat. It also has a host of different integrations to help you automate essential workflows.
For example, you can set up automatic answers to essential project-related questions like, "What is the deadline for X?" It also integrates with most task management apps like Asana, Trello, and Pipefy. With these apps, you can for example schedule automatic reminders and updates.
All in all, Slackbot is a trusted ally for any professional that doesn't like to manually copy and paste information.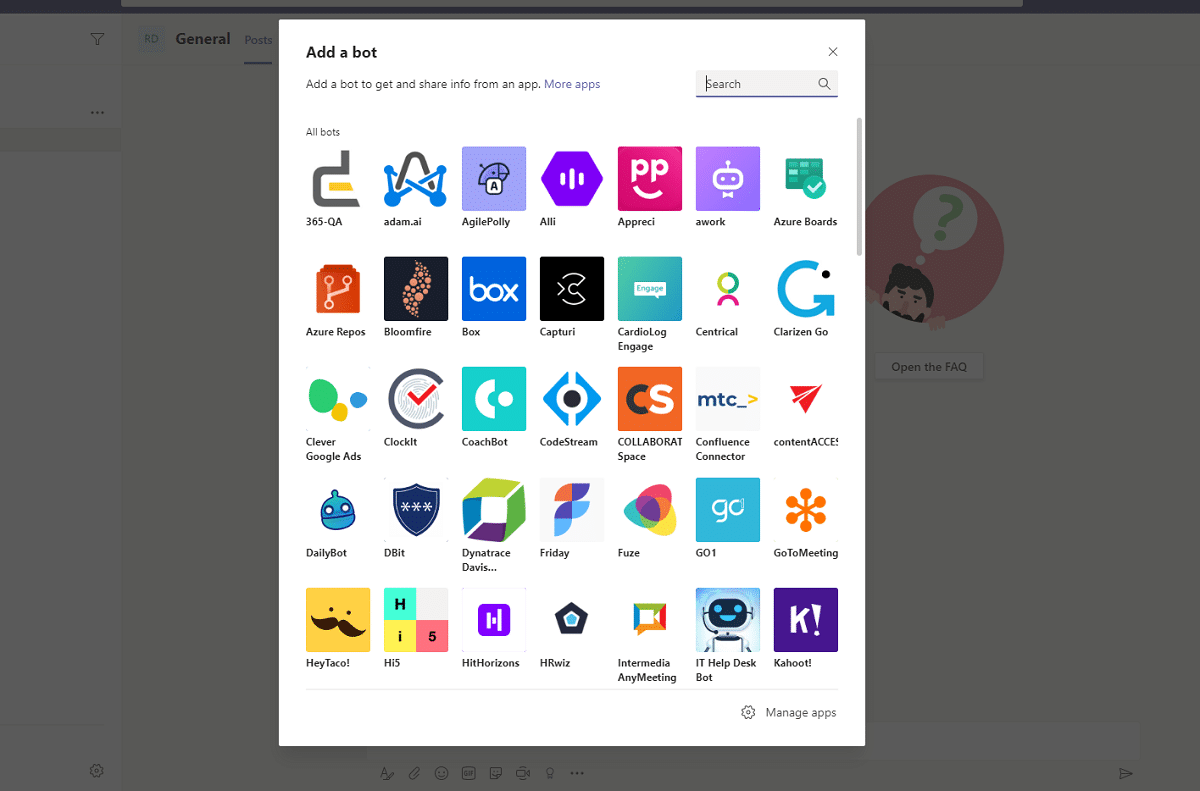 Microsoft Teams, on the other hand, doesn't have a signature chatbot in the same way. You can choose from a list of alternatives, but many of them only complete a specific task for a third-party app.
Luckily, there are alternatives like Workbot which will help you set up advanced automated workflows. It communicates with multiple apps and integrating the data, like Slackbot.
While the bot features are comparable, provided you install the right one in Microsoft Teams, it's a lot easier to get started with Slack's Slackbot.
Microsoft Teams vs Slack — Integrations
Clocking in at over 2,000 apps for extending its functionality, Slack is the clear leader when it comes to integrations and applications.
At this time, there are 530+ Microsoft Teams related apps and integrations available in the AppSource store. But, if your company already works with Office 365, you might think that Microsoft Teams has the advantage here.
Not so fast.
Slack has integrated apps for all the important Office 365 applications, including Outlook, Calendar, OneDrive, and SharePoint.
Slack also has over 2,000 other apps and integrations available including the entire Google Workspace.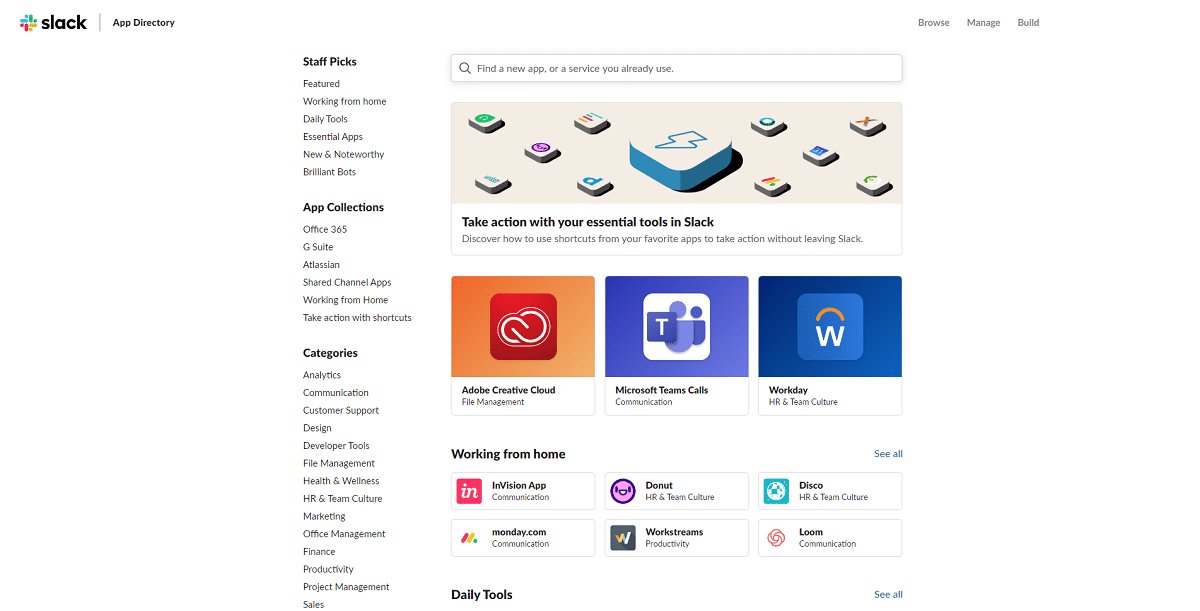 With the sheer number of different integrations, you have to give Slack the advantage here as well.
If you need ideas for tools to use together with Slack, check out the 40+ SaaS products we use to grow.
Microsoft Teams vs Slack — Security & Compliance
Both Slack and Microsoft Teams offer essential security features like two-factor authentication for all their plans.
You might think that as the enterprise-focused business, Microsoft reigns supreme, but Slack has improved its game over the last few years as well.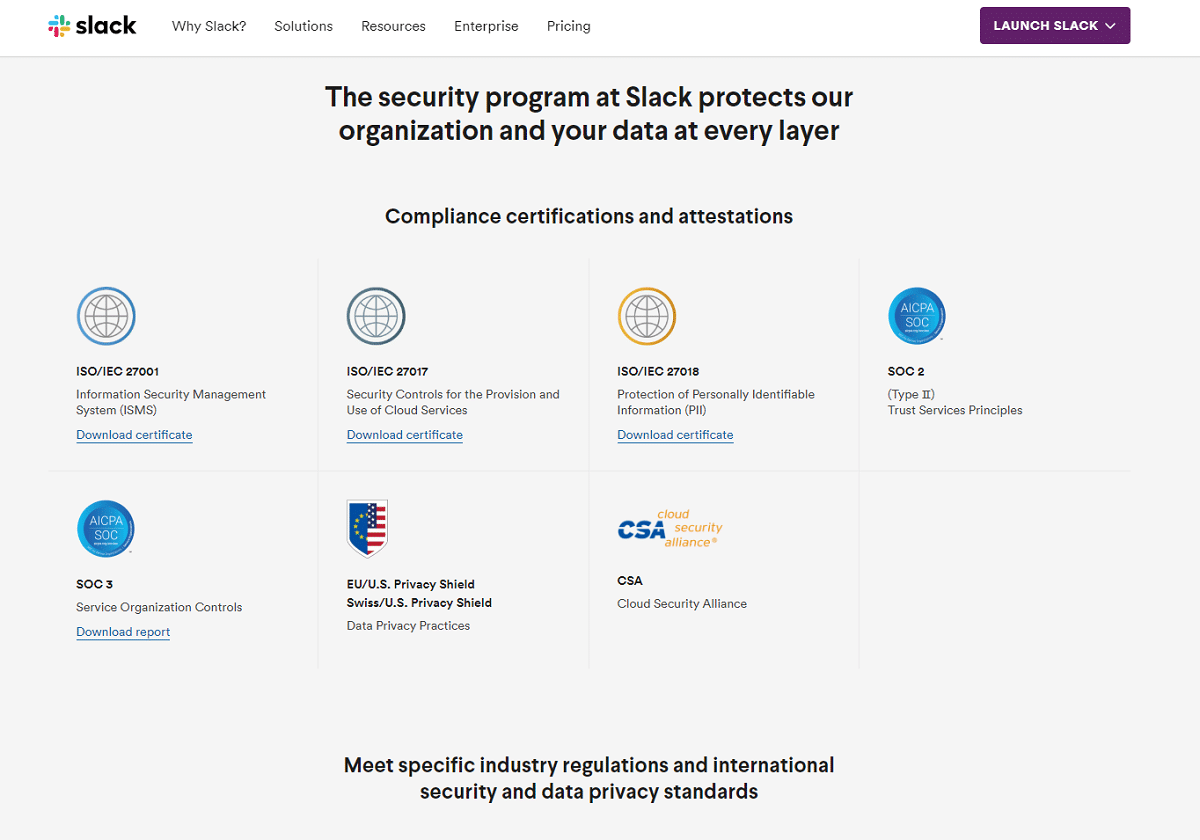 In fact, Slack is compliant with most basic ISO certifications, and you can also request specifically configured workspaces that are HIPAA-compliant as well (HIPAA-compliance is only available for enterprise plans.)
This makes Slack a suitable choice for companies in most industries that are looking for a collaboration app but are worried about security or compliance.
Through its native integrations, however, Microsoft Teams offers slightly better access control, information management, and security.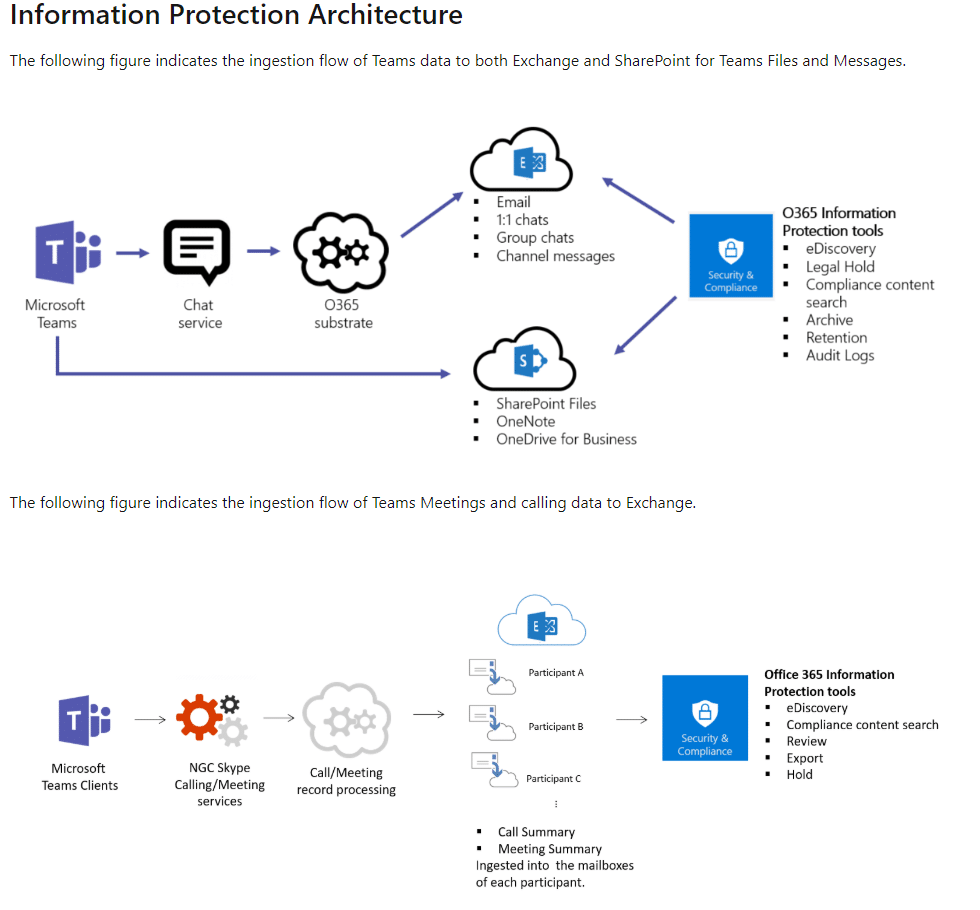 There are also many advanced administrative options for IT managers to make sure Microsoft Teams is compliant with a company's internal policies and regulations.
It's hard to call a clear winner here, as both companies take security and compliance seriously.
One thing to note is that while Slack's administrative tools are reserved for the Plus and enterprise plans, even the basic Microsoft Teams plan includes most of that functionality.
Which Workstream Collaboration Product Is Best For Your Business?
If you've made it this far, you probably just have one question left.
Which collaboration tool is best for me, Microsoft Teams or Slack?
The answer depends on your current scenario and needs:
If your company already uses and pays for Office 365 Business, then Microsoft Teams could make sense. It offers a lot of the same features as Slack, and a pro plan won't cost you anything extra as you're already paying for it.
But if you don't, there is little reason to make the switch.
If you just want an intuitive chat tool with great productivity features and integration,  Slack is a solid choice.
All in all both solutions come out pretty even, with slight advantages for Slack in terms of UX, bots, and productivity.
Microsoft Teams has a slightly more versatile free plan (with screen sharing and video conferencing), and its basic plan is cheaper.
Summary
Microsoft Teams has clearly overtaken Slack as the market leader in terms of the sheer number of active users and is rapidly becoming the collaboration platform of choice among enterprises.
Slack, on the other hand, is still the more innovative and easy-to-use tool, which makes it a mainstay in startups and smaller companies.
Slack has more integrations, a better bot, and slightly better usability. Microsoft Teams is a little bit cheaper, offers marginally better free plans, and integrates natively with Office 365 tools.
Which tool is the right choice for your business between Microsoft Teams vs Slack?
It all comes down to whether you use Office 365 and/or how experienced your team is with one of the platforms already.
What's your preferred communication tool between the two? Tell us in the comments!