In a word, everything on your website has an effect on conversion, therefore, you should plan on testing every element along the way. There are, of course, effective and ineffective ways to test and measure the success of your web page elements. Before I share the best WordPress A/B test tools, let's discuss the importance of testing your web pages and why A/B testing leads to better conversion.
What is A/B Testing?
Successful web developers rely on two types of testing. A/B testing, also called split testing, pits two page elements against each other in a head-to-head scenario that tells you which element readers respond to more. For instance, if you want to test a headline, you can design two identical web pages that feature separate headlines and direct traffic to each web page to see which headline results in more page views, time on page, higher conversions, etc. The other type of testing popular among online marketers is multivariate testing.
Multivariate testing allows you to compare and test multiple variations of the same page to see which page users respond to more positively. It is a great testing method, however it is limited in narrowing page elements down to the best for each specific element you want to test.
To get an idea of how website visitors respond to specific elements on a web page, A/B testing is more effective. A multivariate test can tell you which version of a web page is more effective, but to test individual elements on a web page, A/B testing is the preferred method because it allows you to drill down to each specific page element and determine which one serves your readers the best and converts more traffic to sales. The pay off is that A/B testing can often be a long process, but that's because it gives you the most thorough and accurate results for the elements you want to test.
What Can You Split Test On Your WordPress Website?
Since A/B testing is the more accurate of the two methods, you should plan to implement a strategy that allows you to test each element on your website and on each web page. To do that effectively, isolate each element and test them separately. Start with your theme.
Your WordPress one of the most important elements on your website. To run an A/B test on your theme, install a competing theme and see which one converts better. To make it a more effective test, try to keep the colors and specific elements as identical as possible so that you can isolate the themes involved in the test. You want to know which of two themes is the best one for converting visitors.
You can also test headers. Take two headers and compare them with an A/B test to see which one gets better results.
Footers and sidebars can be tested in the same manner. For instance, if you want to see whether a three-column footer or a four-column footer is more favorable for site visitors, run an A/B test where you sample each footer to a segment of your audience. The same goes for your sidebars. You can test your audience's response to two sidebars versus one sidebar or test which of two different single-sidebar layouts is most effective.
Another site-wide test you can run involves color schemes. After you narrow down your theme, pick two color schemes and run a test on those to see which is more favorable.
After testing each theme and layout element on your site, move on to single-page elements. That includes:
Headlines and page titles
Graphic elements
Content
Subheads
Page layout
Calls to action
The idea is to pick two versions of the same page element and test them against each other to see which one is the most effective in increasing page views, conversions, and other important metrics. Designbombs published a great tutorial if you need some help on how to create landing pages quickly with a WordPress plugin.
Important WordPress A/B Testing Tools
WordPress has incredible tools for A/B testing. Many of these tools are plugins that you can install and start using right away. They are also easy to use so you don't need any technical skills. If you can install WordPress, pick a theme, and modify it to suit your purposes, then you can use these WordPress tools to run effective A/B tests on your website and web pages.
Some of the tools below test specific web page elements while others are general testing tools. I've taken the liberty to categorize them for easy reference.
General Testing Tools
Let's start with some general A/B testing tools for WordPress. There are a ton of these on the market. Some of the free ones have premium upgrades. I'd consider these the top of the line. A few of the tools speak for themselves while others are recommended based on developer reputation.
Google Content Experiments – Google doesn't always hit the nail on the head, but its webmaster tools are generally considered helpful. Google Content Experiments used to be called Google Website Optimizer, but it has undergone a name change and been rolled into Google Analytics—a good move in my book. This free tool allows you to test up to 10 variations of a single web page and all you have to do is insert a piece of code into your website's header. Google also provides a developer API for high-impact A/B testing.
Simple Page Tester plugin – Simple Page Tester is a WordPress plugin that lives up to its name. It's free with a premium upgrade, the cost of which is $59.
The free version is very basic, but it still integrates with Google Analytics, it's a must for any A/B testing tool. With the upgrade, you get split testing on custom post types, shortcodes, conversion tracking, WooCommerce integration, and a year of e-mail support.
Nelio AB Testing – I like Nelio for one reason: Heatmaps. You have to admit, that's pretty cool.
Aside from that one cool feature, you can test all of your elements with one tool. The basic plan is $24/month. There is also a professional-level service for $74/month, great for small businesses. Finally, the enterprise-level plan is $214/month. Pricey, but you can use it on up to 10 websites, you can schedule your experiments, and there are other cool features like Auto Stop Experiments. These prices are for annual billing. It's a little more if you pay month-to-month.
There is also a Nelio AB Testing plugin for WordPress that is free and can be added to your site like any other plugin. It also plays well with other popular plugins.
Optimizely – Optimizely has two plans: There's the Starter plan, which is free and offers basic A/B testing, and the Enterprise plan, which offers customization to suit the needs of your business. What you don't get with the free version could make the upgrade worth it, but you have to ask for a quote.
The following features are not included in the free service but are included in the Enterprise plan:
Custom Visitor Segmentation
Custom Reports
IP Address report and other drill-down target optimization reports
Advanced Analytics Integration
Cross-Browser Testing
And many more.
You also get a higher level of support if you pay for the service. Optimizely is used by Microsoft, Sony, and American Apparel. Can they be wrong?
Optimizely has a free WordPress plugin, but you still have to sign up for the service on their website.
Convert Experiments by Yoast – Yoast is responsible for some of the most popular WordPress SEO plugins on the planet, including WordPress SEO. For that reason alone, you can bet any plugin developed by the Joost de Valk team will be world class. You should also plan on paying for it.
Convert Experiments by Yoast is a free plugin for WordPress that is only useful if you sign up for the Convert Experiments service, which starts at $125/month and goes up to $799/month for the "Big Agency" model. However, Convert has a free Yoast plan that allows you to split test your WordPress pages for 12 months on up to 5,000 visitors per month. You also get discounts on the paid plans. The plugin is included in the free Yoast plan.
The nice thing about Convert Experiments is that you can run advanced A/B tests and multivariate tests.
AB Tasty – AB Tasty is an international company based in France. You can set up A/B tests on plans starting at $34/month. The Pro plan costs $370/month with a 200,000 visitor-per-month limit and a multivariate testing add-on. There is also an enterprise-level plan that offers to test on unlimited visitors.
With AB Tasty you can set goals and performance indicators in a graphic visual editor with robust reports. Services are rendered in French and English. There is a WordPress plugin available, too.
A/B Press Optimizer – The Personal version of this WordPress plugin allows you to install the tester on one website for $49. For $99, you can test up to three websites. The Agency plan offers unlimited site testing for $199. Each level of service provides an unlimited number of experiments for an unlimited number of visitors. You get real-time reporting with expert features and support.
Test your themes, posts, pages, and custom post types using shortcodes. Easy to use and install. This is also great for split testing WordPress widgets and different advertisements to see which has a better CTR.
Split Test Dynamo – For only $7.97/month you can install a plugin that will allow you to test templates, track conversions, and split test your page and post content on an unlimited number of websites. However, if you don't pay your bill, the service is discontinued. To avoid that, you can pay a one-time $77 fee for lifetime use.
Theme Testing Tools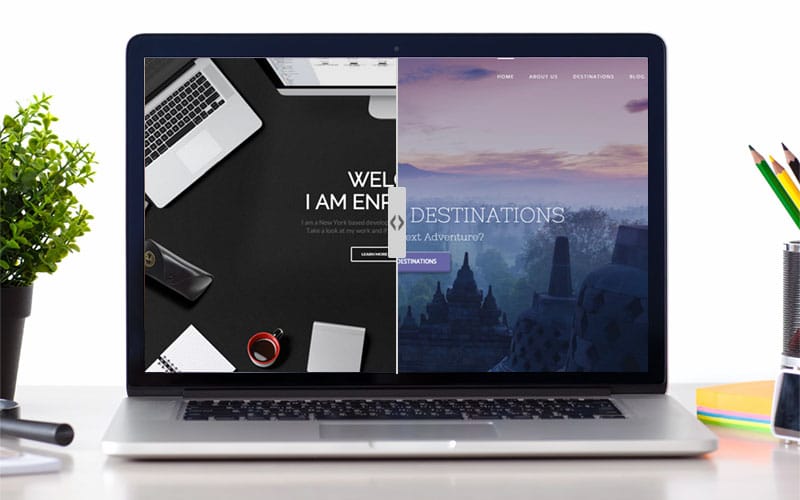 Your theme is one of the most important conversion optimization tools in your arsenal. Here are a couple of theme testing tools for WordPress.
SES Theme Split Test – If all you want to do is split test two WordPress themes, then this plugin will do the trick. Using custom segments in Google Analytics, you can test which theme converts better and track your visitors' activity. It only has three reviews with 2.3 stars out of five, but it's totally free and easy to install.
A/B Theme Testing – You might like this one better than SES Theme Split Test simply because it was developed by a popular WordPress theme developer (WPMUDEV). It integrates easily with Google Analytics, but it does cost $19/month. It comes with support and unlimited downloads, so you can use it on multiple sites.
There is an upgrade plan that allows you to use all of WPMUDEV's premium plugins for a price.
Headline/Title Testing Tools
Headlines and page titles are the most important elements on your web pages.
HeadlineEnvy – You'll need to sign up for Optimizely to use this WordPress plugin. You can test as many headlines as you'd like and automatically update your post with the winning title.
KingSumo Headlines – Simple and easy to install. Create a few headlines for your posts, set the tester to automatic and let it go. For $99 you get free updates, customer support, and unlimited site testing up to 50,000 visitors per month. The $499/year plan supports up to 500,000 visitors per month. For unlimited visitors, contact King Sumo for pricing.
Title Experiments – This plugin will allow you to test your page and post titles for free.
Other WordPress A/B Testing Tools
If WordPress allows you to create it, there is a tool for testing it. These free WordPress plugins are gems for the serious online marketer.
Gravity Forms A/B Testing – If you're a dedicated Gravity Forms user, this free plugin will allow you to split test your forms.
WordPress Calls to Action – Besides to headlines, calls to action are the most important page elements for conversion optimization. Test your links, social media buttons, file downloads, and set up call-to-action templates. This free plugin will also help you to track conversion rates and run multivariate tests.
WordPress Landing Pages – Instead of testing single elements on your landing pages, you can run split tests on the landing pages themselves. Customize templates, track conversion rates, and even run multivariate tests if you want to test several elements at once. This free plugin has a visual editor, pre-populates your forms, and allows you to clone your splash pages.
Have I missed something? What other WordPress A/B testing tools have you tried on your site and pages? Are you going to implement this testing on your site? Would love to hear your thoughts in the comments below.