GoDaddy is one of the most popular web hosting services. There are over 16 million websites that use GoDaddy, but not everyone is happy with their services. If you're looking to cancel your GoDaddy account, figuring out how to get there can be a challenge.
Canceling a hosting service is a lot less painful than you might imagine. If you're nearing the end of your contract, you can simply migrate your website to another hosting provider and stop payments to GoDaddy. That way, you won't lose any money and you'll be able to enjoy a hosting service that better suits your needs.
In this article, we're going to talk about some of the drawbacks of using GoDaddy. We'll also show you how to cancel a GoDaddy hosting plan and how to close your account. Let's get to it!
GoDaddy Drawbacks (Why You Might Want to Cancel)
One of the main reasons why GoDaddy is such a popular hosting service is its relatively low prices. If you're looking for budget hosting options, GoDaddy offers a broad range of reasonably-priced plans: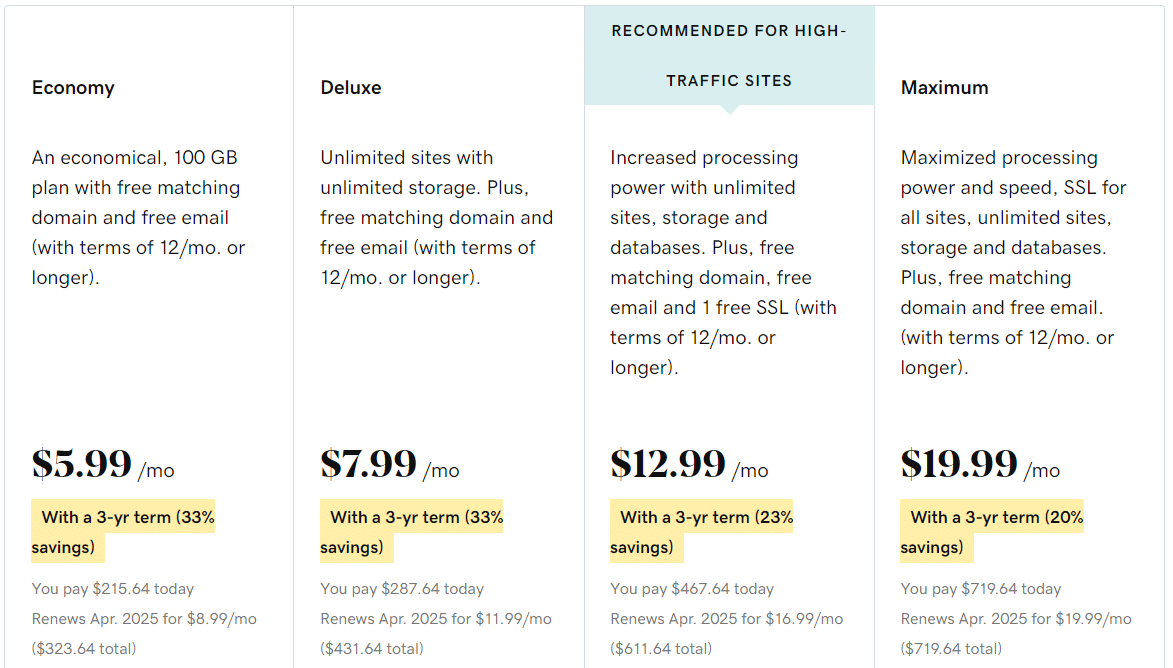 Aside from low prices, GoDaddy also offers unlimited websites, storage, and bandwidth for most of its plans. However, it's important to note that in most cases, there's no such thing as unlimited storage or bandwidth.
When a web host offers unlimited resources, they tend to include "fair usage" clauses in your hosting contracts. These clauses outline practical limitations to storage and bandwidth to prevent you from impacting the performance of other accounts on a server.
One of the most common complaints among GoDaddy users is poor website performance. Additionally, most of the service's hosting plans don't offer free Secure Sockets Layer (SSL) certificates.
Overall, GoDaddy scores a 3.9/5 rating among G2 reviewers:

Although 3.9 is not a bad score, it's not what you'd expect from one of the most popular hosting services in the world. Another common complaint among GoDaddy users is that pricing increases drastically after renewing your hosting contract.
To give you an idea, the basic Economy GoDaddy plan starts at $5.99 per month or $215.64 per year. After renewal, that price goes up to $323.64 per year.
To be fair, a lot of web hosts increase costs when you renew your contract. One pro of using GoDaddy is that it's very upfront about renewal prices, which you can see directly in the pricing pages for all of their hosting plans. A lot of other web hosts hide renewal prices until you reach the checkout process.
Overall, GoDaddy doesn't offer bad hosting services. However, "not bad" shouldn't be the standard that you aim for when it comes to hosting. You want to opt for a plan that provides amazing performance, great features, and excellent customer service. Fortunately, you can find GoDaddy alternatives that offer a better service at similar prices.
How To Remove Products From Your GoDaddy Account
Canceling GoDaddy products is simple. However, instead of outright canceling active products, we recommend that you simply stop the renewal process. That way, you can continue to enjoy the services that you've already paid for until the contract ends.
To cancel the renewal of a GoDaddy service, log into your account and go to Account Settings > Renewals & Billing:

Select any active service in your account and then click on Cancel Renewal. GoDaddy will ask you to confirm the choice, and it will warn you that the service will stop working if the renewal payment doesn't go through.
How To Cancel Your GoDaddy Account
GoDaddy enables you to cancel your account at any time, for any reason. However, keep in mind that canceling an account with active services will automatically terminate them. If you've paid for hosting upfront or you want to keep using GoDaddy for a while, we recommend that you put off deleting your account.
Once you migrate any existing websites and you're sure that you won't need to continue using GoDaddy, you can go ahead and cancel your account. To do so, log into GoDaddy to access your control panel. Then, click on your email on the top-right corner of the screen and select the Account Settings option: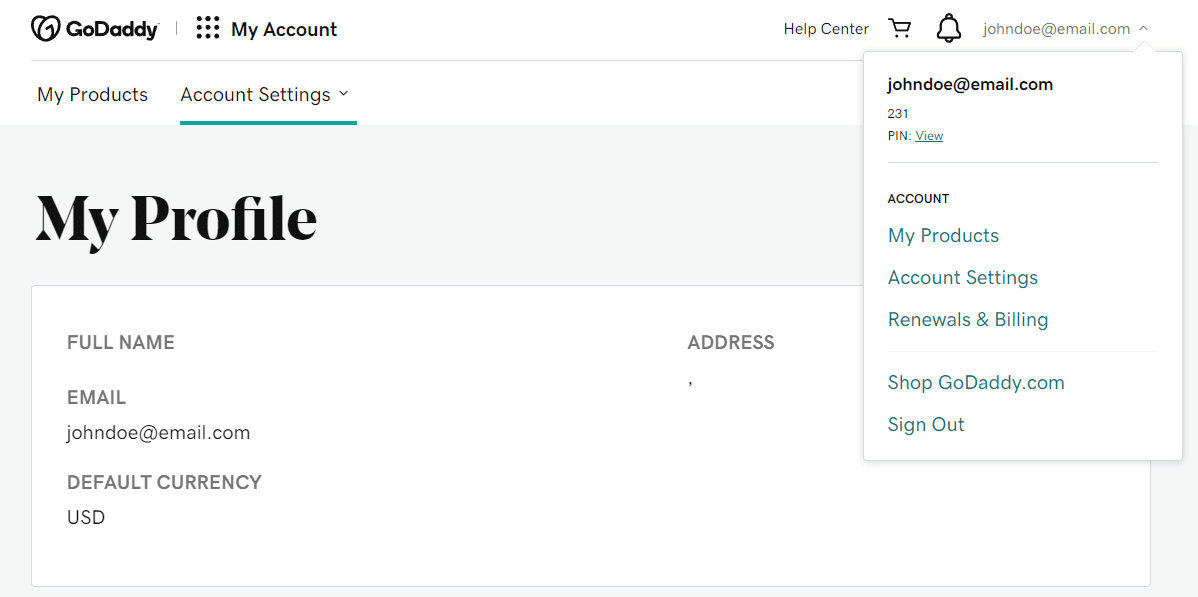 Once you're in the Account Settings screen, select the Contact Preferences option: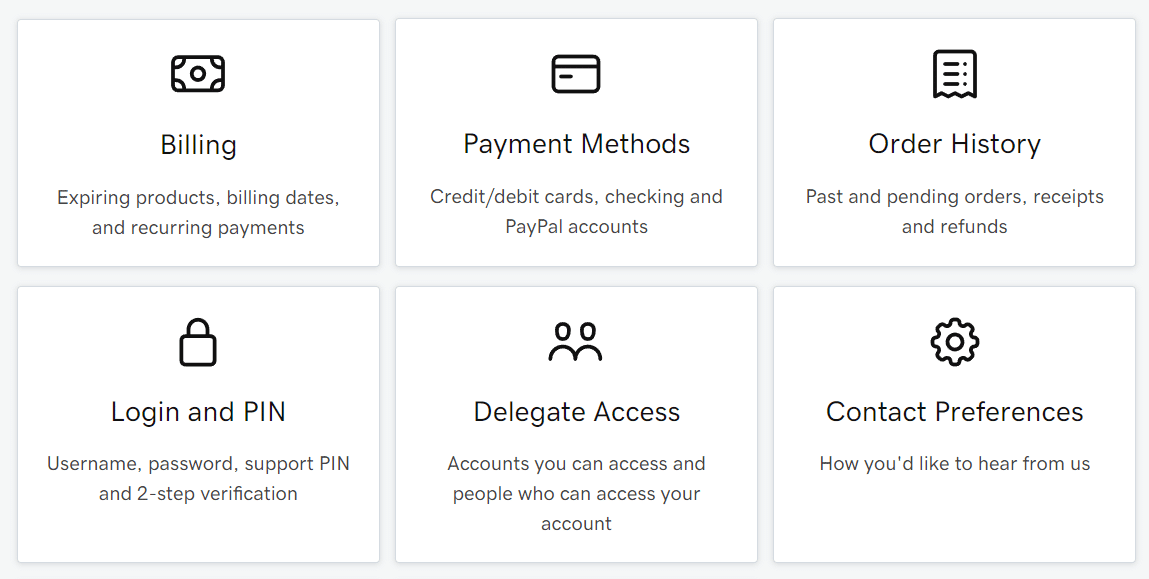 Scroll down the Contact Preferences settings until you find the Account section. Your account should show as Active.
To cancel it, click on the Edit button. Next, tick the box that says I understand this action cannot be undone and click on Close Account: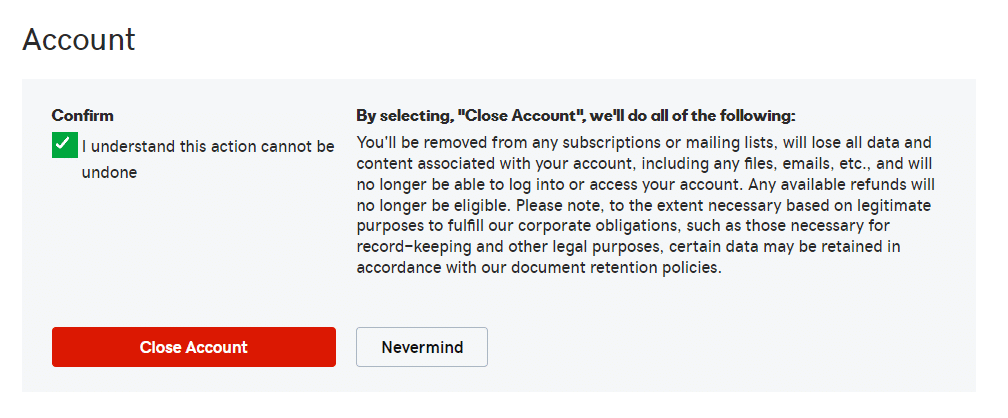 Make sure to read the warning associated with closing the account. As we mentioned before, this process will lose you any active GoDaddy services. If you want to use GoDaddy hosting again, you'll need to sign up and accept a new hosting contract.
GoDaddy Cancellation FAQ
If you want to cancel GoDaddy but still have some questions about the process, this section will answer them.
Can I Get a Refund for My GoDaddy Account?
You can only request a refund for your hosting plan before closing your GoDaddy account. Additionally, you need to request a refund within 30 days of purchasing a service if you paid for an annual plan. For non-annual payment terms, you only have 48 hours to request a refund after purchasing the service.
In a nutshell, if you've been using your GoDaddy hosting plan for over a month, your request for a refund will probably be denied. Other GoDaddy services, such as domain registration, have different refund terms and windows.
What Happens When You Cancel a GoDaddy Account?
If you cancel GoDaddy while you still have an active hosting plan, you'll lose access to it. Likewise, if you cancel before requesting a refund for a GoDaddy service, you forfeit the opportunity to get your money back.
GoDaddy will simply delete the account. If you want to use one of their services again in the future, you'll need to sign up for a new one.
How Do I Migrate From GoDaddy to Another Web Host?
Migrating from one web host to another can be a challenge if you're not sure how the process works. Some web hosts, such as Kinsta, offer free migrations to new customers. A team of experts will migrate your website from GoDaddy to your new web host and ensure that it works perfectly.
If you're using WordPress, you can also migrate your website manually. There are a lot of migration plugins that will enable you to create copies or backups of your site and import them to a new server.
Keep in mind that migrating from one web host to another doesn't just involve copying files. You'll also need to update your domain's DNS records so that they point towards the new web host.
What Web Host Should I Use for WordPress?
There are plenty of GoDaddy alternatives that will provide a better experience for WordPress users. You can choose from budget hosting options to managed WordPress services. As long as you don't opt for free hosting and you choose a provider with great reviews, your WordPress website will be in good hands.
Kinsta offers a broad range of application, database, and managed WordPress hosting plans that are designed to help you get the best possible performance for your website. Compared to other hosts, Kinsta gets fantastic reviews, so we encourage you to check out our available plans.
Summary
GoDaddy offers a broad range of hosting plans and it's a good enough provider for your first website. At some point, however, you might outgrow GoDaddy and decide that you want to opt for a hosting provider that offers excellent performance.
If you decide to cancel your GoDaddy account, remember to check if you're eligible for a refund first. If you're not, consider canceling the plan when it's about to expire so you don't lose the services that you already paid for.
Kinsta is a fantastic GoDaddy alternative that offers managed application hosting, database hosting, and managed WordPress hosting plans for businesses of all sizes.
We can help you migrate from GoDaddy to Kinsta and find the perfect hosting plan for your needs.