There are many reasons why you might want to clone your WordPress site. Perhaps you are launching a second site and want to use your first one as a base template to save time. Or maybe you want an exact replica for backup purposes or development, other than the typical staging environment.
Whatever the reasons, Kinsta makes cloning a breeze. Follow the steps below on how to clone your WordPress site with a few simple clicks!
Clone Your WordPress Site in MyKinsta
The clone feature at Kinsta copies your entire WordPress database, including all of your content and files. New access credentials, such as SFTP, SSH, and database username and passwords are automatically generated for the newly cloned site and can be accessed from the dashboard.
Step 1
Browse to Sites in your MyKinsta dashboard and click on "Add Site" at the top right.
Step 2
Select the "clone an existing environment" option, and choose a site to clone. Be sure to specify whether you want to clone the live or staging environment.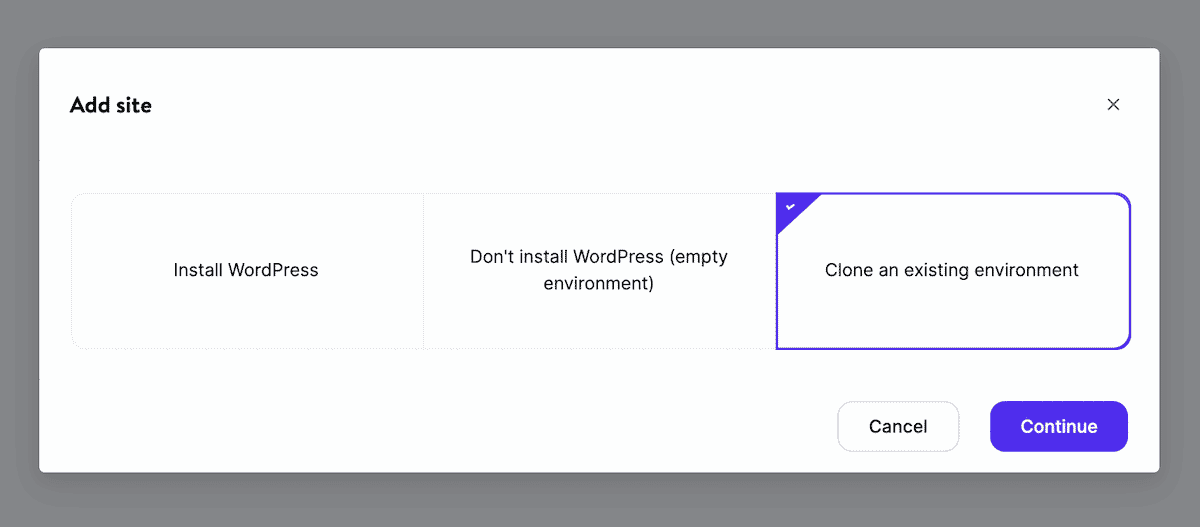 If you already have a domain name in mind, you can enter it at this time. Otherwise, the site will be cloned with a kinsta.cloud domain. Lastly, provide a name for the cloned site. Note that the location cannot be changed during the cloning process. If you would like the cloned site to be hosted in a different location, please contact our support team to move the site after the cloning process is complete.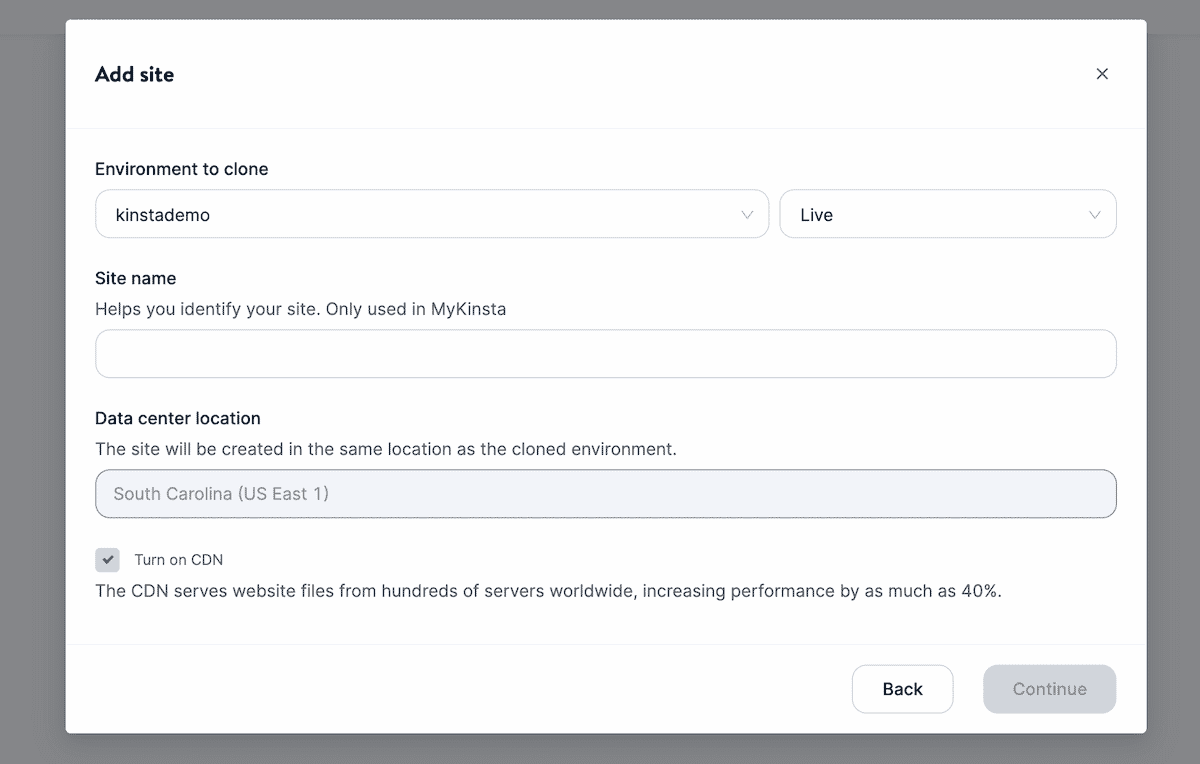 And that's it! The cloning process typically takes anywhere from 10 to 20 minutes depending on how large your WordPress site and database are. It will then appear in the list of sites in your MyKinsta dashboard. Note: If you find the cloning process taking longer than an hour, please reach out to our support team.

After Cloning Your WordPress Site
If you didn't input a custom domain during the cloning process, then it will get automatically be assigned a temporary URL so that you can access it, such as myclone.kinsta.cloud. If you have another domain you want to use, you can click into the "Domains" section and add it.
You will then need to update your WordPress address URL and site address URL. And if you have hardcoded your address URLs in your wp-config.php file, that will also need to be updated.
After a custom domain has been assigned to the site, you can generate a free SSL certificate and deploy Kinsta CDN in MyKinsta. For more information on how to go live with a site on Kinsta, check out this post.
Additional Notes
If you have any CDN plugins enabled or 3rd party plugins with hardcoded URLs, ensure that you update them to reflect the new site address. Otherwise content may appear broken, when in fact it is simply pointed to a wrong address.
Unlike staging sites, cloned WordPress sites are completely separate, meaning they do count against your total number of sites allowed by your plan and will be billed for bandwidth usage. This also means that the cloning feature is only available in Pro or higher plans (which allow for more than one site).
If you use social scheduling plugins such as CoSchedule or Social Networks Auto Poster, remember that they might start sharing out content from your cloned site. So ensure you update your address URLs or deactivate these plugins, otherwise, this could skew your analytics.
Clone Your WordPress Site with a Plugin
If your hosting provider, unlike Kinsta, doesn't give you the option to easily clone your site from your hosting dashboard, you'll need to use a plugin to do it.
The Duplicator plugin lets you make a duplicate of your site which you can then use to create a new site. Here's how to do it.
Making a Duplicate of Your Site
Go to Duplicator in your admin menu and click the Create New button. This will create a "package" which is a duplicate of your site.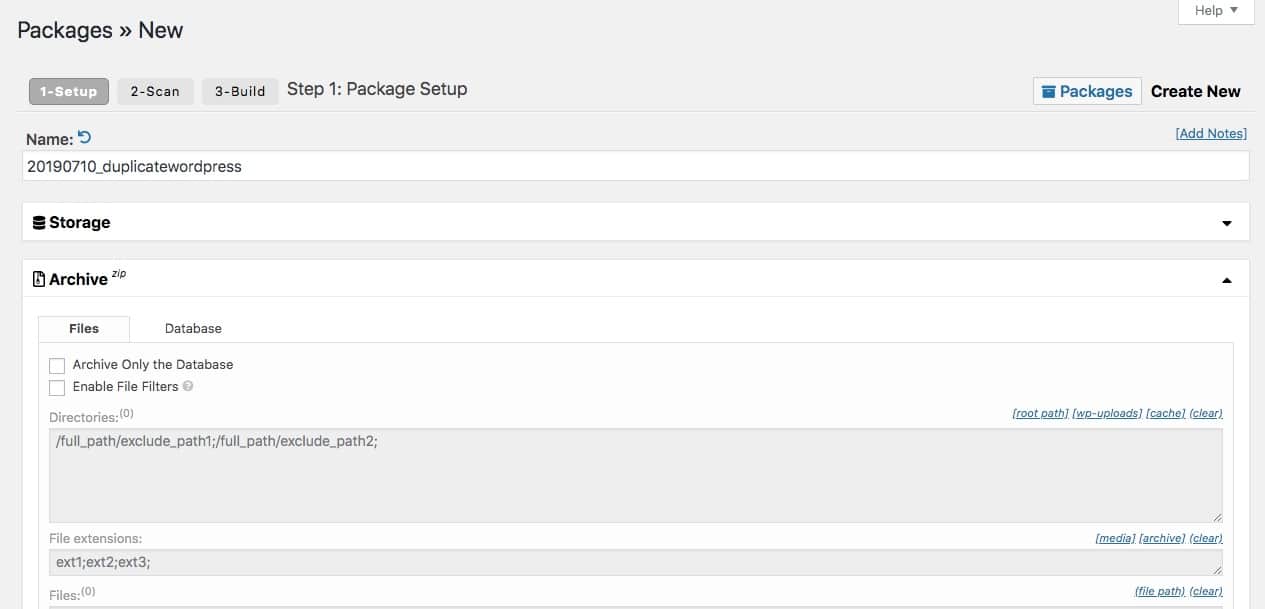 In the Setup screen, specify which files you want to be duplicated and which database tables or leave it at the default which will include all database tables and files. Make changes in the Installer section if you want to customize the new install or leave it on the default settings. Click the Next button.
The plugin will now scan your site and provide any warnings before making the duplicate. If there are any issues, take the time to fix them now. If there is a notice, you'll need to check the checkbox below the list of scan items before proceeding.
Click the Build button to continue. The plugin will build the "package" which contains everything in your site: your themes, plugins, uploads, and even WordPress itself. Download the package to your computer by clicking the One-click Download link. There will be two files: installer.php and archive.zip.
Installing the Duplicate in a New Location
To install the package in a new site, you'll need to upload the two files you just downloaded to your new site, using SFTP. Upload them to the root directory of your site or to the directory where you want to install WordPress. Don't install WordPress: the installer will do this for you.
Visit the installer file in your browser at yoursite.com/installer.php, where yoursite.com is the domain name of your new site.
You will then be guided through a series of steps to upload and install the files from your duplicate. Once you've finished this, you'll have a duplicate of your site at the new domain.

Cloning a Site in a WordPress Multisite Network with a Plugin
If the site you want to clone is in a WordPress Multisite network, you won't be able to clone it using the MyKinsta dashboard. Instead, you'll need to use a plugin.
The two plugins below are designed to make the process of cloning a site easy.
NS Cloner – Site Copier
With the NS Cloner – Site Copier plugin, you can quickly make an exact copy of a site with one click or you can customize the way the site is duplicated in much more detail by purchasing a premium add-on.
In the network admin, install the plugin and network activate it.
You now have two ways to clone sites:
you can go to the Sites screen and click Clone under the name of the site you want to clone.
Or you can use the NS Cloner V3 item in your network admin menu.
If you click Clone in the Sites screen, the site is cloned in one click exactly as it is with no customization. So if you want an exact duplicate of the site, this is a very quick way of doing it. If you want to make customizations to the new site, you click the NS Cloner V3 menu item instead.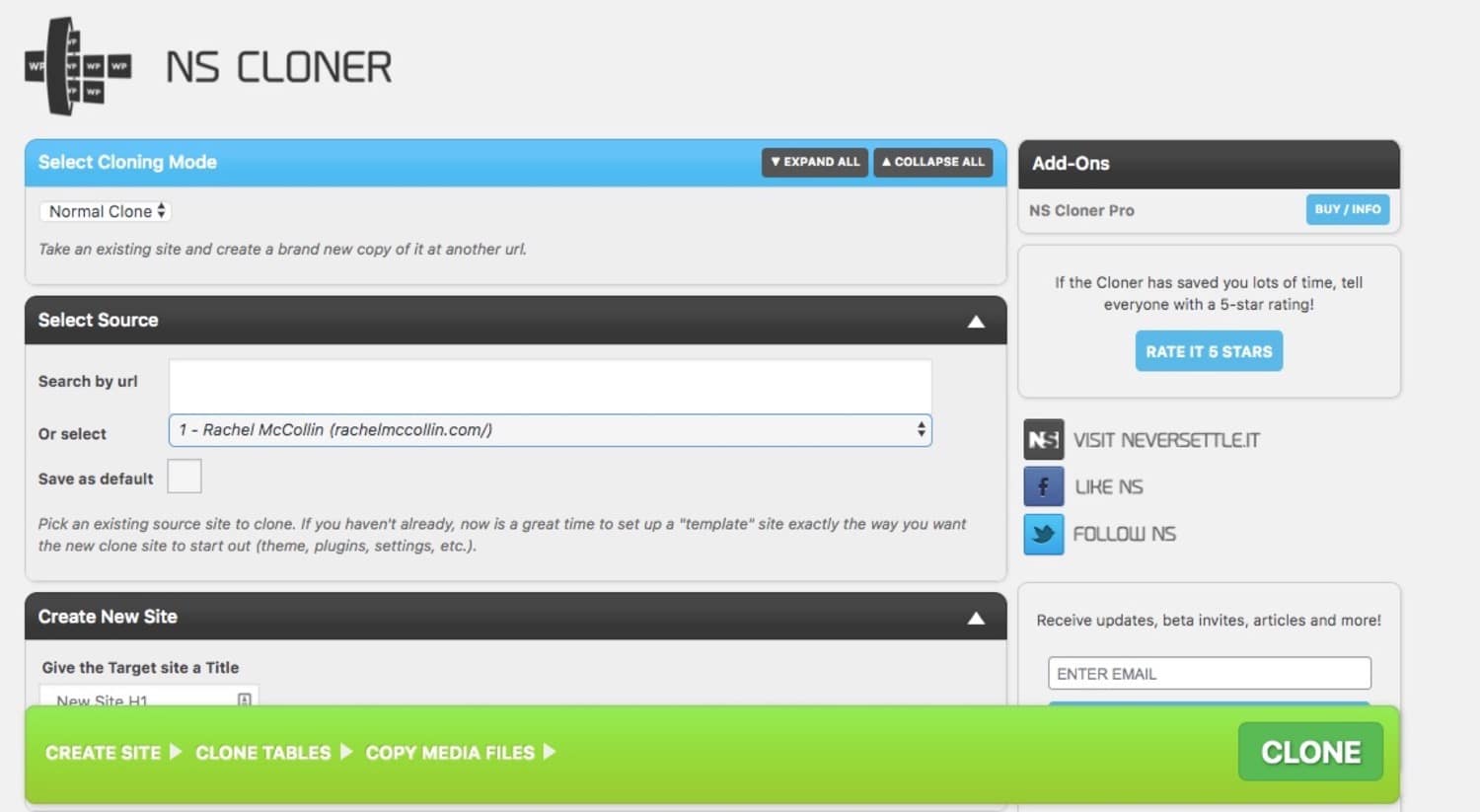 Here you can specify exactly what is copied over to the new site:
Select source: select the site to clone from the dropdown list.
Create New Site: give the new site a title and URL.
Clone Tables/Copy Users/Copy Media Files: specify which tables, files and users to clone by purchasing a premium add-on.
Search and Replace: again with an add-on, you can search the database and replace content, such as the domain name of the site.
Additional Settings: check this box to create a log of the clone which you can check if it doesn't work as you expect it to.
Once you're happy with the settings, click the Clone button in the green area at the bottom of the screen and the plugin will create the clone for you.
---
Get all your applications, databases and WordPress sites online and under one roof. Our feature-packed, high-performance cloud platform includes:
Easy setup and management in the MyKinsta dashboard
24/7 expert support
The best Google Cloud Platform hardware and network, powered by Kubernetes for maximum scalability
An enterprise-level Cloudflare integration for speed and security
Global audience reach with up to 35 data centers and 275 PoPs worldwide
Get started with a free trial of our Application Hosting or Database Hosting. Explore our plans or talk to sales to find your best fit.