The key to having a successful WordPress agency is all about establishing a long-term relationship with your clients.
While you can build sites and hand them over to the clients, it's always better — both for you and the clients — to support the website's maintenance. That'll also help you set up a dependable recurring revenue, enabling you to focus on growing your agency better.
An agency-focused managed hosting platform can help you immensely here.
This article will discuss various areas where an agency-focused managed hosting provider can supercharge your business.
Let's start!
Features to Look Out For in An Agency-Focused Managed Hosting Platform
Managing your own web servers can be time-consuming. You also need expertise to keep your clients' data online, safe, and secure. Partnering with the right managed WordPress hosting solution can solve all your problems.
Not all managed WordPress hosting platforms are built the same way. When choosing an agency-focused managed hosting provider, here are some features that you should look out for:
1. Better User Access Management
Having many client sites to manage is exciting, but it can also be challenging, especially if you have dozens (or even hundreds) of sites under your portfolio.
Most hosting providers use pre-built control panel solutions like cPanel and Plesk — they aren't suited for a WordPress agency. An agency-focused managed hosting platform won't let your success turn sour due to site management complexities.
Look for solutions that'll empower you and your team to manage multiple sites easily through a single dashboard. Having granular control over user access management is also critical, as it'll allow you to grant unique permissions to your developers, designers, and clients.
Ideally, you should choose a hosting provider with a custom control panel built specifically for managing WordPress sites. For example, every Kinsta account comes equipped with the powerful MyKinsta dashboard.
MyKinsta is updated constantly with new features based on user requests. Some of them are:
Search and Replace tool
Enable/Disable WP_DEBUG option
Kinsta APM, a free tool for debugging slow WordPress sites
Smart site management tools for site transfers, site renaming, and site labeling
We'll discuss these features in-depth later.
Meanwhile, you can schedule a demo of the Kinsta platform!
2. Automated Site Backups and Updates
Most website developers understand the importance of backups for protecting sites — from deletion, malware, corrupt updates, mistakes, and other threats.
A WordPress site comprises many parts — core, theme, plugins, uploads, configuration files, database, etc. — and backing them all up is critical to restoring a site to its previous state.
While you can take frequent manual backups of all your client's sites, it's not always possible in our busy schedules.  You may forget to take a backup or postpone it — just when you need it the most.
Automated backups come in handy here. They simplify your backup procedure for a more efficient recovery, keeping you and your clients at peace.
There are many ways to backup a WordPress site. You can also use WordPress plugins for incremental backups. However, the most performance-efficient way to schedule automated backups is at the server level — preferably with your hosting provider's support.
Kinsta's agency plans include 30-day backup retention for every client site you host. That means you can quickly fix any unforeseen issue with your clients' sites.
The surge of WordPress automatic updates gives even more importance to having automated backups. All your sites can immediately take advantage of the latest maintenance and security updates, or fall back to a previous release in case something goes sideways.
3. Regular Firewall and Security Scans
WordPress is usually seen as prone to security vulnerabilities and an unsafe business platform. More often than not, this is because site owners don't follow industry-proven security best practices.
As a WordPress agency, you can differentiate yourself from the pack by offering your clients secure WordPress sites.
That starts by taking care of server hardening and vetting all your client's sites for backdoors and common hacks, including plugin or theme vulnerabilities. You must also protect these sites from brute-force login attempts, malicious redirects, cross-site scripting (XSS), and DDoS attacks.
After that, you should monitor all your sites for uptime and proactively stop malicious code from harming them.
Next thing you know, you're looking at a full-blown sysadmin role. And trying to be a sysadmin to save $30/month is usually a bad idea.
That's why you should delegate these tasks to experts. Invest in a secure WordPress hosting that keeps all your sites safe from malicious actors.
At Kinsta, nothing is more important to us than your website's security. Our secure WordPress hosting solution uses active and passive measures to halt security attacks in their tracks. We monitor your sites every two minutes for uptime, have strict software-based restrictions, detect DDoS attacks proactively, and stop malicious code from entering our network.
All sites hosted on Kinsta are protected by Cloudflare's enterprise-level firewall and include free DDoS protection. We support 2FA, IP Geolocation blocking, and automatically ban malicious IPs.
And top it all off, we also have a hack-fix guarantee. That means if any of your client's sites is compromised, we'll fix it for free.
4. Server-Level Caching and Performance Enhancements
Caching is a vital element of any website's speed and performance. That fact holds even more importance for WordPress sites, considering that they're not the fastest compared to static sites.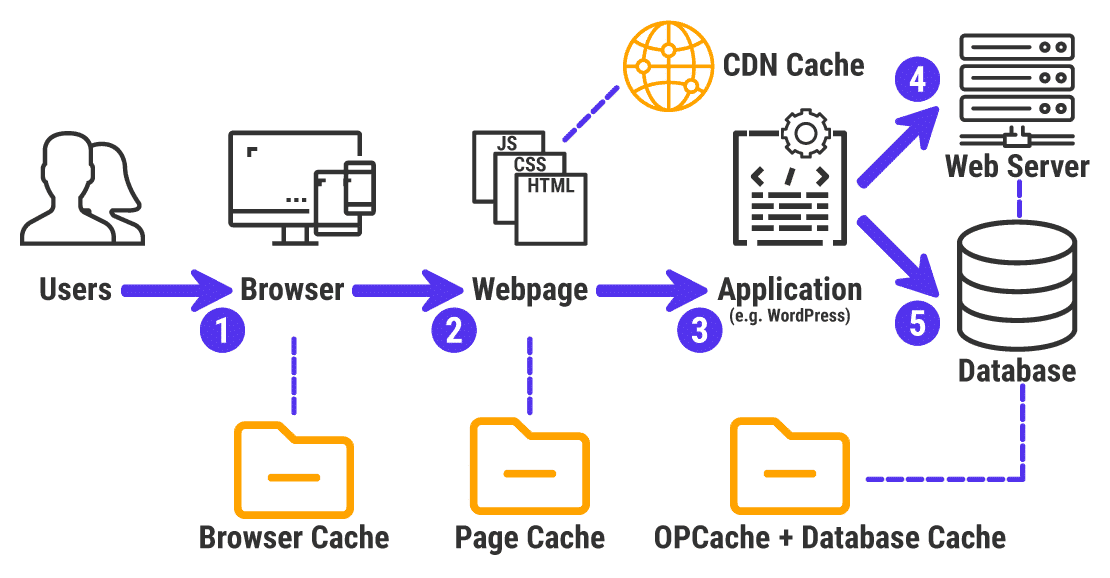 WordPress is built with PHP, and we saw some massive performance improvements with PHP 8.0 and PHP 8.1. But if you don't properly cache your site, it can still come to a crawl.
When it comes to a typical WordPress site, you'll primarily have to take care of four types of cache:
For this task, you can use many WordPress caching plugins. However, if you don't configure the caching plugin correctly, it can slow down your site — the opposite of what you want for your client's sites.
Hence, look for an agency-focused managed hosting provider that enables caching for all sites server-side. That way, you don't have to dabble with third-party caching plugins, most of which are a drain on the site's performance too.
Notice the faster page load time with caching enabled — a 23.04% increase in performance.
Even better if the host can also provide an option to clear the cache manually. That'll come in handy when you want to flush the cache to update the live site immediately.
If you host your WordPress site with Kinsta, you needn't worry about complicated caching and performance plugins. We have different types of caching and performance enhancements already implemented at the server level.
You can also set a custom cache expiration time to optimize your site performance further.
5. Free Migrations
Web hosting is a complicated maze. Your potential clients may already have a site with another hosting provider. It may have been a decent business decision at a certain point, but that needn't be the case anymore.
A website migration involves transferring the site's files, database, and server settings from one hosting provider to another. In the end, the website may look the same, but there can be many differences under the hood.
As a WordPress agency, this is where you step in with your expertise. If needed, you may also have to highlight the advantages of migrating the client's site to a better host.
While you can manage migrations manually, they're not always as straightforward. For example, migrating a single site from a WordPress Multisite network is a bit complex.
Most managed hosting providers offer free or paid migrations. For agencies, we recommend you look for a host that'll take care of migrations for you — preferably without additional costs.
As an agency-focused managed hosting platform, Kinsta will handle all of your site migrations — for free — no matter how simple or complex the site is. Whether you're hosting a business brochure site or an ecommerce store with thousands of products, we'll ensure that they don't experience any downtime during the migration process.
6. CDN Integration
A content delivery network (CDN) is a no-brainer solution regarding website speed. They speed up content delivery to your visitors while taking the load off your web server.
Saving server resources also means that you save on bandwidth costs. If you host many client sites, those savings can add up over time.
Whether you host a low-traffic static site or a high-traffic dynamic site, a CDN can be beneficial in almost every scenario. Furthermore, most CDN providers are very cheap, and some like Cloudflare are even free.
Many popular CDNs provide easy integration with WordPress sites. However, CDNs can be trickier if you use caching, security, and performance plugins. If your hosting provider offers all of the above plus CDN integration, that makes it much easier. Look out for such hosts.
Kinsta's hosting is blazing fast, but we know that powering your site with a CDN can make it even faster. That's why we've partnered with Cloudflare to make our client websites — and by extension, your client sites — faster and more secure. It's powered by Cloudflare's global network in 200+ locations, providing a super-fast CDN for your client sites at no additional cost.
7. Reliable 24/7 Support
Getting help when you need it the most can be crucial to maintaining a long-term relationship with your clients. You don't want any of your clients' sites offline during peak traffic season — or any other time in general.
According to a survey, 67% of people said they'd pay extra for a better customer service experience.
If you have happy clients, they will refer others. They're your cheapest and best form of word-of-mouth marketing, creating a chain reaction that can pay off immensely. As a small business, that can be your biggest competitive advantage.
However, building sites and maintaining servers require vastly different skillsets. Investing in a technically proficient customer support team that's available 24/7 isn't feasible for most WordPress agencies. Hence, you need to rely on your hosting provider to react quickly to your — and your clients' — support requests.
As a hosting provider with clients worldwide, we understand the importance of 24/7 live support. Whether it's noon or midnight, you can connect with our support engineers in real-time.
Our team knows the ins and outs of WordPress (some even contribute to WordPress core). They're experienced in server maintenance, website troubleshooting, theme and plugin development and maintenance, and more.
8. Hassle-Free Staging Sites
Staging sites are a lifeline for website developers — and agencies — to test code in a safe environment. They enable you to be bolder, more creative, and more experimental in updating sites.
If your client wants you to make any changes on their current website, you can use staging sites to ensure that these changes are free of bugs and errors before pushing them live. They also protect the site's reputation and SEO ranking, don't harm the user experience, and save time on web development.
Ultimately, staging sites help you deliver superior results to your clients.
While you can use WordPress staging plugins or manual methods to set up a staging site, it's better to do it at the server level with your host's support. Look out for a hosting provider that offers staging sites — preferably for free.
All sites hosted with Kinsta can use our free WordPress staging environments to test and deploy code efficiently. If you're part of a large agency, you may need several people to access the WordPress staging sites. If you need even more, we also offer Premium Staging Environments.
Through MyKinsta, you can set access to specific users based on their role in your large team or agency. You can add, assign, and remove company- or site-level roles to your live and staging sites.
9. Integrated Local Development Tool
Local development environments help you design and develop websites quickly and efficiently from the comfort of your local machine. It may seem counter-intuitive, but they allow you to develop sites without internet connectivity.
There are several other advantages of using a local development tool:
Work on your code (and your client's code) anywhere
Quickly debug themes and plugins within different environments (Nginx, Apache, PHP, MySQL, etc.)
Expedite your development and web design workflow
Once you've finished developing a website locally, pushing it online can be challenging. It's significantly more complicated if you develop it in a local environment vastly different from the web server.
Pushing changes live can further complicate things, especially if you also throw staging sites — a common part of all web development workflows — into the mix.
As a WordPress agency, you should look for a hosting provider that provides easy integration between their services and any popular local WordPress development tool.
At Kinsta, we felt most local development tools were a bit too complicated or limited. So we created DevKinsta, our free suite of tools for local WordPress development. It lets you create local WordPress instances with a complete hosting stack — PHP, Nginx, and MySQL — in just a few minutes.
Specifically, DevKinsta comes with a solid and ever-growing list of features such as:
One-click WordPress site creation
Local email management
Built-in database manager
Integration with MyKinsta and its features
Deploy your code to Kinsta's staging environment
SMTP server, WP_DEBUG toggle switch, and more!
You also have access to the Kinsta API which allows you to seamlessly interact with Kinsta services such as creating a WordPress site, getting a list of sites, etc.
10. White-Labeling Options for Agency Branding
Most managed WordPress hosts install their own plugins to enable caching and other custom settings. Typically, the host will use their branding to stand out from the usual WordPress plugins.
That shouldn't be an issue if you're just hosting your own sites. But as a WordPress agency, it's always preferable to personalize your services to your clients — it reflects your brand better and makes you stand out from your competition.
Kinsta has one such plugin named Kinsta MU plugin. It adds some Kinsta branding to help you navigate around the WordPress admin dashboard.
For example, the Kinsta Cache tab in the admin dashboard sidebar features a Kinsta logo, so you can quickly find the right place to clear your site's cache when needed.
For agencies — and other Kinsta customers — who may want to remove the Kinsta branding from the WordPress admin dashboard, we provide an option to do so.
With this setting, you can white-label Kinsta-branded elements in your WordPress admin with your logo. This feature is handy if you use Kinsta's hosting for your clients.
11. Free Hosting for Your Agency Site
Free hosting space for your agency site is just the icing on the cake. And that's what Kinsta offers to all its agency partners.
As a Kinsta partner, your agency site is hosted free on our Pro plan. You'll get the same high-performance and secure hosting we provide to every Kinsta customer — and by extension, to you and your clients.
There's more to Kinsta's Agency Partner Program than just free hosting for your agency site. Let's explore it in depth below!
Join Kinsta's Agency Partner Program
Kinsta's Agency Partner Program was born after researching the needs of many of our agency clients. It's s explicitly designed for web and creative agencies that manage hosting for their client's sites.
You can join Kinsta's Agency Partner Program to take advantage of various benefits, both for you and your clients:
MyKinsta for better user access management with unlimited team members
Unlimited free migrations for all your client sites
Free automated backups (30-day retention for agency partners)
Top-notch server-level security
Extended hack fix guarantee
Automatic updates (and again, with backups)
Easy DNS management
Smart site management tools for site transfers, renaming, and labeling
Cloudflare CDN integration
Kinsta APM to find and fix site performance bottlenecks
Automatic scaling with Google Cloud infrastructure
White-labeled caching plugin
Expert 24/7 live support
Staging environment
DevKinsta for hassle-free local development
Free hosting for your agency website
Highly customizable plans to suit your different needs
Our ever-expanding library of blogs and knowledgebase articles will help you — and your clients — tackle almost any web development and WordPress issue. And to get the most out of your Kinsta account, you can access our Help Center for valuable tips, tutorials, best practices, and guides.
To top it all off, you can take advantage of the Kinsta Agency Directory to further cement your authority as a WordPress agency. All of our agency partners are eligible to be listed here — you'll receive an invitation to submit your info after signing up for an Agency plan.
Here, users looking for an agency can browse our trusted list of agencies to find the right partner. They can search and sort these agencies by services offered, technologies supported, locations, languages, and more.
Agency-focused managed hosting platforms are still at an early stage — and Kinsta is at the forefront of this change. We keep a keen eye on cloud hosting and web development technologies, looking for novel ways to speed up and optimize our clients' sites.
If all of this sounds good to you, please get in touch with us!
Summary
Running a successful WordPress agency involves a unique set of challenges — marketing, sales, technical expertise, customer support, accounting, server management, web security, website maintenance, etc.
You can handle these challenges better by partnering with an agency-focused managed hosting platform. While a reliable managed host may not solve all your problems, they'll help you enjoy peace of mind knowing your sites are safe, fast, and secure.
It's now time to scale your agency!
Join Kinsta's Agency Partner Program and quickly build, manage, and launch client sites. Join hundreds of other agencies that have chosen Kinsta as their hosting partner.