Listen to enough origin stories of successful WordPress agencies, and you'll notice they sound eerily similar:
The founders worked as freelance designers or developers, building websites while simultaneously running their small (or solo) businesses. Inevitably, they started to look around and wonder if there were opportunities they were missing out on — ones that would make their jobs easier, their lives more fulfilling, and their businesses more profitable.
You may or may not be aware of this, but this is exactly where Kinsta's founders started. Mark, Anita, Peter, and Tom were running a web development business in 2013 that was a lot of work and not very rewarding.
Eventually, the Kinsta founders realized that what they were doing just wasn't scalable or sustainable. And that's a point that many WordPress freelancers and small business owners get to as well.
To change that narrative, you must be prepared to shift your company in a different direction. For Kinsta, that meant moving into managed WordPress hosting. For others, that may mean building a bustling WordPress agency. Your story is your own to shape and mold.
That said, whatever path you choose to go down, none of that growth will be possible without:
A team of dedicated experts
Buttoned-up processes and documentation
Automations and templates galore
That's not to say that you don't have these elements in place as a WordPress freelancer. But a WordPress agency requires you to take it to another level.
If you find yourself in a similar position where you're feeling okay with the work you do but don't feel as though you're maximizing your impact or your profit, it could be time to turn your freelance business into a full-service agency.
In this guide to starting a WordPress agency, we'll show you how to get an agency started and, later, how to scale it for greater success and sustainability.
What Is a WordPress Agency?
There's a big difference between a freelancer's business and that of a WordPress agency. Heck, there's even a difference between a small WordPress business and a full-service agency.
Here are just some ways the three differ:
Freelancer
Small Business
WordPress Agency
Team Size
1 person
< 10 people
> 10 people
Team Dynamic
You = Wearer of All Hats
You + small team = Close-knit family where everyone pitches in
You + team leads + team members = Everyone has a clear role to play
Services Offered
Services: WordPress websites
Services: WordPress websites

Products: Monthly maintenance

Services + Products: WordPress websites + Monthly maintenance + Digital marketing services + Coaching + Other specialized services
Quantity of Clients
Based on your capacity
Based on your team's capacity
A recurring base of big-budget clients + steady influx of new ones
Earning Potential
Depends on the number of hours you work
Depends on the number of hours your team can work
The sky's the limit
Clients Come From…
Cold outreach, responding to job listings, word-of-mouth
Word-of-mouth, lead magnets, content marketing
Word-of-mouth, lead magnets, sales funnels, content marketing, PPC ads, remarketing, affiliate partners, guest blogging, and other high-profile press ops
Here's what you should take away from this:
WordPress agencies have the potential to generate much more revenue than a freelancer or small team ever could. However, it's not always a given.
There's a lot of work you must put into building a WordPress agency if you want to profit from it, so don't equate the mere act of hiring a team with increased output. There's more to it than that.
How Do You Start a WordPress Agency?
Remember that episode of The Office where Michael Scott screams, "I declare bankruptcy!"?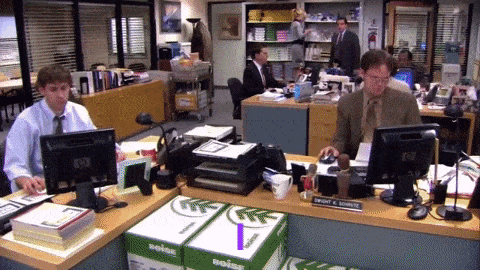 He thought all it would take was a public declaration to zero out his debts. You and I both know nothing is that easy in business or life. This is why you're going to need to do more than start calling your business a "WordPress agency".
If you're ready for the challenge (and reward) of starting your own agency, start here:
Step 1: Define Your Mission
According to a recent survey from FlexJobs, these are the top challenges freelancers focus on:
Finding clients
Creating a predictable income stream
Managing their freelance business
When your focus is on where you'll get your next client or how to balance managing a business with building websites, it's difficult to focus on a mission that's anything but:
"Do an awesome job designing websites so that great clients want to work with me and pay me on time."
That all changes once your WordPress business is more established and you've created some stability in your work. It's at that point you need to have a rock-solid mission that every decision revolves around — and one that takes the focus off of your struggles and puts them on the people you intend to help.
To define your mission, ask yourself the following questions:
"Who will we serve?"
In other words, what should your niche be?
Although Codeable isn't a WordPress agency, the evolution of the company's mission is one you can certainly relate to.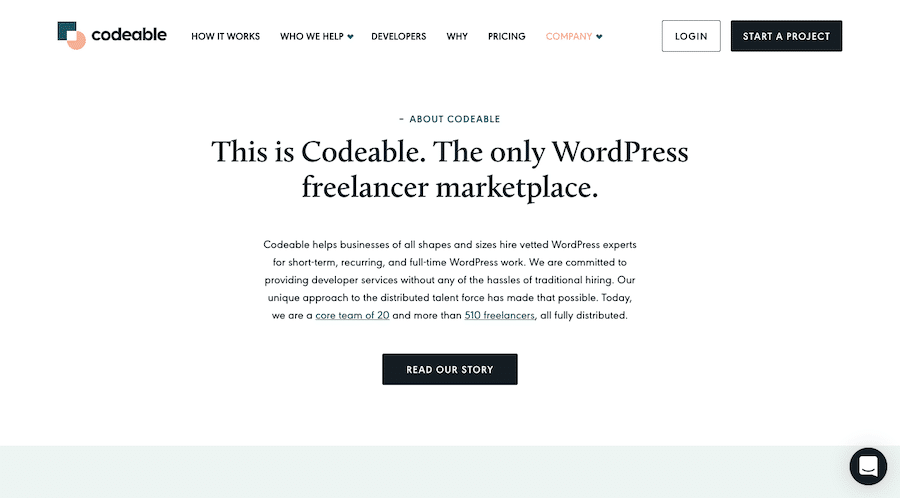 The founders' experience running a development agency is what led them to create a solution for a problem they had first-hand experience with:
"Per was frustrated with the client side, Tomaz with the freelancer side: the tons of freelancers, the bidding, the race to the bottom, the fierce competition, the poor quality of work, the missed deadlines, and all the unhappy clients and freelancers as a result."
So, who are you the most passionate about serving?
Next, ask yourself:
"Why do we want to provide these WordPress services?"
Do you feel as though there's a gap in the market for this kind of service? Or that your target audience has been mostly overlooked?
Think about what kind of difference you're going to make by entering the market. Then, craft a short description that sums up the why of what you're going to do.
Here's how Codeable does it:
"The purpose was to create a healthy environment that enables distributed work for both clients and freelancers."
The mission is 100% focused on elevating the lives and businesses of Codeable's target customers. You should do the same.
Finally, you need to ask yourself:
"Where do we want the agency to be in 12 months? How about 24 months? Or 5 years?"
You don't need to predict the future, but you do need to have a clear enough roadmap to help move your agency in the right direction.
Take Codeable, for example. Although its services have scaled over time, it's remained steadfast in its mission:
"Codeable started with small customization tasks, but today we help businesses of all shapes and sizes. While our scope of services changed, our mission to unlock distributed talent, create equal opportunities, and enable both clients and freelancers to thrive in an environment based on trust remains the same. We are still focused on growth not for the sake of growth but for the sake of making a difference in people's lives."
The goal-setting and road mapping part of this exercise isn't something you need to share publicly right now. However, it's something your internal team should be aware of so that their own goals and roadmap for growth can align with your agency's.
Once you've firmed up your mission, create an official mission statement, save it somewhere your team has access to, and return to it whenever it's time to make a big decision for your company.
Step 2: Choose Your Services
Now that you know who you're going to serve, and why, it's time to iron out what exactly you're going to do for them and how. Yes, you're a WordPress agency… but what kind exactly?
Your niche will help with this somewhat.
Take Itineris, for example. This WordPress agency serves the following:

By defining who exactly you are going to help, you can better choose which services you need to provide. In Itineris's cases, that means:
Premium web development
Digital branding
Biddable media
SEO
Then, you have the example of WP-Tonic, which specializes in WordPress development for LMS and membership websites.
eLearning businesses are a special breed, with the features needed to support membership and online course integration. As a result, WP-Tonic has services built for this specific set of customers:
Bottom line? Don't fall into the trap of thinking that a WordPress agency should offer the same services as all the lookalike companies out there.
Instead, consider what your clients really need. Then, think about how that plays into your strengths.
And don't worry if your vision for the agency isn't something you can necessarily support with your current team. Put those additional services or products on the shelf and slowly but surely scale your way up to them.
For now, focus on providing immense value in the services you do offer.
Settle on the essentials: the ones you're capable of offering and the ones your clients need. Write them down with a brief description of each and move on to the next step.
Step 3: Set Your Prices
When you're running a smaller business, you might be reluctant to publish your prices online. You want prospects to focus on your value and not on how much it will cost them to build a WordPress website.
However…
Premium pricing and value are inherently built into the identity of a WordPress agency. So, there's no reason to keep that information away from the public.
Plus, by publishing your development costs and monthly retainer pricing on your site, you can quickly weed out any prospects who don't have the budget for what you do.
Here's how DevriX does it: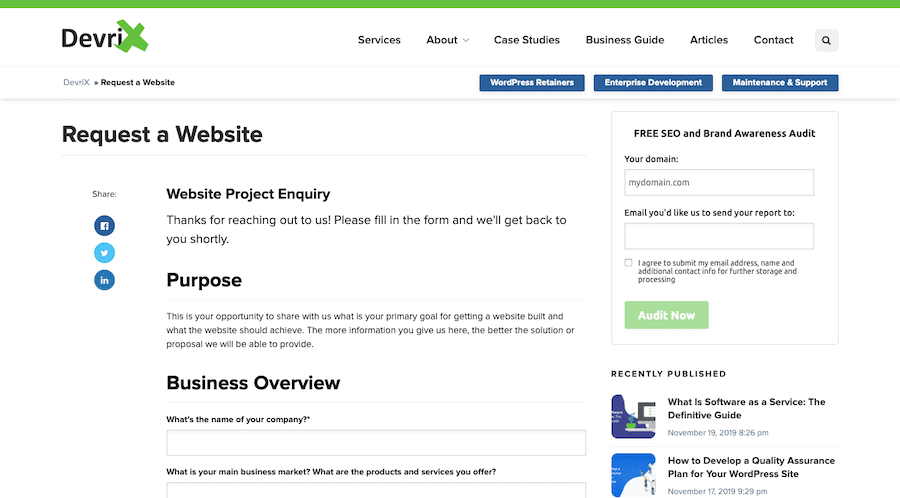 Pricing for the agency's services appears numerous times on the website. However, let's say someone gets to this Request a Website form and somehow glossed over any mention of costs. That's okay because there's another reminder here:

As you can imagine, this makes your conversations with prospects much more meaningful. You don't have to tap dance around the matter of price. That's already been established. Instead, you can simply focus on what they need and how you're going to solve it.
As for figuring out how much you're going to charge your clients, it will take a little work to sort this out.
Check the Market Average
To start, pull up the list of services from the previous step.
Next, check on your top competition in the market — the ones in a similar niche and with a similar offering. This will give you a good benchmark as to what the going rate is and what your target clientele can afford.
Then, you're going to need to do some internal calculations.
List Your Overhead
List out each of your costs as well as how much you owe on them each month. This includes things like:
Business software
Business licenses and insurance
Tax payments
Office space and utilities
Equipment and furniture
Web hosting, domain, and related expenses
Salaries, benefits, PTO
Company travel, events, etc.
Of course, you need to do more than just cover your costs. But you need to run through these numbers first to make sure you're on the right track.
Establish a Markup
What sort of margin do you need to be profitable?
In other words:
If your overhead costs are around $20,000 a month, how much money would you need to make it to a healthy profit? Would a 30% markup ($6,000) be sufficient?
Remember: if you want to provide top-notch offerings to clients and take care of the team running the show, you need money to re-invest back into your company.
Find the ideal markup and then set that as your target monthly sales figure.
Set Your Price
Divide your target income by the number of projects you could reasonably take on in a month.
Now, compare your per-project cost with the average market rate. Does your number fall too short? Is it too high? If there's a discrepancy, does the value of your offering justify it? As Tom Zsomborgi, Co-founder and CFO at Kinsta, says:
If a lower price is your best differentiator you should rethink your business. A race to the bottom is not a good tactic and rarely works.
So long as you make enough money to be profitable and the client walks away with something of great value, you can commit to this price.
When you're done, create your price sheet and publish the prices to your website when it's ready.
Don't forget to reevaluate your costs and prices each year. As your services become stronger and your offering more complex, those numbers should change.
Step 4: Choose a Name
I know this seems like something you should do earlier on, but I think it's essential to figure out what your company will offer and what level of providing it's going to be before choosing a name.
Once your brand identity is worked out, it's time to pick a name. Keep in mind the following tips when you do this:
Unless you want to be the company's face and be involved in every project, remove your name from it.
Keep it short.
Make it easy to pronounce.
Hint at your unique value proposition and strengths.
Play with made-up words instead of ones that may already have a strong association in the minds of your clients.
Make sure no other company has it or a variation of it already.
Once you've settled on a few options, run them by others: your employees, previous clients, and even your followers on social media.
Get a gauge for how they feel about it. They are more likely to notice if something's "off" as they're not as close to it as you are.
When you've got the name nailed down, get to work on creating your logo and other branded elements.
Step 5: Create a New Website
An agency website needs to be able to walk the walk. In other words, before prospective clients ever look at your portfolio of work, they should see your website as proof of what you're capable of.
Your website also needs to do more than just inform. You want it to do as much work for you as possible, to almost become like another team member.
Here are some ways you can make this happen:
Move to Managed WordPress Hosting
You know how time-consuming it can be to manage web hosting, especially as traffic grows.
That's why you should outsource your own web hosting. The last thing you want is a slow-loading website to distract from the paid client work you need to get done.
If you haven't done so already, now is a good time to put your website on WordPress hosting with Kinsta.
You'll enjoy the benefits of a fast, secure, and backed-up website — without the hassle of managing it yourself. Though, when you do want to see what's going on behind the scenes and to take control of your server performance, MyKinsta makes it incredibly easy to do so: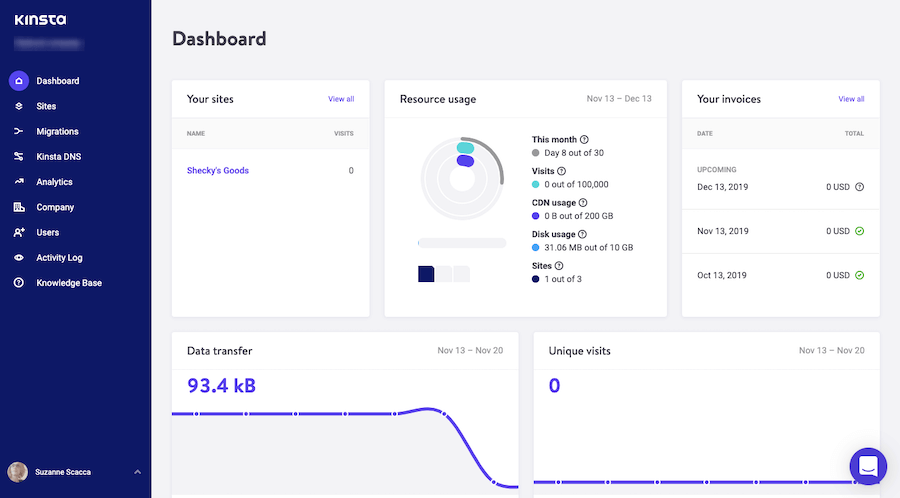 Not only does working with a managed WordPress host give you peace of mind, but it'll ensure your website is always in peak condition for prospects who visit it.
Also, thanks to different MyKinsta user roles, you'll have complete control over user access to websites you develop. And with Kinsta's Enhanced Site Transfer Tool, handing off finished projects to clients is a breeze.

You can even transfer sites to non-Kinsta accounts. All you need is their email address. This frees your time to focus on other important tasks, like managing and growing your agency better.
You also have access to the Kinsta API, which allows you to seamlessly interact with Kinsta services such as creating a WordPress site, getting a list of sites, etc.
Show Off Your Most Impressive Work
Your website is going to have everything that a smaller WordPress website has. However, your portfolio needs to knock your prospects' socks off.
Consider using a WordPress portfolio plugin that will make your most recent and relevant samples shine.
And don't be afraid to create a portfolio that deviates from what's expected. Just take a look at the portfolio for Neuralab (you can read their case study here):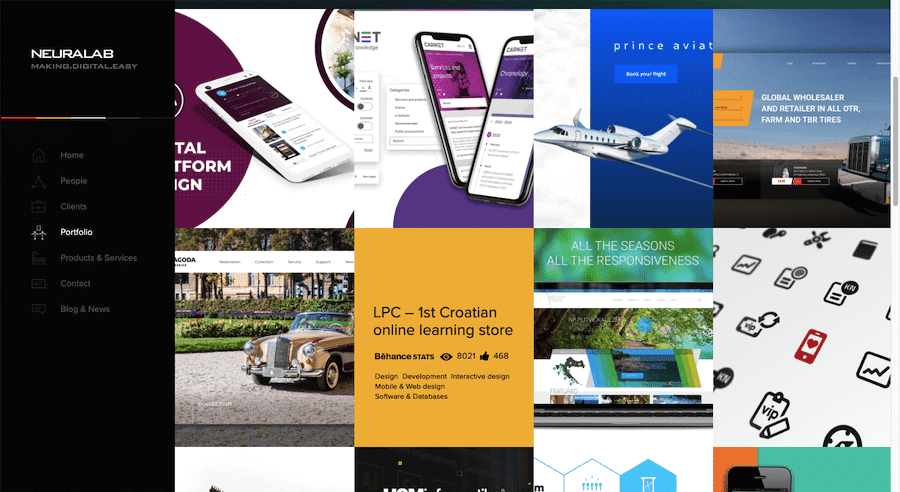 Neuralab adds custom details to its portfolio. At first glance, it looks like a standard grid-based portfolio. However, functionality reveals more details like what kind of project it was and View and Like stats from Behance.
Introduce Your Team
When you run a smaller business, it's easy for clients to see your team members' faces and get to know each of you on a personal level.
As you build an agency, your team will grow, and it's going to become challenging to make those person-to-person connections with so many contributors involved. Introducing your team through your website is one way to curb this potential disconnect your clients may feel.
Triggerfish does this well: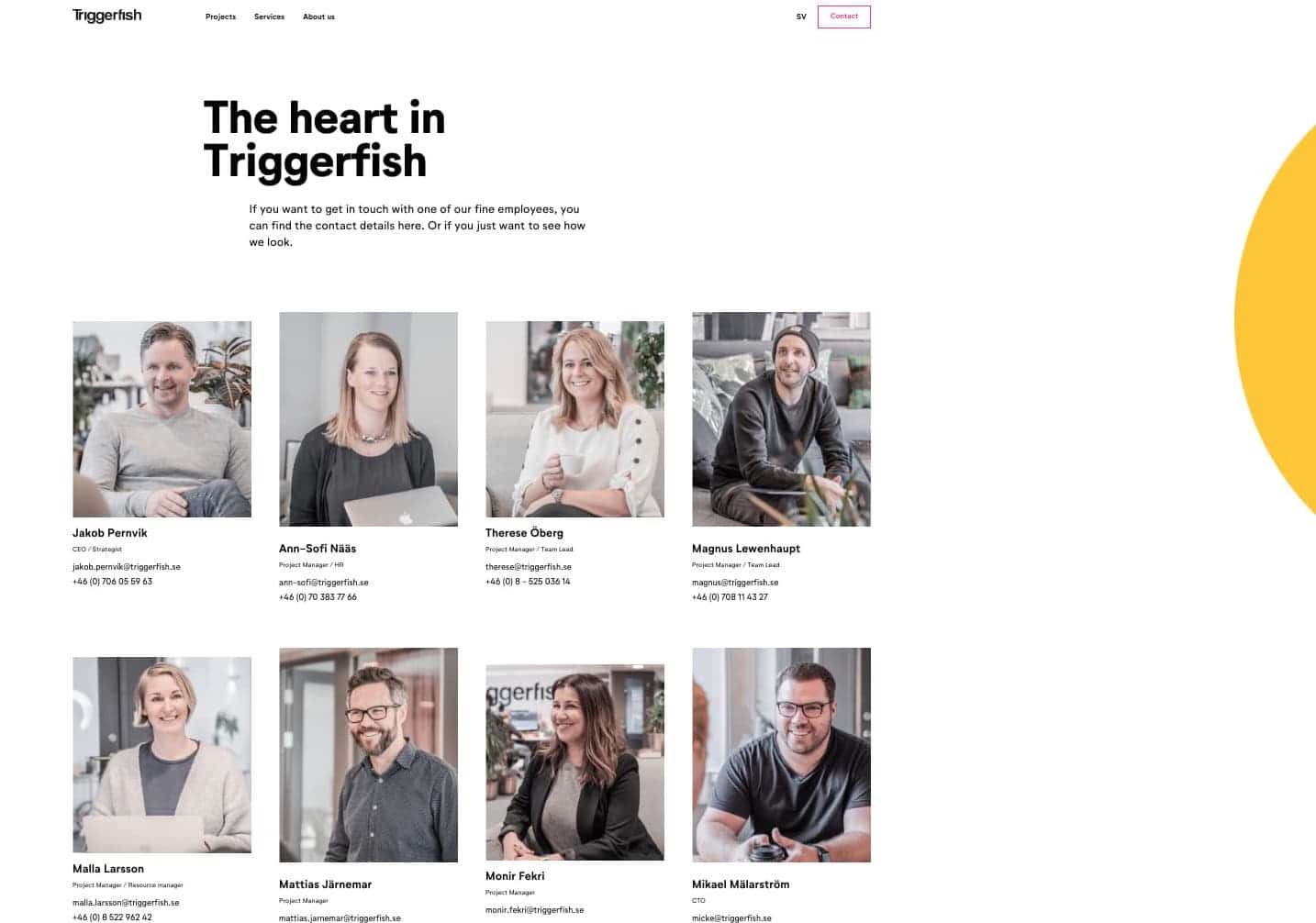 Each team member has a natural-looking photo, contact details, and position.
Showing off your team in this manner works two-fold. You get to introduce clients to the people behind the scenes. But it's also like a humblebrag:
"Look at how many people we have working for you!"
Add a Variety of Contact Channels
Because it's no longer just you sitting on the other end of the phone or email, you can give prospects as many ways to contact you as you want:
A company phone number
An email address (or different ones for different departments)
Live chat or chatbot
A support portal
Social media (if you want to provide answers and support there)
Just because you can offer all of these contact points, though, doesn't mean you have to include all of them on your site. Look at Red Factory (you can read their case study here):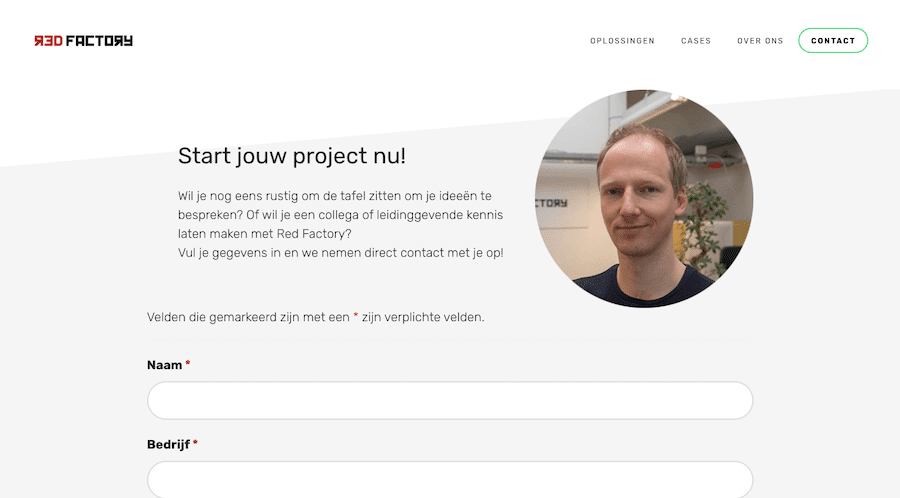 This agency has nothing but a contact form and Google Maps with an address.
There's always the possibility you'll stretch yourself and your team too thin, so choose only the contact channels that make the most sense.
Automate the Conversion Process
Even though you'll have more people to handle sales for you, let your website do some of the more mundane tasks.
For instance, if you offer a custom development service but like to get prospects on the phone for a discovery call first, use a WordPress booking plugin and let them book appointments on their own.
When you start selling recurring services, your prospects may feel confident enough to sign up for them without having to speak with someone first.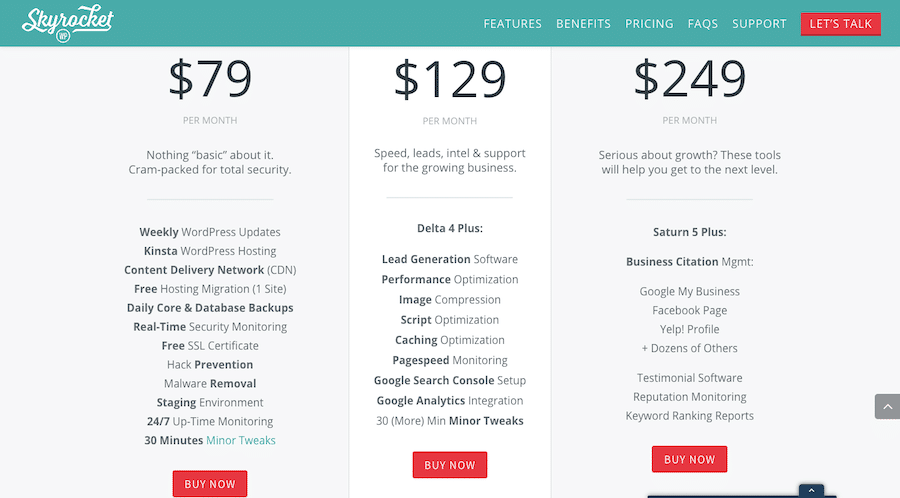 In those cases, you can cut out the middleman (i.e. the sales call) by equipping your website with "Buy Now" buttons and checkout of your own as SkyrocketWP does (you can read their case study here).
Step 6: Settle the Legal Stuff
After you have the branding bits nailed down, and before onboarding clients, get the legal stuff out of the way.
I realize this is the least fun part of setting up a WordPress agency, but it's the most crucial. You never know when a legal issue might arise or where it will come from, so it's best to put all the pieces in place now, so you're prepared.
Here are some things to do as soon as possible:
Register your company.
Trademark your logo.
File a business license in your locality.
Obtain any business insurances you need (e.g. liability, property, workers' compensation).
Add a privacy statement, terms and conditions, and cookie notice to your website.
It's also a good idea to start thinking about where you will go for help with tax management, human resources, and legal assistance.
Your business might not need that help today, but things are going to move quickly once you get the ball rolling, and you don't want to lose sight of these critical support systems meant to protect you and your business.
Step 7: Fill Out Your Team
To run a successful WordPress agency, the first thing you must do is stop wearing every hat or, really, any hat that doesn't fit well. So, first things first:
Minimize Your Role
Write down every task you do. What it entails. Why do you do it? How it fits into the bigger picture.
Put all of the tasks you enjoy doing and what you can do better than anyone else into a "Keep" column.
Put all of the tasks you don't enjoy doing or that take up too much of your time into a "Delegate" column.
Then, chart out who you'll move the Delegate tasks to. For example:
Client onboarding emails go to the Project Manager.
Invoice generation and follow-up go to the Office Assistant.
Social media posting goes to the Marketer.
When you encounter a task that doesn't have a perfect match, that's when you know there's a new role to fill. It might not happen right away, but as those relevant responsibilities start to add up and weigh you and your team down, you'll know it's time.
Strengthen the Core Team
If you look at the list of services or products you provide, it'll be clear which roles are at the core. Usually, these are your web designer, web developer, copywriter, and project manager.
Make sure you have employees and contractors to fill the essentials if you don't already.
Also, make sure you have the budget to pay your team members a competitive wage. If you're struggling to do that, then something is off-kilter. Either your services aren't priced high enough, or you're trying to ramp up your team too quickly. Take a step back and figure out where the disconnect is before moving on.
Staff for Additional Services
Once your agency becomes super streamlined and has the capacity and budget to do more, start adding roles for new services and opportunities like:
SEO
Animator
UX writer
Customer success manager
Team leads like CTO, CMO, etc.
If you look at any of the leading WordPress agency team pages like this one from WebDevStudios, you'll see that the department director hires become especially important: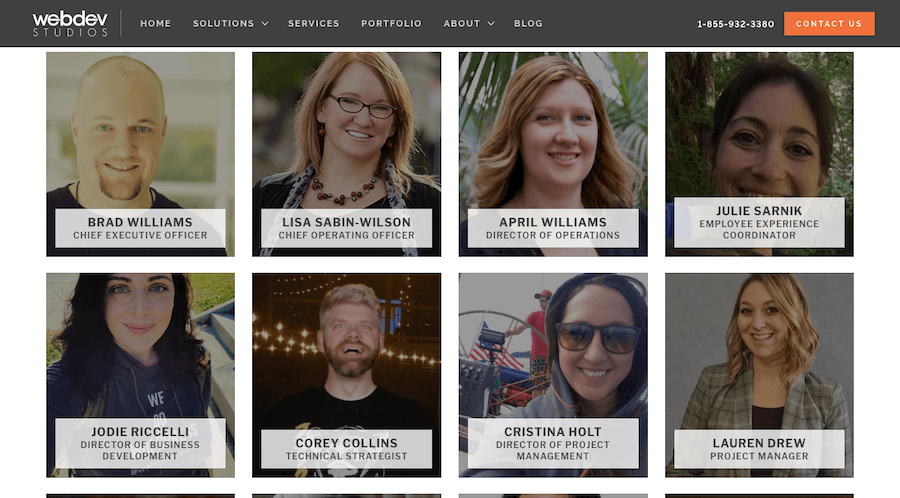 Just don't start adding roles for the sake of adding them. If there's a demand for it and the numbers prove it'll be good for your bottom line, only then should you do more hiring.
Step 8: Create Your Toolbox
This may seem counterintuitive, but you're going to need to spend money on a better toolbox if you're going to make more money.
So, here's what you need to do:
Assess Your Current Toolbox
If you're currently using any business tools or software, write down a list of everything you use and what purpose they serve.
Next, look at those tools' capabilities and answer the following honestly:
"Can this tool scale alongside your business?"
If not, mark it for deletion.
You need tools that allow you and your team to move faster and more efficiently than ever before. It's the only way you'll be able to offer services at scale and multiply your incoming revenue.
Fill in the Gaps
Look at your list and see if there's anything you're missing. Maybe it's a tool you've been dragging your feet on buying or something you didn't think you were ready for.
For instance:
Stock photo site membership
Designer-developer handoff tool
SEO auditing software
Time-tracking software
Sales funnel tool
Don't just look at what you need. Consider the needs of your team. What will enable them to work at their level best and, in turn, provide a better offering for your clients?
Once you have a list of all the tools you need to add, upgrade, or delete, get to work. This isn't something you'll want to be worrying about or transitioning your team over to once your agency is rocking and rolling.
Step 9: Develop and Document Your Processes
You're going to need a lot of structure for your agency. This is beneficial for many reasons.
For starters, a well-developed and documented process makes it easier to produce consistent results for clients. Secondly, it makes it easy for new employees to hit the ground running.
Again, this is all about increasing your speed, agility, and accuracy as a company. And established systems will do the trick.
Have a look at the Iron to Iron agency website: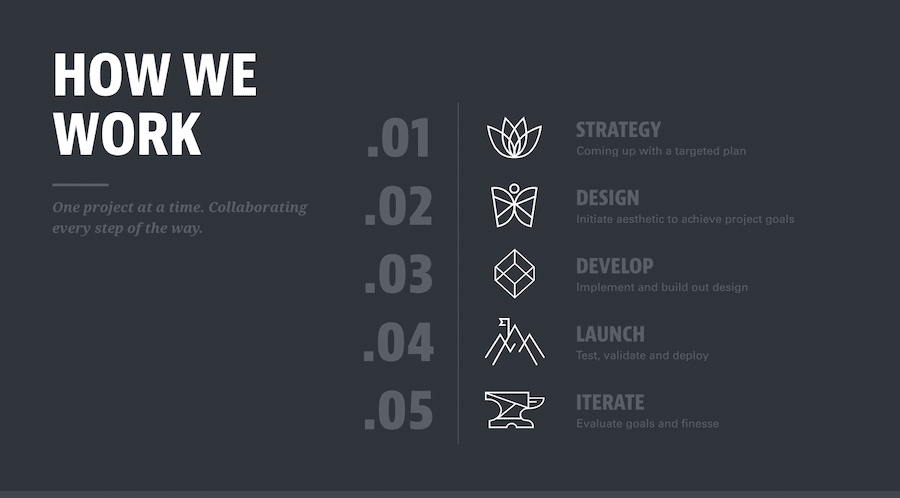 There's no secret about what process the team uses to build websites for clients — and this is only what people see from the outside.
Internally, this agency likely has documentation that details every single step of the process. In addition, processes are probably complemented by a series of software automations, checklists, and templates.
This is exactly what you need to do.
Organizational Processes
Just as you did with your toolbox, create a list of the processes you currently use in your business.
Are there any that are outdated or inefficient? Update them before you do anything else.
Then, take a step back and think about what else you should have processes for.
If you're adding new services (or even recurring subscriptions or products), add related processes to your master list.
What about tracking and following up with leads? Issuing invoices to clients? Moving projects from one team member to another?
There are so many different things to think about now. This is why it's so important to extract yourself from the hands-on web development work so you can oversee the big-picture items that help your agency run like a well-oiled machine.
Create a separate document for each process and store it to a secure and centralized location. It could be something like a team Dropbox, Google Drive, or project management platform.
Client Management Processes
Don't forget about prospecting, onboarding, and client management processes.
As you take on more clients, it'll be difficult keeping tabs on it all if you don't have systems in place.
Do you have a CRM? How about a client-friendly project management and communication tool? What about a process for creating a custom WordPress dashboard to ease website clients into the CMS?
It's also important to have pre-built templates for proposals, contracts, and onboarding steps so you can get prospects out of the sales pipeline and into your active project queue as quickly as possible.
Employee Management Processes
The same is needed for employee hiring, testing, and onboarding.
In the earlier days of your business, you probably asked people you know for referrals or posted jobs to online boards just to get some relief. When it comes to your agency, though, you have to think about more than:
"Does this person's skill set match what I'm looking for?"
Now, you have to think about how you're going to find people:
To fill specialized roles in your company.
Who wants to grow with your agency long-term.
Who fits with your company culture.
There's really no room to compromise as one weak link could throw the whole thing off.
Build out your interview and hiring processes to find people that fit the right mold. Then, once they're on your team, you'll need processes that help them thrive within your agency.
Another thing to think about is looping your employees into process development and documentation.
Once you've got some rock-solid employees in place, empower them to take ownership of their processes and documentation. If you can get them more involved in shaping your agency, they'll be more committed to your mission over the long run.
Step 10: Set Up Internal Reporting
It's going to be hard keeping track of everything as the size of your company, client list, and team grows. But you need access to that data so you can make smarter business decisions for your agency.
While you should set aside dedicated time to review your data, you can automate the actual work of generating the reports. Here are some places you can do this:
Google Analytics (or one of its alternatives) to track website traffic, referral sources, bounce rates, conversions, and other key performance metrics. Here's a handy guide on how to add Google Analytics to your WordPress site.
Your CRM to keep tabs on leads entering your sales pipeline, conversion rates, customer lifetime value, and projected income.
Your project or task management software to check on project statuses, bottlenecks, inefficient workflows, etc. Here's a thorough guide comparing two of the most well-known tools: Trello vs Asana or a few other alternatives.
Your communication software to communicate quickly and effectively with your colleagues, either Slack or Microsoft Teams are great options. Read our comparison between them: Slack vs Teams.
Your time tracker to monitor team performance, watch for scope creep, and so on.
Bug and issue tracking logs to follow up on unresolved errors, recurring issues, missed customer service opportunities, etc.
Online reviews and client feedback reports to identify team wins and look for areas of improvement.
By automating these reports, you can spend more time taking action — whether that be gathering your team to celebrate a major win, working with a team manager to fix a leaky process, or deciding to remove a service that's unpopular.
How Do You Scale a WordPress Agency?
There's a lot you have to do to start a WordPress agency. But once you have your well-oiled machine up and running, it's time to really ramp things up.
Just look at Kinsta. Pivoting from a web development agency in 2013 to managed WordPress hosting took a lot of guts.
But here they are: continuously growing their company past the seven-figure mark while maintaining the quality product customers have grown to know and love.
That hasn't come about by pure luck. And the same is going to be true for your own WordPress business.
When you're ready, here are some ways to start scaling:
Create Recurring Revenue Streams
Many WordPress agencies find their footing by selling web development services. The only problem is that this is a one-off service. That can make predicting revenue difficult and can also lead to a lot of wasted energy onboarding new clients all the time.
With recurring revenue streams, though, you can bring major stability and scale to your cash flow.
Here are some common ways WordPress agencies add recurring revenue to their businesses:
Premium information products like courses, webinars, etc.
WordPress theme or plugin development
The beauty of some of these is that you won't need to manage the processes if you don't want to (like if you outsource maintenance services and charge your clients a markup).
As for the others, you'll reap the benefits of building something that's one-and-done. While you'll still have to support your products and keep them updated, the bulk of the work happens upfront.
Become a Content Generation Machine
Agencies shouldn't be out there hustling for clients. At this point in the game, clients should be clamoring to work with you.
The best way to make that happen? Boost your online visibility and authority with high-quality, actionable, evergreen content.
Publish blog posts at least two or three days a week.
Post to social media daily: make it be less about you ( about 20%) and more about sharing useful tips and insights from others (about 80%).
Guest blog on high-profile websites where your audience and peers are.
Land podcast spots on relevant shows (here's how to start a podcast using WordPress).
Create download-worthy lead magnets that spur your website visitors to action.
Build a repository of long-form content, either written or video (live or pre-recorded).
Make an impact with your content and you'll find you never have to go looking for clients (or business partners!) again.
Partner Up
Between the Facebook groups, online forums, WordCamps, Slack communities, and web design conferences, there's no reason to isolate yourself when you've built a business around WordPress.
There are so many opportunities to connect with others in the space and partner up, too! So, don't be afraid to get out there.
You might find someone to run a joint webinar or course with. You might meet your favorite developers and decide to partner with them. Or you could meet another agency owner who wants to share referrals since your niches have no overlap.
You never know who you'll meet, how you can help one another out, or what you'll learn from spending more time in the WordPress community.
Summary
As WordPress continues to maintain its majority market share in the website builder space, now is a fantastic time to start a WordPress agency.
It's important to remember, however, that a freelance WordPress business is vastly different from an agency that offers a full suite of services and recurring products.
You can't just flip a switch and suddenly announce to the world that you're now running an agency. There's a lot of work that has to go into the backend before you can begin to reap the rewards of agency ownership.
You need to:
Define your mission so you can successfully carve out a space for yourself.
Choose services that your clients need and will prosper from.
Set fair but competitive prices that will allow you to make a profit and fuel your agency's growth.
Choose a name that creates a strong and unique impression for your agency.
Build a website that does some of the sales and marketing work for you.
Deal with the legalities of running an agency.
Build a team that will support your mission now and in the future.
Create a toolbox that allows you to work faster and better than ever before.
Develop processes that enable you to scale.
Automate reports so you always stay abreast of key performance metrics for your agency.
If you're overwhelmed by all of this, then starting a WordPress agency might not be in the cards for you (which is perfectly fine).
There are certain clients that will gravitate to agencies, but where does that leave the rest? There will always need to be WordPress freelancers and boutique businesses to provide cost-effective and more personal-feeling services those clients desire.
That said, keep this guide on hand when you're ready to grow. Even if your goal isn't to build a full-scale agency, there are a lot of business-boosting strategies here you can leverage for a smaller WordPress business.
Have you have considered launching a WordPress agency? If not, what's blocking you? If you successfully built one, what turned out to be tougher than you expected? Tell us in the comments!