Imagine that someone sends an urgent message asking you to add some finishing touches to a document. However, there's a problem — you can't access the document without your computer.
As this situation is widespread in our digital world, people increasingly turn to cloud storage. According to a report by Cybersecurity Ventures, individuals, businesses, organizations, and governments will store 100 zettabytes of data in the cloud by 2025. Research also shows that 50% of individuals use cloud storage either in the office or home.
If you're not one of those people or are looking to change cloud storage services, entering the world of online storage may seem daunting to you.
But we can help. This article will review ten cloud-based storage tools to help you choose your best cloud storage option.
What Is Cloud Storage?
Cloud storage (sometimes called "cloud-based storage") allows you to file your documents, photos, and files in a secure location outside your device.
There are three primary types of cloud storage:
Private cloud storage: When you store data in a private server (like a server owned and operated by your business)
Public cloud storage: When you store data in a server set up by someone else (public cloud storage is a form of "Infrastructure-as-a-Service" or "IaaS")
Hybrid cloud storage: When you store data publicly and privately
According to the Flexera State of the Cloud report, 19% of organizations use public storage, 2% use private storage, and 78% use public and private storage.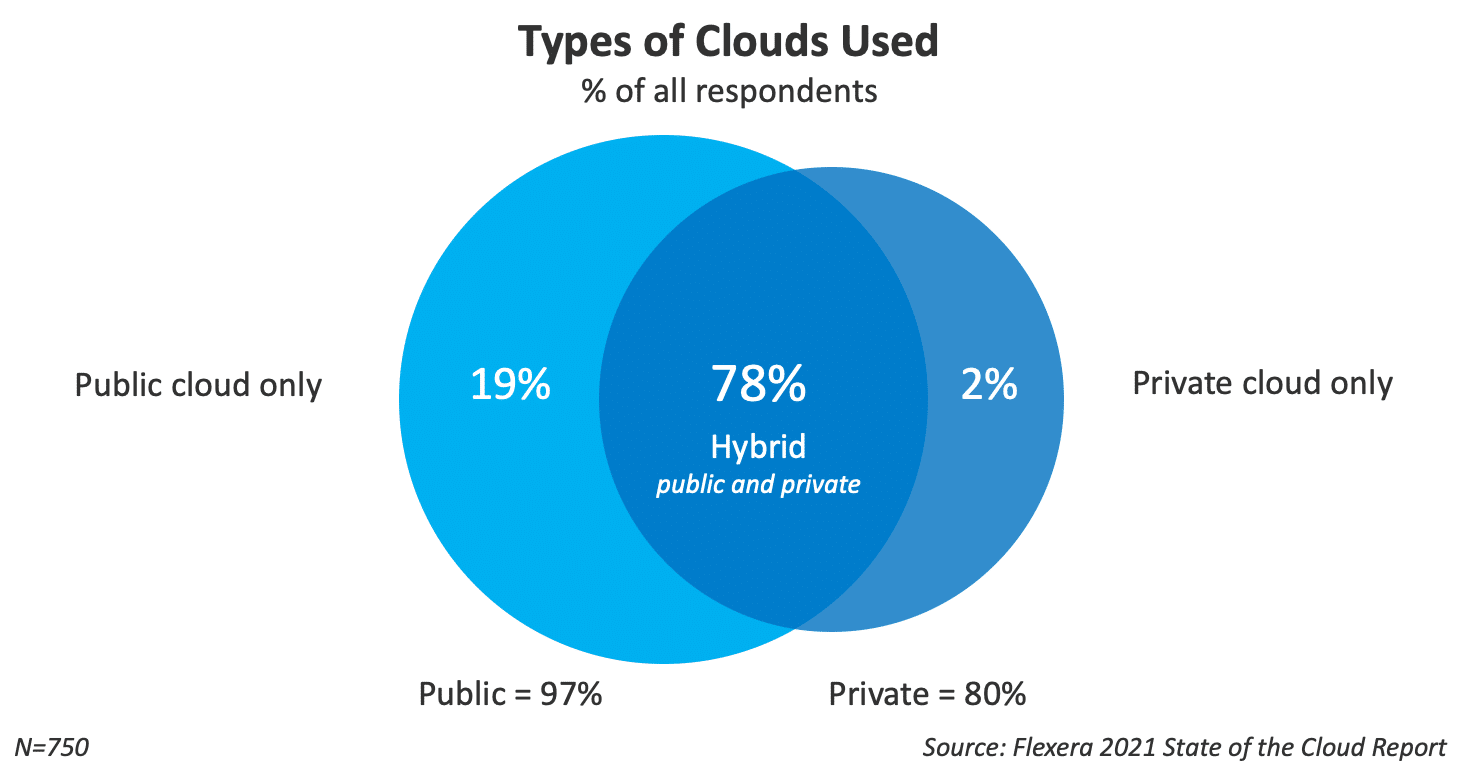 How Does Cloud Storage Work?
You need a cloud storage provider to file your data in the cloud. When you activate this tool, it takes a backup of your file and stores it in a third-party location. This third-party location could be a server in your office, an organization-controlled area, or a data center.
When you file and retrieve a document with cloud computing, the process looks like this: your device → internet → data server → internet → your device.
Cloud Storage Benefits
Embracing cloud storage in your organization can help you:
Save Money
Although many cloud storage tools charge monthly and annual fees, storing files in the cloud is often cheaper than storing them on an external hard drive.
For example, if you wanted to store five terabytes of data, it could cost you $59.62 annually with the cloud storage provider iDrive or $123.04 + tax to buy a Seagate Portable External Hard Drive.
Investing in cloud storage is also more flexible than local storage, as you can use tools that offer pay-as-you-go and autoscaling, so you only pay for the storage you need.
Keep Files Safe From Hackers and Malware
Although many of us are only familiar with hackers through their role in sci-fi dramas, they pose a growing threat to organizations globally — mainly when they use malware.
As of 2020, hackers used over 677.66 million known types of malware to breach people's computers, steal their data, and hold them for ransom.
A malware attack can have disastrous consequences for organizations. A study of 1,998 consumers from Germany, France, North America, and the United Kingdom showed that 59% of consumers are likely to avoid doing business with an organization that experienced a cyber attack in the previous year.
Additionally, over 66% of consumers will leave for a competitor if a business can't restore its systems and applications within three days of a cyber attack.
While every hacker has a unique approach, many use social engineering techniques like phishing and ransomware to attack organizations through vulnerable channels like email.
As secure cloud storage tools allow you to share documents without email, it reduces the risk that someone will hack you.
Access Files From Other Devices
As cloud storage files live outside your computer, you can access them from any device, at any time, and from anywhere (provided you have your login information handy).
How to Choose the Right Cloud Storage Option for You
If you search for "cloud storage tools" on Google, you'll get roughly 908 million results.

How can you find the right tool with such a large volume of results? Let's walk through four steps detailing how to choose the best cloud storage.
Step 1. Consider the Type of Storage and Features You Need
As every storage tool is different, you need first to establish the tool you need. To identify your needs, ask yourself:
How much storage do I use?
What is my budget?
How regularly do I need to create backups?
Can coworkers, clients, and external users view my files without downloading software?
Then, you need to consider the features you need in your storage tool. Common features include:
A mobile app
A sorting system that lets you group files with folders, flairs, or tags
Password protection for confidential files
Download restrictions (these limit who can edit or download each file)
Real-time backup (this syncs your file as you edit it)
Multiple user access (this allows others to access your files with your permission)
Once you've identified your needs, select a handful of potential storage options within your price range. We'll cover ten of these options in the "Cloud Storage Recommendations" section, though the most popular tools include Google Drive, Dropbox, and Microsoft OneDrive.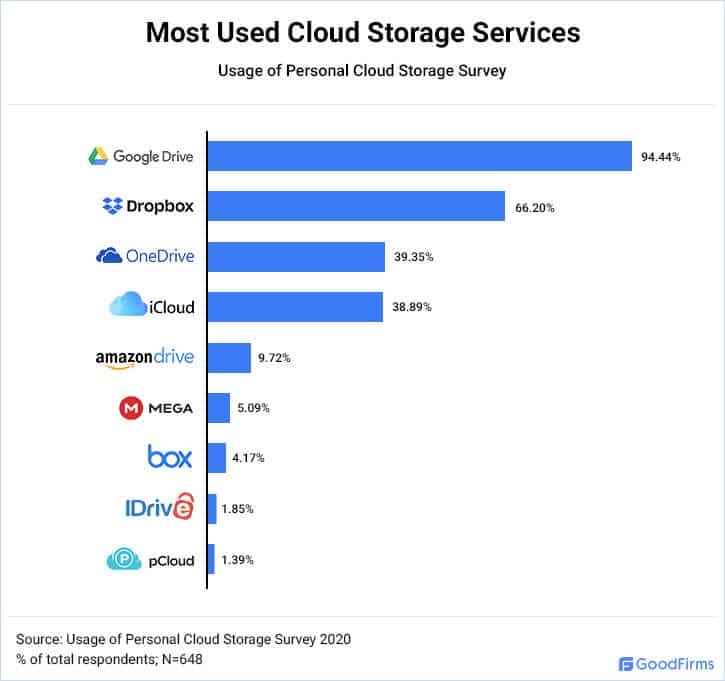 Step 2. Consider Security
Before selecting your tool, you need to consider how cyber-secure it is. Cloud storage tools with good security generally offer:
Password protection
File encryption (encryption alters your file's content so anyone who steals it can't read it)
Remote device lockout (this feature allows you to stop a stolen device from accessing your files)
Timed expiration for old files (this will enable you to delete files you've stored for a set period automatically)
Two-factor authentication (two-factor authentication forces you to confirm your identity with two devices before you can log in)
Controlled user permissions (this allows you to control who can view, edit, and download each file)
Additionally, suppose you need to store data subject to statutes like Europe's General Data Protection Regulations (GDPR) or the U.S.'s Health Insurance Portability and Accountability Act (HIPAA). In that case, you'll need to double-check if your tool meets the requirements.
After you've found a tool with good cybersecurity, it's time to test it out.
Step 3. Test Out Your Top Choice With a Free Trial
It's easy to look at a tool on paper and assume it'll work for you, but you never know its full capabilities until you try it yourself. Naturally, we recommend you test your top storage option with a free trial or by signing up for a month.
When evaluating your tool, look at:
Sync speeds (how quickly the tool saves your files)
How easy the tool is to use
How the tool integrates with your other business systems
Whether the tool works for your team
Once you've found a tool that works for you, you're ready to transition to online file storage.
Step 4. Transition To Your New Storage Solution
To transition to your new tool, identify the files you need to transfer and follow the developer's instructions to take them online.
For best results, make sure you:
Transfer your files from a location with a reliable internet connection (so a network crash doesn't impact your transfer)
Monitor your device throughout the transfer process
Name your files appropriately so you can find them
Organize your files as you go
Only delete the local version of each file after you've completed the transfer
If you have a lot of files to transfer or slow internet, you can upload files in small chunks.
Cloud Storage Recommendations
There's a wide range of cloud storage tools available today, and while they may seem pretty similar, each tool has different features, pros, and cons that make it perfect for different users.
This section will outline ten potential tools you could use.
Best Cloud Storage
1. iDrive
iDrive is a flexible and scalable data storage tool perfect for storing business and personal files. iDrive works on Windows, Mac, Linux, iOS, and Android devices. iDrive currently offers up to 5GB of storage for free.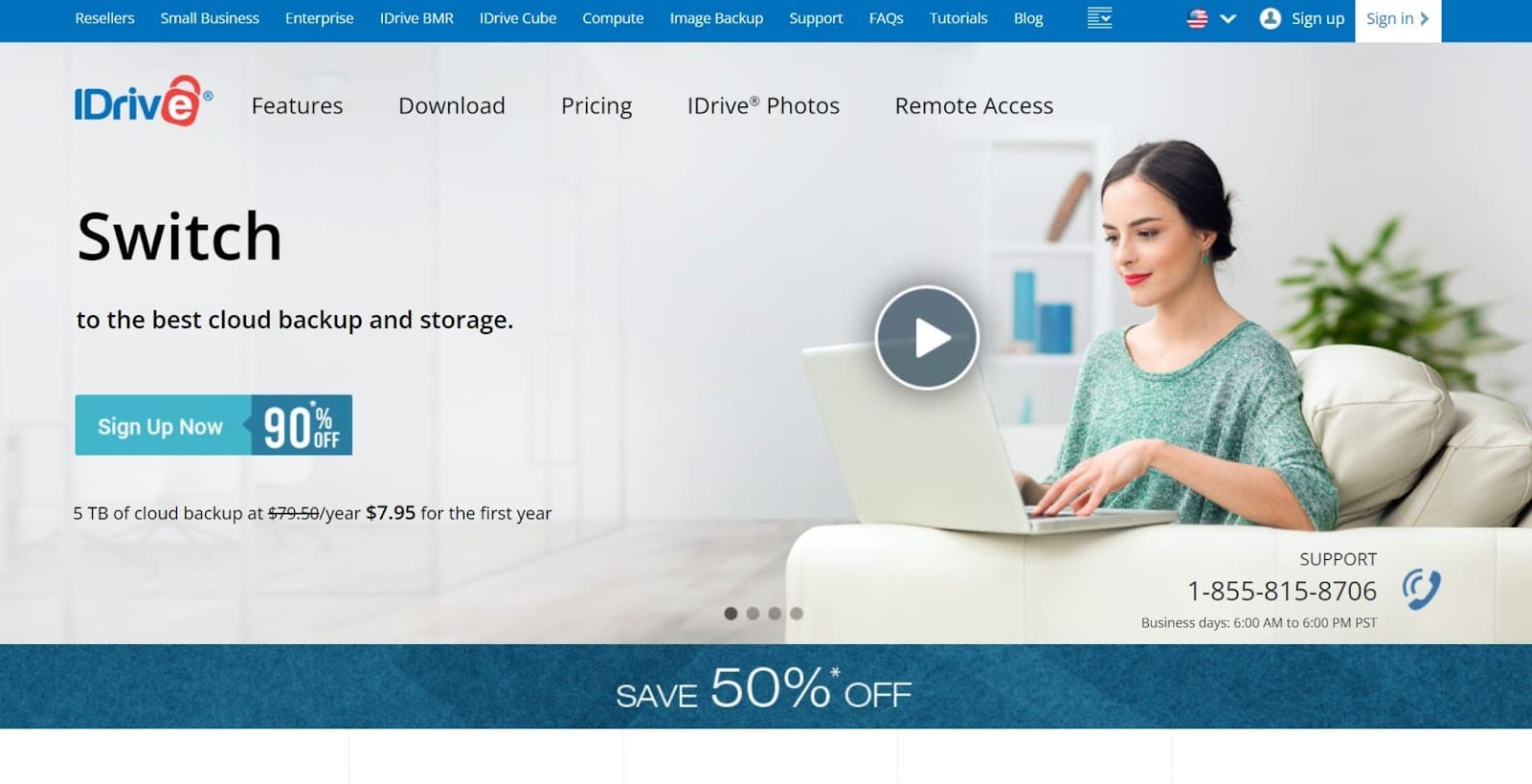 The company that operates iDrive (iDrive Pty Ltd.) is based in California.
Features:
iDrive backtrack (which can restore files to earlier versions)
Snapshots (which takes "snapshots" of your files for posterity)
The iDrive Dashboard (which lets you manage users and files from a central location)
Pricing:
iDrive offers:
iDrive Personal from $79.50 annually (includes 5 TB of data)
iDrive Team from $99.50 annually (includes multiple computers and users)
iDrive Business from $99.50 annually (includes unlimited users, servers, and computers)
Enterprise plans
Pros:
You can access your files from any device
Excellent user interface (UI)
Great range of pricing plans (plus discounts for your first year)
Cons:
Some users report slow tech and customer support
2. pCloud
pCloud is a data storage tool that's affordable and highly secure. It works on Windows, macOS, Linux, iOS, and Android devices. pCloud is currently based in Switzerland but offers data storage in Texas or Luxembourg.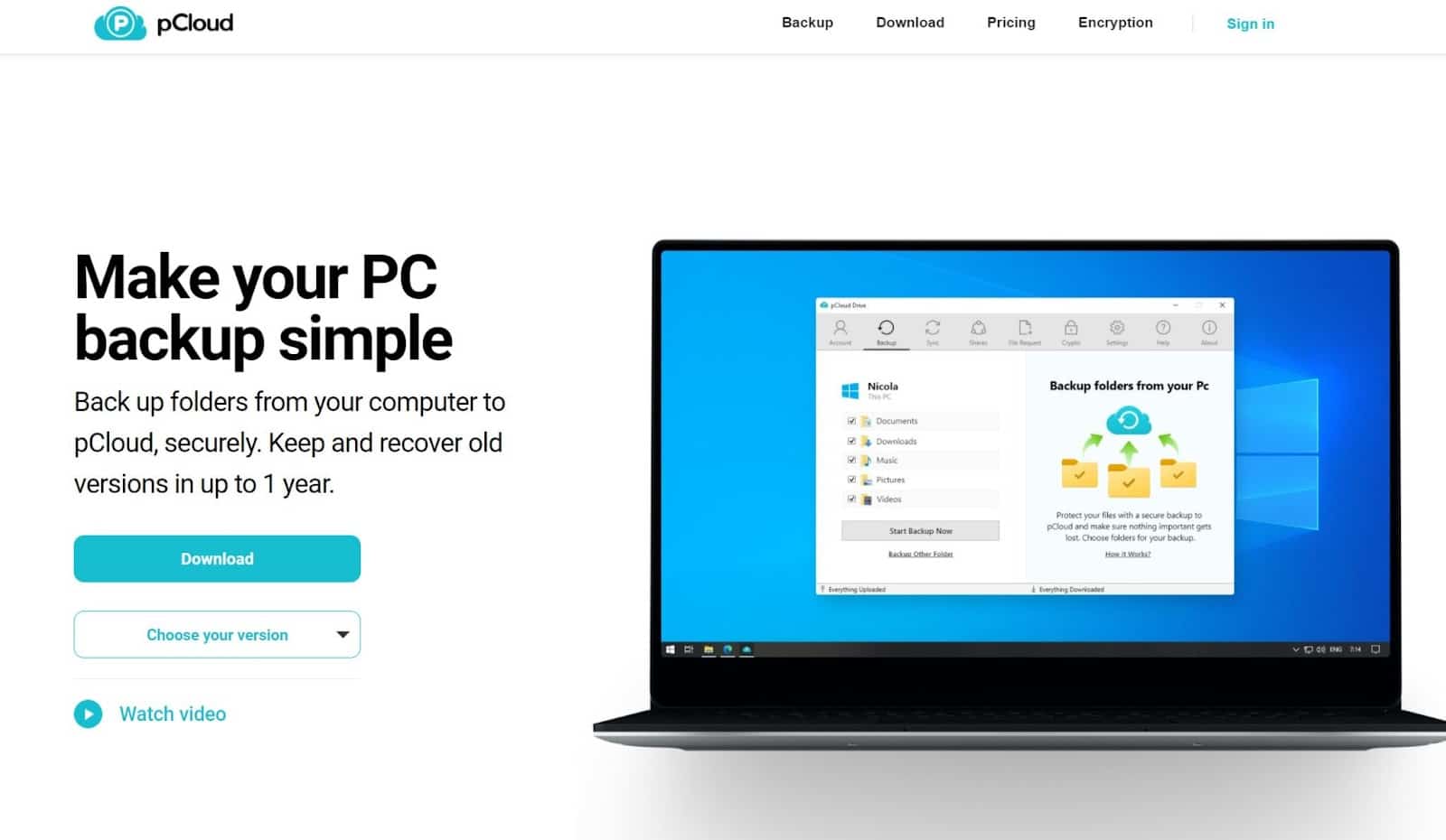 Since it was founded in 2013, pCloud has grown its user base to over 14 million users worldwide, including Nike, Twitter, and Instagram.
Features:
30-day trash bin history
pCloud Crypto (which allows you to lock files with a password)
Two-factor authentication
Client-side encryption
Transport Layer Security (TLS) and Secure Sockets Layer (SSL) encryption
Pricing:
pCloud offers annual and lifetime plans, including:
Premium from $59.88 yearly or $500 for a lifetime (includes 500 GB)
Premium Plus from $119.88 annually or $980 for a lifetime (includes 2 TB)
pCloud also offers family plans, business plans, and a free plan with 10 GB of storage.
Pros:
GDPR compliant
Great user interface
Great for teams
Cons:
pCloud Crypto costs extra
More expensive than other storage options
Best Free Cloud Storage
3. Google Drive
Google Drive is one of the most popular cloud platforms available today.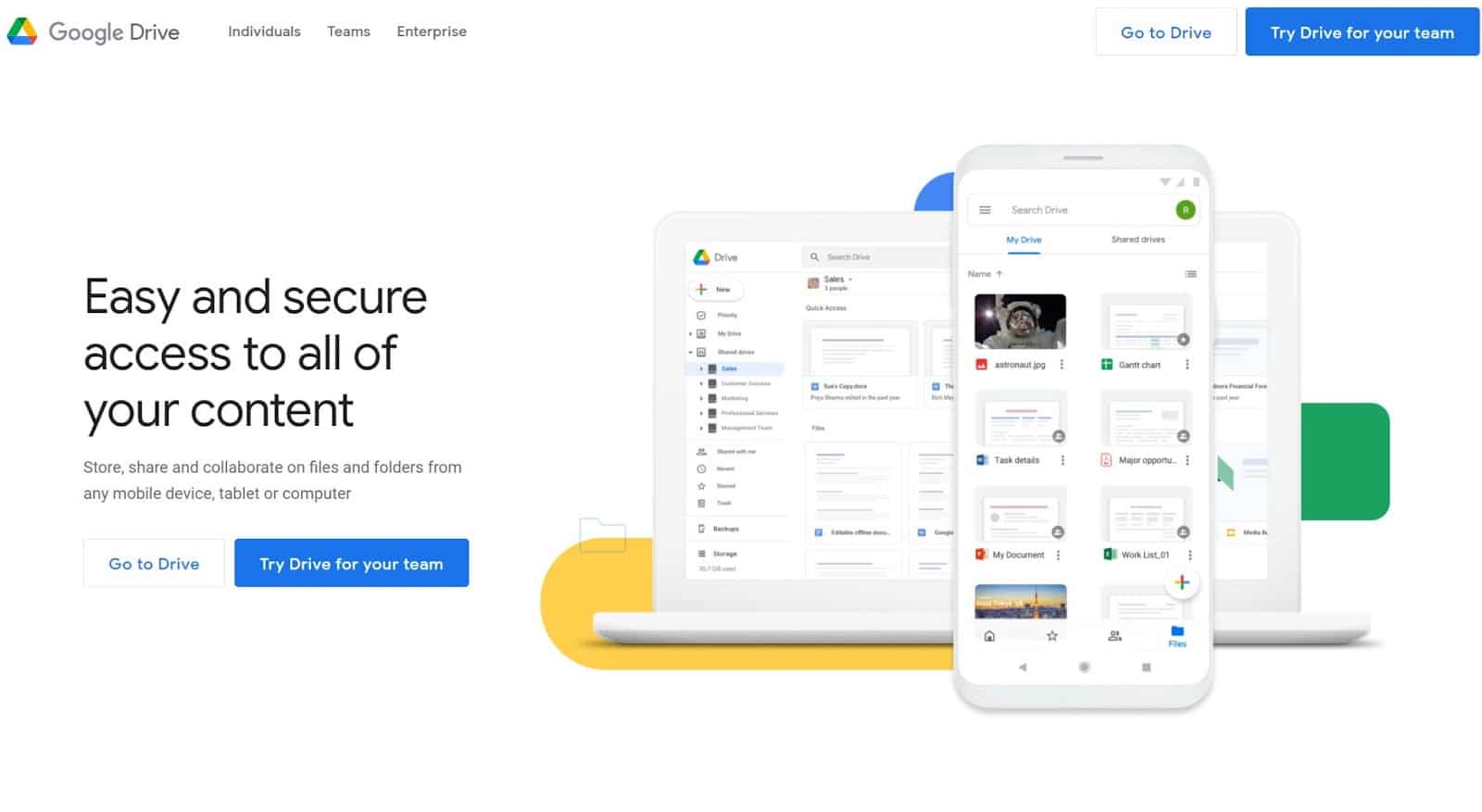 It's intuitive, easy to learn, and scalable. Google Drive is part of G Suite — a productivity software suite with over 2 billion active users monthly. G Suite was formerly known as "Google Workspace."
Features:
Multiple users
Version history
Google Docs and Google Classroom compatibility
Pricing:
Google Drive (via "Google One") offers free and paid plans. The free plan includes 15GB of storage, while the paid plans include:
Google One Basic for $2 monthly or $20 annually (includes 100 GB)
Google One Standard for $3 monthly or $30 annually (includes 200 GB)
Google One Premium for $10 monthly or $100 annually (includes 2 TB)
Pros:
Easy to use
Integrates with Adobe, DocuSign, Slack, Salesforce, AutoDesk, and Atlassian
Flexible pricing
Fantastic for international teams
Cons:
Fewer features than other options
Not suitable for all file types
4. Nextcloud
Nextcloud is an open-source tool that helps you host your data in the cloud.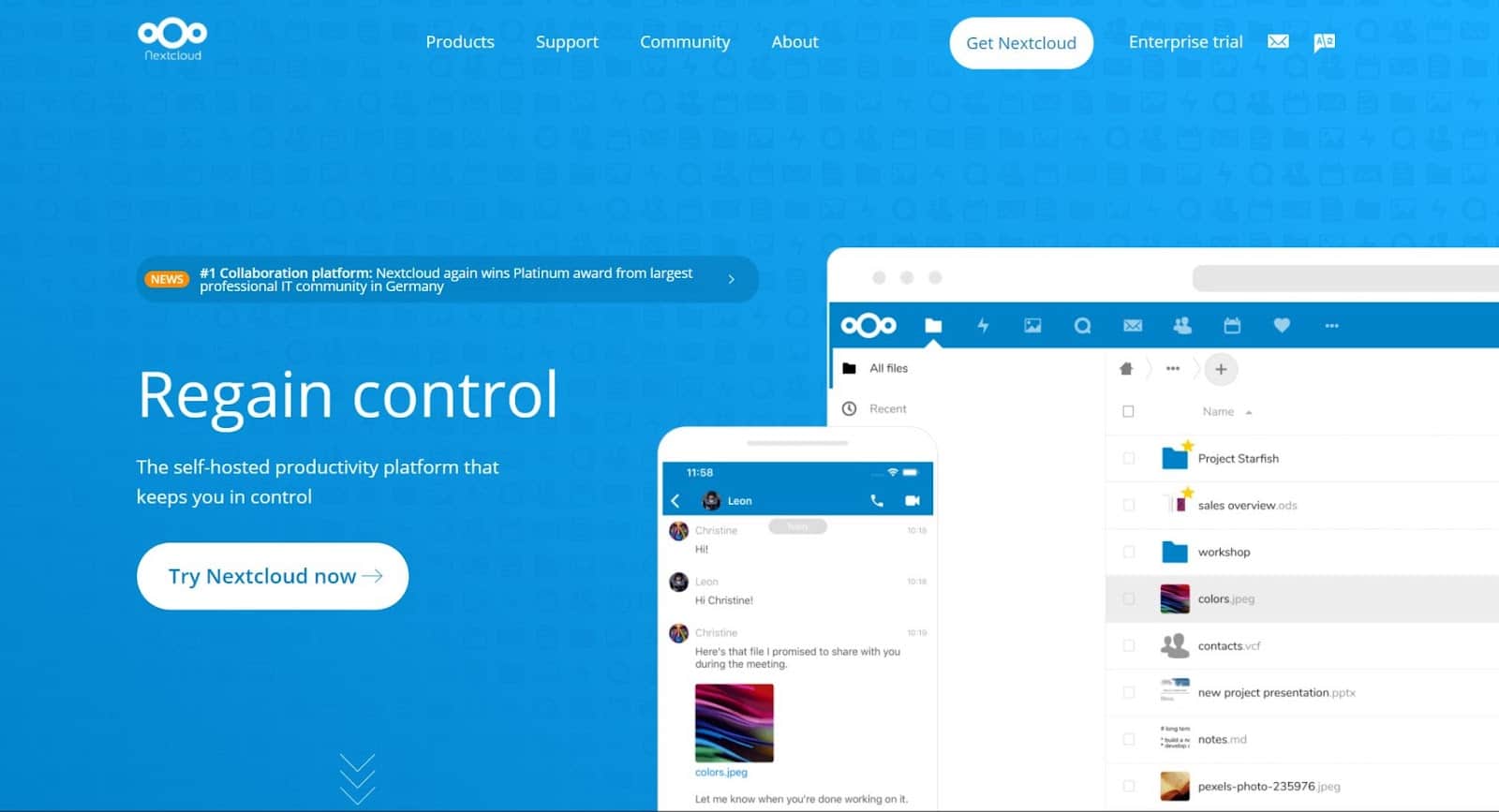 Tens of millions of people currently use Nextcloud, including people at organizations like Siemens, Regio IT, and DEGES. Nextcloud works through your web browser or on a mobile or desktop app.
Features:
Nextcloud files (which encrypts and stores your files)
Nextcloud Talk (which allows you to host video calls and share your screen)
Nextcloud Groupware (which integrates your inbox, calendar, and other productivity apps)
Pricing:
Nextcloud is free, but Nextcloud also offers these premium plans for organizations with over one hundred users:
Nextcloud Basic from €36 per user per year
Nextcloud standard from €65 per user per year
Nextcloud Premium from €95.5 per user per year
Pros:
GDPR and HIPAA compliant
Integrates with Microsoft Outlook and Mozilla Thunderbird
Allows you to collaborate on documents through Microsoft Office
Allows you to lock and unlock files
Has a secure file exchange for banks, hospitals, governments, and notaries
Cons:
Best suited to users with IT experience
Best Cloud Storage For Personal Use
5. IceDrive
IceDrive is a new and nifty cloud storage tool that mimics a hard drive. When you use IceDrive on a Windows computer, you download it onto your computer and drag-and-drop files into it like a regular hard drive.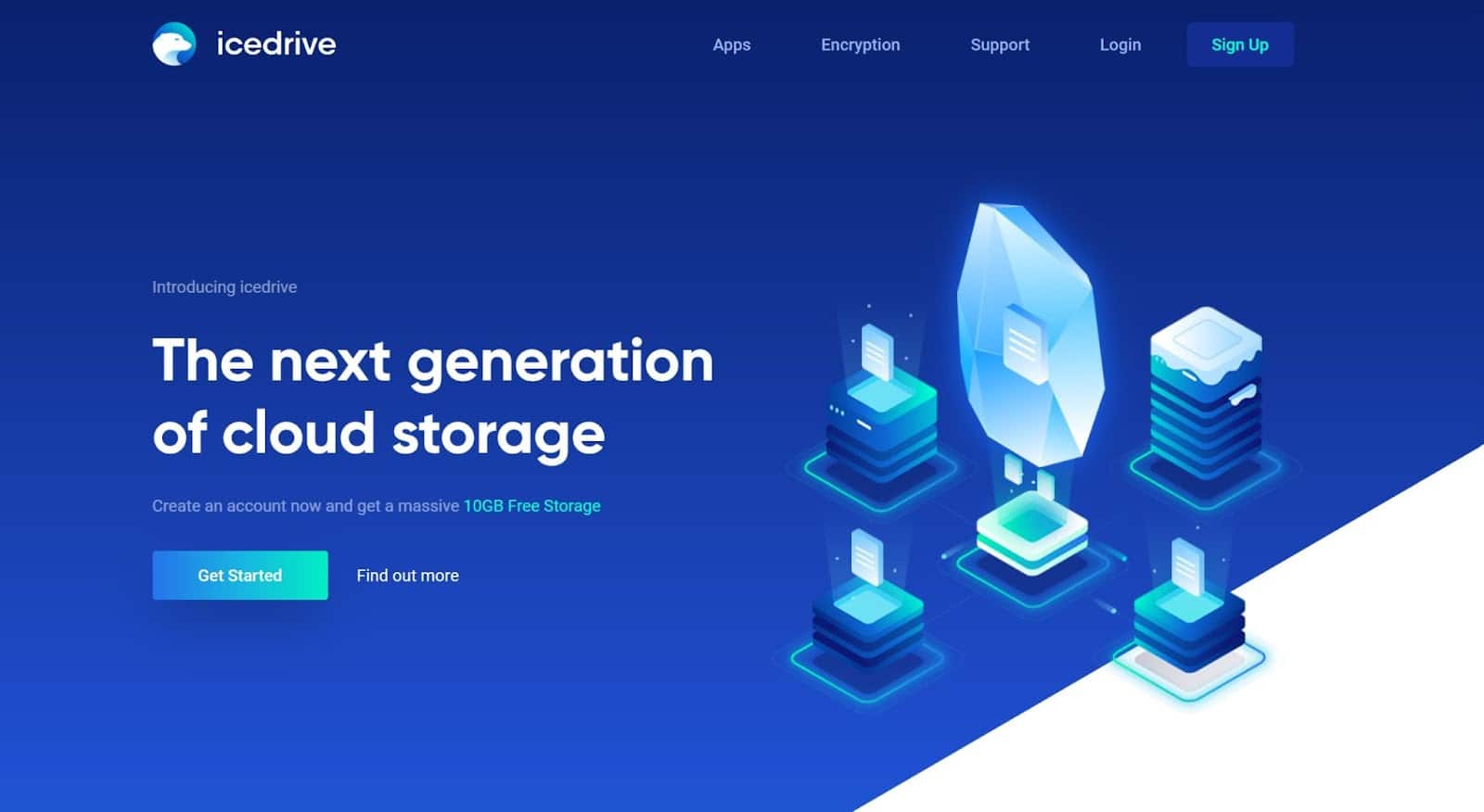 IceDrive is also available through the web and on Linux, Mac, iOS, and Android devices. IceDrive is a UK-based company that services customers globally.
Features:
Video and audio streaming
Twofish algorithm encryption
Client-side encryption
Share link timeout (which allows you to cut someone's access to a file after a set time)
Pricing:
IceDrive offers 10GB of storage for free. If you need more storage, IceDrive's plans include:
IceDrive Lite from $1.67 a month or $19.99 a year (includes 150 GB of storage)
IceDrive Pro from $4.17 a month or $49.99 a year (includes 1 TB of storage)
IceDrive Pro+ from $15.00 a month or $179.99 a year (includes 5 TB of storage)
IceDrive also offers a lifetime payment for each of its plans.
Pros:
You can share files with friends easily
IceDrive can backup your entire device like a hard drive
GDPR-compliant
Password protection
Cons:
No third-party integrations
6. Dropbox
Dropbox was one of the first cloud storage tools to gain mainstream popularity.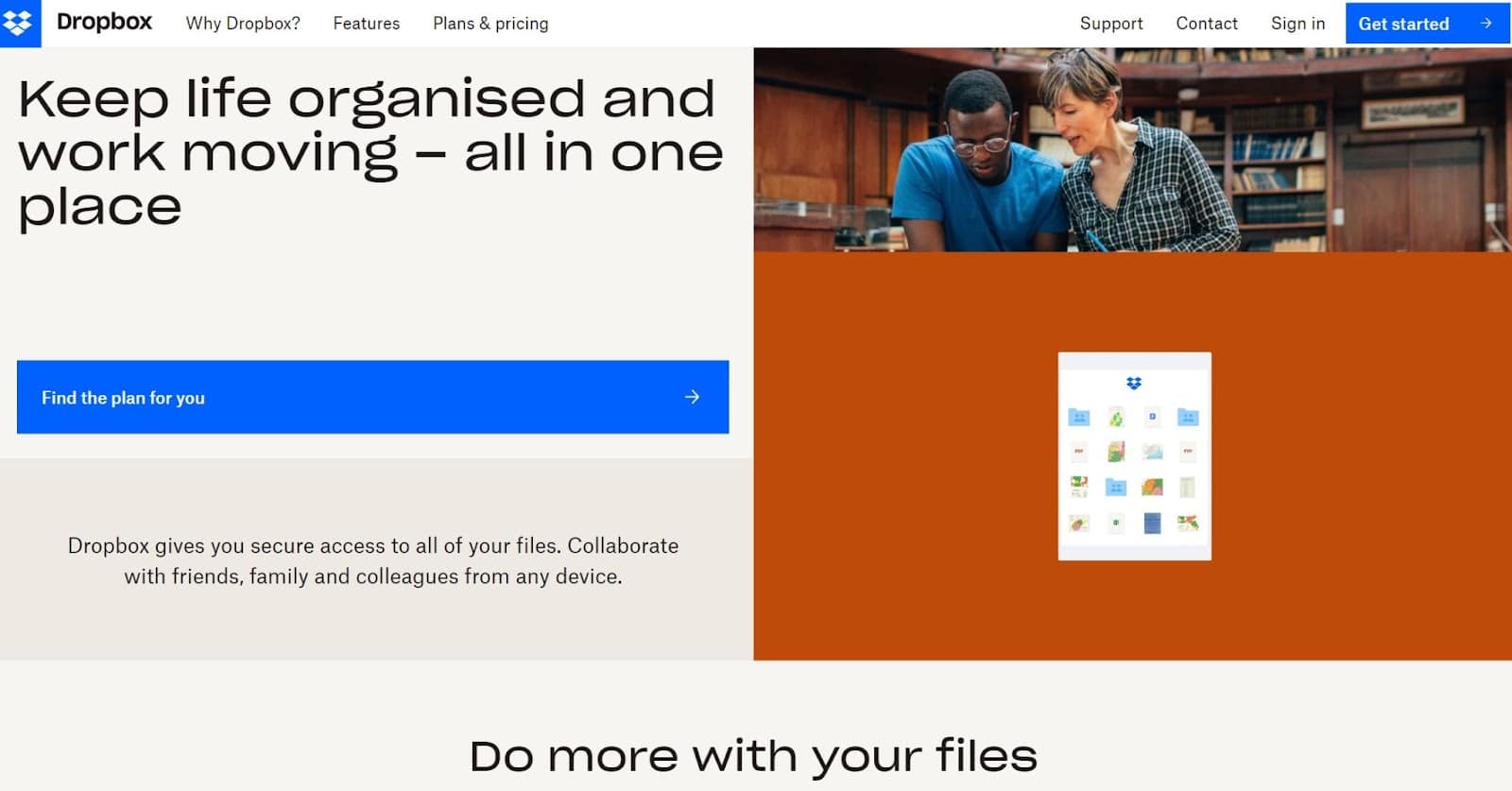 Launched in 2007, Dropbox is an easy-to-use program that works through dropbox.com or Mac, Windows, Linux, iOS, or Android devices.
Features:
Real-time backup
Smart sync (which saves local disk storage space by storing files online)
Dropbox vault (which lets you password-protect files)
Remote wipe
File recovery
Two-step verification
Pricing:
Dropbox offers a free plan with storage up to 2 GB. If you need more than that, Dropbox offers:
Dropbox Plus for $11.99 a month or $119.88 a year (includes 2TB of storage)
Dropbox Family for $19.99 a month or $203.88 a year (includes 2TB of storage between up to six people)
Pros:
Perfect for families who need to share files
Great for photos and videos
Good cybersecurity features
Cons:
DropBox only offers encryption on paid plans
Best Cloud Storage For Business Use
7. Microsoft OneDrive
If you use Microsoft Office, you may already have access to Microsoft OneDrive — Microsoft's inbuilt data storage tool.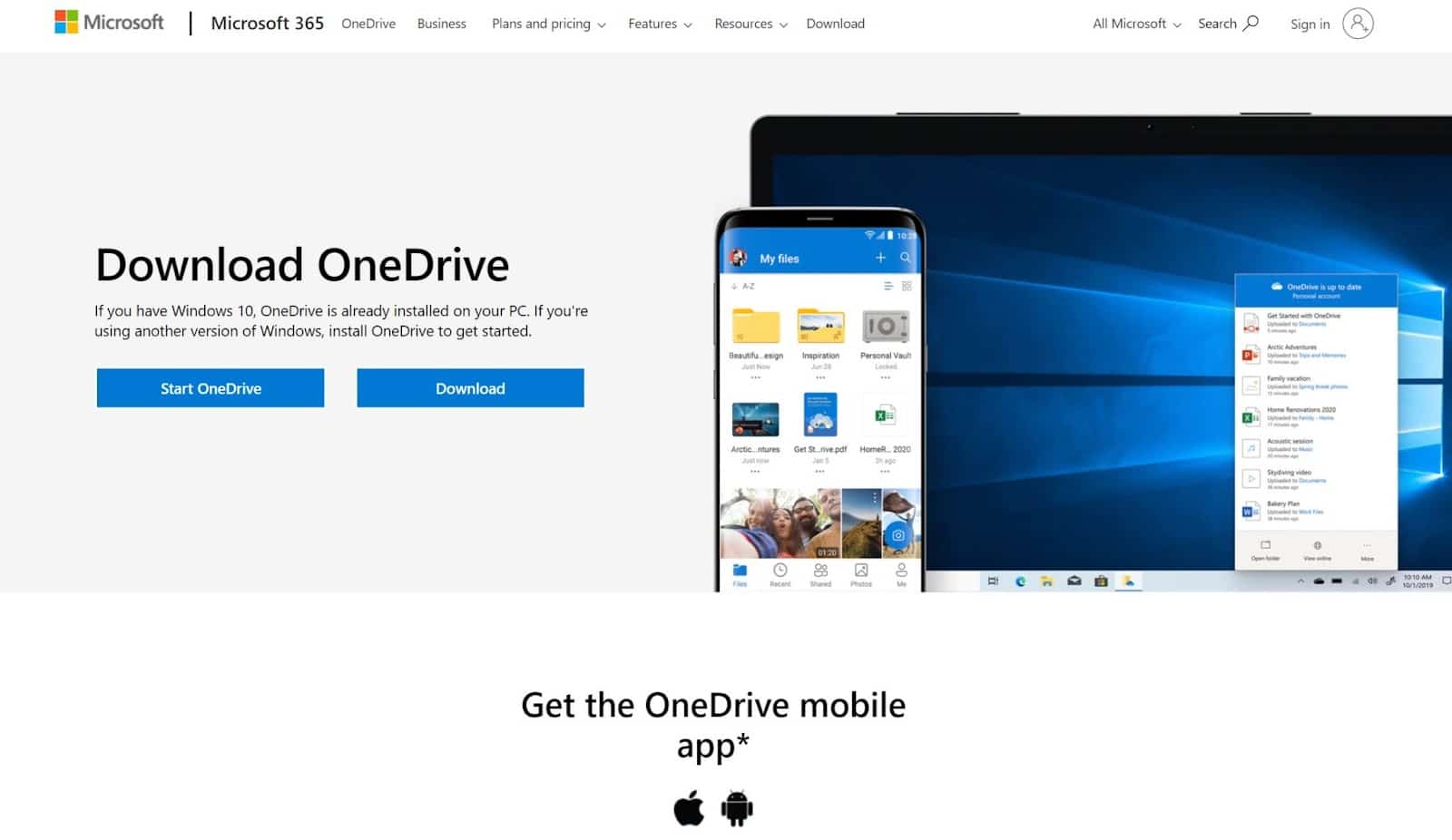 Microsoft OneDrive is similar to IceDrive in that it works like a hard drive — only online. It's available on Windows, Mac, Android, iOS, Xbox, and Windows Phone devices.
Features:
User controls
Expiration dates for old files
Download blocks
Custom passwords for confidential files
Version history
Pricing:
Microsoft OneDrive comes with Microsoft 365, but you can also purchase it through Microsoft's OneDrive for Business plan. This plan starts from $5 per user per month and includes 1 TB of data.
Pros:
Compatible with Microsoft Office apps
Speedy sync time
Easy to use if you're familiar with Microsoft programs
Good for collaboration
Cons:
Limited security features
Limited storage
Best Unlimited Cloud Storage
8. Box
Box is a scalable storage tool designed for medium and large businesses with staff that need to collaborate on multiple documents daily.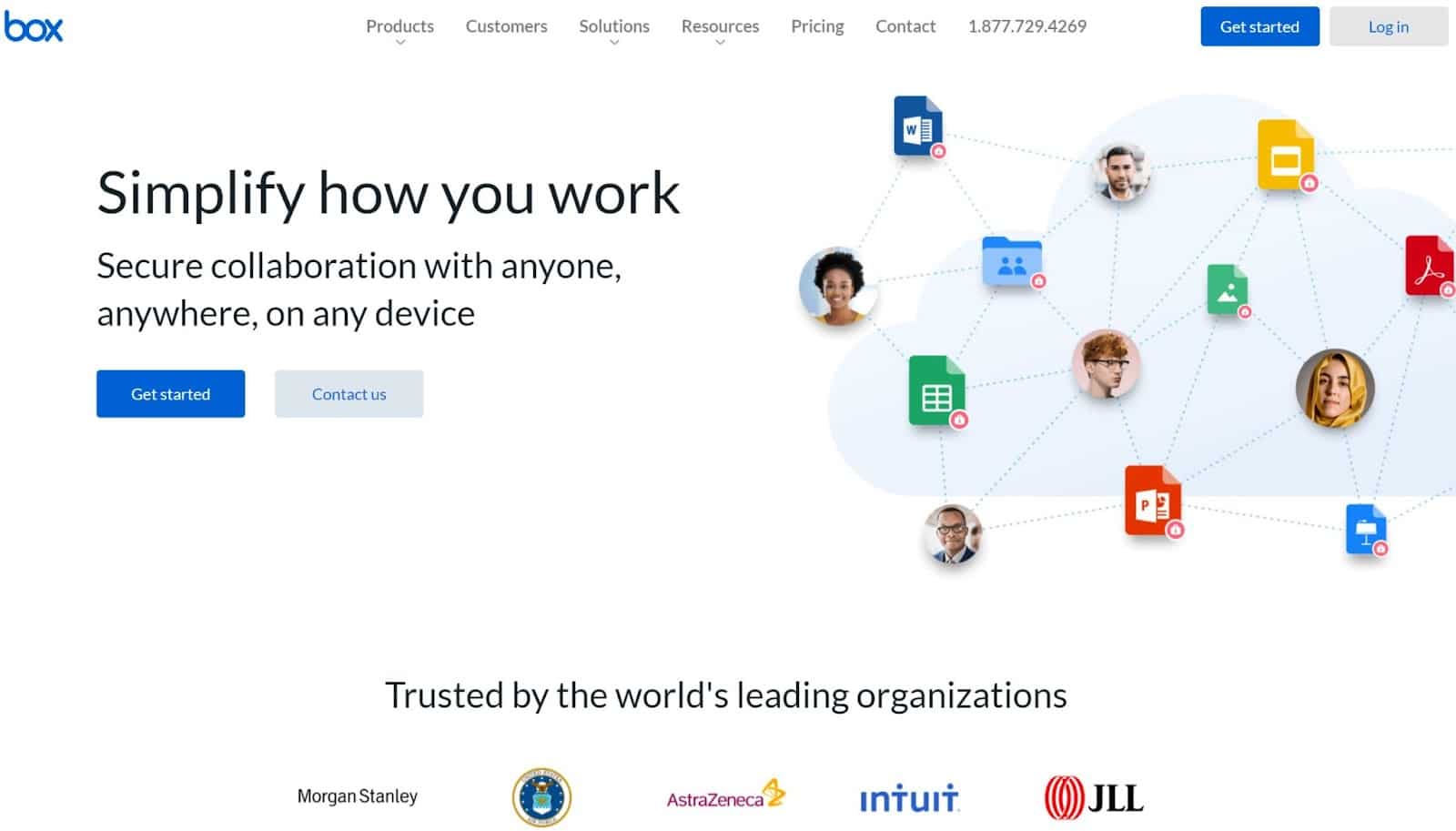 Box offers unlimited storage and includes an inbuilt content management system.
Features:
Cloud Content Management (a productivity tool for team collaboration)
Version history
Real-time backup
Box Sign (a tool that helps you create digital signatures)
Two-factor authentication
Pricing:
Box offers a free plan with up to 10 GB of storage. If you need more than that, Box offers:
Box Business from $15 per user per month
Box Business Plus from $25 per user per month
Box Enterprise from $35 per user per month
Pros:
Integrates with over 1,500 productivity apps (including Slack, Okta, and ServiceNow)
Strong cybersecurity
Great for team collaboration
Cons:
You must have at least three users to use Box's business plans
Box is only HIPAA/ FedRAMP compliant on enterprise plans
Safest Cloud Storage
9. NordLocker
NordLocker is a cloud storage service developed by NordVPN — a company that helps people conceal their IP addresses through a virtual private network (VPN).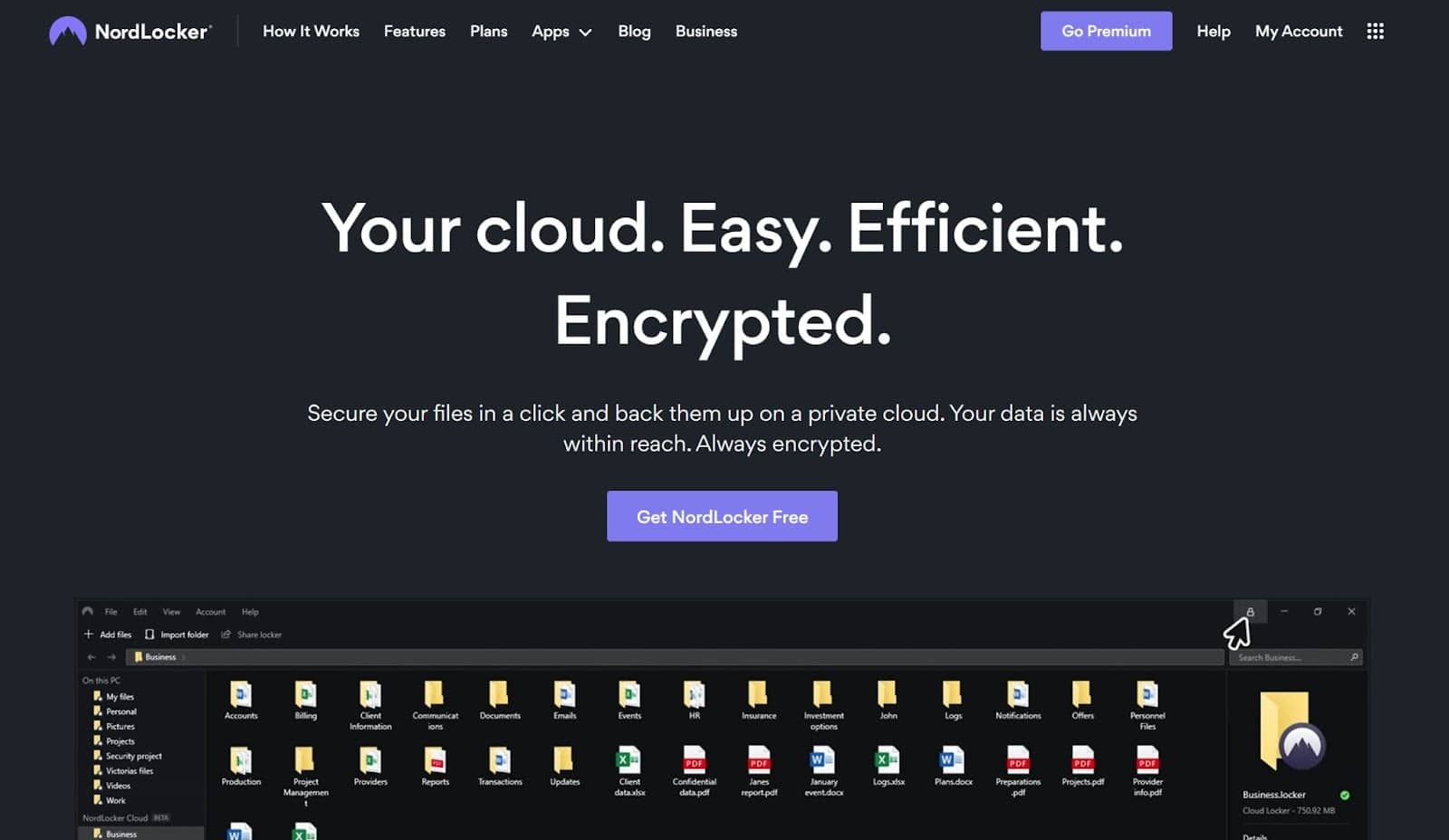 NordLocker uses many cybersecurity features to keep your files safe, including ECC, AES256, and Argon2 encryption protocols. It also uses a "zero-knowledge" approach, meaning you are the only one who can decrypt your files.
Features:
Local file vault
Automatic cloud backup
Pricing:
NordLocker offers up to 3 GB of free storage. If you need more than that, NordLocker offers:
500 GB of data from $3.19 a month
2 TB of data from $7.99 a month
Enterprise plans
If you use NordVPN, you may already have access to NordLocker for free (though this depends on your NordVPN plan).
Pros:
Great cybersecurity
GDPR and HIPAA-compliant
Easy to use (has a drag-and-drop interface)
Great for file sharing
Cons:
No collaboration features
Limited productivity features
Only available on Windows and Mac computers
Best Cloud Storage For Photos
10. Flickr
While Flickr isn't the first option people may think of when they look for a cloud storage solution for photos and videos, it's an affordable platform that preserves the quality of your pictures.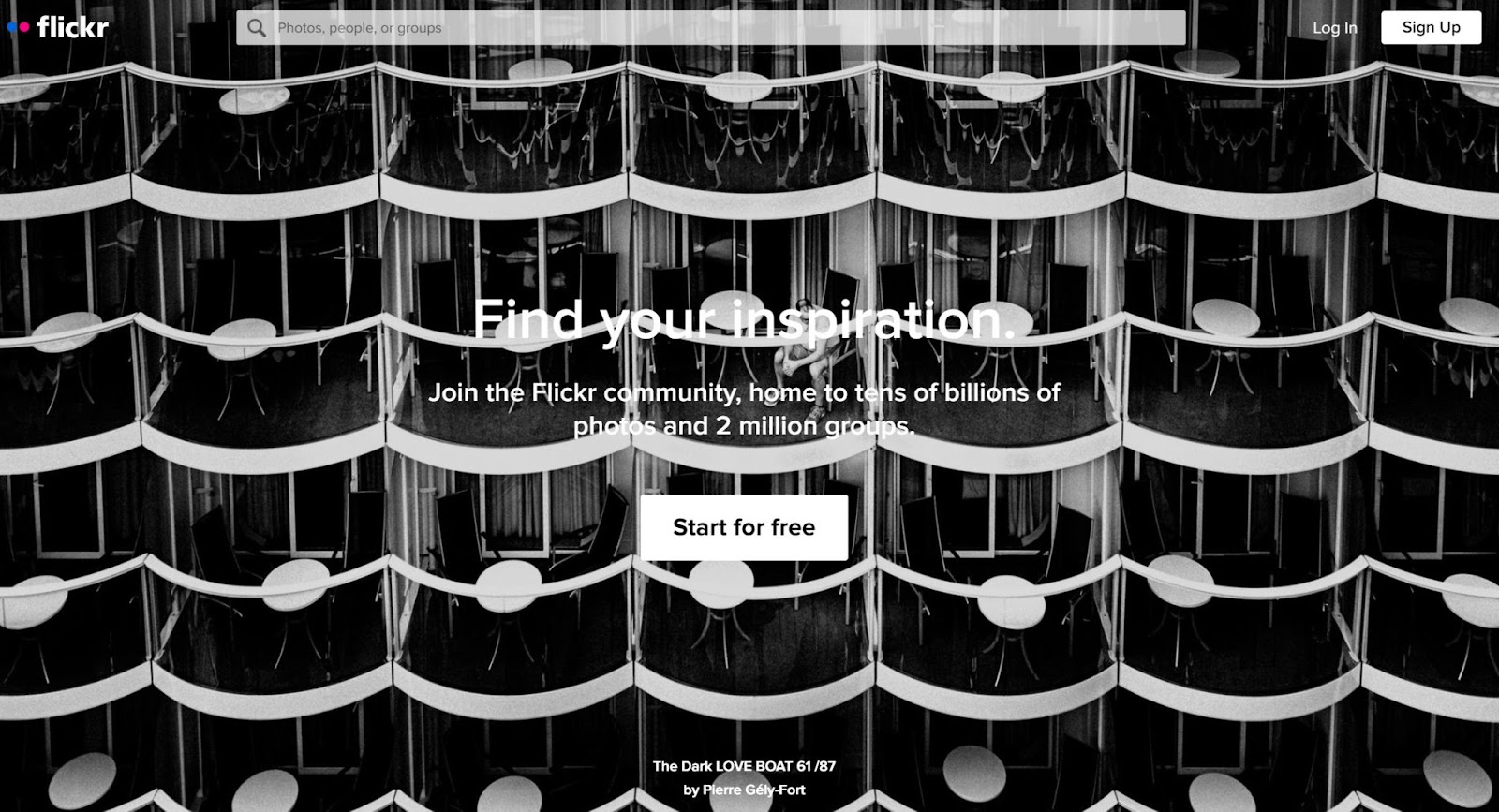 Telecommunications giant Verizon currently owns Flickr.
Features:
Exchangeable Image File (EXIF) data storage
Flickr app
Social media capabilities
Pricing:
Flickr offers a free plan with 1,000 photos and videos storage capacity. Flickr offers Flickr Pro for $5.99 a month or $49.99 a year if you need to store more than that. Flickr gives you unlimited storage (though individual files have a storage limit of 200 MB for photos and 1 GB for videos).
Pros:
Easy to use
Preserves photo quality
Very affordable
Cons:
Doesn't include any productivity features
Your photos and videos are public by default
The free version of Flickr has ads
Not suitable for large files
Summary
As our understanding of cybersecurity and cloud technology capabilities grows, cloud storage services increase in popularity. Naturally, while only 25% of the world's data was stored in the cloud in 2015, that figure will reach 50% in 2025.
If you're one of the many people looking to make the switch, we recommend:
iDrive or pCloud for general storage
Dropbox for personal cloud storage
Microsoft OneDrive for business storage
Box for unlimited storage
NordLocker for security
Flickr for photos
Now that we've shared our cloud storage service recommendations, we'd love to know how you store your files and what tool would you recommend to others? Please tell us in the comments below.