These days, many internet users compare a proxy vs VPN, wondering what they should use when browsing to protect themselves.
In 2020, 84% of consumers said they cared about their privacy and data, and 80% were willing to act to protect it.
Virtual Private Networks (VPNs) and proxies are a potential solution because they add an extra layer between a browser and any data tracking company or government.
But what's the difference between a proxy vs a VPN? Which option is best if you want to improve your privacy and safety online?
In this article, we'll answer all your questions and highlight the crucial differences between the two.
What Is a Virtual Private Network (VPN)?
A virtual private network, or VPN, is a private network that encrypts any data sent to or received from the internet. It helps you securely and privately access websites and use your programs and apps, regardless of the network you're using.
Think of it as a secure courier, taking website's data from the website and delivering it securely to your computer. Just like an armored car would transport cash to and from an ATM.
It also hides your IP (here's how to check your IP), and allows you to change your location so you can get access to geo-restricted content. Like if your favorite show isn't available on Netflix in the country you're visiting.
You can also access your company's file system remotely with an "office IP address."
A VPN works at the operating system level and encrypts all incoming and outgoing internet traffic.
How Does a VPN Work?
When communicating with the VPN server, the VPN client uses data encryption, which remotely accesses the website or data you have in mind.You get an intermediary on both sides. The client hides your query from your router and internet service provider (ISP), while the VPN server hides your identity from the webpage or service you're using.
It makes a massive difference to security when you're using any sort of public WiFi network. Online shopping, banking, or even sending work emails through an open network is a lot more secure with a VPN.
Since the VPN encrypts your connection, potential hackers can't "eavesdrop" on the transmission to steal vulnerable data, like your account number, or worse, your password.
It also prevents your ISP or employer from spying on your traffic and what you're doing online by tracking the router traffic.
If your company uses a VPN-enabled router, you can use a VPN to remotely connect to your office network and access office files, the CRM, or other software from the road.
What Is a Proxy Server?
A proxy server is typically a remote public server accessed through a web app or desktop program that accesses web pages on your behalf.
A proxy server works at the application level, acting as a proxy for a single app (like your browser) at a time.
Many proxy servers don't support secure HTTPS data transfers, and are, by default, not secure.
How Does a Proxy Server Work?
When most people use the word proxy server, they mean HTTP proxies.
These proxy servers are web servers that access a webpage through the internet and then forward the data to your browser.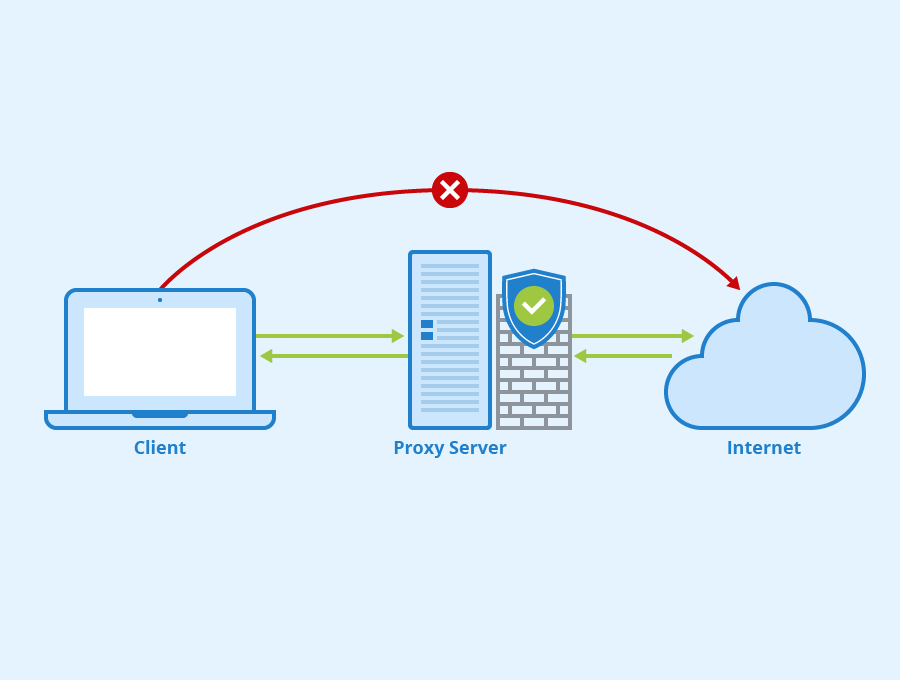 You can use these to access geo-restricted websites and pages in your browser.
Unlike a VPN, your proxy connection isn't encrypted. It just acts as an intermediary between your computer and the final server.
As a result, an HTTP proxy will hide your identity from the website but won't secure any sensitive data.
SOCKS5 Proxies
A SOCKS5 proxy works like HTTP or web proxies, but you can connect it to other applications, not just your web browser.
A SOCKS5 proxy restricts all data transfer to the 5th layer, effectively blocking attempts to tunnel or scan your system using common hacker tools.
Since you're setting it up at the application level, the program itself must support proxy usage. It doesn't control all incoming and outgoing traffic the way a VPN does. But you can use it for peer-to-peer file sharing, email, torrents, and more.
Transparent Proxies
A transparent proxy is a proxy set up on a network to control and monitor web traffic. It's transparent because most users won't notice that it's there (until it blocks them from accessing a page).
Schools, offices, and even cafes use these to restrict access to certain websites, like social media or Netflix. Businesses may use one to keep you focused on your job or make sure you don't use too much bandwidth.
5 Key Differences Between a Proxy and a VPN
With just the technical definitions, it can be challenging for an average user to tell a VPN apart from a proxy. To help you understand how a VPN is different from a proxy server, we've highlighted the major differences comparing VPNs with proxies regarding security, privacy, cookies, cost, and speed.
1. Proxy vs VPN: Security
93% of data breaches could have been avoided through fundamental data security efforts. For a private person, that usually means taking a few extra precautions when browsing the internet.
Especially when using the internet from a public network. But which option is the best choice when it comes to improving your security?
Let's start by taking a closer look at proxy servers.
Are Proxies Safe?
The short answer is: probably not. Especially if you favor proxy servers because they tend to be free, as opposed to VPNs.
Public, unencrypted proxy servers hide your identity from the website you're visiting. But they do nothing to encrypt your connection to the proxy server itself.
By using a public proxy server, you risk ending up with a less secure connection than by just connecting to a web server directly through your browser.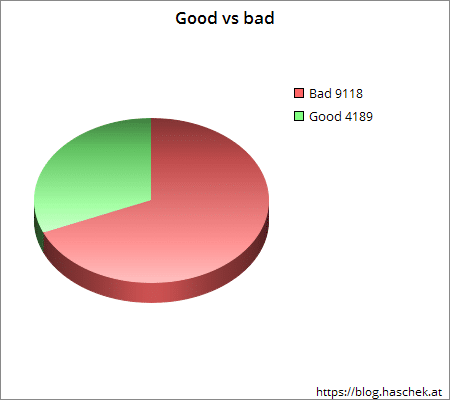 In a landmark study of over 13,000 proxies, 79%% of the tested public proxy servers were either not safe, with no HTTPS traffic allowed, or directly harmful with injected HTML or JavaScript.
Paid proxy servers with HTTPS connections and password protection are usually safe. But they're still limited compared to the end-to-end encryption you get with a professional-grade VPN.
Next, let's take a closer look at VPNs and how they impact your security.
Are VPNs Safe?
Yes, the vast majority of commercial VPNs are safe to use. A VPN loads the data on the server-end and then encrypts the data before sending it to the client on your computer.
Only after the data has been sent through to the client does it decrypt the data for other programs to use. So not only is your identity hidden from the website or service you visit, your ISP, or even the network doesn't know what data you're loading either.
All they can see is that you're loading encrypted data from a VPN. It protects your data from any malicious hackers on an open network, as well as the prying eyes of the government or your employer.
It will also protect your IP address from getting revealed, protecting your computer from DDoS attacks and other brute force attacks.
All this protection may sound like a lengthy process, but it all happens in microseconds. It doesn't significantly impact your browsing experience. You can even stream movies in HD without any lag or play online games without latency issues.
The only caveat is that a VPN service is only as reliable as its provider. So you should do your due diligence when choosing a VPN.
Remember that you're giving a company full access to your internet traffic. Choose a VPN provider with a stellar reputation and good privacy practices.
2. Proxy vs VPN: Privacy
74% of Americans have limited their online activity due to privacy concerns.
Locally installed VPNs offer complete encryption of your data from the moment it leaves your computer until its destination. That means it's a lot harder for people to spy on your data.
Even if you're on an open WIFI network, the encryption protects your data from being intercepted by malicious hackers.
And since the VPN uses end-to-end encryption, your ISP, router, employer, or government can't access your data either.
That's part of the reason why the Chinese government is trying to restrict the public's access to VPNs. Because when even the ISP can't snoop on the traffic, there's no way to control if you're accessing blocked websites or not.
VPNs will also hide your IP address and location from the website you visit, making it harder to identify you.
Proxy servers just act as a go-between and hide your IP address from the web server you visit.
Even with a VPN or proxy, you'll still be vulnerable to device fingerprinting and other techniques used by scrupulous advertisers to show "relevant" ads.
But by hiding your IP address, you at least make it harder for companies to connect the dots.
3. Proxy vs VPN: Cookies
With laws (like GDPR and CCPA) and the increased focus on internet privacy, many consumers are concerned about how sites and advertisers use cookies to track their every move.
GDPR compliance is one of the new hot topics in the EU business world. And with good reason. Because of this new law, virtually every website that tracks you with cookies has to ask for your permission.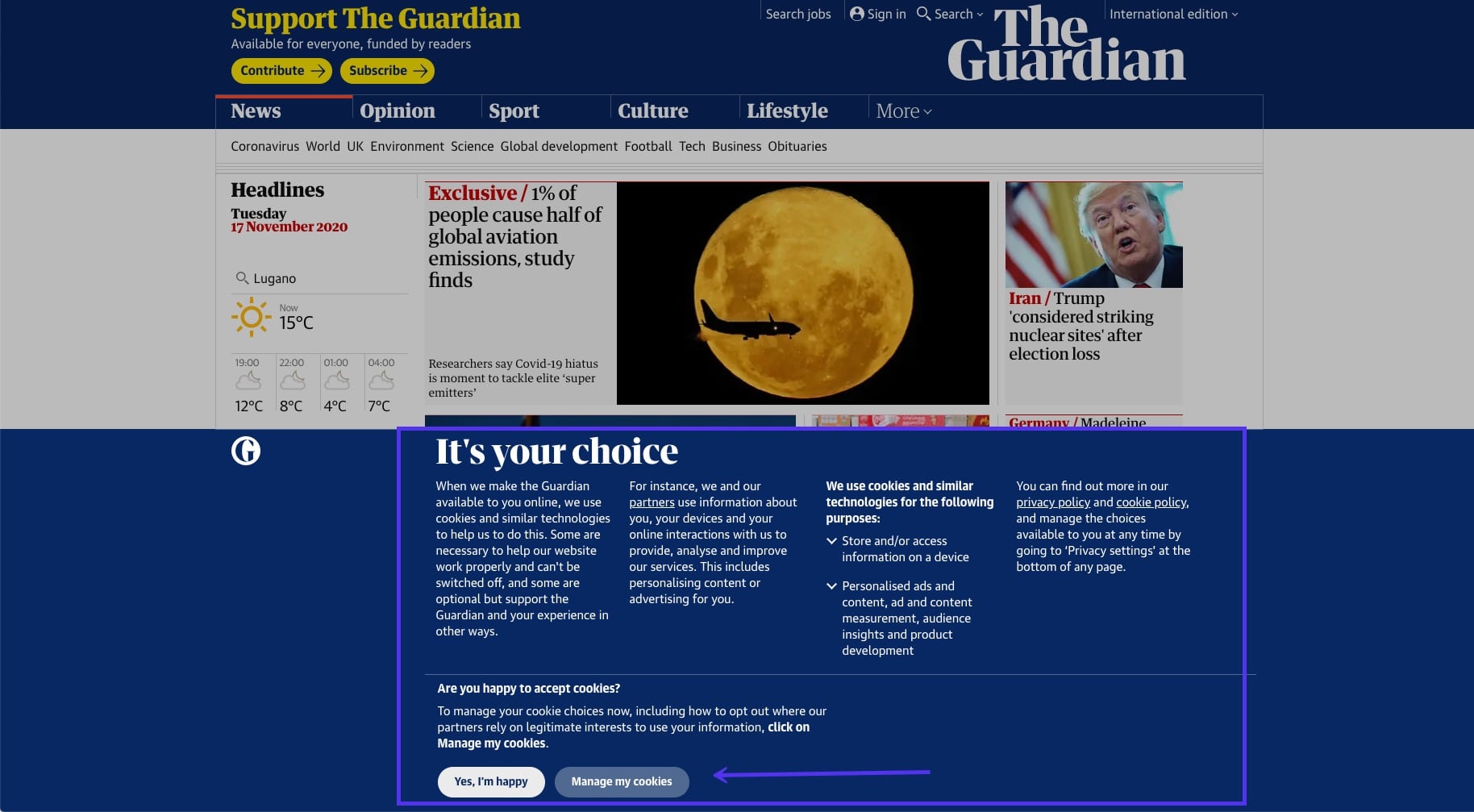 You've probably seen prompts like these hundreds of times now.
And here's the thing about cookies, they're stored and saved on your computer's hard drive. Cookies will get downloaded to your computer through the proxy server or VPN.
But with a VPN, the cookie will mistake the VPN's IP address for your own, which will offer some level of protection against fingerprinting and other digital tracking techniques.
A proxy server will also trick the website into storing a cookie with a different IP address.
So when you start using a VPN or proxy server, you must clear all the cookies on your computer.
If not, existing cookies may interfere with the added layer of privacy. The site will connect it with your original location and IP address and use it to aid in your device's fingerprinting.
4. Proxy vs VPN: Cost
We'll look into a few solutions further down the blog post, but as for now, you should know that most available proxies are public and free, while VPN services typically cost between $5 and $12 per month.
If you want to use a proxy server safely, you'll need to use a reliable premium service as well. Premium SOCKS5 proxy provider IPVanish costs $5 per month, and other alternatives price themselves similarly.
So if you're serious about security, a VPN still offers the best bang for your buck.
5. Proxy vs VPN: Connection Speed
Another key difference between a proxy and a VPN is the speed of the connection.
With a public proxy server, you may struggle to even get a single megabit per second, while some VPNs offer speeds of 50 Mbps or higher.
While the encryption of a VPN may add a few milliseconds of latency, it isn't noticeable unless you're a professional gamer or streamer at the highest level.
In some cases, using a VPN can even speed up your connection. Most major providers use a network of data centers around the world. So if the site doesn't use a CDN, or the CDN's closest data center is far away, a VPN connection may be faster.
3 Secure Premium VPNs You Can Start Using Today for Safer Browsing (And One Free Option)
To take your data security seriously, you can use one of these VPN solutions to start browsing safer today.
1. ExpressVPN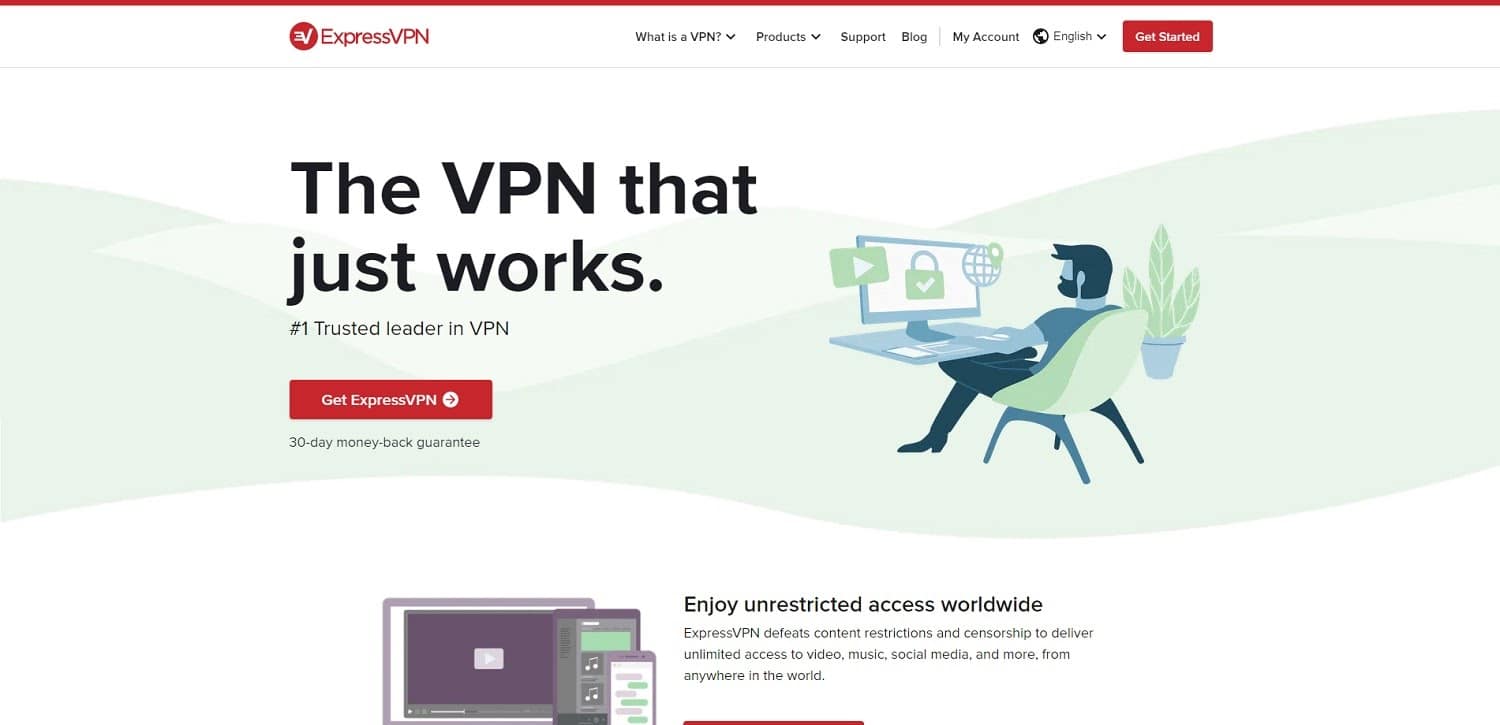 If you listen to podcasts or watch any major YouTubers, chances are you've already heard of ExpressVPN.
It's one of the biggest VPN service providers globally, and definitely, the most heavily advertised one. But it's not just ad dollars that ExpressVPN has going for it. Its large budget and customer base also mean it has a robust offering with over 3,000 VPN servers.
ExpressVPN doesn't limit your bandwidth, and fast servers mean you can see download speeds as high as 50 Mbps or higher, depending on your internet connection and location.
ExpressVPN costs $12.95/month billed monthly, and $8.32/month billed annually.
Connection speed: 50 Mbps+
Bandwidth: Unlimited
Trustpilot rating: 4.7 out of 5, with 6,100+ reviews
Device limit: Up to 5 devices
Price: $12.95/month
Free trial: None
2. NordVPN

NordVPN is another market leader in the VPN space and with good reason.
NordVPN has repeatedly tested as the fastest VPN available for US users and has over 5,000 servers in 60+ different countries.
It often offers giant sales on annual plans, making it one of the cheaper VPN services on the market. On top of these, you have the seasonal Black Friday / Cyber Monday deals (if you run an ecommerce, make sure to check out our webinar with WooCommerce agency Sau/Cal on the topic).
NordVPN offers also a 30-day money-back guarantee.
Connection speed: 50 Mbps+
Bandwidth: Unlimited
Trustpilot rating: 4.4 out of 5, with 4,955+ reviews
Price: $11.95/month
Device limit: Up to 6 devices
Free trial: Yes
3. Surfshark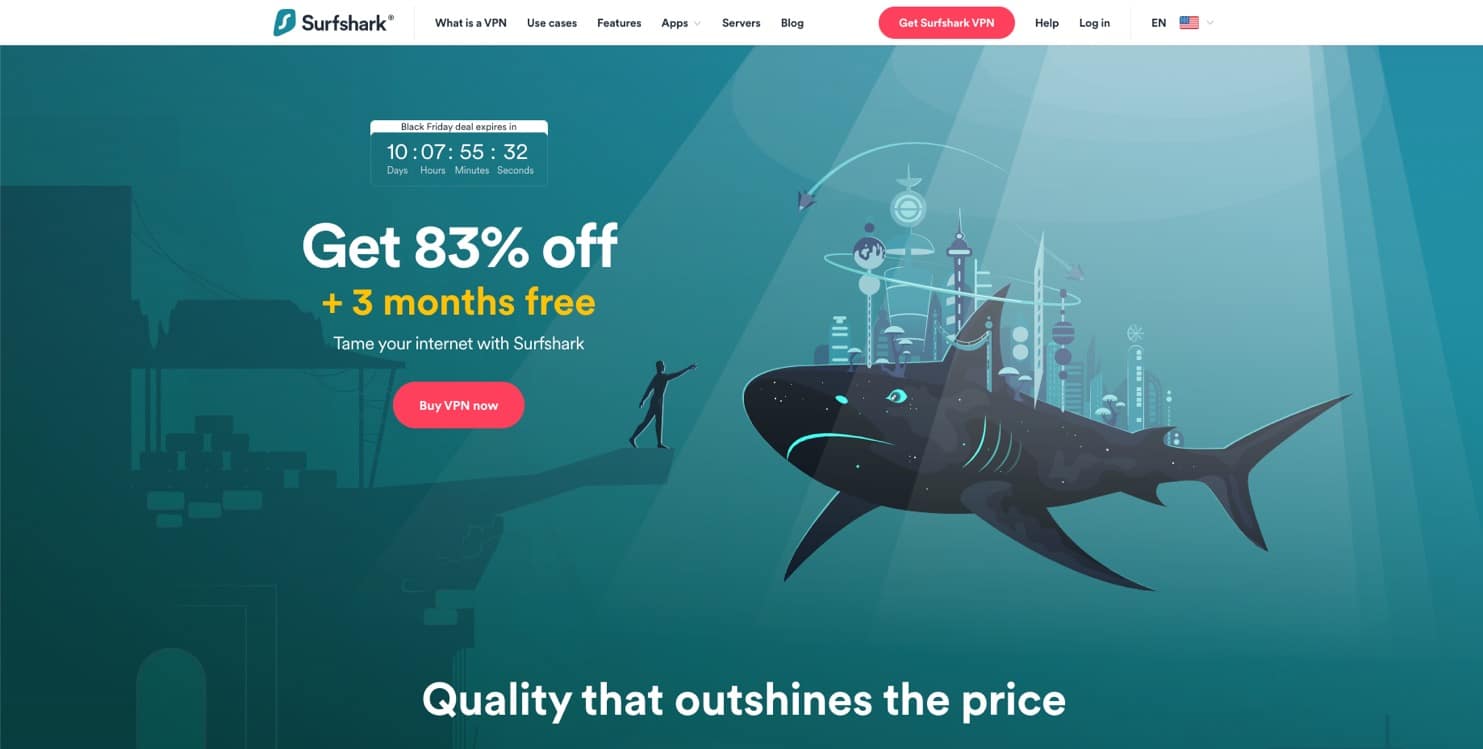 Surfshark is another great VPN service that boasts a fast, reliable connection, regardless of where you are in the world.
SurfShark has over 1,700 server locations in more than 63 different countries. Bandwidth and devices are unlimited with a single plan, which is something somewhat uncommon for VPN providers. This VPN solution comes also with a built-in ad blocker feature.
At $12.95 euros per month, the price is roughly the same as ExpressVPN's.
Connection speed: 40 Mbps+
Bandwidth: Unlimited
Trustpilot rating: 4.3 out of 5, with 6,410+ reviews
Price: $12.95/month (special deals run every year for seasonal events like Black Friday / Cyber Monday)
Device limit: None
Free trial: None
Free Option: ProtonVPN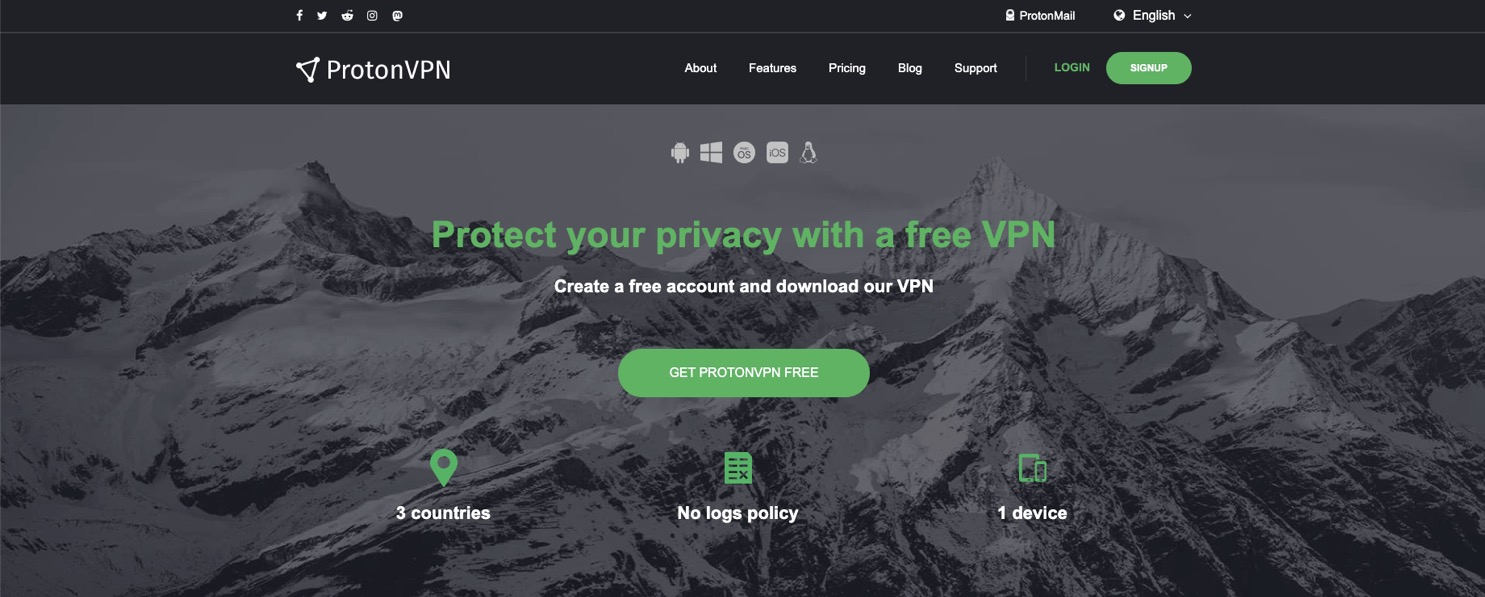 ProtonVPN offers a 100% free and ad-free plan that supports one device and up to three countries.
The free plan also protects your privacy, with a policy of maintaining 0 logs of any user activity and browsing.
Bandwidth and speed are technically unlimited, but since you're using crowded free servers, the speeds are comparatively slower.
The premium plan includes 1,077 servers in 50 countries, but some users report slow speeds for popular locations and servers like the US.
The customer reputation isn't as good as the three alternatives mentioned above.
Connection speed: 20 Mbps+ (Free plan)
Bandwidth: Unlimited (Free plan)
Trustpilot rating: 3.0 out of 5, with  54 reviews
Price: Free plan. Starting at $4/month
Device limit: 1 device on the Free plan
Proxy vs VPN: FAQs
Do You Need a Proxy If You Have a VPN?
No, you don't need a proxy server if you're using a VPN currently. The VPN is already masking your IP address from the servers you access. Also, it encrypts the data and hides it from your ISP and potential hackers.
Can I Use a VPN and Proxy Together?
Yes, technically, it's possible to use both at the same time. But it's not necessary and won't have any significant impact on your security. Instead, it's likely to drastically slow down your connection, increase latency, and ruin your browsing experience.
Can Proxies Be Traced?
A proxy server will hide your IP address from websites and services that you visit. Someone may still identify your computer or device with fingerprinting, but that's unrelated to the proxy.
Does a Proxy Hide Your IP?
Yes, both proxy servers and VPNs hide your IP address from websites and services that you visit and use.
Are There Any Free Proxy Servers?
There are thousands of free proxy servers available online, but many are unsafe, slow, or unreliable.
Should I Use a Free Proxy Server?
If you care about your connection's speed, reliability, and security, a free proxy server isn't the right choice. Instead, opt for a premium VPN service or proxy.
If you just want to access geo-restricted content, then a free proxy server might be enough.
Summary
When it comes to security and privacy, a public proxy server is no match for a premium, encrypted VPN. A VPN costs some money, sure, but it makes up for that in reliability, security, privacy, and connection speed.
Securing your web traffic isn't just a matter of accessing geo-blocked streaming content. It could also have deeper ramifications into the freedom to gather or share information that's not accessible in someone's country.
Do you use a VPN to improve your privacy and security when browsing the internet? What's your experience?