Sometimes Google Drive isn't the best file storage platform for the job. Fortunately, you have many Google Drive alternatives to pick from.
Why is Google Drive not ideal always? Many users struggle to fully understand the platform's features and functionality despite its popularity. Others have concerns about its cost, security, or capabilities.
Thankfully, there are other options.
In this post, we'll examine 15 Google Drive alternatives that are worth looking at. Before we dive in, let's take an in-depth look at Google Drive and some of its potential shortcomings.
What Is Google Drive?
Google Drive is a cloud-based file storage platform that allows users to store, share, and collaborate on files from multiple devices.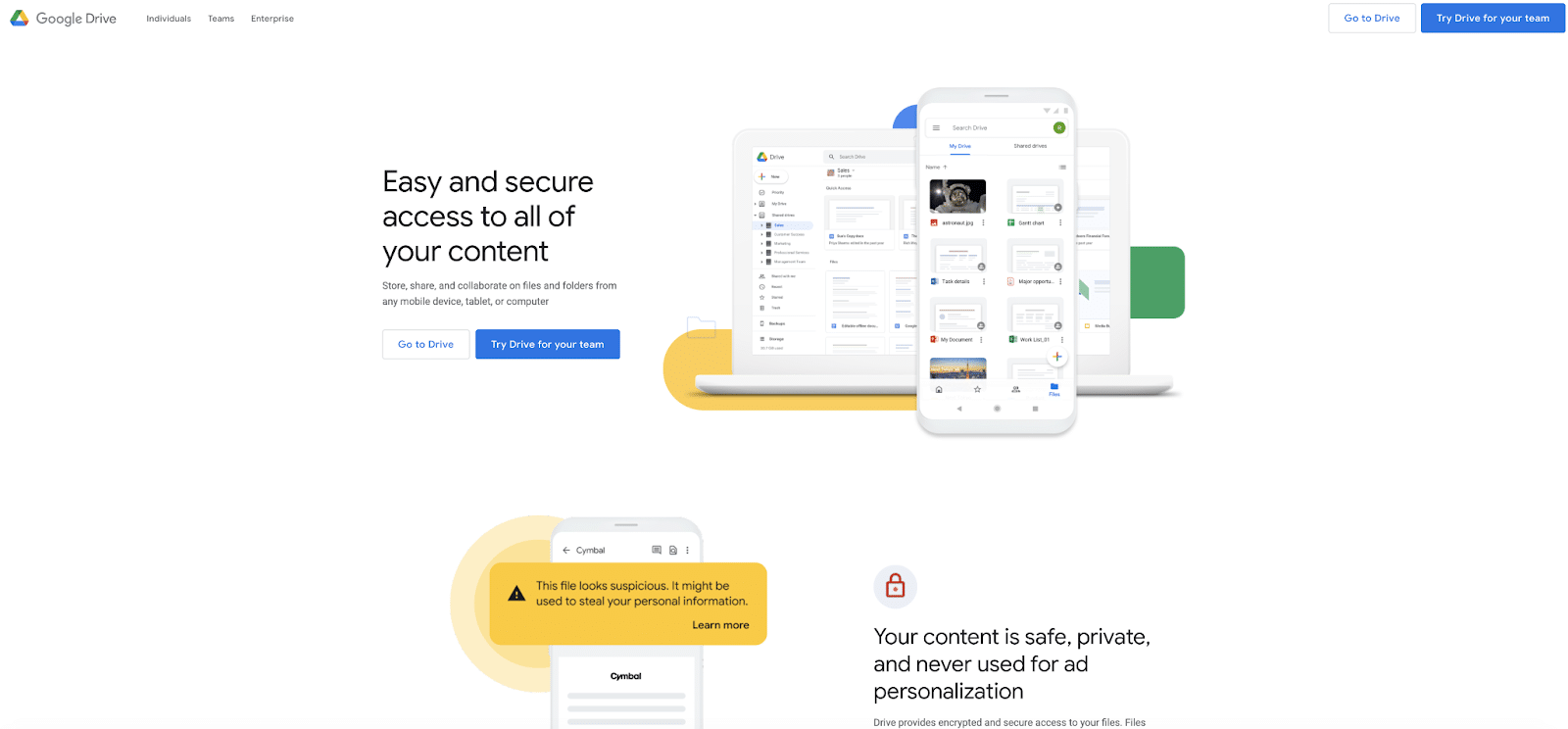 It's part of Google's G Suite, with over 2 billion monthly active users.
So there's no doubt that Google Drive is popular. That's not surprising considering the benefits of using Google Drive, like:
15 GB of free storage
Frees up space on your computer
Accessible on desktop and mobile
Seamless integration with Google Docs, Google Sheets, and other Google apps
Offers tools for sharing and collaboration
File syncing with desktop
Ability to open 30+ types of files within Drive — no software installation needed
Google Drive is practical and convenient, primarily if you already use other Google products. So why would you choose anything else?
Sometimes Google Drive just isn't the best file storage platform for the job. And in that case, there are (quite a few) alternatives...⬇️Click to Tweet
Why Consider a Google Drive Alternative?
There are plenty of reasons why people explore alternatives to Google Drive. Here are a few.
Price
Google Drive offers 15 GB of free storage. That's more than enough if you want to store a few documents and the occasional photo (although it should be noted that this storage limit is spread across your entire Google account, including Gmail, Google Photos, and more).
Even if you exceed 15 GB, Google Drive is undeniably cheap. The available plans include:
100 GB for $1.99/month or $19.99/year
200 GB for $2.99/month or $29.99/year.
2 TB for $9.99/month or $99.99/year
Those options are all good deals, but if your main objective is to save money, you could shop around. For example, if you need more than 15 GB but less than 50, you could use iCloud for $0.99/month.
Compatibility
A significant advantage of Google Drive is its integration with other Google tools. And it can be used with many different file types as well.
But if you're using something other than G Suite, you may be able to find a competitor that works better for you.
Security
One of the most significant concerns users have with Google Drive is security.
It's not all bad news. Google encrypts your files in transit and at rest. The problem is that the encryption keys are also stored on Google's servers, meaning they can potentially be accessed by hackers, the government, law enforcement, or Google itself.
This is typical of many cloud storage services, but a few have stricter security measures.
Then there are passwords.
To access your Google Drive, you need to be logged into your Google account, which provides some security. And then, you can elect to only share a file with certain other Google accounts.
But individual files in Drive can't be password protected. If you create a shareable link to send it to just a few people, it could end up getting shared more widely than you expect.
Many people start using Google Drive without exploring the alternatives.
It's easy to do — you're logged into your Gmail account, you open a shared document, and there it is in your Drive.
You may not have even heard of other options.
But before you go all-in on Google Drive, check out this list of 15 alternatives. Choosing a cloud storage service to house your most essential files shouldn't be a decision you take lightly.
15 Top Google Drive Alternatives
Let's break down 15 top alternatives to Google Drive.
1. Microsoft OneDrive
For Google Docs, Sheets, and Slides, we have Google Drive.
For Microsoft Word, Excel, and PowerPoint, there's Microsoft OneDrive.
OneDrive has many of the same features as Google Drive. You can store various documents, share and collaborate in real-time, and sync between cloud and desktop. The interface may be more familiar than Google's if you've used Microsoft Office for years.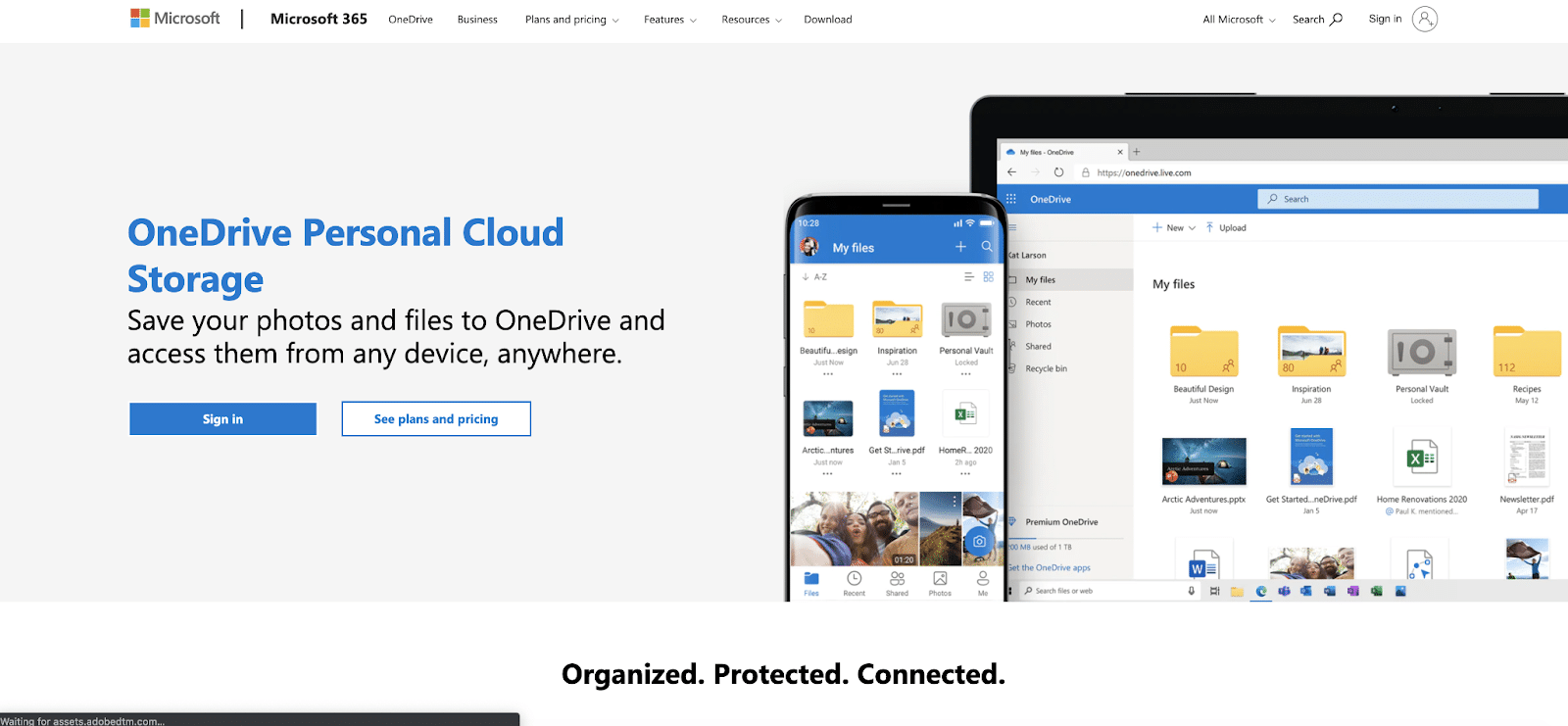 The desktop OneDrive app is built into Windows, whereas you'll have to download Google's app.
OneDrive's security and privacy features are similar to Google Drive's, with one exception. The OneDrive Personal Vault provides an extra layer of security for files you put into it by requiring authentication like a fingerprint, face, PIN, or a code sent by email or SMS.
OneDrive's free plan only gives you 5 GB of storage, but the more extensive plans are affordable. Also, OneDrive is part of a Microsoft 365 subscription.
Pricing
Home:
Free: 5 GB
OneDrive Standalone: 100 GB for $1.99/month
Microsoft 365 Personal: 1 TB for $69.99/year
Microsoft 365 Family: 6 TB total (1000 GB per person) for $99.99/year
Business:
OneDrive for Business (Plan 1): 1 TB for $5/month/user
OneDrive for Business (Plan 2): Unlimited (if you have 5+ users) for $10/month/user
Microsoft 365 Business Basic: 1 TB for $5/month/user
Microsoft 365 Business Standard: 1 TB for $12.50/month/user
2. Dropbox
Dropbox is another well-known cloud storage platform. It's been around since 2007 and was the introduction to cloud storage for many users, although Google Drive is more popular today.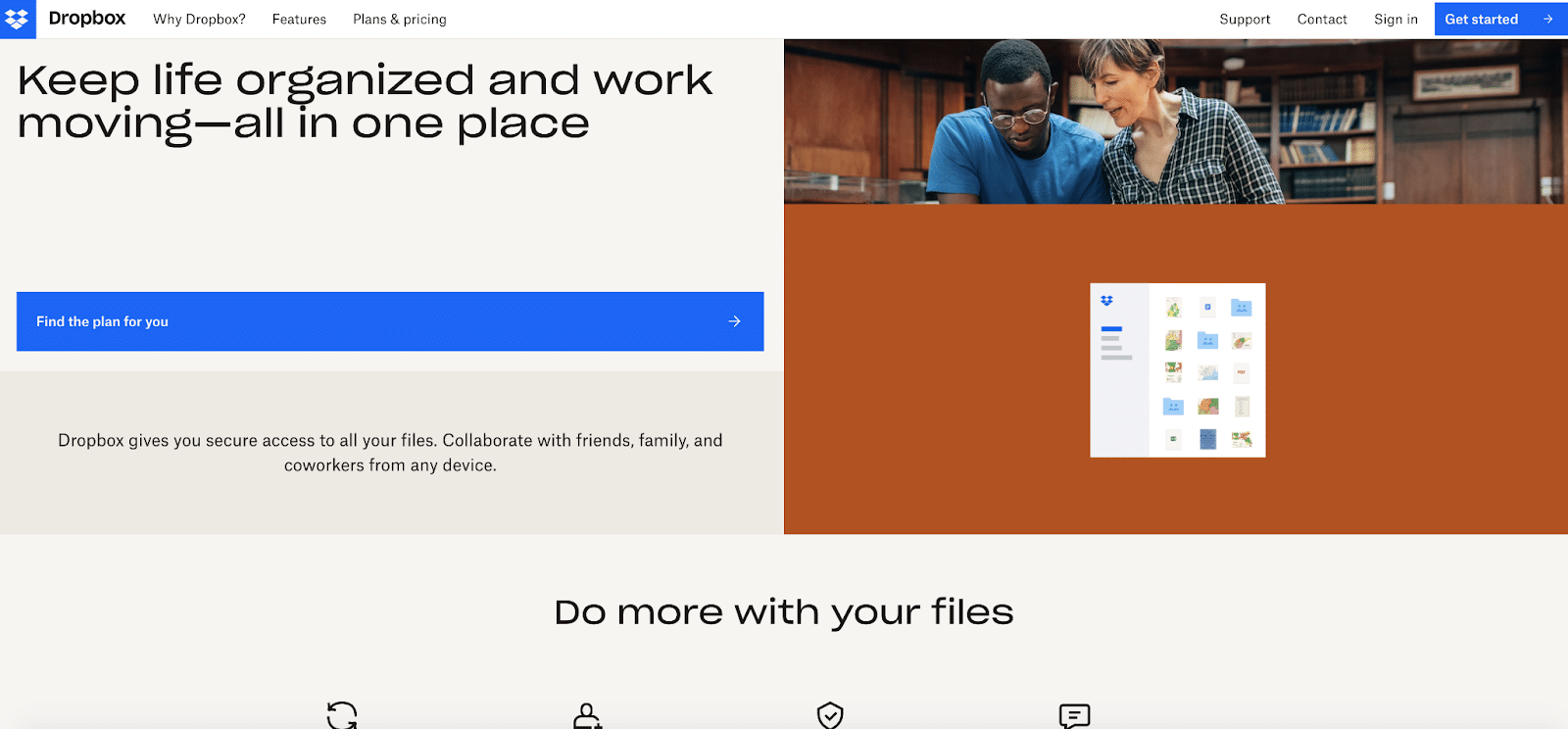 Dropbox uses a stronger type of encryption for files at rest than Google Drive does, making it a slightly more secure solution. It also lets you set passwords on individually shared files and offers remote device wipe capabilities and two-factor authentication.
Syncing Dropbox across devices is faster than Google Drive due to block-level file copying. That means it only syncs the file's changes rather than re-uploading or downloading the entire file.
However, you're only likely to notice the difference in speed if you're dealing with large files.
With Dropbox, you only get 2 GB of free storage, although you can bring that up to a maximum of 19 GB by referring friends.
Pricing
Individual
Free: 2 GB
Plus: 2 TB for $9.99/month
Family: 2 TB (2,000 GB per user) for $16.99/month
Professional
Professional: 3 TB for $16.58/month
Professional + eSign: 3 TB for $24.99/month
Standard Teams: 5 TB for $12.50/user/month
Advanced Teams: Unlimited for $20/user/month
3. pCloud
pCloud is the self-proclaimed most secure cloud storage.
pCloud's security application encrypts files while they're still on your computer, making them less vulnerable once they're uploaded to the cloud.
pCloud itself can't access your files since the encryption key isn't stored on its servers.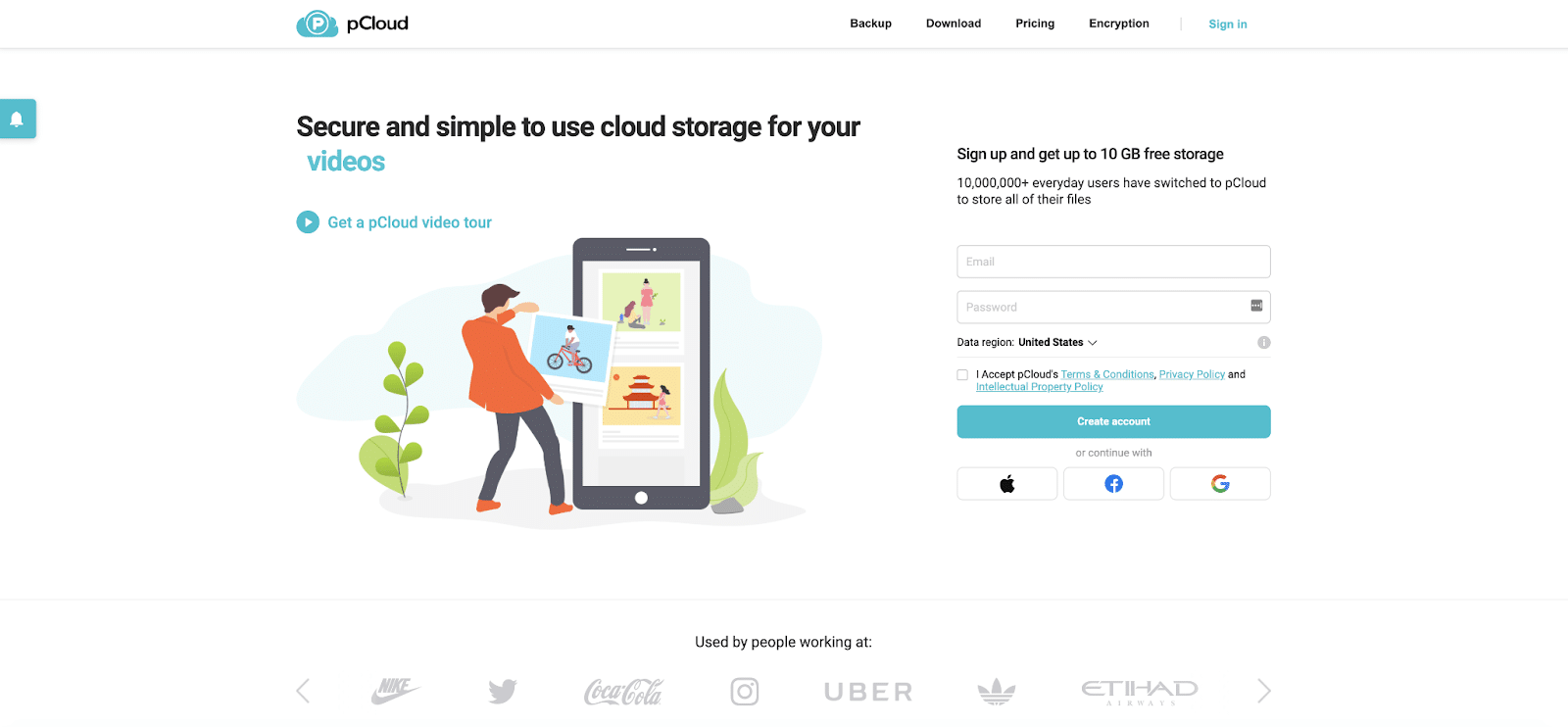 Like Google Drive, pCloud lets you share files with others. You can either share a file by inviting someone to access a file or folder or create an upload or download link. An upload link lets them upload files to your folder, while a download link lets them view and download your files.
pCloud starts you out with 10 GB of free storage, and there are ways to get that up to 20 GB. If you're sure that you'll use pCloud for years to come, you can save money with a lifetime plan.
Pricing
Premium: 1 TB for $49.99/year or $175 for life
Premium Plus: 2 TB for $99.99/year or $350 for life
Business: 1 TB for $7.99/user/month
Family: 2 TB for $500 for life
4. Box
Box isn't as well-known as the solutions we've talked about so far, but it's an excellent option for businesses, thanks to its unlimited storage plans and collaboration features.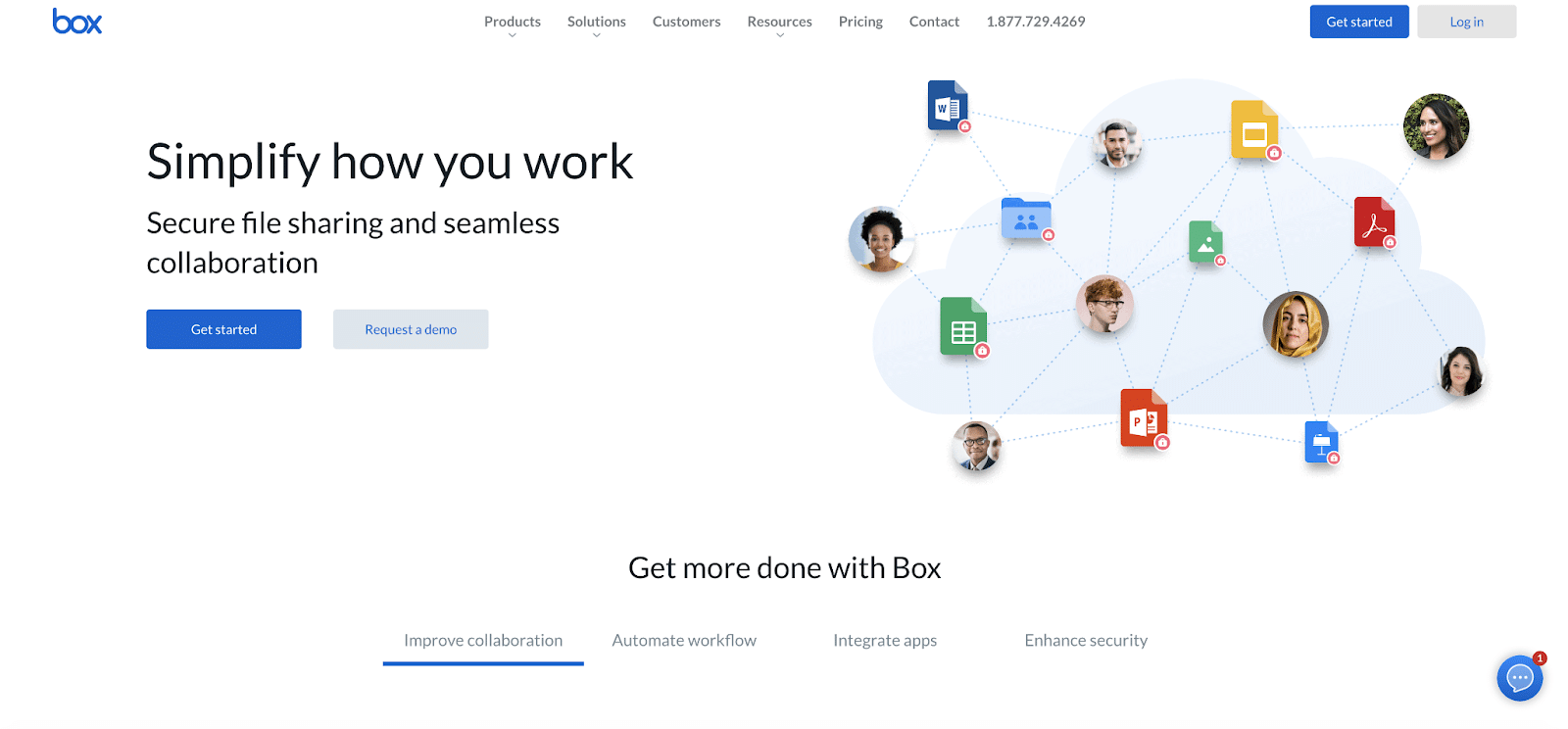 Box integrates with Google and Microsoft, so you can create Microsoft Office or Google Workspace documents from within Box.
Sharing files works similarly on Box and Google Drive, but Box offers better user management — useful if you're collaborating with teams.
A disadvantage of Box is that it puts stricter limits on the size of uploads. With the free plan, you can only upload files smaller than 250 MB, and even with the more expensive plans, there's a 5 GB limit.
Pricing
Individuals and teams
Individual (Free): 10 GB
Personal Pro: 100 GB for $10/month
Business Starter: 100 GB for $5/user/month
Business
Business: Unlimited for $15/user/month
Business Plus: Unlimited for $25/user/month
Enterprise: Unlimited for $35/user/month
Enterprise Plus: Custom
5. Canto
Canto is a digital asset management solution for brands. It lets companies share their images, videos, documents, and other brand assets.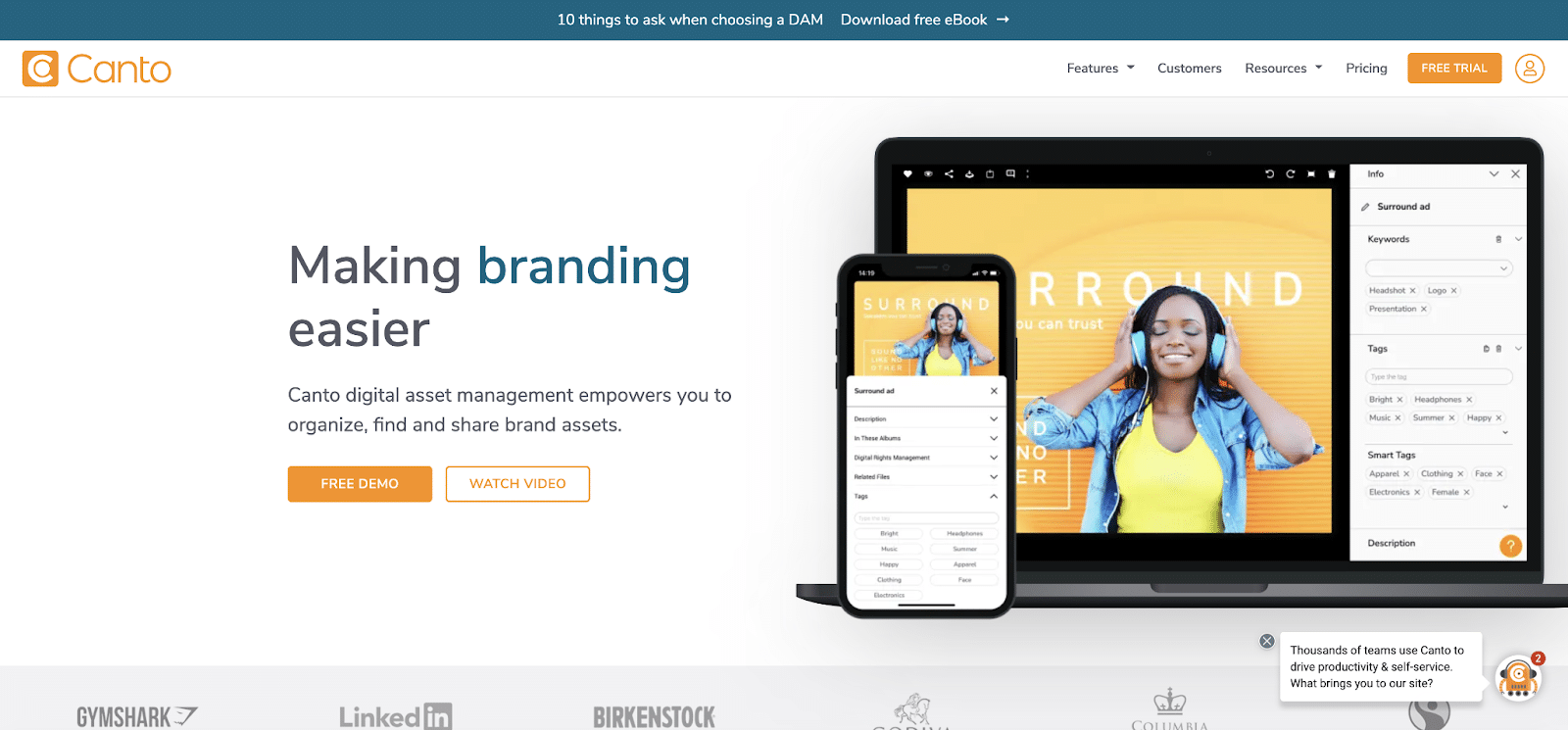 Canto's user interface is very visual, displaying items as large thumbnails.
If you already have content on Dropbox, Box, or Google Drive, Canto offers integrations to help you migrate it.
Since Canto is a product meant for business use, it has robust user management capabilities. Different permissions can be granted to employees, vendors, or partners.
Pricing
Canto's pricing is custom. You can fill out a contact form on the website to get more information.
6. Sync
Sync is a file storage and sharing solution that provides end-to-end encryption. Like pCloud and other secure solutions, Sync generates encryption keys locally rather than on its servers, so even Sync itself can't access your files.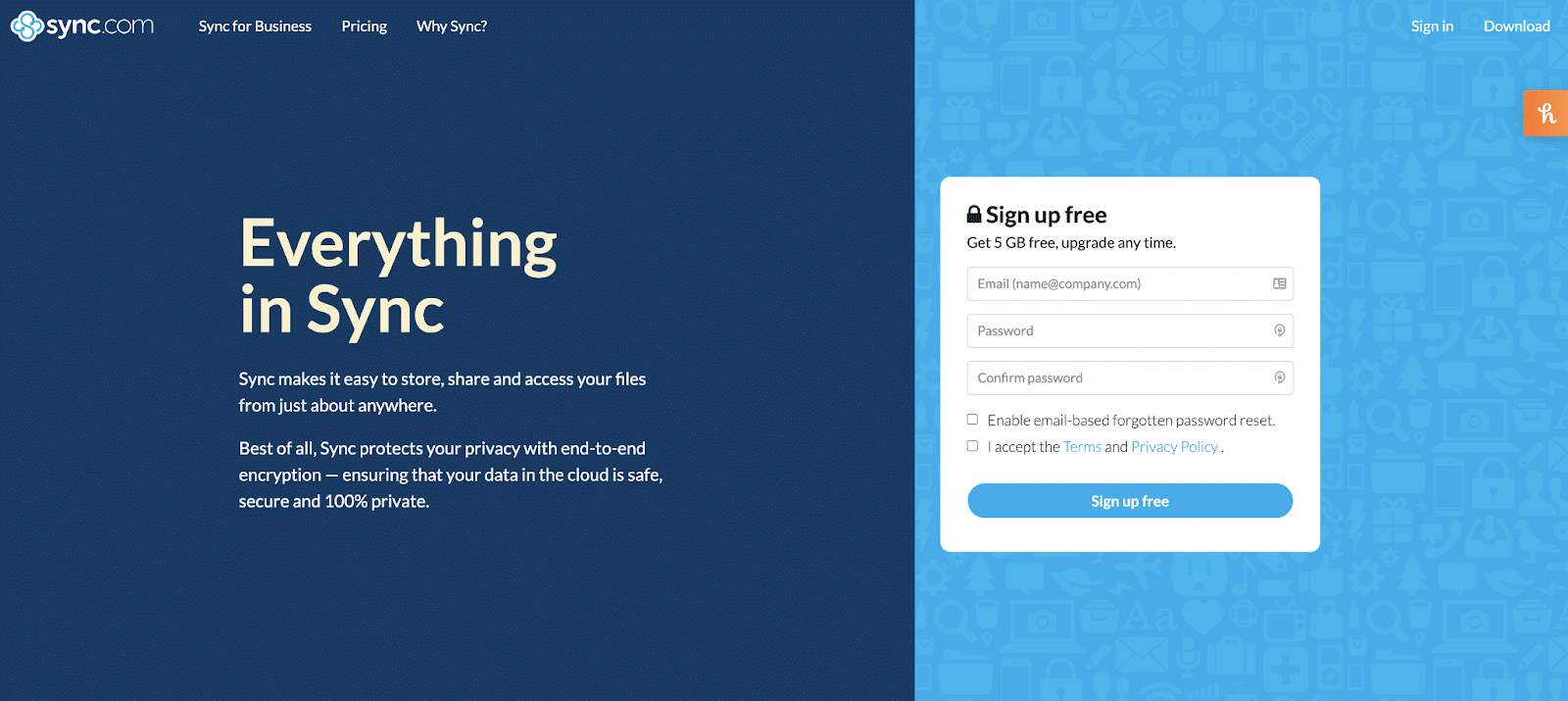 Sync doesn't have integrated applications like Google Drive does, so it's not as good for collaboration, but it's a great way to keep your files secure long-term.
Your Sync account has a feature called the Sync Vault. Files stored in your Sync Vault are not automatically synchronized to your other devices.
Pricing
Individuals
Free: 10 GB
Solo Basic: 2 TB for $8/month
Solo Professional: 6 TB for $20/user/month
Teams
Teams Standard: 1 TB for $5/user/month
Teams Unlimited: Unlimited for $15/user/month
Enterprise: Custom
7. iCloud
iCloud is Apple's version of cloud storage. Its features are very similar to Google Drive's features.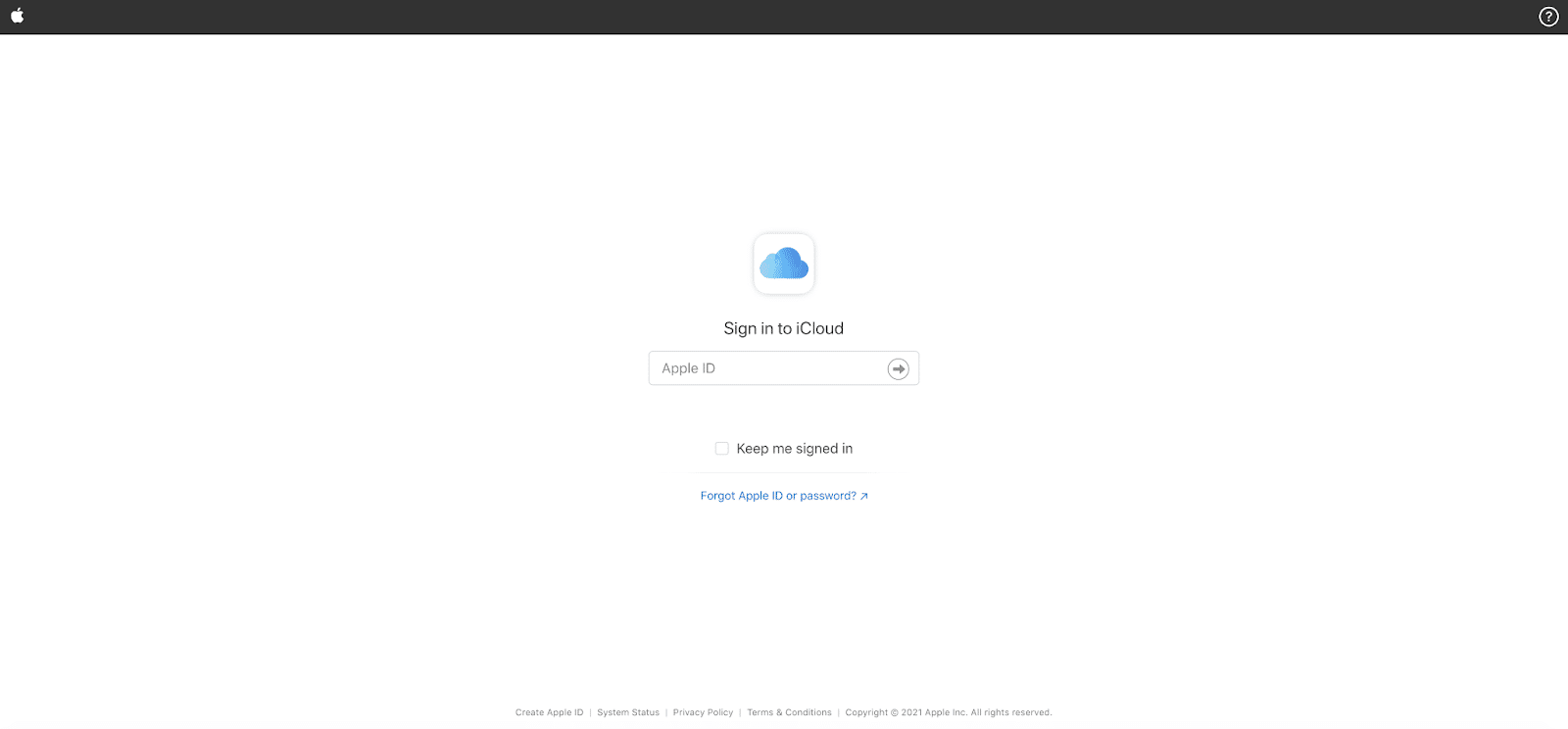 If you use an iPhone or other Apple device, you likely already have an iCloud account. Apple pushes users to iCloud to backup phone files and data. This is the most significant advantage iCloud has over Google Drive — if you're already using it to backup your iPad, it might be worth making it your Google Drive alternative.
While Google Drive works well on iOS and macOS as it does on Android, iCloud functions best on Apple devices.
Pricing
Free: 5 GB
50 GB for $0.99/month
200 GB for $2.99/month
2 TB for $9.99/month
8. Kdan Cloud
Kdan is a mobile-focused suite of productivity and creativity apps. Kdan's cloud storage offering is called Kdan Cloud.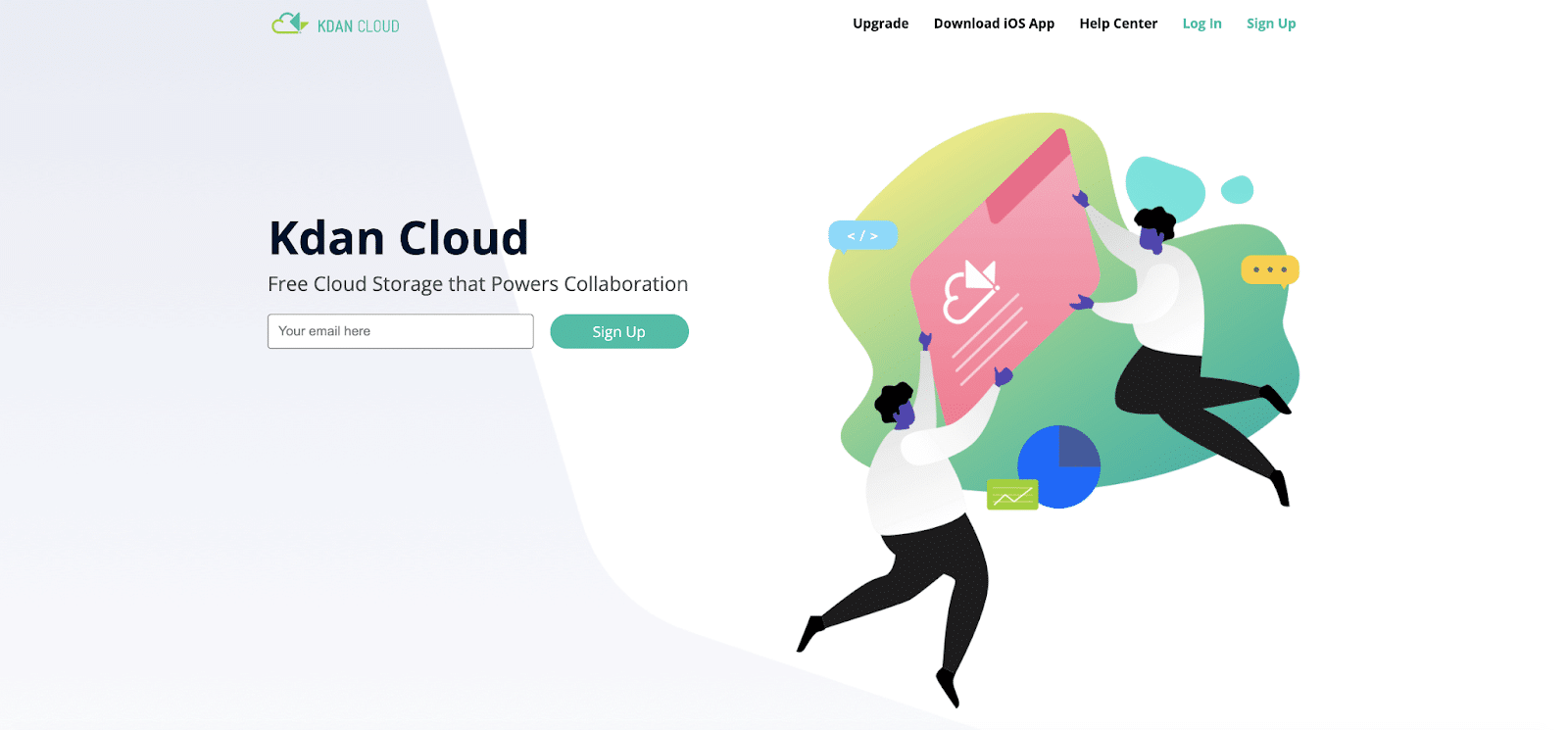 Kdan Cloud works with native Kdan apps like Animation Desk, NoteLedge, and Write-on Video. You can also view PDFs and Microsoft Office documents from within Kdan.
File-sharing capabilities let you collaborate with others. User permissions and passwords protect the privacy of your files.
Kdan Cloud's free plan only includes 2 GB of storage, but the paid plan gives you 500 GB for just $9.99 per year. You can purchase Kdan Cloud by itself or subscribe to Kdan's app suites, Document 365, or Creativity 365.
Pricing
Kdan Cloud Basic (free): 2 GB
Kdan Cloud: 500 GB for $9.99/year
Document 365: 1 TB for $59.99/year
Creativity 365: 1 TB for $59.99/year
9. V2 Cloud
V2 Cloud isn't a cloud storage solution — it's a Desktop-as-a-Service software that lets you deploy cloud-based Windows desktops.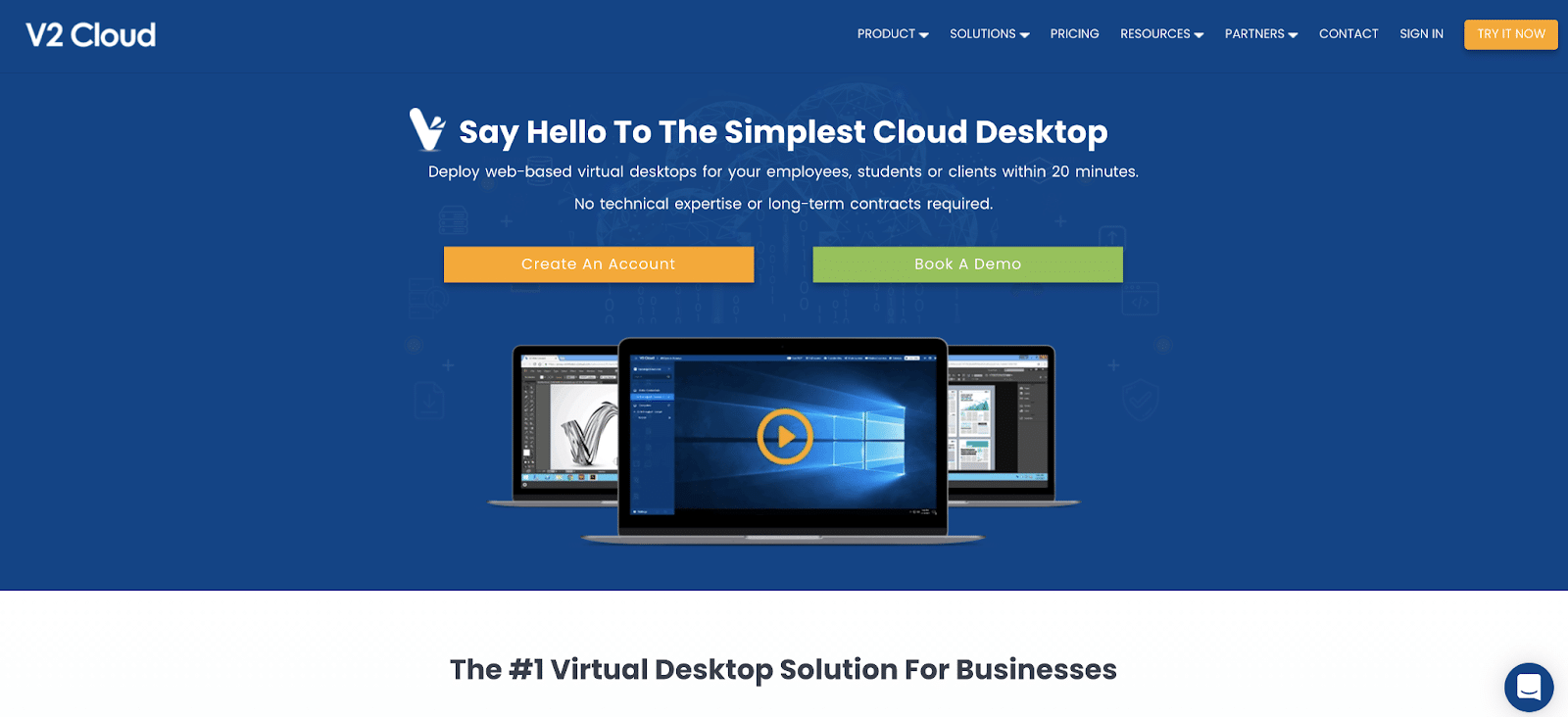 It's a solution typically used by businesses that simplify IT management or facilitate employees working from home.
Because the desktops are virtual, their files are kept in the cloud.
Pricing
V2 Cloud has a long list of pricing plans for individuals and businesses, but they all offer the same storage capacity: 50 GB. You can pay for additional storage by GB.
10. JustCloud
JustCloud is a cloud service with the same basic file storage and sharing features you know from Google Drive.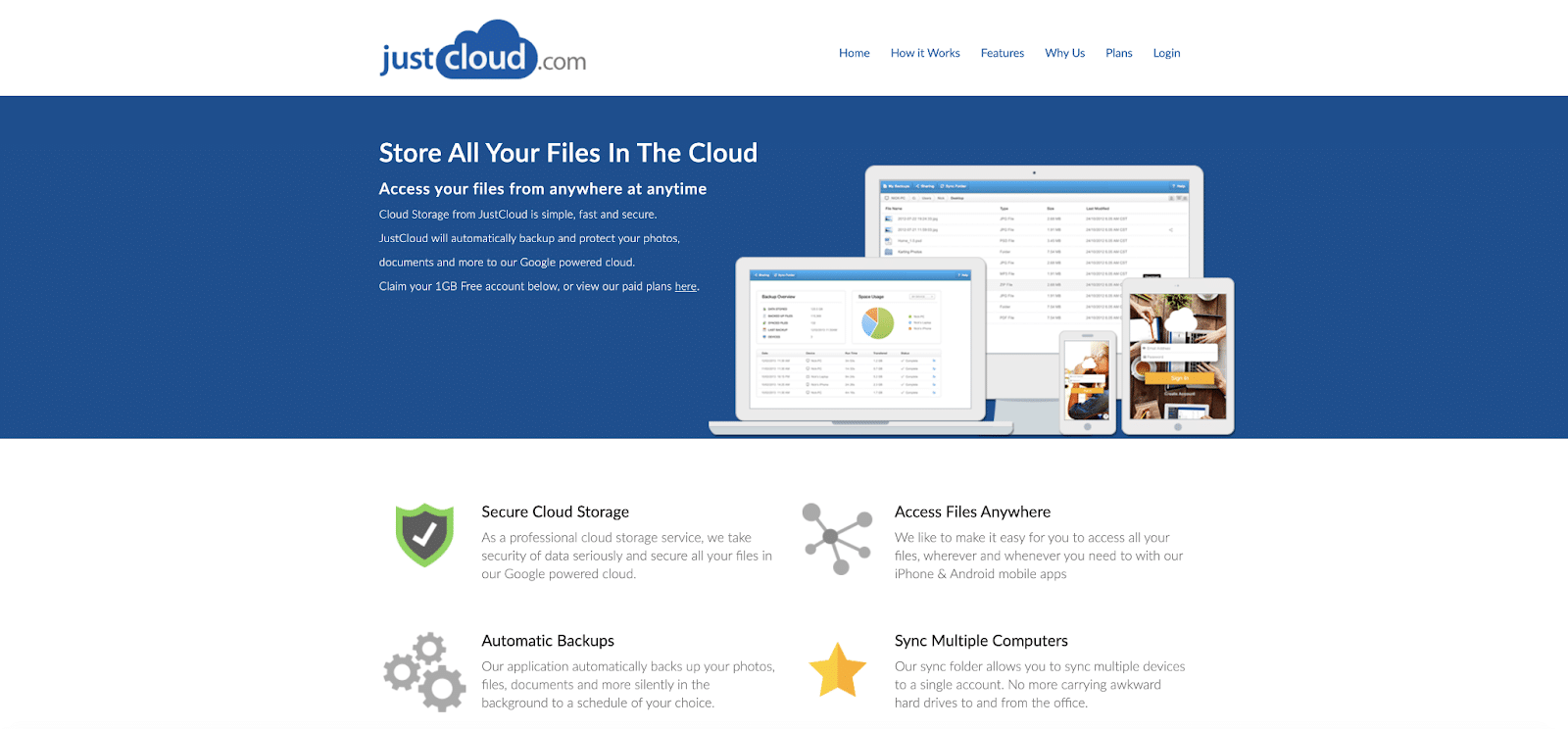 JustCloud automatically syncs between desktop and cloud. It prides itself on using automatic backups and a drag-and-drop interface.
JustCloud is more expensive than Google Drive, especially if you don't want to commit to the two-year subscription terms listed below.
Pricing
Home/Pro: 250 GB for $7.61/month
Premium: 1 TB for $8.19/month
Ultimate: 4 TB for $10.69/month
11. Amazon Drive
We've heard from popular companies like Google, Microsoft, and Apple. Now it's Amazon's turn.
Amazon Drive is Amazon's cloud storage and file-sharing solution.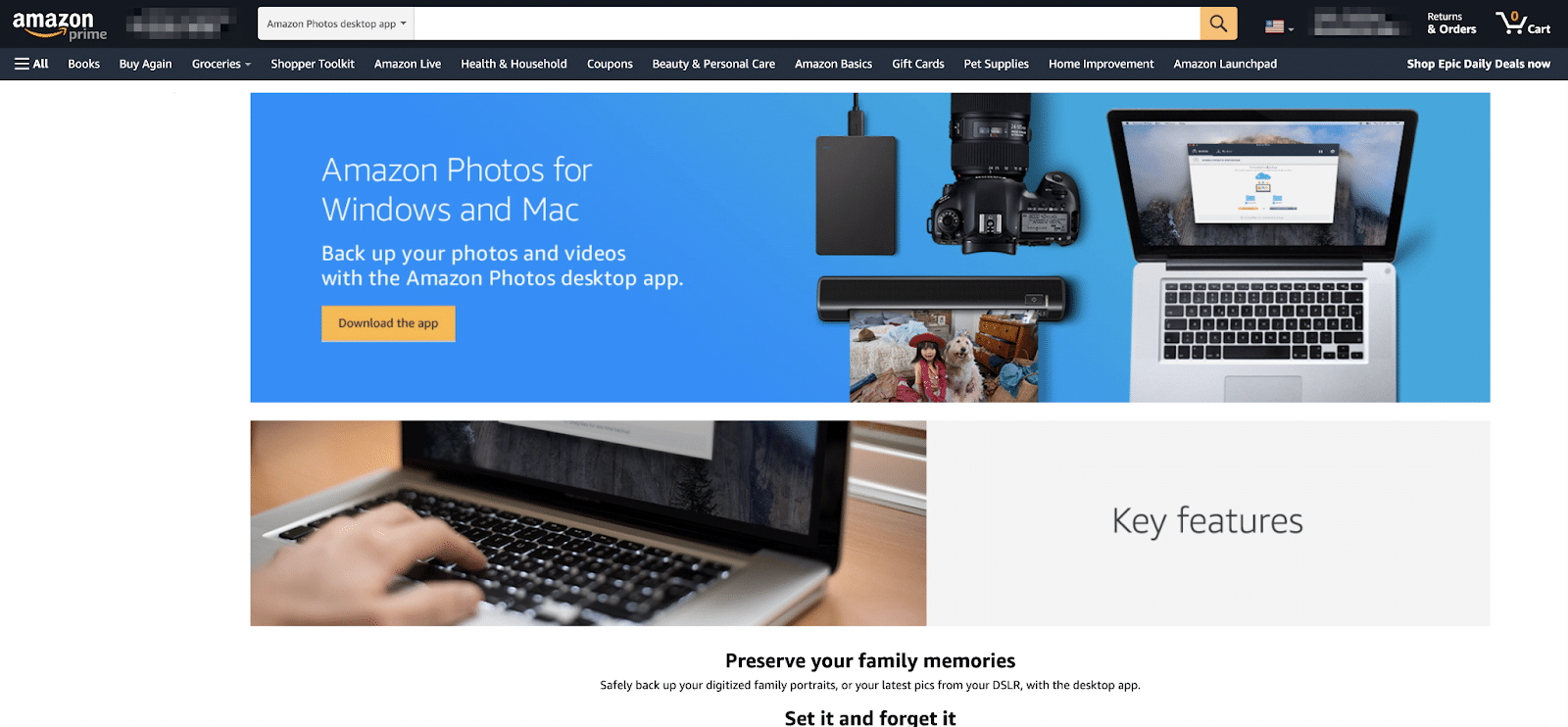 Amazon Drive has an intuitive interface and file-sharing capabilities similar to Google's. Every Amazon member gets 5 GB of free storage, shared with Amazon Photos.
A feature called Family Vault lets you share storage space with up to four other people. As long as one member of the group has an Amazon Prime account, everyone can store unlimited photos and 5 GB of videos.
Pricing
Free: 5 GB
100 GB for $1.99/month
1 TB for $6.99/month
2 TB for $11.99/month
12. MEGA
MEGA is a cloud service that generously gives you 20 GB of storage for free.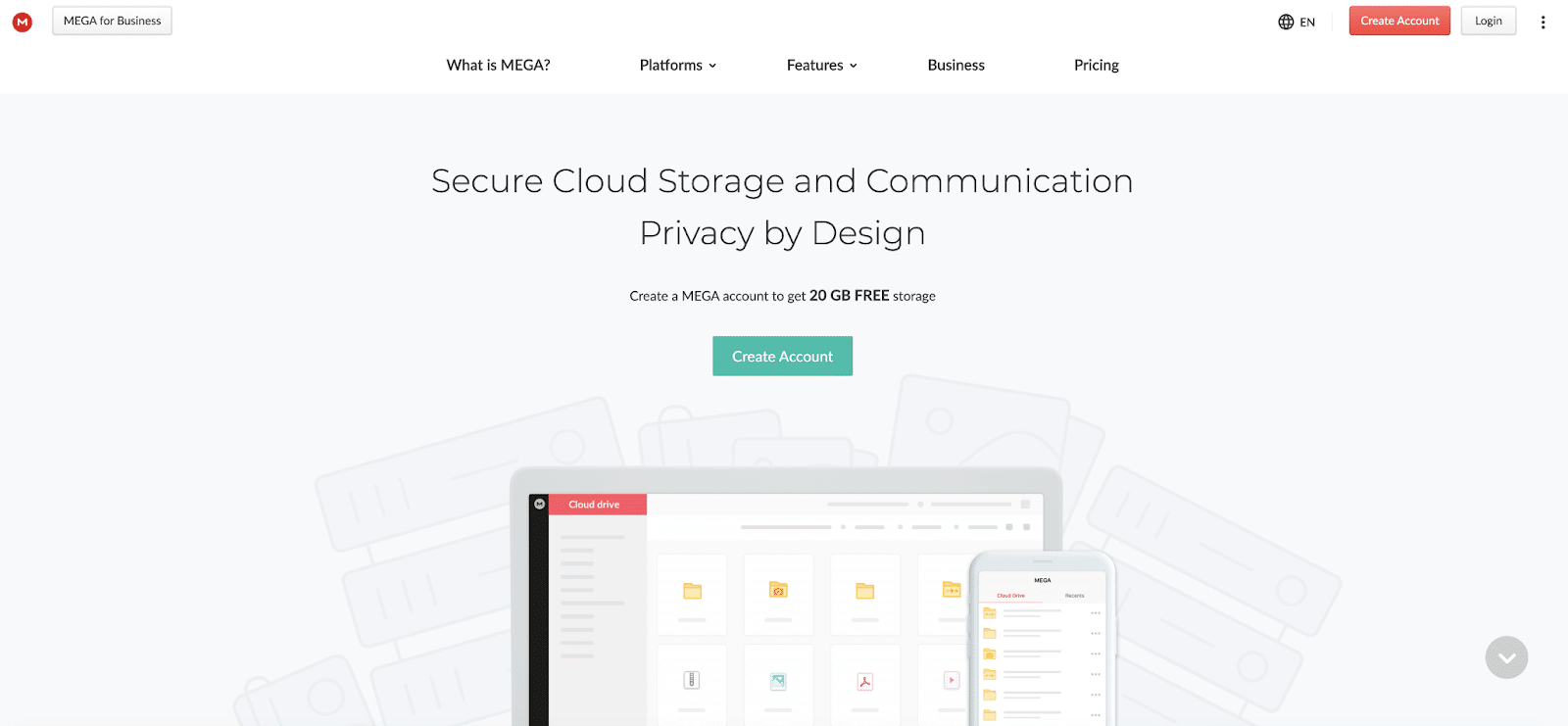 MEGA aids collaboration with file sharing, private and group chats, and file versioning. End-to-end encryption keeps your files safe.
Desktop and mobile apps can be set up to sync automatically with the cloud. While MEGA doesn't have all the productivity and document editing features that Google Drive does, it does let you stream any file from your MEGA cloud.
Pricing
Pro Lite: 400 GB for $58.59/year
Pro I: 2 Tb for $117.19/year
Pro II: 8 TB for $234.39/year
Pro III: 6 TB for $351.59/year
Business: Plans start at $5.86/user/month
13. NordLocker
NordLocker is a secure cloud storage solution with an easy-to-use interface.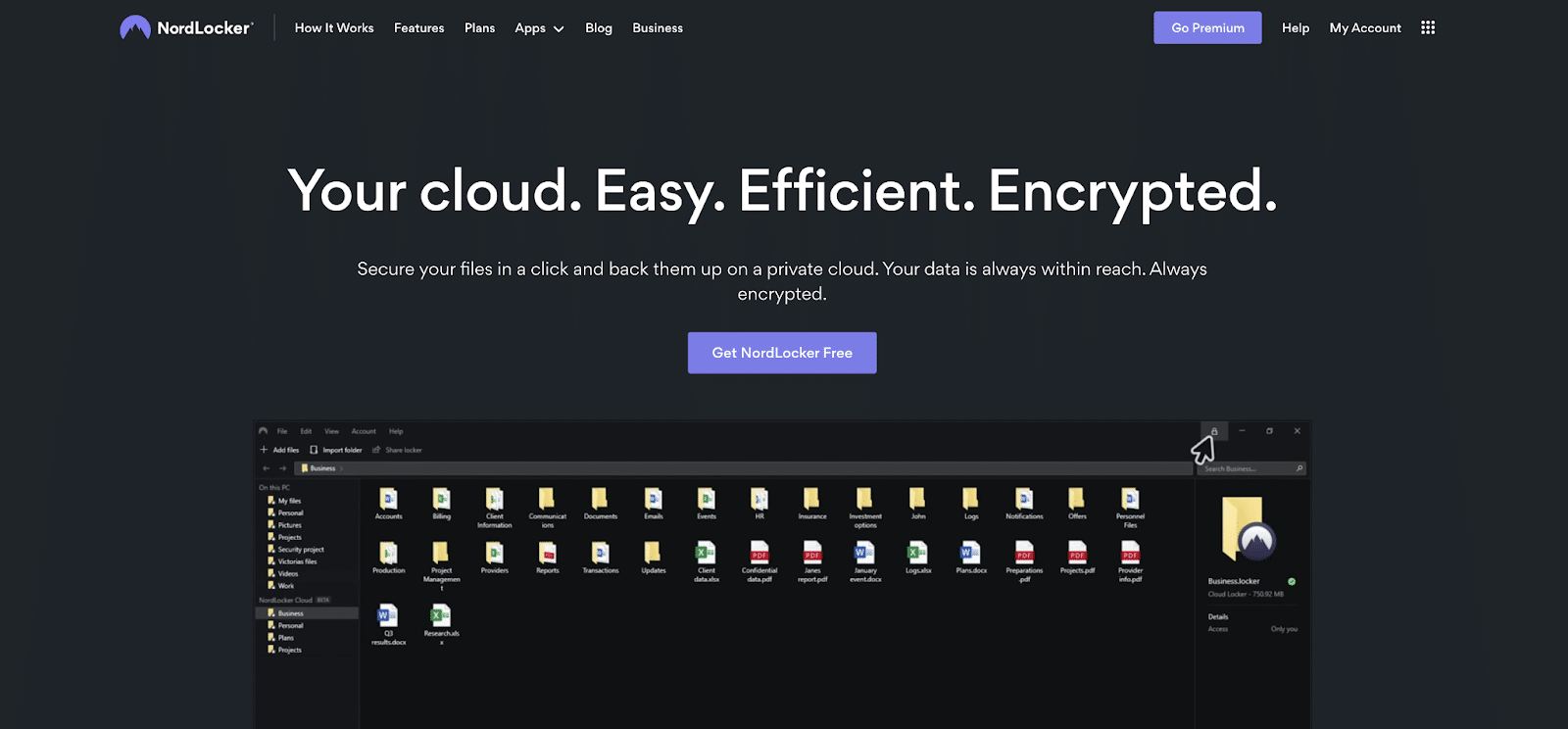 NordLocker offers local end-to-end encryption. You can open your files in the app without decrypting them first, and you can share them with other NordLocker users.
NordLocker is cheaper and more secure than Google Drive — so what's not to like?
A big downside is that it doesn't have a mobile app for Android or iOS. But NordLocker is relatively new, so there's hope to develop one in the future.
Pricing
Free: 3 GB
500 GB for $3.19/month
2 TB for $7.99/month
14. SpiderOak
SpiderOak One is a cloud backup solution. It offers file syncing and sharing on an unlimited number of devices.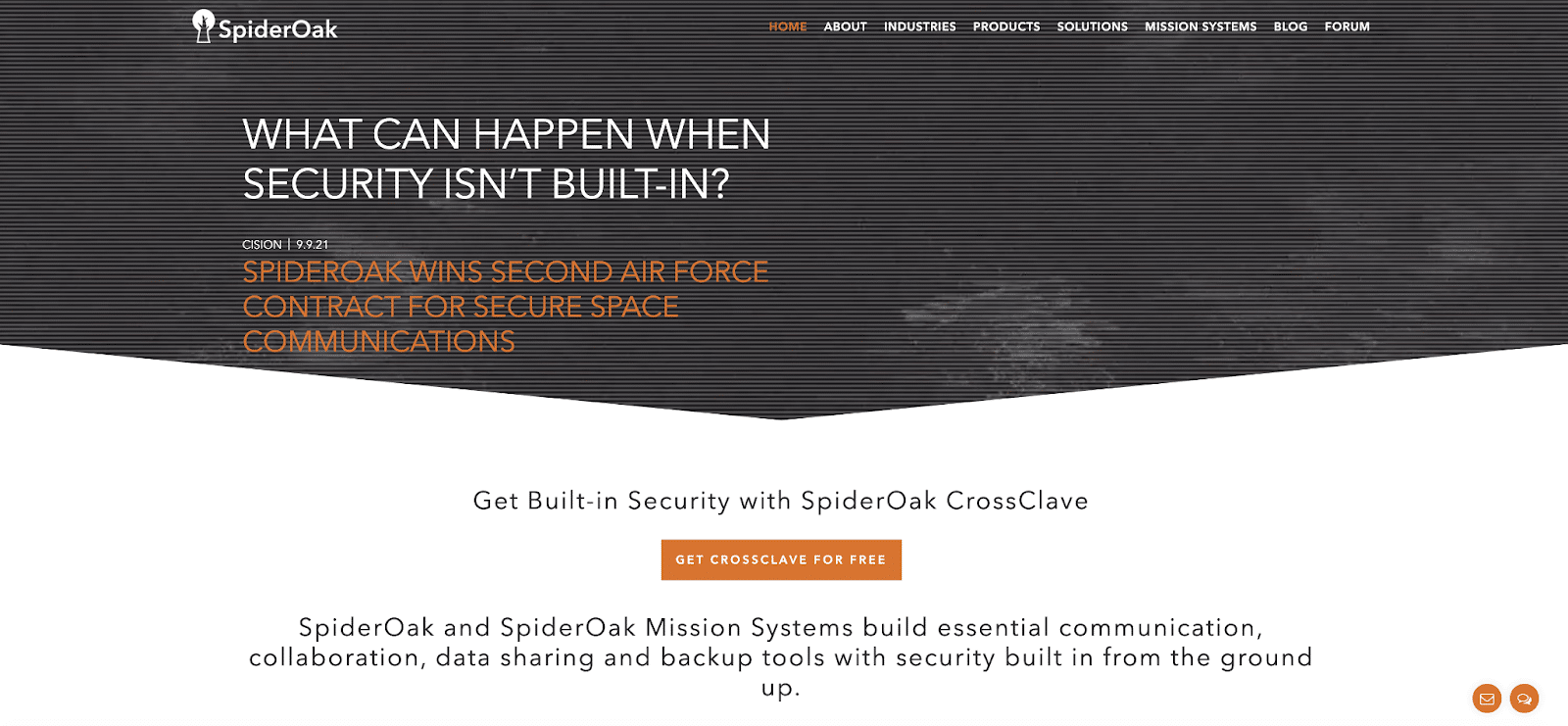 SpiderOak is more secure than Google Drive, with files encrypted locally, so even SpiderOak can't access them. It has strong versioning capabilities, so you can access all of your historical versions and deleted files without any time limits or restrictions.
Unfortunately, it doesn't offer an iOS app or a free plan after the 21-day trial.
Pricing
150 GB for $6/month
400 GB for $11/month
2 TB for $14/month
5 TB for $29/month
15. Backblaze
Backblaze is a cloud service focused on unlimited backups of your computer and external drives.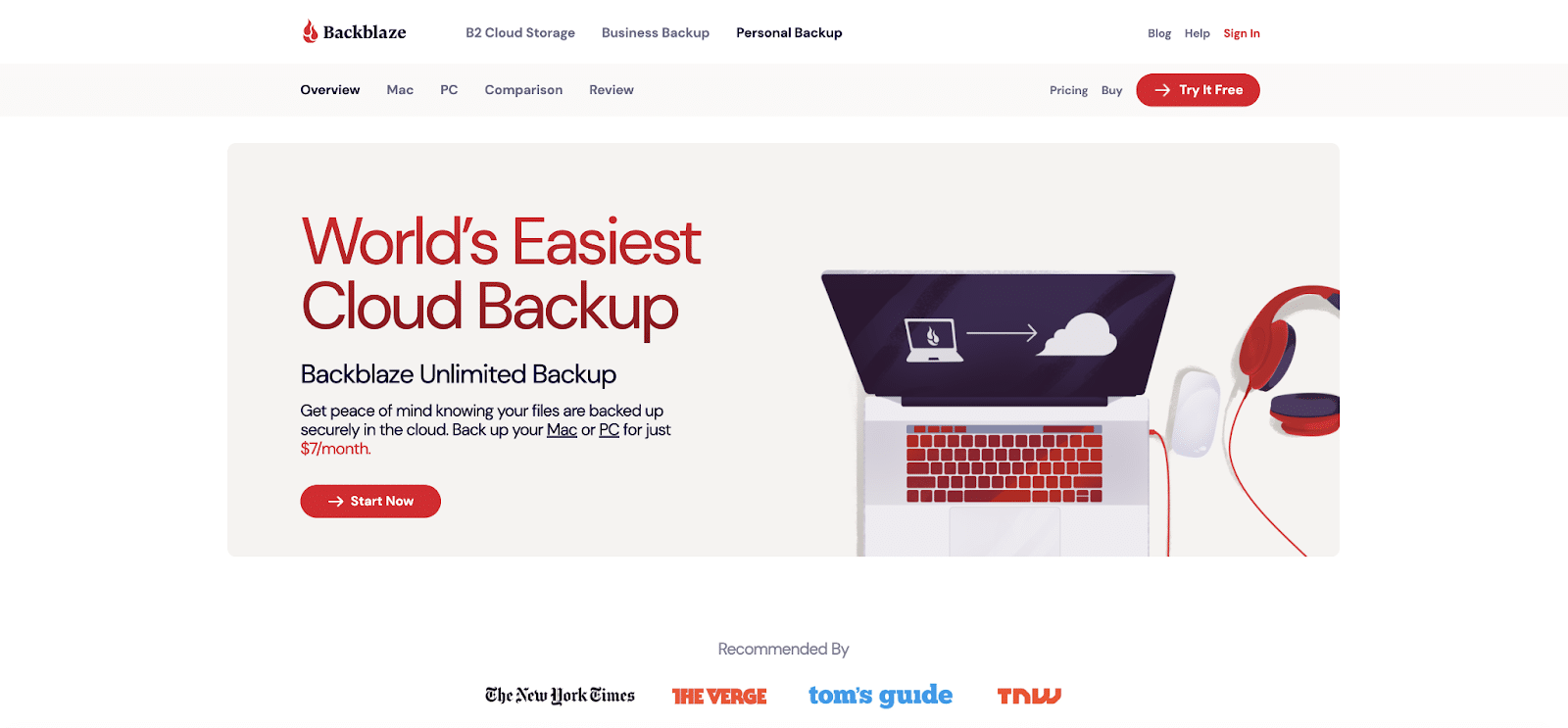 Backblaze doesn't have all the sharing and collaboration features that Google Drive offers as a backup service. But it does provide unlimited storage space.
If you lose your data, it can be quickly restored by downloading or having a USB mailed to you.
However, you can't use Backblaze to free up space on your computer. Backblaze is a mirror — if you add a file to your desktop, it copies the file to the cloud. But if you delete that file from your desktop, Backblaze will delete it from your cloud storage.
Upgrading to the unlimited version history can ensure that you don't lose anything this way.
Pricing
Backblaze only has one pricing plan. It costs $7/month, $70/year, or $130/2 years.
Not loving Google Drive? 😥 Not to worry, these alternatives can get the job done ✅Click to Tweet
Summary
If Google Drive isn't meeting your expectations, it's time to switch. Luckily, there are many Google Drive alternatives to choose from.
After you weigh what's most important to you, you'll be able to make an educated choice on the cloud technology solution that's right for you.