With over 1 billion users, Instagram is one of the fastest growing social networks in the world and has a social stranglehold on quite a few industries. From fashion to music, and cooking to fitness, companies in these markets turn to Instagram to show off bright, vibrant photographs, allowing for a connection beyond that of Facebook and Twitter.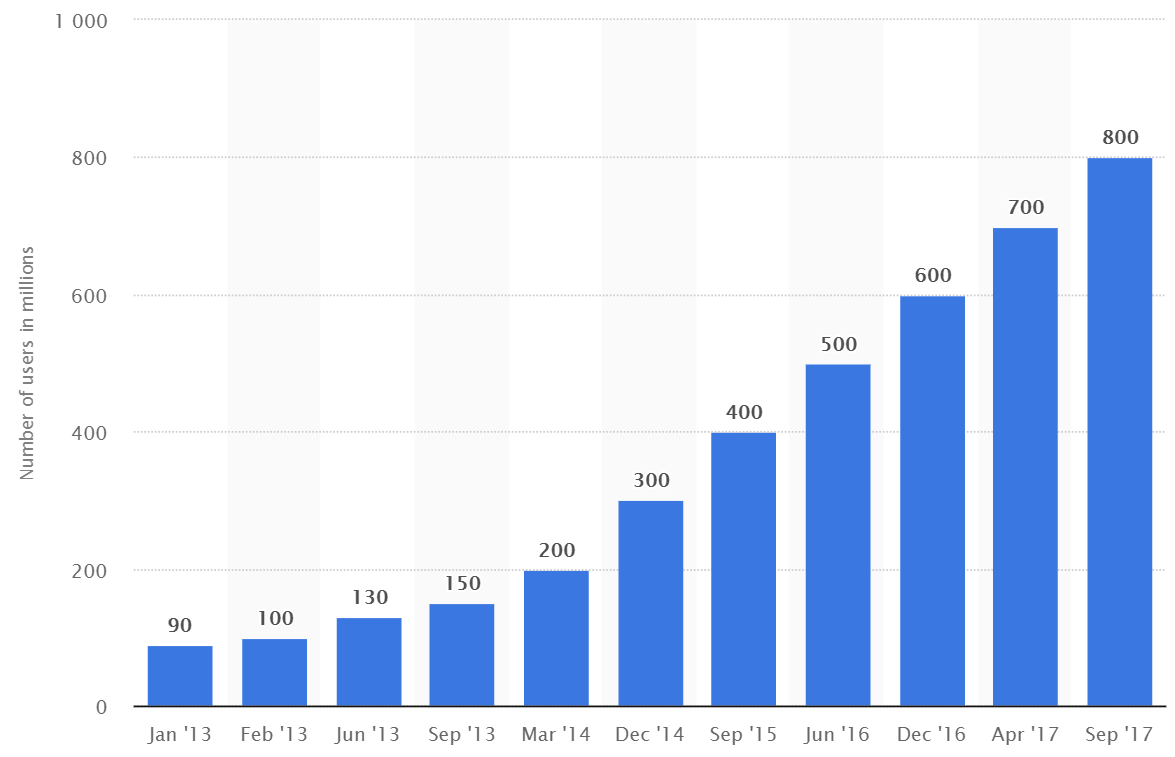 Part of the reason Instagram is such an exceptional tool for brands is because of its simplicity. You can take a picture with your phone, add a beautiful filter, and post online without having to connect to a computer. This format is not only faster than so many of the other social networks, but the result is an image that looks professional and creative at the same time. Since your company might already have an Instagram account, it's a shame to not use that content on your website. Luckily, some of the best WordPress Instagram plugins are almost as easy as the Instagram platform itself.
So, what's the point of placing your Instagram photos on your WordPress website?
Instagram photos are often far more intriguing and vibrant than regular website photos, so it adds a touch of excitement to your brand.
You then have the option to moderate your Instagram content from one place. Many business owners are looking at their websites quite often. With many of the WordPress Instagram plugins, you can respond to comments and set your pictures without leaving your website.
This gives you an excuse to push user-generated content to your Instagram. You can ask for pictures near your store or pictures of your product in use around the world. Then, these get sent to your website for new customers to see.
The Instagram feed on your site increases engagement, since people might stick around longer to look at the photos.
You have the opportunity to increase your Instagram follower count since the folks who come to your website might never have thought to follow you on Instagram.
And those are only a few of the reasons to get that Instagram feed working on your company website. It doesn't matter if you manage a retail store or a global eCommerce brand. Giving your followers high-quality photos through Instagram is a start, but utilizing that followership to improve your website makes your social strategy that much stronger.
Once you start looking into a plugin, you'll realize that dozens, if not hundreds, of options exist. So, we put together a collection of our favorite WordPress Instagram plugins. That way, you can cut down the search and decide on the one that fits your brand the best.
A Quick Rundown of the Best WordPress Instagram Plugins
1. Spotlight – Social Photo Feeds
Spotlight is a simple and intuitive solution to add your Instagram feed to your WordPress site in just a few clicks. Connect multiple accounts and create as many feeds as you need.
The live preview customizer allows you to see exactly what you're designing before you embed it on your site. You can even customize the look on a per-device basis (desktop, tablet, and phone) to make sure it's responsive and looks beautiful everywhere.

With a lightbox option that shows both photos and videos, Spotlight includes a number of options in its free version that will help increase user engagement. Embedding the feed on your site can be done either via shortcode or widget options.
A premium version of the plugin packed with more functionality is also available. With Spotlight PRO, you'll have new layouts, more customization options, as well as more control over creating your custom feeds, and other cool features.
What Makes This One of the Best WordPress Instagram Plugins?
Spotlight has a convenient setup process thanks to its interactive live preview customizer so you can design a feed without leaving your dashboard.
The customization is made simple thanks to the point-and-click design options, similar to those you'd see in page builders.
The free version includes a popup/lightbox option to display your photos and videos in their full glory anywhere on your site.
"Follow" and "Load more" buttons can be added to any feed to increase engagement with site visitors and grow your following.
Since Instagram doesn't include the profile photo and bio for free personal accounts in their API, Spotlight adds options for a custom photo and bio within the plugin. You can even customize them per feed to match the message of a specific page on your site.
The feed displayed on your site won't impact page load times thanks to some clever built-in dynamic loading and caching mechanisms.
2. WD Instagram Feed
With the WD Instagram Feed plugin, you have the ability to create a beautiful Instagram gallery with some interesting effects like the lightbox with captions. There used to be a free version of this plugin, but they have since moved away from it and now there is only the pro version.
Furthermore, this plugin now comes available as part of a larger bundle and when you buy it you also get access to some other plugins.
All of the plans have four awesome views for your gallery, along with popup slideshows with effects, unlimited feeds, advanced image filtering, and excellent style customization tools with themes.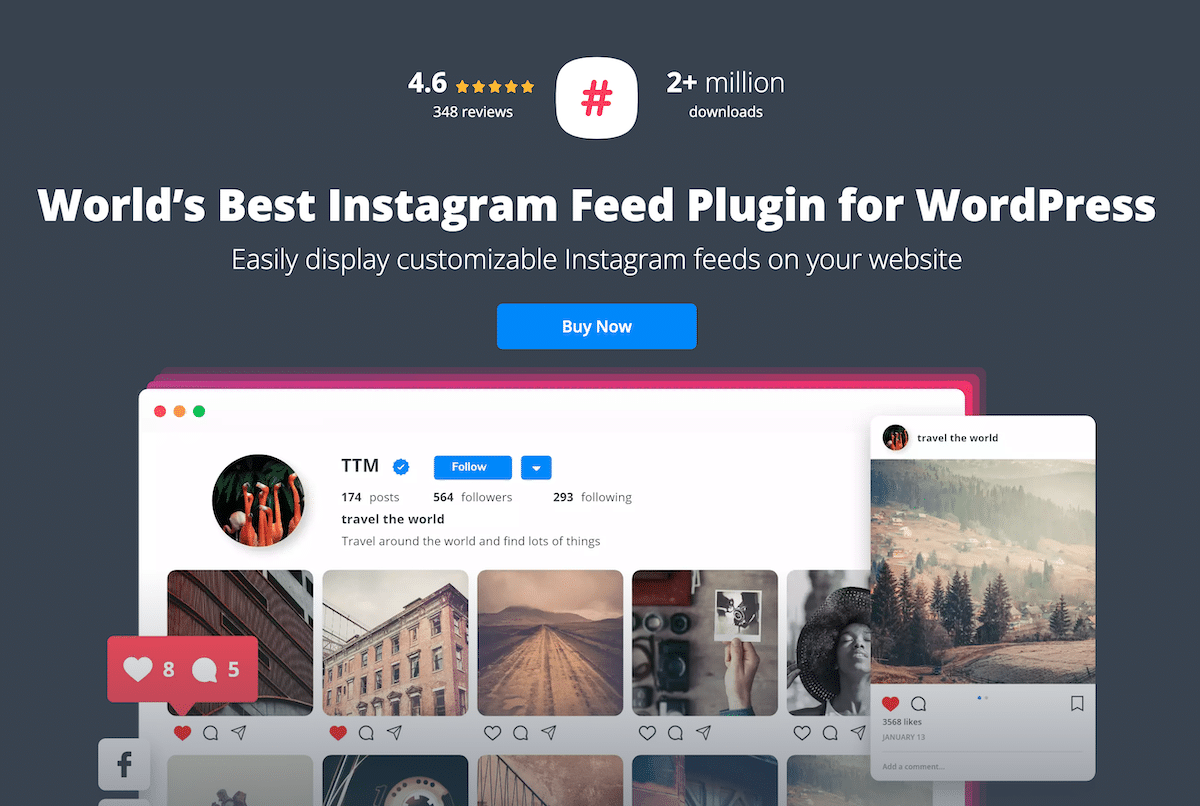 Jumping back to the standard, free version of WD Instagram Feed–it's a time-saving plugin with full control over the way it looks on your site. You can mix up feeds from multiple sources or mix the posts from one account. The filtering is great for creating somewhat of a portfolio from your Instagram. The widget is also one of those extras that transform your website into a more visually desirable place to be.
Bundle pricing for this plugin starts at $85.
What Makes This One of the Best WordPress Instagram Plugins?
The WD Instagram Feed plugin provides some of the most powerful filters and feed merging tools for creating the ultimate viewing experience.
The premium version starts at only $85, and you get all of the premium plugins from Web Dorado.
Several customization tools are provided for adding the Follow button, enabling comments, changing around the layout, and more.
The plugin has a feature for combining feeds from multiple Instagram accounts. So, if you're running a chain of some sort or you'd like to include your personal feed with your business feed, you have that option.
3. Feed Them Social
Feed Them Social has free and premium versions. The premium extension starts at $50 for a single site and goes all the way up to $200 for unlimited websites. The main advantage to the Feed Them Social plugin is the fact that it allows for the display of feeds from all sorts of social networks. This includes Instagram, Twitter, Facebook, YouTube, and Pinterest. Most of these are offered in the premium version.
What's also interesting is that the premium plugin has full support for all of the details from each social network. For instance, an Instagram feed includes everything from the user account to the hashtags, and the photos to the descriptions and comments. The main features of the premium plugin include the ability to display as many feeds as you want, along with fully responsive feeds. You'll also find that you get follow buttons.

Many of these basic features are offered in the free version, so most companies should be fine–especially if they're only looking for an Instagram gallery. However, I would mainly recommend the Feed Them Social plugin to those who want to combine feeds from multiple social networks.
What Makes This One of the Best WordPress Instagram Plugins?
There's a free version and an affordable paid version.
You're able to pull pictures from places like Instagram, Facebook, and Twitter.
All of the social feeds are completely responsive for viewing on mobile devices.
You can make shortcodes for any of your social feeds. A shortcode generator comes with the plugin, and you can post any of the shortcodes wherever you want.
Infinite scrolling and a Load More button keep your feeds consolidated while allowing people to see your entire gallery if they would like.
You even get some sharing buttons for Facebook, Twitter, and Facebook.
4. Instagram Slider Widget
Instagram Slider Widget brings together two popular designs in the Instagram feed world. The first one is that of the Instagram widget slider, which shrinks the images for the sidebar, but then can be shown on all pages. In addition, the slider scrolls through all of your Instagram photos so that the user sees a myriad of images as they browse your website.
The second option is the frontend widget thumbnail, which is essentially a gallery, but much smaller since the pictures are all thumbnails. The slider reveals 12 of the most recent posts on your Instagram page. You can also take advantage of the hashtag feature, which is ideal for tapping into a certain topic and only showing those pictures.
In the scope of things, the Instagram Slider Widget is one of the more basic WordPress Instagram plugins on this list. There's no API needed. Instead, you simply link the plugin to your user profile, with the help of your username and password. You can also sort the images if you like some of them better than others.
What Makes This One of the Best WordPress Instagram Plugins?
This is a free plugin without any upgrades or premium versions.
It's more of a niche Instagram feed solution, with smaller sliders and widgets.
You don't need access to the Instagram API.
The Instagram Slider Widget plugin has a nice feature for linking the gallery photos to outside URLs or to attachments or the Instagram post. This way, you might consider linking to a sales page or something similar on your website.
5. Instagram Gallery
The Instagram Gallery plugin cuts it down to the basics. It's not going to wow you with any modern layouts or creative styling. However, if all you need to do is insert a gallery from your Instagram page, the Instagram Gallery plugin is a great option for you.
Oh yeah, and it's completely free, with no premium upgrades. The plugin links to your Instagram account after a brief setup process. After that, you get to choose between gallery or carousel sliders.

It truly is one of the simplest Instagram feeds you can find. You don't even need to connect to the API or login with your username. All that's required is the Instagram username and a quick settings adjustment.
What Makes This One of the Best WordPress Instagram Plugins?
The Instagram Gallery plugin doesn't have any costs, ever. It's a free download, and the developers don't ask you to tip, upgrade, or pay for other add-ons.
The gallery plugin allows you to insert widgets throughout your website sidebars. You can also utilize shortcodes for spreading out the pictures on your site or simply deciding on other places to put the plugin.
The gallery format is as simple as they come. There's a white background with the pictures it pulls from your Instagram. In fact, there really aren't many customization tools, so it's perfect for complete beginners who might get intimidated by some other alternative plugins.
You don't have to login or link to the API. Only the username is required.
Instagram Gallery offers both gallery and carousel slider formats.
6. WPZOOM Social Feed Widget – Instagram for WordPress
The WPZOOM Social Feed Widget is a highly rated plugin that works with both usernames and hashtags on Instagram. Therefore, you might only show certain images based on the hashtags. The customization tools look good, with headers and colors for those headers to brand with your website. The plugin is completely responsive to fit on all mobile devices. You can even adjust the sizes of your images for when you would rather have something like thumbnail or fullscreen images.
Image loading is activated when the user scrolls down on the page. So, they don't have to click on any buttons to see your full gallery. In addition, this is bound to speed up your website since all of the photos won't load automatically.

Another reason I like this plugin is because of the multiple language support. If you have followers and customers from different countries, they might appreciate the ability to translate to their own language.
What Makes This One of the Best WordPress Instagram Plugins?
The WPZOOM Social Feed Widget lets you display your photos by categorizing them with usernames or hashtags.
Customization can be done with colors, image sizes, headers, and scroll options.
It also supports lots of languages for translating.
7. Instagram Theatre
You really can't get a better deal than the Instagram Theatre plugin. It's sold on CodeCanyon, so you don't have the option to download it for free and test it out. However, you can check out the live preview and see how it works before pulling the trigger. That said, the $15 price tag for the entire plugin and several months of support looks like a great deal. The plugin provides a sleek layout, without any of the bells and whistles from other alternatives. You can create a fullscreen view for seeing the pictures in larger versions. There's also a grid view or list layout.
Changing around the colors can be done instantaneously, leading to a well-branded Instagram feed on all of your websites.

The plugin integrates directly with the Instagram API, and it provides a Fancybox integration for a stunning view of your photographs. Instagram Theater supports iPhones, iPads, and Androids, and the special effects and animations are sure to gain some notoriety on your website. What's great is that Instagram Theater comes with three free site templates, all of which you can implement without knowing a line of code. Pair that with some excellent customization tools and you've found yourself a wonderful WordPress Instagram plugin for a great price.
What Makes This One of the Best WordPress Instagram Plugins?
The price is only $15.
It's one of the simpler plugins to work with, considering you receive three templates to start with and a few layouts and other customization options to fit your website.
You can specify a tag so that only pictures with that tag come up on the feed.
There's a multiuser Instagram feed mode where you can connect multiple Instagram accounts and have all of the photos show up in the feed.
The location Instagram Mode takes Instagram posts from certain locations and only shows those pictures in the feed.
The plugin offers a few effects and customization options. For instance, you can adjust the effect speed, delay intervals, and more.
Instagram Widget supports 16 languages, including English, Spanish, French, and Japanese.
Instagram Widget works with InstaLink, which runs as a WordPress widget and combines nicely with the Visual Composer plugin.
8. Enjoy Plugin for Instagram
The Enjoy Plugin for Instagram offers a customizable gallery for your Instagram photos. You can choose between a carousel or grid view, with the additional benefits of having shortcodes and widgets in your arsenal. The premium version of the plugin is listed at around $20, and that's the only package provided. If you're thinking about going with the free version, it's a solid value, offering features like the widget, shortcodes, carousel, and column customization. The premium version is definitely more advanced, and the $20 price tag makes it rather intriguing. With the premium plugin, you have support for even more shortcodes, allowing you to utilize different hashtags or multiple feeds.
You even get some interesting new formats, like polaroid, album, and badge views. One of the main features I like from premium involves the ability to click on the Instagram feed photos and get sent to a different URL or the Instagram page itself. It's a simple feature, but it's nice to have some sort of interactivity for the photos instead of a standard gallery. Who knows? You might want to link to some of your sales pages if products are listed in the gallery.
Overall, the feeds look clean and to the point. I suggest you visit the Media Beta Projects website to see some of the many demos provided for the different views. I particularly enjoy the beautiful animations for the photographs, giving your customers something more interesting to look at and drawing in their attention for your most important Instagram posts.
What Makes This One of the Best WordPress Instagram Plugins?
It has a free version with solid functionality. You can also pay a small fee for additional features.
The plugin provides impressive animations and effects, allowing for you to grab user attention.
You can show pictures and galleries from your Instagram based on hashtags, profiles, and more.
There are two formats in the free version, including carousel and grid view. The premium version adds a few other formats to the plugin.
You receive a shortcode for posting on different pages, along with a widget for inserting the WordPress Instagram plugin in your sidebar.
9. Instagram Widget by WPZOOM
The Instagram Widget by WPZOOM plugin offers you a widget you can place in any widget area on your site, which will display a fully customizable feed of your latest Instagram posts.
You have a ton of layouts to choose from, including a flexible full-width layout for wide widget areas, and a grid including as many or as few posts per row as you like. The plugin looks best with 3-wide grids, 2-wide grids, or single column posts. Visitors can click on any individual post to see that post and its caption on Instagram, or you can choose to have a button below your posts to follow you.
The design of the widget is minimalist – showing just your Instagram posts – so this plugin should integrate smoothly with most WordPress theme designs. The design is also responsive, so mobile and tablet users will have a smooth user experience. For extra customizability you have the option to customize the design via CSS if needed.
The plugin is free, with no paid upgrades needed. All you will need is an Access Token, but WPZOOM makes it easy to generate one of these with a button here.
What Makes This One of the Best WordPress Instagram Plugins?
This is a free plugin, with no premium upgrade required.
The plugin works as described! It creates an easy, flexible Instagram widget.
You can customize the layout options, including a full-width widget.
Generating an Access Key is straightforward.
10. Intagrate
The Intagrate plugin offers an easy way for publishing your Instagram media to your WordPress site. By connecting your Instagram account, everytime you post on it, a new WordPress post will be created with image caption as the post title and the image as the post content. Intagrate allows you to save your Instagram media to the WordPress media library, so you get to backup your Instagram images and videos.
You get control over which Instagram posts get created using either a hashtag filter or manual moderation. The plugin comes with a free version, Intagrate Lite, with a limited set of features, and a fully-fledge premium plugin starting at $55.

This plugin is useful if you are looking to create a photo blog site, or for companies to repurpose their Instagram media to increase engagement on their site.
What Makes This One of the Best WordPress Instagram Plugins?
The plugin doesn't just display the Instagram media, it creates content on your site from it. You can create posts, pages, or any custom post type from Instagram media.
You can create unlimited accounts, connecting any number of Instagram accounts.
You can specify a hashtag or hashtags to filter what's get posted.
You don't need to generate an access token or create an Instagram API app, the plugin handles this for you.
The plugin offers multiple configuration options and different template tags to craft your posts.
Which of the WordPress Instagram Plugins is Right for You?
If you've taken the time to complete a Google search on WordPress Instagram plugins, you know how muddled the search becomes because of the wide range of solutions. So, hopefully, this list has helped you better understand which plugins are right for you or your company. If you're still debating between one or two of them, here are some final thoughts:
For the simplest setup – Spotlight – Social Photo Feeds.
If you'd like powerful feed filtering – WD Instagram Feed.
For unique views like polaroid and badge views – Enjoy Plugin for Instagram.
For a close to exact replica of the posts that you see on Instagram – Instagram Feed – WordPress Instagram Gallery.
If you'd rather not pay for anything – Insta Gallery or Instagram Widget by WPZOOM.
For displaying feeds from multiple social networks like Instagram, Facebook, and Pinterest – Feed Them Social.
For creating posts from your Instagram media – Intagrate
There you have it! If you've played around with any of these plugins in the past, help out some of our other users by sharing your experience. If you have any questions regarding the best WordPress Instagram plugins, drop a line in the comments section below.
If Facebook is your preferred social media, make sure to read our list of the best WordPress Facebook Plugins.