Online businesses are expected to employ a fluid 'one-Web' strategy with their WordPress deployments to ensure streamlined, responsive and adaptive website experience across all platforms and devices.
Fortunately for WordPress owners lacking geeky coding skills and operating on a limited budget, mobilizing websites becomes fairly straightforward and cost-effective using the following free and highly-functional premium plugins.
Best WordPress Mobile Plugin
There are a lot of different mobile plugins to choose from when it comes to WordPress. Check out these top 7.
1. WPTouch

WPTouch is arguably one of the most popular plugin to mobilize existing WP websites and content. The conversion takes a few simple clicks, chooses a simple theme automatically and loads seamlessly across all mobile platforms. The plugin loads Ajax articles dynamically, maintaining smooth display effects on touch-screen devices with HD and retina displays.
The plugin also features an admin panel to perform basic modifications via mobile. Website visitors can switch between the mobile and desktop version at any time as the plugin routes mobile content via the same server for either version.
The plugin features configurable advertisement layout and themes on the mobilized website, but in-depth functionalities and developer support will set you back $199.
Requires: 3.6 or higher
Compatible up to: 3.8.2
Last Updated: 2014-3-21
Downloads: 5,083,437
Package: Free and Premium
When it comes to choosing a WordPress mobile plugin, you can't go wrong with WPTouch.
2. WP Mobile Pack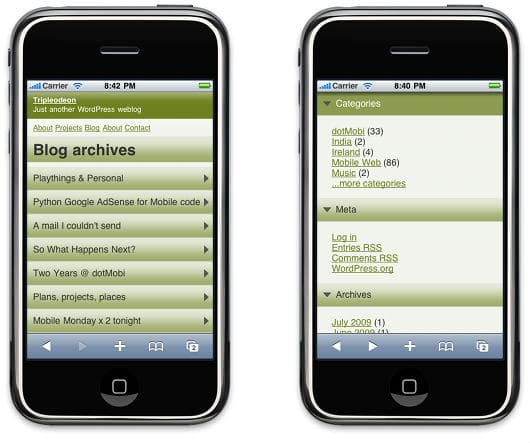 The WP Mobile Pack is a complete toolkit to adapt your WordPress website into a responsive mobile website. The plugin identifies incoming traffic and presents appropriate mobile or desktop view to ensure seamless user experience across all devices.
The analytics options, barcode widget and mobile ad widget empower WP website owners to monitor traffic and configure ads accordingly. However, configuration options in the mobile admin panel are distributed across a variety of pages and disparate sections, making mobile customization a complex process for average WP business owners. The plugin serves well for WP users prioritizing usability over appearance, which is far from impressive.
Requires: 2.5 or higher
Compatible up to: 3.0.5
Last Updated: 2012-7-5
Downloads: 553,014
Package: Free
3. WP Mobile Detector

The WP Mobile Detector enjoys the highest ratings in the WP community with its diverse conversion capabilities delivering seamless browsing experience across 5,000 different devices. The plugin effortlessly overcomes demanding technical issues pertaining to screen size variations, formatting and display resolution with its automated adaptive capabilities.
The plugin comes with nine elegant themes and features a real-time interactive theme editor to enrich mobile experience. Users can also create multilingual mobile versions of WP sites and the plugin supports a variety of WP widgets to enhance mobile functionality.
For casual WP users, the plugin features an automated installer to configure everything with a few simple clicks. However, these distinguishing capabilities are not available in the free version, but cost only $49.
Requires: 2.7 or higher
Compatible up to: 3.7.1
Last Updated: 2013-11-15
Downloads: 240,937
Package: Free and premium.
4. Jetpack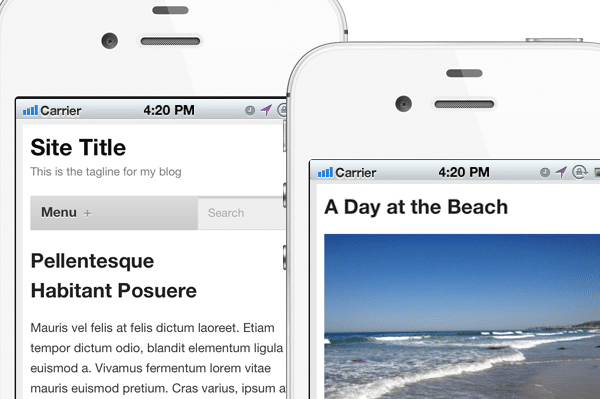 Jetpack is the most cost-effective WP plugin on offer to mobilize existing WP content. The plugin ensures pleasant mobile experience and is updated frequently with its growing open-source community. Its light weight design and reasonable functionality serves well to supercharge self-hosted website without involving WP owners in the complexities of CSS and PHP coding.
However, Jetpack's capabilities are short of extraordinary in comparison with its paid alternatives. It's not the best option for feature-phone users, but promises great results for WP website owners just making inroads into mobile marketing.
Requires: 3.7 or higher
Compatible up to: 3.8.2
Last Updated: 2014-4-10
Downloads: 9,524,829
Package: Free
5. OBox Mobile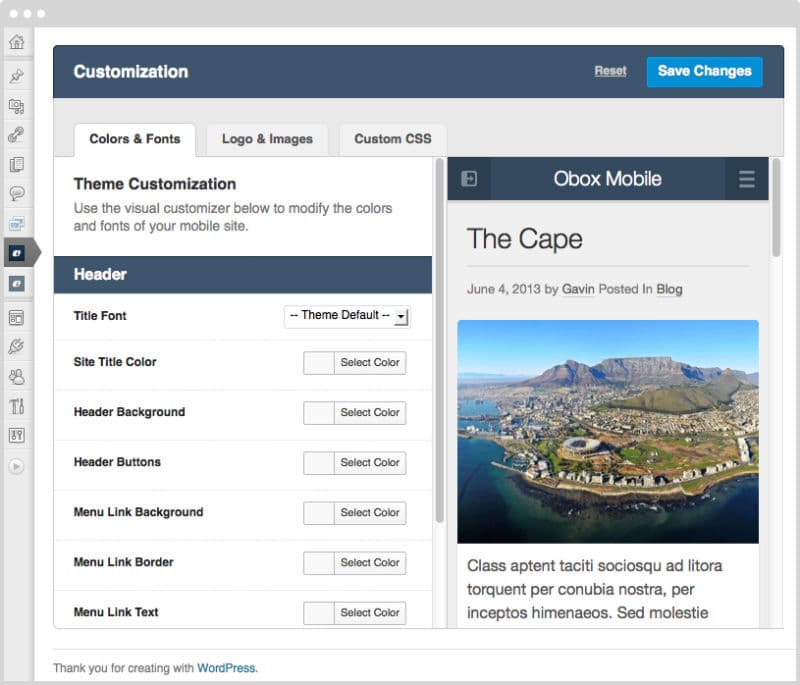 OBox Mobile is an all-rounder in this category, but not available for free. However, vast vendor support, frequent updates and an array of useful features for WP business owners make the plugin well worth its $79 starting price tag.
Full features list include an end-to-end advertisement and analytics kit, widgetized sidebar, social linking as well as an admin panel. The plugin excels in optimizing homepage and customizing visuals, and enables changes without having to play with the code.
Compatible up to: 3.8
Last Updated:  2014-3-27
Downloads: NA
Package: Paid
6. MobilePress

MobilePress is a simple and straightforward plugin, easiest to deploy and test, and requires minimal end-user involvement in the coding. The plugin's integration with one of the biggest ad network management company Aduity enables highly productive advertisement and analytics model for mobilized WP websites.
However, the plugin lacks sufficient functionality and configuration options for hardcore WP users willing to make extra efforts in developing a highly responsive mobile website.
Requires: 2.3 or higher
Compatible up to: 3.6.1
Last Updated: 2013-8-9
Downloads: 212,406
Package: Free
7. Wapple Architect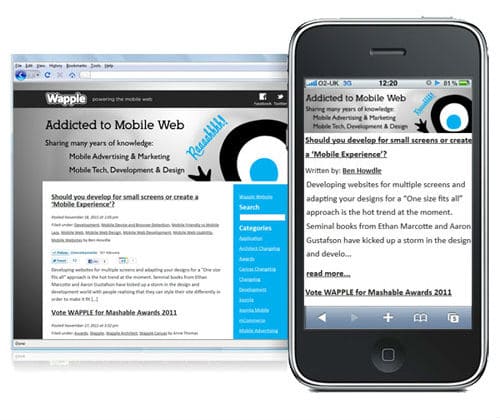 Wapple Architect is one of the few plugins that retain the SEO effectiveness of WP websites even after the mobilizing process. The plugin offers more freedom to customize the mobile version of WP website than many other plugins, but requires prior WP designing and management experience to pull it off effectively.
The plugin doesn't support multiple websites on a single WP installation as it allows only one key per installation. Some common negative reviews include rendering issues on iOS devices and Google Adsense compatibility flaws.
Requires: 2.0 or higher
Compatible up to: 3.3.2
Last Updated: 2013-9-4
Downloads: 110,489
Package: Free and Premium
This list is by no means exhaustive, but based on ratings, popularity and capabilities, it includes some of the best WP add-ons to take an immediate advantage of the prevalent mobile revolution.
Have any suggestions on the best plugin to mobilize WP websites? Which one of the above do you think is the best WordPress mobile plugin? Share your thoughts in the comments section below.