Retro web fonts are packed with character, and they can give your website or graphic design project a nostalgic feel. But finding decade-specific fonts isn't easy, so we've curated this list of vintage fonts organized by decade.
From the bright and peppy typography of the 90s to an elegant font designed after professional 50s lettering, "retro" is a diverse descriptor, and there's plenty to choose from here.
What Are Retro Fonts?
Even those who never witnessed it themselves are familiar with the popular typography from the 20th century. From the early comic books of the 50s to the bold and bubbly scripts of the 60s and 70s to the fun cartoonish fonts of the 90s, each era was bursting with a unique personality.
"Retro" describes fonts that were either made in the 20th century and survived to see everyday use or were created by designers today attempting to emulate one of these styles.
Signage, posters, covers, advertising, TV shows and video games, logos, and famous brands from the 1950s-1990s all serve as inspiration.
These bold retro fonts look best in large sizes, whether you're using them in a print design, emails, or showcasing them on your website.
Add a dose of nostalgia to your site with help from these 50+ retro font options ✨Click to Tweet
Vintage 50s Retro Fonts
1. Labor Union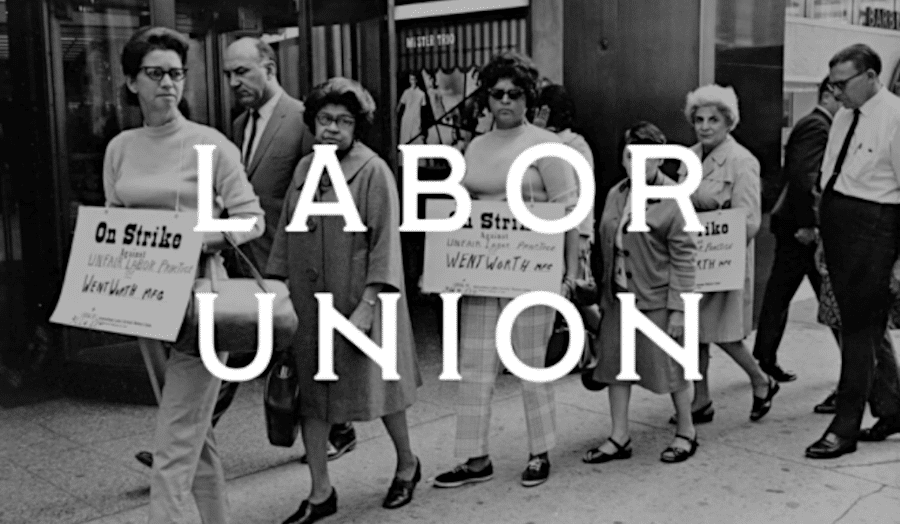 The Labor Union font, inspired by the typography of the mid-20th century, would fit well in any project that requires a vintage industrial feel. It's fully free, including for commercial use, so go ahead and put these bold serifs in a project of any kind.
2. TOOM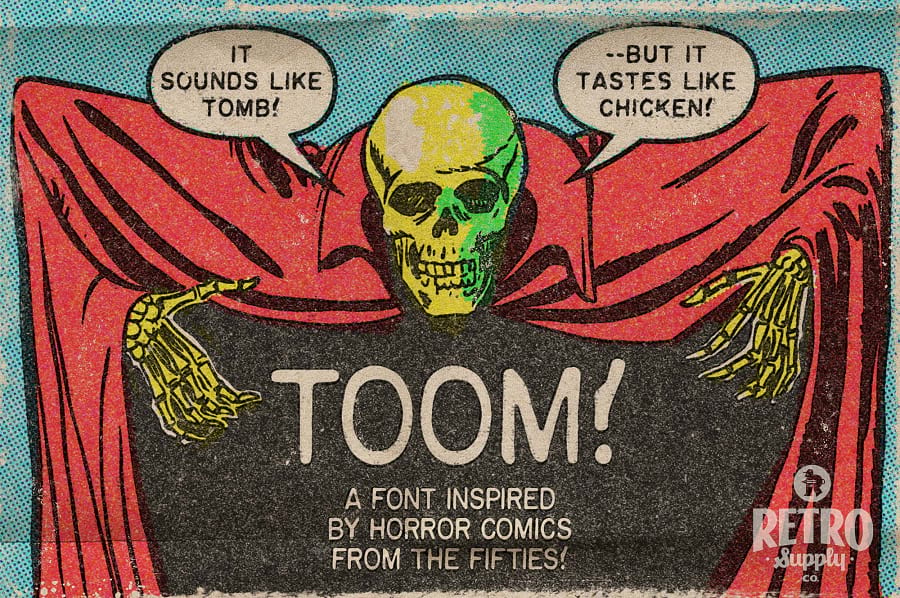 TOOM is heavily based on the work of EC Comics, a company that printed horror, dark fantasy, and science fiction comics in the 1940s and 1950s. Their signature uncanny text was created using a machine to emulate a handwritten style. Old comic fans will love this one.
3. Dog Days

Dog Days manages to perfectly capture the handwritten calligraphy brush script popular in the past. It borrows its style from a vintage swimsuit advertisement. But while it may be based on an old-fashioned font, it comes with plenty of striking OpenType features.
4. Soda Fountain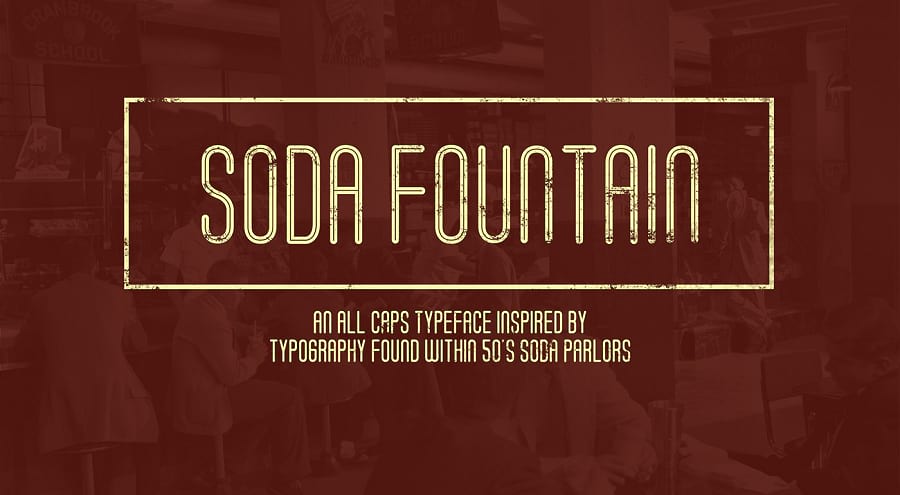 Soda Fountain is an all-caps font based on the typography of 1950s diners and soda parlors. Its smooth, soft lines look perfectly vintage, and it's free for personal and commercial use.
5. Journey

Journey is a vintage brush script font bundled with ornaments and alternate characters that make it very versatile. If you're trying to emulate the look of an elegant 50s advertisement, try this one.
6. Fresh Press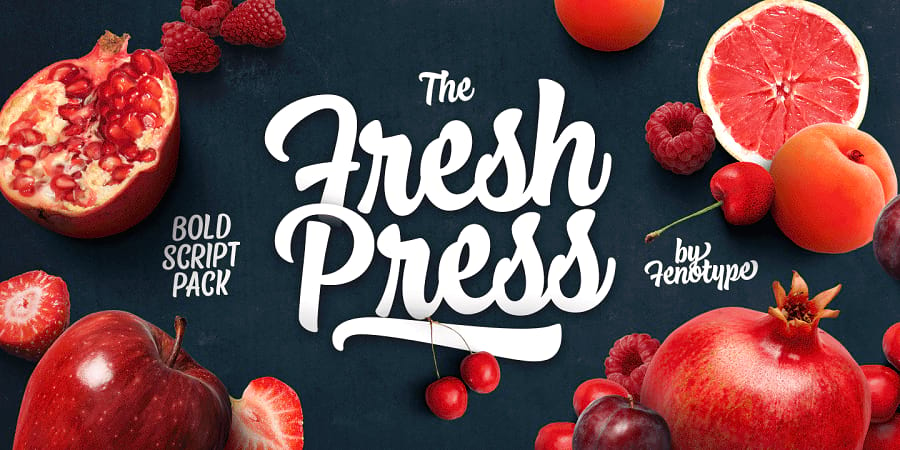 Many 50s cursive fonts are slender and elegant, but Fresh Press goes for a much more bold look that's sure to amaze. There's also a rougher, more textured version of the font if you want that old-timey feel.
7. Powder Script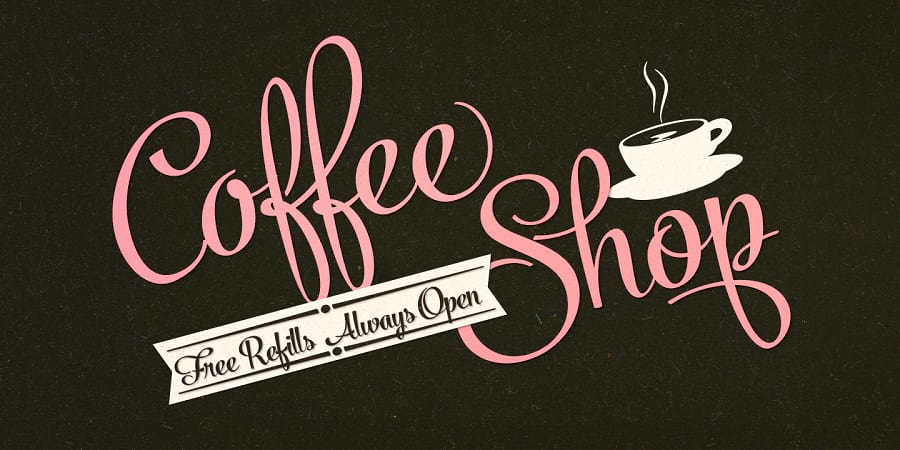 Need something glamorous? Try Powder Script. The flourishes on each letter are exquisite, and the font includes 800 glyphs per weight, so every letter you type is unique.
8. Pitcher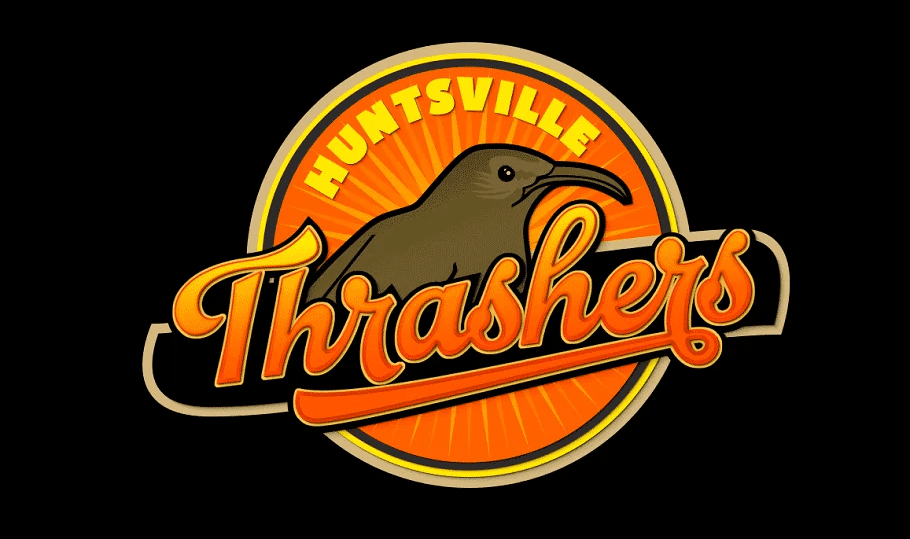 Pitcher attempts to capture a little taste of American culture in the 1940s and 1950s with a bold font full of personality. There's both the clean version and a textured, grungier alternative available.
9. Stencil 1952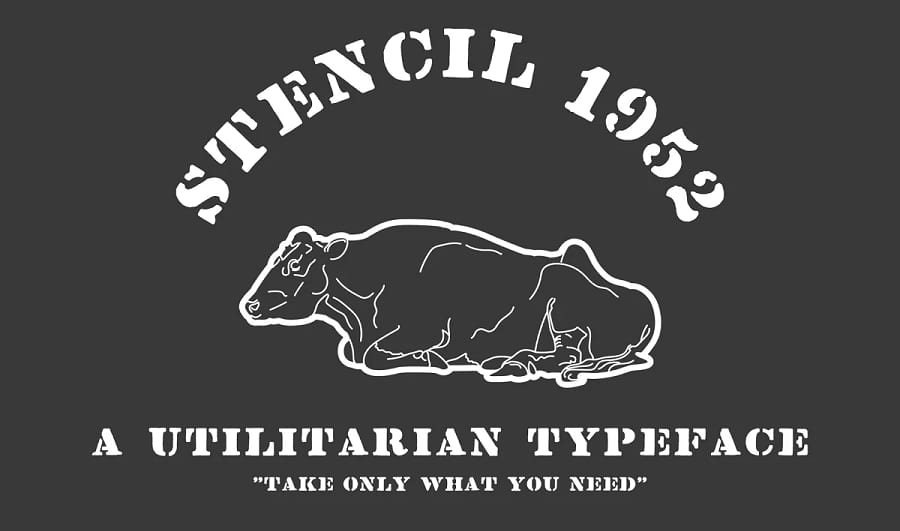 Stencil 1952 is a clean and no-nonsense stencil font discovered in an old typography book, so you know it's the real deal. Many fonts attempt to emulate the typography of this era, but this one was lifted right out of the past.
10. Cottage Sans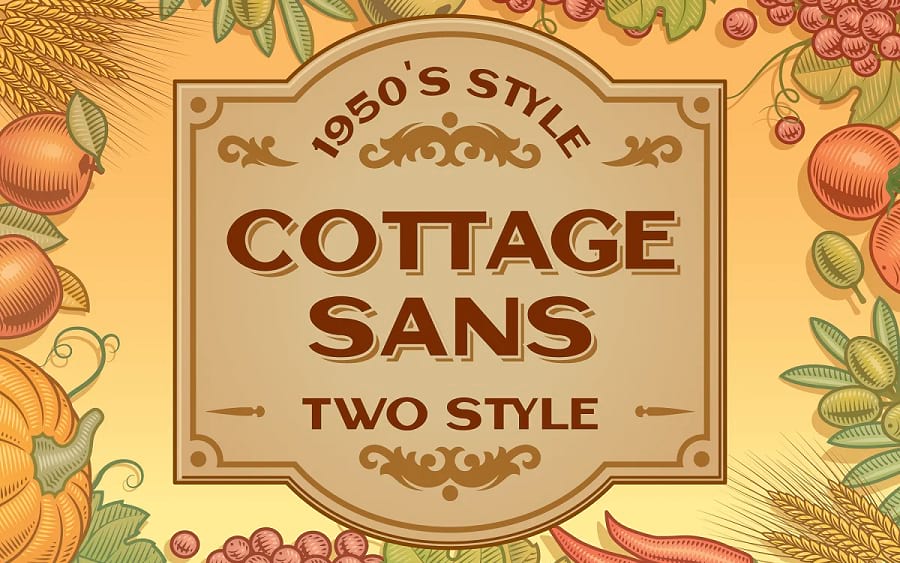 Cottage Sans is a beautiful, rustic font in a regular and rounded style. The strong sans serifs will look good in any design to nail the old nostalgic feel.
Groovy 60s Fonts
11. Ramdone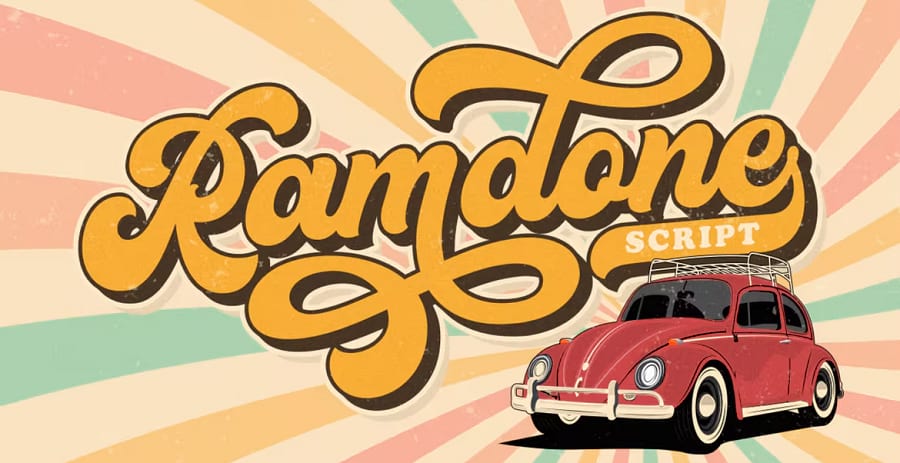 In the Ramdone font, you can see the transition from 50s brush scripts into something similar but with a little more pep. It also includes the extruded effect, so you can make your typeface look 3D.
12. Groovy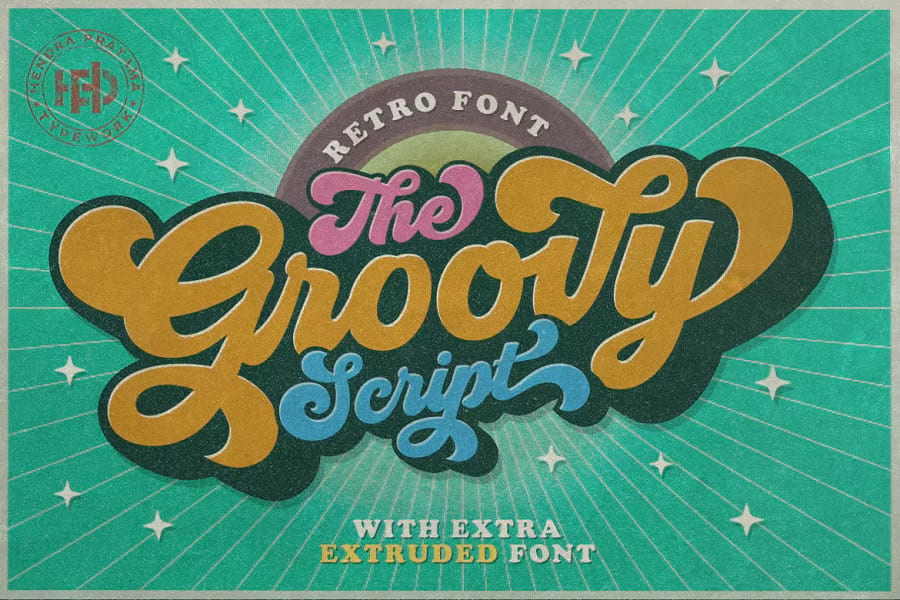 These bold 3D scripts were popular in the 60s and 70s, and Groovy nails it perfectly. As the extruded effect comes with the font, it's easy to make this font look just like the preview pictures.
13. Far Out!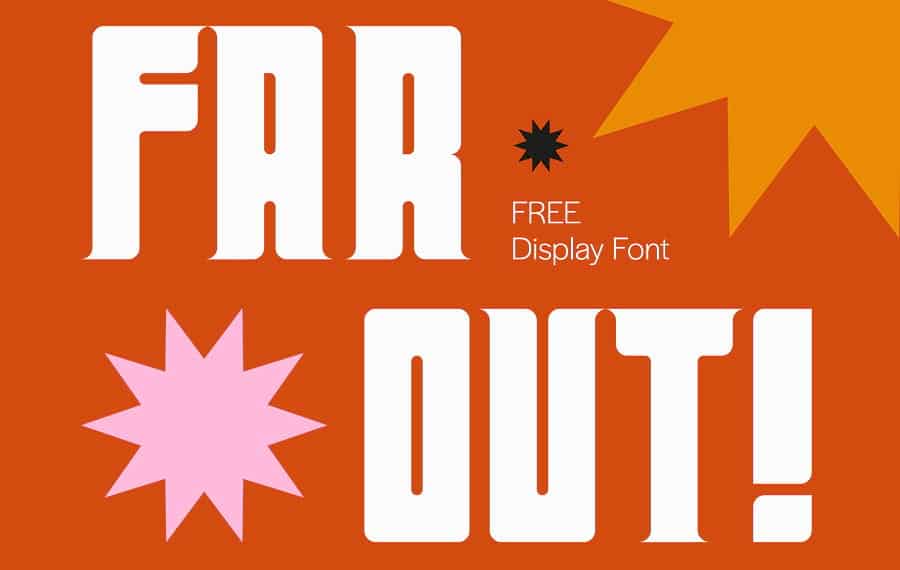 Far Out's inspiration is a little looser, but you can still see the unique style of the 60s woven into it. As it's free for all types of use, you should try it if you want something a little different but still clearly belonging in this era.
14. Milkman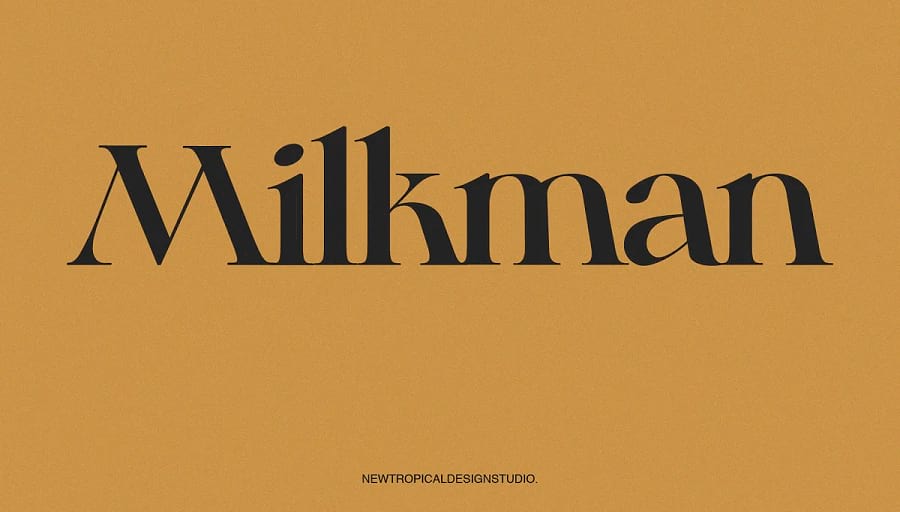 This is an interesting one; Milkman combines retro and modern typography to create something that easily fits into the 21st century but retains a vintage vibe.
15. Pirates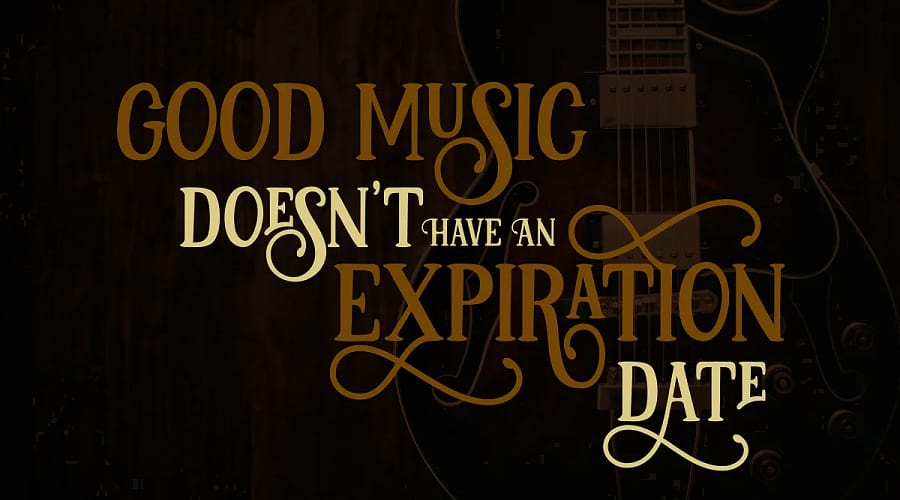 This stylish script would look perfect on a poster. The little artistic flairs are beautiful and add a ton of character to the font, but Pirates is still very elegant and detailed even without them.
16. Fairy Tales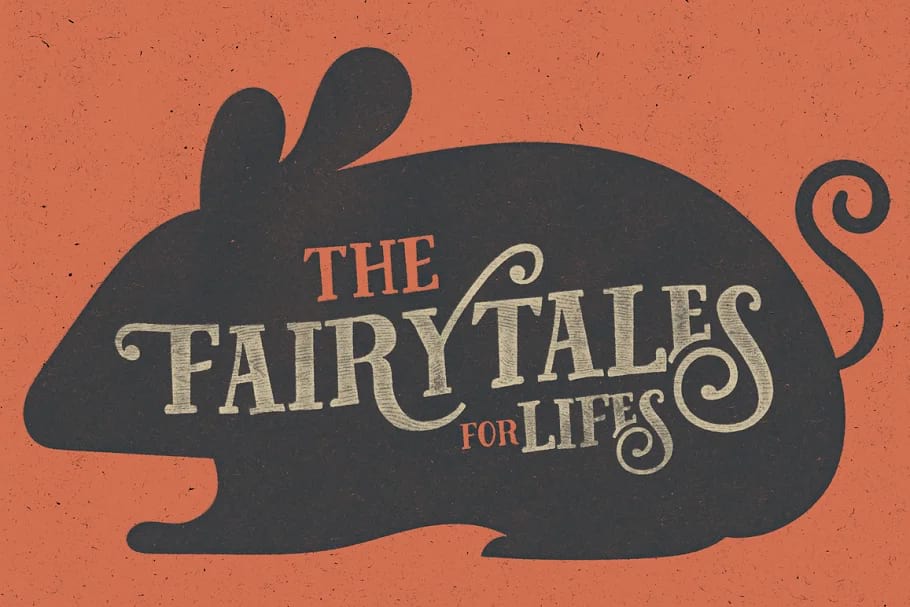 Old fairy tales always evoke nostalgia, and while this design is timeless, it still is reminiscent of whimsical advertisements from the mid-20th century. This Fairy Tales pack also has a few vector animal designs that pair well with the mystical font.
17. Tropika Island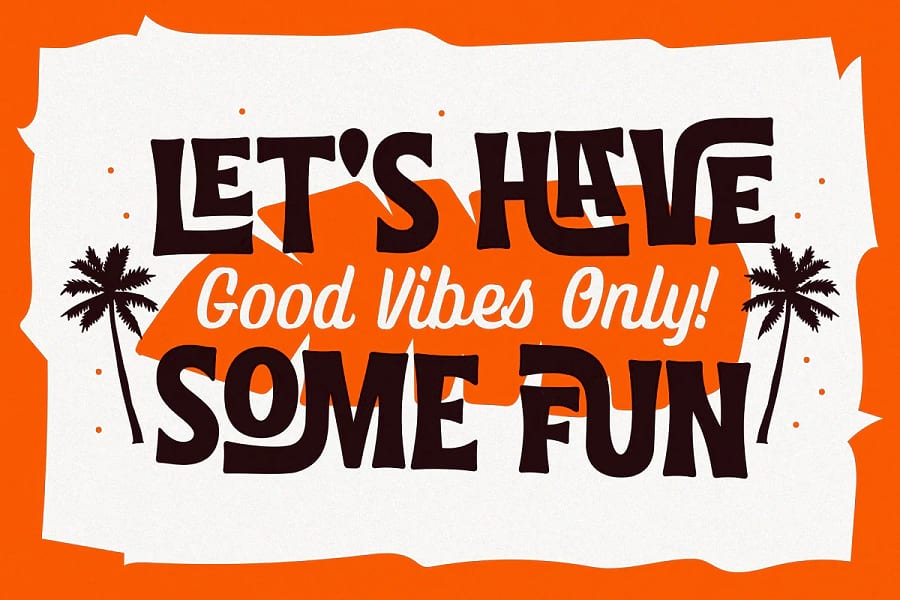 The midcentury had an obsession with this lively tropical style, and Tropika Island is very reminiscent of the advertisements and signs from back then. This comes with both the bold main font and a softer but just as stylized script.
18. Jaywalker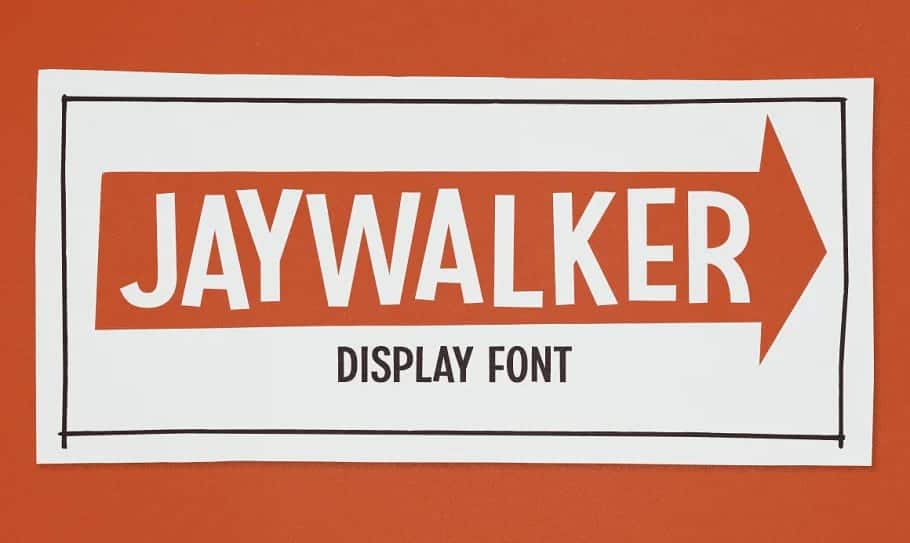 Though simple in design, Jaywalker is brimming with nostalgia for posters, advertisements, and cartoons from the 1960s. It's an all-caps font that includes numbers, special characters, and a fair number of accented letters.
19. Frost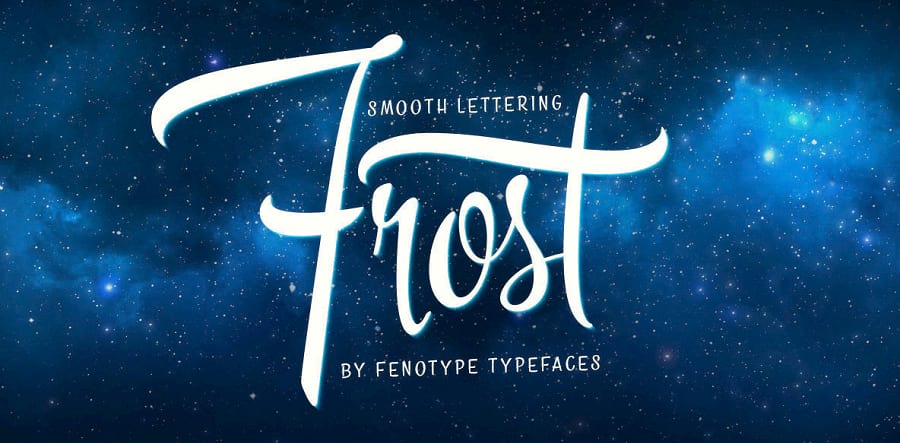 If you're looking for a vintage script font that's true to the classic style while fitting into modern designs, Frost is the perfect candidate. It includes three weights, a caps and small caps version, and various decorative ornaments to pretty up the text. Every letter has at least three glyphs, so it never looks repetitive.
20. The Beardy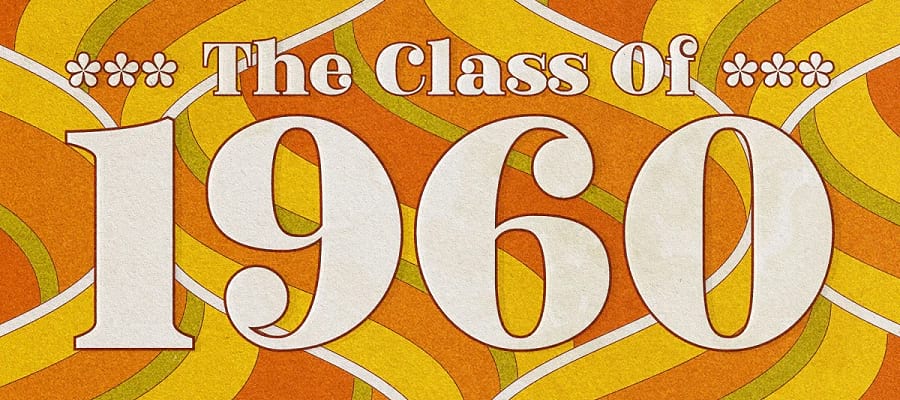 The Beardy is a big and bright serif font that serves as a callback to the pop culture of the 60s and 70s. The bold font is most suitable for headings, logos, and large posters and will instantly transport your project back in time.
Lively 70s Retro Fonts
21. Dillan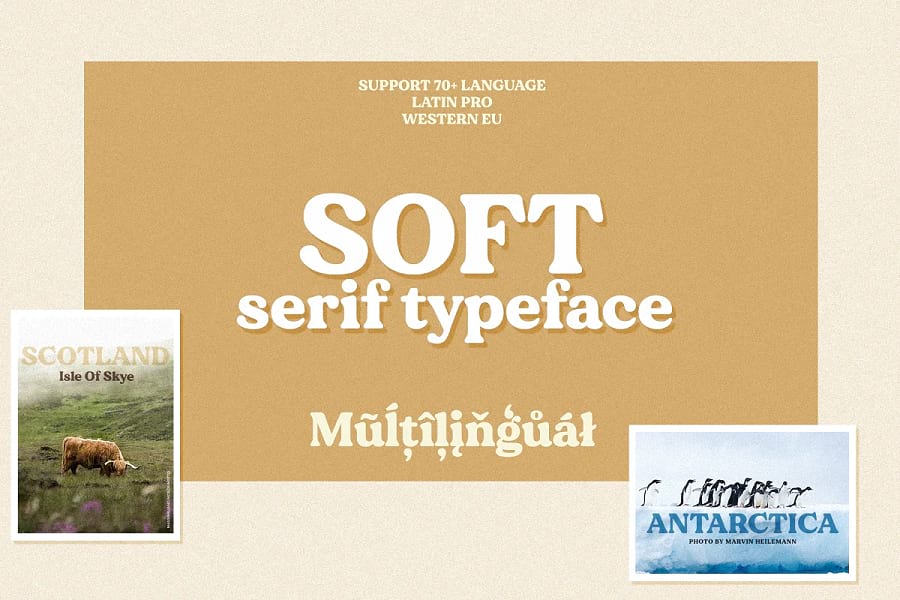 Dillan features soft serifs that are particularly suited to vintage posters, as displayed in the demo images, though it's a versatile font that can work anywhere.
22. Lovadelic

While Lovadelic resembles many other "groovy" script fonts, as its name implies, it takes a more psychedelic approach with showy ligatures and glyphs. There are also a few sketchy graphics bundled to combine with the typeface.
23. Frito Vandito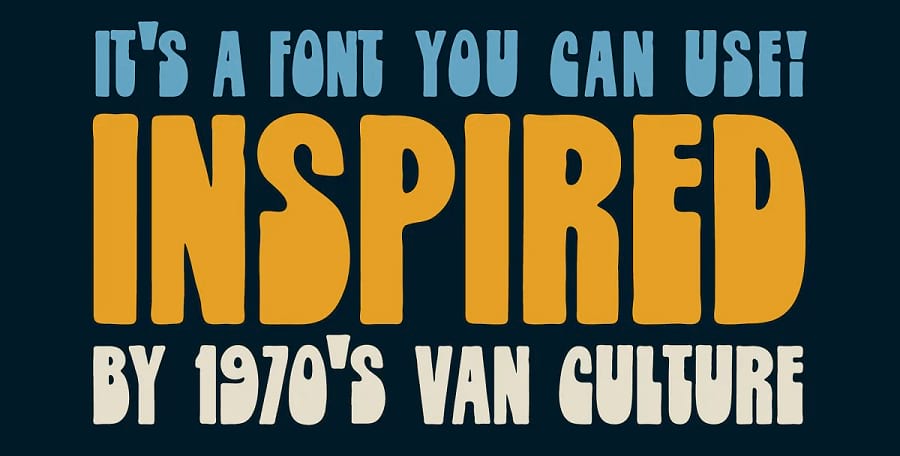 1970s van culture had its unique take on the typography of the era, and Frito Vandito perfectly encapsulates that. The bottom-heavy, imperfect edges lend a unique flavor to this 70s-inspired font.
24. Restora

Restora is a Roman serif font that features a bit of a flare, thanks to swashes and ligatures. While it's a bit more old-fashioned than some fonts from this era, it fits nicely into more professional but still vintage works.
25. Oldways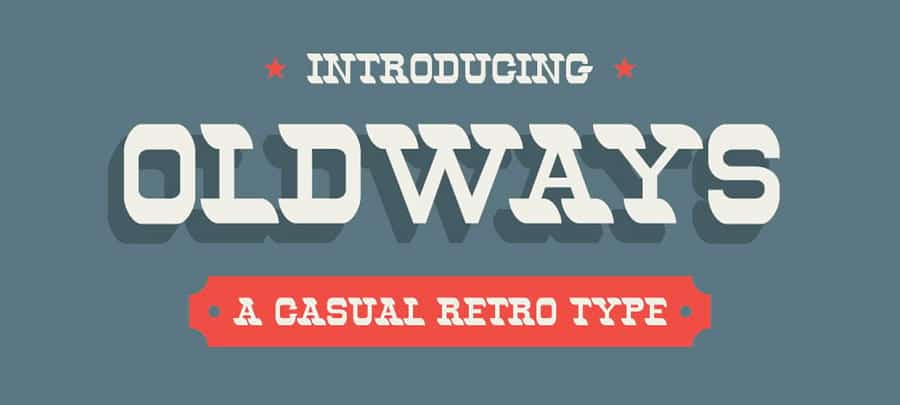 Oldways resembles old Western-style fonts with its stylized serifs, but it's been mixed with a modern flair. It's free for personal and commercial use, and it makes a great addition to any project looking to capture that Western niche.
26. Cadet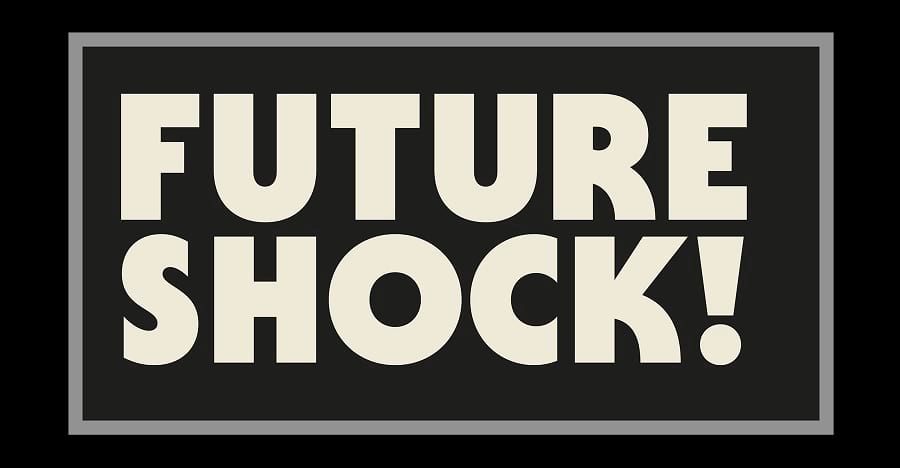 Cadet's roots are in Bauhaus, an artistic design popularized in the 1920s and 1930s though it saw a surge again in the 70s. It's also based on several typefaces from the 1970s, so it's a very authentic vintage font.
27. Heirloom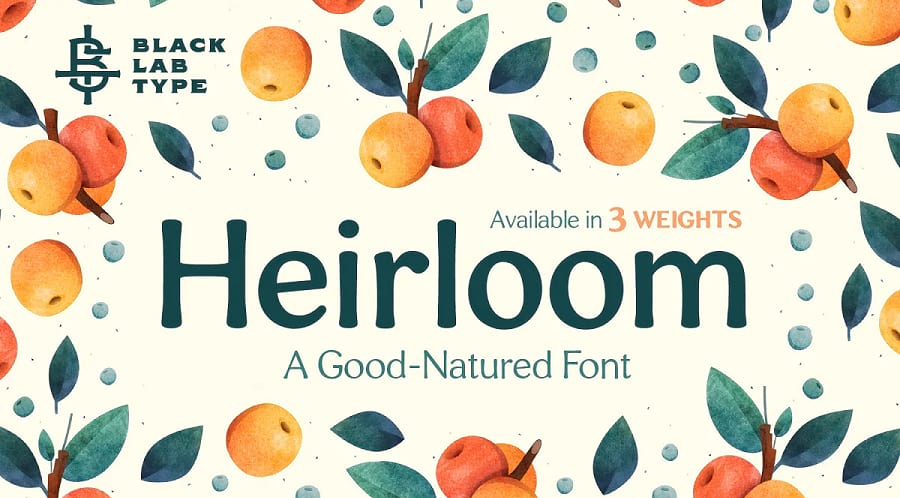 True to its tagline, Heirloom is a bubbly and friendly font suitable for any old-fashioned aesthetic, especially those with natural and earthy roots. Many fonts from the 70s are heavily stylized, but Heirloom is more soft and readable.
28. Summer of 76

Summer of 76 is a multi-line font reminiscent of neon signs from the 70s. But despite its unique look, it's a very relaxed typeface. There's also a solid version if you want something a little bit more readable and practical.
29. Olive Village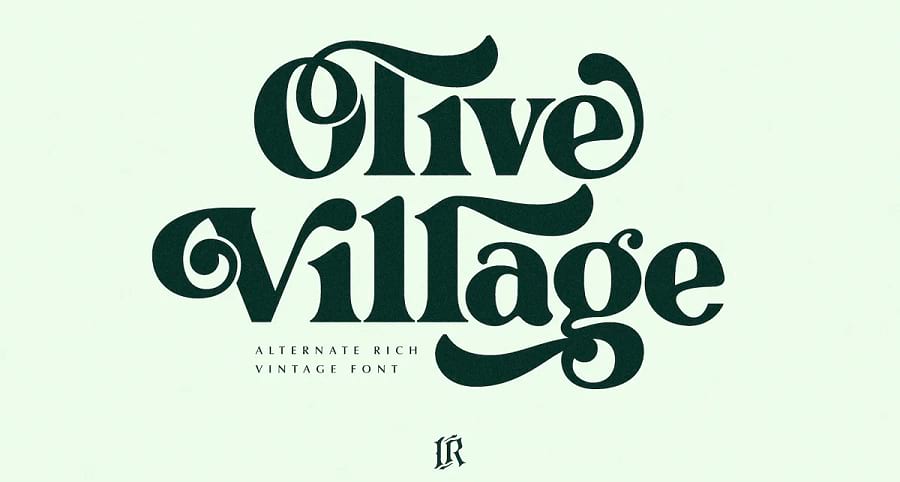 Olive Village manages to take that lively groovy style and refine it into classy. This font wouldn't look out of place in a professional print or poster. It keeps that classic feel while still looking good in current projects.
30. Tangerine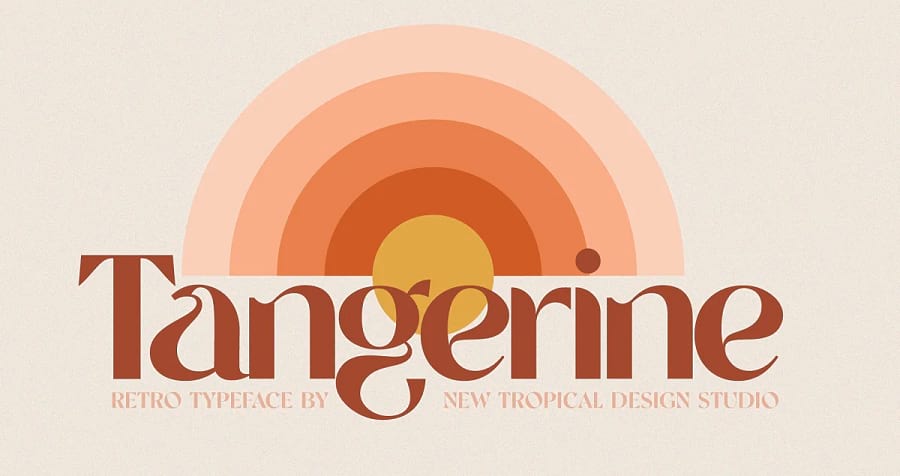 Tangerine was designed to evoke a sense of nostalgia for the 70s and its designs. Rather than directly copying old typography, the designers had their take on the style while remaining true to the decade.
31. Psychedelic Bubble

Colorful bubble fonts were popular in the 70s, and Psychedelic Bubble gets that playful aesthetic right. If you want to brand your project as vintage, this is a good choice.
Fun 80s Retro Fonts
32. Saturday Night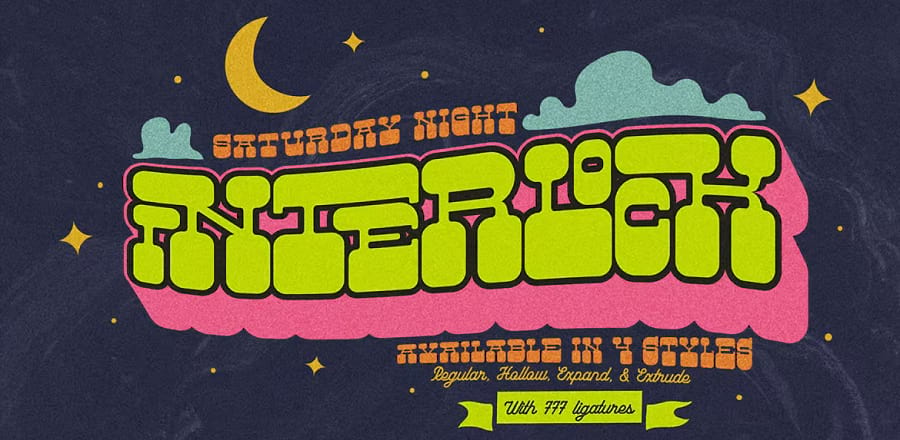 The 80s and 90s led to a lot of experimentation, and wild designs like this were commonplace. Saturday Night was created as an homage to the disco scene, and true to its out-there design, the Interlock variant has 777 ligatures.
33. Retrohols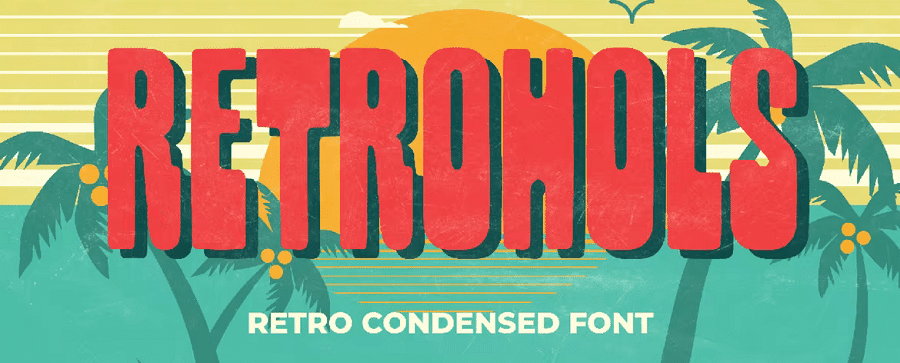 You can see that the funky, stretched, and vertically asymmetrical style of the 70s still lingered into the next decade. Retrohols is a fancy font that is slightly more refined, but just as lively.
34. Thunderstorm

Thunderstorm uses bold, slanted brush strokes to harken back to pop culture designs of the 80s and 90s. Perfect if you need a display font that's bursting with energy.
35. West Side Font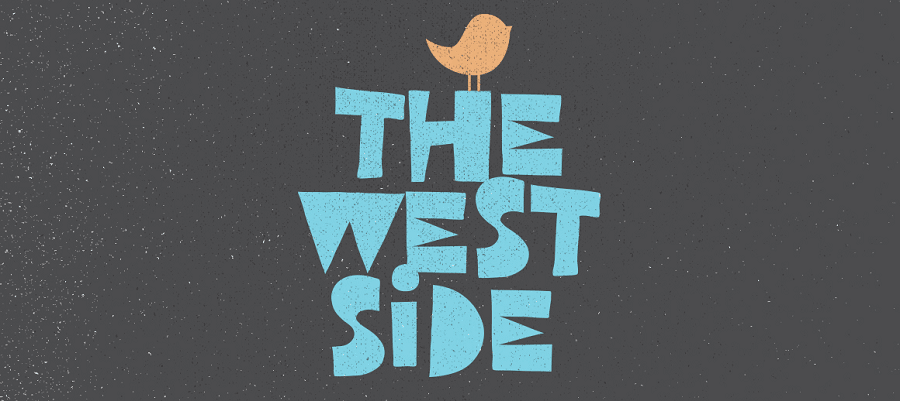 West Side is a cute font that is free for use in any project. The blocky style is reminiscent of cartoons and posters from the 80s, with a unique and beautiful style that will be instantly effective.
36. LAZER 84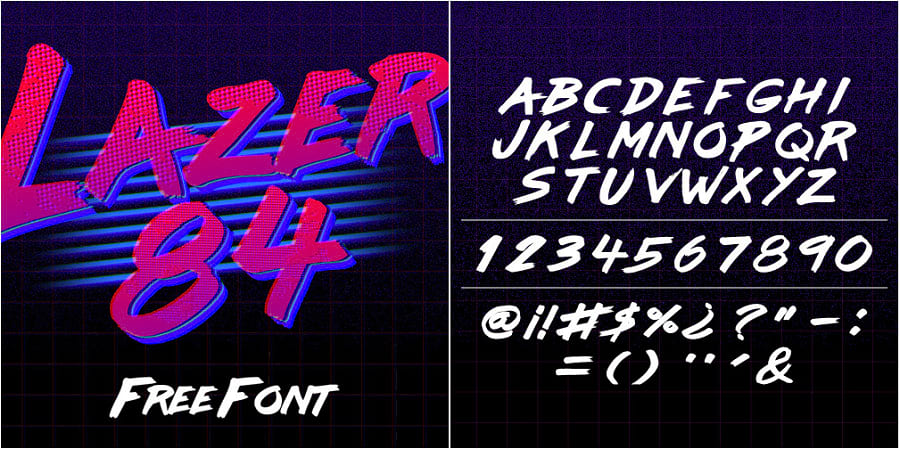 LAZER 84 is a rugged brush script that would look great in the high-tech/synthwave-style graphics popularized in the 80s. This one is free for personal use, so feel free to try it out.
37. Paralines

The creator of the Paralines font describes it as retrofuturistic, inspired by both a retro 80s style and modern designs. This one is free as long as you credit the designer on your website.
38. Asther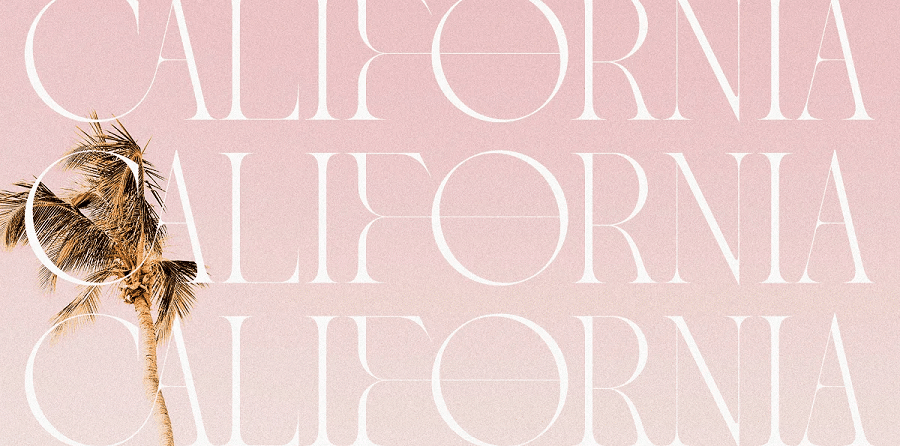 When people think of 80s fonts, their minds may go to a particular "techno" style or the bubbly leftovers from the 70s, but the 1980s also had plenty of elegant and professional typography. Asther is a slim vintage font that would look great on a fashion website or in advertising posters.
39. ENDLESS BUMMER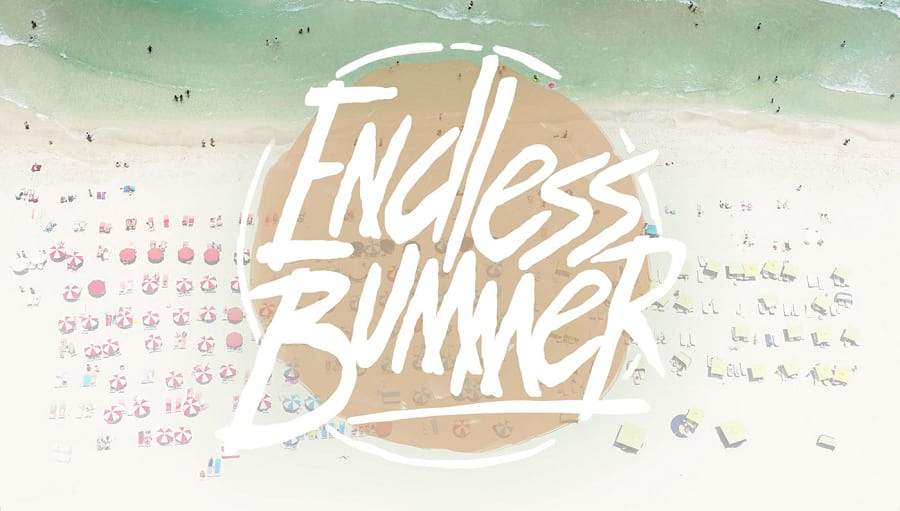 Skateboarding culture in the 80s brought its own culture and typography, and Endless Bummer brings you back to those old graphics and branding. It's also free for personal and commercial use.
40. Stereo

Stereo is a free typeface that resembles the font used on old 90s stereo speakers. It's a unique idea that results in a simple and appealing, but unmistakably vintage font. It's also free for personal use.
41. Rothko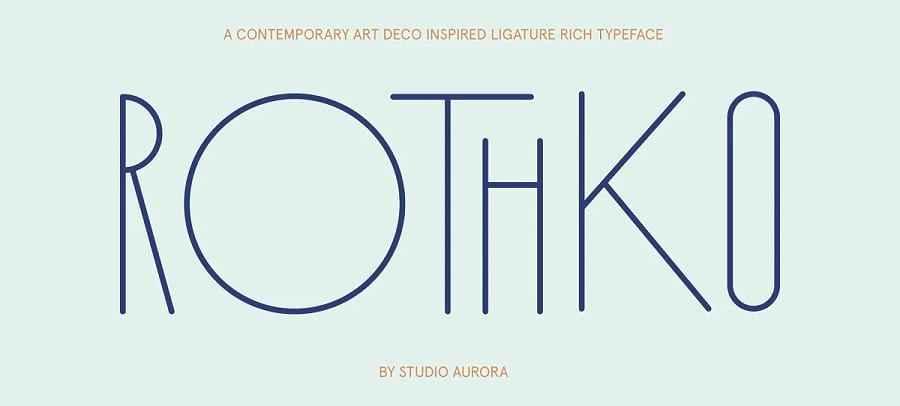 The distinct art deco style has surged and fallen in popularity throughout the century but experienced a revival in the 1980s. Rothko is multilingual and supports a dozen languages, so anyone can use this unique font.
42. Letter Magic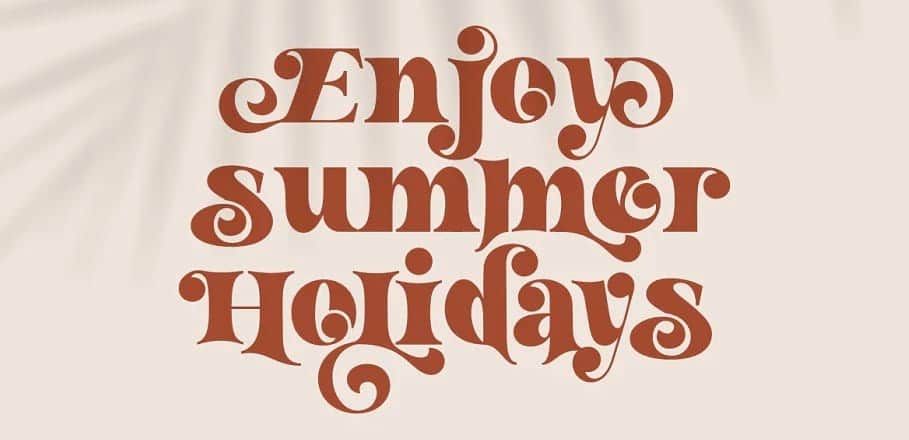 Letter Magic is a fun, playful font featuring various artistic ornaments and swashes. This would fit very well into any project that requires an old-fashioned, light-hearted theme.
43. Revive 80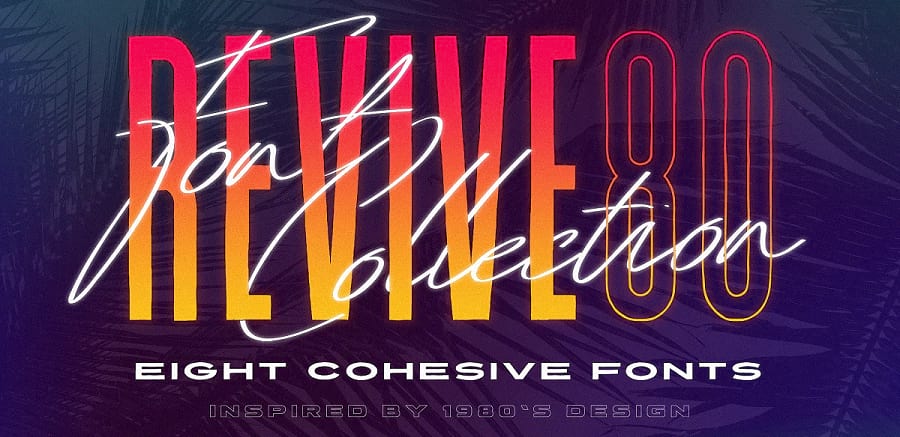 The Revive 80 font pack captures the bold and blocky look of 80s typography. It includes the Phatt, Wide, Tall, and Signature versions of the typeface, each with an outline version to make a bundle of 8 fonts.
Nostalgic 90s Retro Fonts
44. Eskool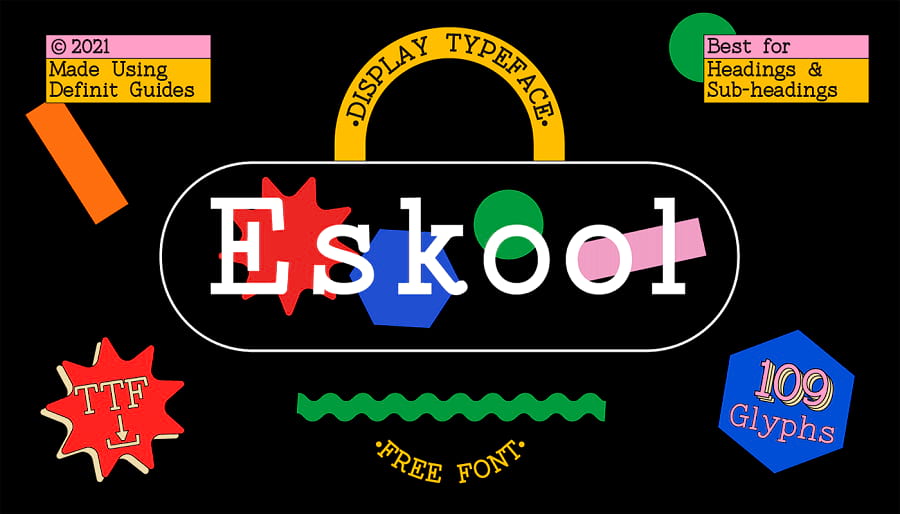 If you went to school in the 90s or played edutainment games from that era, Eskool should feel very familiar to you. Use it for free in any personal project for a nostalgic taste of the 1990s.
45. Hot Rush

Inspired by the fast-paced car culture of the 80s and 90s, Hot Rush is an awesome font that includes several variations: The standard variant plus italics, striped with italics, and script font. There are also swashes, alternates, and multi-language support!
46. 90 Ninety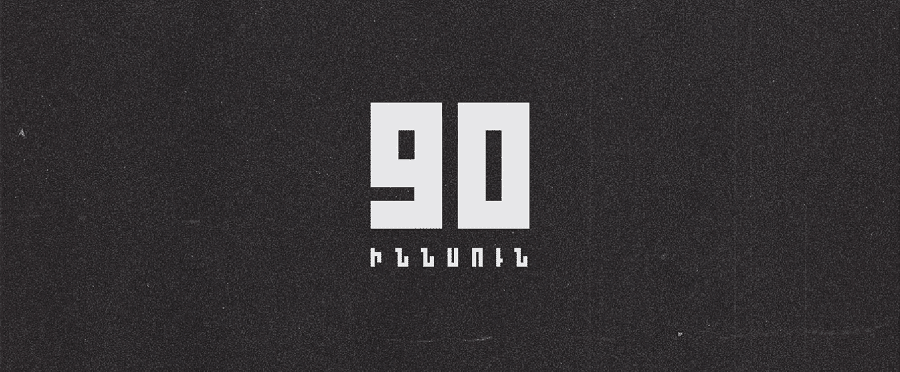 90 Ninety is a completely free Armenian font, subtly old school and yet still very cool. The numbers alone would look great in a techno design.
47. Wasted Youth

Wasted Youth is a grungy font that draws inspiration from skater culture, horror movie posters, and punk bands from the 90s. It comes in three styles: a clean version and two hand-drawn variations in a marker and brush pen.
48. MEMPHIS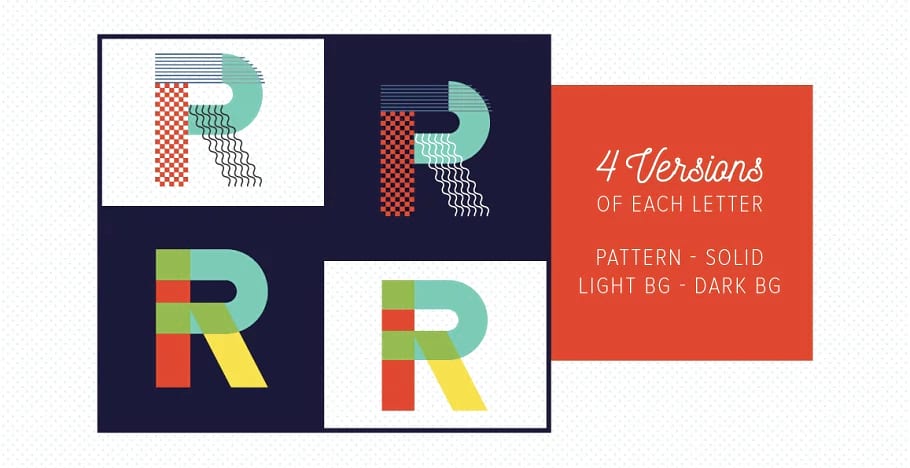 Color fonts aren't common since they aren't always web safe, but Memphis uses the new technology. This playful font resembles patchwork and would be at home in crafty or cartoonish designs. There are also four styles available to suit different backgrounds or design needs.
49. Childish Reverie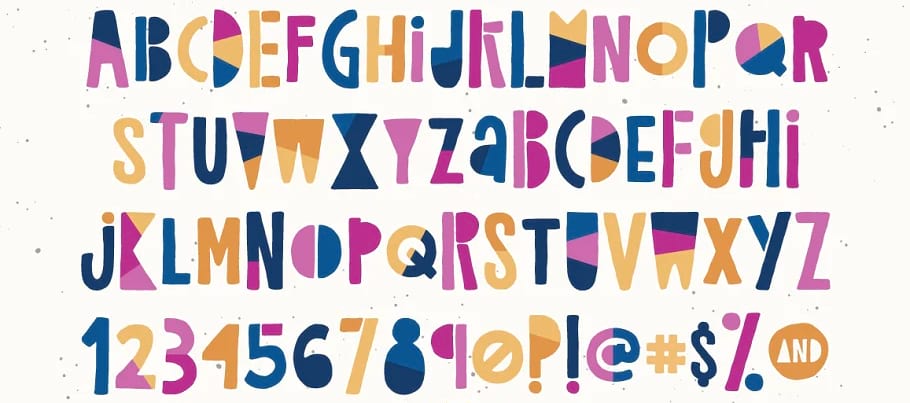 People who were kids in the 90s will have a lot of nostalgia for the Childish Reverie. Not only does it perfectly capture the typography style of children's media in the era, but it also includes both the regular font, color font in both SVG and PNG, and various doodles you can decorate your text with.
50. Baou

At first glance, this looks like a standard sans serif font, but some unique bits of style make this distinct. Baou is suitable in a wide variety of sizes and situations.
51. Hell Builder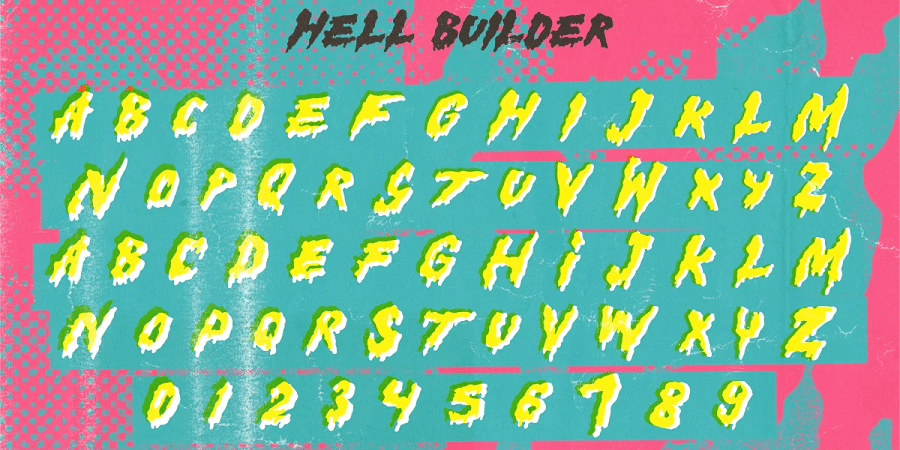 The teen horror fiction genre of the 90s had a very distinct look, and Hell Builder has it down perfectly. Use it in logos and posters meant to emulate this era of horror, and no one will be able to tell it's from this era.
52. Comba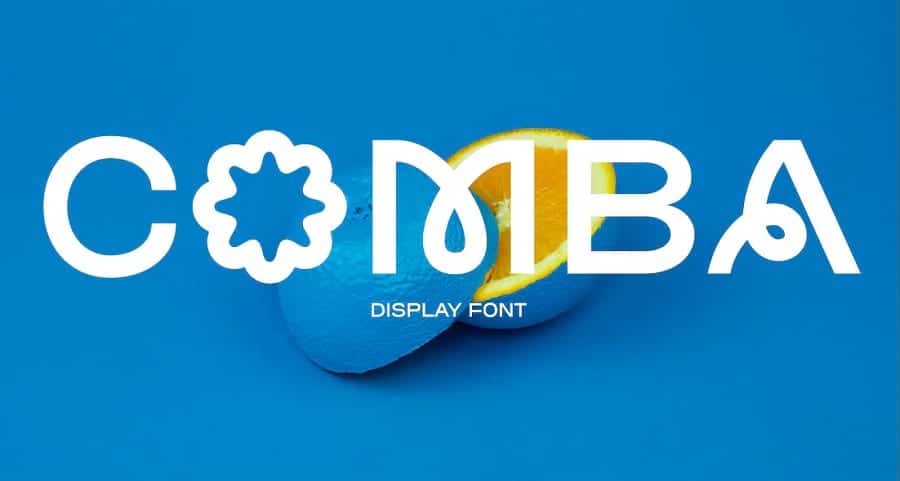 Comba is a quirky all-caps font fitting with a fun, stylish appeal of 90s typography. Use it if you want a font that's not quite normal and stands out instantly.
53. Wild Star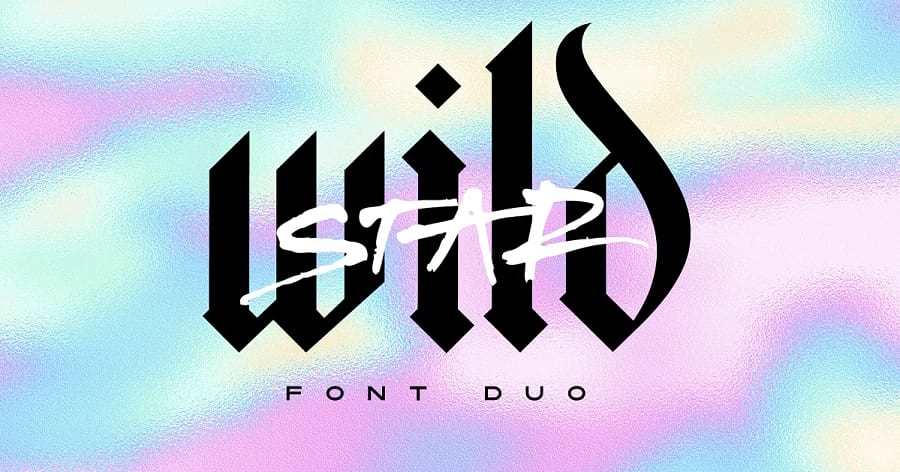 The Wild Star font duo pairs remarkably well together, and is heavily reminiscent of 90s rock culture. This makes it very well suited for album covers, though you can use it anywhere you need a bold and loud font duo.
54. The Ultimate 90s Font Pack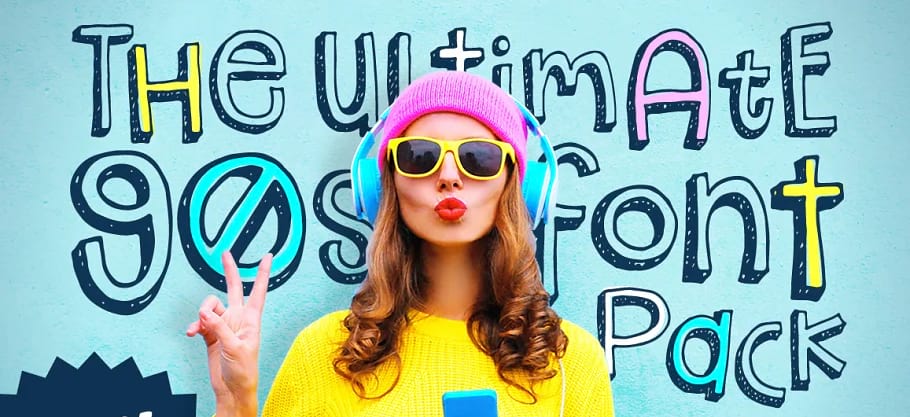 While The Ultimate 90s Font Pack isn't just one font, it's a good deal on a bundle of 90s-inspired fonts, including one on this list, Childish Reverie. It includes an exclusive bubble font to sweeten the deal. With this pack, you'll have access to all the quirky, high-energy typography of the 1990s.
How to Pick the Best Retro Font
With so many fonts to pick from, you may be feeling a bit overwhelmed! Let's narrow down the selection a bit.
First, it's probably easiest to pick a specific decade or two that you want to emulate. There's some overlap from era to era, but the unabashedly unique fonts of the 90s are a far cry from the 50s' more elegant branding and signage.
Depending on your target audience and whether you pick an older or newer era, vintage fonts can give your project either an elegant and old-timey vibe or a more comfortable and nostalgic feel.
Once you've selected a decade, it's much easier to pick out a font based on stricter criteria. Decide on a budget – or choose one of the multiple free fonts from this list – and see if the font's character set fits your needs (for instance, if you need a multilingual font or certain special characters).
You can narrow it down further by size and readability requirements. If you'll be using the font in a logo, website header, or large graphic/poster, readability is less important, and you can pick a font optimized for large sizes.
If you plan on using it for entire paragraphs of text, many of these more decorative font choices won't work out. You'll need to pick a readable font that looks good at smaller sizes.
A lot of these retro fonts are very stylistic and so unsuitable for small text sizes, but there are a good few here that will do the trick.
Want a blast from the past? 👀 Check out these 50+ beautiful retro font options 😍Click to Tweet
Summary
A wildly varied culture marked the 20th century from decade to decade. Each of these eras has something unique to offer. Whether you're looking for an elegant brush script or a peppy display font, one of these 50+ nostalgic fonts has what you need.
Need even more fonts? Check out the top 15 Google fonts and 50+ modern fonts for a good idea of what's popular now.