Themes and plugins are two of the features that gained WordPress its astounding and growing market share. Just like the CMS, which receives regular updates, themes and plugins are living pieces of software and receive updates as well — to patch a security hole, to introduce a new feature, to increase compatibility, and more.
Without updates, we wouldn't have better software.
Unfortunately, though, theme and plugin updates can pile up quickly and could turn your WordPress maintenance routine into a time-consuming task. But that's something of the past for Kinsta customers as we're releasing a handy new feature to manage plugin and theme updates directly from MyKinsta, our custom-built dashboard.
Plugin and Management Tool
Introducing Plugin and Theme Management in MyKinsta
Starting today, all Kinsta customers will notice a new option within the Sites tab when they login to MyKinsta: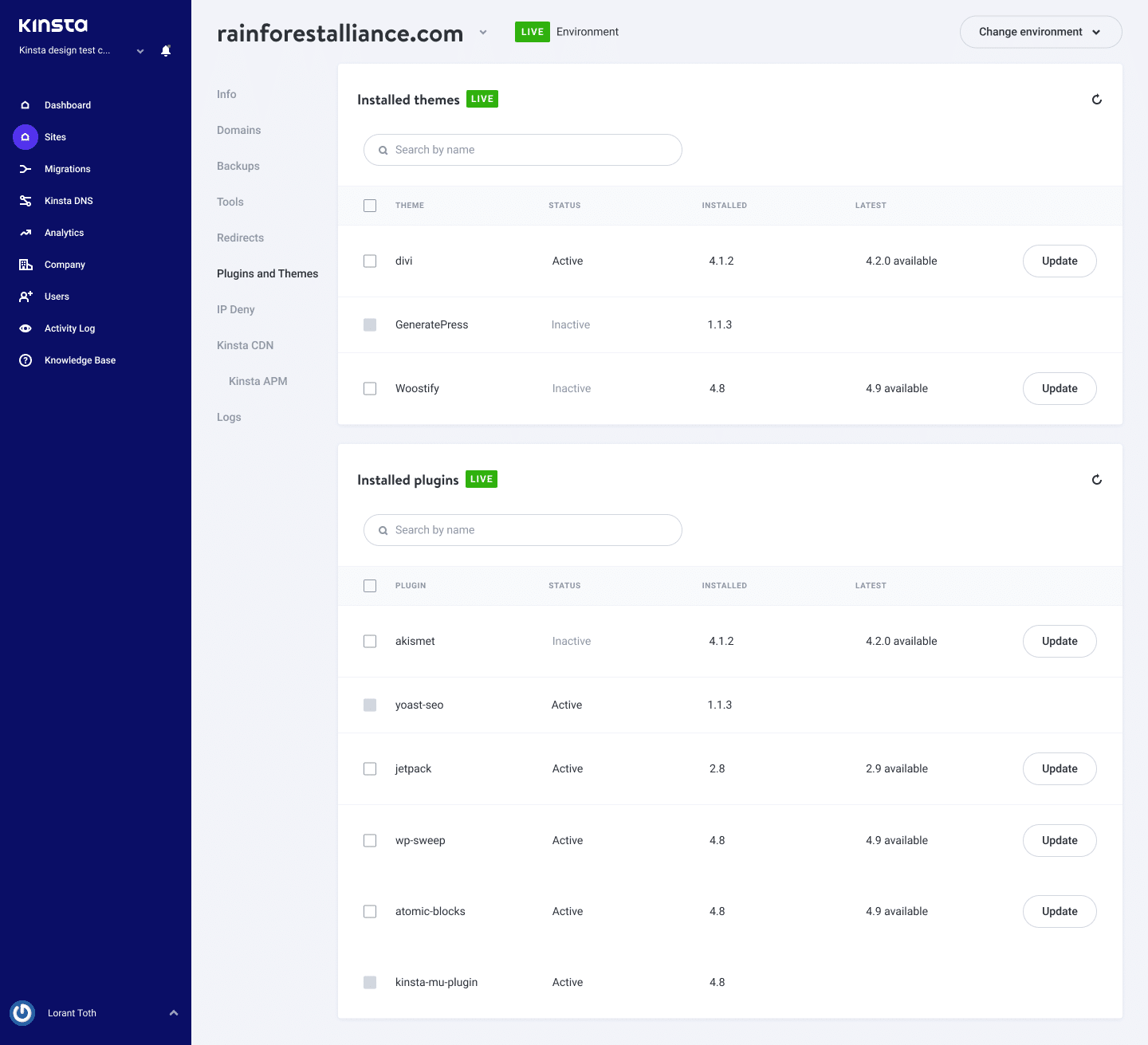 With this new feature, Kinsta customers are now able to:
See which plugins and themes are installed on a WordPress site and their status (Active vs Inactive)
Gather information about the latest version release each theme or plugin is running
Perform individual, selected, and bulk updates of installed plugins and themes with the click of a single button and without having to leave MyKinsta
Save Time With One-Click Updates
This plugin and theme management feature could quickly become your secret weapon for improving productivity! Even though there are a few scenarios where you'll still be required to update your plugins and your themes within WordPress, this feature is helpful with the vast majority of WordPress sites and allows you (and your development team) to save plenty of hours that, in the past, you've had to set aside for site maintenance.
Run and Test Plugin and Theme Updates Fast and Safely
What if an update fails? Well, that's not something you need to worry about anymore!
When you initiate an update for a plugin or theme in MyKinsta, we first make a snapshot of the environment in which the plugin/theme is installed so you can restore to that state without the risk of losing your data or breaking your site.
As best practice suggests, you should run updates and test plugins and themes on staging environments before making those changes live. With our new plugin and theme management feature directly available in MyKinsta — which allows you to run updates in bulk — your tests will take much less time.
Fewer hours spent on this necessary but time-consuming task means faster, more streamlined processes and improved workflows. Check out our documentation to learn more about how to take full advantage of plugin and theme management using MyKinsta.
To keep up with the latest news and updates from Kinsta, make sure to subscribe to our newsletter.