The History of Drupal: Drupal Market Share & Drupal Versions
First launched in 2000, Drupal is a popular CMS alternative to WordPress. In this in-depth guide, learn more about Drupal's history and market share.
Drupal is one of the three most popular open source content management systems (CMS) used today. You're probably familiar with the other two top contenders: WordPress and Joomla.
Drupal powers over 2% of all websites, which is equivalent to a 4% share in the CMS market. Drupal is also the oldest among the three most popular open source CMS options, having first launched in 2000. To put this into perspective, WordPress was launched in 2003 and Joomla came to market in 2005.
Although not as popular as WordPress which powers 36% of all websites, Drupal is the CMS choice of most US government websites. When Barack Obama became president, many government agencies migrated their applications and websites to Drupal.
But it's not just government agencies who choose Drupal as the backend system to run their websites. Many large and well-known brands, such as Tesla and Verizon, are powered by Drupal. Additional websites powered by Drupal for well-known brands include NASA, the Australian government's website, a number of famous universities including Harvard, The Economist, NCAA, Mint, Infusionsoft, and even Entertainment Weekly. 
The list goes on and also includes social media networking sites such as Twitter and Pinterest. Drupal powers 56% of government websites and 23.8% of websites for universities and schools.
The History of Drupal
Drupal was founded by Dries Buytaert on May 18, 2000 and it was originally intended to be a message board.
In the year 2000, then University of Antwerp student Buytaert, with fellow student Hans Snijder, were looking for an internet connection they could use for school. Due to the lack of a permanent internet connection on the university grounds for students to use, Buytaert and Hans decided to set up a wireless bridge between their dorms. The final product shared Hans's ADSL modem connection among eight students.
Their little experiment worked, but they thought that something was missing — a place to talk to each other. This missing piece urged Buytaert to create a small news site with a message board where they could post notes, check the status of their network, and share news.
This is how Drupal was born.
The software remained nameless until Buytaert decided to name it after their graduation in order to stay in touch. They put an internal site online and while looking for a domain name, Buytaert considered "dorp.org".
"Dorp" is a Dutch word that means "village". This signifies the small community that Buytaert and his classmates started. However, when Buytaert was typing the word, he misspelled it to "drop" and drop.org became live on the web.
The Drupal logo, known as druplicon, was designed by Steven Wittnes and Kristjan Jansen. The community started to evolved and also turned into a personal experimentation environment (with a focus on web technologies) due to discussions and innovative ideas from the audience.
In 2001, the following year, Buytaert decided to publicly release the software behind drop.org. The idea behind this public release was to let other users extend the experimental platform to their needs, as well as to invite other people into the community. The software released as Drupal (Drupal 1.0.0) in January 15, 2001. The name came from the Dutch word "druppel" which is a direct translation of "drop".
In 2003, Drupal gained popularity and interest when it was used to create "DeanSpace" for Howard Dean, one of the Democratic Party's candidates for the 2004 US election. Even after Dean ended his political campaign, the web team who worked for DeanSpace moved forward to develop web platforms for political activism.
CivicSpace Labs was launched in July 2004, the first company with full-time employees developing and distributing Drupal technology. By 2013, there were hundreds of listed vendors that offer Drupal-related services.
Why Choose Drupal as Your CMS? Drupal Market Share
Drupal may have a relatively smaller fan base than WordPress, but Drupal fans love its flexibility.
In fact, 97% of Drupal users are satisfied with the service it provides. 
Some features that come with using Drupal:
Out of the box, it allows you to create new roles with different permissions, unlike WordPress, which limits you to 5 roles
Support for multiple language is built into the Drupal core, unlike WordPress, which has to rely on third-party plugins. Drupal supports 100 languages in addition to English (the default language).
A larger taxonomy system, which makes it possible for it to handle more types of content.
Drupal Market Share
Drupal has a small but tight-knit community of fans and hit 1 million users in 2013. 
Similar to how the WordPress community meets up by hosting monthly events, specialized conferences, and WordCamps every year, the Drupal community also prioritizes bringing their community together. 
Based on default settings, Drupal is just as secure as WordPress. This helps contribute to its suitability as a CMS for government websites.
Websites powered by Drupal only accounted for 1.6% of all website hacks in 2017, a drop from 2% during Q3 2016. The biggest Drupal hack was in 2014, when 12 million websites were affected due to a Drupal bug. 
10.1% of websites are still vulnerable to the Drupalgeddon bug. As with WordPress, vulnerabilities don't go away unless organizations proactively fix them!
What's really stopping Drupal from truly taking off as the top CMS is its ease of use. 
Drupal has a steep learning curve, which is more geared towards developers and experienced users than the blogger audience WordPress is so famous for catering to. In fact, one of the most common Drupal criticisms is that, though Drupal themes exist, to get a good design, most websites need a custom-coded theme from a Drupal designer/developer.
Drupal Usage & Other Drupal Stats
As of August 5 2018, Drupal is used on over 1.1 million websites. As of January 2018, the Drupal community is composed of more than 1.3 million members, 109,800 of which still actively contribute to:
39,500+ free modules that customize/extend Drupal
2,570+ free themes to change Drupal's look and feel
1,200+ free distributions for use-specific Drupal quick setup
Drupal has been downloaded over 45 million times and 5% of the top 1 million websites in the world are powered by Drupal. Drupal's core software has been translated into over 90 different languages which includes Chinese, Hebrew, and even the internet-based Lolspeak.
Everything You Need to Know About the Drupal Core, Themes, & Modules
Modules extend Drupal functionality; which you might recognize as 'plugins' in WordPress. There are 41,000+ modules and 2,657+ themes available, but if you're only going to include those compatible with Drupal 8, these numbers become 4,000+ modules and ~250 themes.
The default theme when you install Drupal is called Bartik, named after Jean Bartik: one of the original programmers of the ENIAC computer. A Drupal theme costs an average of $48, and the most popular themes as of November 2017 are Zen and Bootstrap.
In terms of updates, Drupal releases one every 51 days on average (slower than Joomla, which averages an update every 36 days and WordPress at 42 days). In terms of time of installation, Drupal takes 10 minutes, while WordPress and Joomla stand behind the famous 5 minute installation process.
A Drupal website development project takes an average 6-8 weeks to complete and costs between $20,000-$40,000.
Drupal Release History
As of this publication, there have been a total of eight major Drupal releases and several sub versions and updates for each release.
Here's what you need to know about each major Drupal release:
Drupal 1
The first ever version of the Drupal software was released in January 15th, 2001. It started with 18 core PHP file modules.
In this Drupal release, Buytaert focused on modularity, which gave module design more flexibility and adaptability, allowing people to customize their website according to their liking. At this time, every user was offered the ability to become a contributor, which is why it is known as an experimental platform for the community. 
Drupal 2
The second major Drupal release was in March 15th, 2001. Drupal 2 had 22 core modules.
This Drupal release included a translation feature that allowed users to create or overwrite their websites in different languages. Additionally, the comment section was updated to make it less confusing.
Drupal 2 added user ratings similar to SlashCode's Karma or Scoop's Mojo, as well as a section for stories (similar to the blog functionality). Finally, search infrastructure was added, which improved search page results and integrated search functionality in the administration pages.
Drupal 3
Drupal 3.0.0 was released in September 15th, 2001, and Drupal 3.0.1 was released in October 15th, 2001. Drupal 3 has 26 core modules.
This release introduced the concept of nodes to replace pages. For example, forums, blog, story, diary, and book pages were now managed by the node module.
Some of the new modules added included blog, poll, statistics, page, help, forum, and book. At this time, some existing modules were also improved.
Drupal 3 was later updated to add missing translations and updated the themes to tidy up some HTML code.
Drupal 4
Drupal 4 was released on June 15th, 2002. This release had the most number of updates from Drupal 4.0.0 to 4.7.11.
By this time, there were nearly 100 major websites built with Drupal. Drupal started to look more an enterprise CMS as part of this release, now an international open source project. This was also the Drupal release era when Howard Dean used to create DeanSpace.
Drupal 5
Released on January 15th, 2007, Drupal 5 marked the CMS' 6th anniversary. Major updates included:
Completely retooled administration page 
New default Garland theme added
Included the jQuery JavaScript library 1.0.4 and converted all core JavaScript to use it
The module directory was reorganized so that all modules would have their own directory
A CSS aggregator and compressor was added which resulted in up to 40% faster page load time
Drupal 6
Drupal 6 was released on February 13th, 2008.
In 2009, the White House's official website adopted Drupal 6 as their CMS and is considered as one of Drupal's greatest achievements. Soon after, more government agencies migrated to Drupal.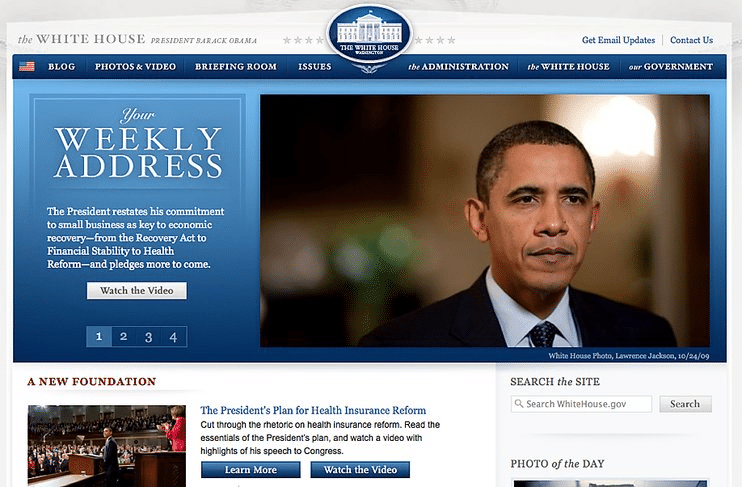 Drupal 6 improved a lot in terms of usability:
Sticky table headers were added
Now possible to configure custom date formats
Dynamically check password strength and confirmation
Drag-and-drop positioning for blocks, menu items, taxonomy vocabularies and terms, forums, profile fields, and input format filters
Comparing Drupal 7 & Drupal 8
Drupal 7 and Drupal 8 are the most current supported major releases of Drupal. Both are still actively maintained and updated. As a result, many users are wondering which version should they install.
Drupal 7
Drupal 7 was released in January 5th, 2011 and is still supported with a few modifications and update releases each year. Drupal 7.59 was released in April 25th, 2018: the same release date as Drupal 8.5.3.

This version has covered many key points of improvement including the following:
Database
Security
Usability
Performance
Documentation
Search
Testing
Improved time zone support
Filter and user systems
Theme system
File handling
Search engine optimization and web linking
Drupal 8
Drupal 8 is the latest version of Drupal, which was released on November 19, 2015. Since this version is newer, it will be supported longer, and contains more features and enhancements. The latest update is Drupal 8.5.6, which was released on August 1st, 2018. It was created by the effort of 3,290 contributors and 1,228 companies. As of August 5, 2018, it's been used by 238,000+ users.
Just like Drupal 7, Drupal 8 has a long list of functionality improvements and add-ons. Drupal 8 improved the author feature that now allows drag and drop images into image fields in Quick Edit mode.
Additionally, Drupal 8 added the Migrate Drupal UI module (experimental) to provide a UI for migrating content and configuration from Drupal 6 and Drupal 7.
Understanding these basic facts about Drupal 7 and 8, there are a few things to consider before settling on one version.
As of today, Drupal 7 is still the most popular version, with over 818,000+ users. The Drupal 7 page even states that this version is Drupal's best work yet. But, if you want to experience the newest version, with more features and enhancements, go for Drupal 8.
However, the releases of contributed modules, themes, translations, and installation profiles that are compatible with each major Drupal releases sometimes run behind schedule. This means that there may be some functionalities that are not yet available for Drupal 8, and will only be released on later modifications and updates.
Out of the box, Drupal 8 already has a lot of core modules that come already installed. In Drupal 7, many modules need to installed individually before they're ready to use. Note that theming for Drupal 7 and 8 are almost the same.
It's worth noting that if you want to start with Drupal 7, you can always migrate to Drupal 8 later on.
Drupal Finances
Drupal earns about $5.5 million in revenue per year and is estimated to be worth $69.25 million.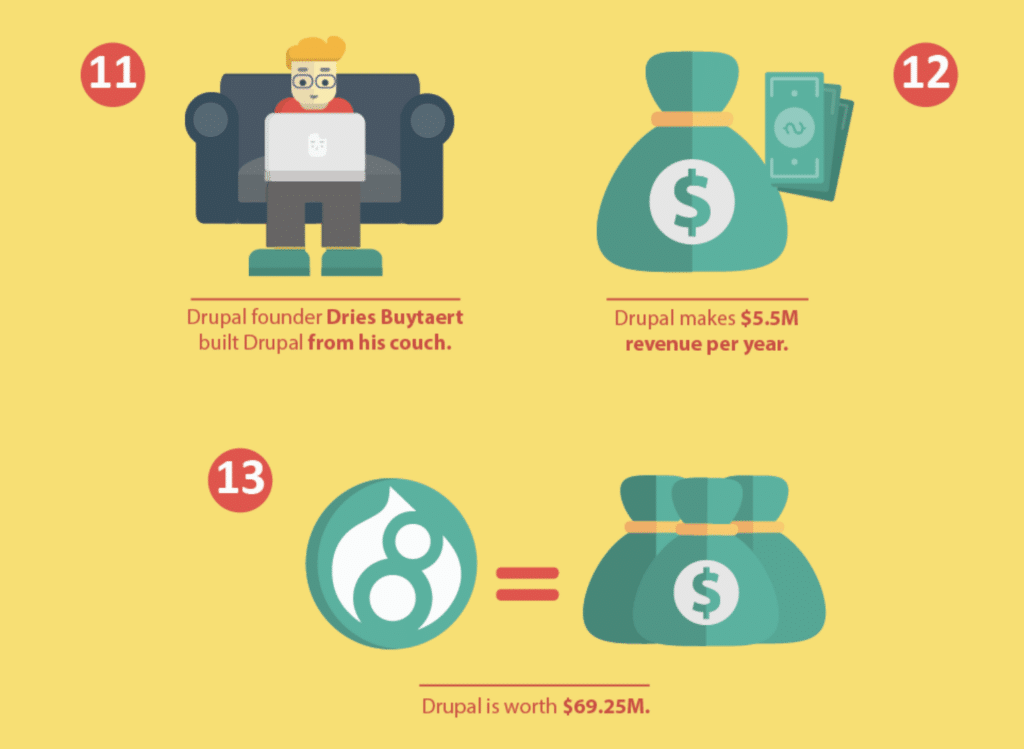 Drupal received $500,000 from Acquia to help speed up the migration of Drupal 7 modules to Drupal 8. Acquia is a SaaS company co-founded by Drupal founder Dries Buytaert to provide technical support to Drupal.
Summary
While Drupal's market share is much lower than that of WordPress, it's still a popular solution for developing websites. Compared to WordPress, it offers built-in multilingual support, a more flexible taxonomy system, customizable user permissions, and more. Whether you're building a personal blog, portfolio site, or ecommerce store, both Drupal and WordPress are solid options!