Even with the advent of YouTube and social media, blogging is still alive and well. Over 409 million people read personal and professional blogs hosted on WordPress.com alone each month.
That's not even including self-hosted WordPress blogs and those hosted using other CMS solutions. So it's not too late to start a blog.
But what is the best blogging platform?
That's what we will cover in this post.
Best Self-Hosted Blogging Platforms
Below, we'll cover the best self-hosted blogging platforms out there in detail, and why they are the best choices on the market. "Self-hosted" means that you need a separate server and domain to use the blogging software to create your blog or website.
1. WordPress.org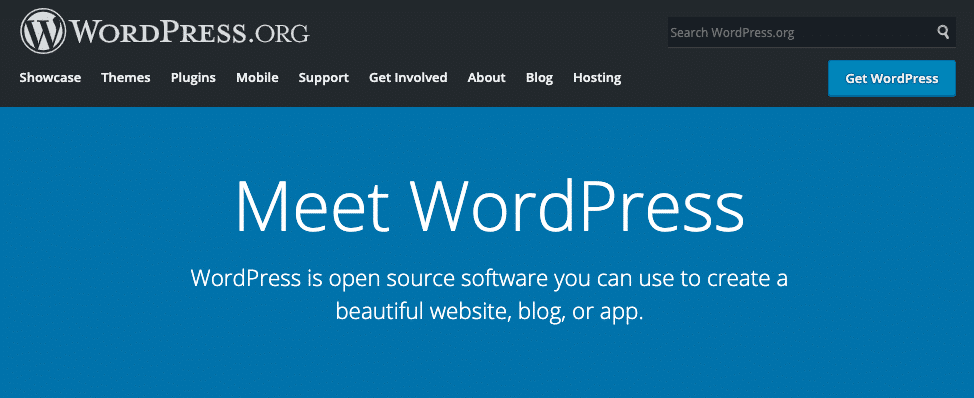 So you want to start a blog. If you've looked around even a little bit, chances are you've already heard about WordPress.
The .org website is the home of its open source self-hosted Content Management System (CMS). A CMS is a piece of software that helps you create a website and publish/manage/update its contents.
WordPress is the nr.1 CMS on the internet, and powers millions of blogs and websites. It's the clear leader out of all the popular blogging platforms listed in this post.
If you're creating a blog or website for business purposes, we 100% believe that WordPress is your best option. It's completely free, open source, and makes it easy to create a professional-looking blog thanks to many themes.
Why WordPress Is the Industry Standard
But it's not just beginners, solopreneurs, and bloggers who use WordPress. It has become a clear leader in the CMS industry.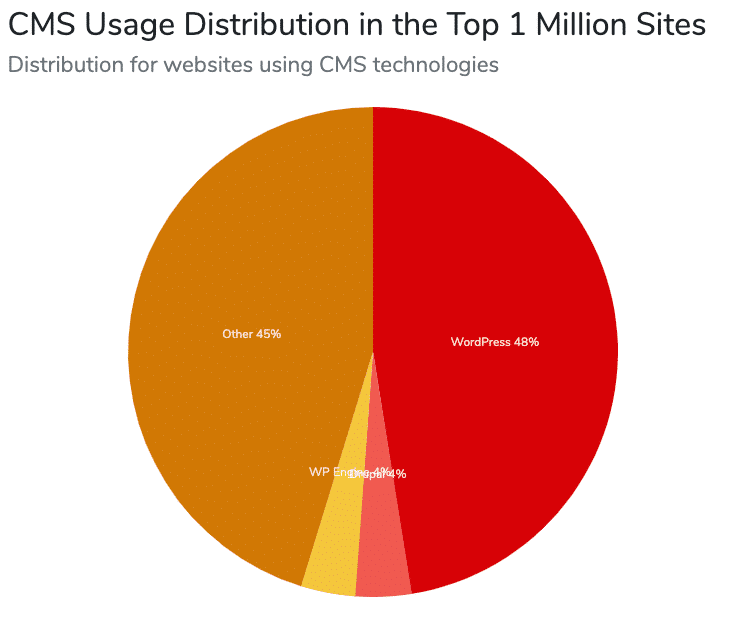 Almost half of the internet's top one million most-visited sites use WordPress. And these aren't just amateur bloggers or aspiring writers.
People use WordPress because it has over 55k free plugins and 7k+ free themes in its official directory. There are also thousands of more premium themes and plugins available on other sites (check out our curated lists of the best WordPress themes and WordPress plugins).
So you can mix and match, find the theme that you want, and extend the functionality with WordPress plugins as necessary.
Not to mention it has one of the largest and most active developer community. There are hundreds of developers devoting their time to provide support to users, keeping their plugins/themes updated, or releasing new ones.
This active and huge community has a great advantage for everyone involved: issues and bugs are usually discovered and fixed quickly, which is good for security.
This community also means that it's a lot easier to get help and guidance with potential issues if your WordPress business needs it. For example, it's not hard to hire WordPress developers or designers.
WordPress is also SEO-friendly out of the box, which makes it easy to rank content in Google and other search engines.
Key Features
WYSIWYG Editor.
Multilingual (through plugins).
Multi-user Environment.
Full Customizability of Theme/Template Files.
Advanced SEO Options (with SEO plugins).
Extensive number of plugin solutions (both free and paid).
Extensive number of themes (both free and paid).
Interface and Ease of Use
If you are relatively confident with the internet and using new services or technology, you don't even need instructions to figure out the interface.
Most web hosts offer one-click installation of WordPress, so it's effortless install and setup. (With any of our WordPress hosting plans, we take care of the installation for you.)
The built-in tutorial will help you get familiar with the dashboard and create your very first blog post.

And even without the tutorial, the WordPress dashboard is not hard to navigate at all. Hover the plus sign to open a dropdown menu, where you can choose to create a new post, page, or even user.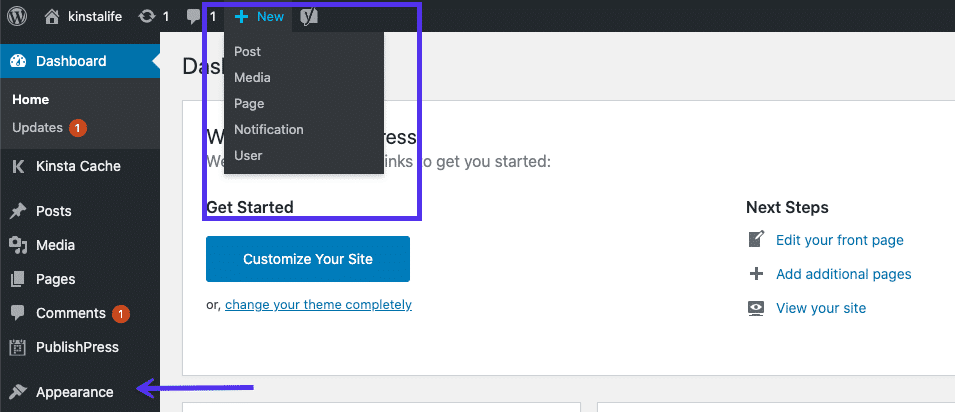 To edit the design of your website, click the "Appearance" section, where you'll have different options.
Pricing
Self-hosted WordPress is on an open source license and is 100% free, forever.
That alone, though, isn't enough. You'll also need a domain name and hosting.
If you care about loading speed, security, and reliability, Kinsta managed hosting plans start at $35 per month and comes with free migrations, a CDN, malware protection, automatic daily backups, and more.
You can also use the Kinsta API to create a new WordPress site/installation without accessing DevKinsta.
2. Drupal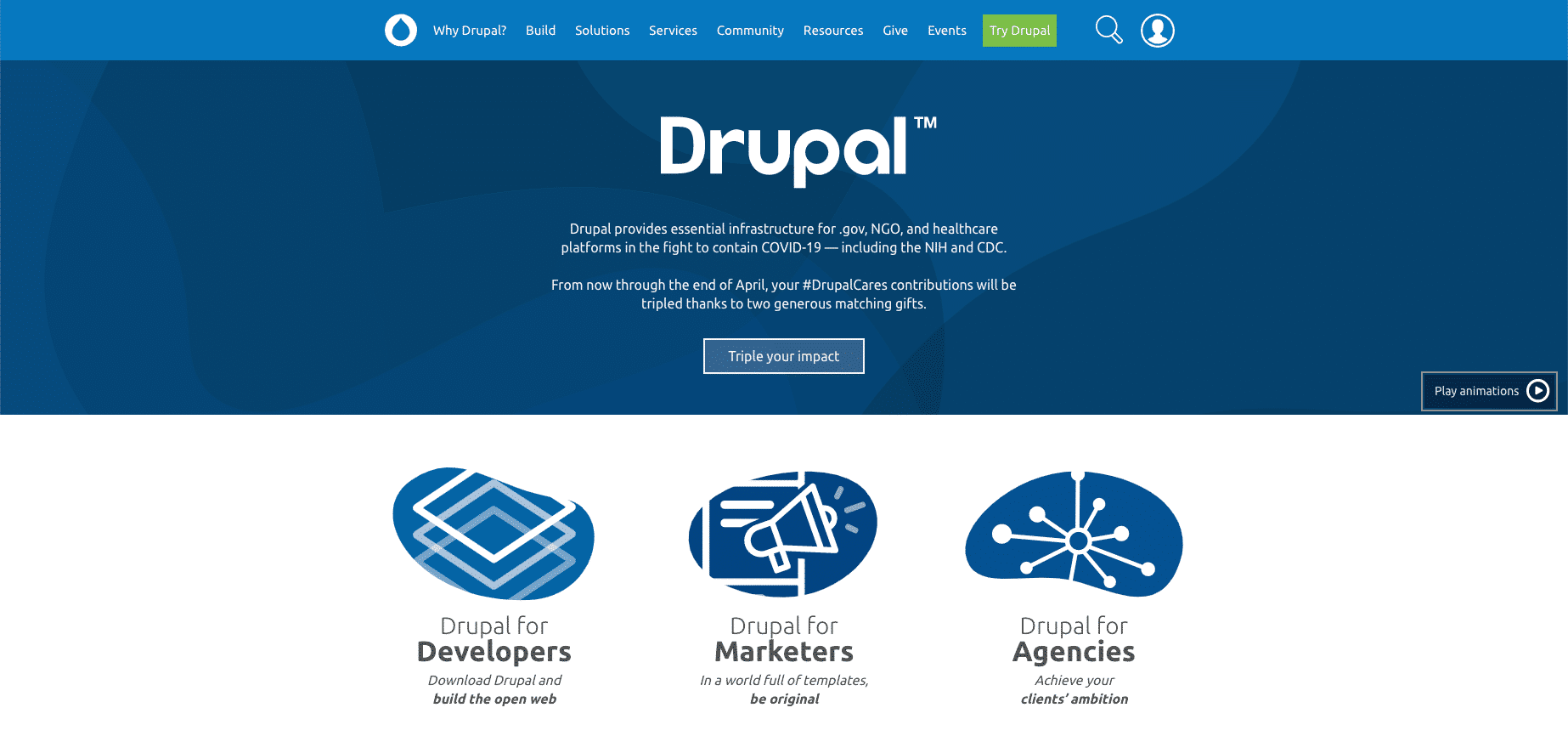 Drupal is the second-largest open source CMS. Rather than a strict blogging tool, it's better described as a professional, scalable online publishing platform.
Drupal has full-fledged versioning and content scheduling/planning built into the core. You have much more granular control over user permissions. You can even create unique permissions for specific users. There's also support for multilingual sites in the core, which makes it a prime option for larger companies.
But it's not as easy to use and it might be a bit more difficult when it comes to creating a blog that "looks good".
Features
Basic Editor.
Monetization.
Multilingual.
Password Protection.
Global Navigation.
Full Customizability of Theme/Template Files.
Customizable Access Control and Tiered Permissions.
Advanced Content Scheduling.
Full-Fledged Versioning (with module).
SEO-Friendly Content Structure.
Advanced SEO Options (with module).
Interface and Ease of Use
The interface is quite dated and not very intuitive for beginners. When you first log in to your installation, there is no tutorial. Instead, you start on the user page and have to figure out how to edit your new website by yourself.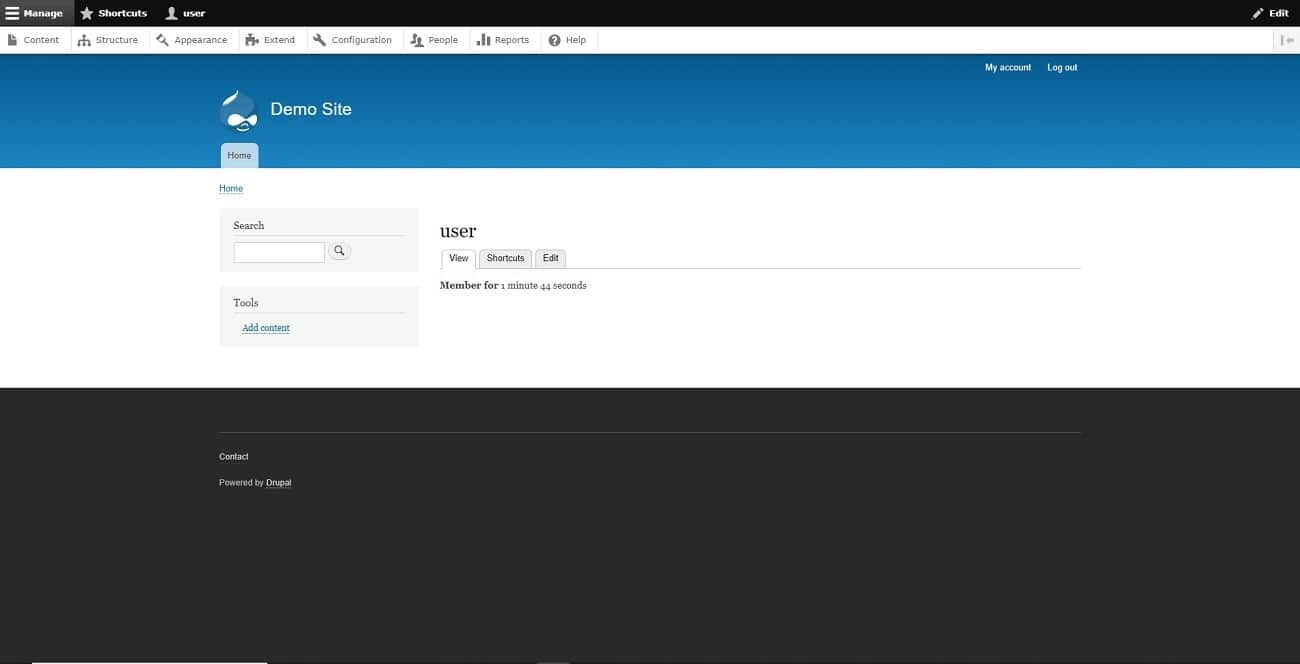 It has a reasonably steep learning curve. Now don't get me wrong, for someone with CMS or similar software experience, it's not too difficult to figure out how to do the basics.
But it's not even close to intuitive. So if you're not a developer or a techy person, Drupal is probably not the right choice for you.
Pricing
Drupal is open source and completely free and you'd need to pay for your domain name and hosting provider.
Drupal vs WordPress
The main difference between Drupal and WordPress is that it is specifically designed for developers, agencies, and enterprises. It has advanced features, like multilingual support in core, but it can be difficult for beginners to learn to use.
You can read more about the pros and cons of each in our comparison post Drupal vs WordPress.
3. Ghost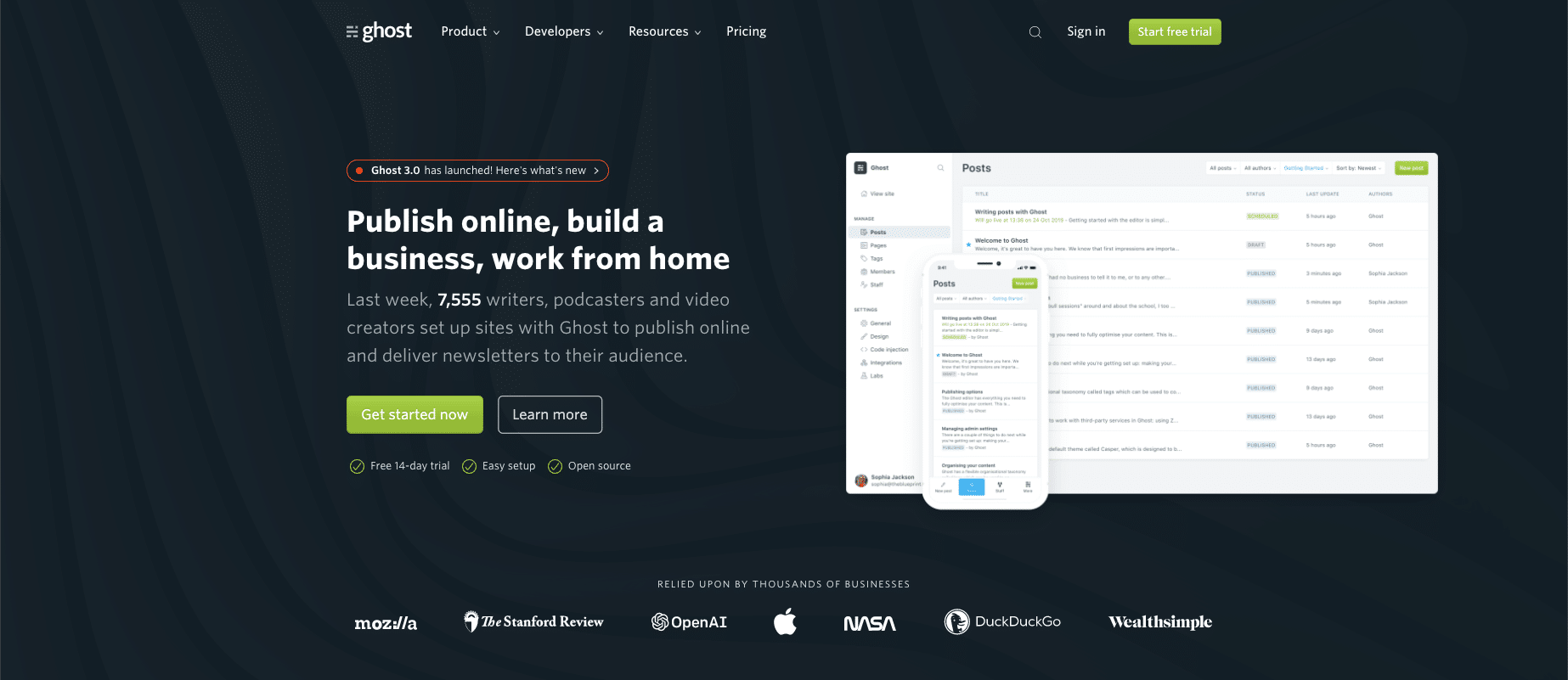 When Ghost first launched in 2013, the main goal was to be a strict blogging platform that was easy to use. But since then, it's developed into a sleek, 100% headless Node.JS CMS.
It has built-in advanced SEO options and a sleek web app dashboard that is powered by JavaScript.
Features
Sleek Markdown Editor.
Password Protection.
Global Navigation.
Multi-User Environment.
Content Scheduling.
SEO-Friendly Content Structure.
Advanced SEO Options.
Interface and Ease of Use
As far as ease of use goes, installing Ghost can be a little bit complicated since it's not offered as a one-click installation option. But once it's installed, the Ghost dashboard is simple, sleek, and easier to use.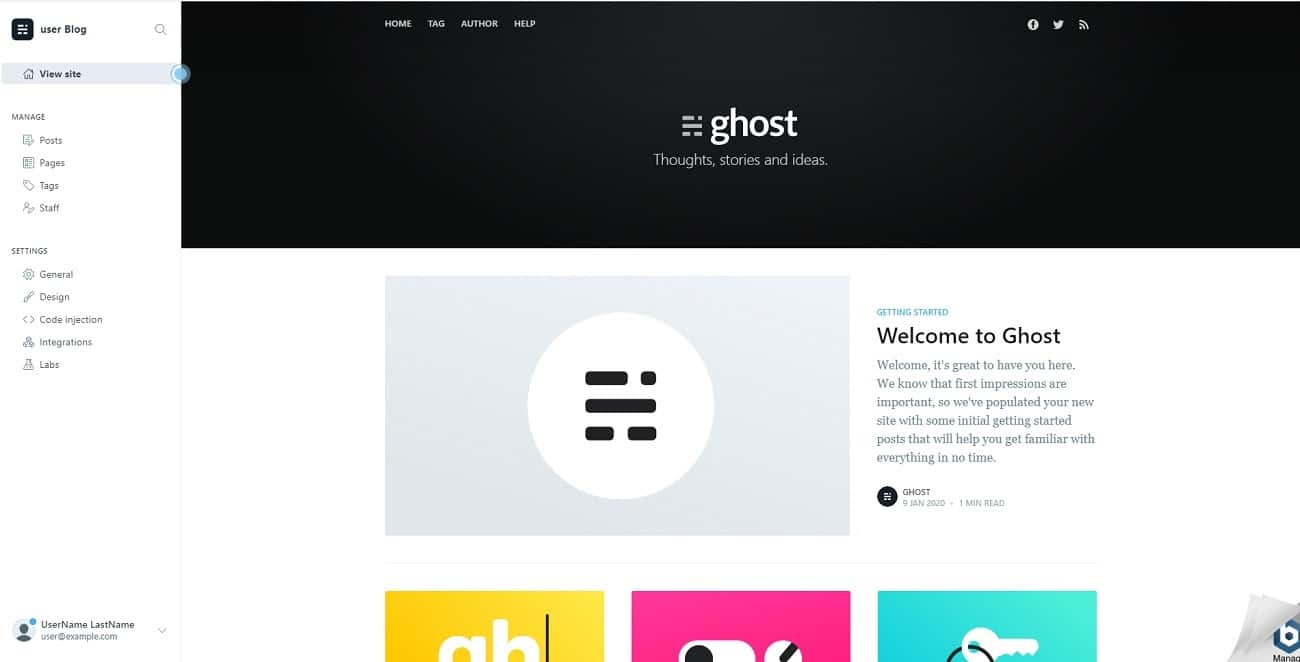 New installations are automatically populated with content that is essentially a tutorial on how to use Ghost.
Like WordPress' Gutenberg editor, the Ghost editor is truly on-page WYSIWYG. It feels like you are writing and editing a live page on the site, but you can only add images, links, quotes, and format your text with markdown.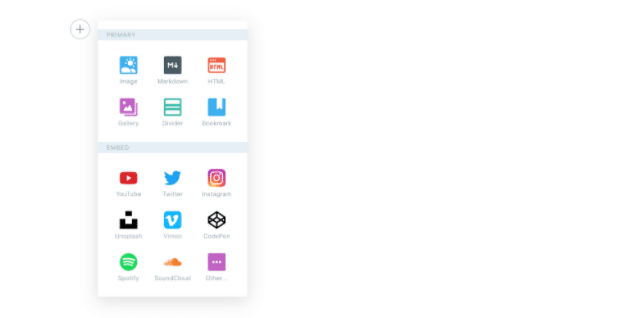 Since the entire dashboard, not just the editor like with WordPress, is based on JavaScript, the user experience is exceptionally smooth. It's a one-page web app and acts like one. You never have to load a new admin page or wait for a page to refresh.
Pricing
The self-hosted version is open source and free. The hosted pro version starts at $29 per month.
Ghost vs WordPress
Both Ghost and WordPress are easy to use and easy to learn. Any complete beginner can pick either up and get a blog up and running within an hour.
But installing Ghost can be a bit more difficult since it's a less popular CMS, few web hosts offer one-click-installation.
The Ghost dashboard is a little sleeker, and for developers, using a Node.JS powered CMS might seem more appealing than good old PHP and MySQL.
The extensibility and vibrant community of WordPress still make it the best choice for most beginners. There's also little support for monetization options in Ghost, you'd have to manually insert ads via code.
(Suggested reading: How to add Google AdSense to WordPress)
4. Joomla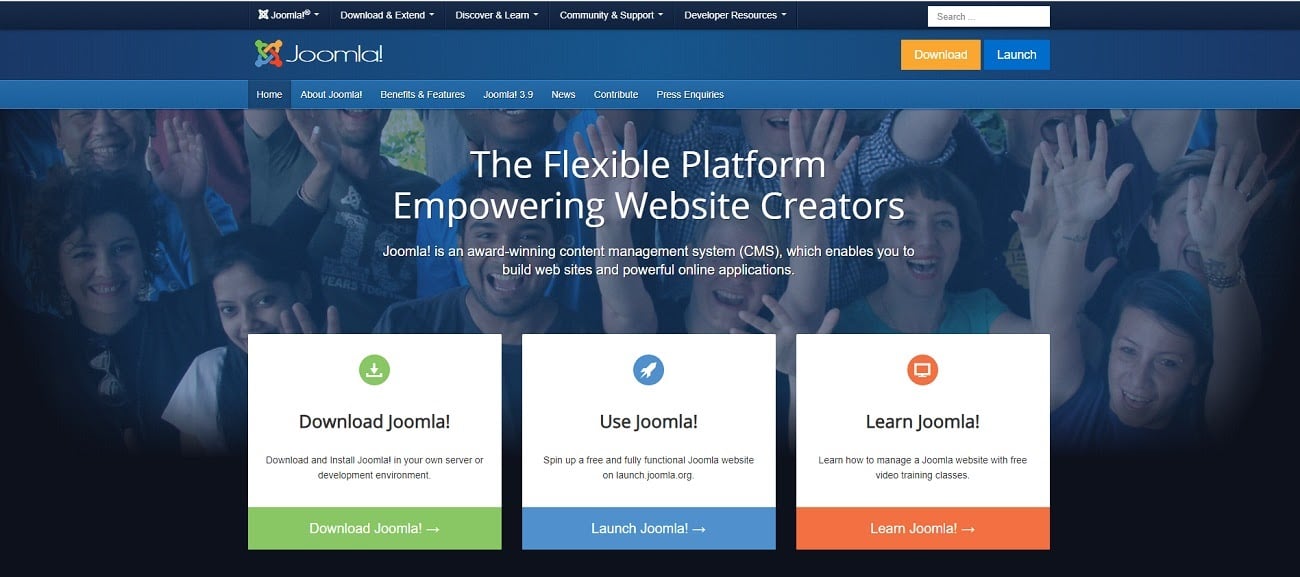 Joomla is another open source CMS that launched in 2005 and has managed to stay relevant ever since.
It's a flexible platform that allows a lot of customization without knowing too much code. You can extend the functionality with "extensions" and use templates to change the look of your site.
Features
WYSIWYG Editor.
Monetization.
Multilingual (core).
Multi-user Environment.
Tiered Permissions and User Management.
Password protection.
Full Customizability of Template Files.
Content Scheduling.
SEO-Friendly Content Structure.
Advanced SEO Options (through extensions).
Interface and Ease of Use
Joomla is another CMS that can typically be installed with a single click if your host uses cPanel or another standard dashboard. Once you have installed it, you can log in to the admin dashboard.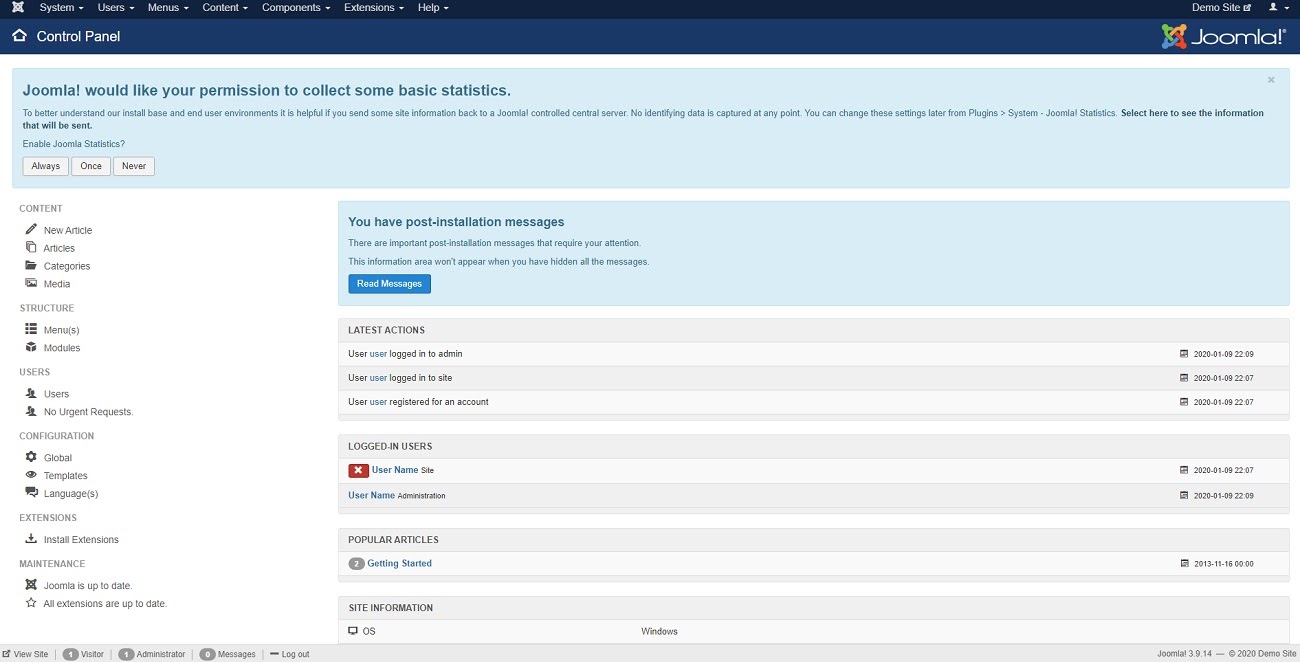 The dashboard in Joomla 3 is a little bit dated, and despite being announced as "around the corner" in early 2019, Joomla 4 is nowhere in sight.
There's no intuitive tutorial, but instead a link to good old fashioned documentation.
All-in-all, it's not a hard interface to learn your way around and beginners could probably get their site up and running with a template of their choice without too many issues.
Pricing
Free, except for hosting and DNS costs as with other open source platforms.
Joomla vs WordPress
Joomla offers multilingual support out of the box and you have better options for user management. That said, the interface is dated, harder to use, and many of the existing templates and extensions are old, and in sore need of updates.
WordPress has a better interface and a lot more up-to-date plugins and themes. To read more about the pros and cons, check out our post that covers WordPress vs Joomla.
Best Hosted Blogging Platforms
Below we've compiled a list of the best hosted blogging platform. With a hosted alternative, you don't need to invest in a domain name and a web server; the service includes hosting and a sub-domain or full domain name.
5. WordPress.com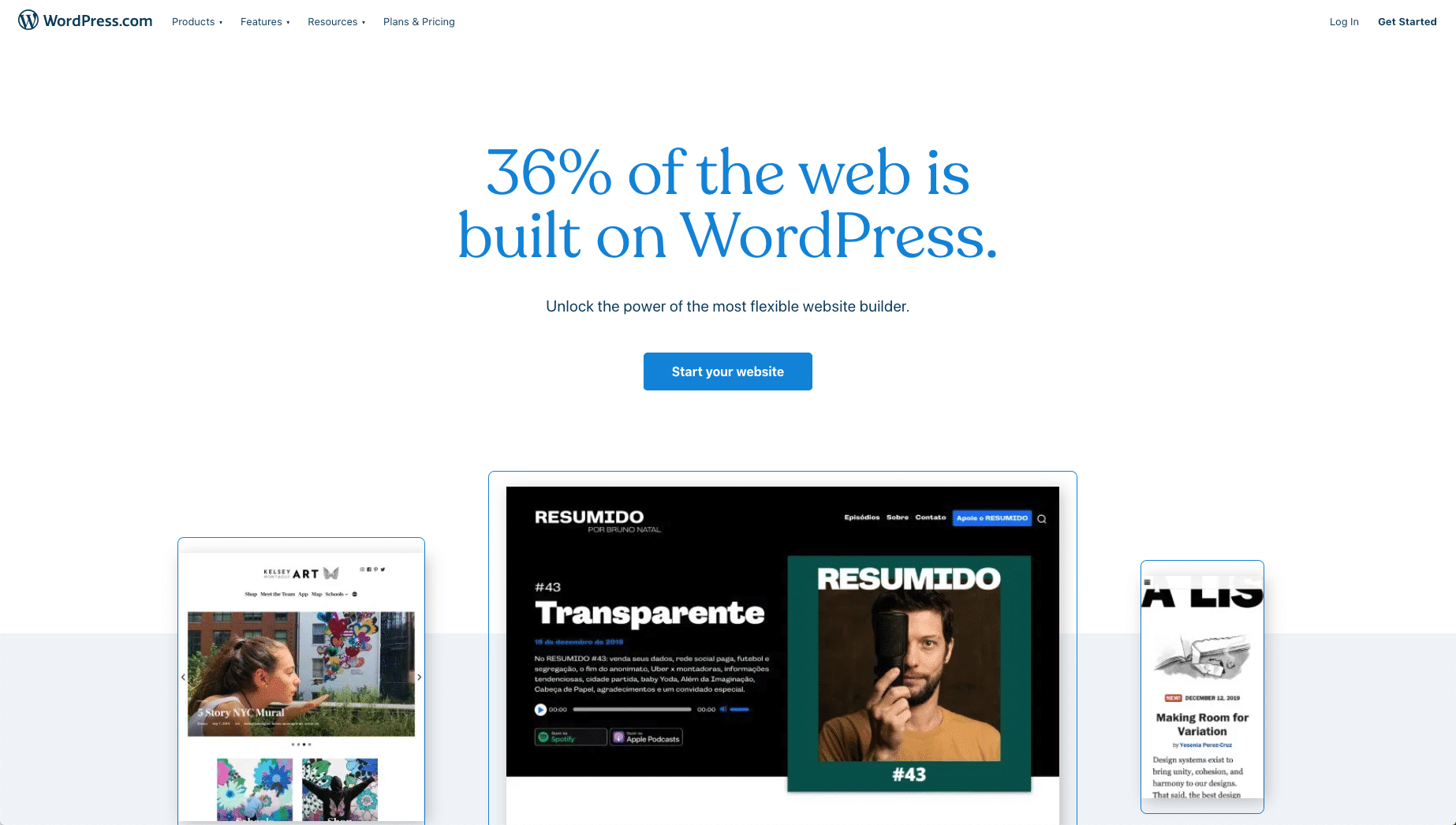 On the .com domain, WordPress is a hosted blogging/website platform. You don't need a domain name or hosting to get started: all you have to do is sign up.
It's hard to argue against getting the technology that powers 36% of the web, for free.
Features
WYSIWYG Editor.
Unlimited Visits/Bandwidth.
Password Protection.
Global Navigation.
Limited Customizability.
Content Scheduling.
SEO-Friendly Content Structure.
Interface and Ease of Use
Since you don't need separate web hosting or domain name, getting started is as easy as signing up and choosing your blog's name.
The WordPress.com interface is a JavaScript-based web app and might remind you more of the Ghost experience.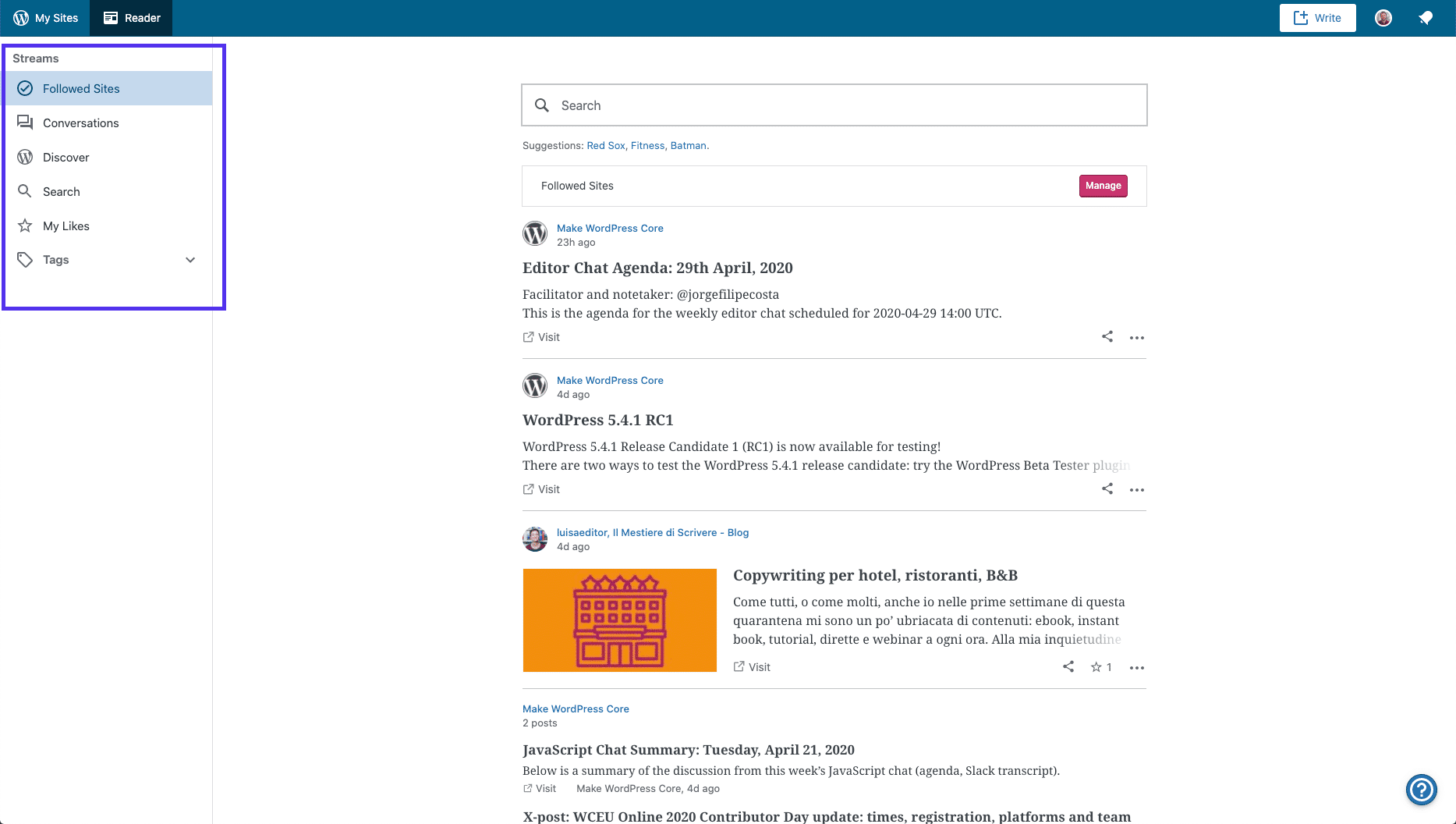 Most beginners will be able to change the theme and add new content without needing a tutorial. Also, the editor powering WordPress.com is what is usually referred to as the Block editor (aka Gutenberg), which provides a good writing experience: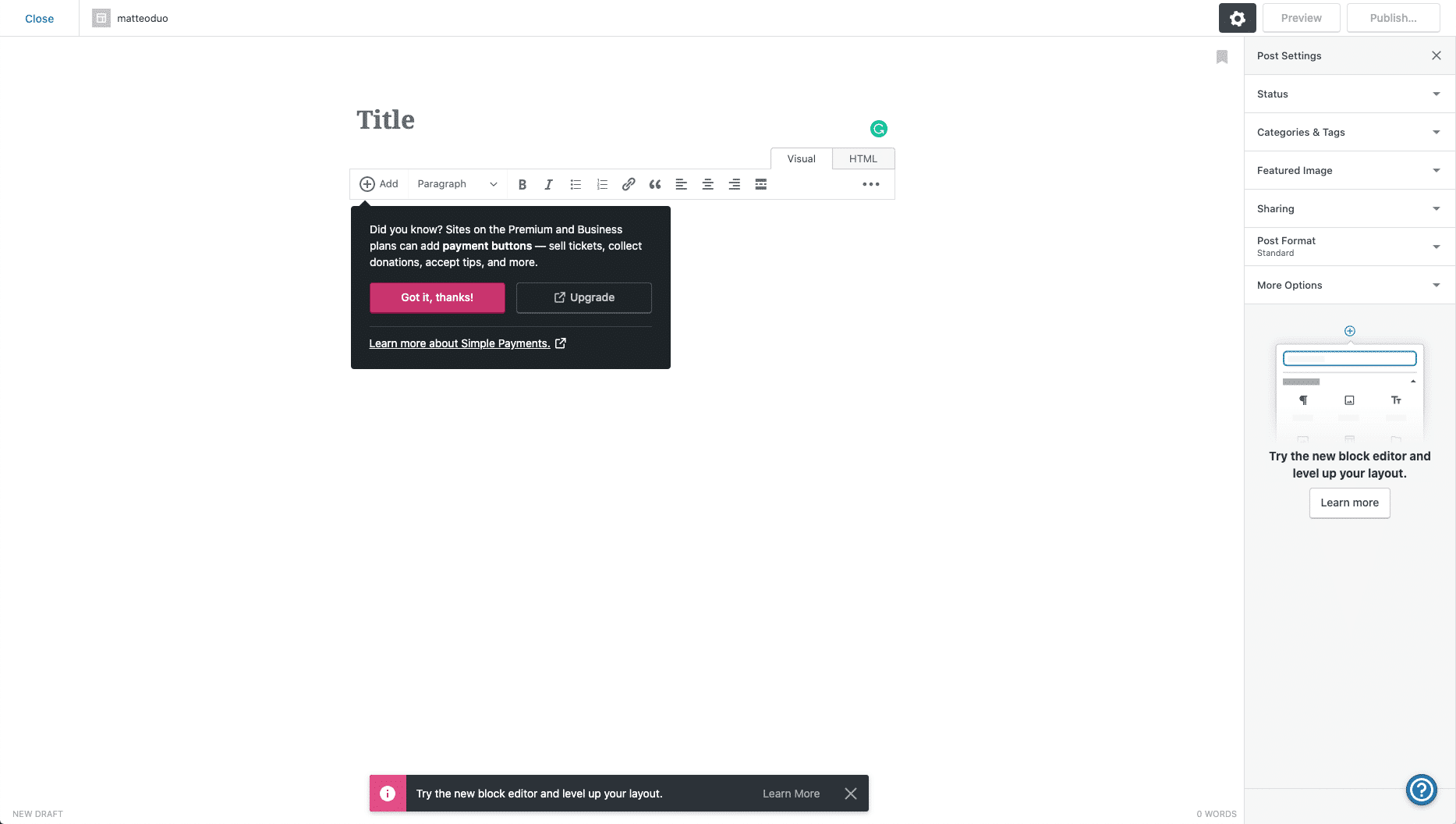 Pricing
The basic plan is 100% free. You can sign up for a free blog/website that will be hosted on a WordPress subdomain. There will be WordPress.com ads on your blog.
If you want your own .com domain, more customizability, and no ads, the Personal plan costs $4 per month. With the basic plan, your blog will be hosted at a subdomain such as yourblog.wordpress.com.
WordPress.com vs WordPress.org
Same package, but very different contents. Instead of thousands of themes to choose from, WordPress.com limits you to a few dozen.
If you just want to create a simple website or blog, and you have little technical skills and no plans to expand or monetize your website, hosted WordPress (.com) is the way to go.
If you want more control over the design and have the opportunity to expand your blog as you go along, self-hosted WordPress is the best choice.
Learn more about the WordPress.com vs WordPress.org differences.
6. Blogger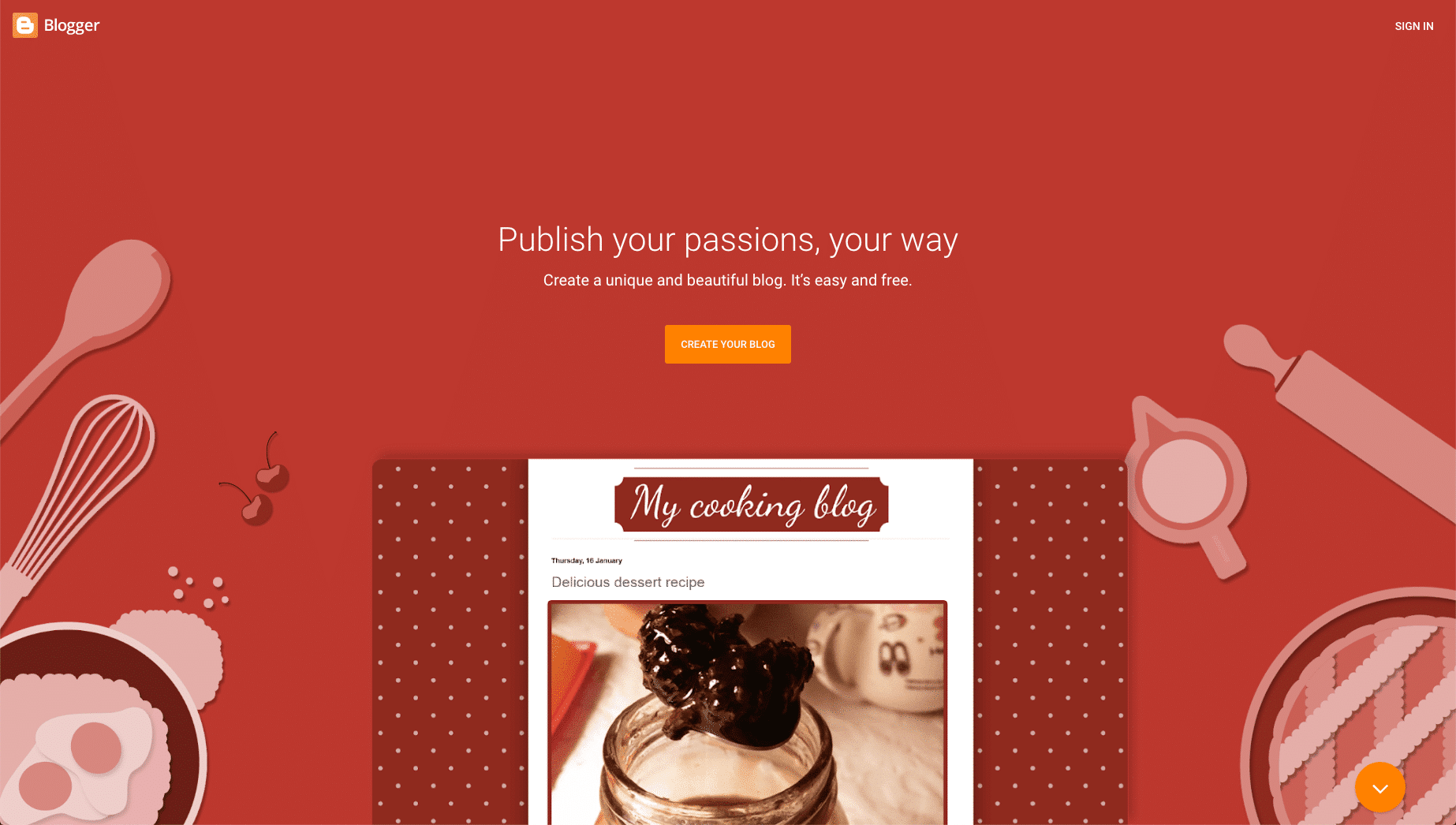 Blogger is Google's hosted blogging platform. It's free, more customizable than most other hosted options (for example, you can edit your themes), and there's a decent amount of available themes out there.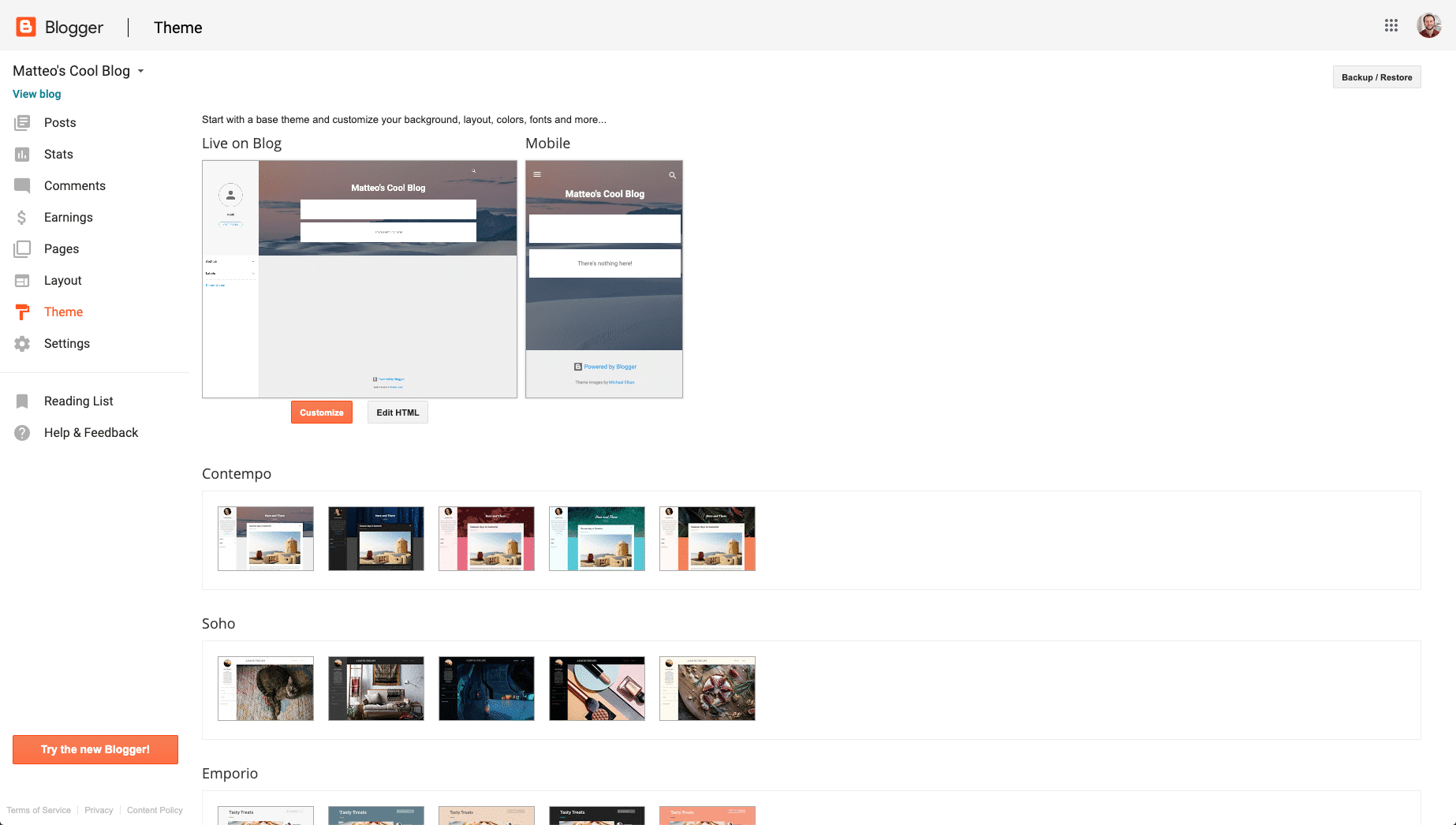 With a free account, your blog will be hosted on the Blogger subdomain and be reachable at a URL like yourblog.blogspot.com.
Features
Basic Editor.
Unlimited Visits/Bandwidth.
Monetization.
Limited Customizability.
Interface and Ease of Use
Signing up is the only necessary step to getting your blog up and running. Once logged in, you can easily create new content or change the theme of your new blog.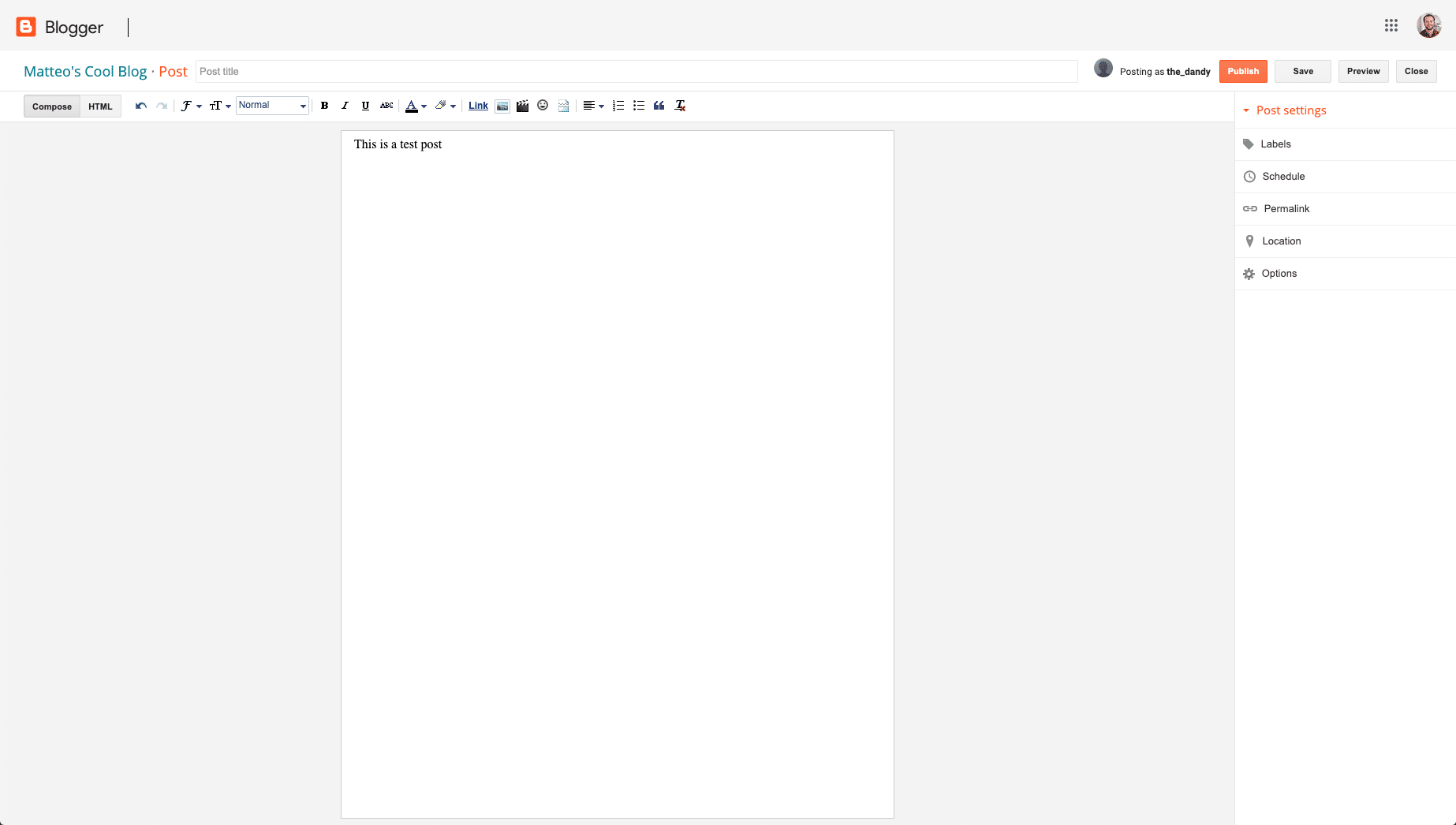 The interface is simple and easy to use. There are no unnecessary sections in the dashboard. Complete beginners will easily be able to get started with no extra guidance as this is a simple rich-text editor.
Pricing
Free (with subdomain and ads).
Blogger vs WordPress
Blogger is meant as a simple solution to help complete beginners create a blog. And if you just want to create a simple personal blog or journal, it's not a horrible choice.
If you're creating a professional blog or website and you want to generate business in the future, there are better options among which WordPress.
7. Medium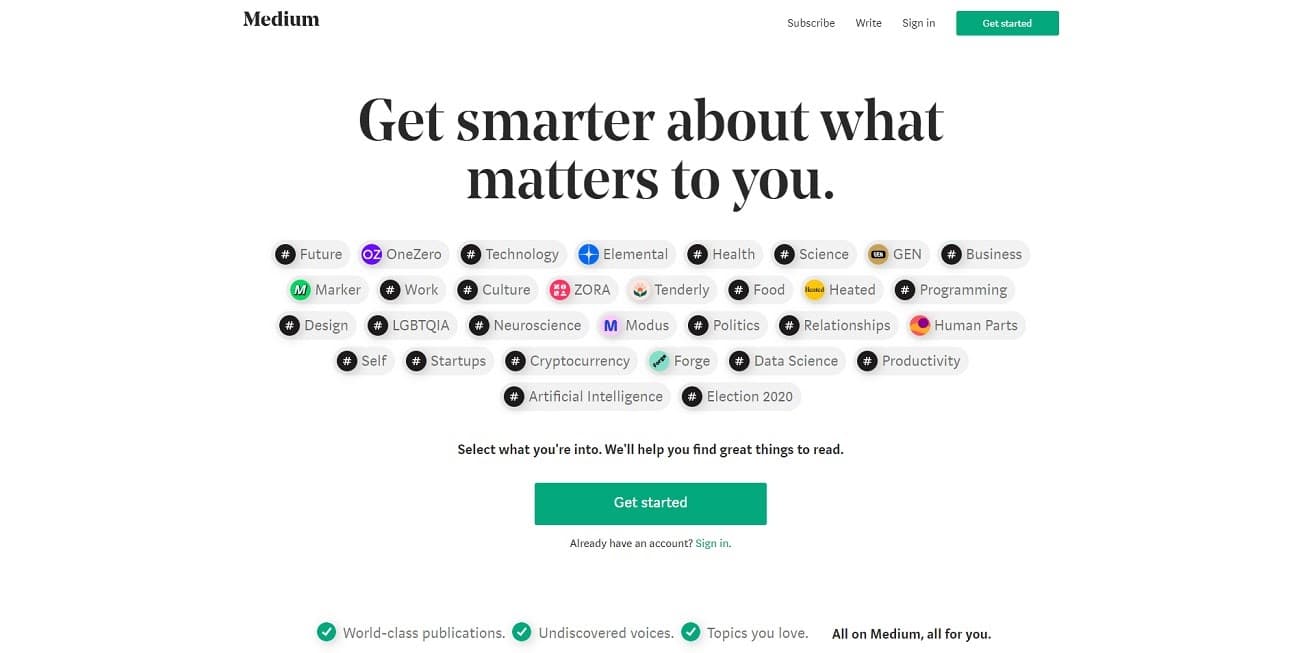 Medium is more of a social platform for sharing your writing and getting it read than a strict blogging platform.
The design is sleek and intuitive, and you don't get distracted by themes, logos, or layouts. All you have to think about is creating content.
Features
Interface and Ease of Use
Getting started with Medium is extremely simple. Just sign up with your Twitter, Google, or Facebook account, and start writing your first post.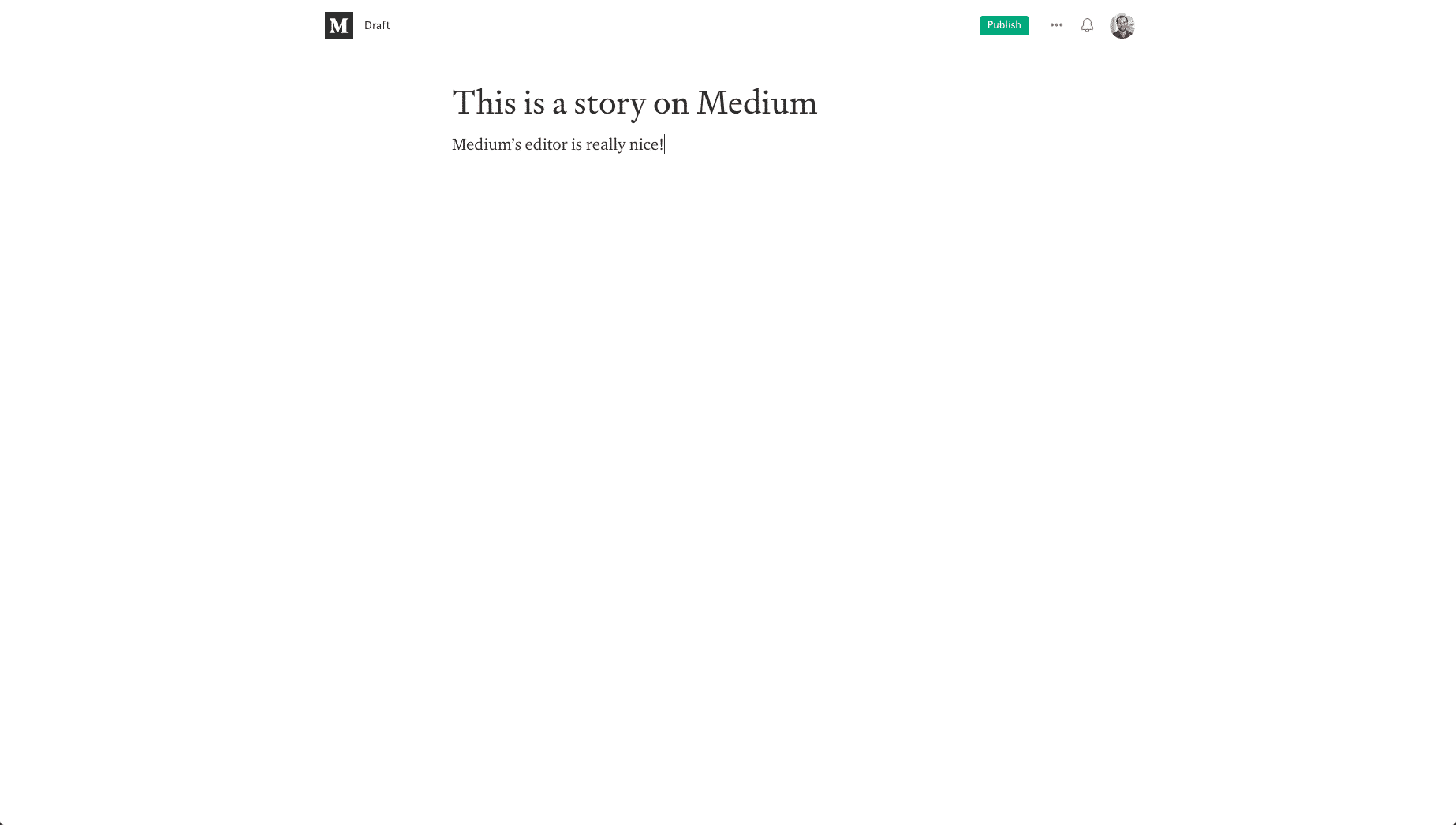 You have zero design options and can focus 100% on creating and sharing content.
The editor is sleek and the published posts look identical to the editor. The limited options make it very easy to use, but it also creates a narrow playing field.
Pricing
Medium offers limited access to articles and Medium membership for $50/year for full access. As from the content creator's pov, you can host unlimited content for free.
Medium vs WordPress
Medium is an excellent option for writers that just want their blog posts to get read. If you want a domain name and a customizable blog and site, WordPress is the way to go. You can still share your articles on Medium even if you have a dedicated blog.
Read more about the pros and cons of Medium vs WordPress in our guide.
8. HubSpot CMS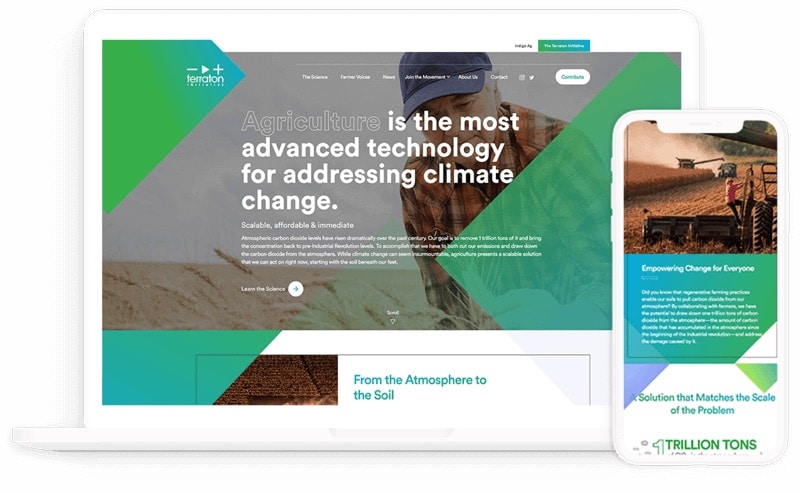 HubSpot CMS is a blogging platform and website builder powered by an easy-to-use drag and drop editor. The blogging editor provides both a WYSIWYG editor or the source code view if you need to edit the code. Of course, the easy native integrations with HubSpot's marketing tools — including features like email marketing, landing pages, forms, pop-ups, etc. — give you the ability to drive traffic and convert that into subscribers or customers.
HubSpot CMS has a built-in integration with the free HubSpot CRM. This is valuable for bloggers because you can automatically collect and store leads from your blog posts into the CRM. Additionally, you can use this CRM data to do cool things like personalizing your content and CTAs, which helps you drive higher conversion rates.
Developers can customize the site and build out templates, custom objects, and more, while non-technical users easily write, edit, and publish with very little red tape.
Features
Multiple users with governance and partitioning
Built-in A/B/n testing to optimize your content
SEO recommendations
Content scheduling
Version control to manage and view updates over time
Contact attribution to analyze where your leads and sales come from
24/7 security monitoring
24/7 support
Interface and Ease of Use
The interface is slick. Marketers and bloggers will have to spend very little time learning the interface and how to get started.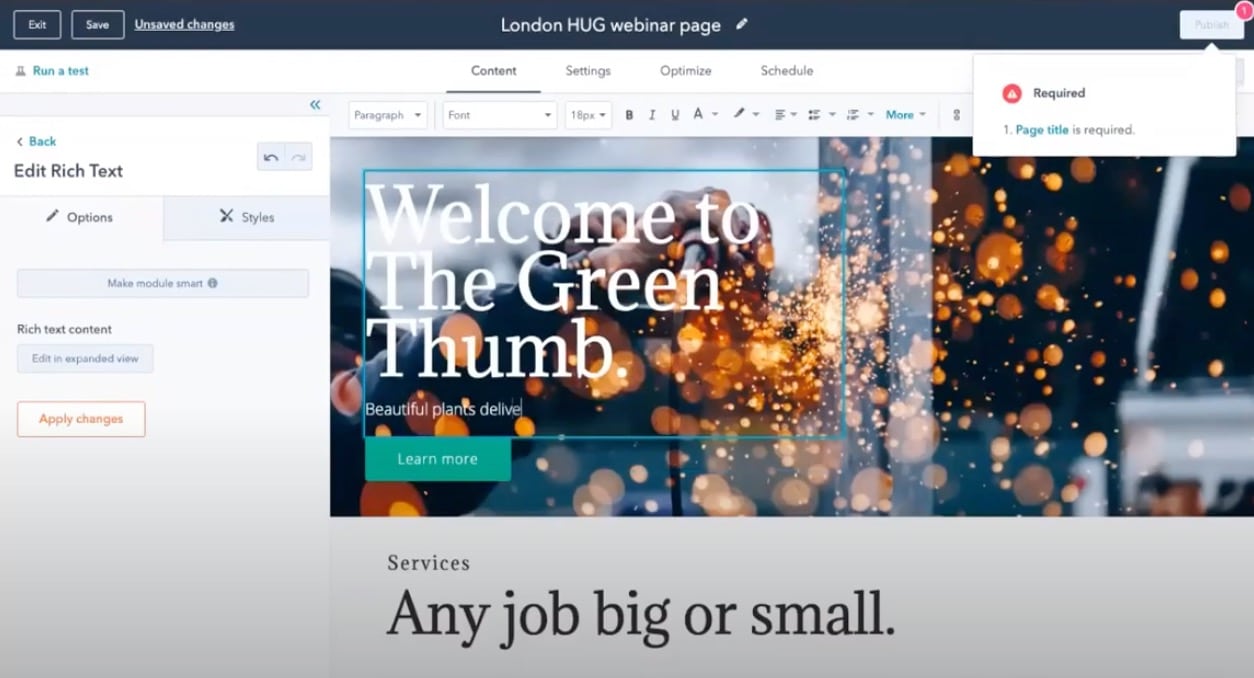 If you want to do more technical customizations, however, that's available, too (though with the help of a HubSpot developer).
Pricing
Plans start at $300/month for HubSpot CMS Professional and the Enterprise plan begins at $900/month.
HubSpot vs WordPress
HubSpot competes favorably on both usability as well as convenience, though its price might be intimidating for single or amateur bloggers (check out how to monetize your blog). When compared with other blogging platforms, its key advantages are how smoothly integrates with the HubPost ecosystem (of course) and the freedom you'd gain from not worrying about updates, security, and patching together dozens of plugins to get the functionality you need.
9. Wix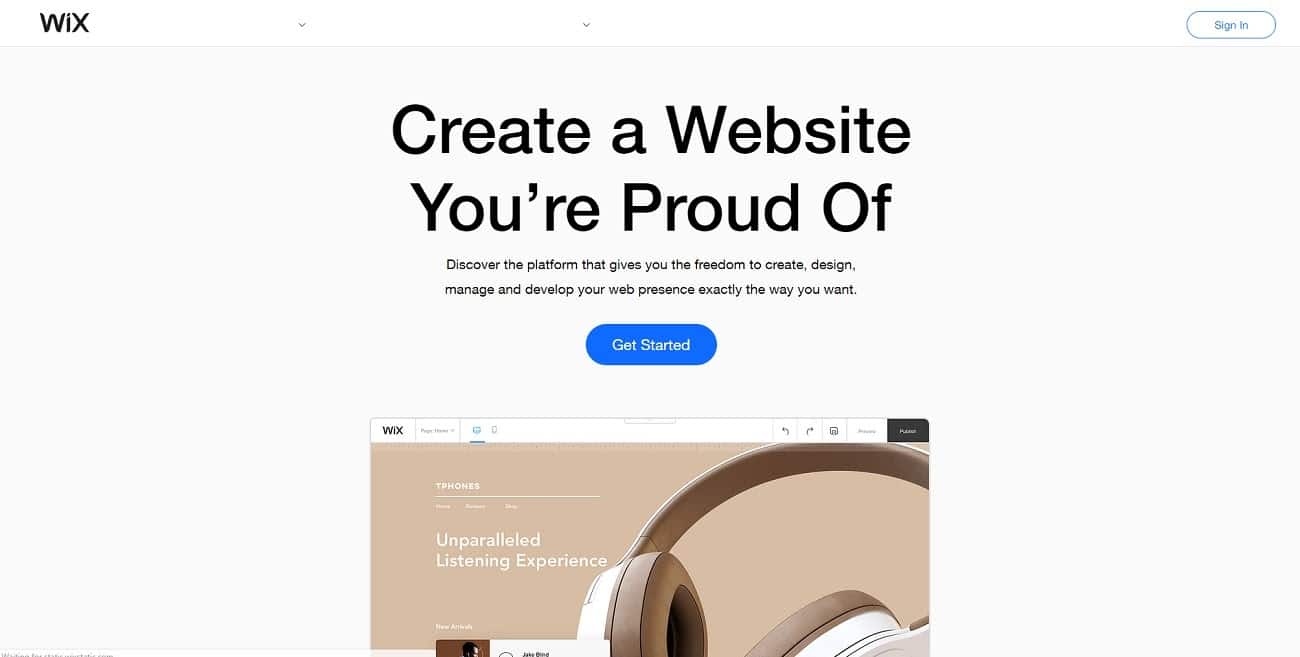 Wix is a drag-and-drop website builder, but it's also a decent blogging platform for creative individuals.
If you are an aspiring designer or a creative soul but don't want to deal with any code or anything technical, you might want to give Wix a try.
Features
Drag-and-Drop Website Builder (similar to those available for WordPress).
Wix ADI (AI-powered Design).
Monetization (Paid Plans Only).
Up to 500 MB Data/Bandwidth (with Free Plan).
Ads (Free and $4.50/month plan show Wix ads on your website).
Monetization (With premium plans).
Interface and Ease of Use
You can sign up by logging in with Facebook or Google or creating an account with your email address. Once you sign up, the Wix tutorial will start and will ask you a couple of questions.
If you answer that you don't have a lot of experience, it will suggest that you let the ADI create your website for you.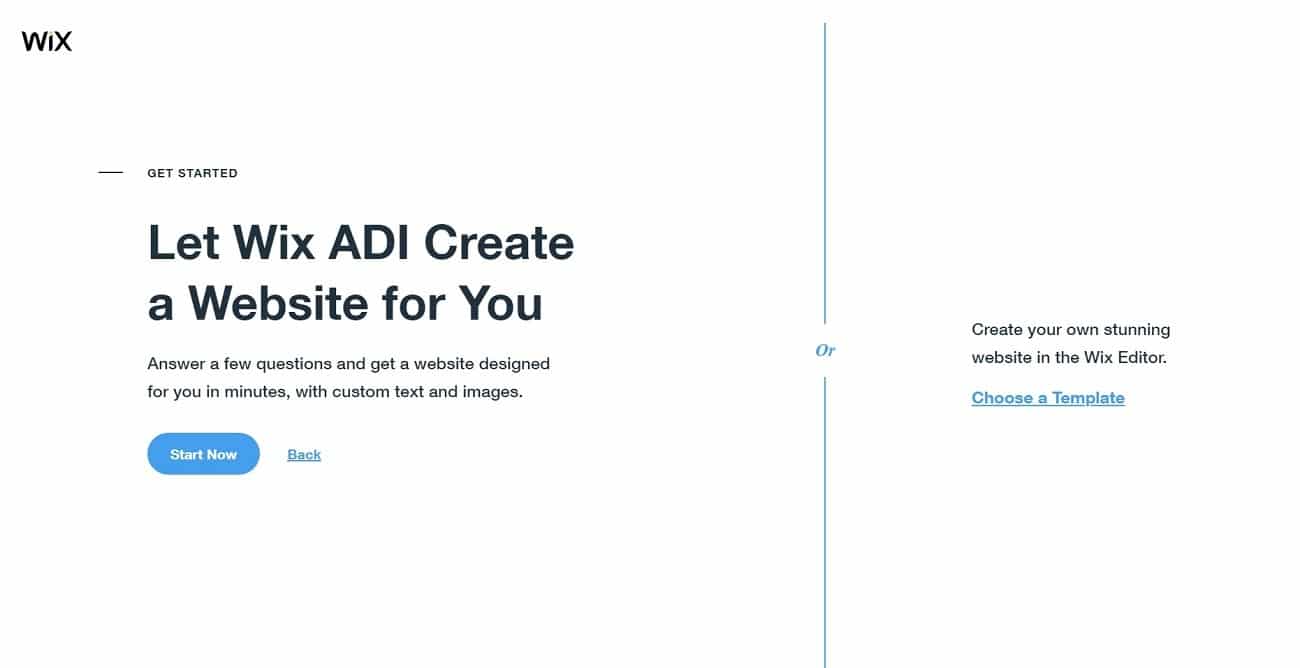 The ADI uses artificial intelligence to design your website based on a few questions.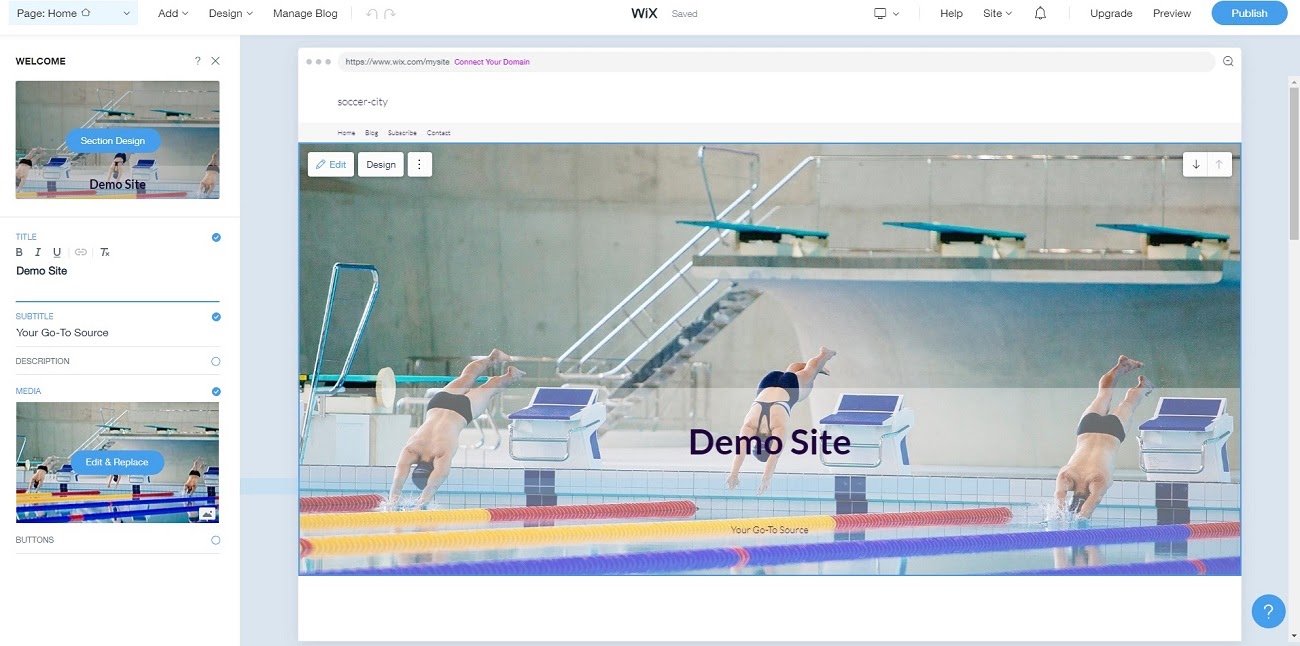 The standard dashboard is centered around their drag-and-drop website builder. You can edit elements by clicking them and rearrange them by clicking the arrows in the top-right corner.
It's reasonably intuitive and easy to use, but it's easy to waste time nitpicking the design instead of focusing on creating content for your blog.
Full control over the design, no coding skills required.
Pricing
The free plan comes with ads, a Wix subdomain, and bandwidth limited to 500 megabytes. Plans with monetization and ecommerce functionality start at $17/month.
Wix vs WordPress
While Wix helps you get up and running in minutes, it's almost designed to help you focus on the wrong thing as a blogger. It's easy to spend hours nitpicking the design and resizing individual elements. Advanced features are also locked behind some fairly pricey plans.
Not ideal for bloggers, but Wix could be a good option for portfolio sites for creative professionals (here's how to create your portfolio in WordPress).
Read more about the pros and cons of Wix vs WordPress in our comparison guide.
10. Squarespace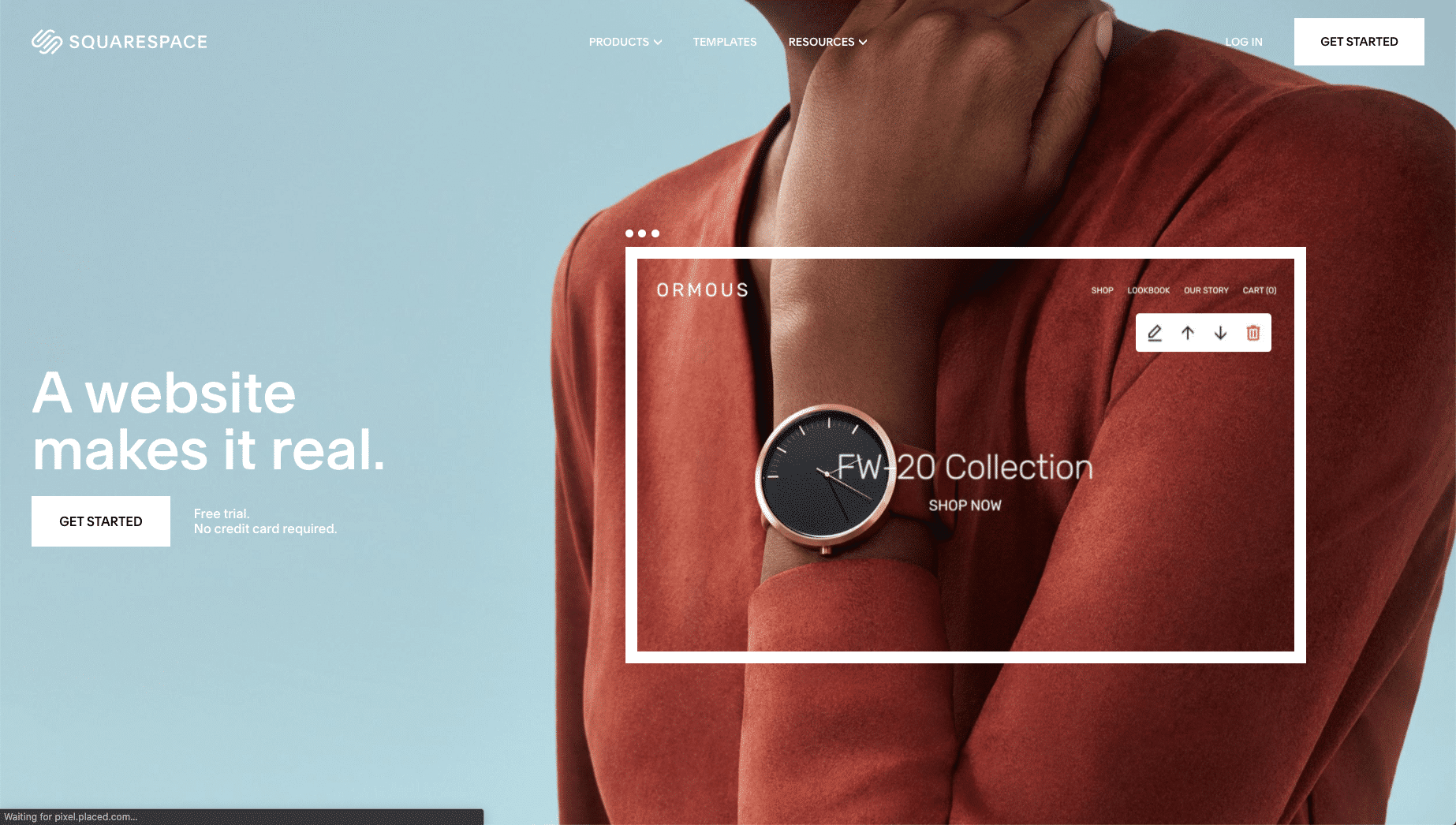 Squarespace is another drag-and-drop website builder that gives you full creative control of your site or blog. It's a hosted service, so you don't need to prepare a server or domain name.
Features
Sleek Drag-and-Drop Website Builder.
Monetization and Ecommerce.
Multiple Users.
Content Scheduling.
SEO-Friendly Content Structure.
Interface and Ease of Use
To create your website, sign up for an account, pick a theme, and get started. The page builder is very easy to use.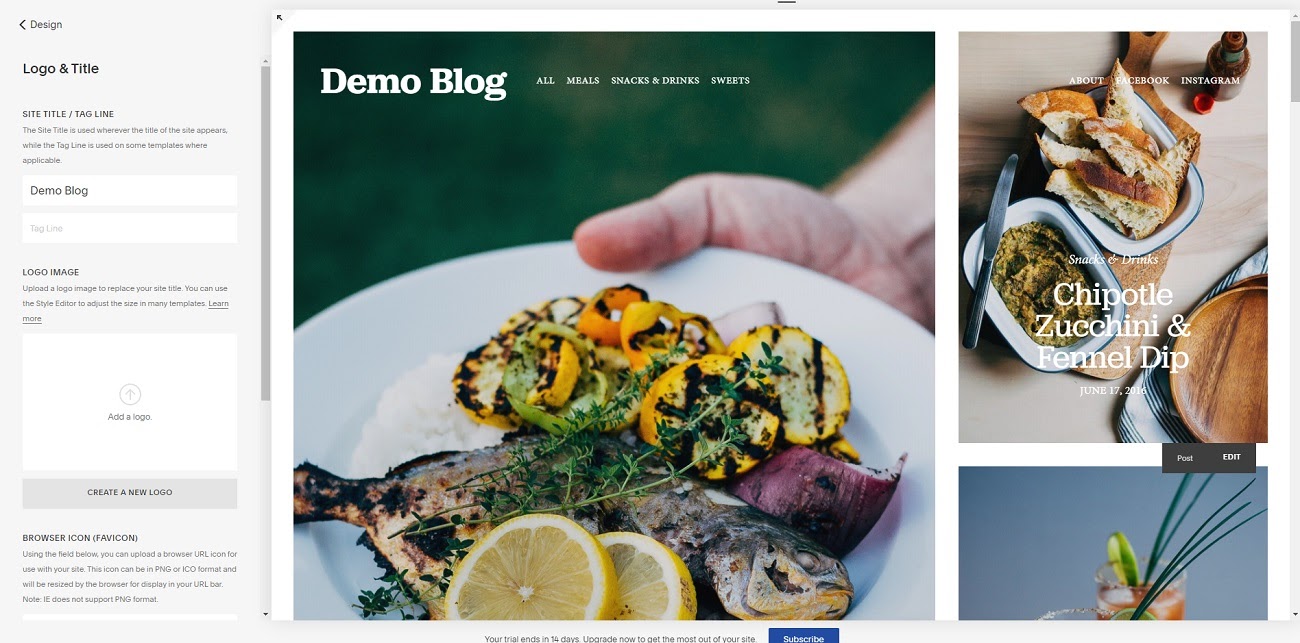 Just by hovering and clicking elements, you can easily change and move text and images around your site.
Note that there is no free plan, so you will only have access to the site without paying during the 14-day free trial.
Pricing
Personal plans start at $12 per month (if paid annually).
Squarespace vs WordPress
Squarespace offers full customizability and their premium plans provide some pretty impressive options for ecommerce, but the company requires "a bit too much control" over your own.
Here's what I'm referring to. From their ToS, section 2.2, you can read:
2.2. Your License To Us. When you provide User Content via the Services, you grant Squarespace (including our third party hosting providers acting on our behalf) a non-exclusive, worldwide, perpetual, irrevocable, royalty-free, sublicensable, transferable right and license to use, host, store, reproduce, modify, create derivative works of (such as those resulting from translations, adaptations or other changes we make so that User Content works better with the Services), communicate, publish, publicly display, publicly perform and distribute User Content for the limited purposes of allowing us to provide, improve, promote and protect the Services. This Section does not affect any rights you may have under applicable data protection laws.
I want to make this clear: they're not "stealing" any of your content and any rights you own over that remain yours. Yet you might find, let's say, one of your photos being used to promote their platform. Although this could be sometimes nice to experience, it's not always the case and permissions shouldn't be granted by default.
Nevertheless, Squarespace powers ~2.5% of sites using a CMS in the world and, in fact, is a good option for those who are looking to have an all-in-one platform without the desire to deal with technical issues.
Read more about the pros and cons in our comparison guide about Squarespace vs WordPress.
11. Weebly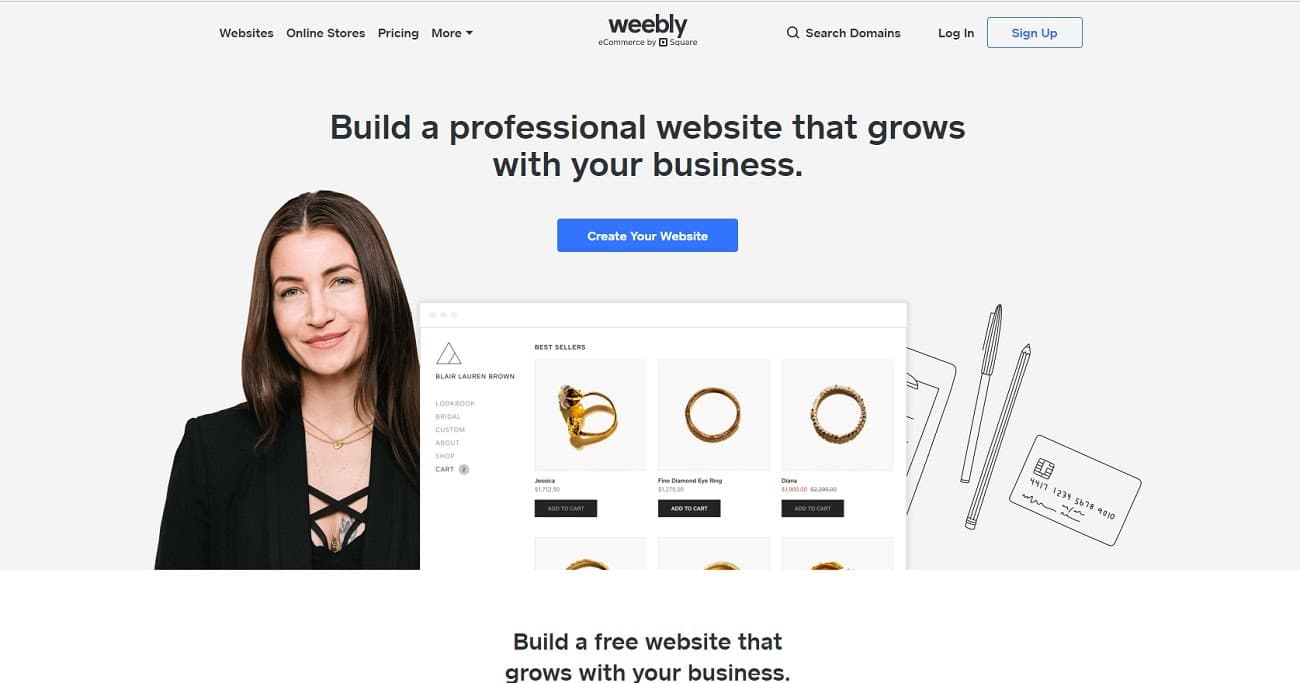 Weebly is the last website builder on this list, also powered by a nice drag-and-drop builder. It offers a free plan where you can create a site and publish it on a yourblog.weebly.com subdomain.
Features
Drag-and-Drop Builder.
500 MB Storage (Free plan) / Unlimited Storage (All Paid Plans).
Monetization.
Unlimited Visits/Bandwidth.
Basic Lead Capture.
Interface and Ease of Use
Again, it's quick and easy to get started. Nothing technical, no servers, no preparation needed. Just sign up and decide on a theme.
That opens the website builder, which is almost intuitive and uses a block system to let you customize the design.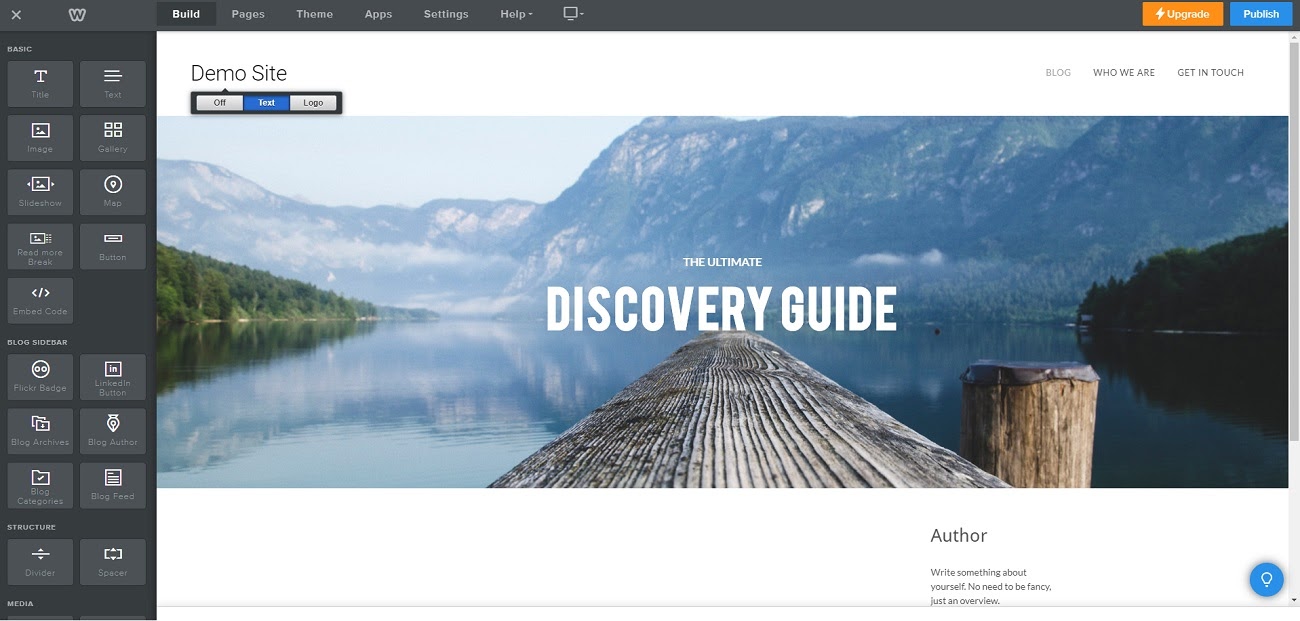 The experience is slightly underwhelming, self-hosted WordPress has page builder plugins that offer equal or better designs and usability.
Pricing
Free with a subdomain, $5/month to connect your domain and pro plans start at $12/month.
Weebly vs WordPress
While setting up self-hosted WordPress requires a little more preparation, you can get equally good page builders and better customization options.
Weebly is easy to get started with and could be a good place to create your first personal blog or website.
Read more about Weebly vs WordPress in our dedicated post.
12. Typepad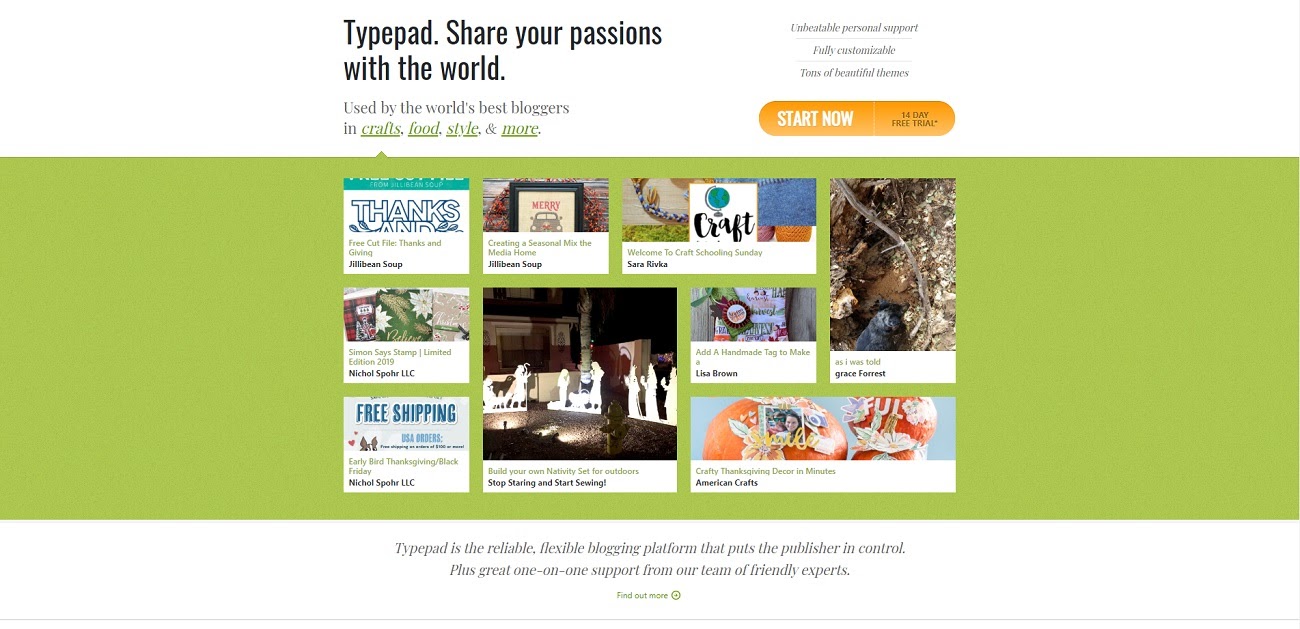 Typepad used to be a cutting edge blogging platform in the early days of blogging, but it's lost steam over the years. Until 2018, Seth Godin used to run his blog on Typepad but then he moved over to…. WordPress!
Features
Multiple Users.
Monetization.
Password Protection.
Content Scheduling.
Interface and Ease of Use
The interface is dated, just like the feature list. If you like simple, retro designs, it's not bad. It's not outright hard to use, but it's not intuitive either. It might remind you of the WordPress dashboard a couple of years back.
Pricing
Plans start at $8.95 per month for unlimited storage and bandwidth.
Typepad vs WordPress
When it comes to Typepad, it's not a worthwhile alternative to WordPress. Even if you want a simple option, you need to prepare a DNS and domain name for Typepad. The hosted WordPress.com option is easier to use, has a sleeker interface, better-looking themes, and costs less than Typepad for pro plans.
Fun fact: Typepad has been the very first blogging platform I worked with, back in 2005.
13. LiveJournal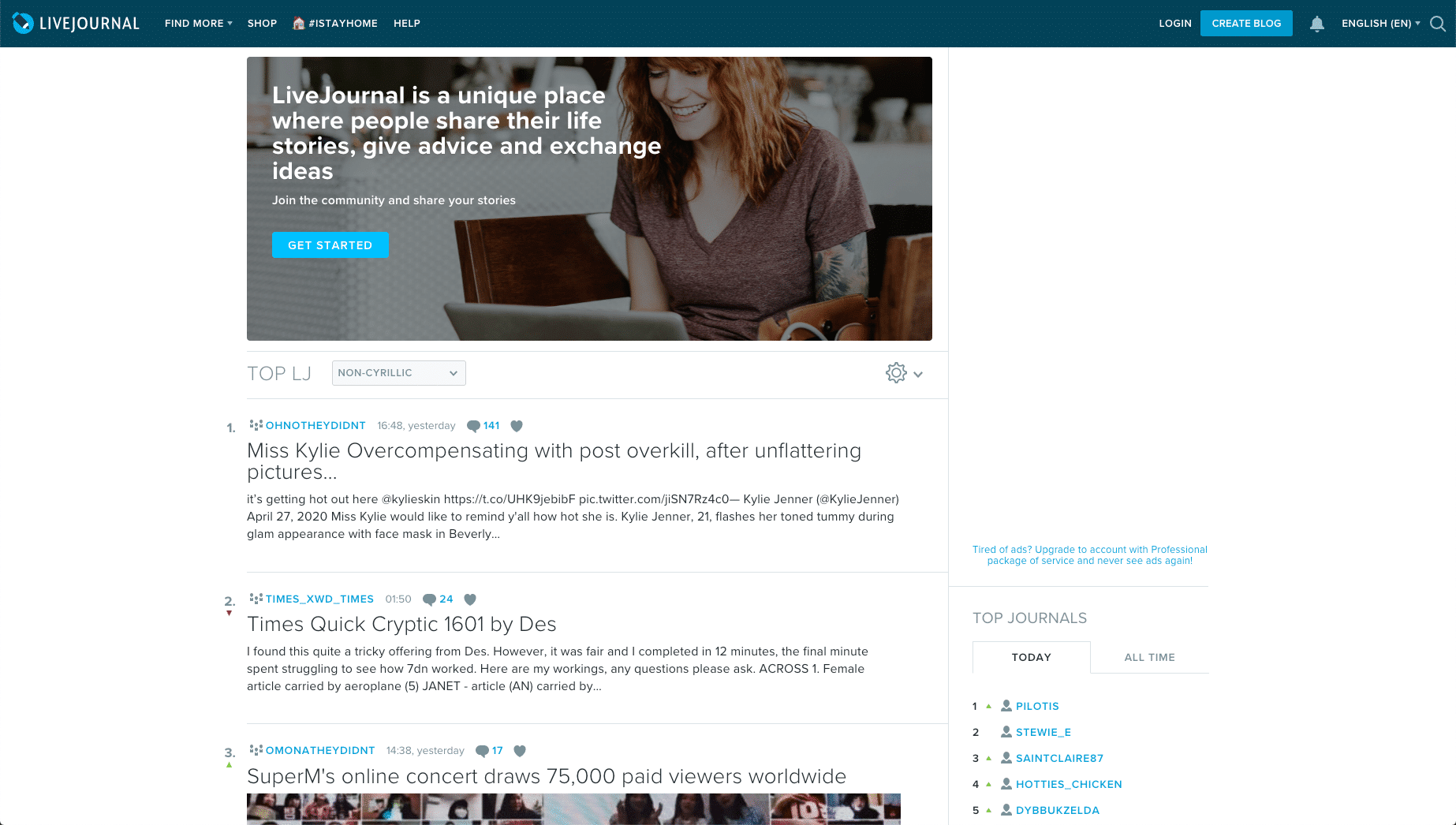 LiveJournal was one of the first online blogging platforms on the internet, which is now owned by SUP Media, a Russian media company. LiveJournal is a mix between a microblogging platform and a social network.
Features
Content Scheduling.
Community.
Analytics.
Remove ads (Paid feature).
Interface and Ease of Use
The interface, although a bit dated, is not outright hard to use. It's not intuitive either if you ask me. It might remind you of the WordPress dashboard a couple of years back.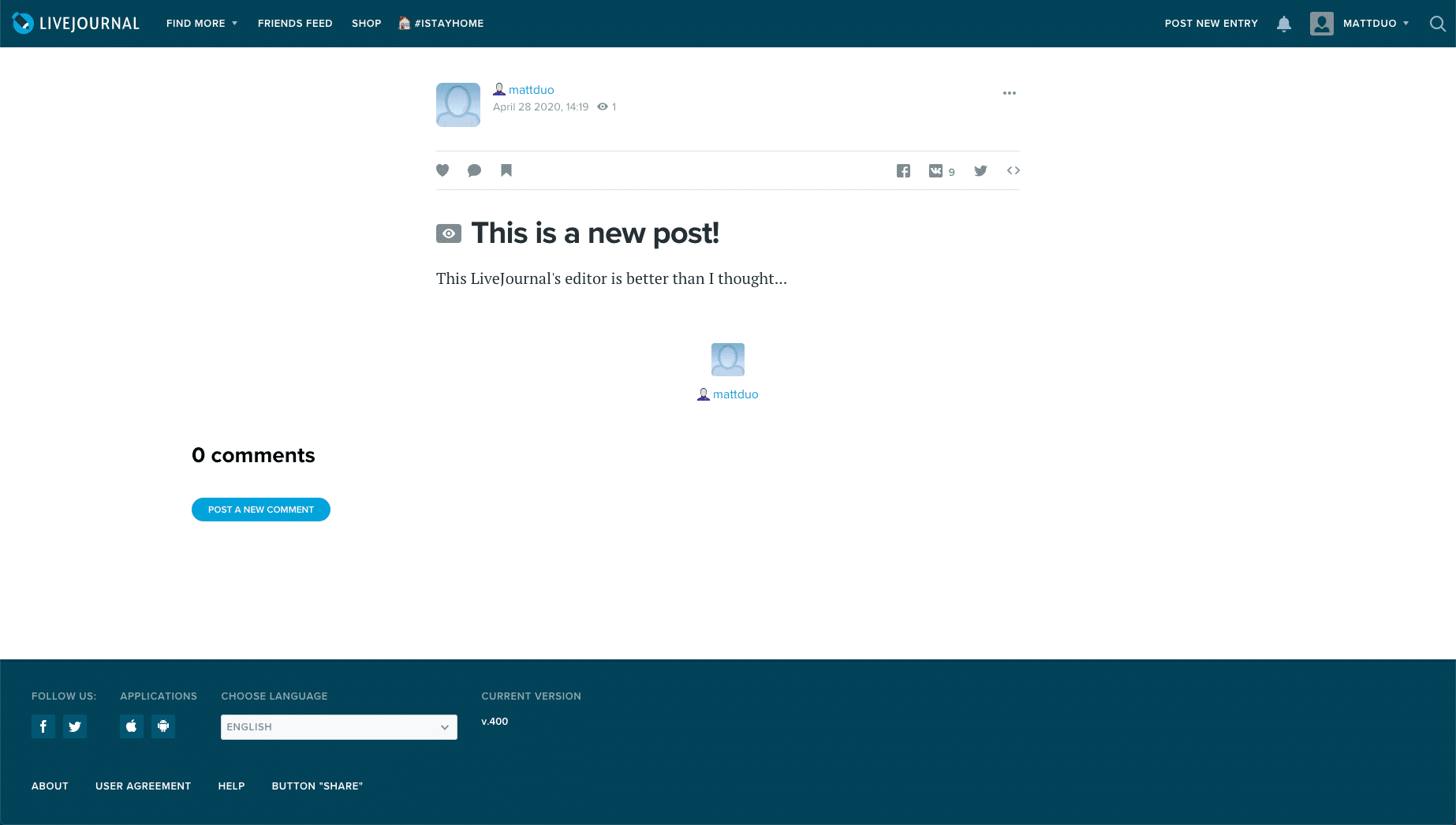 Pricing
Most of the features come in their free plan but there's the possibility to unlock more with a Professional Package which sets you at $19.95 per year if you opt for automatic payments.
LiveJournal vs WordPress
I honestly think LiveJournal could hardly find a place in someone's preferred list of blogging platforms as it gave me the experience of using an anachronistic tool. Nevertheless, if your target audience speaks Russian, you might find LiveJournal worth a try.
14. Tumblr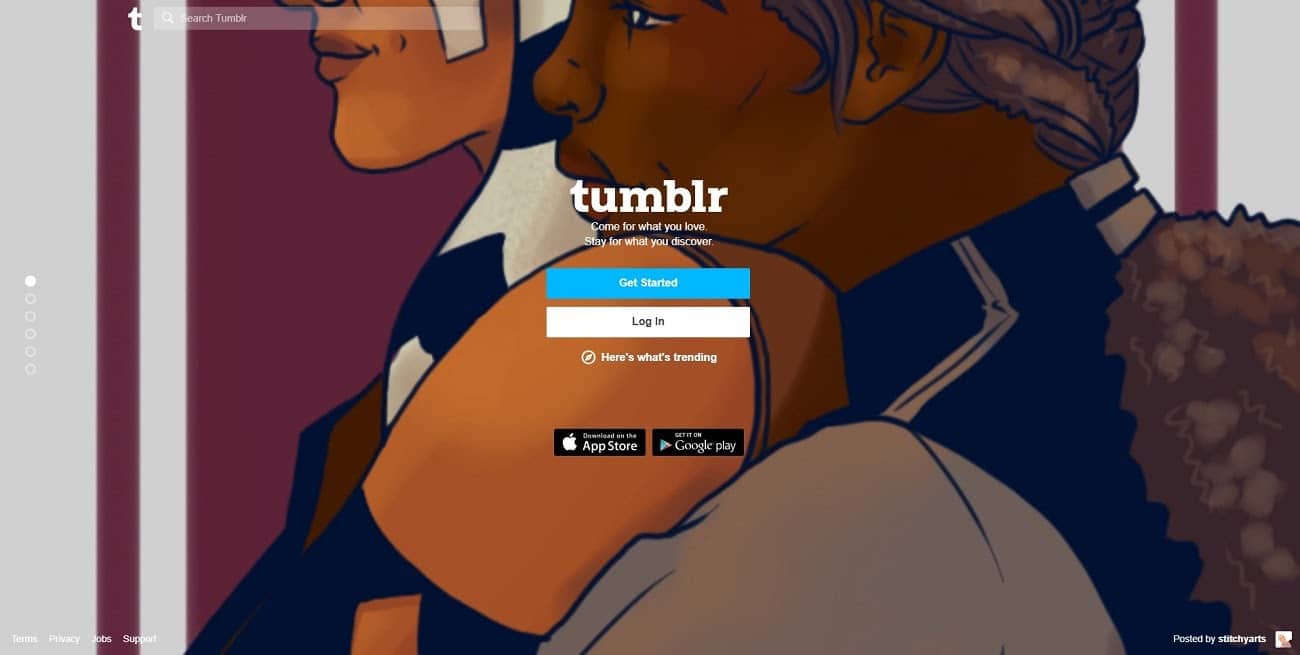 Tumblr is a popular microblogging site, although a lot less popular than it was a few years ago.
Interestingly, Automattic, the company behind WordPress.com, acquired Tumblr in 2019 from Verizon so we might see some exciting changes to the platform in the coming years.
Features
Audience and Sharing.
Unlimited Uploads/Visits/Bandwidth.
Interface and Ease of Use
Tumblr has a sleek interface and you can get your first post live in just seconds.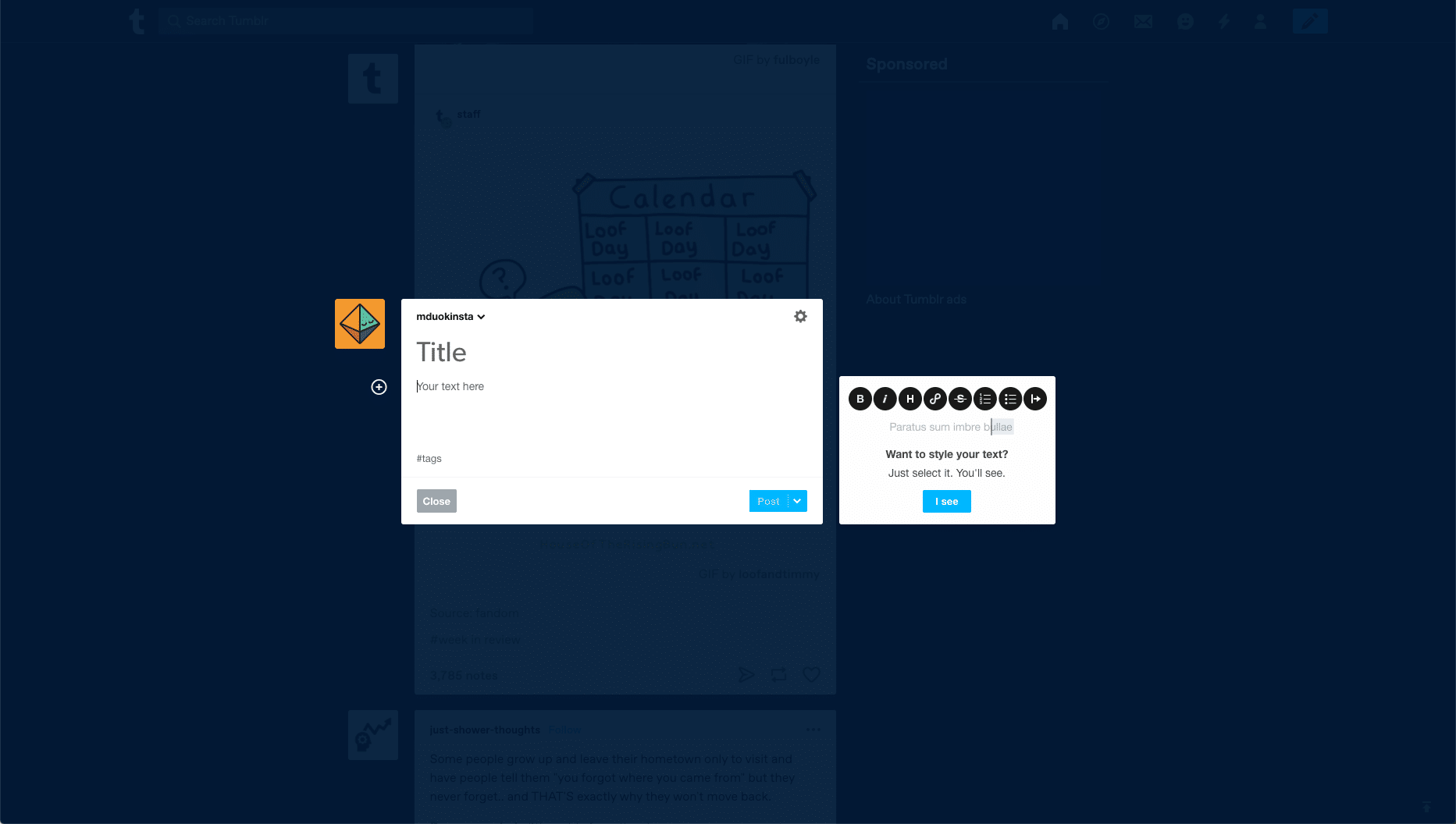 The great mobile interface makes it easy to write short posts from your cell phone. It's also a great place to read content and get inspiration for your next work.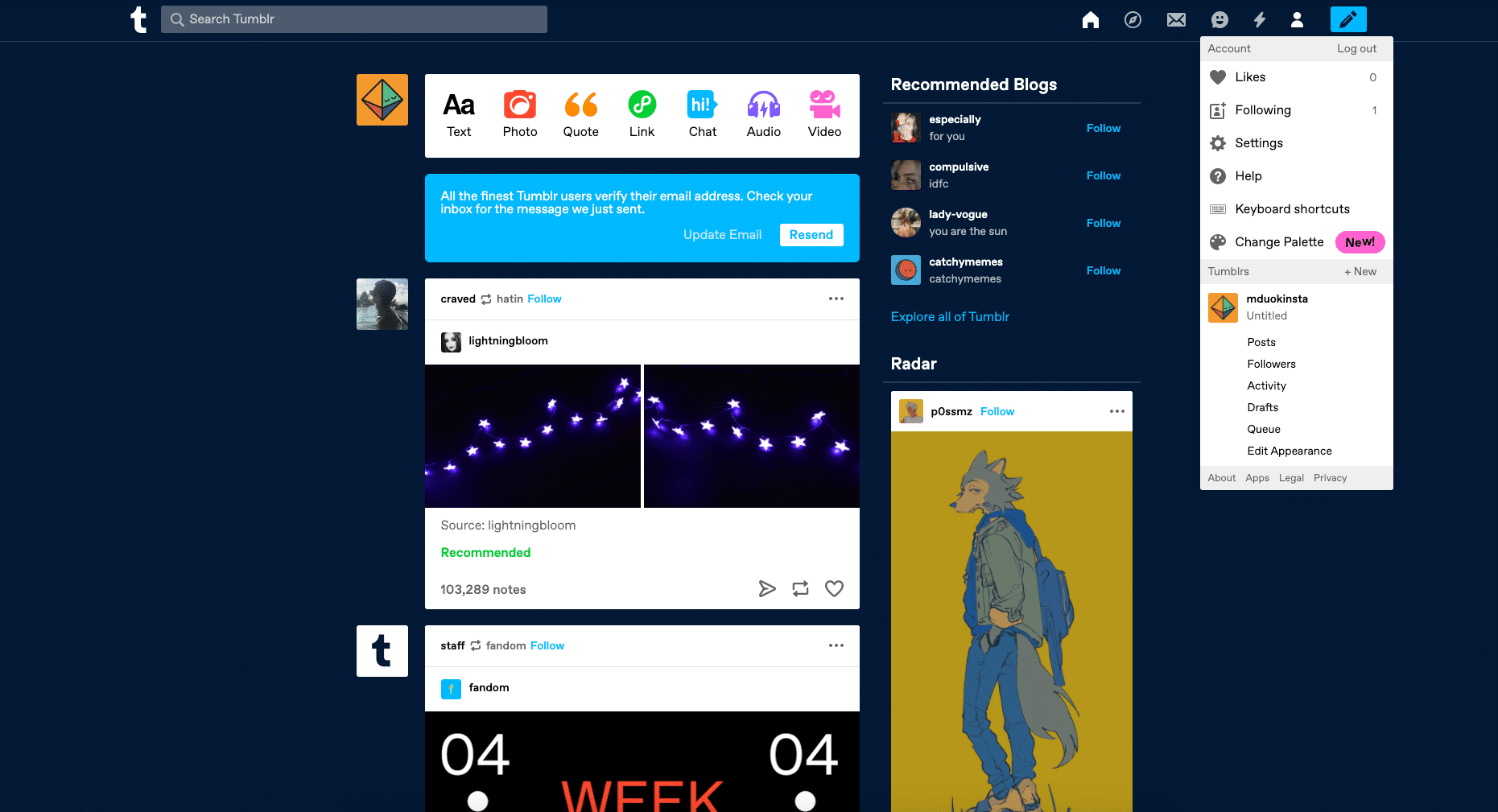 Pricing
Free, with unlimited storage/bandwidth.
Tumblr vs WordPress
If you're an artist or photographer looking to start a blog to share your art, rather than build a platform for your business, then Tumblr could be a good option for you.
It's easy to join and start sharing your work in just a few steps. There is a built-in audience that you can reach.
But if you want full customizability of your blog and total control over your content, WordPress is the way to go. Here's how to import Tumblr into WordPress.
15. Instagram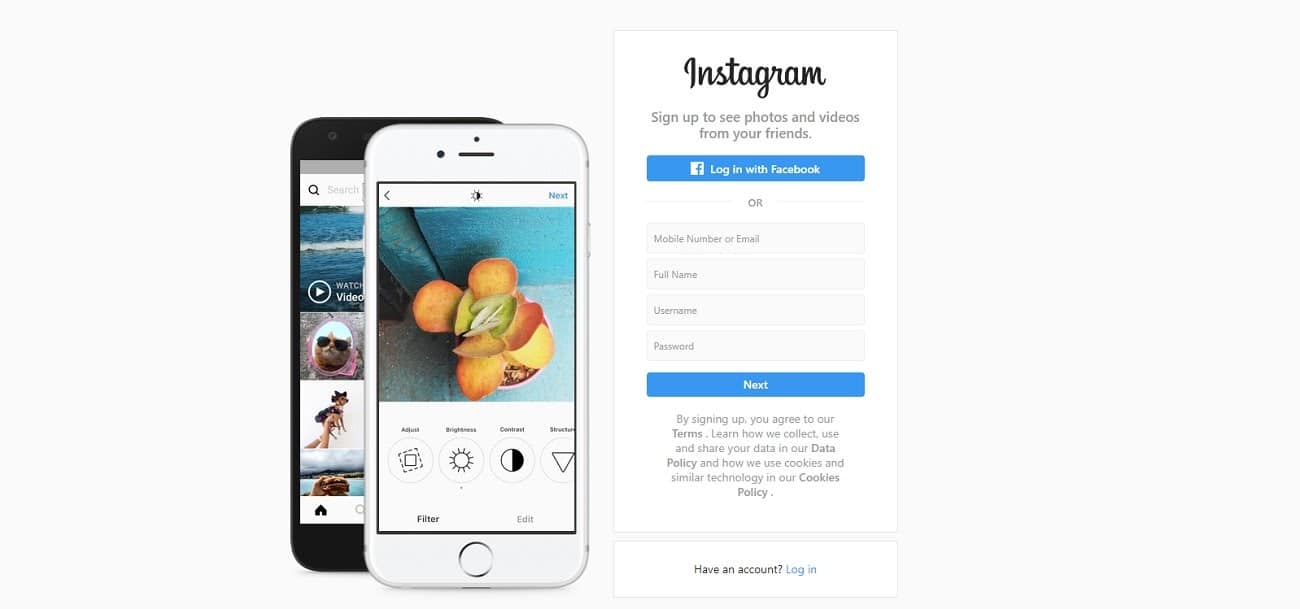 Instagram might not fit your idea of a blogging platform, but in some cases, it can be the best place to build an audience given how it's grown.
Features
Audience and Sharing.
Unlimited Uploads/Visits/Bandwidth.
Engagement tools.
Interface and Ease of Use
As if you don't already know what Instagram is like, well, it's really easy to use. The only downside of the Instagram interface is that you can't add posts from your laptop without a workaround.
That makes it inconvenient for any writer or blogger that prefers long-form content.
Pricing
Free, with unlimited storage/bandwidth (just like Facebook).
Instagram vs WordPress
There are a few scenarios where Instagram makes more sense than WordPress for blogging. If you are a videographer or vlogger, Instagram could really be your major channel and preferred blogging platform.
In most cases, though, it would probably be better to choose both and have a professional blog/website as well. Here's how you can feature your Instagram feed on WordPress.
What Is the Best Blogging Platform?
If you've read this far, it's only fair that you get our answer to the question: Which is the best blogging platform and why?
Spoiler alert: We think that the best choice for most serious bloggers and businesses in general is WordPress.
There might be alternatives that will get you to publish your content faster, but WordPress is the best option for people that are looking to make their blog a platform for their online presence and business in the long term.
What Is the Best Blogging Platform for Beginners?
It depends on your intention with the blog. The best option who want to create a personal blog is probably a free hosted solution like WordPress.com, Blogger, or Medium.
If you just want a place to share your art, you can even dip your feet in the water with Tumblr or Instagram.
But if you want to create a company blog for business and grow visitors and customers, a self-hosted option like WordPress or Drupal gives you the most options for future expansion.
Which Blogging Platform Is Best for Making Money?
WordPress has the most options for extending your blog, both with plugins for ad placements and affiliate marketing, as well as developing a full-blown ecommerce store or membership site.
Which Blogging Platform Is Best for Writers?
If all you want is to find an audience online, Medium could be the best place to start for new writers to share their craft.
But if you are a published author and want to maintain a professional platform, build your existing audience, and assets like email lists, self-hosted WordPress is the way to go.
What Is the Best Blogging Platform for SEO?
Self-hosted solutions that give you full control over page content, like WordPress, Drupal, and Joomla, are the best for SEO.
WordPress is easy to set up, and lots of great SEO plugins empower complete beginners to create SEO-friendly content. Of course, you also need a reliable host with fast loading times to get the best results.
Summary
The best blogging platforms supply the blogger not only with a place to write their thoughts but all the tools they need to grow a following and even business.
That's what separates self-hosted solutions like WordPress from the rest on this list.
If all you want is a personal blog, or to share and get feedback on your writing, hosted solution like Medium or WordPress.com might be better for you.
Ultimately, the best blogging platform depends on your goals and your current situation. For us — obviously — nothing compares to WordPress.
What about you? What's your preferred blogging platform?