WordPress, ever since the very early days, has always come with a built-in commenting system set as the default.
While this system is all well and good for newbie bloggers, later on at some point in your blogging career you might want something a little more sophisticated.
But which commenting system should you choose? In fact, do you even need one at all?
Today I'll take you through the pros and cons of allowing comments on your blog and providing a comparison of the top 4 blog commenting system to help you make the best choice tailored to your blog.
Let's get started.
Comment Pros
So what are the main reasons why most blogs – including Kinsta – feel compelled to open up their blog's doors to audience contributions in the form of blog comments?
1. Interaction – Are you blogging for yourself or for an audience? If the latter (and it should always be the latter regardless of whether or not you have comments enabled), having an open comments section allows you to interact much easier with your audience which in turn makes them an integral part of your blog's puzzle.
In many cases, the discussions that ensue in the comments section – whether between you and your readers, or several of your readers going back and forth — can often be just as meaningful or even more so as the content itself, raising important questions and adding details that aid your audience's understanding of the topic.
2. Feedback – As well as discussions, the comments section also gives your audience an easy way to provide you with feedback. Do they like what you're currently doing? Could you be doing more of something else?
Let them guide you — they'll tell you exactly what they like and don't like, and you can then make the necessary improvements to your blog. It's pretty much like getting blog consultation for free.
3. Content Ideas – A quick scan through the comments relating to any given post will provide you with plenty of ideas for follow up content. Are there certain aspects of your posts your users don't fully understand? Are there bits that they'd like to hear more about? Expand on those topics in a blog post.
What's more, a few users (I've done it before in my comments) will go out on a tangent and tell you outright that they would like to learn more about xyz topic, and that you should do a blog post on it. Neat, huh? If you struggle to regularly come up with fresh content ideas, your comments section could be a Godsend.
4. SEO – Did you know that the comments your users leave will aid your SEO performance? The user-generated content fills out your page and will be fully acknowledged when search engines crawl your site.In fact, if your commentators frequently mention keywords that you're trying to rank your blog post for, your post will start ranking higher for the keyword (in most scenarios).
Secondly, tons of comments helps Google to know that people are engaged with your blog and enjoy interacting with it. Consequently, they'll look at your blog with good favor and rank you better.
5. Community – When you have an open comments section, you'll probably see the same people commenting again and again. When you interact with these people, you'll begin to build your own community around your blog, which encourages loyalty.
Comment Cons
Of course, there has to be cons to leaving your comment section open, otherwise everyone would be doing it. Let's take a quick look at the main criticisms of opening up that comment section.
1. Spam – The moment you open up your comments section you will be inundated with all kinds of ridiculous pingbacks, trackbanks, and bot-generated comments, even if you think that you don't have much of an audience. The fact of the matter is that you do have an audience … it's just that most of them are bots.
Nothing is more annoying than spam comments. They are the blogger's scourge of the Internet and each one will take away precious minutes from your day.
2. Moderation – You can install all the spam blockers in the world, but spam messages will still skip through the cracks here and there. Moderation can be a huge drain on time.
Even when you're dealing with a relatively small amount of comments, the time it takes to read each one can really start to stack up. Could you be doing better things with your time?
3. Negativity – To be a blogger, you need a thick skin. It's a fact of life. You can't please everyone, and, with the Internet providing a cloak of anonymity, there are bound to be trolls you'll encounter. Having a different opinion is perfectly fine and should be encouraged, but some people take pleasure from saying malicious things.
If you know that you're very sensitive and can't deal with that, either suck it up or turn off your blog comments.
Which Commenting System Will Work For You?
If you've decided that the pros of opening up your comments section outweigh the cons (and you'll find that they do, 5 vs 3), it's time to decide which system to use.
As with all things WordPress, there's a large array of plugins all very able to get the job done. There are also several third-party solutions that could, depending on your website, offer an even better commenting experience than the WP standard.
So which commenting system should you choose?
I've taken a look at four of the most popular options available: their strengths, their weaknesses, and their installation process.

Jetpack is a hugely popular all-in-one WordPress plugin. All by its lonesome, the plugin does the jobs of more than 20 plugins. Considering that and the fact that it was developed by WordPress's parent company Automattic, and it's small wonder that the neat plugin has already racked up more than 4 million active installs.
Jetpack's multitude of features includes contact forms, social media sharing tools, in-post spelling and grammar checks, site traffic stats, and, of course, a commenting system.
Ignoring all the other functions for this post, we're going to assess Jetpack solely on the strength of the commenting system.
The Good
With all-in-one plugins that pack many functions into one .zip, there is often a cursory, rather than complex, approach to developing each feature. That leaves the quality of each feature somewhat diluted.
With Jetpack Comments, I'm glad to say, this is not the case.
Even without all the other features and with just the commenting system, Jetpack would still be one of the best plugins around in my book.
Why?
Well, probably the best thing Jetpack Comments has to offer is the many different ways for users to connect. They're able to comment using the standard WordPress comment system (name, email, and website form), with their WordPress.com profile, or by logging into any of the big three social media platforms – Google+, Facebook, or Twitter.
If you're looking to actively encourage discussion, users have the option of a receiving an email notification every time someone responds to their comment or adds a new comment to the post. Additionally, visitors can also opt to receive email notifications every time a new post is published — right from the comment form.
The Bad
If you're only looking to use the comment feature from Jetpack, the main drawback is the fact that all the other features comes with it.
The comment system actually works great — no complaints there. But to use it, you have to put up with everything else (and the huge load time that accompanies the extra features). To the new WordPress users, a good many of the functions are complete overkill, particularly considering that many of them automatically activate themselves once the plugin is activated.
Of course, each feature can be switched off and on, but it's a bit of a pain in the neck; one that you shouldn't have to deal with.
The other issue is spam. Because you can still comment through the standard WordPress commenting system, you will receive a lot of spam comments. Akismet, Automattic's own spam prevention tool, is a capable plugin but make no mistakes — numerous comments will slip by its net.
Setup
Setting up the Jetpack commenting system is remarkably easy. In your WordPress dashboard sidebar, click Plugins > Add New then search for "Jetpack". When you've found it, click Install Now and be sure to Activate the plugin.

With the plugin now activated, you'll now have access to all the different functions Jetpack possesses. Many of the features activate automatically, but the commenting system has to be activated manually.
To activate Jetpack comments, go to WP Admin > Jetpack, which brings up a screen that allows you to switch off and on all the different features. Find Jetpack Comments and hit Activate.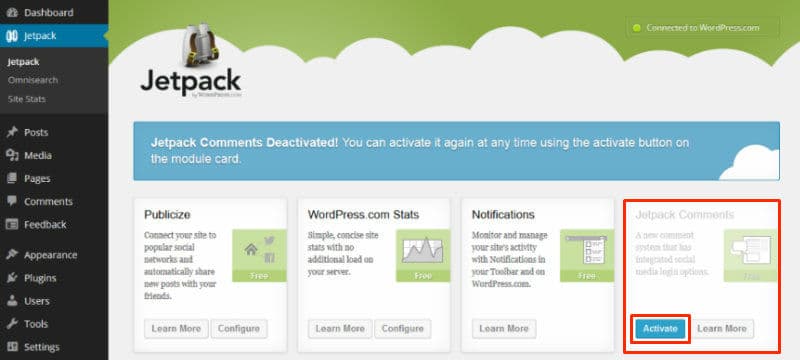 And that's all there is to it. Try refreshing your site, scroll to the bottom of a post and check out your new comment box, which should look something like this: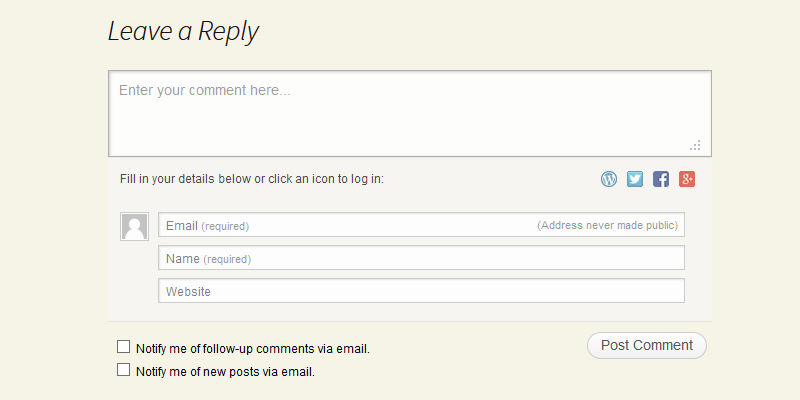 Unless you've been living under a rock, you have no doubt noticed that a good many blogs and website (particularly "viral" websites that amass huge numbers of visitors and comments) have begun to incorporate Facebook comments.
Given Facebook's 1,400,000,000+ strong user base, this is hardly surprising.
But just how good is Facebook's commenting system? Let's take a look.
The Good
If your digital marketing priority is to build a hefty social media following, the Facebook commenting system is right for you. Each comment is defaulted to be posted to the commentator's Facebook wall, and might even show up in their friends' news feeds.
In other words, your article could be seen by everyone they know. Multiply that over tens (or if you're really popular, hundreds) of comments, and you've suddenly got huge exposure on the table.
A Facebook commenting system also serves to boost user engagement in another way — since the interface is so familiar and the commenting system looks and works in exactly the same way as it does on facebook.com, more people will feel comfortable about leaving a comment on your blog post.
Besides, the comment system is even compatible other ones as well. So, you could allow visitors to comment via Facebook or through the standard form.
And since a Facebook account is required to comment (that is, only if you make Facebook the sole commenting system on your blog), your share of automated spam will be cut down drastically. Finally, your comments are also likely to be more meaningful, as commentators won't be anonymous.
The Bad
The major disadvantage with Facebook comments is that none of the comments are actually stored on your blog; they're stored in Facebook. This means that search engines will ignore your comments when they crawl your site. From an SEO standpoint, that isn't a good thing.
A few users might also dislike the idea of having their comments appear on their wall and having their name and face plastered all over the Internet.
Setup
Setting up Facebook Comments can be a little tricky for the new WordPress user. You'll have to create a developer app in Facebook before you're allowed to use their comment system.
This sounds intimidating and it can be a little time-consuming (it definitely was for me), so make sure follow my instructions carefully and leave a comment if you don't understand how to do something.
To start, let's download the WordPress plugin that integrates Facebook with your WordPress website. In your dashboard sidebar, click Plugins > Add New and search for Facebook Comments. There are several plugins with similar names, so make sure you get the right one by matching the one you install against the screenshot below.

When you've found it, download, install and activate it.
Now, it's time to create our app. To do this you need to go to the Facebook app creation page. If you've never used this before, you're going to have to sign up for a developer account, which may or may not require you to verify your phone number.
Once the sign up process is done done, click Create a New App.
This will open up a lightbox form where you need to give your app a display name and namespace. For the display name, I'd go for something easy to remember, like "YourSite Comments". Your namespace could just then be yoursite-comments, or anything similar. It's not hugely important what you select in either stage.
Next, click Create App in the bottom corner. You'll be presented with a CAPTCHA that you need to solve.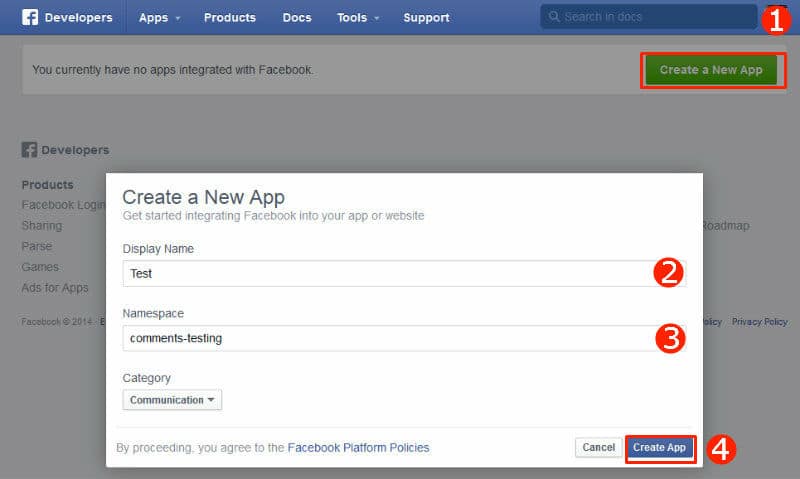 Now your app is created, you'll see a dashboard where you can start to configure your app.
In the sidebar, click Settings. You'll be presented with a screen that displays your app ID, plus the display name and the namespace you gave earlier. There will be blank fields for you to put your domain name and a contact email. Go ahead and fill this in, then make sure you Save Changes.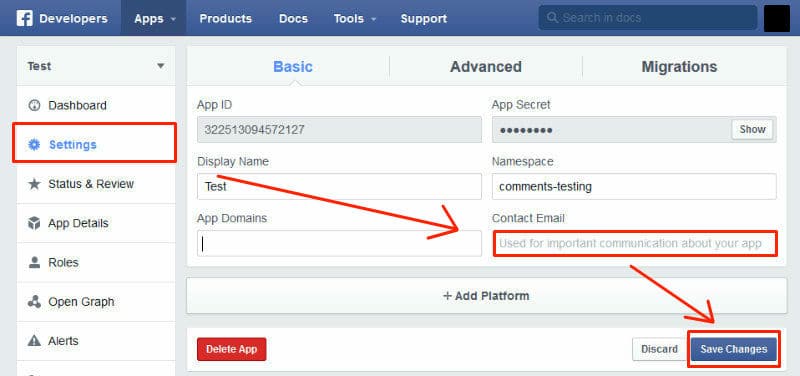 In the sidebar menu, go to the Status and Review option. Once there, you'll see a toggle button asking you if you want to make the app available to the general public. Toggle it to Yes, and confirm.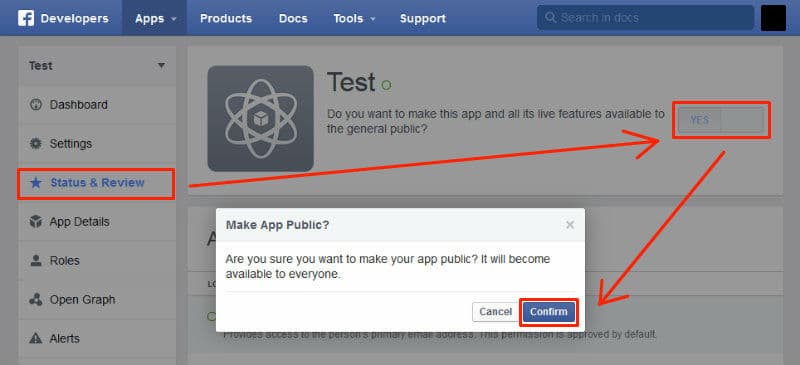 Still with me? Good — just a couple more steps.
Head back over to the dashboard. You should see your app ID and an app Secret (hidden). To configure the WordPress plugin appropriately, you just need the app ID.

In your WordPress dashboard, go to Settings > Facebook Comments. There are a number of options and fields to fill, but the one that requires your attention first is the Facebook App ID field. Find this and copy/paste the app ID from the Facebook Developer dashboard into the field.
Now, you can play around with the visuals of the comment system, including the width, number of comments displayed, and color scheme. When you're happy and all is well and good, click Save Changes and voila! You're done!

Remember, this plugin works alongside other comment plugins and won't automatically disable any other comment system you have activated. If you decide to go with just the Facebook system, you will need to turn off the default so users don't get confused.
To do this, go to Settings > Discussion and uncheck the box titled Allow people to post comments on new articles. Save your changes, and we're all done.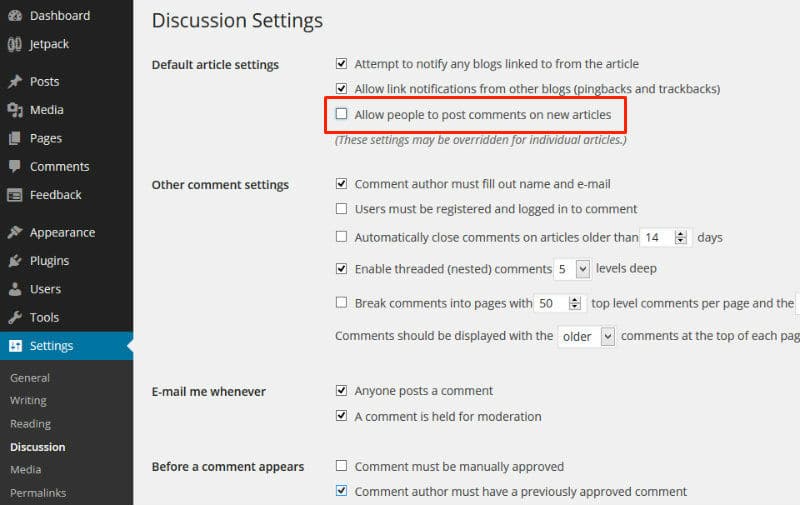 Then head over to a blog post and scroll down to see your brand new Facebook Comment box.


Following Facebook's lead, Google attempted to integrate its two top social platforms — Google Plus and Blogger — to create a new comment system.
It didn't take long for this commenting system to become an option for WordPress blogs as well. Pretty soon, a number of plugins had popped up to make implementing a Google+ commenting system on your website a breeze.
If you haven't seen one of these before, don't fret — the first time I saw one was at the Traffic Generation Cafe. Read the blog posts (great advice on traffic generation!), and leave a relevant comment or two to get a hang of how the system works.
The Good
As with Facebook, the Google+ commenting system helps to channel social media traffic. Whenever anyone comments, your blog post will show up in their post feed, and in the news feeds of everyone who's following them.
If you get someone with a large Google+ following targeted to your website to comment, you could easily be looking at a boatload of extra traffic.
Of course, Google+ has a considerably smaller user base than Facebook, but don't let this put you off. The Google+ audience tends to be more professional — if that reflects your target audience, then you might find that Google+ is more appropriate for your brand than Facebook.
You'll also find that most people are logged in to their Google profile all the time. After all the scam warnings we've been hearing about Facebook, a lot of people have decided to log out each time they finish browsing Facebook. So with the Google+ system, commenting will be one step easier.
And of course, the final benefit is SEO. Everyone knows that social signals and SERP rank have a direct relationship. What's more, Google's bound to be biased to its own social platform. Any comments synced there will probably be seen as a big stamp of approval for your website.
With seamless integration, installation is no trouble at all, unlike with Facebook comments.
The Bad
As with Facebook, one of the biggest weaknesses of the Google+ commenting system is that it displays your name and image alongside your comment. Many people like to remain anonymous, and this could again deter some of your audience from commenting.
People also don't necessarily want to their comment to be plastered all over their friends' news feeds.
Also, unlike Facebook, Google has not officially approved the integration of Google+ commenting system with WordPress. As such, no official plugin from Google's developers exist. While there's nothing to suggest they would have any problem with it, Google is known for its unpredictability. If they were to shut the plugins down, any comments you would have accumulated through the system would be lost forever.
Setup
After all that time spent setting up the Facebook comment system, you'll be glad to know that things are much simpler with Google+.
There's no need to create anything like an app; we don't need anything either than a good old-fashioned plugin. In your WordPress sidebar, click Plugins > Add New and search for Google+ Comments Widget.

Download, install and activate.
Time to configure. From your Installed Plugins page, scroll down to find the Google+ Comments Widget plugin and click the  Configure hyperlink beneath its name.
Configuration is really simple. The only thing you have to do is select the width (you have an option to set a dynamic width if your site is mobile responsive) and the number of comments for the plugin to display in each page.
When you're done, hit Submit.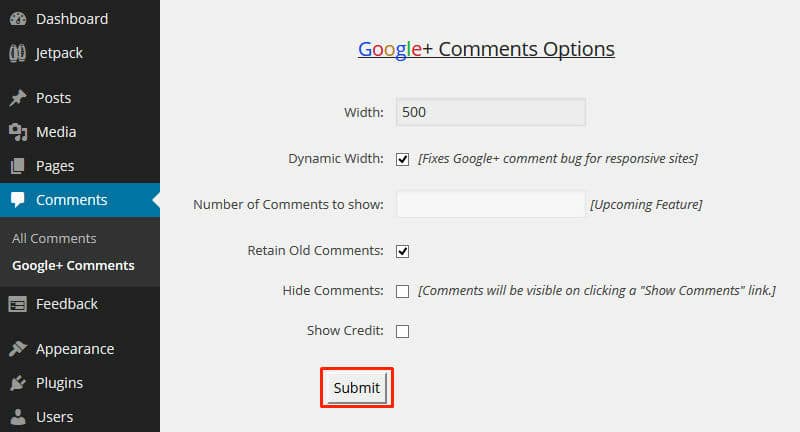 Head over to the front end of your site, hit up a blog post, and scroll down to the comments section. You should now be able to see your beautiful new Google+ comment box.

That's all there is to it. The Google+ commenting system is incredibly easy to implement.

The final commenting system we're going to take a look at today is Disqus.
Disqus can reel off a list of impressive features which have taken it a long way – it's one of the most popular commenting systems on the Internet, having been downloaded over an impressive 1.2 million times so far.
The Good
The main advantage of using Disqus is the wide range of features the commenting system possesses.
First of all, there are a number of ways users can connect if they want to make a comment. Not only can they sign up with just an email address, they can also login using any of the major social media accounts – Google+, Facebook or Twitter.
Users also have the option of signing up for their very own Disqus account. This is a great feature, and it helps in building a loyal, interactive community. Visitors on another website can view the profile of a commentator to see all the other comments they've made on other blogs. If that commentator has also commented on your blog before, that's another way for new readers to find you.
Furthermore, when someone comments, there's no incentive of a backlink to their website.
The result?
Less spam, and more meaningful comments from real contributors, rather than from webmasters trying to get a quick backlink and a couple visitors to their site.
Disqus also has a voting system, which further encourages deeper discussion and engagement.
Disqus also supports nested/threaded replies and comments.
As a nice final touch, Disqus also comes complete with a related content widget underneath the comments section. Whilst you can set this to only link to content on your website, if you're looking to earn a little extra income, you can also direct users to sponsored listings and you can make a few cents per click.
The long list of pros is what made us decide to use Disqus on Kinsta.
The Bad
As with anything, it's never all plain sailing.
In some cases the up and down voting system can work against your blog, thanks to trolls.
There have also been a few loading problems reported for some browsers, which is worth keeping in mind. Thankfully, Disqus has always come through for us thus far.
You might end up paying a monthly fee for Disqus not serving ads in your comment section.
Setup
To integrate Disqus into your website, head over to Plugins > Add New from your WordPress dashboard. Search for "Disqus Comment System".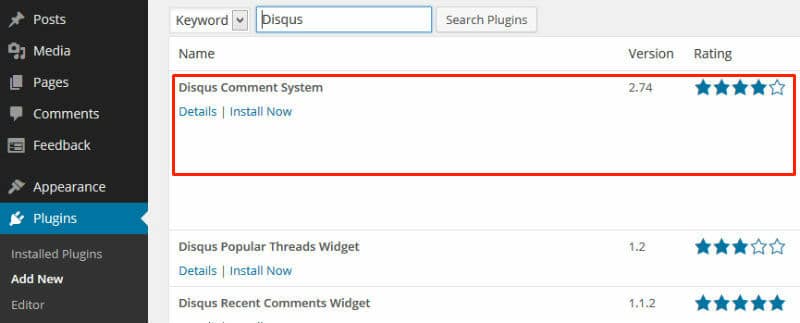 Install & activate the plugin.
Once you've done this, you'll be asked to configure the plugin. Go to WP Admin > Comments and fill out the fields. You'll be asked for the username and password to your Disqus account. Don't have one yet? Sign up here.
From your Disqus account, click the drop down button next to your username, then click Add Disqus to Site.
You'll be asked for your site name, and you'll have to create a subdomain for your Disqus account (where all the comments will be hosted), and you'll have to select the category your site fits in. Once you've filled these in, click Finish registration.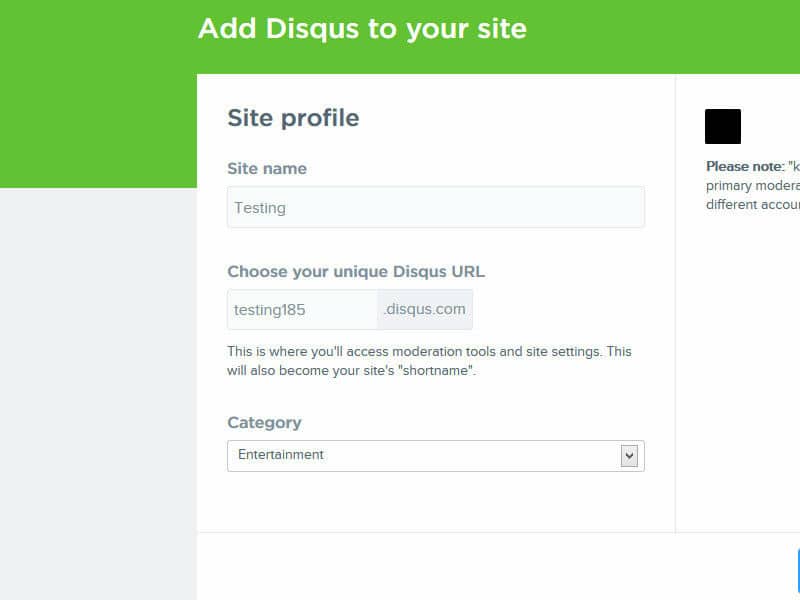 Go back to WordPress and refresh the Disqus settings page and sign in with your account credentials. If done correctly, you'll see a radio button where you're able to select the domain name you just created. Select it, hit Next and you're all done.

If you're moving your commenting system over from a different system, you'll have the option to keep all your old comments from other systems (I highly recommend that you do, but it's up to you).
View your website, refresh your screen and your site will now have Disqus comments enabled.

Wrapping Up
There you have it — a comprehensive guide and look at the 4 best WordPress comment systems for your blog.
If you want to share your experience using any of these comment systems, or if you'd like to throw another system's name into the hat we haven't mentioned, please feel free to do so in the comments section below. We use Disqus, so let's have a meaningful conversation! :)