One of the most effective user experience implementations you can make as a server owner is the control panel. For years, cPanel has taken the ball and run with it. Many server owners and web hosts use it as the de facto standard. That said, for several reasons, many are looking for cPanel alternatives.
Choosing the right control panel is essential. After all, this is where your users will manage everything to do with their accounts and sites. It has to be intuitive, usable, and flexible. For some users, cPanel falls in some of these areas, and its increasing price is a more recent factor.
In this roundup, we'll explore various cPanel alternatives and what makes them so great. First, though, let's see why you might want an alternative in detail.
Why You'd Want to Find a cPanel Alternative
For the unenlightened, cPanel is a staple "web panel" for many servers. If you're scratching your head at the term, a "web panel" is the dashboard you go to when you need to access your hosting account or site's server.
In a nutshell, cPanel is a go-to choice for the task.

Depending on how you've set it up, you can do several things through cPanel:
Plus, there are so many more features that we can't do them all justice here.
In fact, 1 in 8 websites uses cPanel, although this number is on the wane. And as for why, there's one big reason: price.
The original pricing tiers had a simple structure, but in 2019 cPanel opted to raise prices with only a couple of months' notice. For the per-month price, the increase is nominal, though the most significant difference is the account limit for each tier.
In short, under the 2019 revisions, you pay a fixed price of up to 100 cPanel accounts, then $0.20 for each additional account. This limit is an issue for many users.
Under the previous pricing, you'd pay around $200–500 per year at a fixed rate. With the 2019 pricing, a customer who needs 1,000 cPanel accounts would pay about $225 per month.
However, this isn't the end of the story. In 2021, cPanel raised prices by ~8% on higher-tier plans, and a whopping 50% on the bulk account rate. That means the same customer who needs 1,000 cPanel accounts would pay around $318 per month.
In a nutshell, cPanel was cost-effective but isn't for lots of users now. As such, you may be one of many searching for a suitable cPanel alternative.
Top 11 cPanel Alternatives to Help Manage Your Websites
Over the following few sections, we'll offer our take on 11 great cPanel alternatives and give you the lowdown on how they shape up compared to cPanel.
Let's start with Kinsta's built-in solution!
1. MyKinsta
MyKinsta is a staple of the Kinsta platform — a custom-built hosting panel for managing your websites and account.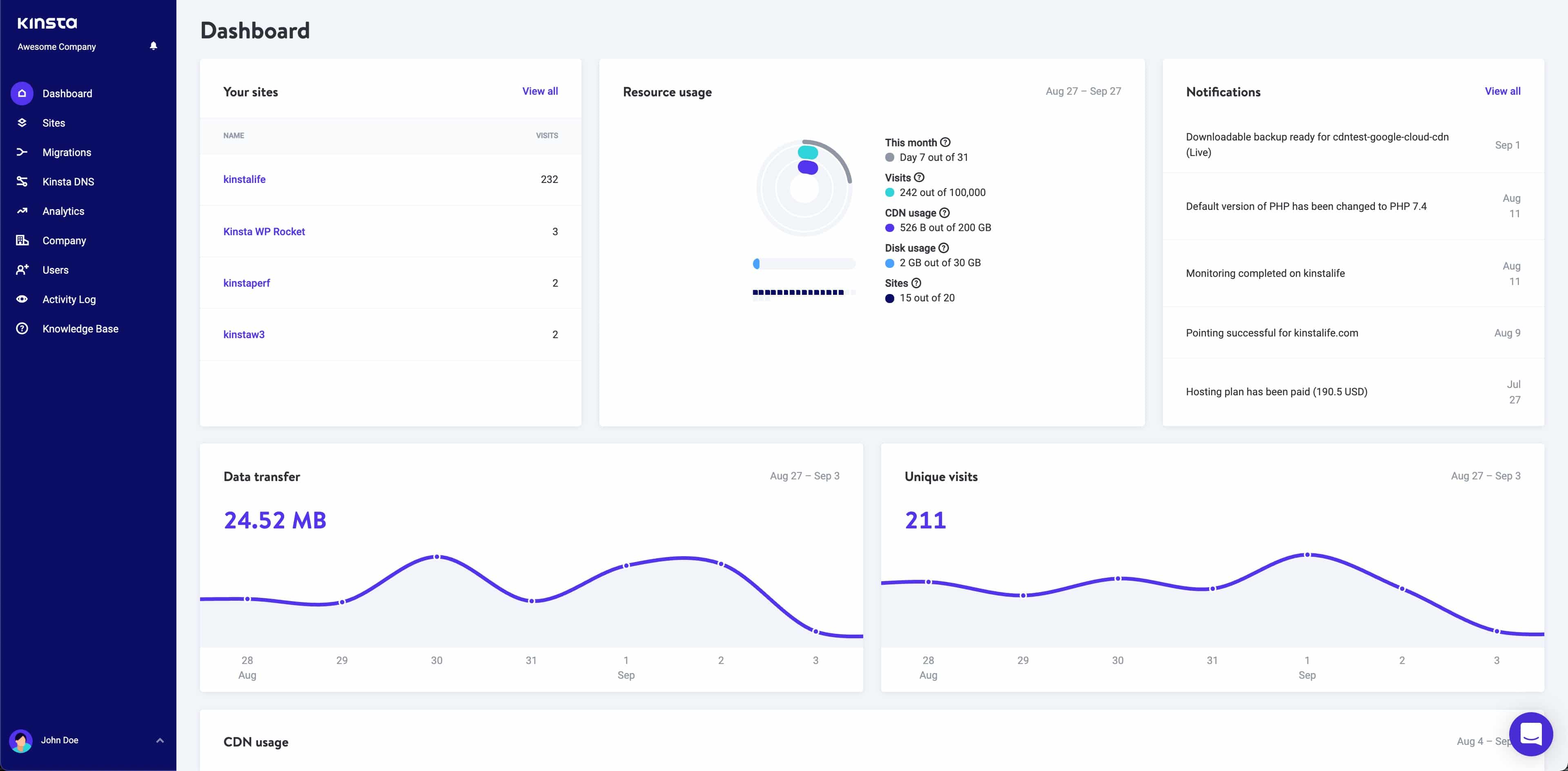 You can manage all of your Kinsta-powered sites from this central location. It's also heavy on information and gives you dedicated panels for the following:
Robust user management, which lets you assign roles and privileges in seconds
A way to push and pull your site from and to your live server (and from a local environment)
A minimal number of clicks to access your site through Secure Shell (SSH)
A whole host of analytics and performance metrics for your site
Lots of features and functionality to help you secure your site and help its performance
The ability to create, migrate, and move sites right from the dashboard
While visuals aren't the only aspect worth considering, they do help the UX. The MyKinsta backend has an economical layout, with easy access to all of the most relevant screens you need.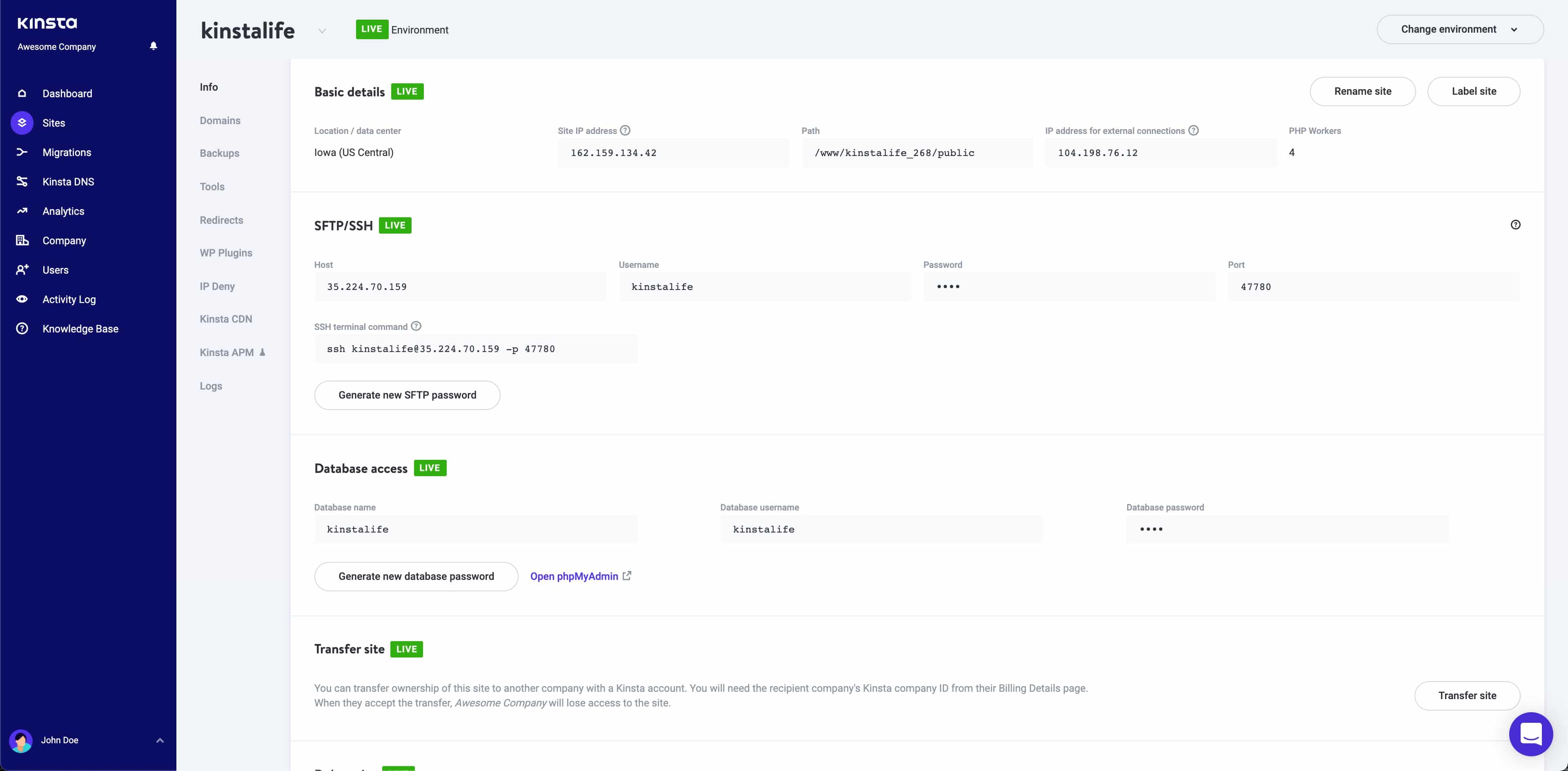 As a cPanel alternative, this makes MyKinsta stand out. What's more, the control panel is custom-built to provide the most optimum experience when using Kinsta. Between the focused approach and UX of MyKinsta, this could make cPanel look limited in some areas.
To use MyKinsta, you need to be a Kinsta customer. However, the dashboard is not something you pay extra for — it comes with all Kinsta plans.
2. Froxlor
If you like the open-source approach of WordPress and want to keep that line going through your hosting control panel, Froxlor is an excellent option as a cPanel alternative.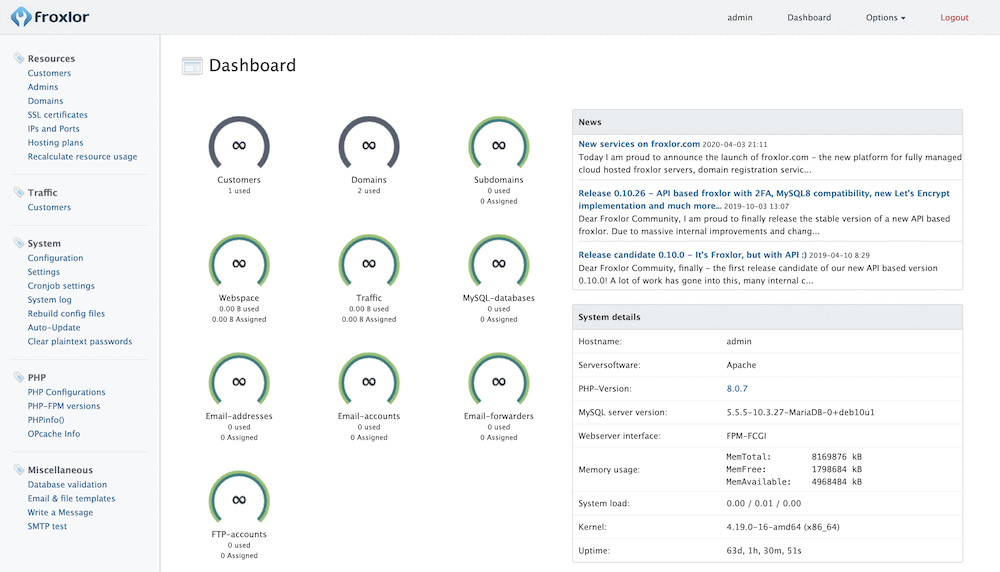 It's GPL-licensed, which means it's free to download and use on as many domains as you need. You're also able to theme the interface, which means you could concoct a white-labeled backend for your users.
Froxlor offers all of the goodies you'd expect from a popular control panel:
The ability to save different PHP configurations and use one on a per-domain basis
Full MySQL database management functionality
Secure Socket Layers (SSL) management, including the option to use free Let's Encrypt certificates
Comprehensive reporting on HTTP, mail, and File Transfer Protocol (FTP) metrics
There's also an extensive application programming interface (API) too. This API lets you access Froxlor and expand the scope of what you can do with the platform.
Froxlor is free to download and use. On that basis, it beats out cPanel all day. However, the feature set is more limited, so cPanel likely takes the win there. Still, Froxlor is great for value and makes a solid cPanel alternative given the circumstances.
3. Webmin
Webmin is another open-source licensed cPanel alternative, this time with a Berkeley Software Distribution (BSD) license. It's more focused on Linux distros, although there's a Windows version available too.

There are also a fair few package distributions, so you'll be able to install the control panel regardless of your specific setup and preferences.
The idea behind Webmin is that there's a full-function core control panel that you can bolster with third-party modules (with the right skillset). On the surface, this sounds familiar to WordPress, so it should suit those with custom needs and an eye for development.
There are many modules packaged with Webmin out of the box and will cover all of the essential functionality you need, and some you may not have thought of (such as CD burning).
As with Froxlor, Webmin will suit servers where the open-source stack is king. However, given how modular Webmin is, it could be the ideal free cPanel alternative for many users.
4. Control Web Panel
The former CentOS Web Panel has a new name — Control Web Panel (CWP) — after the CentOS Linux distro was discontinued. Of course, it's still a Linux-only control panel and recommends CloudLinux and RedHat distros.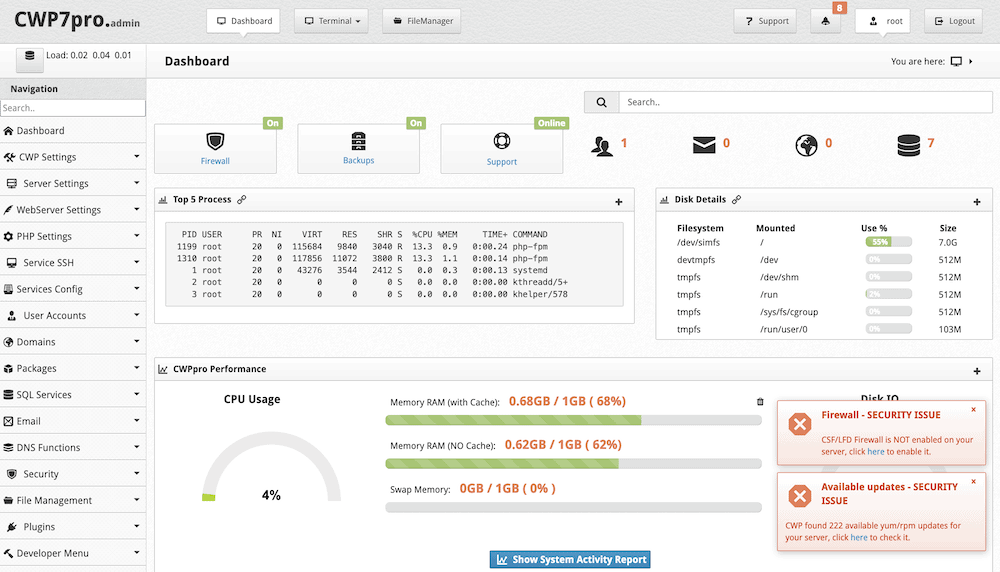 You'll find there are lots of web server options, such as Apache, Nginx, Varnish, LiteSpeed, and many more. It gives CWP flexibility and a grounding in modern server standards.
In our opinion, CWP is a powerful tool for sysadmins. You have an extensive and comprehensive logging system, plenty of monitoring tools to help you keep tabs on server activity, and lots more.
On the whole, CWP feels more potent than cPanel, although it's not as adaptable to your specific setup.
While there is a free version of CWP (a full-featured product), you can also choose its premium edition. It's quite affordable, both with and without support addons. Price will be a common theme throughout this article, as it's one of cPanel's weakest areas.
5. ISPConfig
You can add ISPConfig to the list of open-source cPanel alternatives on the market. It has a straightforward dashboard panel and is better on a subjective basis than cPanel.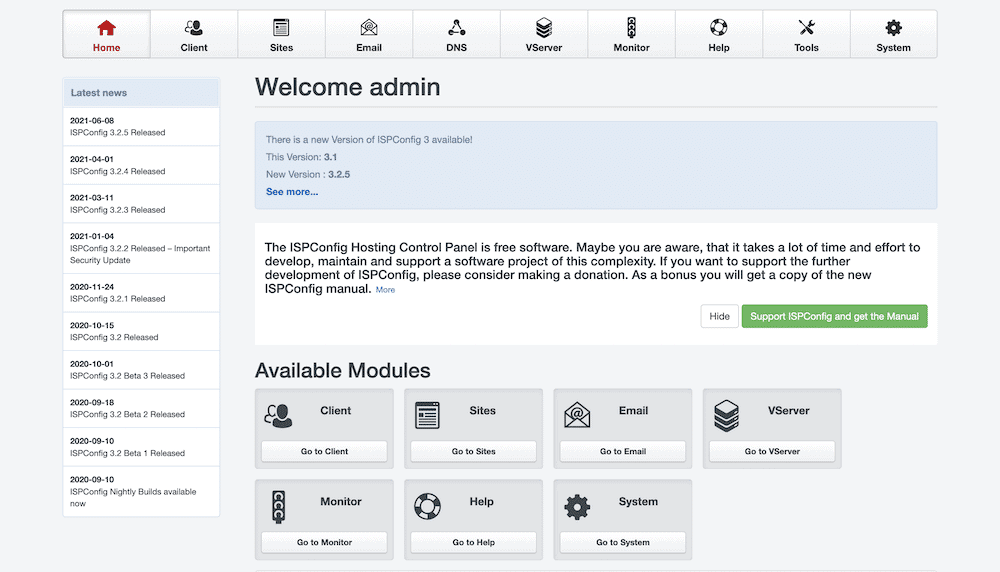 You can choose between Apache and Nginx web servers and manage multiple servers from the control panel itself. What's more, you can set up virtualization, mirror configurations, and manage Domain Name System (DNS) servers using a couple of different tools.
The full feature list is extensive, which is good news for would-be new users. If you glance at the entire list, you'll also notice some preparation for the future — for example, DNSSEC, a more modern way to secure data across networks.
As a cPanel alternative, you're going to trade price for functionality with ISPConfig. It's free, which is fantastic given what's in the box, but it's not as equipped. For a handful of sites, you won't notice a difference, and you might even forget all about cPanel after a while.
6. Ajenti
Ajenti is a popular cPanel alternative that runs JavaScript (or variants) on the frontend and Python on the back end. As such, this control panel is just like its core languages: with "batteries included." In short, this means you have simple access to several additional modules to customize your control panel experience.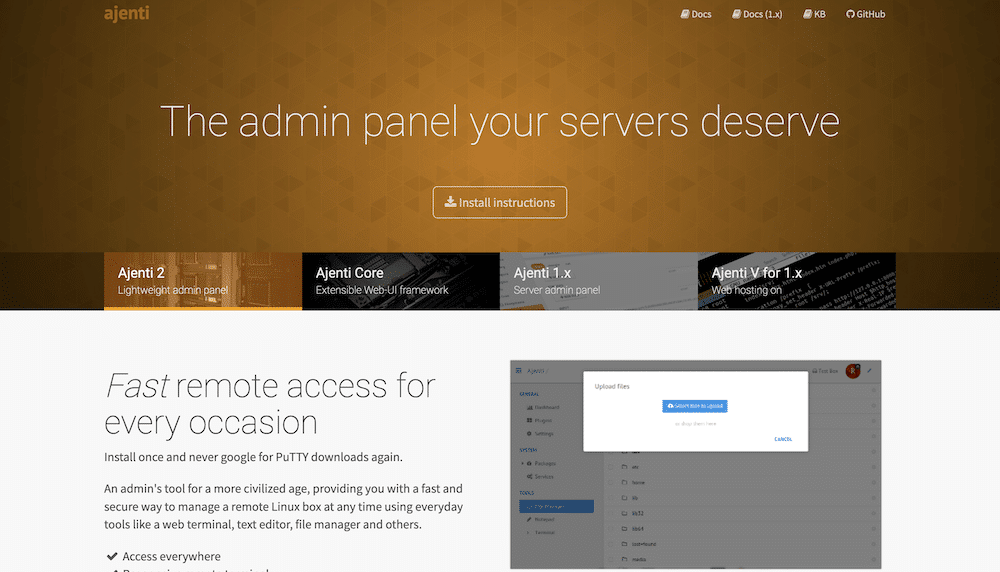 It includes lots of functionality to help you manage servers, such as a file manager. Of course, many solutions include this too, but Ajenti goes a step further to provide command-line access and text editing from within the platform.
Ajenti is an open-source solution running an MIT License. That means support isn't going to be the same as you'd get with more commercial products. It also means you need to be comfortable with managing servers because the help won't be as readily available.
However, given the modular nature of Ajenti, its excellent documentation, and the underlying code, the platform has lots going for it. You can even create custom web interfaces using the Ajenti Core framework.
If you have the time and the skills, Ajenti could work for you, especially as it costs nothing to deploy and use.
7. DirectAdmin
We're taking a break from open source solutions to look at a well-equipped commercial solution in DirectAdmin.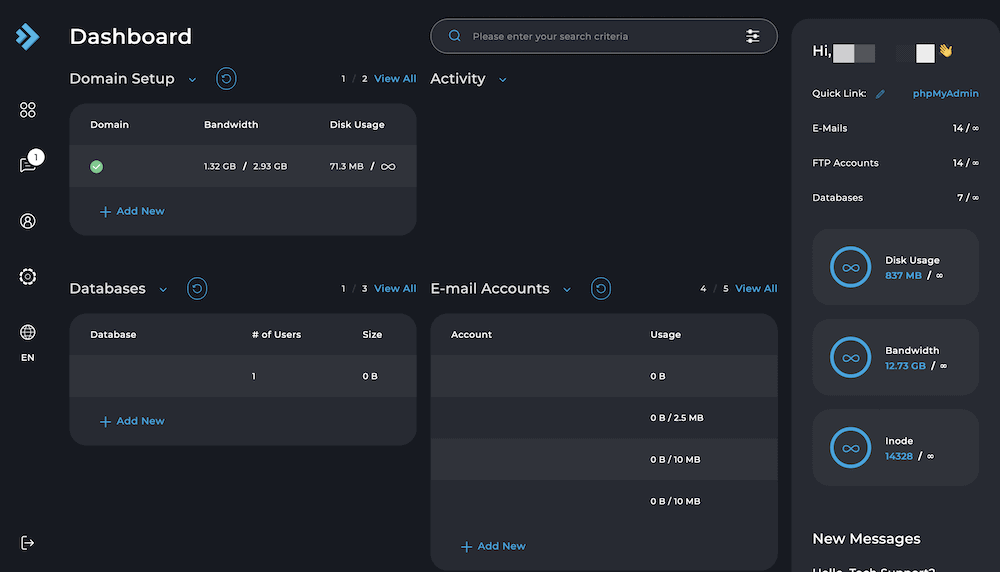 You get almost all of the essential features you need for managing your servers, such as DNS administration and IP management. DirectAdmin also supports DNS clustering to help machines transfer data and includes duplicate domain protection.
Many additional features give DirectAdmin the edge over other solutions too. For example, accounts can use two-factor authentication (2FA), there's automatic crash recovery functionality, and you'll have access to great support options.
Users get an integrated ticketing support system and the Site-Helper tool and site. They're a comprehensive guide to everything DirectAdmin offers.
Even at the top price point of $29 per month, DirectAdmin represents good value. Combined with its robust set of features, there's plenty to like about this solution.
8. Virtualmin
If you sense something familiar here, you're not alone. Virtualmin is built on top of Webmin and is published under the GPL.

The dashboard looks clean, although you do have the ability to customize it however you need. However, you might not want to once you begin to use it. You can find almost every option from the left-hand menu, and a glance will show you that it's a solid sysadmin tool.
You can manage domain accounts (called "virtual servers" here, which is confusing) by delegating the administration to users. What's more, there are lots of ways to manage accounts on a per-user basis.
Virtualmin uses system-standard package repos so that you can automate updates fast. It's nice that you get the choice between the command line and the interface too.
You're also able to extend Virtualmin using several applications and scripts for around 100 different products. That said, integration with the cloud is already included out of the box so that you can set up cloud storage with Amazon S3, Dropbox, Google Cloud, Rackspace, and more.
There are two flavors of Virtualmin: the free GPL version and a professional version. The pricing for this isn't well documented on the home page but comes in at around $20–25 per month, which is reasonable.
9. InterWorx
Next up, InterWorx is a fully commercial venture that comes in two parts. Combined, they offer you a powerful all-in-one cPanel alternative that has lots of scope and scalability.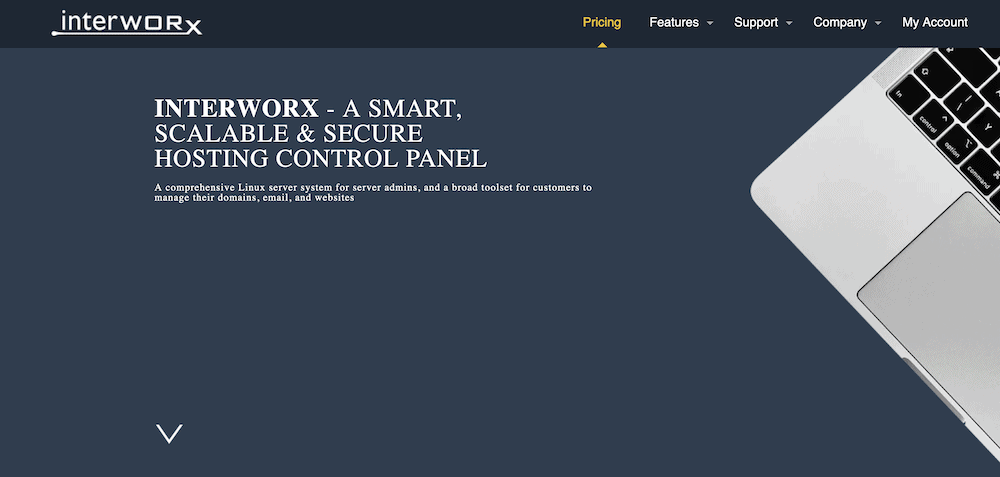 The two parts cover the server- and client-sides. NodeWorx is the server management tool and gives you almost all of the features you need. There are also many server control tools, such as firewall rules management, database management, virus protection, and more.
In contrast, SiteWorx is a user control panel that lets you configure domains, view statistics, install various applications and software, and more. InterWorx comprises both of these services combined.
If you're looking for a cPanel alternative that lets you create multiple admin and user accounts and leverage clustering technology, InterWorx will be on your list. The pricing is also tempting.
We like the simple model on display here. For a single VPS license, you pay $7.50 per month. That lets you host a near-unlimited number of domains, but you can also opt for a single server license for $20 per month. You'll need to contact InterWorx for the exact price of bulk licenses, but they advertise that it could get as low as $5 per month for 500 or more licenses.
10. VestaCP
The main focus with VestaCP is on simplicity. You can tell this from the moment you browse the website, and this theme runs through the control panel software.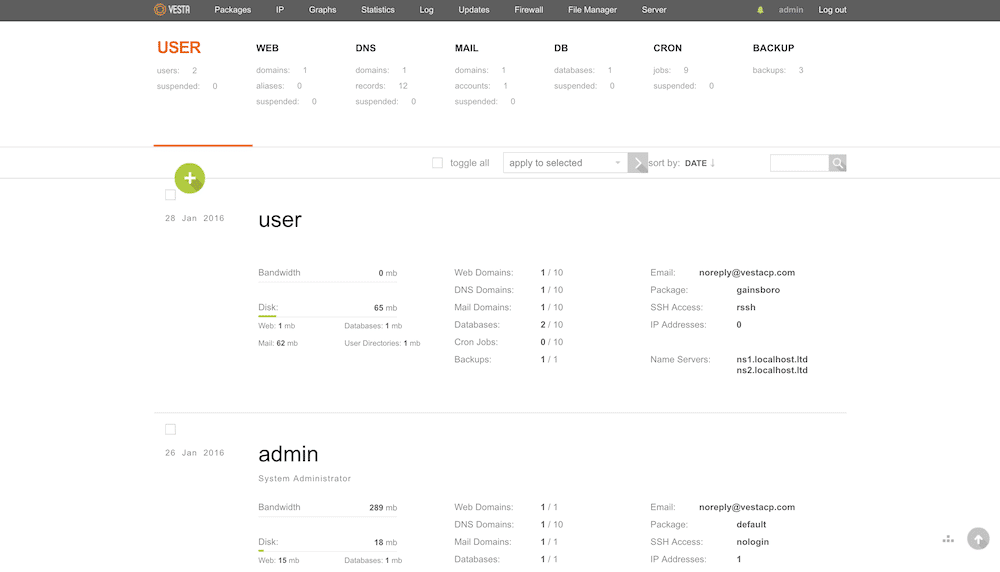 The web interface is lightweight and runs on JavaScript and PHP. The feature set doesn't stand out compared to other cPanel alternatives, and there are no surprises. However, this isn't the focus of the control panel. It's speed and efficiency.
While this could seem like a drawback, it works in favor of VestaCP because the tools and functionality will feel familiar. For example, there are APIs for Ubuntu, Debian, and CentOS distros, and you can use MySQL or PostgreSQL (also with a respective choice of phpMyAdmin or phpPgAdmin).
All of this stands to make VestaCP a control panel you can feel at home with from the off. That's a positive, especially if you are a long-standing cPanel user, as making a switch often has a steep learning curve.
Much like every other GPL solution on this list, VestaCP is free. However, a premium plugin can help restrict users to their home directories and disable SSH. Of course, this is optional, so you have nothing to pay for the control panel itself.
11. aaPanel
Our final cPanel alternative is popular in Asia, and it deserves to find its way onto western servers. As another free and open-source solution, aaPanel includes lots of features that will be great for networks of a few servers.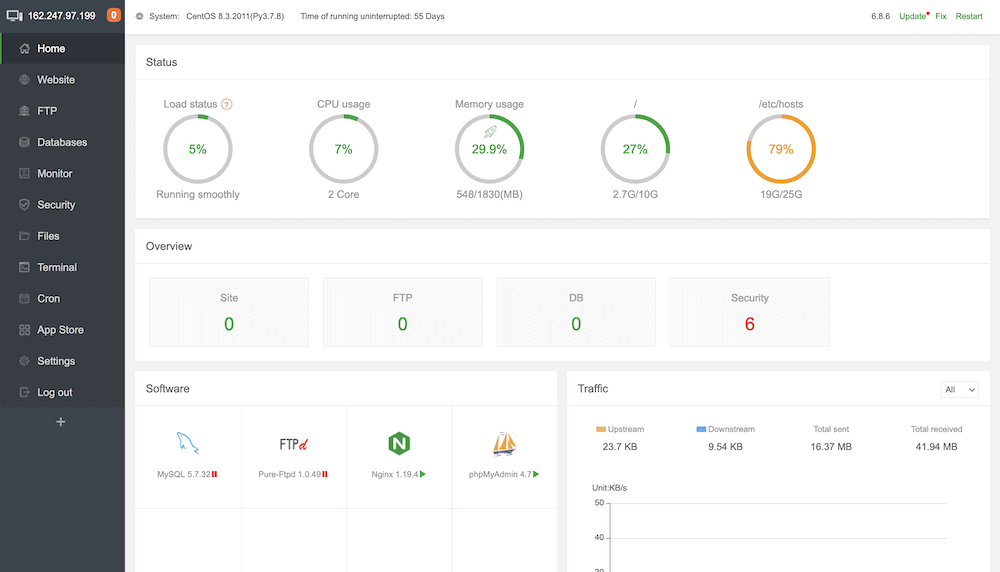 The features are standard across the board, though there are lots of environments to choose. You're not restricted to Apache and Nginx either, as OpenLiteSpeed is also supported. While MySQL support is a given, MongoDB also makes an appearance for those into NoSQL solutions.
There's a dedicated aaPanel plugin available that implements Java and Python project managers, a PostgreSQL manager, DNS managers, and much more. Cloud storage also uses a plugin, and once activated, you can choose Amazon S3, Google Cloud, and others.
We also like that there are one-click deployments built-in for a few popular applications. WordPress is in the mix, of course, but you can also deploy Joomla, Drupal, Laravel, and Roundcube applications.
As with other open-source cPanel alternatives, aaPanel is free to download and use. As such, it offers a lot and could become your control panel of choice, regardless of your location.
Summary
There's no reason to knock cPanel's features and functionality. After all, it's a mainstay among web hosting control panels and has a lot of customers. However, recent pricing changes have given users a reason to look elsewhere. If anything, the new pricing amplifies the negative aspects of cPanel.
We've explored 11 cPanel alternatives and discussed why they're on this list. Although cPanel is still widely used, it's falling out of favor with most businesses today.
In 2023, businesses need a powerful yet easy-to-use dashboard to manage their websites. And that's where MyKinsta comes in. Schedule a demo and see for yourself.
Do you prefer a control panel alternative that's not on this list? Or are you still loyal to cPanel? Let us know in the comments section below!