Are you looking for an easy way to block a website on Google Chrome so that you or other users can't access it?
Whether you want to keep yourself from getting distracted by blocking YouTube or Reddit or block inappropriate websites not covered by parental controls so your children can surf the web safely, we've got you covered.
Chrome is leading the back when it comes to browser market share, holding over 73%. In this article, we'll show you how to block websites in Google Chrome on desktop, Android, and iOS. We'll dig deeper in several ways, from using an extension, editing your hosts file, to your mobile settings.
Ready?
Let's block some distractions!
How to Block Websites on Chrome (Desktop)
The easiest way to block a website on a desktop version of Chrome is to use an extension. There are many options available, but BlockSite is the most up-to-date and has over 1,000,000 active users.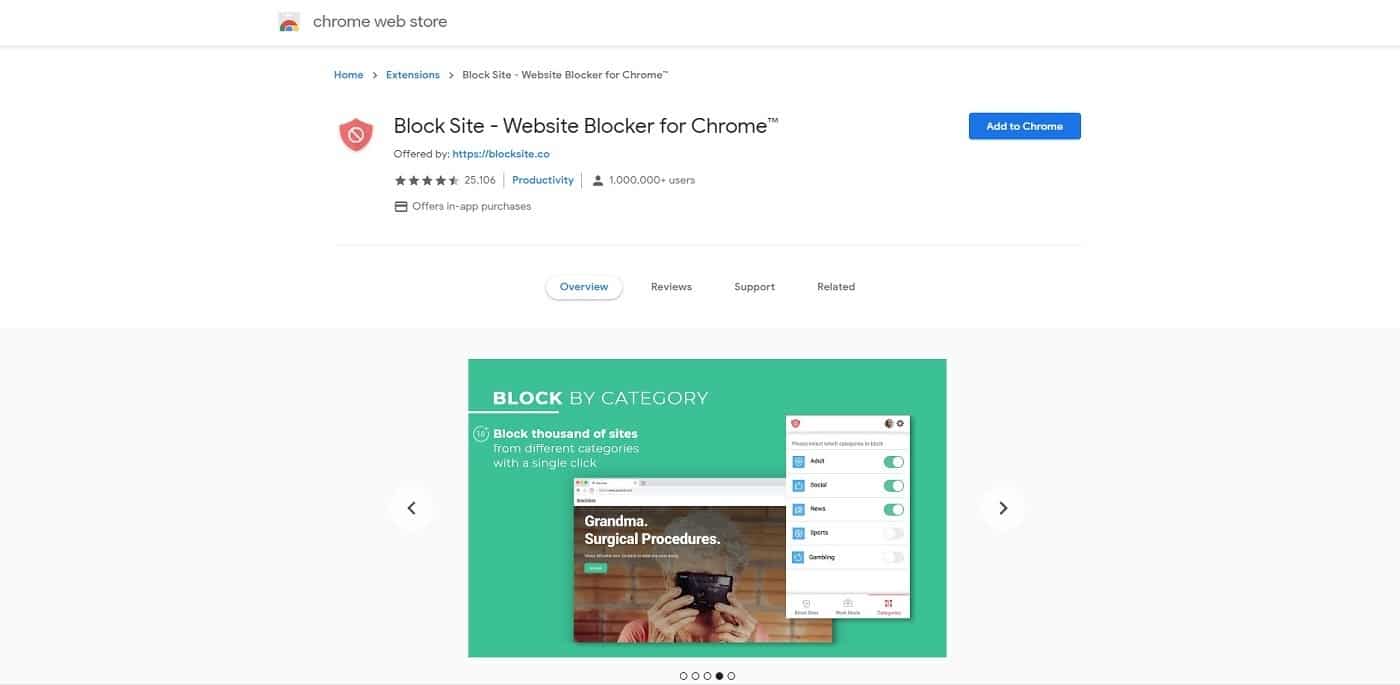 As with other Chrome extensions, the installation process is almost immediate. Simply click the link above or search for "Block Site" in the Chrome Web Store to go to the extension's page.
Then click the "Add to Chrome Button" and confirm the request by clicking "Add extension" in the install prompt.

Once you've added the extension, it'll ask for your permission to record browsing data, which you can deny.
After that, you'll see the app's user interface where you can add your very first blocked site. Simply type in a URL and press enter to block any website, for example, reddit.com:
Now, if you try to visit Reddit in the middle of your working day, you'll see this option pop up instead.
Instead of endless subreddits, a disappointed puppy will motivate you to get back to work.
How to Block Sites in Incognito Mode
By default, no extension settings apply to the incognito mode, and BlockSite is no exception.
So to make sure you block a site while using Chrome's incognito mode as well, head to the extension settings. If you already closed the tab, you should be able to find the BlockSite extension in your toolbar.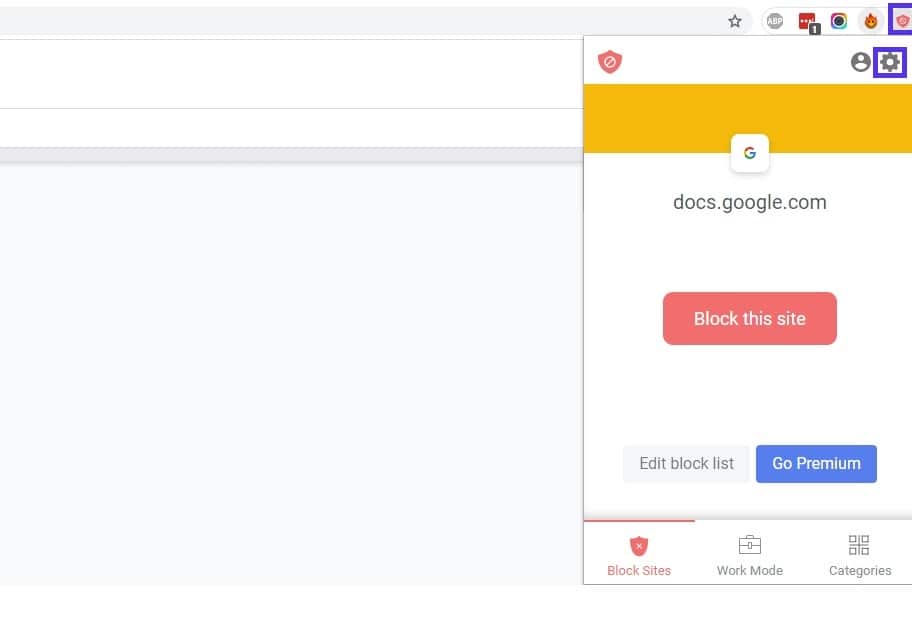 From there, navigate to the settings page, and click the "Enable in Incognito Mode" button at the very top of the page.
Now, even if you try to access your blocked pages in incognito mode, you can't reach them.
How to Password Protect Your Blocked Sites (For Parental Controls & Office Computers)
Whether you're a concerned parent, or an office manager wanting to boost productivity, you need to take one more step.
If you just use the extension, users can simply find the plugin page and unblock the pages without issue. To avoid this, you need to add password protection to the extension.
To do so, go to the BlockSite details page and navigate to the password protection tab. From there, check the first option, and enter your email address and desired password.
Once you've signed up and logged in, all Chrome users will need to log in to make changes.
If you want to control your Gmail inbox in the same way, we've got a list of 22 Gmail add-ons to help improve your inbox experience.
How to Block a Website in Chrome Temporarily
If you don't want to permanently block websites, but rather, temporarily block distractions as you are working, BlockSite also offers that option.
But to use it, you need to have the extension pinned. So if you can't see the icon in your toolbar, you need to add it by clicking the puzzle piece, and then pinning BlockSite.
Next, click the BlockSite icon in your toolbar, navigate to the Work Mode tab, and click the "Get Started" button.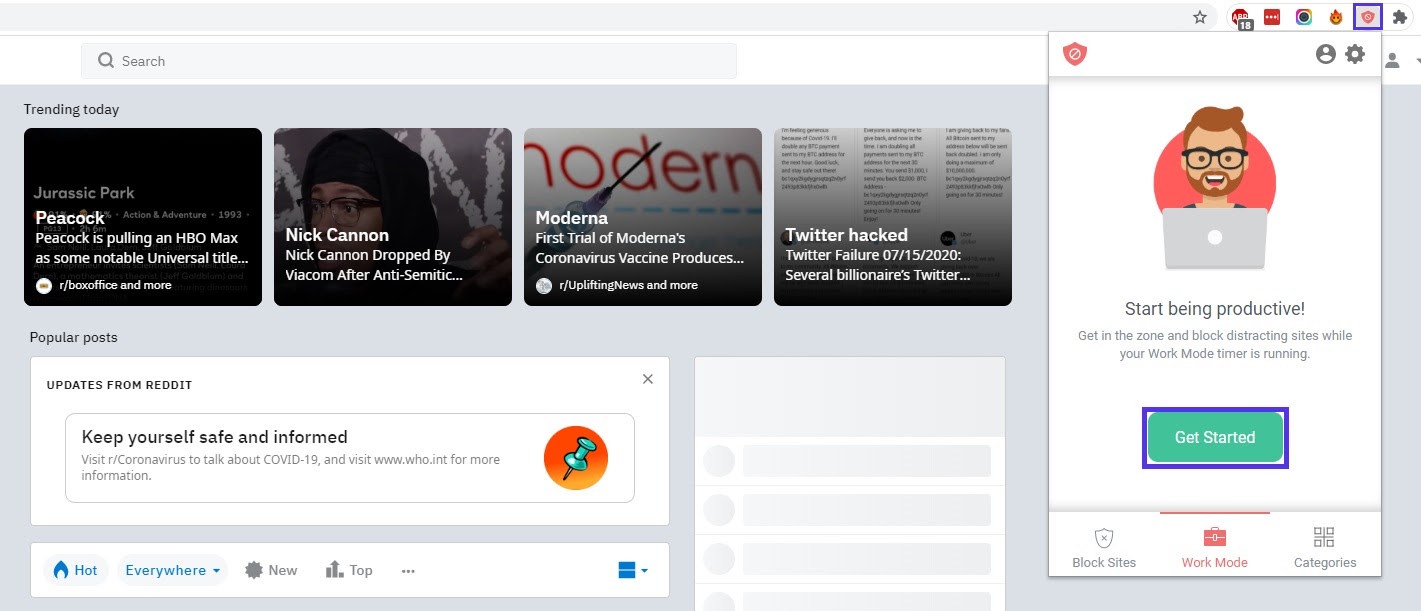 Then, you can add the sites you want to block to a list and click continue once you've added them all.

Next, you can set the work and break intervals. By default it's set to the Pomodoro Technique interval of 25 minutes on, followed by a 5-minute break. You can also set it to an 8-hour workday.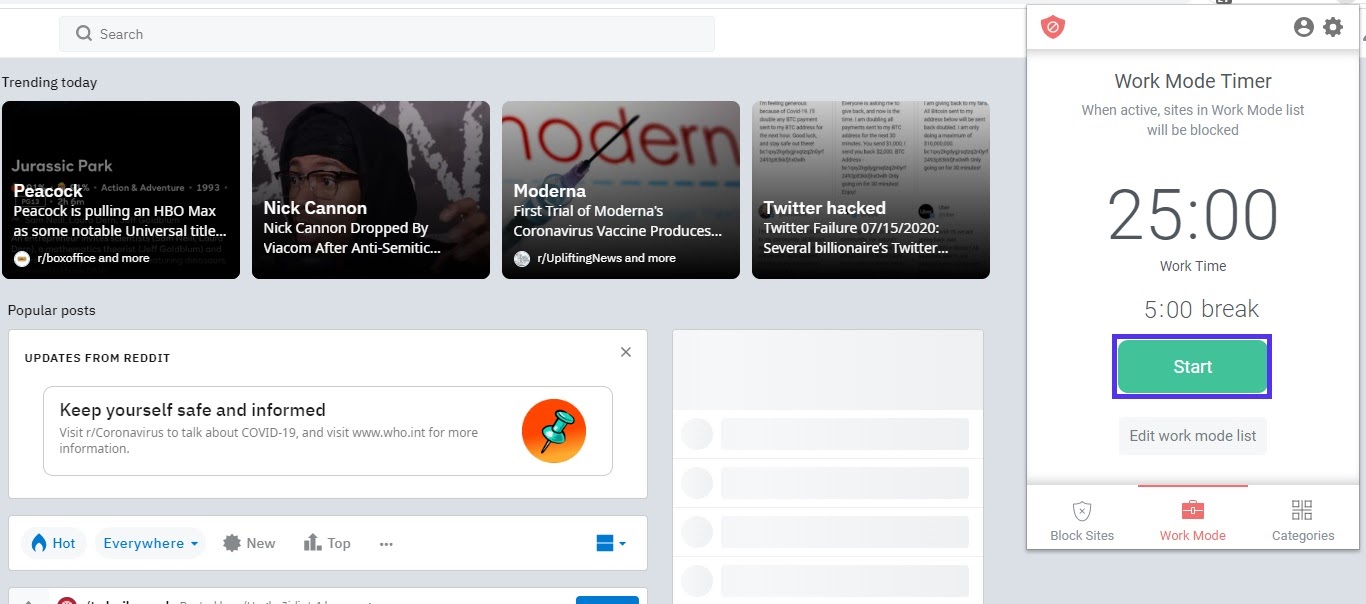 To get even more stuff done, check out our list of the Best Chrome Extensions for WordPress Users to Boost Productivity.
How to Block a Website on Chrome Without an Extension
Don't want to use a Chrome extension to block websites? You can block websites completely taking advantage of two additional ways:
As long as you are an administrator, you could use is editing the hosts file to restrict access to sites.
You can block websites at the router level, stopping your children (or employees) from accessing distracting sites on any wifi-connected device.
1. Blocking Websites Editing the Hosts File
In Windows, you can block websites for Chrome and all other web browsers by using what's called the "hosts file".
It's located in the following folder: C:\Windows\system32\drivers\etc

Make sure you open the hosts file with Notepad or another basic text editor.
From here, you want to add lines with your localhost IP in front of any domain you want to block like:
127.0.0.1 www.netflix.com
127.0.0.1 www.reddit.com
Add the new lines of code after the last commented line that starts with #. Make sure that there is a space between the localhost IP address and the website domain names.
Now press CTRL+S or save manually from the menu to update the file (do not save the file with a .txt extension).
If you get a prompt that doesn't let you save the changes, you may have to reset the file permissions. To do this, right-click the file, and select the "Properties" link from the dropdown menu.
Give your user full control permissions and click apply. Now you should be able to edit the file contents and save it without issue.
Try to save the file again, and you should be successful. Now that you've saved the file, it's time for the moment of truth.
Open up Chrome and try to visit one of the blocked sites.
If you've done everything right, you shouldn't be able to access any website on the list from any browser. You won't even be able to start loading the page.
For macOS users, things aren't much different. Here's what you should do.
Open your terminal and type the following command:
sudo nano /etc/hosts
Then, move your cursor to the last line and add all websites you'd like to block following this structure:
127.0.0.1 www.apple.com
Once you've added all websites, save your edits and exit the file. To make sure all changes have been implemented, you may need to flush your DNS cache.
2. Blocking Websites Using Your Router (Mac & Windows)
If your router has a feature for blocking websites on your network, you can use it to block websites in Chrome and other browsers. Actually, it'll also block the sites on any wifi-connected device, including tablets and mobile phones as well.
Many routers use 192.168.1.1 as their default IP address, but that's not always the case, so you'd need to confirm their address.
The first thing you need to do is find your router's IP address so you can access the settings.
To find your router's IP address on Mac computers, open the System Preferences by clicking on the Mac icon. Next, open the Network window.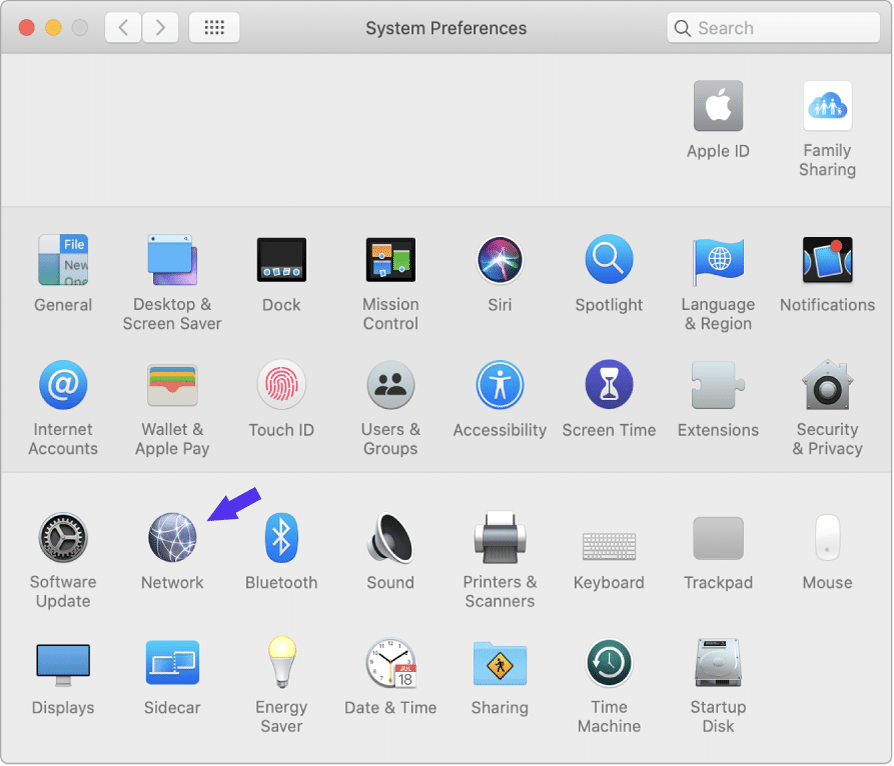 From here, you need to choose the relevant connection, either wifi or ethernet, and you can see the IP information under the status.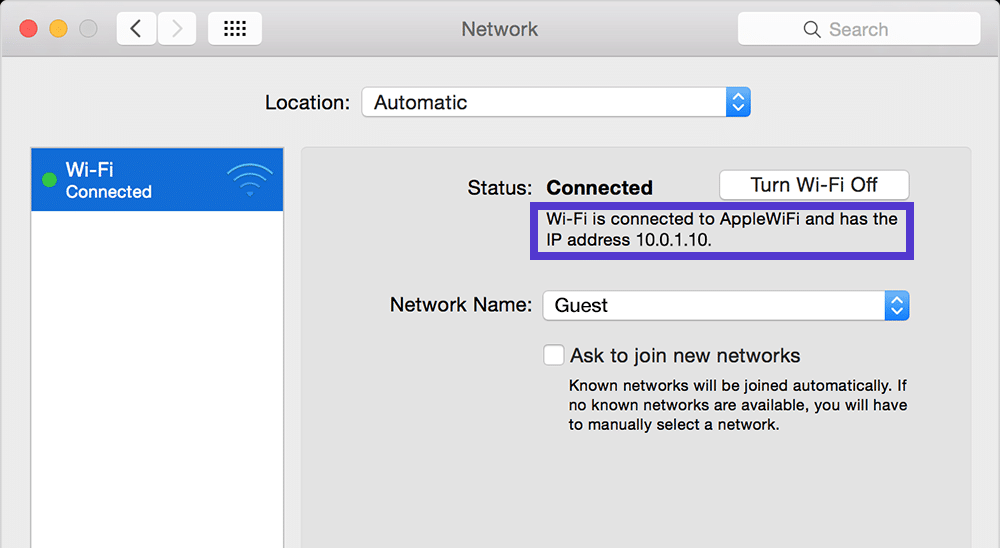 Copy and paste the address into your browser to access your router.
Do you have a Windows Computer, instead? Here's how to find your router IP.
On Windows computers, you can open Command Prompt by searching for "cmd" and pressing enter.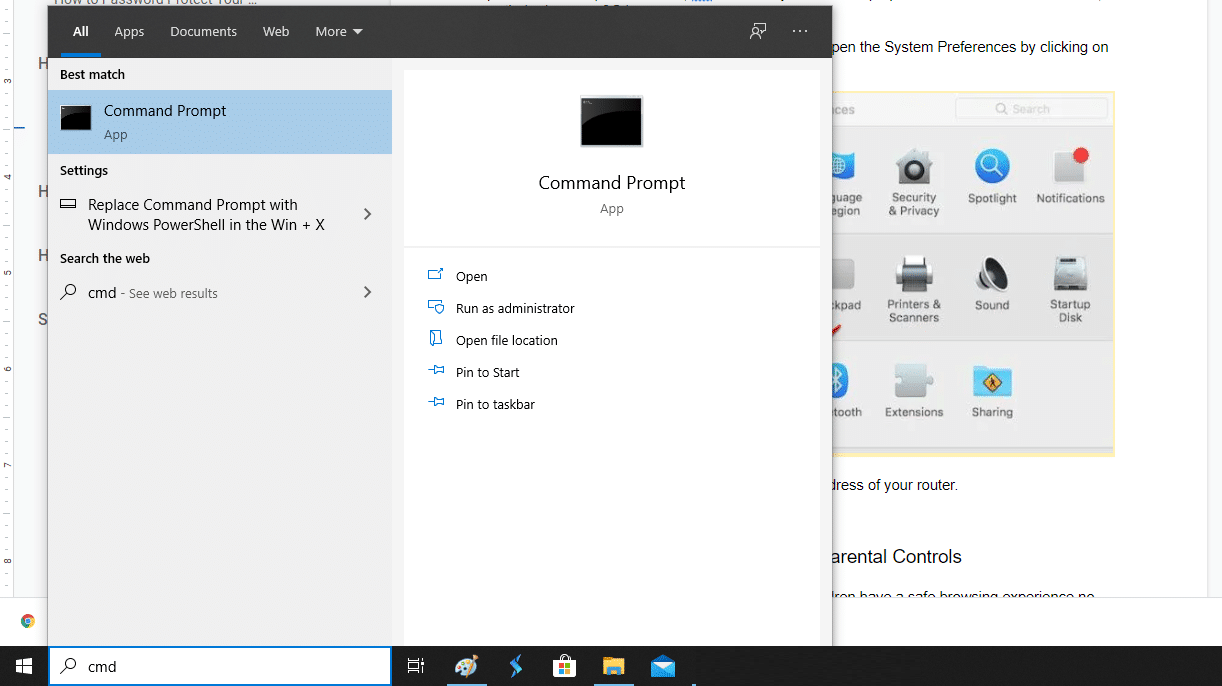 After you open it, type "ipconfig" and press enter. You'll see your router's address under "default gateway".

Copy and paste the address into your browser to access your router.
Next, you need to edit your router settings.
To do this, you need to have the administrator login information for your router. If you didn't change it, it's written on the documents/box your router came in.
Copy and paste the address in Chrome, and you'll see an admin login prompt.

The final steps depend on your router. For example, Netgear routers have blocked site settings under the Security tab.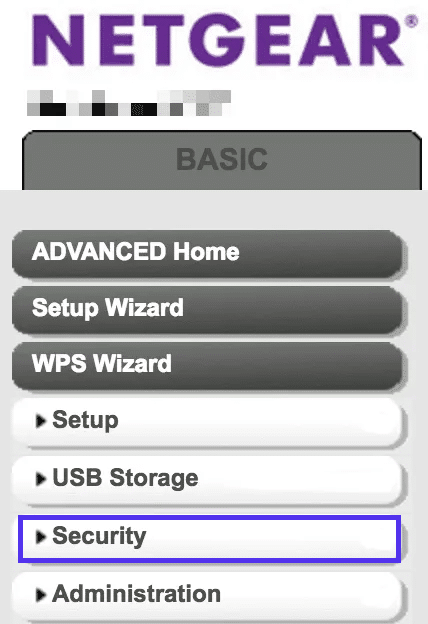 From there, you can scroll down to a "Block Sites" section and block websites by keywords or domain names.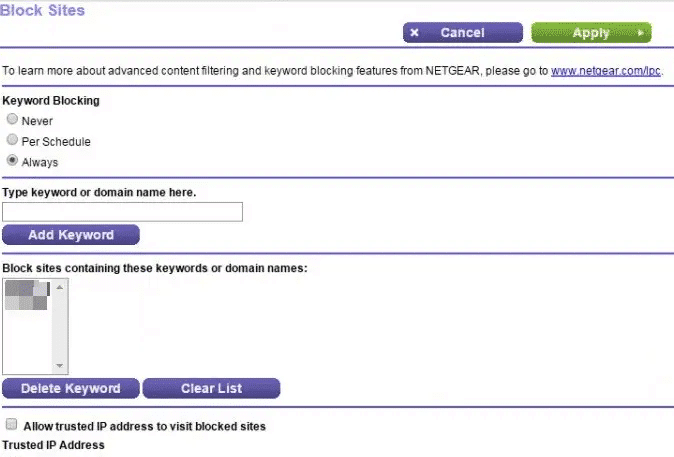 Type a domain name into the field, click the Add Keyword button, and you'll successfully block the website through your router.
How to Block a Website on Chrome (Mobile)
Unlike with desktop computers, it's not the exact same approach for different devices here. The iPhone offers better native privacy settings which means you don't need an app to block sites.
So we have one section for Android phones and one section for iPhones below.
How to Block Sites on Android
The easiest way to block websites on an Android phone is to use the BlockSite app. First, you need to search for and install the app in the Google Play Store.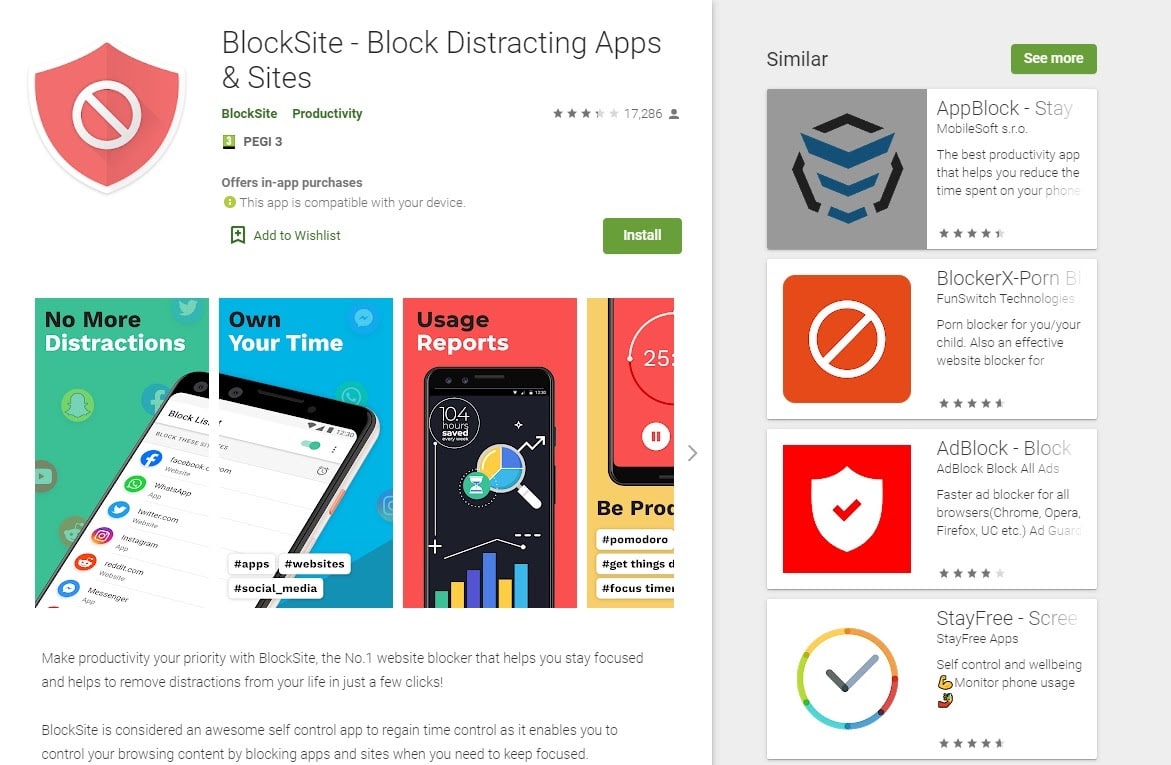 Then, you need to edit your accessibility settings to give the app access (the app will walk you through this). On most phones, the BlockSite section is at the bottom of the settings.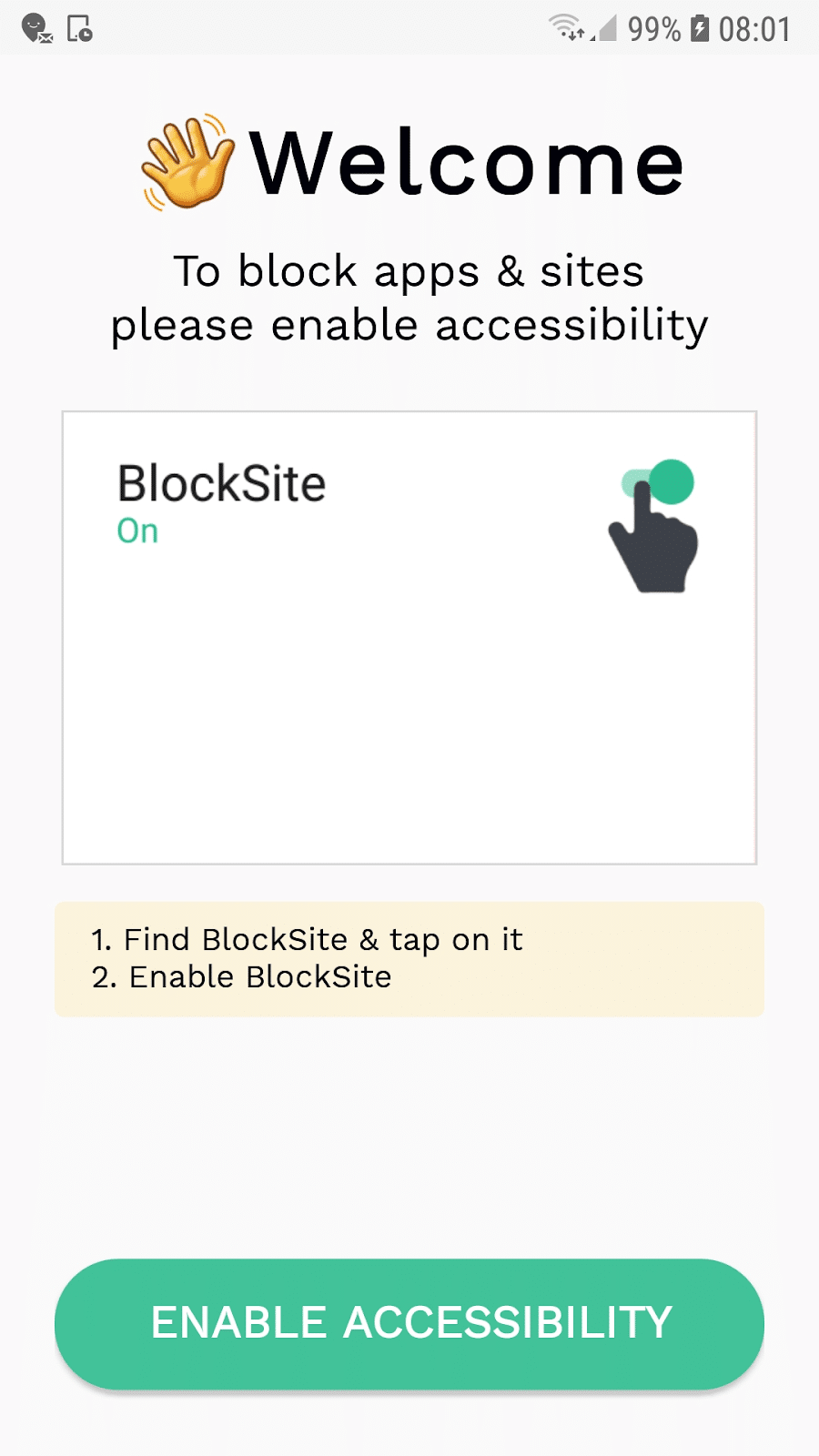 After that's done, you can start blocking websites on your phone.
Click the plus sign to start blocking your very first site.
Search for a keyword or domain name, and choose the website or app you want to block.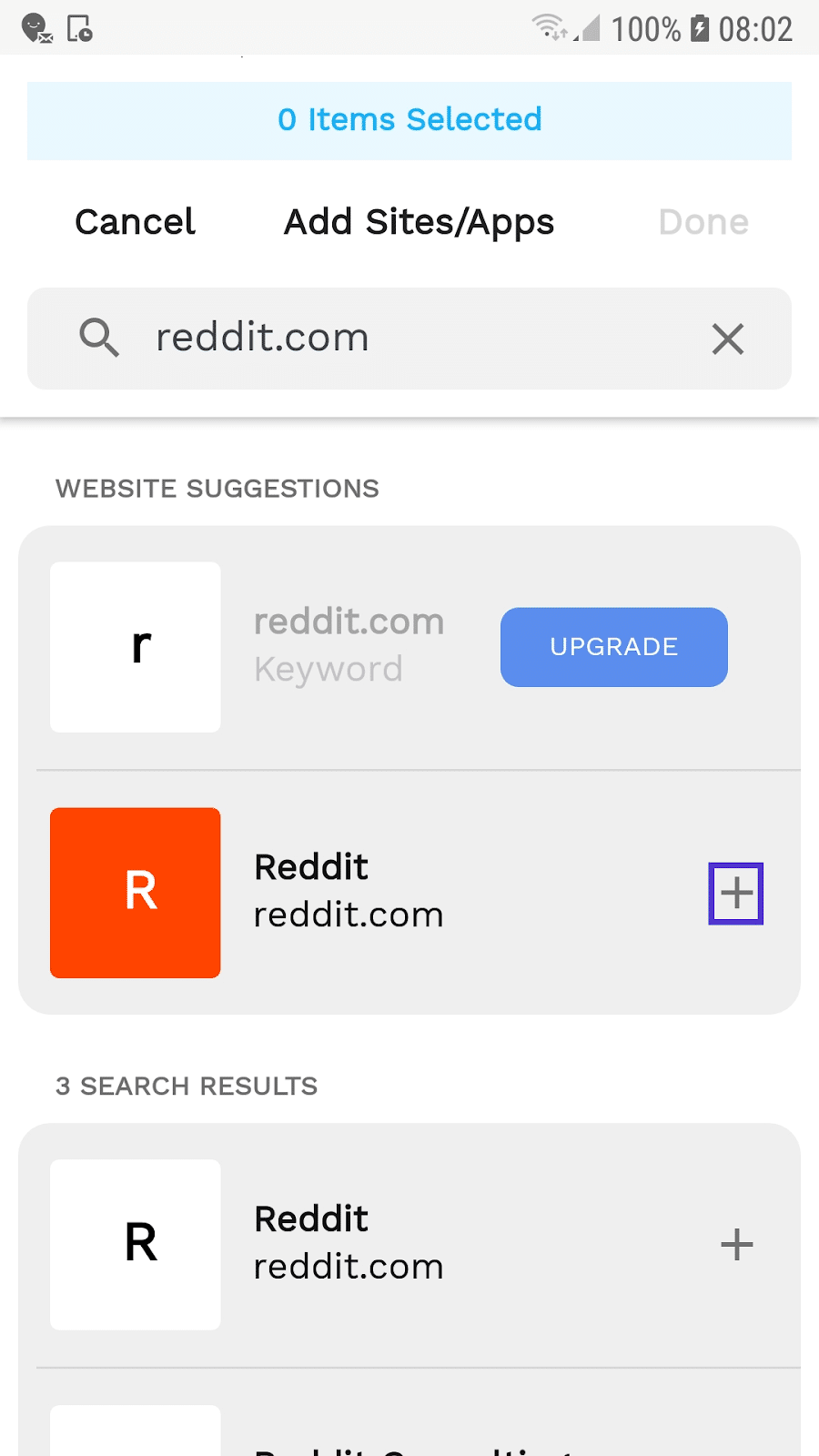 Once you've selected the site, tap Done to save your settings.
You've now officially blocked your first site on Android.
If you try to visit a blocked site, you'll see the same disappointed puppy as on your desktop computer.
How to Block Sites on iOS
If you have one of the newer iPhone models, you don't even need to install an app to start blocking sites. You can do it from within the iPhone settings.
First, go to the general phone settings screen, scroll down to the bottom, and tap the Screen Time link.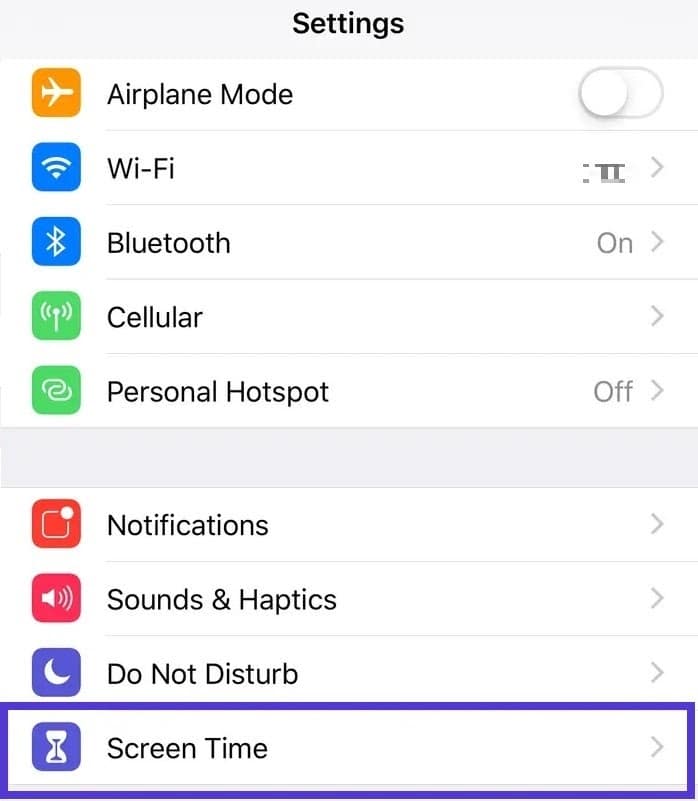 Next, scroll down and tap the "Content & Privacy Restrictions" link.
Next, scroll down the content restrictions settings until you find the "Web Content" tab and tap it.
From here, you can choose one of the options available:
Unrestricted Access
Limited Adult Websites
Allowed websites Only
Choose the "Limit Adult Websites" option and you can start adding specific websites to never allow.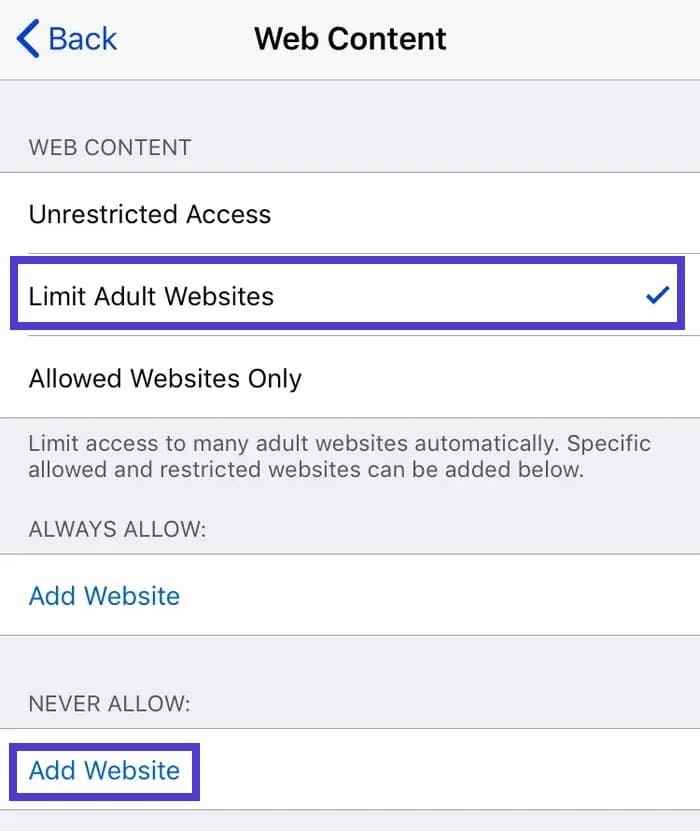 When you've added websites to the list, you won't even be able to start loading them, whether connected to your home wifi or data plan.
How to Block Notifications in Chrome Browser
Blocking websites is half the story here as notifications can also disrupt (and ruin) your productivity. So let's take a look at how to stop them in Chrome.
To block a notification you don't need an extension or to edit any files or OS settings.
You can block push notifications from sites in Chrome's general privacy settings. You can get there instantly with this URL: chrome://settings/content/notifications or navigate to the settings screen and click Privacy and security.

Next, head to "Site settings" and click through to the notifications page.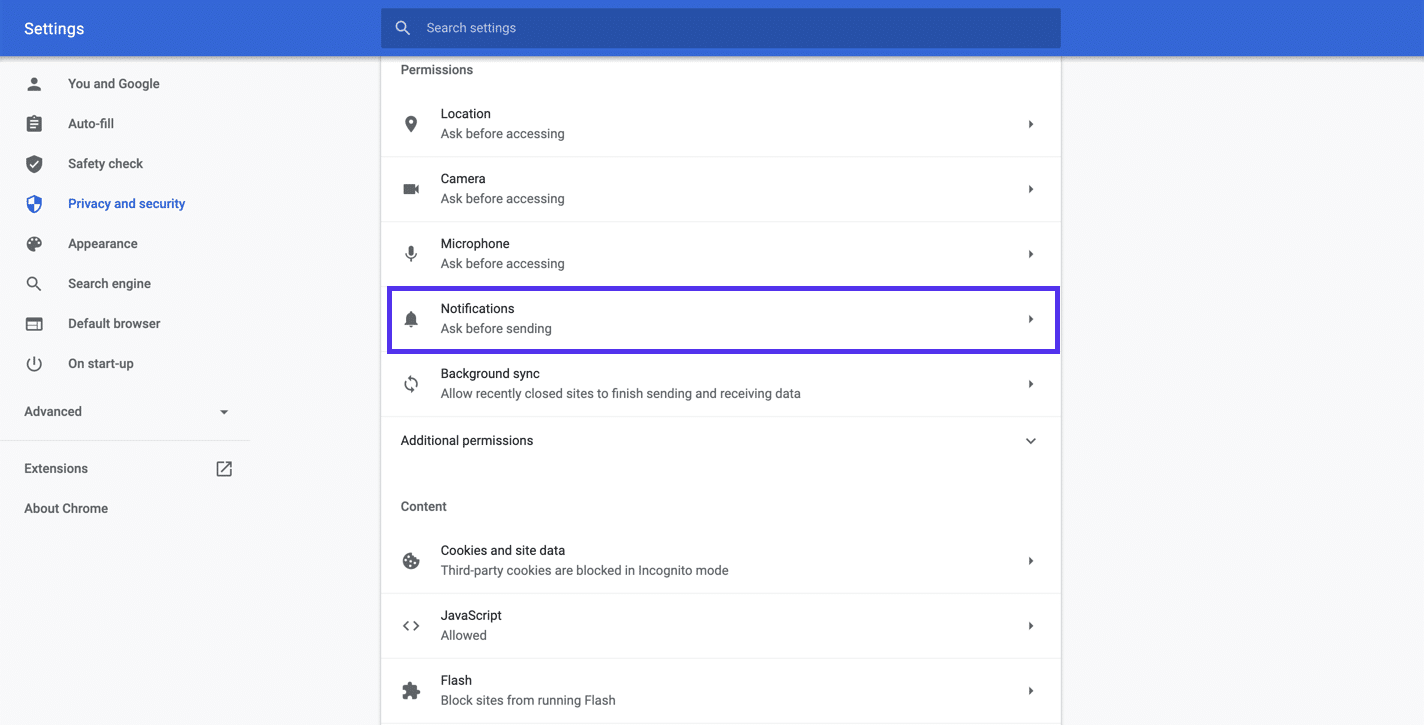 Now you can either stop sites completely from asking for permission to send notifications or block individual sites by URL.
Blocking Notifications on Chrome Mobile
The mobile version of Chrome for iOS (iPhones and iPad) has notifications turned off by default, so there are no notifications settings and no need to edit them.
While on Android, it's even easier to block notifications than on the desktop version. Here's how to do it.
Open up Chrome, click the more button in the corner, scroll down, and tap the Settings link.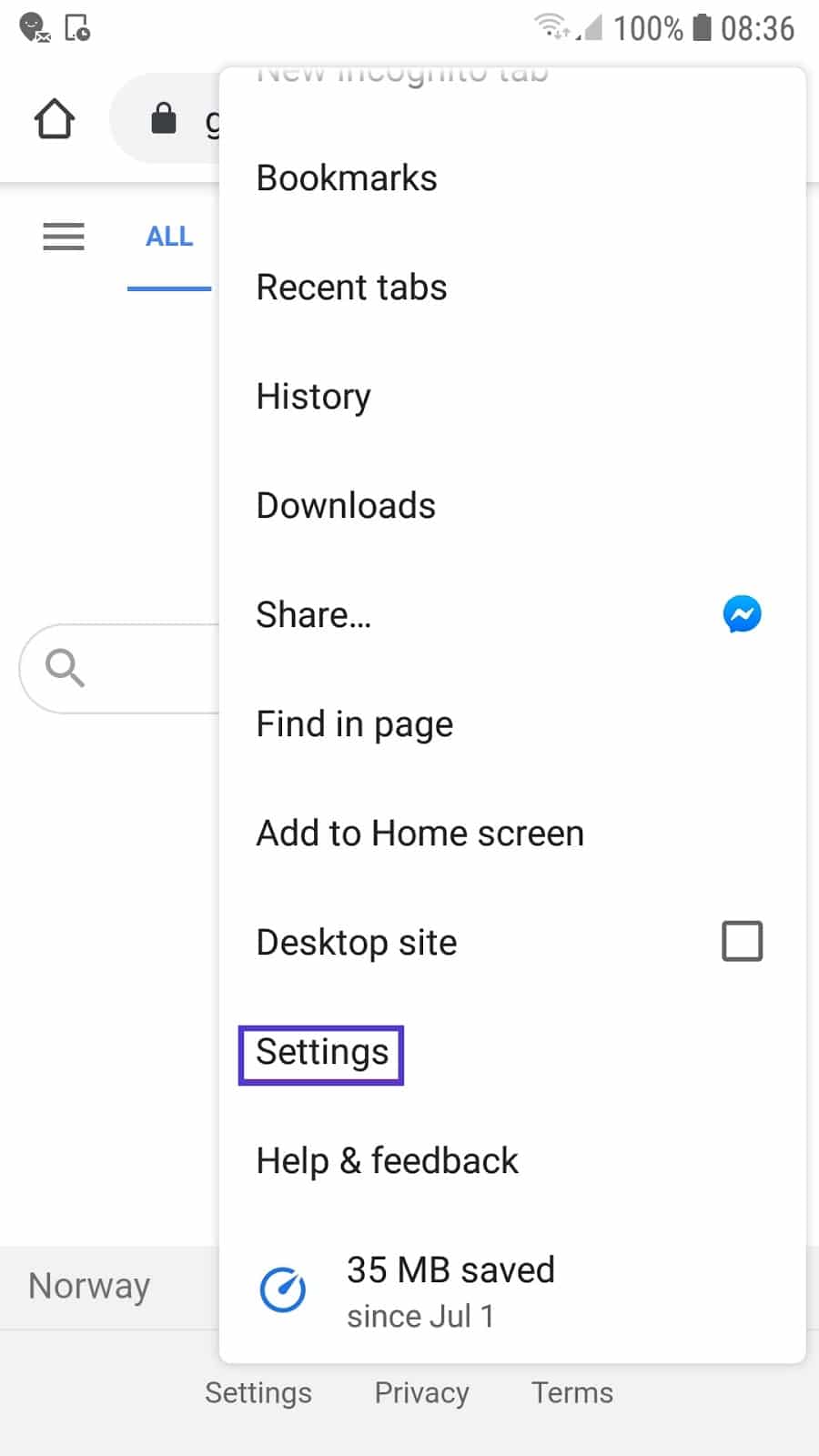 Once there, scroll down and click the Notifications link.
From here, you can turn off all app notifications (including all sites) with a single tap.
If you want to block the notifications from specific sites, you can scroll down to the sites section and tap the button next to the site in question.
Summary
Your work relies on what you're able to deliver, rather than the hours you're sitting before your computer.
That's why you should try to help yourself and keep distractions to a minimum. If you follow the steps in this guide, you can easily block websites on Chrome on any device you desire. You'll no longer need to be plagued by distractions on your computer, mobile, or tablet.
Now it's your turn: how do prevent distractions from ruining your workflows? Which apps are you using? Share them in the comments section!