The average U.S. worker spends 28% of their workweek reading and responding to and sending emails. If you're anything like the average worker, you spend over 10 hours a week looking at your email inbox. And not all of this time is directly productive as a fair chunk of it is probably spent trying to make sense of what tasks to prioritize.
As Gmail is a powerful tool, there are plenty of ways to improve your email productivity and reduce that time.
In this post, we'll take a closer look at the best Gmail add-ons and Gmail extensions that can help you reach this goal.
Ready? Let's get started!
Google Workspace Marketplace vs Chrome Web Store
Before diving into the actual list, let's explain the terminology first.
There are two places through which you can extend the functionality of Gmail: the Google Workspace Marketplace and the Chrome Web Store.
The Google Workspace Marketplace offers add-ons that directly integrate with Google Workspace apps on the backend. They integrate with the server-side app for example Docs (which you can even import to WordPress), Sheets or Gmail. Here is where you'll find Gmail add-ons.
The Chrome Web Store, on the other hand, offers extensions that extend the functionality of your Google Chrome web browser. From ad blockers, to-do lists, to Gmail-related tools and apps. Here you'll find, among others, Gmail extensions.
What Is A Gmail Extension?
A Gmail extension is a Google Chrome extension that directly impacts the layout/function of your Gmail dashboard/account. You can find many of the available extensions in the Chrome web store as you just saw.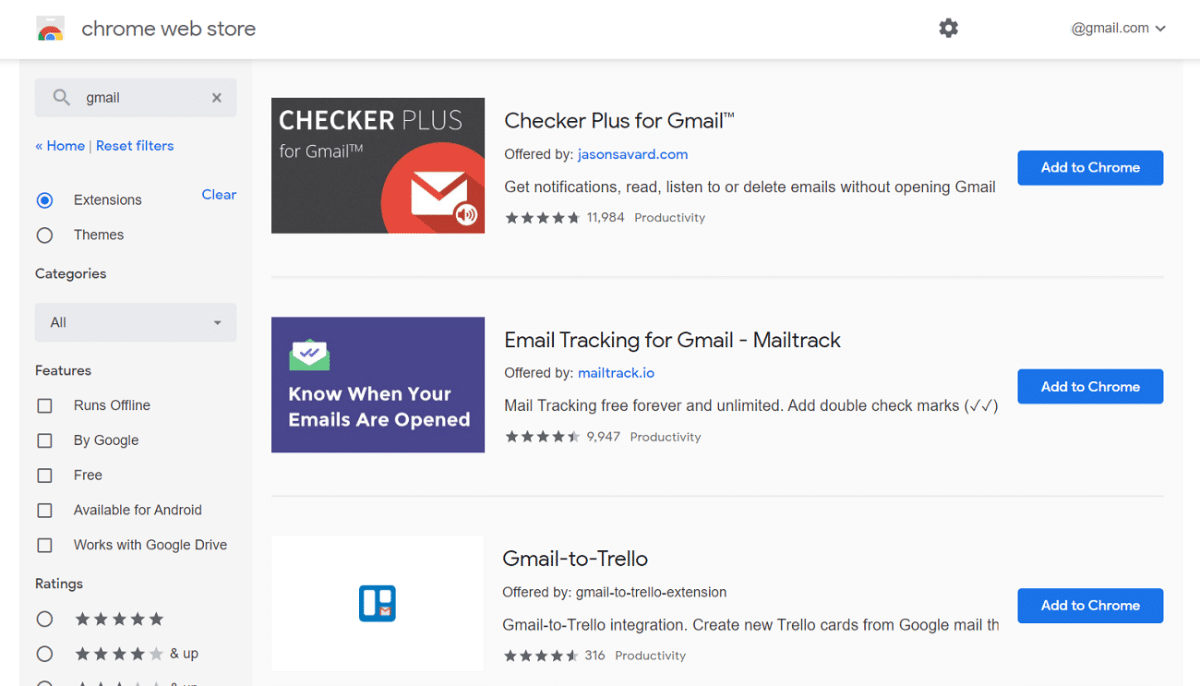 Others are only available through the website of the company that creates the app.
How Do I Add a Gmail Extension?
Adding a Gmail extension is as simple as finding the extension you want in the web store and clicking the "Add to Chrome" button.
And then confirm it by clicking the "Add extension" button when prompted.
You've now successfully added a Gmail focused extension to your Chrome browser. You should be able to see it show up in the top right of your toolbar.
How Do I Remove a Gmail Extension?
You manage all your Gmail related Chrome Extensions in the same interface you administer all extensions: in the extensions dashboard.
Type in "chrome://extensions/" in the URL bar and press enter or open the menu, hover "More tools" and select "Extensions".
From here, all you have to do is click "Remove", and you can remove any extensions you no longer need.
Are Gmail Extensions Safe?
Since Google doesn't publish all Chrome extensions, they don't claim responsibility or ownership of any security issues. Since they are third-party applications, any risks that might be present are on you.
That doesn't mean that all extensions are unsafe, but it means that you should use some discretion when installing one. After a backdoor scandal in 2018, Google decided to up its game and put stricter demands on its extension developers.
For example, extensions can no longer demand access to unrelated personal data. Typically you don't want to be the first one to try a new extension. Look for established extensions with positive real, human feedback. Look for extensions posted by legitimate companies or developers with a public presence.
If someone is unwilling to claim ownership of an extension, they might be worried about future repercussions.
What Are Gmail Add-Ons?
Gmail add-ons are similar to extensions in that they are created to extend the functionality of Gmail. The difference between an extension and an add-on is that the add-on is installed into your Google Workspace app, not the browser.
Remember: add-ons can be found in the Google Workspace Marketplace.
How Do I Add a Gmail Add-On?
To add a Gmail add-on, go to the Google Workspace Marketplace and click the one you want to install. It will take you to that particular app's page.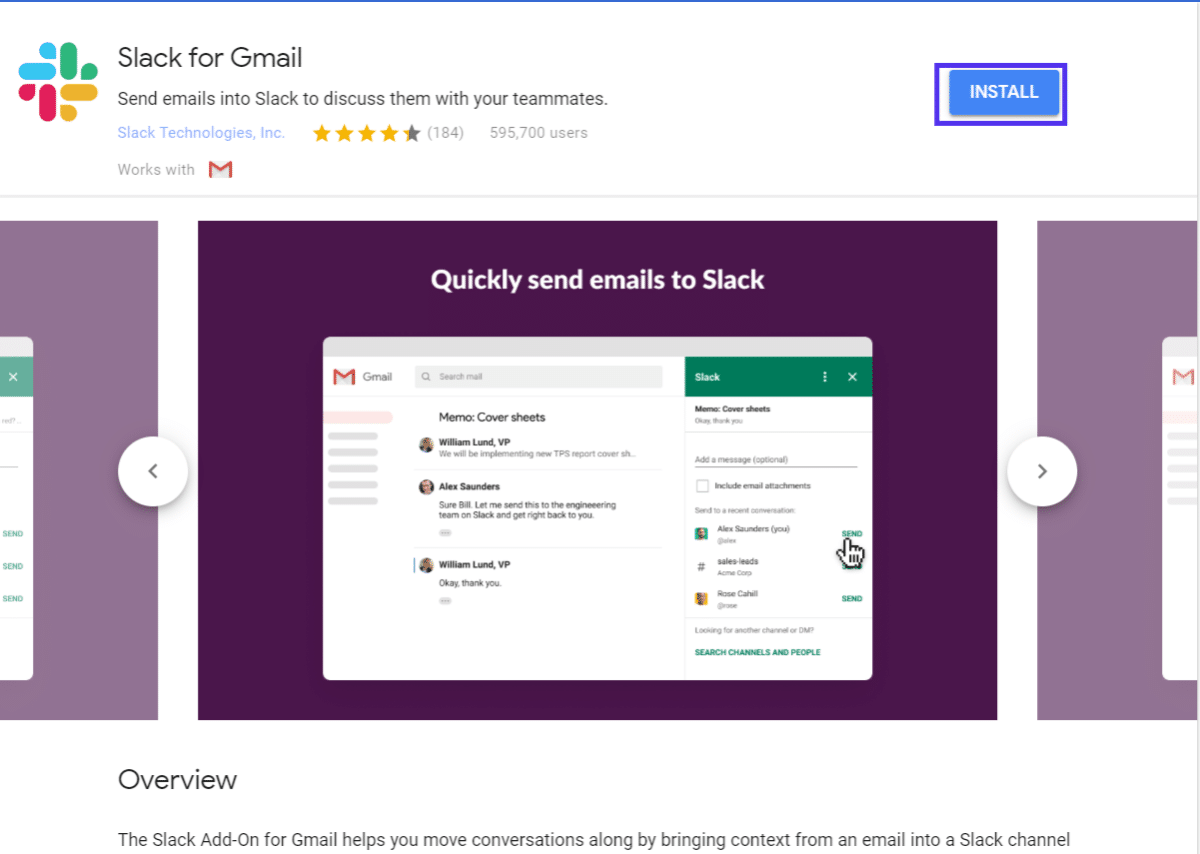 From here, all you need to do is click install. Then confirm it, and verify your Google account credentials.

Finally, click the "Allow" button.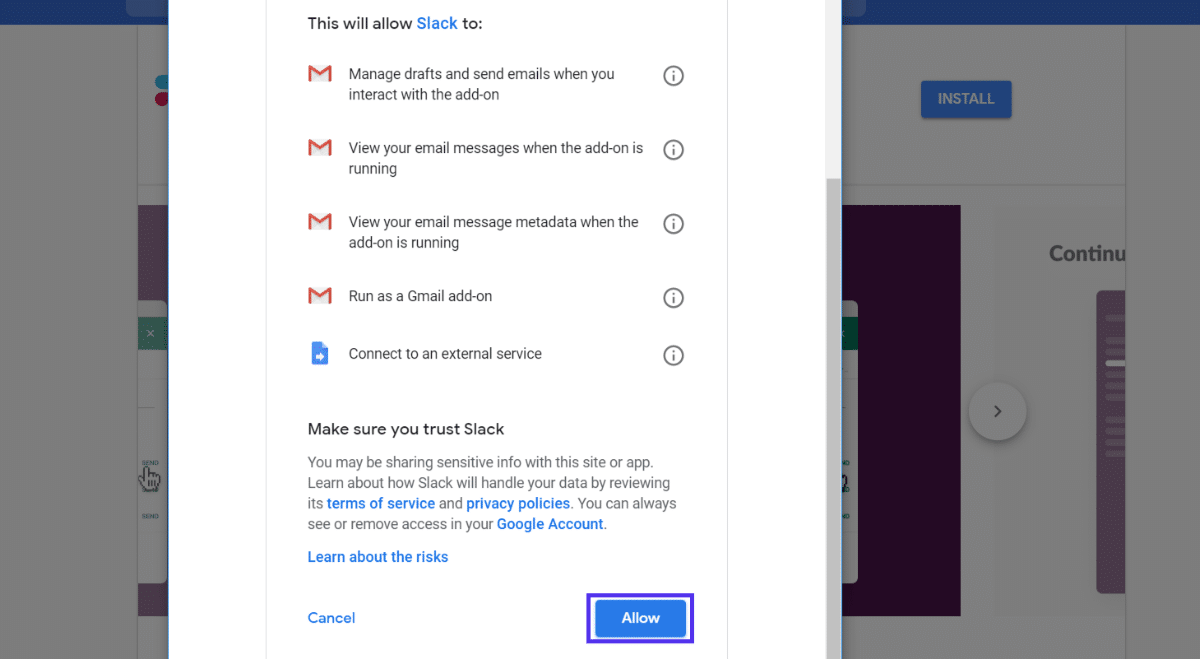 Simple right? With just a few clicks and one login, you were able to add extra functionality to your inbox.
How Can I Remove a Gmail Add-On?
You can manage all your Google Workspace add-ons, hence your Gmail add-on, from the "Manage Apps" section of the Google Workspace Marketplace.
To remove one, hover the menu button and then select "Uninstall."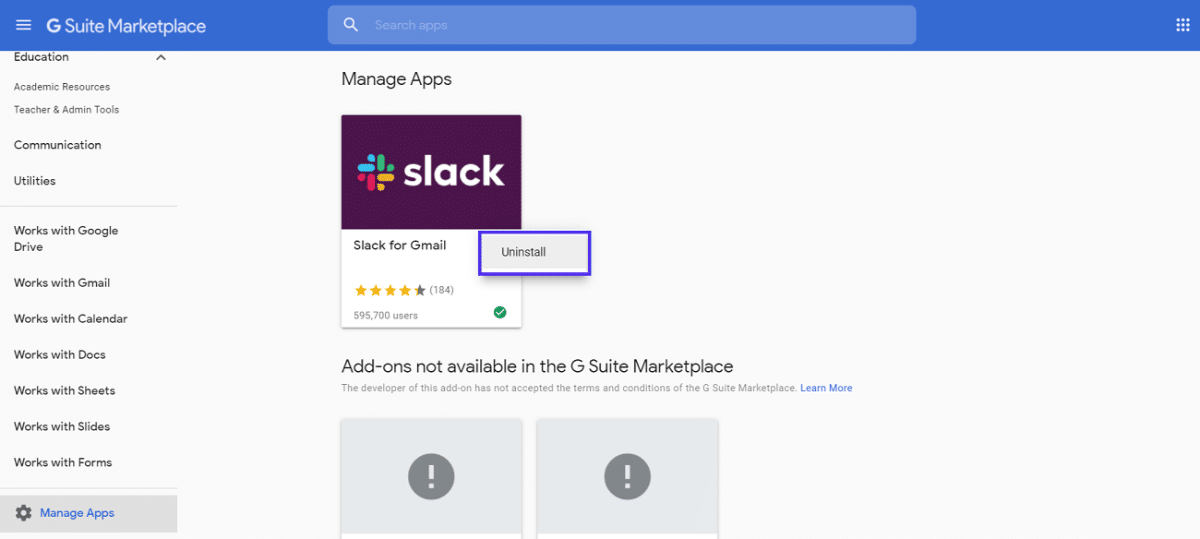 This time it's a single click. Not a very complicated process to say the least.
Now that we know all the ins and outs around Gmail add-ons and extensions, let's have a look at what we think are the most powerful ones!
22 Best Gmail Add-Ons and Extensions to Boost Your Productivity
Our team at Kinsta has gotten together and compared notes and we've arrived at our 20+ favorite Google add-ons and extensions that we're a fan of.
1. Gmelius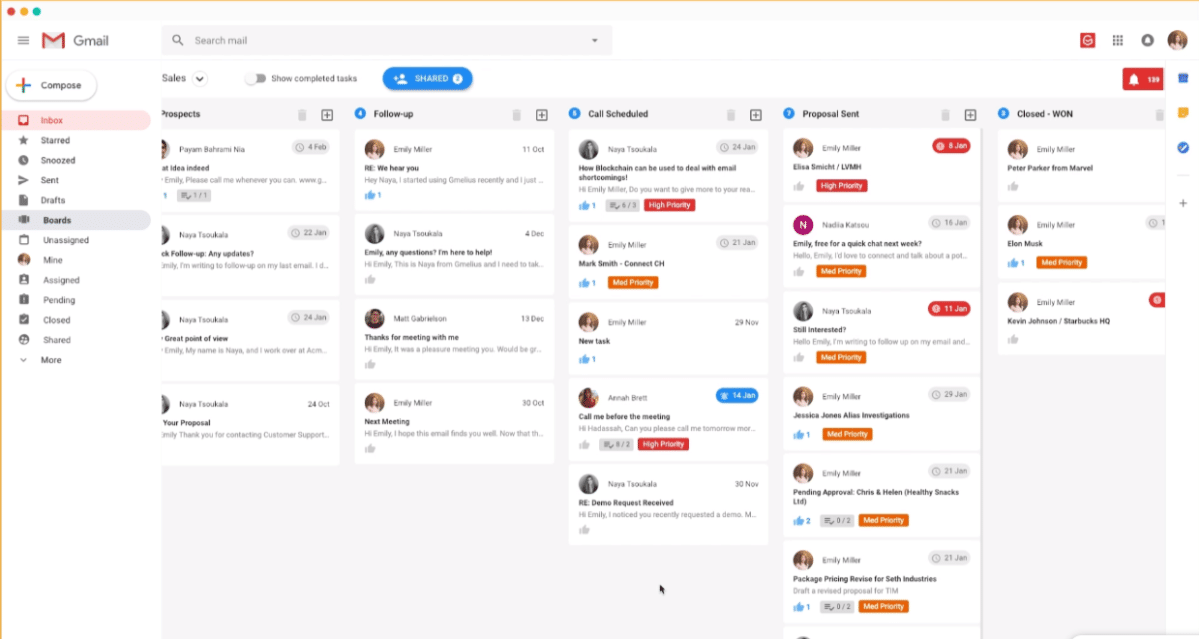 Gmelius is the Gmail extension equivalent of a swiss army knife. It can do everything that any other extension can do, at least as well. One concern some people might have is that to use it as a full-fledged project management and collaboration tool, you need a paid subscription. A plus subscription costs $9/month, but you can try a free trial.
Main Features
Email templates.
Email tracking.
Email automation and processes.
Shared inbox.
Useful For
Startups and teams that need to work fast and collaborate remotely.
Freelancers who do a lot of work with email.
Salespeople who rely on cold emailing.
2. Right Inbox for Gmail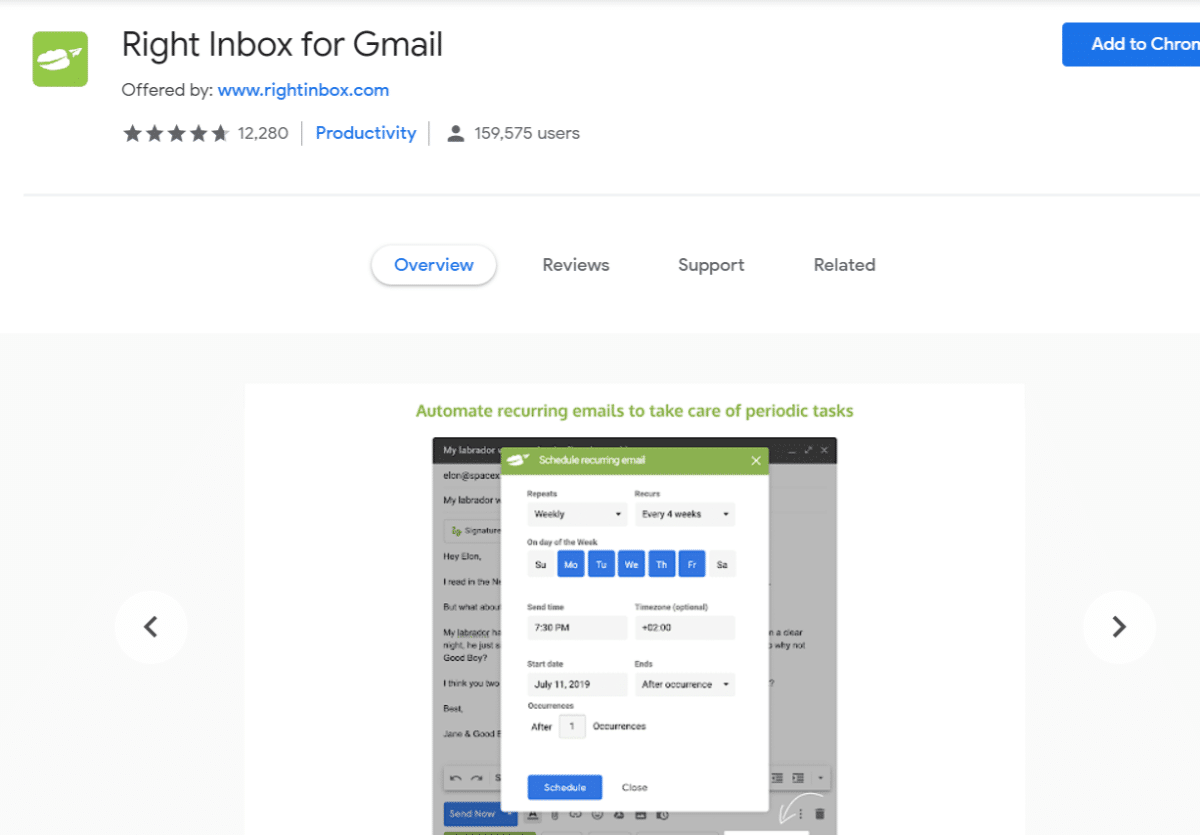 Right Inbox for Gmail allows you to set reminders and tasks from within your inbox. You can also schedule emails to be sent at a later time or even create automatic follow-ups. It also allows you to create, save, and paste in a variety of different email signatures.
Free for up to 10 emails per month. Beyond that, a subscription for unlimited emails costs $7.95/month.
Main Features
Set reminders to reply to emails at certain times.
Schedule emails to be sent at a later time.
Create automatic follow-ups.
Save and paste a multitude of signatures.
Useful For
Professionals who heavily rely on email for communication.
Salespeople.
3. Boomerang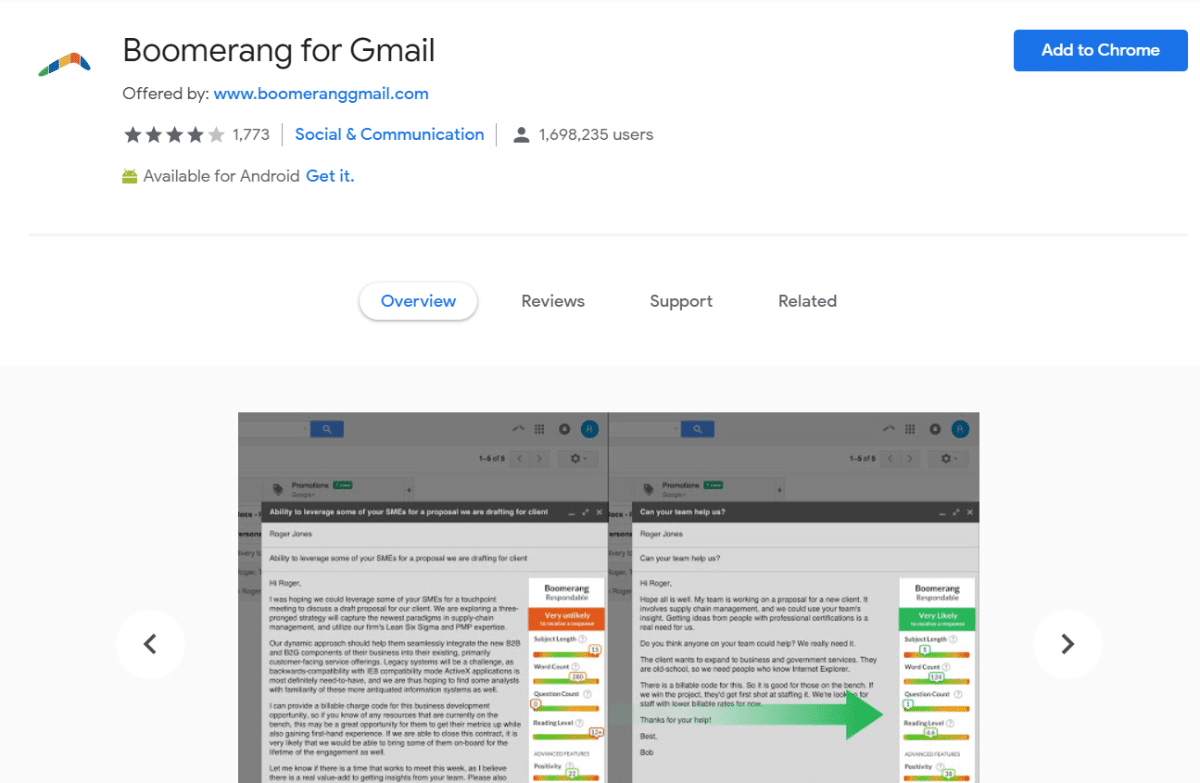 Boomerang is another great Gmail extension. It is an email outreach productivity tool and doesn't try to be anything that it isn't (check out our guide on how to find anyone's email address).
The coolest feature by far is the AI that helps you write better emails. Boomerang is free for up to 10 emails a month and an unlimited plan starts at $4.99/month.
Main Features
Mass Email.
Email Templates for Various Situations.
AI-Assisted Email Writing.
Useful For
Salespeople and SEOs that rely on cold emailing in their job.
Account managers who need to write professional and prompt emails.
4. Zoom for Gmail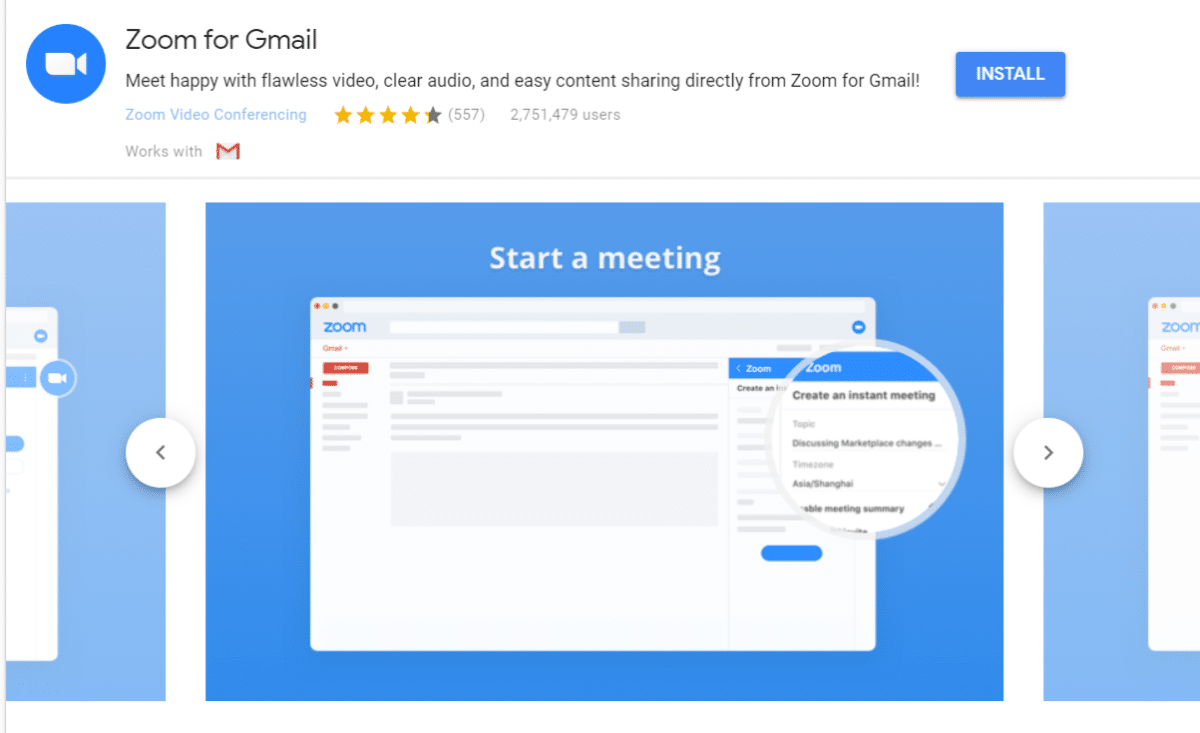 Zoom for Gmail is an add-on that lets you start zoom meetings from within the Gmail interface. You can also check the upcoming schedule of calls, meetings, webinars, and conferences from your inbox. It requires a Zoom account to work.
Main Features
High quality, reliable video conferencing inside Gmail.
Check your schedule for upcoming Zoom calls.
Instantly video call your coworkers from your inbox.
Useful For
People that prefer to collaborate over video calls rather than text-based emails.
Staff members that need to keep track of Zoom webinars and meetings.
5. Slack for Gmail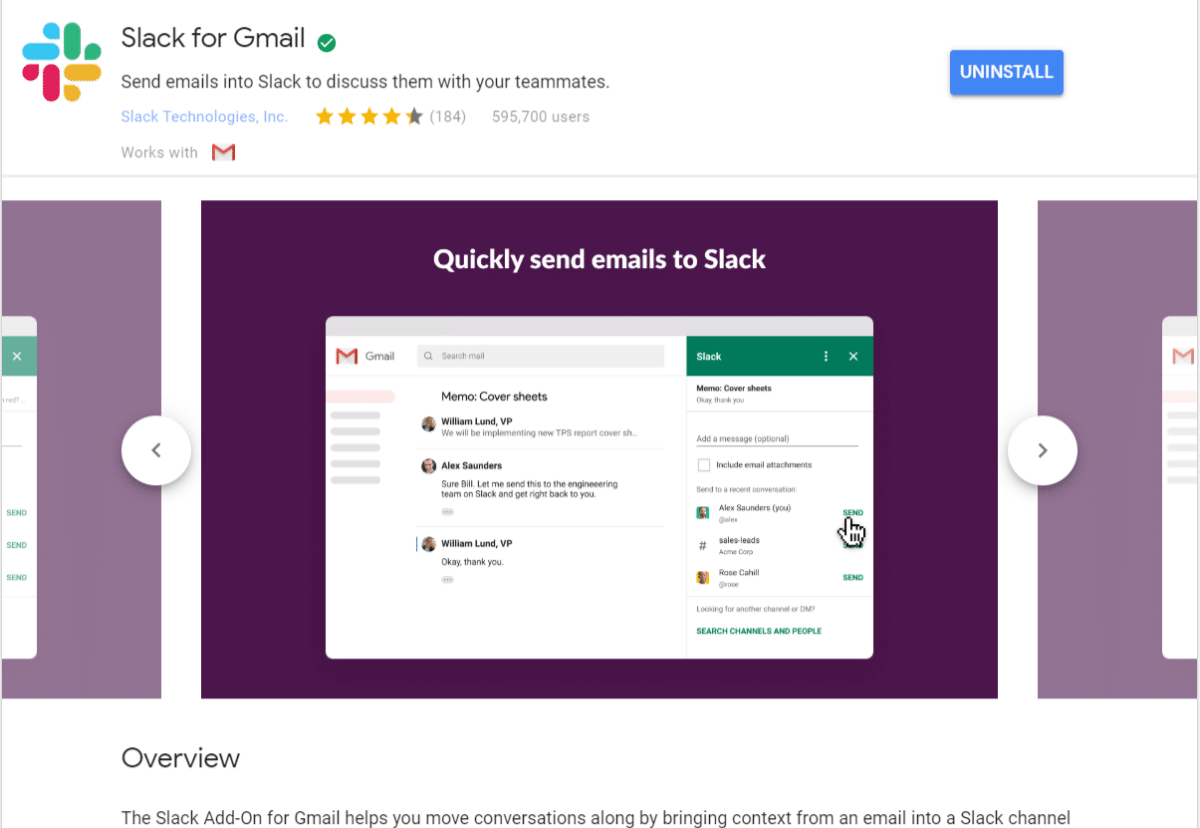 Are you stuck between the two ages of internal communication? Do you deal with coworkers who only use Slack and others who only use Gmail?
If so, this is the Gmail add-on for you. Slack for Gmail does what the name promises. It enables you to send email to Slack. You can also include attachments that will automatically get uploaded to the right channel/private message. Being able to send off quick messages without leaving the inbox can be a lifesaver.
Main Features
Useful For
Those who rely heavily on both Slack and email for their workplace communication.
Are you a Slack user? Make sure to check out this: How to Use Slack in 2020 (Bonus: 18 Lesser-Known Hacks to Get More Done).
Can't decide between Slack and Microsoft Teams? Read our comparison here: Slack vs Teams
6. DocuSign for Gmail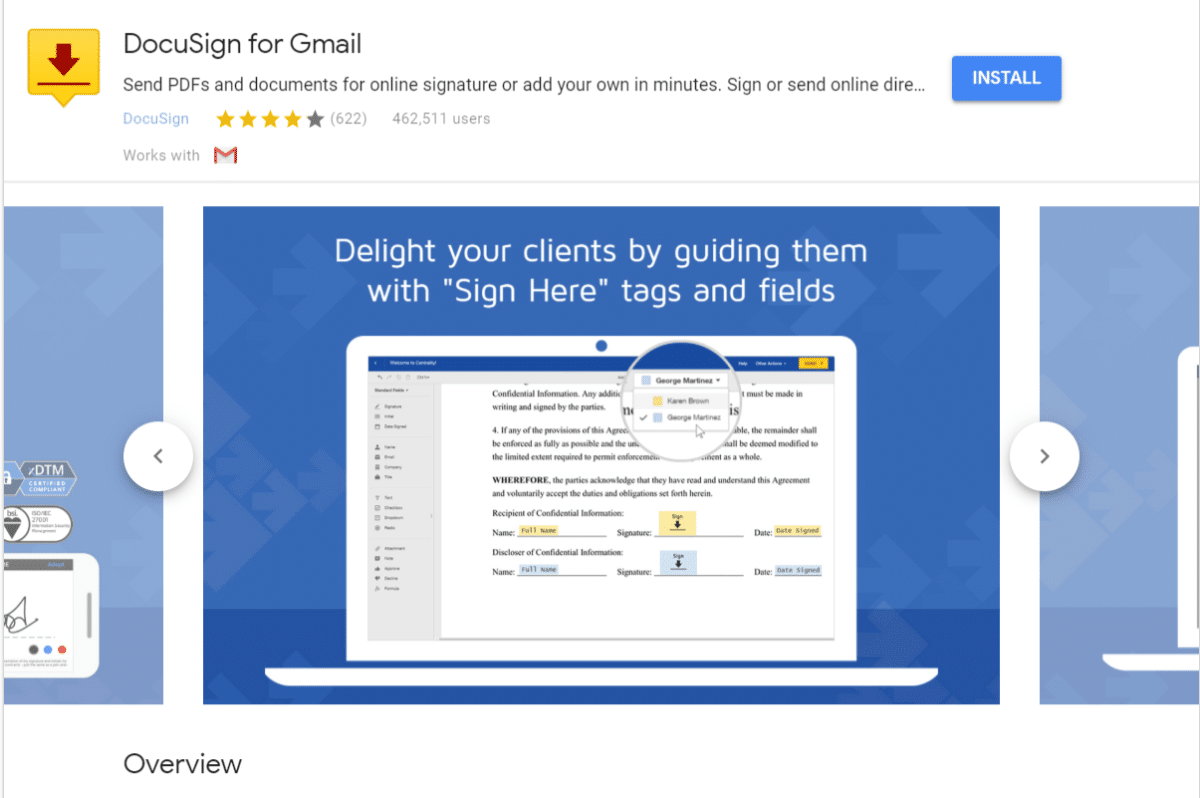 Do you work in consulting, marketing, law, or any other industry where you are continually sending out documents to get signed?
Are you tired of people taking their sweet time to print out, sign, and scan your documents manually? DocuSign for Gmail allows you to send signable documents straight from your inbox.
You can also choose multiple templates and send reminders. Please note, you need a DocuSign account to use this extension, and plans start at $10/month.
Main Features
Send signable documents to your clients from within Gmail.
Access document templates from within Chrome.
The signatures are unique and legally binding.
All data is safely encrypted on their servers.
Send reminders without leaving your inbox.
Useful For
Those employed in consulting or legal professions.
People who deal with contracts (like freelance developers) or other legal documents multiple times daily.
7. Mailtrack for Gmail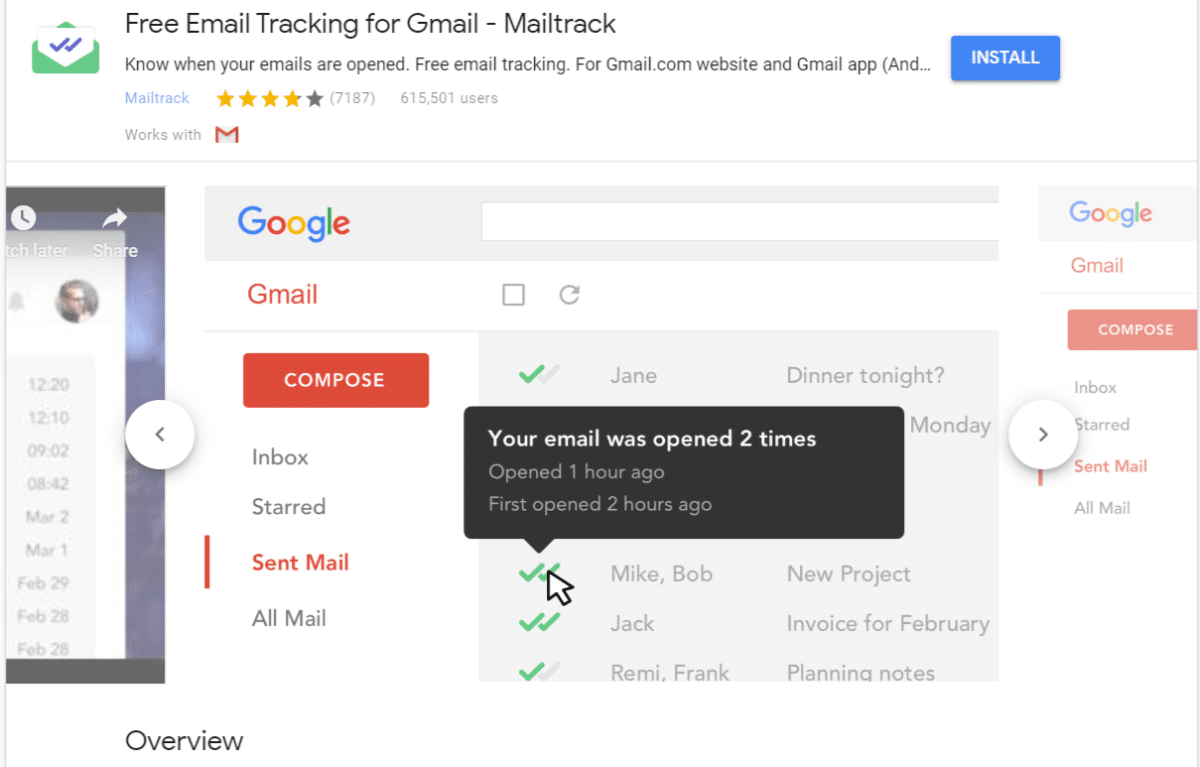 Have you ever wondered what happened to an email after you sent it? Mailtrack for Gmail uses a Gmail compatible tracking script that will show you if it was opened or not. It is beneficial for those who work in customer or prospect-facing positions.
This Gmail extension gives you notifications in real-time and you can even see a breakdown of all activity in a custom dashboard. The extension is 100% free and unlimited.
Main Features
Track whether or not your email was opened.
Get live notifications whenever someone opens your email.
See a breakdown of recent activity on the mails you track.
Useful For
Salespeople who work mainly with email.
SEOs and B2B marketers.
Account Managers.
Customer Success Agents.
8. Smartsheet for Gmail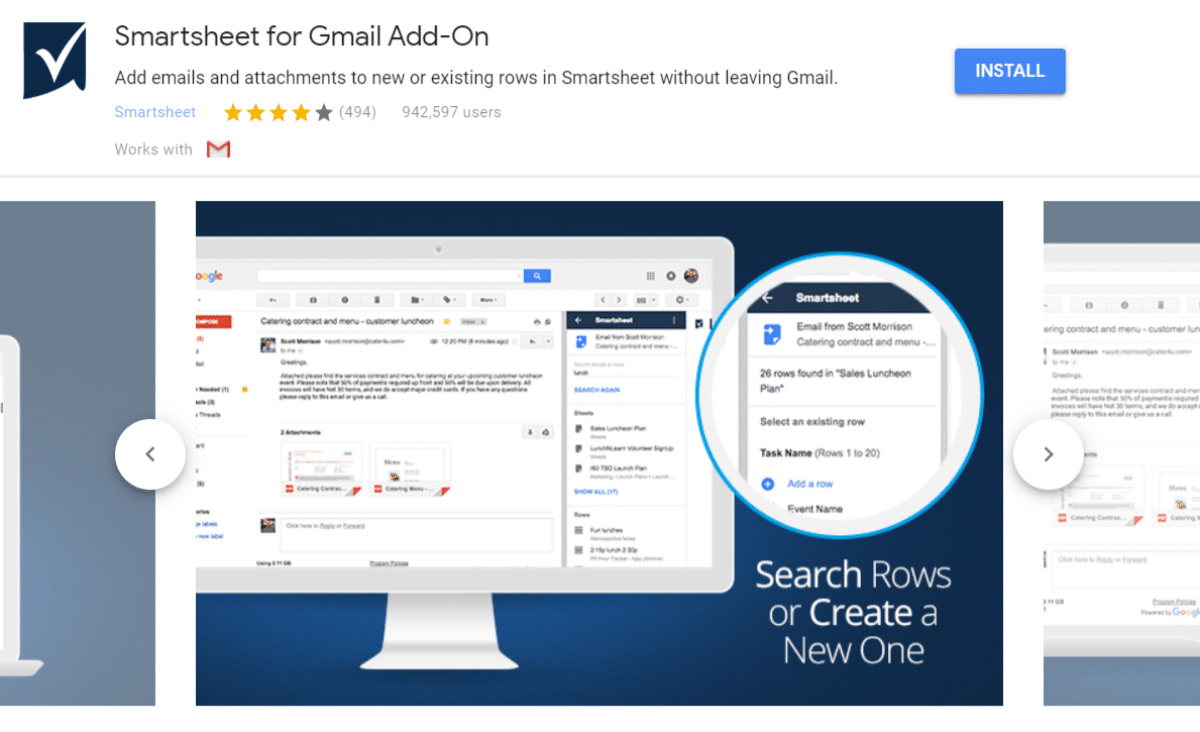 If your business uses Smartsheet, this add-on will help you get work done from within your inbox. The Smartsheet for Gmail add-on lets you search and create rows without leaving Gmail.
Main Features
Search Smartsheet rows when writing emails.
Create new rows with tasks/todos/insights after reading mail.
Useful For
9. Evernote for Gmail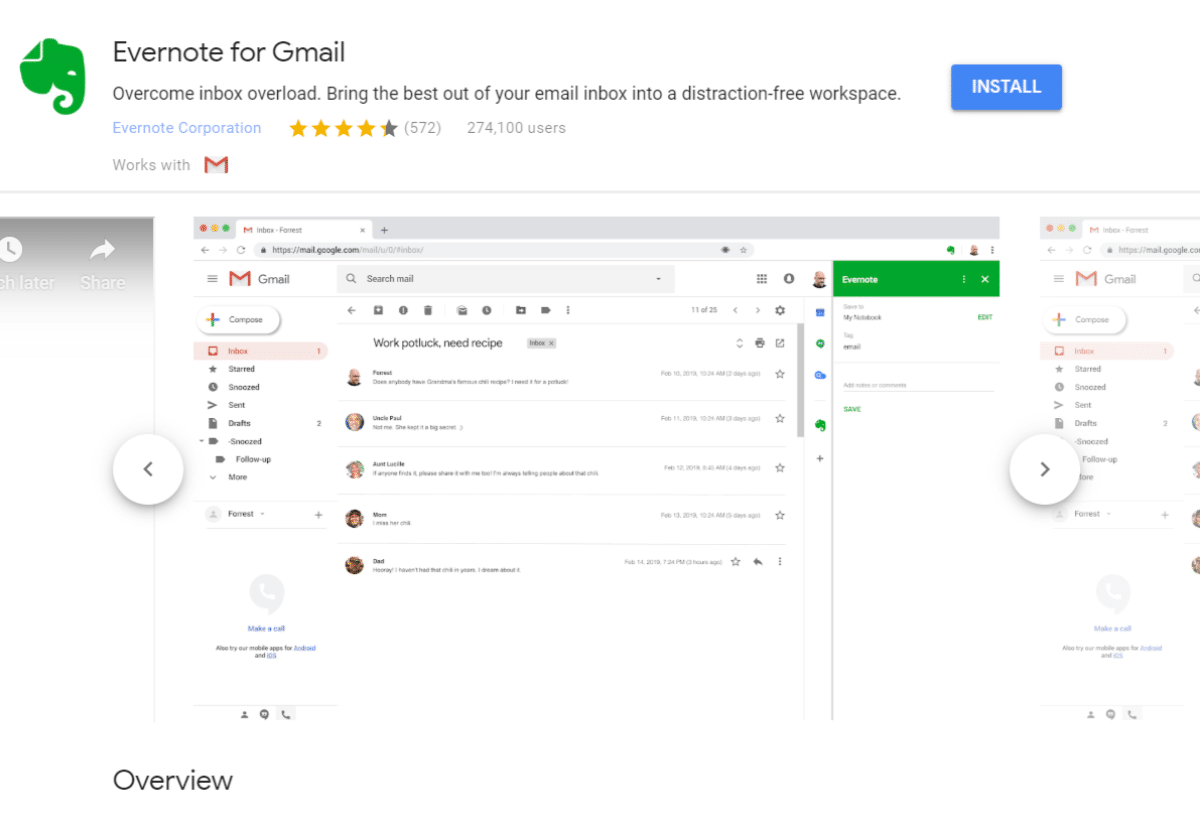 Do you already use and love Evernote? If you didn't already know about their Gmail add-on, you are about to get a lot more productive.
With it, you can easily save entire email conversations, or single emails, with just a few clicks. Unfortunately there is no drag-and-drop functionality here, as with the desktop app. You need an Evernote account to use this add-on.
Free accounts include most of the utility you could ever wish for in a content saving system.
Main Features
Save full or partial emails to your Evernote account.
Update to-do lists from within the dashboard.
Useful For
Evernote users.
Salespeople, marketers, or creatives that get a lot of valuable information/feedback through email.
10. Trello for Gmail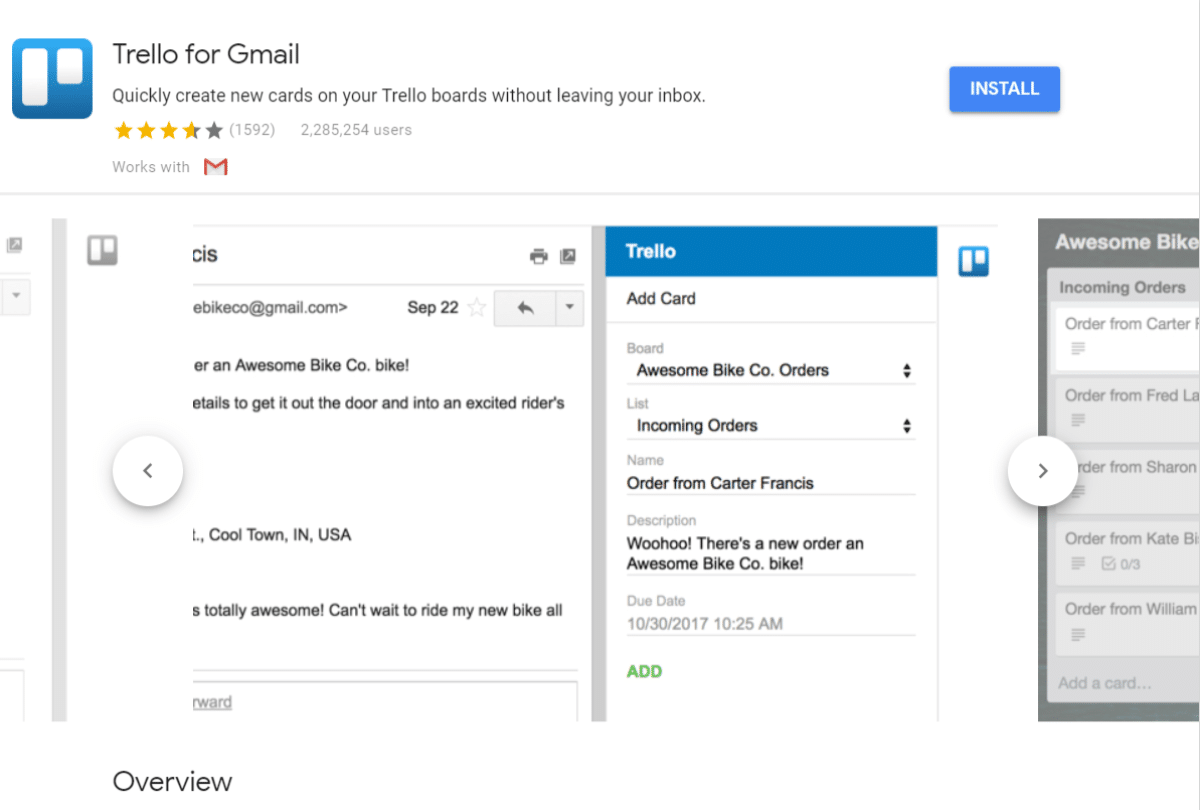 Trello for Gmail is a simple Gmail add-on that focuses on one thing: letting you quickly create new cards to your board without leaving your inbox. You can assign it to different boards/lists, and set due dates.
To use this add-on, you need to be a Trello user. There is a free plan that is suitable for small businesses.
Main Features
Create new cards from inside your Gmail inbox.
Cards are complete with due dates, lists, and descriptions.
Automatically adds email content to card descriptions.
Useful For
11. Asana for Gmail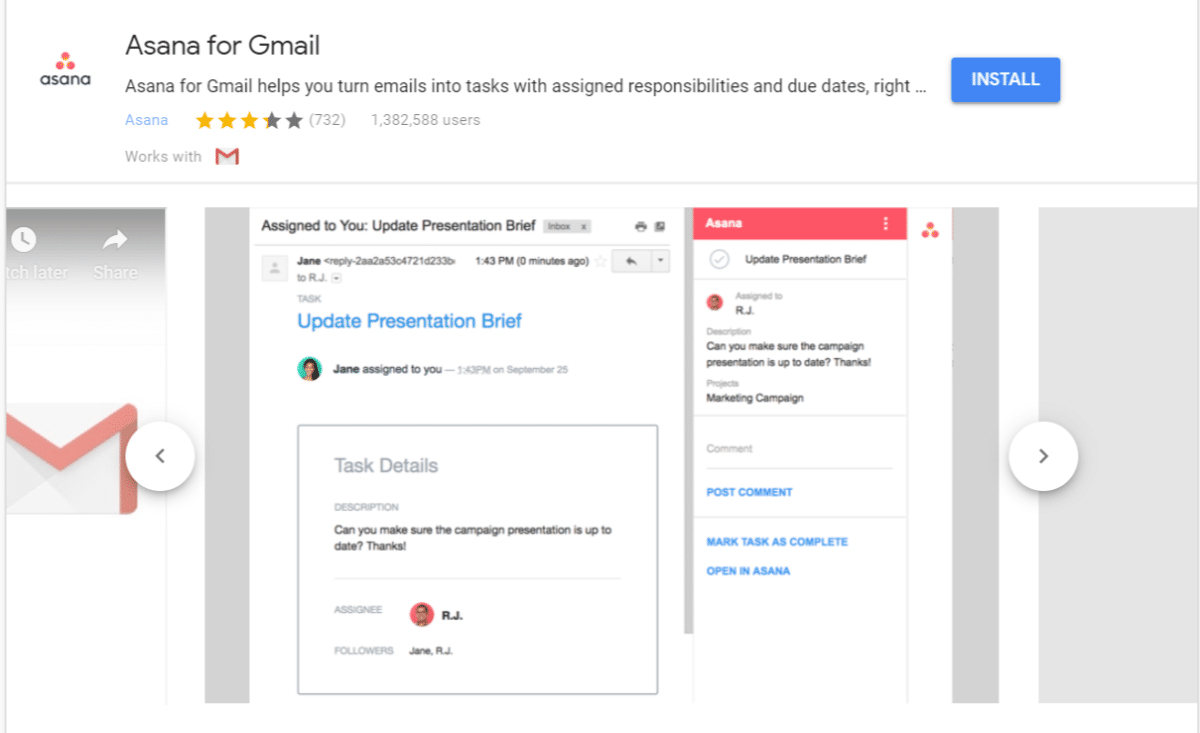 Asana for Gmail does the same thing that the Trello add-on above does, but for Asana users. Plus you can search for projects/teams/tasks from within your inbox.
Main Features
Add and assign new Asana cards with due dates.
Automatically adds email content to card descriptions.
Useful For
Suggested reading: Trello vs Asana.
12. Wrike for Gmail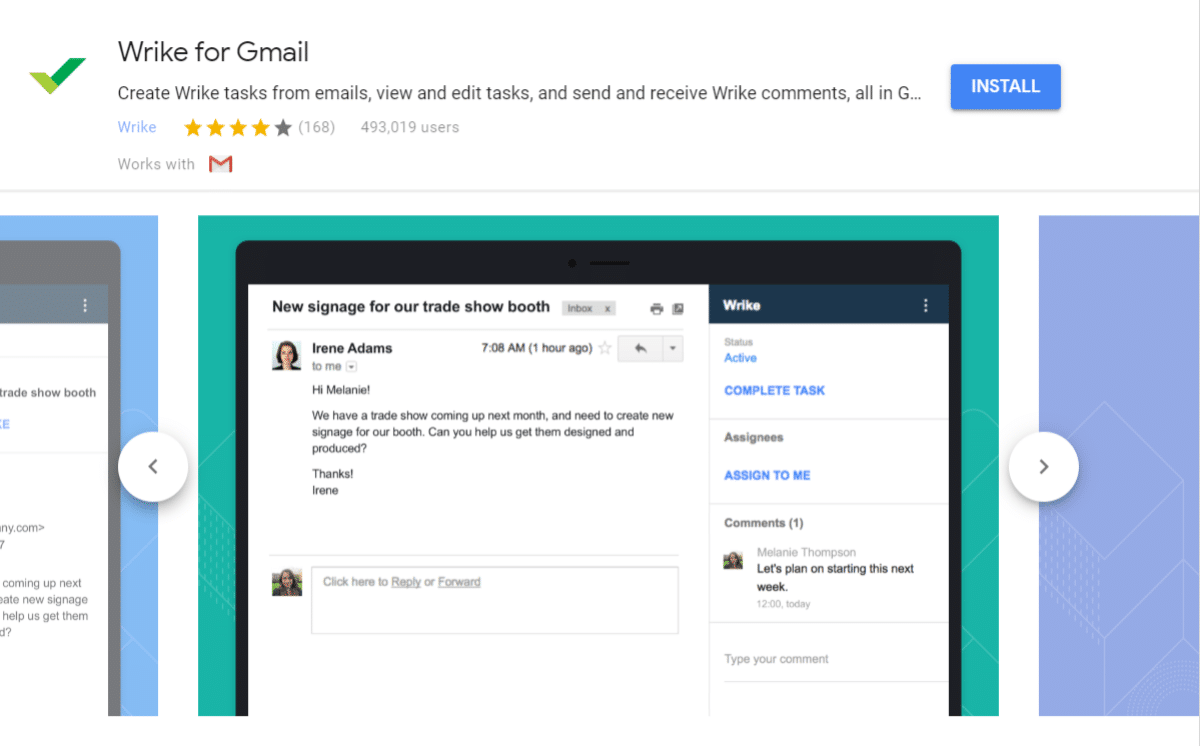 Similar to the two Gmail add-ons above, except this time, it's for Wrike users. More than just allowing you to create new tasks, this add-on syncs with Wrike entirely. So you can see tasks related to emails in your inbox, see profile images from Wrike, and more.
You need to be a Wrike user to use this add-on. There is a basic free plan for up to 5 users, but professional licenses start at $9.80/month.
Main Features
Create tasks from within the inbox.
Tasks automatically include email contents in description.
View tasks related to particular emails.
Track and report on work coming from emails.
Useful For
13. Checker Plus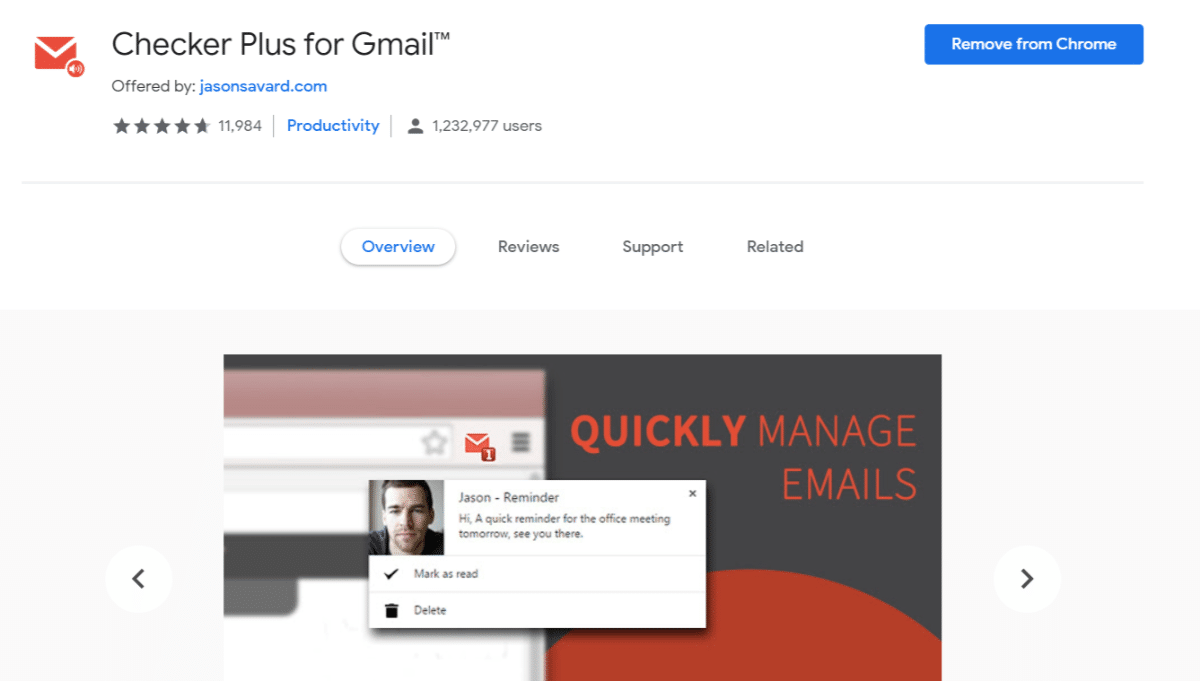 Do you need to get notified the second an email hits your inbox? What if I told you that you never had to keep a Gmail tab open again? With Checker Plus for Gmail, you can reach that "promised land".
This Gmail extension automatically checks for new emails and notifies you from within Chrome when one arrives. You can choose to read the email, archive it, or delete it instantly.
Main Features
Get notified for new emails without having Gmail open.
Browse, read, and archive emails while completing other tasks.
Useful For
Employees in a fast-paced environment.
14. MeisterTask for Gmail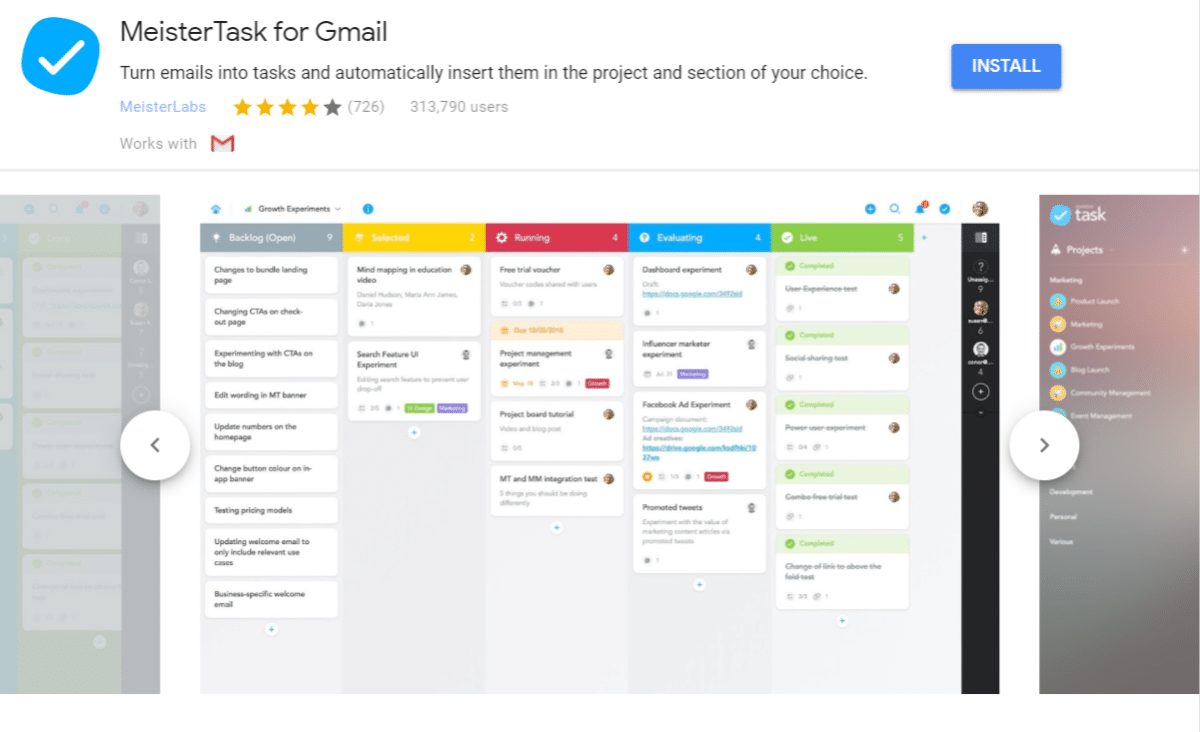 Another good option for those who manage their inbox as their task management tool is MeisterTask for Gmail which connects your inbox with your Meister account. You can create new tasks from within your inbox and easily access your task board.
Note that this Gmail add-on needs a MeisterTask account. They offer a free "Basic" plan with unlimited tasks, projects, and collaborators. Paid plans start at 7.50$ per user/month, which offers unlimited integrations, automation, and better reporting.
Main Features
Create new tasks from within your inbox.
Manage project boards
Useful For
15. Inbox When Ready for Gmail
Inbox When Ready does one thing and it does it well. It locks your inbox down for a scheduled period. It allows you to focus on writing emails or reading important ones that you already received.
The free plan leaves an email signature when active. A pro plan costs $4/month, billed annually.
Main Features
Lock your inbox so new emails aren't displayed and no notifications arrive.
Schedule lockdowns ahead of time.
Automatically hide inbox after a set amount of time.
Set inbox budgets for how many times you should check your inbox.
Useful For
Those who are easily distracted.
Employees who are devoted to deep work.
16. Simple Gmail Notes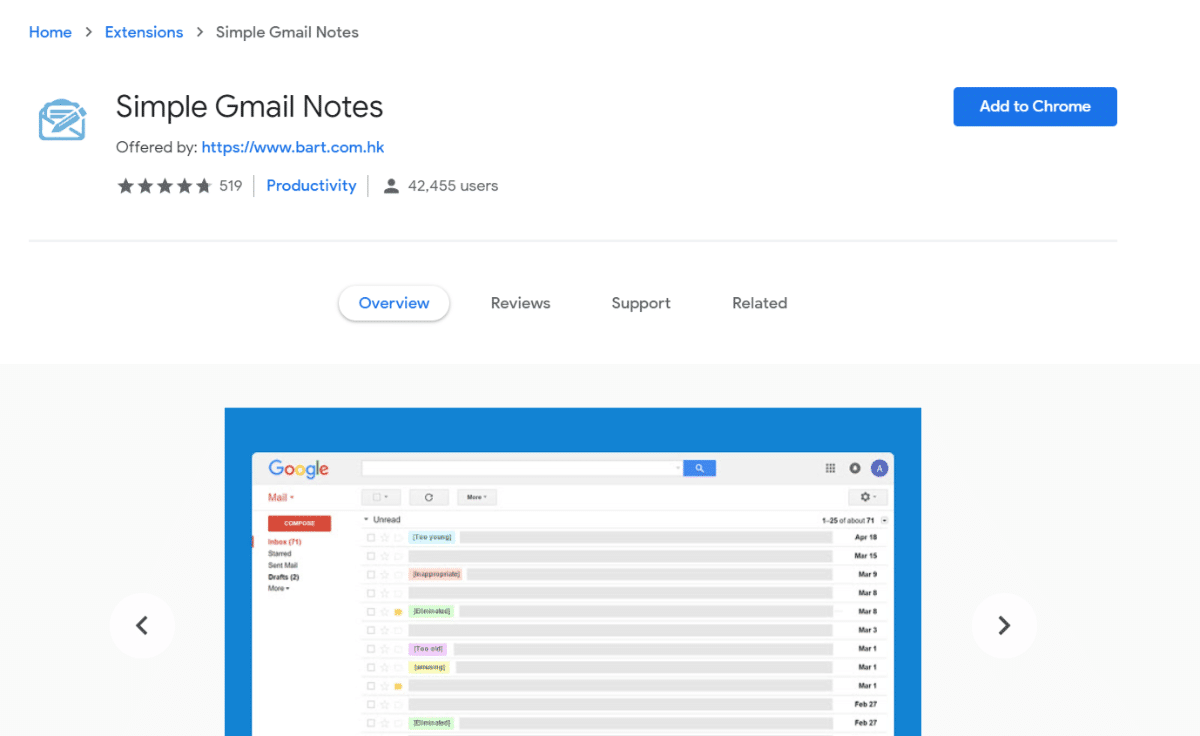 Simple Gmail Notes is a Gmail extension that lives up to its name: it allows you to add simple notes to your emails. It can help you quickly find your way back to specific emails by providing useful information to follow-up at the perfect time or simply give you some context. It is 100% free and open source.
Main Features
Useful For
Organized people.
Sales, marketing, and service professionals.
17. Giphy for Gmail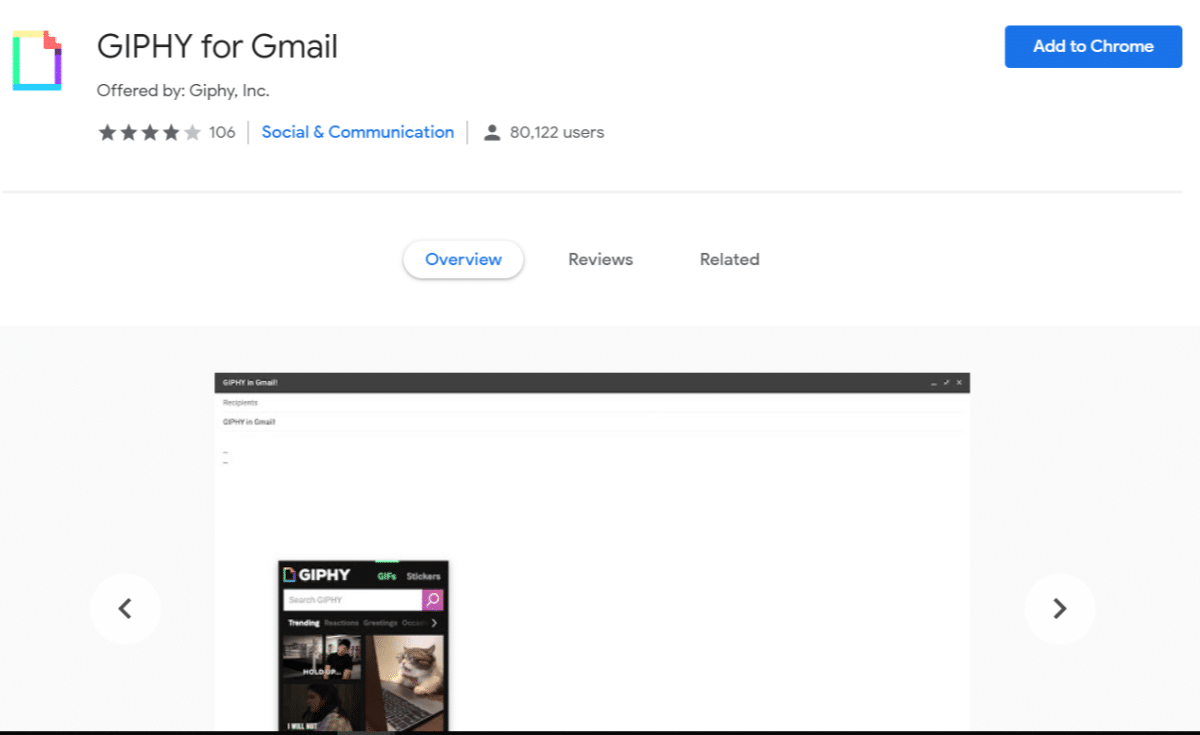 It's 2023 and gifs have invaded every possible medium of online communication. Why would you try to keep it out of your email? Thankfully the Giphy for Gmail extension is entirely free to use.
Main Features
Cute gifs.
Funny gifs.
Scary gifs.
Sad gifs.
Useful For
18. FlowCrypt Gmail Encryption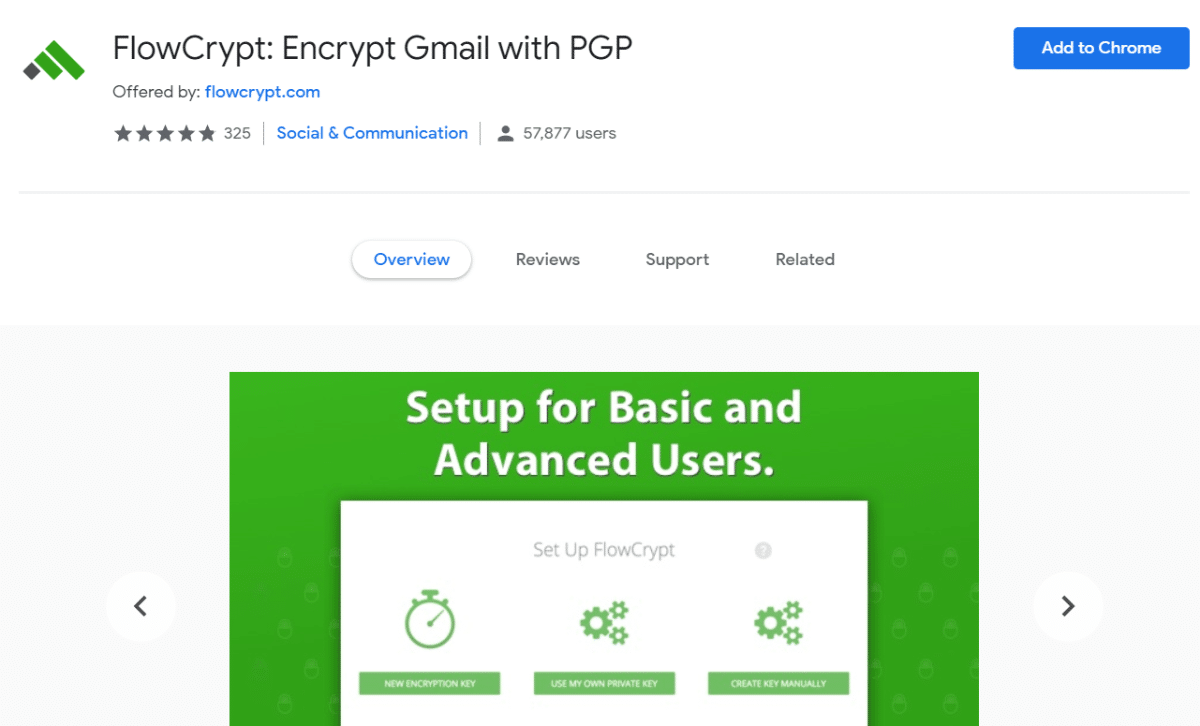 Although Gmail has a built-in feature to send confidential emails, there might be use cases where that option alone doesn't seem to be secure enough and you want to encrypt your message. Or maybe you're worried about messages being intercepted and read.
With the FlowCrypt Gmail extension, you can use PGP encryption to encrypt all emails you send.
Main Features
Encrypts your emails with PGP.
Useful For
People who are required to send sensitive information over email.
Cyber-security buffs.
19. Digify for Gmail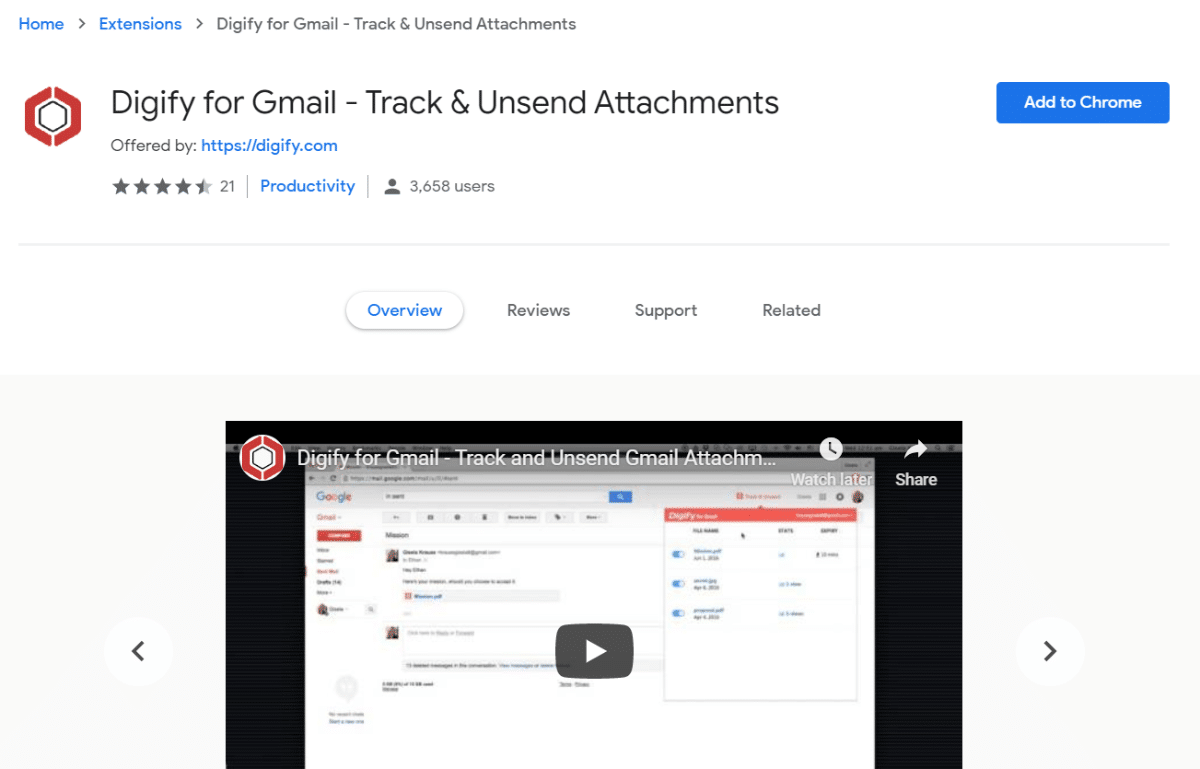 Digify for Gmail is a Gmail extension that lets you track, unsend, and program attachments to self-destruct. If you send essential or sensitive documents daily, this is the perfect extension for you. You don't need a Digify account to use this extension.
Main Features
Track attachments to see who has accessed them.
Unsend attachments that were sent to the wrong person.
Program attachments to self-destruct (think Snapchat).
Useful For
Freelancers and professionals who want to let someone preview, but not steal, their work.
20. Grammarly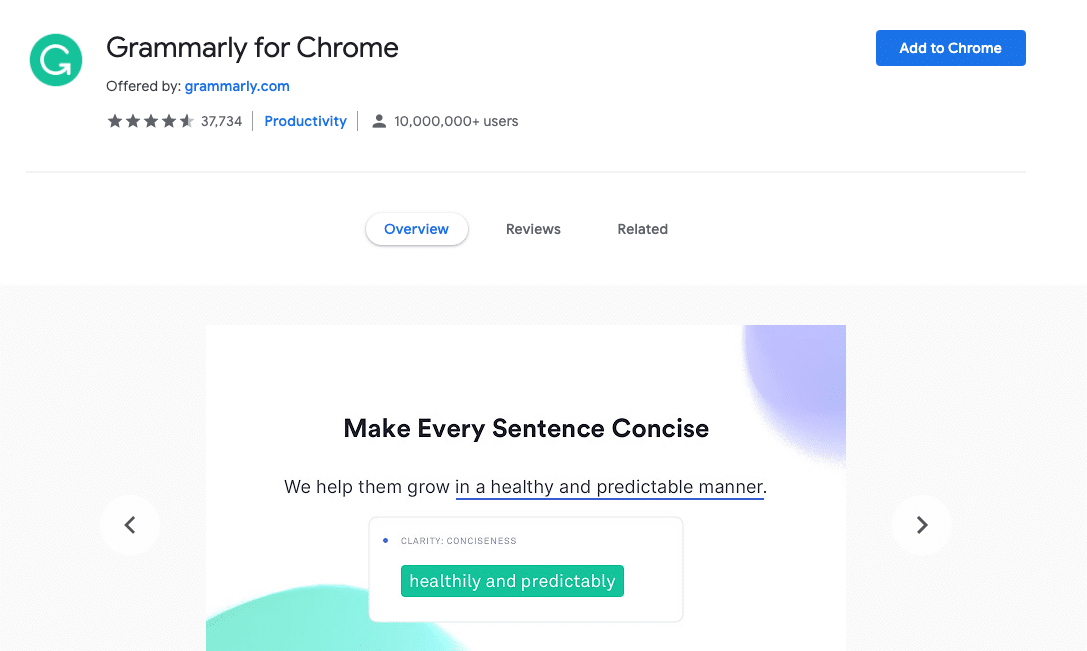 Grammarly for Chrome will help you correct your grammar and spelling errors in real-time in Gmail. It will also suggest improvements that aren't based on strict grammatical rules. You can use it with a free Grammarly account.
Main Features
Corrects your grammar and spelling errors.
Suggests ways to improve your sentences.
Useful For
Anyone who writes emails.
21. Multi Forward for Gmail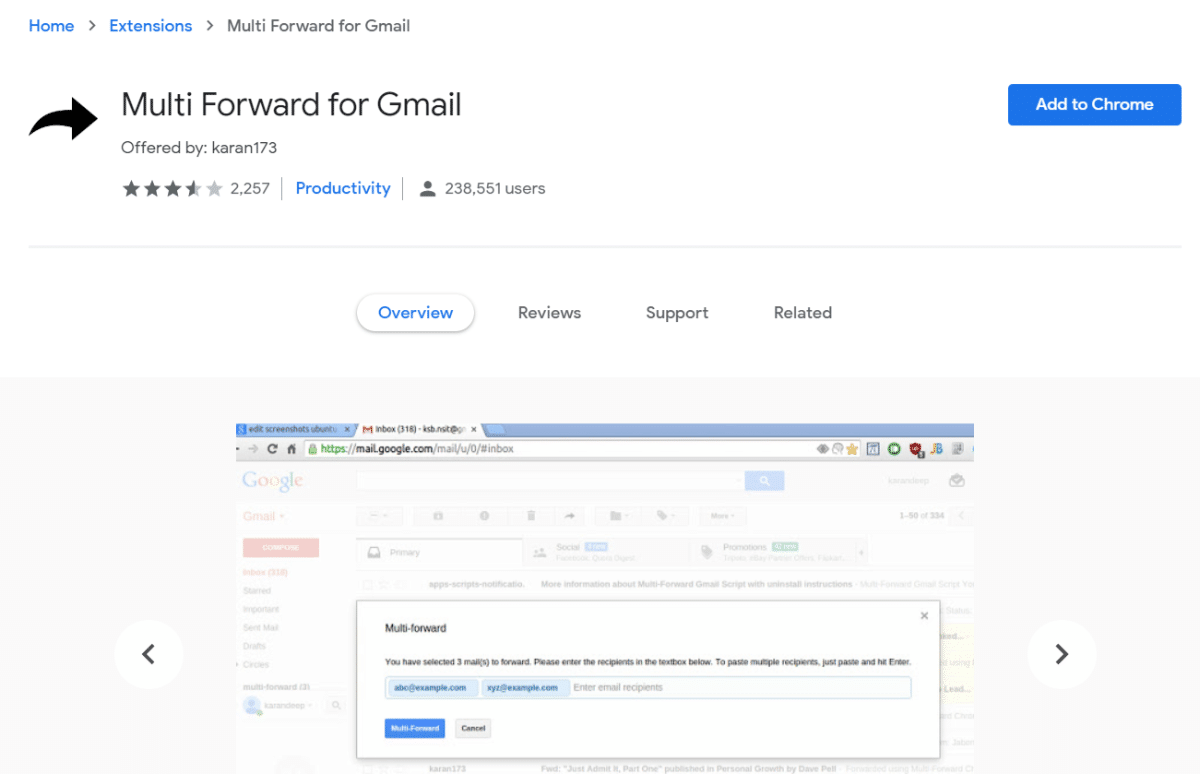 If the main communication channel at your company is (still) email, the Multi Forward Gmail extension is your dream Gmail extension. Easily forward received emails to multiple contacts at once. It is completely free and requires no registration to use.
Main Features
Forward emails to multiple people at once.
Useful For
People who need to forward a lot of emails.
22. Sortd Gmail Add-on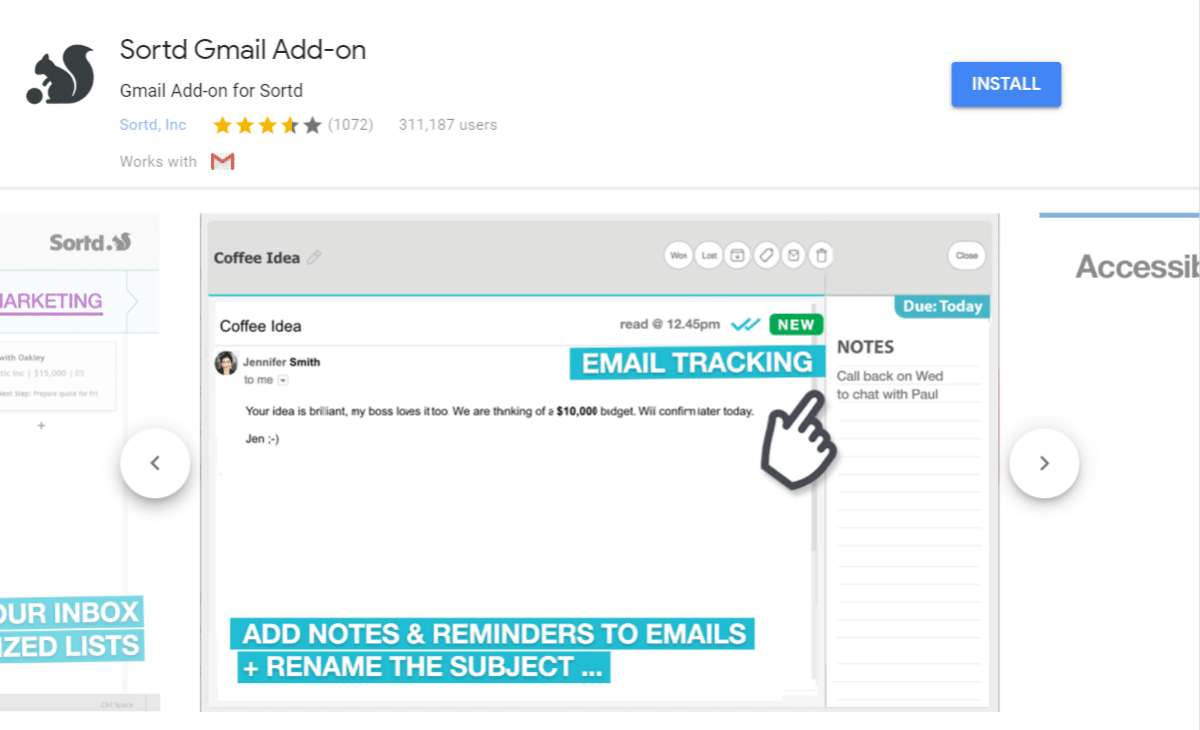 Sortd Gmail Add-on connects your Sortd account with your Gmail. It allows you to transform emails into tasks, as well as add notes, and reminders to emails. It also offers drag-and-drop email organization.
You need a Sortd account to use this add-on. There is a free plan available, with some limitations.
Main Features
Add notes and reminders to emails.
Drag-and-drop email organization.
Kanban boards.
Flagging emails for follow-up.
Rename the subject lines of essential emails, so they stand out.
Transform emails into tasks.
Useful For
Summary
Gmail add-ons and extensions are third-party applications that provide you with tons of different options. Our favorites are those able to help us be more productive and get more done faster (if you use Chrome, you might want to give this a read as well: best Chrome extensions to boost WordPress users' productivity).
Not all these Gmail add-ons and extensions we've featured here will be a game-changer for you. But anything that can help organize our inbox better, like Sortd, MeisterTask or Simple Gmail Notes, and help you improve your follow-ups, like Boomerang and Mailtrack, deserve a try.
Why? Because if they could help you knock even just 20/30 seconds off of a single email or task, you can figure out how much time you'll be able to "earn back" on a monthly basis. Answer: plenty!
Now, it's your turn: what are your preferred Gmail add-ons and Gmail extensions? What's the one you could not live without?