Are you wondering how to buy a domain name? We'll break down the exact steps for you in this guide.
Whether you're a new business owner about to create your first website, a marketer branching out into a new field, or just want a website for your hobby, we've got you covered.
Registering a domain may seem tricky if you've never done it before. But it's surprisingly easy —  after all, there are over 1.9 billion websites online (as of November 2021).
In this article, we'll teach you how to buy a domain name and review some of the best domain registrars on the market (services that let you purchase and register domain names).
Let's go.
What Is a Domain Name?
A domain name is a digital address that people use to travel to your website. For example, our domain name is "kinsta.com."
Your domain name plays an essential role in your digital presence. It's an easily identifiable way to mark who operates each website.
Though we use domains daily now, they weren't always an internet staple. Before 1983, people navigated to websites via IP addresses ("191.268.1.43"). IP addresses mark each internet-connected device.
As remembering an IP address is complex, the Internet Engineering Task Force (IETF) introduced the Domain Name System (DNS) in 1983. You don't need to understand how the DNS works to buy your domain.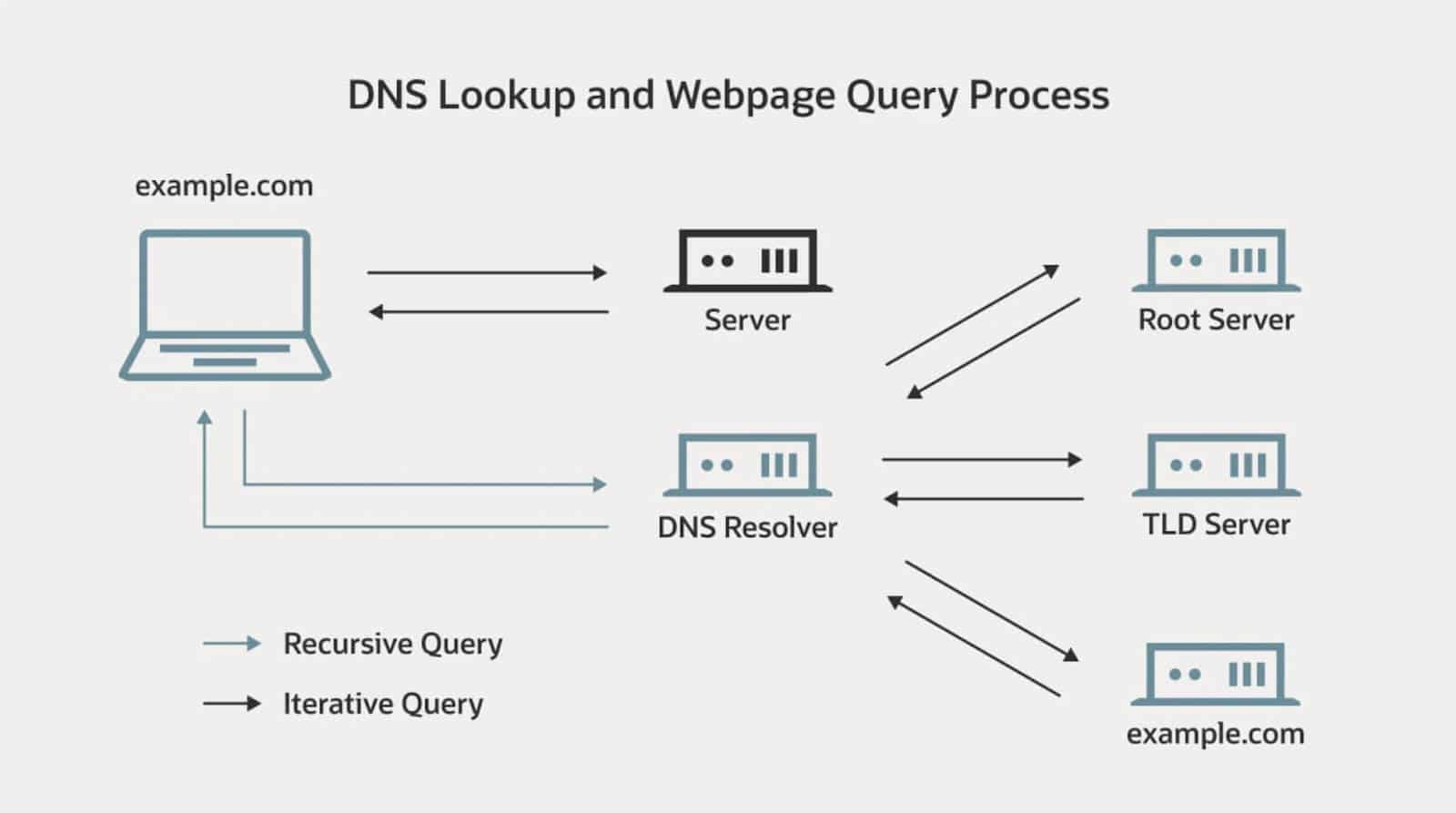 There are several key phrases you need to understand when getting your domain. These include:
Domain Registrar: A company that registers and manages domain names. Domain registrars are accredited by the Internet Corporation for Assigned Names and Numbers (ICANN).
Domain Checker: A tool that checks who owns a domain and how long the owner has had it. One of the most popular checkers is the ICANN data lookup.
Top-Level Domains (TLDs): The suffix at the end of the domain (i.e, "www.name.tld"). There are four types of these: country-code TLDs (like .au or .us), sponsored TLDs (like .gov and .edu), generic TLDs (like .com and .org) and new generic TLDs (like .io)
You can see the breakdown of the percentage of websites with each type of TLD in the donut chart below.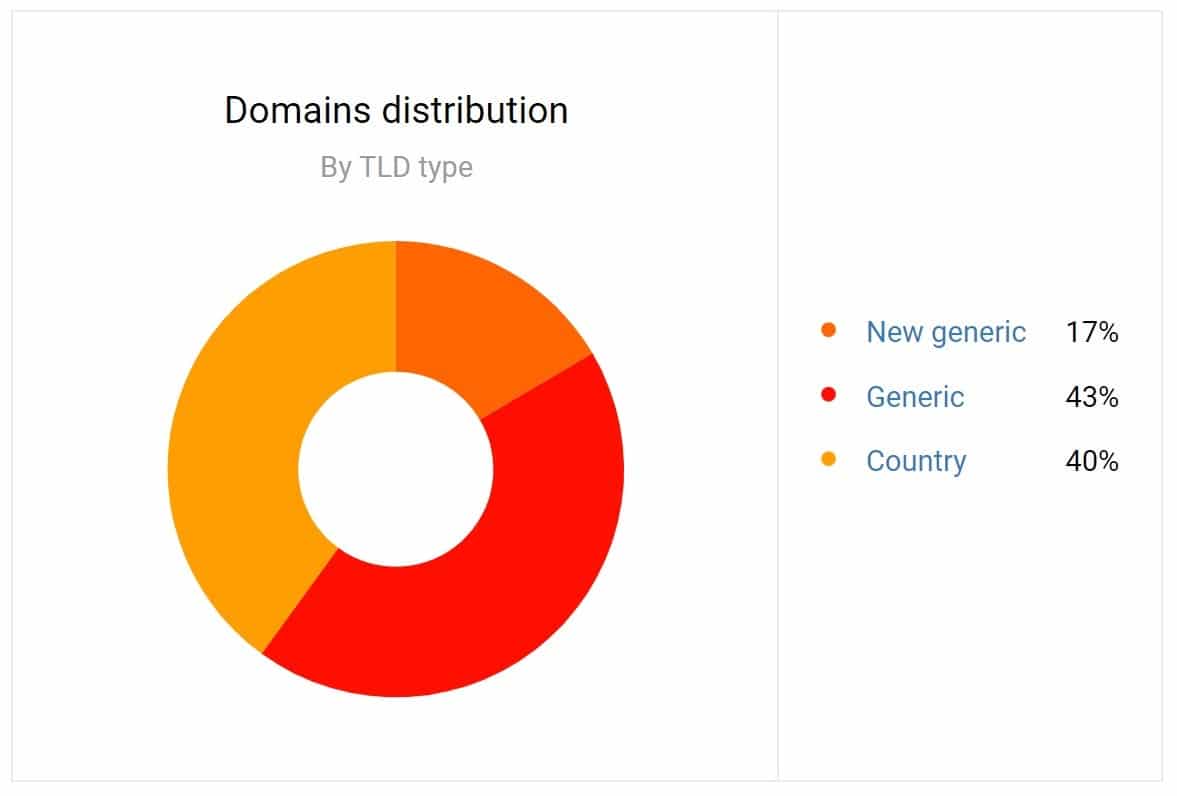 Wondering how to buy a domain name? 💰 Look no further... 🤝Click to Tweet
When Do You Need to Buy a Domain Name?
According to Verisign, there were over 367 million domain registrations close to the second quarter of 2021, a 0.7% (2.8 million) decrease from last year.
While domain name buying is slowing down, this shouldn't placate you. It's much harder to buy a domain from its owner than register it yourself. So, you should buy your desired domain name as soon as you know it, as you don't want someone else to take it.
If you have an idea for your domain, you are already on the right path to choosing a domain name.
When buying your domain name, consider purchasing any other names you want. That includes domains for your:
Product lines
Services
Customer support program
Customer loyalty program
If you want to use a domain in the future but not immediately, you can install a "coming soon" page on your domain with a WordPress extension like SeedProd. You can also "park" your domain. Domain parking is widespread, as ICANN estimates 52.95% of domains are currently parked.
How to Buy a Domain Name That's Taken
Imagine this: you've got a great new business idea and the perfect domain name to match. But when you type the address into Google, you discover that someone else already owns the domain.
If you still want the domain, you can buy it from the owner. Here's how.
Step 1: Identify the Owner, and Find A Broker
First, you need to go to the website and find the owner's contact details. Generally, there are three possible situations here:
A domain trader owns the domain. A domain trader is someone who registers and sells domains for money.
Someone owns the domain, but they don't use it or have parked it
Someone owns the domain and is actively using it
Once you've figured out which situation you're in, it's time to consider hiring a broker. A broker will act on your behalf and ensure the seller doesn't take advantage of you. Some brokers take a percentage of the money you pay for the domain, while others charge a flat or hourly fee.
You'll likely need a broker if you don't know who owns the domain or if someone else is using it (as it'll be more challenging to convince the owner to sell if they are actively using the domain).
Step 2. Express Your Interest
Next, you need to approach the domain owner and express your interest in the domain. They may:
Refuse to sell, in which case you may need to walk away from the sale and come up with another domain name.
Ask for an offer, in which case you can proceed to the next step.
If you compromise on your TLD and domain name, it could hurt your branding long-term. After all, which website would you trust more? "r3ta1lbizadvice.io" or "retailbusinessadvice.com?"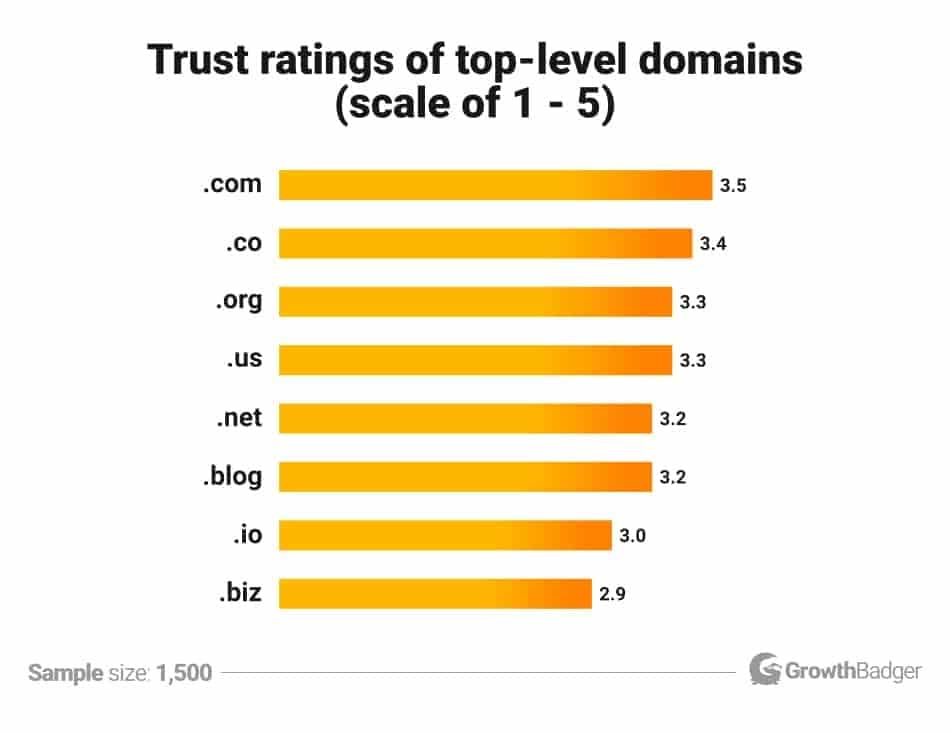 Step 3. Make An Offer
If the domain owner is open to selling the domain, make a formal offer in writing. This offer should include:
The domain you want
The price you're offering
Your name and contact details
When the domain will become yours if the seller accepts your offer
The terms of the contract
If you use a broker, they may give you an offer letter template or perform this step.
For best results, make sure you:
Decide on a price range and give yourself an upper limit (a "walk away price")
Offer below what you can afford so that you can barter
Prepare for a counteroffer
Never make a verbal offer over the phone without following it up in writing
The domain owner may want to negotiate the price and contract terms with you until you both agree. Always make sure you confirm your final price in writing.
Step 4. Sign a Contract
Once you and the seller have agreed on a price, you'll need to sign a contract to formalize the deal. A contract will protect both parties and ensure the deal remains mutually beneficial.
You'll also need to pay for your domain. Some sellers prefer:
Full upfront payment
A deposit when the contract is signed and the total amount after the domain transfer
Payment following the broker's instructions
Unfortunately, some domain owners may try and scam you out of money. Use a secure payment platform or an escrow service to protect yourself.
Additionally, you may want to avoid using cryptocurrency to pay for the domain. It may be difficult to dispute a cryptocurrency transaction if the seller doesn't uphold their end of the deal.
Step 5. Transfer the Domain to Your Name
Finally, you need to find an ICANN-accredited registrar for your new domain so that you can transfer ownership to your name. You can use the same registrar the old domain owner used.
While many registrars have their internal transfer process, most require you to confirm that the old owner has sold you the domain and that you are the new owner. The registrar will then process the transfer and notify both parties once the transfer is complete. The domain transfer process may take up to 60 days, and you may need to pay a fee.
If the old owner purchased the domain less than 60 days ago, the domain might be subject to a Change of Registrant lock. You'll need to wait until this period passes to change ownership.
How to Buy a Domain Name Permanently
If the domain you want is free, securing it is easy. We'll walk you through it step-by-step.
Step 1. Choose a Domain Registrar
First, you need to select an ICANN accredited registrar to register your name through. This registrar isn't the same as your web host.
Your DNS host connects visitors to your website through your domain name, while your website host gives you a space for your website. Your DNS host is like a phonebook, while your website host is like your landlord.
When selecting a registrar, consider:
Fee structure: Each registrar has its own fee system. The average domain name costs $10–$20 a year (though this will be higher for highly sought-after TLDs).
Any additional services your registrar offers: These may include domain parking and domain privacy. Domain privacy (or "Whois privacy") hides your name, contact details, and business details from your website's public listing.
The registrar's expiration policy: You'll need to check you can secure your domain long-term.
The registrar's transfer policy: You may want the flexibility to change registrars or sell your domain later.
Whether the registrar offers a Secure Socket Layer (SSL) certificate: This digital certificate encrypts your website connection and protects visitors.
Step 2. Follow the Registrar's Checkout Process
Next, use the registrar's tool to see if it can sell you your desired domain and TLD.
If you can buy your domain, select a plan, and follow the registrar's checkout process. Some registrars will offer a base plan with add-ons like a professional email address tied to your domain. Others offer methods that scale with your needs.
Many registrars will also offer you multiple TLDs as a bundle deal (like "contacttree.com," contacttree.net," and "contacttree.org"). These plans are perfect for anyone concerned about visitors struggling to find the correct address or competitors buying the domain.
Once you reach the checkout process, you'll need to provide your registrar with your:
Name
Address
Organization name
Contact details (email and phone number)
Payment information
If you don't want your contact information to be public, make sure you purchase domain privacy.
You should also check the duration of your registration carefully. Many registrars will allow you to buy your name for several years at a time, but you may want to select a shorter plan if you haven't used that registrar before.
Choosing a shorter plan to start with will allow you to switch if you aren't happy with your registrar's speed, security, service, or anything else.
Step 3. Register Your Domain and Verify Your Ownership
Next, you'll need to register your domain. Your registrar will do most of the heavy work for you behind the scenes, and the process may take several days.
You'll need to confirm your details to ensure your registration is complete. Depending on your registrar, you may need to verify your email address or phone number.
Additionally, you may need to provide extra verification to purchase TLDs like .edu. If this is the case, you'll need to follow the registrar's instructions to verify your identity.
Step 4. Set Up Website Hosting
Finally, if you'd like someone to do it for you, it's time to find a website host. We recommend Kinsta.
Kinsta websites are fast, easy to build, and protected with hardware firewalls, SSL support, uptime monitoring, and Distributed Denial of Service (DDoS) detection. Kinsta also offers expert help and allows you to choose which of the 28 Google Cloud Platform data centers hosts your site.
You can get started with Kinsta by signing up for one of our plans. Then, follow our instructions to add your domain to your Kinsta site.
Can You Get a Domain Name For Free?
So far, we've covered two ways to buy a domain name. But can you get one for free? The answer is "yes." There are three ways to get a free domain:
Sign up with a hosting provider that offers a free domain with your website
Create your website through a site builder like WordPress, Tumblr, or Squarespace (these domains will carry a TLD like .wordpress, .tumblr, or .squarespace)
Get a free domain with a TLD that offers free domains (these will have a TLD like .ml, .ga, .cf, or .gq)
While you can get a good domain name for free, you should consider how professional your domain makes your website look. Your TLD conveys legitimacy, authority, and trustworthiness to visitors.
People trust familiar TLDs the most, and over 37% of domains currently have the TLD .com. So, while you might be able to get a .ml or .tumblr domain for free, investing in the .com domain may pay off better long term.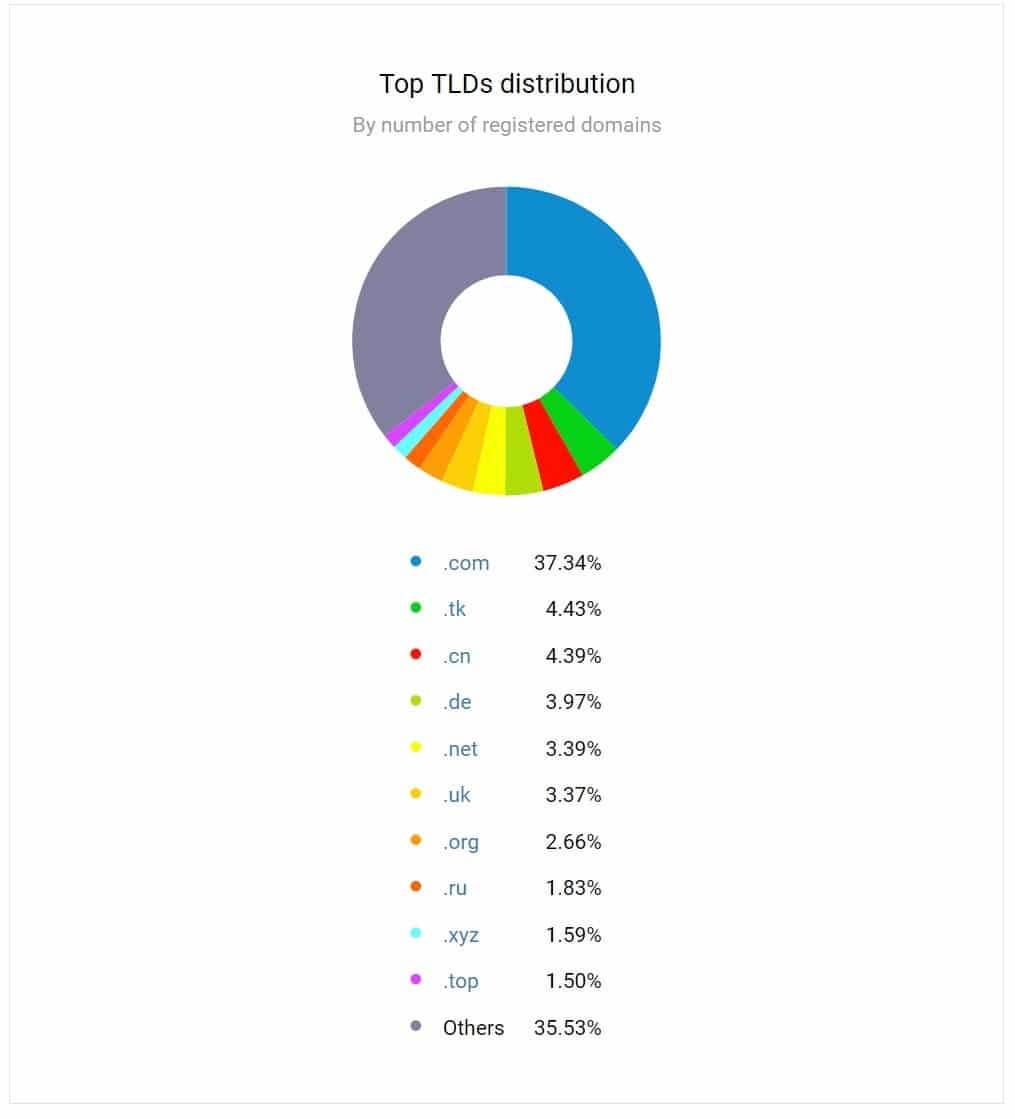 Best Places to Buy a Domain Name
Selecting a domain registrar may seem daunting if you haven't bought a domain name before. To help you choose, we've compiled a list of six registrars you could use.
Domain.com
Founded in 1998, Domain.com is one of the best-known website registrars. It powers over 1.2 million websites as of 2021. Domain.com is suitable for personal or business websites, as many website owners use it.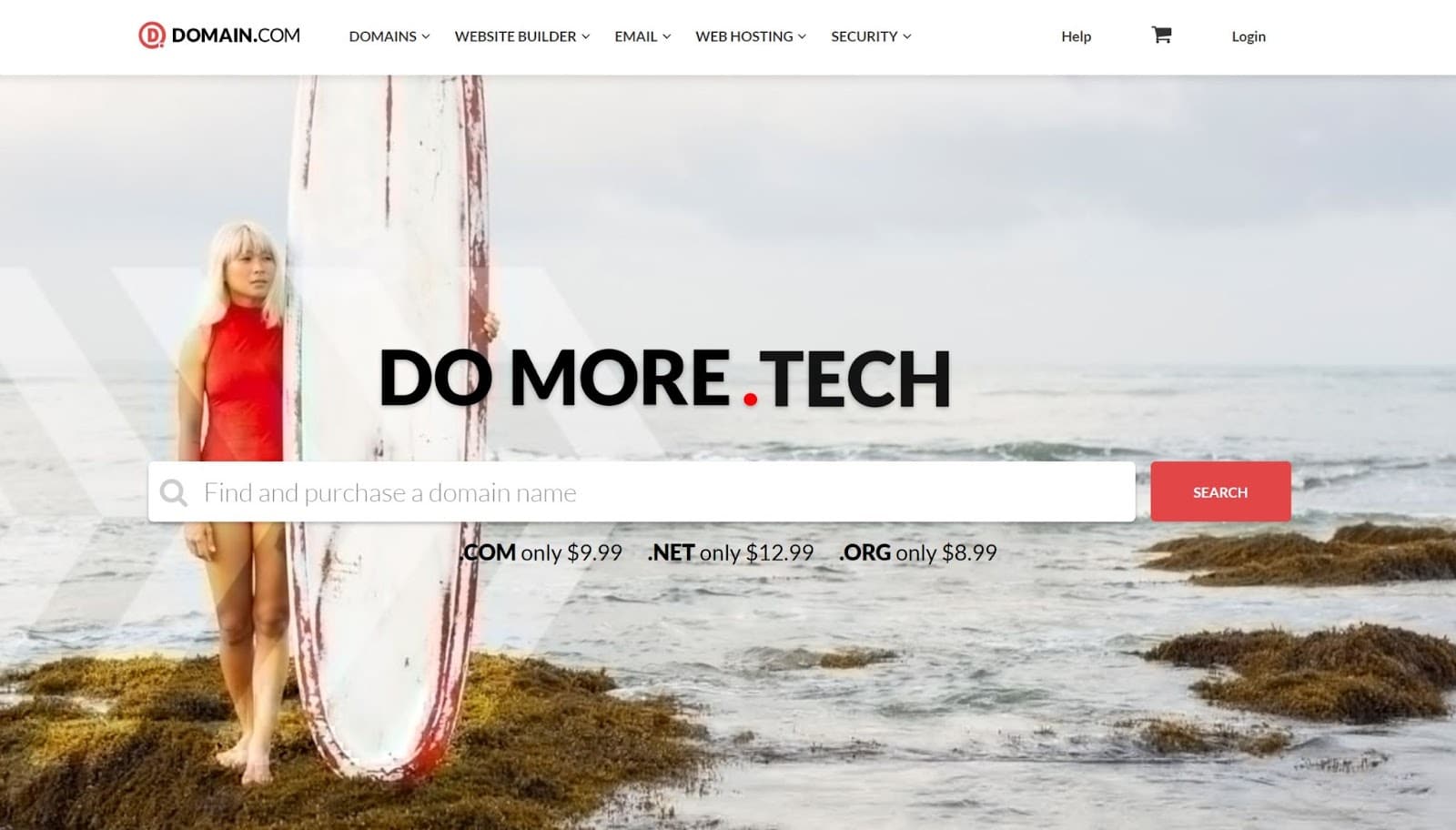 Domain.com offers domains, web design, email hosting, and digital marketing.
Features:
Total DNS management
URL forwarding
Email forwarding
Transfer locking
SSL certificate
Price:
Domain.com offers domains from $0.99. The average .com domain costs around $9.99 annually.
Pros:
24/7 customer service
Offers domain privacy
Offers premium domain names
New customers get introductory prices
Wide range of TLDs available
Offers email hosting, a website builder, and site lock
Cons:
You need to pay extra for an SSL certificate
BlueHost
Founded in 2003, BlueHost is a domain and web hosting provider popular with bloggers and small businesses that use WordPress.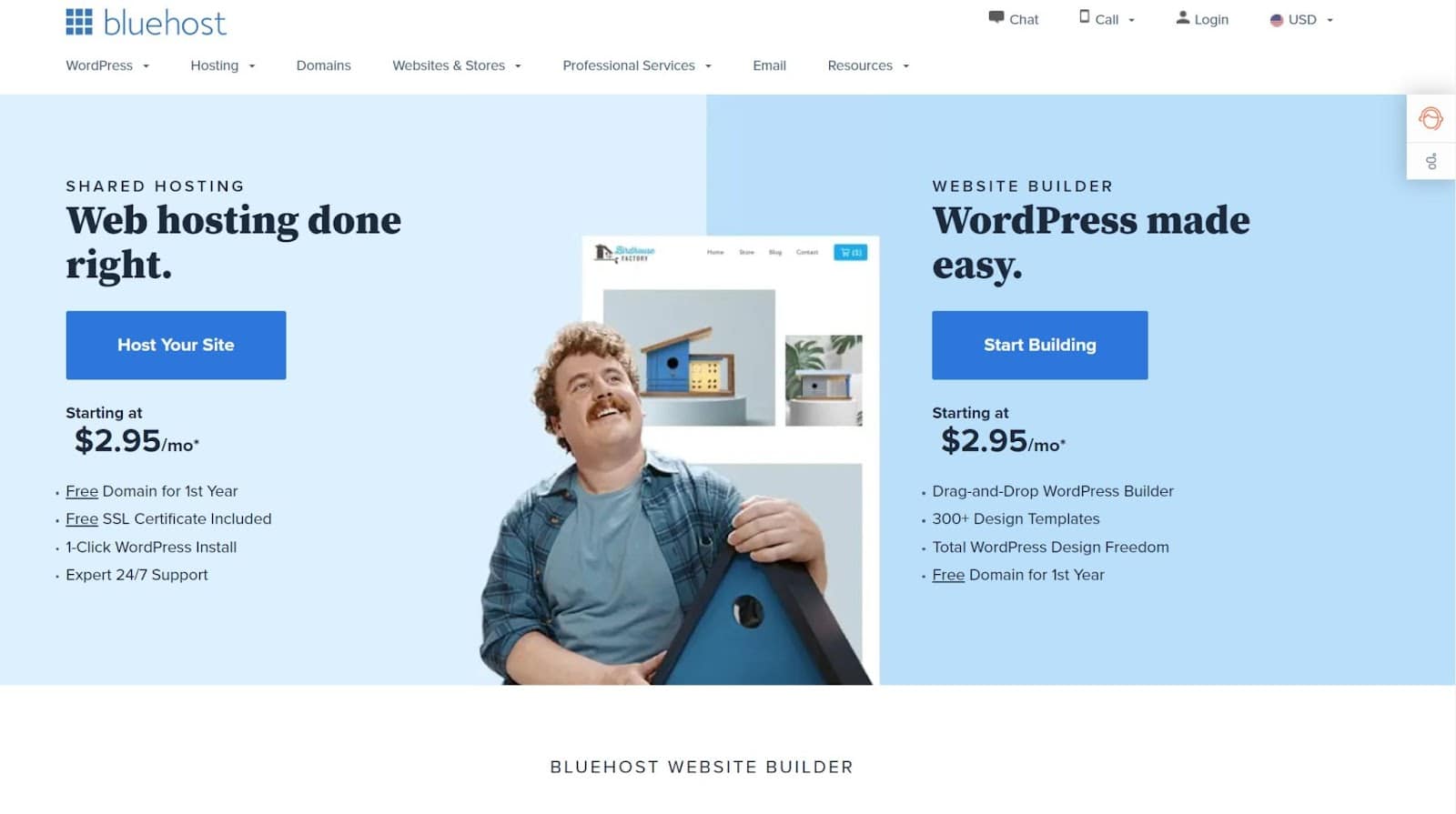 BlueHost offers DNS hosting, web hosting, email, a website builder, and marketing tools. Over two million websites currently use Bluehost. It's a WordPress partner.
Features:
Auto-renewal (so you don't need to renew your domain annually)
Domain lock
Domain forwarding
Price:
BlueHost offers domain hosting from $4.99 and up. The average .com domain costs $12.99 for the first year and $18.99 after that.
Pros:
Offers dedicated, Virtual Private Server (VPS), and shared hosting
Integrates with Microsoft 365
Offers country TLDs
Offers 24/7 domain support
Cons:
People who don't use WordPress may prefer another registrar
More expensive than many competitors
BlueHost's dashboard can be tricky to use if you haven't used it before
Domain privacy is expensive
Google Domains
Founded in January 2015, Google Domains is a domain hosting service perfect for people who want domain registration without web hosting.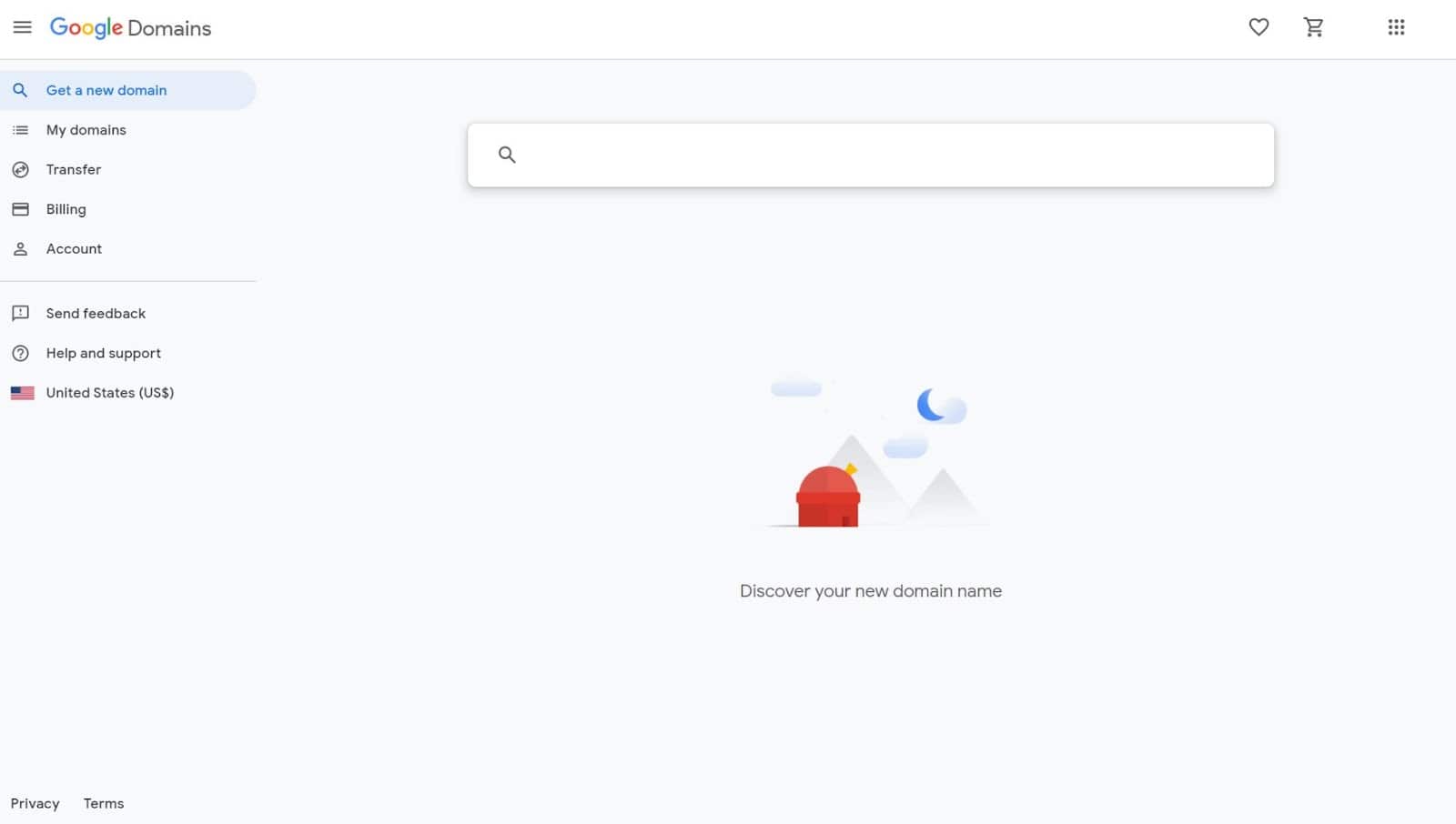 Google Domains is excellent because it integrates with Google Workspace — formerly known as G-suite, Google Search Console, and other Google services. Google Domains currently hosts 2% of all domains.
Features:
Domain and subdomain forwarding
Email forwarding
Price:
Most .com and .org Google Domains cost $12. Google Domains charges a flat annual fee and doesn't increase prices after your first year.
Pros:
Cons:
Doesn't offer as many TLDs as some registrars
Name.com
Founded in Colorado in 2003, Name.com is a beginner-friendly domain host.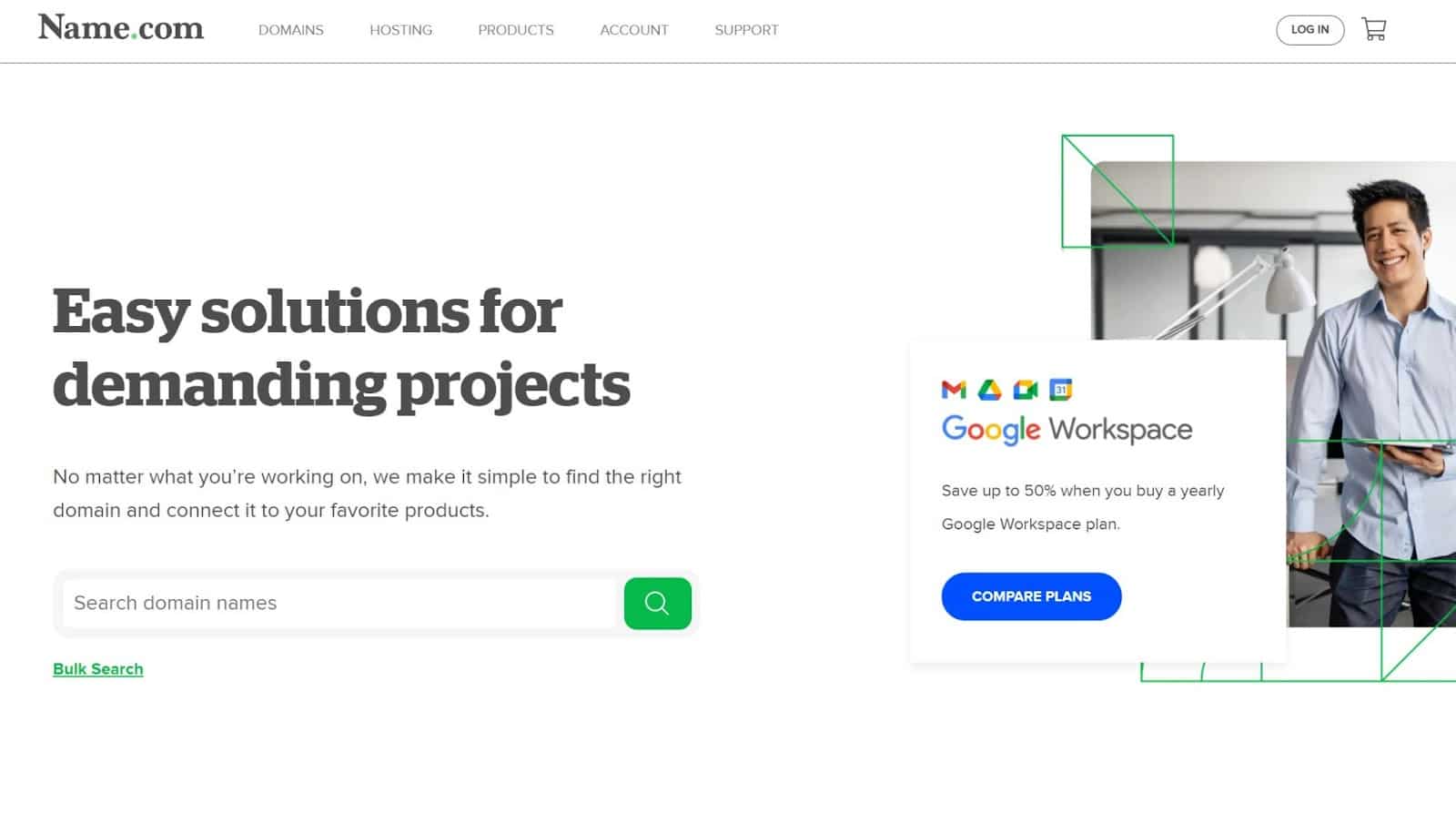 Name.com offers email, DNS hosting, website hosting, a website builder, and digital marketing services. Name.com also runs Name.gives, a charitable giving program that funds non-profits. Name.com is part of Donuts Inc. and currently hosts 1% of all websites.
Features:
Auto-renewal
Cloud hosting
Domain investing services
Sitelock
Price:
Name.com domains cost $2.99 and up. The average .com domain costs $12.99 for the first year.
Pros:
Offers 2FA
Free domain privacy
Great for WordPress
Offers multiple SSL certificate options (so you can buy one that suits you)
Offers bundle pricing
Offers premium domains
Cons:
Name.com's website can be challenging to navigate
More expensive than many competitors
NameCheap
Founded in 2000, NameCheap is one of the most popular domain hosts.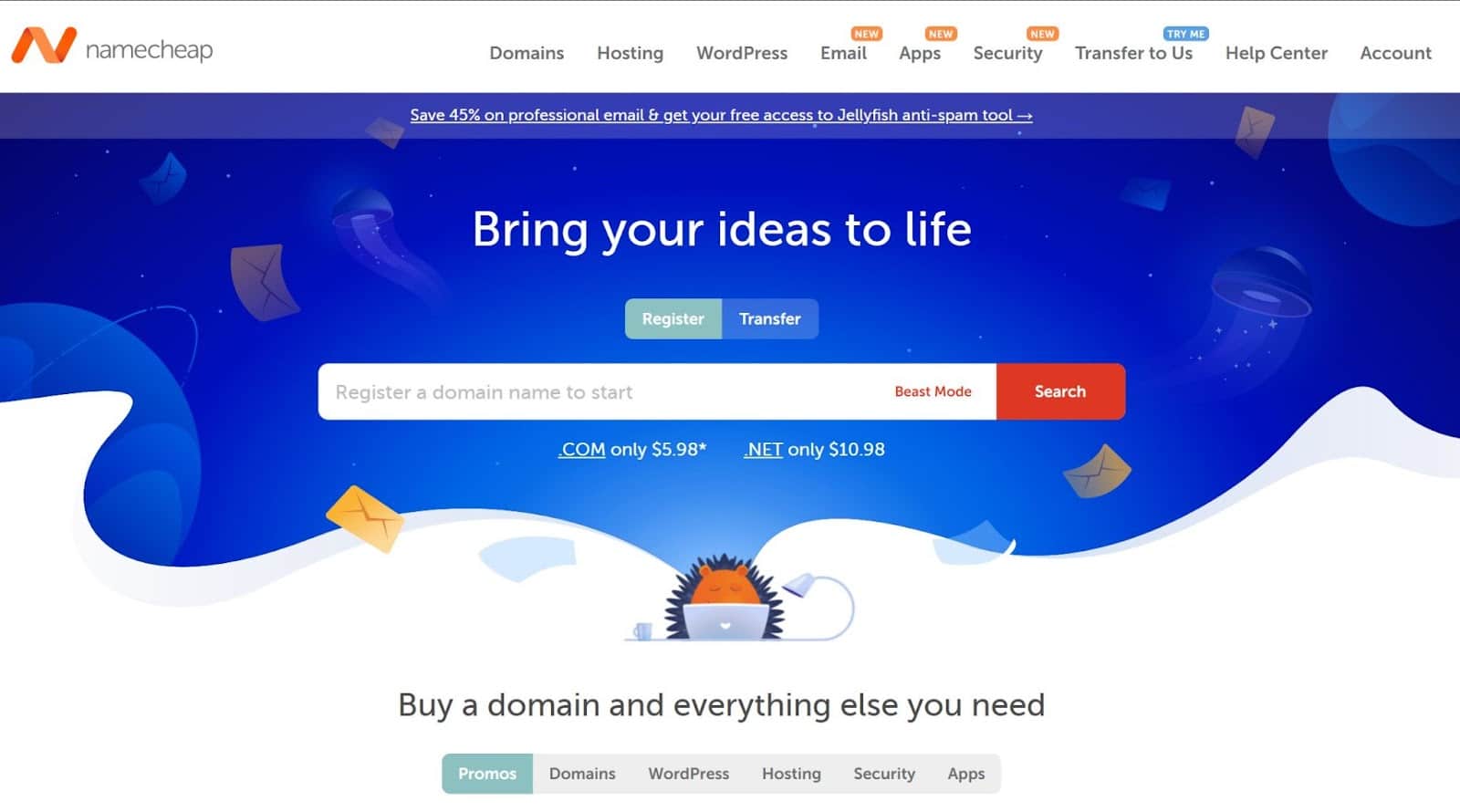 Currently, it hosts over 14 million websites and offers domain hosting, email, and other services. NameCheap also supports the Electronic Frontier Foundation and Fight For The Future.
Features:
Managed WordPress hosting
Virtual private network (VPN)
Content delivery network (CDN)
Anti-spam protection
Price:
NameCheap domains start from roughly $6.99, and the average .com domain costs $9.48 per year.
Pros:
Domain privacy is free
Includes marketing tools like a logo maker, site marker, and a business card maker
You can enable 2FA
Offers ID verification (so you can verify a customer's identity)
Cons:
More suited for beginners and hobby bloggers than digital marketing professionals
You need to pay for an SSL certificate
Enom
Enom is a white-label domain platform that offers domains, SSL certificates, and email.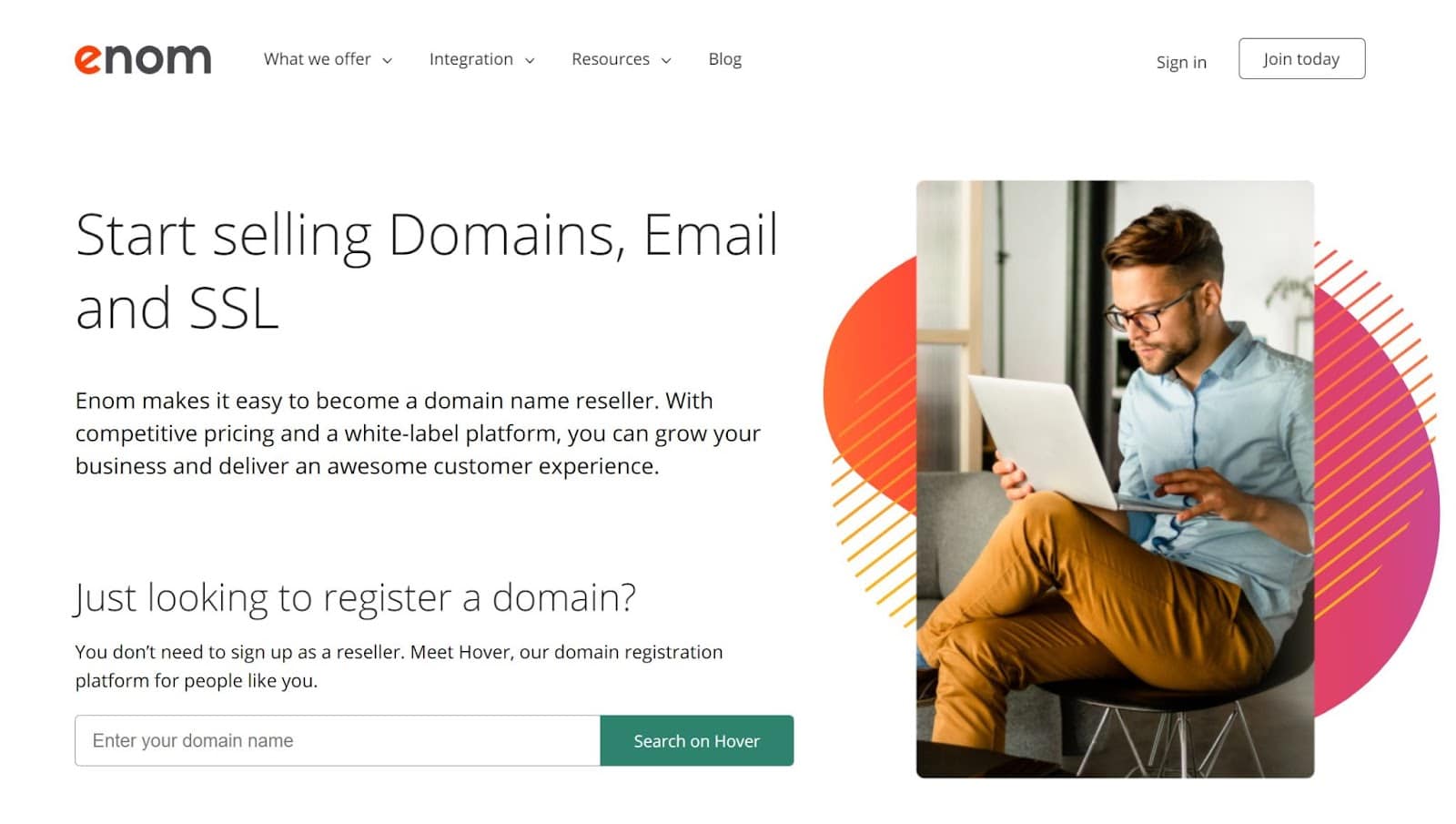 Enom has registered over 6.5 million domains and works with 22,000 domain resellers. Internet Services and Telecommunications company Tucows bought Enom in 2016.
Features:
SSL certificates
Reseller tools through Hover (Enom's reseller platform)
Reseller-friendly pricing
API for email, domain reselling, and SSL certificates
Price:
Enom domains start from $5, and the average .com domain costs $14 annually.
Pros:
Offers over 550 TLDs
Canada-based customer service
Offers multiple SSL certificate options
Domain privacy is free
Cons:
Charges an extra fee for ICANN (this fee is currently $0.18)
SSL certificates cost extra
Enom doesn't offer as many privacy features as other registrants
Whether you're a new business owner about to create your first website or marketer branching out into a new field, this post has you covered.Click to Tweet
Summary
Buying a domain may seem like one of the most stressful parts of being a new business owner, blogger, or digital marketer. But don't stress. Follow the steps in this guide, and you'll breeze through the domain registration process.
Just remember to:
Check the terms of the agreement carefully when buying a domain to make sure you aren't stung with extra fees
Get domain privacy
Note the date your domain expires (so you don't lose it)
Now that we've taught you about buying a domain, we'd like to hear from you. What was the most challenging part of registering your first domain? If you had to do the process over again, what advice would you give others? Please tell us in the comments below.