Which browser is your favorite?
Given that the average person spends almost seven hours per day on the internet, there's a good chance you have a preference.
And for the majority of you, that preference will be Google Chrome, which is by far the most popular browser on both desktop and mobile.
But does that make it the best browser?
Another top contender is Edge, the browser Microsoft first released with Windows 10.
To find out which browser is best, we're going to go through a side-by-side comparison of Microsoft Edge vs Google Chrome.
Overview of Google Chrome
The most popular browser in the world was born in 2008. Before its release, Edge's precursor Internet Explorer (IE) reigned supreme with a peak market share of 95%.
Google Chrome overtook Internet Explorer and Mozilla Firefox within a few years to become the market leader. Today, it has a 65.27% market share, while Internet Explorer has fallen to just 0.61%.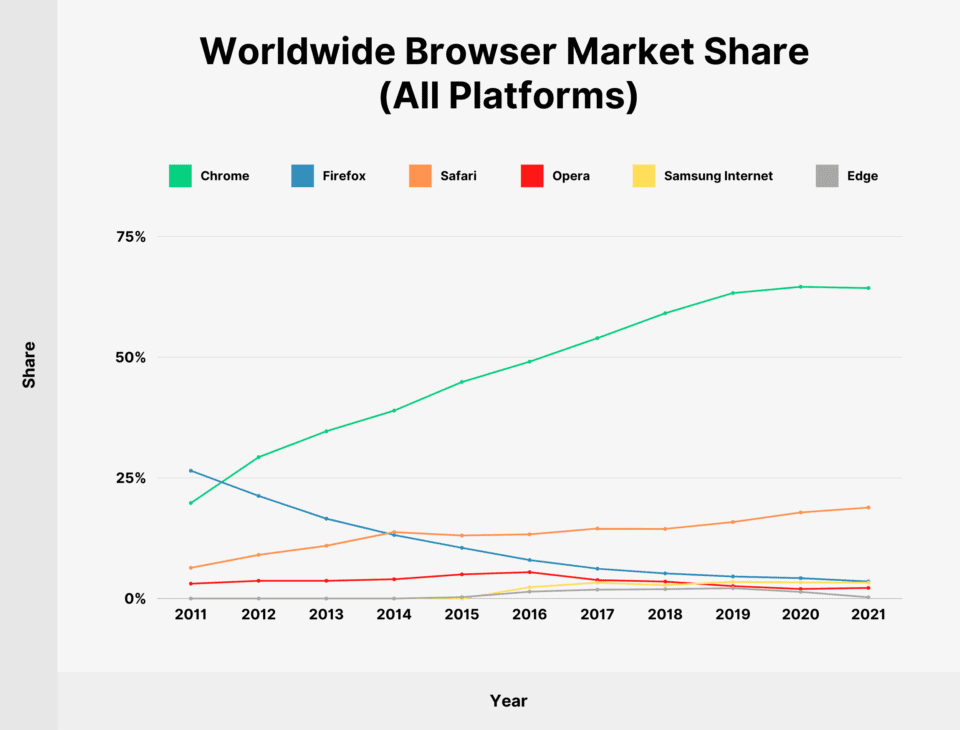 Chrome was initially built to run on Windows and was later released for Linux, macOS, iOS, and Android. Most of Google Chrome's source code is based on Chromium, a free, open-source software project from Google. These two browsers and many others are constantly battling for market share.
Overview of Microsoft Edge
Microsoft released Edge in 2015 with Windows 10 and Xbox One. Edge replaced Microsoft Internet Explorer as the default browser, and in 2022, IE will be retired completely.
Edge was originally an HTML-based browser, but in 2020 Microsoft released a new version of Edge based on Chromium, the same Google open-source software that Chrome uses.
Microsoft Edge is available for Windows, macOS, Android, iOS, and Linux.
Microsoft's switch to Chromium made Edge much more competitive with Chrome in several ways that we'll get into in a bit.
However, it still only has a 3.4% market share, so it has quite a way to go to catch Chrome.
Given that the average person spends almost 7 hours per day on the internet, there's a good chance you have a favorite browser. 👩‍💻 See how these two options stack up in this guideClick to Tweet
Key Features of Google Chrome and Microsoft Edge Browsers
Before we take a deeper look into Chrome and Edge, here's a quick overview of the key features of each.
Chrome Key Features
Synchronization across devices
Horizontal tabs
Tab groups
Bookmarks
Reading list
Browser history
Extensions
Themes, including dark mode
Task manager for websites
Private browsing
Edge Key Features
Synchronization across devices
Horizontal and vertical tabs
Favorites
Collections
Browser history
Extensions
Multiple privacy levels
Password manager
Immersive reader
Private browsing
Comparison of Edge vs Chrome
Microsoft Edge and Google Chrome have a lot of similarities. As competitors, Microsoft and Google usually don't allow gaps between the two products to last long. They run virtually neck and neck. You can use them for browsing privately, seamlessly surfing the net, and it's a simple matter to clear your cache on both.
That said, there are a few differences. Let's go through the features one by one.
1. User Interface
If you're used to Google Chrome, the Microsoft Edge user interface will feel pretty familiar (and vice versa). For example, you can have multiple tabs open in each window, and you can bookmark your favorite pages.
The differences are minor and mostly come down to personal preference.
Tabs
By default, both Chrome and Edge put your tabs in a row at the top of your screen.
However, Edge gives you the option to switch to a row of vertical tabs on the left side of the page.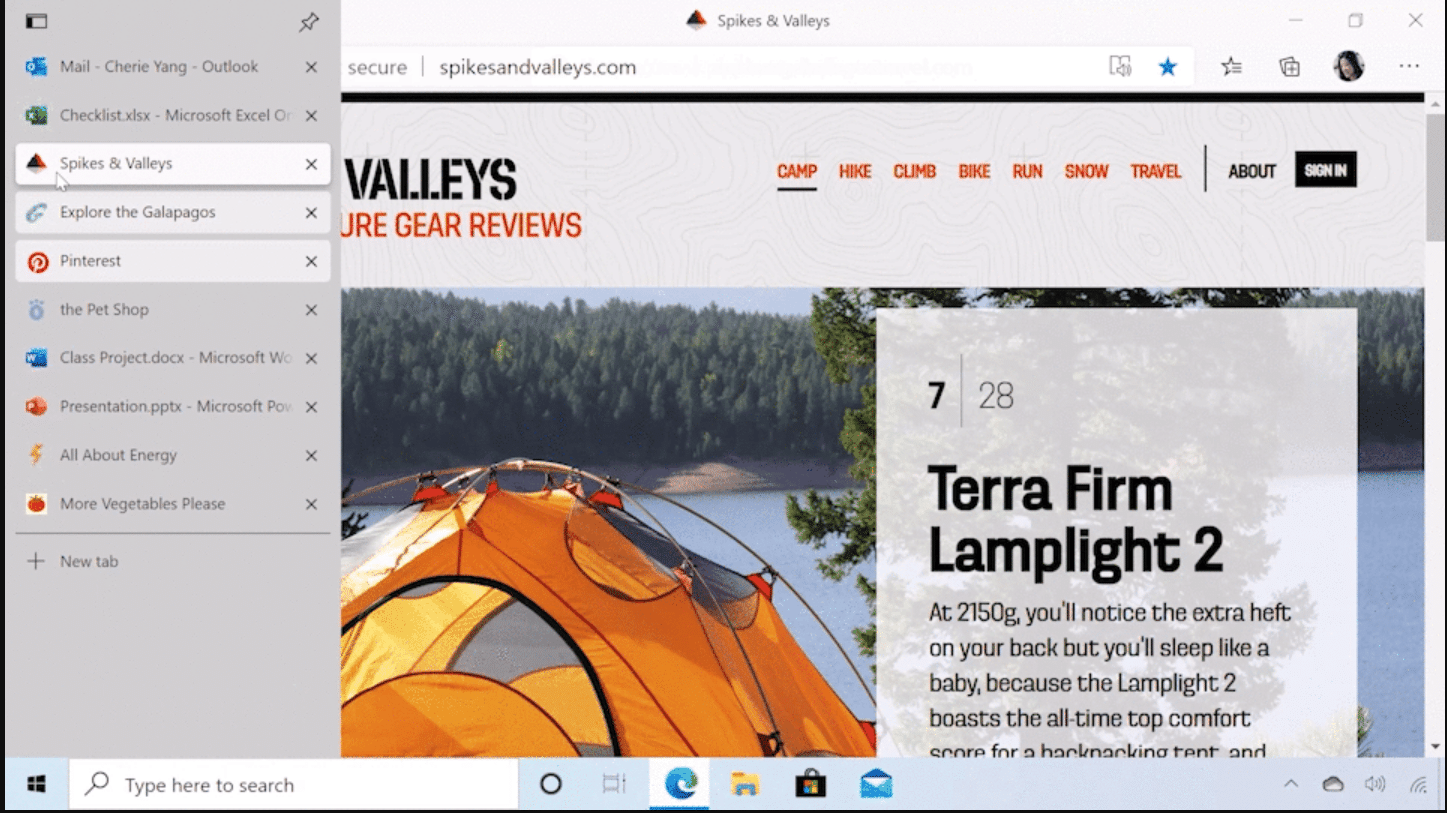 Chrome doesn't have an equivalent built-in vertical tab feature. There are extensions in the Chrome Web Store that can create a similar effect, but none of them function as smoothly as Microsoft Edge's native vertical tabs.
Edge and Chrome also allow you to create tab groups. There's not much difference here — both browsers let you choose a color and name for each group and will automatically shuffle your tabs so that tabs in the same group are next to each other.
Bookmarks and Favorites
Chrome calls them bookmarks, and Edge calls them favorites, but the concept is the same. You can bookmark your favorite pages for easy access later.
Both browsers let you pin some of these favorites to the top bar and put others into a drop-down list. You can organize your bookmarks or favorites into folders.
Microsoft Edge offers a feature called "Collections" that serves as another way to organize links into groups. You can add links, images, or copied pieces of text into a collection. You can also add notes to your collection.
A collection can be sent to Microsoft Docs, Excel, OneDrive, or Pinterest. Collections sync across your devices.
Google also has a similar feature also called Collections. Google Collections isn't specific to Chrome — you can access it and add to it just as easily from Edge.
Google Collections are shared by allowing other Google accounts to have access.
Themes and Dark Mode
If you don't like the default look of Edge or Chrome, you have plenty of custom themes to choose from.
Chrome themes are available from the Chrome Web Store. There's no specific dark mode setting, but many of the available themes are dark.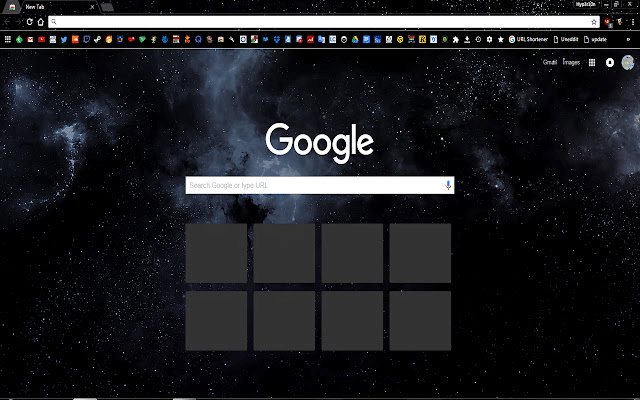 If you're using Edge, you can customize your browser's look somewhat from the Appearance settings page. Choose whether you want the overall appearance to be light, dark, or default, and then choose a theme.
You can select from 14 basic color themes in settings. If you want something different, you can get a theme from the Microsoft Edge Store or the Chrome Web Store.
Immersive Reader
The immersive reader is a feature unique to Microsoft Edge. It converts the page you're reading into an ebook-like format with a simple layout and no clutter.
Chrome doesn't have an immersive reader. However, as with most functions that Chrome is missing, you can add it with an extension.
Search Engine
By default, Google Chrome uses Google as its search engine, and Microsoft Edge uses Bing.
But you can easily change the default search engine on either browser, so this shouldn't factor into your decision.
2. Mobile Version
Google Chrome and Microsoft Edge both have Android and iOS versions.
However, Edge isn't very popular on mobile. While Chrome's market share is 68.79% on desktop and 63.72% on mobile, Edge's is 8.1% on desktop and just 0.1% on mobile.
The difference can probably be explained by the fact that Edge is the default browser on Windows computers while Chrome is the default on Android devices.
But which browser has a better mobile app?
There are a few differences. For example, Chrome lets you access the menu and tabs at the top of the screen on its mobile app, while Edge puts them on the bottom. Overall, the quality of the apps is similar, and the choice comes down to user preference.
3. Performance
Let's talk about an area where we really can see a difference between Google Chrome and Microsoft Edge, speed.
Microsoft claimed that Edge was 112% faster than Chrome when it first came out. It's hard to pin down how accurate this exact stat is, but plenty of users around the web have run their own tests and come to the same conclusion: Edge is faster than Chrome.
For example, Avast tested many browsers and found Edge to run faster than Chrome, Firefox, Opera, and Vivaldi.
Chrome also has a reputation for heavy resource consumption.
Tom's Guide ran a test on this and found that Chrome used more RAM on various tests. For example, with 60 tabs open, Chrome used 3.7 GB, while Edge only used 2.9.
4. Backup and Syncing
Until recently, Edge had limited syncing abilities. For example, there was no option to sync your history across devices.
However, Microsoft started rolling out these features in 2021. Edge can now sync close to everything that Chrome can, including:
Bookmarks/favorites
Extensions
History
Settings
Open tabs
Passwords
Addresses
Payment methods
With Edge, you have to enable cross-device syncing in the settings manually. Chrome will sync your devices by default, but it can be turned off if you prefer.
Enabling syncing is the best way to ensure that your preferences and favorites are backed up if something goes wrong.
5. Cross-Device Accessibility
Google Chrome runs on Windows, macOS, iOS, Android, Linux, and Chrome OS (the operating system on Chromebooks).
Microsoft Edge runs on all the same platforms except for Chrome OS.
If you want to put Edge on your Chromebook, it's possible to do using the Linux version of the browser.
6. Security and Privacy
Browsers are one of the most common targets of malware. 29.13% of PC exploit attacks on applications attack browsers.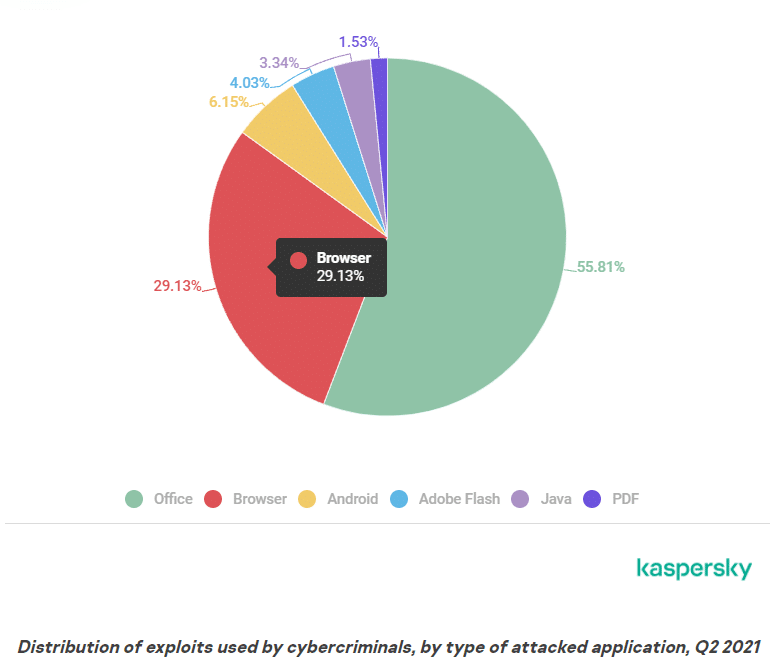 It's essential to choose a browser with strong security features.
In addition to preventing cyberattacks, browsers should have privacy settings that give users some control over how their data is used.
Let's get this out of the way first: neither Chrome nor Edge is the most secure or private browser on the market. If privacy is your priority, browsers like Tor, Brave, and Firefox are better choices.
But Edge and Chrome do have some useful security features.
Edge's privacy settings are easier to understand and manage. You can choose between three levels of tracking prevention and see a list of blocked trackers.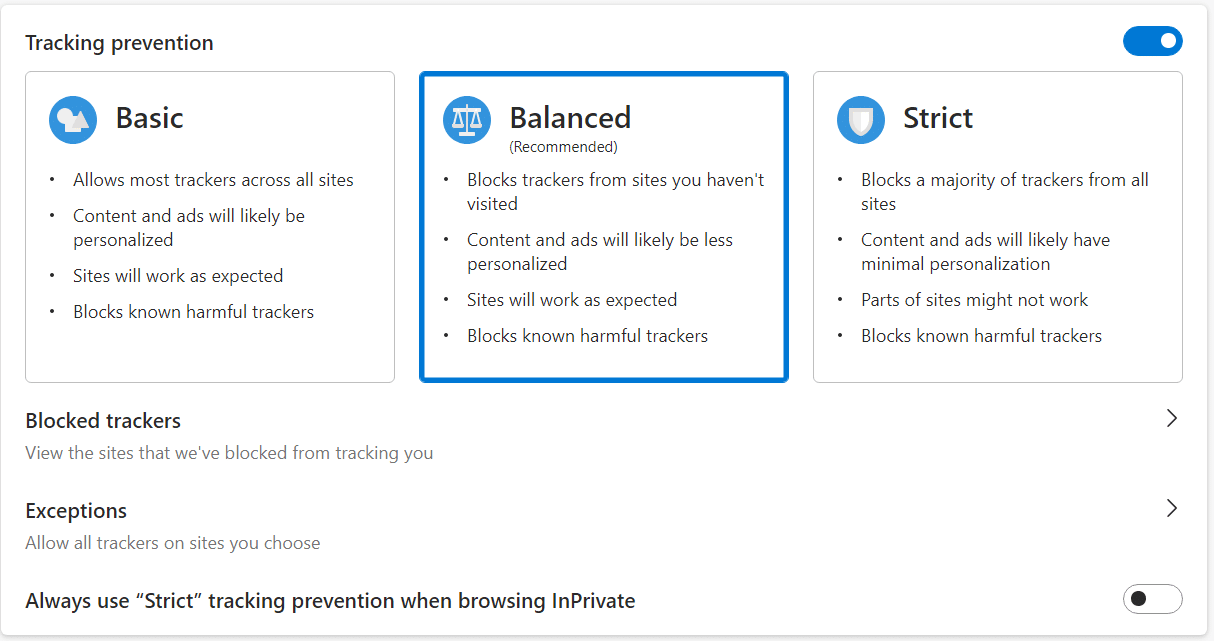 Chrome only lets you send a "do not track" request to websites. Both browsers allow you to manage cookies from the sites you visit.
In terms of security against malware and phishing, Microsoft Edge protects users with Windows Defender SmartScreen. Chrome also has built-in anti-malware features. These work well, and either browser should be relatively safe from exploits if kept updated.
Chrome is known for pushing out updates quickly, meaning any vulnerability to malware is fixed rapidly. Edge also updates regularly, but not quite as quickly as Chrome.
Google collects more of your data than Microsoft does and is facing a lawsuit for allegedly collecting data from users browsing in incognito mode.
7. Extensions
There was no comparison between Edge and Chrome in terms of browser extensions until recently.
Chrome's extension store is much better, with over 150,000 extensions available to enhance your experience. This includes anything from extensions that let you temporarily block websites to ones that let you save content from around the web to Facebook.
Edge offers a shorter list of extensions (called Add-ons).
But that doesn't matter anymore.
Now that Edge is based on Chromium, you can use Google Chrome extensions with Edge. Just open the Chrome Web Store in Edge, and the "Add to Chrome" button will add the extension to Microsoft Edge.
It's not as simple to add Microsoft Edge add-ons to Chrome. You have to download the extension's .crx file, which Edge doesn't make easy, and reupload it to Chrome.
Luckily, there's not much in Microsoft's store that you can't also find in the Chrome Web Store.
You have thousands of extensions available, no matter which browser you prefer to use.
8. Integrations
Chrome is part of a vast Google ecosystem that includes Gmail, Google Calendar, Google Drive, Google Maps, and more.
Many Google tools work just as well with Edge, especially now that Chrome extensions can be added.
However, there are a few ways that its integration with the Google ecosystem gives Chrome an advantage.
For example, both browsers allow you to translate pages from other languages, but Chrome uses Google Translate, a far superior tool to Edge's Microsoft Translator.
And if you use Google Drive, you can search for items in your Drive directly from the Chrome search bar.
Microsoft Edge has its integrations with Microsoft products. Most notably, you can now open and edit Microsoft Office documents from within Edge.
9. Other Features
Both browsers have more features than covered in this article, especially if you include added functionality from extensions.
But we want to mention a few more cool things you might not know you can do with your browser.
Microsoft Edge Coupon Finder
If you use your browser for online shopping, Edge has a feature for you.
Go to a page selling products and click the blue shopping icon in the search bar. This will let you know if any coupon codes are available for the products on the page.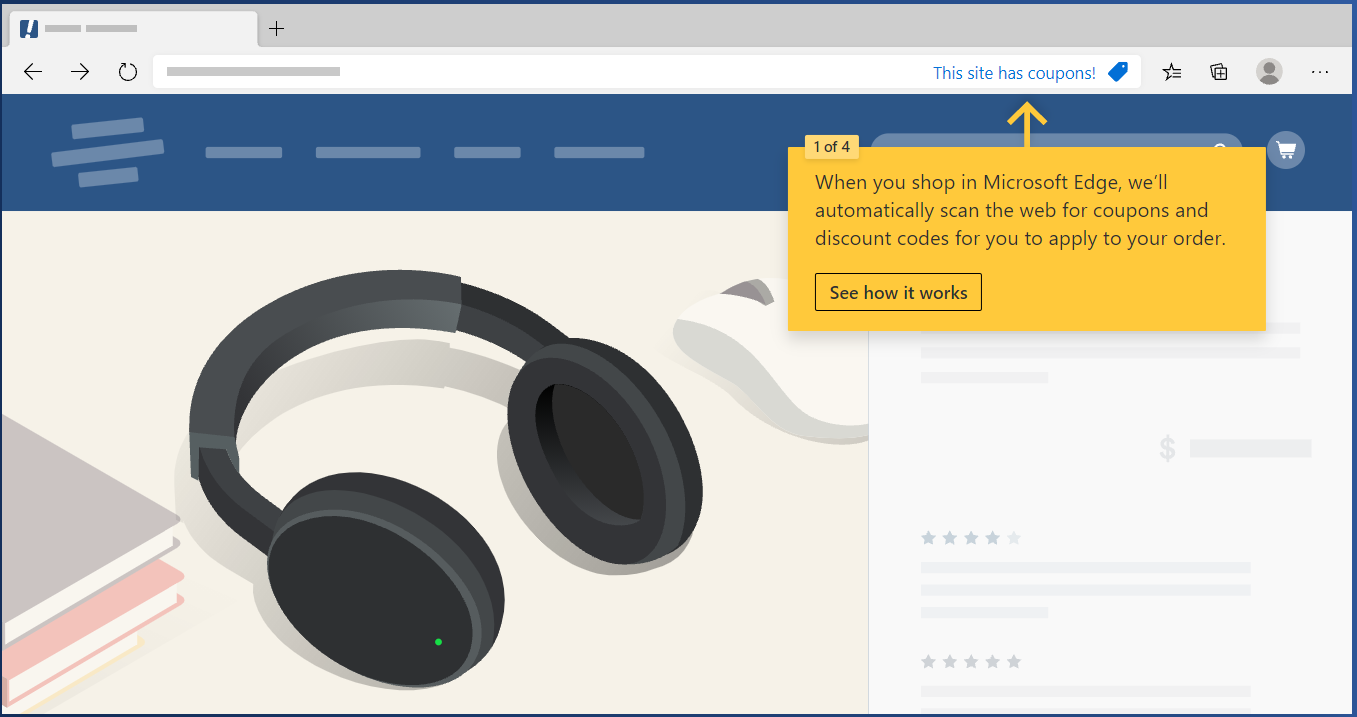 So far, Chrome has nothing comparable to this feature.
Casting
Chrome lets you cast your browser or your entire desktop to a Chromecast device. For example, if you have a Chromecast device attached to the HDMI port of your TV, you can cast a video from your phone or laptop to the TV.
Edge has even more casting options. You can cast media to any Miracast or DLNA-enabled device — and you can even cast to Chromecast.
Task Manager
Chrome and Edge both have built-in task managers that let you monitor the resource usage of your tabs and extensions.
Chrome or Edge: Which Browser Is Better?
Looking at older comparisons of Chrome vs Edge, they'll usually point out features that Chrome does well, but Edge lacks.
But there aren't a lot of those left.
Microsoft has been diligent about adding Chrome's best features to Edge. Since Edge moved to Chromium, the browsers are very similar, and which one works better for you is a personal choice.
However, in a few areas, Edge has the edge. If you prioritize speed or low resource consumption, you should choose Microsoft Edge over Chrome.
After all, Chrome is known to use a significant amount of RAM, something that can negatively impact systems running with limited memory.
Microsoft Edge and Google Chrome Alternatives
Chrome and Edge aren't your only browser options.
Here are five of the top Microsoft Edge and Google Chrome alternatives — some you've heard of and a few you may not have.
Firefox
With a market share close to Microsoft Edge, Mozilla Firefox is one of the most popular non-Chrome browsers. It has a feature set very similar to Chrome or Edge.
Many people choose Firefox because it's open-source and owned by a nonprofit rather than a major company like Google or Microsoft. Firefox extensions can also be installed to enhance the browser.
Its privacy features are better than those of Chrome or Edge.
Unlike Edge, Chrome, and most of the other browsers on this list, Firefox isn't Chromium-based but built on its engine called Gecko.
Tor
Tor specializes in anonymous browsing. It bounces data through relays worldwide so no one can track your location or browsing activity. It has a wealth of security and privacy features that go way beyond what Chrome and Edge offer.
But Tor should only be your choice if you're serious about privacy because its performance leaves something to be desired. Sites frequently load slowly or block enough elements to function correctly.
Vivaldi
Like Google Chrome and Microsoft Edge, Vivaldi is a Chromium-based browser.
Where Vivaldi stands out is in the customization of the user interface. For example, you can put your tabs at the browser's top, bottom, left, or right. You can design your own theme and move UI elements around. You can even choose whether you want your UI elements to have sharp or rounded corners.
One neat trick is that you can view multiple tabs side by side. For example, you could take notes on one tab while you videoconference on another.
Opera
Opera isn't the most popular browser, but it's one of the oldest, having been released in 1995.
It's Chromium-based and has as many features as other Chromium browsers. It's a somewhat better privacy choice than Chrome or Edge, as it features a built-in ad blocker and VPN.
One convenient feature is adding shortcuts for chat apps like Facebook Messenger and WhatsApp.
Brave
Brave has a heavy focus on privacy. Its most unique features are its ad network and the Brave Attention Token (BAT).
The browser blocks ads and shows you different ads from its own network. For viewing the ads, you're awarded BATs, a cryptocurrency you can give back to creators.
Microsoft Edge vs Chrome 🥊💥 Which one will come out on top?Click to Tweet
Summary
A few years ago, it didn't seem possible that Microsoft would be a serious contender in the internet browser space again.
Edge still has a long way to go to catch up with Google Chrome, but it's an excellent browser with a growing market share. If you haven't tried it since before the switch to Chromium, it's worth a second look!
Of course, Google Chrome is incredibly popular for a reason, and Google is sure to keep improving its performance and updating it with new features.
Wondering about your other options? Learn about the six most secure browsers.