With industry advertising revenue forecasted to exceed $1B by 2021 and an estimated 62 million people listening to a podcast every week, the right time to start your WordPress podcast is now.
Combining WordPress' customizable features with a solid podcast hosting plugin is the secret weapon pro podcasters use to save time and expand their brand.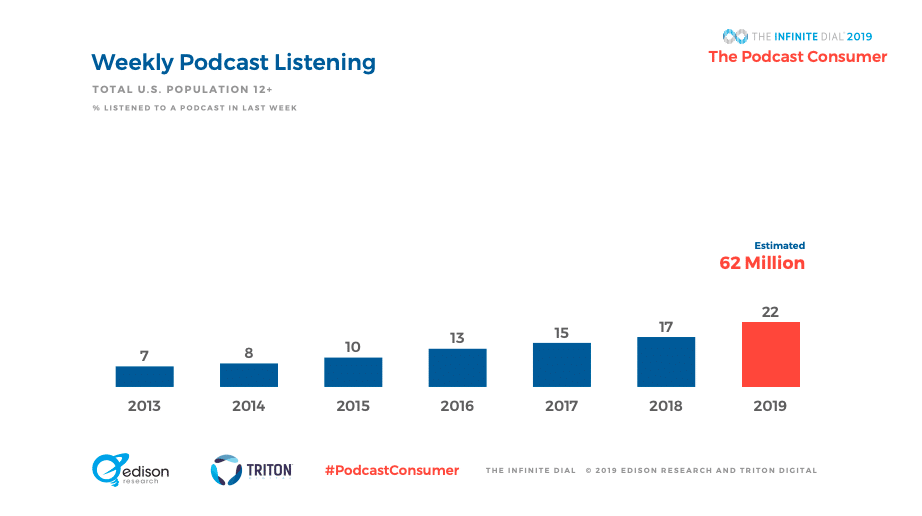 With "searching the internet" as the preferred way for listeners to discover new podcasts, it's nearly impossible to be included in those search results without a website.
In today's blog post, we have plugin recommendations, set up tutorials, and more to get you up and running in no time with your WordPress podcast.
Ready to dig in? Let's start!
How to Start a Podcast on WordPress
How to start a podcast can feel like a black box. New shows are launched weekly but exactly how the complex inner workings move together requires a bit of education upfront.
Luckily, podcasting isn't as tough as one might think. In fact, there are only five steps in the way of taking a podcast from idea to reality and we have all the details right here.
Step 1: Finalize a Concept and Pick a Format
You can't start a podcast if you have nothing to talk about, so the first step to launching a show is figuring out the topic. Consumers are interested in a variety of subjects with music, news and information, entertainment, and celebrity angles earning the majority of listeners.
However, we caution against just starting a podcast about the most popular topics if you lack personal interest in the subject. Instead, generate a list of ideas about things you're passionate about. After all, you'll be talking about this subject for hours.
After settling on a topic, it's time to decide which podcast format is the best structure to convey the information to listeners. The main styles include:
Interview format: a question and answer setup with the host bringing on a unique guest each week.
Solo format: a host is the only voice on the show and typically shares their specific expertise or story.
Co-hosted format: two or more hosts have a conversational discussion about a topic.
Panel format: a host moderates a larger group of guests using conversation starters or a question and answer set up.
Will interviewing an expert, relying on witty banter between two hosts, or a solo monologue keep listeners more engaged?
Start with considering which podcast format is the best way to educate an audience on your topic.
Last, is coming up with the podcast's name. The process of choosing a podcast title is different for every host.
Some prefer exploring creative names, including puns or a play-on-words hinting to the show's content. For hosts with an established audience, adding their own name to the title is a common first step. For others, it's finding the middle ground between descriptive and witty.
No matter which path, there are three key considerations to take into account when naming a podcast:
Confirm the name isn't already taken: perform Google searches, browse podcast directories, and make sure the website domain and social handles are available for you to use.
SEO-friendly: You want your podcast to surface in search results, so think about the keywords prospective listeners will use when searching for information related to your topic.
Say it aloud: This step is often missed but it's important. You'll say your podcast's name thousands of times so say it aloud a lot. It should roll off your tongue and be easy for others to pronounce.
Step 2: Purchase Equipment and Software
When the podcast's foundation is sturdy, it's time to think about how to capture high-quality audio for a professional sound.
To achieve that, specific equipment and software are necessary.
Equipment setups can range from DIY home studios to sound-proofed recording booths, but no matter what you'll need two basic items: a microphone and a pair of headphones.
There are plenty of podcast microphones on the market and if you're just starting out, we recommend starting with a more affordable option. Our favorite is the Audio Technica ATR2100. It's forgiving for imperfect recording environments and doesn't break the bank.
For headphones, you can get away with using pretty much anything but many hosts prefer something with over-ear coverage. No matter the choice, each person included in a recording session should have their own microphone and headphone setup to capture a crisper sound.
After purchasing the necessary equipment, you'll need a recording and editing software to both capture and refine every episode.
Before making a decision, think about your recording needs. Will you and your guests or co-hosts be in the same room for every recording session? Or will you include guests or co-hosts located on opposite sides of the world on a regular basis?
This question is important because it decides if you need local recording software, where everyone is in the same room, or remote recording software, where everyone is recording separately.
Audacity: for local recordings we recommend Audacity. It's free, has all the basic features you need to get started, and doesn't have a long ramp-up time to learn all the bells and whistles. To get started, check out this video tutorial on the basics of recording, editing, and mixing audio in Audacity.
Zencastr: for remote recordings, we like Zencastr. It captures studio-quality remote recordings and allows you to record a separate track for each voice which will come in handy during the editing process. Learn how to use the tool for your remote recordings in this video tutorial.
With a raw audio file recorded, the next step is choosing an editing software to polish and finalize each episode.
For streamlined workflows, we again recommend Audacity. If you record using their software, it's easy to immediately begin the editing process within the same interface. Saving you time and unnecessary additional steps, you can focus on refining the final product.
Step 3: Record Your First Episode
It can be intimidating sitting behind the mic for the first time but with a bit of preparation and practice, you'll find recording your first episode isn't so hard after all.
Start with writing a script or outline of what you'll talk about throughout the episode.
If it's an interview, research your guest and prepare a list of questions. Be sure to share the list with the guest, allowing them to plan out their talking points ahead of the interview.
When the episode's content is finalized, move towards practicing some mic techniques:
Focus on staying a 3-fingers width away from the microphone for a consistent sound.
Sit up straight or stand while recording, choosing the position where you can speak comfortably for a few hours.
Run through the script to familiarize yourself with the talking points and refine the intonation for each section.
Watch the volume meter while practicing to make sure your normal speaking voice isn't going above 0dB, meaning into the red portion of the meter. This will result in distorted audio files so be sure to adjust the volume levels before hitting record.
Remember to relax and have fun. Recording a podcast isn't like giving a speech, you can always re-record.
Step 4: Upload the Episode to a Podcast Hosting Service
Uploading podcast files to a hosting service isn't recommended. Podcast episodes contain a lot of data that results in large file sizes. A website hosting service is designed to easily store smaller text, image, and short video files but podcast episodes produce much larger file sizes.
You risk hitting the service's storage limitations, potentially incurring high fees from the provider. In addition, website hosting services can't transfer large audio files quickly.
This means when a user tries to play the podcast, they'll have to wait for the player to load the episode and encounter buffering issues. Lower bandwidth speeds create a poor listening experience, likely costing you followers in the process.
Instead, upload the episode podcast hosting service that's designed to store and transfer large audio files efficiently. In this step, simply upload the final episode to your preferred service and include the relevant episode details like its name, description, and metadata.
What's a Podcast Hosting Service?
A podcast hosting service is the middleman between you and your audience. The service generates an RSS feed when you upload podcast episodes to your account.
You'll then connect your show to your WordPress website or podcast directories, like Spotify, using this RSS feed link. When someone attempts to play an episode, the platform pings your podcast hosting service and receives the episode's audio file back via the RSS feed. In its most basic terms, no podcasts would exist without this connection and RSS link.
When podcasting with WordPress, be sure to choose a hosting service that provides a  WordPress plugin. This integration allows for a more streamlined process, allowing a host to upload their episodes directly to WordPress rather than toggling between multiple platforms (more on this later).
An alternative option is to create your own RSS feed. Using XML coding language, advanced podcasters can put together the necessary tags and structure that make up a standard RSS feed.
Apple Podcasts' guide to RSS breaks down the required components your DIY feed needs to be read correctly by every podcast directory. With one mistake, though, the RSS feed will be invalid and inaccessible across your WordPress website and podcast directories. That's why we caution new podcasters from using this strategy due to the many opportunities for error.
Step 5: Syndicate the Episode to Your WordPress Website and Podcast Directories
Creating a podcast with WordPress makes it easy to immediately feature episodes directly on your site. While some of your audience will tune in from there, it's also important to syndicate every episode across the most popular podcast directories like Spotify, Apple Podcasts, and Google Play.
Syndicating episodes means giving the content to each directory so users can ultimately listen to it.
To syndicate a podcast across every platform, set up an account with each and submit the show's RSS feed to create the initial connection. Then, every time a new episode is uploaded to the podcast hosting service, it will automatically be distributed across every directory you've connected.
The best part is, after the initial set up is finalized, you can set it and forget it.
How to Podcast with WordPress
The biggest benefit of podcasting with WordPress is the amount of time saved when managing a new show.
Keeping up with a podcast requires commitment and veteran hosts understand how efficient workflows help with consistently producing engaging content. You likely want to get into podcasting for the long haul so here's a five-step guide on how to podcast with WordPress.
Create a WordPress website
To begin, you'll need to set up a WordPress website first. To do this, head over to Wordpress.org and follow their download instructions. Best of all, WordPress is a free tool so you can create a fully functioning website without breaking out your wallet.
After the WordPress set up is complete, you'll then need to choose a WordPress hosting service to store your site's files and set up a domain name.
1. Install a Podcast-Specific WordPress Theme
Blogs and ecommerce stores are built to achieve different outcomes. Many choose a specific WordPress theme that helps hit those goals. A podcast website is no different.
To enhance the listener's experience, install a WordPress theme that was built for podcasts. It should feature your media front and center, support audio and video assets, and be mobile responsive.
After picking which theme is best, go to Appearances > Themes then click "Add New" and "Upload Theme". Then install the theme's files and start customizing your site.
2. Install a Podcast Plugin
In order to reap the benefits of podcasting with WordPress, you'll need to install a podcast plugin. And that should feature two important characteristics:
The plugin is associated with a podcast hosting service so the audio files are stored in a secure and reliable space without slowing down your website.
The plugin allows you to upload episodes and view analytics directly from your WordPress dashboard so you can manage the show via one central platform.
Many podcast plugins also featured customizable players which is an added bonus.
As new episodes are uploaded to WordPress and stored with the podcast hosting service, listeners can easily play the content directly from your website. Many also allow you to change the player's background colors and style for a polished look.
3. Link Your Podcast Hosting Service with the Plugin
After installing a podcast plugin, it's time to link it with its associated podcast hosting service.
Before you upload a podcast to WordPress, this link between the plugin and hosting service needs to be established first. The integration instructions are specific to each plugin/service combination so head to the relevant setup documentation to create the connection.
Why do I need a podcast hosting service?
It may seem redundant to have a website hosting service and a podcast hosting service but it's important to have both.
Having a dedicated podcast hosting service removes strain from your website host resulting in a faster, more reliable site experience. In turn, that creates a smoother streaming and download experience for your listeners.
Typically the installation process involves sharing your podcast hosting service's API key with WordPress and the RSS feed is automatically connected to the WordPress dashboard.
After the connection is made, you'll be able to directly upload podcast content directly to WordPress' dashboard going forward.
4. Upload Your Episodes to WordPress Using the Podcast Plugin
When you have a final podcast episode that's ready to be shared with your audience, upload it directly to your WordPress site using the podcast plugin. The process is different for each one so be sure to check the plugin's documentation for the correct instructions.
As new content is added to WordPress, the plugin will provide the information to the podcast hosting service to properly store the larger audio files. The podcast's information should update within the plugin and hosting service's interface so the information matches across both platforms.
Since the audio files are uploaded directly to WordPress, the plugin typically provides the updated information to the podcast hosting service rather than the other way around. Said another way, the plugin updates the host but the host can't update the plugin. This is an important piece to remember as you start managing your podcast over the long term.
5. Manage Your Podcast Directly from the WordPress Dashboard
As you continue to produce more content and upload new episodes, you'll be managing everything directly from WordPress' dashboard. This is where the efficiency benefits really shine when podcasting with WordPress.
There's no need to toggle between multiple platforms, perform the same actions twice, or manually syndicate your podcast to your website. Everything is completed in one streamlined process.
Many podcast plugins also feature in-depth analytics like the number of listeners and device breakdowns within their interfaces. With these features, you're able to assess which episodes are performing well and keep generating content to engage your audience.
Podcasting with WordPress is a popular setup and it's easy to see why. Streamlined workflows, centralized management, and plenty of customizable features, WordPress offers a better way to podcast.
Best Podcast WordPress Themes
With the benefits of podcasting with WordPress clearly laid out, you're likely eager to get started building your own site. After completing the initial setup, it's time to start aligning the new website to your podcast and its branding.
In order to change the site's aesthetics, WordPress offers a hand full of standard theme templates. While it's perfectly fine to use these options, we don't recommend it because they weren't designed with podcasters in mind.
Instead consider a theme that was built to feature audio and video content, where your podcast can be the star of the show.
The themes we love allow hosts to feature custom playlists, build posts for individual episodes, and supports multiple media formats. Each is responsive so your listeners can tune in across their preferred device and you'll be able to customize the colors and arrange the widgets however you'd like.
The best podcast WordPress themes will differentiate your website from the rest and help grow your audience!
Here some WordPress themes we recommend for podcasting.
Tusant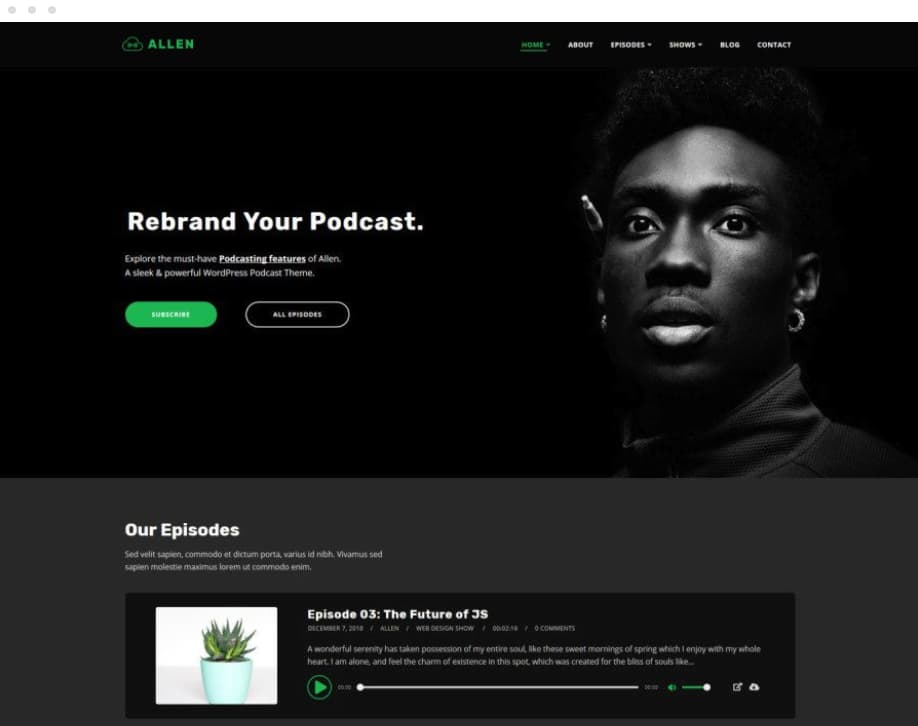 Tusant from SecondLine is a sleek theme that was built specifically for podcasting and music and video streaming. It supports multiple audio sources allowing podcast episodes to be easily embedded.
The theme allows for an unlimited number of entries so you can create new pages for every episode, series, or blog post without worrying about hitting a maximum. It also gives you full control over the content layout so your podcast is featured exactly how you want it. Most importantly, Tusant supports all of the major podcast WordPress plugins like Seriously Simple Podcasting and PodLove.
Nayma
Nayma from Artisan Themes is a functional WordPress theme that utilizes drag and drop modules to design each page. For those without coding skills, the ease of building new layouts is perfect for anyone brand new to creating a website.
The theme has multiple header options and is ecommerce ready, perfect for selling your podcast's merchandise or related products. Nayma is fully compatible with many podcast plugins and includes a large array of module types, like galleries and video embeds.
Podcaster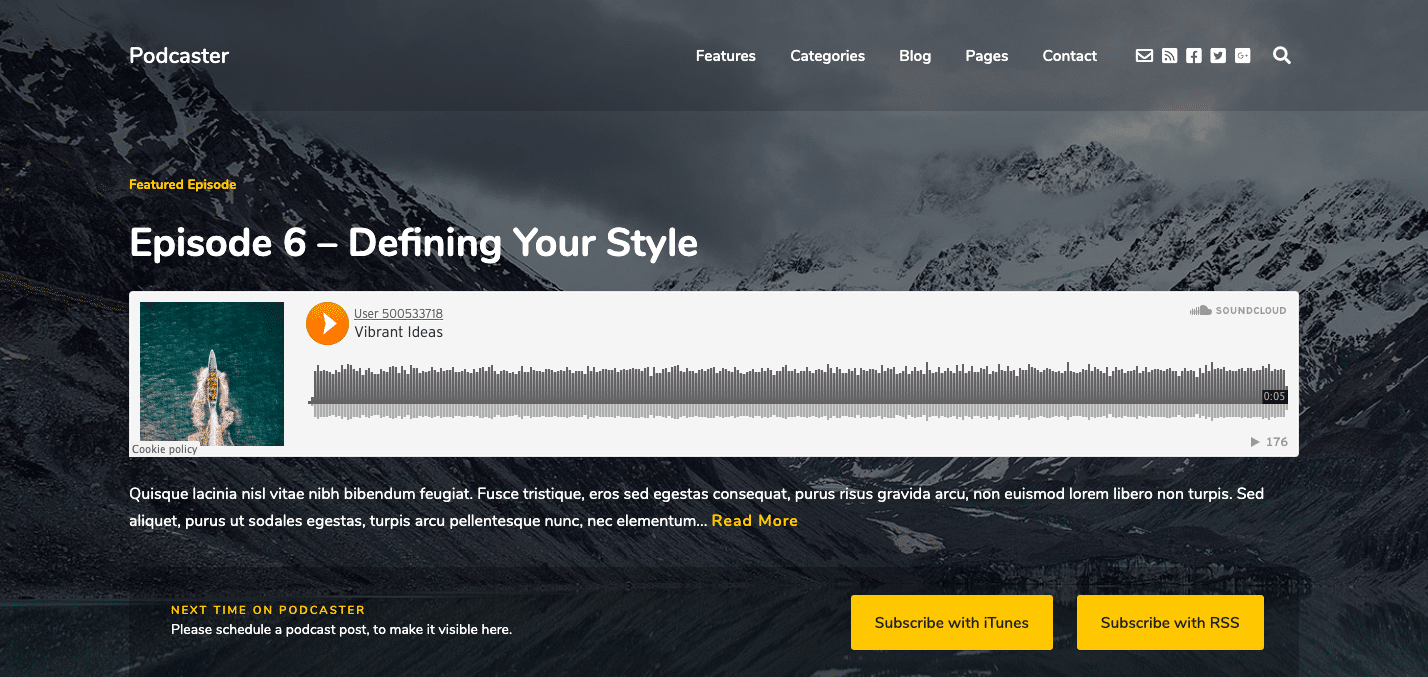 Podcaster from Themestation went all-in on building a custom theme for podcasters. Customize the homepage to feature embedded audio players and playlists so visitors are immediately able to listen to your latest content.
By offering unlimited episode archive pages and unique subscribe buttons, hosts can create an infinite number of new posts and manage multiple podcasts from one site. The theme is clean, flexible, and responsive and is optimized to integrate best with Seriously Simple Podcasting and BluBrry PowerPress podcast plugins.
Audonic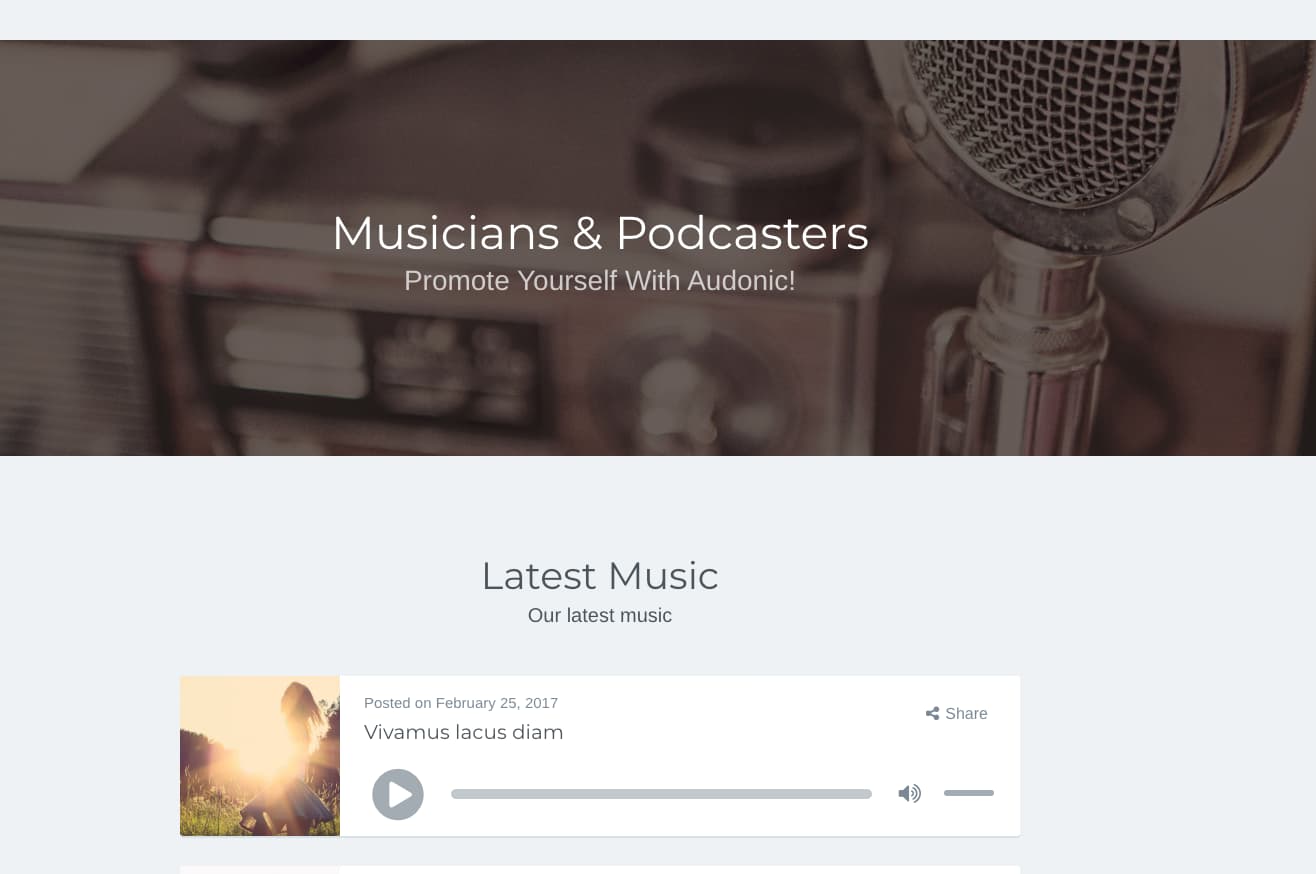 Audonic from mixamedia offers additional plugin optimizations to build a website that supports your podcast and also manage events, social feeds, and blog posts.
The custom widgets are compatible with multiple media types and allow you to upload a featured cover image for audio posts. The theme has dark and light-colored layouts and has a mobile-first design for a refined mobile experience.
Best WordPress Podcast Plugins
Your WordPress website is the home base of your podcast. But you'll need a podcast plugin to let listeners tune into the latest content and manage your show!
Each of our picks has a few key features that we consider a must when hosting a podcast on WordPress. Most importantly is responsiveness which means the player is functional and visually appealing across desktop and mobile devices.
It's easy to forget about the mobile experience when designing a website but according to Edison Research, podcast listeners spent 42% of their time tuning into new episodes on their smartphone.
If your WordPress podcast plugin doesn't work across mobile devices, you're missing out on a big growth opportunity.
To start your research on the best WordPress podcast plugins, we've rounded up our top three choices to consider for your website. And you can rest assured each is set up to work properly across every device.
Seriously Simple Podcasting
Seriously Simple Podcasting by Castos is an easy to use and customizable podcast plugin. The intuitive interface makes this plugin perfect for beginners to publish their podcasts in minutes without having to leave the WordPress dashboard.

For veteran hosts, Seriously Simple Podcasting supports both audio and video files and allows users to run multiple podcasts from the same site, each with their own unique RSS feed.
The plugin has a suite of helpful features like customizable media players, widgets to display playlists, and thorough listener analytics.
Podlove Podcast Publisher
Podlove Podcast Publisher by Podlove is a podcast plugin featuring powerful analytics to help hosts figure out which episodes receive the most engagement and on which platforms audiences tune in.

The plugin also boasts a flexible template structure giving users full control over how episodes are displayed so your content is organized exactly how you want it.
Podlove Podcast Publisher comes with an integrated web player and separate subscribe buttons allowing listeners to follow your podcast across their preferred apps.
PowerPress
PowerPress by Blubrry features simple and advanced modes to fit every podcaster's needs. Like many podcast plugins, it includes distribution across the major podcast directories like Apple Podcasts, Google Play, Stitcher, and TuneIn making it easy to submit and manage your show from one place.

Advanced features like podcasting SEO settings allow users to set different episode titles to improve the discovery of your podcast on search engines like Google and Apple Podcasts directory.
PowerPress comes with basic analytics functions with the option to upgrade to more robust insights at $5/month.
Best WordPress Podcast Players
Podcasting with WordPress means there are a variety of options for how to feature a show. While we prefer the ease of using a podcast hosting service that has a plugin with a built-in media player, this isn't the only choice.
More advanced coders may prefer to host their own podcast RSS feed and store their files on a standalone server. This alternative option requires additional set up time but offers more control over the data in the feed.
But a word of caution for newbie podcasters: homemade RSS feeds are more prone to errors if you're not well-versed in this coding language. And unfortunately, one small mistake will make your podcast content inaccessible across every podcast directory and your website. For those just starting out, we still highly recommend working with a podcast hosting service to ensure your RSS feed is set up correctly.
Regardless of which method you choose, one of the main benefits of podcasting with WordPress is allowing listeners to discover your latest content. But in order to do that, episodes need to be easily accessible directly from the site.
For hosts who took the DIY approach and have a self-made RSS feed in working order, the next step is featuring the content on WordPress. This is where a dedicated podcast player comes in handy.
We've pulled our top two recommendations that offer podcasters advanced features like a responsive player, share buttons, and search capabilities.
Podcast Player
Podcast Player is a relatively new plugin to WordPress but is gaining support from DIY podcasters.

The key features include displaying a responsive player just by entering the podcast's RSS feed URL, buttons allowing listeners to share the content to their network, and sort and filter options to create custom playlists.
Set up is easy, all you need to do is add the podcast's feed URL to the widget block. With fully customizable styles to fit every WordPress site and additional advanced setup features, this plugin fits every host's needs.
Smart Podcast Player
Smart Podcast Player was built by Pat Flynn who hosts popular podcasts about entrepreneurship. Flynn wanted a player that kept his listeners on his website so he designed his own plugin to make podcasting with WordPress better.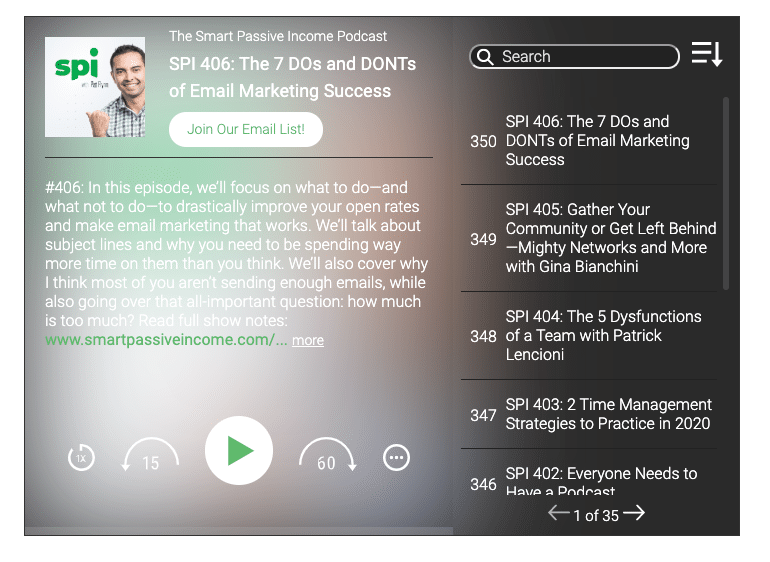 The plugin offers a robust set of features, designed to enhance each listener's experience. There are multiple player display options where hosts can feature their full archive for binge-listening and a Smart Track Player if there are specific clips or episodes that deserve the spotlight.
With additional options to make the player stick to the top or bottom of a website, users will be able to hit play from any page they land on. Smart Podcast Player also boasts being the only plugin that includes an email subscribe button to grow a newsletter list of engaged listeners. Offering these advanced features does come at a price, however, with plans costing $12/month or $8/month if paid annually.
On Which Podcast Directories Should You Feature Your Podcast?
We've talked at length about how to feature a podcast on WordPress but there are many other places it's important to syndicate your show.
Platforms like Apple Podcasts or Spotify are likely top of mind but they're not the only ones.
The common rule of thumb is to distribute a podcast to every platform, big and small, to grow an audience and attract new listeners.
Luckily, syndicating a podcast across the main directories all follow similar setup instructions. To get you started, we've highlighted the six essential platforms to list your podcast in addition to a few lesser-known directories that are nice to have.
Apple Podcasts
As of March 2018, the Apple Podcasts passed 50 billion all-time episode downloads and streams! Up from 7 billion total streams in 2014, that's 7x more consumption in just four years.
In order to get in on the action, start with submitting your show to Apple Podcasts first.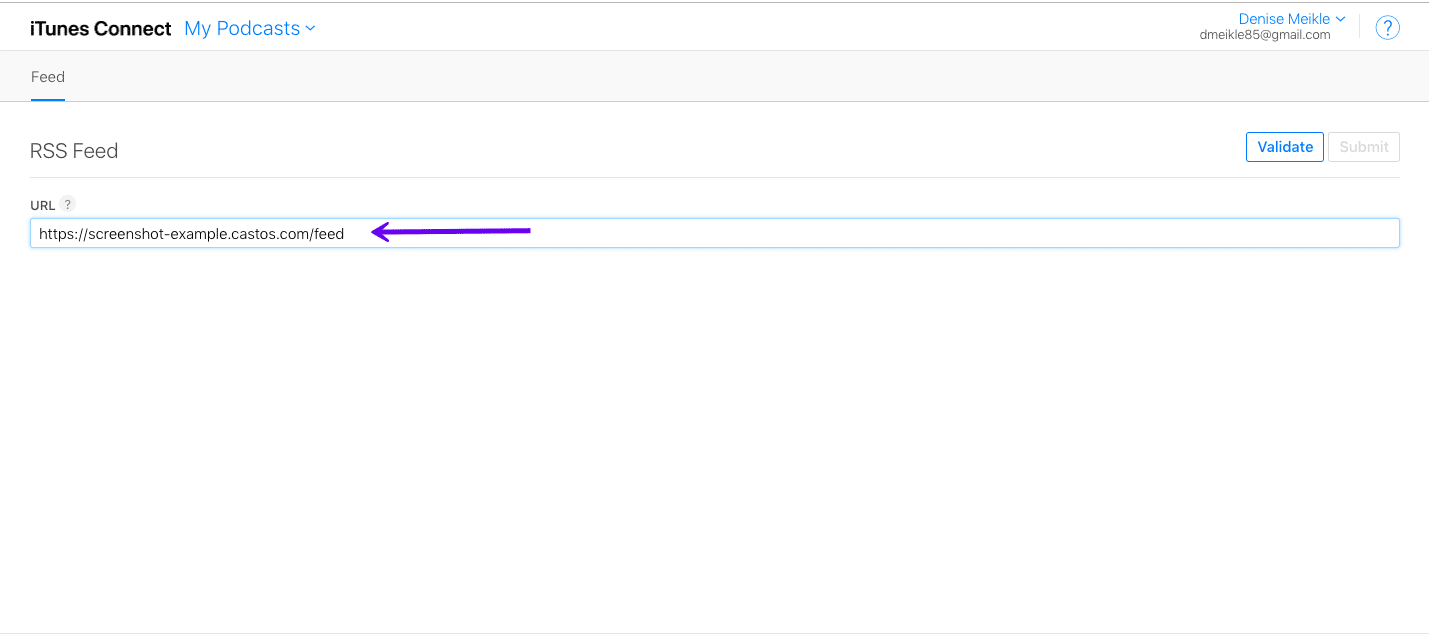 The submission process is straight-forward and podcasts are typically approved within a few business days.
To start, create an account with iTunes Connect then add the podcast's RSS feed URL for validation.
Review the information including the show's title, featured categories, and list of episodes to make sure everything is correct then hit submit. After 24-48 hours, Apple Podcasts will send an email with the link to the show's listing and that's it!
Use the approved link to direct listeners to your podcast's Apple Podcasts listing so they can subscribe directly on the platform.
Spotify
Spotify recently earned it's spot as the 2nd most popular podcast streaming platform and is the platform majority of 12-24 year-olds have listened to in the past month.
With their recent acquisition of Anchor.fm, they are showing their commitment and investment in the podcasting industry's success.
Getting your podcast listed on Spotify follows a similar process to Apple Podcasts. First, you'll need an account and then add your podcast's RSS feed.
From there, the team at Spotify will verify your account and approve the show in a few business days.
Google Play and Google Podcasts
For the Android users among us, Google Play and Google Podcasts are the streaming platforms of choice. What's the difference between the two? Launched in June 2016, Google Podcasts was built to closely integrate with their Google Assistant product signaling their bet that users will want to listen to podcasts via voice assistant technology. As an added bonus, shows featured on Google Podcasts also surface in Google's search results offering a huge discovery opportunity as potential listeners look for information related to your topic.
In short, podcast content is accessible across both Google Play and Google Podcasts so it's important to submit your show to each platform. Starting with Google Play, you'll once again need a Google account.
If you already use Gmail, you can use that account to add podcasts to their portal. Next, submit your RSS feed, verify you own the content, then wait about five business days to be approved.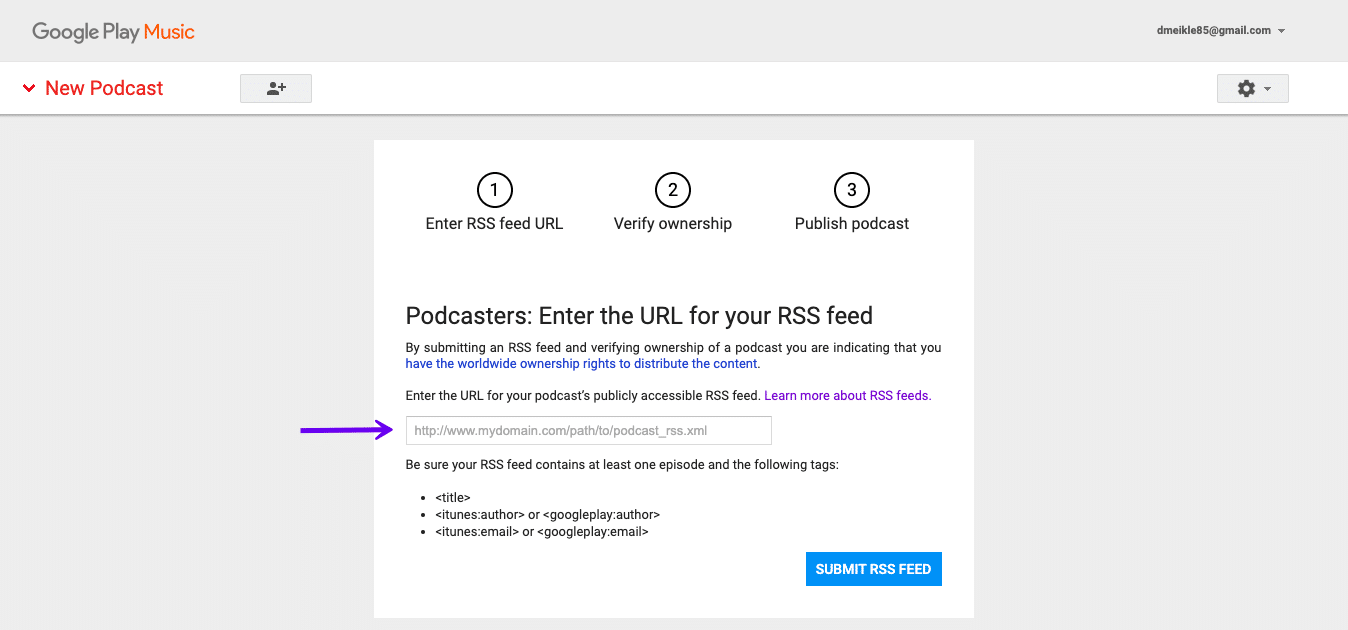 The process is slightly different for Google Podcasts as the tool works to automatically index every podcast if it recognizes a valid RSS feed on a website.
To start, head to Google Podcast Publisher Tools and check if Google's bots has already found the show.

If you receive the error message "This RSS feed is not currently indexed by Google Podcasts", you'll need to verify that your WordPress website meets their guidelines.
If Google Podcasts already recognizes your show, you're good to go!
Stitcher
Stitcher is a free streaming app available across Apple and Android devices that specializes in spoken audio content. The platform only includes radio and podcast content, becoming the go-to platform for avid listeners who love to discover new shows.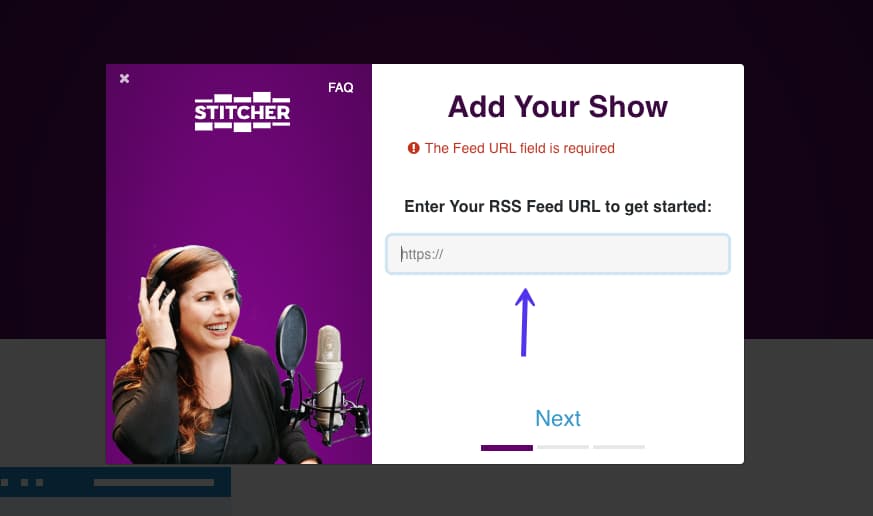 It features over 100K+ podcasts and uniquely integrates with over 50 car models allowing users to stream episodes during their commutes.
Stitcher keeps the submission process easy, it takes only three steps to get started. Begin with creating an account, add your RSS feed URL, then wait for approval.
Hosts can also submit multiple shows under one Content Provider account so it's easy to submit a list of podcasts in one fell swoop.
Podchaser
Podchaser is an extensive podcast database with advanced search and list functions. They allow users to discover, share, and track their favorite podcasts and episodes. Users can find new podcasts to love by filtering by number of episodes, most recent publish date, category, and trending shows.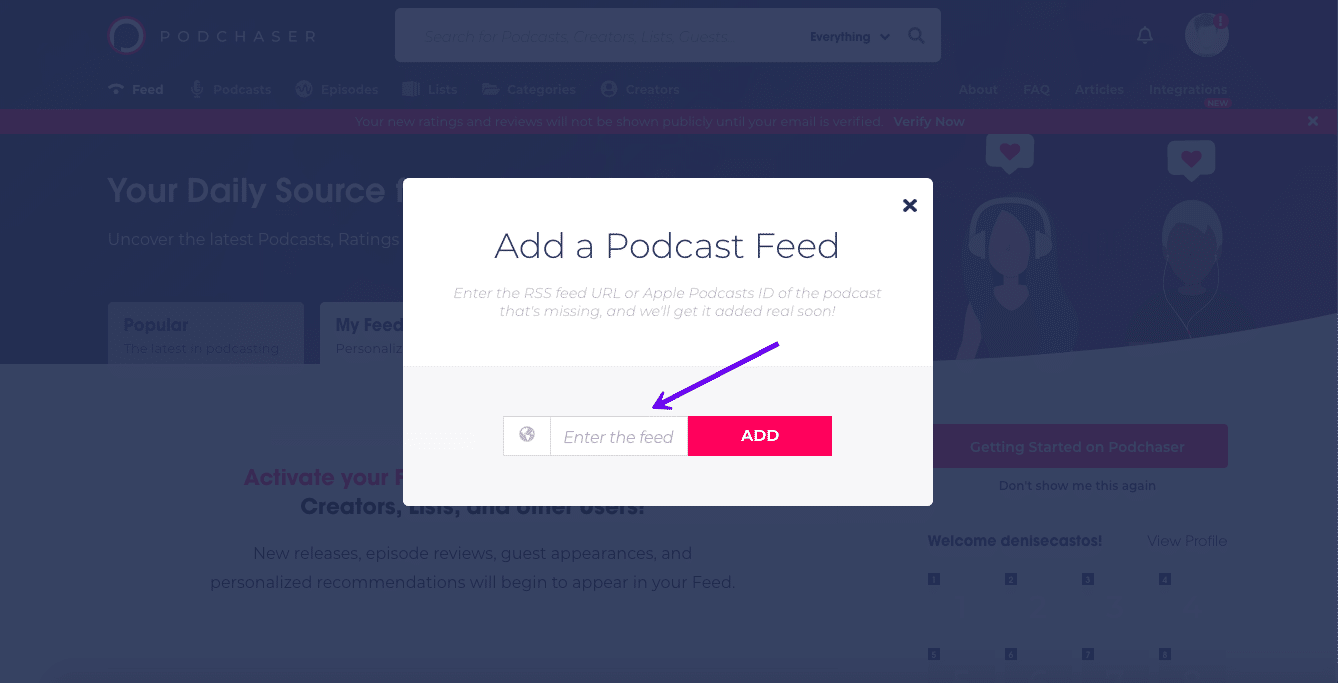 The platform recently released a personalized Feed feature which suggests new podcasts to consume based on a user's listening habits. With so many opportunities for people to discover your podcast, creating a listing on Podchaser is a no brainer.
Submission couldn't be more straight-forward. All you need to do is add your RSS feed link or Apple Podcasts ID to their "Add Podcast" portal. The Podchaser team will verify the information and add the show to the platform.
Castbox
With 20 million users, Castbox is another free streaming app that's available across Android, Apple, voice assistant technologies, Carplay, and desktop devices allowing listeners to access podcasts from anywhere.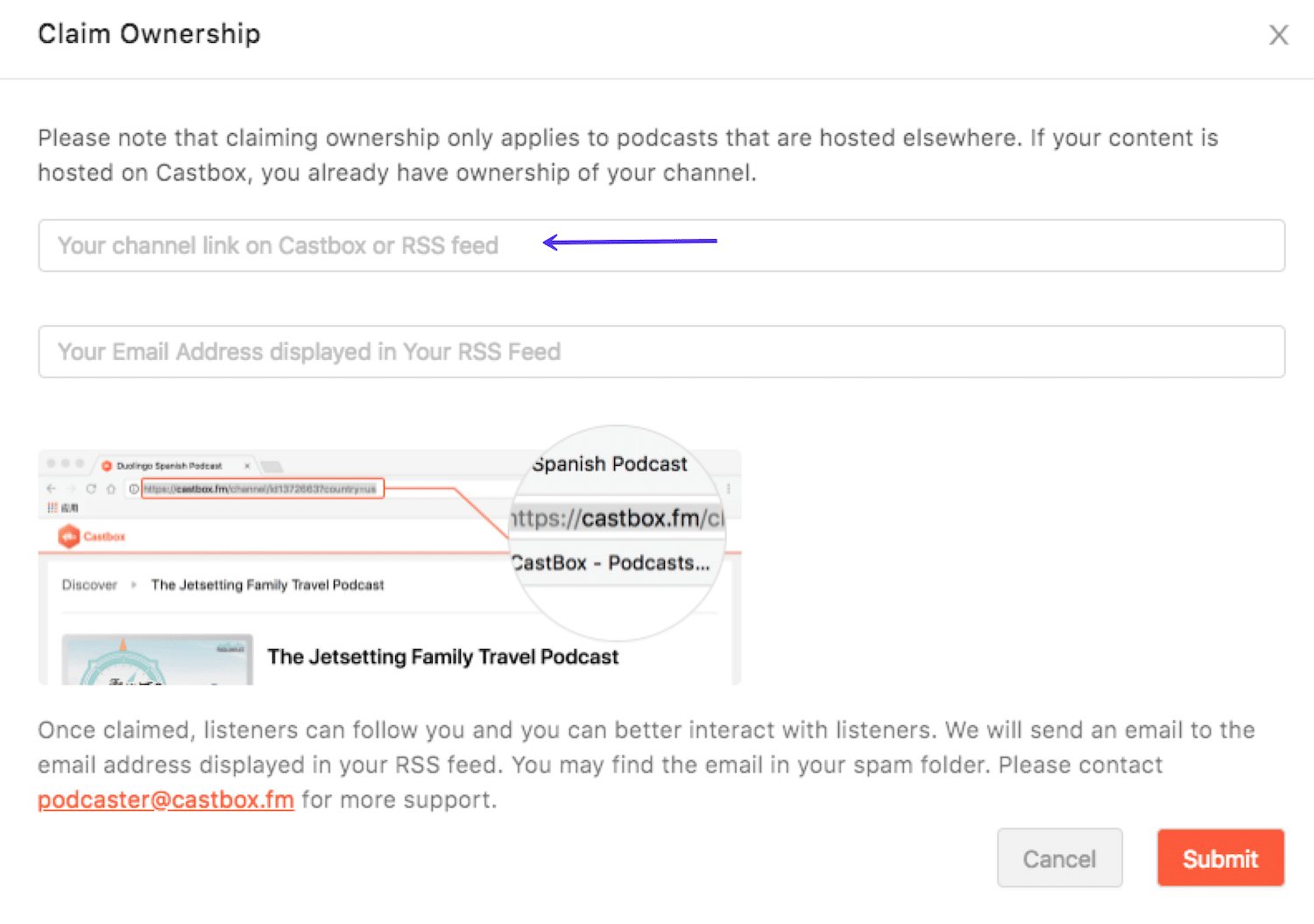 Castbox is a unique podcast directory because they also offer hosting services as well as being a streaming service. To set up an account, add your RSS feed, your email address and wait to be notified when the listing is approved.
Summary
Podcasting with WordPress is by far one of the easiest methods to successfully launch a new podcast.
When getting started, we recommend using a dedicated podcast hosting provider to take the guessing game out of creating your own RSS feed. Choosing a provider that has an integrated WordPress plugin saves time and money in the long run–two things you'll always want more of when it comes to producing a podcast!
Once the website is set and you're comfortable managing everything inside WordPress, don't forget to syndicate your show across the major and lesser-known podcast directories.
This is the simplest, most cost-effective way to grow an audience to feature your show in every place a potential listener already consumes content. Don't cut yourself off from being discovered!
Now it's your turn: do you run a podcast? If yes, what do you like the most about podcasting? If no, have you ever considered it? Share your experience in the comments!