One-off sales is the most straightforward business model out there.
You have a product, the customer gives you money, you give them the product. Simple, right?
It's not as simple as it might seem. In fact, in the long run, building a sustainable business on one-off sales is very difficult. But what is the alternative?
Answer: the recurring revenue model, where the customer pays you a monthly or yearly fee.
Let's discuss why you should base your business on this model and how you can do it.

Why Recurring Revenue Beats One-Off Sales
It is true that you can build a sustainable business with the one-off sales model. In fact, there are successful companies that take this to the extreme and sell products that you only need to buy once in your entire life.

What Is the Recurring Revenue Model?
The recurring revenue model is a business model based on predictable revenues occurring at regular intervals going forward with a relatively high degree of certainty.
The recurring revenue model is very important to businesses that are concerned with maintaining a constant and consistent stream of revenue. However, there are no guarantees that recurring revenues will last indefinitely.
For example, take a look at
Minaal
, a travel gear company. They produce bags that they hope will last you a lifetime. And they have done very well for themselves. So you don't
need
recurring revenue to have a successful business.

However, while growing any business is an uphill battle, the climb is much steeper with the one-off sales model than it is with the recurring revenue model. Why?
Because with the former you acquire a customer and only sell the product once, while with the latter you acquire a customer and sell your product repeatedly.
And sure, with one-off sales you might make more money per sale, but then you need to get a new customer to make another sale.
Meanwhile, with the recurring revenue model, you might make less money per sale, but all you need to do to get another sale is retain that customer, which is much easier than acquiring a new one.
Recurring revenue also provides much-needed stability. When you rely on one-off sales, you are vulnerable to wild fluctuations in month-to-month revenue, but things are much more predictable with recurring revenue. This matters a lot when you have bills, especially employee salaries, to pay.
Finally, investors love recurring revenue, so if you ever decide to sell your business, you will be able to get a higher multiple for it.
For example, in his interview on Smart Passive Income podcast, the Empire Flippers marketplace co-founder Justin Cooke explained that they value businesses by applying a multiple to the monthly profit.
Usually, the multiple is between 20x and 60x, so if your business generates $1,000 in monthly profit, you can expect to sell it for somewhere between $20,000 and $60,000. But what determines the exact multiple?
Ultimately, it comes down to risk, and the riskier the business, the lower the multiple as Justin shares:
"Now, to get up at the upper ranges, you're looking more at recurring revenue."
It makes sense because as we have just discussed businesses that have recurring revenue are more stable.
Of course, recurring revenue is not the only factor that matters, but it is important if you want to sell your business for a high multiple.
What Should You Sell to Make the Recurring Revenue Model Work?
When it comes to recurring revenue, there are four types of products that you can sell via monthly or yearly subscription: content, software, physical products, and productized services.
Idea #1 for a Recurring Revenue Business Model: Content
Content is probably the easiest way to get started with recurring revenue because it's the cheapest type of product to produce. But don't get me wrong, creating quality content will still cost a lot, either in terms of money or in terms of time.
In fact, if you can write, do a podcast, or create Youtube videos, then you can build a recurring revenue stream with little financial investment, provided you are willing to put a lot of time and energy into it.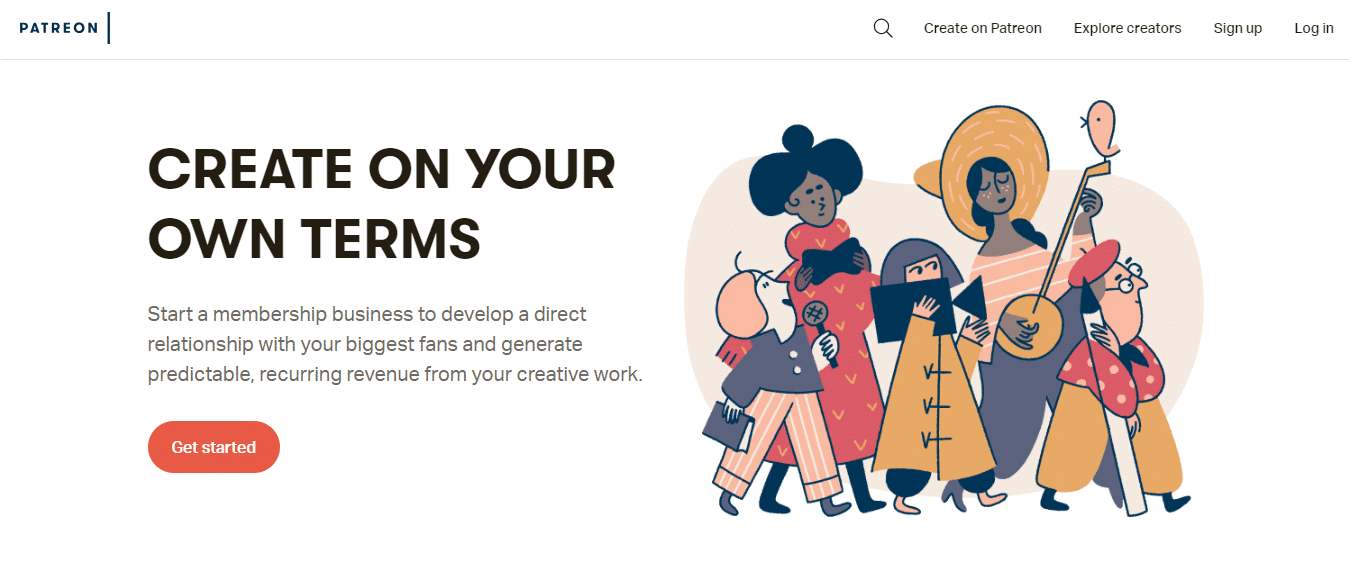 Patreon is a platform that allows fans to support their favorite online creators through monthly donations.
Relying on donations might not seem like a sound business idea, but it can work very well if you build a large enough audience.
For example, Easy Allies team that primarily creates video game streams and shows has 9,000+ patrons and makes $50,656/month at the moment of writing.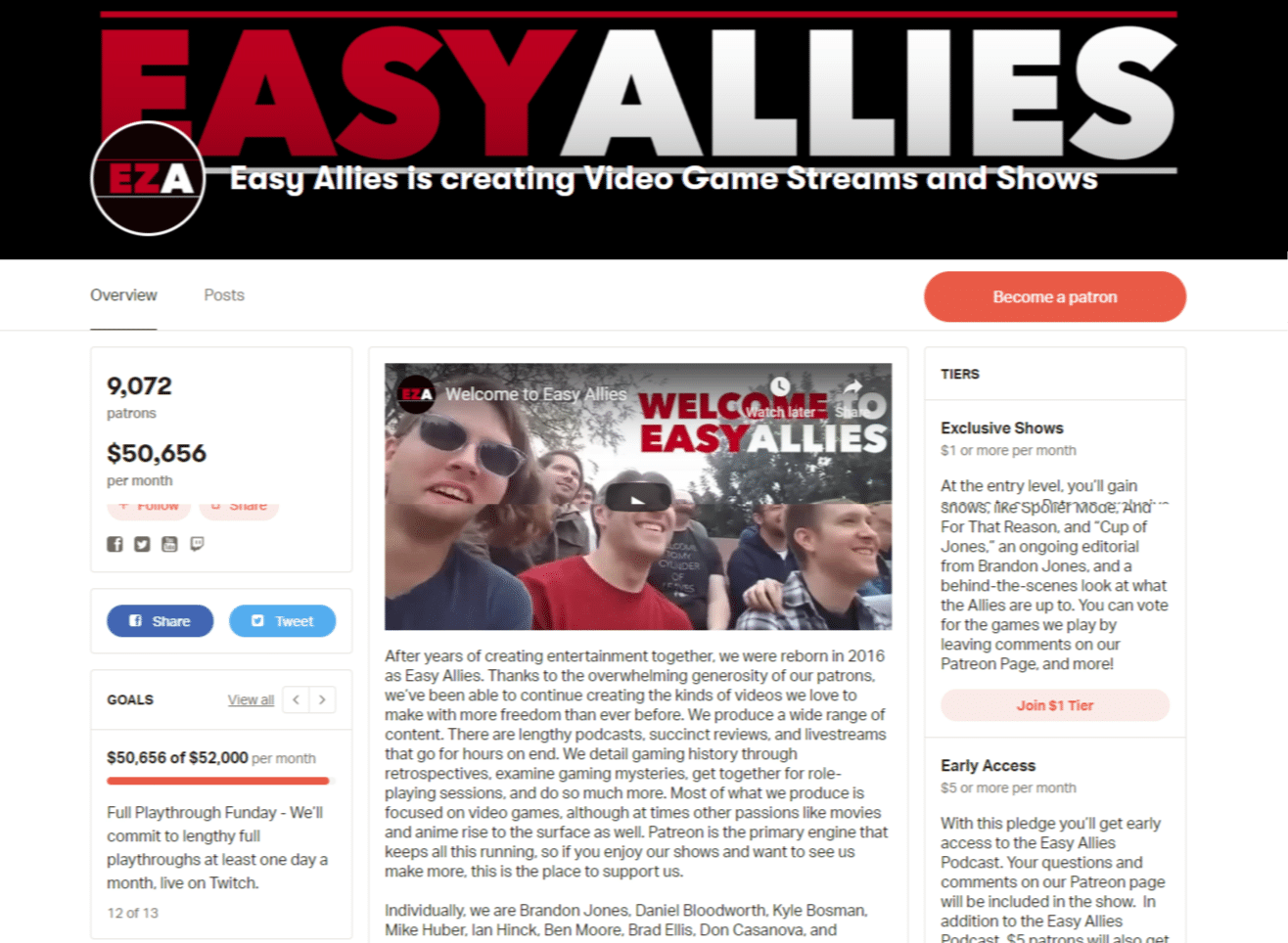 Meanwhile, the True Crime Obsessed podcast has 9,200+ patrons: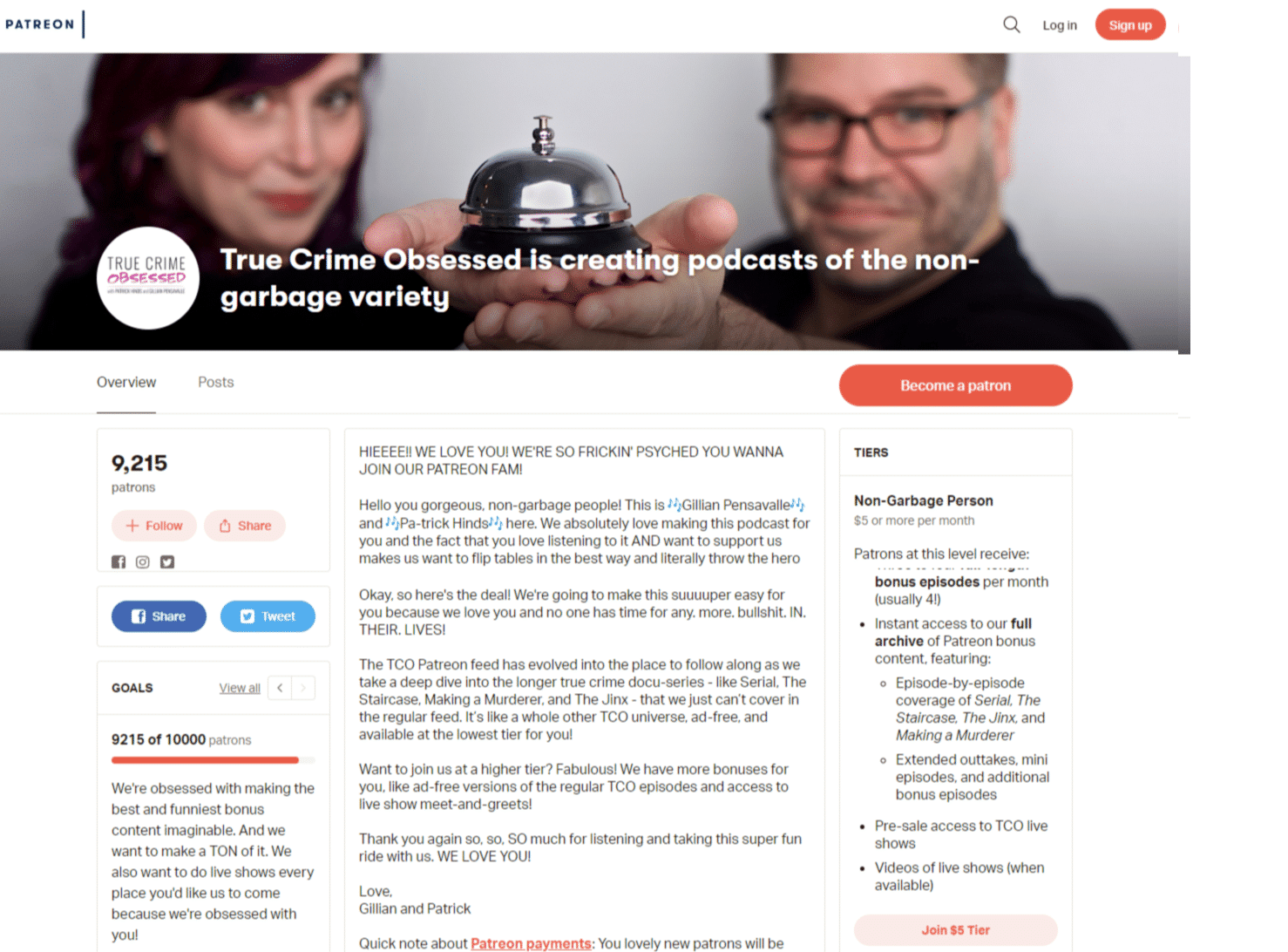 And the left-leaning journalist Laurie Penny has 640+ patrons and makes $3,848 per month at the moment of writing.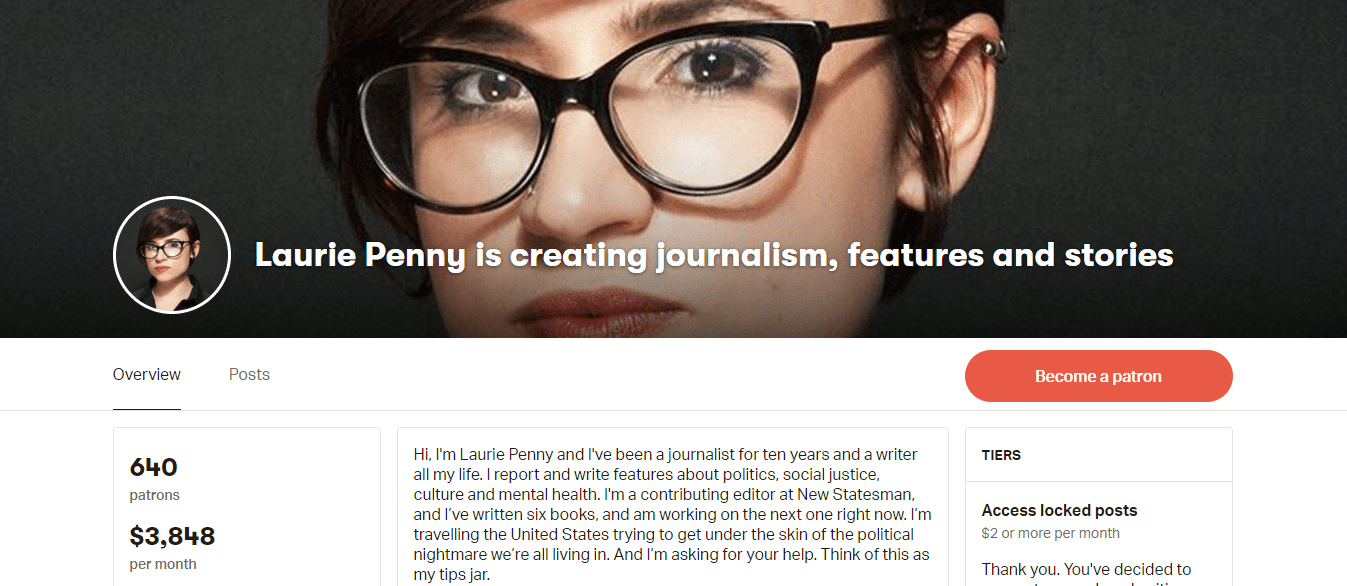 As you can see, written, audio, and video content can be monetized via Patreon and turned into a recurring revenue stream.
For example, public intellectual Sam Harris has a subscription system on his website that allows fans to support him directly through a monthly donation and get the perks associated with it.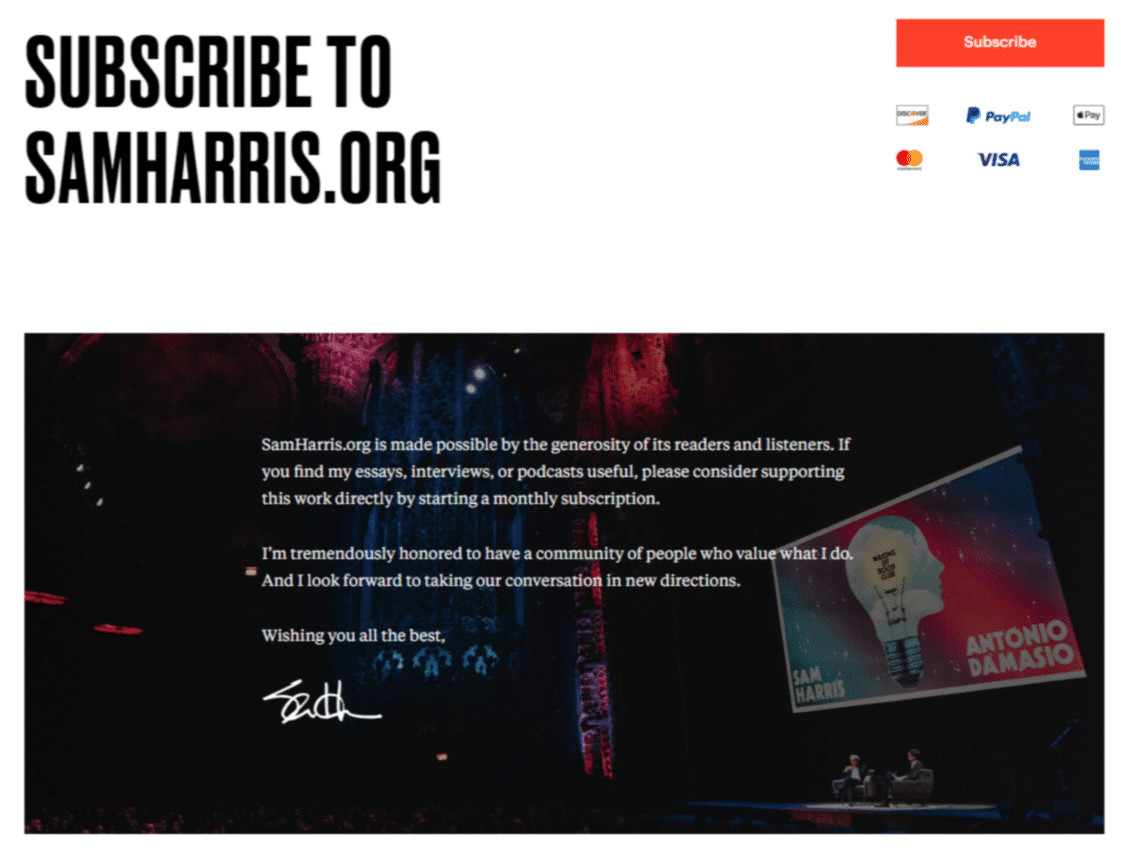 However, developing your own subscription system is a resource-intensive task, and therefore not feasible for creators who are just starting out.
Donations aren't the only way to monetize your content, though. There's also the option of keeping your content behind a paywall and charging a monthly subscription fee for access to it (as opposed to asking for a monthly donation while letting people consume your content without donating).
This is hard to pull off, though, because we are all used to free articles, podcasts, and videos, so getting people to pay for access might turn out to be much more challenging than you might expect.
It is possible, though. For example, Brian Krogsgard, the founder of Post Status, created a successful Post Status membership club for WordPress professionals which costs $99/year.
However, keep in mind that Post Status membership club members get access not only to exclusive content but also to a professional community and members-only deals.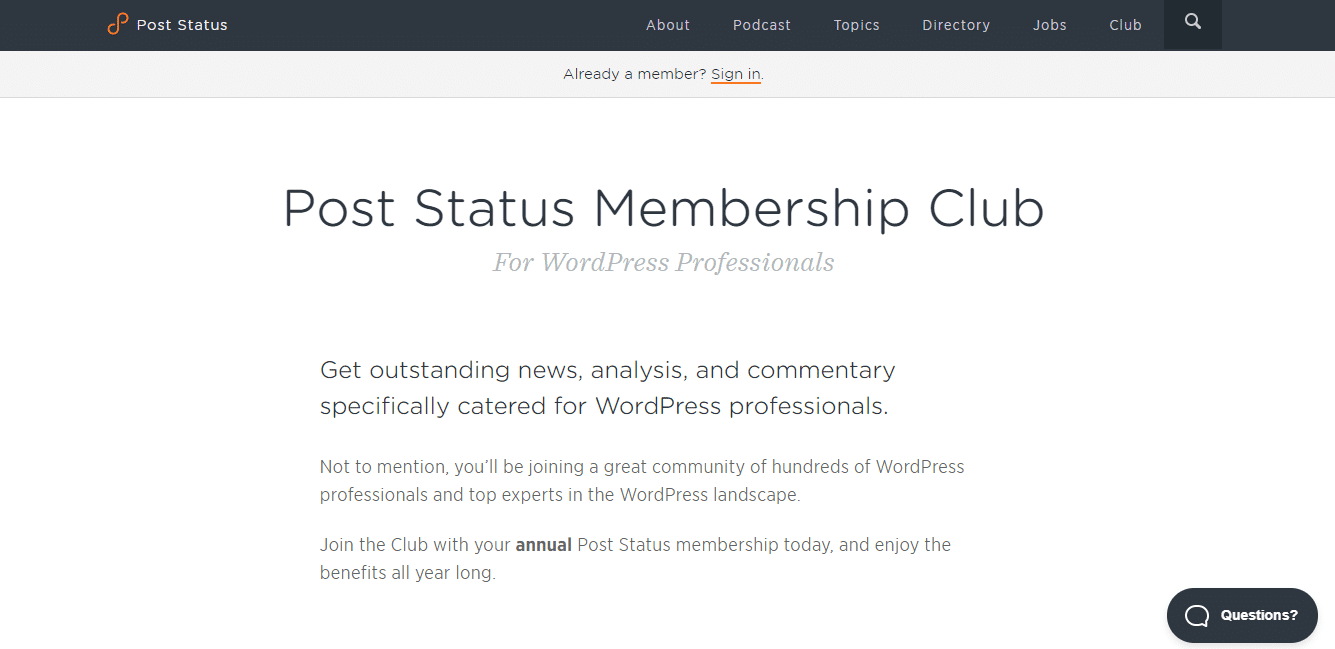 Also, when it comes to monetizing content, it's important to understand that the competition is just insane.
For example, if you want to create political content on Youtube, it doesn't matter what your views are. There are loads of channels that discuss the same issues from the same perspective, and your target audience already has access to more interesting content than they have time to consume.
This applies to everything, whether you want to write articles about social justice, create a science podcast, stream video games, or anything else you can think of.
Make sure that you have a plan of how you will stand out and capture the attention of your target audience if you decide to build a content-based recurring revenue business.
Also, keep in mind that while it's certainly possible to make a six-figure income with content, it's extremely unlikely that you will be able to build a content-based seven-figure business.
So ask yourself what it is that you want. Is it a comfortable and flexible lifestyle or is it becoming a multi-millionaire?
If it's the latter, then your chances will be much, much higher if you build software, physical products or productized services business.
Just understand that the higher the ambition, the higher the cost of that ambition, as well as the risk of failure.
Idea #2 for a Recurring Revenue Business Model: Software
Software products are much more expensive to create than content, but they also have the potential to generate a lot more money.
Plus, unlike with content which is usually tied to a personal brand, you can eventually sell a software business for a 20x-40x monthly revenue.
The most straightforward way to get started with SaaS (software-as-a-service) products is to bootstrap them, meaning create a product yourself without taking any outside investment. Make sure to read: 7 Key Principles of SaaS Marketing.
For that, you need to either be able to build the product yourself or have the money to hire a developer to build it for you.
Even if you think that you have a great idea, hiring a developer is risky because you'd be putting your savings into something that has an extremely high chance of failing (nothing personal, this applies to any SaaS product, and especially ones launched by first-time entrepreneurs).
That is why if you find bootstrapping appealing but don't know how to code you might want to consider learning it and becoming an indie hacker (a solo entrepreneur bootstrapping software products).
Now, succeeding as an indie hacker might seem impossible given that you'd be competing with venture-backed startups with deep pockets.
However, there are cases where a solo entrepreneur built a successful SaaS business outcompeting the venture-backed companies in the same space.
For example, Pieter Levels, the founder of RemoteOK and NomadList who enjoys a celebrity status in the indie hacker community due to his incredible success (a year ago he passed $50,000/month in revenue as a solo entrepreneur), had this to say about competing with venture-backed NomadList copycats (excerpt from his book "Make"):
"There have been about 5 big direct Nomad List competitors come and go now that we're VC-funded from 1 to 10 million dollars in funding with teams from 10 to 30 people that made the same site as me. But they all didn't go anywhere.

While working alone in my underwear on the side of my hotel bed with my MacBook and my coffee, I was able to outcompete million-dollar VC-funded teams of 30+ people in an office in San Francisco with Aeron chairs, oakwood meeting desks, $20,000 espresso machines, bean bags, and ping pong tables.

That's a really cool thing about the time we live in. It's a pretty fair race. You just need to make better shit than other people and it gets rewarded."
Also, no one is saying that you should go from not knowing how to code straight to building a seven-figure SaaS business. In fact, If you have never built a software product before, then it's best to start small. Your aim should be to create something that can be sold for a $5 one-off fee. That's all.
Will you make a lot of money from it? No. But you will learn and, as you gain more experience in shipping software products, you will acquire the coding, design, and marketing skills required to launch a successful SaaS product as an indie hacker.
For example, Andrey Azimov was inspired by Pieter Levels, learned to code, built a few apps… And then decided to quit his job to pursue indie hacking full-time.
He gave himself a year to reach $1000 in monthly in recurring revenue from his own software products (a project he named "Hardcore Year"). This was in March 2018 so the year has passed. How did it go?
Andrey has released a bunch of small products, got his Macbook Alarm app acquired and was named Product Hunt's Maker of the Year. He didn't quite make it to $1000 in monthly recurring revenue in time, but he reached his revenue goal two months later, in May 2019.
You can learn more about indie hacking by watching Pieter Levels' talk which he calls the most important presentation of his life:
Pieter Levels also wrote a book on indie hacking called "Make" where he put everything he knows about bootstrapping.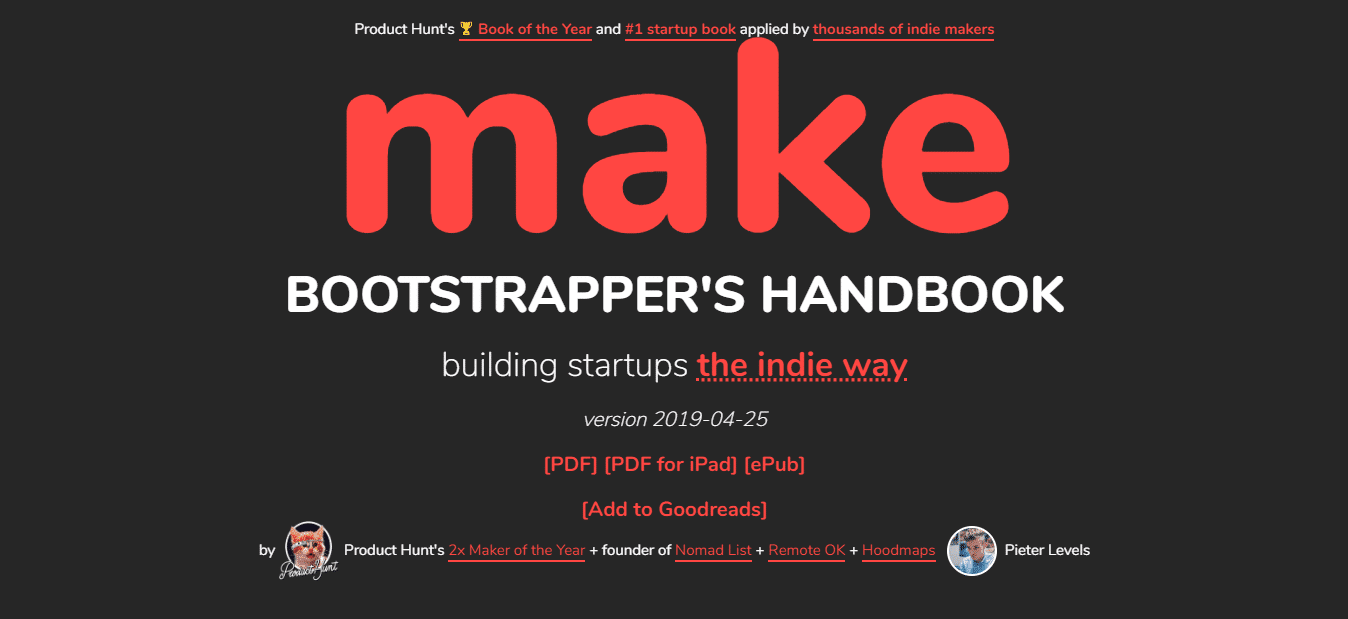 And if you want a supportive community of fellow (both aspiring and actual) indie hackers check out the Indie Hackers forum.
You might also enjoy the Indie Hackers podcast where Courtland Allen interviews successful bootstrappers.

Of course, being a solopreneur is not the only viable path and investing your own money in a business can pay off, but you need to be careful about it.
For example, Nathan Barry, the founder of an email marketing software company ConvertKit, put everything he had in his startup.
In 2012 he announced The Web App Challenge with the aim of building a SaaS product from scratch and getting it to $5000 in monthly recurring revenue in six months while only working on it for no more than 20 hours/week and only allowing himself $5000 of startup capital.
Six months later, on June 1st, 2013, he had an app called ConvertKit that was generating $2480 in monthly recurring revenue, so while technically he failed the challenge, he still considered it a massive success.
He continued to work on ConvertKit as a side project, but when monthly recurring revenue dropped to $1207 in October 2014, he realized that this approach wasn't working.
He remembered the advice his friend had given him in April 2014. Hiten Shah told him to either focus on ConvertKit full-time or drop it altogether. So in October 2014, he decided to go all-in.
On January 1st, 2015 Nathan invested $50,000 of his own money into ConvertKit and hired a full-time developer:
"Making that investment was hard. We had just purchased and renovated a house, so it's not like we had a lot of extra cash at the time… In fact, that 50k was the last bit of my money, there was no more money after that. So it was a big deal to invest it into ConvertKit,"
The risk he took has paid off and now he has a company that generates over $1,300,000 a month.
However, it's important to understand that when Nathan took that risk, he already had a great track record as an entrepreneur (he has made a decent amount of money with apps and books prior to ConvertKit) and a product that was generating revenue.
Taking a leap of faith when you have a track record, a profitable product, and the skills required to take your business to the next level is very different from going all in on an unproven idea with no previous track record of success. The former is reasonable, the latter is foolish.
For example, Austin Ginder, the founder of Anchor Hosting, is making almost $20k/month by reselling Kinsta hosting.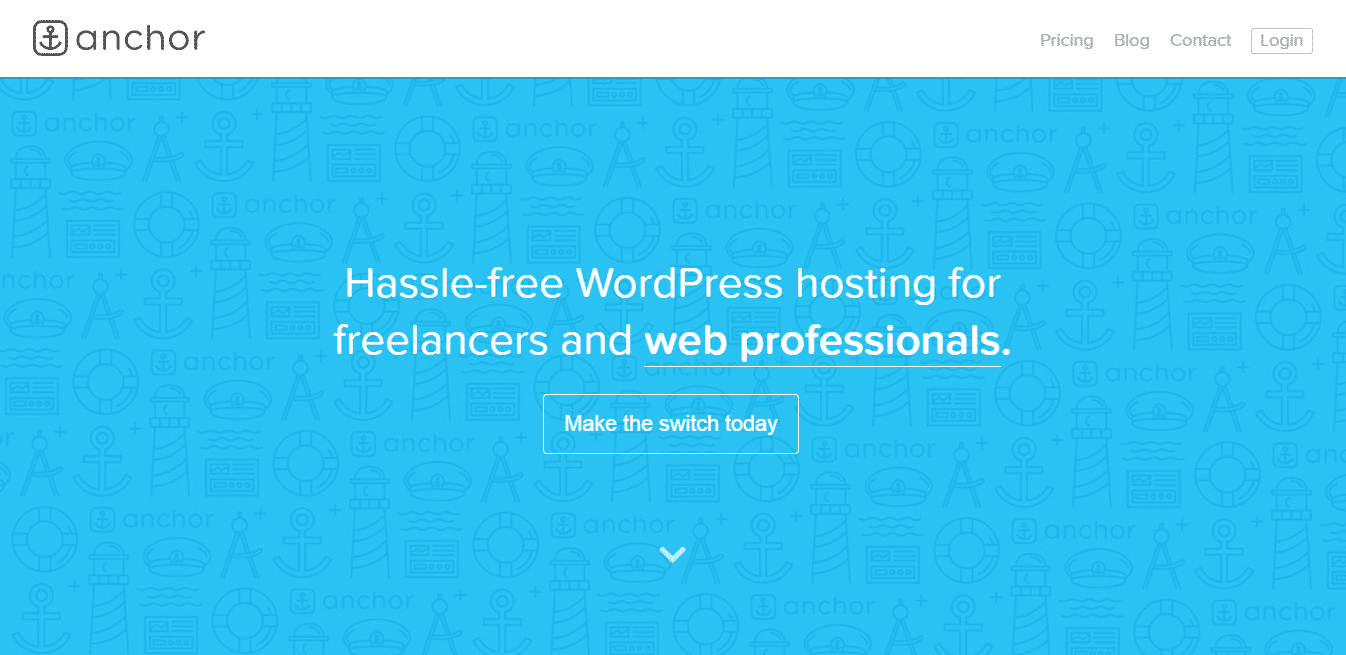 He got to where he is now by working a tech job while building a WordPress development business on the side, then moving to work on his development business full-time, and then slowly transitioning from full-time development to full-time hosting.
He didn't need to invest his life savings in his business or raise capital because he did it all gradually. Plus, he also chose a great business model, his hosting business was profitable since the second customer! In his Indie Hackers interview, explains Austin:
"The trick is to ease into things slowly while getting paid through either a day job or other consulting services. It was three years from the time I announced Anchor Hosting until I was fully sustained by web hosting."
This calm and measured approach is not as romantic as "I woke up one day, had a business idea and quit my job to pursue it", but it's the responsible way to go about building a business, especially if you have financial obligations.
So don't be foolish. Only invest your own money if:
It's not your first rodeo.
You have validated your idea — and there's no better validation than revenue.
You trust in your product, marketing, and sales skills.
Finally, there's also the option of seeking funding for your SaaS product, but it's extremely hard to get. Especially if all you have is an idea. It's best to focus on building a profitable product first and seek investment later if you need it. Do you, though? Think long and hard about it. Raising capital is not as glamorous as you might think because that money comes with strings attached.
A SaaS business is probably the most lucrative type of business you can build because the maintenance costs are relatively low and the multiple you can get when you sell it is high compared to physical products businesses and productized services businesses.
Idea #3 for a Recurring Revenue Business Model: Physical Products
Selling physical products for a monthly or yearly fee is the hardest to pull off out of all four types of products.
The margins are much, much lower compared to content and software because you need to manufacture the products, package them, store them, ship them, etc.
It also requires more startup capital because you can't just create the products all by yourself.
However, building a physical product subscription business is definitely possible, so if you are interested in ecommerce you might want to consider this route.
In fact, in his book "Ecommerce Evolved" Tanner Larsson argues that recurring revenue should be the core of your ecommerce business.
"Most ecommerce businesses don't take advantage of recurring income because they don't consider themselves subscription businesses. Instead, they focus on one-time sales. In my years of experience with thousands of students, coaching clients, and Mastermind members, I have learned that this approach is flawed and ultimately deadly for your business".
He says that if you don't have some form of recurring revenue in your business, then it's time for a change, otherwise you'll struggle to stay afloat.
Larsson warns that you should expect short-term growing pains but he says that once recurring revenue becomes the core of your business, you will wonder how did your company manage to survive without it.
"Your company will stabilize, cash flow will improve, profits will grow, and your business will be much less stressful. This is critical for a sustainable business."
MeUndies is an ecommerce company that sells underwear and it is a great example of a physical product recurring revenue business.
For example, if you want to get boxers, you can buy a pair for $24 or you can get a monthly $16 subscription with which you will get a pair of boxers every month for 33% less.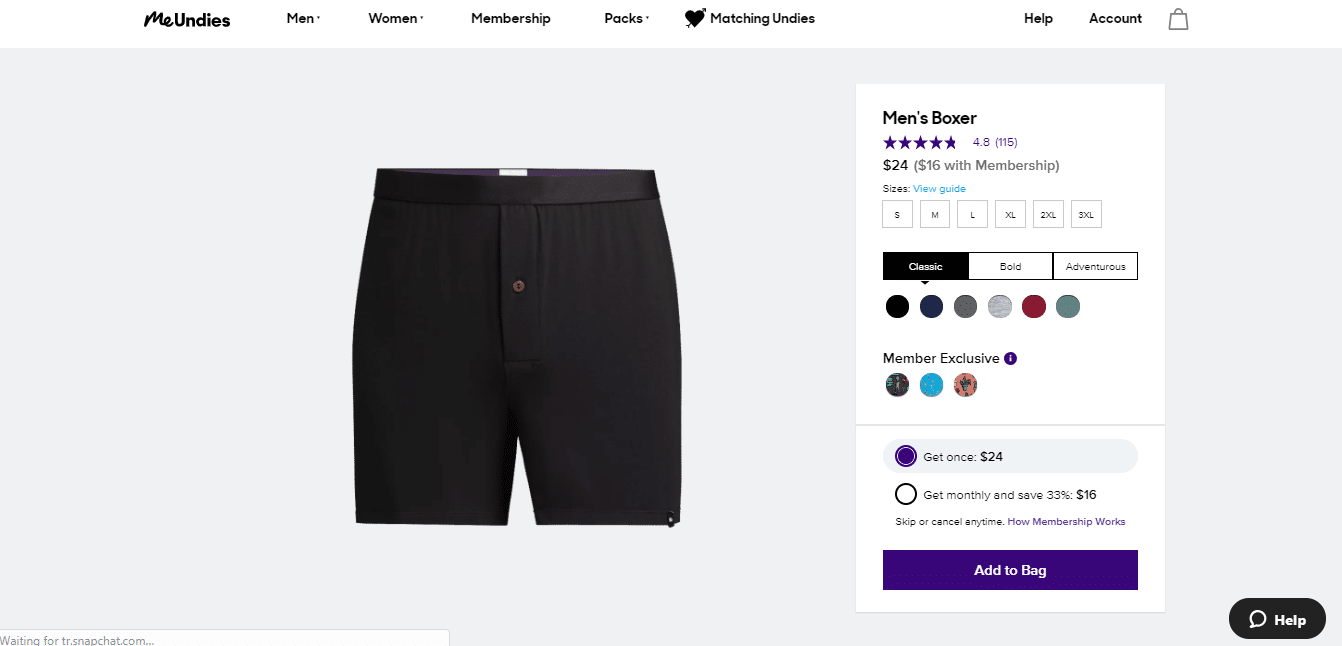 Building your business around recurring revenue while also offering customers the option to make one-off purchases is what you should do if you are interested in ecommerce.
However, you should really think hard before getting into physical products, because selling them is much less lucrative than selling software or services.
Only go into ecommerce if you are passionate about a product or if you feel that selling software or services is not an option for you for whatever reason.
Idea #4 for a Recurring Revenue Business Model: Productized Services
You can use the productized services model to generate recurring revenue by selling a service.
For example, Design Pickle is one of the most successful productized services companies out there.
In 2018, their fourth year in business, they were on track to hit $10M in annual recurring revenue.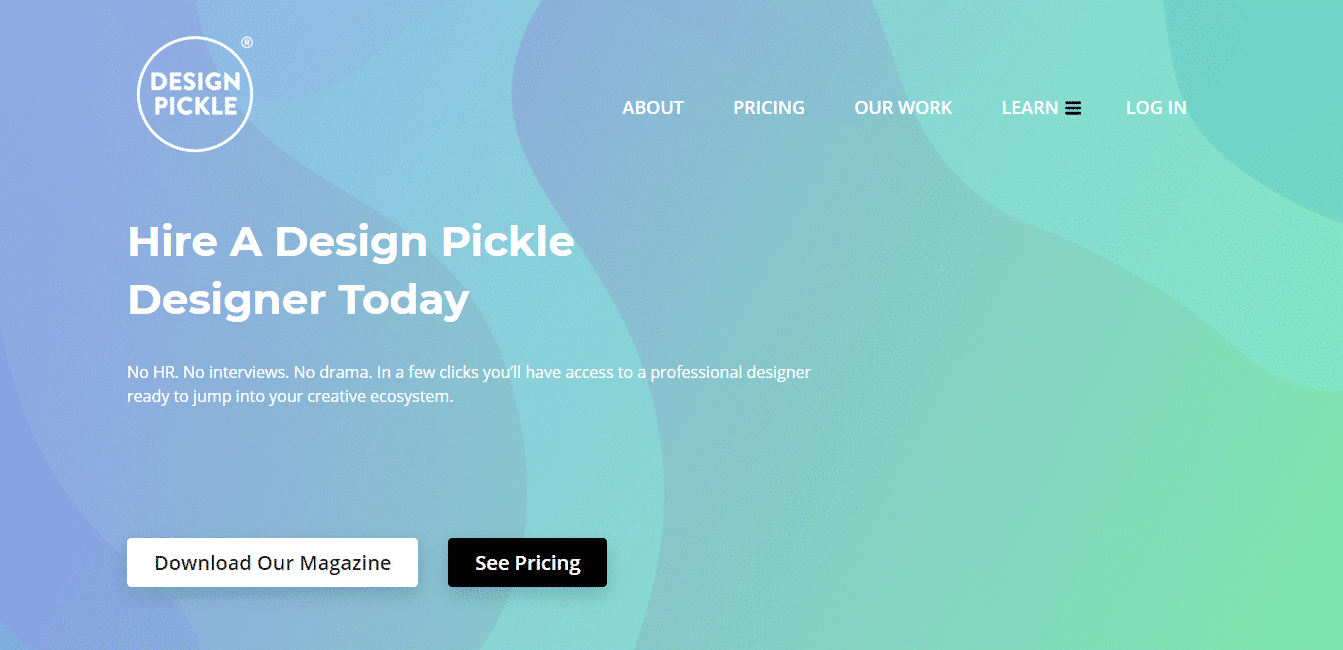 They are selling unlimited graphic design with unlimited requests and unlimited revisions for either $399/month (Basic plan) or $995/month (Pro plan).
This is an incredible deal for anyone who regularly needs graphic design for flyers, posters, Facebook ads, YouTube thumbnails, etc.
You can use the same business model:
Identify a service that is needed on a regular basis (tech support, content creation, paid advertising, etc.).
Productize it by systematizing the entire process of delivering that service.
Charge a monthly subscription fee.
It's important to understand that in order to productize a service you need to create a clear "take it or leave it" offer.
Design Pickle offers unlimited graphic design for a monthly fee, and nothing else.
As they explain on their pricing page:
"Our scope of service is broad but firmly anchored in graphic design (for now). If you need motion graphics, copywriting or a latte, we, unfortunately, will come up short."
Don't give in to the temptation to fulfill random customer requests just to make a few extra bucks. That will only stunt your growth in the long run. Don't be Jack of all trades, master of none.
Identify a problem, create an offer to solve that problem, and then focus on scaling your business.
One-Off Sales Are Easier Than Recurring Revenue
Keep in mind that it's much easier to get someone to pay you, say, $10 once than get them to pay you $7 every month.
This means that if you were focusing on one-off sales before and decided to switch to a recurring revenue model then you might be in for quite an adjustment.
Once you are through that adjustment, you will find that while it's harder to make sales in the short term, it's easier to build a sustainable business in the long term.
Raise your hand if you'd like to build up a juicy stream of recurring revenue. 🙋‍♂️Check out these 4 proven ideas to make it happen! 💰Click to Tweet
Summary
It's definitely possible to build a successful business on one-off sales, but it's not the best option.
So if you want to start your own business, pick one of the four types of products that work well with the recurring revenue model and go for it.
And if you have a business that is focused on one-off sales find a way to add recurring revenue to it.
Yes, making the recurring revenue model work is not easy, but once you do you will be glad that you chose this path.