Software-as-a-service startups have become a staple of the new cloud-based economy. There are an estimated 10,000 private SaaS companies, and 50 publicly traded giants with a total market cap of over $225 billion.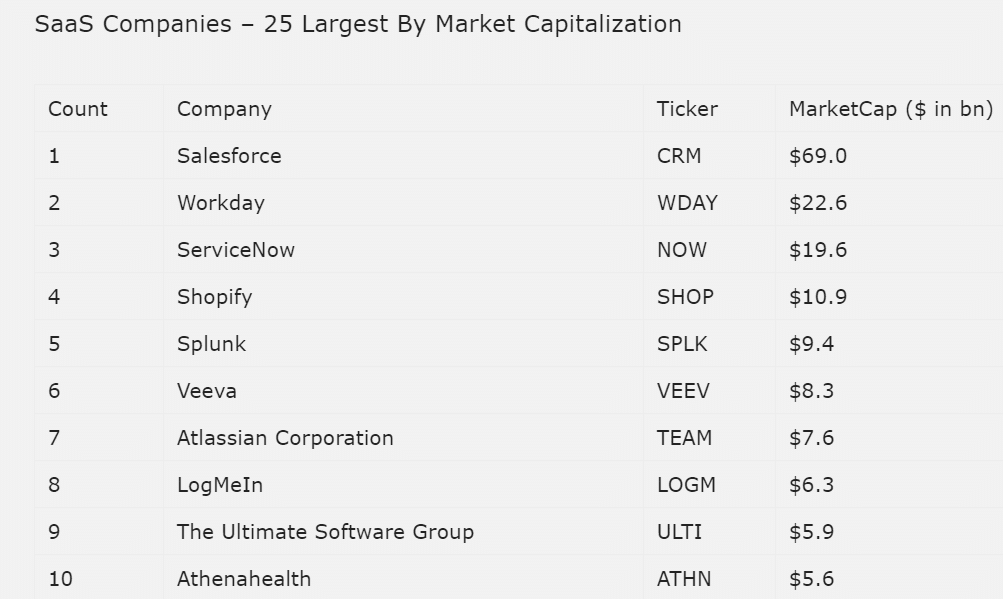 And what do these companies have in common? They leveraged what is usually referred to as SaaS marketing.
But what's SaaS marketing? What do you need to measure to succeed and what channels perform better than others to sell your SaaS product?
Let's try to answer these (and more questions) with this blog post. Ready? Let's dive in!

What's SaaS Marketing?
SaaS marketing refers to the unique set of activities, tactics, and strategies implemented to position and sell subscription-based products to new customers.
You can think of SaaS marketing as the art of making sure that your SaaS product is relevant and able to address your target customer's needs in a way that makes prospects want to know more about your product, try it, and eventually subscribe to, over the multitude of competitors.
We'll see later how SaaS companies get their customers, but first let's clear an important aspect when it comes to SaaS marketing: terminology.
Like any specific category of marketing, even with SaaS marketing, there are some technical terms you should get more familiar with like CAC, LTV, Churn, and NPS to better understand the concept behind this type of marketing.
SaaS Marketing Terminology Explained
There are a couple of terms that are mostly used when discussing SaaS marketing. We've compiled a list of them here, and explained each one.
Customer Acquisition Cost (CAC)
Simply put, the customer acquisition cost is the dollar amount it costs you to gain a new paying customer on any given marketing channel. For example, if you spend $1,000 dollars on Google ads, and get 10 paying customers, your CAC is $100.
Formula: All expenses on marketing channel / Number of paying customers it results in.
With organic channels like content marketing, organic search, or organic social it can be complicated to accurately measure CAC.
Customer Lifetime Value (CLV, CLTV or LTV)
Customer lifetime value is basically how much a single paying customer is worth to your business on average. If you only sell one subscription at one price for $30/month, and your customer stays on for an average of 6 months, your CLV is $180.
If you have multiple subscription prices, the calculation becomes a little bit more complicated.
Formula: Average Subscription Price * Average Customer Lifetime (Length of Subscription) / Number of Customers.
CLV:CAC Ratio
The CLV:CAC ratio is simply the ratio of which the customer lifetime value is greater than your customer acquisition cost. If it costs you 60$ to generate a customer, and each customer is worth on average $180, your CLV:CAC ratio is 3.
Formula: CAC / CLTV
Customer Churn Rate
Customer churn rate is the percentage of paying customers that cancel their subscription during any period of time. For example, a weekly churn rate will be vastly different from a quarterly churn rate.
To calculate your churn rate, you simply decide on a set period of time and calculate the percentage of total users who left. If 100 out of 10,000 customers left in a month, your monthly churn rate is 1%.
If you want to calculate churn separately from growth, you need to exclude newly acquired customers from the totals when you calculate.
Formula: Users That Left in X Period  / Total Existing Users X 100
Net Promoter Score
The Net Promoter survey is a widely adopted survey that many startups and SaaS businesses use to gauge how likely a user is to promote their product.
It is a simple one-question survey that asks the customer to rate how likely they are to recommend your product.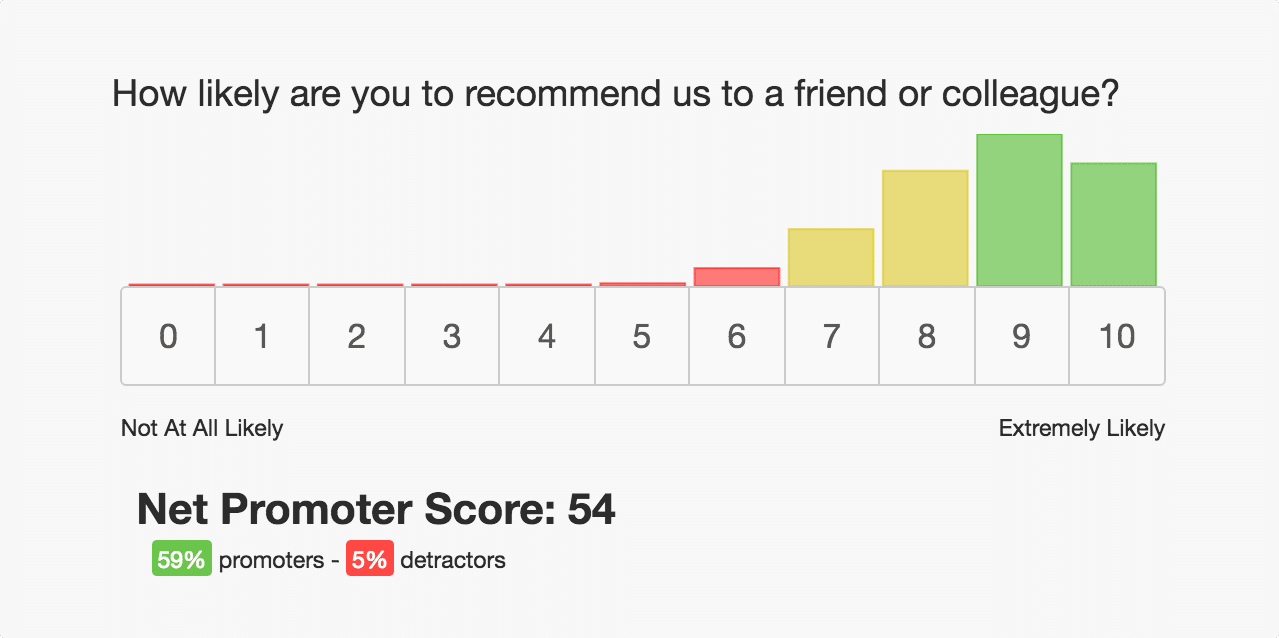 Promoter
Any customer that leaves a score of 9 or 10 is considered a promoter. Users like these are likely to share positive information about your product or service.
Detractors
Any customer that leaves a score of 1-6 is considered a detractor. A detractor is someone likely to share negative information about your company.
Neutral
Anyone who chooses a 7 or 8 is considered neutral. These customers are okay with your product but are unlikely to share information about your service, negative or positive.
Calculating Your Net Promoter Score (NPS)
Let's look at an example. You prompt 100 customers with the survey and all 100 customers answer the survey. 15 customers, answer from 1-6, 30 people answer from 7-8, and 55 people respond 9-10.
These results mean you have 55 promoters that you add, 15 detractors that you subtract, and have 30 neutral, that you don't count.
55-15 = 40, which means the NPS, in this case, is 40.
Formula: %Promoters – %Detractors
Customer Onboarding
Customer onboarding refers to the process of getting users who signed up for a free trial to start using your service and eventually become a paying customer. The more someone is using your service, the more likely they become a paying customer when the trial ends.
And the more a paying customer relies on your product, the more likely they will stay a paying customer for the foreseeable future.
Monthly Recurring Revenue (MRR)
Monthly recurring revenue is simply the total amount of fees paid by your total number of paying customers each month. Make sure you don't include flat sums for annual/quarterly subscriptions during that month. You should also make sure to exclude any one-time payments.
How to Define Metrics in SaaS Marketing
When you are marketing a SaaS product as opposed to a one-time sale, you are investing in the future of every customer relationship. That is the difference between SaaS marketing and consumer product marketing.
The potential revenue typically means that you use customer lifetime value, rather than the value of first interaction when you are calculating marketing ROI. These metrics help you when budgeting for channels to spend on.
For a typical ecommerce store, it would be enough to have ecommerce conversions that track the value of each sale.
Then all you need to do is check the campaign breakdown in Google Analytics to see how your campaigns are faring.
But with a SaaS business, there are a few more hoops to jump through. If you use a freemium strategy, you need to know the trial user to paying customer conversion rate. And you need to know the average customer lifetime value.
Then you need to set up different conversion points for free trials and actual paying customer signups.
How To Measure/Project Marketing Spend Effectiveness for SaaS Companies
If your average customer value is $180, and 20% convert to paying customers, on average, a new trial user is worth $36.
Formula: Average Customer Lifetime Value X * 0.% of trial users that convert to customers = Average value of trial user signup.
Based on the example here, you can afford to invest up to $35.99 for each trial user to convince them of becoming a paying customer and still turn a profit. So at that point, you can set up a Google conversion goal for trial users with a value of $36.
This metric will allow you some insight into whether or not a campaign is likely to be profitable long term, or not.
But that theory doesn't always play out as CLV and trial user conversion rates can vary from channel to channel.
Measure Channel-Specific Metrics
While it's essential to have a grasp of the average CLV and trial user conversion rates from all channels, you also need to measure each channel individually.
If you use a CRM like Salesforce, you can automatically tag your customers with the medium or channel they visited from. You can, for example, achieve this with UTM parameters.
You can also create separate landing pages with hidden fields in the signup forms that indicate the channel that sent them.
Why is this important? Because you could end up wasting tens of thousands of dollars on channels that don't convert trial users into paying customers.
Dean McPherson, co-founder of Paperform.co, found this out the hard way. They were running Google Search Ads and were converting clicks into trial users for only $4 each. When they calculated the ROI based on the average rate of trial users to paying customers, it made perfect sense to keep going.
But then he did a channel-specific review and looked at how many of the Google Ads generated trial users had converted.
The answer was shocking. A big fat zero trial users the SaaS gained through paid Google Ads ended up converting.
They immediately turned off their Google Ads campaigns following that discovery.
This SaaS horror story is the perfect example of why you need to measure the CLTV and trial user conversion rates for every individual channel.
Otherwise, you don't know the real impact each channel has on your bottom line.
The Role Of Free Trials in SaaS Marketing
You can't talk about SaaS marketing without touching upon the role of the freemium or free trial model.
Almost every major SaaS company offers a free trial of their product.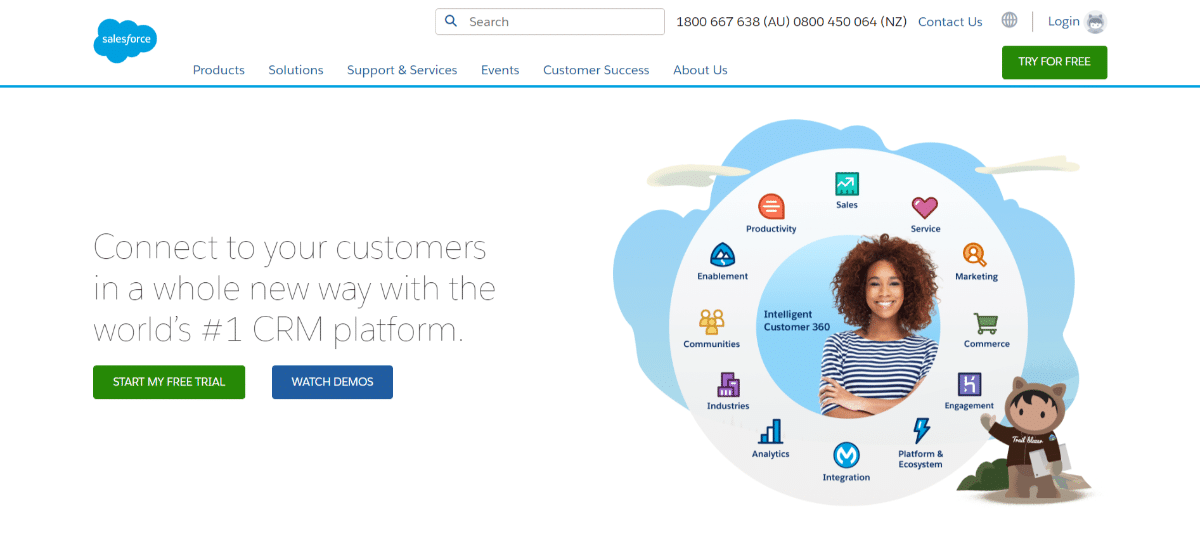 The fact of the matter is that it's a lot easier to convert cold traffic on a free offer. Any SaaS company that offers a free trial is betting that it's worth the extra overhead of dud signups. Or, they've split-tested and know for sure they make more money with free trials.
The best selling tool/argument for a growing SaaS needs to be the product itself. That's why free trials can be so useful.
It's one thing to hear a sales rep say: "Our product is way better than option A, you will no longer have problems like XYZ if you make the switch." It's another thing altogether to use the software and feel the difference yourself.
But that doesn't mean that free trials have to be the basis of your go-to-market strategy. Other successful SaaS businesses run paid weekly/monthly trials at a discounted rate. Ahrefs, one of the most successful SEO SaaS businesses on the web, offers a one-week trial for $7.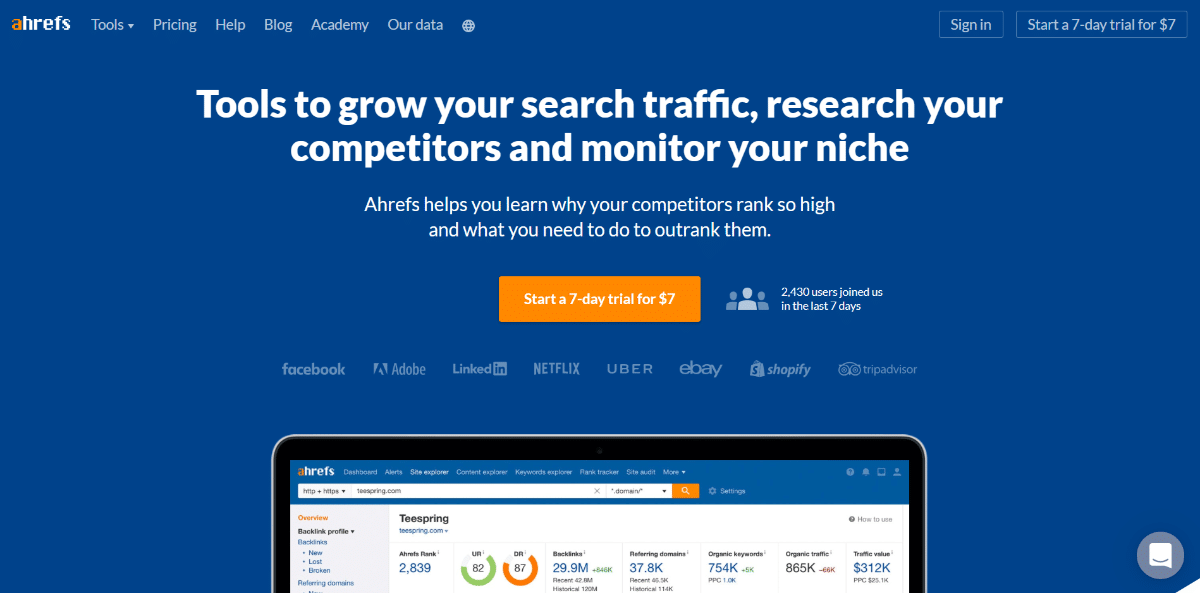 So free trials aren't necessarily the only business model you can settle on and win with SaaS marketing tactics.
Figuring out what will work best for your business is only possible through experimentation and testing.
Top Channels For SaaS Marketing
The key to a successful SaaS marketing campaign isn't to copy the channels/platforms and social media posts of your competitors. You have to develop a culture of measurement, ideation, and experimentation. Which channels will work for your business depends on your target market and the skill-set of the founding team.
Below we've included a list of channels that are scalable for up and coming startups. We haven't focused on paid acquisition/SEM because the channels typically aren't scalable for early-stage SaaS companies.
As an example, at the time of writing, the general keyword "CRM" costs up to $12.72 for a single click. That means you need to generate more than $13 of value from every visit to your landing page.
For most new businesses, this isn't feasible. You would need an impossible conversion rate, an outrageous trial to customer ratio, and very high LTV even to try turning a profit. Big tech companies are using their big budgets to buy out smaller competitors.
That's why you need to think out of the box and target platforms that reward small companies for creativity and originality.
Organic Search / SEO
SEO stands for search engine optimization. In essence, the spirit of SEO is to create content tailored to people's search terms. You also have to optimize your pages and website for SEO to get organic traffic from Google and other search engines.
68% of all online experiences (PDF) start with a search. As of August 2019, Google maintains a global 92.37% market share on all search traffic. And 57% of B2B marketers single out SEO as their biggest lead generating channel.
If your SaaS is primarily B2B, this means that SEO should likely be the priority to test.
These are the basics of search engine optimization:
It might sound complicated when summed up like this, but with the right tools, most SaaS companies will learn in no time.
Let's dive into an example to see just how powerful SEO can be for a SaaS product.
Success Story: Zapier
Zapier has exploded and become the number one integration tool by implementing a simple SEO strategy at scale.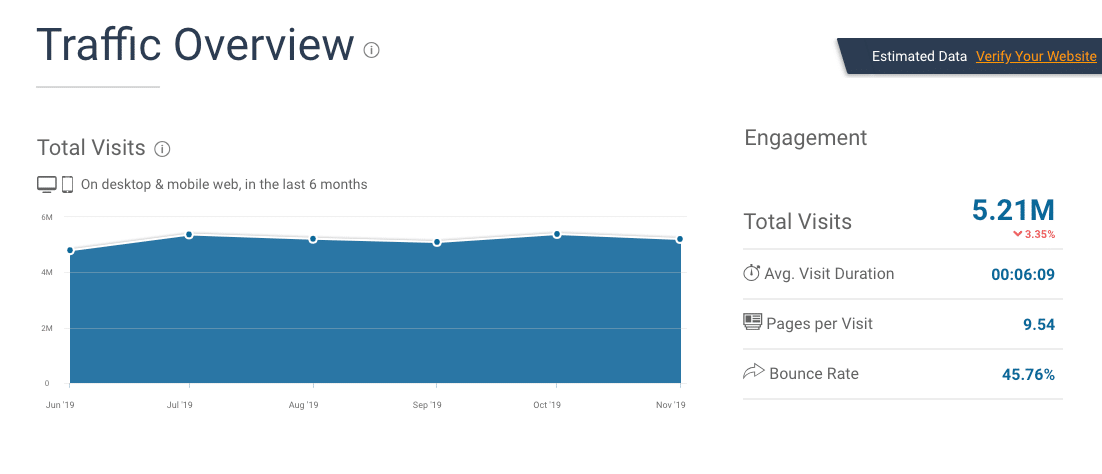 According to SimilarWeb, zapier.com gets over 5 million visits per month. And the majority of this traffic comes from organic SEO.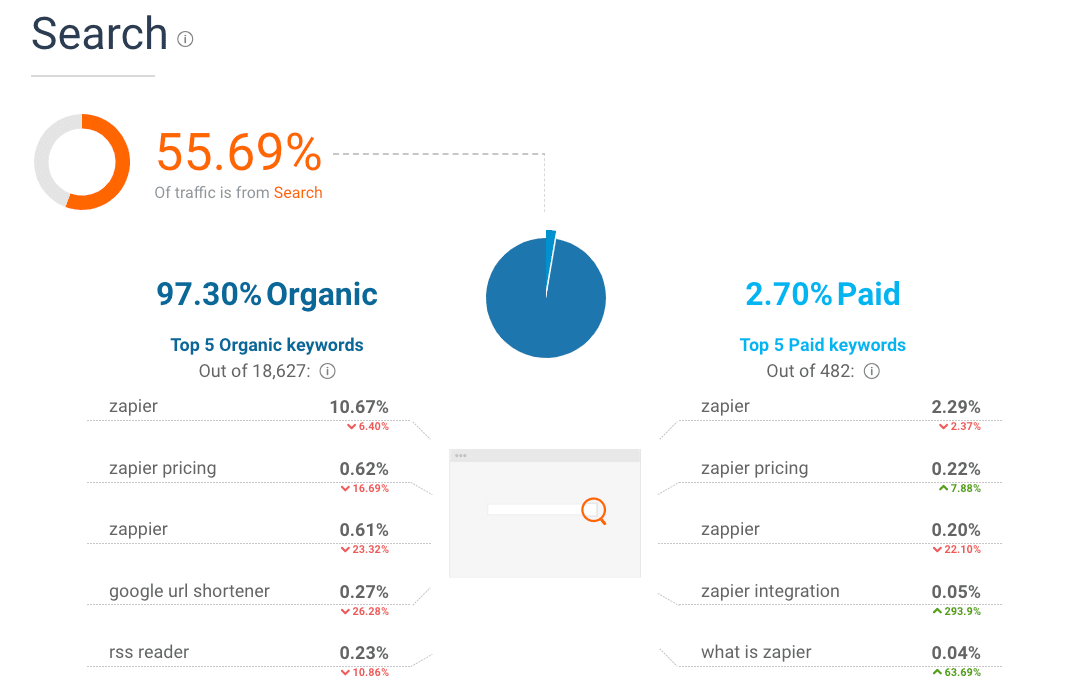 More than 56% comes from search, with +10% of branded queries. Even if we remove the branded searches and paid traffic, Zapier gets lots of visits from organic search every month.
And let's have a look at Zapier.com with another tool we love here at Kinsta, Ahrefs: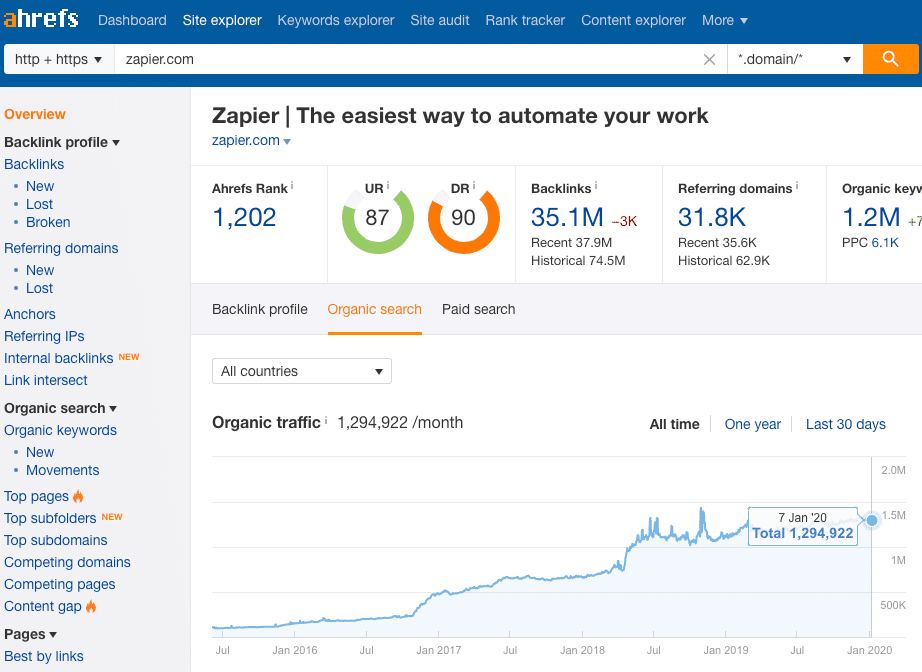 Although visits don't match as different tools use different ways to track and forecast these metrics, you can still see how organic traffic has grown in the past years up to 1M+ monthly visits.
Now, why their strategy is powerful? Because it's straightforward!
Zapier's marketing team targets keywords that have to do with integrations that are possible with Zapier. For example, "Slack Trello integration".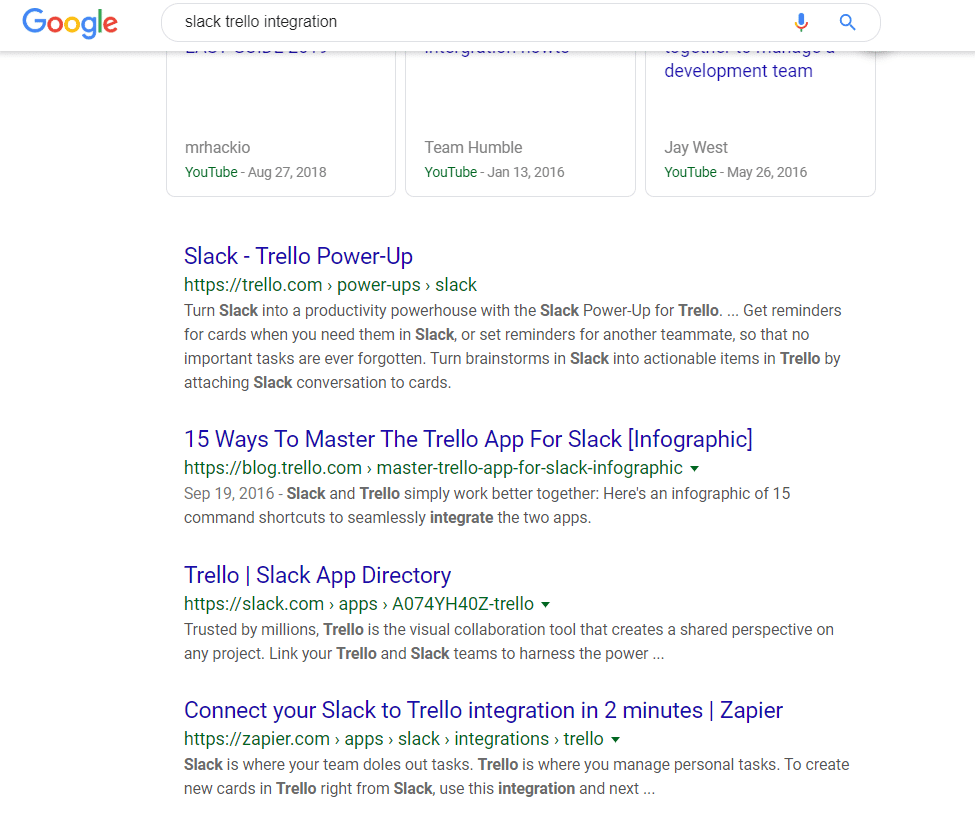 One by one, the keywords are relatively low volume, but when you target thousands of different ones, it adds up to a lot.
They also create unique landing pages targeting "SaaS tool" + "integration" search terms.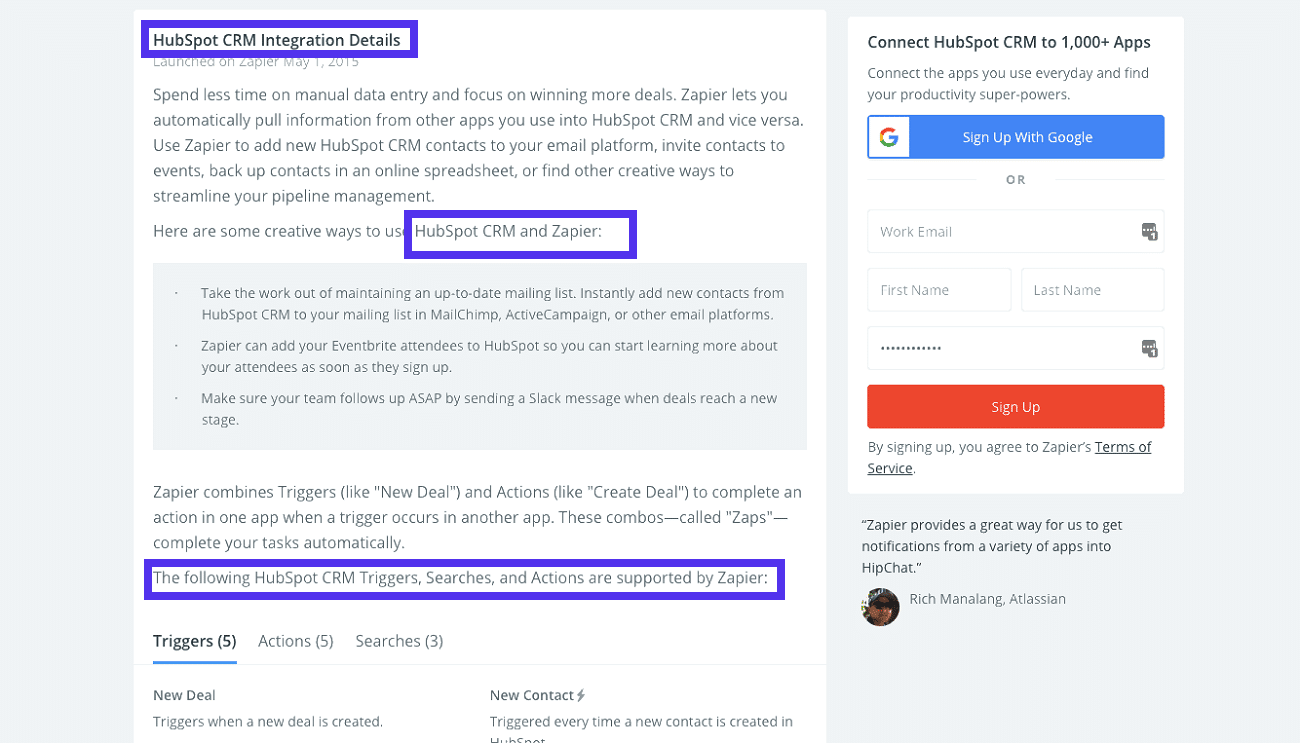 SEO Basics: Keyword Research
The foundation of any good SEO strategy is keyword research. Keyword research is where you figure out which specific words people use when they search for content related to your business.
Though not ideal, to start, you can do basic keyword research with free tools such as the Google Ads keyword planner tool. For example, if you search for "data visualization," it will display a list of relevant keywords.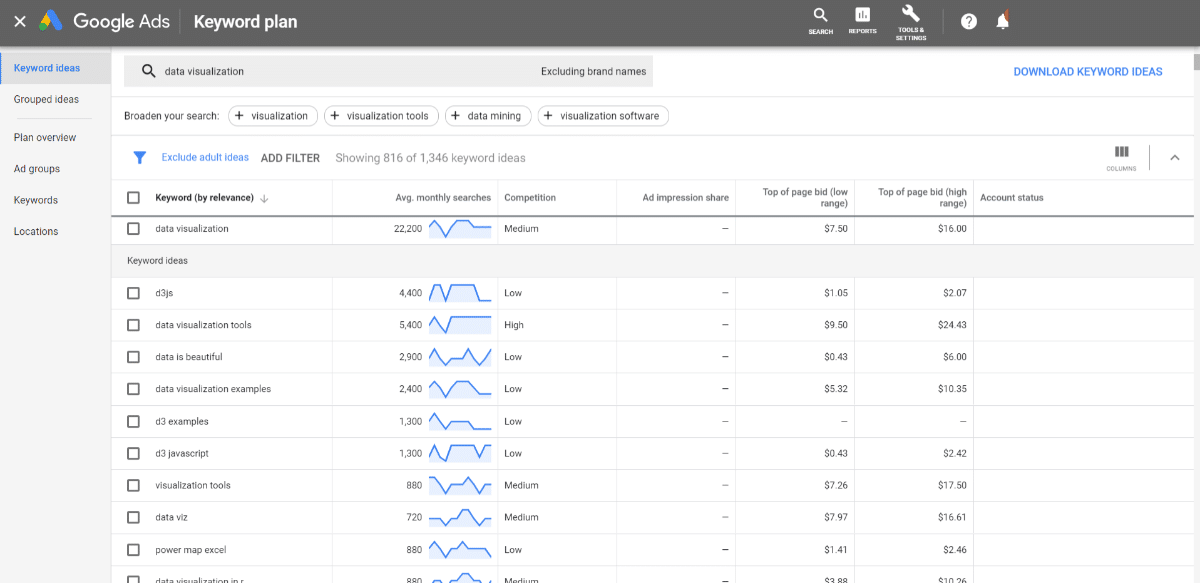 It also includes metrics that can point you in the right direction. The search volume shows you how many people search for the term per month. Competition indicates how many other people are advertising on Google. Finally, top of page bids shows how much a company is willing to pay for the keyword.
High competition and top of page bids are generally an indicator of high commercial intent. Commercial intent means that the searcher has an intention to purchase a solution.
So ideally, you want to target keywords with decent volume and high perceived commercial value. But you have no way of knowing which of these keywords are feasible to rank for in Google.
The competitive metrics in the keyword planner only show how many companies are bidding for each keyword. For further SEO-related insights, you need to use a more advanced keyword research tool.
To learn more about Keyword Research, and advanced keyword research tools like SEMRush, Ahrefs, and the like, read our guide to keyword research.
SEO Basics: On-Page SEO
It's in the best interest of Google to provide a user with the highest quality result for every search. That way, they ensure that users come back to Google when they are searching for something.
So Google tries to provide high-quality, fresh content from safe, well-organized, and fast-loading websites. That is the essence of on-page SEO.
Google has a tool to help you out: Google Search Console.
Check for errors in Coverage and Sitemaps.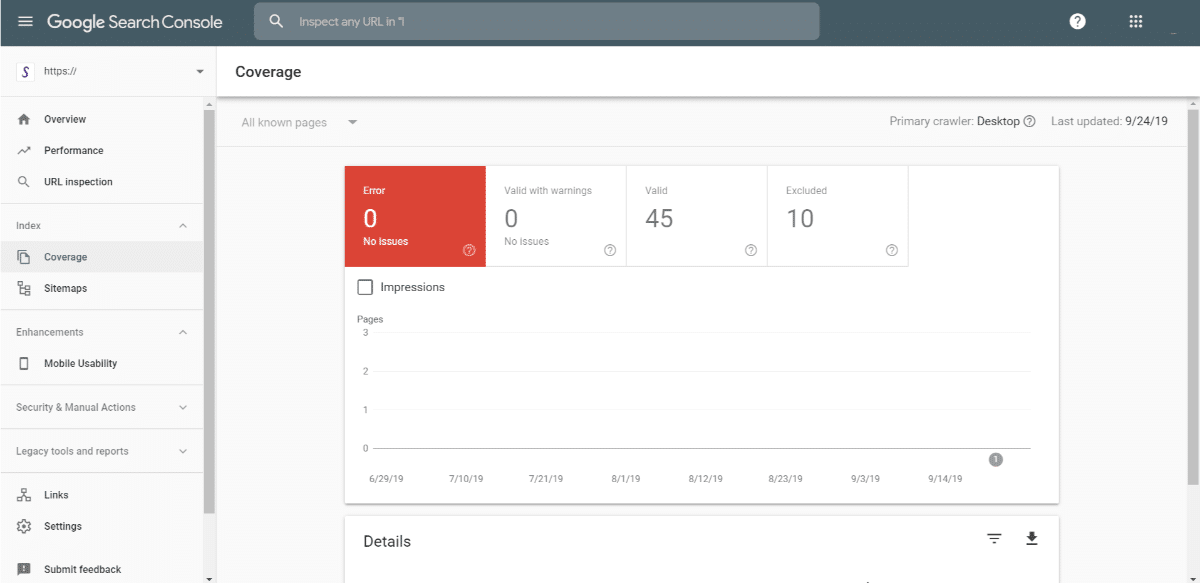 That covers the absolute basics of making sure that you have no glaring SEO errors on your pages.
Again, third-party tools can come in very useful here. But if we tried to cover all the basics of on-page SEO, it would become a post of its own.
Luckily, we've already covered a 60-step checklist for SEO that helped us grow our organic traffic by 280%.
Content Marketing
On average, customers engage with 11.4 pieces of content before converting. And 70% of customers prefer getting to know a company via articles over ads.
Content marketing is an approach where you focus on creating and distributing high-quality content through a variety of channels. We're huge fans of it here at Kinsta and we've been implementing it since our early days.
Content marketing works best when you develop a strategy that includes multiple formats:
Blog posts.
White papers.
Reports.
Infographics.
By building a reliable resource for your target audience, you can build a following. Each content piece can be the start of a relationship with prospects and potential customers.
To succeed with content marketing, you need a strategy for distributing your content, and a voice that your target audience will relate to.
Our Approach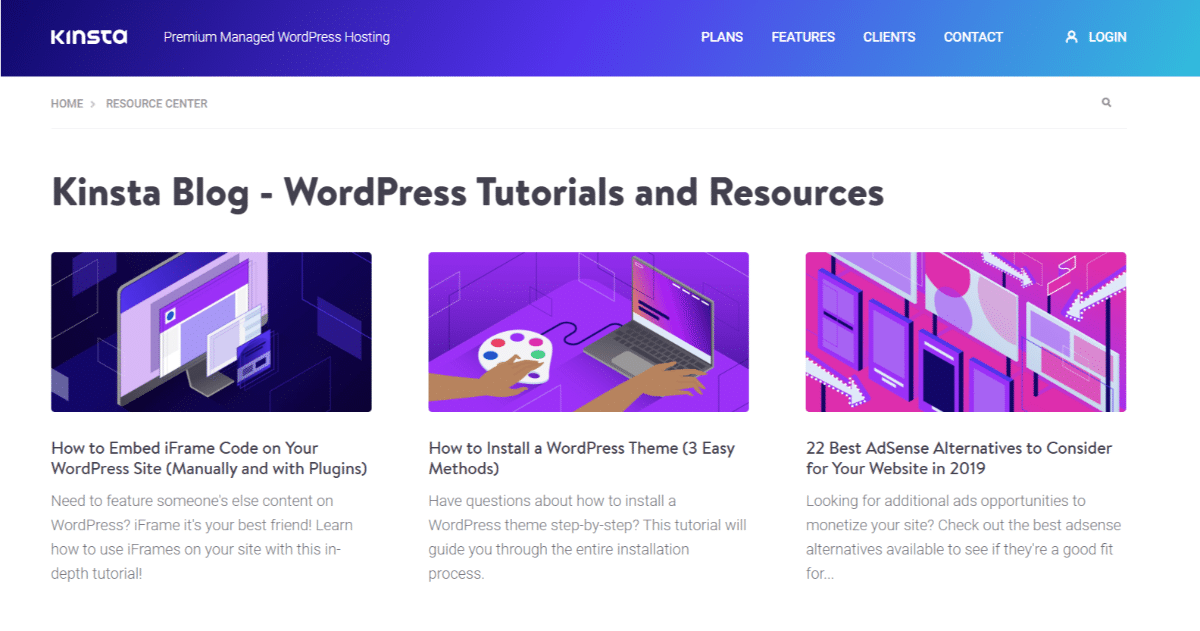 This article and our very own Kinsta Blog is an example of a SaaS company investing in content marketing. We focus on providing high-quality content that is immediately useful to our target market.
As the most important acquisition channel, we rely heavily on SEO, and the writing process for each new article always starts with keyword research.
For the promotion aspect, we focus on building our email list, to which we send our weekly newsletter, and social media accounts to distribute our content.
Content Marketing Strategy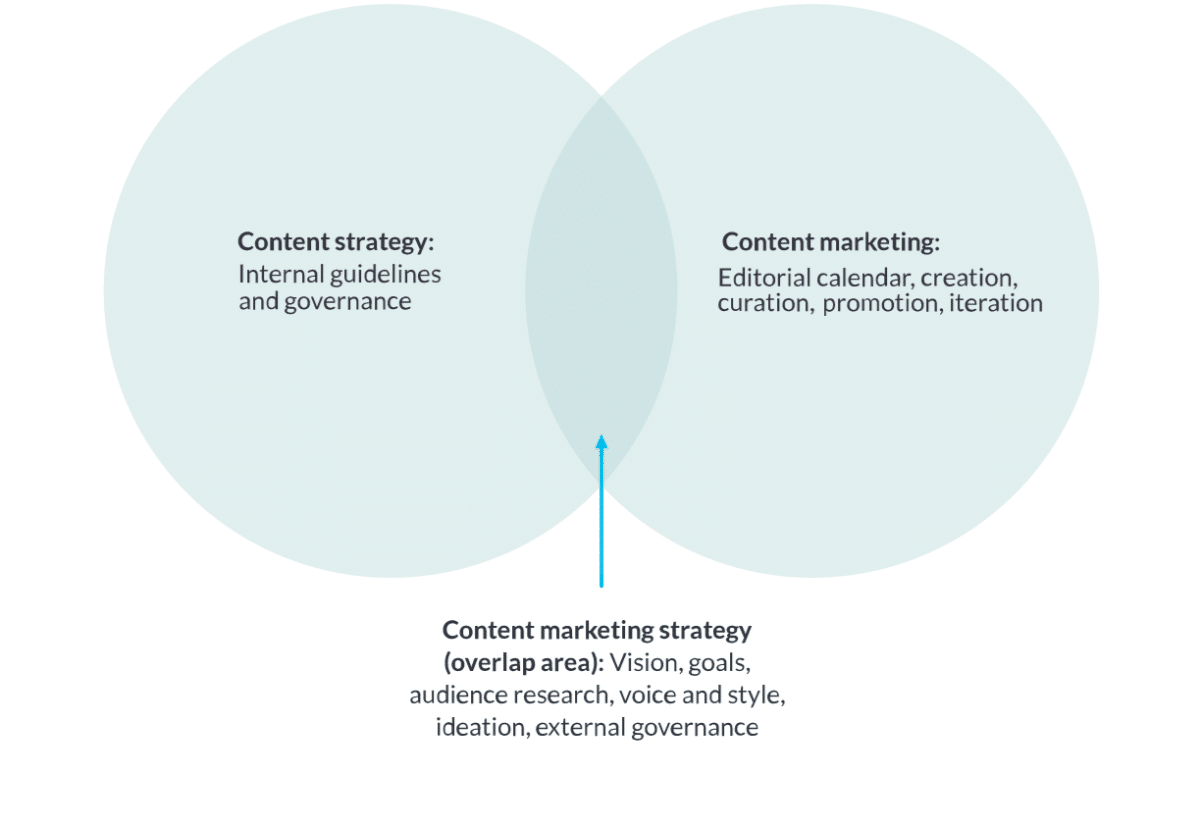 Many people confuse content strategy with content marketing. As Moz explains:
Content strategy concerns itself with the vision—the ins and outs of how and why your content will be created, managed, and eventually archived or updated

Content marketing focuses on the tactics and execution—the actual creation, curation, and editing of content that's specifically created for the purposes of marketing.
The general strategy will include target audience, distribution, positioning, tone, and more.
For example, let's imagine that your target audience is senior developers in their mid-40s. You might consider distribution channels like Stack Overflow, development-focused niche Facebook groups, and SEO. You could position yourself as a "fellow expert," tackling complex topics that interest them and using jargon and developer memes.
All of this will change if you are targeting junior salespeople in their 20s or stay-at-home moms.
Content Marketing Tactics
Then there are the specific tactics of exactly which content you should produce. The majority of marketers deal mostly with blogging, visual content (infographics, etc.), and videos.
Which medium you should choose for your business depends on your target audience, and your available talent/budget.
Even if high-quality explainer videos are the preference for your ideal customers, it just might not be within your budget.
Other tactical decisions include where and how to promote your content, and how to segment and diversify.
Email Marketing
It's cheaper to communicate with and build relationships with people who are already interested in your product than converting strangers. That's why email marketing can record ROI as high $42 per dollar spent. That's utterly unheard of for paid acquisition of any kind.
As a result, 59% of B2B marketers single out email marketing as their most effective channel.
The essence of email marketing is to:
The great thing about email is that it's the most effective channel for lead generation, but it's not too complicated or difficult to get started.
You can use a simple approach like a weekly newsletter or an automated email drip campaign to convert leads to customers.
Once you've built an audience, you can tap into marketing automation tools to segment your list and send automated personalized emails.
It Doesn't Have to Be Complicated: Newsletters Still Work
Email marketing has great synergy with other marketing channels. It helps you stay in touch with people who visit your site from Google or social media, who aren't ready to buy. But don't think you have to write a 20-piece long email series on a topic.
Newsletters still work.
By providing genuine value up-front, and over time, we build a relationship with blog readers. Every subscriber gets our detailed ebook on how to speed up their WordPress site.
Since they are interested in WordPress tips and speeding up their site, we already know they are in our target market. By subscribing, they self-identified as WordPress site owners who care about performance.
As a result, we treat every potential customer with respect and try to offer value first instead of bombarding them with automated sales emails.
If you want further proof that newsletters still work, take a look at The Hustle, a tech-focused email newsletter that recently broke 1 million subscribers.
Autoresponders
Autoresponders or automation tools are cloud-based SaaS apps that help you automate your emails to your customers and prospects. Imagine if every time someone signed up for your newsletter, you had to send them their welcome ebook manually.
That would eat up hundreds of working hours every year. Not exactly an effective use of your time.
That's where autoresponders come in.
For example, whenever anyone signs up for our newsletter, the form automatically sends the data to the autoresponder. Then within seconds, they receive a welcome email like this.
You can use autoresponders to send automatic emails in response to different user behavior on your site.
Perhaps the most important one is automatically following up on people who left halfway through the checkout process.
If you want to learn how to master autoresponders, read our guide on how to use Mailchimp to get started. If you don't like mailchimp, check out its alternatives here.
Email List Segmentation
If you use email list segmentation, your automated emails will be personalized and relevant. This way, your potential customers see messages that matter to them at that moment. This approach will get you 26% higher open rates than mass emailing.
You can easily create separate lists for subscribers that have visited your blog in the last week, or who have signed up for a free trial. You can further create specific lists for different categories of paid users, keeping them out of all promotional mailings that would be irrelevant to them.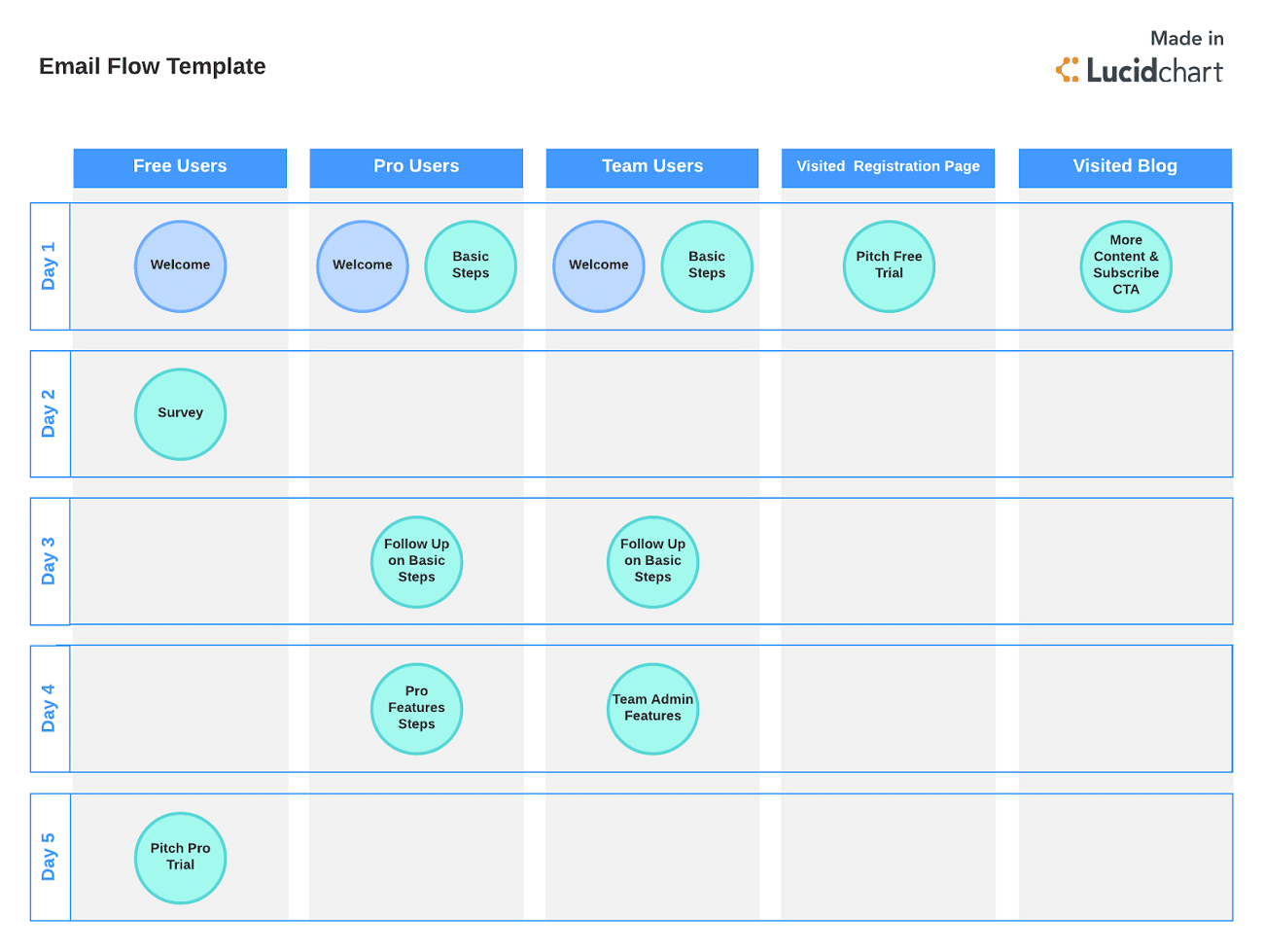 The above is an example of what such a flow might look like on paper.
Social Media
Through a varied approach of organic posts and paid ads, many SaaS companies are seeing success through marketing on social media platforms.
With social media marketing, you use a mix of organic posting and paid ads to build a following on one of the following social media platforms:
There are more than 4.80 billion social media users in the world. That makes social media one of the most scalable channels.
Also, there are no inherent platform costs with getting started. You can set up a business Instagram page today for an investment of zero dollars.
That's what makes social media marketing one of the first things new SaaS companies experiment with.
But it takes time, effort, and investment to succeed.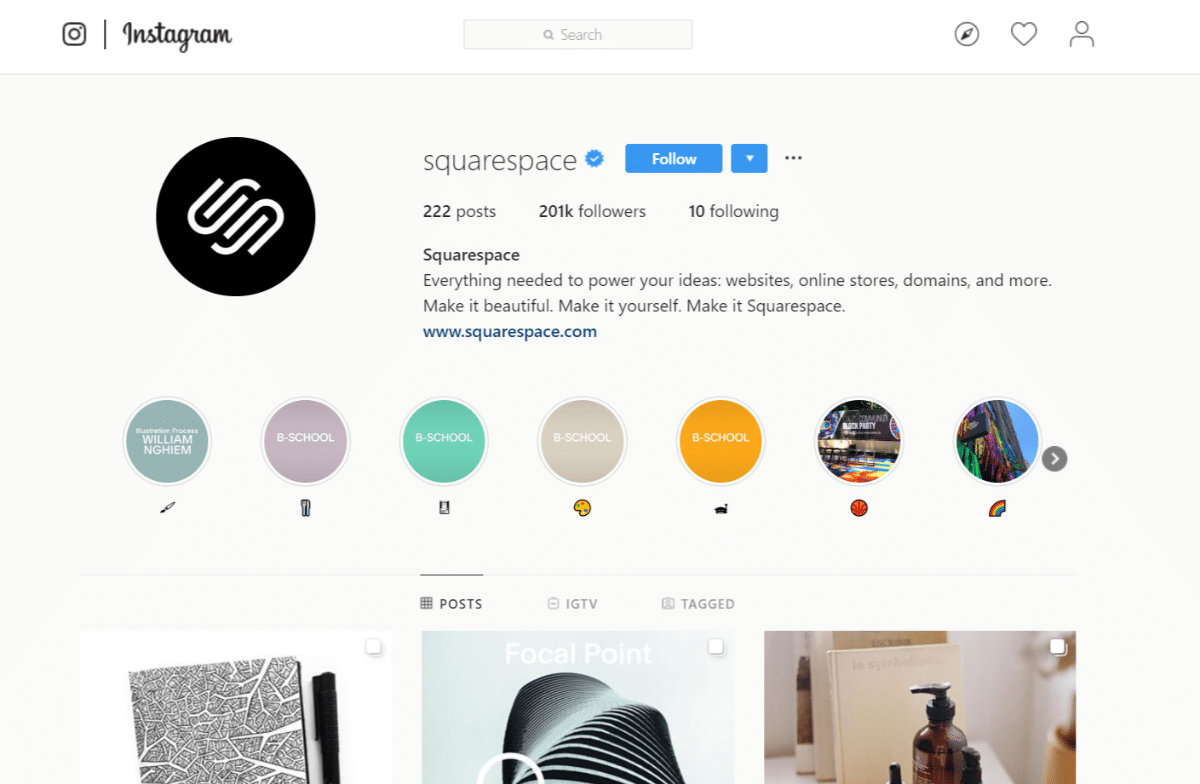 Squarespace, a website builder SaaS, has over 201,000 followers on Instagram (further reading: Squarespace vs WordPress).
They have managed to get there through a combination of ads, influencer marketing, and non-stop, high-quality output.
In their latest campaign, they partnered with photographers and featured a few beautiful shots, before showcasing the photographer's website. A website made with Squarespace, of course.
It's not enough to just post what's on your mind and hope to attract an audience.
Learn from Successful Competitors
The biggest "cheat code" when it comes to social media marketing is to dive under the hood of what successful competitors are doing.
If you are already aware of such direct competitors, you're in luck. Just head to their social media pages and analyze the content.
Try to answer the following questions:
Which post types have the most engagements?
Which tone of voice seems to resonate the most?
How are they positioning themselves?
As a social media strategy is often included as part of a broader content marketing strategy and deserves its own post, we're not going to cover it in detail here.
But if you want to dive in and learn the specifics of SMM, you can refer to this guide from Hubspot.
Influencer Marketing (Focus On Micro-Influencers)
To be seen on social media, it's not enough to create a page and post some images. Organic reach from company pages dropped 52% in 2016 alone and has steadily declined ever since.
You need to reach an audience. That's where influencer marketing comes in.
Influencer marketing is a concept where you reach out to influencers and enlist them to promote your products. Typically, companies run influencer campaigns where they identify relevant influencers and pay them to feature a particular product.
How much a single placement costs depends on the size of their following, and how engaged their audience is. A single Instagram post from Selena Gomez will set you back millions of dollars.
That's not a viable strategy for most up and coming SaaS companies. The audience of big influencers is too broad, so you end up paying for a lot of uninterested eyeballs.
Micro-influencers are the most effective way to do this on a tight budget. Engagement rates for micro-influencer campaigns are 60% higher than for traditional ones.
So forget The Rocks, Cristiano Ronaldos, and Ariana Grandes of the world. Focus on small bloggers, developers who run local development groups or meetups, etc.
Here's a quick example: Wix sponsors Andy J. Pizza, a Podcaster with 13.8k followers on Twitch (here's how to start a podcast using WordPress). Simply because the listeners identify so strongly with the host, some of them end up choosing Wix
These are the sort of bonds smaller influencers can have with their audience.
To find your influencers, you can either try your best at searching using the platform's search function or use a third-party tool. One influencer tool you can use for free is Buzzsumo's Twitter Influencer search.
Let's say your main goal is to run an Instagram campaign. Just add a filter for that in your search by selecting "Has Instagram Profile."
This filter only Twitter users that are also active on Instagram:
When you search, use a phrase that relates to your target market. It doesn't need to be an exact match keyword, it can be a related concept or even a product.
For example, if your SaaS is a data visualization plugin that integrates with Google Analytics, you can search for the phrase "Google Analytics".
Once you have the results, you'd want to sort them by "Reply ratio" to see who's more likely to respond to your outreach email or DM.
Popular Influencer Marketing Tools
The following is a list of popular influencer marketing tools you can use to both find influencers and measure their effectiveness.
Niching Down Before Targeting the Mass Market
As a technology company, it might be in your best interest to niche down and specialize your product to serve a particular vertical. With a specialized service, you set your product apart from horizontal SaaS competitors and gain a marketing and sales edge.
Instead of a disadvantage, it can make it easier to get a foothold in a certain industry and grow through endorsements and word of mouth.
Once you've established yourself in one small market, you can use the credibility and cash flow to drive marketing efforts targeting bigger markets.
You can read the book "Crossing the Chasm" by Geoffrey Moore to explore this approach further.
Kinsta has been able to thrive as a company by focusing on the "narrow niche" of managed WordPress hosting. This success helped us get to where we are today, being able to offer application hosting and database hosting as well.
Salesforce, now the top CRM in the world, initially focused all of its energy on salespeople. Your company might also face better odds if you become the big fish in a smaller pond.
Always Track Conversions and Measure ROI
There can't be any successful business if you don't know what's working and what is not. SaaS companies are no exception to this.
That's why you should set up conversion tracking right from the beginning to see which channels perform better. If you have no idea, maybe because you just started, make a judgment call on which channels to target with your available budget and resources and move from there.
Make sure that long-term organic strategies like SEO or Content Marketing get a longer time-frame than micro-influencer marketing or paid acquisition.
As long as you keep track of the costs required and revenue generated by each channel, you can calculate your ROI. Google Analytics' default acquisition report can help you stay on top of the early results.
If you're running any micro-influencer campaigns, you can also measure the results by creating custom landing pages or by using UTM parameters.
While CAC is a staple metric for SaaS, organic acquisition channels make things more complicated. For content marketing, you need to consider things like writer and designer wages, time spent by marketing manager on strategy, and other overhead costs.
If you are focusing on SEO, you also have to consider that the lifetime value of each article will probably far exceed any customers generated in the first few months.
Grow and Convert offer a ready-to-use spreadsheet model to help you calculate this.
If you have a handle on all the required data, and you can calculate the CAC for each channel, you will know where you should focus.
Summary
This guide is far from being exhaustive as the world of SaaS is pretty complex. What it does, though, it's helping you move your first steps towards understanding the foundations, highlighting the importance of finding the right acquisition channels, and which key metrics to measure.
You don't need the budget of Salesforce to kickstart the growth of your SaaS (and Kinsta is living proof of this). You need to have the right product, find the right channels, and the right message (your market positioning).
Overall, SaaS marketing is not that different from traditional marketing. This means, if you've discovered a tangible need/pain point in a single niche for your SaaS product, you're off to a great start already. Why? Because marketing a product that isn't solving any "real" issues, is simply the hardest thing to pull off.