Trello and Asana are two of the most popular project management tools out there. So here's the question: Trello vs Asana, which one should you choose for your business?
Let's find out with our in-depth comparison!
Trello

Trello started as a Fog Creek Software product.
According to Joel Spolsky, founder of Trello, they wrote the first line of code for this product in January 2011.
He says that after three months of work, the software was useful enough to launch, but they decided to polish it some more before presenting it to the public. Fog Creek software launched Trello in September 2011 at the Tech Crunch's Disrupt conference.
It was an innovative project management product that was based on the Kanban productivity system.
The Kanban system was developed by a Japanese industrial engineer Taiichi Ohno in an attempt to improve Toyota's manufacturing process.
It was such a success that this system spread beyond automobile manufacturing to other industries such as retail, software, and even cinema.
It also attracted the attention of individuals who saw it as a way to improve their productivity.
Here's how the most basic Kanban board looks like: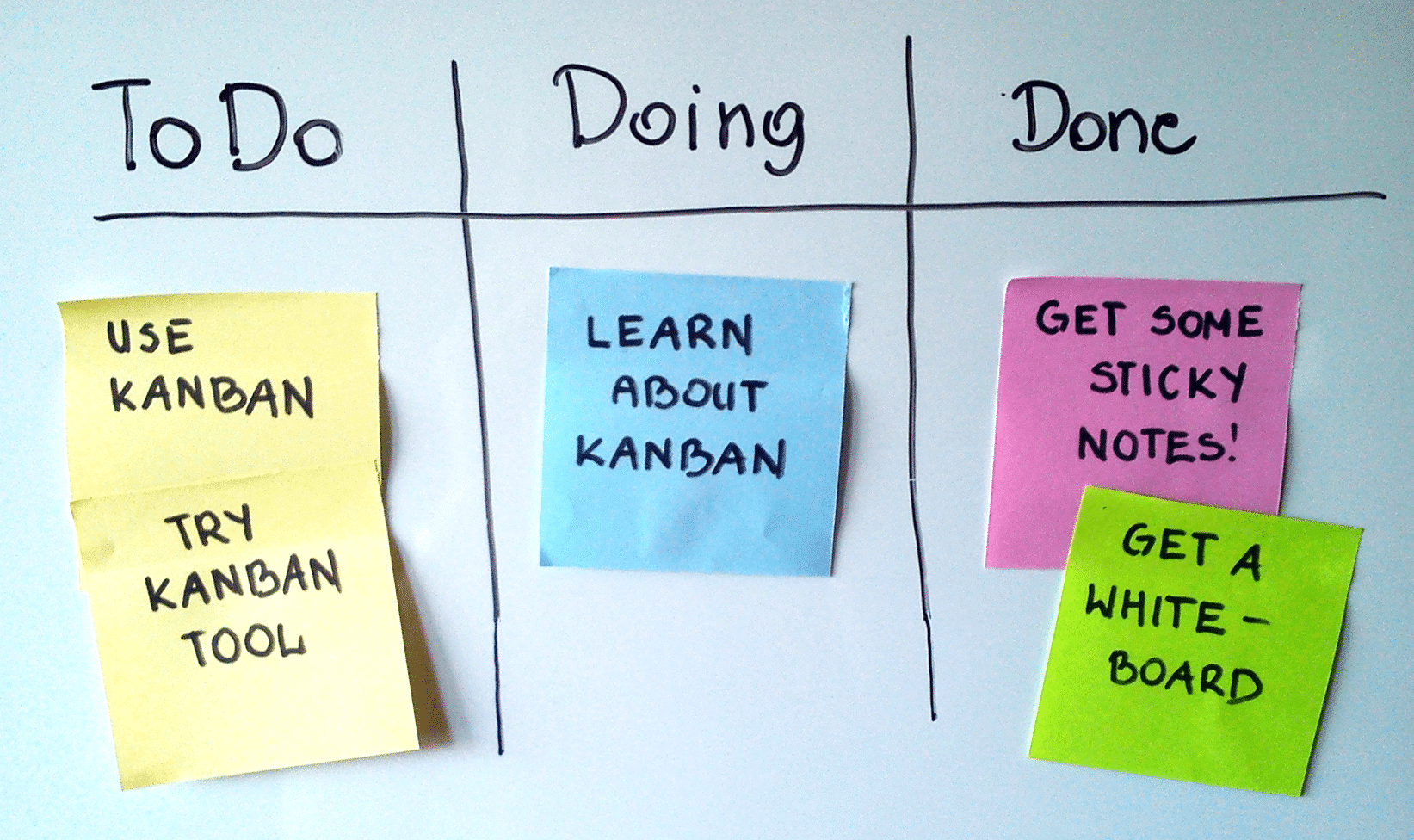 Of course, a Kanban board for a large organization is much more complicated than this, but you get the idea.
Fog Creek Software built a tool that allowed companies to create a digital Kanban board.
Here's the board of a fictional company called Artist Exploitation, Inc. that Joel Spolsky used in his Disrupt presentation: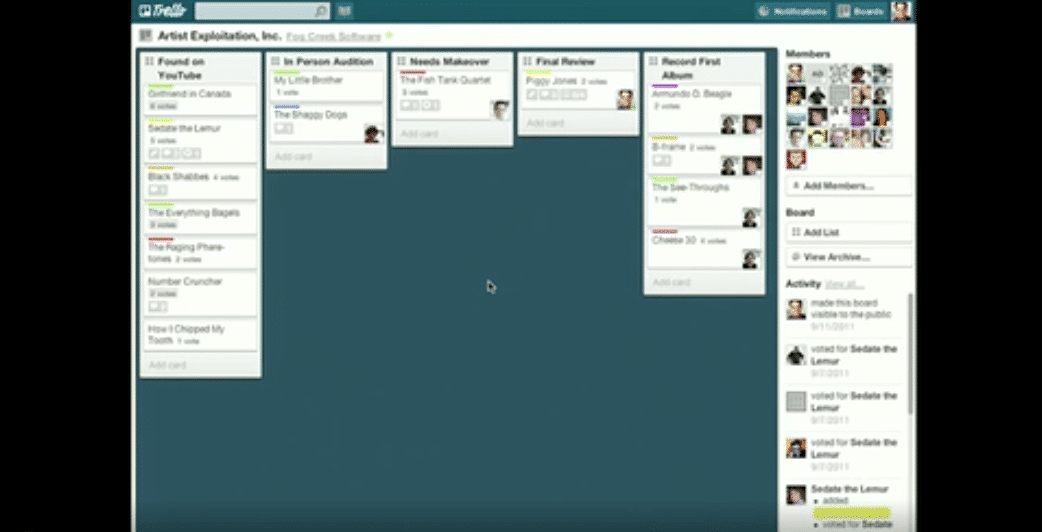 Now, you need to remember that it is from almost a decade ago.
At the time, using a Kanban board in a project management software was a revolutionary idea, plus creating it was a serious technical challenge.
Joel Spolsky's presentation was a success: he managed to "leverage 6 minutes of fame into 130,000 eyeballs" and 22% of those people signed up for Trello.

Spolsky attributes this success to the fact that they had a solid product:
"If we had launched 3-month-old Trello, it would have been NOT SO AWESOME. Maybe even MEH. I don't want 131,000 eyeballs on MEH."
From then on, Trello grew explosively and reached 10 million users in 2015.
However, as Hiten Shah points out in his article "Why Trello Failed to Build a $1 Billion+ Business", their competitors were hard at work on Kanban boards. Soon, a once-revolutionary idea eventually became a commonplace.
Asana introduced their own Kanban board feature in 2016 (more on this below), "heavily inspired" by Trello:
"We definitely give Trello full credit. That is clearly the product that has done a good job pioneering this view. […] We see Trello as a feature, not a product."
said Asana's co-founder Justin Rosenstein.
Anyway, Trello kept growing and reached 25 million users in 2017. That same year, it was acquired by Atlassian for $425 million.
Today, Trello has over 35 million users and is one of the most respected companies in the project management space.
Key Features
Okay, so what exactly does Trello offer to its users?
The Kanban system remains the core of Trello. It offers a great visual progression for the projects because you can see each card moving from left to right as the work on the task progresses.
As you can see, the UI is pretty much the same as it was back in 2011, except that now it is more visually appealing.
You can invite as many people to your board as you want for free, which is great if you work with a large team.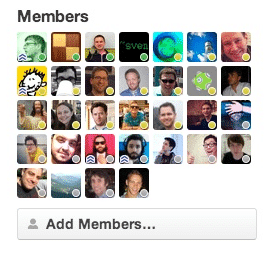 You can organize your work by creating boards, lists, then cards for each task, then moving cards through the list as you make progress on the tasks.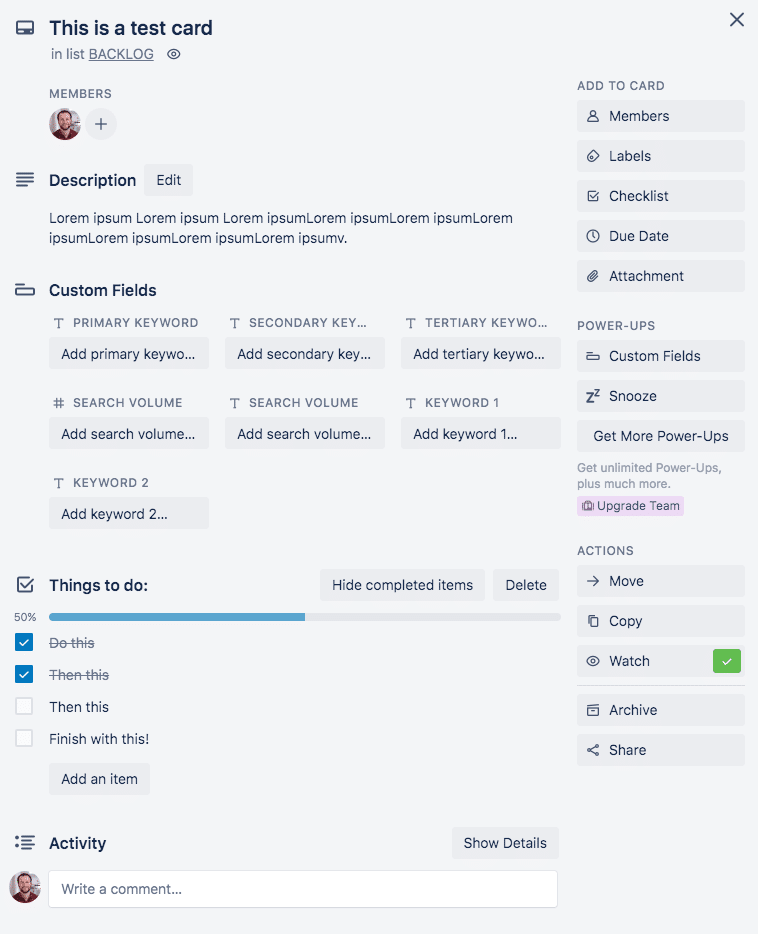 These cards aren't just a digital version of sticky notes. You can add a lot of information to them, such as task description, due date, label, a progress checklist, attachments, etc.
By the way, talking about checklists and due dates, Trello has a Calendar Power-Up which enables you to view cards with due dates in a calendar.
Trello lacks a task dependency system. However, you can use certain elements inside the cards, such as checklists and attachments, to represent task dependencies. You can read more about managing task dependencies here.
Cards also have a comments feature, so if you need to discuss something related to that task, you can do it inside that card: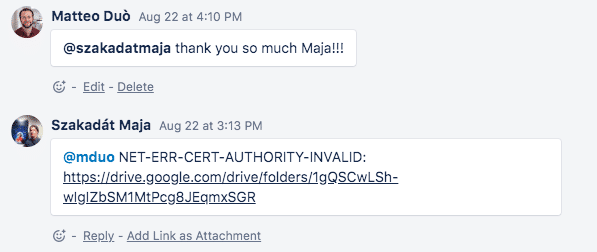 This is handy because it allows you to keep communication in one place as opposed to it being scattered across several channels (email, instant messaging, text messaging, etc.).
Trello also has a notification system that keeps you updated by sending you notifications inside the app, via email, via browser, and via mobile.
These notifications are synced through all devices so you won't have to deal with the annoyance of reading notifications showing up as unread. And if you get an email notification, you can reply to it directly via email.
There's also a powerful search function that helps you quickly find whatever it is that you are looking for.
And if you want to use Trello with more than one group of people, you can use Trello Teams (that way, you can have a family team, a friends team, a work team, etc.).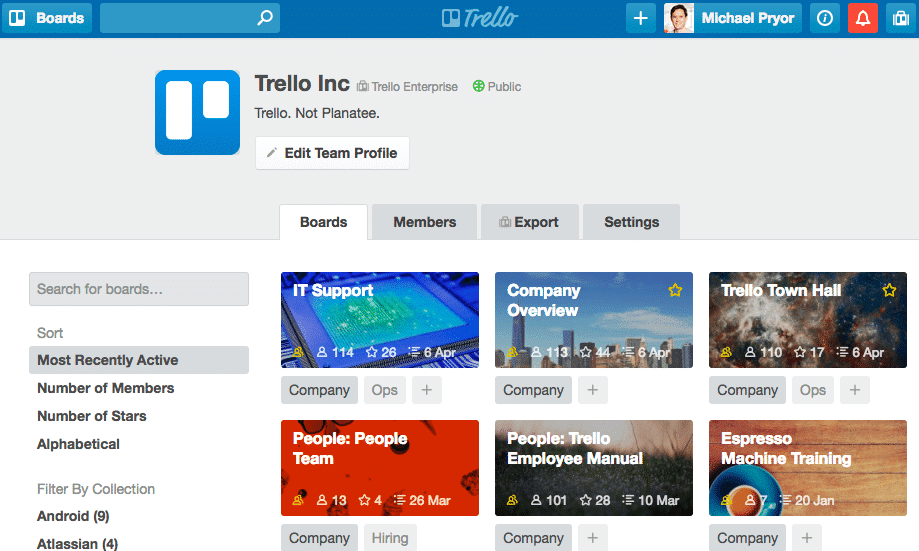 Trello has a variety of Power-Ups. They allow you to enable additional features on your boards and integrate the software with your favorite apps.
For example, some of the most popular Power-ups include the previously mentioned Calendar Power-Up, as well as Google Drive, and Slack Power-ups: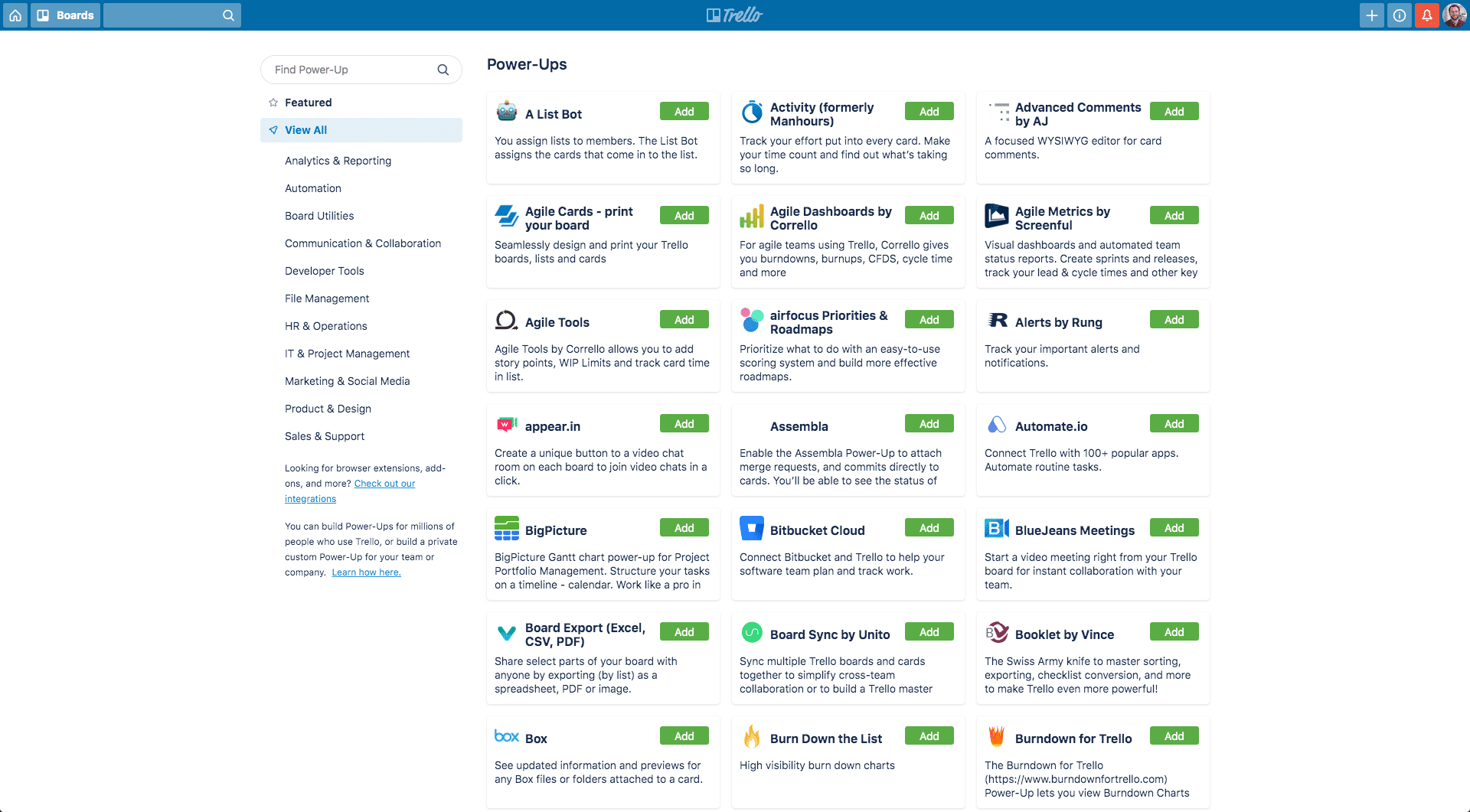 You can view a list of all Power-Ups here. There's a lot of them!
Trello also offers various browser extensions that are handy when you use Trello a lot. For example, with PopClip extension, you can save selected text to Trello on Mac. You can see a list of all browser extensions here.
Also, it's worth noting that Trello takes privacy seriously. You have full control over who sees your board. Plus, they use SSL/HTTPS connection.
Pricing
Trello has three pricing tiers:
Free. This is the most basic plan. They promise that it's going to remain free forever.
Business Class. This is a $9.99/user monthly plan. It's meant for small to medium businesses who need more features than those coming with the free version.
Enterprise. This is a plan that starts at $20.83/user/month, but the price depends on how many seats you need (the larger your team, the less it costs per user).
All three plans offer unlimited boards, unlimited lists, and unlimited cards, which makes this a great tool for startups.
However, when it comes to the more advanced features such as automation and power-ups, the free plan is quite limited.
Also, the free plan doesn't offer much in terms of security. If you want to be able to set advanced admin permissions, send domain-restricted invites or deactivate members, you will need to upgrade either to Business Class or to Enterprise.
Plus, the premiums plans offer 100+ integrations, using which can give your team a significant productivity boost.
What Are Trello's Strengths?
Trello's main strength is its simplicity.
This is important because each tool that you introduce to your team requires people to invest time in mastering it. Simplicity reduces the amount of time required to train new team members.
Also, Trello is incredibly versatile. It was created with businesses in mind, so it's safe to assume that their most common use case is project management for a small business.
However, it can also be used to manage pretty much any project you can think of, from planning a vacation to organizing a party to renovating a house.
In fact, in his "25 Million! Celebrate With 4 New Top-Requested Trello Features"  Trello's co-founder Michael Pryor shared that the team is often surprised by the use cases they see. Addressing the users, he said:
"You pioneer ways to use Trello that we could have never dreamed up. From your vital sales pipelines to your vacation boards, your kanbans to your can bins, your roadmaps to your recipe boards: Your creative uses of Trello to be more productive at work and at home continue to amaze us." 
This is great because you can use the same tool to manage both personal and professional projects.
Who Is Trello Best For?
Trello works best for small businesses that have clear, linear processes, and want a simple, intuitive software that team members can master quickly.
What you need to do is ask yourself whether you could manage your business with a physical Kanban board if your entire team worked in the same office.
Most small business owners could do that, which means that they would probably benefit from using Trello, especially if they are working on straightforward projects.
However, if your team is too large and your projects are too complex, then Trello probably won't cut it.
Asana

Asana was founded in 2008 by Justin Rosenstein and Dustin Moskovitz. Moskovitz is a co-founder of Facebook and Rosenstein is an ex-Google and ex-Facebook engineer.
They both worked on improving project management and increasing employee productivity at Facebook.
This experience has led them to realize that incredibly smart people often get stuck spending most of their time on "work around work", by which they mean things like email communication, tracking down information and making sure that everyone is on the same page.
While at Facebook, Moskovitz and Rosenstein collaborated on an internal project management tool called Tasks which quickly took off within the company. They didn't think of it this way at the time, but they now see this software as a prototype for Asana. The popularity of Tasks made them realize that there was a need for a product like this.
In 2008, they left Facebook to start Asana. The founders took their time to develop the product before making it available to the public. They launched the free beta version in November 2011. The official commercial launch was in April 2012.
Asana got attention from investors before they launched which was probably at least partially due to the founders' connections in the tech industry.
They first raised capital in spring 2011 with an angel round of $1.2 million which was soon followed by a series A round of $9 million in November 2011. It's worth noting that initial investors included Peter Thiel (who later joined Asana's board) and Sean Parker.
Asana quickly became a popular project management tool. But the team didn't rest on their laurels. They kept relentlessly improving their product by listening to the customers and developing the most requested features.
As a result, ten years after Moskovitz and Rosenstein left Facebook to start Asana, the company reached a $1.5 billion valuation, and today it has over 60,000 paying customers. Also, the founders of the company are so confident in their product that they recently announced that all 500 Asana employees are ditching internal email.
What this means is that people will still be able to reach Asana's employees by email, but it won't be used for communication within the company. Said Moskovitz:
"It's just very natural for everyone to be organizing their conversations around the actual work […] Most of the time, when you're having an email thread with your coworkers, it's really about some project that you're working on, or some action items, or goals. In Asana, that's all organized in 'projects' or 'tasks' and each of those can have conversation threads around them. So our conversations happen there."
This is a bold move that gives Asana additional credibility. After all, if the software is good enough for a $1.5 billion company, then it's probably good enough for your business too.
Key Features
Asana is a sophisticated project management tool which allows you to handle complex projects.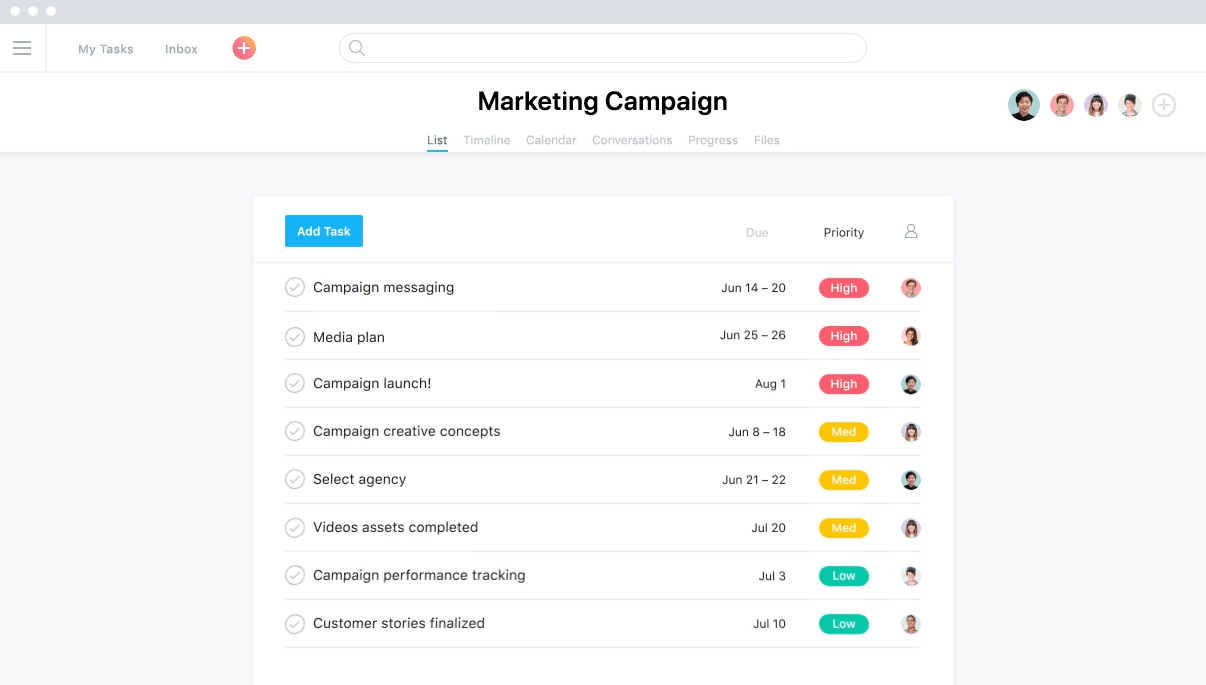 Asana has a Boards feature that is based on the Kanban system and allows you to visualize your work with a visual progression similar to that of Trello's.
However, while the board is the core of the Trello product, in Asana it's just one of the features (as you might remember, Asana didn't introduce it until 2016).
It's also worth noting that, unlike Trello, Asana has a proper task dependency management system:
For example: you can mark a task as waiting for another task. Then, once that first task is completed, the person who was waiting for it will get a notification, and proceed with their own task.
Keep in mind that a single task can be dependent on multiple other tasks and multiple tasks can be dependent on just one other task.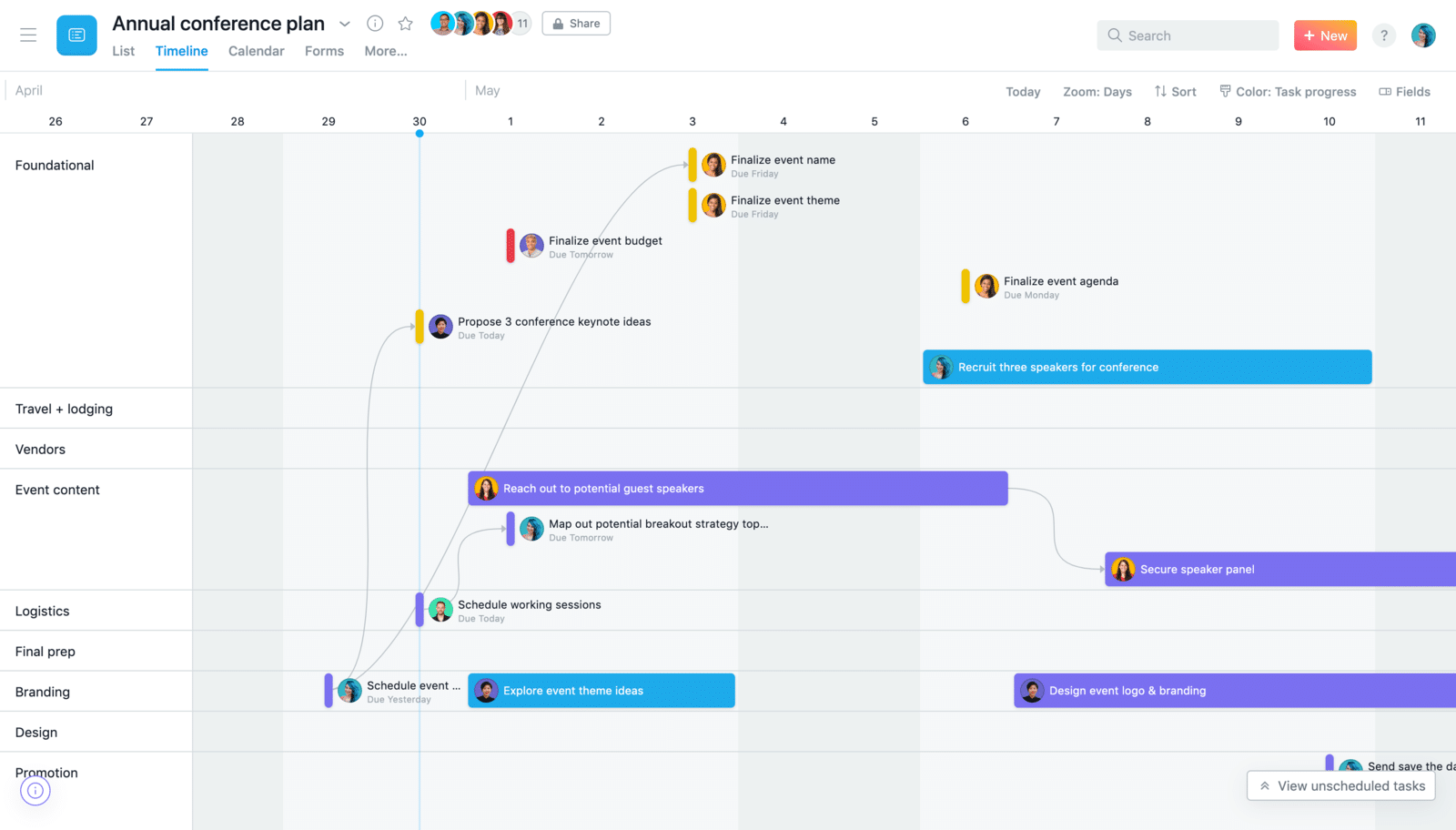 Another key feature is Timeline which you can use to create a plan that shows how various pieces of the puzzle that is your project fit together. This is an additional way to visualize progress. It helps you to stay on track with the deadlines:
If anything changes, you can easily adjust the timeline and see how the change impacts the entire project. By the way, you can draw task dependencies on the Timeline, which makes it much easier to keep track of everything that is going on in a complex project.
There's also the Calendar feature that allows you to view your work on a calendar, enabling you to spot schedule conflicts for example: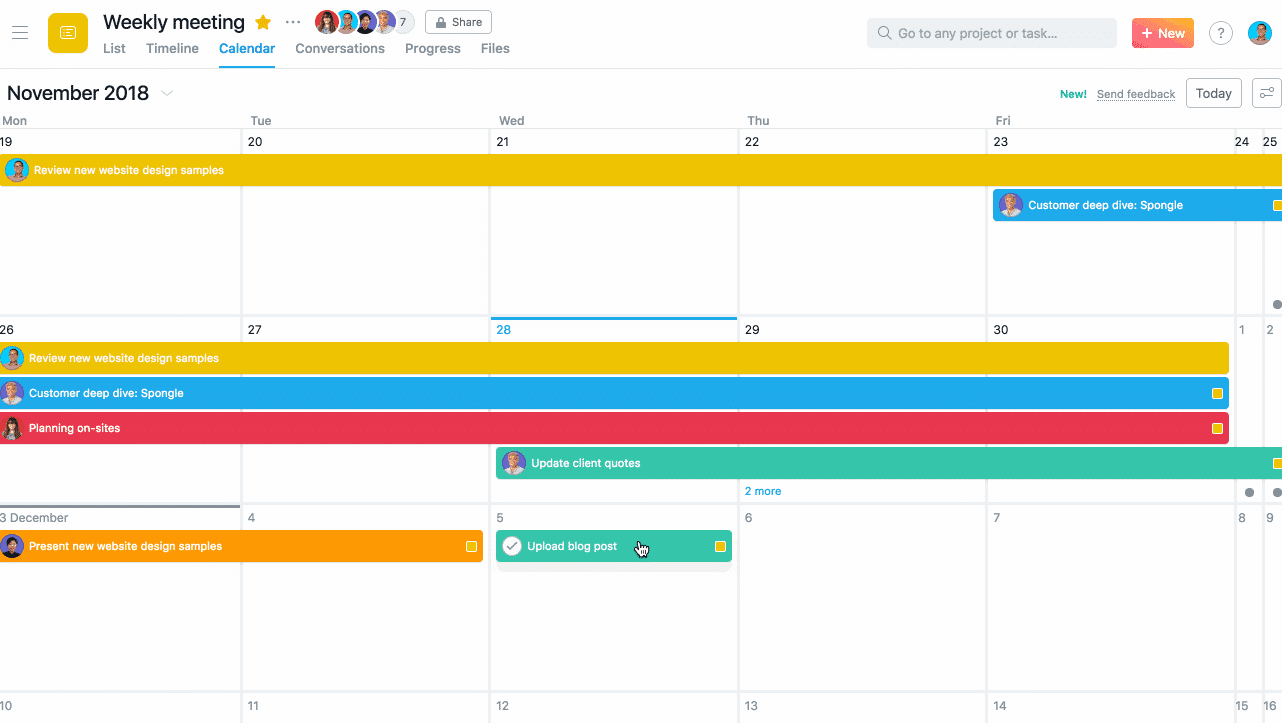 The Portfolios feature is an easy way to monitor all your initiatives in one place which is handy when you are working on several major projects at the same time. You can also check KPI's and critical info in portfolios in real-time to anticipate any major issues before they happen.
What's even more interesting, though, is the Workload feature that makes it easy to manage the workload of each team member: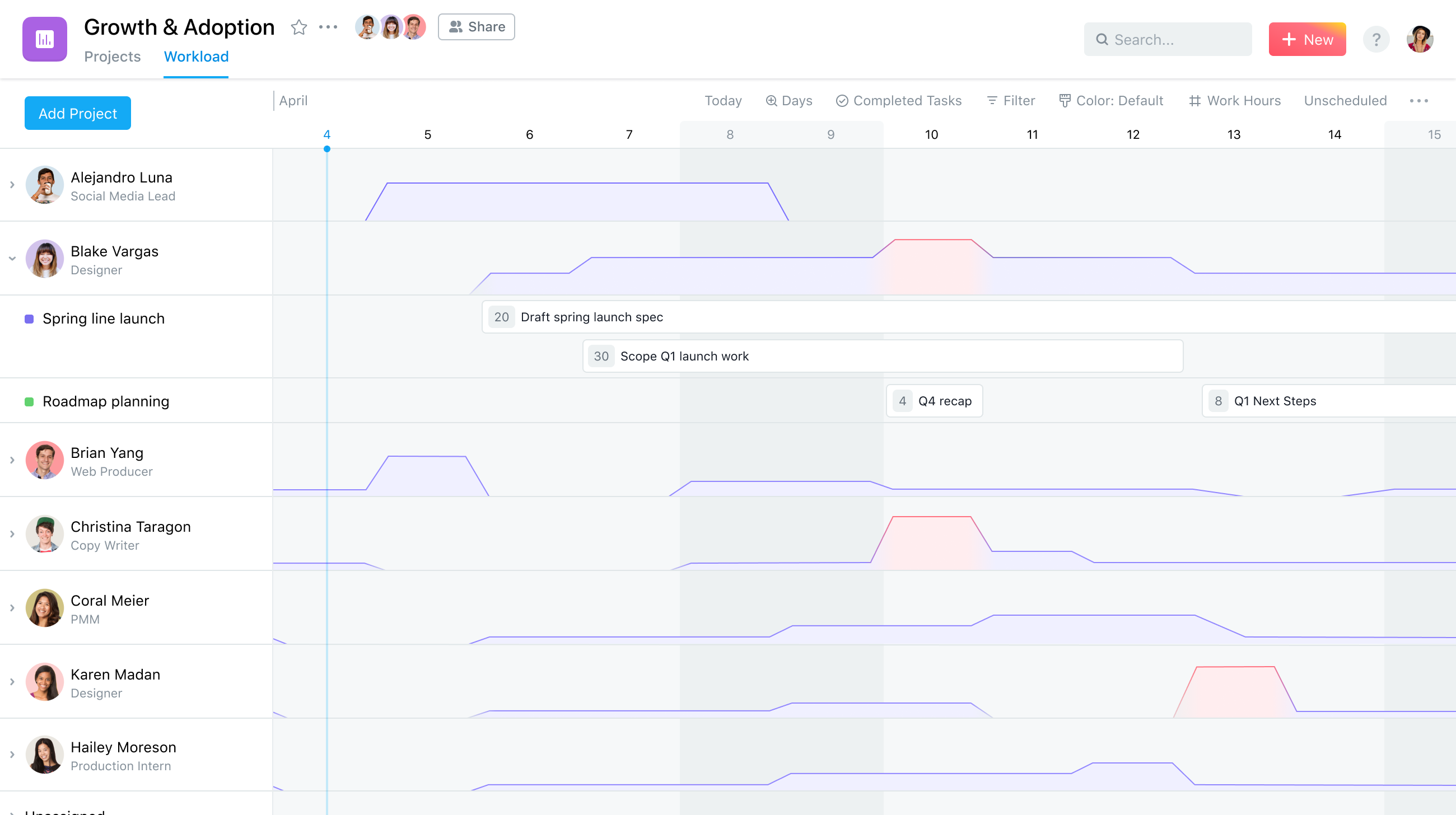 This is valuable when you are managing a large team or several teams. The more people you need to look after, the easier it is to inadvertently underwork or overwork someone.
It's normal to have occasional downtimes and occasional crunch times, but prolonged mismanagement of workload leads to employee dissatisfaction. This can cost the company a lot of money through diminished productivity and decreased employee retention.
Asana also allows you to turn common processes into templates, which means that you don't need to reinvent the wheel every time: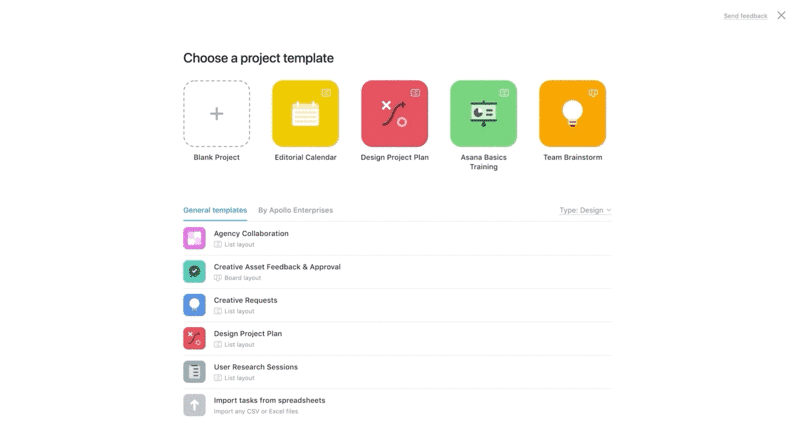 This is important because you want to streamline things as much as possible as you grow your business.
You can control who has access to what information through the privacy settings which allows you to ensure security.
The larger your team is, and especially if you use freelancers, the more important this feature becomes since you don't want people who just walked through the door to have access to sensitive information. Talking about security, admin features allow you to control things like authentication and password strength, plus you can reset all passwords in case of a security breach.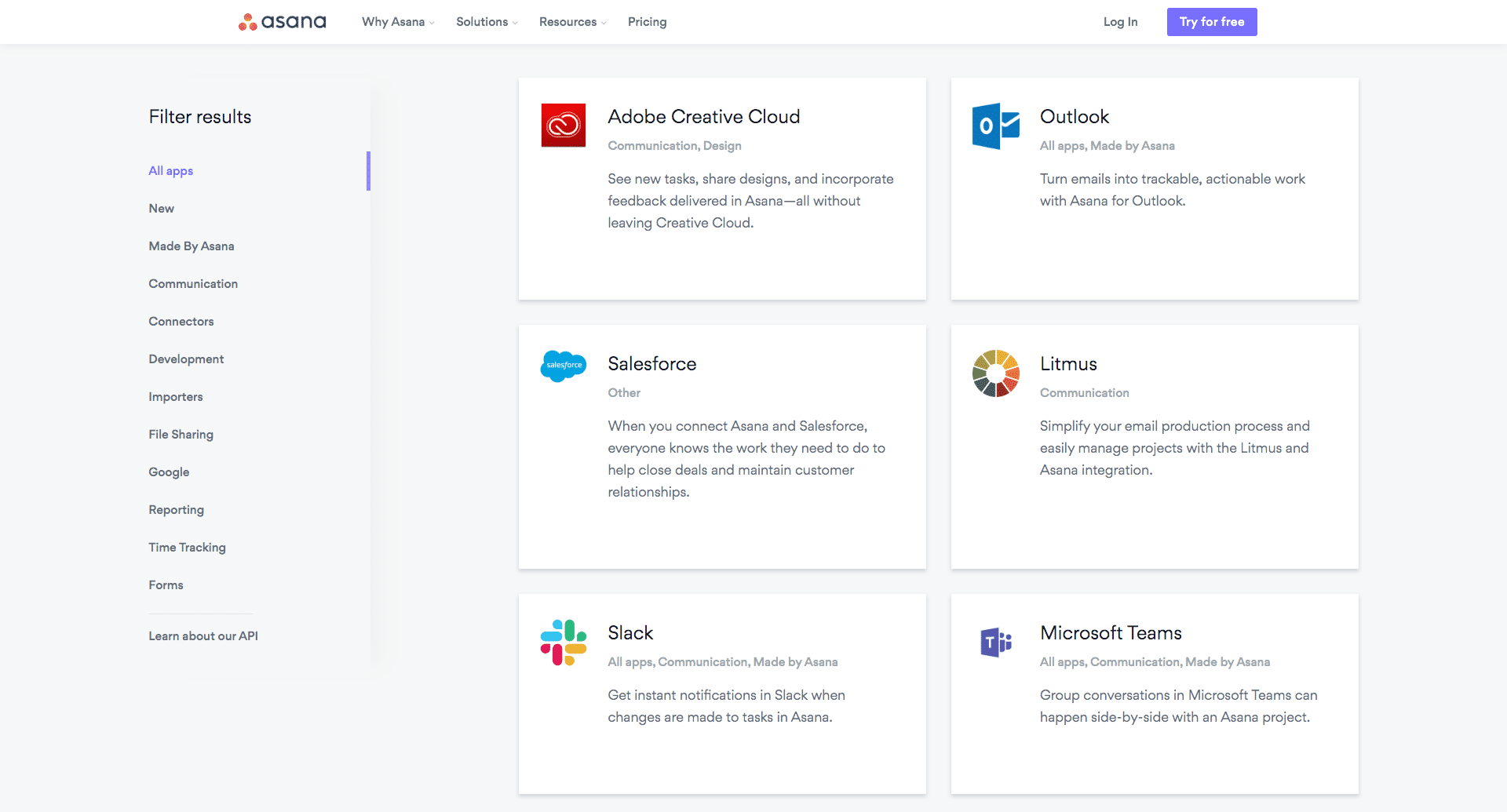 Finally, Asana offers over 100 integrations with other popular tools, including Slack, Google Drive, Zapier… And even Trello!
Pricing
Asana has four pricing tiers:
Free Basic plan. It is best for individuals or teams that are just getting started with project management.
Premium plan. It is best for teams that want to go beyond the project management basics. It costs $9.99/user/month if billed annually and $11.99/user/month if billed monthly.
Business plan. It's best for teams and organizations that need to manage work across several projects. It costs $19.99/user/month if billed annually and $23.99/user/month if billed monthly.
Enterprise plan. It's best for organizations that need additional support, security, and control. You need to contact Asana's sales team if you want to find out the price.
The Basic plan is very, well, basic. It only includes the core features of Asana such as Tasks, List view, Board view, Calendar view, and due dates. You can collaborate with up to 15 people if you go with this option.
Other plans correspond with the needs of a company based on its size: the Premium plan is for small businesses, Business plan is for medium businesses, and Enterprise plan is for large businesses.
You can simply choose a plan that works best for your company based on the size of your team.
What Are Asana's Strengths?
Asana's main strength is its sophistication and granular control over projects.
You have all the features that you might need for managing a large team or several teams that work on a complex project or on several complex projects simultaneously.
It's also ideal for situations where relationships between the tasks that need to be done are not straightforward because it helps you see the big picture.
Who is Asana Best For?
Asana is best for large organizations where several teams are working on multiple complex projects simultaneously.
It's especially valuable for managers who have to oversee projects with a lot of moving parts.
However, if you have a small team, this software might be a bit of an overkill.
Trello vs Asana: Top Differences
The Trello vs Asana debate boils down to simplicity vs complexity. Which is more important to you?
With Trello, you get a simple, intuitive, easy-to-use software which doesn't have much of a learning curve. The downside of this is that this tool might be limited when it comes to really complex projects.
For example, the lack of a proper task dependency system is a big disadvantage when it comes to projects where relationships between tasks are complicated.
Moreover, while you can manage several straightforward projects on Trello, juggling several complex ones at the same time might prove to be difficult using this software.
Trello's versatility can be great because you can use it for pretty much anything you can think of (personal to-do lists, work projects, as a CRM, etc.). However, it also means that it is not as optimized for business project management as it could be.
With Asana, on the other hand, you get sophisticated software that has a variety of features that will make your life easier, especially if you need to manage complex projects and large teams.
You get the Kanban board, so you get the main benefit of Trello, but you also get all the additional features such as Timeline, Portfolios, etc. which can help you manage several initiatives at the same time.
The task dependency system is a huge advantage because it's hard to manage complex projects without it. Of course, there is also a downside, all these features mean that it will take some time to learn your way around the software.
Additional complexity introduces extra fragility. A person making a mistake because they haven't quite figured out the software yet could have a negative impact on the entire project.
This can happen with Trello as well, but it's much less likely since Trello is much simpler.
Trello vs Asana: Which Project Management Software Should You Use?
From the financial perspective, you'd be getting more bang for your buck with Asana.
However, you also need to account for the time investment required to learn to use this software.
It's also important to be cautious of the "more features, better product" trap. What you want is software that gets the job done in the most straightforward way. It might make sense to go with a product that has fewer features if it's powerful enough for your needs.
In short, Trello might be a better option for small businesses with straightforward processes, while Asana works well for medium and large businesses that need extra features to handle the complexity they are dealing with. If you're a remote company, both these tools are perfect to get things done.
Ultimately, it all depends on your particular situation. That's why you might want to consider signing up for both Asana's and Trello's free plans and exploring the products to see which one resonates with you more. Besides these two, there are a lot of additional Trello alternatives available on the market.
Summary
Trello vs Asana: what's the best pick?
Every tool on the market has its strengths and its weaknesses. There's no "perfect" project management software out there. Or, if you want to look at things from another perspective, the best project management tool is the one you'd feel natural using to keep track of your work.
Maybe it's Trello. Maybe it's Asana. Maybe it's something else. What's important is that it works for you and your team.
And to do that, you need to understand what the real needs of your business are and then pick software that meets them.