Kinsta Handles WordPress Caching So You Don't Have To
By Brian Jackson, Updated: October 7, 2017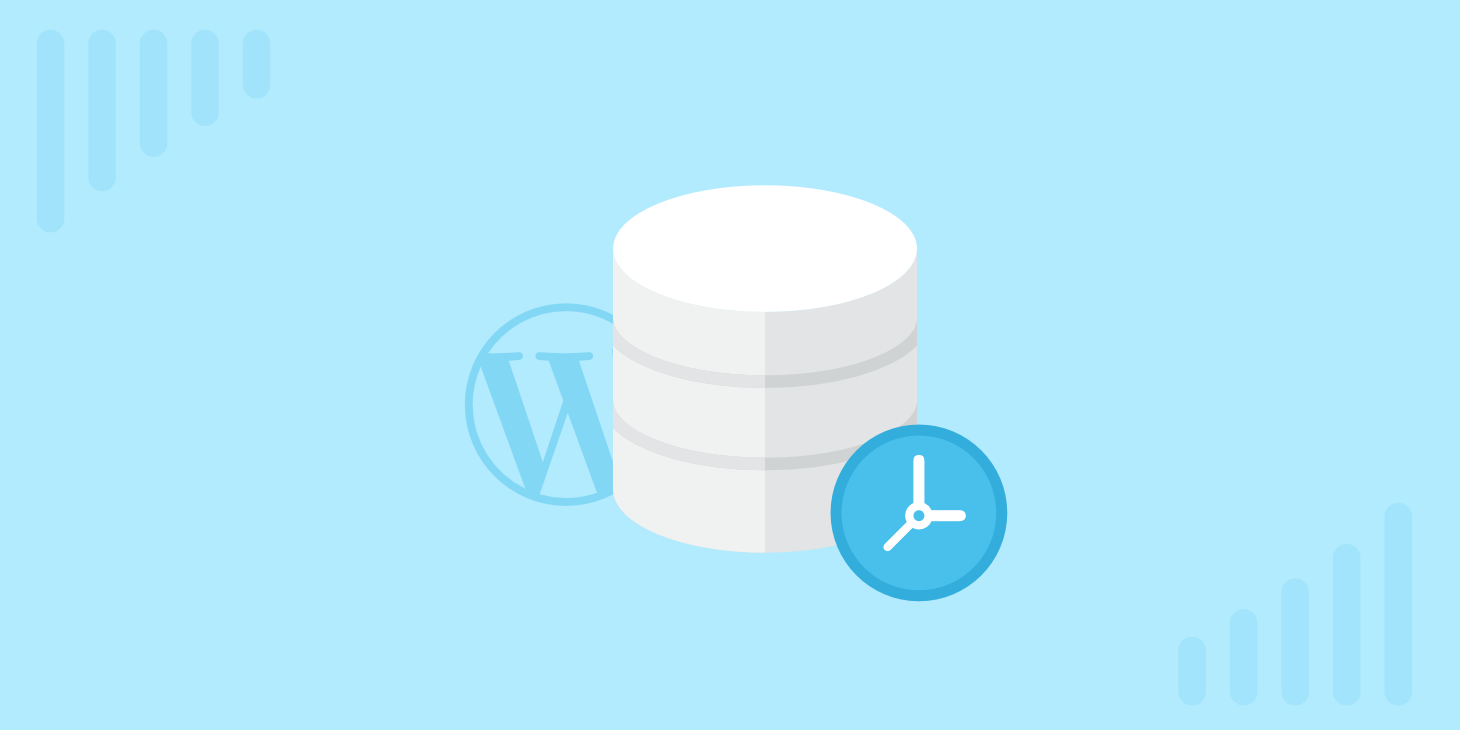 When it comes to web performance, WordPress caching is just one of those things that every site owner has to deal with at one point or another. We love WordPress, but it's definitely not the fastest platform, especially if you compare it to a completely static site. One reason for this is simply because it's built on PHP which can only execute things so fast. We saw some massive improvements with PHP 7, but if you don't properly cache your site it can still come to a crawl. Wouldn't it be nice if you didn't have to worry about figuring out which caching plugin is the best? Well, here at Kinsta, we take care caching for you, so you can focus on growing your business.
No WordPress Caching Plugins Needed at Kinsta
That's right! If you host your WordPress site with Kinsta you don't need to worry about messing with any complicated and confusing caching plugins. That is because we have different types of caching implemented, both object caching and page caching, at the server level. You can finally stop Googling around for the "best caching plugins of 2017" and focus on more productive tasks.
Many of our customers report over 45% decreases in load times simply by migrating to Kinsta. And these are WordPress sites that previously had caching plugins installed. Below is an example of a site that was moved to Kinsta. Before it was getting spikes well over the 1-second range, and after moving to Kinsta (and deleting the caching plugin) it stayed consistently under 500 ms.
There are other variables involved in those load time decreases as well, but caching is a huge part of it. We aren't saying all caching plugins are bad, in fact, many times it is due to the user not configuring the caching plugin correctly, which in turn slows down their WordPress site. Have you ever tried configuring W3 Total Cache? It can get downright confusing pretty quick. And as far as performance goes, don't just take our word for it, check out some of these testimonials from people who have migrated to Kinsta. All of which no longer use caching plugins.
Once again Kinsta delivers the best performance. 1.12s loading time vs 3.16s on Flywheel – 1.3mb unoptimized home page. – Lucian Florian
60%+ drop in Pingdom load times for Voompla after move to Kinsta + Cloudflare CDN + site optimization! – Palash Bakshi
I switched to Kinsta from HostGator/MaxCDN and my website is now 2-4X faster. Good stuff, recommended! – Rick Ramos
We demanded sub 700 ms and they delivered! – Raphael Locsin
The speed of Kinsta hosted websites is scary. In a good way. – Zé Fontainhas
Object Cache
The first type of caching we use here at Kinsta is known as object caching. Object caching is an internal caching system that was introduced by WordPress to store data from the database in PHP memory. This increases your database efficiency by reducing the number of database calls. The problem is though that these objects by default are non-persistent, meaning the objects are only cached until the end of the request.  And that is where a backend system like Memcached comes into play. We utilize this at Kinsta to allow for persistent database objects which are stored in RAM. This speeds up PHP execution times and again, reduces the load on your database.
WP Tavern has a great article on persistent object caching if you want to learn more. Object caching is available if you are using HHVM hosting, which can easily be selected in the MyKinsta dashboard.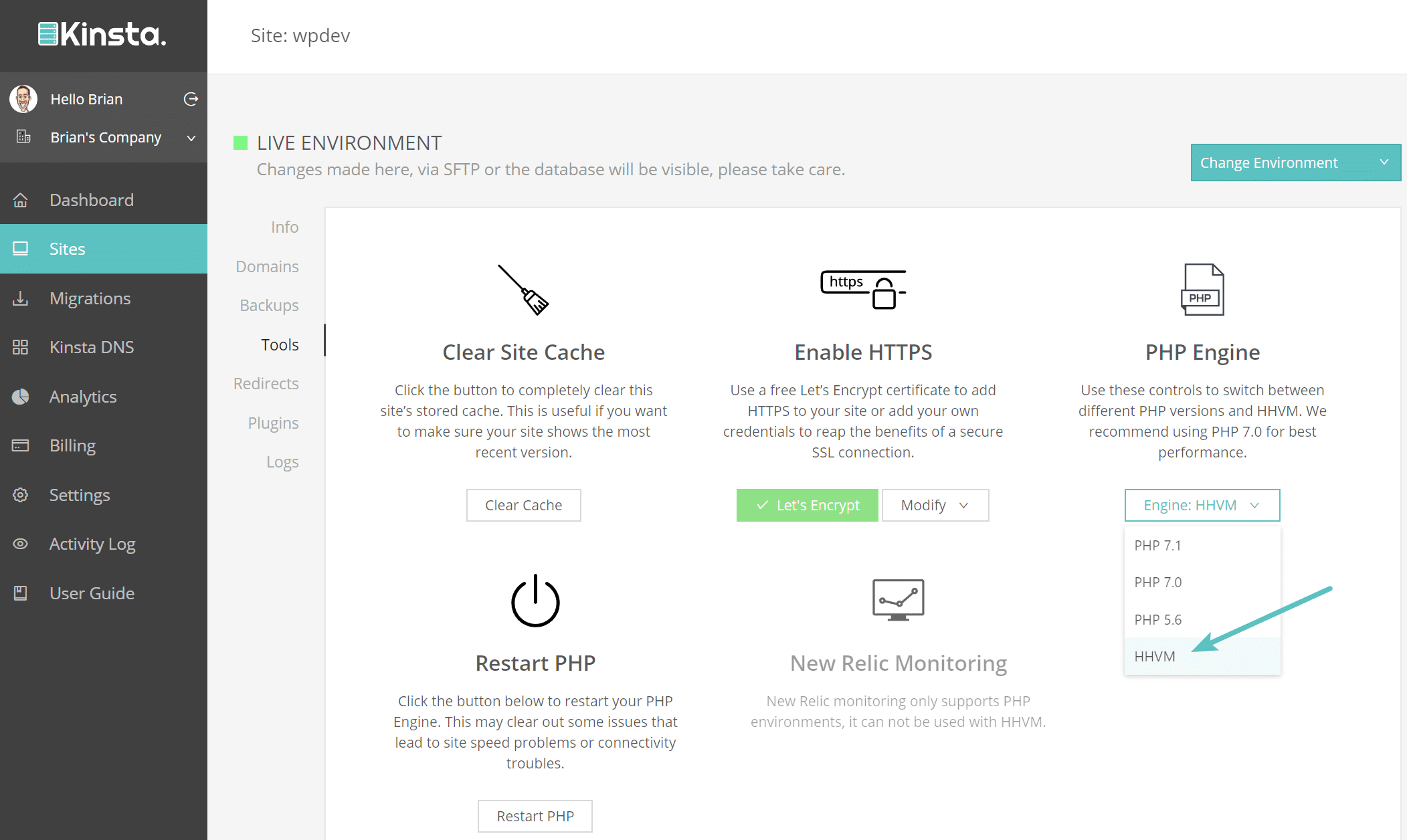 Page Cache
The second type of caching we use is full page caching. Where object caching deals with database caching, page caching deals with how the HTML content of your webpage is cached. Basically, when a visitor hits your site for the first time, PHP and the database generate your HTML content on the page. On this first request, a copy of this HTML content is also stored in cache on the server. Each subsequent time a visitor requests it, the system no longer needs to generate it again, rather the page is served from cache.
Page caching at Kinsta is handled by NGINX and is set to expire every 1 hour by default. However, customers can contact us if they need to increase or decrease this duration. We will dive into how to take more control over your page cache further below.
Kinsta Cache Response Header
You can test to see if your page is being served from Kinsta cache by looking at your HTTP response headers. Kinsta adds a X-Kinsta-Cache header. Upon first request to a non-cached page, it will display "MISS," as seen below.
Upon the second request to the same page, the X-Kinsta-Cache header value will show "HIT," meaning it is being served from cache.
And if you read our article on scoring 100/100 in Google PageSpeed Insights, you will know that Kinsta also has additional server level optimizations to automatically fix the following warnings you might be familiar with:
Enable Compression (Kinsta already has Gzip enabled on all servers, no need to enable)
Reduce server response time (Kinsta is already blazing fast, already well within Google's acceptable parameters without any optimizations)
Expires Headers (No need to enable because Kinsta has caching headers enabled at the server-level)
For example, our test site scores a 100/100 on PageSpeed Insights without any caching plugin enabled. The WordPress caching is all handled by Kinsta at the server level.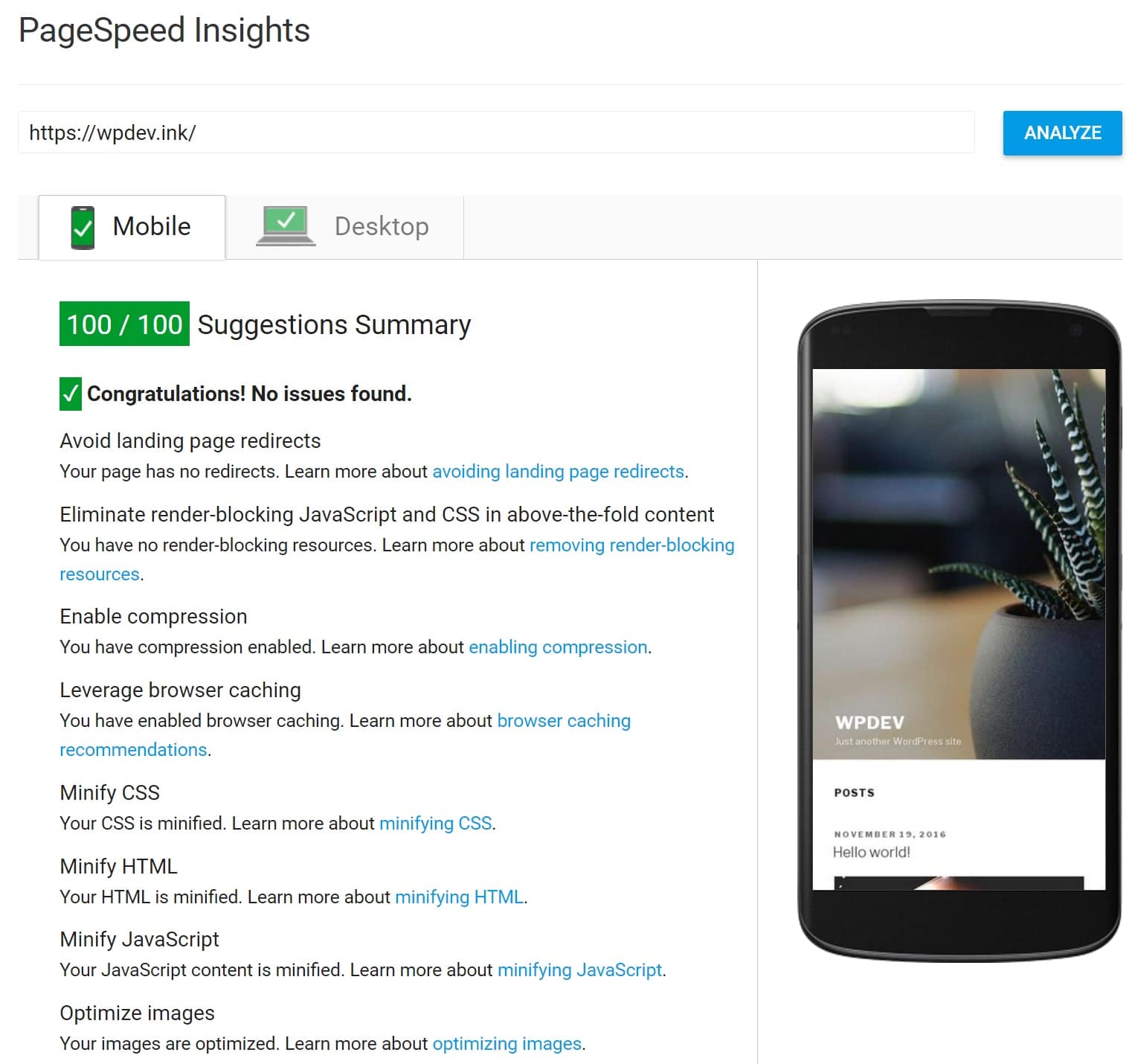 Kinsta Cache Settings
You might be wondering now, how to control the cache at Kinsta. There will be times of course when you need to clear it, especially when troubleshooting. You have a couple of easy options. You can clear your cache from both the My Kinsta dashboard, or utilize the Kinsta cache plugin.
Clearing WordPress Cache
To manually clear your full page cache, you can do so from within the My Kinsta dashboard. Simply click into your site, click into tools and click on the "Delete Page Cache" button.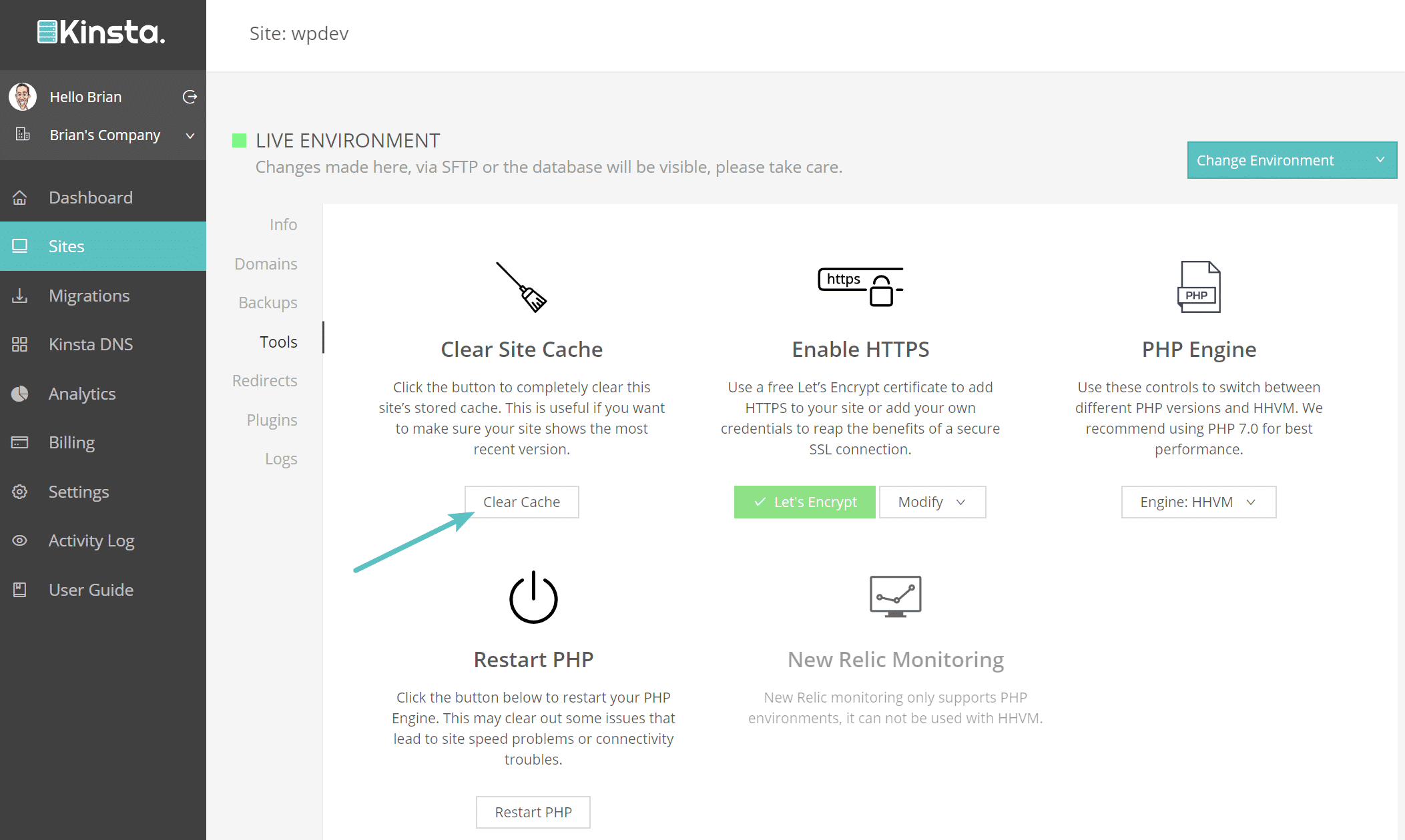 Kinsta Cache Plugin
The second option you have is to use the Kinsta cache plugin. What? Yes, technically it is a cache plugin, but it is not your typical caching plugin, as it works on a server level. The Kinsta Cache plugin was developed in-house and is installed by default on all Kinsta hosted sites. It allows you to clear your object cache, page cache, and automate the clearing based on certain activities, such as when you publish a new post. The plugin is not required, however, we do recommend it if you need more granular control over your caching. Also, remember that the page cache expires every 1 hour by default.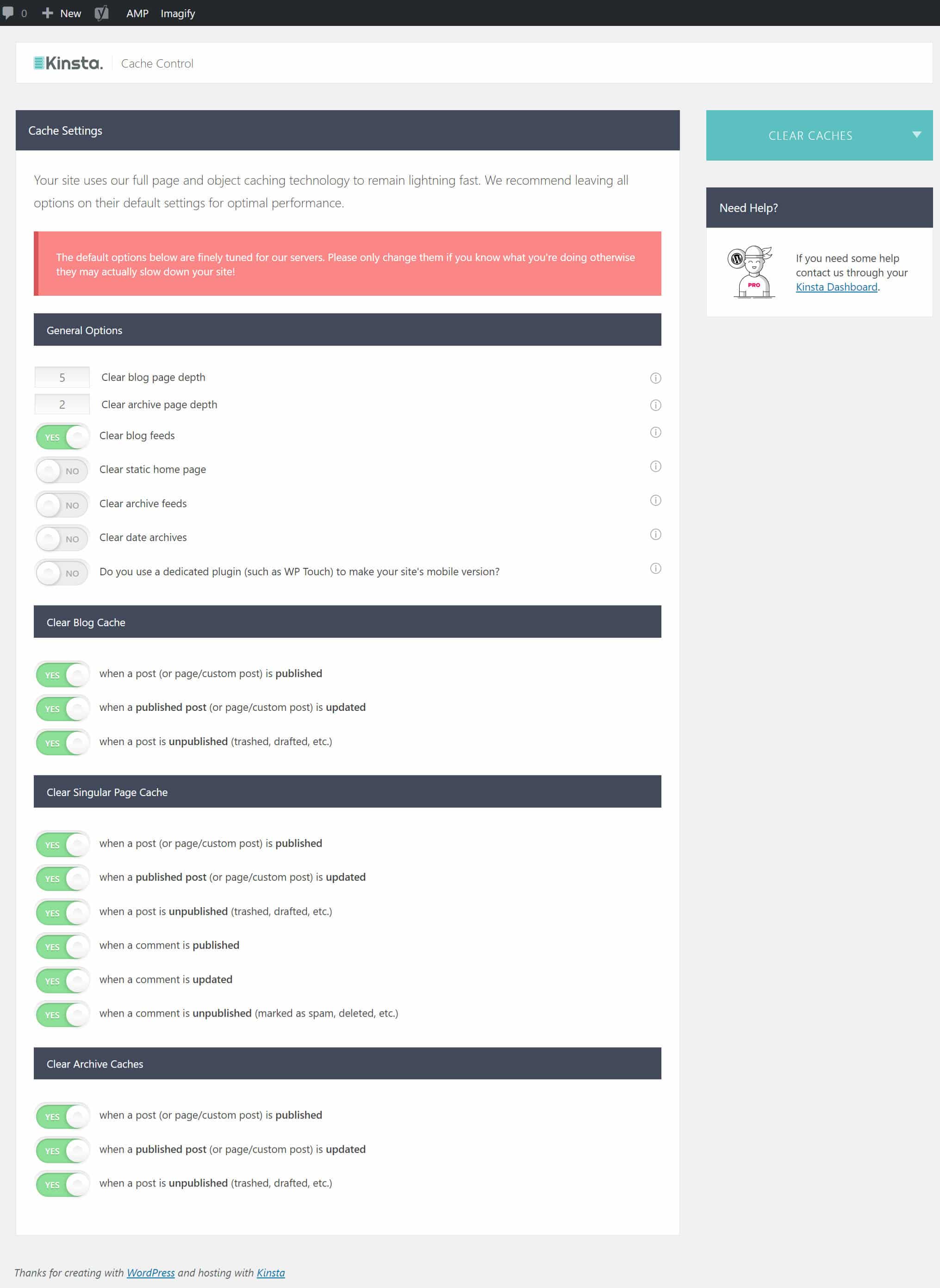 The plugin also allows you to purge the cache right from your WordPress admin bar. This would probably be one of the biggest reasons to use it, as you won't have to jump over into the My Kinsta dashboard. You can do it right from your site.
Summary
If you are tired of messing with typical WordPress caching plugins and simply want a fast site right off the bat, we recommend you give Kinsta a try! There is a reason we have been awarded "top tier" status in WordPress performance 3 years in a row by ReviewSignal. And that is because our servers are fine-tuned on top of Google Cloud Platform for lightning fast load times. You won't be disappointed in our performance.