Best Free Website Speed Test Tools for WordPress Users
By Shaun Quarton, Updated: April 4, 2017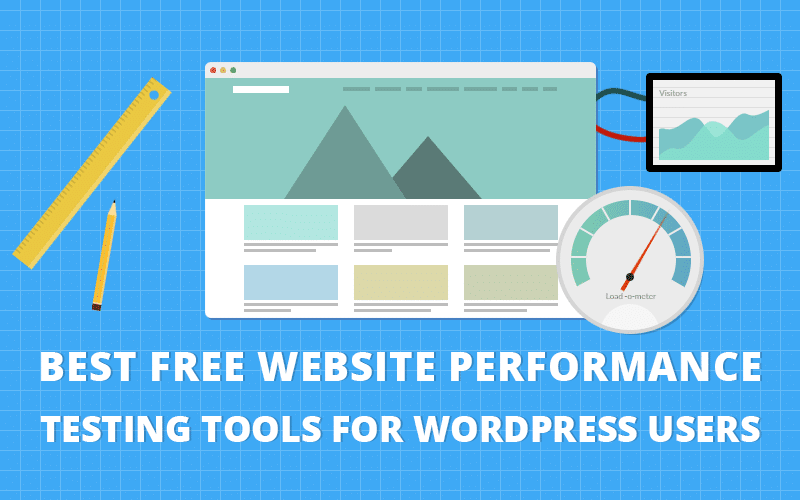 Today we want to share with you some free website speed test tools. Why is speed so important? Well, because Google says so for a start – site speed is a significant factor in Google's algorithm, so fast-loading websites can expect to rank higher in the SERPs and attract more visitors.
Then there are the user experience considerations – if a site loads quickly, visitors are more likely to stick around, read your content, and, ultimately, convert. In other words, a lightning quick website unlocks all the good things that webmasters crave.
However, we're not here to talk about how to make your website faster – we've covered that extensively already. We are here to share with you some tools so that you can tangibly measure your site's speed and track any improvements.
What's the optimal load time that you should be aiming for with these tools? Well, the faster the better, but most experts suggest that around two seconds is a good target.
Website Speed Test Tools Index
1. Pingdom
Pingdom is a market-leading website monitoring service, best known for its free website speed testing tool. The speed testing tool displays all of your site's requests in a waterfall view. You can filter by load order, file size, and load times, giving you different perspectives for identifying potential improvements – it also lists total requests, load time, and page size.
Pingdom also gives you a speed performance rating, scored out of 100. This rating is broken down into twelve criteria, with each given an individual score. Again, this is helpful for identifying the "quick wins" you can target to make instant, tangible improvements to your site's speed.
Helpfully, Pingdom stores the results of all tests performed on your website, allowing you to track speed improvements over time. Make sure to also check out our in-depth guide on performing a waterfall analysis with Pingdom.
2. Google PageSpeed Insights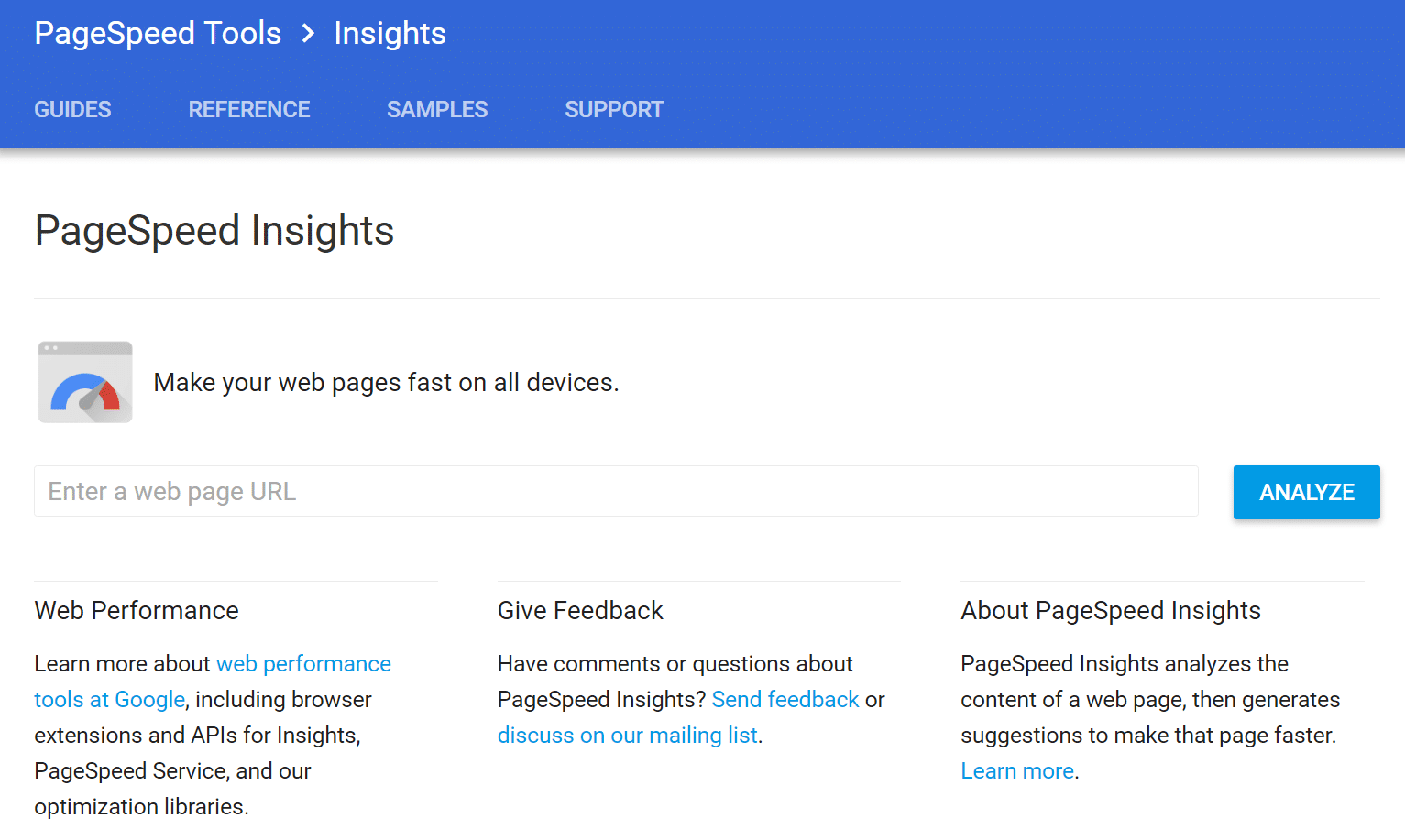 Google has long stated that page speed is an important ranking factor for SEO. To help you improve your site's speed, Google has released its very own speed testing tool – Google PageSpeed Insights.
The tool analyzes your site's performance on desktop and mobile devices – the latter is especially important with Google's push for mobile-friendly websites.
PageSpeed Insights will score your performance out of 100, as well as displaying a useful breakdown of the steps you can take to improve performance. PageSpeed Insights also provides you with additional user experience suggestions for mobile devices.
If you care about elevating your website to the top of the SERPs, it pays to listen to what Google recommends. Check out our in-depth tutorial on how to fix that stubborn leverage browser caching warning.
3. YSlow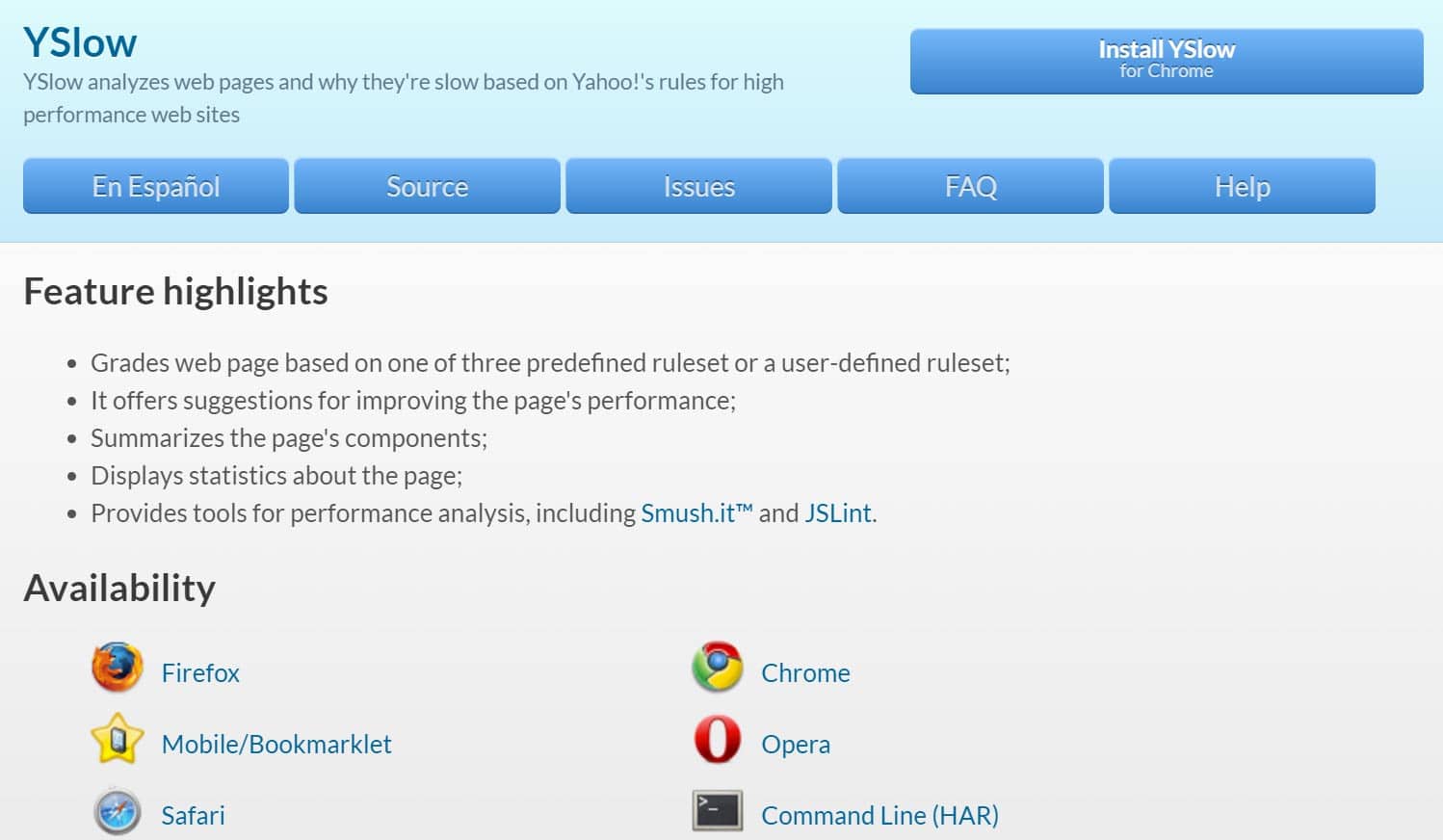 Next up, Yahoo!'s page performance tool, YSlow. The tool requires installation as an add-on for your browser, but is completely free to use – and most popular web browsers are supported.
The Yahoo! team has identified 34 factors that impact a website's speed. Unfortunately, only 23 can be tested quantitatively, and so the tool focuses its analysis on these areas – the YSlow website lists these 23 "rules" with extended details, which are well worth checking out.
With the analysis complete, YSlow will grade you for each area – scored from A to F. This makes it super-easy to spot your weaker areas, which you can target for the biggest steps forward in terms of site speed.
4. GTmetrix
GTmetrix is another popular speed analysis tool, and arguably the best-known of all the Pingdom alternatives.
The tool provides comprehensive analysis by combining the performance and recommendations provided by Google PageSpeed Insights and YSlow. This means that GTmetrix is effectively a one-stop-shop for all of your speed optimization needs.
To ensure that your top-level data is easier to digest, GTmetrix displays a summary at the top of the page, listing your total page load time, page size, and number of requests.
The tool also displays a list of your requests in a waterfall chart, enabling you to identify problem areas and bottlenecks with ease. The waterfall chart can be downloaded, too, so that you can perform further analysis.
5. KeyCDN Website Speed Test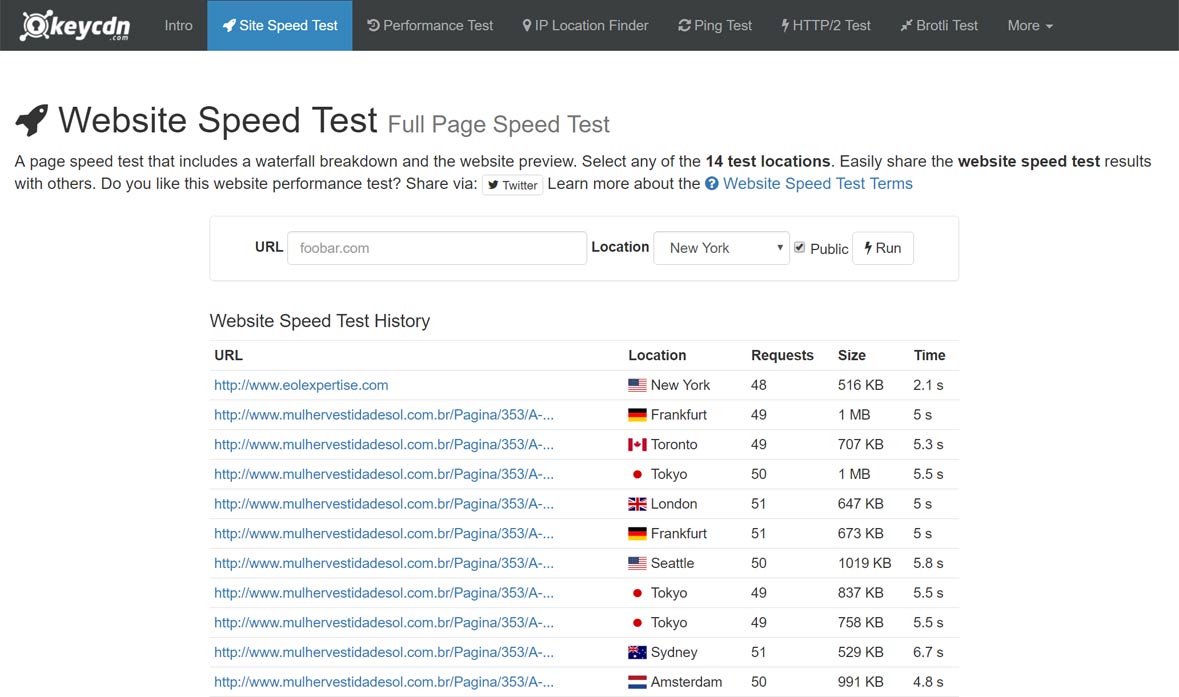 KeyCDN's free website speed test tool provides an incredibly fast and easy way to determine the overall speed of your WordPress site. The simple page speed test includes a waterfall breakdown and a website preview. You can select from 14 different test locations, strategically located around the globe, in order to better determine the overall download time of your assets from that physical region.
You can run both a private and public test in which you can then later share or bookmark for future reference. The breakdown report shows a great overview of the request methods (GET/POST), HTTP status codes (such as 200 OK or 404),  file types, content size, wait/receive time, total download time, and the overall number of HTTP requests generated on your site
KeyCDN also has other free web performance testing tools such as Ping Test, HTTP/2 Test, HTTP Check, and Traceroute Tool.
6. Web Page Analyzer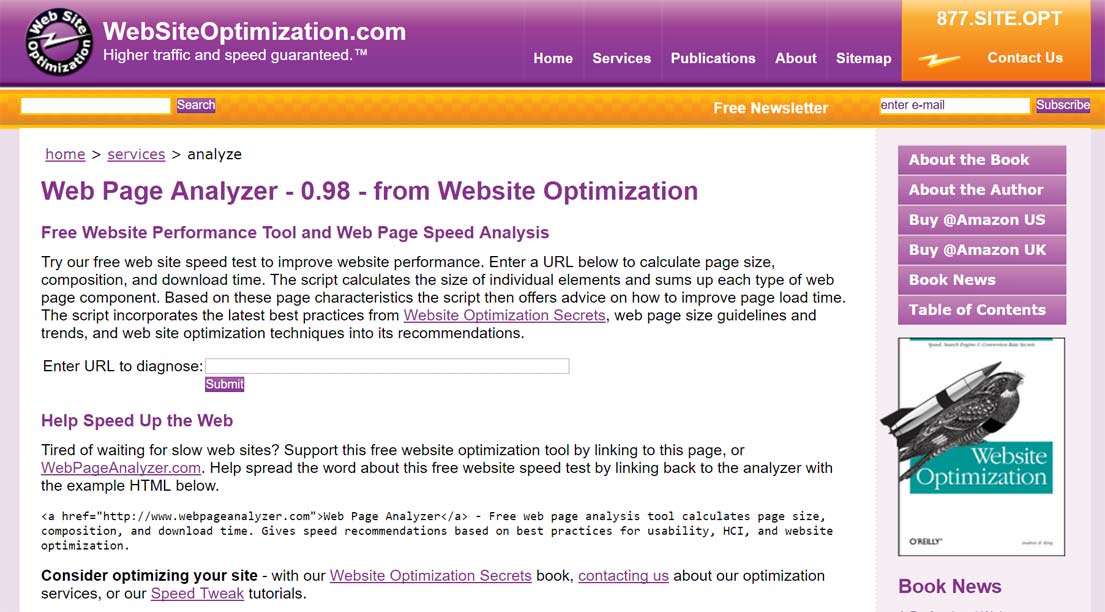 The Web Page Analyzer is a highly recommended free tool for analyzing your site's speed, size, and composition.
More specifically, the tool will tell you how long your website takes to load for different connection speeds, and also sums the combined size of the different types of on-page site elements. If you like your data detailed, the Web Page Analyzer tool breaks your site into its individual components, displaying the size and a comment for each.
At the bottom of the analysis, the tool provides comments and recommendations on 11 specific aspects of your site's performance – including telling you the areas where you perform well.
7. Load Impact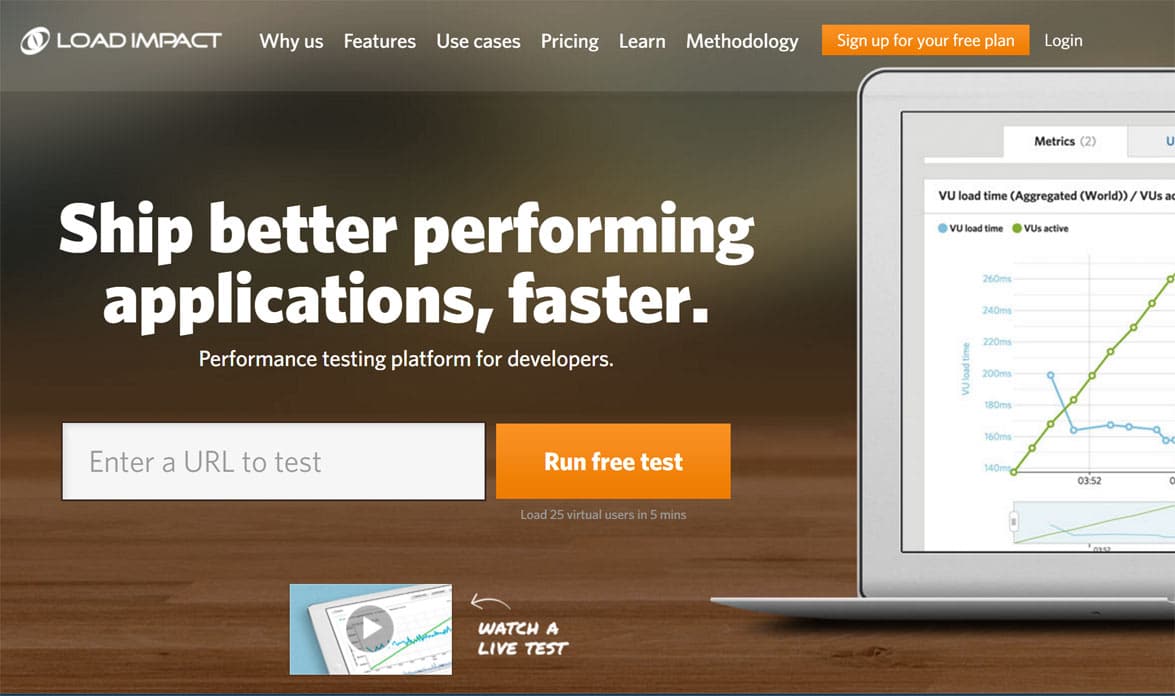 Load Impact is one of the best tools out there for testing how scalable your website is. They offer a free website performance test, analyzing the consequences of having 25 concurrent users on your website and the impact this modest traffic has on site speed.
Load Impact displays a handy graph, demonstrating how your load time changes when more users visit your website. To ensure your site caters to a truly global audience, Load Impact will also send virtual users to your website from different locations.
Want more? Load Impact conveniently displays top-level statistics such as bandwidth usage, requests made, and number of requests per second.
If you want extra data, considering upgrading to one of Load Impact's premium plans – this allows you to test the impact of far greater volumes of concurrent users. The premium plans are available from $89/month.
Final Thoughts
If you're trying to speed up your website, it makes sense to use a tool that measures whether your changes have the desired effect – and if so, by how much.
All six of the tools in today's post will help with that: they will provide you with the all-important top-level performance stats, such as load time, website size, and total requests.
If a lightning quick website is your priority – and it should be! – make sure you're using at least one of these tools to quantitatively measure your speed optimization strategy.
Related article: Identify And Analyze External Services On Your WordPress Site
What tools do you use for measuring website speed? Share them in the comments below!