Bluehost is one of the most popular (and budget-friendly) web hosting services out there. Over two million websites use Bluehost's plans to function. However, despite being such a common choice, Bluehost is not without its downsides. For instance, many users report relatively poor performance.
The good news is that if you're not happy with your web host, you can always change providers. As long as you're not locked into an extended contract, you might even be able to switch web hosts without losing any money. Moreover, migrating a website from one web host to another is easier than you might think.
In this article, we're going to talk about some of the pros and cons of using Bluehost. Then, we'll show you how to cancel your account and answer some common questions about the process. Let's get to it!
Bluehost Drawbacks (Why You Might Want to Cancel)
When you're choosing a web host, one of the first things that you'll probably want to do is check its reviews. These user reviews can reveal information that you wouldn't otherwise find out until after you sign up and start using the hosting provider. That's not ideal as a lot of web hosts only offer the best possible rates if you lock yourself into multi-year contracts.
Bluehost reviews are relatively mixed. The web host has a score of 3.6 out of 5 in G2, which is one of our preferred platforms for looking up reviews and aggregated scores:

Once you start looking at Bluehost's individual reviews, you may start to notice some common themes pop up. Some of the typical complaints among Bluehost users include:
Poor website performance
A not-so-great support service
A poor hosting control panel User Experience (UX)
Putting those drawbacks aside, it's important to note that a lot of users do have positive experiences using Bluehost. One of the main reasons why this web host is so popular is that its hosting plans are among the cheapest on the market. For WordPress hosting, you can find prices starting at $2.95 per month: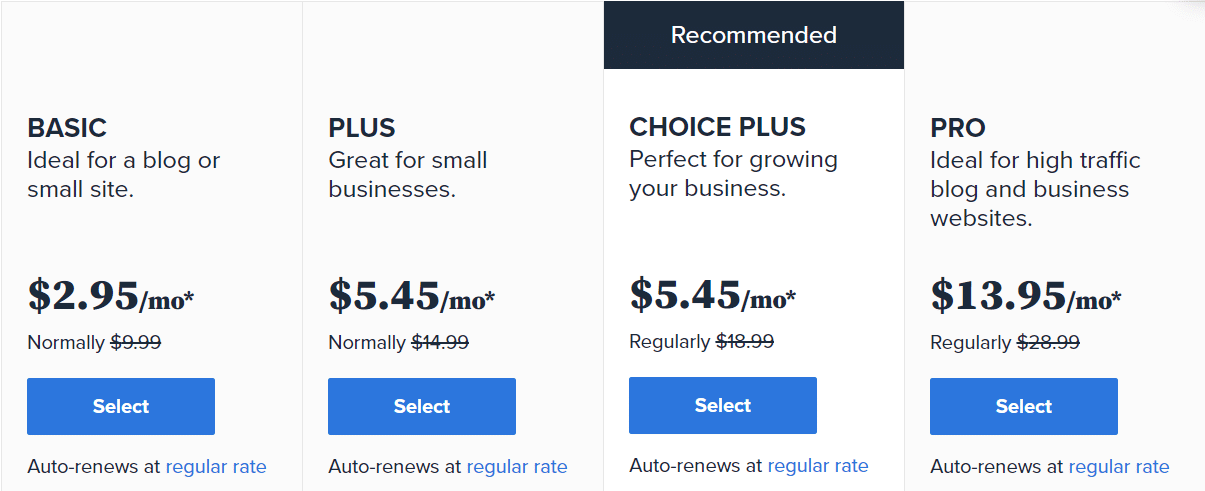 As you might expect, those prices go up when your contract renews. Therefore, you're incentivized to choose a longer hosting contract upfront to save money. However, you can only request refunds within 30 days of signing up. That means if you take a while to figure out that you're not happy with Bluehost's services, it might be too late to get your money back by then.
How To Cancel Your Bluehost Account
Another downside of using Bluehost is that you don't have access to an option to delete your account from the hosting control panel. In order to delete a Bluehost account, you'll need to reach out to its support team. You can do this via phone or chat support.
When you get in touch with a support specialist, you'll need to tell them that you want to delete your account and confirm that you understand what that means. Deleting your account means you won't be able to access the account itself or any connected services. Those services might include:
Hosting plans
Domain registration
Any websites that you host using Bluehost will automatically be deleted. So, before you cancel your account and permanently delete anything, it's essential that you backup website files or migrate your entire site(s) to a new web host. In some cases, hosting providers will offer migration services for new customers, so be sure to check if yours does.
As far as email and domains go, you won't lose ownership of either of them. If you used Bluehost to register your domain, that doesn't mean they own it. You can transfer the domain to another registrar at any point, and obtain email hosting through your new provider or a third-party service.
Keep in mind that canceling your account doesn't entitle you to a refund from Bluehost. You'll need to request refunds for hosting services separately, and you can only do it up to 30 days after signing up.
If you don't want to lose your hosting plan while you still have time left on it, you may want to disable renewal for it. That way, you're sure not to get trapped in another lengthy contract.
To do this, access your Bluehost hosting control panel and go to the Products tab. Inside, you'll be able to disable renewal for specific products.
Bluehost Cancellation FAQs
If you still have any doubts left about terminating your Bluehost account, this section will help clear things up. Let's take a look at some of the most frequently asked questions about how to cancel Bluehost.
Can I Get a Refund for My Bluehost Account?
You can get a refund for your Bluehost account if you request it within 30 days of signing the hosting contract and making the payment. After 30 days, Bluehost doesn't offer any refunds for their services.
If you do qualify for a refund, and you paid by credit card, Bluehost will issue the refund directly to that card. However, it can take up to ten business days to be processed. If you paid via PayPal, Bluehost should be able to process the refund immediately.
What Happens When You Cancel a Bluehost Account?
When you cancel a Bluehost account, you lose access to the account and all of the services connected to it. Deleting an account is final, so you won't be able to recover access if you change your mind. To start using Bluehost again, you'll need to create a new account and pay for the services that you choose.
Since canceling Bluehost is final, you'll want to make sure that you migrate all of the assets that you want to retain access to beforehand. That means migrating your website to another provider, transferring any email addresses that you created with the web host, and moving your domain(s).
How To Migrate from Bluehost to Another Web Host?
Most reputable web hosts offer some type of migration assistance. For instance, when you sign up with Kinsta, we'll help you migrate your website over to our servers at no cost.
If your web host doesn't offer help moving your website, there are plenty of fantastic migration plugins that you can use to simplify the process. Furthermore, some of them even work with WordPress multisite. However, moving a website can be a challenge, so you might want to research some migration tips to avoid downtime and minimally disrupt your site's visitors.
What Web Host Should I Use for WordPress?
Managed WordPress hosting is the option that we recommend for most WordPress websites. There's a misconception that managed hosting is just for businesses or larger websites, due to high costs. The truth is, there are plenty of managed hosting providers that offer accessibly-priced plans that are ideal for growing websites.
What's more, budget WordPress hosting is almost never a good choice, and neither is free hosting. In most cases, low-cost hosting options increase prices dramatically when you renew the service. This means you don't actually end up saving much money in the long run.
If you choose to use Kinsta, you get access to a broad range of plans starting at reasonable costs. Moreover, all our plans use our native control panel, MyKinsta, so you don't have to worry about any additional setup. This makes managing your websites and domains straightforward, right from the get-go. We'll also help you configure your website and ensure peak performance with our APM Tool.
Summary
Every web hosting provider offers a different experience and level of service. With budget hosting options, there's usually a tradeoff between price and performance. Bluehost offers some of the cheapest WordPress hosting plans on the market, but it doesn't get the best reviews from its customers.
If you're interested in canceling your Bluehost account, you'll need to reach out to its support team via phone or live chat. Before you cancel Bluehost, remember to migrate your website, email addresses, and associated domains (if you manage them from the web host).
At Kinsta, we can help you migrate from Bluehost at no cost. We offer free migrations with every WordPress hosting plan. Check out our offers to see which plan works best for you!