What words come to mind when you think of iconic brands like Uber and Instagram? Maybe you think of "fast" and "affordable" for Uber, or "share" and "friends" for Instagram.
The associations we have with brands may seem benign, but they are vital for brands to succeed in the long term.
What a customer associates your brand with influences how they interact with your company. If the association is positive, they may make repeat purchases or recommend you to a friend. If the association is negative, they may avoid your brand or opt for a competitor.
To control how consumers view your brand, you need to position your company correctly.
Naturally, it would help if you had a strong positioning strategy to build loyal customers long-term. This article will teach you what a positioning strategy is and how to create one.
Let's dive in.
What Is a Brand Positioning Strategy?
A positioning strategy helps you outline how you want customers to perceive your brand. Essentially, it outlines the "thing" your brand is known for.
Though we often associate brand positioning with marketing, your positioning strategy influences many aspects of your business. This includes sales, customer service, customer relations, and order fulfillment.
There are many advantages to developing a positioning strategy, as it can help you:
Shape your customer experience
Make sure the content you produce aligns with your brand's visions and goals
Build brand recognition
Design a high-quality marketing strategy
Market your brand
Craft a recognizable public presence
Create a niche for your brand
Showcase your competitive advantage
Like anything branding-related, these advantages only apply when the positioning strategy is effective. Effective strategies generally consider customers' desires and needs carefully. Additionally, they account for the brands' strengths and weaknesses and outline their competitive differentiation.
Many brands share their positioning strategy through a 10–50 word positioning statement. These are like a mission statement, except a mission statement answers the question, "Who are we?" While a positioning statement answers the question, "What do we do?"
We will dive deeper into developing a positioning statement in the "How To Design a Positioning Strategy" section.
Want to take your business to the next level? 📈Get started with this guide to brand positioning 🚀Click to Tweet
Positioning Strategy Examples
While we don't know precisely how each brand positions itself internally, you can see most brands' strategies from their marketing.
To conceptualize how a positioning strategy looks, let's analyze five branding examples from well-known brands.
1. AirHouse
AirHouse is a logistics platform that helps people organize and manage product shipping.
If you look at AirHouse's homepage, you can see that the brand positions itself to cater to retail and ecommerce businesses that ship products to customers.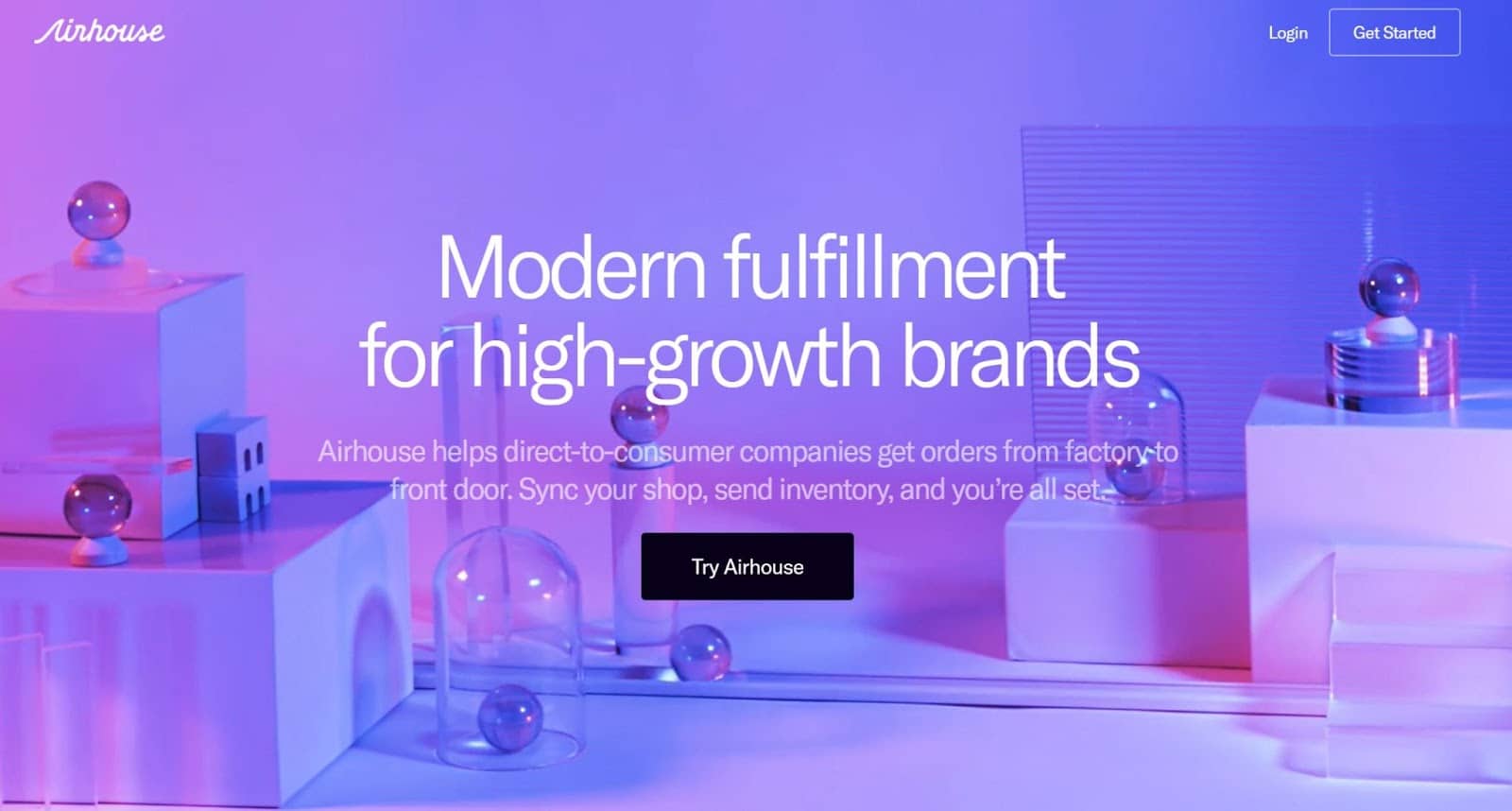 The marketing on this page also tells us that:
AirHouse prides itself on providing a fast and easy experience
AirHouse can help brands increase order fulfillment scale
AirHouse's "thing" is providing a cloud-based solution that syncs your fulfillment data in real-time
2. Slack
Slack is a professional communication and chat tool designed for teams. Looking at Slack's homepage, you'll see that Slack positions itself as a "digital HQ" for companies.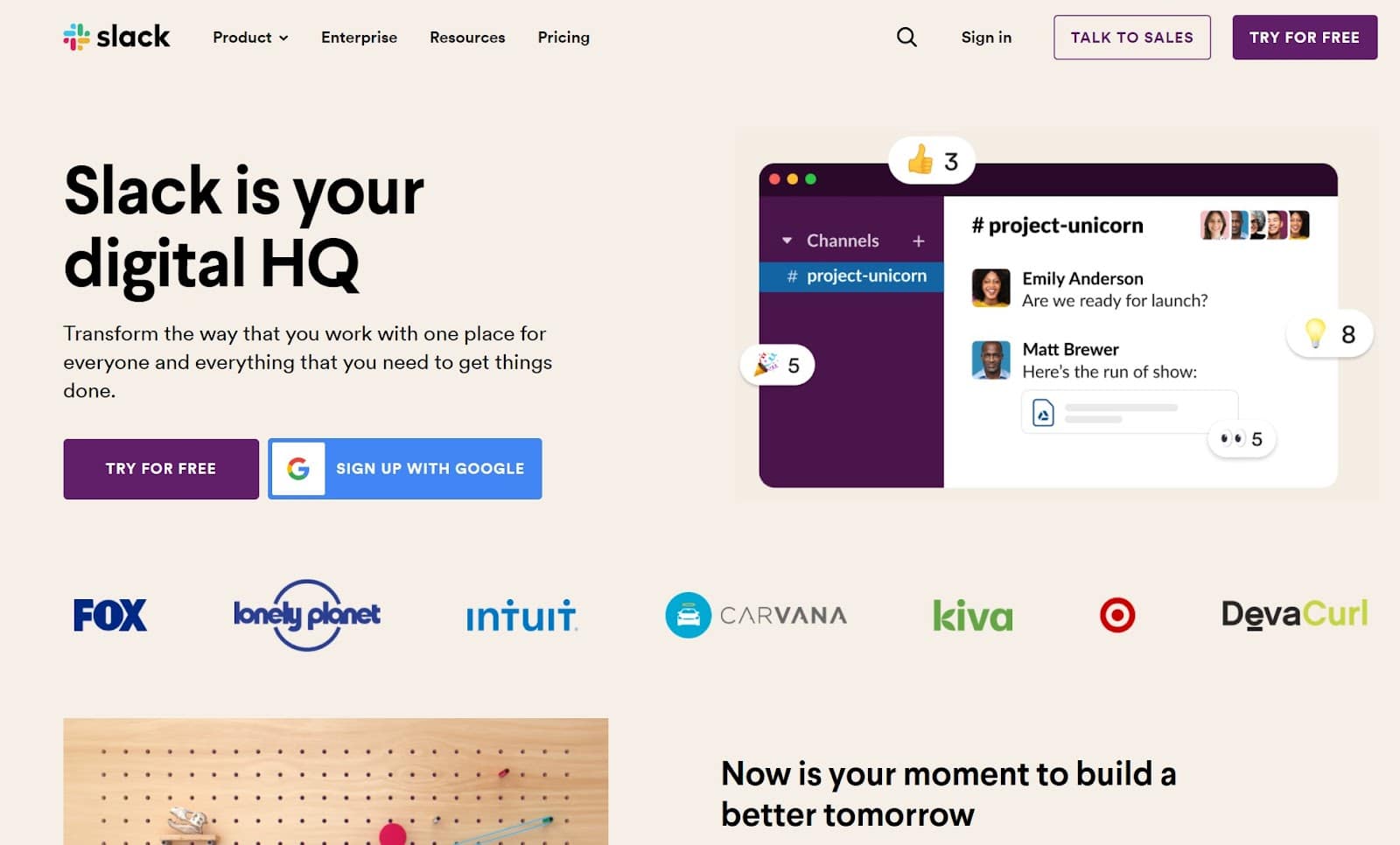 Additionally, Slack markets itself as:
A trusted brand, as the homepage mentions that Fox, Lonely Planet, Intuit, Carvana, Kiva, Target, and DevaCurl use Slack
A tool for the future, as Slack uses phrases like "build a better tomorrow" to describe what you can do with Slack
A tool that's compatible with Google, as Slack prompts visitors to "sign up with Google"
3. RingCentral
RingCentral is a cloud communications company that offers voice, text, fax, and conferencing solutions for small, medium, and large businesses.
If you look at RingCentral's homepage, you can see that the company positions itself as an all-in-one provider that prioritizes getting customers "connected."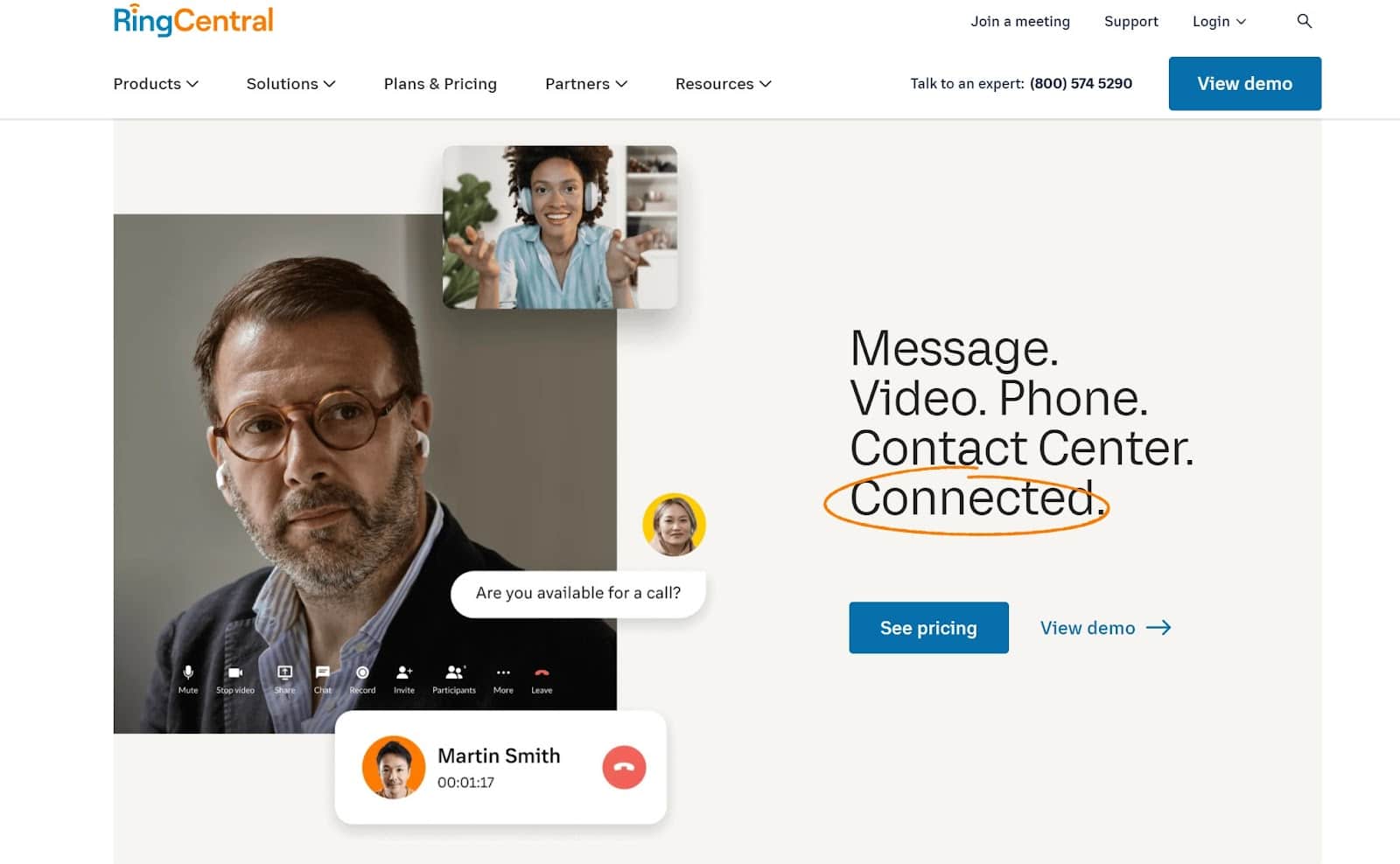 Scrolling down on RingCentral's homepage also shows that the company sets itself apart from competitors by offering 24-hour support with "fast resolution," professional services with "quicker ROI," integrated solutions for "accelerated business growth," and real-time analytics that provide "business-driving insights."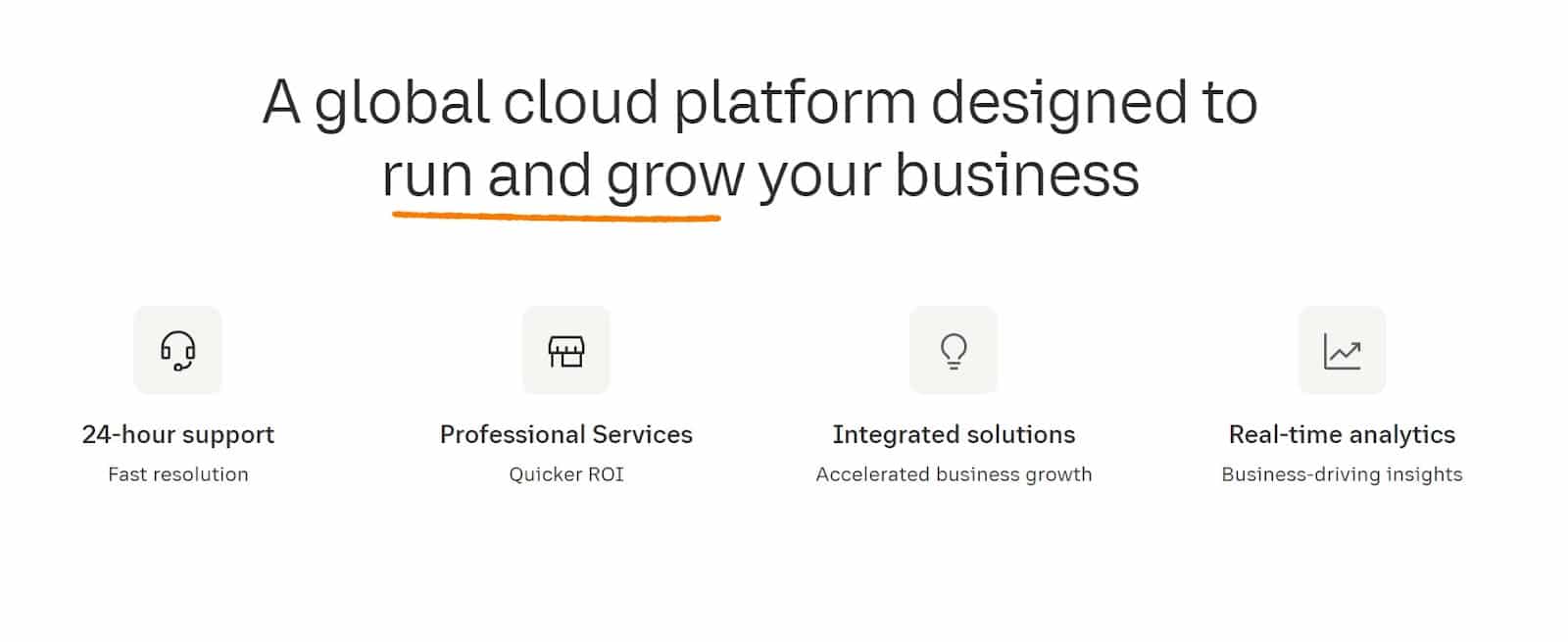 4. Honey
Owned by PayPal, Honey is a browser extension that collects discount coupons for popular websites and automatically applies them to users' transactions.
Honey's marketing is built on social proof that the extension is trustworthy. This proof includes the statements that Honey works on "30,000+ sites," has "167,000 Chrome Store reviews," and serves "17 million members and counting."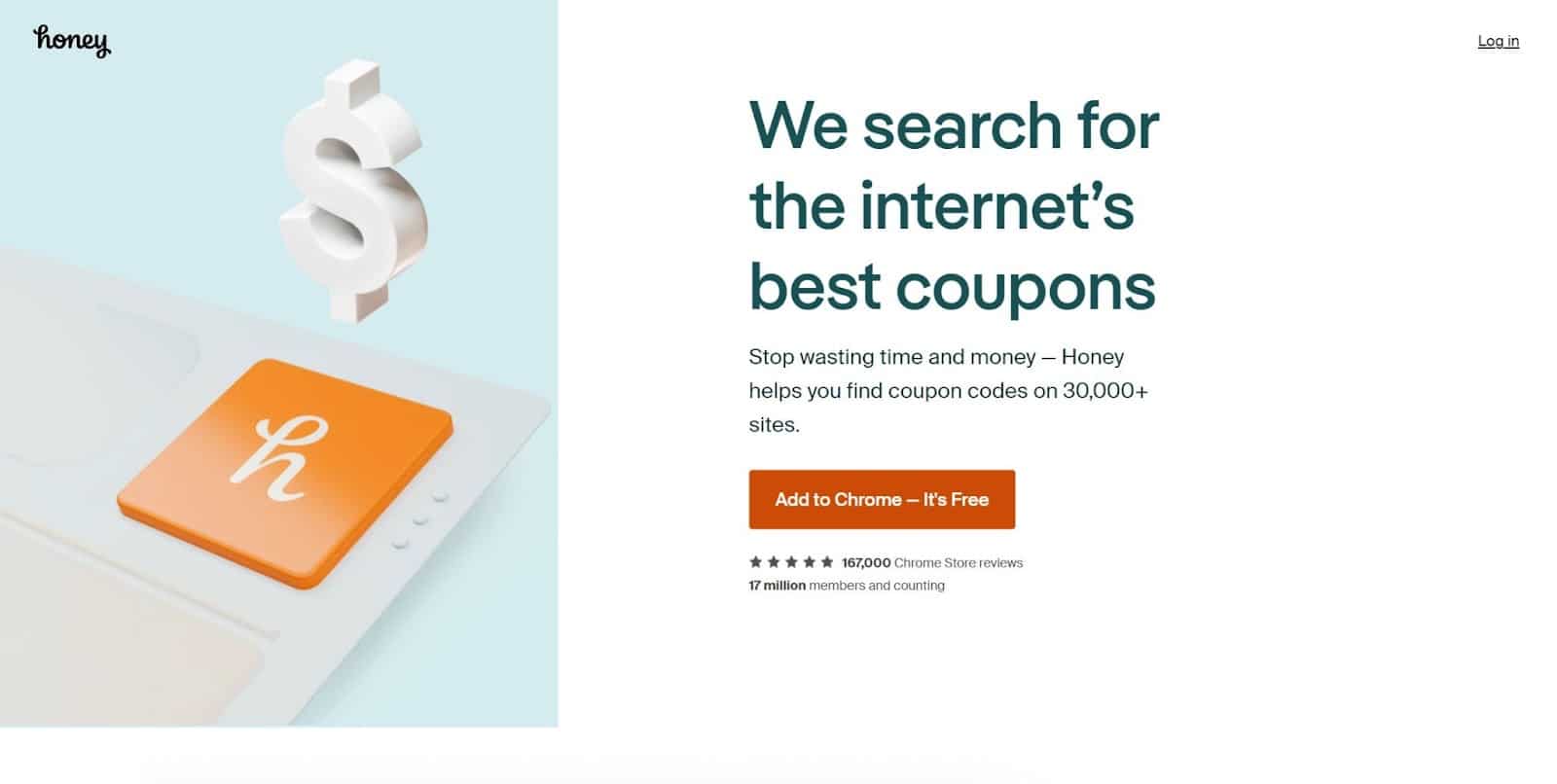 If you look at Honey's Facebook page, you can also see that Honey positions itself like a friend to customers with language like "shop smarter, together" and "join Honey." Honey's customer service email, "[email protected]," also uses this positioning.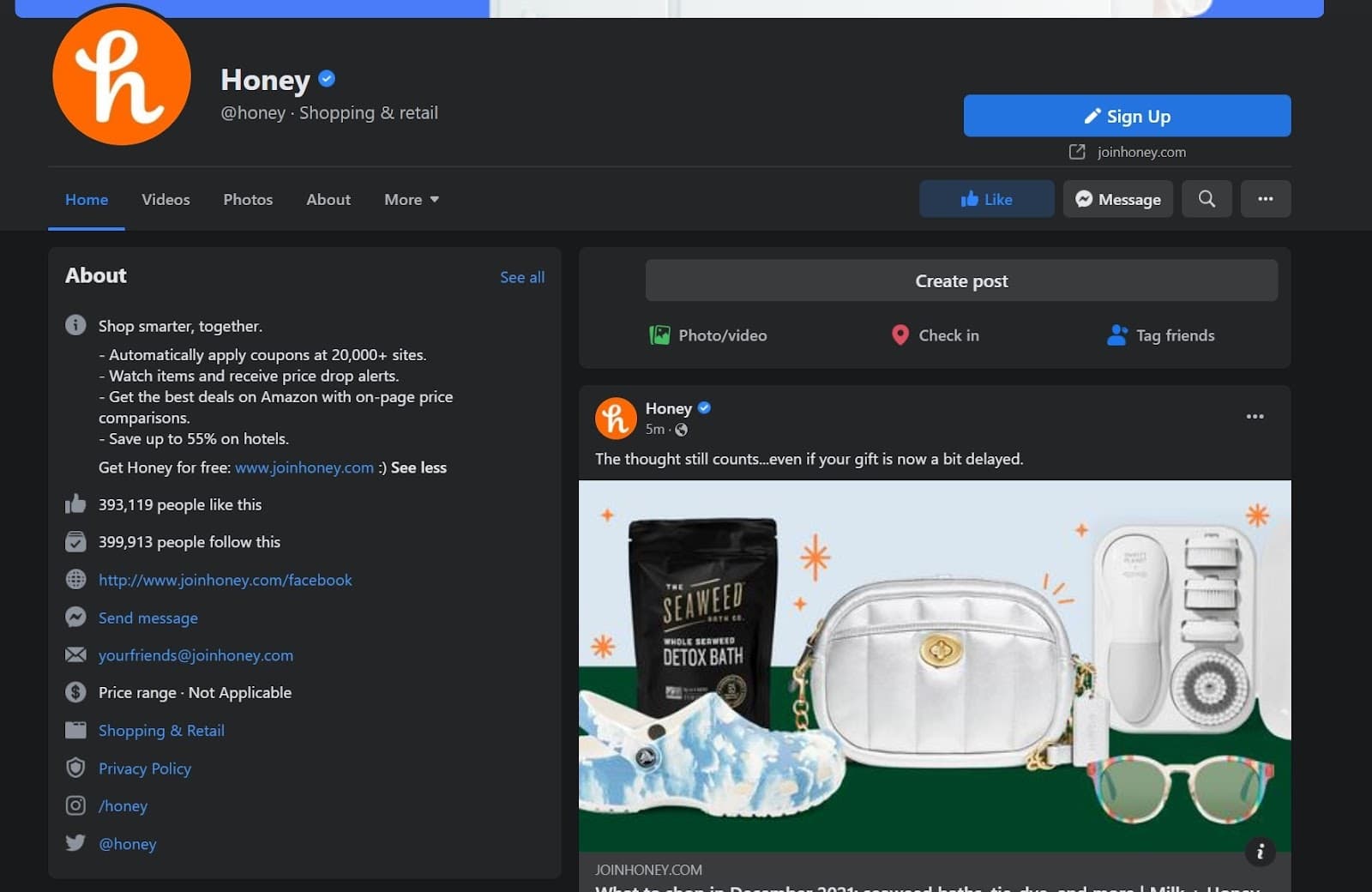 5. Function of Beauty
Function of Beauty produces beauty, skin, and hair care products personalized to each customer's tastes.
If you look at Function of Beauty's website, you'll see that the brand positions itself as "the world leader in customizable beauty." This positioning is clever because it provides social proof while emphasizing that the Function of Beauty is different because it allows for custom products.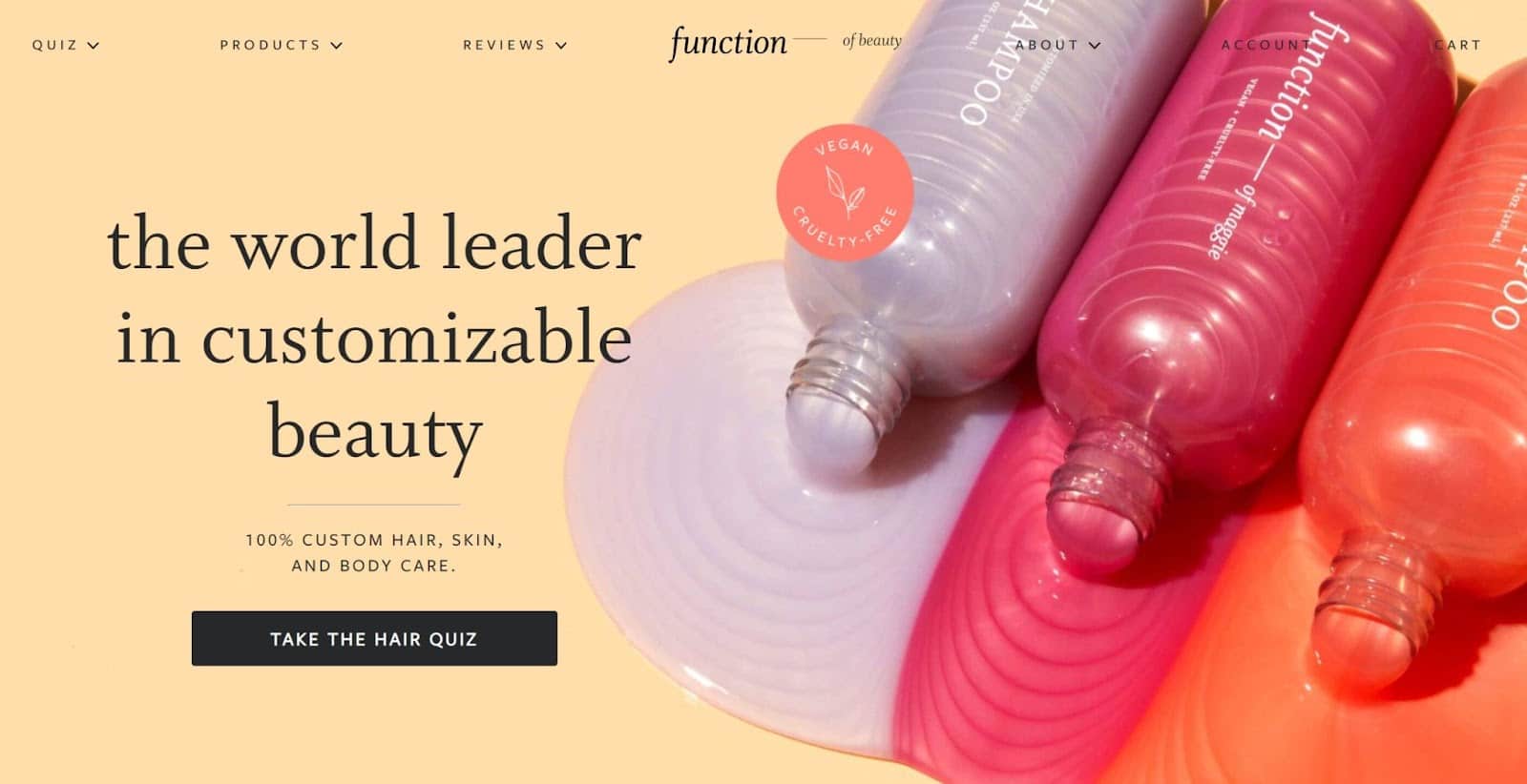 Positioning Perceptual Map
After looking at marketing from RingCentral and Function of Beauty, you may have noticed that competitors play a vital role in a good positioning strategy. An effective positioning strategy describes why your brand is unique, thus separating you from your competitors.
Of course, it's not always easy to see how your brand is unique when designing your positioning strategy.
That's where a positioning perceptual map comes in.
A positioning perceptual map (also known as a "brand map" or "magic quadrant") is a visual representation of how your brand compares to your competitors using two or more factors at a time. When marketers create perceptual maps, they think from the target customers' perspective.
Here's what a perceptual map looks like: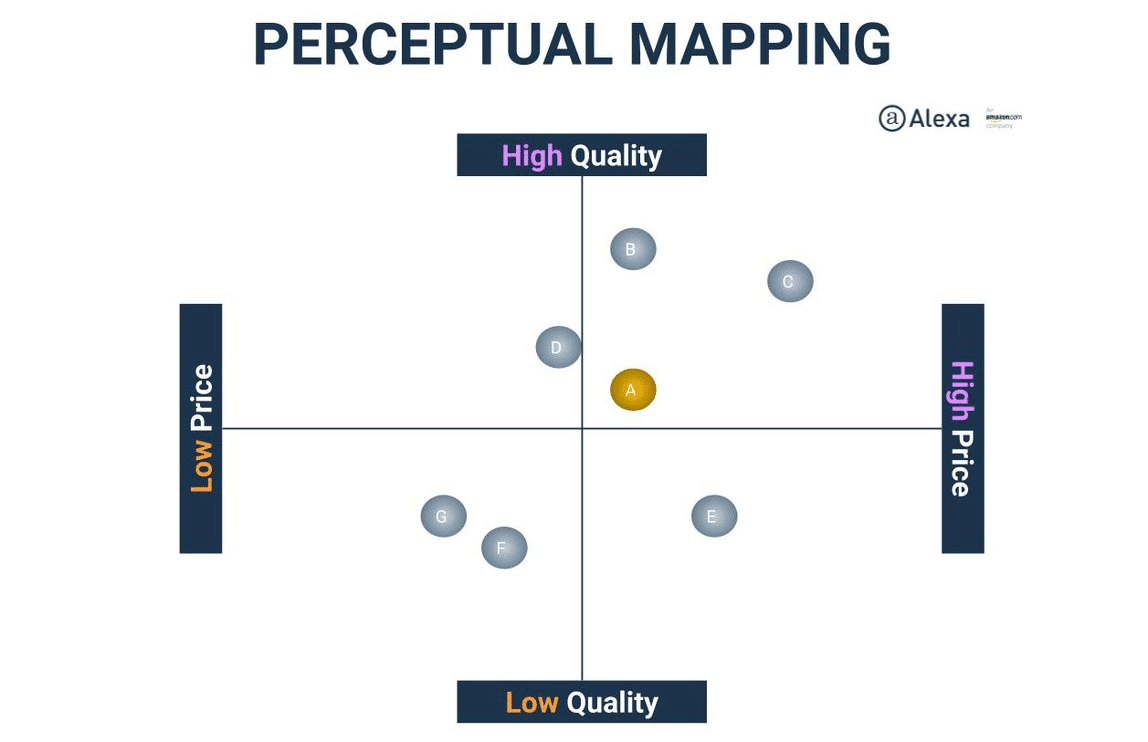 Though you can use any factors you like in your map, here are some common factors many brands utilize:
Cost
Time investment
Ease of use
Product quality
Customer service
Trustworthiness
Supply chain ethics
Profitability
Although many brands use perceptual maps as an internal tool to guide operational and marketing decisions, some brands also choose to share their perceptual maps as a marketing tool. For example, RingCentral published this perceptual map on its website: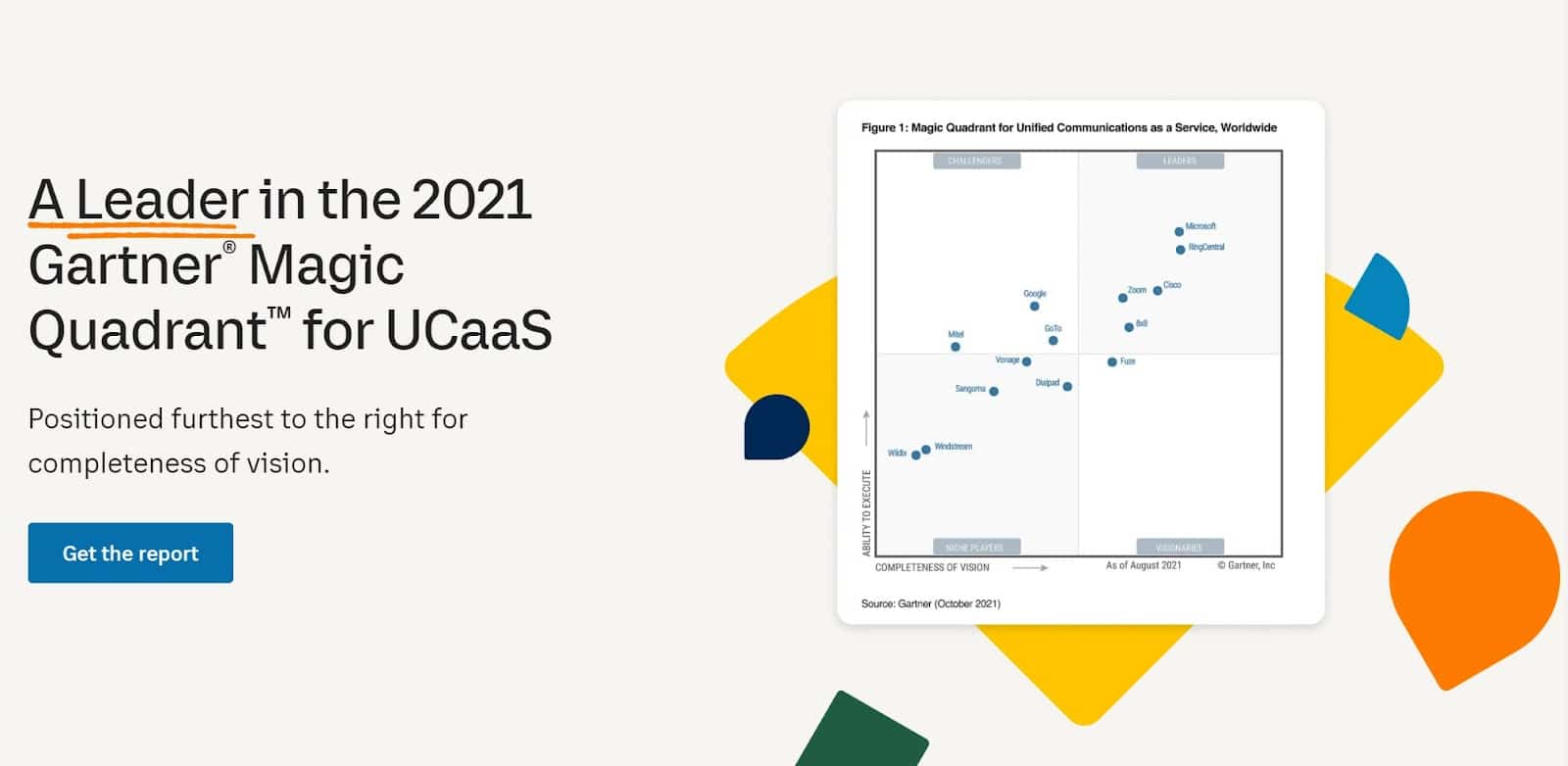 Types of Positioning Strategies
Up until this point, we've covered positioning strategies as a whole. However, there are seven different "types" of positioning strategies, each of which uses a unique angle.
These strategies are:
1. Pricing-Based Strategies
Pricing-based strategies position your brand as desirable because of the cost, pricing model, or value for money you provide.
For example, a brand using a pricing-based strategy may describe itself as "affordable for families" or "a retailer with low prices."
However, pricing-based strategies don't always play the race to the bottom, as high-class brands like Mouawad (which sells a $3.8 million handbag) also use a pricing-based strategy to market products as luxurious.
Alternatively, brands like Netflix and Hulu use their subscription-based pricing model in their positioning, as subscription-based pricing allows consumers the flexibility to watch a vast catalog of content, not just rent a single movie or show at a time.
2. Product-Based Strategies
Product-based strategies build your brand positioning around the quality of your products and services. For example, a product positioning strategy might emphasize that a product is durable, dependable, reliable, stylish, environmentally friendly, cruelty-free, kosher, or vegan.
Alternatively, a product-based strategy might market your brand with key features or benefits. Grammarly does this, as it built its brand positioning around offering a program that gives people "real-time suggestions to strengthen their writing."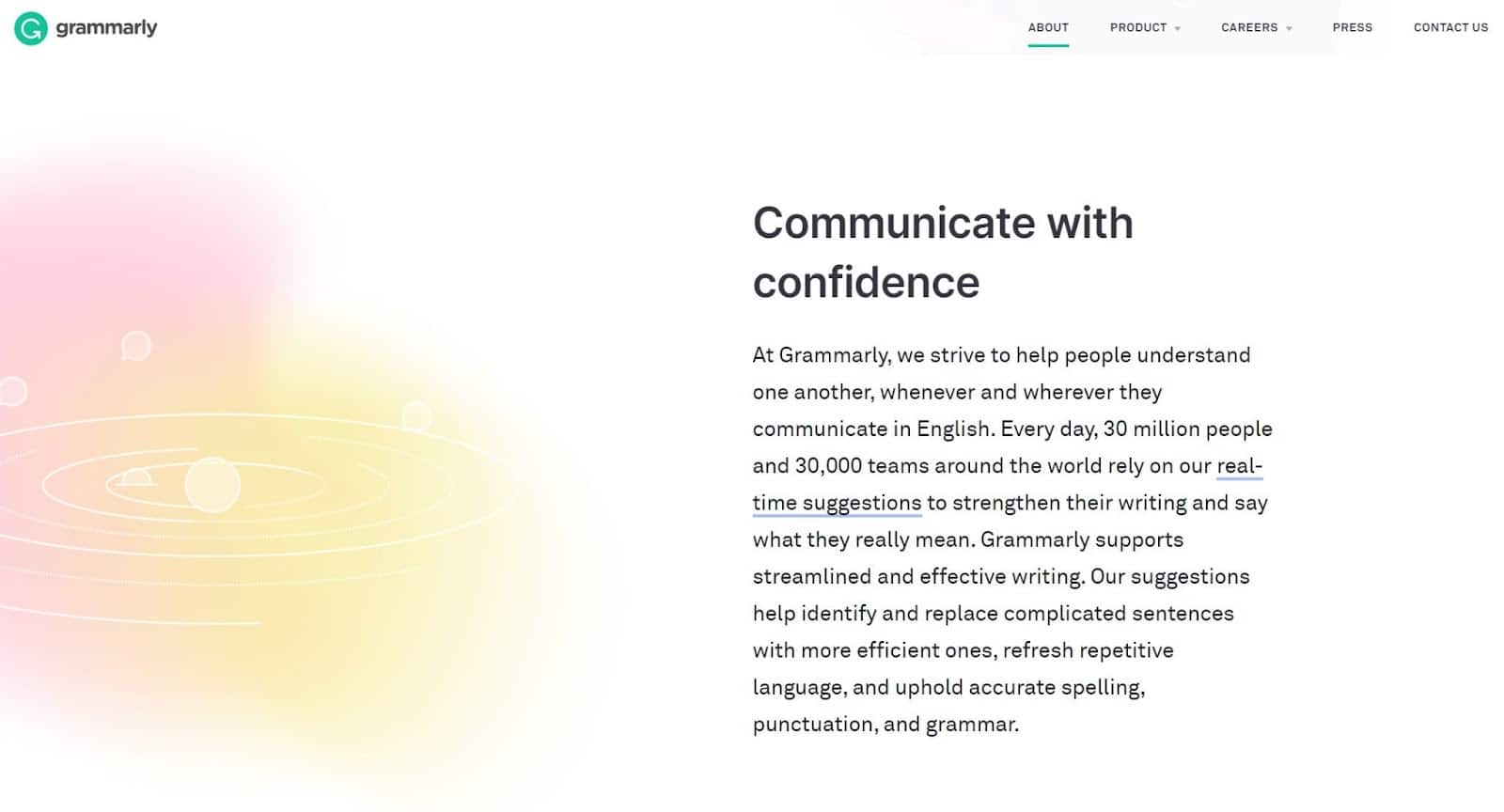 3. Use-Based Strategies
Use-based strategies position your brand by what your product or service does for customers.
For example, legal service Lawyer.com positions itself as an intermediary between people and lawyers in their area with branding like "get connected with a lawyer today." Or, the real estate website Zumper promises to help users "find your fresh start."
4. Situation-Based Strategies
Situation-based strategies position your brand as the perfect solution in a niche situation. Essentially, these strategies say, "(brand) is perfect for (niche users) who need (result)."
Brands that produce niche products like laptop skins or phone cases use situation-based strategies, as their products only work for specific devices.
Well-known brands also use this positioning. For example, Tylenol positions its flagship Tylenol product with a situation-based strategy. The company specifically designed the medication for people who want over-the-counter pain relief from acetaminophen.
5. Influencer-Based Strategies
Influencer-based strategies position brands as the company chosen by a famous person, an influencer, or a well-established industry figure.
One of the most well-known examples of a business that uses a famous person for positioning is Raycon. Raycon is a wireless headphone company founded by musician Ray J.
Businesses owned by influencers also use this type of positioning. Examples include Cloud9 Scrubs and HudaBeauty.
6. Symbol-Based Strategies
Symbol-based strategies use popular or culturally significant symbols to position a brand as aligned with the meaning behind the symbol.
For example, brands like Qatar Airways convey a sense of royalty by using shades of purple and red associated with wealth, luxury, and notability.
Brands that market themselves based on awards or industry recognition also use a symbol-based positioning strategy. Like symbols, these awards associate the brand with the award's prestige.
7. Competitor-Based Strategies
Competitor-based strategies position brands as an alternative to a famous brand. These strategies often use phrasing like "the free alternative to (famous brand)" or the "eco-friendly version of (famous brand)" to emphasize why they are the better choice.
You can see an example of competitor-based positioning in Rocket.Chat. Rocket.Chat markets itself as a communication platform alternative using language like "Rocket.Chat does everything other platforms do, except exposing your data."
Search engine DuckDuckGo uses similar positioning for marketing itself as an alternative to Yahoo, Google, and Bing. DuckDuckGo's slogan is "your personal data is nobody's business."
Creating an Effective Positioning Strategy
Creating a solid positioning strategy is vital in setting your brand up for success and leading to high conversions.
For example, consider the positioning of the Tato Nano car — a car that Tato only marketed as low-cost. The Nano cost roughly $2,500 USD (though Tato sold it primarily in India).
The car itself wasn't a horrible product, but marketing it as "cheap" caused people to consider it a low-quality investment for people who couldn't afford a different vehicle. As a result, Tato only sold 7,591 Nanos during 2016 and 2017, and the project failed to make a significant return on investment for Tato.
To help you design a positioning strategy that serves you better, we'll cover the critical components of a positioning strategy and how to create one in this section.
Key Components of Positioning Strategy Marketing
Three key components underpin every positioning strategy. These are sometimes called the "three Cs" of branding and positioning.
If you recognize the "three Cs" phrase, it's because a popular theory developed by Kenichi Ohmae shares the same name. Ohmae's model outlines that a company is successful because of its customers, company, and competitors.
The three Cs for positioning strategies are similar, as they include:
Customers
The "customer" component covers the customer's needs, wants, and desires. As these factors motivate a customer in every interaction with your company, including them in your positioning will help you serve them better.
When thinking about your customers regarding positioning, it's helpful to ask yourself questions like:
What motivates your customers?
What separates loyal customers from past customers?
What inspires a customer to make a repeat purchase?
What do customers like about (brand)?
What do customers want to change about (brand)?
What broad consumer perceptions exist about (brand)?
Channels
The "channels" component covers the operational, sales, and marketing channels that customers use to reach your brand. These channels include your sales team, content marketing, social media profiles, advertising, customer service representatives, email marketing, and other forms of digital marketing.
It's essential to consider how your channels look to customers because they shape customers' interactions (and thus, the impression they develop of your brand).
Competition
The "competition" component refers to how your brand compares to other brands within your niche and industry.
When comparing your brand to your competition, it's helpful to ask questions like:
What does (brand) do that no one else does?
What are (competitor) 's weaknesses and strengths?
How does (brand) compare in supply chain ethics, sustainability, and diversity and inclusion?
How do (brand) 's products and services compare to similar offerings?
Positional maps are crucial for understanding where you stand compared to your competition.
How to Design a Positioning Strategy
Follow these steps to design your positioning strategy.
Step 1. Define Your Target Audience
Your company couldn't exist without customers. Naturally, identifying your target audience is the first step you need to craft your positioning strategy.
The easiest way to pinpoint your target market is to describe your buyers by their demographics, buying behavior, and tastes. You might want to present this information in a buyer persona. A buyer persona is a representation of your target market that looks like this: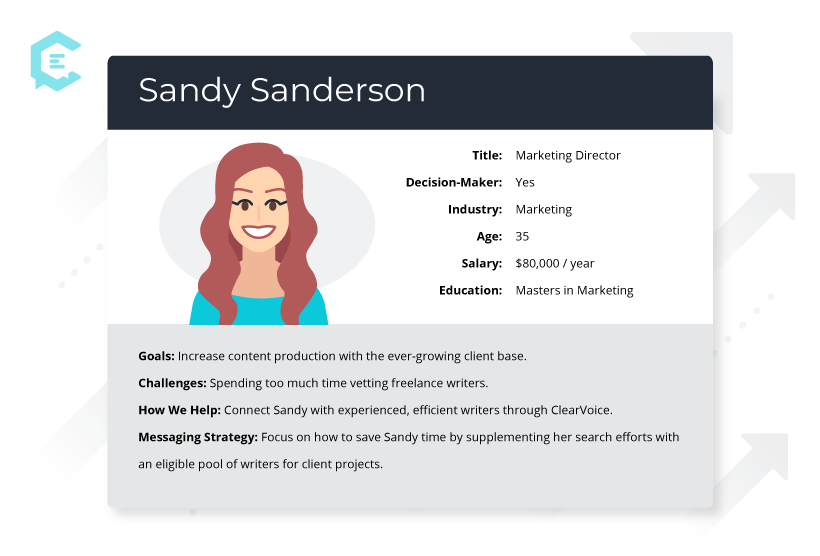 You should also identify what a marketing qualified lead (MQL) and sales qualified lead (SQL) looks like for your brand during this stage. MQLs have the need and desire for your goods but aren't ready to purchase like SQLs are.
Separating your MQLs from your SQLs will help you position your brand to target leads at the right time.
Step 2. Research Your Competitors
Next, you'll need to research your competitors thoroughly to identify their positioning strategy. Identifying competitors' strategies will help you determine what makes your brand different.
You might want to use a SWOT and PESTEL analysis to make this market research easier.
A SWOT analysis looks at a company's strengths, weaknesses, opportunities, and threats. Here's a SWOT analysis template you can use: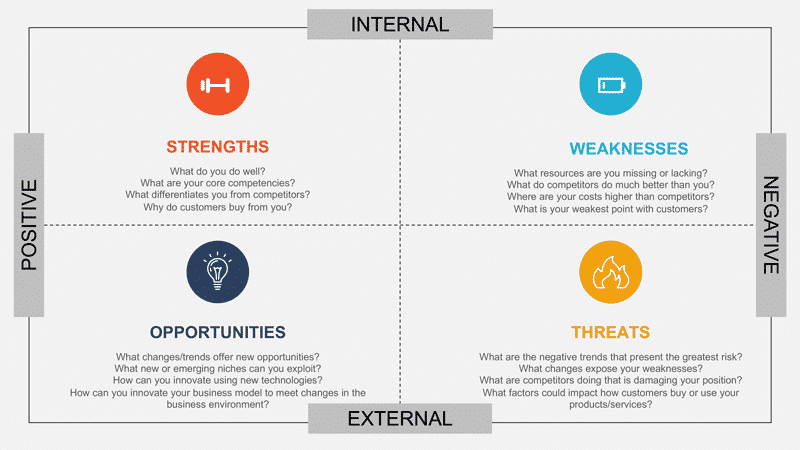 A PESTEL analysis (sometimes called the "external factors analysis") focuses on the environment around a company. It looks at Political, Economic, Social, Technological, Environmental, and Legal factors like these: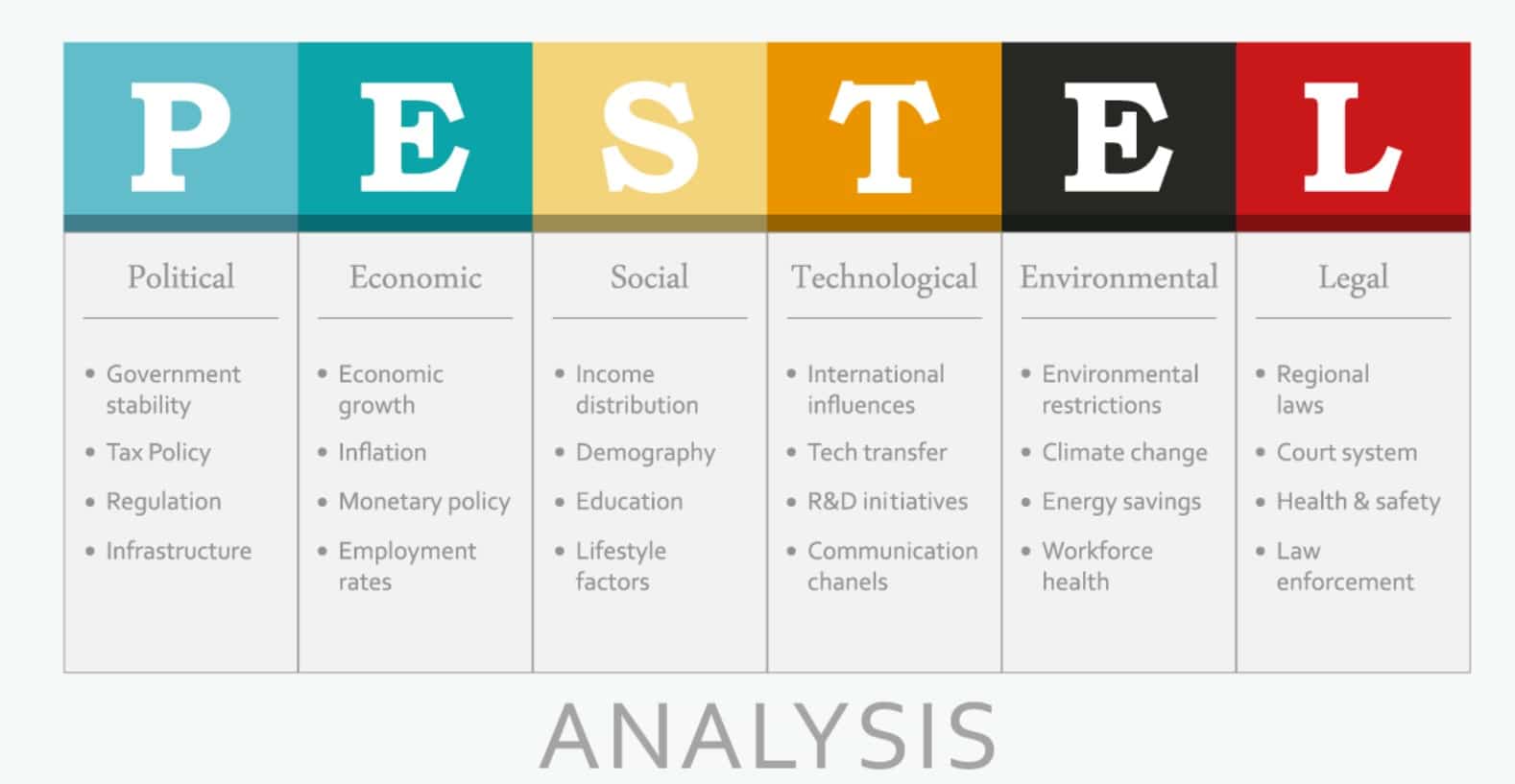 Step 3. Brainstorm
Once you understand your audience and competitors, start brainstorming potential positioning strategies your brand could use. It might be helpful to refer to these strategies from the "Types of Positioning Strategies" section for inspiration:
Pricing-based strategy
Product benefit-based strategy
Use-based strategy
Situation-based strategy
Influencer-based strategy
Symbol-based strategy
Competitor-based strategy
You could also try brainstorming techniques like word association, mind mapping, or thinking like a customer. Alternatively, you could read customer feedback and look for common keywords (like "good customer service" or "eco-friendly").
Whichever brainstorming method you choose, include your sales, marketing, and management teams in the discussion. Each group sees customers differently, so they will bring different ideas to the table.
Step 4. Narrow Down Your Options
Once you've created a list of options, you can sort them in two primary ways:
Eliminate the ideas that don't align with your brand values or goals
Highlight the strongest ideas
It may also help to combine similar ideas.
This step will leave you with a small handful of potential positioning or repositioning strategies. Consult your colleagues to find the right one.
Step 5. Write Your Positioning Statement
Writing a positioning statement will give you an accurate reference point to revisit. It will also help you clearly define your positioning strategy in a way that's easy for you and your colleagues to convey to others.
While every positioning statement is subjective, there are four things you should include: your target audience, what you do (or what your product or service is), how you are different, and what "end goal" you help customers reach.
If you are stuck, try these templates:
"(brand) uses (the thing that makes you different) to help (target audience) to (end goal)."
"(target audience) turns to (brand) for (the thing that makes you different) when they want (end goal)."
Alternatively, you could draw inspiration from an existing brand. For example, PayHlip's shortened position statement is, "We help creators earn a living online doing what they love." The more extended version reads:
"Payhip is an e-commerce platform that enables anyone to sell digital products or memberships directly to their fans and followers. You can embed Payhip directly into your website or use our storefront to sell your work. Payhip takes care of everything. We're an all-in-one ecommerce solution for creators."
When writing your statement, keep these tips in mind:
And that's it! You now have a positioning strategy to apply to your operations and marketing.
Final Questions For Effective Positioning Strategies
Before we wrap this article up, we wanted to touch on the three questions that underpin most positioning strategies. These questions include:
"What is (brand)?"
"Why should you buy from (brand)?"
"Why shouldn't you buy from (brand) 's competitor?"
Though it's easy to get caught up in the flowery language of a well-written positioning statement, how effectively you answer these simple questions determines whether your strategy works or not.
Similarly, it's easy to turn your positioning statement into a unique selling proposition (USP). A USP describes why prospective customers choose your product or service over a competitor. USPs focus on products and services, while positioning statements focus on brands.
For example, McDonald's market positioning strategy is that it is a family-friendly fast food restaurant, while the USP of a Happy Meal is an affordable child's meal that comes with a toy.
Revisit the three questions to stop your positioning statement from turning into a USP.
Take control of how consumers view your brand & position your company correctly with help from this guide 😎Click to Tweet
Summary
Developing a successful positioning strategy is vital to compete in 2023, as good strategic positioning will help you:
Set your brand apart from competitors
Create strong marketing messages
Align your brand values with your marketing plans
Build an effective business strategy
Building a solid positioning strategy may seem complicated, but it's easier than you think. Remember to focus your statement on customers, stick to your values, and take a research-based approach.
Now that we've covered positioning strategies in detail, we'd like to hear from you. How did you design your positioning strategy, and do you have any tips for writing a solid positioning statement? Share them in the comments below.