Whether you're sending an email to a customer or posting a blog about your business, writing is an essential skill. Good writing makes you sound more professional, engaging, and persuasive.
Quite a few tools on the market can help you improve your writing. One that you might have heard of is Grammarly. But Grammarly isn't the only grammar and writing tool out there.
If you're going to rely on a writing tool to optimize your communication and content, you want to make sure you choose the best one. This article explores some of the best grammar and style checkers on the market.
Let's start!
Overview of Grammarly
Grammarly started as a way to catch spelling and grammar mistakes, but it can do a lot more than that now.
Before we go through our list of Grammarly alternatives, let's take a quick look at the original.
Apps
Grammarly's Chrome extension allows you to use Grammarly's suggestions with Gmail, WordPress, and anywhere else you write on the web.
You can also get Grammarly as a Windows desktop app. Just drag and drop a file you would like proofread into Grammarly.
There's a specific app for Microsoft Office. You can use it to write Word documents or Outlook emails.
You can use Grammarly's Android and iOS apps to check your texts or other writing on mobile.
If you don't want to install anything, you can use Grammarly's online editor.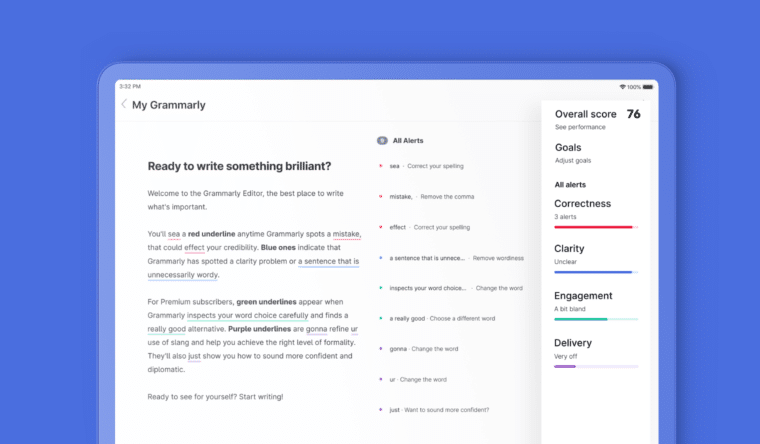 What Grammarly Does
Despite its name, Grammarly is more than a grammar checker. It checks your writing for:
Correctness
Clarity
Engagement (whether your writing is exciting and fun)
Delivery (like whether you sound harsh vs. polite or confident vs. timid)
Correctness and clarity are included in the free version, while engagement and delivery are premium features.
For each document, you can set goals to get tailored suggestions. For example, you can choose whether your writing is formal or informal and whether you're writing for an expert audience or a general one.
Some goals are available in the free plan, while others are only included in the premium.
It also gives your writing an "overall score," which you can improve by accepting the suggestions.
Grammarly Pricing
Grammarly offers three plans: free, premium, and business.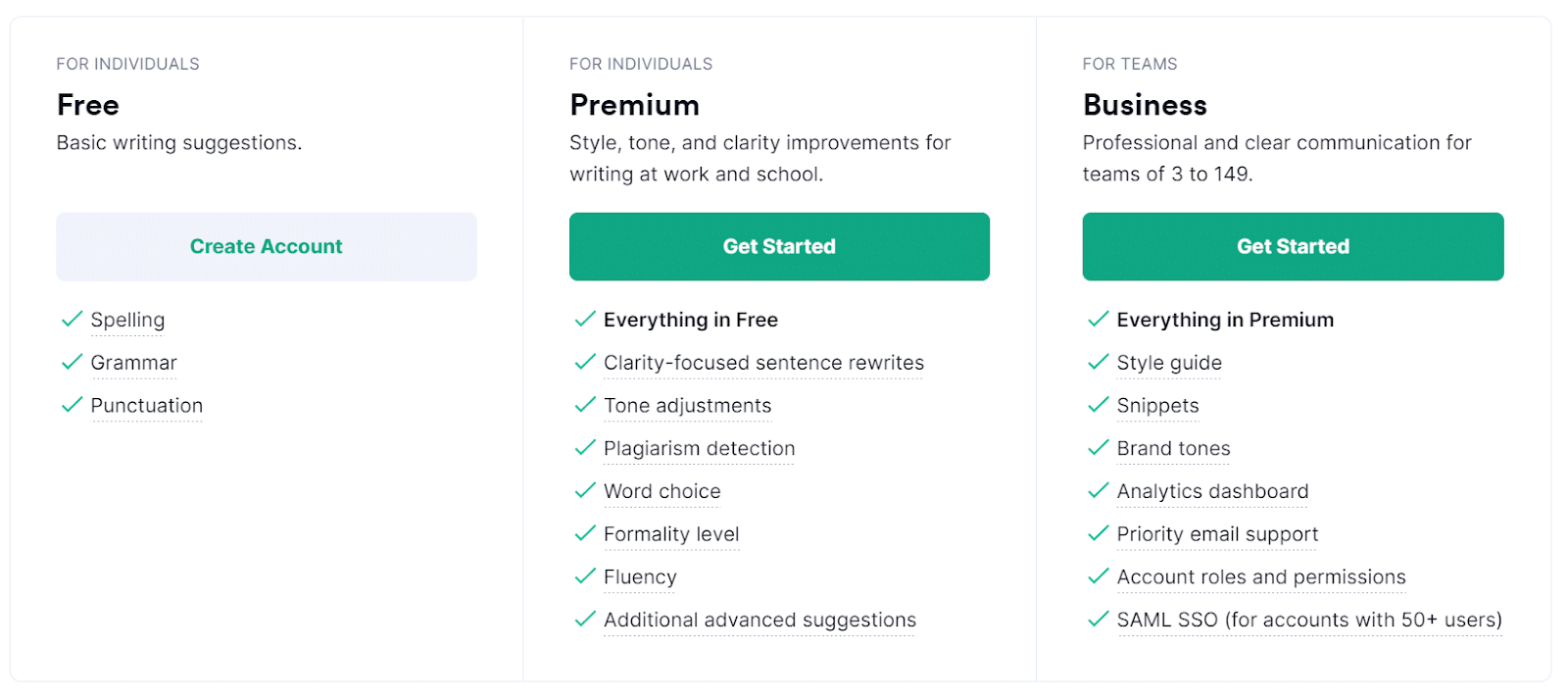 Grammarly Free
Includes grammar and spelling checker
Some suggestions to improve clarity
Grammarly Premium
$30/month, $60/quarter, or $144/year
Grammar and spelling checker
Plagiarism checker
Suggestions focused on tone, word choice, and formality level
Sentence rewrites for clarity
Grammarly Business (for teams of three or more)
Pricing depends on the number of users. Starts at $12.50/month/user
Includes everything in Premium plan
Add your brand style guide
Team analytics dashboard
Account roles and permissions
Why Choose a Grammarly Alternative?
Grammarly has a lot of great features that can improve your writing.
However, depending on your needs and budget, it may not be the best solution for you. Here are a few reasons you might want to try a Grammarly alternative.
Other Options Are Less Expensive
Grammarly has a free version that might be all you need. But its premium plans aren't the cheapest on the market. Shop around for the specific features you want at the best price.
Grammarly Doesn't Rewrite (All) Your Sentences
Grammarly offers a lot of helpful suggestions, including a few rewrite suggestions for wordy or unclear sentences (in the premium version). But if your goal is to have your work rewritten, Grammarly isn't your tool.
Grammarly Is Focused on English Only
If you need to write in a language other than English — or to translate your existing content — Grammarly can't help you. It does, however, support multiple English dialects.
Every Tool Has Different Integrations
Grammarly has a lot of helpful integrations with web apps and desktop apps, but you might find that other tools have integrations that work better for your business.
Almost all of the Grammarly alternatives on this list have a free version (and the others have an affordable basic plan), so try a few out to see what works for you.
The Top 13 Alternatives to Grammarly
Let's break down 13 alternatives to Grammarly, including key features and price.
1. ProWritingAid
ProWritingAid is a top Grammarly competitor with many of the same features. In addition to checking grammar and spelling, the free version of ProWritingAid will show you a few style suggestions. For the full list, you have to go Premium.
ProWritingAid has some interesting reports that Grammarly doesn't, like an alliteration analysis and dialogue tag check. In the free version, these are run on the first 500 words of your document only.
It has browser extensions for Firefox, Safari, and Edge, along with a few integrations that Grammarly doesn't have, like Scrivener.
Key Features
Grammar checker
Plagiarism checker
Style checker
Synonym suggestions
Chrome, Firefox, Safari, and Edge extensions
Integrations with Microsoft Office, Google Docs, Scrivener, and more
Extensive writing reports
Pricing
Free version
Premium: $20/month, $79/year, $399 lifetime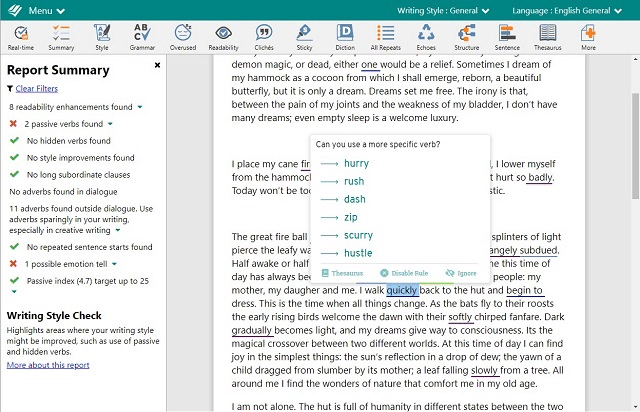 2. Hemingway App
Ernest Hemingway was known for his concise and direct writing style. Hemingway App helps you do away with extra words and overly complex sentences in your writing.
Paste your work into this free online editor, and it will highlight your adverbs, passive voice, and complex and hard-to-read sentences. It also gives the entire work a readability score.
If you're trying to improve your writing on WordPress or Medium, the Hemingway desktop app has a useful integration that lets you publish right from the editor to your blog.
That desktop app is available for $19.99.
Key Features
Highlights lengthy and complex sentences, adverbs, and passive voice
Readability score
Online editor
Windows and macOS desktop apps
Integrations with Medium and WordPress
Export to Word or PDF
Pricing
Online version: Free
Desktop app: $19.99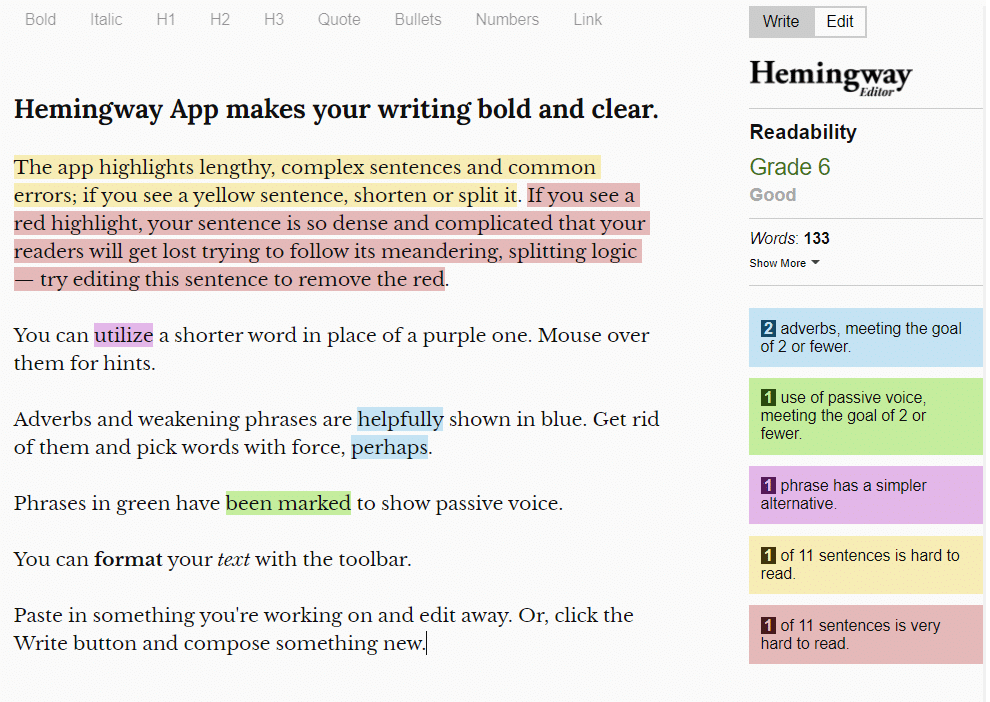 3. WhiteSmoke
WhiteSmoke has a grammar checker, style checker, plagiarism checker, and translation tools.
Its features are more basic than Grammarly's, but it has the advantage in some areas. It includes Safari, Opera, and Firefox browser extensions and native desktop apps for both macOS and Windows. It also does language translation.
A downside to WhiteSmoke is that it doesn't have a free version. However, the web version based on browser extensions is cheaper than Grammarly Premium and includes WhiteSmoke's style checker.
WhiteSmoke Premium and Business plans include the desktop apps and integrations with Microsoft Word and Gmail.
Key Features
Grammar checker
Style checker
Plagiarism checker
Chrome, Safari, Opera, and Firefox browser extension
Desktop and mobile apps
Email and document templates
Translation tools
Pricing
No free version
Web: $59.95/year, $124.95/three years
Premium: $79.95/year, $199.95/three years
Business: $137.95/year, $317.50/three years
4. Readable
As you can guess from the name, Readable checks the readability of your writing using algorithms including Flesch-Kincaid and Gunning-Fog.
Readable also has a grammar and style tool that finds issues like passive voice, cliches, and adverbs. Plus, it can check your writing for keyword density.
One nice feature of Readable is a URL checker that lets you analyze existing web pages. Premium users can see a full history of every URL they've scored. It could be quite helpful if you have a blog or website you want to optimize.
Readable doesn't have a free version, but a seven-day free trial of the ContentPro plan is available.
Key Features
Grammar checker
Style checker
Readability test
Keyword density tool
Can be used on the web, with documents, or with emails
URL analysis
Integrations with Dropbox and Slack
Supports multiple English dialects
Pricing
Seven-day free trial of ContentPro
ContentPro: $8/month or $48/year
CommercePro: $48/month or $288/year
AgencyPro: $138/month $828/year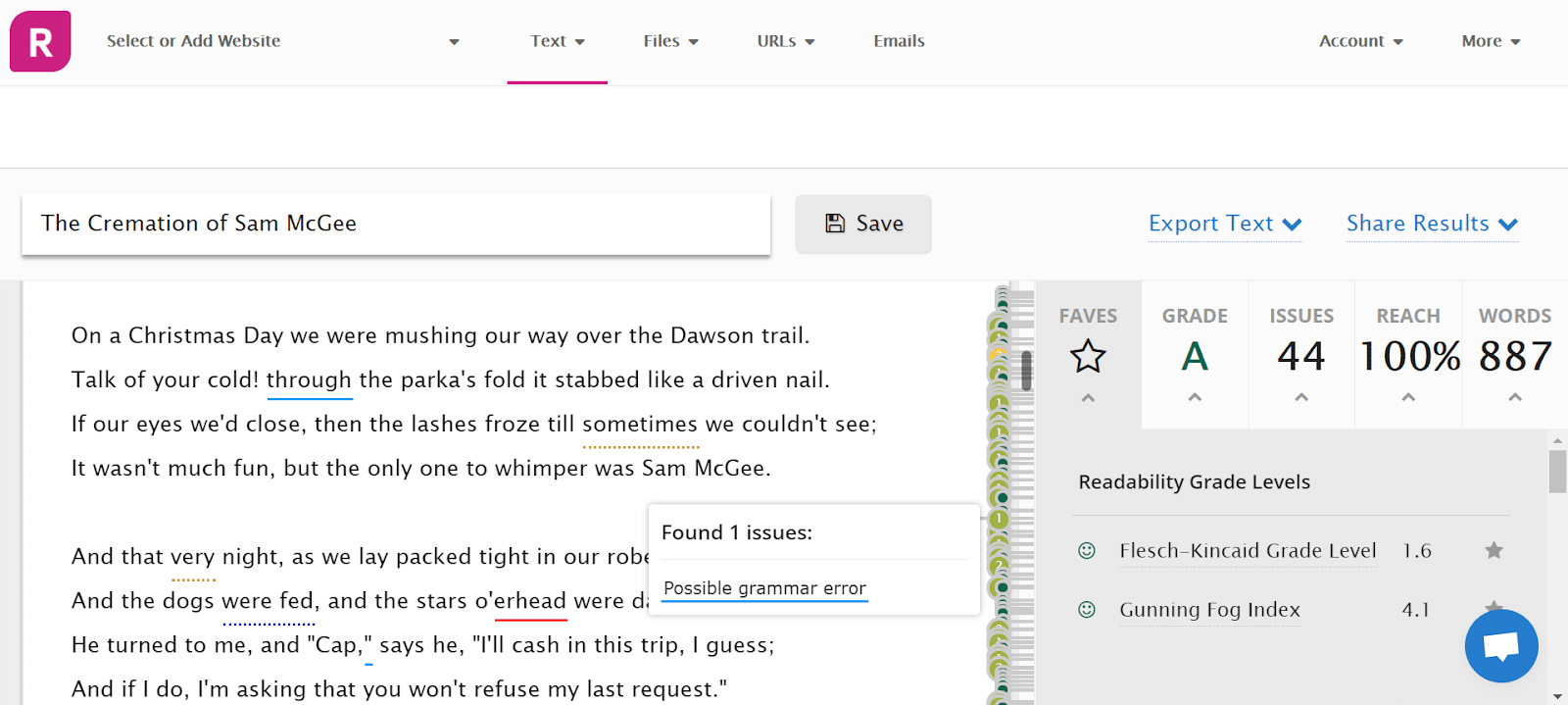 5. WordTune
WordTune is also a tool to improve your grammar and style, but it's a bit different than the other Grammarly alternatives on this list.
Rather than acting as a proofreading tool, WordTune focuses on full sentence rewrites. Hover over a sentence, and it will give you multiple suggestions for how you could rephrase that sentence.
For example, if you enter the sentence, "I'm looking for the best grammar tool because I want to write awesome content for my website," it gives you ten suggestions, including "My website needs a good grammar tool if I want to write compelling content," and the more formal "to produce awesome content for my website, I seek the best grammar tool."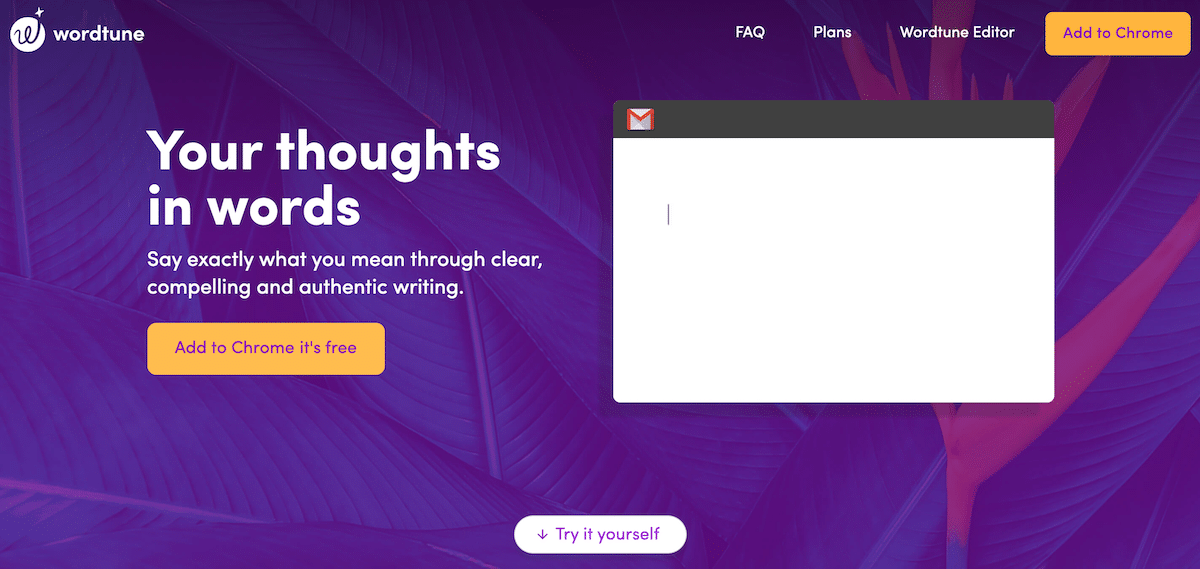 The Premium version lets you select whether you want the rewrites to be formal or informal and whether you're trying to make your writing shorter or longer.
Key Features
Provides multiple rewrite suggestions for sentences
Highlight a phrase to get synonyms
Chrome extension and online editor
Pricing
Free version
Premium: $24.99/month, $119.88/year
6. Ginger
Ginger Software's writing tool offers many of the same features as Grammarly, along with the rephrasing feature of WordTune.
The free browser extension has a 600 character limit. It only does a basic grammar check. However, it does provide rewrite suggestions and synonyms for the words you use.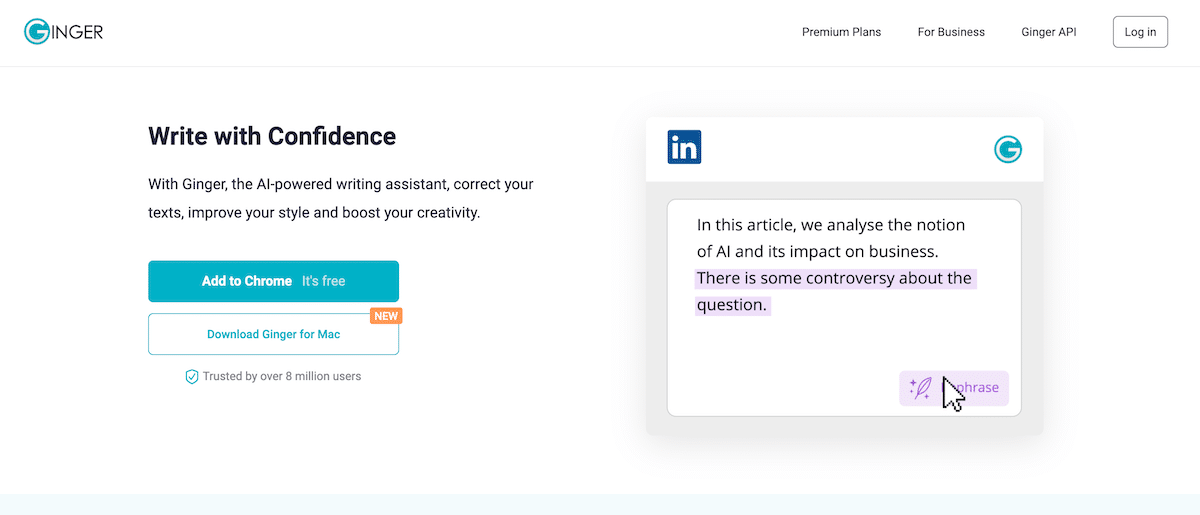 The Premium plan gives more style suggestions and has a tool for translating your writing into 40+ languages.
Key Features
Grammar checker
Suggested rephrasing
Dictionary lookup
Online editor
Chrome extension
Desktop and mobile apps
Pricing
Free version
Premium: $13.99/month, $89.88/year, $167.76/two years
7. Sapling
Sapling is a tool that works with CRMs and messaging platforms to help sales and support teams compose personalized responses.
Sapling provides grammar correction and style suggestions, but it's also focused on helping you respond more quickly to customers. For example, you can quickly insert pieces of text that your team uses frequently.
Managers can look at the team's writing scores and error reports to ensure that customers receive excellent professional communication.
Sapling has a lot of integrations with helpdesk solutions like Zendesk, Helpshift, and Freshdesk, as well as sales and marketing tools like Salesforce, Hubspot, and Mailchimp.
Most of Sapling's unique features are only available in the Pro or Enterprise versions, but the free version will also give you basic writing suggestions.
Key Features
Focus on customer support teams
Integrates with many CRMs and helpdesk tools
Browser extensions for Chrome, Edge, and Firefox
AI learns past patterns
Pricing
Free plan
Pro: $25/month
Enterprise: Custom pricing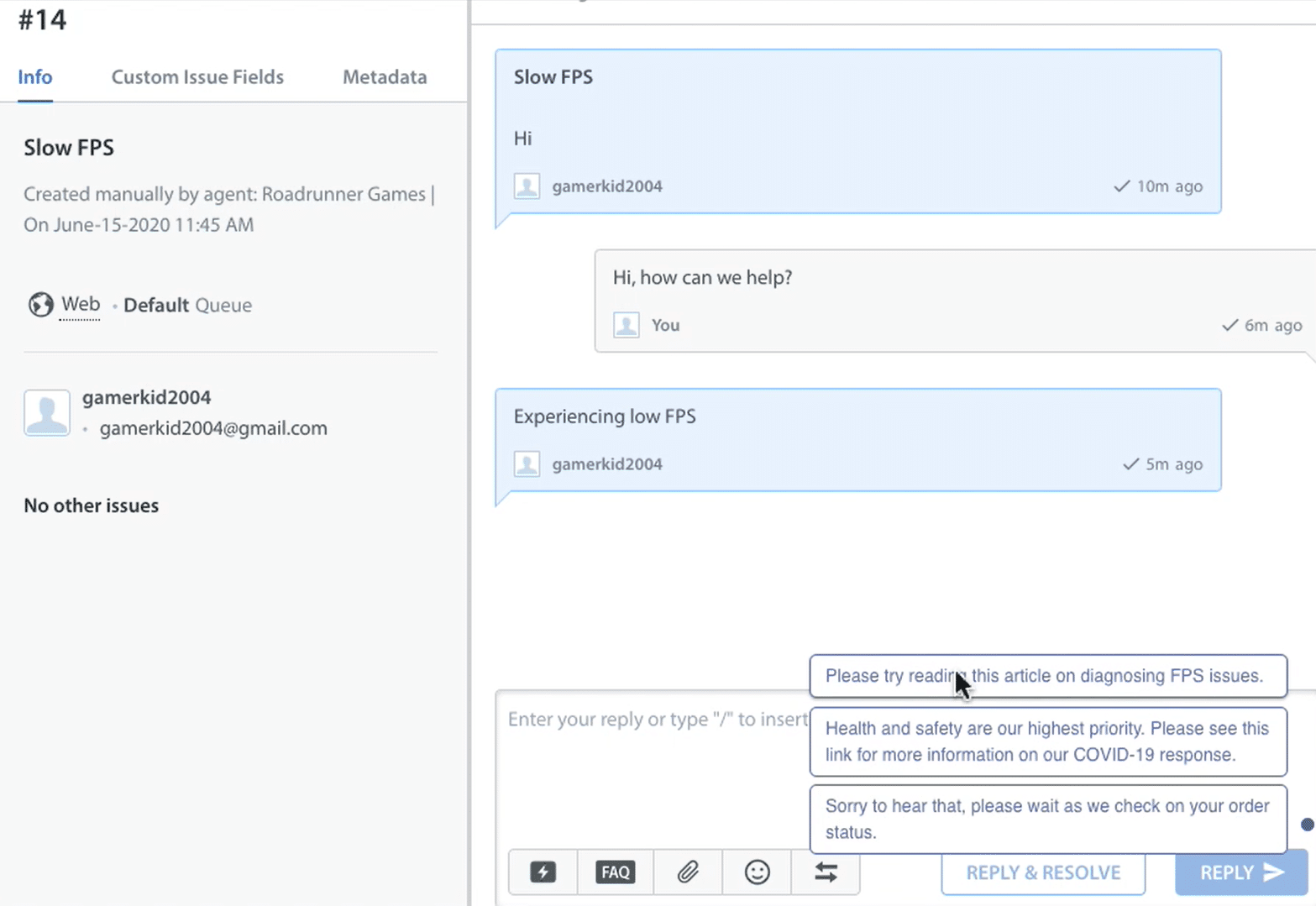 8. PaperRater
PaperRater is a grammar and plagiarism tool that focuses on student papers and personal essays for college applications.
As a grammar checking tool, PaperRater is decent, but it doesn't have as many advanced features as some of the solutions on this list.
The plagiarism tool lets you know whether your content is original and provides a list of URLs that may have similar content. You have to get the Premium plan to see which snippet of text is unoriginal.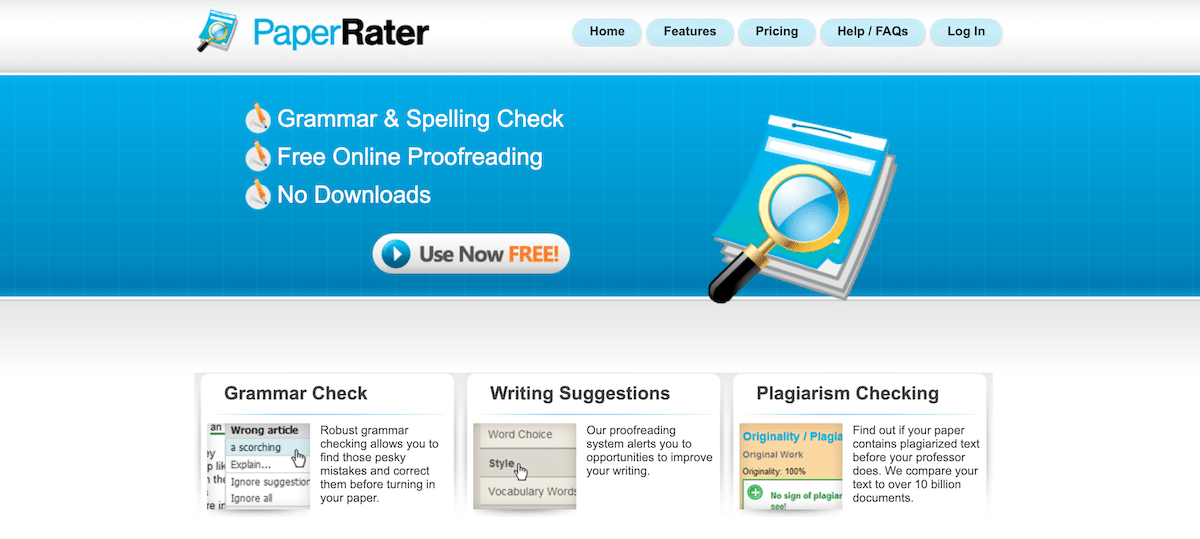 When you submit your writing, you can let the tool know the writer's grade level and the type of paper submitted. For writers in fifth grade and up, it will give the paper a grade. It also provides a few more reports, like an analysis of how much scholarly vocabulary the paper contains.
Key Features
Grammar check
Plagiarism check
Essay scoring
File upload (MS Word, .txt, .rtf)
Online editor
Pricing
Free version
Premium: $14.95/month, $95.40/year
9. Reverso
Reverso is primarily known as a translation tool that can translate to and from 14 languages. After translating a phrase, it will give you examples of the text in context and suggest synonyms.
You can improve your foreign language skills by listening to how texts are being pronounced by native speakers and seeing verb conjugations for ten of the languages.
For English and French, it also has a grammar checker.
The free version only lets you check 450 characters and provides basic error corrections. The Premium plan enables you to check texts up to 2,000 characters. It also suggests synonyms and does sentence rewrites.
Key Features
Spell checker and grammar checker in English and French
Dictionary lookup
Rephrasing suggestions
Pricing
Free version
Premium: €9.99 EUR/month, €59.88 EUR/year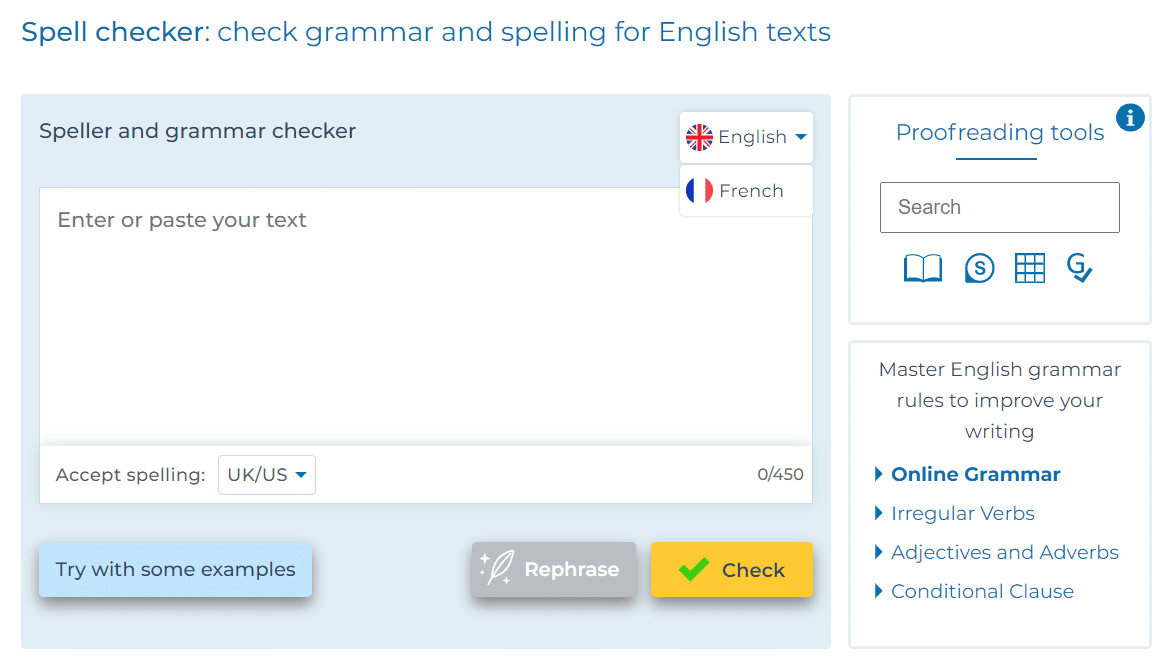 10. Slick Write
We'll start with the best news: Slick Write is free. And it offers some great features that you have to pay for with most solutions.
For example, it checks for overly complex sentences and excessive adverbs.
You can customize the feedback you get to match your preferences. For instance, you can choose whether or not to allow profanity or passive voice.
An area where Slick Write excels is its reports and analysis. The main editing page provides key statistics like readability, average sentence length, estimated reading time, and more. You can also dig into reports on your writing that analyze things like sentence flow and vocabulary.
If you highlight a phrase in your writing, it gives you word associations and links to check the phrase on Wikipedia, Urban Dictionary, and Google.
Key Features
Grammar checker
Style checker
Customized feedback
Reports and analysis
Chrome and Firefox extensions
Online editor
Pricing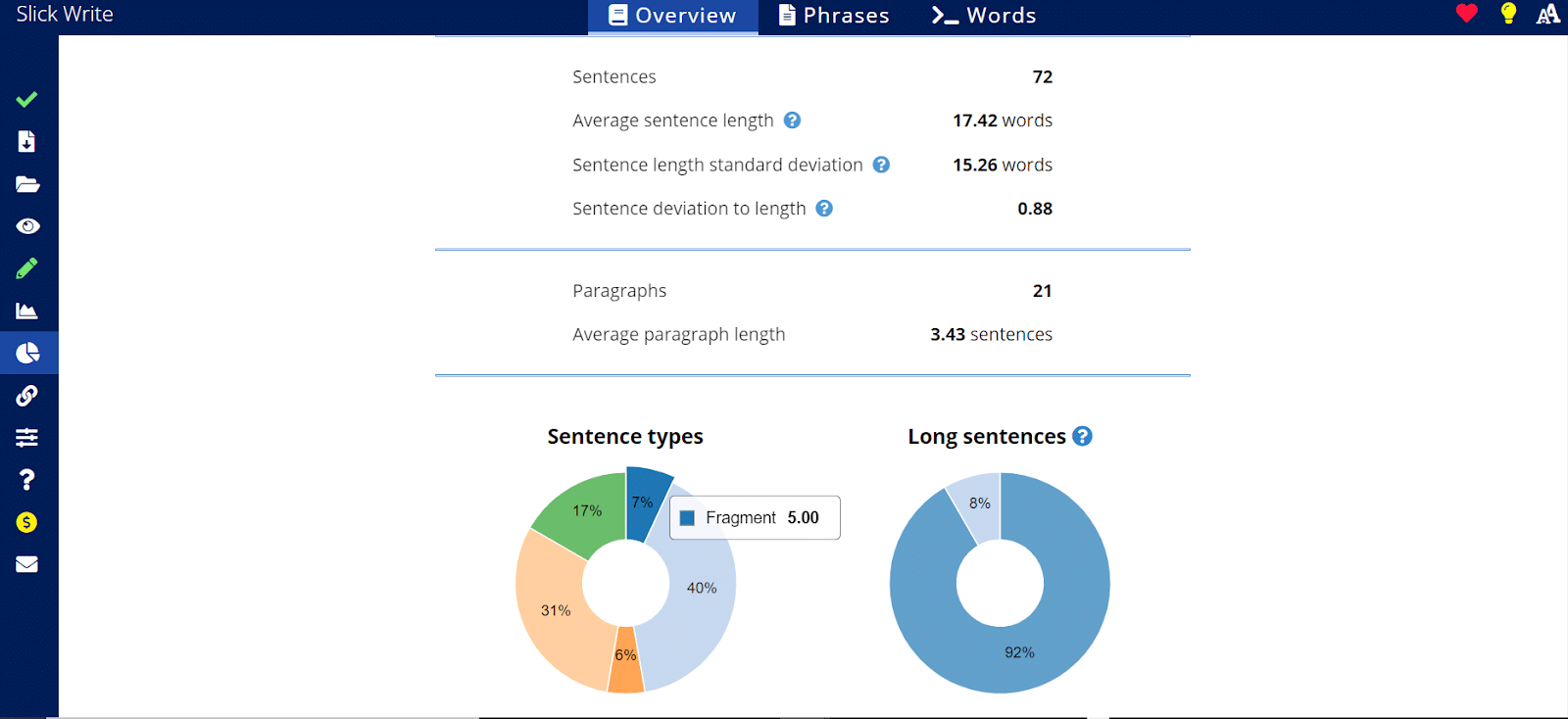 11. LanguageTool
LanguageTool does a lot of the same things as Grammarly.
The free version provides grammar, spelling, and punctuation checks. It also offers some basic style suggestions, like eliminating passive voice and redundant words. You can set it to "picky mode" to have it find more issues.
The premium version gives you additional style and tone critiques and synonym suggestions. Other unique features include detecting misspelled names and titles in emails and incorrect numbers, such as ISBN numbers.
What sets LanguageTool apart is that it can check text in dozens of languages and dialects.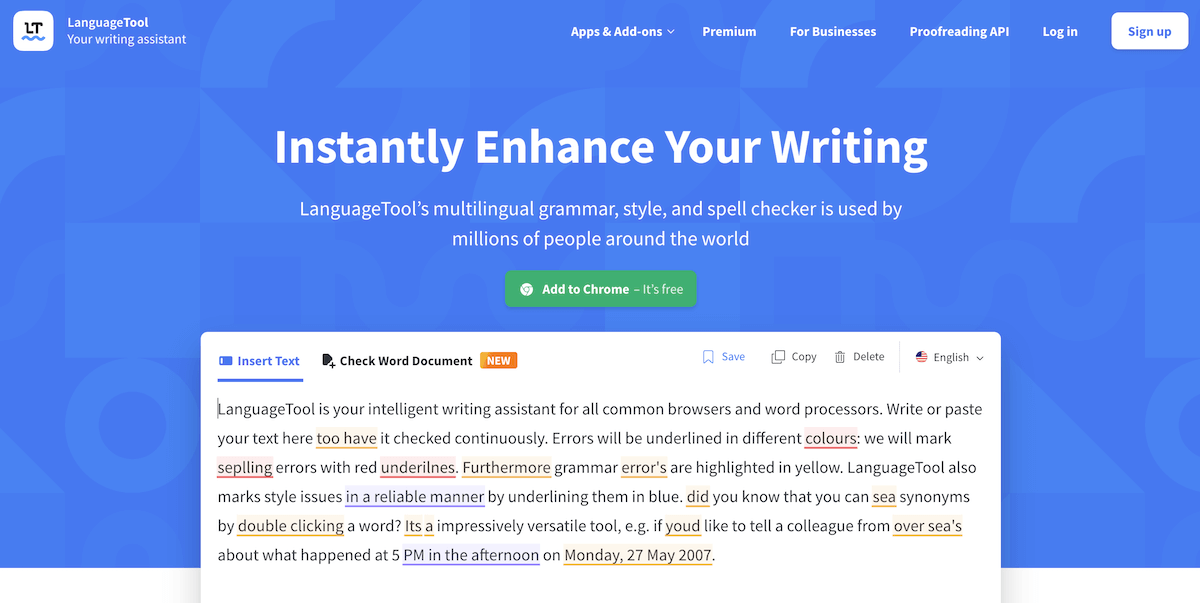 Key Features
Multilingual grammar and style checker
Multiple English dialects
Chrome, Safari, Edge, Opera, and Firefox extensions
Online editor
Desktop app for Windows and macOS
Plugins for MS Word, Google Docs, OpenOffice, and LibreOffice
Email add-ons for Gmail and Thunderbird
Pricing
Free version
Premium for individuals: $19/month, $59/year
Premium for teams: $106.20 per year
12. Writer
Like many of the other tools on this list, Writer checks grammar, style, and plagiarism.
As a writing tool for individuals, Writer is competitive with Grammarly and other grammar checkers. But where it shines is as a solution for teams.
Writer can check your team's content based on your style guide and brand voice guidelines. You can also share team "snippets" — sections of approved, reusable text ranging from single sentences to page-long templates.
Reports help you track your team, as well as find out what mistakes they make most, who are using the app, and where they're using it.
A unique feature of Writer is its inclusivity checker that helps you avoid offensive and negative expressions.
Key Features
Grammar checker
Style checker
Plagiarism checker
Inclusivity checker
Readability score
Chrome extension
Online editor
Integrations with Google Docs, MS Word, Outlook, and Figma
Pricing
Free version
Pro: $11/month, $99/year
Team: $18/month, $162/year
Enterprise: Custom pricing
30-day free trial for Pro and Team plans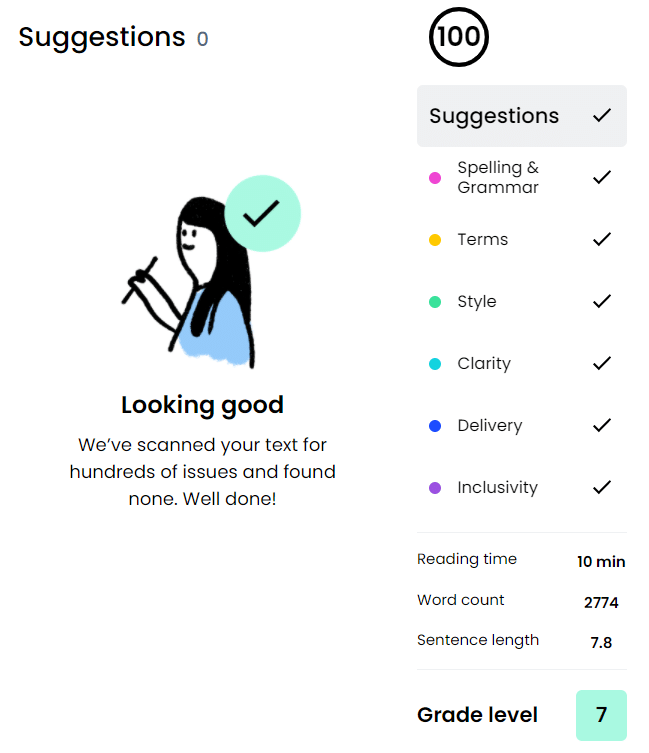 13. SentenceCheckup
Forget all the bells and whistles of the Grammarly competitors above. What if you just want a basic grammar, spelling, and punctuation checker as a Grammarly alternative?
Try SentenceCheckup. You don't have to download anything or pay a fee. It's not going to tell you if your tone is off or if you're using too much passive voice, but it will tell you if you have a grammar error.
Just paste your writing into the online tool, and it will highlight your mistakes. Hover over the highlighted error and change it with one click.

Key Features
Free web tool
Highlights errors
American and British English dialects supported
Pricing
Summary
The best way to find a Grammarly alternative that works for you is to try a few out yourself.
To get you started, here are our recommendations.
For a less expensive tool that's a lot like Grammarly, try ProWritingAid.
For a tool that rewrites your sentences, try WordTune.
For translation and multilingual grammar and style help, try LanguageTool.
For the best free Grammarly alternative with in-depth reporting, try SlickWrite.
For integration with a customer support solution, try Sapling.
For a tool that keeps teams on the same page, try Writer.