As remote work ramps up worldwide, choosing the right messaging app has become a critical business decision. You don't want to get it wrong. When businesses think of "message apps," they often jump right into comparing the pros and cons of two industry giants: Slack vs Discord.
Select the right chat app, and you'll speed up team communications and build bridges between your team members. But choose the wrong chat app, and you'll be back to the drawing board in no time.
That's what we'll explore in this post.
Let's dive in!
What Is the Difference Between Slack and Discord?
Slack and Discord are both channel-based messaging tools designed for teams. In both apps, you can communicate through direct messaging, private groups, and chat rooms.
Many similarities between Slack and Discord can make it difficult to choose between them. Both offer free and paid plans, have video chat and voice chat options, and allow users to share files. Naturally, both apps are a great fit for small, medium, and large teams alike.
However, there are many differences between Slack and Discord as well. We'll delve into those as well, but before we compare the apps in detail, let's take a look at each app's story.
Are you Team Slack or Team Discord? 💥Click to Tweet
Slack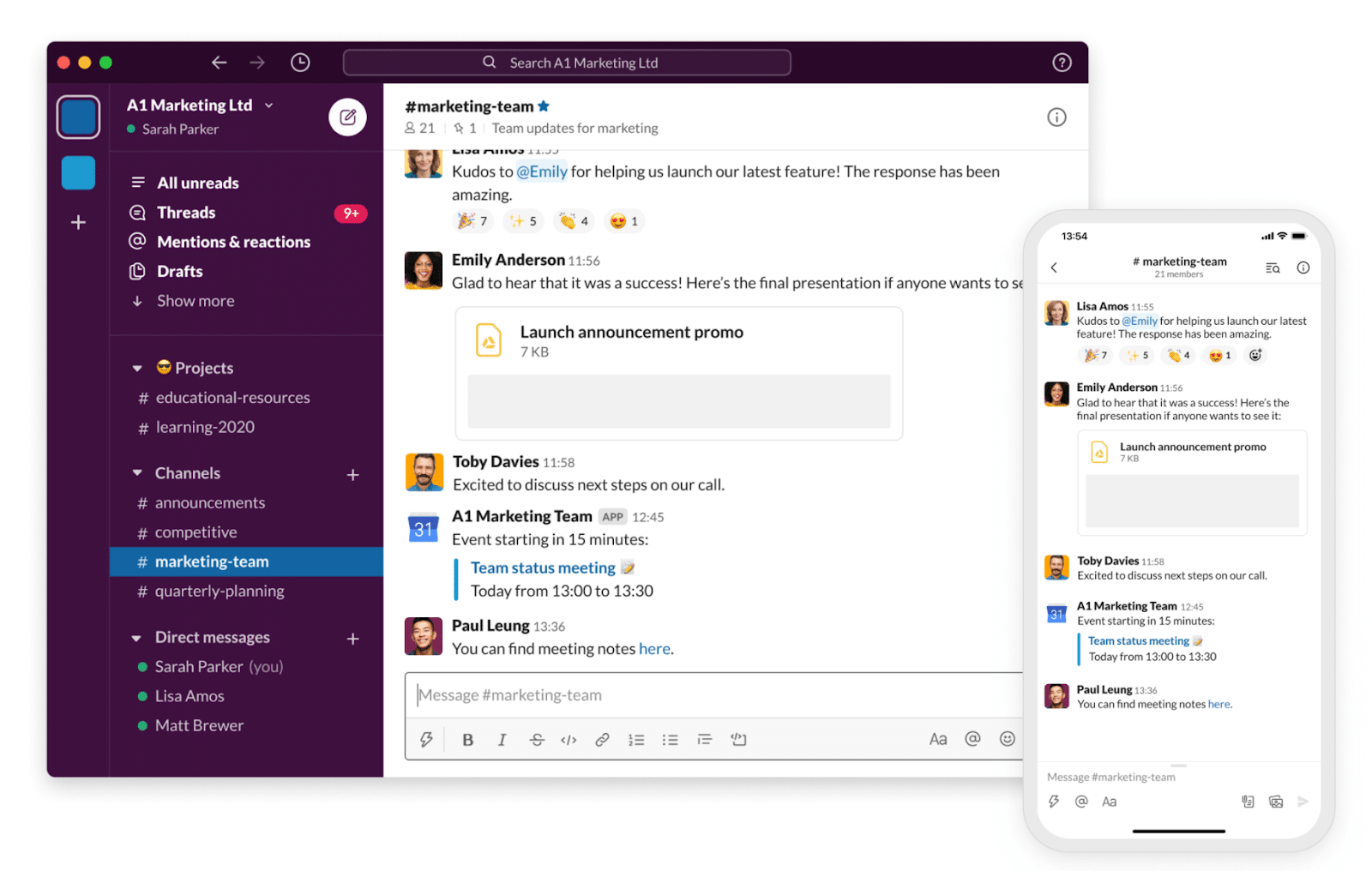 Stewart Butterfield's company, Tiny Speck, created Slack as an internal team communications tool for developers working on the video game "Glitch." Slack's creators then launched it for the public in 2013.
Five years later, Slack's developer, Slack Technologies, took the company public through a direct public offering of $19.5 billion. Salesforce now owns Slack after it acquired the company in January 2021 for $27.7 billion.
Today, Slack has over 12 million daily active users, over 119,000 of which are paid users. Teams currently use Slack at 65 Fortune 100 companies, including Target, Panasonic, and 21st Century Fox.
When people are first introduced to Slack, their biggest questions center around Slack's unusual name. The name "Slack" is an acronym that stands for "Searchable Log of All Conversation and Knowledge."
Now, on to Discord!
Discord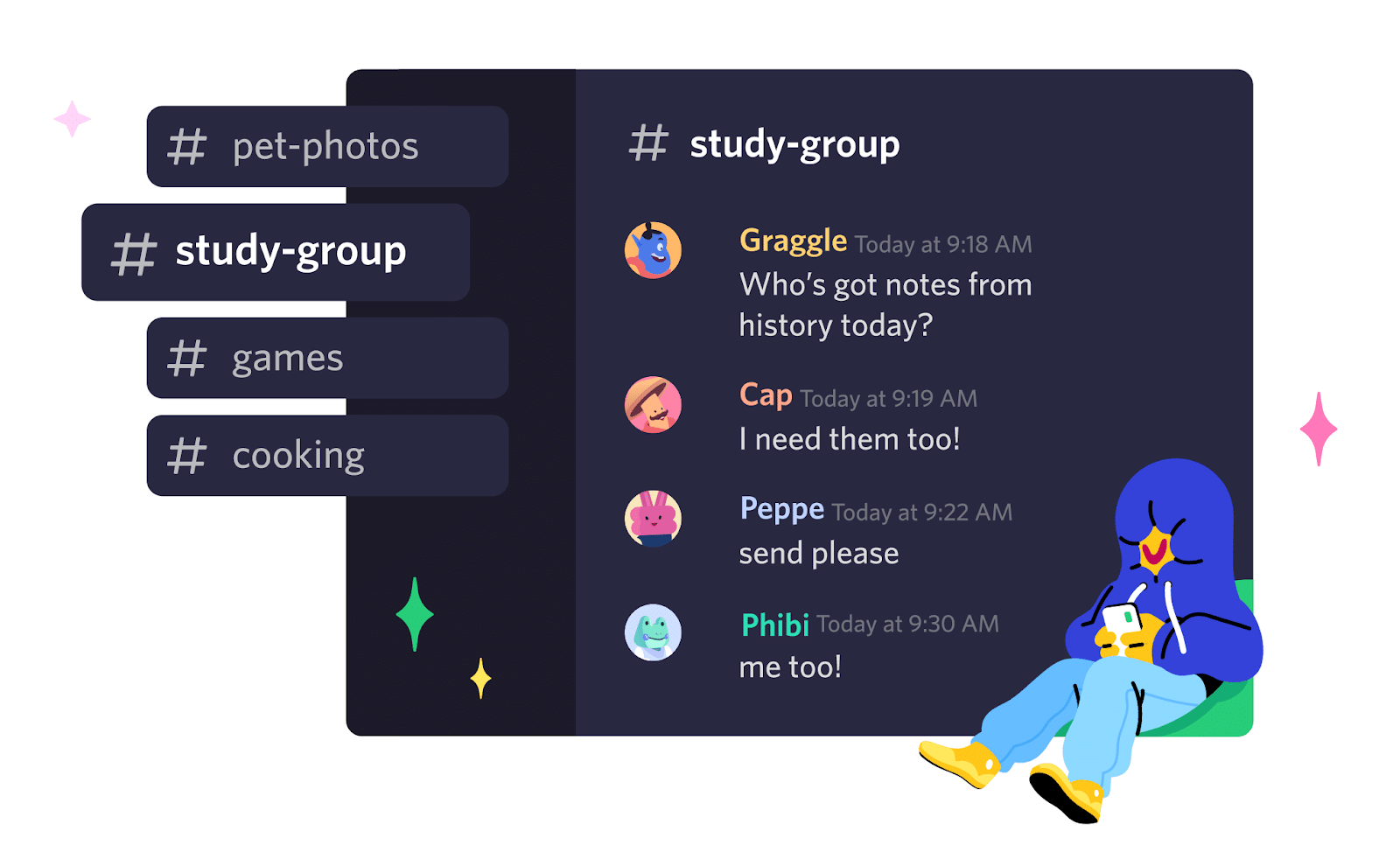 Jason Citron and Stan Vishnevskiy developed Discord through their company Hammer & Chisel, which later rebranded to Discord Inc.
Discord Inc. created Discord as a tool for users to share tactics while playing games with Voice over Internet Protocol (VoIP) software. The company released Discord to the public in 2015, where gamers around the globe immediately embraced it.
Unlike Slack, the name "Discord" isn't an acronym. According to a Reddit post made by Citron, he and Vishnevskiy chose the name Discord because it "sounds cool and has to do with talking."
Today, Discord has over 140 million users worldwide. Together, these users communicate through 19 million Discord servers. Discord servers bring users together to discuss anything from game design to productivity to web and app development, as Discord's user base has diverse tastes.
In 2021, Discord Inc. still owns Discord, and it operates as a private company.
Slack vs Discord: How To Compare Them
As 86% of employees believe that workplace failures are due to ineffective communication or a lack of collaboration, choosing the right messaging is essential for good team communication.
Selecting the right communication tool will also:
Help your team communicate faster
Reduce miscommunications
Foster a culture of open communication
Build peer-to-peer relationships
Help you work smarter
Though they may seem similar, Discord and Slack are surprisingly different in several areas.
When comparing the two, it's important to consider their strengths and weaknesses to select the best app for your needs.
Let's start our comparison with pricing plans.

Pricing
Slack and Discord use a freemium pricing model that lets users choose between a free plan or a more advanced option with extra features. In this section, we'll break down the pricing of both.
Slack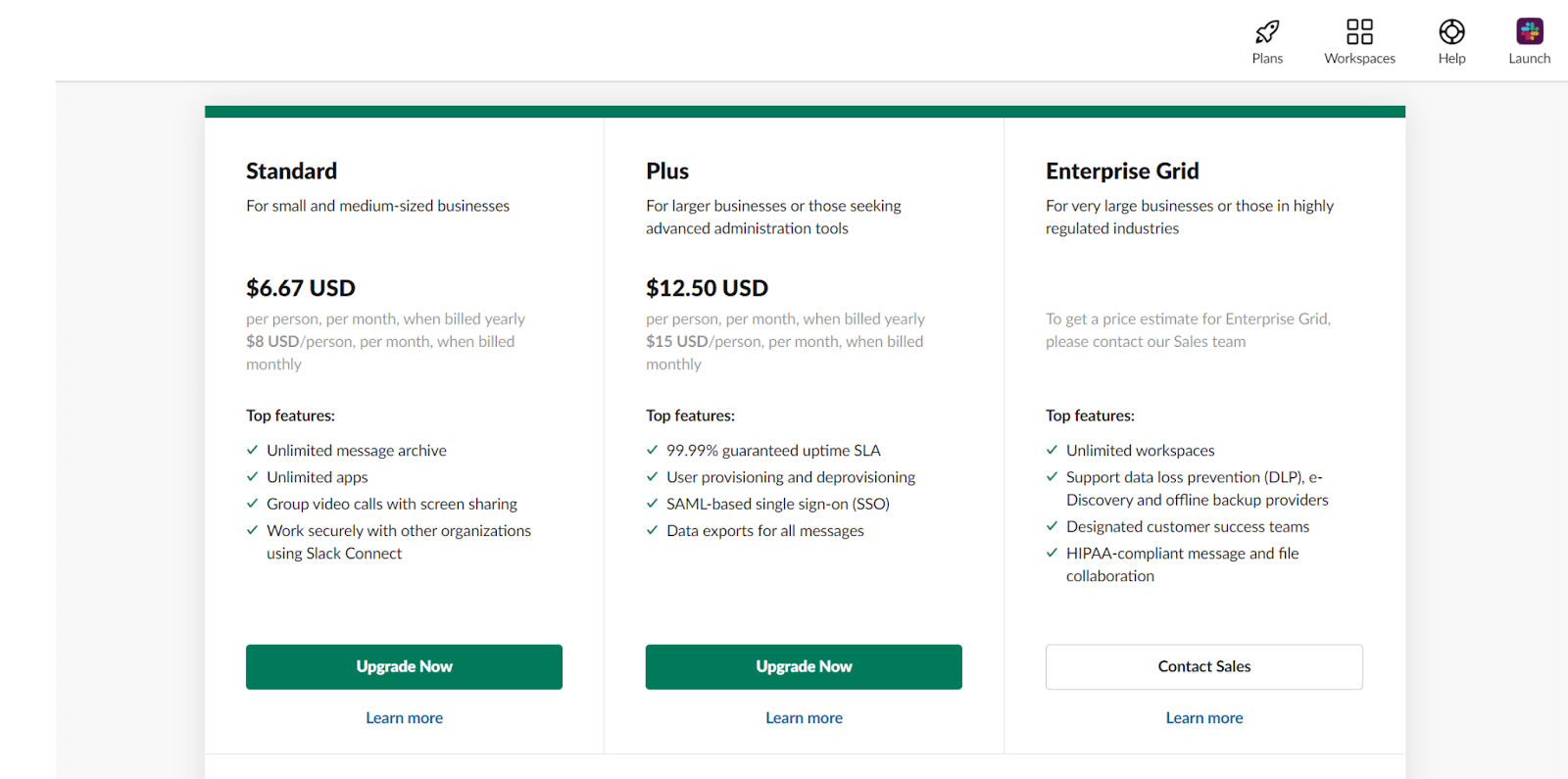 Slack offers four paid pricing plans: Slack Free, Slack Standard, Slack Plus, and Slack Enterprise Grid. Here's a brief breakdown of each plan's price and features:
Slack Free: With Slack Free, you can search your most recent 10,000 messages, connect up to 10 apps, share files, and use Slack for one-on-one voice and video calls.
Slack Standard: Slack Standard costs $6.67 per person per month when billed yearly or $8 per person per month when billed monthly. Slack Standard includes all free features, plus unlimited message search, unlimited apps, and Google sign-on.
Slack Plus: Slack Plus costs $12.50 per person per month when billed yearly or $15 per person per month when billed monthly. It includes all Slack Free and Slack Standard features, plus 99.99% guaranteed uptime SLA, user provisioning and de-provisioning, and data exports.
Slack Enterprise Grid: Slack Enterprise Grid is suited for large businesses in heavily regulated industries like healthcare. Pricing for Slack Enterprise Grid is organization-specific. It includes all of Slack's other features, plus HIPAA-compliant messaging, data loss prevention measures, and unlimited workspaces.
Discord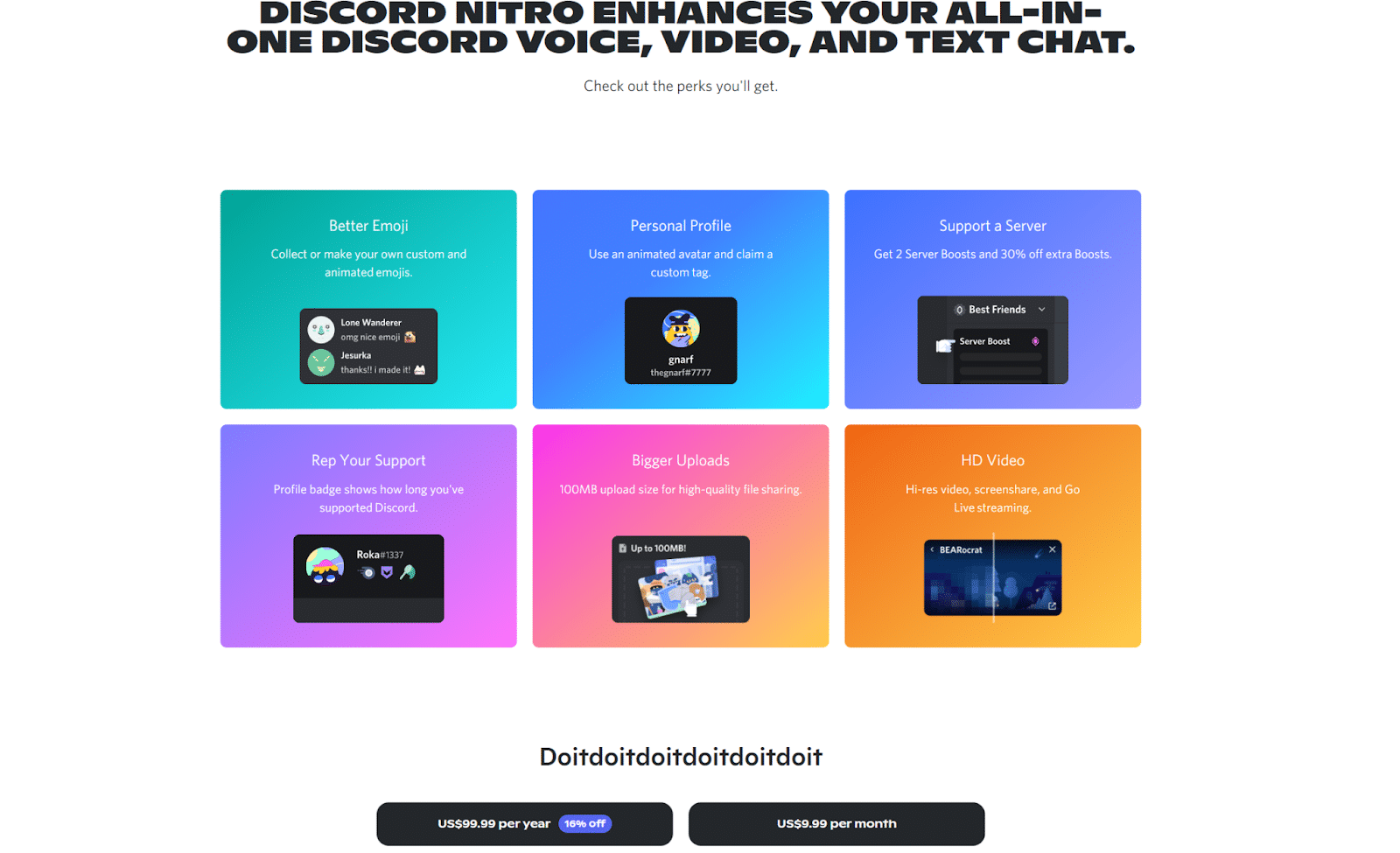 Discord offers three pricing plans: Discord Free, Discord Nitro, and Discord Classic. Here's a brief overview of each plan's price and what it includes:
Discord Free: With Discord free, you get unlimited messages, video conferencing with up to eight people, and 8 MB file uploads. The majority of Discord's users currently use Discord Free.
Discord Nitro: Discord Nitro costs users $9.99 per month or $99.99 per year. With Discord Nitro, you get 100 MB file uploads, two Discord server boosts, custom emojis, personal profiles, HD video capability, screen sharing, and Go Live streaming.
Discord Classic: Discord Classic costs $4.99 per month or $49.99 per year. It includes all Nitro features except the Discord server boosts.
Winner: Discord
Discord Free currently has more capabilities than Slack Free. If you have a small team, Discord is the most cost-effective option for you.
Interface
The interface of a communication app influences how we interact with our teams. That's why it's essential to weigh up the interface of Discord and Slack before choosing between them.
Slack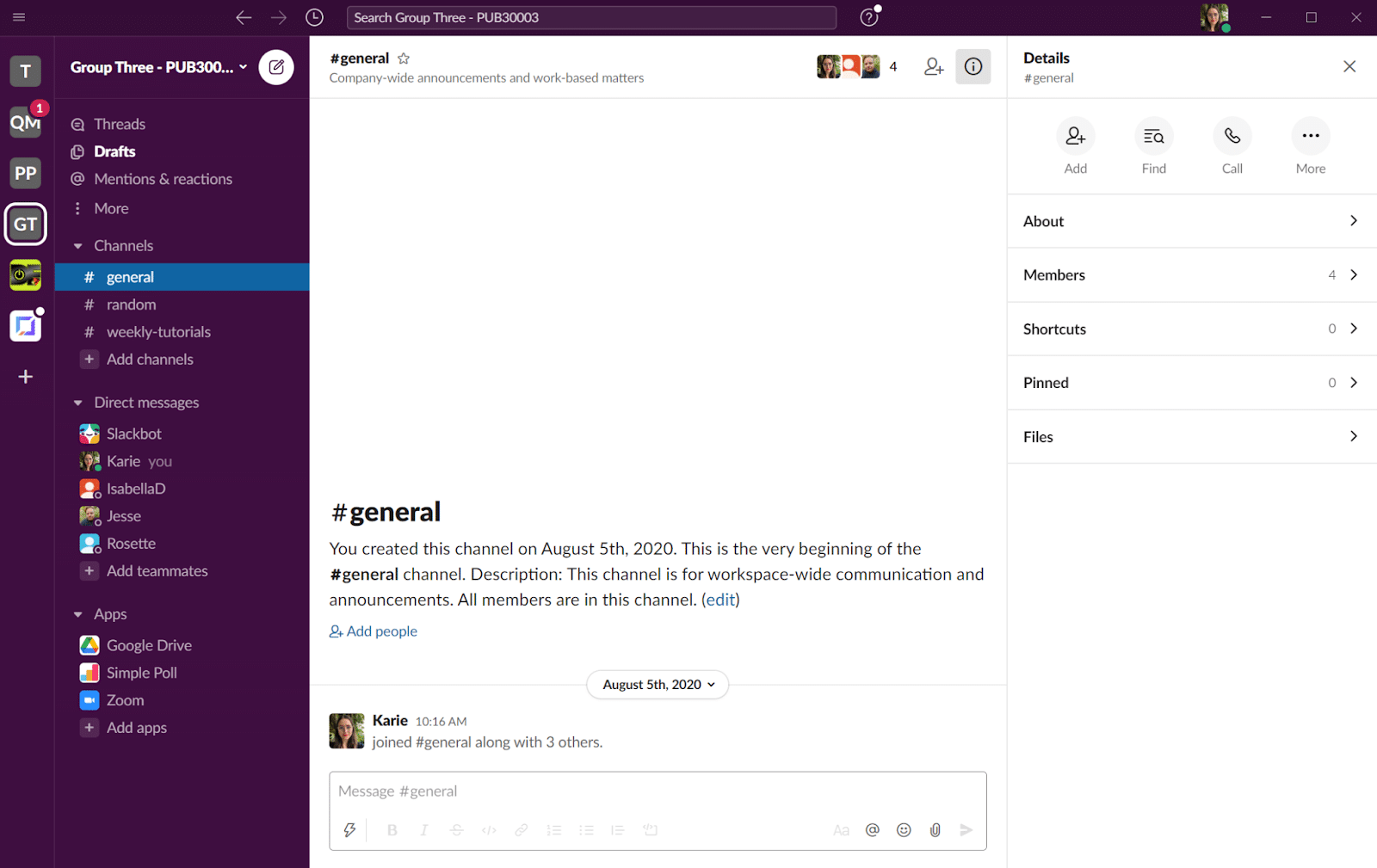 Slack has built its interface around the main chat window. To open a group, private chat, thread, or Slack channel, users click the buttons on the left-hand side of the screen.
On the right-hand side, you'll notice several buttons under the "Details" tab. These buttons allow you to search your messages, locate files, start calls, and add people into chats.
Slack's biggest strength is its simplicity. Its interface is clean and easy to use, making it perfect for people who struggle to acclimate to new software. Slack's interface is also very customizable — it has eight different themes for users to choose from and the option to create a custom theme.
Discord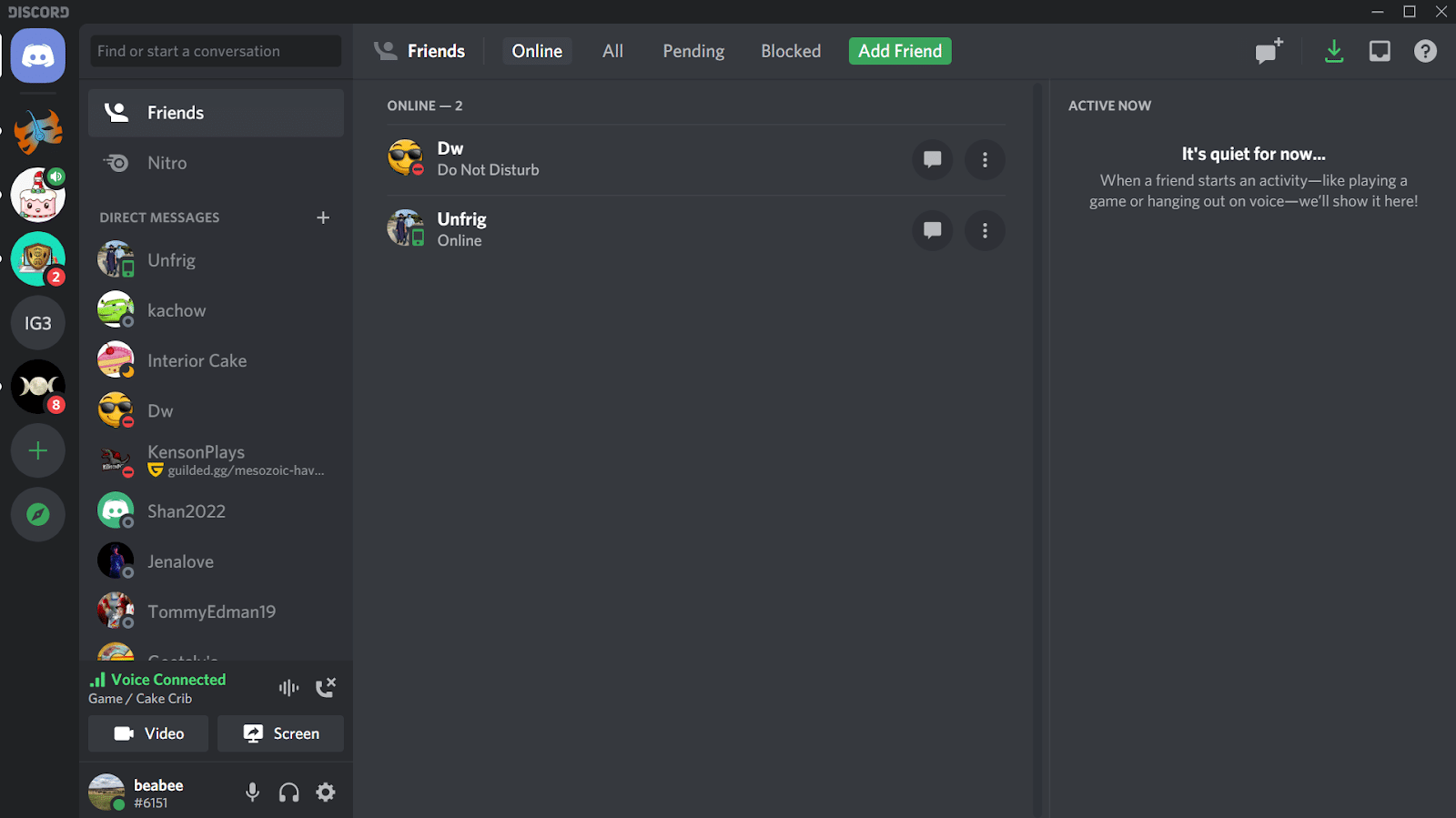 Discord's layout is a little more nuanced than Slack's, with its interface built around the main chat window and with contacts and servers listed on the left. On the right of the chat window, you can see who's currently active and online.
Discord has two themes: light and dark. However, you can download Discord bots that will let you further customize the platform with different fonts, colors, and themes.
Discord's biggest strength is its on-screen features. On Discord's main screen, you can see any active voice or video chats in your servers, who's online, and any new messages you receive.
Winner: Slack
While Discord's interface is detailed, Slack's is heavily customizable while remaining easy for anyone to use. It's the clear winner here.
Text Communication
Next, let's compare the strengths and weaknesses of Slack and Discord's text communication capabilities.
Slack
There are three places to communicate in Slack: through direct messaging, channels, and threads.
Each group has several Slack channels. These channels encourage discussion around a central theme, like #announcements.
As messages in chat apps tend to pile up, Slack allows you to reply to comments directly through a thread. A thread will appear inside the channel under a separate window to the left, making them easy to follow.
Slack's direct messaging system is relatively standard. You simply click on a person's icon to start a private chat.
Discord
While Discord is perfect for voice and video communication, users can still send text-based messages through text-chats and direct messages.
Text chats on Discord are also designed around a theme like #notes, and direct messages are pretty standard. You click a person's profile to start a conversation.
Unfortunately, Discord's text features have a considerable downside. As Discord threads tend to get very busy, it's easy to lose sight of new messages.
However, Discord does have a "See New Messages" feature, which is helpful in this situation.
Winner: Slack
As Discord is geared towards voice and video chat, it's simply harder to use for text-chatting. Slack's system is straightforward to use by comparison. Slack wins.
Audio Calls
If your team frequently uses voice calls, you'll want to consider any potential messaging app's capabilities carefully. Let's compare voice calls on Slack and Discord now.
Slack
Slack's voice calling features depend on your plan. On Slack Free, you can have one-on-one voice calls. With paid plans, you can have up to 15 users simultaneously.
Starting a voice call in Slack is very simple:
Navigate to the right-hand side of the screen
Press the Call button
Wait for others to join the call
Discord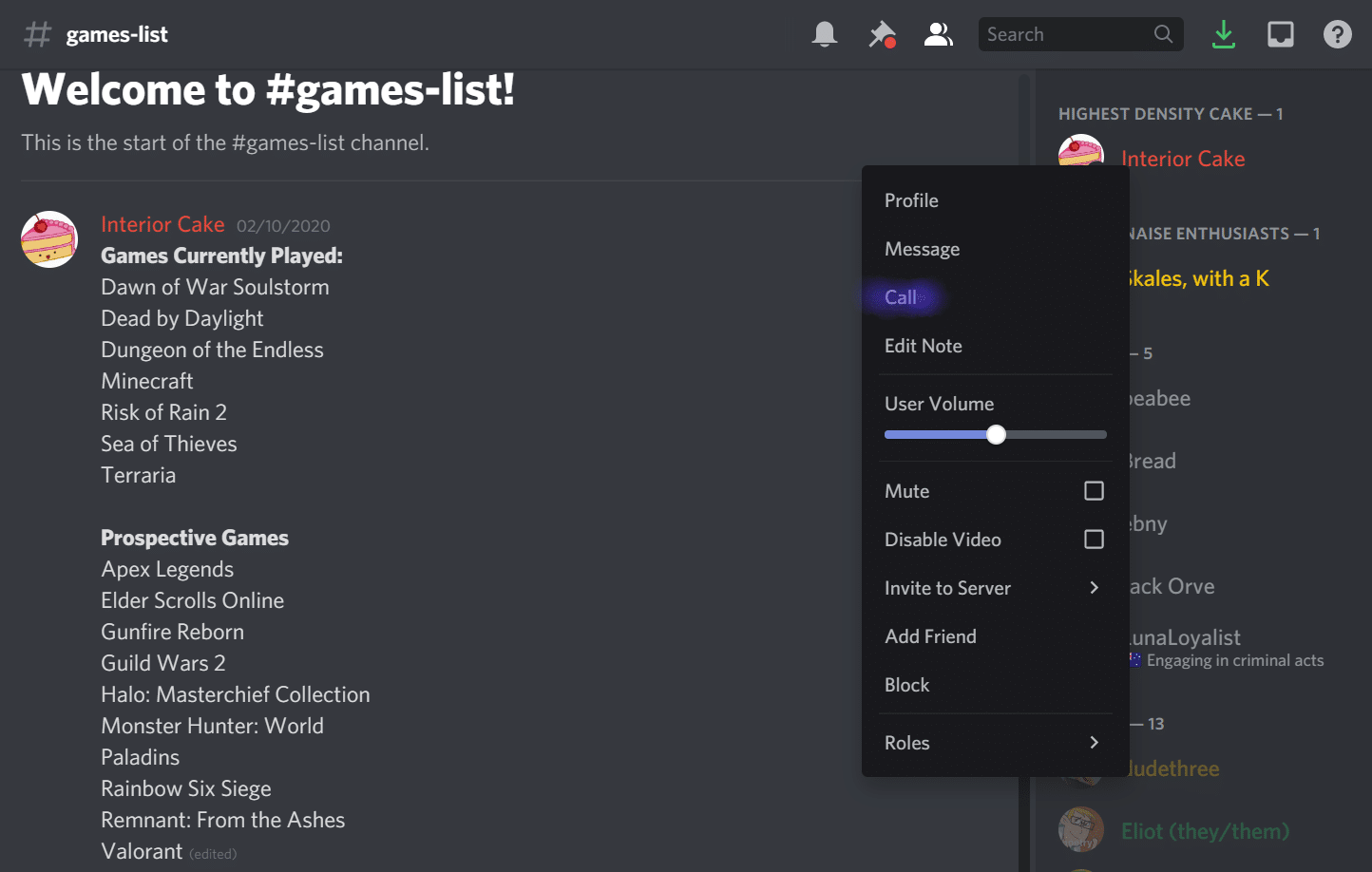 Voice calls are the bread and butter of Discord. With Discord Free, you can include up to 15 users in your voice call. This increases to 5,000 users on Discord Nitro and Discord Nitro Classic plans.
Discord also includes a "Push-to-Talk" feature which automatically mutes people to prevent the call from becoming overwhelming.
Here's how to start a call in Discord:
Select a voice channel or user
Right-click
Press Call
Winner: Discord
Discord's voice call features allow you to host more people and keep your discussion on track with push-to-talk. If you need voice calling functionality, Discord is a clear choice.
Video Calls
Video calls are becoming increasingly popular with both global and local teams. While you can video call with both Slack and Discord, their video call features are unique.
Slack
Slack's video call features are plan-dependent. On Slack Free, you can include two users (i.e. you and someone else), but you can have up to 15 users at once with a paid plan.
Its video functionality is simplistic, but Slack users can integrate Zoom into their channels if they want advanced features. Slack's video calls also support screen sharing, which is excellent for meetings.
Discord
Discord's video call features are also plan-dependent. With Discord Free, you can video call eight people at once; it increases to 25 users on paid plans.
Discord's video calls have a simple layout with plenty of features, including screen-sharing, echo cancellation, noise suppression, and push-to-talk.
Winner: Discord
Discord's video chat features are more robust than Slack's. Discord allows you to host between eight and 25 people (depending on your plan) and gives users access to features that enhance their call. It's the clear winner when it comes to video calls.
Integrations
Integrations are the key to creating harmony in your team's instant messaging. With integrations, you can connect other business apps to your chat and enhance Discord the features of Discord and Slack.
Let's compare Slack vs Discord integrations now.
Slack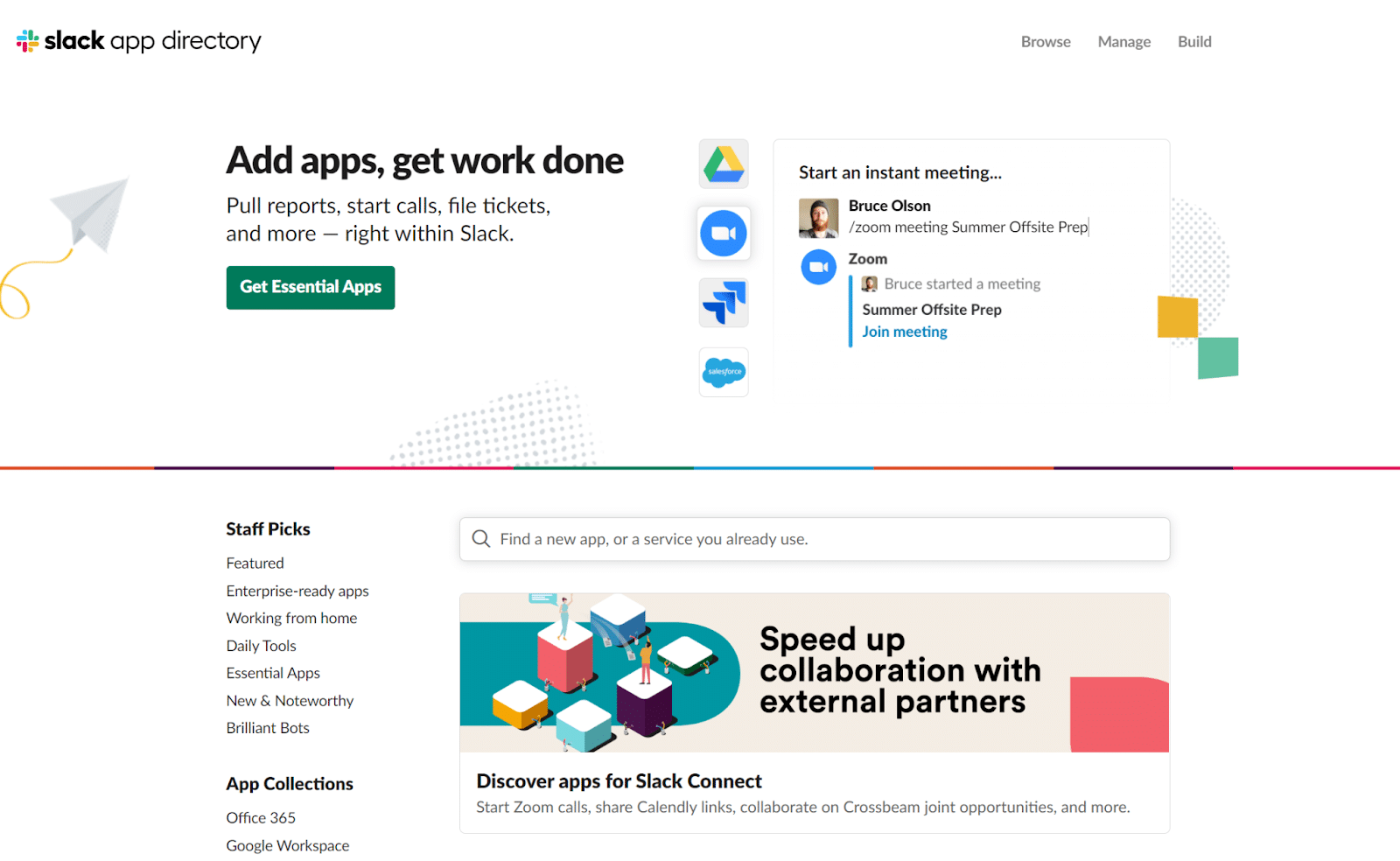 Slack's integrations are known as "apps." Generally, Slack has geared its apps toward productivity and work, and there are currently over 2,400 unique apps to choose from:
Google Calendar
Zoom
Salesforce
Google Sheets
Dropbox
OneDrive and SharePoint
ZenDesk
Giphy
IFTTT
Workday
You can integrate up to 10 apps with Slack Free and an unlimited number of apps on Slack's paid plans. Some apps require an extra subscription fee, though these are marked clearly.
It takes only three steps to add apps in Slack:
Visit the Slack App Directory
Select the app you want
Click the Add to Slack button
Discord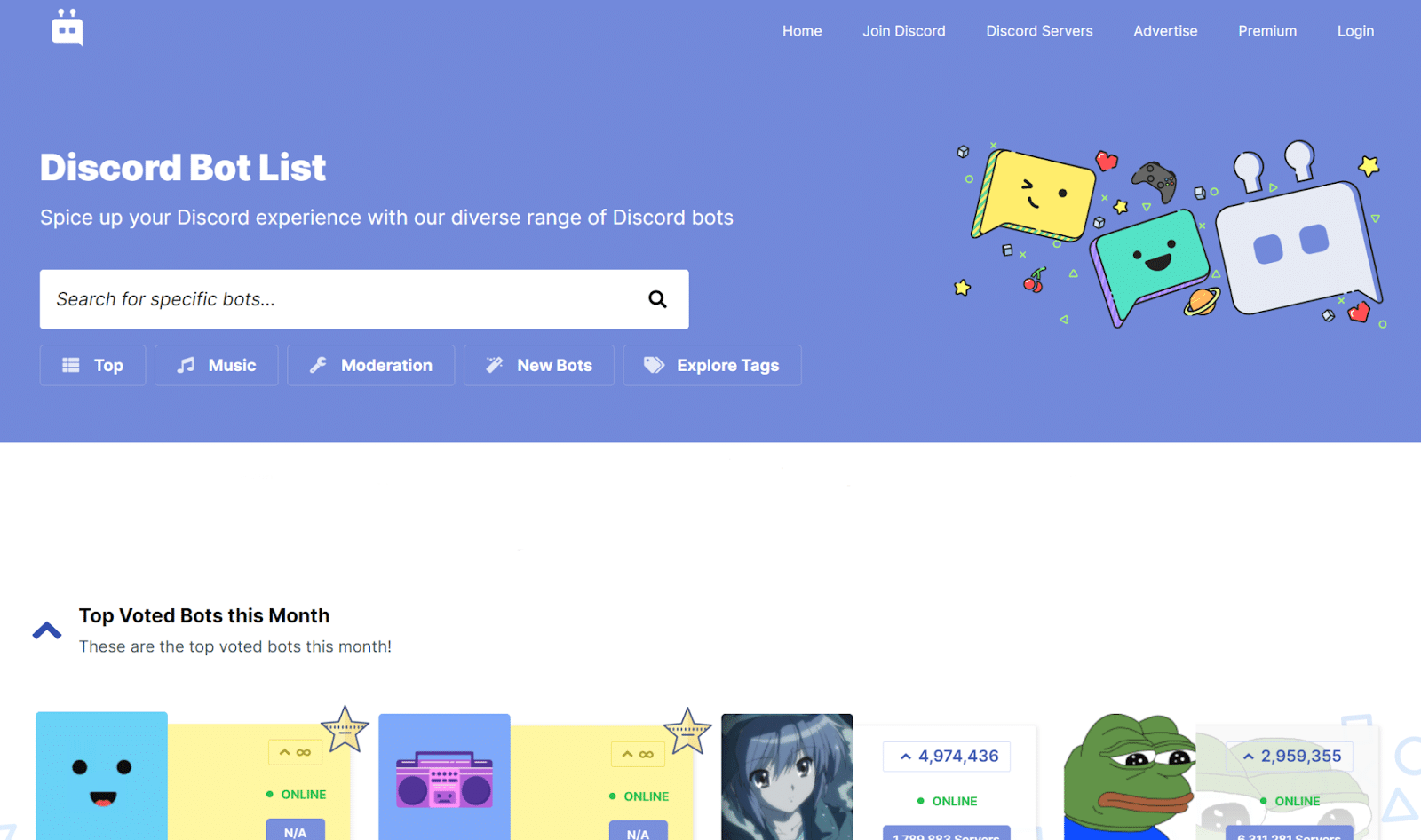 Discord calls its integrations "bots." Discord bots are created by third parties or Discord users who want specific features. For example, while some Discord bots are designed for gaming, others enhance Discord's voice and video calls with extra features.
Some of the most popular Discord bots include:
Groovy
Sesh
Simple Poll
Sesh
Here's how you'd add bots in Discord:
Visit Discord's bot website top.gg
Find the app you want
Press Add to Discord
Select the Discord server you want to integrate the bot with and click Continue, then Authorize
Click Welcome and customize your bot according to the instructions on-screen
Winner: Slack
Slack is the clear winner here. It has more integration options and cooperates smoothly with productivity software, making it ideal for teams.
File Sharing
Busy teams need file sharing in their chat tool. With file sharing, you can send a document to your entire team in seconds, saving you time and keeping your documents safe.
Let's compare Slack vs Discord's file-sharing capabilities.
Slack
Slack lets you share files from two places: Google Drive and your computer. When uploading a file from your device, Slack lets you share 1 GB at a time.
Slack's storage capabilities are plan-dependent. With Slack Free, you can store up to 5 GB, while you can store up to 10 GB per user on paid plans.
Discord
Discord allows you to share files from your device in text-based channels and direct messaging. It gives every user unlimited file storage, though sharing is quite limited. You can share files up to 8 MB on Discord Free and 100 MB in Discord Nitro and Discord Nitro Classic.
Winner: Slack
If your team needs to share files regularly, Slack is your best bet. It allows you to share larger files and Google Drive documents.
Supported Languages, Countries, and Time Zones
Both of these apps have users all over the world. This section will compare Slack vs Discord regarding supported languages, countries, and time zones.
Slack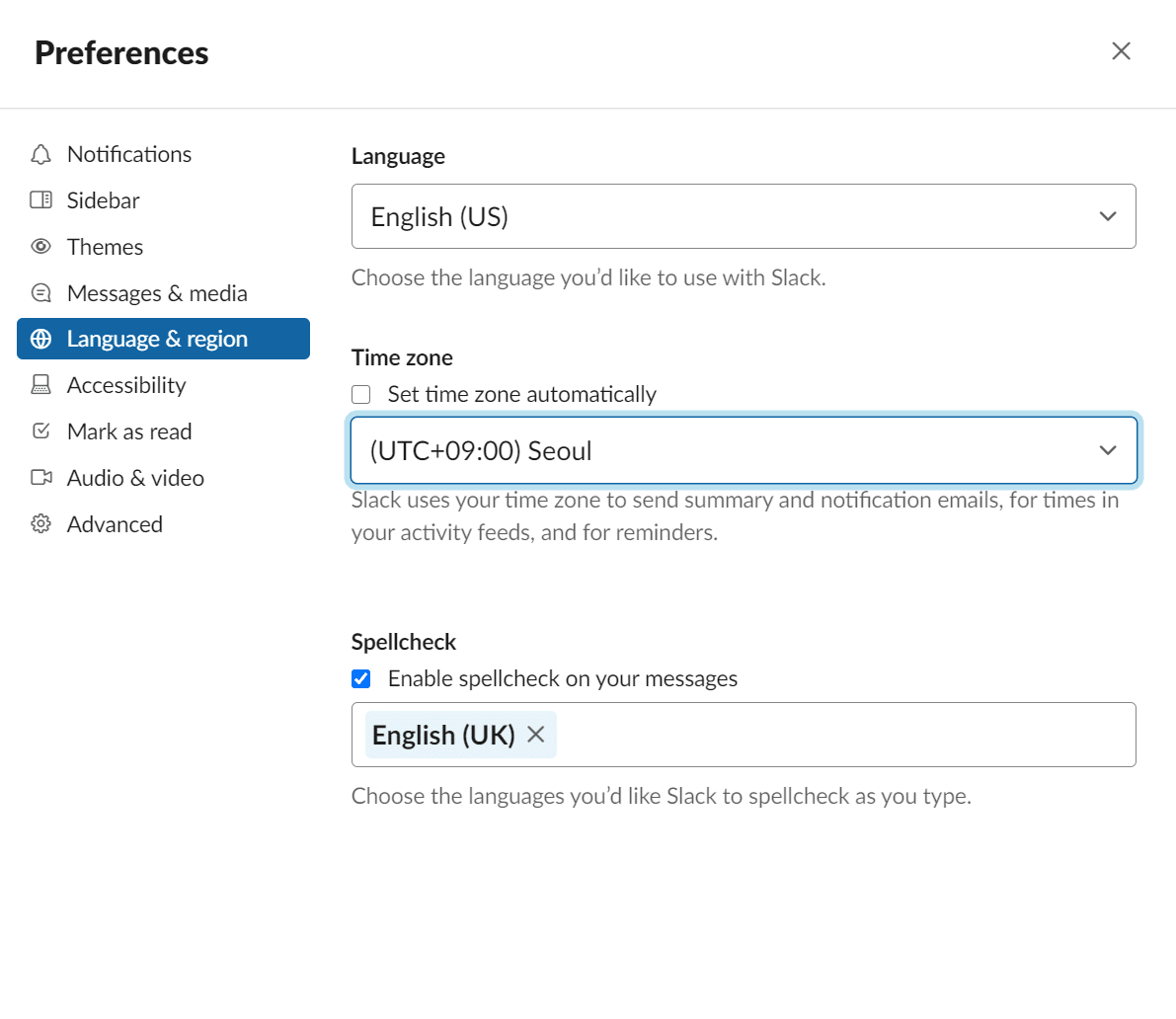 Slack is a popular option among multinational teams, as the app has users in over 150 countries. Slack is currently available in 11 languages, including:
Chinese
English (UK and US)
German
French
Italian
Japanese
Korean
Portuguese
Spanish (Spain or Latin America)
Slack also makes it easy to change your language preferences. Here's how:
Click your profile picture in the top-right corner
Select Preferences
Click Language and Region
Select your preferred language
As a Slack user, you can personalize your app to over 60 different time zones. Slack will also automatically update your time zone for you if you have location settings turned on.
Slack also provides localized customer service in five languages: English, French, German, Japanese, and Spanish.
Discord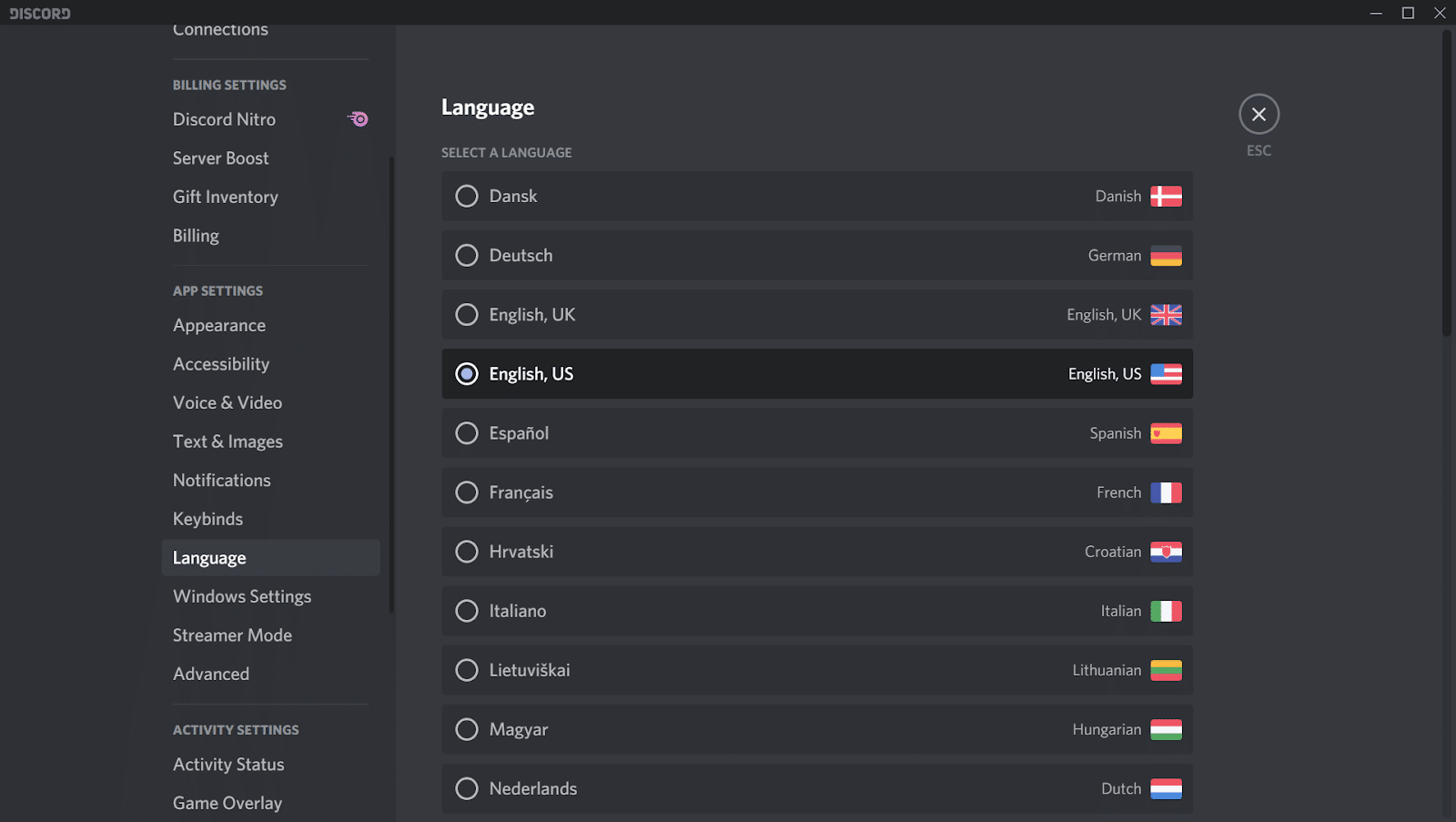 Discord is also popular with multinational teams. The app is currently available in 28 languages, including:
English (UK and US)
Bulgarian
Chinese
Croatian
Czech
Danish
Dutch
Finnish
French
German
Greek
Hindi
Hungarian
Italian
Japanese
Korean
Lithuanian
Norwegian
Polish
Portuguese
Romanian
Russian
Spanish
Swedish
Thai
Turkish
Ukrainian
Vietnamese
You can change your language preferences in Discord by following the instructions below:
Click the gear icon to open settings
Look for Select a Language
Click your language
Unlike Slack, Discord doesn't have an inbuilt setting that lets you adjust your time zone. However, you can change your time zone in Discord using TimeZoneBot.
Winner: Discord
While Slack's multilingual customer service is handy, Discord is simply available in more languages. If you have a multilingual team, Discord may work better for you.
Slack: Pros and Cons
Slack is an excellent choice for small teams that need a chat tool for work. It has over 2,400 integration apps, supports file sharing up to 1 GB, and has eight theme options. It also offers multilingual customer service and stores 10,000 messages in Slack Free.
However, Slack limits users to 10 integrations and two-user calls with free plans. It also has no push-to-talk features.
While Slack's voice and video call features are simplistic, you can upgrade them by integrating Zoom's Slack app.
Discord: Pros and Cons
Discord's strengths lie in its voice and video call capabilities. The software supports voice calls for two to 5,000 users (plan-dependent), video calls with up to 25 people, and even push-to-talk features and bot integrations that enhance voice and video calling.
However, Discord isn't best suited to file-sharing or professional communication. File sharing is limited to 8 MB on Discord Free, and 100 MB on Discord Nitro and Discord Nitro Classic.
Discord's bots are also heavily geared toward gaming, meaning you can't integrate Discord with your existing work systems through bots.
Slack vs Discord Comparison Table
Slack
Discord
Pricing

Slack Free
Slack Standard ($6.67 per person per month)
Slack Plus ($14 per person per month)

Discord Free
Discord Nitro Classic ($4.99 per month or $49.99 per year)
Discord Nitro ($9.99 per month or $99.99 per year)

Text Communication
Yes
Yes
Integrations
Support for over 2,400 apps
Allows users to add third-party bots
Integration Limits

10 integrations on Slack Free
Unlimited integrations on Slack Standard and Slack Plus

Screen Sharing
Yes
Yes
Storage Limit

5 GB in Slack Free
10 GB per user in Slack Standard and Slack Plus

File Sharing

8 MB in Discord Free
100 MB in Discord Nitro and Discord Nitro Classic

Voice-only Channels
Yes
Yes
Voice Calls

2 users per call on Slack Free
15 users per call on Slack Standard and Slack Plus

15 users per call on Discord Free
Up to 5,000 users per call on Discord Nitro and Discord Nitro Classic

Video Calls

2 users per video on Slack Free
15 users per video on Slack Standard and Slack Plus

Push-to-Talk
No
Yes
Theme Options
8 theme options
2 theme options (light or dark), plus bot customizations
Message History

10,000 messages in Slack Free
Unlimited messages in Slack Standard and Slack Plus

Mobile App
Yes
Yes
Languages Supported
8
28
As remote work ramps up worldwide, choosing the right messaging app has become a critical business decision 🌏 Find out which service is right for your team right here 🤝Click to Tweet
Summary
Ultimately, it's challenging to compare Slack and Discord. Both apps are robust, easy to use, and suited for international teams. Each app is better suited to slightly different audiences.
If your team needs a text-based communication tool that integrates with your other work systems and supports file sharing, Slack is the better option. But if you need better voice and video calling features, Discord is the perfect Slack alternative.
Do you have any other thoughts about Slack vs Discord? We want to hear them! Share in the comments section below.
---
Get all your applications, databases and WordPress sites online and under one roof. Our feature-packed, high-performance cloud platform includes:
Easy setup and management in the MyKinsta dashboard
24/7 expert support
The best Google Cloud Platform hardware and network, powered by Kubernetes for maximum scalability
An enterprise-level Cloudflare integration for speed and security
Global audience reach with up to 35 data centers and 275 PoPs worldwide
Get started with a free trial of our Application Hosting or Database Hosting. Explore our plans or talk to sales to find your best fit.