Website Privacy Policies 101
We've teamed up with the experts at Termageddon to bring you a free ebook that will help you run and manage a privacy law-abiding website and business.
Download for Free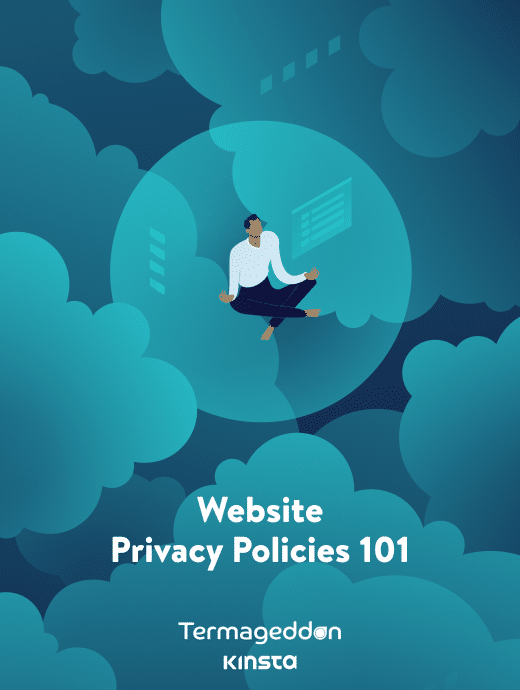 Sign up here to download the ebook
Does your website collect, use, or disclose information such as:
names,
emails,
phone numbers,
addresses,
or any other Personally Identifiable Information?
Then your site must have an up-to-date website Privacy Policy. If not, it can be subject to fines anywhere from $2,500 per violation (which can mean per website visitor) to $20 million or more in total.
Download the free ebook to get a good introduction to the website privacy policy laws that apply to your business (it's likely a longer list than you expect) and suggestions on how to keep your Privacy Policy up-to-date.
About The Author
You won't find another privacy expert like Donata Stroink-Skillrud. She's a licensed attorney, Certified Information Privacy Professional, and Chair of The ePrivacy Committee of the American Bar Association.
Not only that, but she's also the President of Termageddon, a generator of website and application privacy policies. With Termageddon, you can rest assured that when the law changes, so do your website privacy policies, keeping your company protected and allowing you to focus on more important things.
Turbocharge your business
About Kinsta
Kinsta is a premium managed WordPress hosting provider designed for enterprise level and high traffic sites. The first managed WordPress host to be exclusively powered by
Google Cloud Platform, with best in class performance and customer support.
Get started today
Fully managed
Security by Cloudflare
Free migrations
Ultimate speed
Daily backups
Google Cloud Platform