Webinars are an effective way to convert leads into paying customers, but only when done right. That's why you need access to the best webinar platforms out there.
You can't just live stream a choppy, low-quality, non-interactive video. Attending such webinars is a frustrating experience that doesn't inspire conversions.
But with the right webinar platform, you can easily set up a reliable system for creating a deeper relationship with potential customers.
To help you find the right match, we've covered 24 different options in this article, including free and cheap alternatives to help you test the waters with no risk.
How To Choose The Right Webinar Platform for Your Company
There are a lot of webinar platforms out there. Some of them are even free.
But don't just jump on the cheapest or easiest option. Spend some time figuring out which platform works best for your company's unique needs.
Ask yourself the following questions.
What's the goal of your webinars?
Will you use them for lead generation or lead nurturing? Thought leadership or demonstrating products?
Look for a webinar platform with features that help you reach your goals.
How many attendees do you expect per webinar?
Many webinar platforms limit the number of live attendees you can have at each pricing tier. The most cost-effective platform for an audience of 30 might not be the same as for an audience of 3,000.
How will you interact with attendees?
Are you just planning to talk while your potential customers listen? Or will you engage with them — for example, by conducting a poll during the webinar?
If you want to interact with your audience, check out the engagement features that each platform has.
What will you do with the videos after the webinar?
Videos of past webinars make great on-demand content for your website, especially if you're a B2B company. Webinars are the number one type of content that B2B buyers are willing to register for with their email addresses.

If you're going to use your webinar videos like that, you'll want a platform that makes it easy to lock webinars behind a form.
Webinars are an effective way to convert leads into paying customers, but only when done right. 💪 These webinar platforms will give you the tools you need to succeed 🚀Click to Tweet
24 Best Webinar Platforms
Keep the considerations above in mind as we explore the 24 options in this article.
1. Livestorm
Livestorm is a popular webinar and video conferencing platform. It works exceptionally well for product demos and training sessions.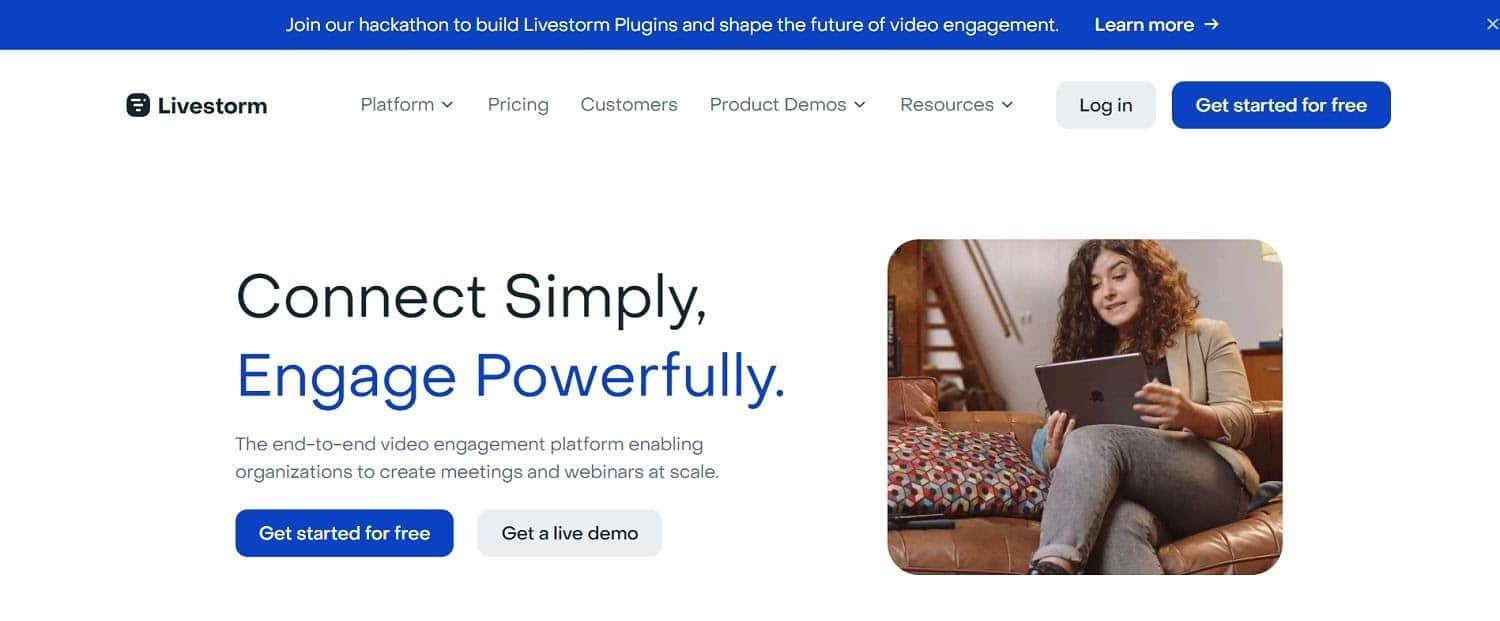 Pros:
There's a free plan (but it only lets you have ten registrants)
Run live, on-demand, or fully automated webinars
Engage attendees with features like polling, Q&A sessions, and upvoting
Browser-based, meaning it's available on any device and doesn't require download or setup
Branded registration pages can be generated for each webinar
You can send automatic email reminders to people who have registered
Integrations with HubSpot, Salesforce, and other common tools
Cons:
As browser software, video quality can be affected by the host's internet connection
The cheapest paid plan starts at $99 per month
Pricing
Limited plan with up to ten participants: free
Business plan with 100 live attendees (or add-ons for more): $99/month
Enterprise plan with 3,000 live attendees: custom pricing
2. WebinarJam
WebinarJam is an easy-to-use webinar platform that's particularly effective at selling products. A useful WebinarJam feature is pop-up CTAs that appear during the webinar, making it easy for an attendee to buy a product.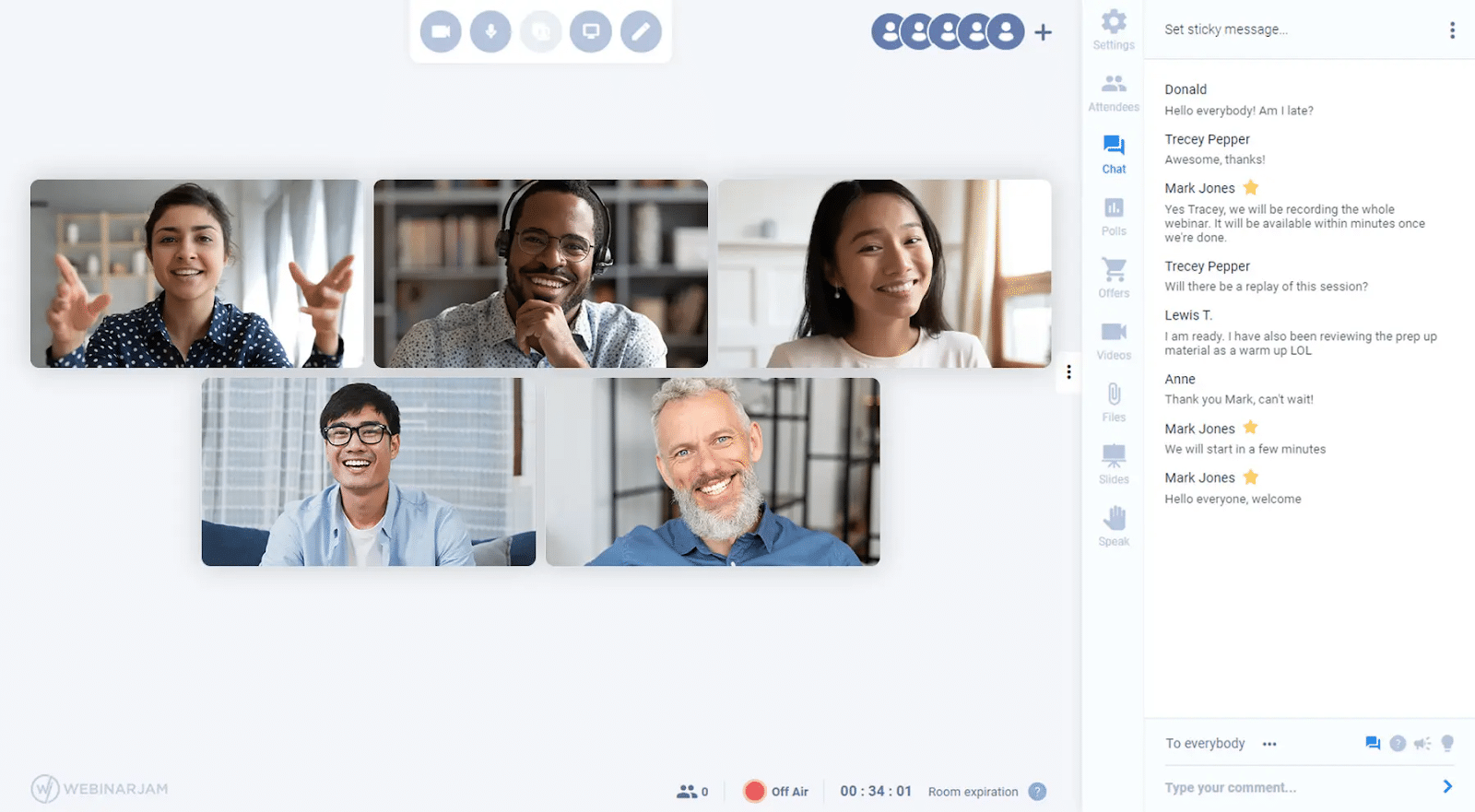 Pros
14-day trial for just $1
Enterprise plan allows for up to six presenters and 5,000 live attendees
"Replica Replays" lets you replay your webinar exactly — for example, attendee comments will appear at the same time on the replay as they did on the original
User-friendly and quick to set up
CTA pop-ups
Cons
Offering your WebinarJam webinars on-demand requires you to purchase EverWebinar
Pricing
Basic plan with 500 attendees: $499/year
Professional plan with 2,000 attendees: $699/year
Enterprise plan with 5,000 attendees: $999/year
3. EverWebinar
WebinarJam was designed for live webinars. EverWebinar is its sister product that helps you create promotions out of your webinar videos.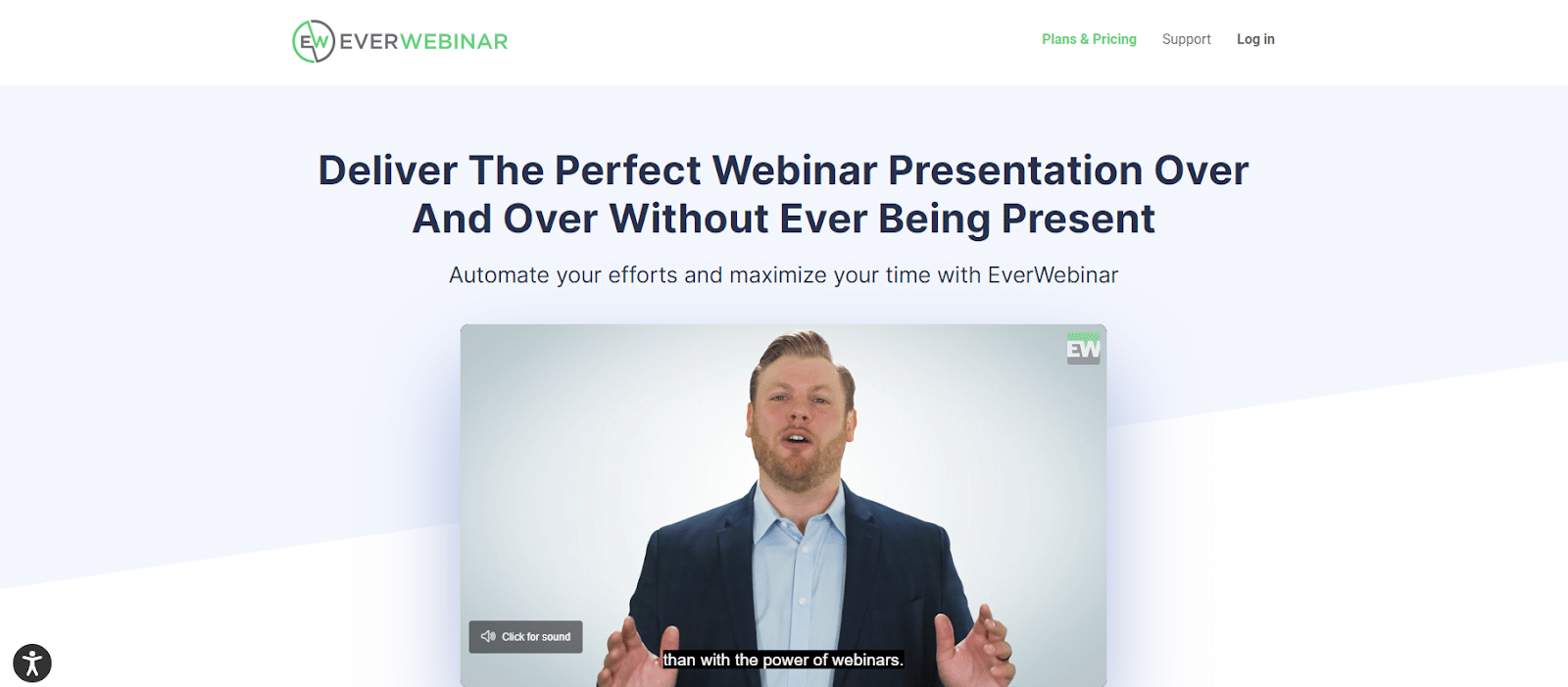 Pros
Automatically convert WebinarJam videos into recurring events
On-demand webinars have a look and feel of live webinars (including a fake attendance count)
Videos don't require an additional download or set up and can be watched in the user's browser
Advanced scheduling system lets you block out unavailable dates
Cons
Sold separately from WebinarJam. Some other solutions let you create on-demand and live webinars from the same platform
Pricing
Billed monthly: $99/month
Billed annually: $42/month
Billed biennially: $34/month
4. Demio
Demio is an all-in-one tool offering both live and on-demand webinars. Demio is made for marketers, with a suite of built-in promotion tools.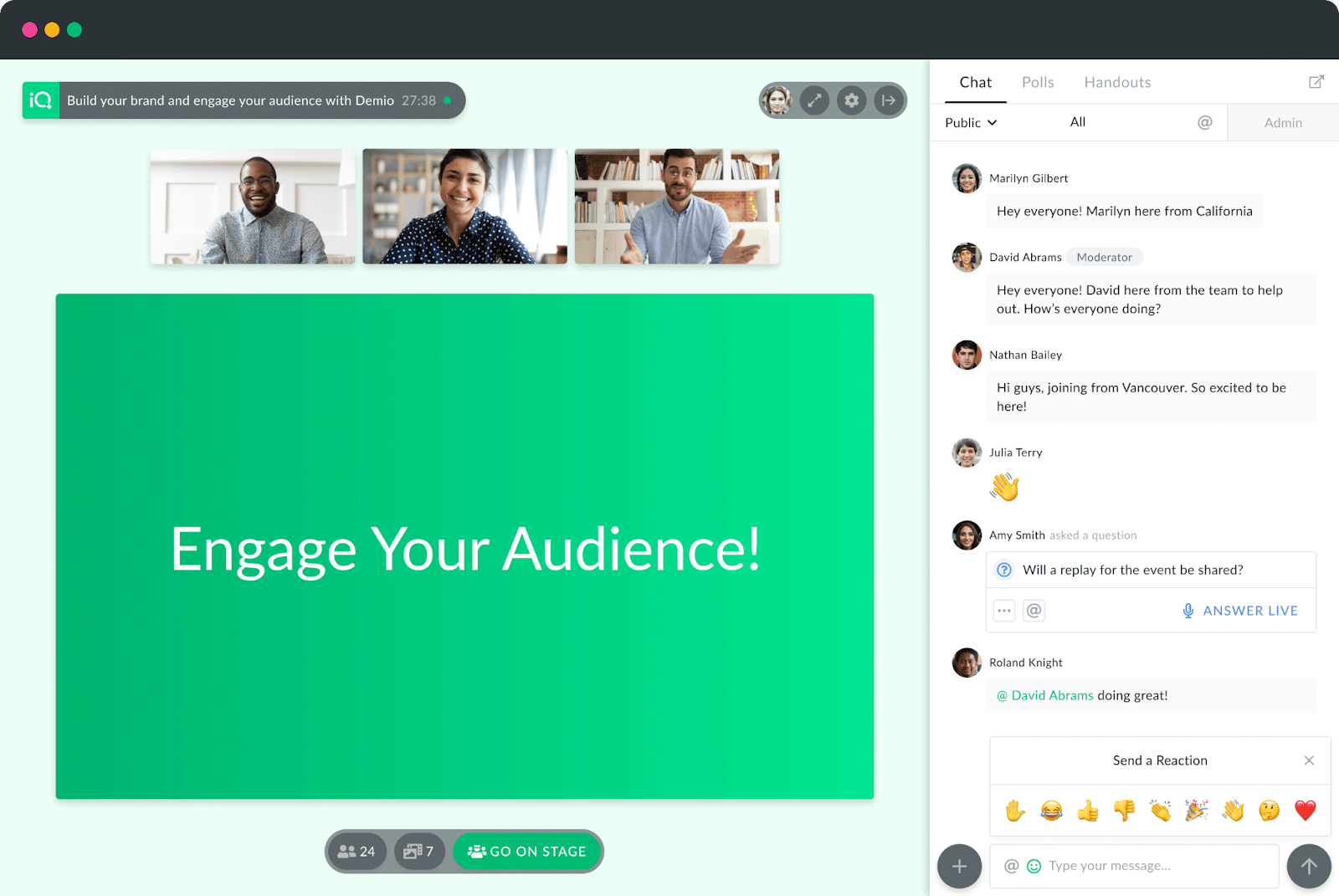 Pros
Webinar pages are highly customizable
Includes engagement features like live chat, document handouts, and CTA pop-ups
Integrates with many common marketing tools
14-day free trial available
Cons
Price ramps up quickly with more attendees
Pricing
Starter plan with one host and 50 attendees: $34/month
Growth plan with five hosts and 150 attendees: $69/month
Growth plan with 1,000 attendees: $257/month
Premium plan: custom pricing
5. EasyWebinar
EasyWebinar is a platform for live and automated evergreen webinars that prides itself on being simple to use.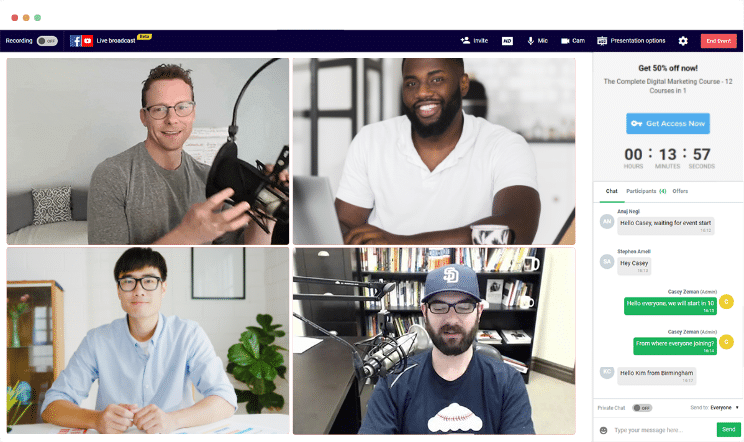 Pros
Even the least expensive plan includes both live and automated webinars
Offers screen sharing with multiple presenters
Audience engagement features like live chat and Q&A
Has a WordPress plugin
Cons
Attendees need to install a webinar app to view the webinar on a mobile device
Not the cheapest platform, especially with large audiences
Pricing
Standard plan with 100 live attendees: $78/month or $708/year
Pro plan with 500 live attendees: $129/month or $1080/year
Enterprise plan with 2,000 live attendees: $499/month or $4188/year
Includes three months free if you choose annual billing
6. WebinarNinja
WebinarNinja is an all-in-one webinar solution offering four types of webinars: live, automated, hybrid, and series.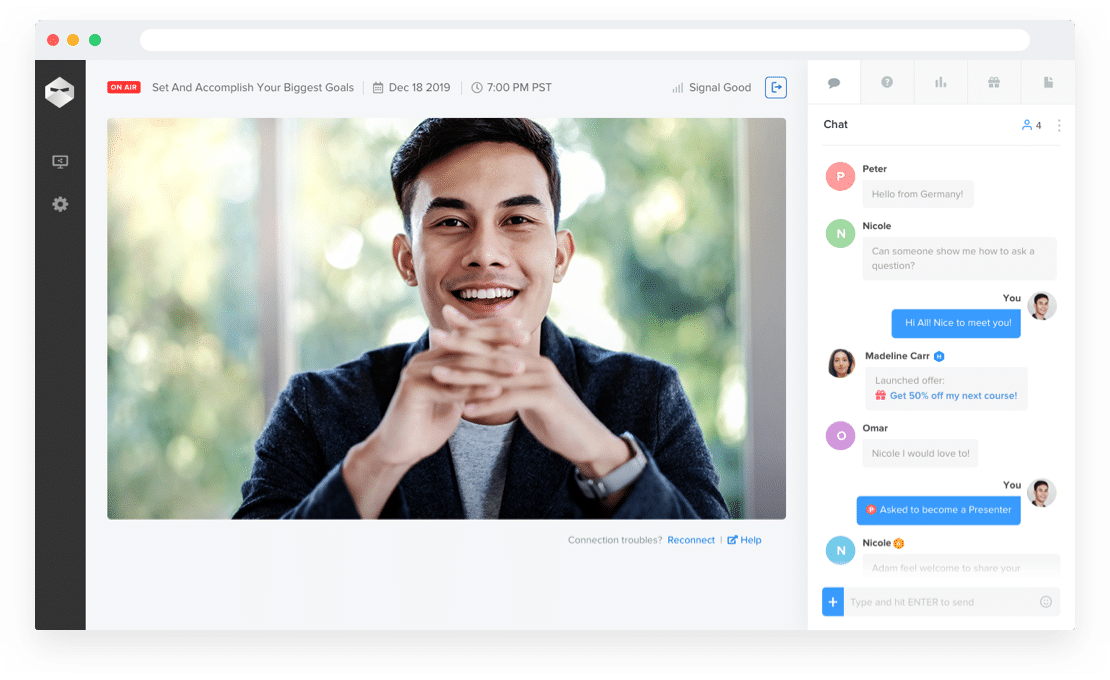 Pros
Engagement features like live chat, polling, and downloadable handouts are available
Great looking landing page templates
You can embed sales offers in presentations
Cons
The backend can be challenging to navigate
Pricing
Starter plan with 100 live attendees: $49/month
Pro plan with 300 live attendees: $95/month
Plus plan with 500 live attendees: $159/month
Power plan with 1,000 live attendees: $249/month
14-day free trial
7. WebinarGeek
WebinarGeek is easy-to-use webinar software with live, on-demand, and evergreen webinar options. It's not the most feature-rich webinar solution, but it lets you produce professional-quality webinars at a reasonable price.

Pros
Very easy to use
You can give your webinar custom branding
Create a live, on-demand, evergreen, or hybrid webinar
Lots of pricing tiers within the premium plan, making it cost-effective at any size
Cons
Some users find the initial setup takes a long time
Pricing
Starter plan with 25 live attendees: $22/month
Premium plan with 100–2,000 live attendees: $58–$294/month
Advanced plan with 500–4,000 live attendees: custom pricing
14-day free trial
8. GoToWebinar
GoToWebinar was one of the first webinar tools out there. Its primary audience is large businesses.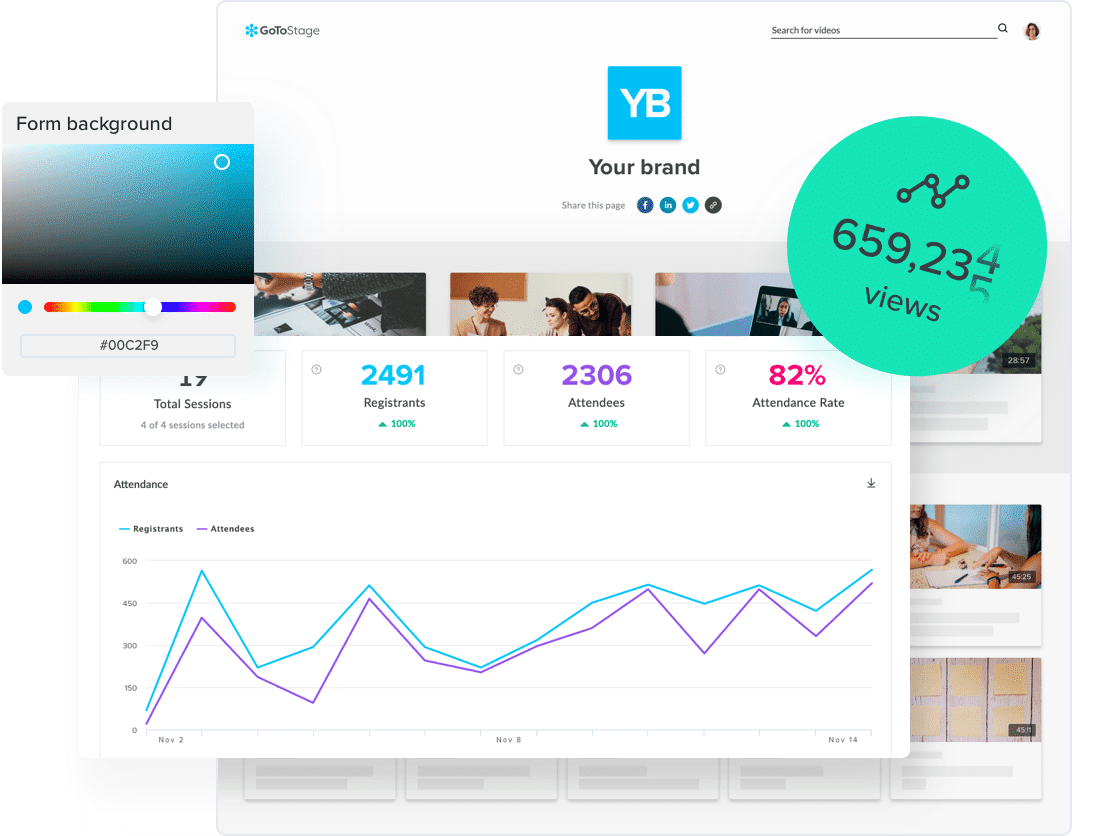 Pros
Audience engagement with polls and surveys
High-quality video and audio
Lead management and reporting tools
Breakout rooms to divide your audience
Cons
Software feels a bit outdated
Requires attendees to download software
Pricing
Lite plan with 100 participants: $59/month
Standard plan with 250 participants: $129/month
Pro plan with 500 participants: $249/month
Enterprise plan with 3,000 participants: $499/month
Flex plan: $19/month + pay-per-event
Seven-day free trial
9. LiveWebinar
LiveWebinar is a cloud-based live webinar tool offering video streaming, screen sharing, and social media broadcasting.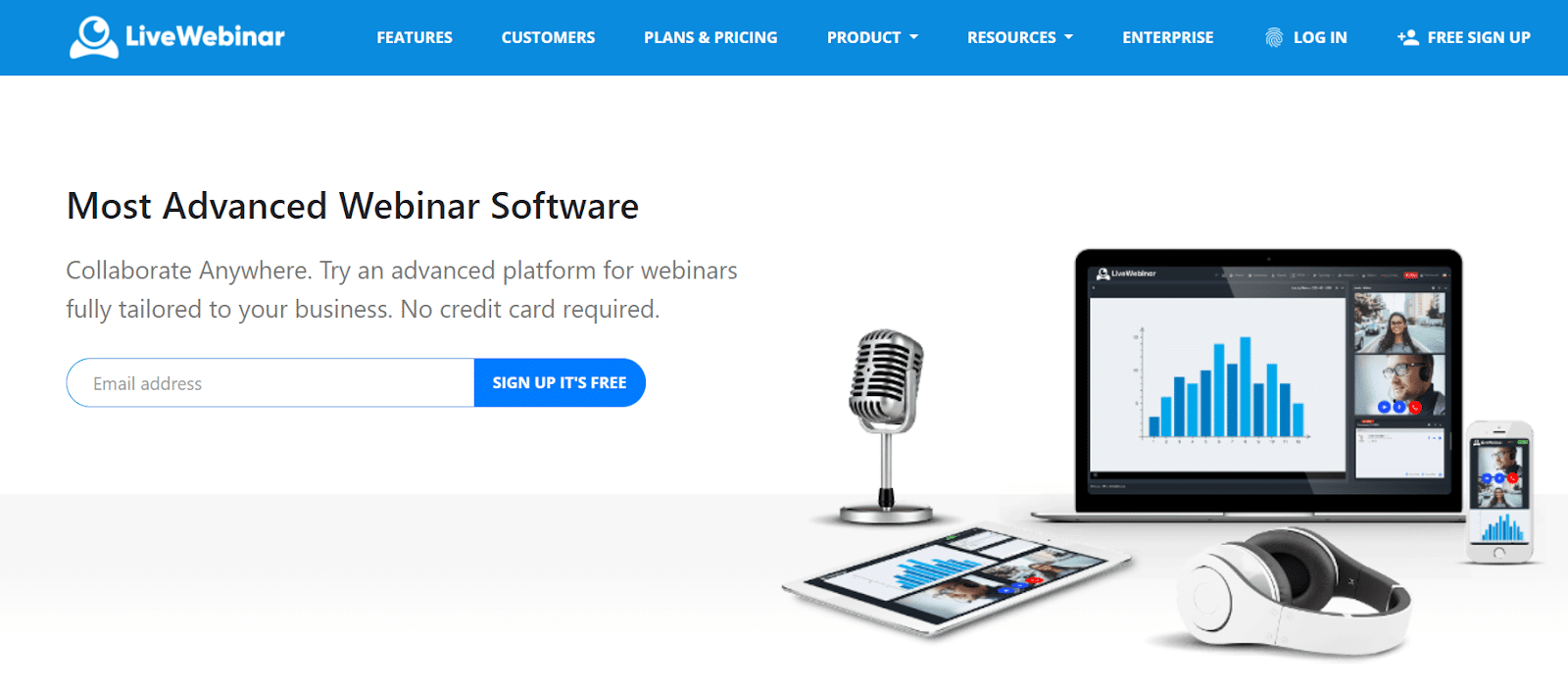 Pros
There's a free plan for five or fewer attendees
Whiteboard feature lets the webinar host draw on documents and videos. You can also invite attendees to draw
Offers surveys, polls, and live chat for audience engagement
Cons
Complex user interface and steep learning curve
Pricing
Limited free plan with up to five attendees
Pro plan with 100 attendees: $14.99/month
Business plan with 500 attendees: $119/month
Custom plans available
14-day free trial
10. BlueJeans
Unlike most software on this list, BlueJeans can host a virtual event with up to 50,000 attendees and 150 presenters. Most businesses don't need a webinar software platform this expensive, but if you're hosting a huge virtual event, it's a good choice.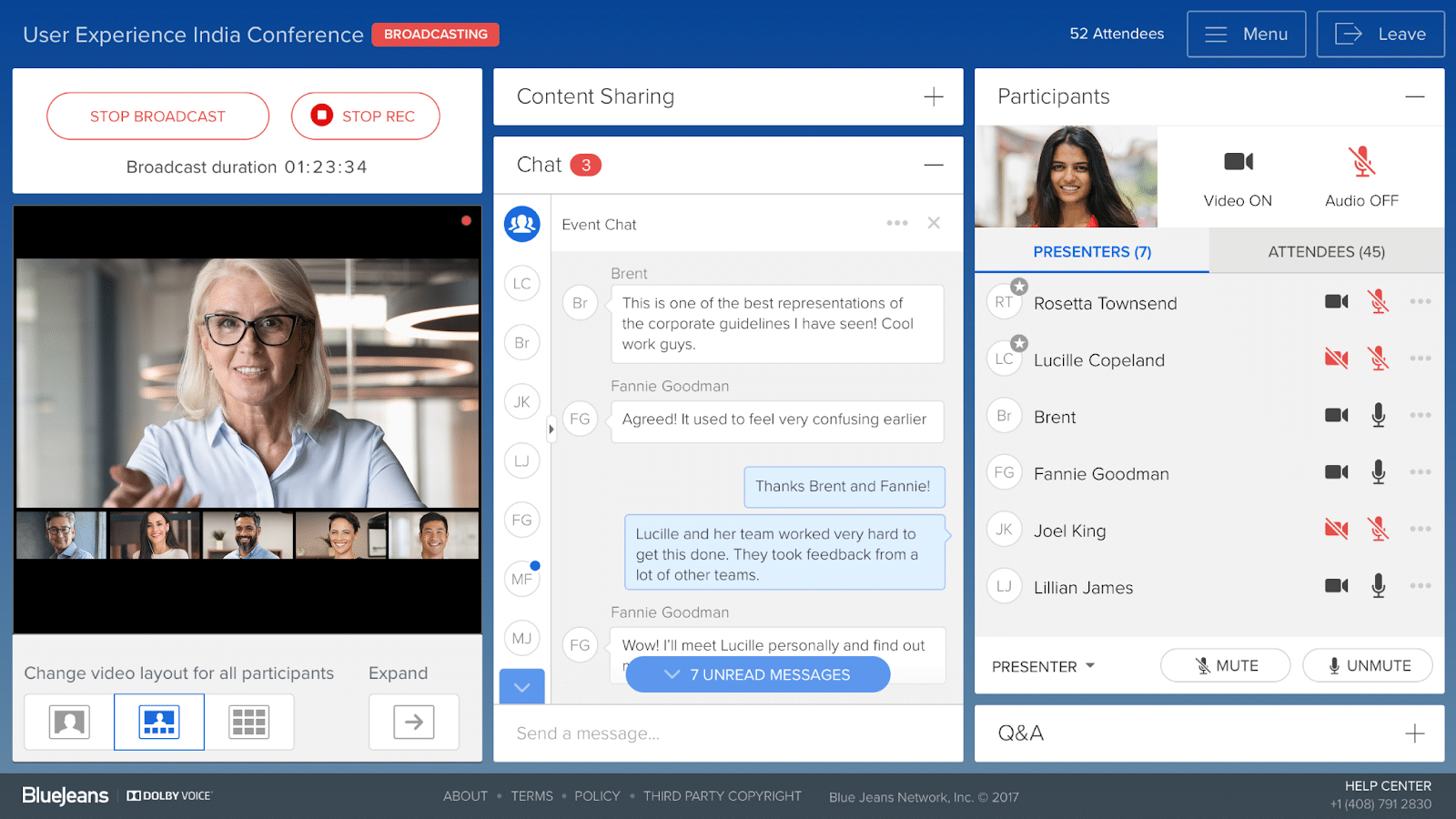 Pros
Can host larger events than other webinar platforms
Makes a cloud recording of the event
Stream your webinar to Facebook Live or YouTube Live
Cons
There are many cheaper options in the 100–500 attendee range
Pricing
100 attendees: $99/month
200 attendees: $379/month
500 attendees: $599/month
Large-scale plan with 50,000 attendees: custom pricing
11. My Own Conference
My Own Conference is an affordable webinar solution with all the features that a small business needs.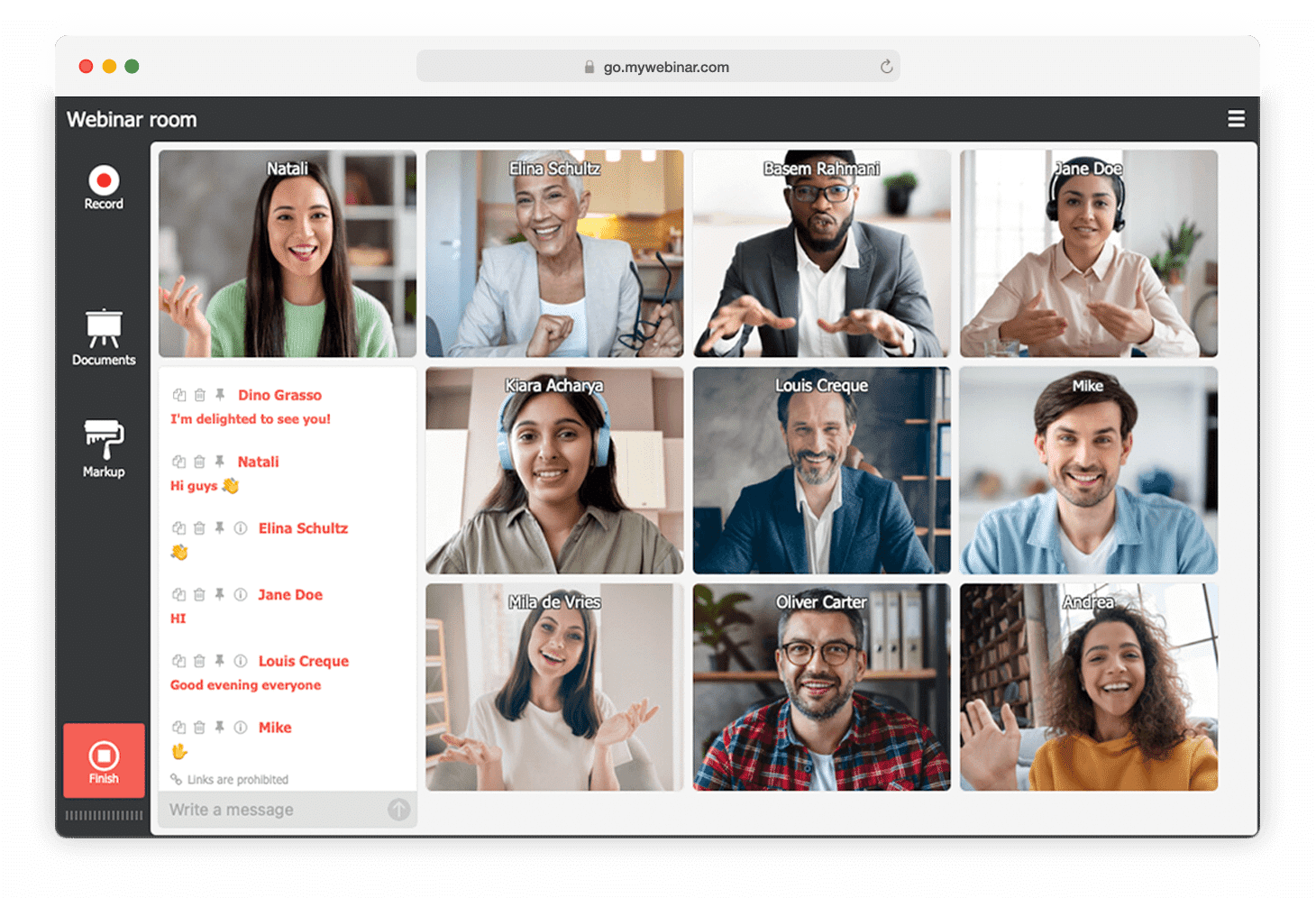 Pros
Free plan allows up to 20 attendees — better than most free versions
Records webinars in HD
Available in 16 languages
Cons
Can only record up to 20 minutes on the free plan
UI isn't that user-friendly
Pricing
Free plan with 20 attendees
Pro plan with 60–10,000 attendees: $29–$4,800/month
12. ClickMeeting
ClickMeeting provides video conferencing, online meetings, and webinar software.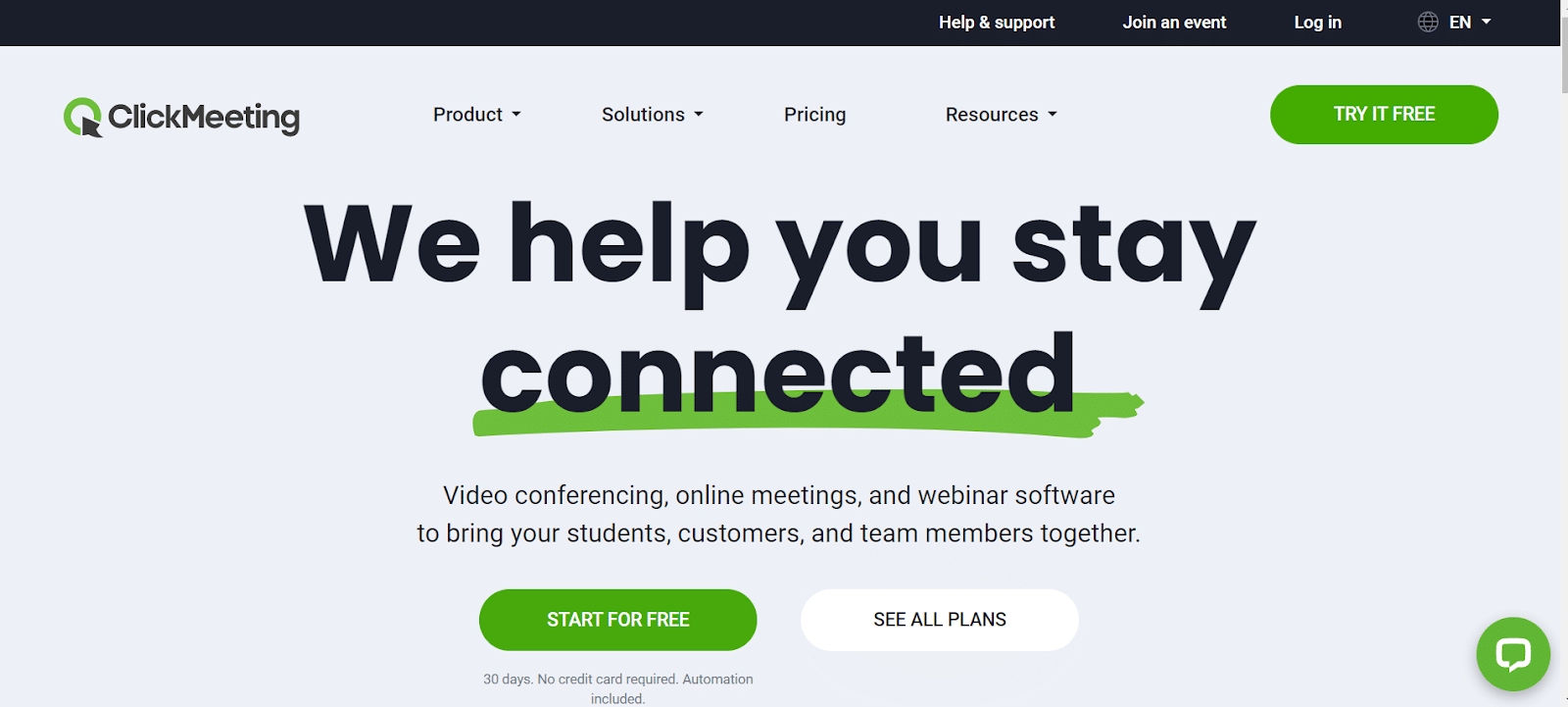 Pros
Stream webinar live on YouTube or Facebook
Screen, video, and file sharing
Engage your audience with live chat and Q&A sessions
Unlimited webinar landing pages
Cons
Can't schedule recurring meetings
Pricing
Live webinar plan with 10–1,000 attendees: $30–$309/month
Automated webinar plan with 10–1,000 attendees: $45–$359/month
Enterprise plan with up to 10,000 attendees: custom pricing
30-day free trial
13. BigMarker
If you're hosting a big online event with many speakers, consider BigMarker. It allows unlimited presenters and up to 10,000 attendees.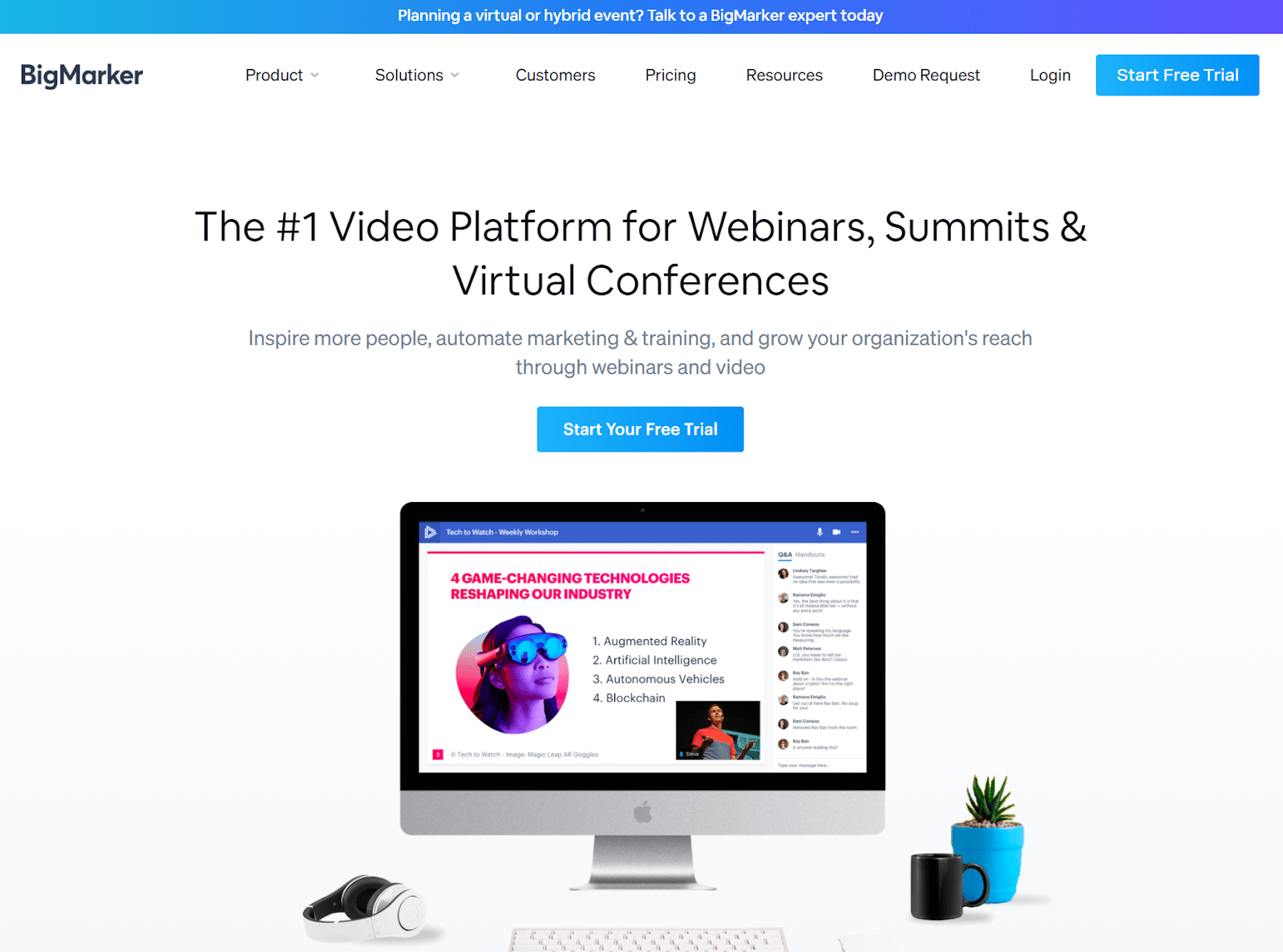 Pros:
Browser-based software requires no downloads
Engagement features include lead forms, polls, offers, and Q&A
Stream multiple camera feeds to Facebook or YouTube live
Over 15 different landing page types
Cons:
Video may stall on a slow connection
Pricing:
Starter plan with 100 attendees: $79/month
Elite plan with 500 attendees: $159/month
Premier plan with 1,000 attendees: $299/month
White label plan with 10,000 attendees: custom pricing
14. GetResponse
GetResponse is an email marketing platform and webinar tool in one. Choose it to get a top-notch marketing tool suite along with your webinar service.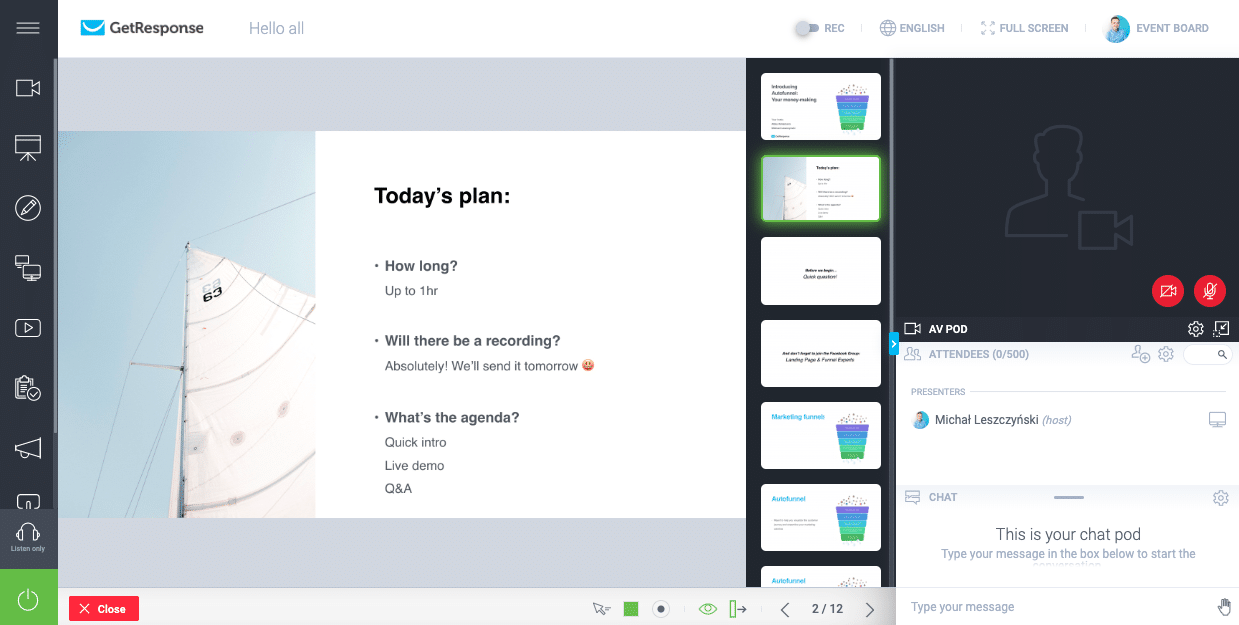 Pros
Thanks to being primarily an email platform, it has built-in email marketing tools
You can customize the URL of your webinar page
Retarget visitors to your webinar page
Polls, surveys, and offers to engage an audience
Cons
Setup is not the smoothest
Pricing
Basic GetResponse plan doesn't include webinars
Plus plan with 100 attendees: $49/month
Professional plan with 300 attendees: $99/month
Pro plan with 1,000 attendees: custom pricing
30-day free trial
15. Adobe Connect
Adobe Connect offers a visually appealing webinar experience with customizable storyboard layouts.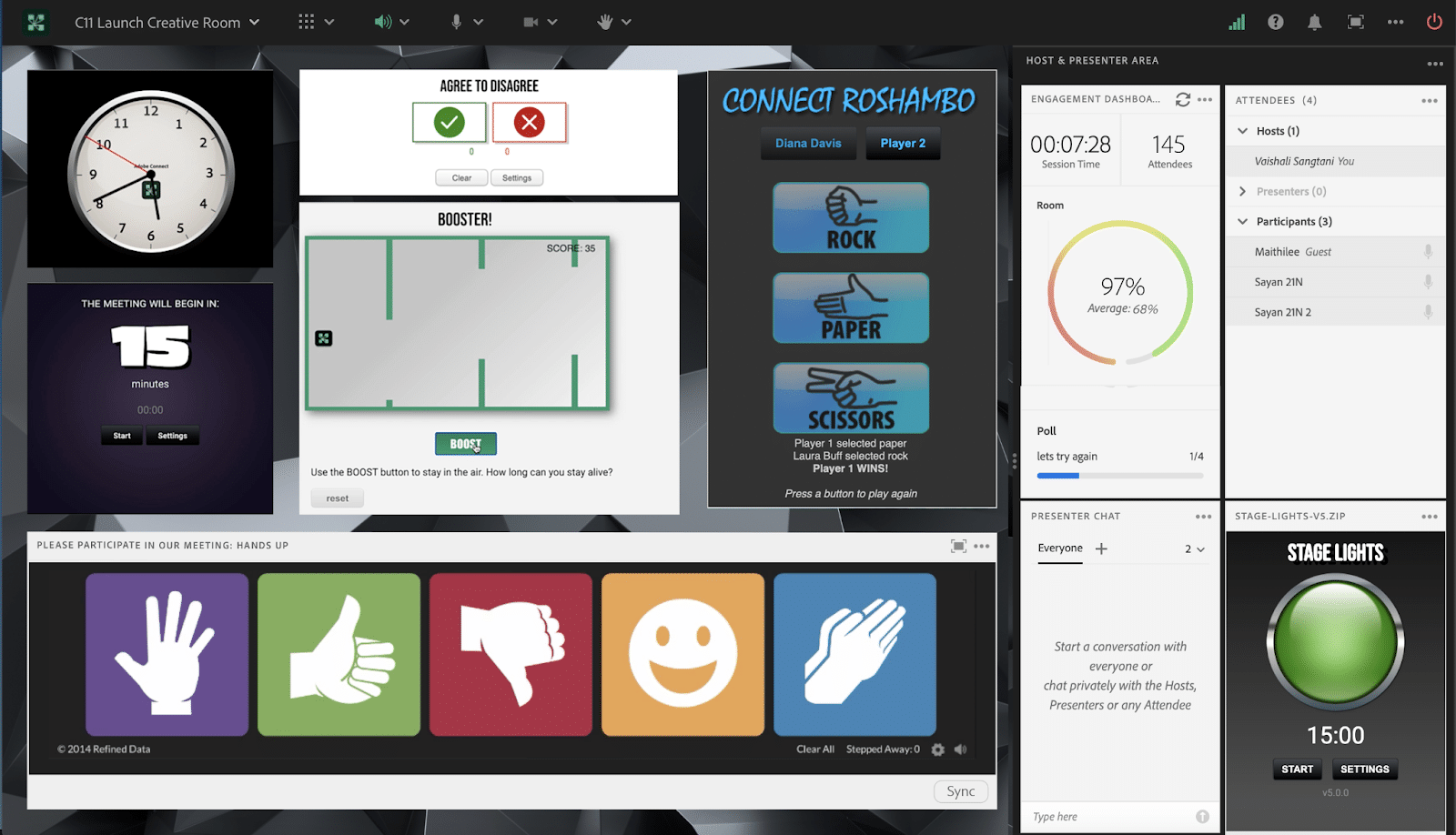 Pros
Design your webinar room using functional windows called Pods with customizable name, size, and position
Recorded webinars are interactive
Integrates with CRM software like Eloqua and Salesforce
Cons
More expensive than most solutions
Pricing
100 participants: $130/month
500 participants: $470/month
1,000 participants: $580/month
16. Livestream
Livestream by Vimeo provides a way to have big events, offering unlimited participants and storage. Events are automatically recorded and stored in the cloud.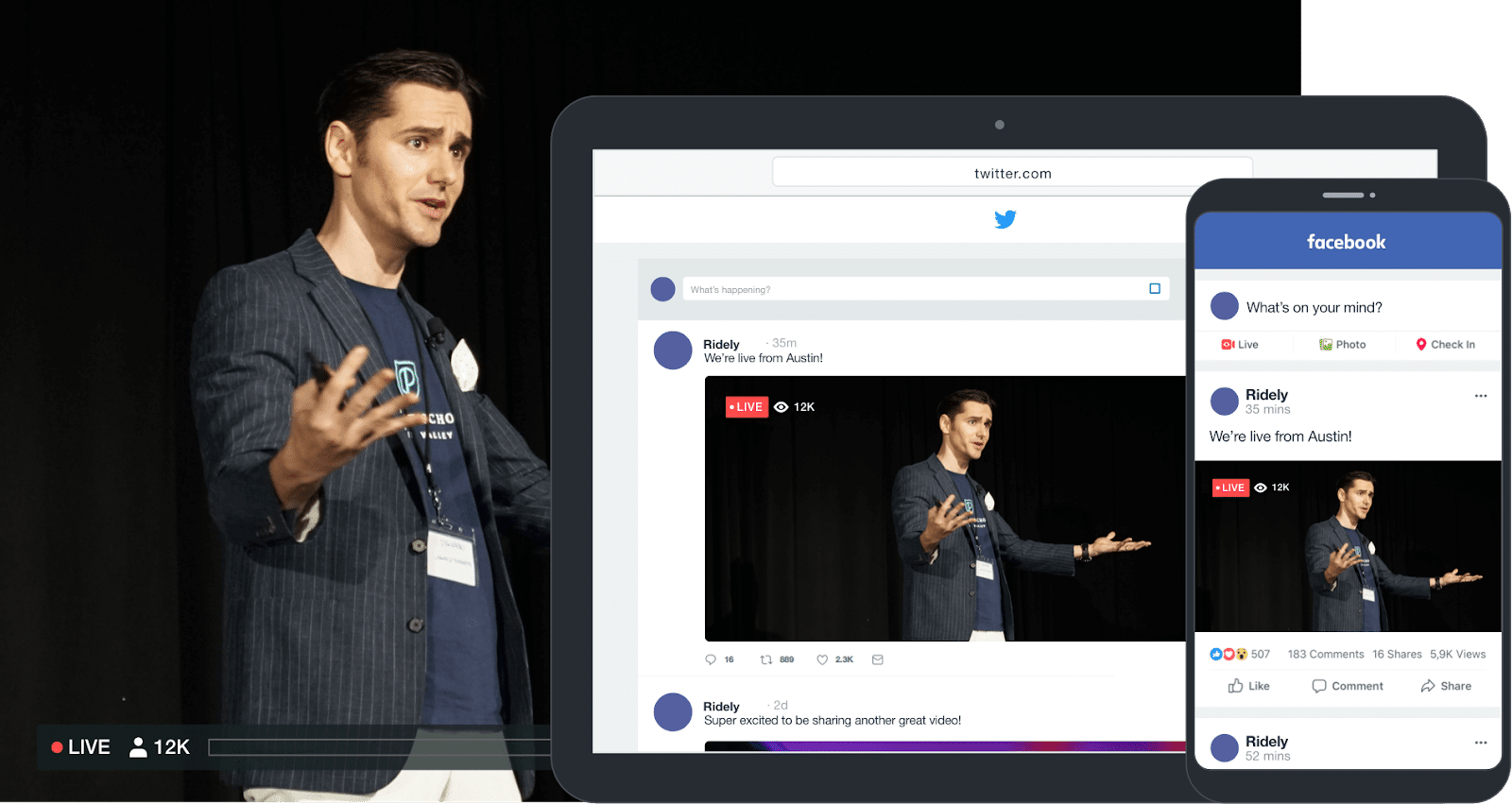 Pros
Use with Livestream studio to input multiple feeds, add graphics, and master audio
Events can be privatized
Attendees and recorded webinar storage are unlimited
The registration page is customizable
Its pay-per-view webinar feature lets you monetize events
Cons
Audience engagement features lacking
Pricing
Vimeo premium offers live streaming for unlimited attendees at $75/month
Enterprise plan and Vimeo OTT: custom pricing
17. Intermedia AnyMeeting
AnyMeeting is a solid option for small events, offering all the standard webinar features at a low price. However, it's not very suitable for large events.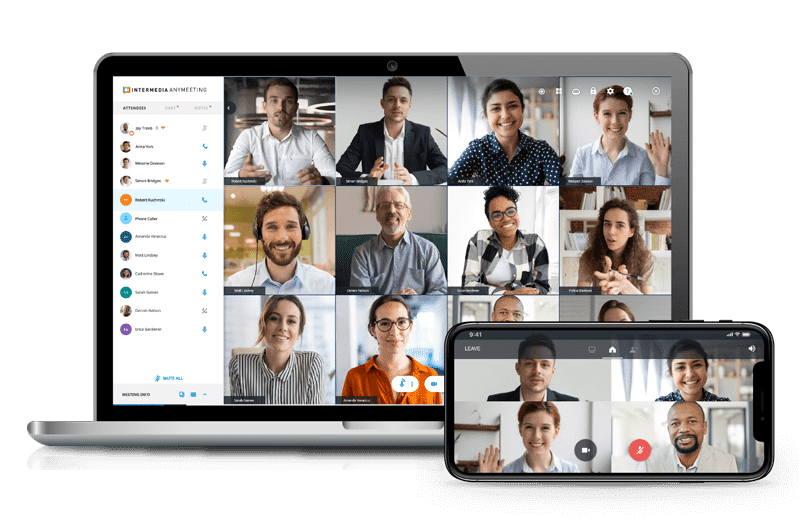 Pros
Built-in Q&A sessions, live chat, surveys, and polls
Screen annotation lets you call out important points
Integrations with Outlook, G-Suite, Slack, Microsoft Teams, and more
Brand your webinars with the company logo and a personalized background
Cons
Top-tier plan only allows 200 participants
Pricing
Free plan with four participants
Lite plan with 10 participants: $9.99/month
Pro plan with 100 participants: $12.99/month
Enterprise plan with 200 participants: $17.99/month
18. Webex
Webex is a versatile software for online meetings, virtual events, training sessions, interactive webinars, and team collaboration.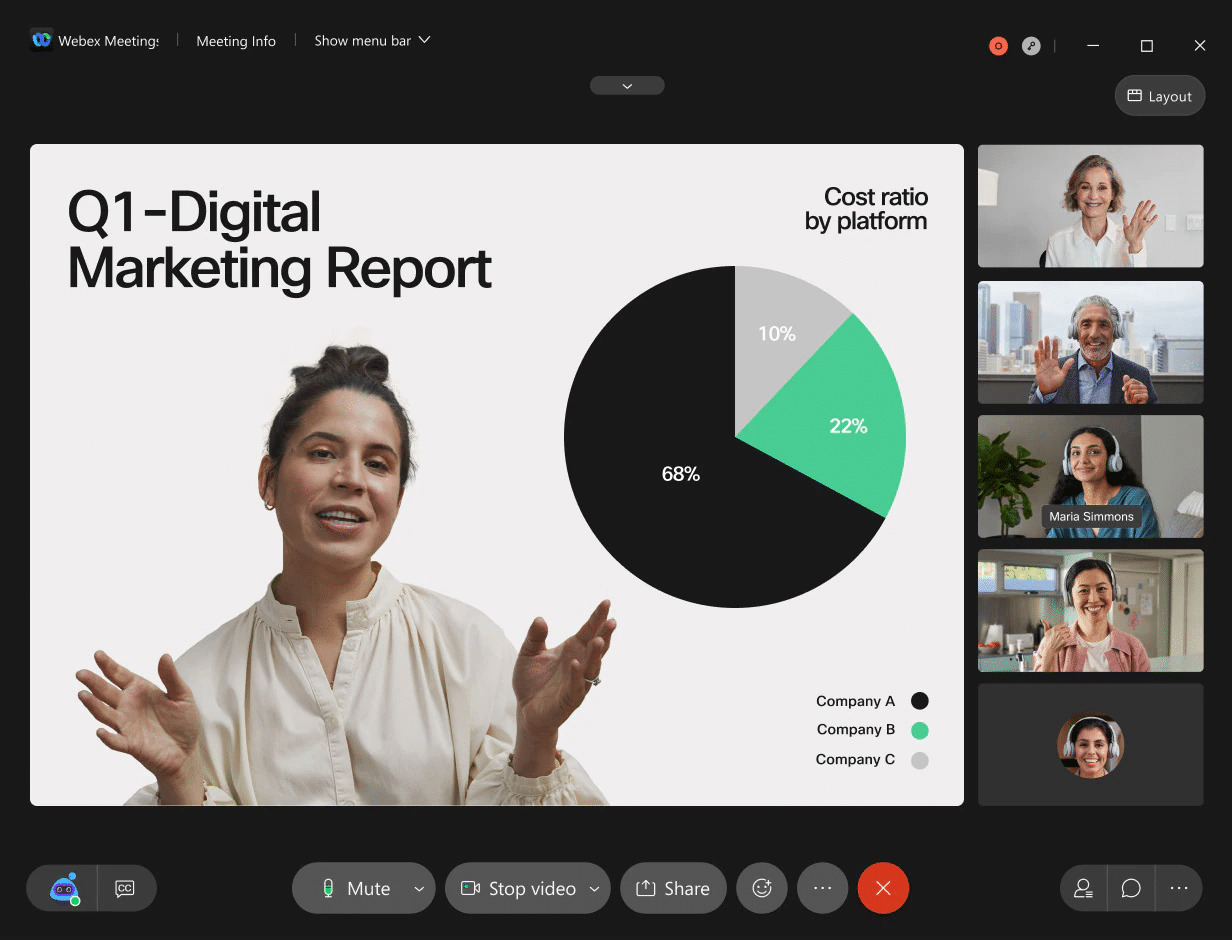 Pros
Offers a free plan for up to 100 attendees
Built-in Q&A sessions, surveys, and polls for audience engagement
Has a mobile app
Cons
Lacking webinar marketing tools
Pricing
Free plan with 100 attendees
Meet plan with 200 attendees: $15/month
Meet+Call plan with 200 attendees: $25/month
Enterprise: custom pricing
19. Dacast
Dacast is a webinar software provider that allows webinars to have unlimited viewers. A key feature is the Dacast Paywall that helps you monetize your webinars.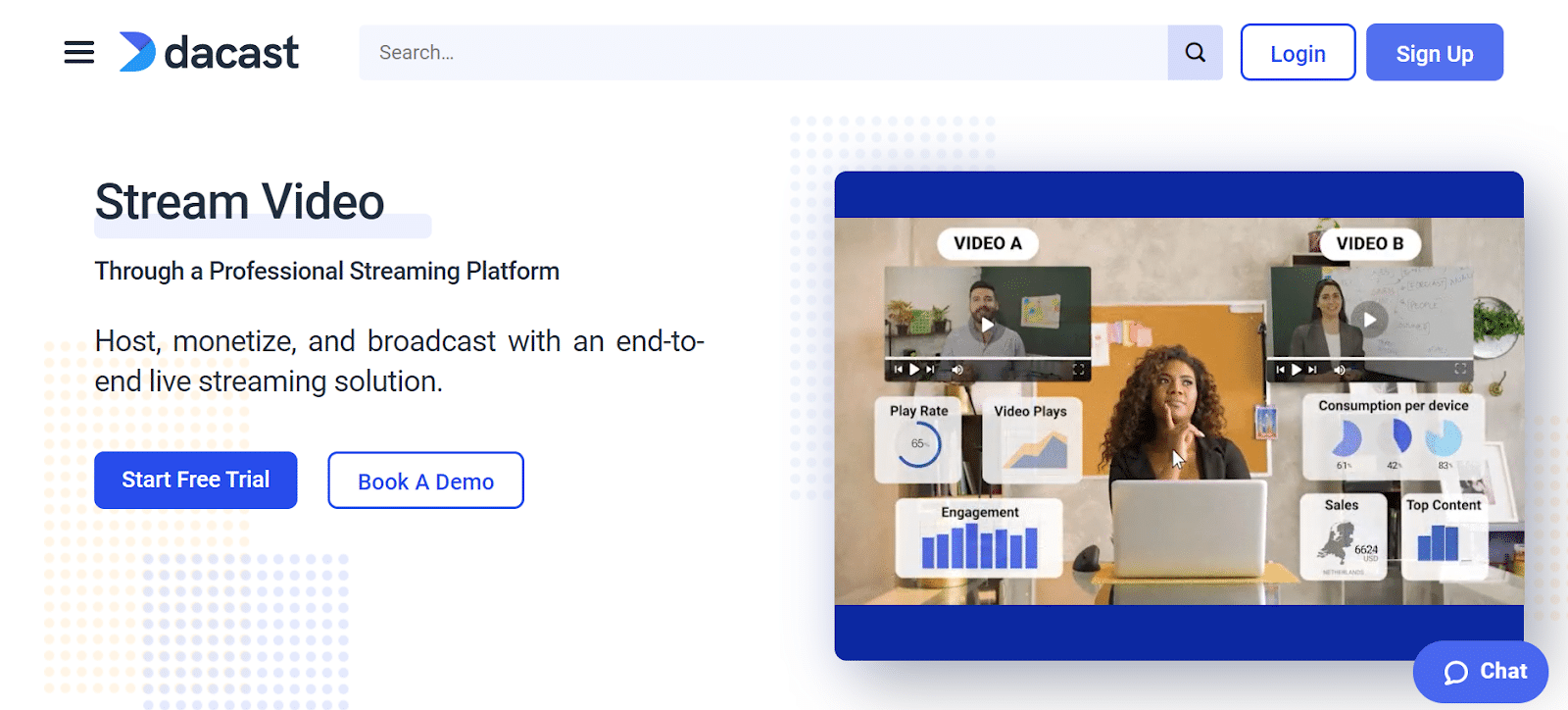 Pros
Monetization features like price groups, promo codes, and subscriptions
Customize your paywall
No viewer limit
Interactive video on demand
Cons
Plans have a bandwidth limit. If you go over, you have to pay $0.25 per GB
Pricing
Starter plan: $39/month
Event plan: $63/month
Scale plan: $188/month
Custom plans available
20. Zoom
Zoom has become synonymous with online meetings. You can also host a webinar with Zoom. If it's under 40 minutes and 100 participants, it's free, and you get a lot of promotional tools and engagement features that other free tools don't have.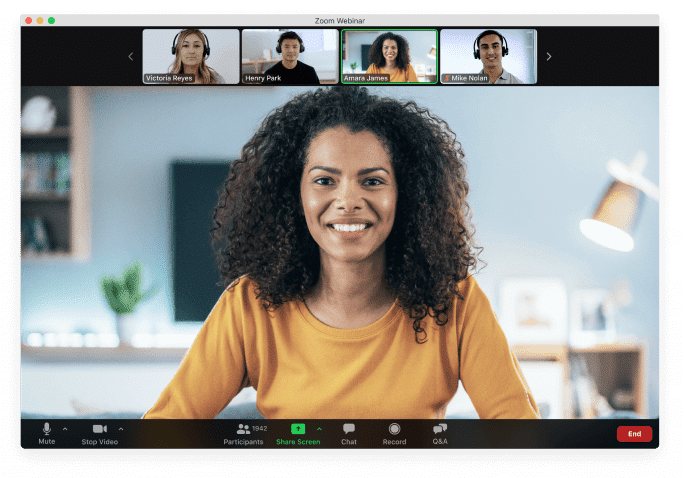 Pros
Interactive features like screen sharing, hand-raising, and live chat
Marketing tools to nurture contacts
Ability to back up meetings in the cloud
Gather attendee feedback with automatic surveys sent after the webinar
Cons
Free meetings have a 40-minute limit
Pricing
Zoom Meetings free plan with 100 participants (40-minute limit)
Zoom Meetings Pro plan with 100 participants: $14.99/month
Zoom Meetings Business plan with 300 participants: $19.99/month
Zoom Webinar plan with 500 attendees: $79/month
Zoom Event plan with 500 attendees: $99/month
21. Zoho Meeting
Zoho Meeting is a simple, browser-based video conferencing and webinar tool with affordable pricing.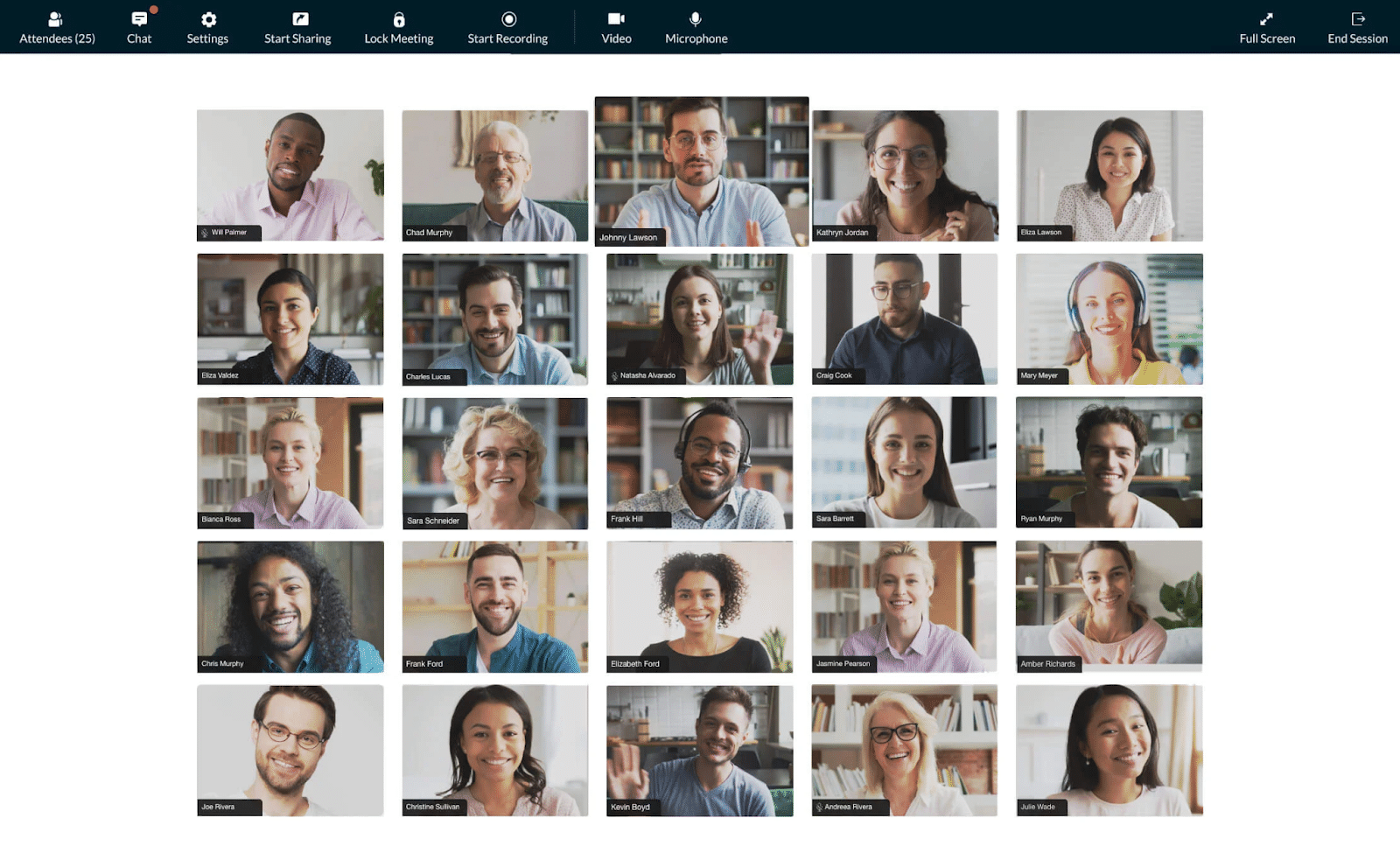 Pros
User-friendly
Can be used on any device
Cons
Pricing
Meeting plan with 10–100 participants: $3–$12/month
Webinar plan with 25–1,000 attendees: $19– $200/month
You don't have to pay top dollar to host a webinar. The next two providers on this list are completely free.
22. Google Meet
Google made its meeting platform free in 2020. If you have a personal Google account, you can use Google Meet for webinars with 100 participants. Some types of business accounts can have up to 250 attendees.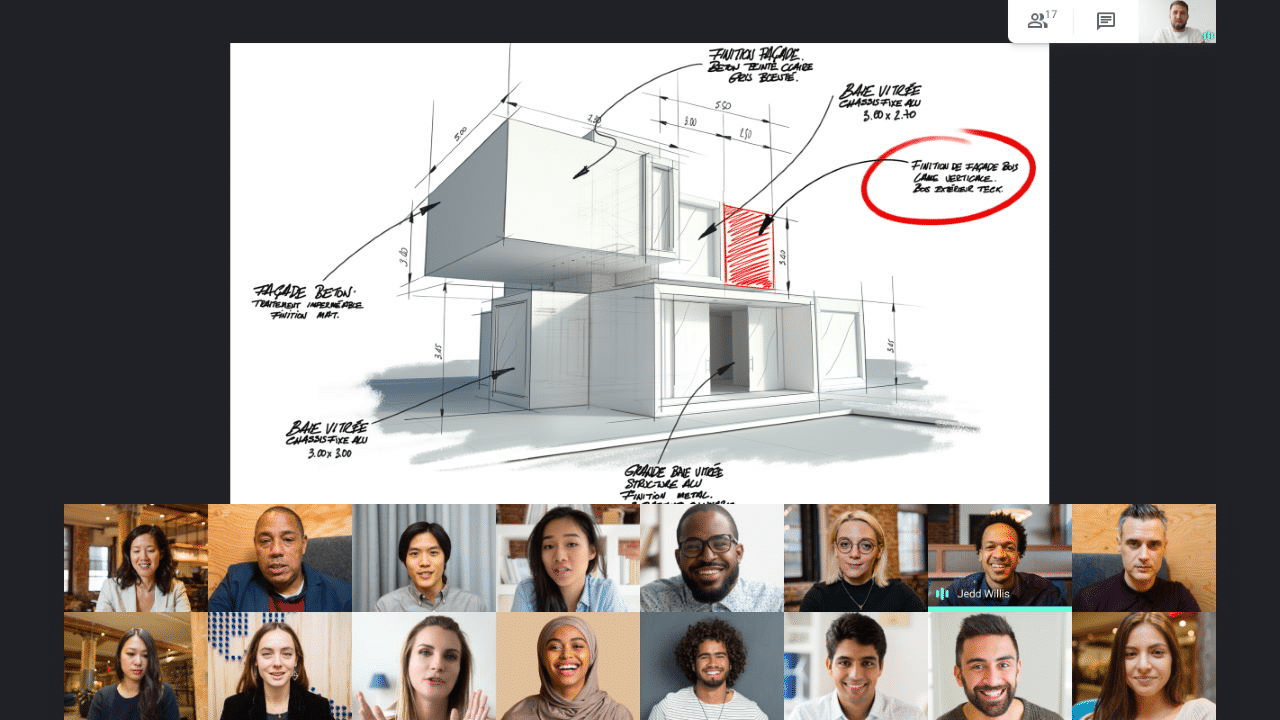 Pros
Free
Live captioning using Google's speech recognition technology
Works on any device
Cons
60-minute time limit
Not as many audience engagement features as paid webinar services
Pricing
23. YouTube
One of the simplest ways to host a webinar is through YouTube live streaming. It's free, easy, and you can have as many viewers as you want. You just need a YouTube channel with live streaming enabled.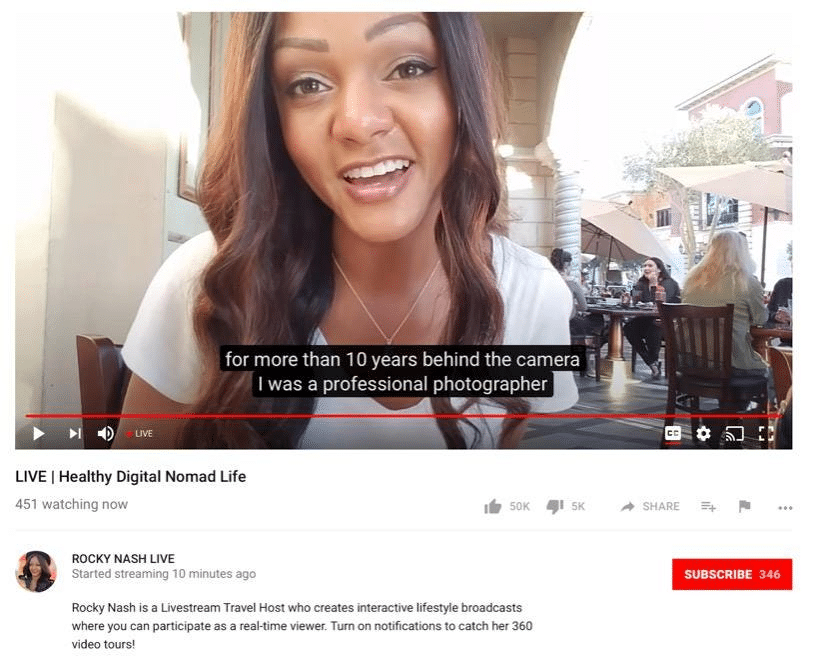 Pros
It's easy and familiar to most people
Unlimited viewers
Videos remain on your YouTube channel after streaming
Cons
Lacking audience engagement features and branding
Price
24. eWebinar
eWebinar is an automated webinar platform that is 100% dedicated to webinar automation, which means you can do as many webinars as you want without being there to host them live. If you already use live webinars in your business and wish there was a way to scale your repetitive demos, onboarding, and training webinars, then eWebinar is for you.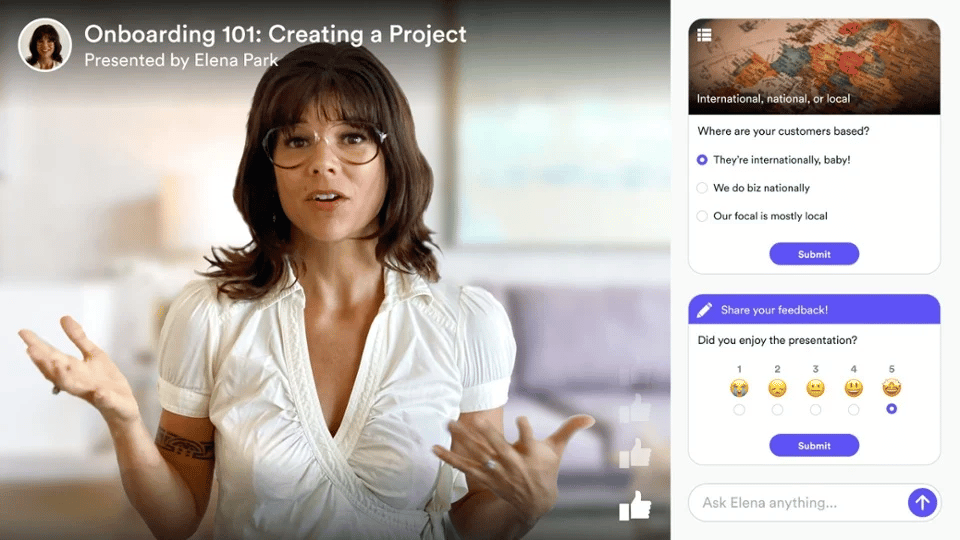 Pros
Chat feature that lets you hop in to respond live or respond later via email
A number of interactions to keep your attendees engaged till the end: questions, polls, quizzes, resources, links, feedback, contact forms, and more
Analytics that you can share with your team and clients outside the platform
Fully browser-based, no app installs required
Brandable experience with registration and thank you page builder
Registration widgets you can install on your own landing pages and website
Popular integrations including Zapier, ActiveCampaign, BombBomb, Slack, Salesforce, Marketo, Mailchimp, Twilio, ConvertKit, and more
Clean UI/UX for hosts and attendees
Cons
No live webinar capabilities (no live video and audio)
Pricing
Level 1: $49/month (0-1 webinar)
Level 2: $99/month (2-5 webinars)
Level 3: $199/month (6-15 webinars)
Enterprise: $250/month (25 webinars) + $10/month for every additional webinar
What Is the Best Free Webinar Platform?
The best free webinar provider for your business depends on your needs and goals.
If you already have marketing tools to help you generate and nurture leads, you may not need many webinar features. A free streaming tool like YouTube is fine. It lets you host an engaging webinar with unlimited viewers for free.
But if you want to build and present a professional webinar experience from scratch, you'll want a more robust solution. Livestorm's free plan is ideal if you only expect ten or fewer attendees per webinar.
What Is the Overall Best Webinar Platform?
The best webinar platform varies depending on your goals, audience size, budget, and other factors.
For example, if you're just getting started with webinars and only expect a handful of attendees, a conferencing solution like Zoho Meeting could do the trick.
But suppose you expect dozens, hundreds, or even thousands of attendees regularly (and you want to repurpose the content to keep generating more leads). In that case, a complete turnkey solution like Livestorm, Demio, or GoToWebinar is a better fit.
Want to add webinars to your marketing plans? 👩‍💻 These options will help you find the right platform for your needs 🚀Click to Tweet
Summary
Webinars are a great tool to have in your marketing arsenal, whether you're a solopreneur or a giant enterprise with clients around the world.
Hopefully, this post helped you identify the best webinar platform for your company.
To make the most of this medium, weave webinars into your larger marketing strategy and use them to create closer relationships with your leads and existing customers.