If you want to set up an online store, your choice of ecommerce platform will play a decisive role in which features you can access. Deciding between PrestaShop vs WooCommerce is a challenge, particularly if you're not familiar with ecommerce platforms. Understanding the differences between each option is key to making the right decision.
When comparing ecommerce software, you'll need to consider several factors. These include pricing, ease of use, overall features, and support.
We'll compare PrestaShop vs WooCommerce in each of those aspects to help you choose the perfect ecommerce platform for your store. We'll break down what each platform offers and the best option depending on your needs.
Let's get to it!
PrestaShop (Top Features and Drawbacks)
PrestaShop is an open-source ecommerce platform that can launch almost any type of online store. You can install PrestaShop on any web host and access a broad range of community templates and modules that can extend your store's functionality:

If you're not familiar with ecommerce, PrestaShop partners with some web hosts and agencies to provide a full onboarding experience. That process can mean everything from simply setting up PrestaShop to helping you customize a store, including the products of your choice.
One drawback of using PrestaShop (and most other open-source ecommerce platforms) is that you don't get access to dedicated support. There's plenty of online documentation to help you troubleshoot errors and achieve your goals. Still, unless you're willing to pay for expert help, you're largely on your own.
WooCommerce (Top Features and Drawbacks)
If you use WordPress, you're likely familiar with WooCommerce. It's the most popular ecommerce plugin that WordPress offers, with over five million active installations to its name.
The plugin adds an entire ecommerce platform to WordPress without removing any of the Content Management System's (CMS) core functionality: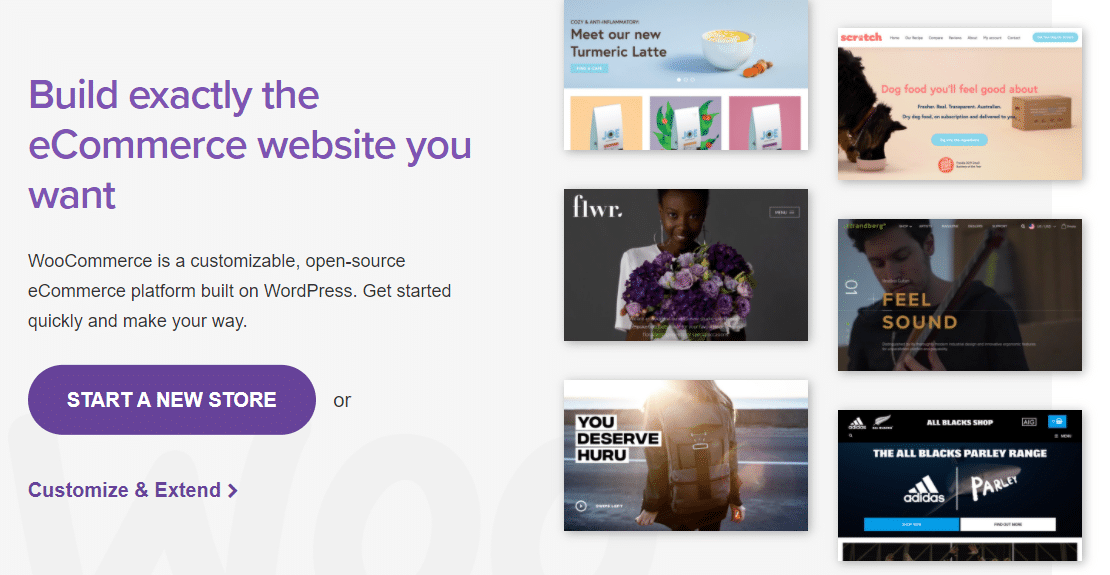 The result is that you get a hybrid system that can launch an online store and add almost any feature that you can imagine to it. WooCommerce, just like WordPress, is open-source software. Therefore, a vibrant community of users and developers creates unique themes and extensions to enhance every type of store.
Like PrestaShop, WooCommerce's open-source nature means that you don't get access to dedicated support. However, you also don't have to pay to use the software. Moreover, there's plenty of documentation for learning how to get the most out of WooCommerce (including our blog).
PrestaShop vs WooCommerce: Head-to-Head Comparison
Now that you have an idea of what each ecommerce platform has to offer, it's time to compare PrestaShop vs WooCommerce side by side. Let's start by talking about price.
Pricing
Both PrestaShop and WooCommerce are open-source software. You can download either ecommerce platform and install it on any server. That accessibility makes both WooCommerce and PrestaShop fantastic options if you want to launch an ecommerce store on a budget.
To set up WooCommerce, you'll need an existing WordPress website. That means you'll also need hosting and a domain name. Hosting prices vary a lot from company to company. At Kinsta, we offer plans starting at $35 per month.
On average, if you pay for cheap shared hosting and a .com domain, you can spend as little as $15-20 to set up a WordPress website with WooCommerce or install PrestaShop. That's the barebones approach, though – you might also want to purchase premium themes (or templates) and plugins to extend your store's functionality: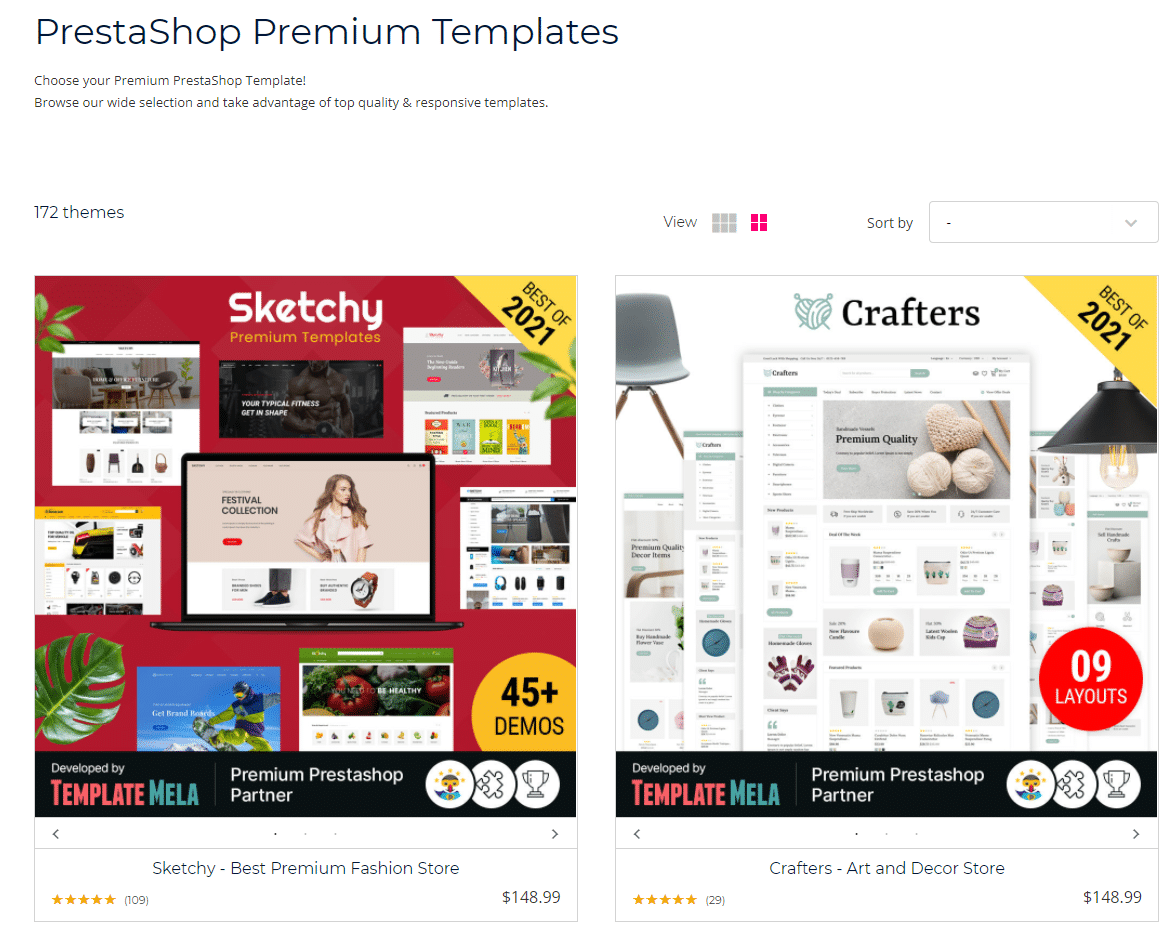 PrestaShop templates and add-ons tend to be more expensive than WordPress themes and plugins. If you use WordPress, you also get access to a significantly larger number of plugins and themes to choose from.
Both WooCommerce and PrestaShop offer free and paid add-ons and themes/templates. You don't need to use them, but they can extend your store's functionality in many cases.
Installation
There are several ways to install both PrestaShop and WooCommerce. First off, you can download both software options from their respective websites (or the WordPress.org repository), upload them to your server, and install them manually: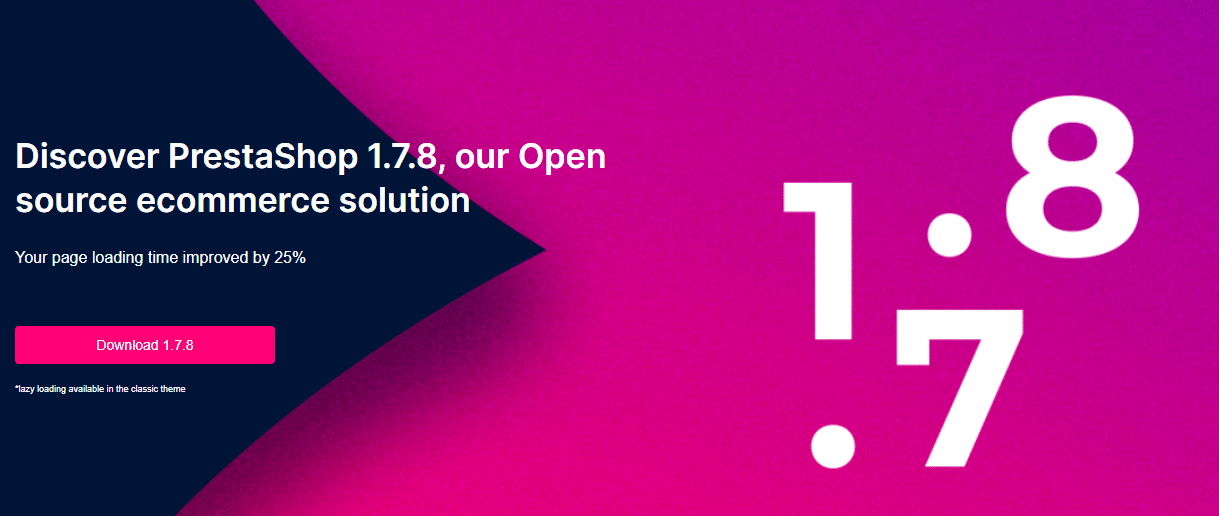 That process might sound complicated, but it shouldn't pose any problems if you have experience installing software on a server. If you're using WordPress, the process becomes much simpler, as you can install WooCommerce from the dashboard:

Depending on which web host you use, you might get the option of installing WordPress + WooCommerce when launching a new website. Kinsta, for example, offers that option when creating a new website: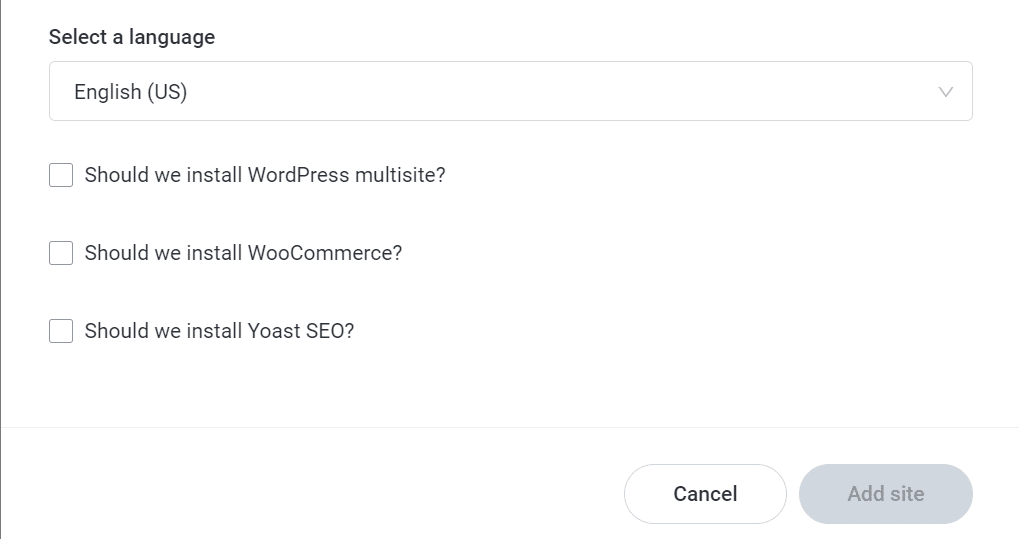 With most other web hosts, you'll get access to a software installer such as Softaculous. With Softaculous, you can install WordPress or PrestaShop with only a few clicks. That way, you don't have to download, upload, and install the software manually: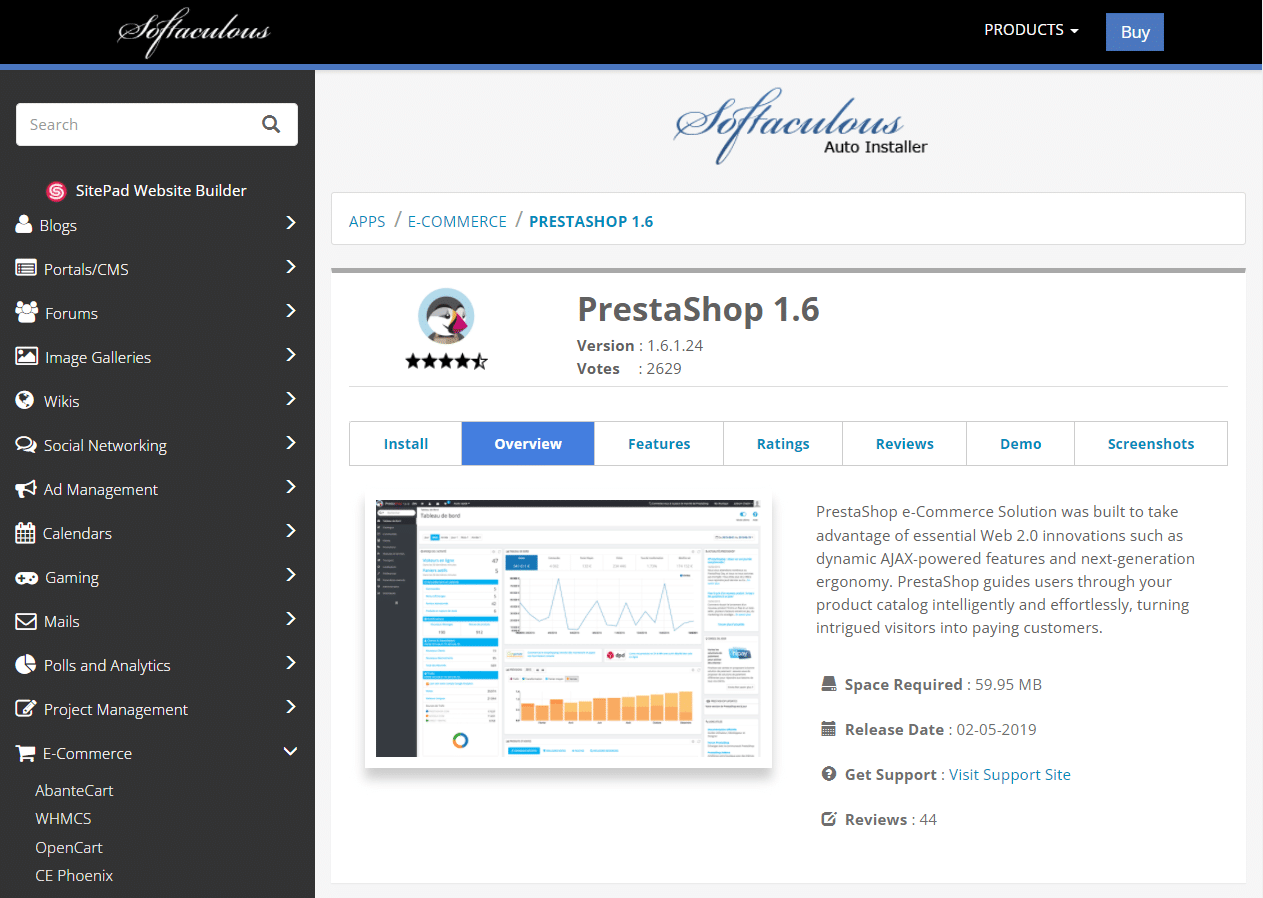 Both WooCommerce and PrestaShop are incredibly popular options for new ecommerce stores. That means that most web hosts will offer streamlined installation options to make store setup easier. Now let's talk about what happens after you install the software.
Ease of Use
Installing both WooCommerce and PrestaShop is relatively simple. However, you'll also want to consider how easy it is to configure both platforms and to use them to publish products.
Both PrestaShop and WooCommerce ease you into using the platform with startup wizards. With PrestaShop, the wizard walks you through creating your first product, customizing your store, and configuring it: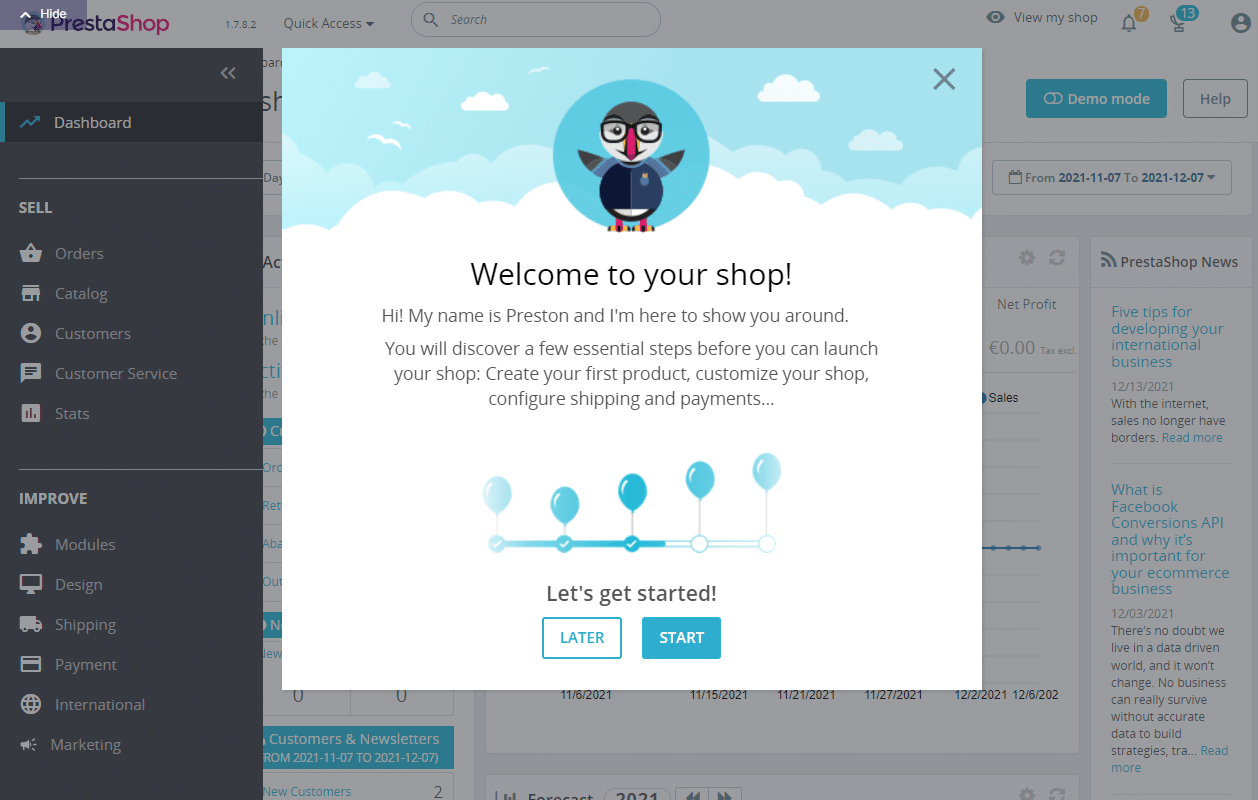 When publishing a product using PrestaShop, you have an editor that enables you to customize every aspect of that item. You can add product images, descriptions, variations, features, shipping options, and more: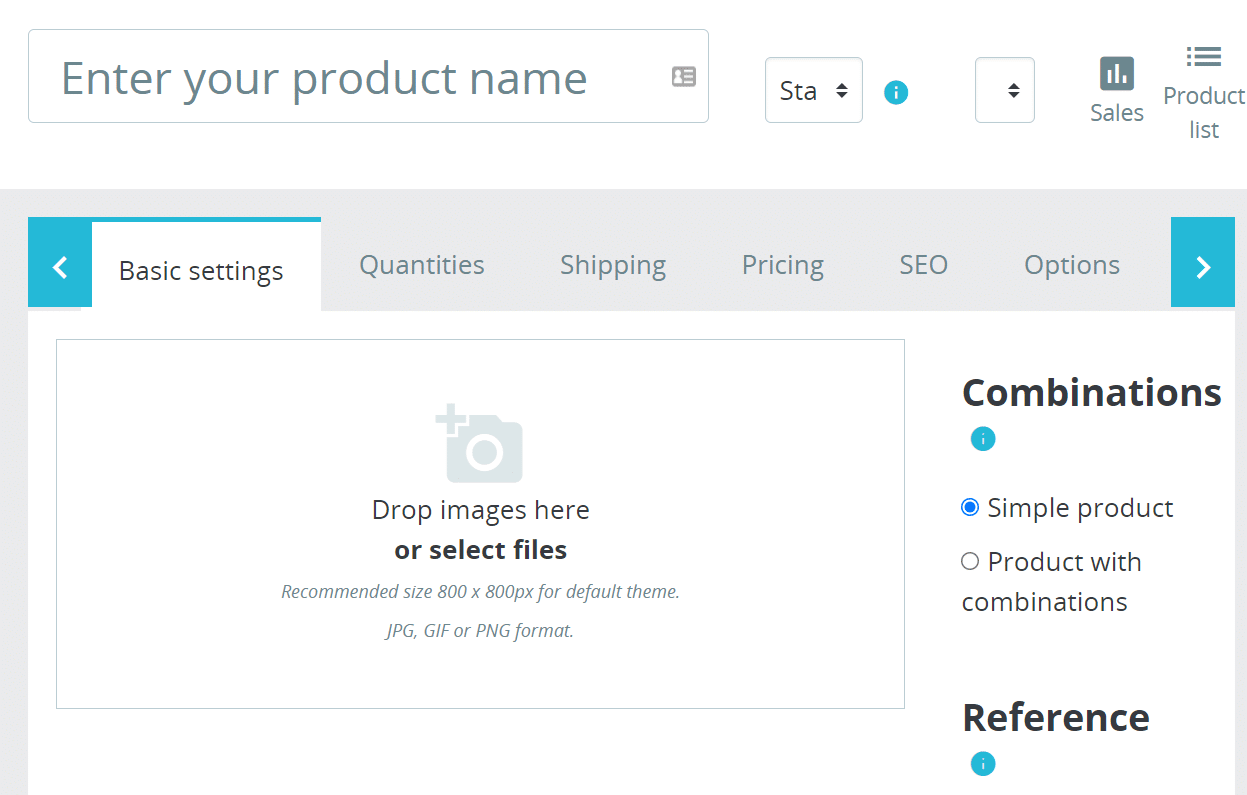 Similarly, WooCommerce also offers a comprehensive product editor. If you're familiar with the WordPress Classic Editor, creating WooCommerce products should come as second nature: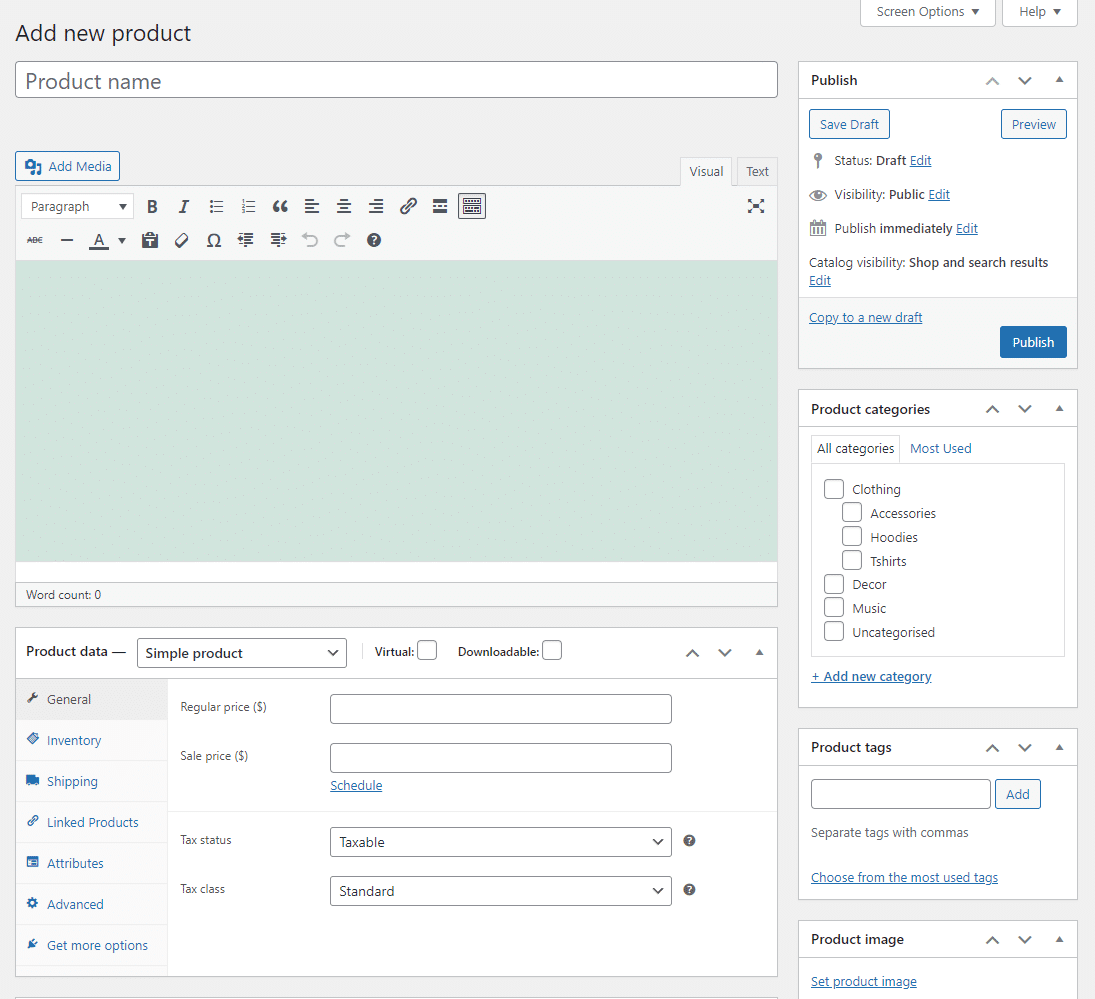 Both WooCommerce and PrestaShop enable you to configure products down to the most minute details. The main difference between each product editor comes from their interfaces.
PrestaShop makes finding individual settings for your shop with store configuration easier. Most setting categories are available right from the PrestaShop main navigation menu: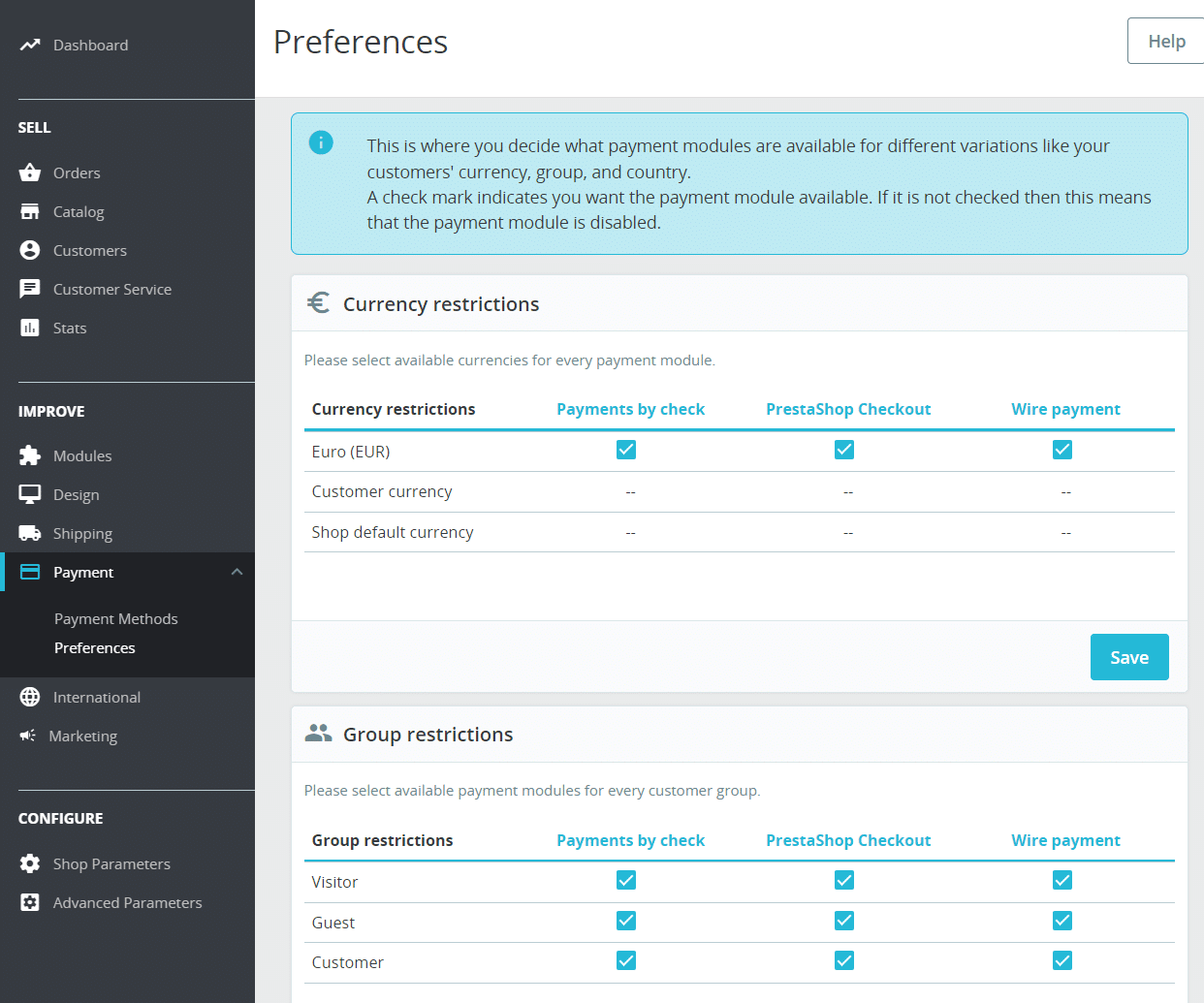 With WooCommerce, your store settings aren't hidden, but they're not as easily accessible. You have to access WooCommerce in the dashboard and jump to the Settings page. Here you'll find individual tabs for each set of configuration options: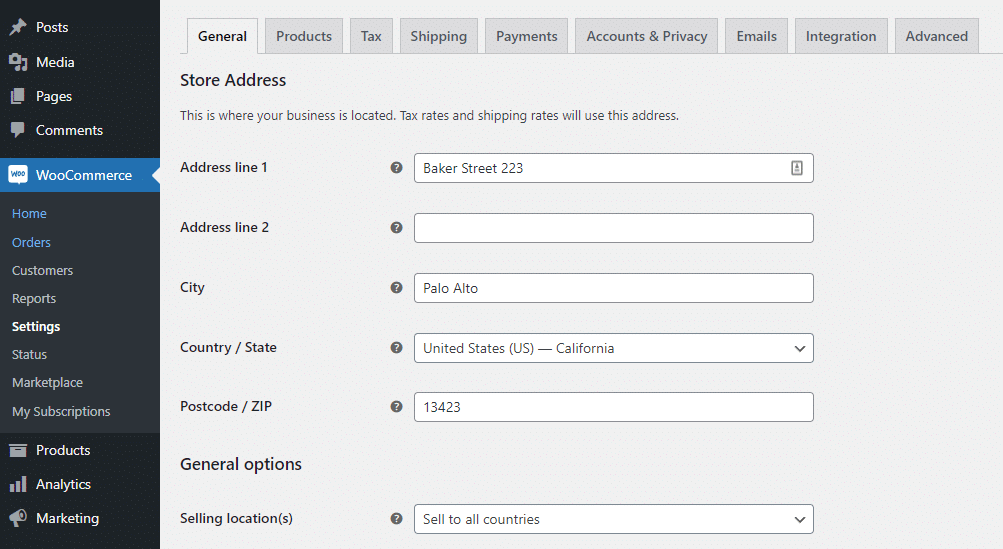 Out of the box, WooCommerce includes significantly more configuration options than PrestaShop does. However, it's worth noting that you can use modules and plugins to extend both WooCommerce and PrestaShop's functionality.
Overall, if this is your first time using an ecommerce platform, you'll need to check the documentation for either WooCommerce or PrestaShop. Both options are user-friendly, but there are so many features and settings that you'll probably waste time trying to figure out everything by yourself.
With WooCommerce, you can check out our complete guide to launching and configuring new stores.
Performance and Scalability
For an ecommerce store to be successful, it needs to be fast. That means pages throughout the shop need to load quickly, and the software shouldn't feel slow when making changes to the website.
Since both PrestaShop and WooCommerce are open source software, the performance that you get will largely depend on your hosting platform. If you use shared hosting for a store with hundreds of products and a lot of traffic, you're not going to get decent performance.
There are multiple manual methods to optimize performance for WooCommerce and PrestaShop stores. For example, since PrestaShop and WooCommerce require PHP, updating your PHP version can significantly impact your store's performance.
With Kinsta, you can easily change PHP versions from the MyKinsta dashboard: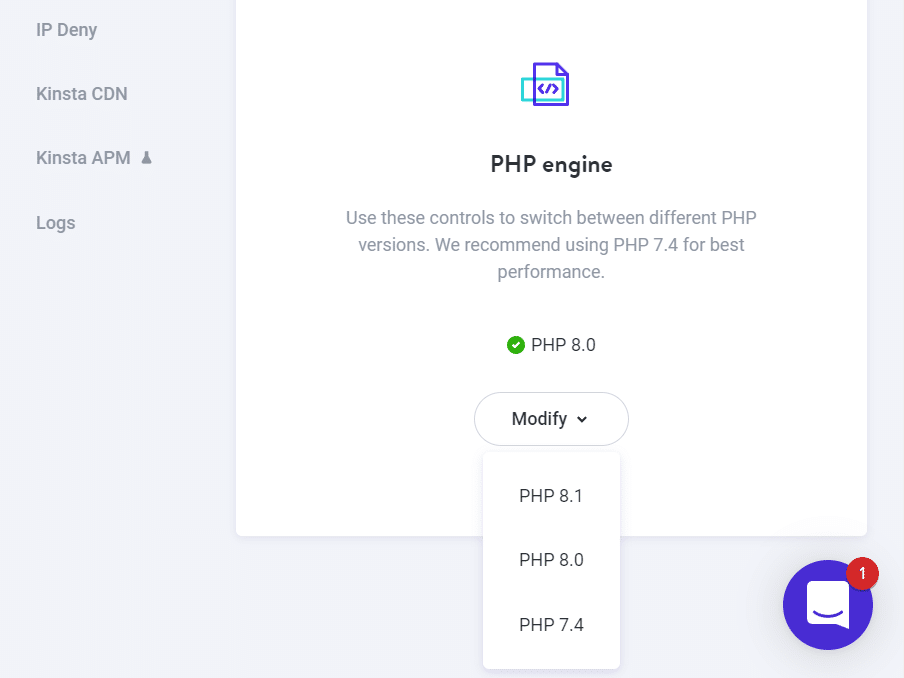 Your chosen hosting provider and plan will significantly impact which performance configurations you can access. You can often do little to improve performance with budget shared plans, since you can't configure real server settings.
From a scalability standpoint, both PrestaShop and WooCommerce can handle hundreds or even thousands of products. However, that expansion is only possible with the correct hosting backbone and configuration.
Security
If you plan on running an online store, you'll need to go to lengths to protect any customer data stored on your website. Considering how popular WooCommerce and PrestaShop are, it shouldn't come as a surprise that both software options are big targets for attackers.
Looking at publicly disclosed vulnerabilities for both platforms during the past few years, PrestaShop has had more security incidents than WooCommerce. There have been 69 disclosed PrestaShop vulnerabilities since 2017, compared to 18 for WooCommerce. It's also worth noting that most of those vulnerabilities didn't rank high.
Another essential aspect when it comes to security is update frequency. Outdated software is more likely to be vulnerable and expose your store to potential attacks.
In that aspect, both PrestaShop and WooCommerce get near-perfect marks. Both software options typically release updates and patches monthly (or near monthly in some cases):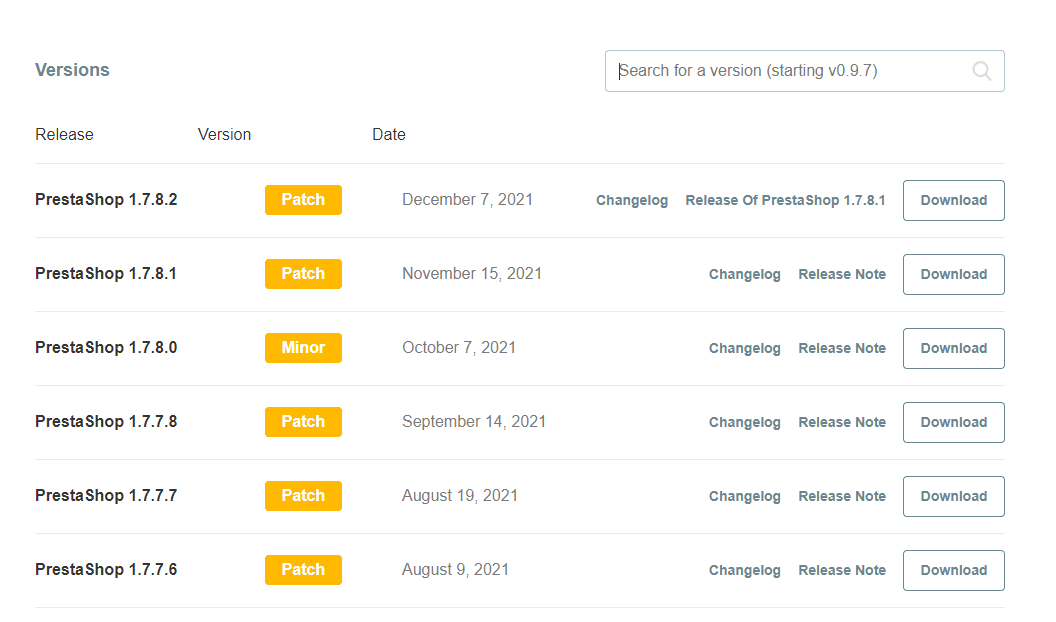 When it comes to security, using either PrestaShop or WooCommerce shouldn't make a huge difference unless you don't update the software. Ideally, we recommend that you update your ecommerce software as soon as a new version or patch comes out (preferably using a staging website).
This best practice applies to extensions, themes, templates, and add-ons as well. If you use any of those components and don't update them, they can make your store more vulnerable to attacks over time.
Extensibility
PrestaShop and WooCommerce can stand on their own when it comes to features. In either case, the base software enables you to create a fully-featured online store that can host hundreds of products.
However, if you want access to additional features, you can always turn to extensions and add-ons. WooCommerce extensions are WordPress plugins as well. However, they're better known as extensions for ecommerce software.
You can easily find hundreds of extensions browsing the WordPress.org plugin repository and the official WooCommerce website. The official WooCommerce extension catalog features over 700 options: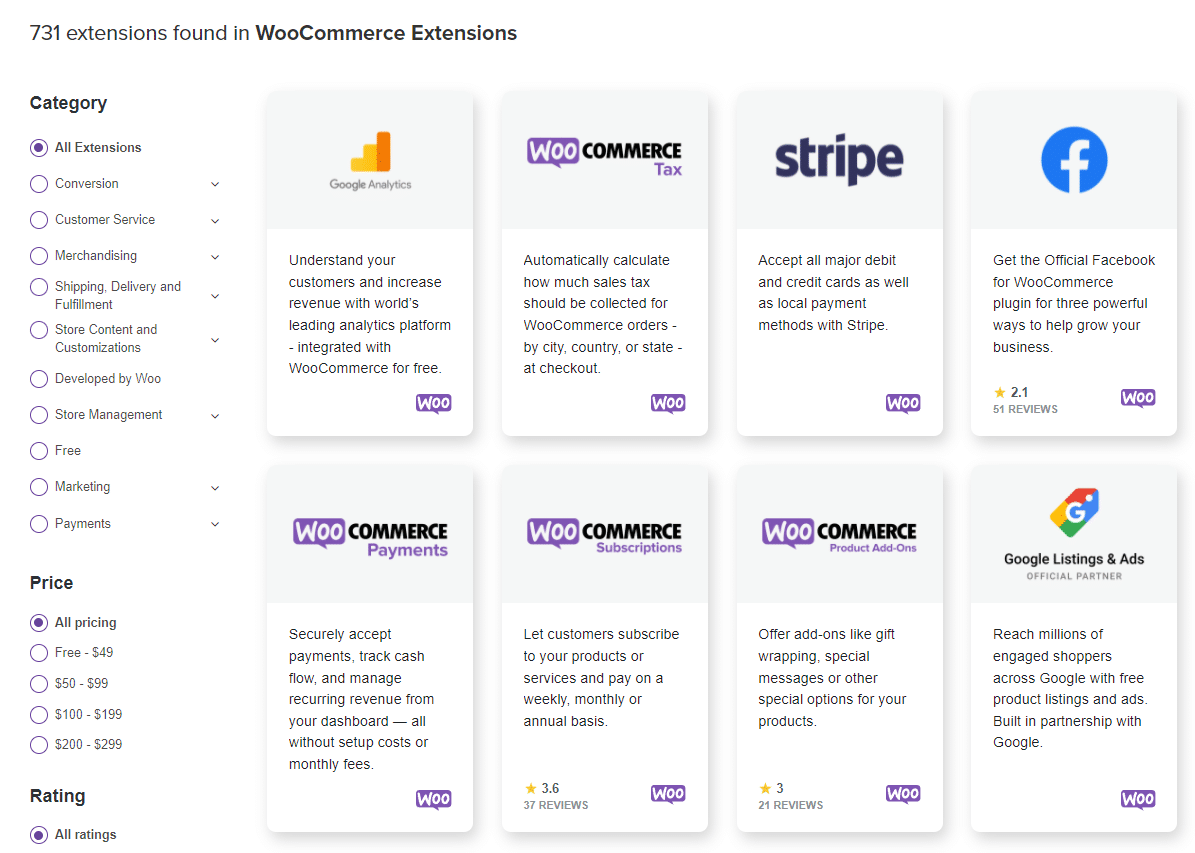 There are both free and premium WooCommerce extensions. Premium options vary in cost, with the average falling around $70-130 for a yearly license. That means that during that time, you'll also get access to support and updates:
It's important to note that we're talking about WooCommerce-specific extensions. If you factor in WordPress plugins in general, there are more than a thousand options. A lot of those plugins have nothing to do with ecommerce, but they can help you add new features to your store all the same.
PrestaShop is no slouch when it comes to add-ons and modules — there are over 4,000 free and premium PrestaShop modules. You can find them all in the official add-ons database: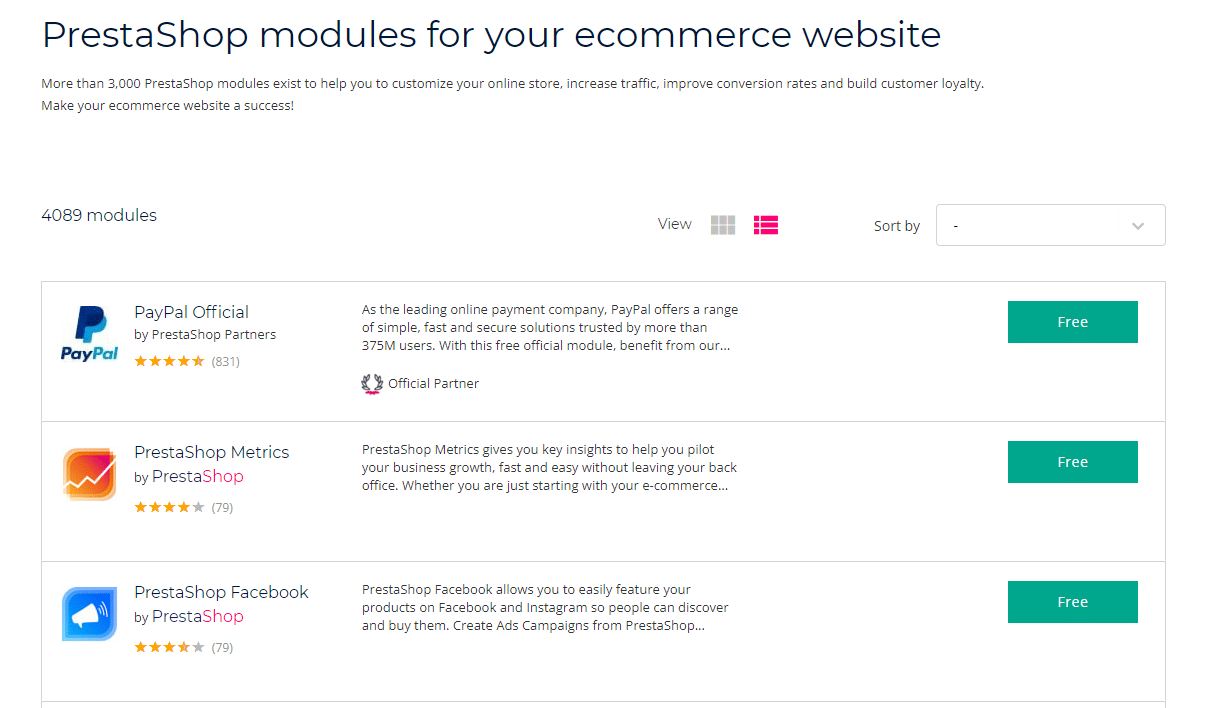 Prices for PrestaShop modules vary drastically. Usually, yearly licenses for add-ons start at around $80. Still, they can go as high as $250, depending on the functionality you want.
WooCommerce has the edge with extension prices, although PrestaShop wins by the sheer number of options. However, once you factor in WordPress plugins in general, you realize that you have far more options for customizing WooCommerce.
To give you an example, most popular WordPress page builders can also create and customize WooCommerce product and shop pages. You won't find those page builders in the official WooCommerce extensions catalog. Still, they can help extend the ecommerce platform's functionality.
Marketing and SEO
Out of the box, PrestaShop offers more options than WooCommerce for ecommerce Search Engine Optimization (SEO). The product editor enables you to add custom meta titles and descriptions for each product. You can also configure product redirections, which comes in handy for consolidating your catalog: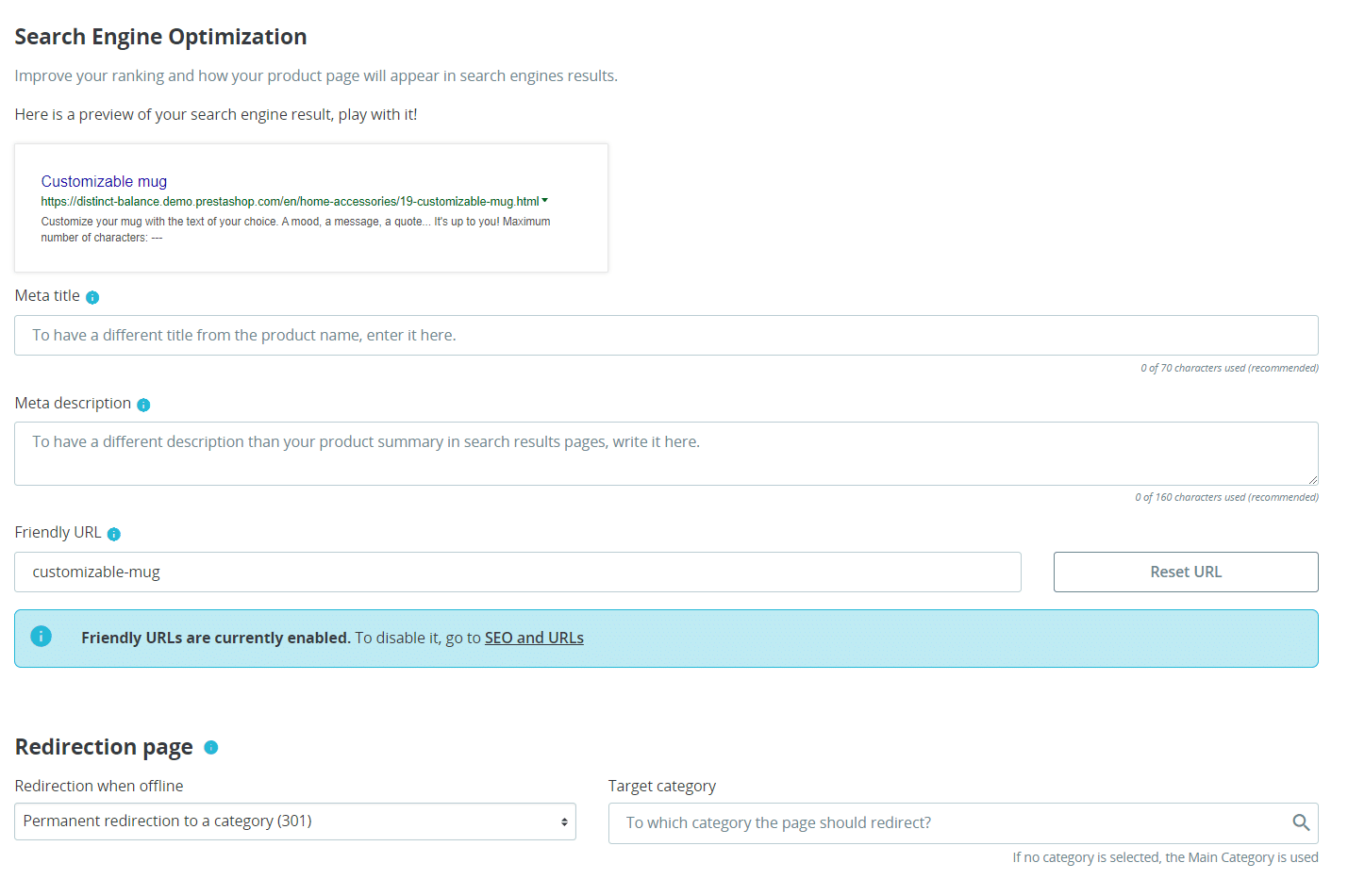 You can easily add similar functionality to WooCommerce using a WordPress SEO plugin. The most popular SEO plugins are all compatible with WooCommerce.
Yoast SEO, for example, enables you to set meta descriptions and titles. You can also preview how products will appear on social media sites and add schema markup to your pages: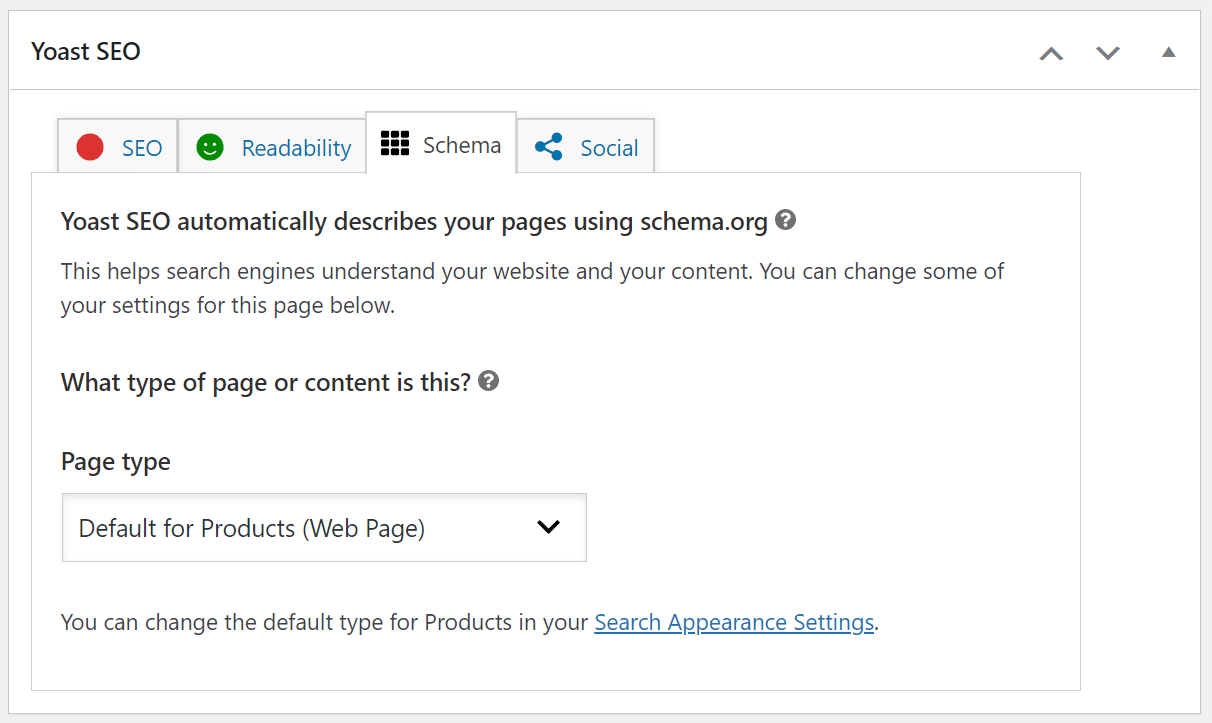 When it comes to marketing, both PrestaShop and WooCommerce enable you to pursue whichever type of promotion you want. In other words, you're on your own.
PrestaShop promotes several add-ons that make it easier to advertise your products on search engines and social media. PrestaShop Marketing, for example, is a free add-on that can link products from your store with Google Merchant Center:

There are plenty of similar tools for WooCommerce, such as Product Feed PRO for WooCommerce. However, WooCommerce doesn't promote a lot of specific add-ons. Instead, it leaves you to find the extensions you need and decide which ones to use.
It's worth noting that you don't need extensions and add-ons to market your store's products. You can rely on content marketing, paid advertising, email marketing, and social media to promote your store. Using the recommended PrestaShop and WooCommerce extensions doesn't guarantee any sales – it just makes it easier for you to market your products (in some cases).
Support
Since both WooCommerce and PrestaShop are popular open-source platforms, there's no shortage of documentation for them. You can find online guides for troubleshooting almost any issue that you can imagine. The same documentation is available for implementing features.
That setup could be perfect if you're more of a DIY-kind-of-person. However, if you're looking for dedicated support, both platforms offer a couple of options.
The WooCommerce homepage can put you in touch with partner agencies and ecommerce developers from Codeable: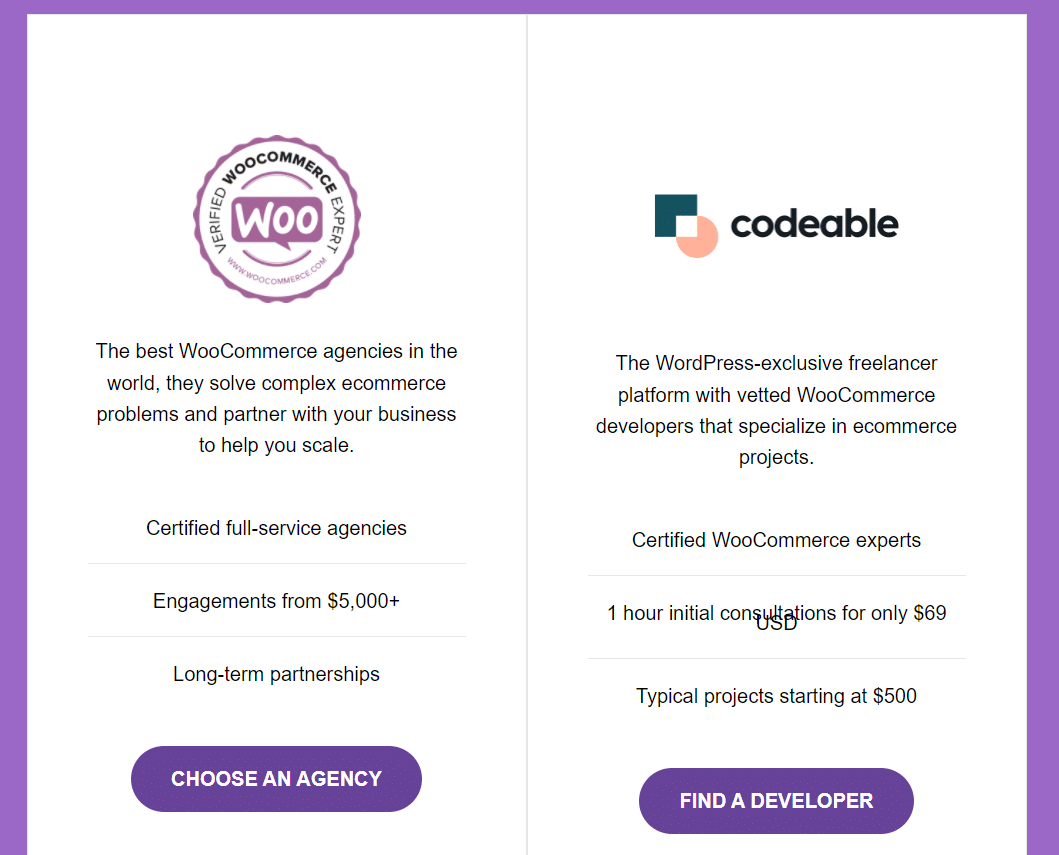 In either case, you're not getting support from the WooCommerce development team. In contrast, PrestaShop offers direct support plans, but they start at $280 per month for up to three hours of support:

To put it simply, most dedicated support options for both WooCommerce and PrestaShop are prohibitively expensive for small stores. If you need access to direct support, you might be better off considering a hosted ecommerce option such as Shopify.
In any case, if you're using a WordPress-friendly web host, it should be able to provide support with most general technical issues (including WooCommerce specific ones). However, your mileage will vary depending on your hosting provider.
PrestaShop vs WooCommerce: An Overview
We've covered a lot of information concerning PrestaShop vs WooCommerce. Now let's briefly sum up what makes each of these two ecommerce systems unique:
| | | |
| --- | --- | --- |
| | WooCommerce | PrestaShop |
| Price | Free (but you need to pay for hosting) | Free (but you need to pay for hosting) |
| Streamlined installation | Yes, depending on your web host | Yes, depending on your web host |
| Level of expertise needed | Beginner-friendly, with advanced features | Beginner-friendly, with advanced features |
| SEO tools | Access to WordPress SEO plugins | Basic product SEO options and access to additional modules |
| Support | No official support offered | Official support is available at a premium |
| Extensibility | Hundreds of WooCommerce specific extensions and thousands of WordPress plugins | Thousands of modules |
| Average price for ecommerce modules | $70-130 | $80-250 |
On paper, WooCommerce and PrestaShop look almost the same. The biggest differentiator when it comes to these ecommerce platforms is WordPress.
If you use WooCommerce, you're choosing WordPress. WordPress' flexibility enables you to build almost any type of website that you can imagine while also gaining access to ecommerce functionality using WooCommerce.
With PrestaShop, you're limited to ecommerce only. That's not necessarily a bad thing, but it's a distinction worth pointing out.
Summary
There's no one-size-fits-all ecommerce platform for every store. Both PrestaShop and WooCommerce are budget-friendly and highly extendable options for small and large stores alike.
Unfortunately, neither platform offers dedicated support. However, that's par for the course with open-source software. When it comes to PrestaShop vs WooCommerce, they more than makeup for it with easy installation, plenty of add-on options, and user-friendliness.
However, WooCommerce wins when it comes to extensibility since WordPress offers a massive range of plugins and themes to customize your store. WooCommerce users also can use web hosts that cater specifically to their needs.
For instance, every Kinsta plan enables you to install WordPress + WooCommerce automatically when you set up a new website. Plus, you get access to dedicated help from WordPress experts if you run into any problems!
Do you have any questions about PrestaShop vs WooCommerce? Let us know in the comments section below!