Ecommerce is growing rapidly. In fact, eMarketer expects global ecommerce sales worth $5.542 trillion in 2022.
If you're looking to start an online store to benefit from this growth, choosing the right ecommerce platform is one of the most important decisions you'll make. With several ecommerce solutions to choose from, the right choice depends on your needs.
Global ecommerce sales are expected to hit $5.542 trillion 💰- so choosing the right platform for your business is more crucial than ever 📈Click to Tweet
NeilsenIQ shares that 67% of the shoppers report their shopping approach has changed since the pandemic. You can benefit from a customized, scalable ecommerce solution to cater to this new generation of customers.
Check Out Our Video Guide to the Best Open Source Ecommerce Platforms
Keep reading to find out more about the best ecommerce platforms and the factors you should consider.

Ecommerce Platform 101
An ecommerce platform is software that enables businesses to manage their online stores, including sales, marketing, and operations.
Ecommerce platforms often have features that support:
Inventory management
Payment methods
Shopping cart
Checkout
When looking for ecommerce platforms, you'll encounter both software-as-a-service (SaaS) and open source ecommerce solutions.
Before going into the specifics of each solution, let's look at common considerations when choosing an ecommerce platform.
Ecommerce Platforms: What To Look For
Choosing an ecommerce platform isn't as simple as picking out what to eat for lunch. You need to consider your team's capabilities, the future of your business' growth, ease of use for both front and backend, and, of course, cost.
Before deciding on a platform, determine your priorities:
Ease of use: Is the platform's interface intuitive? Do you have to spend a lot of time learning how to use it?
Scalability: Ideally, you'll benefit from an ecommerce platform that grows with your business. Does the solution you're eyeing support small businesses to enterprises?
Autonomy: Do you have full control over the platform, or are you relying on a provider? For instance, SaaS ecommerce solutions receive regular updates like social media platforms, and you need to adjust to the changes to continue your operations.
Maintenance and security: Consider maintenance and security. Do you have the technical capability to manage these yourself? Do you have the resources to hire someone to do it? Or would you rather have the platform's team maintain and secure things for you?
Cost: Do the platform's plans fall within your budget for both short and long terms? For example, SaaS solutions make running an ecommerce store easier, but costs may go up significantly as your ecommerce store grows.
Support: Can you solve software problems you encounter? Or would you need customer support from the platform?
Features and customizability: Does the platform offer the features you want? If you get tied down to that platform, will you be fine using its built-in features, or do you want access to third-party tools?If you want to use third-party tools, you should look for an ecommerce solution that's easily customizable and open to integrations.
SaaS vs Open Source Ecommerce Platforms
Choosing between SaaS and open source ecommerce platforms boils down to what you need in an ecommerce solution.
| | SaaS | Open Source |
| --- | --- | --- |
| Ease of use | Built for beginners | May require extensive technical knowledge |
| Scalability | SaaS platforms are built for different scales | Scalable |
| Autonomy | Limited control since a third-party provider manages your business | Lets you customize and extend functionality with extensions and plugins |
| Maintenance and security | SaaS platform handles maintenance and security | You have to take care of your maintenance and security updates. |
| Support | Available | None available. Some platforms offer customer support at an additional cost. |
| Cost | Fixed monthly cost ranges from $29/month (basic) up to $2,500/month (enterprise) | Free platform. Web hosting + extensions for premium features may incur additional costs. |
SaaS Ecommerce Platforms
In SaaS, service providers host ecommerce software on the cloud and license it to you via a subscription. Monthly fees range from $29/month for small businesses to $2,500/month for enterprise-sized businesses.
Besides hosting, SaaS also includes security, maintenance, updates, and technical support when you purchase a plan.
The SaaS model is perfect if you want to launch your website quickly and save on infrastructure, installation, security, and maintenance costs.
Examples of popular SaaS ecommerce platforms include Shopify, BigCommerce, Wix, and Squarespace.
Open Source Ecommerce Platforms
Open-source ecommerce solutions let you access the source code to modify the platform to your liking. You can use the source code for free, but ecommerce hosting and extensions may incur additional costs, all on top of your other website costs.
If you're an entrepreneur who wants to build their online shop from the ground up, an open source platform offers you flexibility, customizability, and scalability to realize that dream.
While open source platforms empower you to customize your ecommerce shop, they leave the installation, management, security, hosting, maintenance, and updates to you, which means open source platforms may require more attention than SaaS platforms.
Due to the steep learning curves of open source platforms, you may hear of companies starting with SaaS solutions and moving to open source when they outgrow the SaaS platforms.
That said, open source ecommerce platforms aren't limited to huge companies with armies of web developers. You can also start small on an open source platform and grow from there.
Furthermore, several open source ecommerce platforms offer managed hosting options to provide you with the best of both worlds.
Best Open Source Ecommerce Platforms
Let's take a look at some of the best open source ecommerce platforms in the market.
1. WooCommerce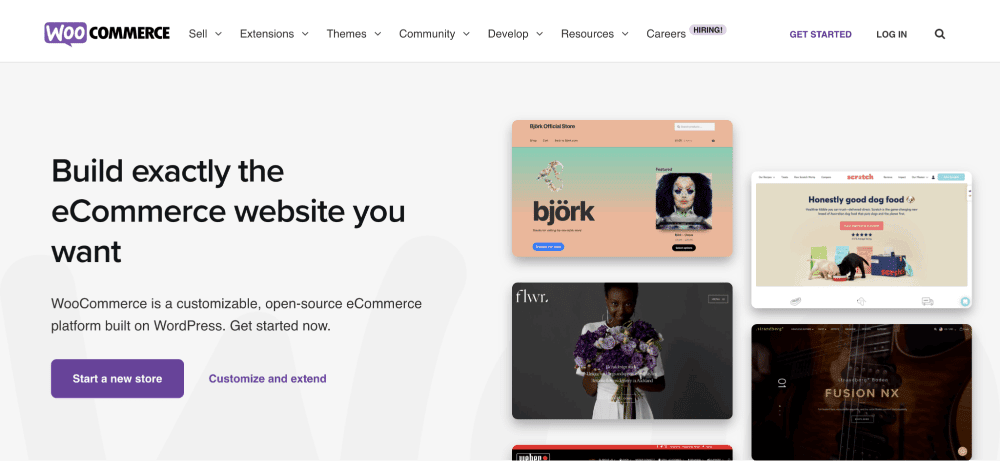 WooCommerce is a popular ecommerce plugin that gives the WordPress content management system (CMS) ecommerce functionality, such as inventory management. It powers over 5 million ecommerce websites, including New Balance and Subaru.
WooCommerce and Shopify are the most used ecommerce platforms among the top 1 million ecommerce websites, with WooCommerce having a 29% market share (versus Shopify's 21%).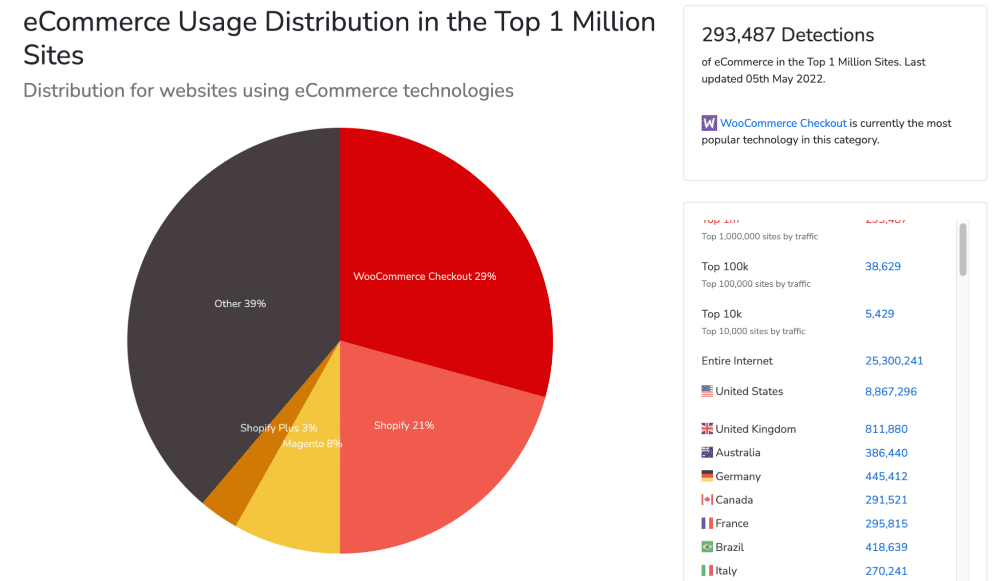 WooCommerce is free to use but requires WordPress hosting. You can benefit from Kinsta's WooCommerce hosting with features tailored for WooCommerce.
While open source ecommerce platforms often require technical expertise, WooCommerce is surprisingly easy to learn and optimize for speed.
Features:
Flexible and customizable, like WordPress
Wide selection of free and paid WooCommerce themes
Huge library of extensions
Built-in security features
Multiple integrations supported
Pricing: Free
2. Adobe Commerce (Formerly Magento)

Adobe Commerce (formerly Magento) is an ecommerce software that's part of the Adobe Experience Cloud.
Adobe Commerce is a powerful, flexible, scalable, and customizable open source platform used by 250,000+ enterprise-scale online stores worldwide, which handle multiple products and heavy traffic. For instance, HP, formerly known as Hewlett-Packard, also uses Adobe Commerce.
Since it was derived from Magento, which is known to target developers, Adobe Commerce requires advanced technical skills.
Features:
24/7 customer support
Multiple extensions via Magento marketplace
API integrations
Native SEO features
Built-in analytics
Pricing: Magento Open Source is available for free; Adobe's pricing available on request
3. Drupal Commerce

Drupal Commerce is an ecommerce platform built on the Drupal CMS, an open source CMS similar to WordPress.
With Google algorithms changing to prefer and prioritize content marketing, ecommerce platforms alone aren't going to cut it. Your ecommerce platform must incorporate a decent CMS feature if you want to rank for content. This is something Drupal Commerce offers.
Drupal Commerce is popular with enterprise websites, such as Cartier.
Features:
SEO and marketing features
Order management tools
Reporting and analytics
Integration with other systems via RESTful API
Pricing: Free
4. Joomla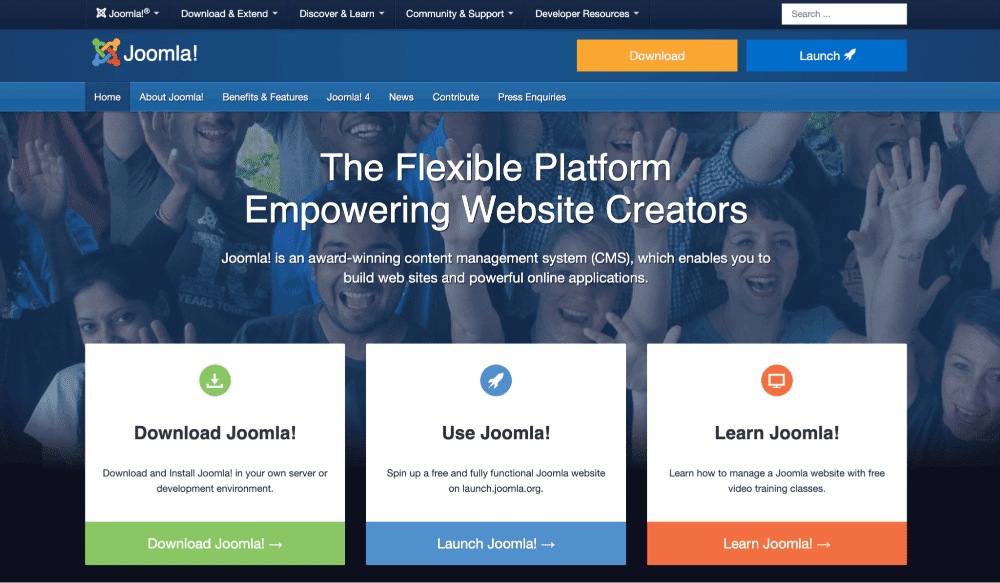 Launched in 2005, Joomla is the second most popular open source CMS. It powers 2.5% of all websites and has 200,000+ members in its community. Like WordPress, you can use Joomla for ecommerce by adding an extension.
Being an open source CMS, Joomla offers you the flexibility to optimize the online store to your liking. You can use different templates for each piece of content. However, like Adobe Commerce, it also requires advanced technical skills.
Joomla is favored by brands like IKEA, Lipton, and Holiday Inn.
Features:
6,000+ extensions available in the marketplace to add functionality
Responsive design
Unlimited products
Multiple language and currencies supported
Pricing: Free
5. PrestaShop

PrestaShop is an open source ecommerce platform built on Symfony, a framework that improves flexibility by letting you pick and add modules you need to your website or application.
PrestaShop has over 600 features and 5000+ modules, but many of these add-ons come at an additional cost. Besides that, PrestaShop offers a fully managed solution that pairs hosting and maintenance with their open source software if you're not tech-savvy.
Zippo Lighters and Fashion Stork are among the 300,000+ online shops that use PrestaShop.
If you plan on using PrestaShop, note that it doesn't support several popular integrations, so you'll have to use its in-house solutions.
Features:
Thousands of modules and add-ons for increased functionality
3000+ mobile-optimized templates
Integrated SEO and marketing tools
Multi-currency support
Pricing: Free; managed solution plans start at €450 ($473) per month.
6. OpenCart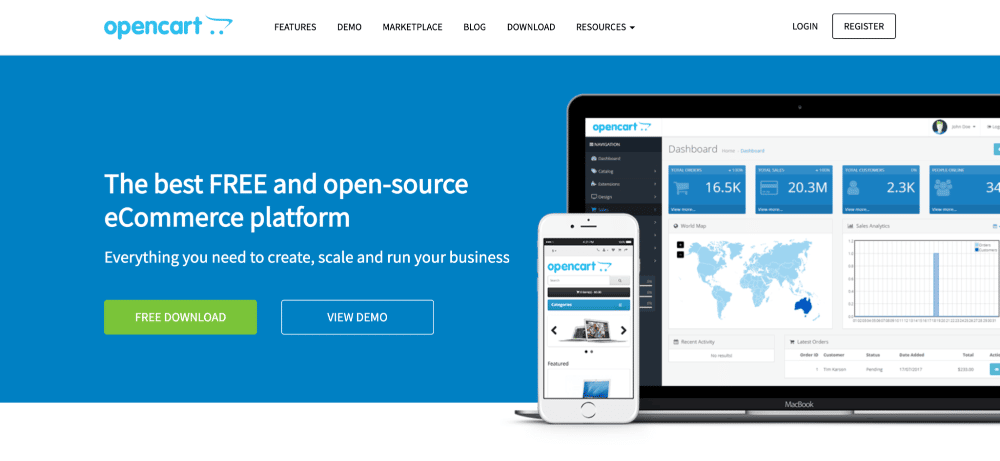 OpenCart is an open source ecommerce platform 400,000+ website owners use worldwide, including Red Cross UK. It offers a range of features — from multi-store management from one interface to a marketplace full of themes and extensions.
However, OpenCart offers limited SEO and marketing functionality — which may limit you from growing your ecommerce site. Also, you'd need technical knowledge to benefit from OpenCart as it doesn't provide customer support.
Features:
Admin dashboard — with a quick overview of features
Backup and restore tools
Large marketplace with 13,000+ add-ons and extensions
Support for abandoned shopping carts and discount coupons
Mobile app
Pricing: Free
7. Spree Commerce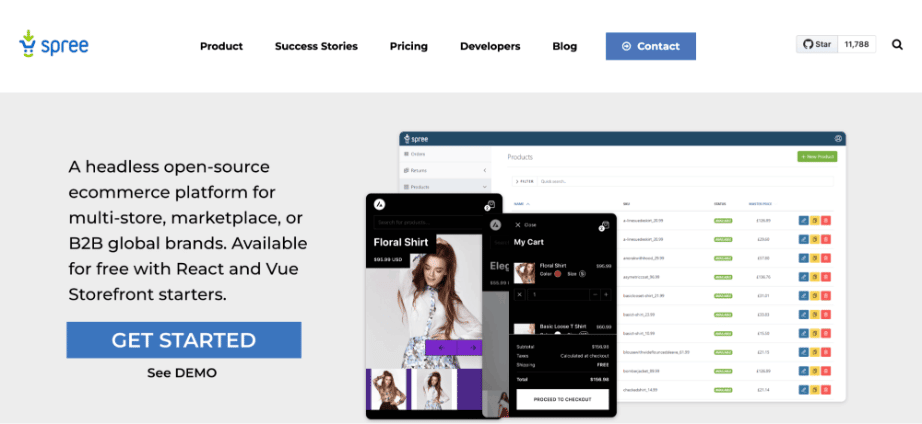 Founded in 2008, Spree Commerce is a headless ecommerce platform available both as an open source platform and SaaS.
A headless ecommerce platform lets you separate the frontend (head or digital storefront of your website customers) from the backend (the software in the background that ensures your store runs smoothly). You can prepare your frontend separately and connect it to the headless platform, offering an enriched customer experience.
Spree Commerce's community of 850+ contributors has helped over 50,000 businesses since 2007, including Blue Apron and Everlane. The open source version is free but has limited functionality, while Spree as a Service gives you extra functionality and lets you benefit from cloud hosting.
Features:
Multi-vendor marketplace
Supports B2B and B2C ecommerce
50+ third-party integrations
Supports Next.js commerce and Vue storefront
Analytics dashboard, inventory management systems, and SEO tools
Pricing: Free as open source; SaaS pricing available upon request.
8. CubeCart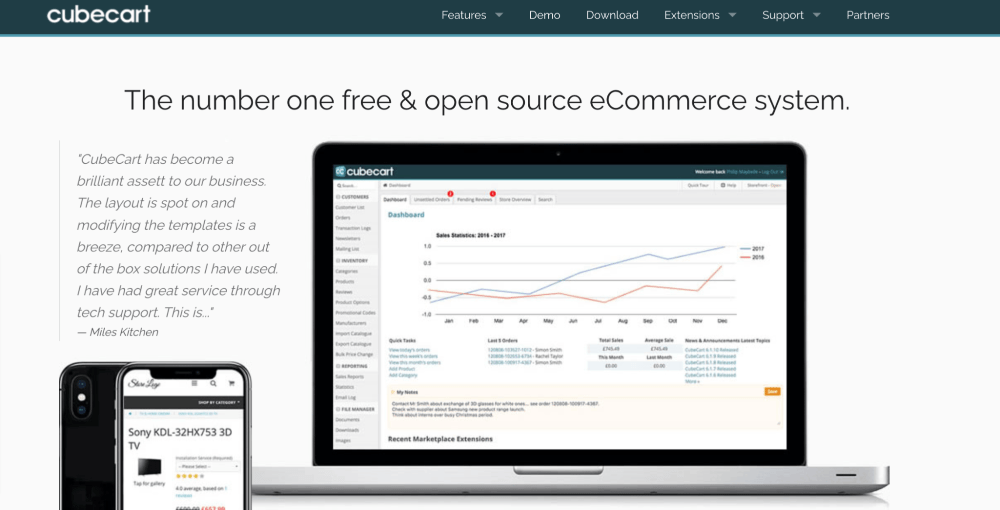 Founded in 2003, CubeCart is a British open source ecommerce platform gaining popularity in and out of the U.K.
CubeCart uses a template-driven responsive skin that makes online stores visually appealing across different devices. However, its flexibility is limited to how it displays an online store on devices — it's not equipped for enterprises due to a lack of features. And while it integrates with some applications, it's not as extensible as OpenCart.
Like PrestaShop, CubeCart offers hosted and self-hosted versions of its software, though it released all software versions for free in 2015. Fans of CubeCart include Kula Cards and Harris Organic Wines.
As an open source ecommerce platform, CubeCart lacks live support, but you can avail yourself of paid technical support for a minimal monthly fee.
Features:
Unlimited products, orders, categories, and admins
100% template-driven responsive skins
Social media and miscellaneous plugins
Gift certificates, coupons, and voucher functionality
Supports multiple payment gateways such as PayPal and SagePay
Sales reporting
Pricing: Free with no customer support. Paid plans start at $33 per month.
9. Shopware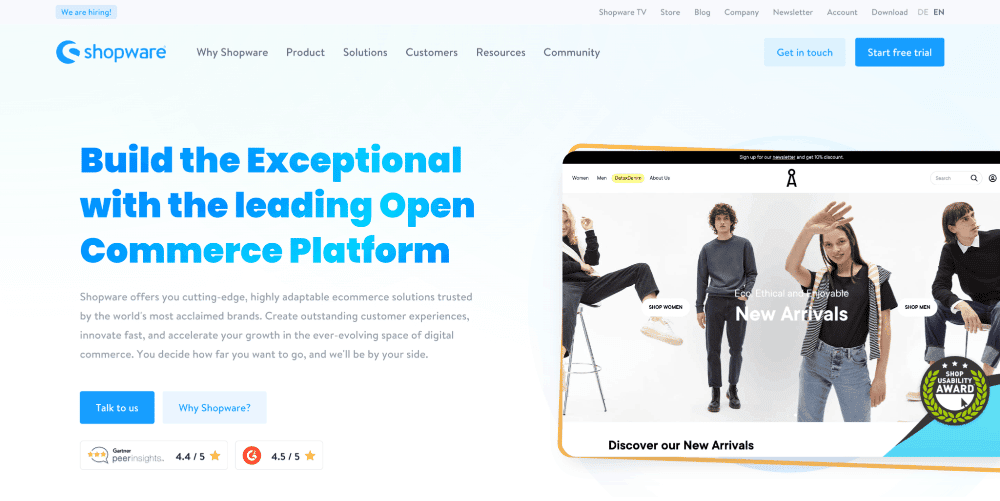 Shopware is a German open source ecommerce platform founded in 2000.
Like Spree Commerce, Shopware was built with Symfony powering the backend and Vue.js on the frontend. It has a large developer community with 100,000+ customers worldwide, including brands like Aston Martin and M&Ms.
Notable Shopware features include 4,000+ extensions, fully integrated CMS capabilities (like Drupal), and integrated SEO and marketing tools.
However, the free version offers limited functionality, and as with CubeCart, customer support requires an additional subscription.
Features:
Fully integrated CMS capabilities
Drag-and-drop interface for easy customization of online stores
SEO and marketing tools
Integrations to Google Shopping and social media
Choice between self-hosted or cloud-hosted variations
Pricing: Free with limited features. Premium plans start at €199 ($210) per month.
10. Solidus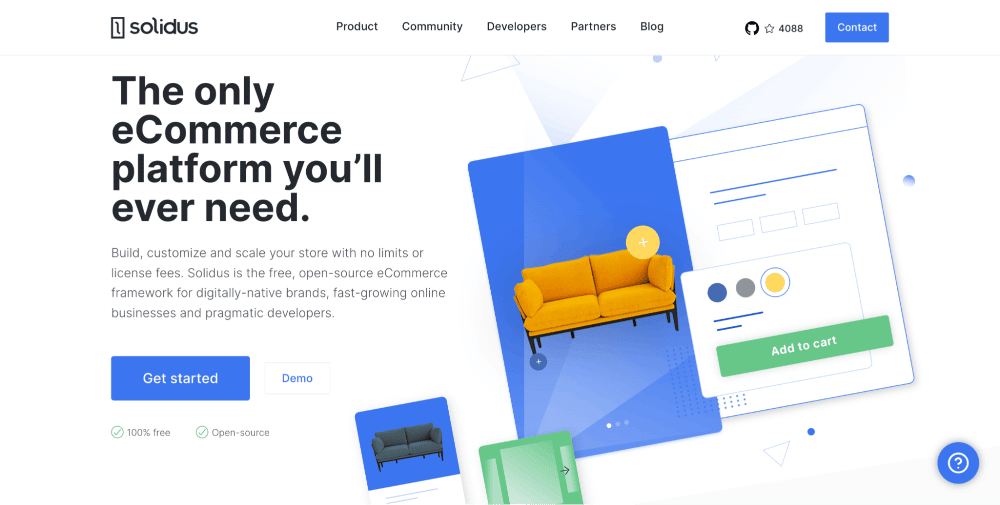 Solidus is an open source ecommerce platform powered by Ruby on Rails, which ensures security and flexibility.
Solidus can function both as a monolithic platform (with frontend and backend bundled together) and as a headless ecommerce platform like Spree.
Solidus features a wide range of integrations and has an active community on Slack and Stack Overflow. Famous brands that use Solidus include MeUndies, Bonobos, and Ace & Tate.
Features:

Promotions engine to offer discounts and other complex promotions based on order history
Multiple payment integrations and store credit support
Support for multi-carrier shipping
Pricing: Free
Want to make sure ecommerce store is set up for success? 🛒 Check out this guide ✅Click to Tweet
Summary
Choosing an ecommerce platform is one of the most important decisions you'll make as an ecommerce business owner.
SaaS platforms are easy to use and will take care of everything for you, but open source platforms like WooCommerce offer much-needed flexibility to scale and enhance customer experience.
If you're weighing your options, consider your products, technical expertise, and business size.
In other words, gauge your needs for customization, features, and scalability. If you're starting or running a small- to medium-size business, WooCommerce would serve you well. On the other hand, if you're opening an online storefront for an enterprise business, you may benefit from Magento's features.
Which platform do you prefer? Let us know in the comments.
Optimize your ecommerce website with:
Cloudflare Enterprise integration
Automatic database optimization
Google cloud platform
Built-in performance monitoring tools
Benefit from all of this and more with Kinsta. Check out our plans or talk to sales to find the right plan for you and try it out with our 30-day money-back guarantee.