Not too long ago visual page builders didn't exist. It meant that anyone without coding knowledge was out of luck if they wanted to launch a simple sales page for their business or a landing page to get the word out about a new invention.
You had to rely solely on web developers and designers–and those came with significant costs. Furthermore, those developers and designers had to work with CSS and HTML to make even the slightest style change on a website–a task that took far longer than anyone would care to admit.
Eventually, shortcodes came along, speeding up the development process for those who wanted to skip the whole HTML thing.
But the real revolution started with the WordPress page builder–an impressive addition to WordPress that turned designing into a more visual procedure.
Web developers can now manufacture more sites in a fraction of the time (making way for more customers and money). In addition, the beginners and startups out there don't have to rely on a pricey developer, because they can construct a website with drag and drop elements for items like carousels, images, videos, columns, product galleries, portfolios, and more.
What's the Point of a WordPress Page Builder?
Have you ever tried to create something as simple as a Contact Us page? You might include a form with fields for a user's name, website, email address, and message. Then you may want to insert a map that leads to your offices, along with some links to your support pages and information about your company. Don't forget your phone number!
Even though the Contact Us page is one of the more rudimentary pages to construct, it takes a decent amount of formatting, coding, and headaches to complete the process without a visual builder. Yet, when you install a WordPress page builder, all of that changes. Not only can experienced developers speed up the development process, but beginners no longer have to worry about that messy code.
In addition, much of the content is shown on the screen as it'll display on your website. No tweaking and hitting the Preview button anymore! As we suggested, the Contact Us page is just about the easiest webpage you can make, but a WordPress page builder offers even more advantages when you have rows upon rows of content.
Take an eCommerce homepage, for example. A page like this might require some of the following:
A slider to feature the most recent promotions.
A WooCommerce product gallery with the most popular items in the shop.
An Add To Cart button for the most recent release.
A list of testimonials from past customers.
A countdown timer announcing the most recent product launch.
A navigational menu at the top, guiding customers to the best categories.
Animated headlines to explain your company and the products it sells.
Arranging all of that takes quite a bit of time, but a WordPress page builder could potentially cut that time down to 20 minutes if you get used to the builder's interface. After that, the best page builders allow for column and content repositioning, resizing, column configuration, padding, colors, and much more. The best part? These tasks are typically completed by using your mouse.
A Quick List of the Best WordPress Page Builder Options
We'll talk about each of the WordPress page builders in-depth, but if you'd like to try them out right away, feel free to click through the list below.
Find the Best WordPress Page Builder for Your Website
Quite a few WordPress page builders exist on the internet, and this makes it rather tricky when it comes to choosing one. The good news is that we've whittled down your choices to ones that have excellent ratings and incredible features based on our tests.
It's also important to us that the page builders are compatible with most WordPress themes. So, we'll outline the best of the best and talk about some of the situations in which you might consider one WordPress page builder over another.
1. Elementor
Elementor is available as a free plugin download, but you also have the option to pay for the Pro version. The Pro version starts at$49 for one site and goes up to $199 for unlimited sites. As you'll discover with the features listed below, and with Elementor's ease of use, this is quite the steal.
The free Elementor download offers a simple yet powerful WordPress page builder, with one of the fastest interfaces you can find. Everything is instant, from live edits to instant page loads. The standard page builder features include animations, shape dividers, gradient backgrounds, and headline effects. There's even a template library with stunning WordPress templates, all of which you can pick and choose from. The free version of Elementor is also mobile-friendly, with some handy tools for maintenance mode, under construction pages, landing pages, and more.
As for the overall performance and feature-set, it doesn't really matter whether you go with the pro or free version. It mainly depends on what you need for your particular site. That said, the Pro version of Elementor is a thing of beauty.
To start, Elementor Pro includes over 26 widgets for formulating the perfect pages, whether it be for eCommerce, portfolio work, or a regular business website. For instance, you can insert Facebook buttons, pages, and comments throughout your website, while also taking advantage of WooCommerce widgets, such as categories, products, or element modules. The live form editor means that you no longer have to spend time in the backend working with forms. Not to mention, you can save your widgets to be passed over into other pages or websites.
Here's Why You Might Consider This WordPress Page Builder:
The free version has templates, a speedy design area, and a truly live design experience.
The paid version only starts at $49 for one site.
You won't have to install other plugins for maintenance, coming soon, and landing pages.
Save edited widgets to be used all over your website.
Choose from over 26 widgets, some of which include videos, buttons, icons, social icons, image galleries, and counters.
You can translate your website to dozens of other languages.
The developer API is open for the Elementor plugin to be extended and integrated into other systems.
Don't forget to also check out our interview with Ben Pines, the developer behind Elementor.
2. GeneratePress with GenerateBlocks
GeneratePress is a free WordPress theme, but we like to consider it as a simplistic page builder solution, perfect for beginner webmasters, bloggers, and developers who want an uncomplicated, rapid visual builder. In addition, you can use GeneratePress Premium and its free GenerateBlocks plugin to visually build almost any type of website.
Let's start with the theme itself. GeneratePress is a simple, lightweight, and free WordPress theme with rave reviews and a beautiful layout for landing pages, blogs, business websites, and sales pages. It's hard to figure out a market where you couldn't utilize the GeneratePress theme since it's so modern and clean.
Needless to say, if you're tired of clunky, slow themes, it's worth checking out GeneratePress.
Most of the editing is done through its block-based editor when working with the free theme, but you gain access to many more modules (add-ons) when you opt for the premium version of the theme.
Even without GenerateBlocks, GeneratePress presents an insanely quick way to construct a beautiful website. Yet, once you add the free GenerateBlocks plugin, it opens up many doors for extensive design. If you need even more features, you can opt for GeneratateBlocks Pro.
In short, the plugin lets you add a block, then add content to that block such as media, text, headers, colors, and background colors. So, you might design a list of your product features with bold text, images, and links.
As we mentioned, the combination of GeneratePress and GenerateBlocks is all about speed. Once you have all of your blocks created, you can move them around with the drag-and-drop interface. The blocks are stacked on top of each other, so most of the movement happens on a vertical basis.
Here's Why You Might Consider This WordPress Page Builder:
GeneratePress delivers the potential to create and manage a professional website within minutes.
There's a free theme that works wonders, but you do have the option to pay around $59/year for the premium theme which comes with Theme Builder, Site Library, and premium support.
The GenerateBlocks plugin adds that much-wanted versatility with several blocks, so all you have to do is move around your bits of content to organize them.
You can use the premium version of GeneratePress on up to 500 sites (almost unlimited for most use cases). In other words, a developer or agency would only have to pay $59 to have a theme for all clients.
You get awesome modules for things like colors, WooCommerce, typography, menus, page headers, blogs, backgrounds, spacing, and hooks.
You get carefully and well-developed performance optimizations, such as dynamic CSS caching, a default option of a system font stack (no font files), no jQuery, and smaller Font Awesome essentials.
3. Beaver Builder
Beaver Builder offers a robust WordPress page builder for the creative types who still crave something more than the simplicity of the previous builders. There's both a free lite version and a premium version. The pricing is a little bit higher than most builders. However, you can use Beaver Builder on an unlimited number of sites, starting at $99.
White-labeling is offered in the Agency plan ($399) so it's clear that the folks at Beaver Builder are also thinking about development houses with clients.
As for the WordPress page builder, it allows you to gain full control over your design elements, all by starting with modern and beautiful templates and cleaning your site up with a drag and drop system. Beaver Builder boasts precision with the visual builder, which puts it ahead of other options that have finicky controls.
The live, frontend editing is where Beaver Builder flexes its muscles, since you don't have to keep clicking the Preview button or guessing when making adjustments. It's a mobile-friendly builder, and the WooCommerce support is useful for those online stores out there. You can save and reuse rows and modules for later use, while also utilizing shortcodes and widgets when third-party plugins don't integrate with Beaver Builder.
Along with reusable templates, an open API, and an import/export feature, it's hard to find a WordPress page builder that has as many features as Beaver Builder.
Here's Why You Might Consider This WordPress Page Builder:
The live, frontend editing works in real-time so there's no guesswork, and you don't have to wait around for changes to be reflected on your screen.
The page builder works nicely with WooCommerce.
Some of the premium plans come with a Beaver Builder theme, which features a simple, yet powerful design and some wonderful presets for making dozens of different styles with the click of a button.
You get dozens of drag and drop modules including (but not limited to) photos, text editors, separators, accordions, calls to action, number counters, subscribe forms, and pricing tables.
The Agency Plan provides white-labeling, network-wide settings, and a DIY web publishing platform for the ultimate environment to serve your clients.
All of your layouts can be saved and reused elsewhere on your website. You might even try transferring over some of these layouts to other websites.
4. Divi
Divi has made a name for itself since it comes from the impressive developers over at Elegant Themes. As with all Elegant Themes products, you must join as a member to unlock all of the plugins, themes, and other cool features Elegant Themes has to offer. It's a hub for developers and agencies that require a library full of WordPress plugins and WordPress themes. That said, membership starts at only $89 per year, so it's tough to argue against it.
When it comes to the Divi Builder, this is a gem that presents an endless number of layout possibilities. You can use it on any theme you want by taking advantage of the 46 content modules. For instance, a few of the modules include:
Accordion
Audio player
Bar counter
Comments
Divider
Email opt-in
Portfolio
Slider
Testimonial

Divi Builder permits multiple columns, but some of the more intriguing designs on the Elegant themes website show long-form content for blogs and landing pages. In fact, Elegant Themes states that Divi is perfect for telling an enticing story with a vertical display of imagery and interactive elements.
The simple configuration options ensure that you don't need to know anything about coding. However, you can add your own custom CSS if you can't find something in Divi or if you'd like to incorporate a completely unique element. As with many of the WordPress page builders on this list, Divi also has a feature for duplicating and copying any element with a single click. You can even hide or lock a certain module on the backend if you'd like to save it for later or keep others from editing.
Here's Why You Might Consider This WordPress Page Builder:
With 46 content modules, Divi has one of the largest libraries of website elements to choose from.
You even get some beautiful templates to get the ball rolling.
Duplicate, disable, and lock items.
Divi provides a unique "collapse" feature for consolidating your view and clearing out the area for a less cluttered design experience.
Divi also offers unlimited redos and undos. Therefore, you can go back to a revision made far into the past and still jump back to that revision.
Recommended reading: Divi vs Elementor: WordPress Page Builder Plugins Comparison
5. Brizy
Brizy is made by the team that developed ThemeFuse, Unyson, and Pixelkit. At ThemeFuse, they have been creating WordPress templates for many years, so they know what users need and want. They focus on making it as easy as possible to design pages for your website.
There is a free version and a pro version of Brizy WordPress. The free version comes with a limited set of features and designs. The pro version includes everything and starts at $49/year for a single website, $99/year for 100 websites (their Freelancer plan), and $199/year for a whopping 500 websites on their agency plan.
The agency plan can even be used fully white label with Brizy's branding removed entirely. Brizy also offers some lifetime deals, which do not have a recurring cost.

Lastly, Brizy also offers a Cloud version of their website builder. Brizy users can migrate sites between Brizy Cloud and Brizy WordPress with a single click.
Here's Why You Might Consider This WordPress Page Builder:
Affordable pricing model, especially for freelancers and agencies.
Full white label capability, you can resell Brizy under your own brand name (including getting your own white label WP plugin).
One of the better-designed UI's we've seen in a page builder plugin.
130+ complete website designs.
500+ pre-made blocks to create your own designs.
Has an awesome auto-saving feature which means you never lose your work.
Has a Facebook group to chat with other fellow Brizy users for additional support and ideas.
6. WP Page Builder
WP Page Builder, the free WordPress page builder came out to the market on August 1st, 2018, and it has already made name for itself. The features provided by this page builder are there for a reason. It's been said that the Themeum team has invested years in R&D to deliver the perfect product.

The sleek and simple design of this page builder will help you understand it faster, even if you never used any page builder before. The toolbar is very easy to understand making the use of rows and columns even easier. The add-ons are created to perform a specific set of tasks and are able to execute them with perfection. The library section allows you to save any row consisting of a set of add-ons at any time of your work. This feature lets you reuse your work which results in saving a great deal of time.
The predesigned blocks and layouts of WP Page Builder are pretty useful elements. Just by taking advantage of the simple drag and drop feature, you can create a single page with one click. These blocks are very rich in content and offer a great design. The layout packs are a great tool to create a ready-made page in seconds. The packs contain one or more pages making it possible to use just one page from a bundle. If you would like to learn more about this solution you can read our detailed WP Page Builder review here.
Here's Why You Might Consider This WordPress Page Builder:
The page builder focuses on frontend editing to provide its user with a great visual of their work. It's the perfect product for those who like real-time live editing.
The simple drag and drop functionality of this page builder will let you use its add-ons, blocks, layouts to move and manage them across any page.
It allows you to disable or hide any existing elements to clean up later and will allow you to save them for later use.
You will have access to a handful of predesigned blocks and layout packs, which will enable you to work faster without having to worry about a new design concept.
Using WP Page Builder doesn't require any coding skills but if you want to apply more advanced design you can take advantage of the custom CSS option.
7. Page Builder by SiteOrigin
Page Builder by SiteOrigin has both a free version and a premium version for $29. You can download the SiteOrigin widget bundle without giving an email address or paying an additional rate. The widgets offered include modules for Google Maps, headlines, image grids, price tables, post carousels, and much more. Combine this with the responsive WordPress page builder and you've found yourself a simple content creation interface for all experience levels.
This is a simple drag and drop system, using grid-based technology and the integration with SiteOrigin and third-party widgets. Therefore, you can construct your website using some of the more familiar widgets that come with your theme. The page builder has live frontend editing, but you also have the option to move around elements in the backend page builder. This provides a simple toolbar towards the top of your content, with buttons to add widgets, add rows, use prebuilt modules, or look at your history.

As we talked about above, Page Builder by SiteOrigin is given away for free without the need to upgrade for support or updates. However, you can upgrade to the premium version if you want additional add-ons, such as the SiteOrigin Custom Post Type Builder, which can help further enhance your site.
Here's Why You Might Consider This WordPress Page Builder:
If you're interested in a smooth WordPress page builder without the price tag. This includes a large collection of widgets for free.
You don't mind solving your own customer support issues in the forums or documentation.
You'd like a backend and frontend live page builder.
The SiteOrigin Page Builder provides a sleek, simple toolbar that's easy to understand. You can add the most important elements like rows and widgets.
SiteOrigin integrates perfectly with its own widgets and whatever other third-party widgets you might be used to having on your site.
8. Visual Composer
Visual Composer has a strong team behind it! It's developed by the creators of WPBakery, one of the most popular page builders sold on CodeCanyon. Beyond being easy to use, it's also packed with features that intermediate and advanced web developers will enjoy.
For instance, you get over 50 premium content elements and 100 predefined layouts. The over 40 grid design templates get you started on the right foot, and you can't go wrong with the over 200 exclusive third-party add-ons. Visual Composer provides both front and backend visual editors. The frontend solution shows you real-time results as you adjust your website, while the backend editor is more of a grid-based interface with modules to drag and drop.
As you may have assumed by now, no coding is required when working with the Visual Composer plugin. In fact, the developers have added something called "tree view," which turns your builder into a layered interface, much like Photoshop or Sketch Layers.
If there comes a time where you can't make a design element look right, or you'd like to get creative and make part of your site completely unique, you can tap into the custom CSS or custom Javascript sections. This can be done globally or locally for when you might need to add a certain style to your entire website.
Here's Why You Might Consider This WordPress Page Builder:
Uses a simple drag and drop editor to move and manage your layout and elements across the page.
Buying it separately only costs you $59.
You technically receive a 3-1 editor, with the backend, live frontend editor, and the tree view.
Visual composer allows you to hide elements and save them for later, cleaning up your design area and reminding you about the module.
The WordPress page builder requires zero knowledge of code, but those experienced enough have full control of the custom CSS and Javascript areas.
9. Page Builder Sandwich
Page Builder Sandwich mainly works as a free plugin, but there is the option to upgrade to Page Builder Premium, which gets you over 1,700 more vector icons, a customized version of Google Maps, hundreds of shortcodes and plugins, along with the ability to add your own CSS.
We like the Page Builder Sandwich for beginners since it relies primarily on a frontend visual page builder. Therefore, you don't have to think about any backend designing, removing the need to know anything about code. The drag and drop elements are pretty basic, with simple text boxes and images. You can customize colors and sizes with your mouse and see all of your changes rendered in real-time.

Although there isn't a backend drag and drop editor, Page Builder Sandwich integrates nicely with the default WordPress content editor. Therefore, you can jump back to that editor to adjust images or text, yet the code from the visual editor won't get messed up.
This WordPress page builder is a somewhat watered-down version of options like Divi and Elementor, but it works wonders if you'd like to clear out the clutter. For example, the 10 full-page templates are nice as a starting point, but other page builders have larger libraries.
Here's Why You Might Consider This WordPress Page Builder:
The free version is basic enough for the average webmaster to jump in and start designing without training.
The premium version has hundreds of plugins and shortcodes, along with thousands of vector icons.
10 page templates come along with the plugin so you don't have to build your site from scratch.
The WordPress page builder presents a beautiful frontend live editor, and this doesn't conflict with any edits made to the backend WordPress editor.
10. Oxygen
The Oxygen app is a little different than your average WordPress page builder since it works through a separate sandbox module–that's still connected to WordPress–but it's actually what I would consider separate. One aspect I really enjoy about Oxygen is that it cuts out most of the main tabs and toolbars you would typically see from WordPress and focuses only on the page builder options like buttons for making containers, paragraphs, and text blocks.
Oxygen goes for a set price of $99. This includes a 30-day money-back guarantee and lifetime updates for an unlimited number of websites. Therefore, you don't have to keep paying a yearly fee for simple support and updates.
The point of Oxygen is to make sites within minutes, and the prebuilt components allow you to generate your own designs in a rapid fashion. HTML elements are also included in case you'd like to build your site in a more traditional manner. Oxygen has an import/export feature to quickly move designs from one site to another. In addition, you can use Oxygen alongside other page builders like Visual Composer, Beaver Builder, and Elementor. This is a strong advantage if you find certain features in each WordPress page builder that you like.
To me, Oxygen's interface looks similar to that of Photoshop. It's easy to understand once you've had some practice, and it has an overwhelming amount of tools if you learn how to use them. However, I'd consider it rather intimidating for a first-time user. That said, more experienced developers should find it useful, especially with the support for Javascript, HTML, PHP, and CSS.
Here's Why You Might Consider This WordPress Page Builder:
Oxygen provides full coding ability (with Java, HTML, PHP, and CSS,) along with a solid visual frontend builder.
You can combine Oxygen with other page builders like Elementor, just in case you like features from both.
This WordPress page builder provides you with a lifetime of updates and support, and you can use it on as many client sites as you want.
11. Breakdance
Breakdance is a cutting-edge WordPress page builder plugin that empowers users to create and customize eye-catching websites using its visual drag-and-drop interface. As one of the top WordPress page builders, Breakdance distinguishes itself with its innovative features and remarkable performance. It caters to both beginners and professionals, providing flexibility and simplicity in the design process.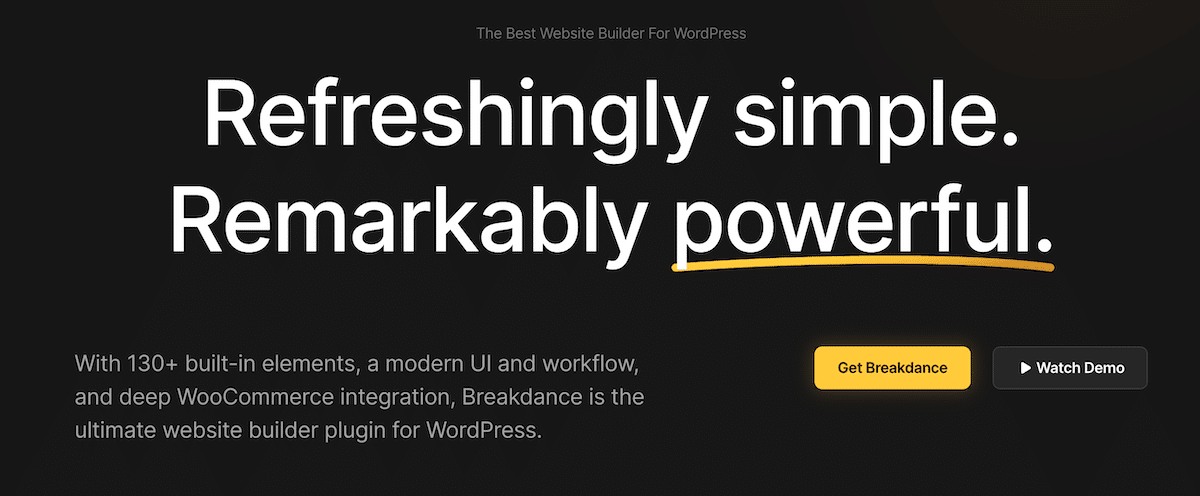 Here's Why You Might Consider This WordPress Page Builder:
Breakdance allows users to effortlessly create mega menus and sticky headers without the need for additional plugins or code, streamlining the website design process.
 With Breakdance's superior loop/query builder, users can access and incorporate any data from the WordPress database, offering limitless customization options and dynamic website content.
Breakdance goes above and beyond by seamlessly integrating with WooCommerce, enabling users to build complete WooCommerce pages within its no-code builder, providing a comprehensive solution for eCommerce websites.
Speed is crucial for any successful website, and Breakdance doesn't disappoint. It's built on a faster codebase, ensuring that websites load rapidly and maintain top-notch performance, enhancing user experience.
Breakdance offers global settings to help users maintain brand consistency across their website. It also features a huge library of pre-built templates catering to various styles and niches, saving time and effort in the design process.
Choose Breakdance as your go-to WordPress page builder and unleash the full potential of your website with its robust features and outstanding performance. Create captivating and highly functional websites effortlessly, and experience the wonder of Breakdance's unparalleled capabilities.
12. Live Composer
Live Composer is another free, open-source WordPress page builder, so you can navigate to the site and download the plugin by typing in your email address and name. It offers a frontend drag and drop interface so you don't need to know anything about coding. The editor makes a responsive design and it comes with over 40 content modules for quick and easy development.
Live Composer has two themes for you to get started with your design, and it provides a specific WooCommerce integration that you can buy for $69. This delivers full customization for everything from product pages to cart pages.
The only part you would have to pay for is if you needed that WooCommerce support or one of the many extensions. The extensions are sold in a package for $49.
Other than that, the Live Composer plugin is a basic, yet intuitive, builder for all skill levels. I would like to see a more comprehensive list of modules with the free version, but you can take advantage of the extensions if needed.
Here's Why You Might Consider This WordPress Page Builder:
You don't have to pay a dime for the page builder.
You can opt to pay for a full drag and drop WooCommerce editor.
The company also sells premium extensions for things like Google Maps, video embedding, gallery images, and animations.
13. MotoPress Content Editor
The MotoPress Content Editor page builder doesn't have the same exposure as some of the more popular options on this list. However, it's an affordable solution ($39 per yearly license) with support for all themes, pages, posts, and custom post types. Moreover, this page builder is included for free if you sign up for a MotoPress membership (although they are a bit expensive).
MotoPress Content Editor combines with the WordPress editor to create a fully visual frontend editing experience. Not to mention, the plugin is WordPress multisite compatible if you have a network of sites.
The standard plugin offers several pre-made themes and a multilingual interface to change your site text for everyone to understand. Even if you're only interested in the full Woocommerce support or the included Google Web Fonts, the Visual Page Builder from MotoPress is worth a look.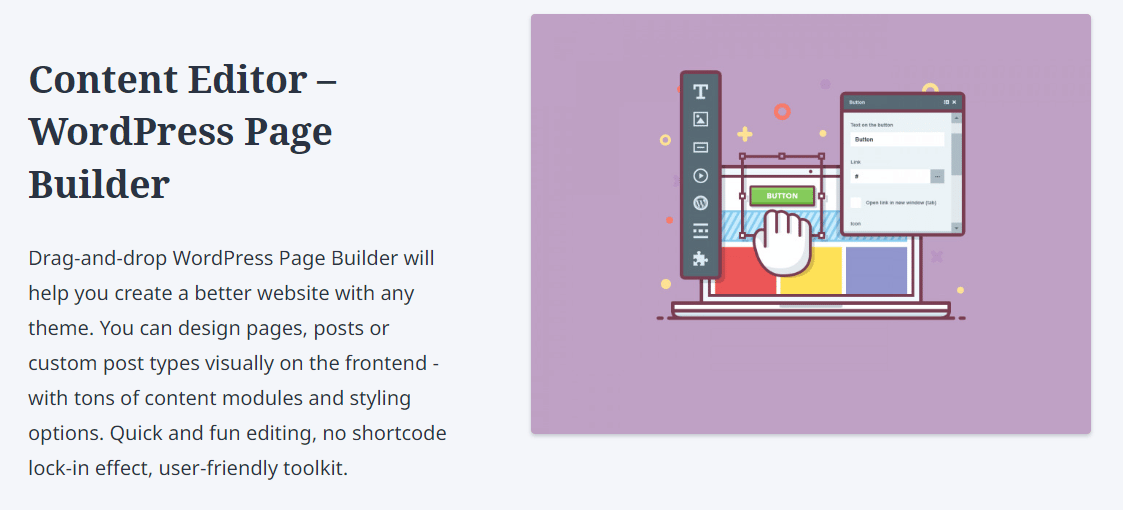 If you opt for a MotoPress Club yearly membership (starting at $299), you also gain access to the rest of their premium plugins. Some of the plugins include options for:
White labeling support
Video sliders and video lightboxes
Google Maps Pro
Pricing tables
A simple contact form
Image hotspots
A countdown module
An extended WooCommerce add-on
Here's Why You Might Consider This WordPress Page Builder:
It's relatively cheap for a premium page builder.
The plugin focuses more on the real-time visual page builder, so it's great if you have no interest in the backend.
You receive a little WooCommerce support in the standard plugin.
The WordPress page builder includes a handful of premade page templates and themes.
14. Themify Builder
Themify Builder has the distinct advantage of being built into all Themify themes, so if you stumble upon a Themify theme from the collection that fits your needs, you don't have to worry about integrating a third-party WordPress page builder or paying for anything extra.
There's also a Builder Pro option that costs $69 and includes 25 add-ons. Among these add-ons, you have options for WooCommerce support, pricing table elements, map integrations, and more.

Alternatively, there's a free version of Themify Builder that you can use with any theme. The free page builder has responsive elements across all resolutions. The frontend live preview editing removes the need to mess around in the backend much, while the default drag and drop module includes the following: text, audio, accordion, gallery, post, widget, and more.
The premium Themify Page Builder offers more for advanced developers since it has an area to type in your own custom CSS. This opens up all sorts of customization possibilities, while also combining well with the reusable parts feature for making custom CSS modules and reusing them elsewhere.
The primary advantage of the premium version is the over 60 predesigned builder layouts. You also get over 60 animation effects and responsive styling for the most realistic design center.
The revision control is expanded in this version as well, seeing as how it allows you to save your layouts with an unlimited number of versions. Finally, the add-ons help turn your WordPress page builder into one of the only plugins you need. Some of the add-ons allow for:
Slideshows
Infinite posts
A typewriter effect
A background video slider
Maps Pro
Progress bars
Timelines
Counters
A/B image display
One downside of Themify's Builder Pro is that a lot of these add-ons are features that other page builders include out of the box, such as slideshows and sliding galleries. Therefore, unless you're using a Themify theme, there are likely better page builder options.
Here's Why You Might Consider This WordPress Page Builder:
The paid version includes 25 add-ons.
It comes included with any of their themes.
The Themify Builder has over 60 predesigned builder layouts and 60 animation effects.
It provides an unusual tool that allows you to hide some website elements depending on the device being used.
You also have the option for custom CSS, just in case you'd like to revert back to more traditional design methods.
15. Gutenberg (The Block Editor)
Gutenberg, also known as the Block Editor is a relatively new addition to WordPress. It's been around for a couple of years and during that time, it's grown from what some considered to be a gimmick to a more than capable page builder.
Arguably, the Block Editor isn't a page builder, as it's part of WordPress core. However, it was clearly designed to provide a more visual editing experience, which mimics page builders.
With the Block Editor, you get access to pre-built blocks (and you can make your own as well), drag-and-drop functionality, and customizable elements. Moreover, there are a lot of plugins that add new blocks to WordPress, including WooCommerce, all for free.
On top of blocks, the editor also enables you to create reusable content sections and it gives you access to a small number of templates. If you use a theme that's 'block enabled', you can use the editor to customize its page templates and add new ones. That means no more creating page templates from scratch using code.
If you've used other page builders before, the Block Editor can feel a bit clumsy. You don't have as many options for defining layouts and the editor can lack advanced blocks unless you install add-on plugins. However, if you don't want to pay for a premium page builder or install another plugin, the Block Editor offers a lot of upsides for free.
Here's Why You Might Consider This WordPress Page Builder:
It's the default editor in WordPress (which means that it's free)
You can use plugins to expand the block library (most of which are free)
Most modern themes are designed to offer a great experience with the Block Editor
You can build reusable page sections using blocks
Some themes enable you to use the Block Editor to create and to customize page templates
Additional Page Builders and Multipurpose Themes
There are so many page builders on the market that we can't cover all of them, but here are a few additional ones that deserve a mention.
And of course, we can't forget popular themes such as Avada and the X WordPress Theme. Avada has its own Fusion Builder built-in, and the X theme has both Visual Composer bundled with it as well as its own, Cornerstone. Cornerstone is also available separately. But we'll be covering multipurpose themes more in-depth in another post. 😉
WordPress Page Builder Cons
As with every product or plugin, there are always a few cons, and WordPress page builders can be somewhat controversial depending on who you ask. Here are the two main criticisms that users and developers have against page builders:
Some page builders might increase load time on your site. This is because they have to load additional CSS and JS to make things work for you without code. We always recommend speed testing your WordPress site before and after installing a page builder.
You're making a commitment and locking yourself into that page builder for design. Make sure you pick one that is regularly updated and has everything you need for the long haul.
Now It's Your Turn to Choose the Best WordPress Page Builder
You're bound to find all sorts of results when you search for WordPress page builders in Google. Hopefully, this guide allows you to minimize your options and make an informed decision based on your budget, experience level, and the kind of features you desire.
To make it a little easier for you, here are some final conclusions:
If you want the most bang for your buck (lots of features for a good price): Consider Elementor, Divi, Beaver Builder, or Brizy.
If you're interested in a rapid, simple page builder: Try GeneratePress with GenerateBlocks, Page Builder by SiteOrigin, or WP Page Builder.
If you'd like a free WordPress page builder:  Check out Elementor, Page Builder Sandwich, Live Composer, or Page Builder by SiteOrigin.
If you're looking for a more powerful page builder with support for advanced coding: Look into Divi, Themify, Visual Composer, or Oxygen.
If you have any questions about the best WordPress page builders, please let us know in the comments below. Also, share your experiences with the page builders you've used so that others can learn more.