Choosing a payment processor and a gateway is a big business decision. It's crucial to pick a reliable solution so you don't run into issues down the road. Stripe and Braintree are two of the most popular digital payment platforms out there!
With transparent fees, impressive anti-fraud technology, and global coverage, these are two of the best options for startups and established businesses alike.
But when it comes to Stripe vs Braintree showdown, which one comes out on top?
That's what we'll find out in this post.
Excited? Let's dive in!
What Do Stripe and Braintree Do?
Stripe and Braintree both offer online tools to help businesses receive and handle payments.
Both companies are full-stack payment platforms that offer everything from payment processing and payment gateways to merchant accounts.
With either option, you can easily create a checkout process for products listed online. They automate billing confirmations and have advanced fraud prevention tools.
In other words, they provide everything a business needs to receive money online.
Is Braintree a Payment Processor?
Like Stripe, which you're already probably familiar with, Braintree helps businesses accept payments online. A payment processor is the third party that helps facilitate a transaction of money from one bank account to another.
And that's only a tiny part of the services Braintree provides.
Braintree handles the complete online/ecommerce payment cycle:
It collects and keeps the customer's credit card information safely through a payment gateway.
The gateway analyzes the data for potential fraud.
Finally, it processes the info and initiates a transfer from the relevant bank account/credit card to your merchant account.
You can later transfer the merchant account balance on the platform to a separate bank account.
Braintree is a complete solution for handling and accepting payments online.
What Is the Difference Between PayPal and Braintree?
Braintree is a subsidiary company of Paypal that focuses entirely on payment gateways, payment processing, and merchant accounts for businesses. It's not as focused on the peer-to-peer transfer of funds or private customers in general.
Braintree helps companies receive payments directly through Apple Pay, Venmo, credit cards, and more.
You don't have to redirect users to Paypal's site to complete their checkout. Like Stripe, you can install its payment gateway directly on your website.
Does PayPal Own Braintree?
As you can probably tell from its official logo, the answer is yes.
Paypal acquired Braintree and its team in 2013. From 2013 to 2015, it was an indirect subsidiary of eBay, the parent company of Paypal of the time.
But during the spinoff, Braintree went with the new separate Paypal entity. So it remains a direct subsidiary and close partner of Paypal to this day.
Stripe vs Braintree: Market Share
One of the most significant differences between the two payment solutions is market share. According to SimilarTech, a website that tracks web technologies in use on popular sites, the numbers are vastly different.
Braintree is used by roughly 25,000 of the top websites and ecommerce stores worldwide. Stripe, on the other hand, is used by over 660,000 sites around the globe, putting Stripe's market share just below 20%.
There's also a difference in the way their popularity is trending. Stripe has a large marketing budget and concentrates on expansion. They're trending upwards and continuously adding more users.
Braintree is less focused on expansion and has slowly tapered in popularity.
But let's not forget that Braintree's parent company, Paypal, has an even larger market share than Stripe and is valued at almost 2x the theoretical market value of Stripe.
So it's not as though there's a risk of Braintree disappearing any time soon.
Pricing, Transaction Costs, and Fees
When it comes to fees, Braintree and Stripe are virtually identical. Most major credit cards, debit cards, and digital wallets charge 2.9% plus a flat fee of $0.30 per transaction.
Neither Braintree nor Stripe offer specific rates for micropayments, unlike Braintree's parent company Paypal.
But let's dive deeper.
Do either of these companies have hidden fees or transaction costs that sway the balance?
Braintree
Braintree offers detailed information about its pricing and fees policy on its website. If you use its merchant account, there are no recurring or one-time costs to set up an account.
As you can see, the standard fees cover most transactions — from Venmo and other digital wallets to most major credit cards.
International credit cards and currencies add to the fee at the rate of 1% each. That makes the total fee for international payments in another currency 4.9% + $0.30 per transaction.
General Fees: 2.9% + $0.30 for all credit cards and payment methods.
+1% For non-US currencies, +1% for credit cards from outside the US
0.75% for ACH payments capped at $5
Stripe
Stripe also shares in-depth payment processing fee information on its site. There are no setup costs or recurring monthly fees to use Stripe to handle your payments.
Again, the standard fees apply to most major credit cards, Apple Pay, and other digital wallets.
Just as with Braintree, Stripe also has additional fees for international transfers. International cards and currencies add to the charge at the rate of 1% each. Again, the total cost for international payments in another currency is 4.9% + $0.30 per transaction.
General Fees: 2.9% + $0.30 for all credit cards and payment methods.
+1% For non-US currencies, +1% for credit cards from outside the US.
0.80% for ACH payments capped at $5.
Winner: Neither
Braintree technically has lower fees with a 0.05% difference in ACH direct bank transfers, but this amount is negligible to most ecommerce stores and online businesses.
Even if you have a local business and prefer ACH payments for your invoices, the $5 cap essentially means that you will be paying the exact fees for larger invoices anyway.
Disputes and Chargeback Fees
Disputes and chargebacks are an unfortunate reality when it comes to ecommerce. Not only does this freeze the initial funds from the transaction, but most payment processors also charge an additional fee to the merchant.
Typically, chargebacks happen in cases of credit card fraud and unauthorized payments. No matter how advanced the anti-fraud algorithms of payment gateways get, it's impossible to eliminate disputes.
Although Braintree is a Paypal company, its chargeback fee is $5 cheaper, at $15 per transaction.
That's identical to Stripe's dispute fee, which is also $15 per transaction.
Chargeback Fees:
Stripe:$15 chargeback
Braintree:$15 chargeback
While both are cheaper than Paypal, fifteen dollars still amounts to more than 90% of ecommerce transactions. The answer is to prevent fraudulent transactions from happening in the first place.
Stripe offers a next-level anti-fraud solution called Stripe Radar that we have tested in-depth at Kinsta. It helped us reduce fraudulent payments and chargebacks by 98%!
Braintree also offers fraud protection, with a 60% average reduction in fraud losses.
Winner: Stripe
Since the fees are identical, it comes down to the quality of their fraud protection tools. In the end, fifteen dollars is more money than most transaction fees.
It's not something you want to pay for payments that don't even come through in the end. You will also have additional losses associated with shipping and product costs if you sell physical products.
That's why Stripe's fraud protection, Radar, puts them ahead. With a larger client base, they have a more extensive data set than Braintree's, and as such, have been able to produce better results.
It almost eliminated Kinsta's issue with fraudulent payments, and it can help your business as well.
Refund Fees
Another reality of running a business is that sometimes you have to refund payments. Your products may not have been in stock, or you might be unable to ship the product to the customer's location.
Thankfully, there are no fees for refunding payments with either Stripe or Braintree. The bad news is that they don't refund the original processing fees either.
Stripe: There are no fees to make refunds, but they don't return the original transaction fees.
Braintree: There are no fees to make refunds, but the original transaction fees are not returned (unless your account predates August 2018).
Winner: Neither
Unless you signed up for Braintree over a year ago, there is no clear winner in this category.
Supported Countries and Currencies
Next, let's cover which countries in the world each provider supports. Note that these are countries where a business can set up a merchant account, not countries from which you can accept payments.
Stripe: Available Countries
A Stripe merchant account is available in the following countries*:
Australia
Austria
Belgium
Brazil (Preview)
Bulgaria
Canada
Cyprus
Czech Republic
Denmark
Estonia
Finland
France
Germany
Gibraltar (By invitation only)
Greece
Hong Kong
Hungary
India (Preview)
Ireland
Italy
Japan
Latvia
Liechtenstein (By invitation only)
Lithuania
Luxembourg
Malaysia
Malta
Mexico
Netherlands
New Zealand
Norway
Philippines (By invitation only)
Poland
Portugal
Romania
Singapore
Slovakia
Slovenia
Spain
Sweden
Switzerland
United Arab Emirates (By invitation only)
United Kingdom
United States
*Note that these are countries where you can set up a merchant account. You can still accept payments from anywhere in the world, provided they use a support method and currency.
Stripe is available in most Western European countries, the US, Canada, Australia, and a select few Asian countries.
Braintree: Available Countries
You can sign up for and use Braintree for payment processing in the following countries*:
Andorra
Australia
Austria
Belgium
Bulgaria
Canada
Croatia
Cyprus
Czech Republic
Denmark
Estonia
Finland
France
Germany
Gibraltar
Greece
Guernsey
Hong Kong SAR, China
Hungary
Iceland
Ireland
Isle of Man
Italy
Jersey
Latvia
Liechtenstein
Lithuania
Luxembourg
Malaysia
Malta
Monaco
Netherlands
New Zealand
Norway
Poland
Portugal
Romania
San Marino
Singapore
Slovakia
Slovenia
Spain
Sweden
Switzerland
*Note that these are countries where you can set up a merchant account. You can still accept payments from anywhere in the world, provided they use a support method and currency.
Winner: Neither
Braintree has better coverage for Europe, and Stripe is expanding into South America and Central Asia.
Keep in mind that the lists of supported countries refer to merchant accounts. Both Stripe and Braintree are available in the US, Canada, and the majority of European countries.
As long as they use a supported payment method and currency, merchants can accept payments from any country in the world.
So unless your business is in a smaller European country (Braintree only) or Brazil (Stripe only), there is no clear winner here.
Supported Currencies
Both Stripe and Braintree support the majority of the world's stable currencies. From AED to ZWD, both companies list 135+ supported currencies on their websites.
Regardless of whether you need or want to accept payments in Zimbabwean dollars, you probably won't face any issues from international customers.
Winner: Neither
Both Stripe and Braintree support a wide range of currencies. 99% of online businesses will not have an issue with either option here.
Recurring Payments and Other Payment Plans
So we know that you can receive one-time payments in almost any currency with either option.
But what about recurring payments, billing, and payment plans?
Stripe
Stripe has a separate billing solution that you can use at an extra charge of 0.5% of recurring payments after the first $1 million.
It will automatically send monthly, quarterly, or yearly invoices to clients or customers that signed up.
Automatic invoice reconciliation starts at a flat charge of $7 per invoice. You can also use Stripe Billing to send one-off invoices.
To create an installment plan, you need to install a webhook and custom-develop code working with the Stripe API.
Braintree
With Braintree, you can set up recurring billing without having to sign up for a separate service.
When creating a plan, you can select the number of payment cycles without any custom development. That means you can make payment plans easily without the need for APIs, webhooks, or custom development.
Winner: Braintree
Stripe Billing offers a complete billing solution, but it comes at an added extra cost per transaction. With Braintree, you can easily create a payment plan without the need for custom coding.
Payment Methods Comparison
Now it's time for the payment methods showdown. Which service can accept the most credit cards, digital wallets, and other payment solutions?
Stripe
First, let's take a closer look at Stripe's accepted payment methods. It accepts all major credit cards and a selection of digital wallets.
Stripe-Supported Credit Cards:
American Express
Cartes Bancaires
China UnionPay (CUP)
Discover & Diners
Interac
Japan Credit Bureau (JCB)
Mastercard
Visa
Stripe-Supported Digital Wallets:
Alipay
Apple Pay
Click to Pay
Google Pay
GrabPay
Microsoft Pay
Stripe also supports ACH transfers and other options.
Braintree
Now let's do a deep dive into Braintree's supported payment methods. It accepts all major credit cards, Venmo, Paypal, and a selection of digital wallets.
Braintree-Supported Credit Cards:
American Express
China UnionPay (CUP)
Diners
Discover
Japan Credit Bureau (JCB)
Maestro
Mastercard
Visa
Braintree-Supported Digital Wallets:
Apple Pay
Click to Pay
Google Pay
Paypal
Samsung Pay
Venmo
Braintree also supports ACH transfers and other options.
Both options cover all the leading credit card providers in the US.
As you can see, both providers cover all the major credit cards in the US, namely Visa, Mastercard, Discover, and American Express. They support more credit cards than there are US citizens.
They also support JCB, the leading Japanese credit card, and UnionPay, a major Chinese one.
Winner: Braintree
Stripe and Braintree support the same digital wallets, such as Apple Pay, Google Pay, Paypal, and Venmo. With Alipay, Stripe is better suited for businesses with many Chinese customers, while Braintree may appeal to customers with a predominantly mobile user base because of Samsung Pay.
Stripe supports more credit cards for US Merchants, while Braintree has better coverage in Europe, including Maestro. Note that Braintree might require an additional process to accept American Express for international transactions.
Checkout Experience and User-Friendliness
There's almost nothing more important to a vendor than the checkout experience for payment processing.
An excellent checkout experience helps reduce shopping cart abandonment, and extra steps can cost you a significant portion of your sales.
Thankfully, you can easily create user-friendly checkout experiences with both solutions.
Stripe Checkout Example: Kickstarter
Kickstarter implemented the Stripe payment gateway on-site, which means there's no redirection away from their website during checkouts.
The design for the checkout page is easy to understand and use.
If you've ever supported anything on Kickstarter, you've already used Stripe.
Fill out the required info and proceed to checkout. Confirm your order, and Stripe will process your credit card.
Once the order is confirmed, it redirects you to a confirmation page. (Or, in many cases, the confirmation is displayed on the same page you made the purchase.)
It couldn't be any simpler.
Braintree Checkout Example: Bon-Ton
Paypal's checkout process is famous for redirecting users to Paypal's website and asking users to log in or sign up.
That's not the case with Braintree's payment gateway.
While you can choose to offer one-touch Paypal buttons on your checkout page, the main option will be credit card payments.
As you can see from Bon-Ton's checkout page, you can enter the credit card information without a popup or redirect.
It's the same approach that Stripe takes with its checkout process. We didn't find any noticeable differences in the user experience between the two options.
Winner: Neither
While there's a clear difference in checkout experience between Paypal and Stripe, Braintree is a different story.
You can keep users on your site and even save credit card data without handling or protecting the data yourself.
That said, the one-touch pay option for Paypal users could be an advantage for some businesses.
Customer Service Comparison
Payment processing is an integral part of any business. If you can't successfully receive payment for your products or services, you'll be in deep trouble.
That's why customer service is such an essential element when choosing your provider.
Stripe
Stripe's customer support is available for users 24 hours a day, seven days a week. They offer service over email, real-time chat, and phone.
There isn't a publicly available service phone number, but you can request a phone call from Stripe's customer service team.
The average wait time for live support is three minutes.
Email: Receive a response within 24 hours.
Chat: Available in English only. The average wait time is 3 minutes.
Request a phone call: Available in English only. The average wait time is 3 minutes.
Braintree
Braintree offers regular support from Monday to Friday. The business hours are from five in the morning to midnight, Monday through Thursday.
On Fridays, Braintree handles emails from five in the morning until 8 a.m. Phones are open from eight till five in the afternoon.
Email: 5 a.m. to 12 a.m. CST, Monday–Thursday; 5 a.m. to 8 p.m. CST on Fridays
Phone: 8 a.m. to 7 a.m. CST, Monday–Thursday; 8 a.m. to 5 p.m. CST on Fridays
They also offer emergency support 24/7/365 and claim to have support reps and engineers ready at all times.
Social Media Barometer of Customer Service
Despite their claims, it's easy to find customer service complaints about both companies on social media.
Here, a user is frustrated with not receiving a reply to his emails to Braintree's support in several days.
There was no reply or action from Braintree despite being tagged in the post.
Here a vendor with almost $60,000 frozen by Stripe is desperate to get through to someone higher up in the system. General service agents haven't been able to solve his issue on the phone.
Stripe's support team almost immediately got in touch and requested a DM with the user's email address to move things along.
Winner: Stripe
Stripe's general support is open 24/7, and they also handle customer support inquiries over live chat and even social media.
While not everyone is happy with the support of either company, that's because of the high stakes when payment processing isn't working as it should.
Each second counts.
Stripe Connect vs Braintree Marketplace
Both Stripe and Braintree offer marketplace payment gateways.
The difference from a regular gateway is that it enables sub-merchants (users of your app, for instance) to receive and handle payments.
This functionality is necessary for distributed peer-to-peer commerce apps and platforms. (Think Kickstarter, Patreon, Etsy, etc.)
Stripe Connect
Stripe Connect markets itself as the payment platform for platforms.
With a large userbase, an extensive SDK library, excellent documentation, and no additional fees beyond the transaction fees, it's hard to argue against it.
Stripe Strengths:
Larger user base
Better API documentation
More extensive library of SDKs, so better customizability options without custom development.
Braintree Marketplace
Braintree Marketplace advertises itself as a scalable solution for marketplace businesses.
It features a simple structure with a master account that can create sub-accounts for sellers on your marketplace platform.
You can set up custom fees to charge on sub-account transactions.
Braintree Strengths:
Simple structure.
Primary account over sub-accounts.
In-depth documentation for APIs and Ruby SDKs.
Winner: Stripe Connect
Integrations with Ecommerce and CRM Platforms
Both Stripe and Braintree support the big three in ecommerce — WooCommerce, BigCommerce, and Magento.
WooCommerce
Since our users use WordPress for their websites, we can't afford to ignore the most-used ecommerce plugin in the world. We've even covered ways to set up Stripe for WordPress in another post.
Luckily, WooCommerce supports both payment platforms.
WooCommerce automatically generates the checkout pages, and you don't have to custom-code anything.
You can also offer multiple options for your checkout process. Here, the primary choice is credit card payments supported by Stripe, but you can also pay via PayPal using Braintree.
CRM Integrations
But when it comes to CRMs, there's more of a difference between the two.
Stripe offers integrations with Gro, Beacon CRM, and Agile CRM, and other platforms. You can also connect Stripe Billing with SalesForce if you opt for the scale plan.
The story is different for Braintree.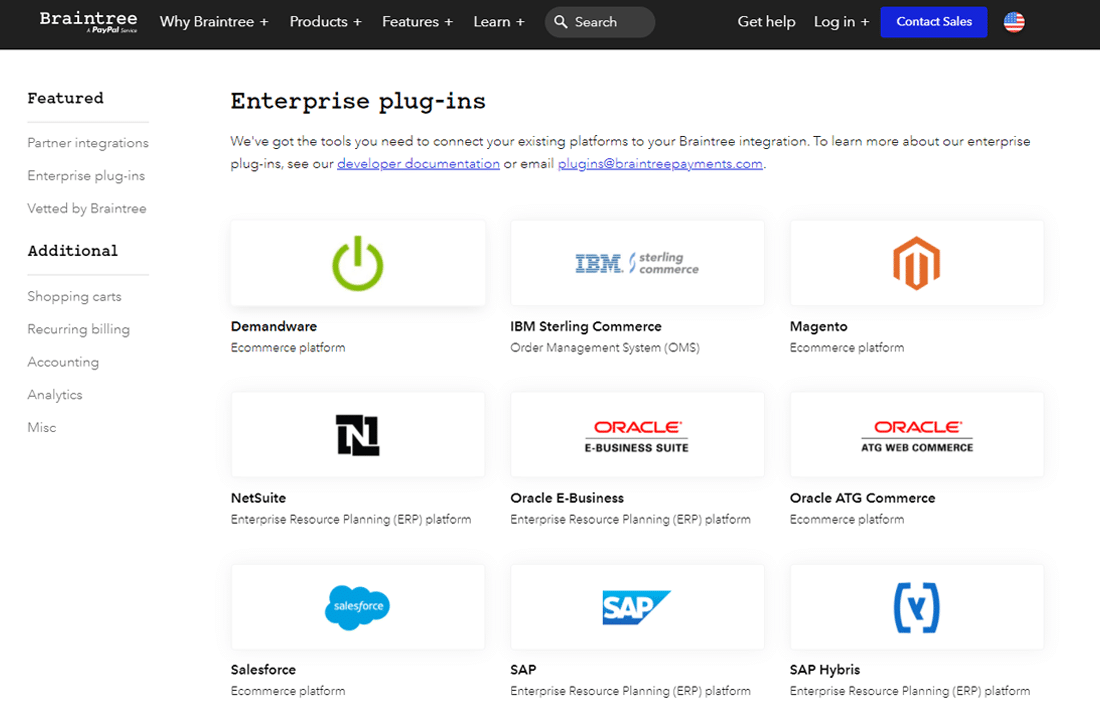 Braintree does offer a fair amount of third-party integrations. But the only CRMs it can directly work with are Salesforce and Agile CRM.
That gives Stripe a clear edge in CRM and business tool integration.
Winner: Stripe
While the big ecommerce solutions support both Stripe and Braintree, it comes down to CRM integration, business tools, and recurring billing options.
Stripe is the clear leader in those, which means it offers better options for most businesses.
Stripe vs Braintree: Which Is Better?
In the head-to-head in each section, there were a lot of draws. The fees and pricing structures are virtually identical, and both checkout experiences are good.
But with slightly better customer service, fraud protection, and integrations, Stripe barely crosses the finish line before Braintree.
Do you run a US-based ecommerce store where most transactions happen over credit cards? Stripe is the obvious choice.
Do you run a business in a European country where many transactions happen through Paypal or other digital wallets? Braintree would be a better option.
Is Stripe Better than Braintree?
Stripe is easier to get started.
With Braintree, you need to apply for Braintree Direct or pay extra fees for third-party merchant accounts.
The checkout experience is similar in both, though, and as we've seen, the fees are virtually identical. However, the customer service for Stripe Radar is better, and the platform with more integration options and better fraud protection.
For a standard US-based ecommerce business, this makes Stripe the best option.
But the minimal advantages Stripe claims over Braintree doesn't mean that it's better than its competitor for all businesses.
For instance, Braintree also supports Maestro, a credit card option used in many European countries and popular with businesses serving customers worldwide.
Summary
Choosing a payment gateway and processor for your business isn't a decision you should make lightly. We've covered everything from fees and usability to customer service and integrations in this post by highlighting two reliable market leaders.
Stripe and Braintree are even when it comes to checkout experience, fees, payment methods, and usability.
However, if you're a SaaS business, Stripe is worth giving a shot. It has better fraud prevention tools, marketplace options, and integrations. That makes Stripe easier to integrate as part of your SaaS stack.
Overall, we find Stripe the better choice for ecommerce businesses.
---
Get all your applications, databases and WordPress sites online and under one roof. Our feature-packed, high-performance cloud platform includes:
Easy setup and management in the MyKinsta dashboard
24/7 expert support
The best Google Cloud Platform hardware and network, powered by Kubernetes for maximum scalability
An enterprise-level Cloudflare integration for speed and security
Global audience reach with up to 35 data centers and 275 PoPs worldwide
Get started with a free trial of our Application Hosting or Database Hosting. Explore our plans or talk to sales to find your best fit.