True customer relationship management (CRM) software helps you understand your customers and engage with them throughout the entire customer lifecycle.
This is accomplished by collecting and analyzing lots of data. From prospecting to marketing to customer service, gathering and analyzing customer data can uncover problem areas and reveal hidden opportunities.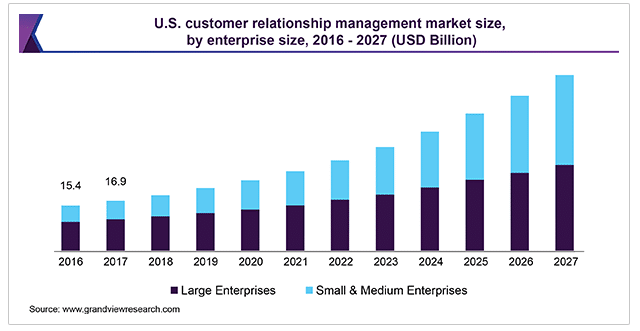 The CRM industry has always been seen as a growing market. Yet, because of the profitable results that businesses have seen, it's actually become the biggest software market in the world. CRM sales are expected to expand at a compound annual growth rate of 14.2% by the time 2027 rolls around.
That's where WordPress CRM plugins come into play.
How to Choose the Best WordPress CRM Plugin
A WordPress CRM plugin is one of those tools that every company eventually ends up getting. However, some businesses only need the bare minimum, while others require advanced field customizations and powerful integrations.
Quite a few CRM plugins are available to choose from, but we want to highlight the must-have features while completing your research for CRMs. Here's what to look for:
A complete contact capture system with form builders and options for placing those forms on your website. This should be as easy as possible. Some things to look for include drag and drop builders, widgets, and shortcodes.
 Multiple databases for storing your customer information and using custom fields so that the database is suitable for your unique business needs.
A reporting module with charts and printable reports. We like to see elements for sharing and printing, seeing as how you typically aren't only going to be looking at the reports yourself.
Visual pipeline management to get your customers in the customer lifecycle and see exactly how to convert them over and over.
Messaging tools for sending out notifications to the admins and clients. This could be integrated with scheduling software or even for live chats.
A clean interface for both admins and customers. We like to see profiles that are as simple as social networking profiles. It's also nice when clients can communicate with the admins through their profiles and upload documents.
It's great to see WooCommerce integrations. Links to lots of other plugins, like contact form plugins, are beneficial as well.
Invoicing tools for collecting money from your clients and potentially creating a recurring revenue stream.
Task schedulers to help your workers stay on track and to set up meetings with your clients.
Activity logs and notes so that you can go back and see what has been talked about with your customers.
Tagging, filtering, and search bars for easily locating the customers and groups you need.
Apps and extensions, or some sort of integration tool for linking to other CRMs, plugins, and website platforms.
Best WordPress CRM Plugins
To help you weed through all the options available, here are the top WordPress CRM plugins worth looking into (in no particular order).
1. HubSpot
HubSpot's WordPress plugin allows you to connect your WordPress website to the free HubSpot CRM so you can organize, track, and nurture your leads and customers. This plugin is far more than a CRM, with a full suite of features for making forms, running live chats on your website, and providing analytics. There's even an email marketing tool for sending out automated emails and newsletters.
It all comes together in a nice package to engage visitors and build a beautiful customer management platform. According to a Databox report, 53.3% of the survey respondents thought HubSpot's free CRM tool is far superior to the competitors.
HubSpot is known for its powerful marketing tools, so this is a wonderful opportunity to take advantage of some of the most advanced customer relationship tools on the market.
As mentioned, the CRM is completely free and it has a WordPress plugin to integrate with your current site. It only takes a few moments to configure your CRM online. Then, an interactive demo walks you through the beautiful dashboard with graphs and reports.
The CRM plugin comes with a free form builder that will capture your visitors' submissions and automatically sync them with the CRM. And even if you're using a different form tool like Gravity Forms or Ninja Forms, those leads will automatically be added to your contact list.
The form builder is nice for creating popups, banners, and embedded forms. Along with that valuable CRM, you get live chat and chatbots to connect with your prospects and personalize your conversations at scale. All chats are automatically logged in the CRM.
We also enjoy the built-in analytics with enriched data. The plugin automatically enriches a contact's profile with public information from across the web, like with job titles and social profiles.
Price: Free (HubSpot offers a wide range of other tools that you can opt to pay for.)
Reviews: 4.5 out of 5 stars (WordPress.org)
Active installations: 100,000+
PHP version: 5.6 or higher
Features That Make This a Great WordPress CRM Plugin
The CRM has a contact management platform built into the system, allowing for easy list building and segmentation.
All interactions with customers are logged in HubSpot, telling you what the users have done on your website and if you have experienced any communications with them.
Each contact has its interactions and communications updated in realtime. This way, you don't have to keep manually making changes to the customer profiles.
Live chat conversations are possible as a customer support option. Not only that, but all of your live chats are logged in the CRM.
Each contact has its page views marked for you to check back and see how they interact with your website.
The form builder is great for constructing a design that fits with your brand. The form builder also has several options for popups and other marketing tactics.
A unified timeline is provided for each customer, explaining where each person is in the customer lifecycle and whether or not you should reach out to them or not.
The email marketing tool has excellent design features, and it allows you to send out up to 2,000 emails per month for free.
All designs are done with the help of a drag and drop builder. This way, you don't have to be an experienced developer or coder to get the job done.
Send out automated emails when users engage with your brand. This includes emails for list signups and other triggers you configure.
Several predesigned email templates come with the plugin.
There's a page that outlines your reports and analytics, with in-depth information about how your lifecycle is doing and whether or not emails are effective.
You have the option to choose which pages your popups, live chatbots, and other customer communication items show up on.
Who Should Consider This WordPress CRM?
HubSpot's WordPress plugin is an interesting WordPress CRM solution because it offers free tools, but then it gets expensive for those who go beyond the limits. For instance, it's not uncommon for small businesses to go beyond the 2,000 emails per month maximum. However, the price spikes dramatically after that, with cheaper email marketing solutions outside of HubSpot.
With that said, some companies actually find that it's a cheaper option if they're using all of the CRM and marketing tools in the HubSpot suite. In short, HubSpot isn't a small expense for smaller businesses, but rapidly growing companies with solid cash flow will see this as a powerful ally.
2. WP ERP
WP ERP is a free plugin which combines both small and large enterprise with a CRM, HRM, and accounting solution. It currently has over 10,000 active installs with a good rating.
This WordPress CRM plugin is made up of different modules, one for their CRM functionality and the other for the HRM and Accounting solutions. They don't have any limits on anything, so you can create as many entries as you want in all the modules.
You don't have to pay anything to get started with the WP ERP plugin. The free version has the most important tools to help your business keep in touch with your customers and log those interactions. Some of the free elements include company information management, location tools, and a holiday calendar. You can also create contact groups and make notes in your customer profiles.
The premium version isn't needed for all businesses, but it does offer premium support, lots of extensions, and elements like payment gateways and payroll tools. These plans start at $112 per year and go up to $714 per year for larger businesses and agencies.
Price: The core plugin is free. More advanced plans begin at $112 per year.
Reviews: 4.4 out of 5 stars (WordPress.org)
Active installations: 10,000+
PHP version: 5.6 or higher
Features That Make This a Great WordPress CRM Plugin
Over 40 currencies are supported for collecting payments from clients and customers all over the world.
Beautiful notification emails are sent out to both clients and admins, with several templates to choose from for your emails.
You get to create a full company profile with white labeling
An HR Manager is packed into the WP ERP plugin with features for managing locations, handling employee benefits, and sharing company-wide announcements.
The client management works great in the CRM, with options for handling the customer lifecycle and creating contact groups.
You can make notes for all customers.
The activity logs are there so that you can check back in on customers to see what you talked about before.
You can filter your customer database with the help of attributes and keywords.
If you have agents, the plugin allows you to assign certain contacts to specific people in your organization.
The CRM activity report is great for seeing how your company grows and if your services are helping out clients.
An incredible accounting system is provided with the CRM, offering tools for people who aren't accountants. Some of the features include a balance sheet, income tracking, and reports.
Quite a few extensions are available for you to pay for, such as an attendance module, HR frontend, and WooCommerce integration.
Who Should Consider This WordPress CRM?
Most of the CRM features are included for free, so once again, we like this as a solution for the cost-conscience companies out there. It's also a brilliant tool if you plan on having lots of integrations. For instance, it integrates with several email campaign managers, accounting tools, and payment gateways.
Finally, you may be able to completely get rid of your accounting software with the WP ERP plugin, seeing as how it has one built-in.
3. WordPress CRM Plugin
The WordPress CRM Plugin offers a fully-featured CRM that goes right in your WordPress dashboard. It's free to download and use on your site, with the option to expand with paid addons like Zapier, WooCommerce, and Invoicing extensions.
A premium version is also available for $99 per year, and that gets you premium support and a package of extensions. It all depends on the features you need, so you may end up having to pay for something.
With the standard, core plugin, you have the ability to store an unlimited number of contacts in your database. The plugin has tools for managing projects, tracking your marketing, and setting individual tasks for your workers. It's also nice that you can export or import your records at any time.
Price: Free, with several premium add-ons you can pay for.
Reviews: 4.4 out of 5 stars (WordPress.org)
Active installations: 500+
PHP version: Not listed
Features That Make This a Great WordPress CRM Plugin
The WordPress CRM Plugin provides simple contact management with no limits on how much you have in your database.
Custom fields are available for you to adjust the CRM logging system for your brand.
Project management essentials are packed into the plugin, eliminating the need for secondary plugins that do the same thing.
You're able to import large CSV files and export them if you'd like to move from one CRM to another.
The reporting is rather comprehensive for seeing company performance, upcoming deadlines, and the overall big picture of how you're treating clients.
The plugin integrates with a large collection of premium addons, with options for linking with Slack, Gravity Forms, and many more.
There's a one-click feature for making contacts within a few seconds. It doesn't finalize your contact log, but it does the trick for getting essential information while on a sales call.
A handful of languages are supported so that people who speak languages other than English can enjoy the plugin.
This particular CRM is not hosted on the developer's server. Therefore, you don't need to pay a subscription for the service and you have complete control and ownership of your data.
A Client Area add-on works well for sharing information with your customers like invoices, tasks, and campaigns.
Notifications are sent out for things like projects and tasks. These are configured in the dashboard.
The plugin is developer-friendly, allowing you to make your own custom reports, fields, and more.
Who Should Consider This WordPress CRM?
The WordPress CRM Plugin has a free version with loads of features. Therefore, it looks like a keeper for brands on a budget. It's also one of the simpler interfaces we've tested, making it ideal for those who are tired of the clunkier CRMs on the market.
We'd also recommend this CRM plugin to companies that want flexibility and extendability. The addons are affordable and always there for you to activate at a moment's notice. From a Zendesk connection to an add-on for linking to MailChimp, these are add-ons that are bound to help your business. The best part is that you don't have to pay for items you don't need.
4. Web-to-Lead for Salesforce
Salesforce is probably the most widely known CRM solution around. Used by businesses large and small, it's a powerhouse option with a slick design and robust functionality.
One of Salesforce's major advantages is that everything is stored in the cloud, so you can access it via web or mobile. They now have a Web-to-Lead for Salesforce plugin.
This CRM plugin allows you to collect leads through your WordPress site and feed them directly to your Salesforce account. Previously, users had to endure the arduous task of copying and pasting information from one program to the other.
The main drawback here is that you need to use two tools for CRM. It would be ideal to save and manage customer information directly in WordPress, but this is a nice first step in the meantime.
The plugin itself is free, however, it does require a premium Salesforce account for the integration to work.
Price: The plugin is free, but you're required to pay for a Salesforce account. The plans start at $25 per user per month. Salesforce has dozens of products and suites with varying prices.
Reviews: 4.4 out of 5 stars (WordPress.org)
Active installations: 7,000+
PHP version: Not listed
Features That Make This a Great WordPress CRM Plugin
The plugin links to one of the most powerful CRM solutions on the market, cutting down on the need to export and import customer data from WordPress to Salesforce.
The plugin provides a contact form to place anywhere on your WordPress site.
There's a widget to give you even more flexibility when it comes to inserting your forms online.
The form builder is located in the WordPress dashboard, with settings to choose a wide range of fields for contact information.
The account and contact management elements offer customer communications, internal discussions, and connections to social media sites.
There's an area in Salesforce called opportunity management, which stages products, analyzes the competition, and lets you send out quotes.
Salesforce comes with lead management options for tracking your leads in the most efficient way possible.
Check your sales data from the convenience of your Salesforce dashboard.
Productivity is improved through Salesforce by providing visual workflows and file syncing, just to name a few of the features.
Quite a few marketing tools are available through Salesforce. Some of them include an email studio, a journey builder, and a social studio. They all integrate directly into the Salesforce CRM.
Who Should Consider This WordPress CRM?
Salesforce has a learning curve and a moderately high price tag. However, it quickly pays for itself if you implement it properly. It doesn't matter how big your business is since Salesforce is useful for incorporating all sorts of sales and customer relationship tools into your business. Overall, we like the CRM as an all-in-one solution that helps viable businesses scale fast.
If you're a smaller business without much cash flow, some of the free plugins are better options for you. Also, keep in mind that the Salesforce WordPress plugin doesn't do anything unless you have a Salesforce plan.
5. Bitrix24 CRM
The free Bitrix24 CRM tool can also be another good WordPress CRM solution. This isn't technically a plugin but rather an integration that's been designed specifically for WordPress.
It stores contacts in your WordPress user database and you have the ability to add contacts manually or capture them automatically through a lead generation form on your website. If you're uncomfortable with the idea of your prospects and customers being designated as users, you may rest a little easier knowing you can specify the default role that's assigned to them.
Advanced options also let you designate which fields are required. With Bitrix24 CRM, you can conveniently edit forms and manage contacts from within your WordPress admin. Each contact record can be categorized by contact type and has a correspondence thread, so you can keep track of every interaction. A big advantage of this tool is the support options. The developers have a robust support area on their website as well as a blog.
Price: Free for unlimited users but limited features, with the option to upgrade to premium plans starting at $16.80 if paid yearly.
Reviews: Not listed
Active installations: Not listed
PHP version: Not listed
Features That Make This a Great WordPress CRM Plugin
Bitrix24 CRM provides easy tools for creating contact forms, with direct integrations with other add-ons for sending out emails and managing those customers.
The contact forms can be placed anywhere on your website with the help of shortcodes.
Gain options for organizing your users with custom attributes and categorization.
Locate specific people with list filters. This is particularly helpful for large contact lists.
You're able to keep track of all communications with your customers. This means the ability to log messages and write in your own notes about your users.
Individual and bulk editing is provided for adjusting how your database is organized.
The notification management area is there for you to decide which of your customers and workers get messages when certain actions occur. For instance, you may want an email to go out to customers to follow up on a sale. You could also have a reminder sent to the admin.
Bulk imports are possible with the help of the CSV import and export tool.
Dynamic charts are displayed on the dashboard for quantifying your data and understanding how you interact with your customers.
The plugin has an addon for sending out SMS notifications. This is great if you plan on marketing to the contacts in your CRM.
Some of the integrations are excellent for noting when all of your invoices are sent out. You can log paid invoices and check back in for clients who haven't paid.
The CRM has custom fields, with some unique fields included, such as the best contact time for a client, past sales, and services required.
Set user roles to ensure that the people who need access to the CRM actually have it. This also helps to secure your data from people who shouldn't have access to it.
Although the customizations are mainly reserved for forms and fields, the plugin also comes with some color options to make your interface as comfortable as possible, with the potential for matching your branding.
Who Should Consider This WordPress CRM?
Bitrix24 CRM looks like a solid choice for those who want a free CRM. There aren't many upsells besides the apps, so most of the features are built into the core plugin. Not to mention, many of the apps are free to download. It's also great for those who don't have any interest in a second CRM dashboard. This is a plugin that does all the work in your WordPress dashboard, making for an interface that people are accustomed to.
Finally, the reports are incredibly powerful in Bitrix24 CRM. You can make unlimited records and custom fields, while generating complex reports for your stakeholders, without any problems when sharing the documents. You also have access to invoicing and email marketing features, making it more of a full CRM and marketing suite than just a CRM.
6. Contact Form 7 Zoho
Zoho CRM doesn't have an official WordPress plugin, but there are several third-party WordPress plugins to help you integrate with the affordable and powerful Zoho CRM tool. Zoho is known for its comprehensive suite of marketing and business management products. It's similar to Google Workspace, as it offers email accounts, CRMs, invoicing, document storage, and more.
This is a highly rated WordPress plugin that links the Zoho CRM suite to your Contact Form 7 plugin, syncing your contact form submissions with the CRM. In short, you create a contact form with Contact Form 7 as you usually would, but it makes sense to focus on lead generation as opposed to a simple contact form. Then, a submitted form gets sent directly to Zoho, where all the information is logged and saved for later.
The core plugin listed on the WordPress Plugin Repository is free. However, you have the option to upgrade for premium support and additional features. The pricing for the premium version starts at $59 and goes up to $149 for 25 sites. The setup is easy, especially for current Zoho users. It's also nice to see that there are plenty of custom fields and filters for creating your contact forms and filtering the lists.
Price: Free for the core plugin. Starting at $59 for a premium site license. Zoho CRM also has its own pricing.
Reviews: 5 out of 5 stars (WordPress.org)
Active installations: 2,000+
PHP version: 5.3 or higher
Features That Make This a Great WordPress CRM Plugin
An advanced search tool makes it easy to filter and identify contacts based on the quick phone number and email searches.
You're able to integrate the plugin connection with Google Analytics. This is essential for combining your website stats with the lead generation stats.
The plugin includes a geolocating feature for instantly grabbing location information. It may not be exactly right, but you can at least find out what city clients are located in.
Create custom modules for the Zoho CRM and allow for attachments and tags on all contacts.
You're able to generate contacts in WordPress or make them in Zoho. It doesn't matter where the contact is created since it all gets synced back and forth between the programs.
There's no limitation on the number of fields you create for your contact forms, it's all customizable in the plugin and in Zoho.
It's possible to filter all of your Contact Form 7 submissions that are sent to Zoho CRM. This makes things easier, since you don't have to create unique filters in both systems.
Manually send any data of your choosing from your WordPress dashboard. For instance, any contact information that comes through a form can be chosen by you and sent to Zoho. This is also useful for blocking some data being sent.
Zoho CRM logs all interactions with your customers, making it easy to understand what customers are thinking when they communicate with you.
Each customer has a profile that appears in both WordPress and Zoho. The Zoho version is far more in-depth, but the WordPress profiles are great for referencing contacts and using one interface for sales funnels and communications.
Data can be sent as object notes.
Who Should Consider This WordPress CRM?
It's easy to decide on who should consider the Contact Form 7 Zoho plugin. If you're already using one of Zoho's products, think about this plugin for your CRM. It also seems like a no-brainer if you're already utilizing the Contact Form 7 plugin on your WordPress website.
Zoho CRM has several plans. In terms of premium CRM options, Zoho is by far the least expensive. It packs an incredible list of features into the CRM and you receive top-notch customer support.
7. Lead Form Data Collection to CRM
Hundreds, if not thousands, of CRM software, are available for collecting contacts, managing them, and understanding where they are in the customer lifecycle journey. However, the big problem is often finding an integration for your website, whether it be WordPress or any other site builder.
The Lead Form Data Collection to CRM plugin solves this problem for some of the most popular CRMs on the market and WordPress websites. This doesn't mean every CRM in the world can link to the plugin, but there's a good chance you could make it work, depending on the CRM.
As an example, this plugin supports options like Vtiger, Freshsales, SugarCRM, Salesforce, and Zoho. We've already highlighted Salesforce and Zoho on this list, but this is another option to consider if you utilize those CRMs.
What's more, is that you do have access to the API if you'd like to integrate this plugin with yet another CRM.
What's interesting about this plugin is that it's basically just a connection between WordPress and the CRM. However, the Lead Form Data Collection to CRM plugin takes that simple task and does a great job with it.
Price: There's a free version and a $99 premium version.
Reviews: 3.9 out of 5 stars (WordPress.org).
Active installations: 800+
PHP version: Not listed.
Features That Make This a Great WordPress CRM Plugin
The plugin works with most contact forms, so you can decide on the plugin you like the most and connect it to this plugin.
The plugin also integrates with many popular CRMs, including Salesforce, SugarCRM, and Freshsales. Developer tools are provided for you to integrate with CRMs that aren't officially listed on the plugin website.
You can create an unlimited number of forms through the plugin.
All contact information collected on your website gets converted to the right formatting and pushed to your CRM as leads.
The plugin utilizes shortcodes to make this a seamless process, with options for the shortcodes to be placed in areas like posts, pages, and widgets.
There's a feature called "workflow" that syncs all of your WordPress contacts with the CRM, essentially consolidating your contact lists and allowing you to access that list from one dashboard.
It's not required to use a third-party contact form plugin. If you'd rather not add another plugin to the mix, this plugin provides the tools needed for making a simple contact form.
You're able to redirect all new contacts to another page after they've submitted their contact information.
The admins are automatically sent emails when people sign up for the lists. You also have the option to send out emails to the users.
The plugin has an optional WooCommerce add-on that finds the lead and contact information from checkouts and sends them to your CRM.
You're able to sync certain fields from places like MemberPress. So, it's much easier to run a membership site seeing as how this plugin organizes your membership data in the CRM.
The syncing of users between your CRM and WordPress is possible for both new users and those who have been registered for a long time.
A few settings are available for when the plugin encounters duplicate contacts. You get to choose whether you'd like to skip that contact, update it, or create a duplicate.
The Google Captcha feature is great for keeping out unwanted visitors and bots.
The WooCommerce functionality also allows you to instantly send abandoned cart customer information to your CRM.
Who Should Consider This WordPress CRM?
The Lead Form Data Collection to CRM plugin is essential for brands that use powerful CRMs but don't have a direct connection to their WordPress websites. This is a plugin that makes sense for those who are already using CRMs like SugarCRM or Zoho CRM.
As for pricing, this shouldn't scare anyone away from the plugin, seeing as how the core plugin is free and the premium version is affordable. Overall, we'd recommend the plugin for those who need forms to collect data and send it to their third-party CRM. It also looks like a keeper for companies in need of data capture in WooCommerce, especially for abandoned carts.
8. WooCommerce Customer Relationship Manager
If you use WooCommerce to sell anything from your WordPress site, you'll want to take a look at the premium WooCommerce CRM (customer relationship manager) plugin.
In addition to having a place for the usual contact management information, this plugin lets you track orders, add customer notes, send emails and even make calls from the WordPress admin.
Yes, you read that correctly. You can pull up a contact, add a new call task to their file, and place the call from the contact record. It even has a call timer if you want to analyze your call data.
Because this plugin is meant to integrate with WooCommerce, it doesn't work as a standalone solution. You currently can't feed customer information into the database through web forms. But it is worth mentioning that WooCommerce is free to download. So, if you do sell products online, it might be worth looking into.
For even more awesome plugins to manage your customers in WooCommerce, take a look at our other guide on the best WooCommerce CRM options for efficient WordPress stores
Price: $90
Reviews: 3.88 out of 5 stars (CodeCanyon.net)
Active installations: 3,900+
PHP version: Not listed
Features That Make This a Great WordPress CRM Plugin
This is a premium plugin that provides a full CRM experience in the dashboard of your WordPress site. There's no need to go elsewhere to log in to your CRM, and you have full control over customizations to the database fields.
You can include guest customers to get a better idea of who these customers are.
Automated emails can be sent out to your customers when you make a profile for them in your CRM.
Each customer profile has an area to log the amount of money that a person has spent with your company. This is logged automatically based on their WooCommerce sale, but you can also add some sales manually.
There are several search parameters and filters to help you find the customer you want in your database.
Create customer groups to identify certain chunks of your database and only send out communications to them. This is also great for filtering and email marketing segmentation.
The customer notes are great for tracking what your customers are doing on your website and to log any interactions you have with those customers.
The plugin has the unique ability for you to place calls with your customers directly from the WordPress dashboard. All you need is a phone number or Skype username to create a call and either hear their voice or see their face and hear their voice at the same time. This is great for salespeople who shouldn't have to mess with a dial pad and phone on their desk.
The plugin includes branded emails that can be sent out to customers when you have important information about orders. This is separate from the automated emails generated by WooCommerce.
Importing and exporting is possible for bringing in customer information from other programs.
You're able to view customer profiles to examine information like purchased items, customer notes, and emails. Essentially, everything someone does on your website is logged, along with an area for you to type in your own notes about the customer.
The customer list has options for marking lead statuses. You simply go to the Status section and mark whether that person is a customer, prospect, follow-up, or whatever labels you decide on.
Each customer has their own account profile page that links to your CRM. They can change some of the information and even upload documents to their profiles for you to see.
Quick actions are available to give salespeople the tools to log information and close sales quickly.
The customer profiles have Google Maps integrations so you can see a map of where the person is from and get directions.
You can delegate agents to each customer or group.
The customer groups are typically created manually, but there's an additional option to dynamically build them based on your own labels and metrics.
Who Should Consider This WordPress CRM?
The WooCommerce Customer Relationship Manager isn't the cheapest on this list, but it does sell for a one-time price. Some alternatives require monthly payments, so you're at least ridding yourself of that commitment. This is a premium plugin for WooCommerce, so if you're on a strict budget, skip this plugin. If you don't use WooCommerce, there's no need to get this plugin.
However, if you want a high-quality CRM, you run a WooCommerce site, and you have $90 to spare, we highly recommend considering the WooCommerce Customer Relationship Manager. It's a sleek, all-around solution for WordPress users. There are far more features packed into this plugin than you would find in a free plugin.
9. UpiCRM
UpiCRM is a completely free WordPress CRM and lead management solution. This is a fairly new plugin, but it's already turning out to be very popular, with respectable ratings and a few thousand installations.
It's also useful because if you do eventually decide to upgrade to a premium CRM, the UpiCRM WordPress plugin provides a bulk export feature for transferring out all of your contacts into another system.
The primary functionality involves creating contact forms and collecting leads to go into your database. One of the reasons we really enjoy this plugin is because it automatically links to several websites for aggregating the data collection from multiple sources. You'll also notice that the integration options are superior to the competition, with connections to other CRMs, WordPress plugins, and Google Drive.
UpiCRM is compatible with your existing contact form plugins, such as Contact Form 7, Gravity Forms, and Ninja Forms. UpiCRM has an import process that maps your existing database/forms fields in order to create a new single, central, unified database of all your leads right within your WordPress dashboard. Some additional features include:
Price: Free
Reviews: 4.6 out of 5 stars (WordPress.org)
Active installations: 2,000+
PHP version: Not listed
Features That Make This a Great WordPress CRM Plugin
The plugin helps you track leads and sources up through the closing process.
Assign your leads to any member of your team with an automated process or manually.
You have the ability to track traffic sources for leads, including custom UTM parameters
The plugin has beautiful dashboards and KPIs so fewer reports are needed.
You get to centrally manage all of your contacts in one place. The controls are provided in your WordPress dashboard, so you can adjust the design on your site, write a blog post, then see which of your leads you need to work with, all in one location.
The plugin integrates with a long list of external software and programs, making it easier if you stumble upon a missing feature in the CRM. For instance, you can link UpiCRM with other CRMs, Google Drive, and web services.
The dashboard interface is elegant and nonintrusive, making for a beautiful experience for all users. It's great for beginners and developers.
Import lists from other CRMs or databases.
Your customer lifecycle is documented for you to access at any time in your WordPress dashboard.
The reports and analytics are clean enough so that everyone can understand them, but they're also rather powerful compared to some of the competition.
This plugin cuts the need for complicated spreadsheets and manual reports.
There are features for setting user roles and a hierarchy for access to your databases. Create a multi-user organization with multiple tiers.
There's a special URL tagging feature for tracking where your most important traffic sources are coming from.
A URL builder is incorporated for further tracking and shortening your URLs (check out how to change your site's URL).
The mobile interface is clean and customizable, allowing you to include contact forms and lead capture modules on mobile devices.
Automated notifications get sent out to admins when leads are captured. You also have some tools for sending out notifications to customers.
Who Should Consider This WordPress CRM?
To call this a barebones CRM would be an understatement. It's a simplistic tool for collecting lead information and placing that information into a database. The mobile support is strong, but you shouldn't expect any advanced designs to start off with.
We like the UpiCRM plugin for those who don't want to pay anything for a WordPress CRM solution. It's also nice for those who don't need all the bells and whistles from more advanced CRMs.
Finally, developers may find this plugin useful, since you can customize just about every element of the forms and databases.
10. Presspoint
Formerly PauPress and relaunched as Presspoint CRM back in October 2014, Presspoint is a premium WordPress plugin sold on its own website. Having said that, it is a 100% native and robust WordPress CRM solution.
Presspoint lets you do a lot more beyond capturing and storing customer data. It also integrates with ecommerce, memberships, email marketing, and more, all within the WordPress admin. Not only is the plugin feature-rich, but it also allows for complex queries and reports.
You can use reports to simply mine the data or to perform bulk actions such as editing or mailing. The interface blends seamlessly with WordPress, so it should be intuitive to use and navigate.
As for pricing, the plugin is sold as a SaaS with a sales team ready to walk you through a demo and give you pricing. This is an old school way of doing things, but we do like the software, so it may be worth it for you. Keep in mind that Presspoint is a CRM for serious businesses with cashflow. Expect to pay over $500 per year after going through a free demo.
There aren't any monthly plans to choose from and you shouldn't expect to get anything free out of this CRM. Overall, it's a premium CRM with an incredible number of features packed into the suite, similar to SalesForce. From advanced customer profiles to content restriction, and emails to user directories, the Presspoint plugin is one of the most feature-rich CRMs that you can choose.
Price: Unlisted. A demo is required and you may end up getting a custom quote. Expect $500+ per year.
Reviews: Not listed.
Active installations: Not listed.
PHP version: Not listed.
Features That Make This a Great WordPress CRM Plugin
Presspoint is a premium plugin sold directly through the developer's website. Although this means you have to pay a premium, this setup typically provides far superior customer support and resources compared to free plugins in the WordPress Repository.
The plugin includes options for building customer profiles. The profiles are combined together for analysis, giving you a full picture of what your customers desire from products and services.
You're given tools for managing contacts throughout the entire customer lifecycle. You can manage sales by starting from the initial contact and go all the way through to the final closing point.
Content restriction is a unique feature from Presspoint, allowing you to remove some of your content based on user role restrictions. You may also decide that the most active, or VIP, users receive the best content.
It's possible to integrate with autoresponders and email sending platforms like MailChimp. There's no need to copy and paste your entire contact list or work with too many windows.
The user directories are great for updating your lists with dynamic rules and searching with the help of filters and a search bar. Overall, finding contacts in your list should be a seamless process.
The events area is excellent for selling your tickets and hosting events, all by connecting with your contacts and managing all appointments and event ticket sales directly through your CRM.
The smart search gives you suggestions on which users you might be thinking of, with multi-layered queries to locate your contacts when needed.
Presspoint has ecommerce features for selling physical and virtual items. It's all done through a one-page module, allowing you to accept payments and donations from contacts. This integrates nicely with the event management tool.
All user accounts are shown to your contacts, meaning that those people are the ones that update their contact information. This cuts down on your own data entry, leaving the work to your customers. It's also possible that your contact information remains more up-to-date with this method.
Who Should Consider This WordPress CRM?
The Presspoint WordPress plugin is for legitimate businesses that need high-powered, yet simple user management. Skip Presspoint if you're looking for the cheapest CRM on the market. Rapidly scaling businesses will like Presspoint, considering it has a decent price point and the tools are excellent for rapid contact management.
For example, the smart search and filtering tools work wonders when it comes to finding contacts in a flash. We also like it for those who want to sell items and events through their CRM. It's kind of like an ecommerce tool and customer management tool in one.
11. WP smart CRM & Invoices FREE
With a name that gets right to the point, the WP smart CRM & Invoices FREE WordPress plugin is a less popular, yet respectable, option when it comes to running a CRM in your WordPress dashboard. The plugin covers more than your standard CRM, with an impressive collection of office and business management tools. Some of these include the customer archive grid, a notification system, and a beautiful module for organizing your contacts for future messaging.
The plugin also serves as a to-do list and invoicing system, allowing companies to complete multiple tasks from the same dashboard and not spend a dime doing it.
The developers have provided a full free demo on the WordPress Repository page. Some of the other plugins from this developer integrate nicely with the CRM and Invoice plugin. For instance, you could opt for other plugins for WooCommerce or a customer service agent option.
Price: The core version is free. The premium version starts at $110 per year.
Reviews: 4.7 out of 5 stars (WordPress.org).
Active installations: 300+
PHP version: 5.6 or higher
Features That Make This a Great WordPress CRM Plugin
The WP smart CRM & Invoices WordPress plugin is built as a customer archive grid, making for a clean and manageable CRM system for all users.
You can import your list of contacts with the help of a CSV import button.
Notification rules are available for sending out messages to users. For instance, you may decide that some notifications should be sent to certain groups, while other people shouldn't get the messages.
You can also send out direct messages to individual people or groups.
A to-do list is provided inside the CRM to guide your organization and give you an idea of what tasks need to be completed next.
Use the annotated timeline to check-in on what interactions have occurred between you and your customers.
The invoice module allows for custom signatures and branding.
Notifications are sent out for invoices, like for if someone was late on paying their invoice.
Collect your payments through popular payment gateways like Stripe and PayPal.
You can make it so that the invoices are sent at downloadable PDFs.
Create invoices dynamically based on user roles and clients. Each invoice template provides multiple lines for you to include services rendered.
You can make multipage invoices and accept file uploads from your customers on the frontend.
Custom fields are active for both forms and invoices.
You receive tools for importing contacts directly from other plugins. This is helpful when working with WooCommerce, since you don't have to export a file from the one plugin only to import it to the same WordPress dashboard.
An advanced scheduler is available for setting your invoices to go out in the future, all based on the custom tags you implement with the CRM.
The dashboard interface is really nice, seeing as how it provides a simple menu with access to everything from customers to invoices and your future agenda, all in one place.
Who Should Consider This WordPress CRM?
The core CRM is free, so that'll figure into some decisions on whether or not to download and install the WP smart CRM & Invoices plugin. You're taking a risk by using a plugin that's not as field-tested as the competition, but current reviews are positive, and the interface is a dream for people who don't want too much clutter in the dashboard.
As for a direct recommendation, the WP smart CRM & Invoices plugin appears to be the best solution if you need both a CRM and an invoicing tool in your WordPress dashboard. The features aren't necessarily better than other options on this list, but the CRM is simple, clean, and it provides that bonus of the invoicing module.
12. WP Fusion
WP Fusion is a premium WordPress plugin that connects what happens on your website to your CRM. You can use WP Fusion to build a membership site, keep your customers' information in sync, capture new leads, record e-commerce transactions. There's a Lite version to download for free. This version syncs your contacts and user management items between your WordPress site and the third-party CRM of your choice.
Therefore, it's not exactly a full CRM system, but rather a link to your WordPress site and the CRM you want to go with. However, the plugin does have a handful of basic CRM features included, such as automatic contact creation and access restriction for your site and database.
A few of the CRMs in this article integrate nicely with the WP Fusion plugin. The supported CRM list from WP Fusion includes the following:
AWeber.
AgileCRM.
Gist.
GetResponse.
Groundhogg.
Hubspot.
MailerLite.
Zoho.
Salesforce.
Many more.
As you can see, not all of the services and plugins on the above list would be considered CRMs by the average consumer. For instance, AWeber is more of an email marketing tool with a contact database. However, the WP Fusion team is simply making the point that the plugin integrates with a wide range of contact management tools.
Price: There's a free Lite plugin. The premium versions start at $247/year.
Reviews: 5 out of 5 stars (WordPress.org)
Active installations: 1,000+
PHP version: 5.6 or higher
Features That Make This a Great WordPress CRM Plugin
The WP Fusion plugin provides tight integration with a long list of CRM solutions. It's great for adding a handful of basic CRM tools to your WordPress site. After that, you connect with a more powerful CRM to complete the system.
It uses tags from your CRM to lock pages within WordPress, creating simple to use membership websites.
You gain access to integrations with WooCommerce and Easy Digital Downloads. Both are essential for selling digital and physical products online, all with the integration for your customer list.
WP Fusion features integrations with learning management systems such as LifterLMS and LearnDash.
You can link to email marketing programs like MailerLite and MailChimp.
The customer data syncing tool collects extended user data and syncs it between WordPress and the CRM, all with updated lifetime values and synced user accounts between your multiple sites.
Several add-ons are available for things like abandoned cart tracking, downloads, enhanced eCommerce, and media tools.
Content restriction is done with the help of user tagging. Essentially, it allows you to mark certain users so that they don't see all content on your website.
Custom fields are supported, especially when it comes to syncing with the custom fields created in other CRMs.
Tags can automatically be added to user profiles when they register on your website.
The importing and exporting features work seamlessly with the other CRMs you may integrate with.
There's a widget to place on your website for redirecting users and blocking users from seeing certain content.
The plugin links to Zapier for adding webhooks and automating many of the tasks on your website and CRM.
The WP Fusion plugin has some of the best customer support provided for a WordPress CRM. It's uncommon to find dedicated support, and a community, from other plugins that are given away for free.
Who Should Consider This WordPress CRM?
For companies that want the simplest CRM possible, this is an interesting option. You can create contacts, add tags to those contacts, and build forms with custom fields. If that's what you require, consider WP Fusion as your CRM.
The primary reason you would sign up for WP Fusion is if you're already using a CRM and would like to make a seamless connection to your WordPress site. That's the main purpose of WP Fusion.
So, if you're utilizing a CRM that doesn't work well with WordPress, this is a must-have. Keep in mind, the WP Fusion plugin is a more expensive tool, so we only recommend it if you're willing to pay a higher one-time fee.
13. vCita CRM
The vCita CRM boasts a heavy-duty feature list and it works for just about any website platform you want. It also provides a WordPress integration, making it particularly exciting for those currently working with WordPress sites. Keep in mind, that vCita CRM only sells as a premium solution. Yes, you receive a 14-day free trial, but after that, the pricing starts at $19 per month. The $45 per month plan actually includes the best CRM features.
The CRM gives you the tools to store all contacts in one place, with an in-depth view of each customer to understand what they want and how they shop. The vCita CRM also provides a mobile interface for running your business on-the-go and checking in when customers need your help.
Price: After the 14-day free trial, the cheapest plan is $19 per month. The strongest CRM features are in the $45 per month option.
Reviews: Not listed.
Active installations: Not listed.
PHP version: Not listed.
Features That Make This a Great WordPress CRM Plugin
The CRM has one of the best interfaces we stumbled upon. It mimics that of a social network with the ads and clutter. Customers can access their own profiles, and it's an easy process for companies to analyze user actions.
Custom followups are available for sending out messages to people who need reminders. An example of this would be reminders about events, invoices, or appointments.
The CRM comes with a stunning client portal. This portal lets your clients create user information, manage their profiles, and schedule payments. You also have functionality for sharing documents with your clients.
Team collaboration is included with vCita CRM. This makes quite a bit of sense since you've already placed your employees in the contact system. Why not use the same plugin to send them messages and share documentation?
A user-friendly mobile app comes with vCita CRM for making changes to your customer profiles while on-the-move. We like this for checking in on scheduled appointments and messages as well.
A birds-eye view of your clients is displayed on the dashboard, using information about payments and messages to see how you can improve your business in the future. Some other information that's compiled involves invoices, appointments, and the entire client history.
All contacts are stored and labeled in the vCita CRM without any questions as to whether or not it's secure. This is a completely centralized hub that can connect to WordPress and allow you to manage the leads that make you money.
There's a lead generation widget that you can place anywhere on your website.
Several marketing campaigns are included with vCita CRM. This is helpful for sending out marketing messages through SMS and email.
Who Should Consider This WordPress CRM?
Consider vCita CRM if you're looking for more of an all-in-one office management solution. Yes, the CRM is great for people who want beautiful interfaces. However, the multiple other parts of the suite are integrated into that CRM core. Therefore, you can schedule appointments, collect leads, and send out marketing messages all with the same tool.
This is in no way a budget CRM, but it lands in the middle of the free WordPress plugins without much functionality and the extremely complicated CRMs that larger businesses use. So, if you want several solutions packaged in with your CRM, vCita CRM is the place to go.
14. Groundhogg — Marketing Automation & CRM for WordPress
Groundhogg is a self-hosted CRM and Marketing Automation plugin designed to simplify, consolidate, and automate sales and marketing for businesses that use WordPress. Thanks to this CRM, you can guide your customers through the sales pipeline automatically with funnels, email marketing, CRM, and more.
The free version of Groundhogg allows you to build forms, write personalized emails, build timed drip funnels, segment your contacts, and use the fully functional CRM to help you keep track of your customers.
It's a freemium business model, meaning you can get started for free and upgrade to a paid plan when you want more features. You can download some of their 40+ extensions which will allow you to integrate with the most popular WordPress plugins and services as well as add additional features like collecting payments and conditional funnel logic.
Price: Free core plugin. The premium plugin starts at $20 per month and goes up to $80 per month for the Agency Plan.
Reviews: 4.9 out of 5 stars (WordPress.org).
Active installations: 1,000+
PHP version: 5.6 or higher.
Features That Make This a Great WordPress CRM Plugin
You can integrate with many WordPress plugins like WooCommerce, Gravity Forms, and LMS plugins like LifterLMS.
The over 16 extensions focus on conversions and lead generation like Payments, Social Proof, and Appointment Bookings.
The plugin is completely self-hosted. This means that you own all your data, from the moment you capture it to when you want to export it from the system.
The clear reports allow you to make data-driven decisions. Some of these reports include advanced charts, along with sharing tools to send to all of your stakeholders.
The Groundhogg WordPress plugin provides an advanced emailing system for sending out automated and manual messaging to your contacts. It also offers unlimited emails so that you never worry about running low.
The database list is unlimited as well, with support for large contact lists.
Unlimited custom fields are provided for your contact forms and databases. Make the forms as unique to your business as possible.
The drag and drop email builder is great for designing professional-looking emails without the need for coding or advanced development skills.
The plugin comes with a funnel builder, where you select the steps you'd like to implement in your sales funnel. Suggestions and templates are provided for you to get started.
Importing and exporting are non-restricted, meaning you can import and export anything you want. This is unique to Groundhogg since so many database programs try to make it difficult to export your data or maintain ownership of your lists.
Groundhogg is a WordPress multisite compatible plugin. You can push your funnel designs to other websites. Let's say you run a multisite WordPress network. Make one funnel on your primary site, then send it to all of the other ones in the network.
This is an opensource solution with a short learning curve. Essentially, everyone can take advantage of the tools without having to train for too long.
Who Should Consider This WordPress CRM?
Groundhogg is an intriguing CRM for all users, since it's open source, has a large community, and the premium features are supported by a dedicated team. Not only that, but you receive a long list of integrations to choose from.
Groundhogg is not the cheapest CRM on this list. However, you're paying for professional customer support, access to the community, and features that are tested and improved on a regular basis. If this puts your worries at ease, we highly recommend the Groundhogg CRM.
Summary
Once you start building a customer base with your site, it's critical to have a WordPress CRM solution in place that can help you build future business. The more you know about your customers, the better positioned you are to provide the products, services, and the customer support they need.
CRM solutions can also be invaluable for highlighting under-performing customer segments and growth opportunities. We've only covered a handful of options above.
There are others on the market, with additional solutions being developed every day. We would love to hear what you're using to manage customer information and engagement. Share your experiences in the comments below!