Everyone loves videos — the average person spends 2.5 hours per day watching videos online. And business owners and marketers should note: 69% of consumers prefer to watch a video explaining a product or service. Only 18% want to read a text-based article, and 4% prefer an infographic.
So, how do you find a video you want to watch?
And if you're making videos, how do you make sure internet users can find your video content?
Just as you turn to Google or other search engines to find exciting websites or blog posts, you can use a search engine to find videos.
This article shows you how to search for videos and introduces the top video search engines.
How Can I Search a Video?
There are a few types of video search engines you can use to find a video online.
First, you can use major search engines like Google. All of the top search engines have a video search option that finds videos from various sources across the web. They usually have filters to help you find video content of a particular duration, quality, and more.
You can also use the search engines built into video hosting platforms like YouTube. For example, you can use YouTube to find the informative videos we have on our own Kinsta YouTube channel.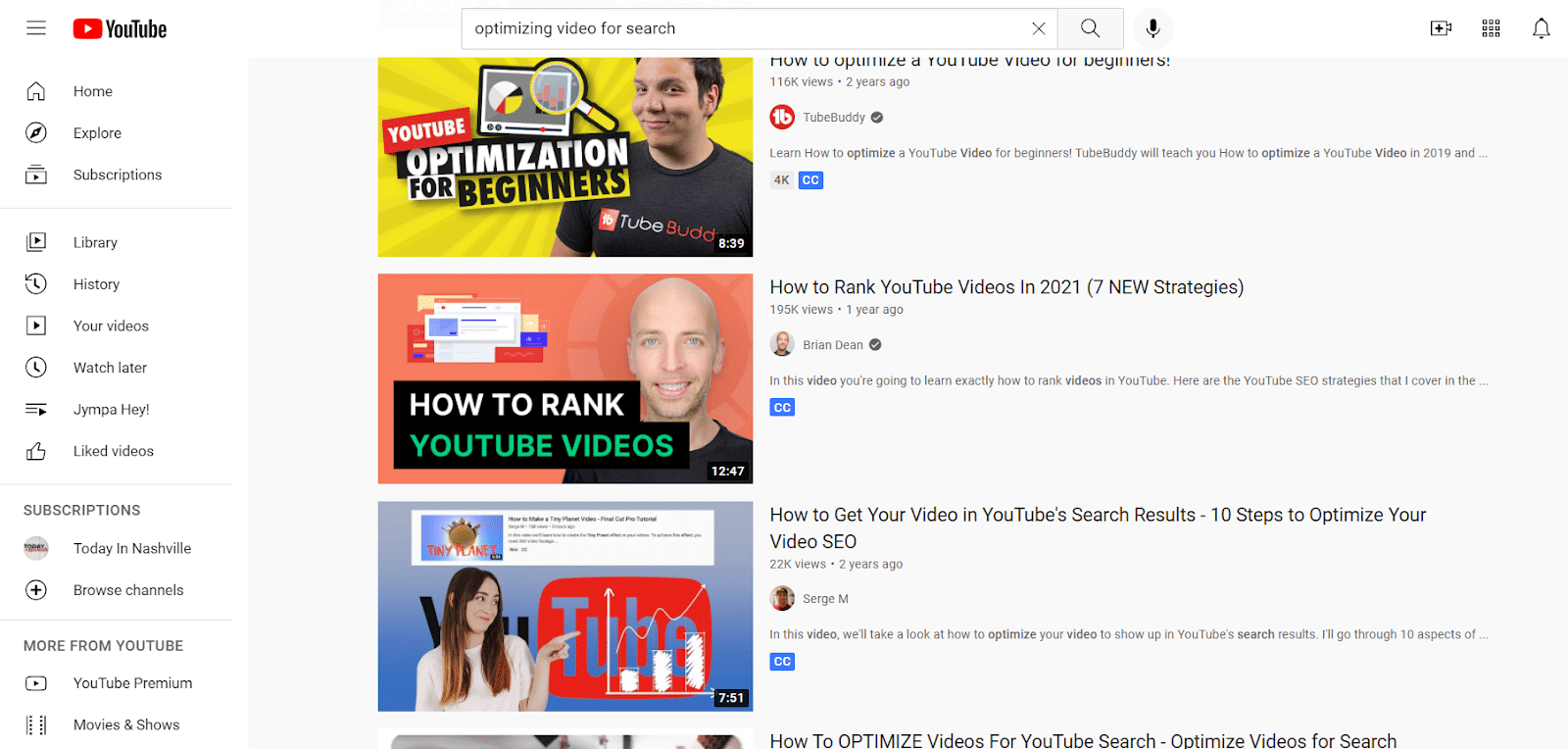 Finally, there are specialized video search engines. For example, you can use Social Searcher to search videos on social media or Shutterstock to search stock footage.
Is There a Reverse Video Search Engine?
You may be familiar with the reverse image search offered by Google and other search engines.
Reverse image search engines let you input an image file to find the same or similar images online.
No search engine will reverse search an entire video, but you can use reverse image search engines to accomplish the same thing. Take a screenshot of the video, or use the thumbnail as your image to search.
The search engines that we recommend for reverse video search are:
Google
Bing
Berify
Shutterstock
Are There Mobile Video Search Engines?
Mobile devices account for 54.8% of global internet traffic.
And if you're conducting your video searches from a smartphone or tablet, you want a search engine optimized for mobile, and you want the videos to display nicely on your device.
Fortunately, almost all video search engines on our list have mobile apps. The Google app makes it easy to conduct regular video searches and reverse video searches with photos from your device's camera or storage.
Top 16 Video Search Engines
Let's break down our top 15 choices for video search engines.
1. Google
It shouldn't come as a surprise that Google offers one of the top video search engines.
Google is excellent at all kinds of search, including video. You can find Google video search under the search bar and other search options like news and images.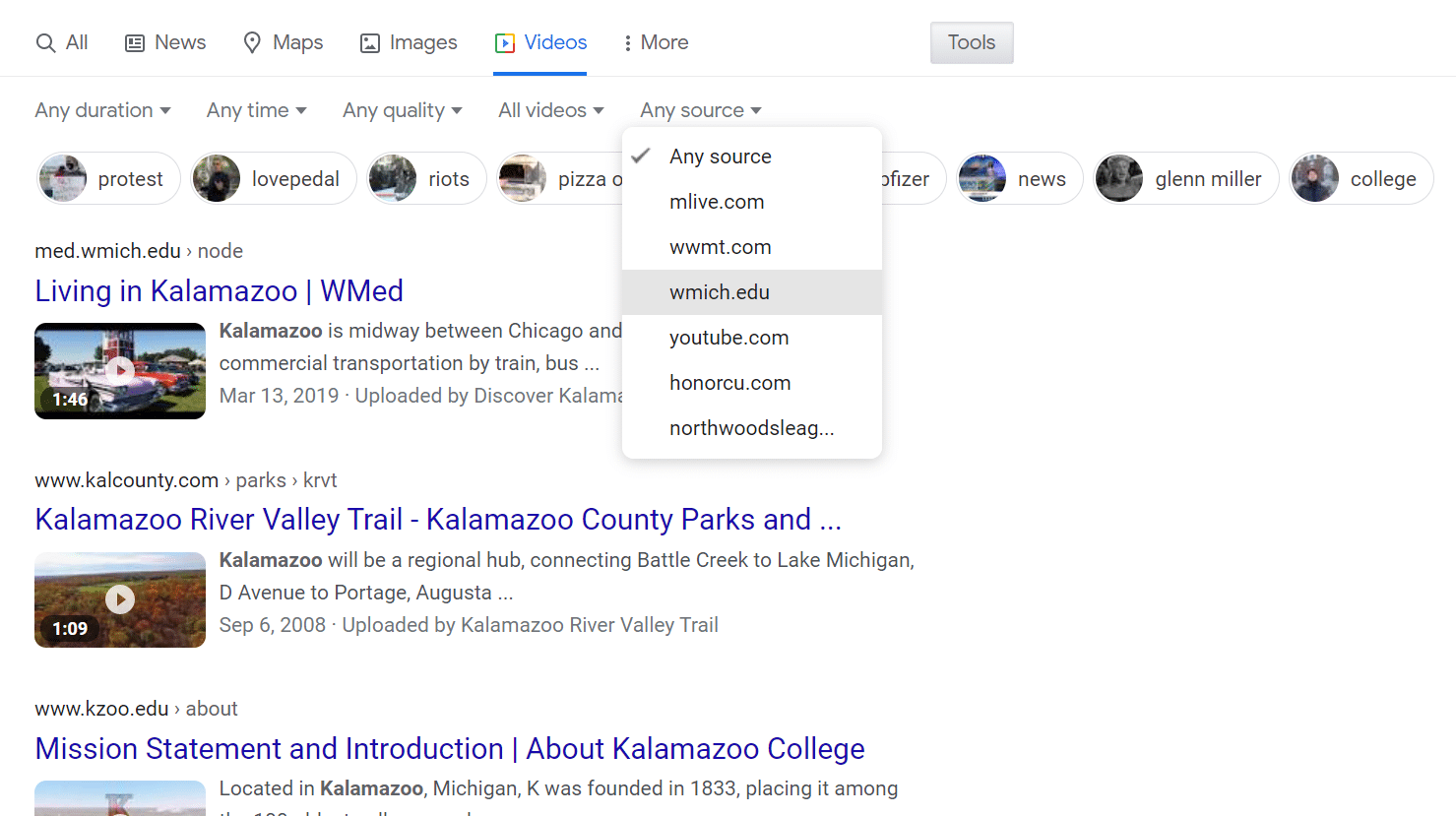 Google has many filters that you can use to find the right video, including:
Duration of the video
Date range video was posted
Quality (any quality or high quality)
Whether it's closed-captioned
Source (website)
By going to settings and choosing Advanced Search, you get a few more options, like searching for videos in a specific language.
Google Mobile Video Search
As mentioned above, you can use a reverse image search engine to search for videos.
Thanks to Google Lens, Google has a robust mobile solution for this. It lets you take a picture with your phone's camera, easily crop it, and find similar images and videos.
2. YouTube
YouTube isn't a traditional video search engine, as it will only search videos on YouTube.
But considering that 500+ hours of content are uploaded to YouTube every minute, you have a good chance of finding what you're looking for on the platform.
Google owns YouTube, so its search capabilities are top-notch.
As with Google video search, YouTube lets you filter by duration and date posted. You can also search for videos in the following categories:
Live
4K
HD
Subtitles/CC
Creative Commons
360°
VR180
3D
HDR
Location
Purchased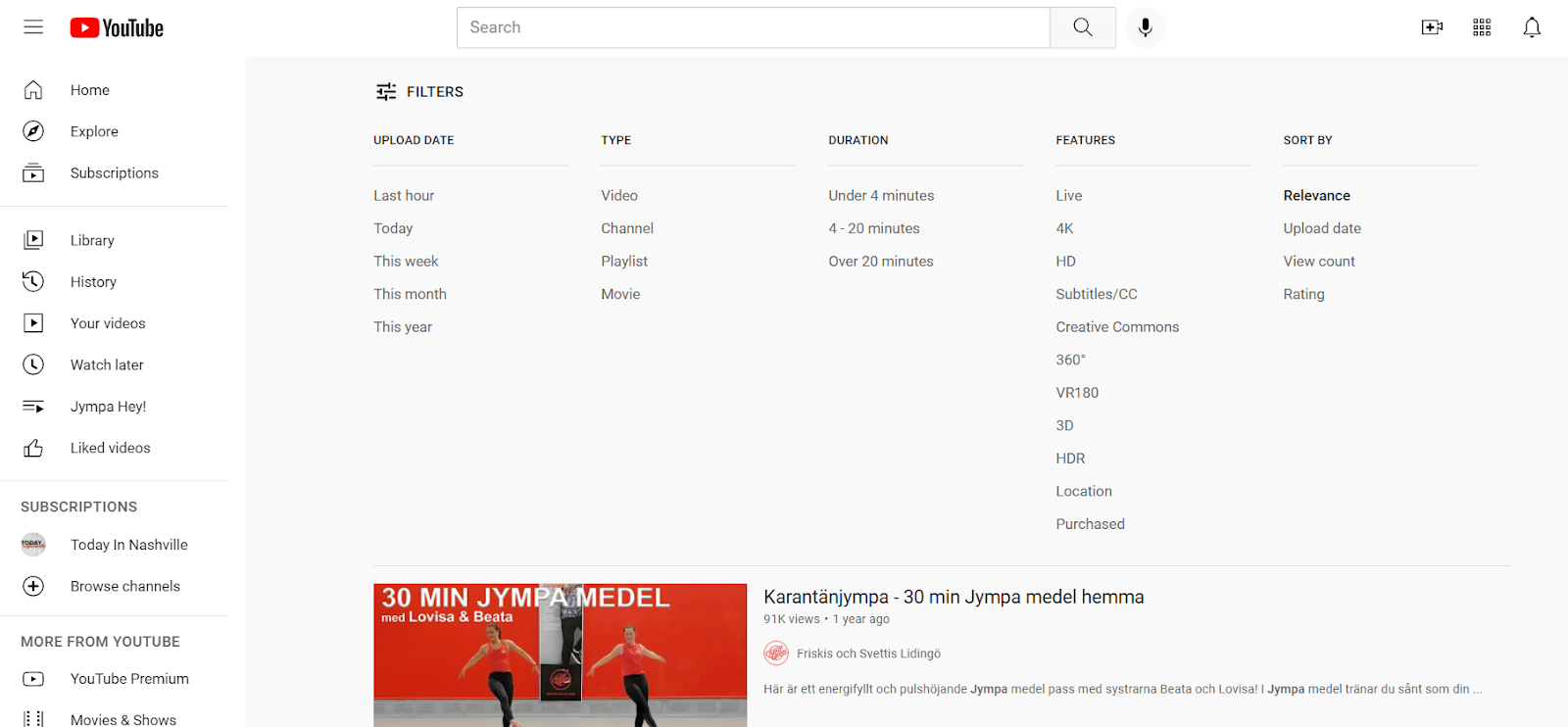 In addition to videos, you can search for channels, playlists, and movies.
3. Bing
Google is a much more popular search engine than Bing, with an 87% market share compared to Bing's 7%.
But when it comes to videos, you shouldn't write Bing off. In some respects, Bing video search outshines even Google.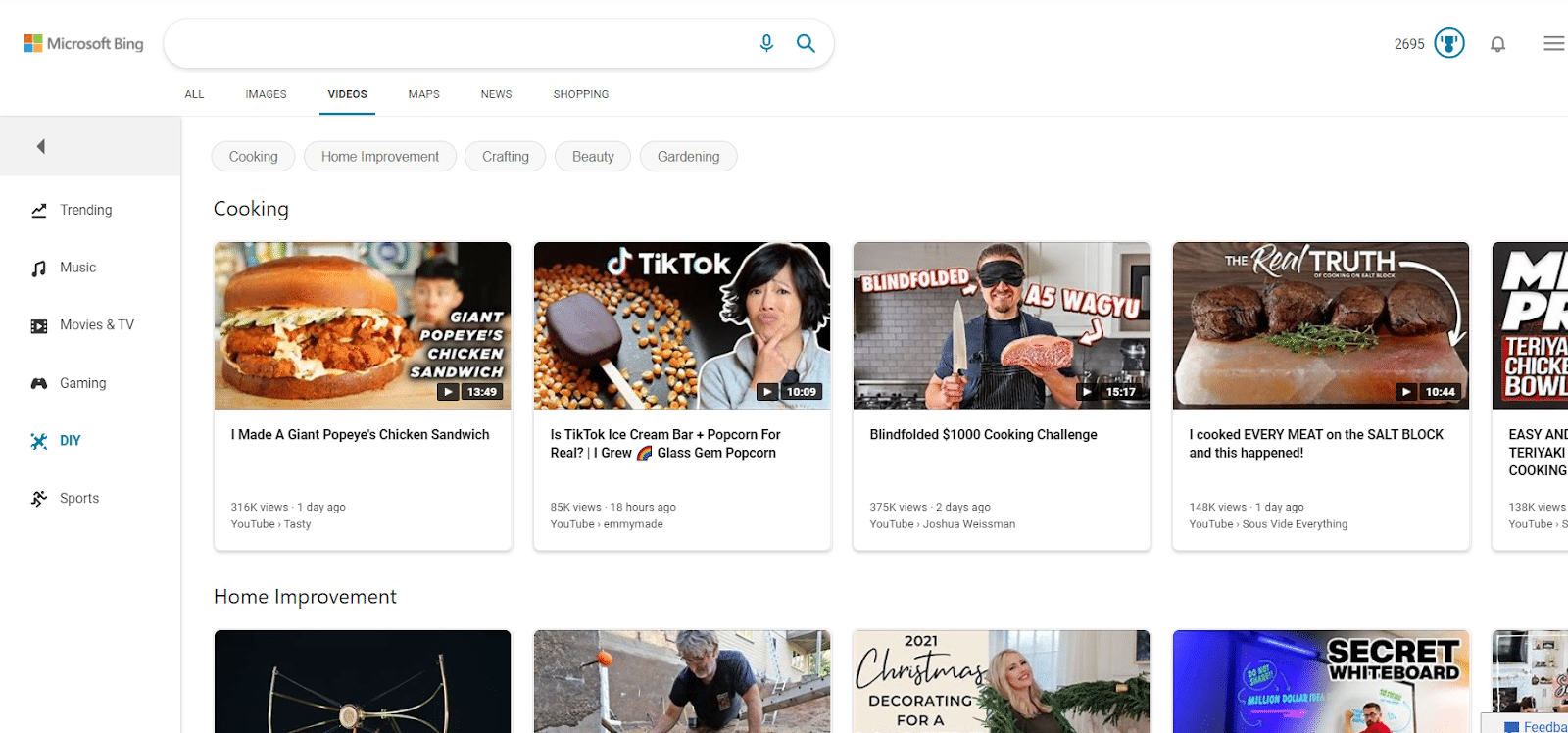 Like Google, Bing's filters include duration, date, and source.
They also include quality — but where Google only searches by "any quality" and "high quality," Bing has the following options:
All
Lower than 360p
360p or higher
480p or higher
720p or higher
1080p or higher
Bing also lets you filter by whether videos are free or paid.
The Bing video search engine results page (SERP) is more visual than Google's, with large thumbnails that show a few seconds of preview as you hover over them. Instead of being taken to the video's website when you click the link, you can watch the video right on Bing.
4. DuckDuckGo
Not everyone is happy using traditional search engines like Google and Bing.
Privacy concerns have led many to turn to DuckDuckGo. This search engine doesn't track your search history, blocks external trackers, and connects you to the encrypted version of a website when possible.
If you'd like to keep your data out of Google's hands, we have good news: DuckDuckGo also has video search.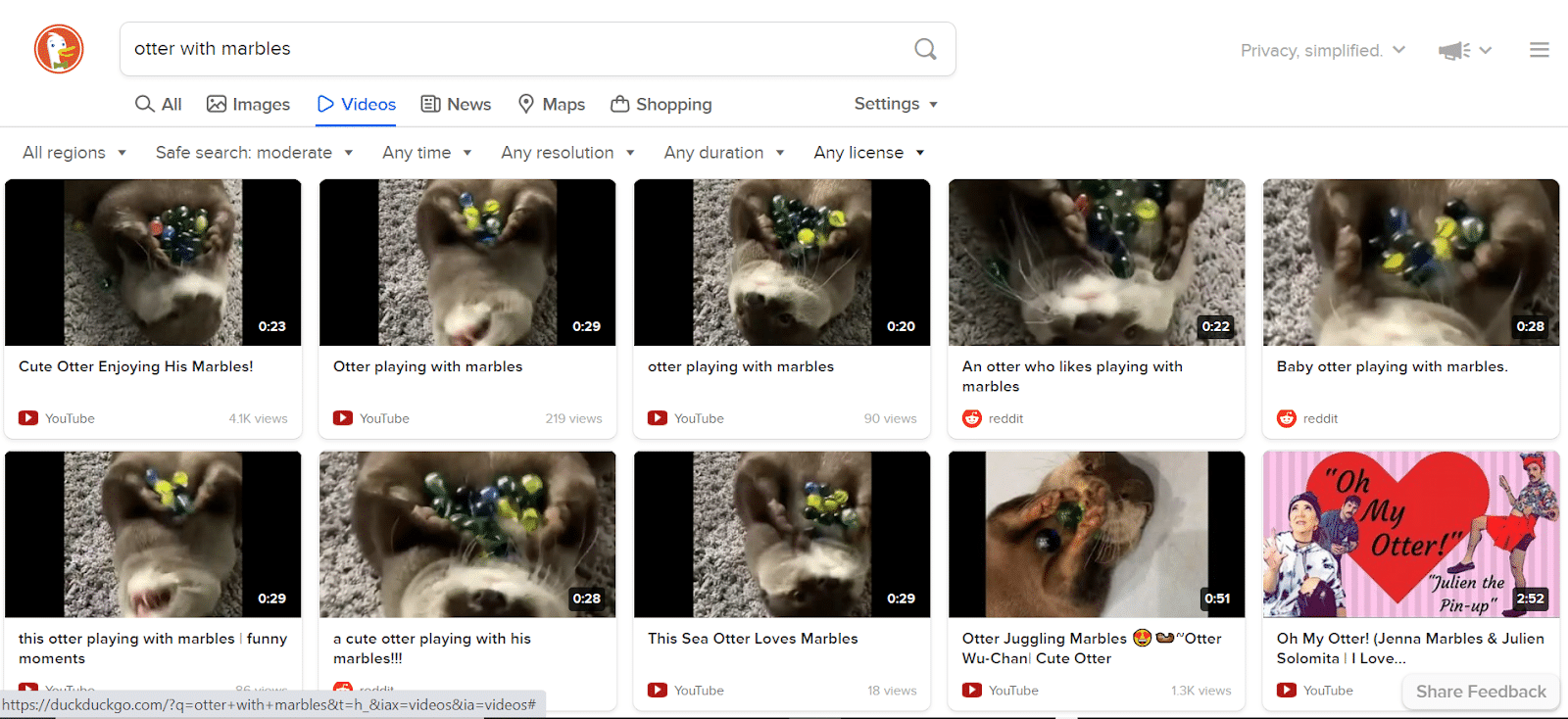 DuckDuckGo lets you search by video duration, resolution, date, and license type (Creative Commons or YouTube Standard).
One neat feature of this service is that you can change the region of your search to see results as they would appear in the country of your choice.
5. Dailymotion
Dailymotion is a video hosting service with over 300 million users, second only to YouTube.
Like YouTube, this "search engine" will only return results from its platform. Search both YouTube and Dailymotion to get a broader list of results.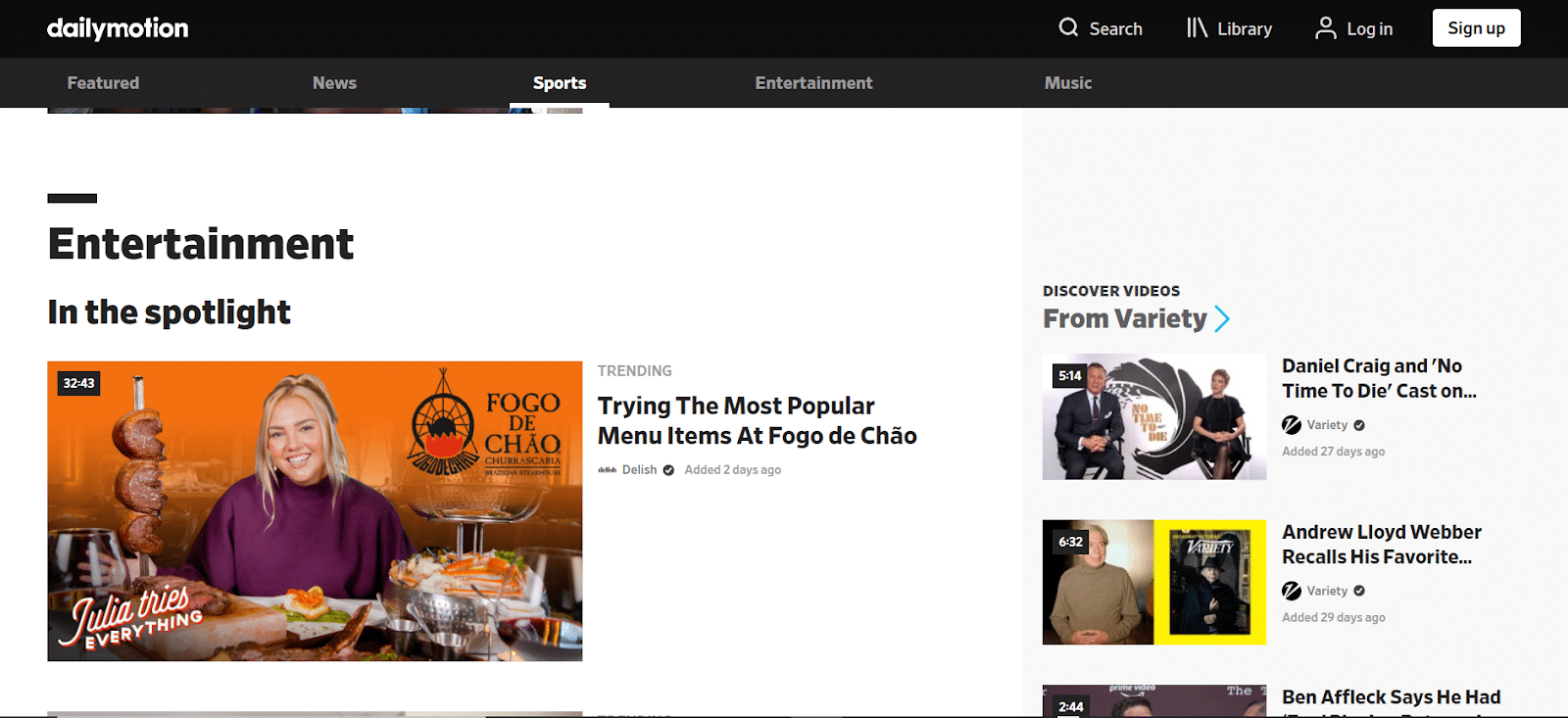 Dailymotion's filters are limited to the duration and upload date.
6. Facebook
Another source of millions of videos is Facebook.
Facebook is the third-largest website on the internet, coming in behind Google and YouTube. Facebook Watch, the section of Facebook for sharing and watching videos, is viewed by more than 1.25 billion people each month.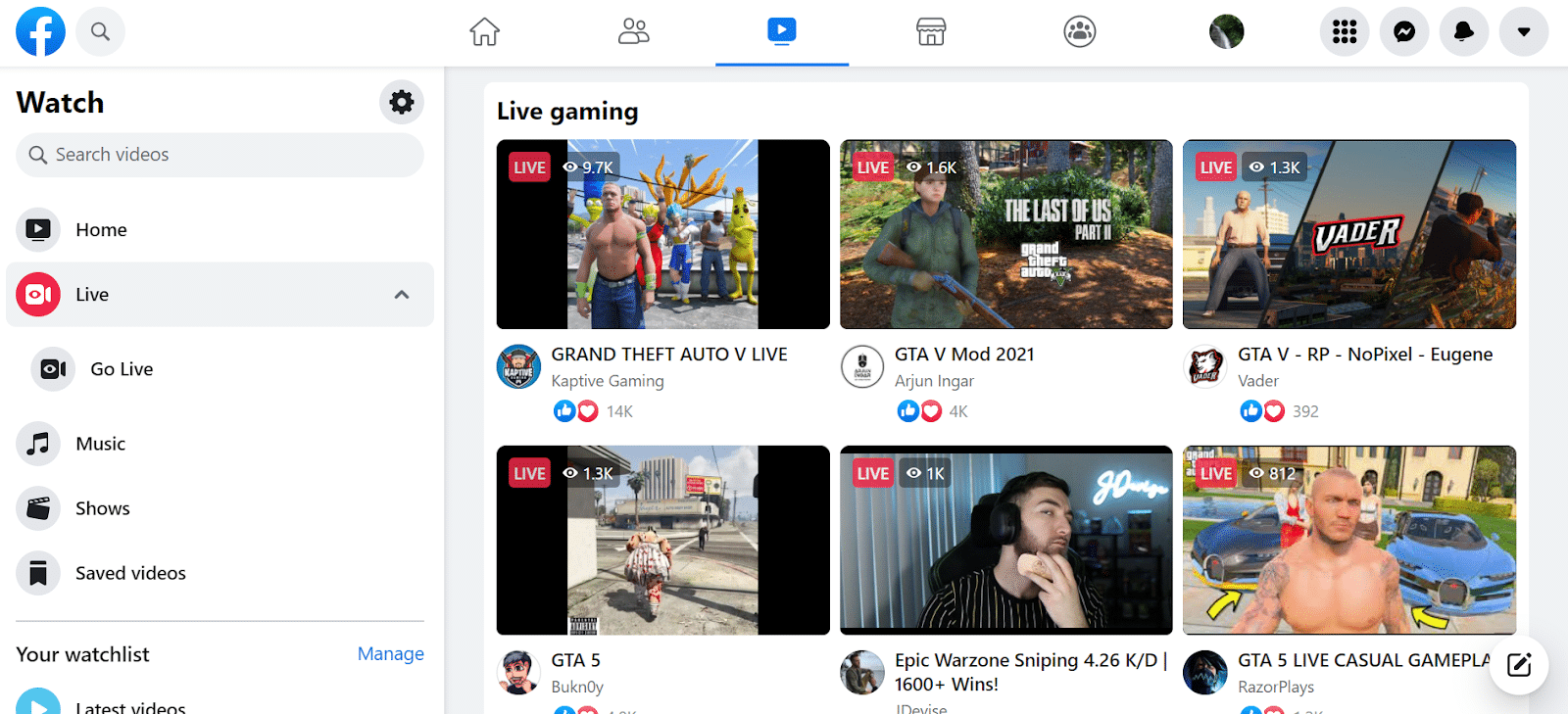 You can search videos from the Watch page or enter a term in the main search bar and select "video." Videos can be filtered by date posted, and you can choose only to see live videos, music, shows, or your own saved videos.
7. Dogpile
Dogpile was created in 1996 as a metasearch engine that aggregated results from Yahoo!, Lycos, Excite, WebCrawler, Infoseek, AltaVista, HotBot, WhatUseek, and World Wide Web Worm.
While several old-school search engines no longer exist, Dogpile is still around. Today, it brings you results from a list of search engines that includes Google, Yahoo!, and Yandex.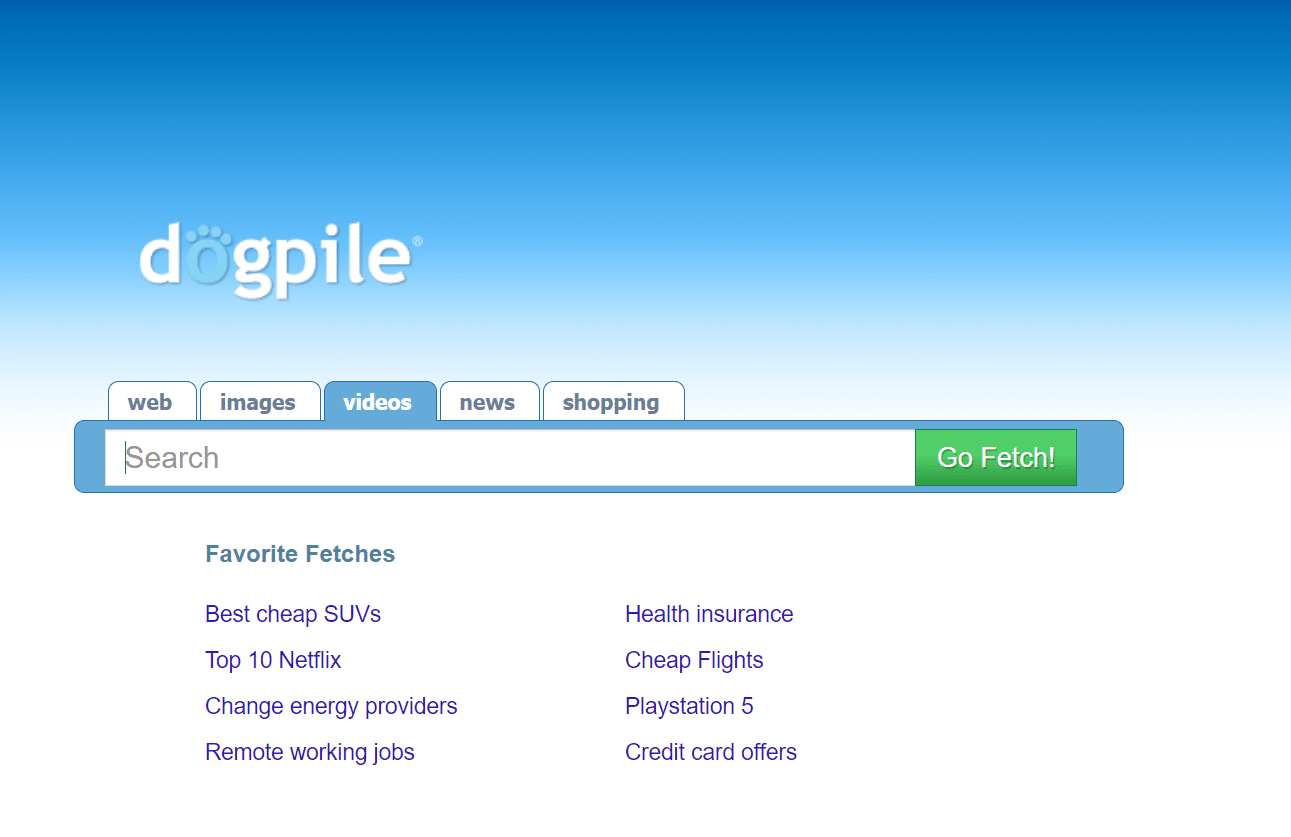 Dogpile's video search doesn't have filtering options, but it can be an excellent way to make sure you're pulling in results from various sources.
8. Veoh
Veoh is a video-sharing website launched in 2005, the same year as YouTube. In the mid-2000s, it was one of the most popular video sites on the internet, but it fell out of favor, eventually filing for bankruptcy and changing ownership.
Veoh can't compete with sites like YouTube and Vimeo today, and a lot of its content is old. But it does have one cool feature that makes it worthy of this list.
In addition to duration and genre, Veoh lets you search by the language of the video and the language of the subtitles. So, if you want, you can find all of the comedy videos in Bulgarian with English subtitles.
None of the other search engines on our list do that.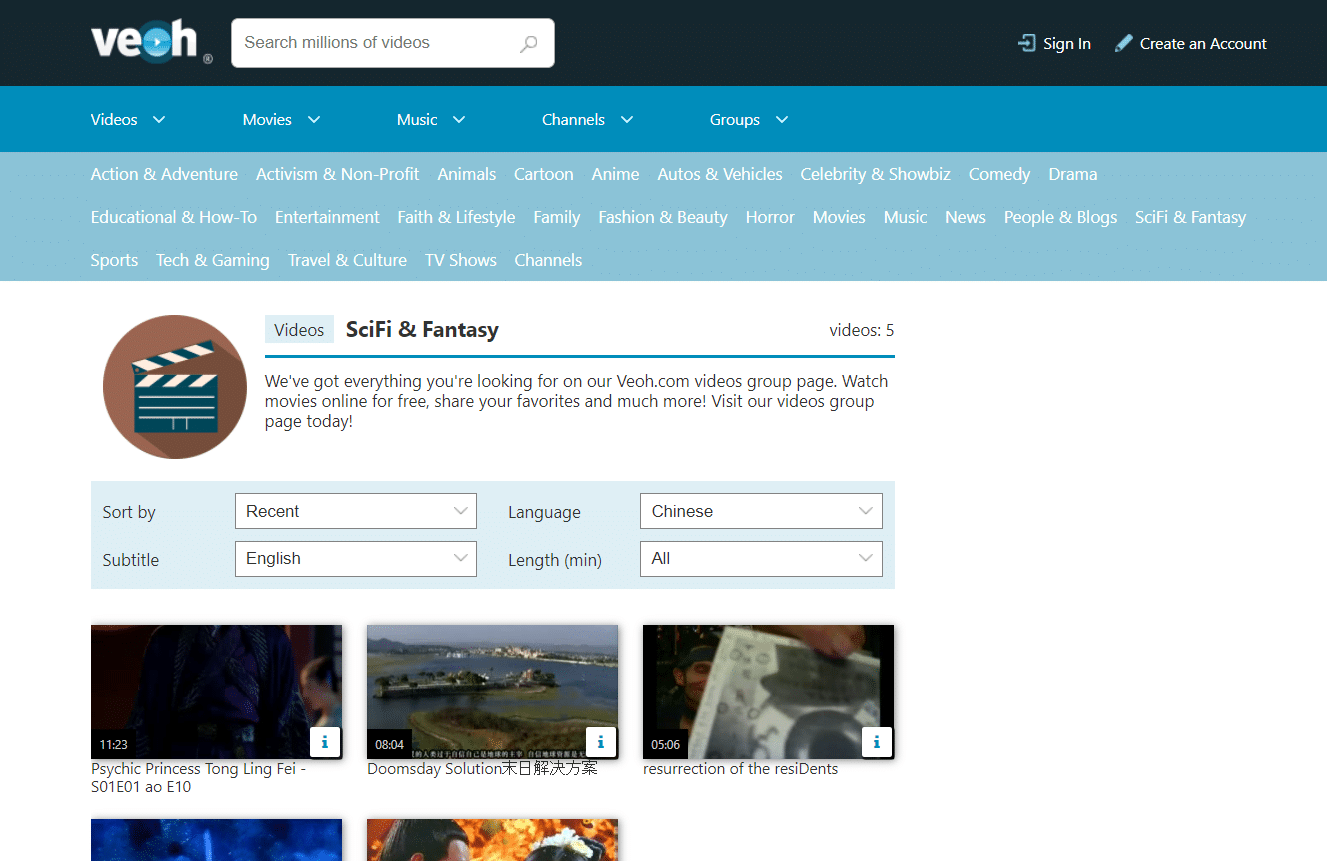 The videos on Veoh include both user-generated content and movies and TV shows to stream.
9. Berify
We already mentioned several search engines that you can use to do a reverse video search. They all require you to use an image from the video.
Berify is an incredibly comprehensive reverse image search because it looks for your video screenshot on Google, Bing, and other major search engines.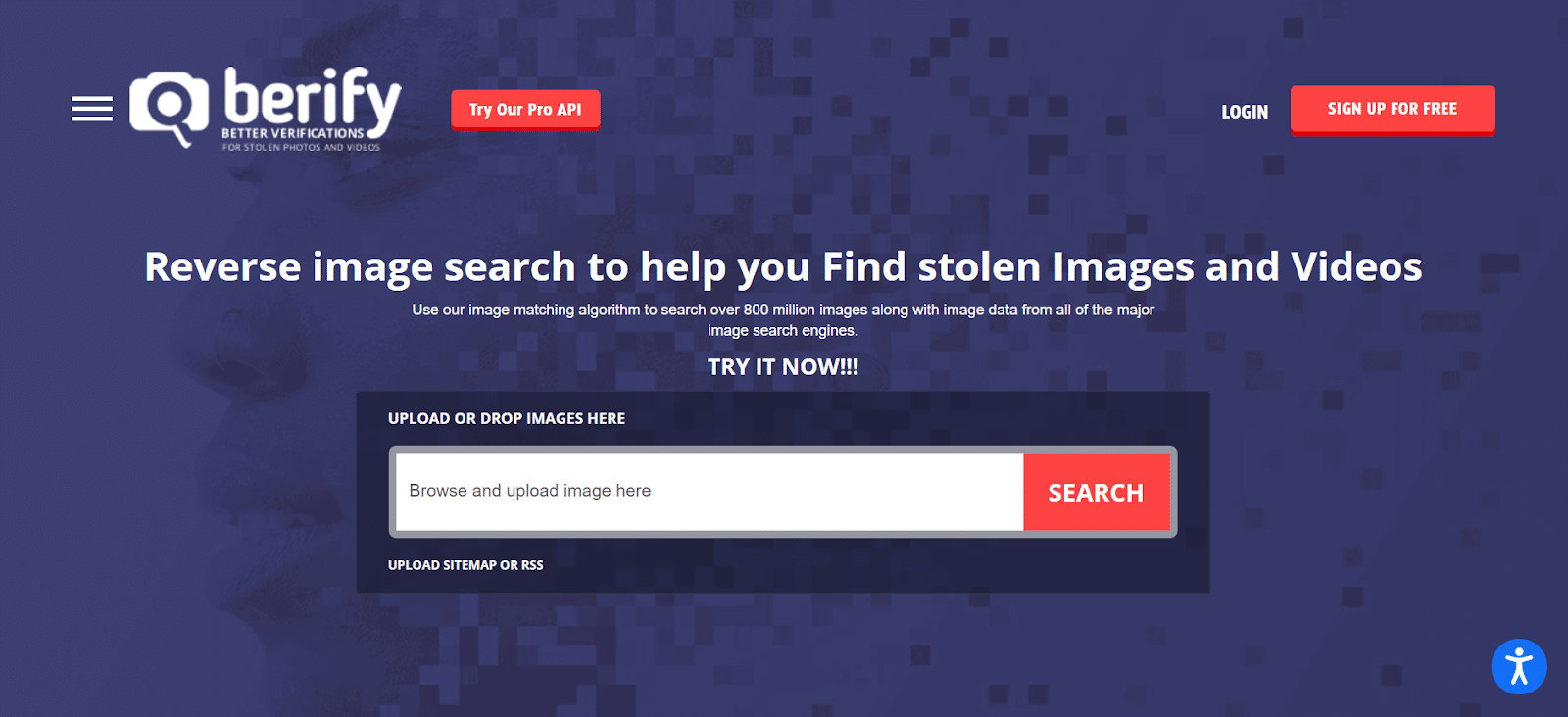 You have to create an account to use Berify. The free plan lets you reverse search five images.
10. Vimeo
Vimeo is the third largest video hosting platform behind YouTube and Dailymotion.
Vimeo doesn't have as many videos as YouTube does, but it allows for higher video and audio quality. Sometimes, you can find the same video on both platforms with a higher bitrate on Vimeo.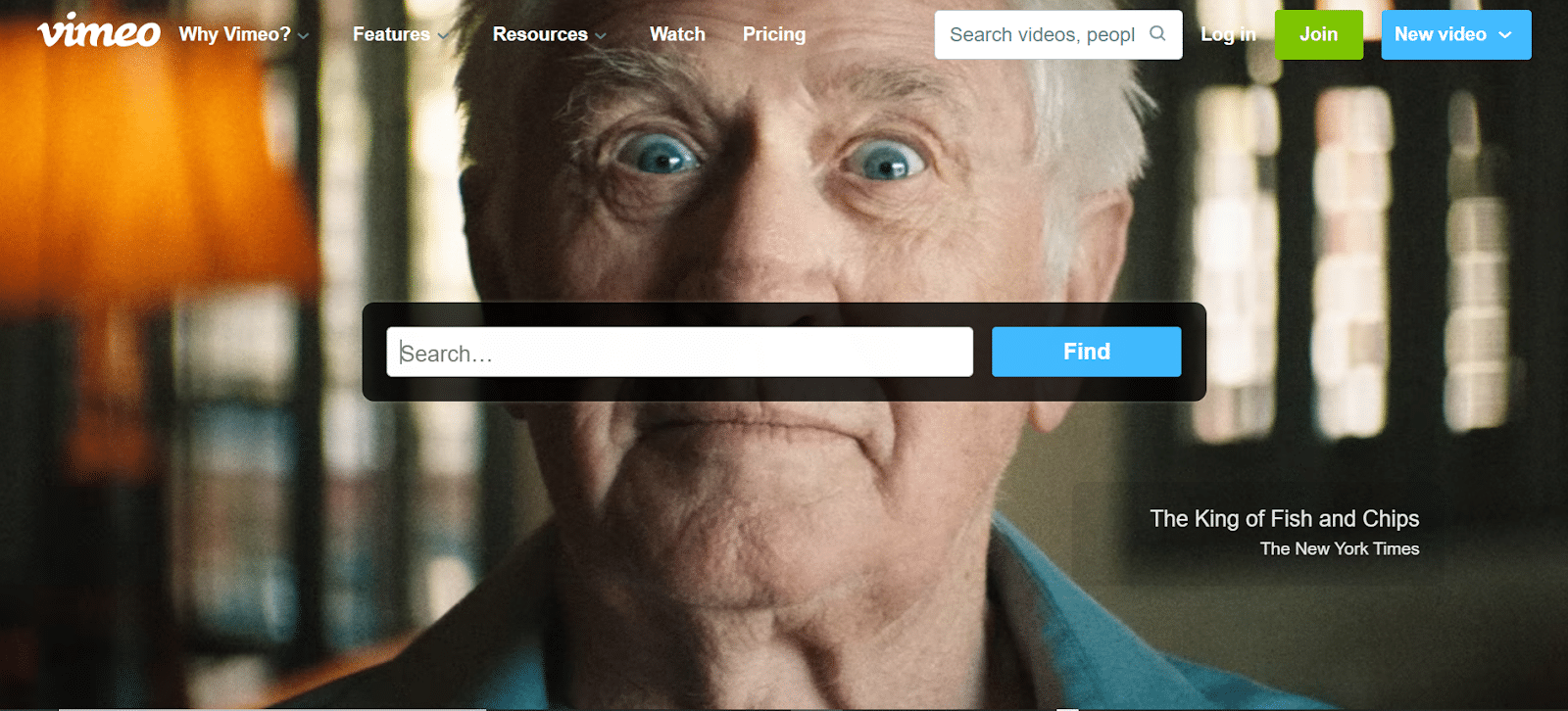 When you search for a video on Vimeo, you can filter by:
Category
Duration of video
Upload date
Whether the video is live
Whether the video is 360
Whether the video is a "staff pick"
Free or paid
Type of license
Vimeo is also an excellent alternative for marketing and content creators.
11. Social Searcher
Social media platforms like Facebook, Twitter, Instagram, Tumblr, and others have video content.
Social Searcher lets you search multiple platforms at once.
You can choose which of 11 sources you want to search and filter by sentiment (whether the post has more positive or negative words) and language.
Social Searcher also provides analytics for the aggregate search results, so you can see who the top posters are, the typical sentiment of the video posts, common keywords from the posts, and more.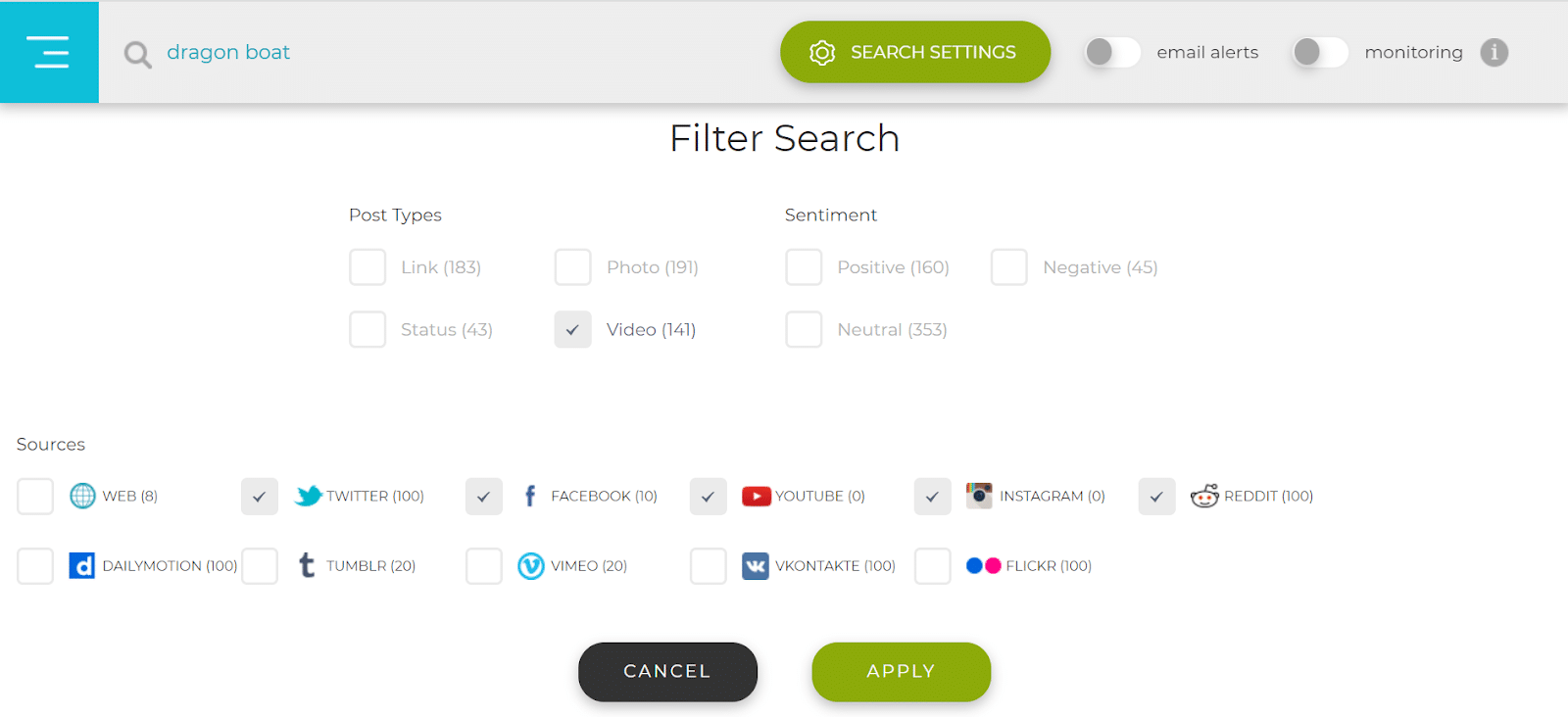 Social Searcher misses a lot of videos. For the most comprehensive results, search each platform individually.
But Social Searcher is a great way to overview what videos are available on a subject across all social media.
12. Ecosia
What if you could help the environment while sitting in front of your computer screen?
Ecosia makes it possible. Ecosia uses the ad revenue from your searches to plant trees in places that need them. According to Ecosia, it takes about 45 searches to plant a tree.
Microsoft Bing powers Ecosia, so your results are likely similar.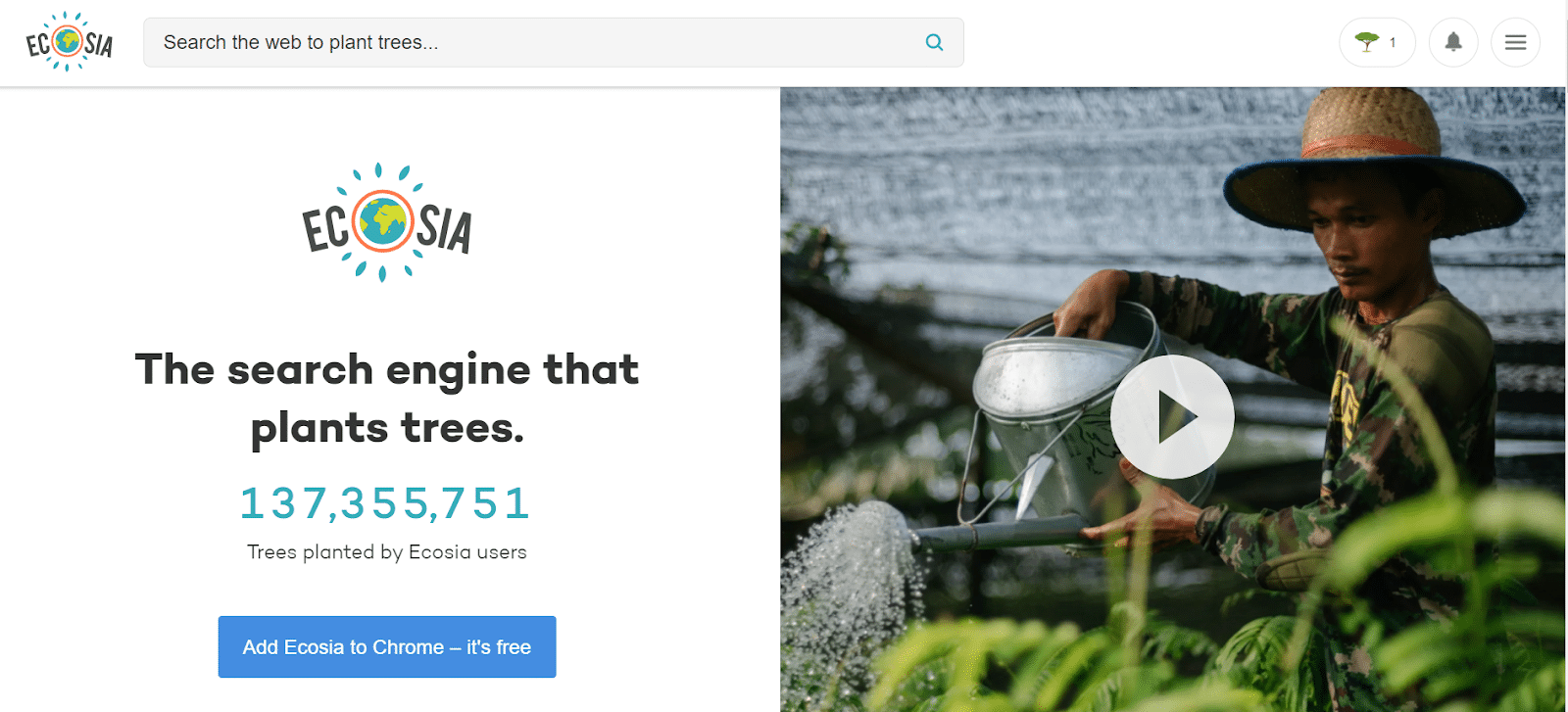 You can filter by resolution, duration, and time posted.
A counter tells you how many trees have been planted with the help of Ecosia users.
13. Yandex
Yandex is Russia's biggest search engine and the fifth largest in the world after Google, Bing, Yahoo! (which is powered by Bing), and Baidu.
Yandex was explicitly created for the Russian market, so you might get a somewhat different mix of results than Google or Bing. But you can use Yandex in English.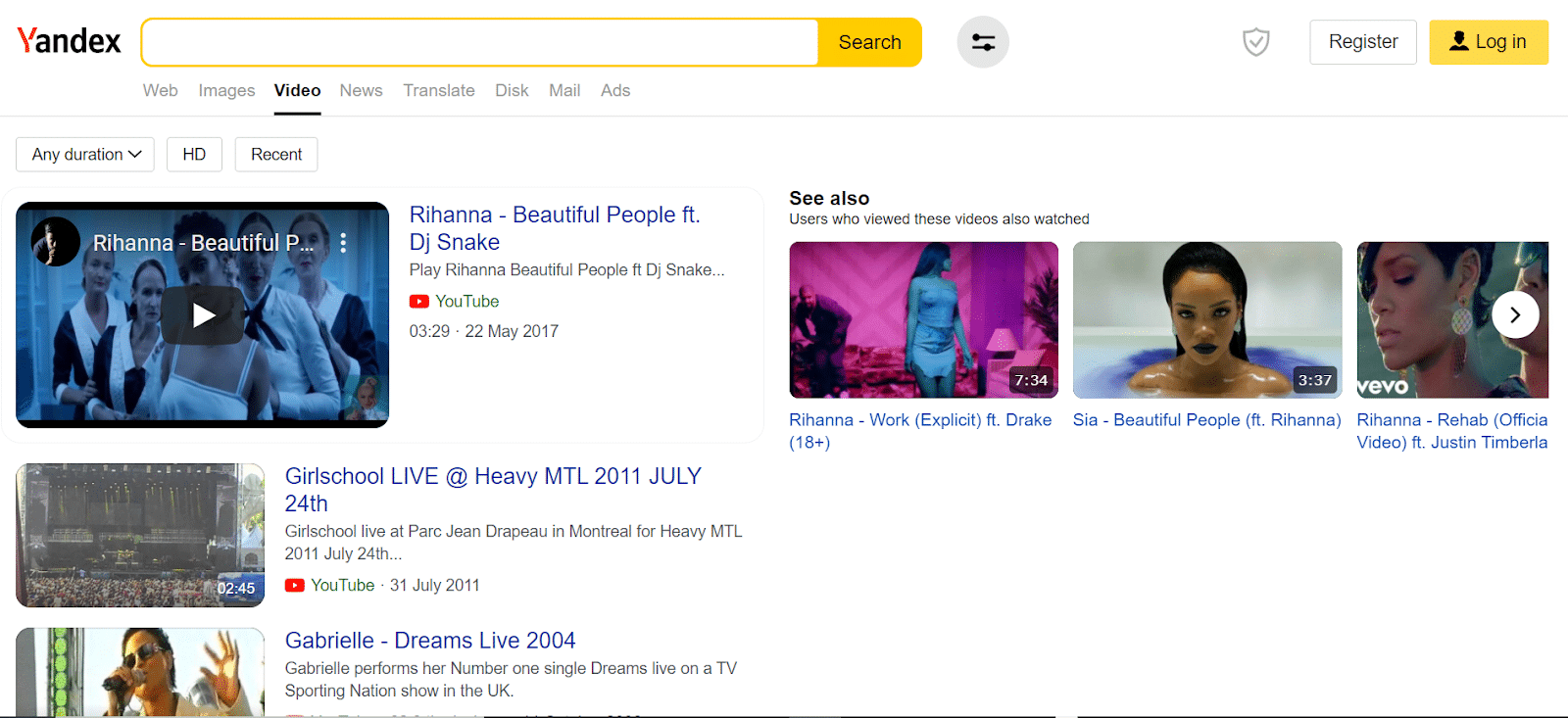 When you search videos on Yandex, you can filter by duration, quality (HD or not), and time posted (recent or not).
The search engine also provides a "see also" section. These videos were viewed by people who also viewed the videos in your SERP. Yandex also made our list for an alternative search engine to use.
14. Baidu
Baidu is the biggest Chinese search engine and the fourth largest search engine globally. The competition in China isn't even close, with Baidu claiming a 70.5% market share compared to Google's 1.6%
Baidu doesn't have an English version, and the results skew heavily toward Chinese sources even if you search for an English keyword. But if you're interested in Chinese videos or getting a glimpse of what the Chinese market sees, Baidu is your best bet.
You can use Google Translate to understand the interface.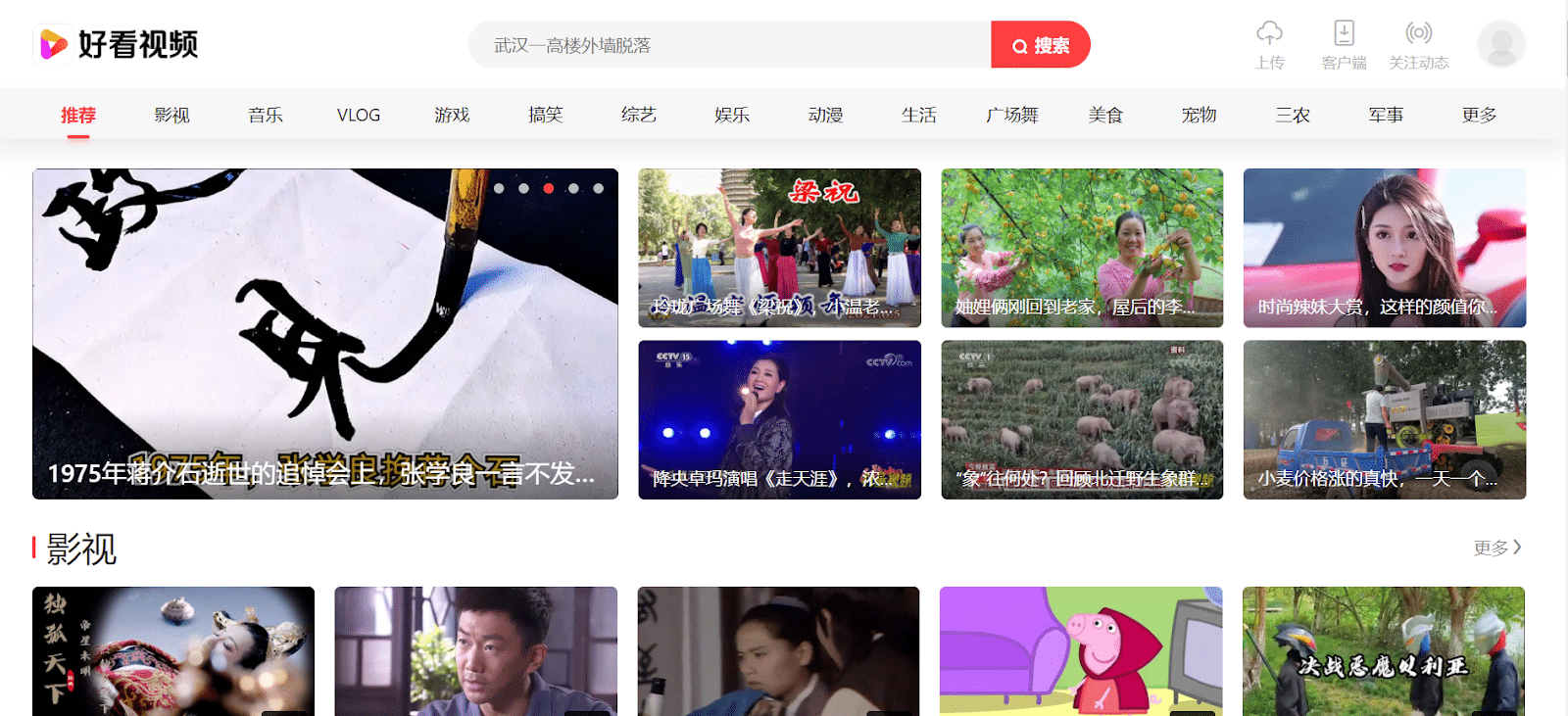 Baidu does not have video filtering options.
15. Swisscows
Swisscows is a privacy-focused search engine offering video search. Like DuckDuckGo, it doesn't collect your data or create a search history.
It also doesn't index or display adult content.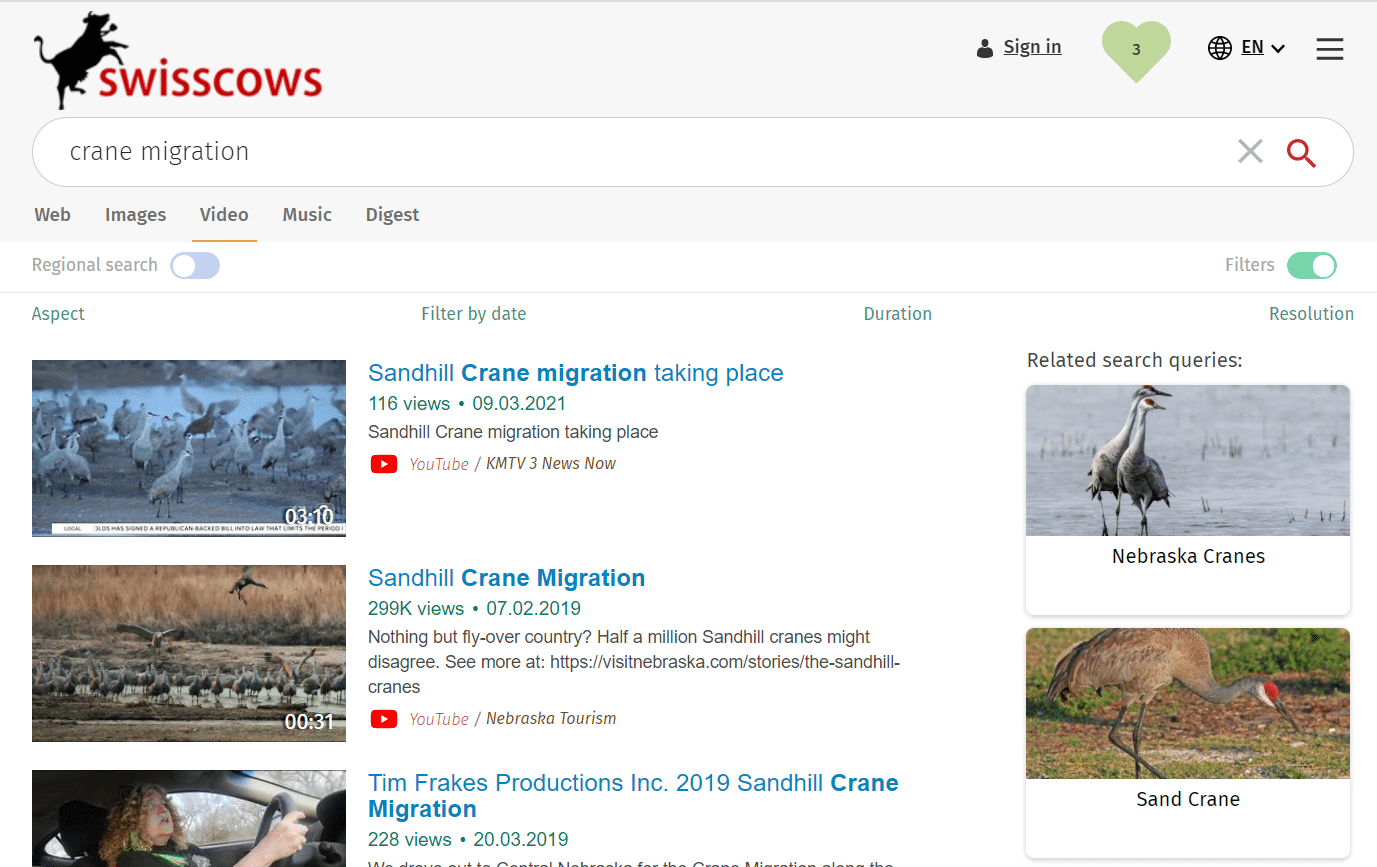 You can filter by date, duration, quality, and aspect ratio (widescreen or standard).
16. Shutterstock
Need a royalty-free video for your website?
Shutterstock lets you search for and purchase stock footage.
You can also search for videos based on an image. Drag and drop your picture into the search bar, and Shutterstock will suggest stock videos with a similar theme.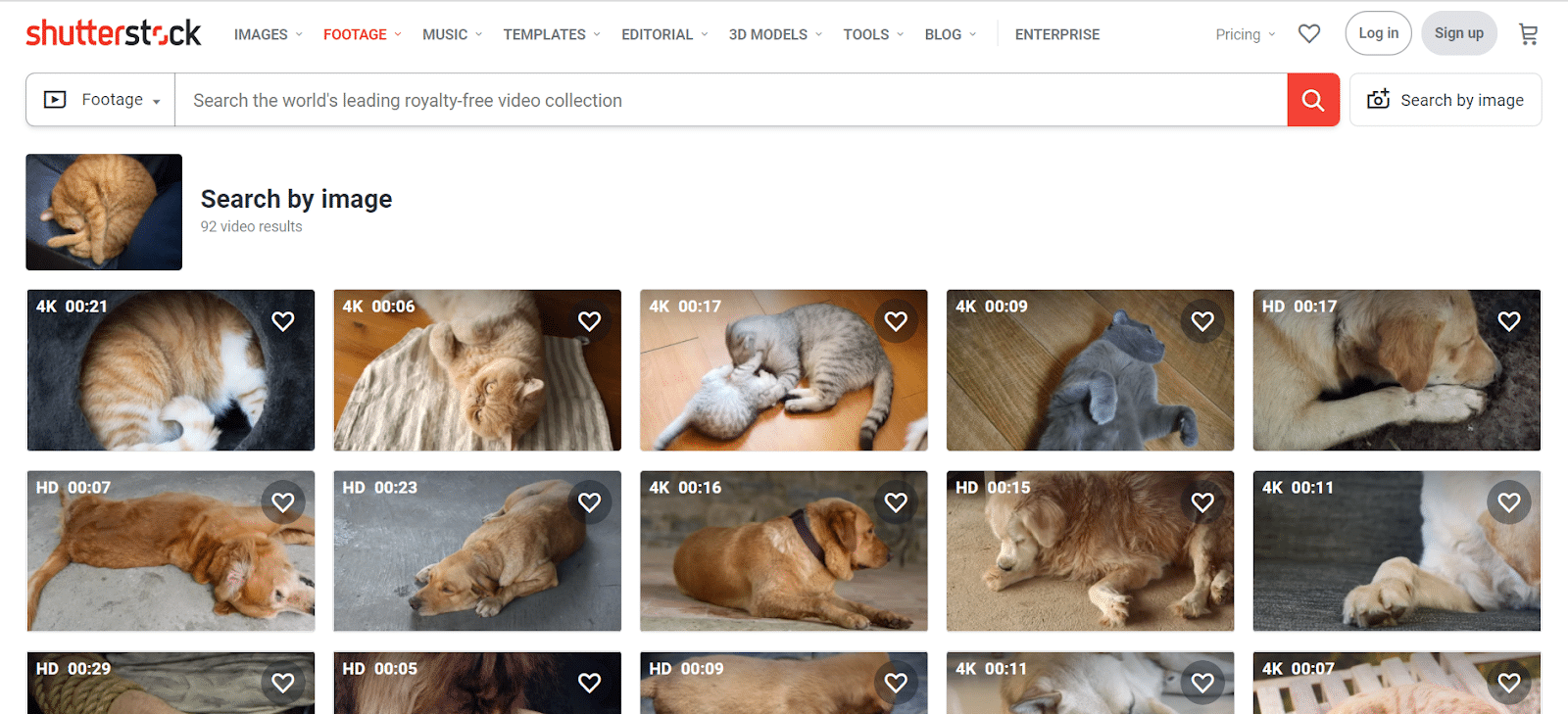 What's the Best Video Search Engine?
The best video search engine depends on your needs. Here are our recommendations:
Best overall video search engine: Bing
Best mobile video search engine: Google
Best reverse video search engine: Berify
Best private search engine: DuckDuckGo
Best social media video search engine: Social Searcher
How Do I Optimize My Video for Search Engines?
Now that we've gone through all the ways you can find a video online, let's talk about how you can make sure that other people find your videos.
The first step is to decide where to upload your video.
Choosing a Hosting Platform
Most people immediately think of YouTube when deciding where to put a video. Maybe you also consider a YouTube competitor like Vimeo.
These hosting services can be great for building brand awareness. Many people go directly to YouTube to search for videos, and your content will probably come up in a Google search.
But if your goal is to drive traffic to your website, YouTube might not be the best choice.
The problem is that many people will go to YouTube rather than your website to watch your video. Even if you embed the video in one of your web pages, you'll essentially be competing with yourself.
If Google or another search engine shows the YouTube result before your web page, the traffic will go to YouTube.
To ensure video traffic goes to your website, you can choose to host your videos on a service like Wistia or Brightcove. These solutions are designed to help you place the video on your website.
SEO for Videos
Just like your website itself, your videos should follow SEO best practices.
Keyword Research
Start by researching keywords that you want your video to rank for. If you're not familiar with keyword research techniques, you can follow our step-by-step guide.
You'll use these keywords in your video's metadata, like its title and description. Some video hosting services have a place to enter the keywords you want to be associated with your video.
Make sure to narrow it down to a few crucial terms — cramming 15 keywords into the video's title won't help it be discovered.
Transcript
There are a couple of important reasons to transcribe your video.
First, it helps search engines understand your content. Google can't hear what keywords are being spoken in a video, but it can read the transcript.
It also makes your video accessible to a larger audience. On some video services, the transcript is used to create captions. In other cases, the transcript will appear below the video so people can read along.
Thumbnail
Most video search engines display their results as thumbnails. Video hosting services typically let you choose which image to use as the thumbnail.
If you want people to click on your video in the SERP, the thumbnail should be exciting and engaging. It should also give some indication of what the video is about.
Web Page Optimization
If you're hosting your video on one of your web pages, that page should be optimized for search engines as well.
Check out our 60 tips to grow organic traffic for up-to-date SEO advice.
Why Aren't Search Engines Finding My YouTube Video?
You created an awesome video, uploaded it to YouTube (or another hosting service), and eagerly waited to see it on the Google SERP.
But it's not there. What went wrong?
It could be that you just need to wait a few days. Google may not have indexed your brand new video yet.
If it's been a while, check your video's title, description, and tags to make sure they match your intended search terms. Upload a transcript if you haven't yet.
Finally, check the YouTube Studio for your channel. Under "Content," see if your videos are listed as public or if they have any restrictions on them.
Summary
If you're looking for a video online, you have many search options. All major search engines (plus quite a few niche solutions) offer video search.
Want to make professional-quality videos for your website? Try one of these free video editors.
Do you have any other favorite video search engines? Please share it with our community in the comments below!