In 2023, YouTube is the most used platform among US adults. But just because it's the leading video platform and search engine on the market doesn't mean there aren't better alternatives for some use cases.
Many YouTube video creators have started exploring other options due to an ever-increasing number of ads shown per video and algorithms interfering with uploaded videos.
And there are plenty of options out there.
In this article, we look at the best free and paid YouTube alternatives and discuss when a business owner should choose an alternative over YouTube.
Check Out Our Video Guide to the Best YouTube Alternatives
Can YouTube Be Replaced?
YouTube is the most established online video platform on the market. Over 2 billion logged-in users visit the platform monthly, and billions of hours of video are watched by its global audience every month.
So from a market and audience perspective, it's unlikely that the options on our list will completely replace YouTube any time soon.
But if you don't already have an established YouTube channel, it still might be worth your time to consider a different option for your video strategy.
Whether you make videos and use them to reach a new audience or incorporate it on your website to convert visitors to leads, there are great options you can use to replace YouTube.
Who Are YouTube's Competitors?
YouTube has competitors in different categories. As a social video-sharing platform, Twitter, Instagram, and Facebook have become competitors with native video.
These platforms have increased their focus on video over the past couple of years, with Facebook even releasing Facebook Watch — a video-centric feed customized for each user — in 2018. Twitter also allows users to upload native videos, and Instagram launched IG TV last year.
When speaking strictly of video hosting platforms, there are free options like Dailymotion and premium solutions like Wistia, Vimeo, and Spotlightr.
Best Free YouTube Alternatives
Below, we've covered an extensive list of free YouTube alternatives for content creators and businesses.
1. Dailymotion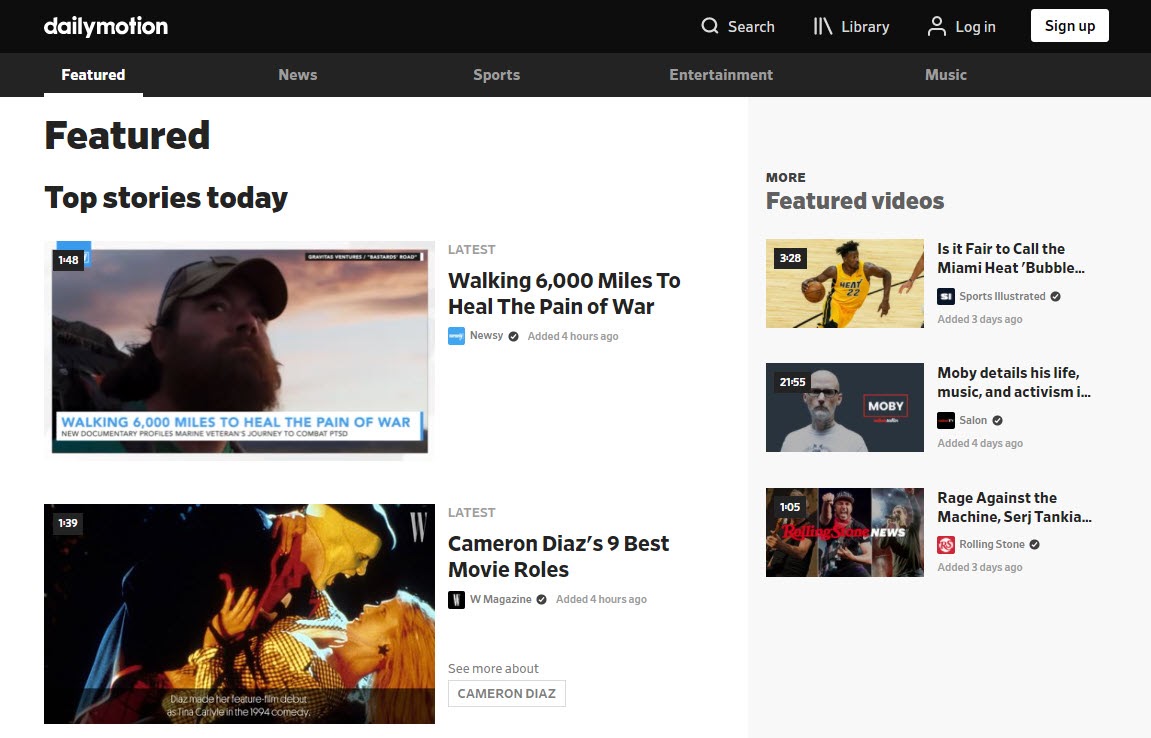 Dailymotion is a video hosting and sharing platform to upload and share your videos with an existing audience. You can use it to create a video channel, garner a following, and make money from shared ad revenue.
Sounds familiar? It's the closest you can get to YouTube without actually being the same thing.
Pros
Free unlimited video uploads
Upload support for HD videos up to 2 GB and 60 minutes long
Support for 4K video uploads and playback
Sleek embedded video player
Creators can earn money on ads
Cons
Smaller audience
Ads on all videos, even non-partner channels
Audience
As a content creator or marketer, audience size is critical to consider when choosing a YouTube alternative.
Dailymotion claims to have 300 million active users on its platform. They're likely referring to an average of 300 million unique visitors per month because if you look at their top channels and videos, the numbers don't quite add up.
For instance, T-Series, the giant with over 190 million subscribers on YouTube, has under 10 thousand followers on Dailymotion. Sure, they've only uploaded a few videos, but considering the most popular Dailymotion account, that number isn't awe-inspiring.
Finally, if we take a look at what's trending in video lists on Dailymotion, we see drastically different numbers than YouTube presents: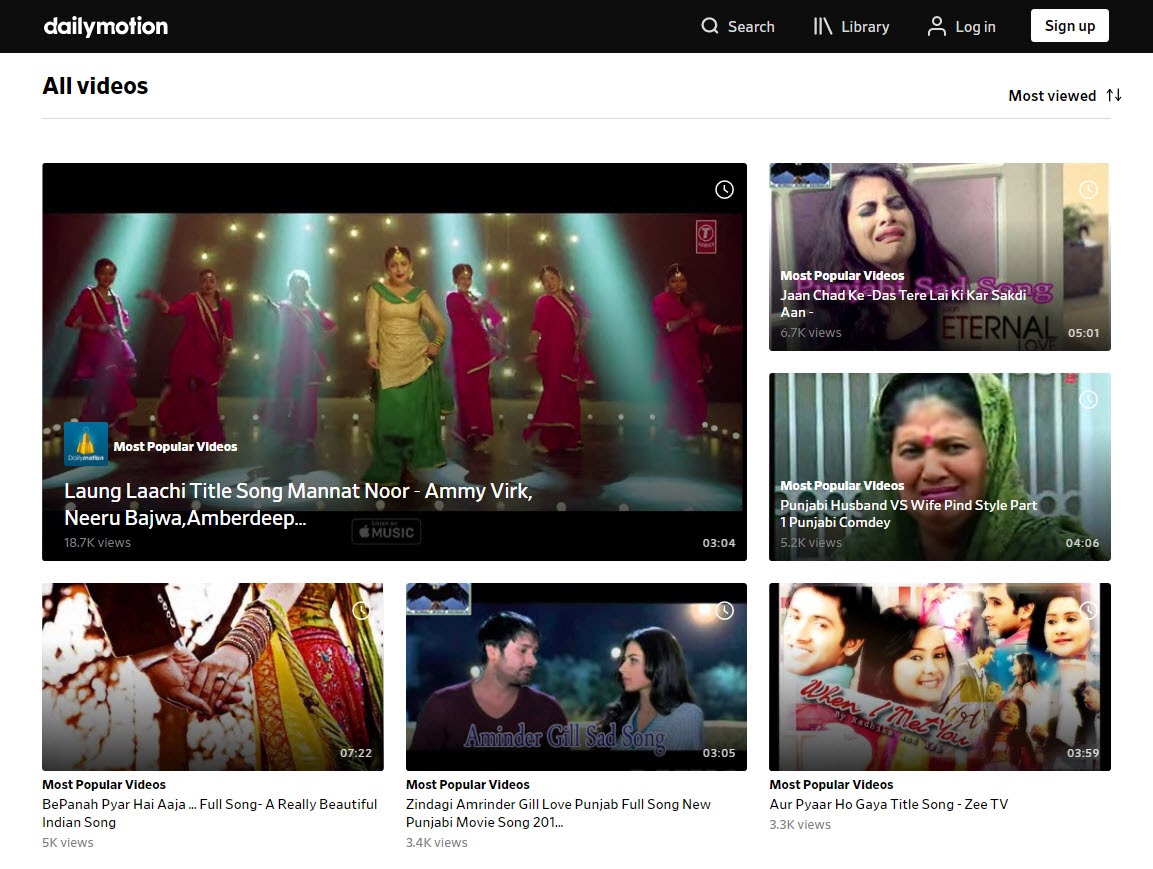 The top result is nowhere near a hundred thousand views, and the second has a meager five thousand.
Many of the trending videos only boast a few hundred views apiece.
These factors should make things crystal clear: Dailymotion has a much, much smaller audience than YouTube.
Is Dailymotion Better Than YouTube?
Since Dailymotion is a direct competitor, it's fair to ask the question if it's better than YouTube.
YouTube supports the exact video resolution, longer videos, and larger file uploads. YouTube also has a much larger audience, and the traffic potential of getting a video recommended or listed in search results is much higher.
But on the other hand, competition isn't nearly as tough on Dailymotion. As we covered, you can hit trending lists and get your video promoted by just reaching a thousand views in 24 hours. That number wouldn't move the needle on YouTube's larger platform.
Dailymotion could be a worthwhile option to test as a new distribution channel for your videos if you have a small audience. You'll have a higher chance of them being seen and shared by others among Dailymotion's user base.
One thing Dailymotion does better is embedded videos. The final result looks sleeker, with no branding or extended playback options: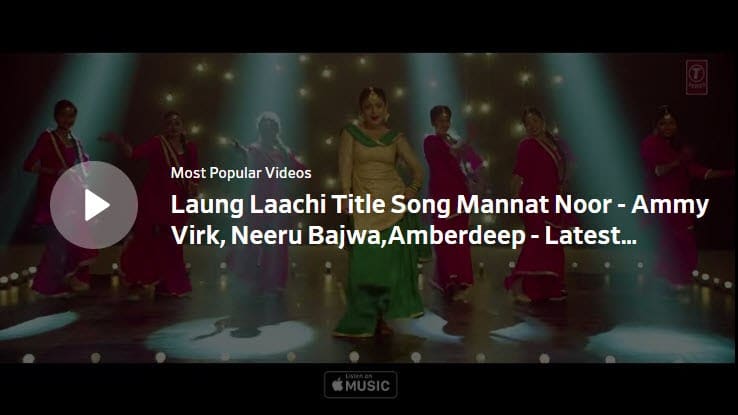 Their embedded player makes it a better option for website owners to implement short videos in articles and pages.
Great Alternative For:
Content creators who don't already have an established YouTube presence (potential to become a big fish in a smaller pond)
Small businesses that want a free video-hosting alternative to YouTube to host their embedded HD videos
2. Vimeo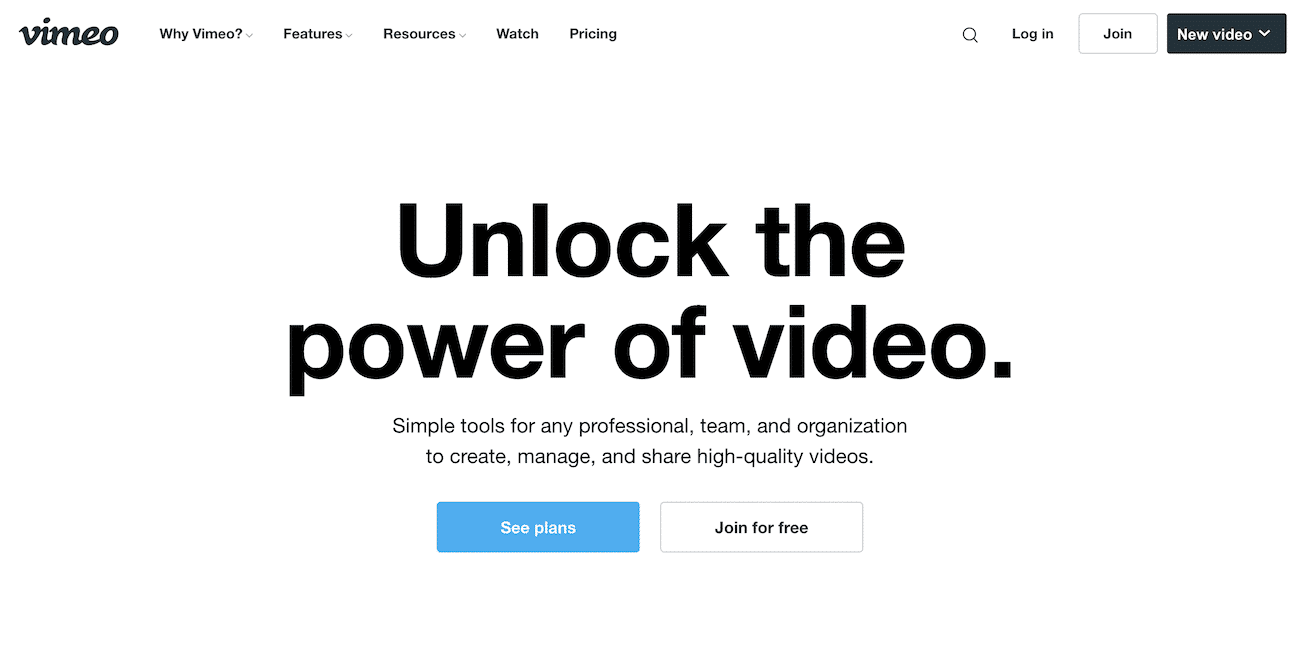 Vimeo is a video platform that offers tools for hosting, collaboration, sharing, compressing, lead generation, and more.
It has an active user base focused on specific niches, making it an eligible audience-building platform for some creators or businesses.
Pros
Support for 4K video upload and playback
Supports live streaming
Fully customizable embeds
Engaged user base
Cons
The free plan is limited to 500 MB in uploads per week
Max video size for free users is 500 MB
No ad revenue potential for creators
Audience
Vimeo has over 200 million users, which falls just shy of 9% of YouTube's total audience size.
But unlike Dailymotion, Vimeo has a core set of active users that maintain a thriving community.
While YouTube is home to all sorts of creators that cover a host of genres and topics — from travel, to sports, to gaming, to DIY — the most popular videos on Vimeo fall into a small grouping of categories:
Short films
Nature videos
Extreme sports
Music videos
Animations
The community celebrates creativity and will happily share your work if you meet their cinematographic standards.
Vimeo also has a feature page of human-curated picks and short film premieres: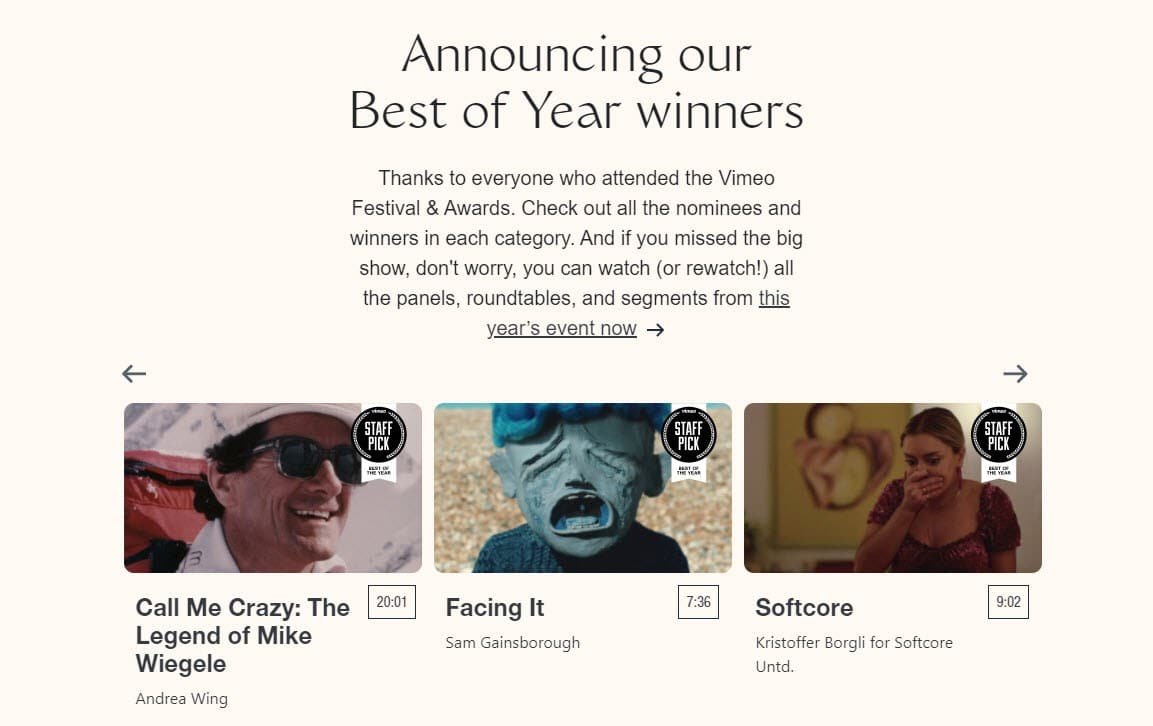 This process offers a shortcut for new filmmakers and creators to reach an audience.
Is Vimeo Better Than YouTube?
For some creators and businesses, Vimeo could be a better platform than YouTube.
If you manage a video production company or an amateur videographer, Vimeo's tight-knit community of professional creatives is the perfect match. Since it's a smaller and more focused audience, it can be easier to gain traction and views without a following.
Pro users can even list their work availability and a "Hire" button under all of their videos on the platform:
Many industry professionals also prefer the Vimeo player, so uploading your showreel to the platform doesn't hurt.
If you're a business owner who needs a video hosting service for your website, Vimeo offers a much better embedded video player than Youtube.
You can customize the embed code directly and create full-screen videos that start automatically, without the need for third-party tools or services: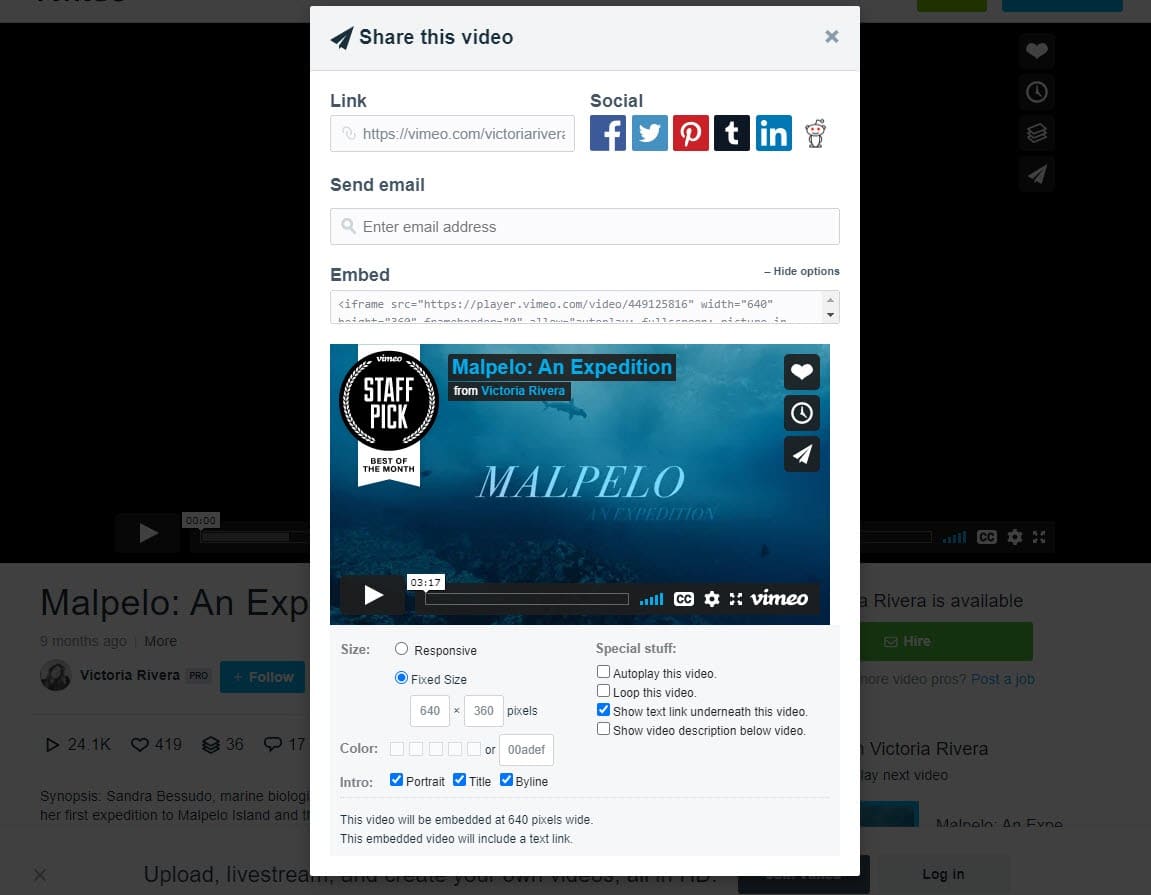 You can even alter the playback color scheme to match your brand's colors.
If you need somewhere to upload videos to embed them on your website, Vimeo is a great choice — customizable, sleek embeds for HD video, at a total cost of $0.
Great Alternative For:
Visual artists, animators, videographers, and other creative professionals
Business owners looking for a free video hosting site with great-looking embeds
3. Facebook Watch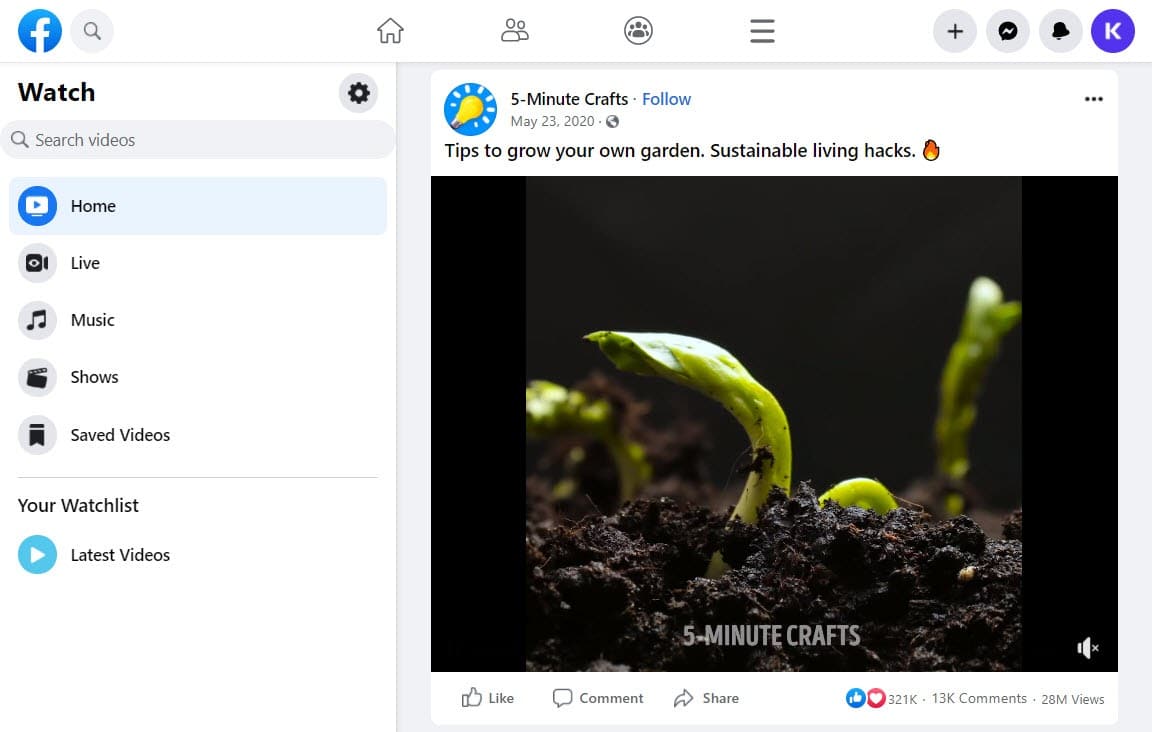 Facebook has doubled down on video over the past few years. They've even released Facebook Watch, a feature that allows you to browse and watch trending videos based on your interests and viewing history.
The interface is quite different from YouTube, but the content and audience often overlap.
In many ways, Facebook is now a full-fledged competitor in the video hosting/sharing space.
Pros
Larger potential audience and reach than YouTube
Native video sharing on Facebook
Option to earn money with ads
Supports files up to 10 GB and 4 hours long
Custom audiences for retargeting campaigns
Livestreaming
Cons
Capped max resolution at 1080p
Clunky embeds
Audience
With nearly 3 billion monthly active users, Facebook is the only alternative with a broader user base than YouTube.
Now, video sharing isn't the primary purpose of Facebook, but it has become a significant part of the user experience on the platform. Just check your timeline and see for yourself, or read up on the latest Facebook statistics.
In the past, Facebook video publishers have surpassed 3 billion views in a single month. Some, like LADbible, started and built their audience entirely on Facebook, while Nas Daily, a popular travel vlogger, routinely racks up tens of millions of views on his videos.
And because Facebook has an ad-based model, successful creators receive a split of the revenues and support themselves.
Facebook can also be an excellent sandbox for businesses to reach new audiences with their video marketing efforts.
Great Alternative For:
Travel vloggers, YouTube chefs, and other content creators
Small businesses that want to reach new audiences with their videos
Marketers looking to create seed audiences for future Facebook marketing campaigns
4. Twitter Video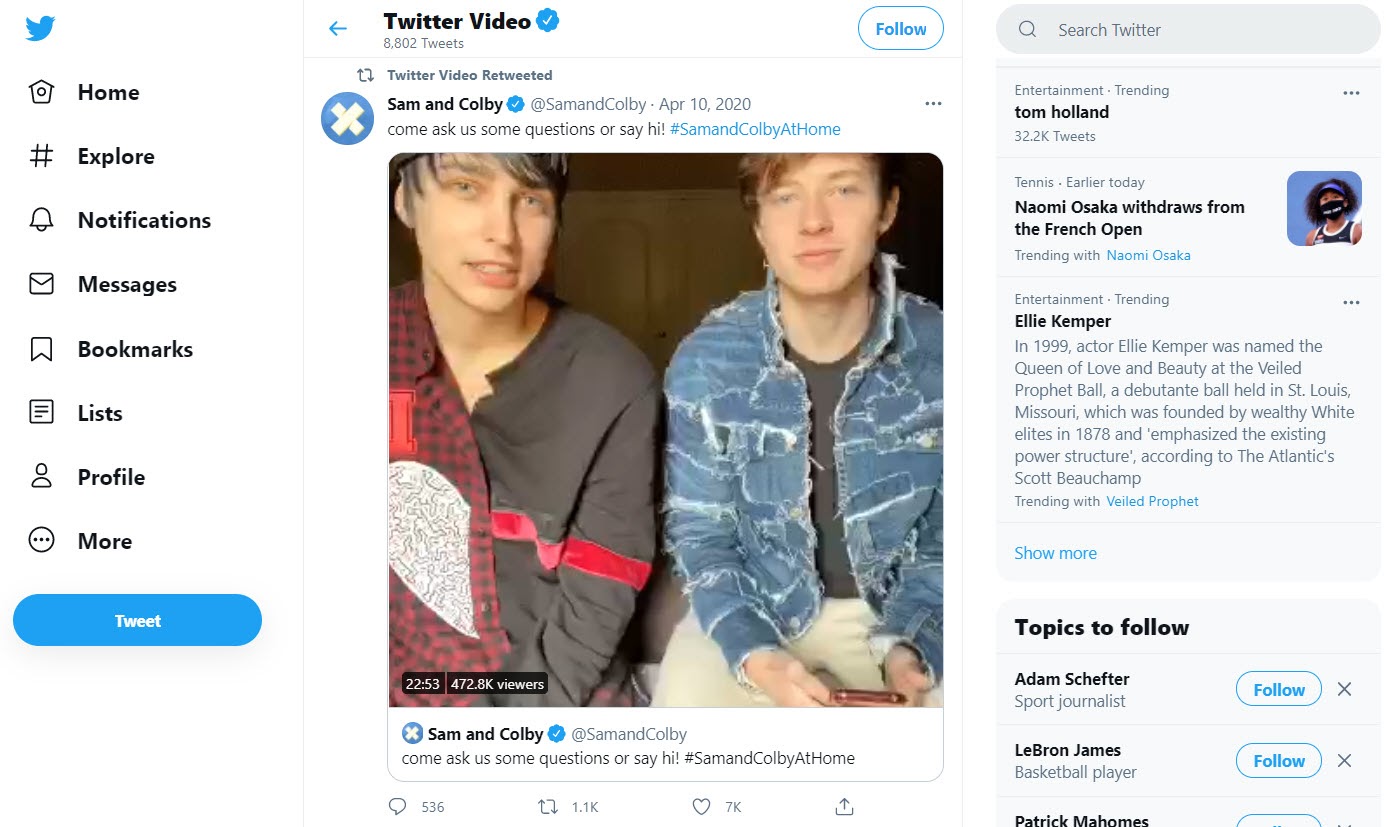 Twitter is another social media platform that is going all-in on video. They launched Twitter Live more than three years ago and have been covering sports events regularly ever since.
But that's not all: any Twitter user can upload and share videos, or start a live stream on the platform.
Pros
Native video sharing on Twitter
Low-fi videos do well
Livestreaming
Cons
Max video length is 140 seconds
The maximum resolution is 1200p
Long-Form vs Short-Form Video Content
Industry experts that know the ins and outs of YouTube SEO have noticed a trend where YouTube favors longer videos — preferably over 10 minutes — for recommendations and search results.
If you struggle with making well-produced, 10-minute-long videos, Twitter might be a better place for you to experiment with video content.
Twitter is a platform where "short and snappy" pays off, so if you're not wordy by nature, it could be a match made in heaven.
Great Alternative For:
Comedians and other creators who thrive with short-format videos
Accountants and other professionals who can answer quick, specific questions
Anyone who struggles with long-form videos
5. IG TV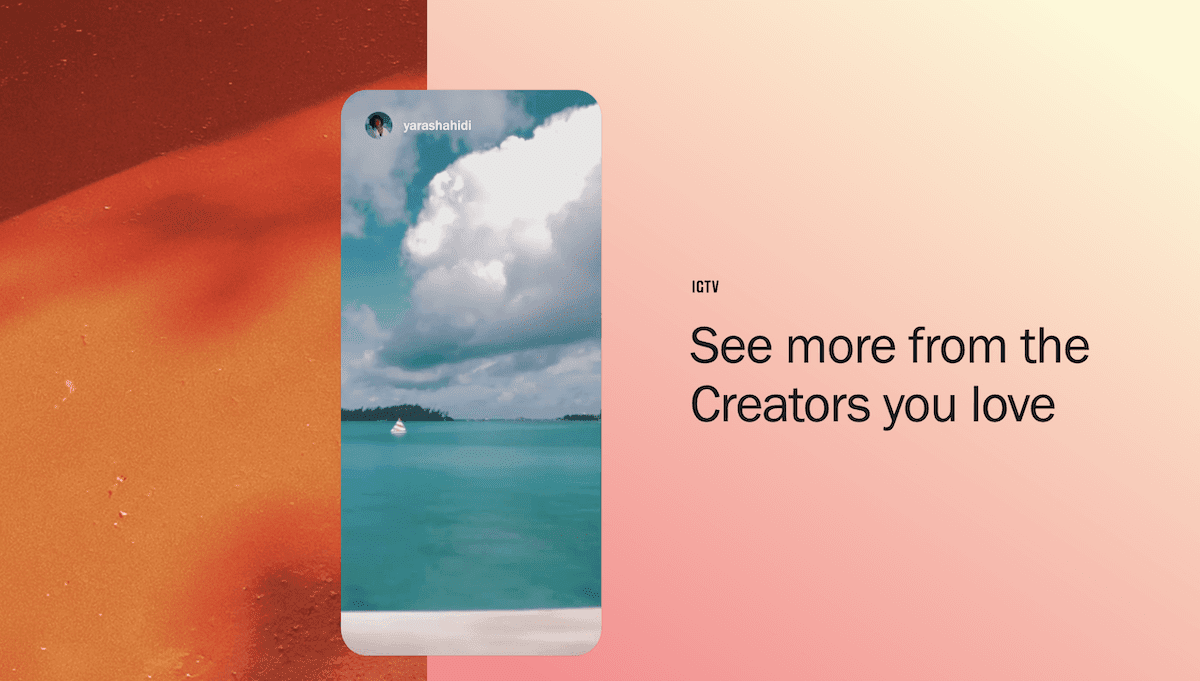 IG TV is Instagram's video-sharing platform, designed as a 100% mobile-first environment.
It was released in 2018, and is more the spiritual successor of Vine than a direct attack on YouTube — Facebook is handling that with Facebook Watch.
But that doesn't mean it can't be a viable alternative to creators and businesses seeing no traction on YouTube.
Pros
Native video sharing on Instagram
Full support for native mobile video formats
Low-fi videos do well
Cons
Maximum 10 minutes for regular accounts
Restricted to application
Mobile-First Video Experience
Instagram's objective with IG TV is to create the first platform with an optimized mobile-first video experience.
With full mobile portrait video as the norm, you get an up-close and personal experience with the video creators.
It can be an excellent tool for building deeper relationships with your audience through unstructured mobile video.
Great Alternative For:
Businesses that can't afford a camera or production crew
Content creators with a younger audience
6. DTube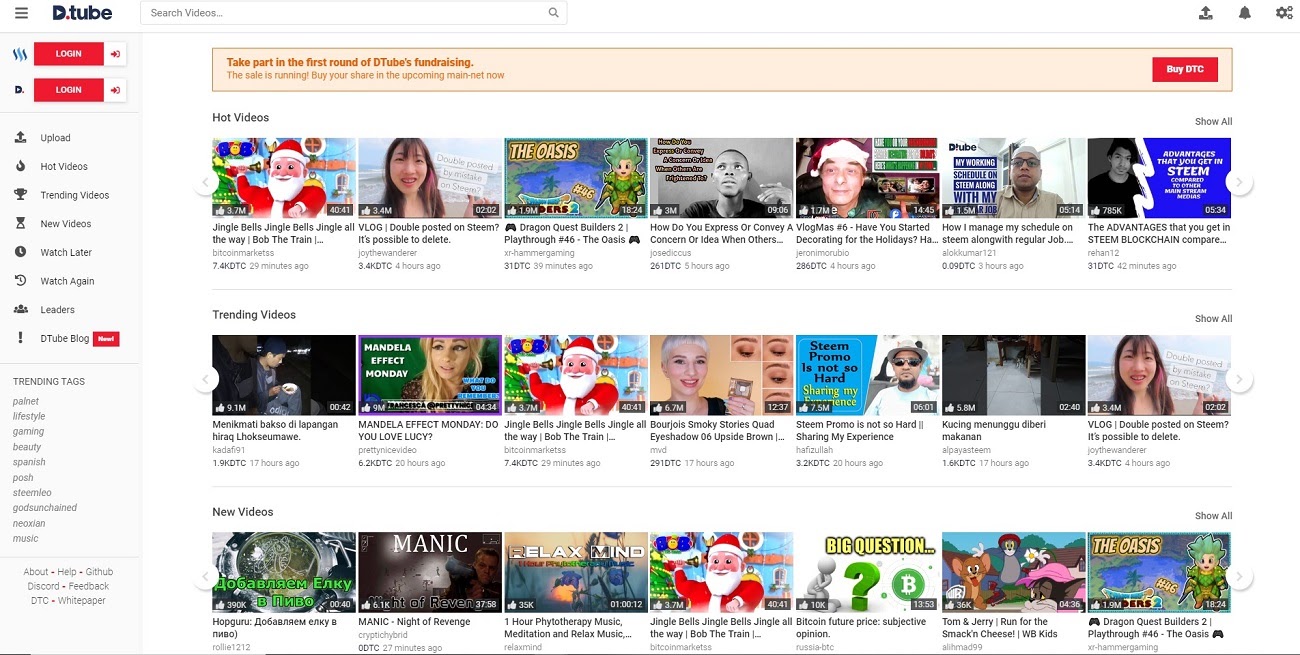 DTube is a YouTube alternative that uses blockchain technology to share videos from peer to peer.
The decentralized approach means that there's a reduced risk of server outages interrupting your video.
The platform supports free speech and opposes the AI-based censorship by YouTube, and all video creators can earn DTube's cryptocurrency for successful videos.
You can also share videos hosted elsewhere rather than uploading them to the IPFS.
Pros
No censorship
Earn cryptocurrency
Cons
Small audience
Clunky interface
Great Alternative For:
Blockchain enthusiasts
Free speech enthusiasts
Best Paid YouTube Alternatives
Below, we cover the best premium alternatives to YouTube for hosting your videos online. If you are a business owner or marketer and need more than just video hosting, these will be right up your alley.
7. Wistia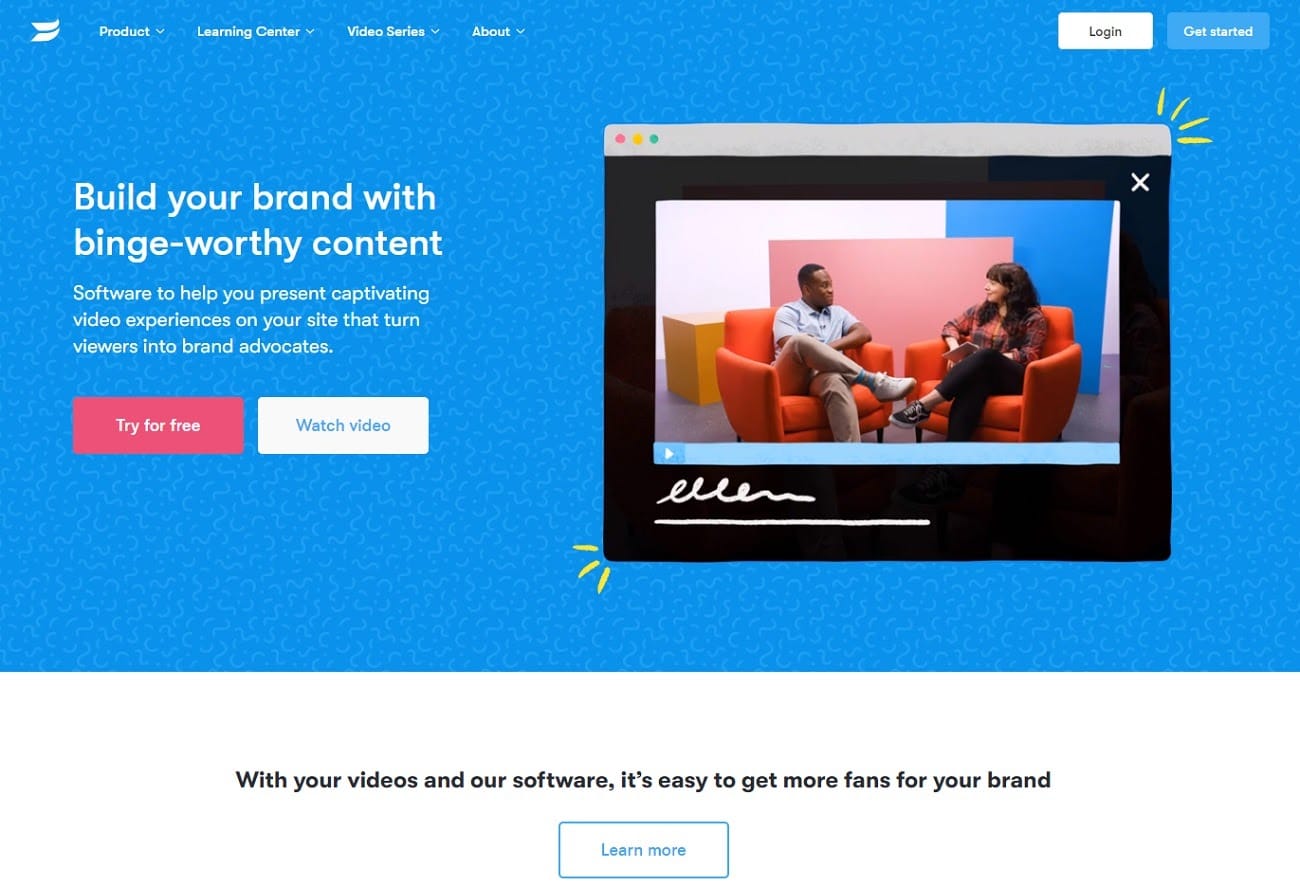 Wistia is a professional video hosting platform that will help you integrate video with your other marketing efforts.
It offers detailed video analytics, in-video lead capture forms, marketing automation tool integrations, and more.
Suppose you're already using analytics tools, CRM, or other business tools, and have a data-driven approach to developing and optimizing your marketing campaigns. In that case, it will be right up your alley.
Pros
4K Video support, up to 8 GB files
Awesome, customizable embeds
Create custom audiences for Facebook ads based on user activity
Capture leads from within the video player
Sync email and other data with autoresponders and CRMs
Cons
Price: Wistia starts at 99$/Month, +$0.25 for every video after the tenth
No audience
Beautiful Embeds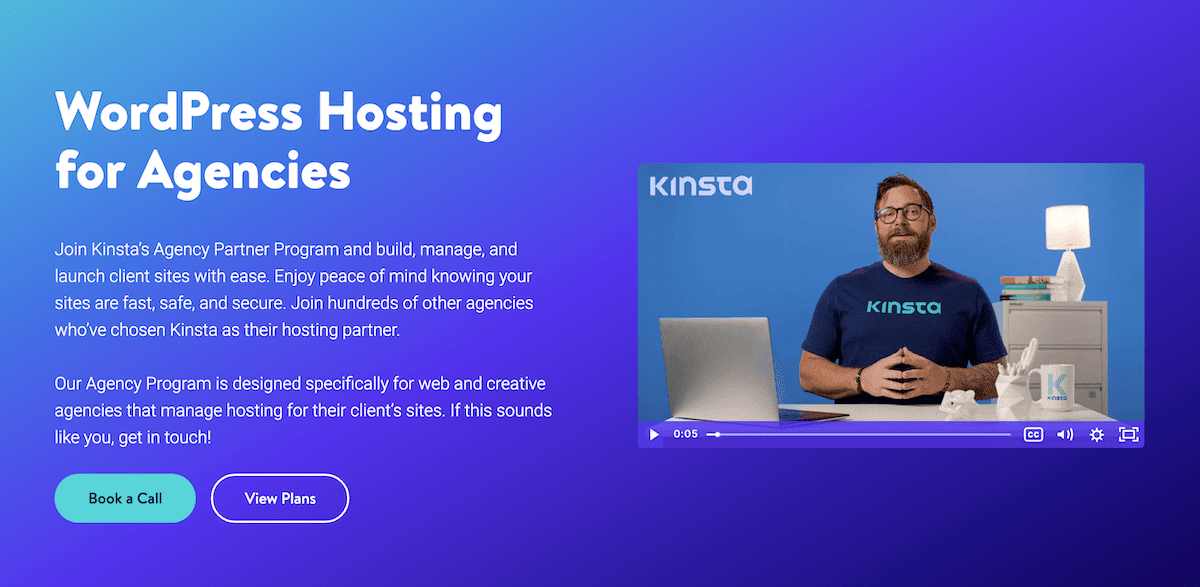 One of the best features of Wistia is that you get complete control to customize each embedded video player.
The standard inline embed code produces a sleek, responsive video player in your content. It automatically matches the container size, which makes it easier to include video throughout multiple pages.
Taking things to the next level, you can add CTAs or even a lead capture form at the beginning or end of your video.
Great Alternative For:
Marketers that want to use on-site video more efficiently in their funnel
Leads-focused businesses with long sales processes; insurance, etc.
8. Spotlightr (Formerly vooPlayer)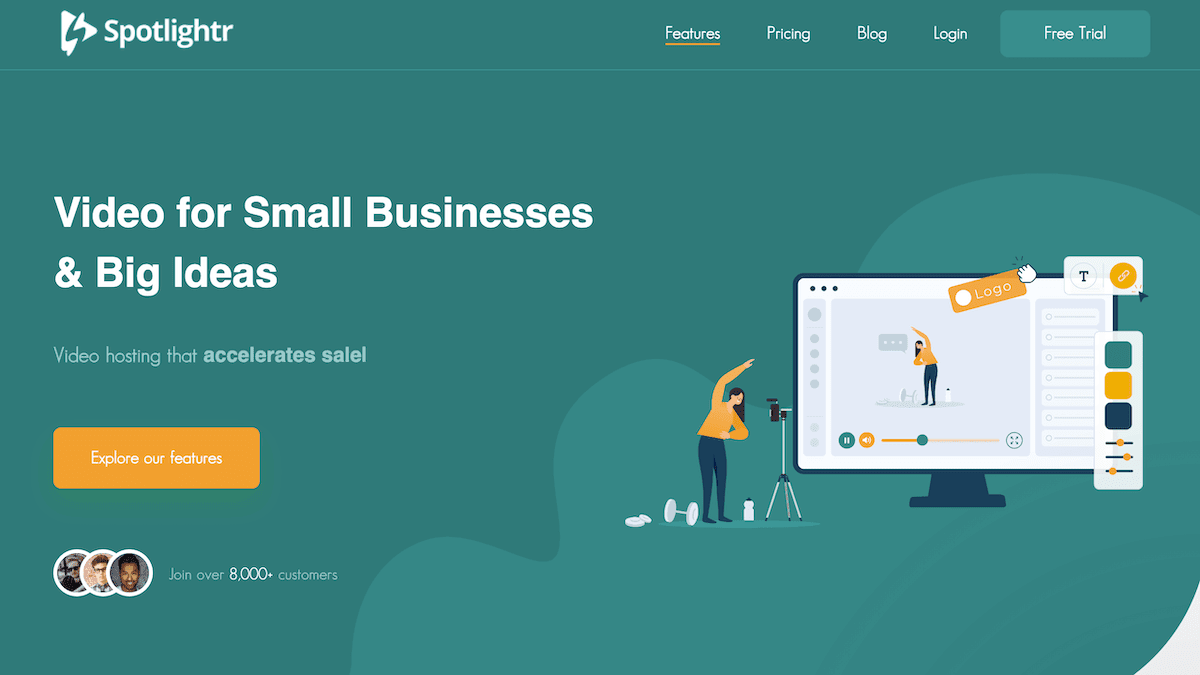 Spotlightr, rebranded from vooPlayer, is a similar video marketing platform that offers advanced analytics tools, lead capture, business tool integration, and advanced security features.
You can even run a contest or giveaway exclusive to people who watch a specific video. Pro users can also set up PPV VODs on their website without having to create a membership portal.
If you want the swiss-army knife of YouTube alternatives, Spotlightr is your best bet.
Pros
4K Video Support
Advanced analytics
Marketing automation integration
Audience building tools
Reasonable price: $17/month for their startup plan
Cons
Only 25 GB storage
Complex
Way Beyond Video Hosting
Spotlightr and its features go way beyond the realm of simple video hosting. It's a complete toolbox that will help you integrate video in every step of your marketing and sales processes.
Create audiences for Facebook and Google ad campaigns with its built-in audience builder. Host live streams and run contests for your audience.
Heatmaps and advanced analytics give you the low-down on how your audience is interacting with your video content.
Spotlightr is a great tool that will help you with all your video marketing campaigns.
Great Alternative For:
Marketers that want to use on-site video more efficiently in their funnel
Leads-focused businesses with long sales processes; insurance, etc.
9. Brightcove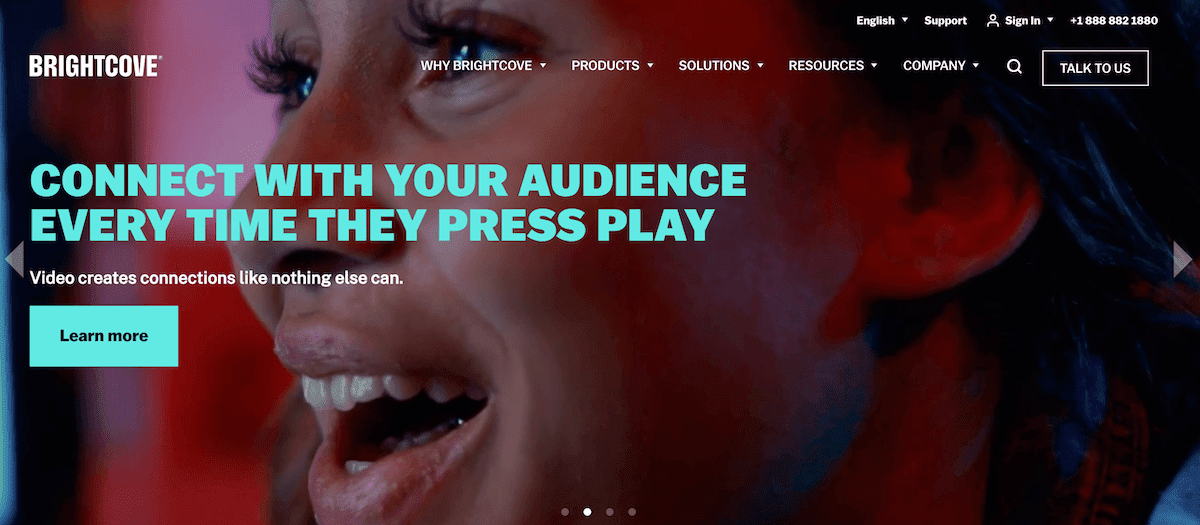 Brightcove is the leading online video platform for enterprises and distributed businesses. According to their website, over half of the companies on the Fortune 500 list are already clients.
Beyond video hosting and live streaming, Brightcove takes things to another level. You can use OTT technology to deliver live video on smartphones and smart TV apps.
For publishers, it offers server-side ad insertion into the hosted videos. You can integrate it with a DSP and sell ad spaces directly to your clients.
Real-time video analytics help you understand how your customers and prospects interact with the videos on your website.
Pros
UltraHD support up to 8K video resolution
Deliver and sell ad spaces in your videos
Integrate videos across apps and websites with advanced content management
Collaboration tools improve final video quality
Real-time analytics give you new insights
Build sophisticated audiences based on video interactions
Cons
Enterprise pricing. There are also no pricing models on their site.
Clunky interface
Great Alternative For:
Enterprises looking to centralize their videos and use audience data to personalize experiences
10. SproutVideo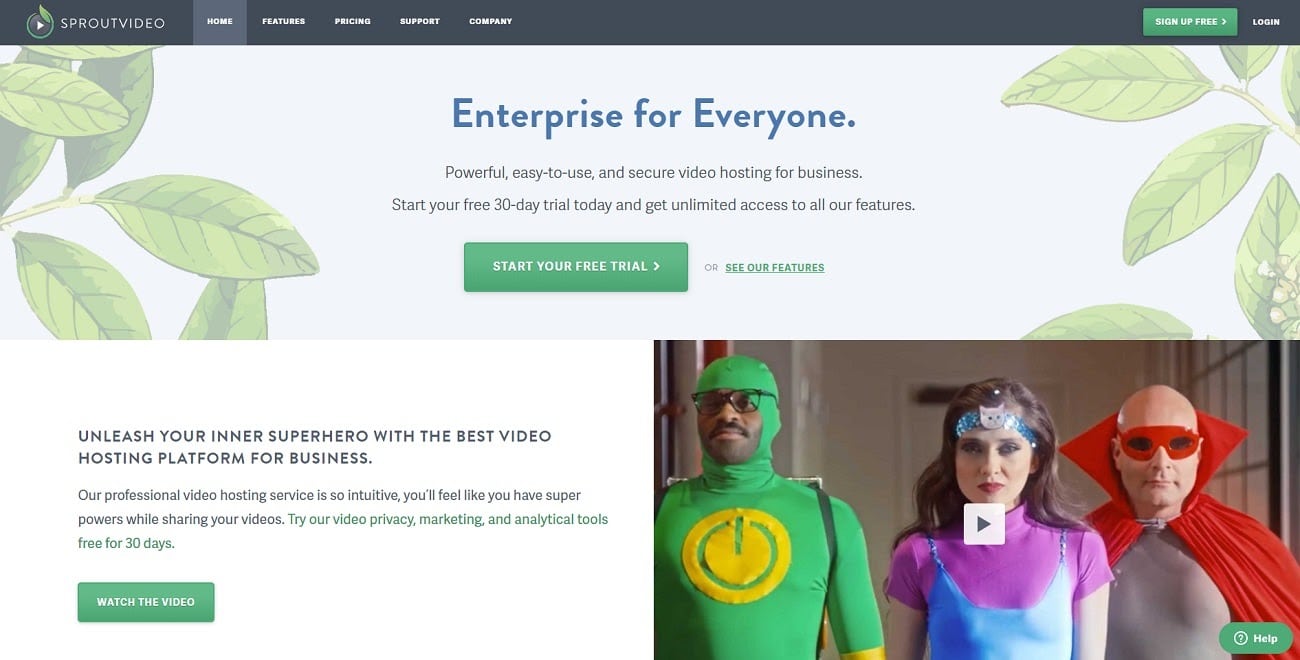 SproutVideo is an excellent YouTube alternative for small businesses and solopreneurs that have serious digital marketing chops.
You get complete control to customize and create unique video players for every page on your website. This way, you can ensure that the embedded video won't clash with your design, but complement it.
Capture leads from within your video player with customizable lead forms. Send the leads straight to your favorite autoresponder or CRM through API integrations.
It integrates with MailChimp, Hubspot, Zapier, and many more third-party tools.
Pros
4K UltraHD playback
Customize and create unique video players for every page
In-video lead capture forms
Geotracking and advanced analytics
Drive more actions with custom CTAs after videos
Geo restriction is available with enterprise plans
Reasonable: Seed plan starts at $25/month
Cons
Complex
Pay extra for bandwidth beyond 500 GB every month
Great Alternative For:
Small businesses and solopreneurs with a knack for data-driven marketing and a desire to get more from their video efforts
11. WordPress Alternative: Jetpack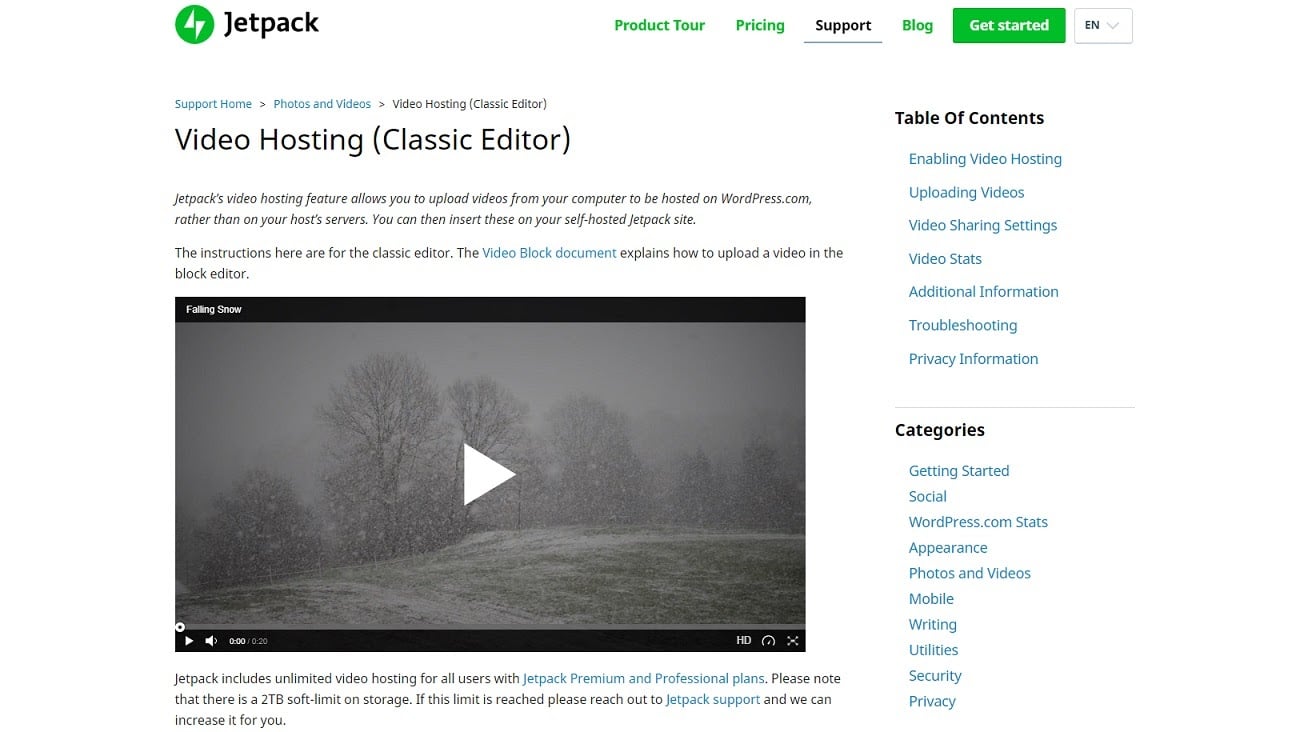 For our WordPress lovers who just want a WordPress plugin to do the job, look no further: Jetpack for WordPress includes video hosting in their premium plans for as low as $11.97/month.
Using the new editor, you can add video blocks directly into posts or pages without copy-pasting.
You can also view in-depth, real-time video analytics from within your WordPress dashboard.
Pros
Supports HD videos up to 4K resolution
Unlimited storage and bandwidth
Choose to autoplay, mute, or loop embedded videos
Real-time analytics
Cheap: the Jetpack premium plan costs $10/month
Cons
Need a WordPress site to use effectively
Lacks advanced features of competitor premium options
Add Video Blocks Directly Into WordPress Posts
You can add video blocks directly into WordPress posts and pages if you use the Gutenberg Editor.
You can drag and drop video files straight from your computer and into a draft.
You don't need to custom code anything to make the video look great when live. WordPress will automatically handle that process for you.
Great Alternative For:
Existing premium subscribers to Jetpack
Small businesses that don't have the budget for more expensive solutions
12. Odysee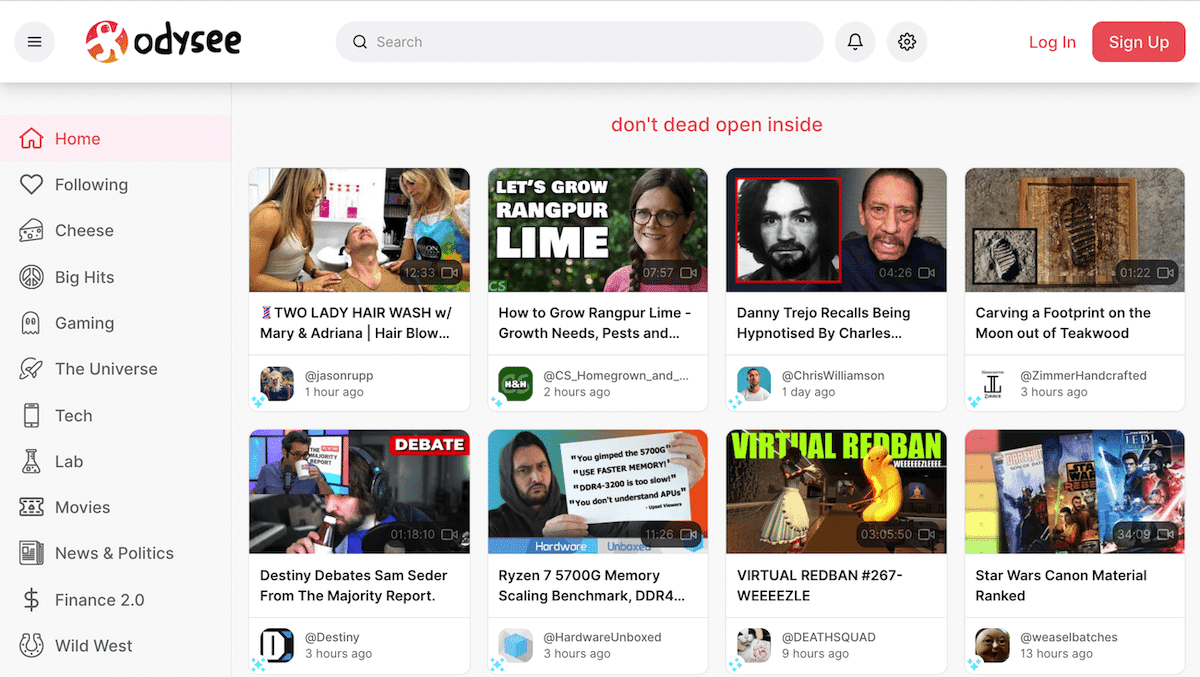 Odysee is interesting because it runs entirely on a blockchain protocol called LBRY. This fairly new protocol allows anyone to build apps that interact with digital content on the LBRY network.
Yes, you can upload videos to your Odysee account and use them for digital marketing and other business needs. However, if you are savvy enough to build an app using the protocol, you can accomplish some interesting things.
Pros
App builders can set price per stream or download (like iTunes)
Give content away for free (like YouTube)
Publish videos, audio files, documents, or any other type of file
Earn cryptocurrency by using the platform
Cons
The platform can be glitchy
Users often auto post to Odysee from YouTube, so it is more difficult to build an audience
Built on Blockchain
LBRY is the parent company of Odysee, which is why we often see the two names together. It is also the name of the blockchain protocol that Odysee uses.
The LBRY Credit is a cryptocurrency (also known as digital money) that Odysee uses to pay its users.
Great Alternative For:
New and established businesses looking to receive payment in crypto and expand their audience outside of traditional video platforms
Content creators that are interested in a unique rewards system
Bonus: Noteworthy YouTube Alternatives to Consider
Even if we covered what we think are solid alternatives to YouTube, there are a few more we believe are worth mentioning for you to consider:
13. Brid.TV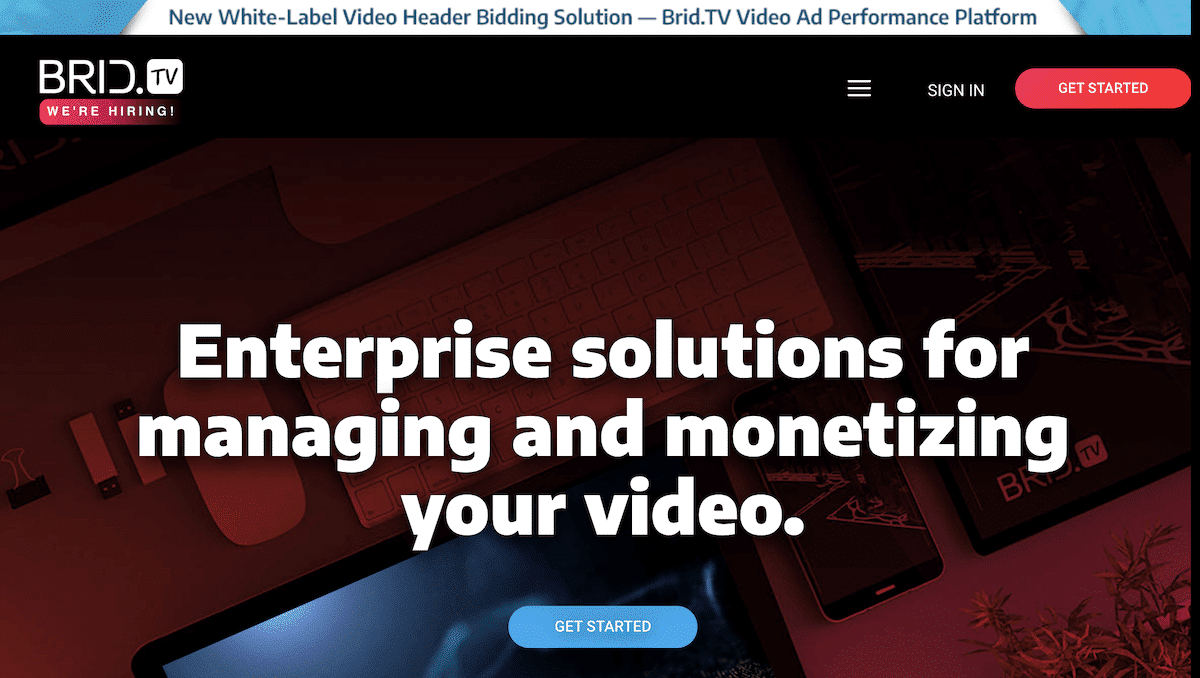 Brid.TV is a video monetization solution that works at the enterprise level. The main idea behind this platform is to help publishers grow and monetize their audience.
The company has been growing at a rapid pace. As of right now, their stream and ad request data are through the roof. This means it is a great time to get on board with them and see what you can accomplish.
Pros
Easy setup process
Enterprise-level video management at an affordable price
Brid TV player easily Integrates into iOS and Android apps
Cons
Their WordPress plugin is still very buggy and unstable
Great Alternative For:
Businesses looking to monetize content immediately and effectively
Publishers that want to boost content views and revenue
14. Utreon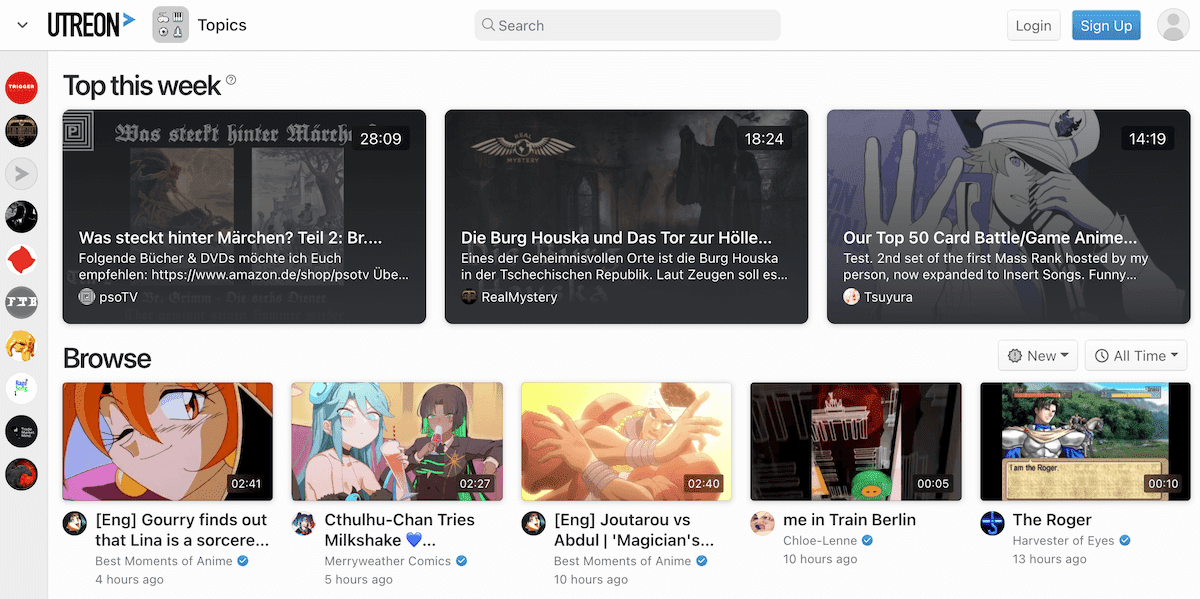 Utreon has been a big part of the "alternative to YouTube" movement and has become more popular as that has progressed. Why? It provides more advanced tools for content creators, focuses on innovative features, and offers better community engagement.
While all of those aspects are attractive, perhaps the biggest reason content creators are drawn toward the Utrean platform is their stance on privacy.
For example, they do not sell user information under any circumstances. The privacy policy they have is packed with user benefits.
Pros
Higher privacy standards than some other platforms
Genuine fan to creator engagement
Easy signup process that allows creators to import already existing content with a few clicks
Cons
Lacking in some features because of early stage
Slower response time because the staff is still fairly small
The platform still has some bugs to workout
A Different Type of Engagement
Perhaps the most attractive thing about Utreon — aside from their privacy standards — is that the platform looks to offer a wider range of engagement through video.
By leveraging a system of memes, clip sharing, approval ratings, and question asking, the platform is trying to bridge the gap between content creators and fans.
Great Alternative For:
Businesses and creators that are looking for a broader, more personal experience with their fans and followers
15. Metacafe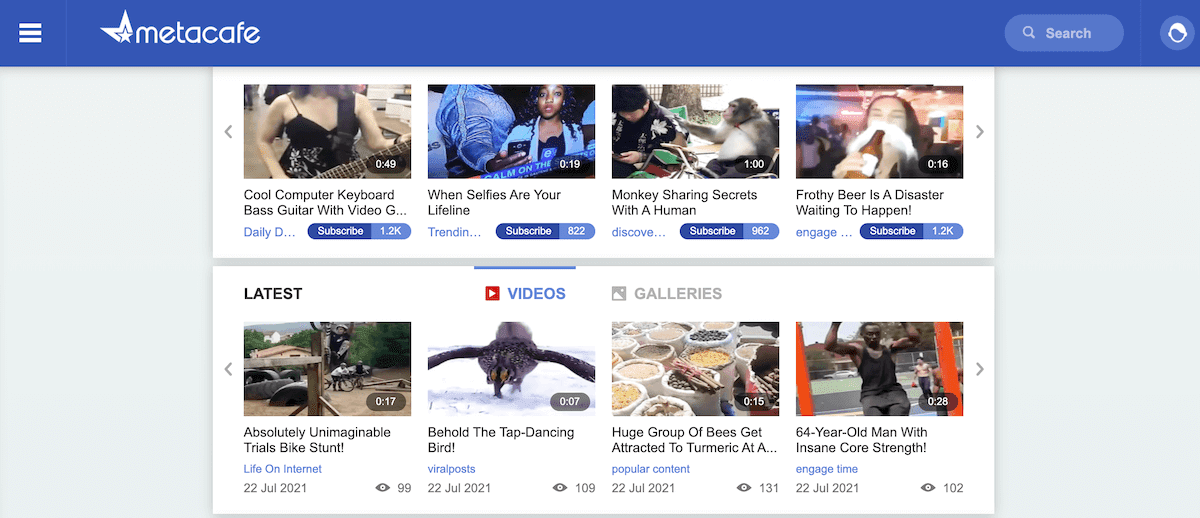 Rounding out our list of the best YouTube alternatives is a platform called Metacafe. The concept is as simple as it comes, yet it is very effective.
It provides users and publishers an easy-to-use, simple platform for uploading and browsing content.
Metacafe has a strong following online, with their site registering as a top 3 video site within the US. As of this publication, Metacafe has 12 million monthly unique views.
Their platform is an excellent way to get your message out while keeping video clips short and to the point.
Pros
Useful for reviews, music videos, and news clips
Family-friendly content
Cons
Metacafe limits video uploads to 100 MB, so it is not a good solution for long-form videos
Short-Form Video King
This is what the entire premise of the Metacafe platform is. All videos on the platform are short-form. Most of the users on the platform keep their videos in the 90-second to 180-second timeframe.
An extra step is taken as well to ensure that the short-form video style is respected. Users will not be able to upload any video file that is larger than 100 MB.
The idea is to share content across all channels in a short, fun, fast format.
Perhaps the most interesting thing about Metacafe is that videos cannot be added automatically. Once submitted, a built-in community of over 80,000 volunteers watches it and decides whether or not to add it to the platform.
Great Alternative For:
Content creators who want to make fun, energetic, short-form videos that hit the mark with clients and followers
Summary
In 2023, YouTube isn't the end-all-be-all of online video. Just because it is the leading video hosting and sharing platform doesn't mean it is the only choice for you or your business.
There are plenty of options to choose from.
You've got significant players like IGTV and Facebook Watch for video sharing and growing a social media presence. Professional video hosting for businesses includes options like Vimeo, Wistia, and Spotlightr. And if you need a real enterprise-level solution with a plan tailored to your company, Brightcove is the way to go.
Want to step into short-form videos that resonate with a large audience? Give Metacafe a look.
Now it's your turn: what's your preferred alternative to YouTube? What have you tried? Let us know in the comments!