Video editing can be challenging.
Not only is it a tedious and time-consuming task, but selecting video editing software can leave marketers feeling lost and confused.
There are so many free video editing software solutions to choose from, all with different functions and features. How do you know which is right for you?
Well, it depends on the type of video you're making, the features you're seeking, and your level of video editing knowledge and experience.
This post will highlight 13 of the best free video editing software solutions for different use cases. This will help you understand which will be the best fit for your needs.
Before we dive in, let's take a look at some of the factors you should consider before selecting a free video editing software platform.
How To Select the Right Video Editing Software
Selecting the right video editing software is no easy task. It's a monumental decision because you may be spending hours in the program working on your newest content.
If you select one that doesn't fit your needs, you'll be left with hours of frustration and wasted effort. You might make videos in the wrong format, spend hours on what should have taken minutes, or even get so frustrated that you don't return to edit more videos.
That's why it's critical to pause and reflect on what you're seeking in terms of your video editing software solution.
Before reviewing the options below, consider the following:
What type of videos do you plan to make with the software?
How frequently do you anticipate making videos?
What is your proficiency level with video editing?
What operating system will you be using to make the videos?
What features are you looking for?
These questions will help add clarity in finding the perfect free video editing software for you and your business.
There are pros and cons to every software, so knowing what you're looking for will help you decide which software to use.
It's a hassle to use a video converter or a separate program for audio editing, so it's important to ensure that these editing features are offered by the program you select.
By answering each question carefully, you will head down the path of selecting the right video editing software with no obstacles in your way.
Now that you know the criteria you should base your decision on, let's look at some of the best free video editing software based on different experience levels and use cases.
Want to make video editing a breeze? 📹 Check out these tools for every experience level ✨Click to Tweet
The Easiest Free Video Editing Software For Beginners
Are you just starting to make videos for your business? Don't worry. Help is on the way.
There are plenty of video editing tools that are perfect for beginners. Two of the most common options include Animoto and Vimeo Video Maker.
Animoto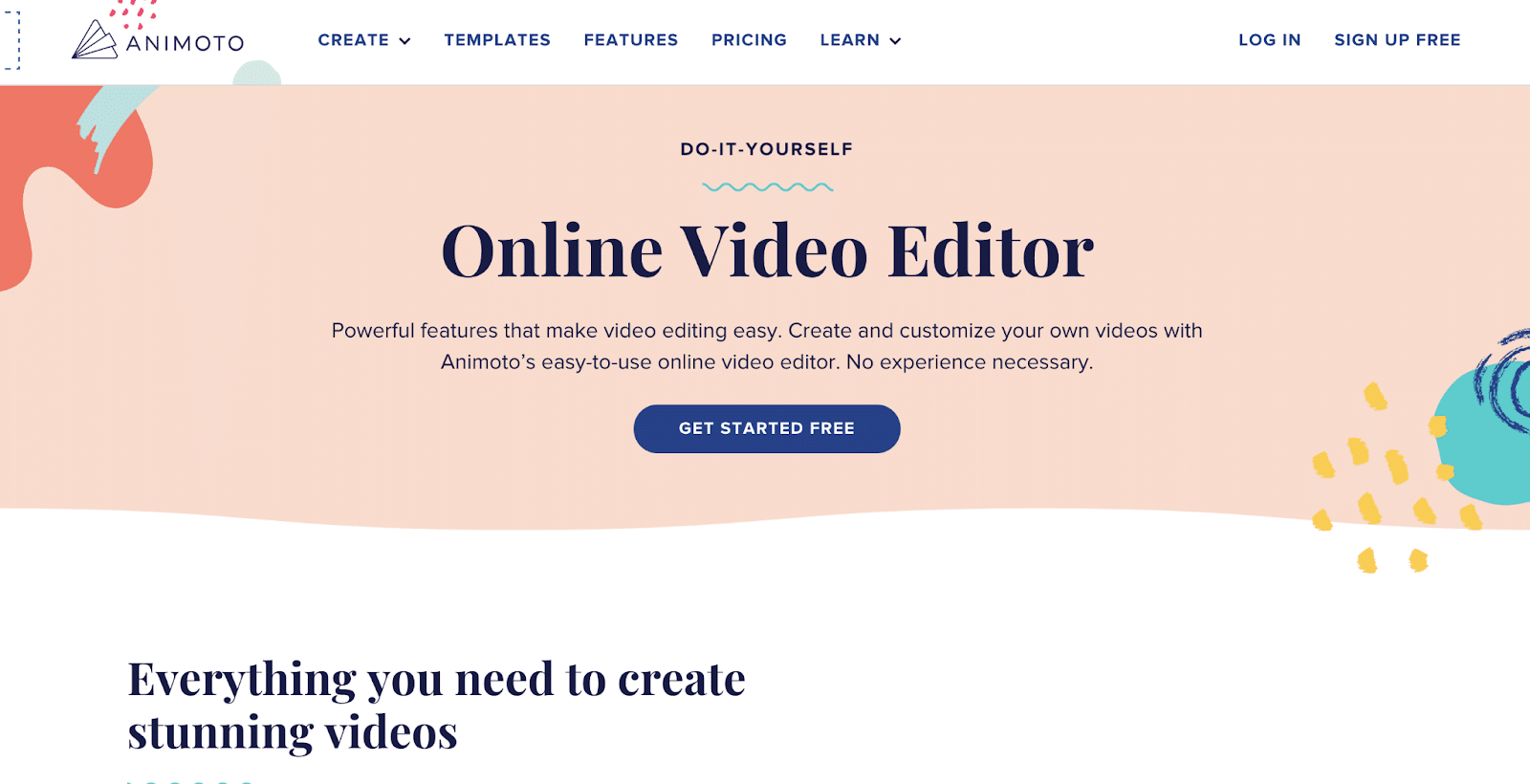 Animoto positions itself as a company that offers a video editing tool with "powerful features that make video editing easy."
Animoto is an online video editing service, meaning there is no video editing app that you need to download. Instead, your work is stored on the cloud, and you can access the software through a browser. This is convenient since some older video editing software can take up a lot of memory space if you download it directly to your hard drive.
Animoto uses a basic drag-and-drop editor to encourage a swift, intuitive video editing process. After uploading your clips, you'll be able to drag them into the builder, adjust their length with motion tracking and use color correction to change the video's look and feel.
There is a logo watermark feature option providing you with the ability to upload a logo or icon that will appear in the corner of all your videos. This can help brand your content, making it easily identifiable. This is important when trying to develop effective assets to build an online community for your business.
In addition, Animoto offers a stock library that is complete with 1M+ video clips that you can seamlessly drag and drop into your production. You'll also have templates, texts, fonts, and music at your fingertips, giving you the ability to customize the video to fit your brand.
Vimeo Video Maker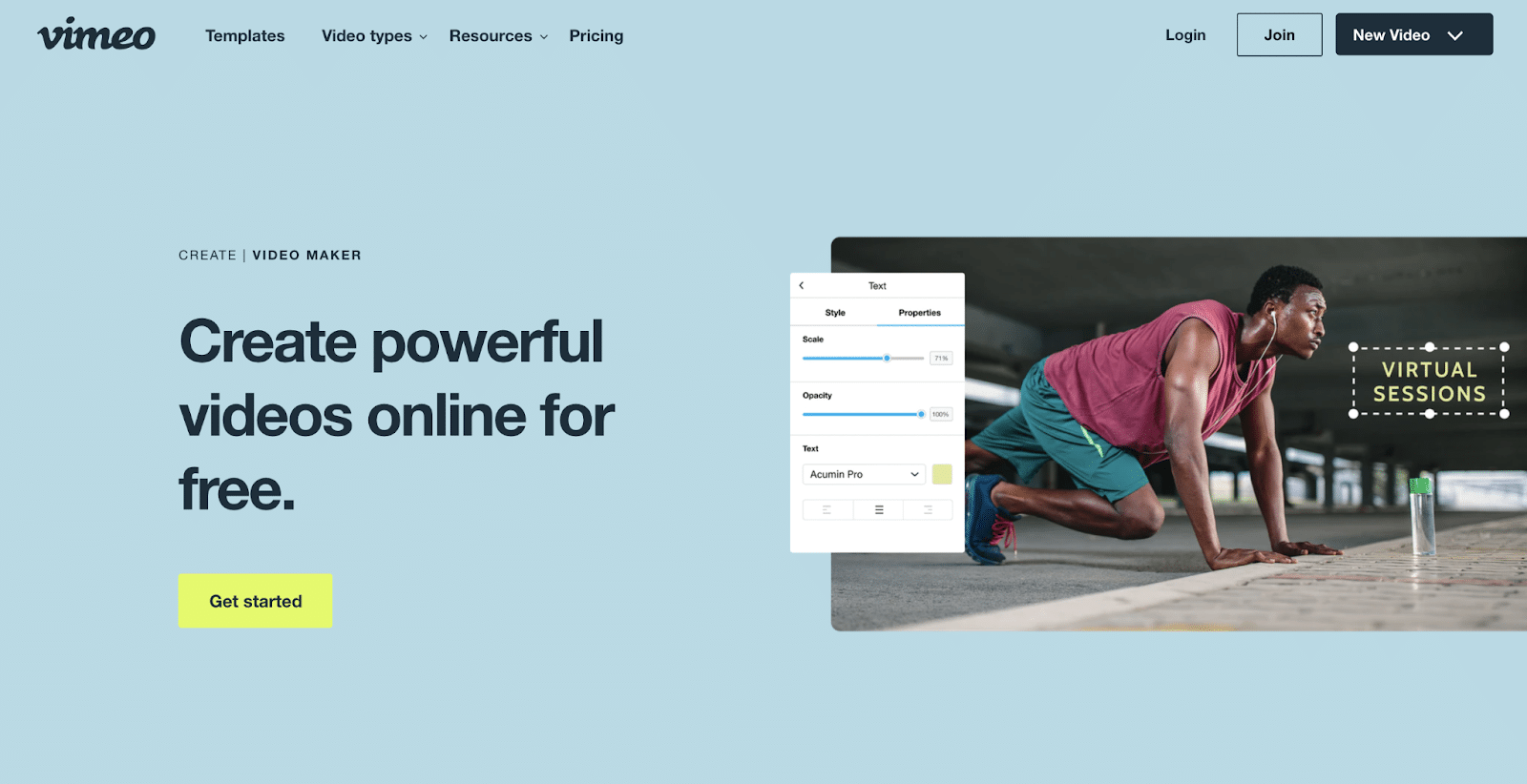 The Vimeo Video Maker is very easy for beginners to use. This is also a cloud-based video editing tool that doesn't require downloads or a significant amount of storage space.
Vimeo Video Maker offers all the features of a standard online video editor. Users can browse Vimeo Create's unlimited stock library and use one of Vimeo's free templates for promos, advertisements, educational videos, and more. In addition, you can add text, captions, colors, and more to personalize your video.
One of Vimeo Video Maker's unique features is its guided video templates. These templates use AI to "stitch together your video in minutes." The guided templates put together a mashup of your clips with title frames and music that you can personalize. This provides you with a solid foundation for your video in just a few clicks.
Another benefit of Vimeo Video Maker is the ability to post directly to Vimeo and other social media platforms. The video editing tool has built-in sharing features, allowing you to select which networks to share your video on. This makes the promotional aspect of your video campaign easier and more seamless.
Clipchamp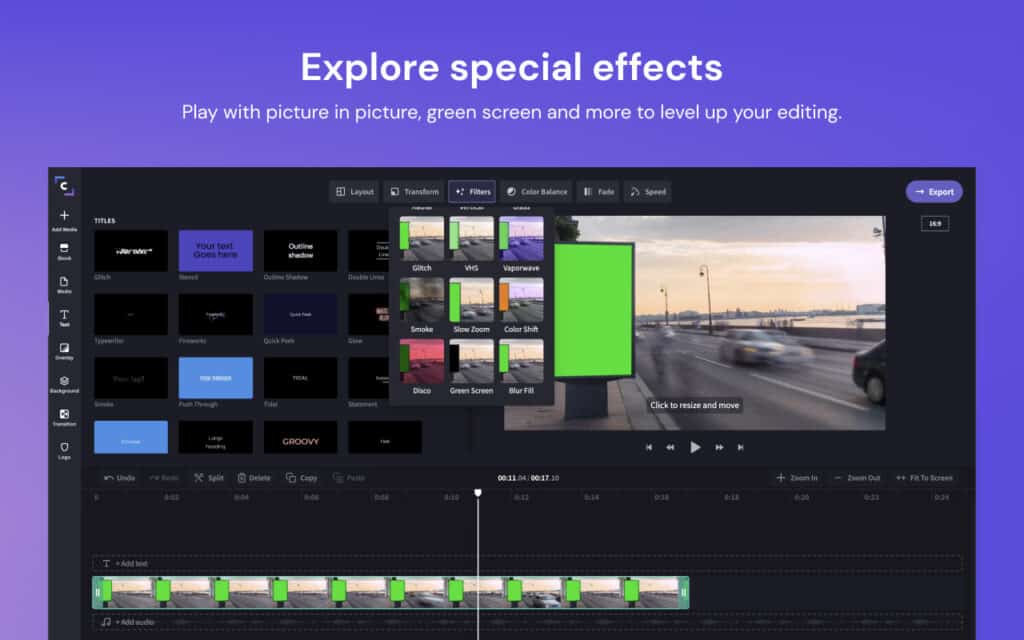 Clipchamp has 17 million creative users in 200+ countries and markets itself as a tool that requires no editing experience. Clipchamp can be accessed online, which means there's no need for additional app downloads or installations.
This web-based video editor comes with advanced features to create professional-looking videos with ease. Some of the most notable are green screen backgrounds, AI voiceovers, online screen and webcam recording, video overlay, stock media, and more. The buttons and options are all clearly labeled and the platform is very easy to learn and understand.
If you're stuck for ideas, Clipchamp has a library full of customizable video templates created by professionals for various industries. Just change the text, add some more elements and media, and they're ready for export. Whether you're creating personal videos for your social media accounts or corporate videos for business marketing, they have a template for you. 
The Best Free Video Editing Software for YouTube
Confident that you're going to host your video on YouTube?
While most free video editing software will help you create something that can be uploaded to YouTube, two of the best are Filmora and CyberLink PowerDirector 365.
Filmora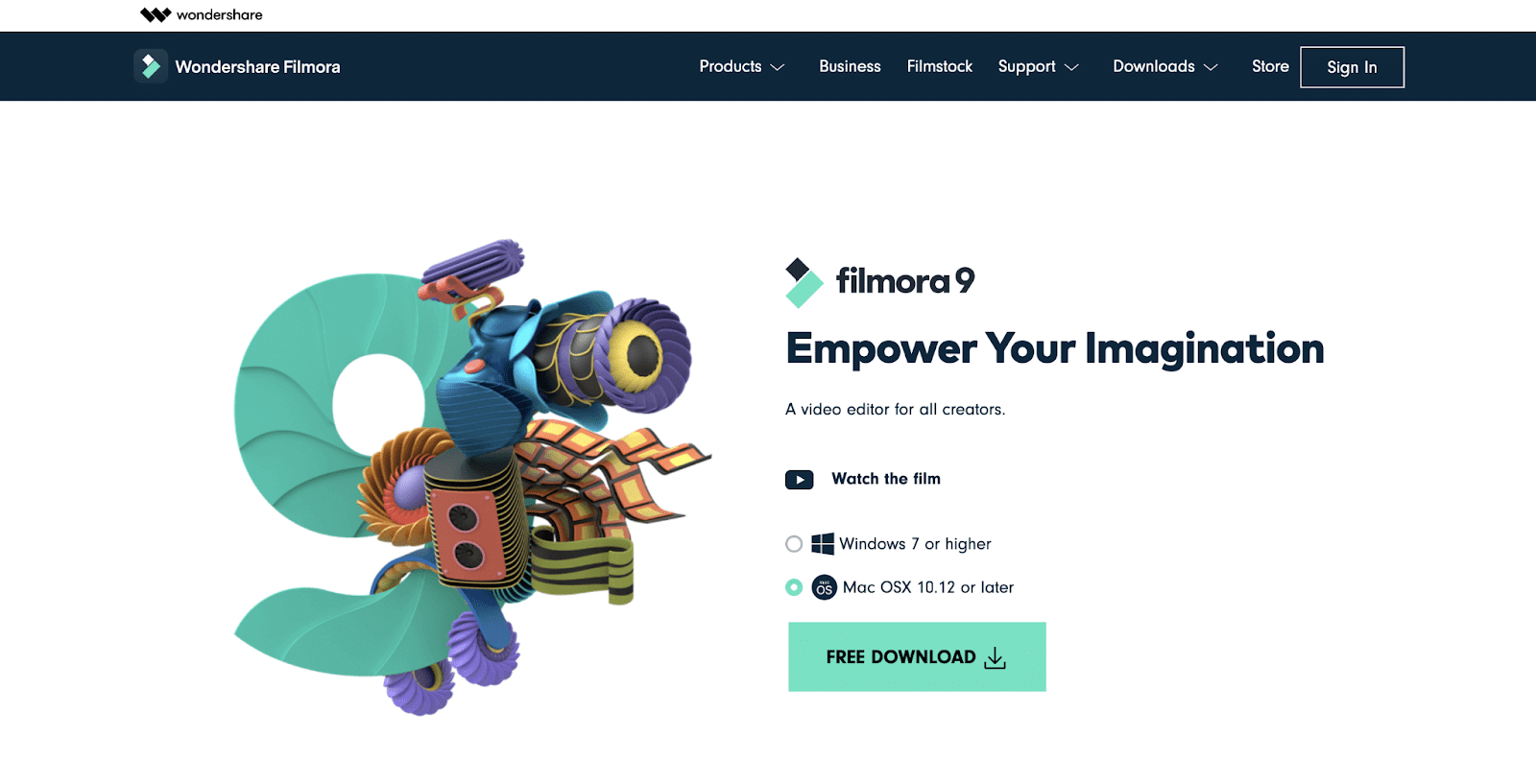 Fillmora invites its users to "create without limits." To accomplish that mission, the video editing tool tries to be "a video editor for all creators." With an easy-to-use interface, Filmora can be a great asset when creating your next YouTube video.
Filmora offers a wealth of features, making it an appealing video editing solution. First, you can use up to 100 layers of media. This means that you can have multiple media assets in your video concurrently, with some overlapping the other on different layers.
Filmora also enables creators to add transitions, video effects, fisheye correction, motion graphics, and more, making your video more engaging for the viewer. You'll have the chance to layer your video clips with other media, including content that you film in front of a green screen. This will allow you to paste other media content into that excess green space behind you.
Filmora offers 4K video editing and fast rendering, making it the optimal choice for YouTube uploads. You want to ensure that you are only uploading high-quality videos to YouTube so that your brand is shown in the best manner possible.
Filmora can deliver those types of videos and so much more.
CyberLink PowerDirector 365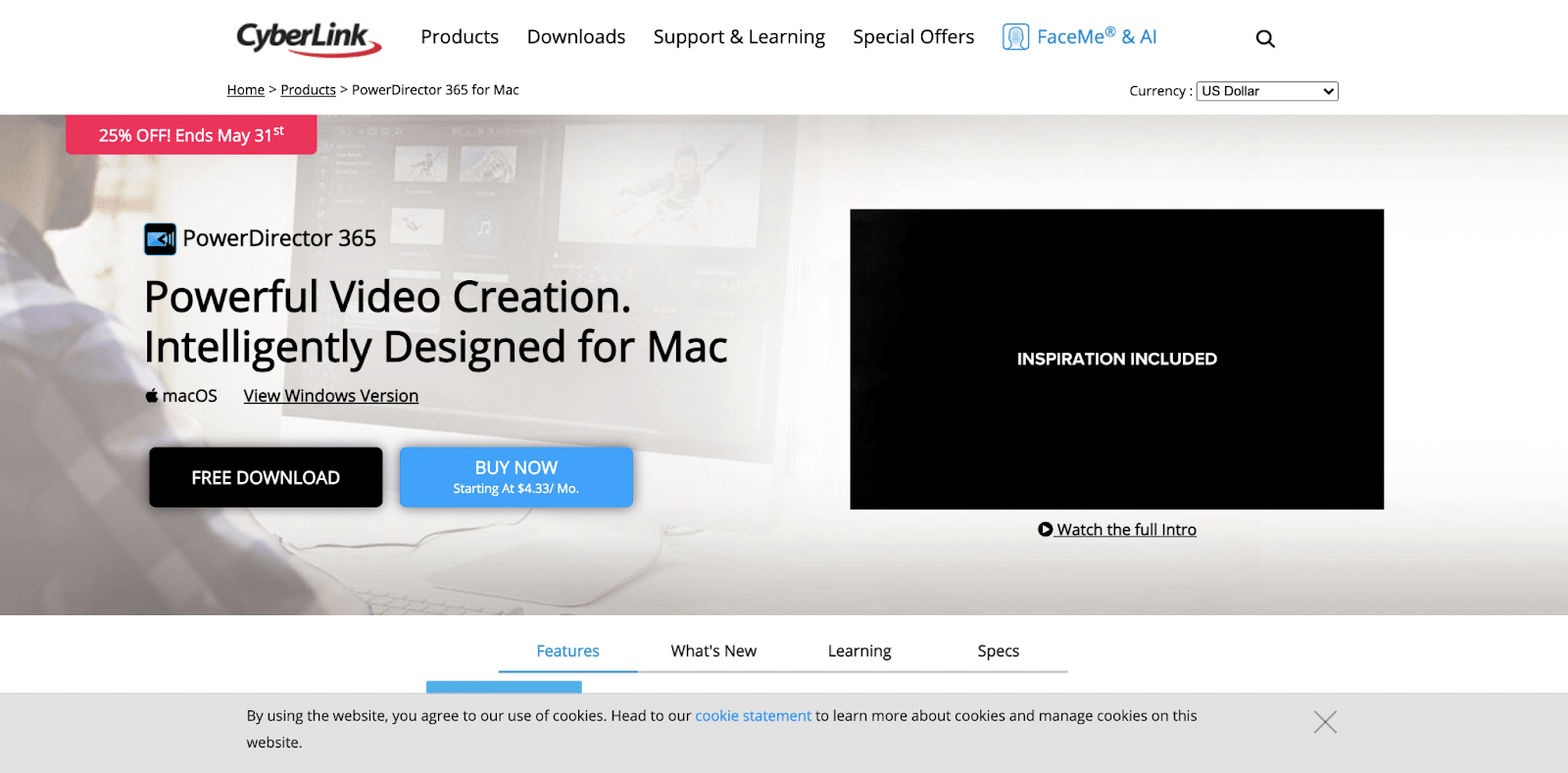 CyberLink PowerDirector 365 is another useful video editor that can produce YouTube-ready videos in minutes. This software is compatible with both Mac and Windows and needs to be downloaded onto your system to work.
The drag-and-drop interface makes it easy to cut, add, and stitch together your clips into a feature-length movie. The software also has a video collage designer, which allows you to create a picture-in-picture stylized scene.
The title designer functionality offers a wide array of title styles to select from. This makes it an optimal video editing solution for YouTube since title sequences are recommended (and definitely encouraged) for YouTube videos.
These title sequences can be seamlessly integrated into the video using the blending mode and mask designer to add transitions.
The Best Free Video Editing Software for Windows 10
Are you using a Windows laptop or desktop computer? Some video editing software options will work better on one operating system compared to another.
For Windows 10, we've found that Adobe Premiere Pro and Lightworks are the best for your video editing needs.
Adobe Premiere Pro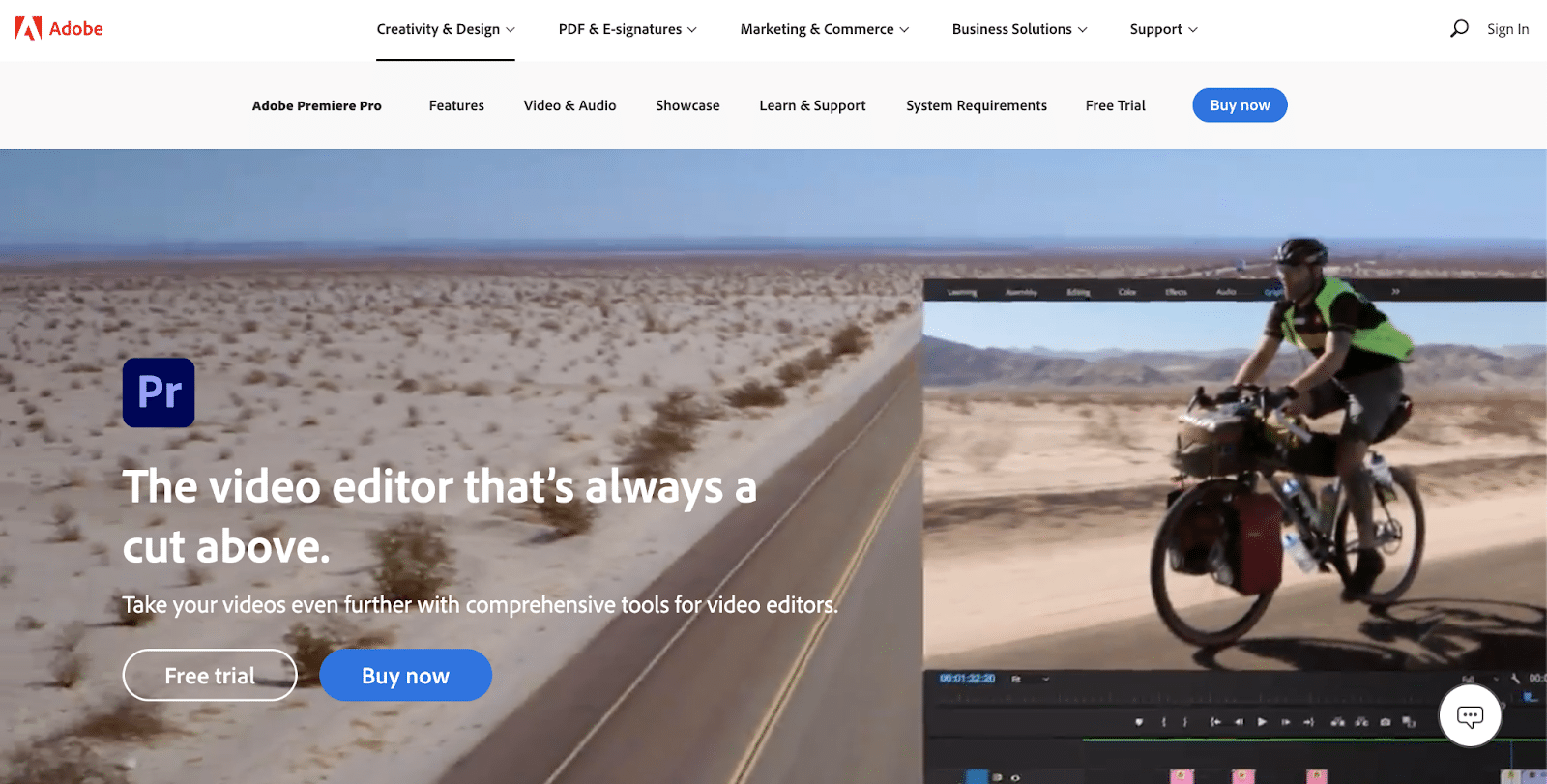 Adobe Premiere Pro positions itself as "the video editor that's always a cut above," and we agree.
Adobe Premiere Pro is one of the most comprehensive video editing software solutions on the market. Adobe is also a trusted brand that has been around for decades.
The benefit of Adobe Premiere Pro is that it integrates natively with other Adobe products. If your tech stack is already heavily reliant on Adobe products, this might be for you. For example, the software can integrate with Adobe Sensei to save you time and launch integrated workflows.
Adobe Premiere Pro enables you to edit footage in any format including from 8K to virtual reality. The software even has a spinoff app called Premiere Rush, which gives you the power to continue editing a video on your phone. This makes it easy to edit content while on the go.
Lightworks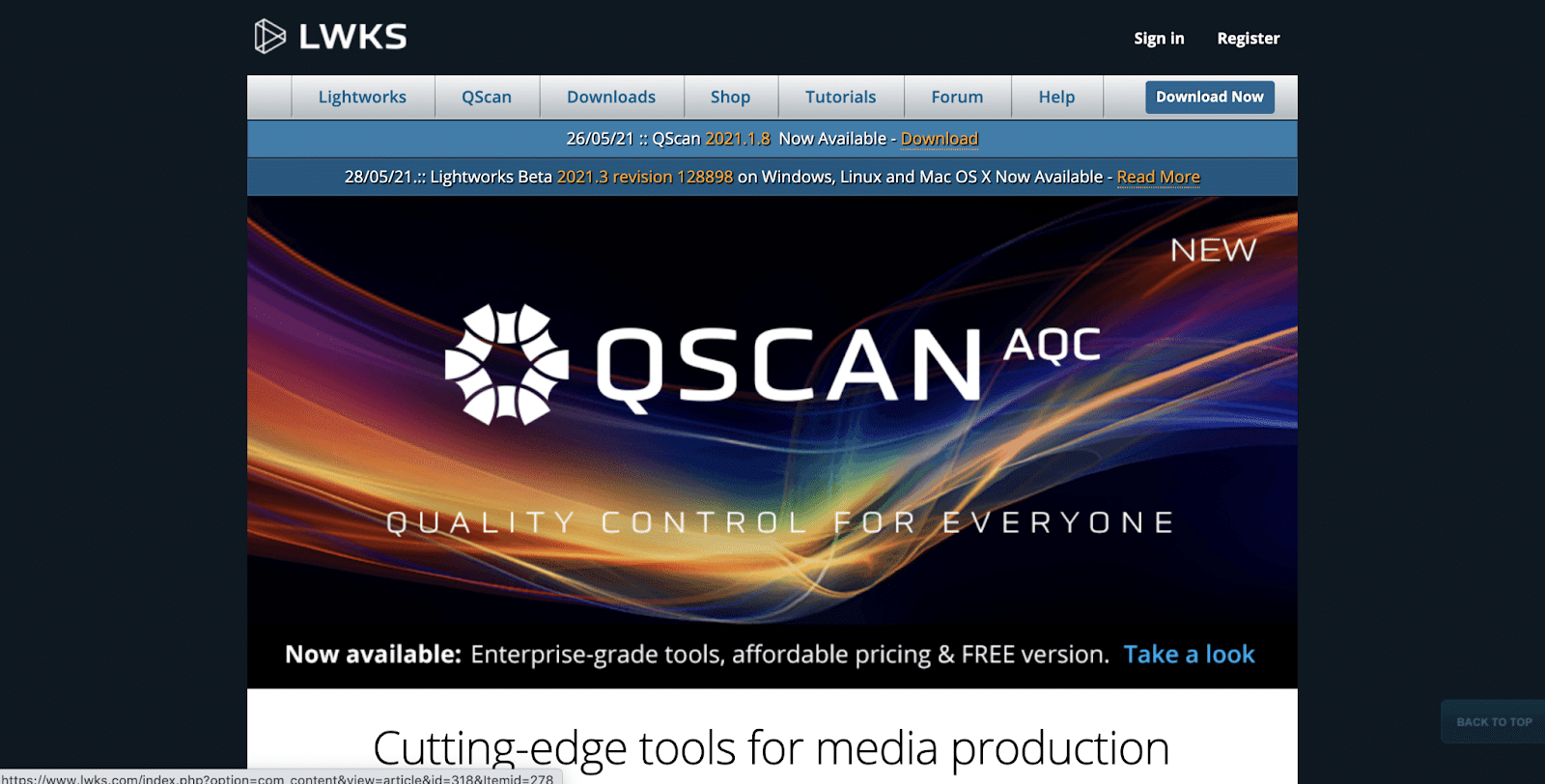 Lightworks positions itself as the "craft-editing tool of choice" for marketers looking for their next video editing solution. The video editing software makes it easy for beginners and experienced editors to create compelling video content.
There are so many different features that make Lightworks stand out from other competitors. The software offers social media templates, timeline editing, real-time audio and video effects, and wide file format support.
The entire editing process is streamlined with what Lightworks calls "powerful asset grouping associations." This is a process of grouping and tagging your clips and photos to make them easy to find and drop into the editor.
With Lightworks, you can easily export your videos to make them compatible with YouTube and Vimeo, as well as create low and high-resolution videos in SD, HD, and even 4K.
The Best Free Video Editing Software for Mac
If you're using a Mac device to edit your videos, you'll want to find the best video editing software that works for your setup.
After examining all the Mac-compatible software, iMovie and Final Cut Pro stood out as the two tools we recommend.
iMovie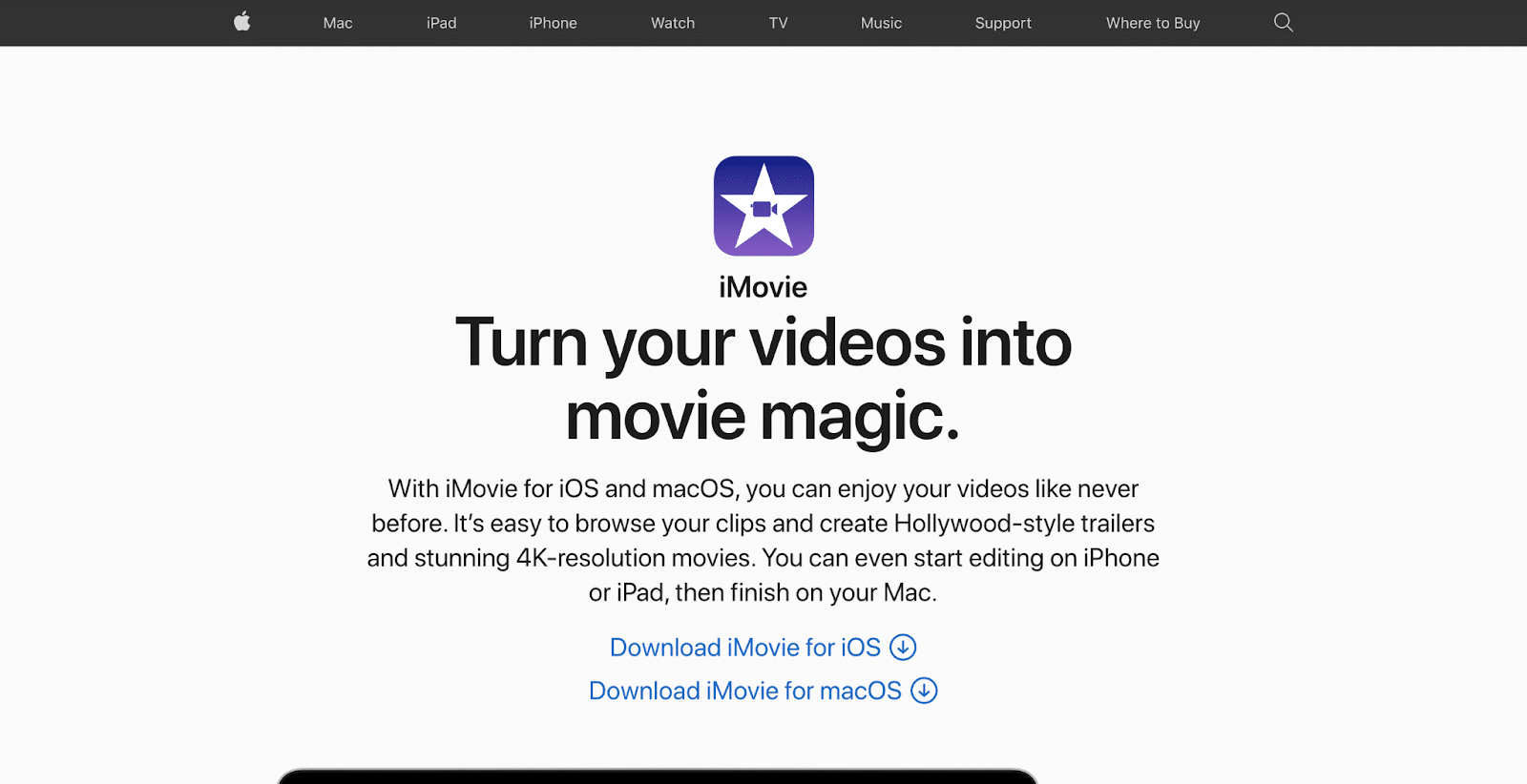 iMovie invites users to "turn your videos into movie magic." iMovie is the standard video editing software that comes pre-downloaded on all Mac devices. It's compatible with various Apple devices like iOS as well as macOS.
The software is basic and very intuitive for new marketers trying to make a simple, high-quality video. iMovie offers 13 creative video filters and 80+ audio options that intelligently adapt to the movie's length.
In addition, there are green screen effects available as well as trailer templates to structure your video as a movie trailer. After exporting, you can directly share to specific public channels like YouTube and Vimeo.
With iMovie, you can easily take a video clip and add a visual effect in its movie maker. Editing videos is a breeze for a Mac user operating this software. Although the editing features may not be too sophisticated, the interface is simple and easy to use with only the necessary functions in front of you.
The simplicity of iMovie, and the fact that it's likely already downloaded to your device, make this an optimal option for Mac users.
Final Cut Pro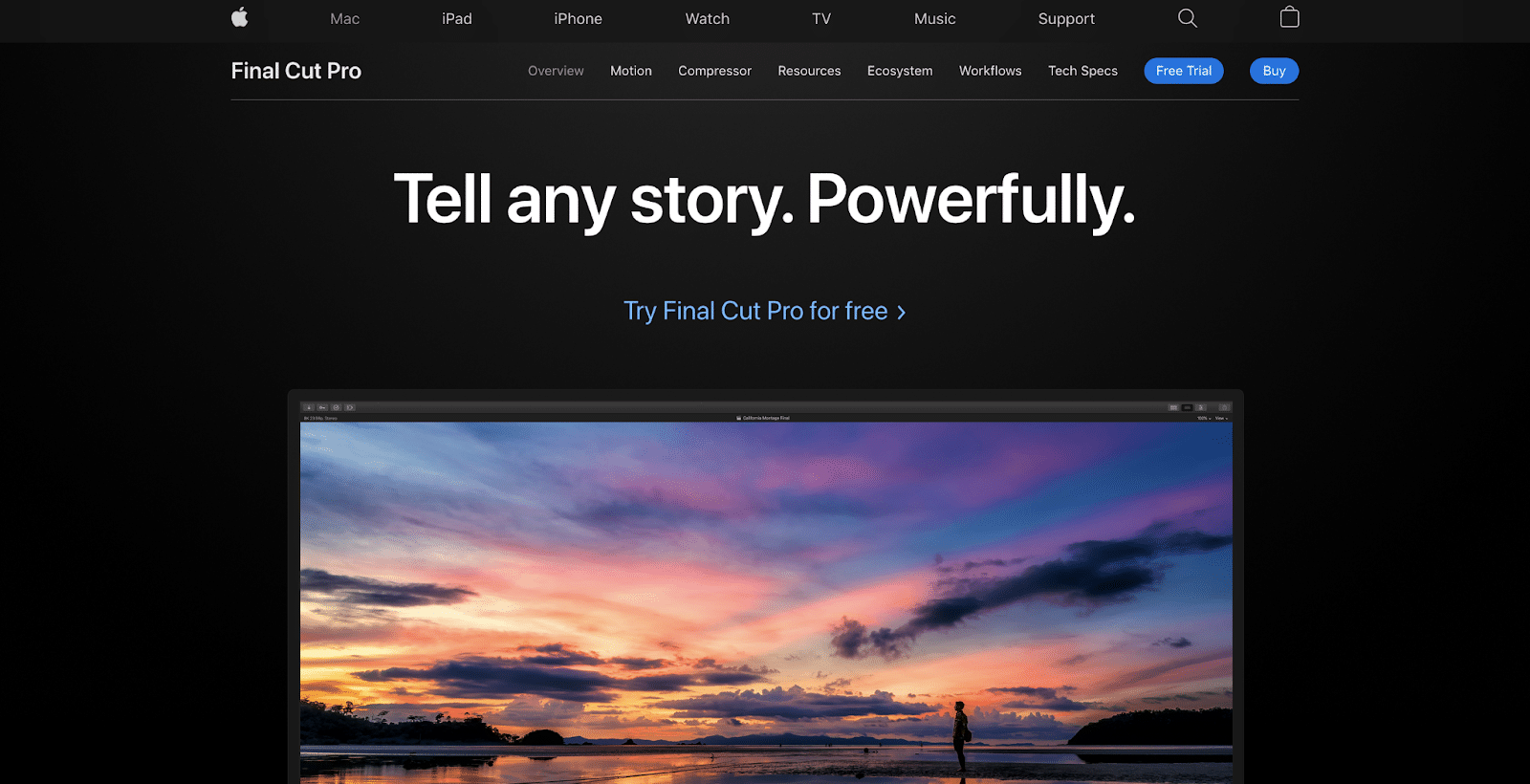 Final Cut Pro is a bit more sophisticated than iMovie and invites users to "tell any story powerfully." This video editing solution has many features, making it one of the most comprehensive video editing software solutions for macOS.
The Smart Conform function examines your clips and crops them accordingly to focus on the primary element in the video and ensure they are sized correctly for different platforms. This is ideal for marketers who want to publish their videos on different social media platforms. Since each platform has its own size requirement, this can save so much time in the long run.
Users can seamlessly share video content with other Final Cut Pro editors worldwide and transport their 4K and 8K movie files with ease. In addition, the software has multi-cam editing, allowing you to match up to 64 angles of video in different formats, sizes, and rates. This will make your video more engaging and beautiful to watch.
The Best Free Video Editing Software For Linux
If you're working on Linux, there are plenty of options that will allow you to create engaging videos.
Two options that we would recommend are Kdenlive and Blender for quick, easy video production.
Kdenlive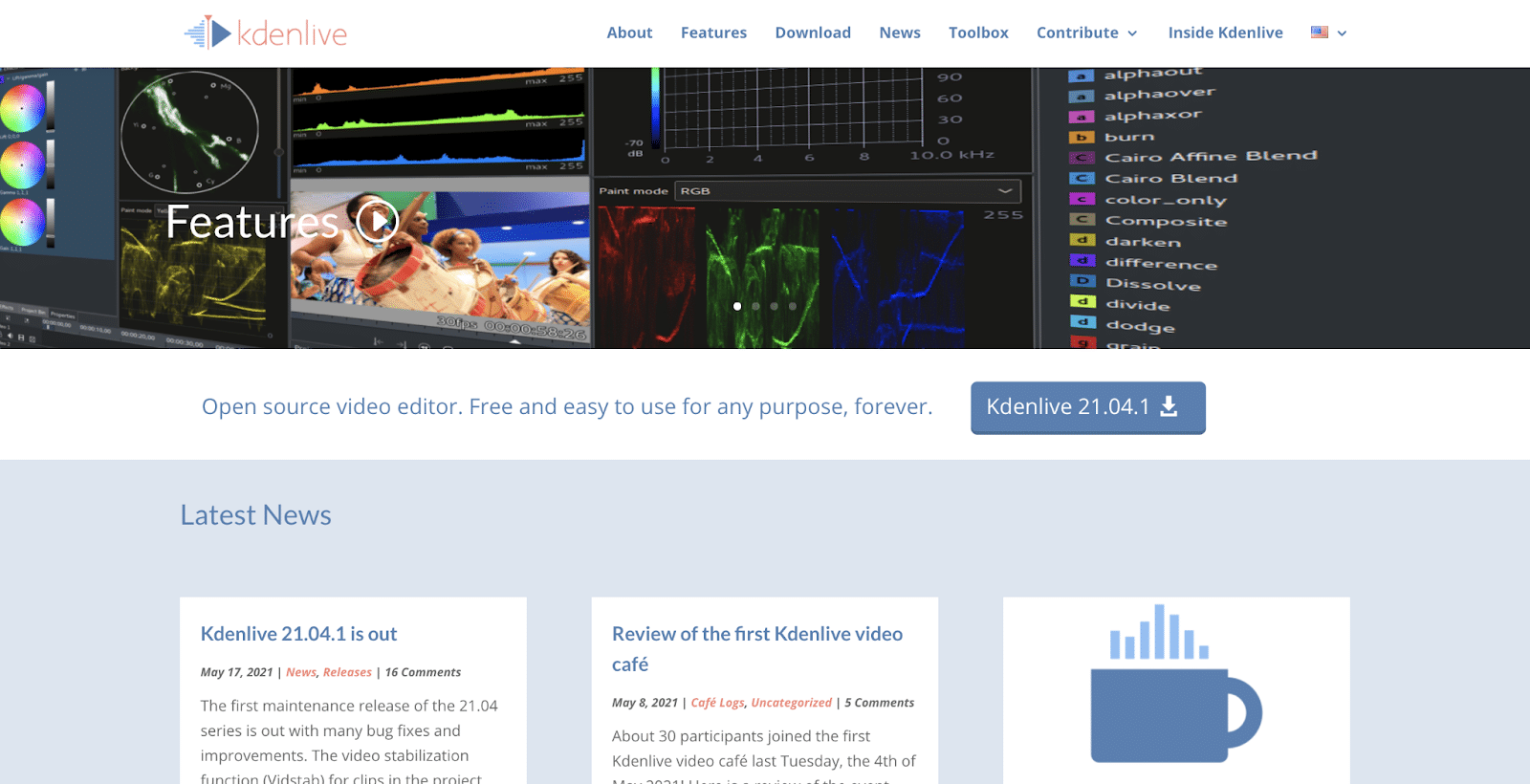 Kdenlive is an open-source video editing software, which means that multiple developers worldwide contributed to it. This makes it a high-quality video editor with a ton of different functions and features.
For example, Kdenlive has multi-track editing, allowing several audio and video tracks to be edited at once. In addition, it is compatible with almost any audio/video format that you want to upload into the platform. Once it's uploaded, you can use the scope adjustment to increase or decrease the audiometer, histogram, waveform, and vectorscope.
The platform offers automatic backup, so you'll never lose any of your work even if you forget to save it. In addition, it offers proxy editing to fix low-res content and ensure it is the quality of the video you are trying to make. Kdenlive is a simple, easy-to-learn video editor that you'll pick up and love in no time.
Blender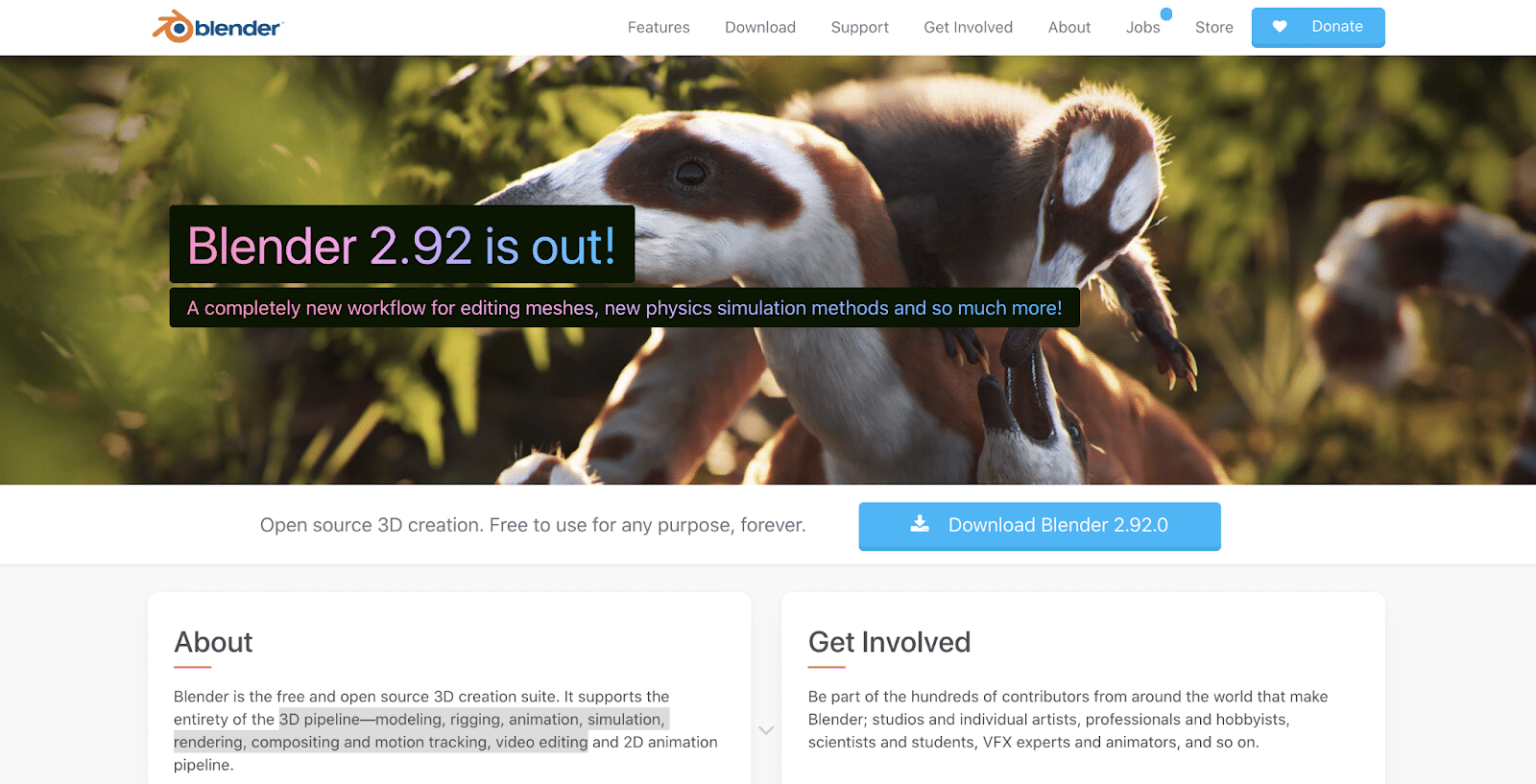 Blender is an open-source 3D video creation suite that can give your videos new depth and engaging elements that will intrigue your viewers. The software is known for its 3D pipeline, which offers everything ranging from animation to simulation, motion tracking, and more.
With Blender, you can create engaging, high-quality videos in a limited time. You'll have all the same options as a normal editor, including 32+ slots for adding multimedia content like video, images, audio, masks, and effects. You'll be able to add transitions, filters, and layers as well.
Once your content is added, you can control the speed of play with speed control, mix the audio, or even create a waveform visualization based on the sound created. By pairing the basic video editing software features with Blender's 3D capabilities, you can create a powerful video that inspires and resonates with your audience on a deeper level.
The Best Free Video Editing Software for Podcasts
Starting your own podcast? You have to consider a million things like topics, audio recording, booking guests, and more.
The last thing you want to do is worry about your video editing software. Magisto and Movavi are two prime video editing software solutions for podcast creation.
Magisto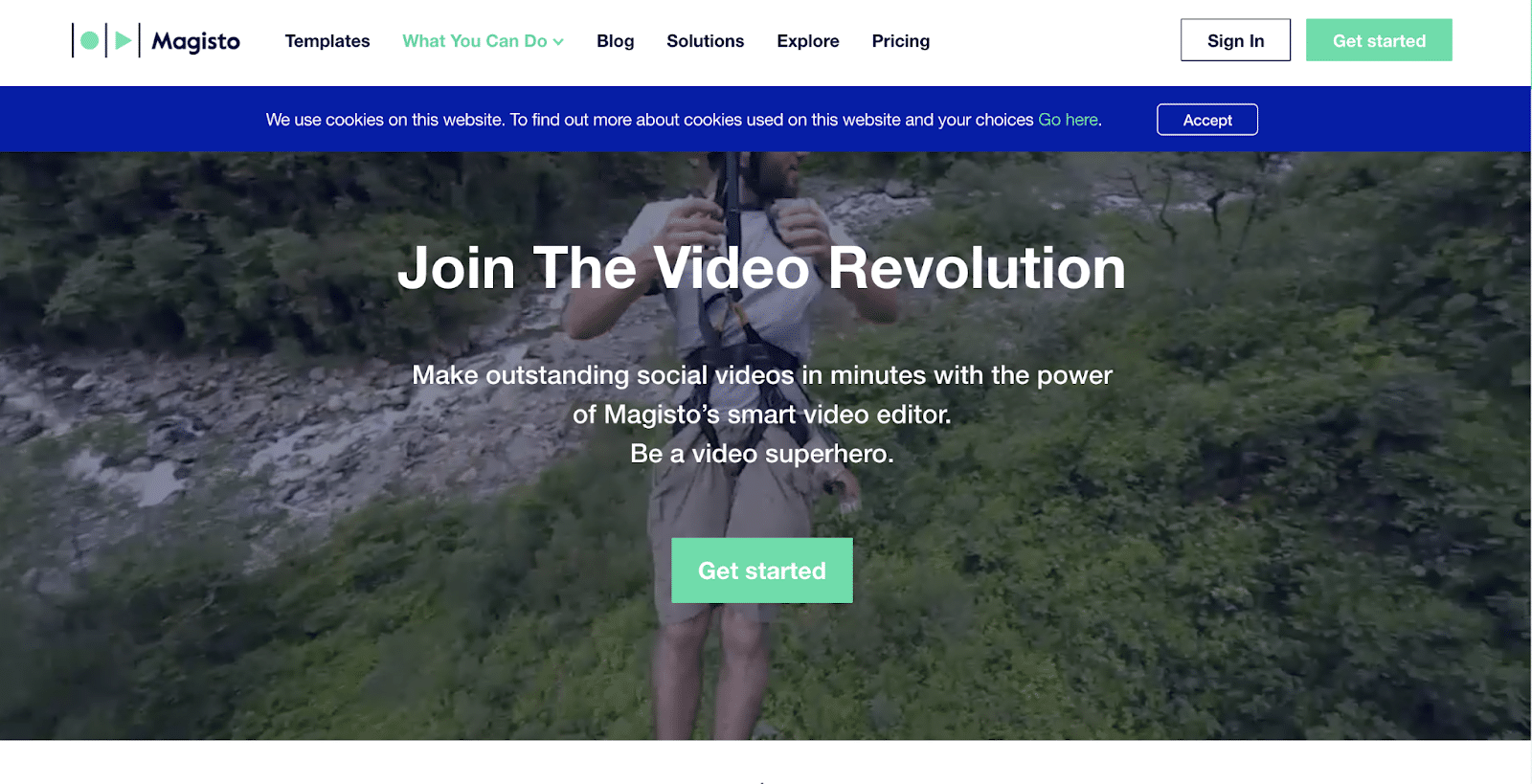 Magisto is a video editing software that enables users to "be a video superhero" and create videos in minutes. Over 60,000+ video editors around the world use this software to create high-quality video content.
The company's smart video editor uses AI to make high-quality videos with just a few clicks. The AI video maker compiles your videos and photos into a story, threading them together into a full-length video. Then, you can adjust them and personalize your content to ensure that it's up to your standards.
Magisto integrates with iStock, so you'll have millions of stock photos that you can use at your fingertips. These images will create a more dynamic video when paired with your original video content.
The platform also offers a native player, a frame that you can add to host videos on your company website. This functionality positions Magisto as more than just a video editor. It's a full-service video suite solution.
Movavi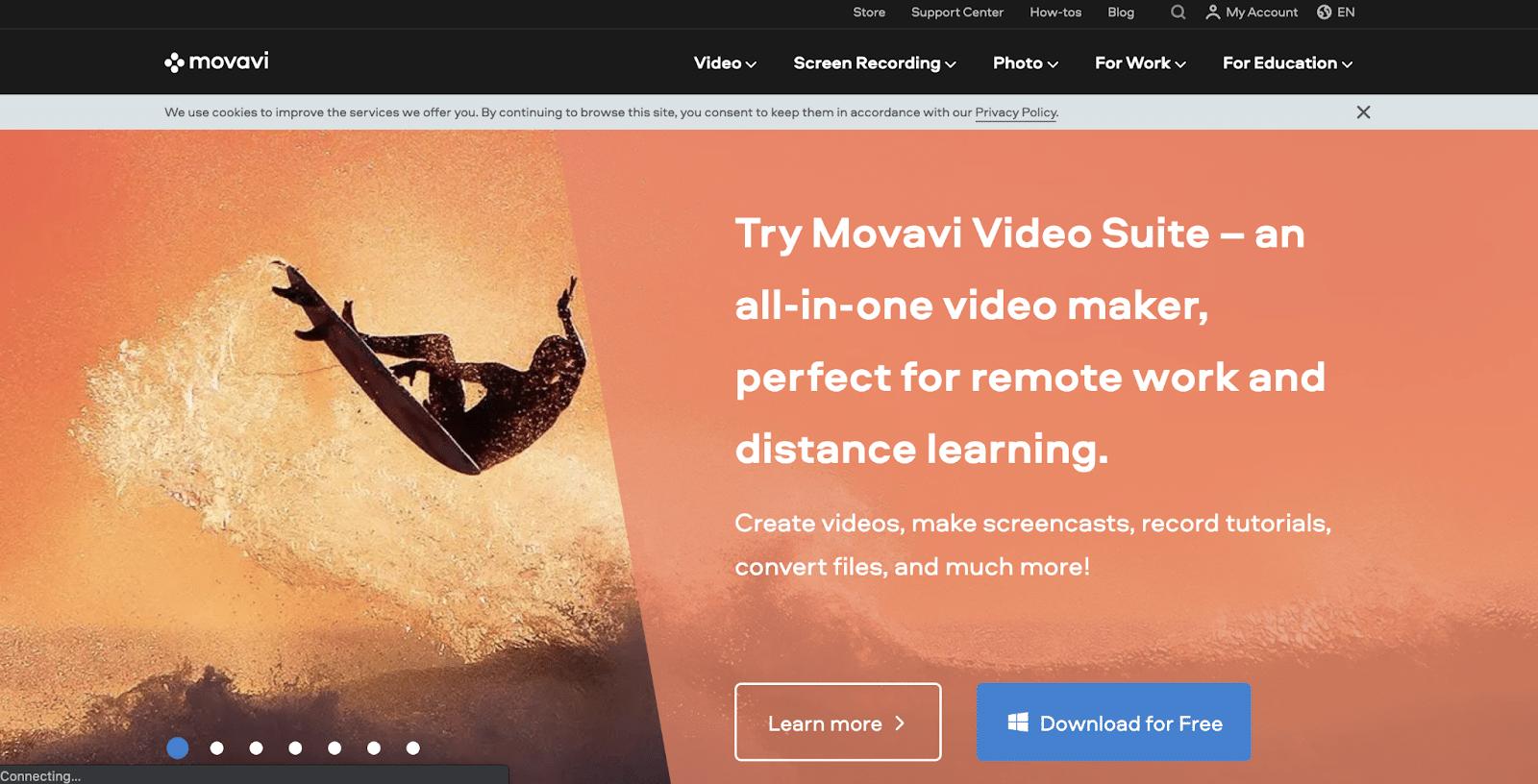 Movavi is an "all-in-one video maker" that is perfect for creating a wide variety of content. Unlike the others we've mentioned, Movavi has a screen recorder and photo editor capability, providing you with new ways to capture original content.
With Movavi, you can easily change the background of your clips to anything you'd like using the Chroma Key functionality. After you're done editing, you can easily export your video into a variety of commonly-used formats. Movavi estimates that it will take approximately 20 minutes to create your finished product.
It offers numerous title sequences, filters, and transitions to choose from. This makes it easy to create a memorable podcast video with various sequences and elements included. By choosing Movavi, you'll create a visually compelling video podcast that your audience will love.
The Best Free Video Editing Software Overall
Now that you've seen the top 13 free video editing software platforms, you might be wondering: what is the best overall?
While it does depend on your use case, Animoto did stand out as the easiest-to-use software with numerous features and functionalities for you to explore.
If you are in a hurry, we'd recommend using Vimeo Video Marketer or Magisto to take advantage of AI technology that creates and stitches your video together for you.
This will provide you with a foundation to personalize and edit the content, bringing it closer to your overall vision.
With these video editing software options, you'll be on your way to creating compelling content that your audience will recognize and love.
Looking for the right video editing platform for your next project? 👨‍💻 This guide has you covered 📹Click to Tweet
Summary
Choosing a free video editing software solution doesn't have to be difficult. In fact, it can be easy and enjoyable. If you stop and consider what you're looking for in your video editing software, you'll have a clearer roadmap of which one you need to use.
With the 13 options listed above, you'll have plenty to choose from when you begin evaluating your video editing software needs. Cross-compare your features and functionality wish list with the worthwhile video editing solutions we've outlined in this article.
By selecting the right video editing software for your business, you'll ensure that you're on the fast track to making a high-quality, engaging video in the most efficient way.