WordPress is the most widely used content management system on the planet. In fact, it powers over one-third of all websites on the internet. In the past, if you wanted to incorporate an e-commerce store into your site, the most popular option was typically WooCommerce.
Sure, there are plenty of SaaS (software as a service) ecommerce platforms to choose from. But design can have a massive impact on your content and selling. And opting for a WordPress-based site gives you greater control over this (from code to thousands of available themes and plugins). So, if you wanted the best of both worlds (easy content management and commerce,) you had no choice but to go with WordPress and plugin like WooCommerce.
This has now changed. BigCommerce has launched its own WordPress plugin, bringing with it some much-needed competition to the marketplace. But is it offering a better choice for your business? Keep reading to find out.
An Overview of BigCommerce
BigCommerce has been around as a SaaS platform for a while now (founded in 2009). And it is one of the leading ecommerce website builders, especially for growing businesses.

One of the biggest attractions of their hosted platform is that you can quickly build an online store that's built to scale with more built-in functionality than other platforms. BigCommerce boasts the fastest site speed among ecommerce platforms, best-in-class SEO and URL structures, and security, API calls, and payment gateway features built to scale. Plus, the company is well-known for its ability to smoothly and efficiently handle orders and transactions.
However, one drawback to BigCommerce handling all the back-end technical aspects of your ecommerce store is the lack of content customization. The company's SaaS platform historically wasn't great in areas not directly focused on transactions, such as enabling you to attach a blog to your commerce site.
However this is all changing. BigCommerce launched 'early access' to its new WordPress plugin back in June 2018, and officially launched the plugin in December 2018.
BigCommerce for WordPress – A New WooCommerce Alternative
In concert with WordPress, BigCommerce launched its own WordPress plugin that enables users to combine all of the company's ecommerce features with the open-source flexibility of the WordPress platform.
The BigCommerce for WordPress plugin is a fully-featured integration. One that is designed to allow you to scale your store quickly. It does this by keeping much of the back-end functionality within the BigCommerce SaaS platform.
This functionality includes:
Catalog management
Managing fulfillment logistics
Processing payments
Order management
The difference is that the plugin allows you to continue to use WordPress on the front-end. So, you have access to its unlimited customization options as well as thousands of themes and plugins.
With the power of WordPress, you can now design an attractive site that seamlessly integrates content and shopping. Whether your goal is to start a new blog, or craft perfectly-styled product descriptions, the plugin can help you achieve it.
An interesting fact. Shopify attempted this exact same thing a of couple years ago when they launched their own WordPress plugin. However, it has now been closed down and the only thing they offer for WordPress users is a way to add a button, no integration. Will BigCommerce pull off what Shopify couldn't?
Advantages of BigCommerce
Embracing the power and functionality of WordPress has allowed BigCommerce to offer "headless commerce" to users, combining a strong backend commerce engine with the most popular content management system (suggested reading: Intro to Building Websites with Gatsby and WordPress). Plus, it supports the ability to display content, create product categories, and conduct sales on the same URL, which is a good new SEO strategy.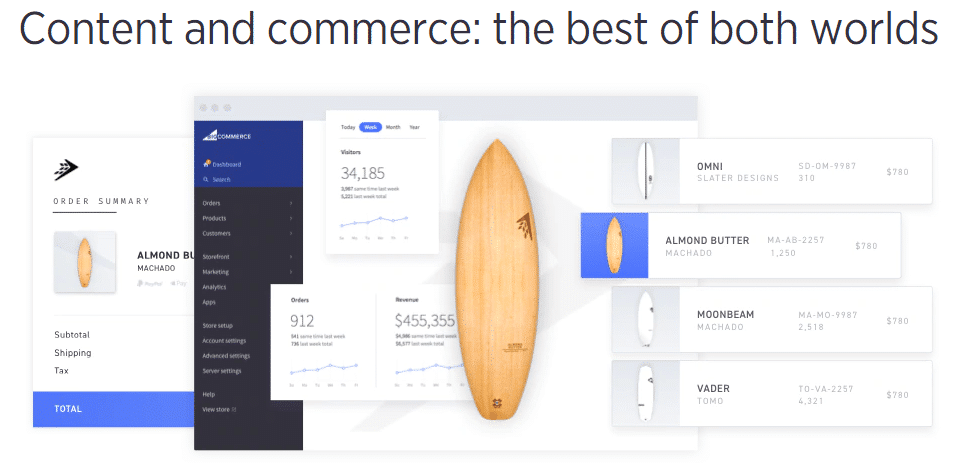 Here are at the unique advantages that BigCommerce has created:
1. Improved Scalability
BigCommerce designed its new plugin to be robust and support scalability for large businesses. It did this in three ways:
The company included many standards ecommerce features within its own plugin. Thereby, removing the need to install additional plugins that can slow down your site.
It retained most of the back-end elements outside of WordPress, so they would not take up room on the platform and negatively impact site speed.
BigCommerce designed the plugin to allow you to build multiple WordPress stores. And you can still control them all from a single control panel.
BigCommerce built its SaaS platform with a focus on being able to easily accommodate large businesses. The company ensured its new WordPress plugin maintained this ability to handle large volumes of traffic. As well as high order volumes.
The plugin also supports up to 600 SKUs per product and enables the creation of complex catalogs. It offers over 250 options for creating a completely customized product catalog.
2. Enhanced Security
The BigCommerce plugin has maintained all the security features of its SaaS platform. These include:
PCI Compliance. The new BigCommerce plugin has been designed to provide an embedded checkout experience. This experience takes care of PCI compliance and customer security on your behalf. For example, you do not have to worry about credit card data security, or items like encryption or collecting signatures with PCI compliance.
Secure user accounts and logins. BigCommerce offers secure logins, accounts, and payment information storage for your customers outside of WordPress. This feature can increase your customers' sense of safety and confidence in the security of their data.
Integrated payment gateways. The BigCommerce plugin provides you and your customers with instant access to over 65 different payment gateway integrations, that serve over 100 countries and enable over 250 local payment methods. Not only does this mean a vast number of payment options, but it also means you don't have to worry about setting up or maintaining those secure gateways.
3. Customization Support
WooCommerce and BigCommerce both offer nearly unlimited customization through the WordPress platform. However, BigCommerce has designed in additional functionality that will make the customization process easier.
Out-of-the-box functionality. The BigCommerce plugin has been designed to quickly and easily integrate all your standard ecommerce functionality into any existing WordPress themes, so that little upfront customization and no coding knowledge is required before launching your new store. It even supports the new Gutenberg block editor.
AMP optimization. The plugin is designed to support Accelerated Mobile Pages natively on product and category pages so that your site is faster for mobile browsing and shopping.
Unrestricted access to key plugin files: The BigCommerce plugin also supports WordPress' standard method of overriding template files so you can modify any out-of-the-box designs without fear of losing your customization. In other words, you can customize your integrated product cards, lists, and cart without risking plugin updates that will undo your changes.
A large support network. BigCommerce helps connect its customers to its large online community of entrepreneurs and online store owners so that you can discuss ideas, learn from others, and get answers to any of your customization questions. The company is also actively seeking developers to help improve the app and resolve any customer issues.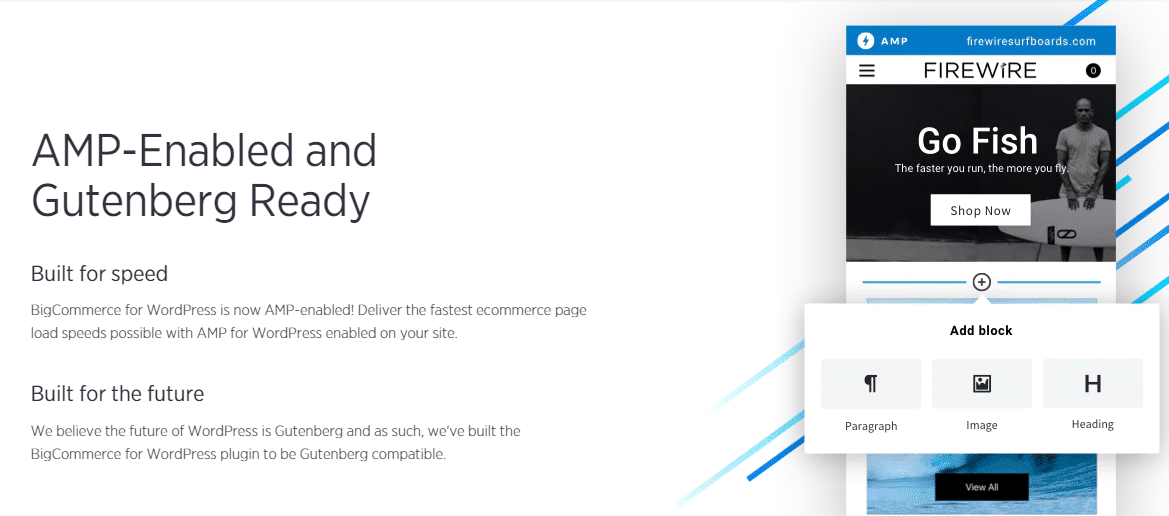 4. Additional Features
As a final advantage, here are several valuable features BigCommerce has built into its plugin:
Analytics. BigCommerce provides access to a wealth of data and valuable analytics about your store's performance.
Streamlined global shipping. BigCommerce also provides real-time global carrier quotes and supports most major global couriers. This enables you to access options such as free shipping, drop shipping, flat rates, and much more. Plus, the company just released their BigCommerce Shipping functionality, which allows you to easily get customized, real-time shipping rates from major carriers at discounted rates.
Flexible shopping cart. BigCommerce's embedded shopping cart offers extensive customization options so that you can offer enterprise-grade promotions and discounts within a fully responsive layout without any additional extensions or plugins (Looking for extensions? Check out these best WooCommerce extensions).
Better credit card rates. BigCommerce allows all of its customers to have access to its pre-negotiated credit card rates. Currently, these are the lowest fees available within the SaaS e-commerce space. Plus, you can benefit from the BigCommerce's affordable PayPal rates. And, as your business grows, and upgrade your plan, you get even better credit card rates.
Advantages of WooCommerce
There is no denying that BigCommerce a powerhouse of an ecommerce plugin. It's strong, fast, and ready to scale your business. But, that doesn't mean WooCommerce isn't a good choice for your business either.

Here's what this plugin has to offer:
1. It's Free
The most significant advantage of WooCommerce is that it is possible to create an ecommerce store with the plugin at no cost. Yes, you will need to invest in WordPress managed hosting (or even specialized WooCommerce hosting).
You may also need to buy multiple payment gateway and shipping add-ons to match BigCommerce's functionality, however, if you're just starting out and generating a smaller amount of sales, you may be able to save money with WooCommerce.
If you're just starting out, the difference is that it's possible to select a free WooCommerce theme, and the plugin itself is free. In comparison, with the BigCommerce plugin, you pay for a plan that starts at $29.95/ month.
2. It's Well Supported
WooCommerce is a highly regarded company by WordPress, and it has a large network of users and supporters. In fact, WooCommerce is used by roughly 8% of all ecommerce stores and 21% of the top one million sites.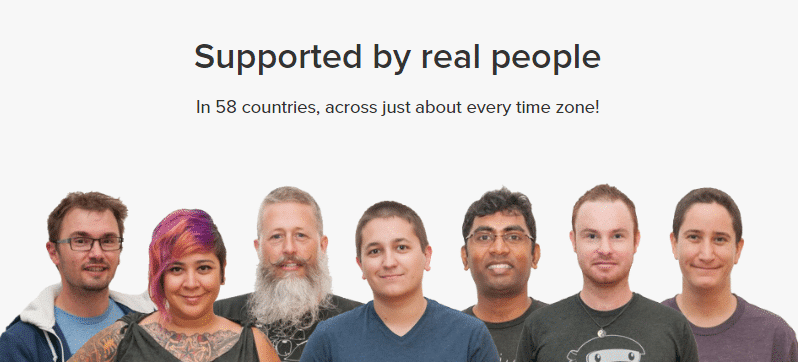 Plus, WooThemes, the creator of many WooCommerce themes, plugins, and products, was acquired by Automattic back in 2015. If you're not familiar with Automattic, it's the company that operates WordPress.com and contributes to WordPress.org. So, that shows how well supported this plugin is.
3. Extend Functionality with Plugins
BigCommerce offers a lot of built-in functionality that can be very attractive to non-developers and those who are not familiar with WordPress. However, just because this functionality is not built into WooCommerce does not mean that you cannot gain it. For example, you can incorporate your own CRMs, payment gateways, and maintain your own PCI compliance, although you will end up paying for it separately.
Right now, there are hundreds of free and premium plugins available for WooCommerce, designed to boost its core functionality. And if you're not comfortable customizing your site yourself, you can always hire a WordPress developer. There are thousands of developers that specialize in WooCommerce development.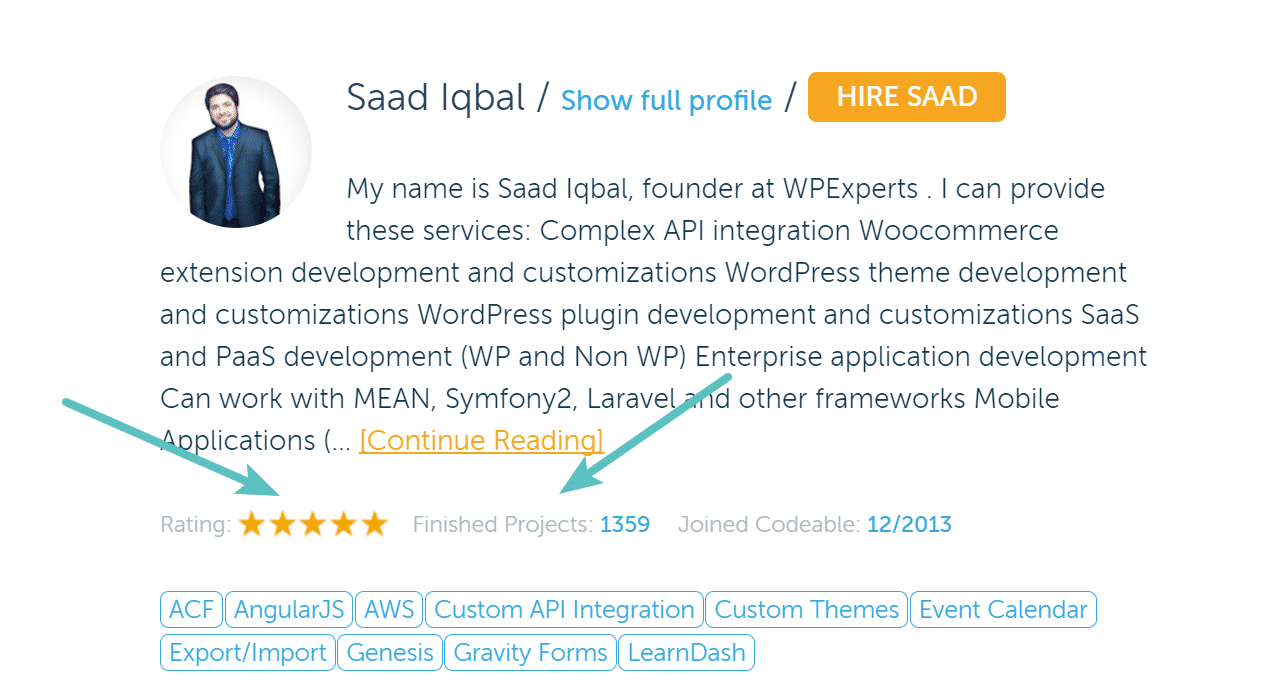 Which One is Right For You
Both ecommerce plugins offer their own unique advantages, so which one is the right choice for your business?
Since both options can support unlimited customization and be molded into whatever it is you need, the ultimate decision comes down to determine what is more important to you:
A solution that is easily scalable, comes with a host of out-of-the-box functionality, and offers some unique extra features?
Or one that is more widely used at the moment and may be cheaper if you're just starting out?
The bottom line is that either plugin allows you to harness the power of WordPress and integrate the best content management system with your commerce activities for huge wins.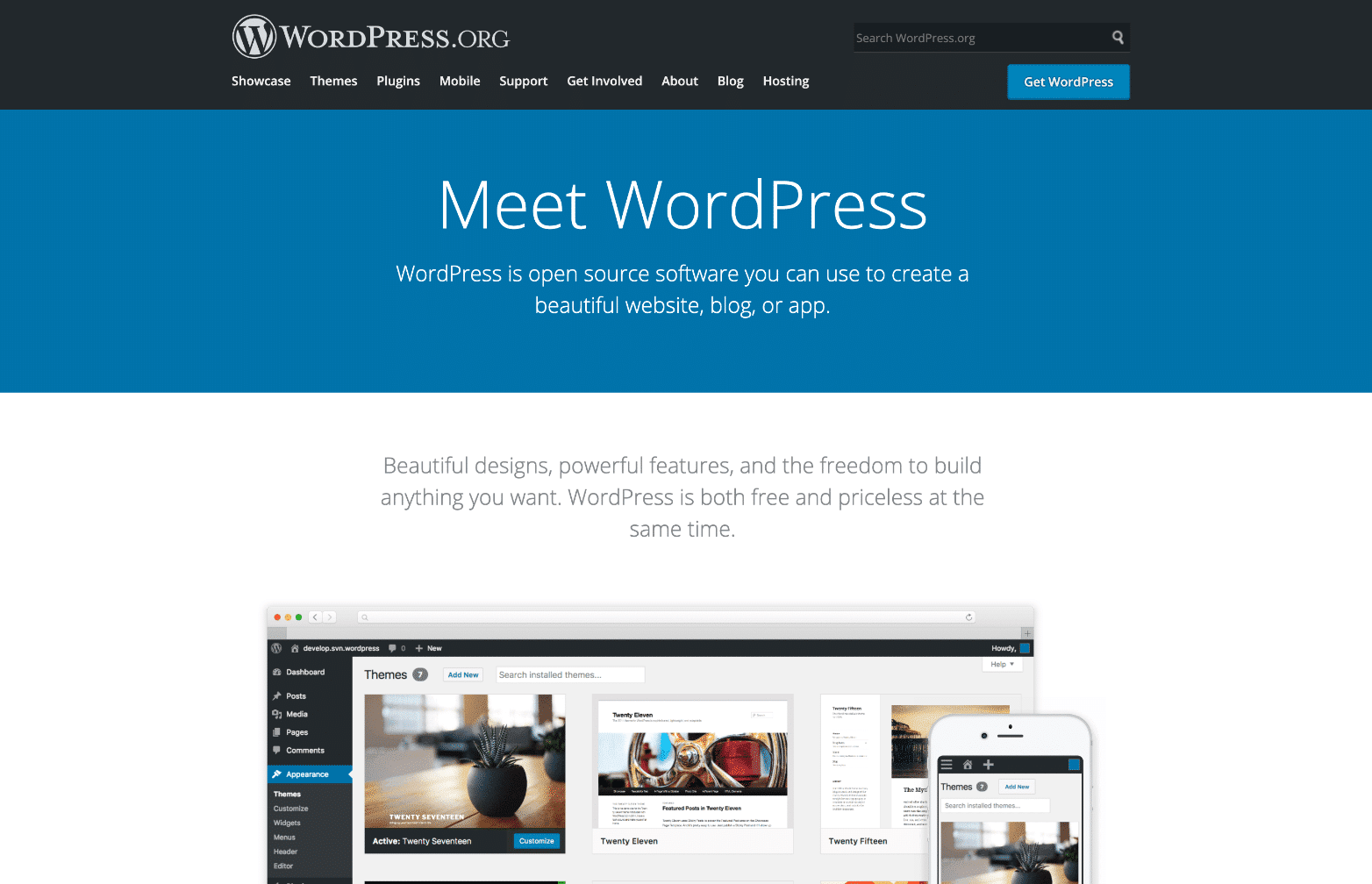 Also, for large businesses, speed is a consideration. One of the key advantages of BigCommerce is its ability to host much of your backend elements outside of WordPress. If you have an extensive catalog and experience a lot of simultaneous transactions, this makes it easier to maintain fast site speed.
Since many ecommerce functions are embedded into the BigCommerce plugin, it can also minimize the number of active plugins on your WordPress site. This reduces the number of plugins you need to update and monitor and it can positively impact your website's speed, which in turn can improve your SEO.
To understand the importance of search rankings, take in this ecommerce SEO statistic: pages that rank at the top of Google take in a whopping 36.4% of search traffic. The further down the page you rank, the less traffic you will see.
BigCommerce also reduces the amount of time required for site maintenance, as the company takes care of many aspects for you, such as PCI compliance, payment gateways, and customer security. Plus, if you're unable to maintain your WordPress site yourself, then the question becomes: is it more cost effective to subscribe to BigCommerce or hire a developer.
The bottom line is that unless you're a very savvy developer or your business is not yet big enough to support the cost of BigCommerce, the new BigCommerce plugin might be a better option for your online store.
Summary
Google Trends shows that WooCommerce is still more popular than BigCommerce, but as awareness of the BigCommerce WordPress plugin grows, this trend may change. For consumers, it's always great to have more competition and options to choose from.
WooCommerce has been around as a WordPress plugin for much longer and has gained a strong community and support network. Plus, the minimal cost of a WooCommerce site can be very attractive for new and small businesses.
However, the BigCommerce plugin is definitely a very comprehensive ecommerce offering. It clearly has been designed with scalability and ease of use in mind. The company's ability to combine the power of its SaaS platform with the unlimited customization of WordPress could be a gamechanger in the ecommerce marketplace.
BigCommerce offers greater value than the competition, especially if you're experiencing significant growth, or have a large number of products and transactions.
Which plugin will you choose for your ecommerce store and why? Let us know in the comments below!