We all know and love WordPress for its blogging capabilities.
But what about turning a WordPress site into something more? What about selling physical or digital items through WordPress?
As many of you may know, there's no need to go with another platform for launching an ecommerce store, all thanks to the WooCommerce plugin. It's an incredible solution for turning your site into an online store, and you typically don't have to pay for many WooCommerce extensions. The only downside is that there are so many WooCommerce themes to choose from.
That's why we're covering the best WooCommerce themes for you to cut down on your searching and spend more time building a website!
And remember, your ultimate goal is to increase your store's revenue. So be sure to download our free ebook, 10 Ways to Boost Your WooCommerce Product Page Conversions.
Where To Buy and Download the Best WooCommerce Themes
Some folks might be strictly looking for free WooCommerce themes. Others are only interested in the best premium themes. It doesn't matter which group you fall into, but you should know the right sites to go to if you're looking to avoid unreputable themes.
Articles like this are excellent options for finding curated lists to get started with your search. However, we also want to give you some marketplaces and libraries with the best WooCommerce themes, considering you can always go back to these and see ratings and reviews for future themes.
To find the best free WooCommerce themes, go to:
To find the best paid WooCommerce themes, go to:
What To Look for in the Best WooCommerce Themes
All development jobs are different, so it's important to find themes that cover the majority of them. The less you have to get into custom coding work the better. So, what are some of the primary features you should seek out when researching the best WooCommerce themes?
Demo pages and designs that allow you to cut out the majority of coding and design work. For instance, some themes have large packs of demos for instantly launching homepages for different industries. You may also see demos for things like About Us pages and contact forms.
An easy WooCommerce integration tool that configures most of the online store for you. WooCommerce does much of this for you, but there are many themes that add some extra steps along the way.
Ecommerce-based design elements such as animated shopping cart icons and product collection galleries.
Mobile interfaces for when your customers are shopping on smaller devices.
A visual customizer or drag and drop interface for designing your website in a more visual manner. You also want to have an area to customize the HTML and CSS, just in case.
Integrations with other eCommerce and page building plugins. There are so many ecommerce plugins and extensions out there. Make sure you check to see if your favorites are supported or test it out yourself.
Translation tools for when you plan on expanding your store to other markets, or if you already have customers who speak different languages.
Megamenu support, just in case you start getting more and more products and need a menu that sends customers to all of them.
High-quality customer support, or at least some sort of online forum. Top-notch customer support is essential for online stores, since problems can cause real harm to your business.
Make sure you check out things like reviews, ratings, and comments from users on all of the themes you consider.
Different product page styles and formats.
Multiple listing formats so that you can organize your product galleries the way you want.
You also want to check the blog area to ensure that the developers didn't cut corners in this area.
Remember, free themes are almost never going to have the same functionality as you would find with premium themes. For smaller companies and blogs this won't matter, but businesses seeking out quicker growth will almost always need a premium theme.
It's also nice as a developer to have premium themes because you often know the coding is solid and you can always turn to the customer support team.
What WordPress Themes Work Best With WooCommerce?
This is an interesting question that doesn't get asked that often. Many of us assume that all WordPress themes are compatible with WooCommerce. However, that's not always the case. Sure, you can always install WooCommerce on WordPress, but it could potentially cause your site to crash due to a conflict with the theme or other plugins.
In addition, you may simply find that the theme isn't made to handle WooCommerce. For instance, some themes don't have any areas to feature your product collections. Others don't have shopping cart icons or sliders for showing your new items. You can still grab a simple blogging theme and make a small store on that site, but more often than not you're doing yourself a disservice by skipping out on actual WooCommerce themes.
So, what are some rules to follow to ensure your themes work well with WooCommerce?
Make sure the theme sales page actually mentions something about integrating with WooCommerce.
Test the demos to see if any of the pages are configured as an online store.
Consider paid themes that have better customer support and higher potential for ecommerce integrations.
Skip most themes that either have few reviews or lower ratings.
Ask the developer questions about how well the theme works with WooCommerce.
Check comments and questions from other users to see if any mentions about WooCommerce have been made. This is where you'll typically find unbiased opinions about integrations.
How To Install WooCommerce Themes
Installing a WooCommerce theme is just like installing any other WordPress theme. The main difference is walking through the WooCommerce configuration for settings like shipping and pricing.
Let's walk through that process to ensure that everyone knows how to launch their site properly. Keep in mind that you must also find a quality WooCommerce host prior to launching your store.
Step 1: Upload and Install Your WooCommerce Theme
For this short tutorial, we'll take a free theme and upload it to a blank WordPress installation. We'll use the free ShopIsle theme since it's easy to set up and there's also the option to upgrade to a paid version.
Either download the ZIP file for your theme or search for a free theme in your WordPress dashboard. You can do this by going to Appearance > Themes in the dashboard.
If the theme is on the dashboard you can click on the Install button, then activate it on your site. You can also upload the ZIP file in this area if you're using a premium theme.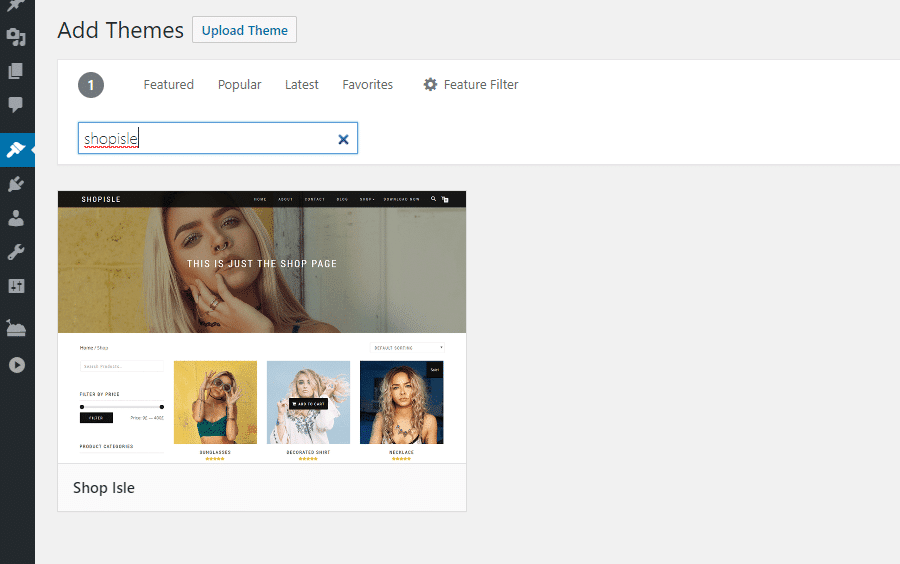 Feel free to click on the Customize button to use the visual builder. This allows you to do things like upload a logo, adjust fonts, and add banners to your homepage. All of the best WooCommerce themes are going to have different settings, so make sure you test out this area to understand what capabilities you have.
For instance, the ShopIsle theme already has some image headers and banners on the homepage. You simply have to swap out the images for your own. On other themes, you may find that none of this demo content is included, so you may have trouble trying to replicate what you've already seen on the developer's product page.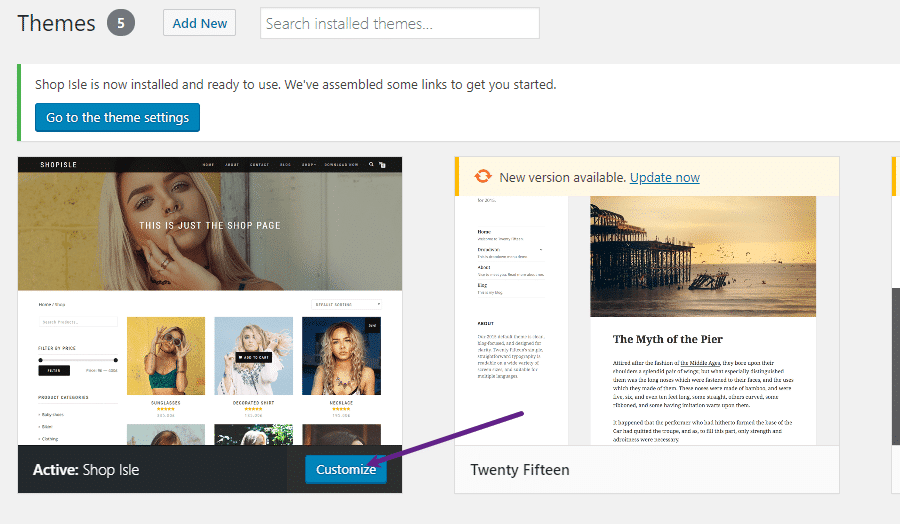 Step 2: Install WooCommerce
Go to Plugins > Add New on the WordPress dashboard.
Type "WooCommerce" into the search bar.
Click on the Install Now button, then activate the plugin so that it begins working on the website.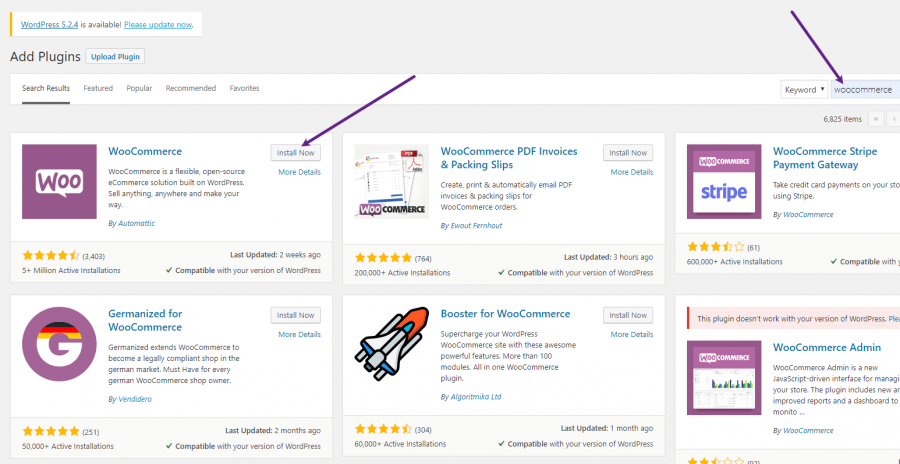 Step 3: Walk Through the WooCommerce Configuration Steps
After activating WooCommerce, a new page pops up so that you can have all your settings done right from the start.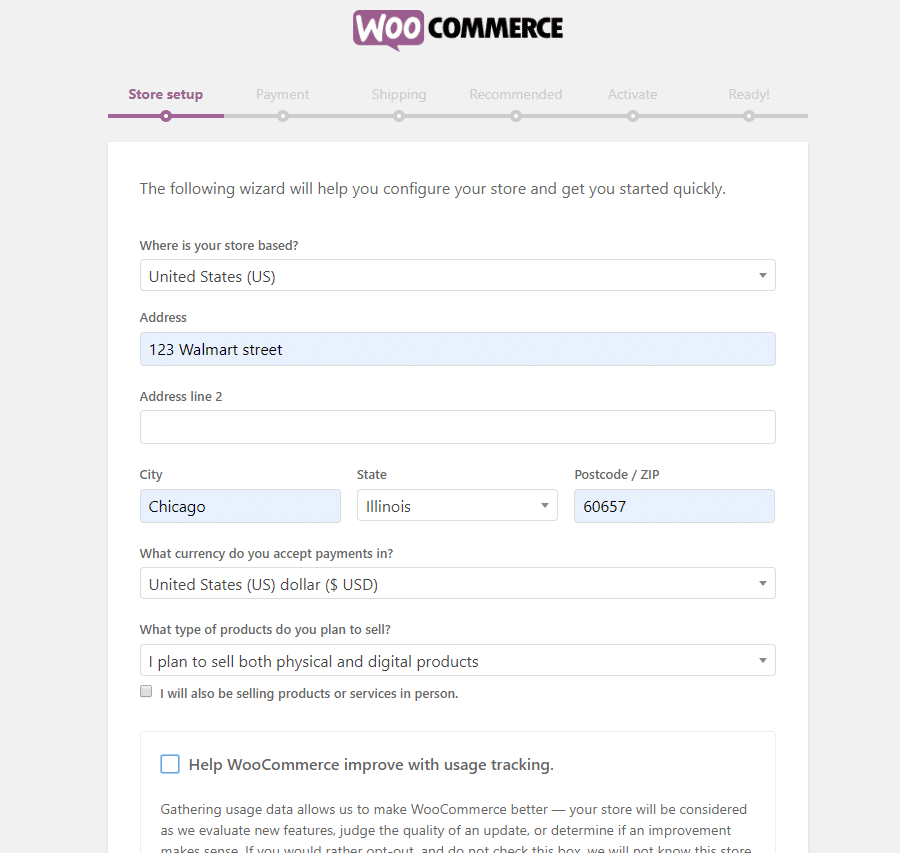 It begins with a page where you type in business information like the address and what types of products you plan on selling. After that, you'll walk through steps for the following:
Payments
Shipping
Taxes
WooCommerce admin settings
MailChimp
Facebook
We already have a tutorial for activating and setting up WooCommerce, so feel free to check out that article for an in-depth look into how the process goes!
After that, we recommend adding any demos your theme comes with and creating products. You can then make collections so that a bunch of your products are showcased on your homepage and elsewhere on your website.
It's also important to update WooCommerce whenever needed, so keep an eye on that.
The Best Free WooCommerce Themes
When getting started with a small business or blog, it's not a bad idea to consider one of the best free WooCommerce themes. This might be to cut down on costs or simply test out themes without any financial obligations. After that, you can either decide that all you need is a free theme or you might think about upgrading to a premium version of that theme to get even more features.
We love free themes for testing, so here are some of our favorite free WooCommerce themes to choose from.
Botiga
Botiga is an elegant theme that can take your online store to the next level, especially if you're hoping for a minimalist look. It boasts a modern, clean design that is versatile enough for just about any brand. You can use it to easily showcase your products in an engaging and attention-grabbing way.
Botiga also comes packed with customization options. This includes multiple listing styles, various product cart customization options, different checkout styles, three product page gallery designs, and product recommendation and filter features. It also provides multiple badge styles that can help you promote certain items, special deals, and limited-time offers.
To further help you highlight your products, Botiga makes adding a blog to your online store a breeze and provides six archive layouts to choose from. Thanks to its clean code, this e-commerce theme is also optimized for performance.
Botiga is free to download and use. Its Pro plan starts at $69 per year and comes with a product swatch, more header styles, sidebar positions, a wishlist feature, and more.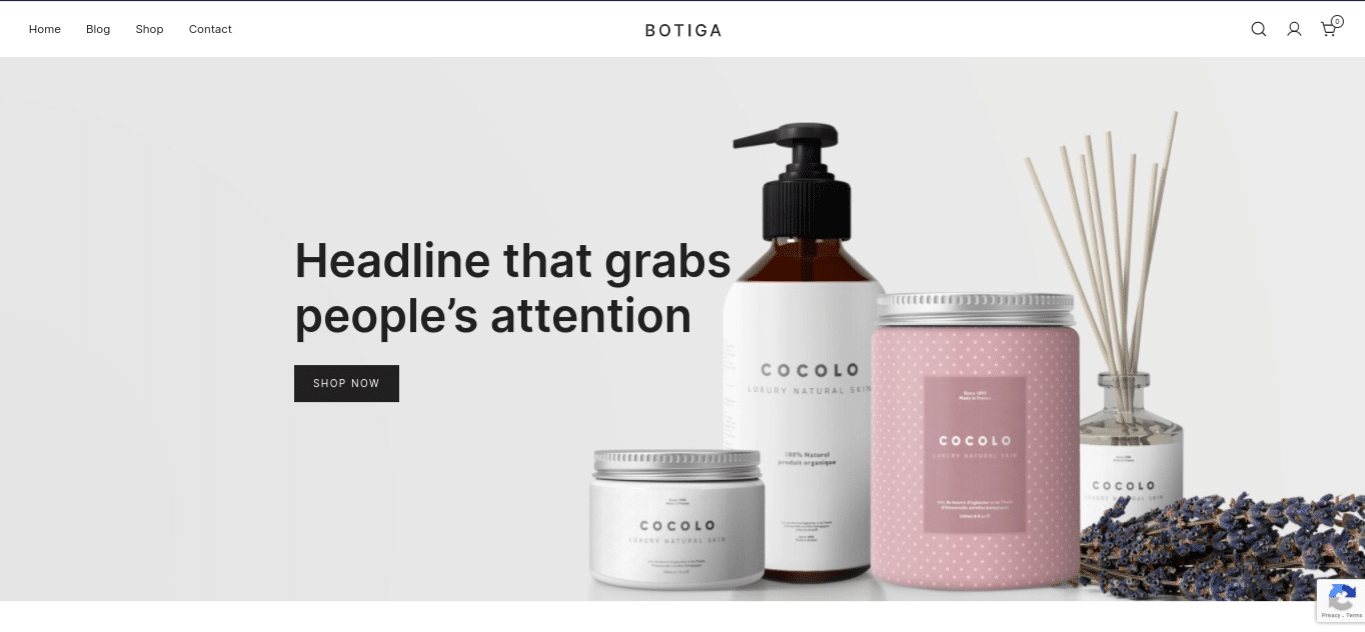 WP.org Ratings: 5 out of 5
Downloads: 7,000+
Integrations: WooCommerce
Easy Multilingual Support: Yes
Overlay
Overlay offers a flexible design for building your online store. The classic layout is professional and ready for all small businesses who want to make their brand look impressive at first glance. It's a lightweight and speedy solution that can handle anything from a simple blog to a full-fledged online store. We like it most for those who like ample space and columns for clearing out the clutter and ensuring that your customers aren't confused while shopping.
Overlay is definitely on the best WooCommerce themes because of its quick integrations, ability to provide beautiful blog posts, and the various locations for widgets. The footer is fully customizable, and you can go into the color settings to make sure that your branding is on point. This is a fully responsive WooCommerce theme, and it also boasts some impressive social media icons that you would typically only find in premium themes. Overall, we suggest that you take a look at Overlay as one of your first WooCommerce options.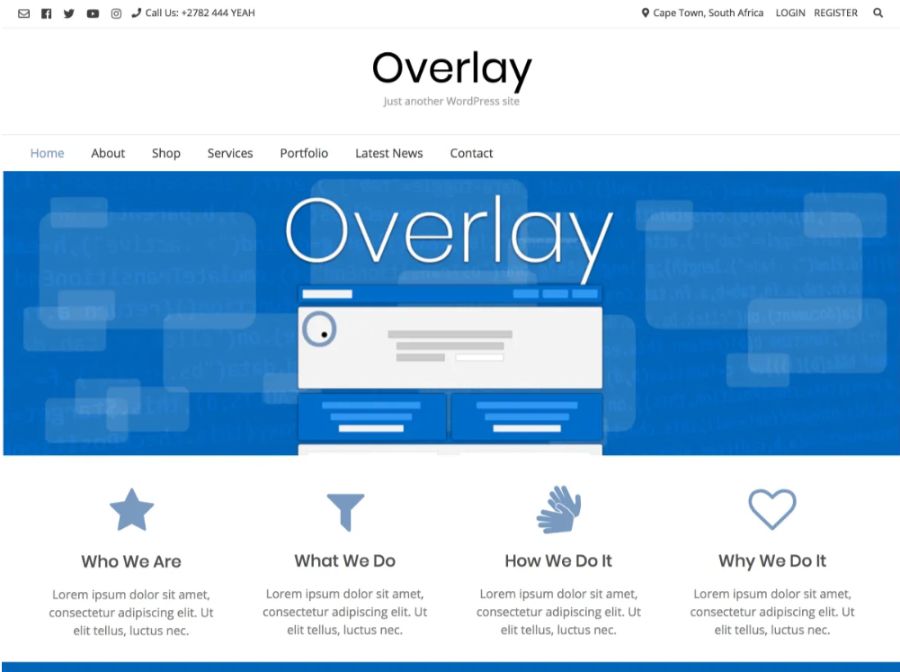 WP.org Ratings: 5 out of 5
Downloads: 1,000+
Integrations: WooCommerce, Elementor, and a few more. 
Easy Multilingual Support: Yes
Hestia
Hestia is a WooCommerce theme that has impressive ratings and reviews, along with a beautiful interface to go along with it. The theme is made by the friendly folks over at ThemeIsle, and it offers a modern take on standard online stores. We like it most for small businesses and corporations, but ThemeIsle also suggests it for creatives, firms, portfolios, and freelancers.
All of these types of businesses can utilize the ecommerce functionality, especially since it integrates seamlessly and allows you to instantly get a shopping cart on your website. Keep in mind that Hestia is a one-page website theme, which is yet another way it keeps things simple and gives your customers an easier route to purchasing.
Along with a parallax slider, a photo gallery, and a travel map module, the Hestia WooCommerce theme is bound to boost your conversions.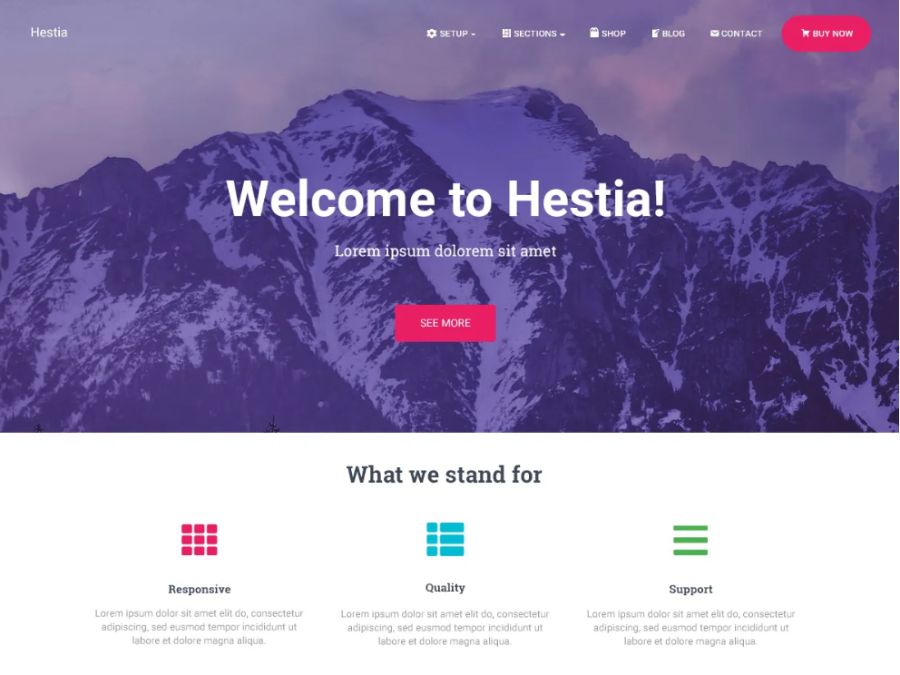 WP.org Ratings: 5 out of 5
Downloads: 100,000+
Integrations: Elementor, WooCommerce, Flat Parallax Slider, Photo Gallery, and Travel Map. 
Easy Multilingual Support: Yes
Neve
Neve is another one of the free WooCommerce themes offered by ThemeIsle. It's a useful option for all skill levels, from advanced designers to complete beginners. The theme also has a beautiful frontend, with bright colors and customizable items like fonts and colors. Neve is compatible with AMP and it has a mobile-first approach considering that so many people are purchasing online on their phones nowadays.
With ThemeIsle, you always get reliable updates and solid customer support. In addition, the Neve theme is fast and lightweight so that all of your product pages load quickly. Feel free to add a custom design to your header and footer, and utilize the layout options for width adjustments and much more.
Content editing is easy due to the many integrations, and the one-click import buttons get all of the content you need from the premade templates provided.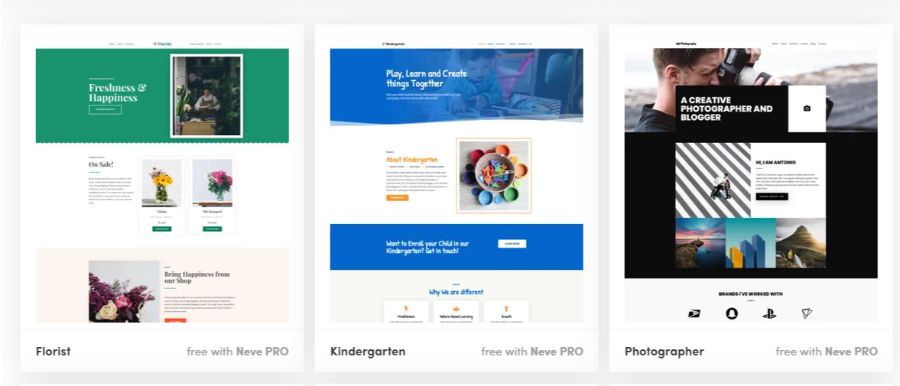 WP.org Ratings: 5 out 5 
Downloads: 50,000+
Integrations: WooCommerce, Visual Composer, SiteOrigin, Divi, and many other page builders. 
Easy Multilingual Support: Yes
Tyche
Tyche provides sleek, seductive styling, with options for darker themes and unique buttons. The theme supports slider content on any page, and the many columns are available so you can organize your text, images, and other content. This is one of our favorite free WooCommerce themes for many reasons.
First of all, the default layouts include beautiful product collections, and you can take advantage of widgets for lists like "Most Wanted Products" and "Latest Products."
Tyche is one of the lesser-known free WooCommerce themes on the market, but it's making a name for itself with reliability and speed. Some of the other advantages include footer widgets, a custom logo, and a menu, along with beautiful featured images for those companies that plan on blogging to support the business.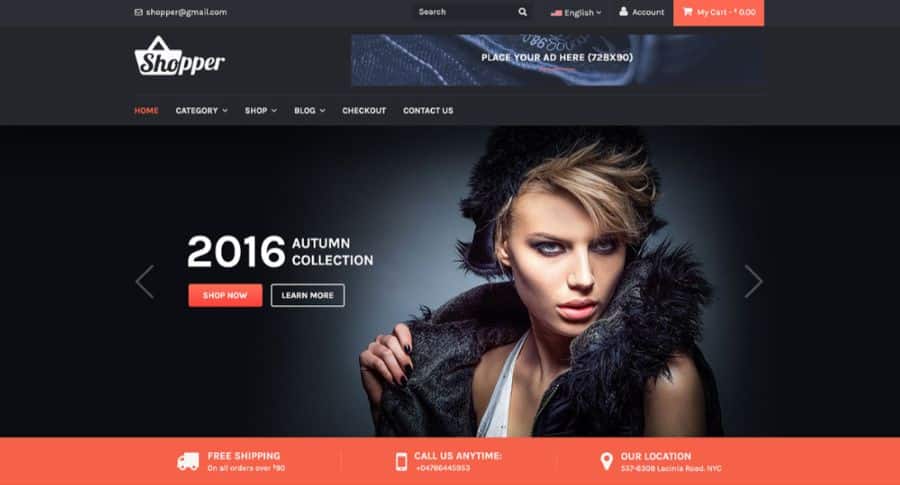 WP.org Ratings: 4.5 out of 5 
Downloads: 4,000+
Integrations: WooCommerce
Easy Multilingual Support: It doesn't appear so
Astra
Astra is one of the most popular WordPress themes with over a million downloads. It can be customized and personalized to fit any site, including ecommerce stores.
Building websites with Astra is super easy as it comes preloaded with over 150 templates for various industries, such as fashion designers, ecommerce stores, product companies, fitness studios, and more. These templates are built with popular page builders like Elementor, Beaver Builder, and Gutenberg. You can view all these templates on Astra's site.
Most importantly, Astra works very well with WooCommerce and is one of the most recommended eCommerce themes for WordPress.
Some of Astra's notable ecommerce specific features include SEO-optimized product listings, conversion-ready checkout to reduce cart abandonment, 100% secure transactions, pagination and infinite scrolling for products, product search filters, Quick View for previewing products without leaving the page, dropdown cart window, and a highly customizable checkout process.
Astra is free to download and use. Its premium plans start at $59 and include additional 100+ starter templates, one-to-one support, unlimited website usage, and other features.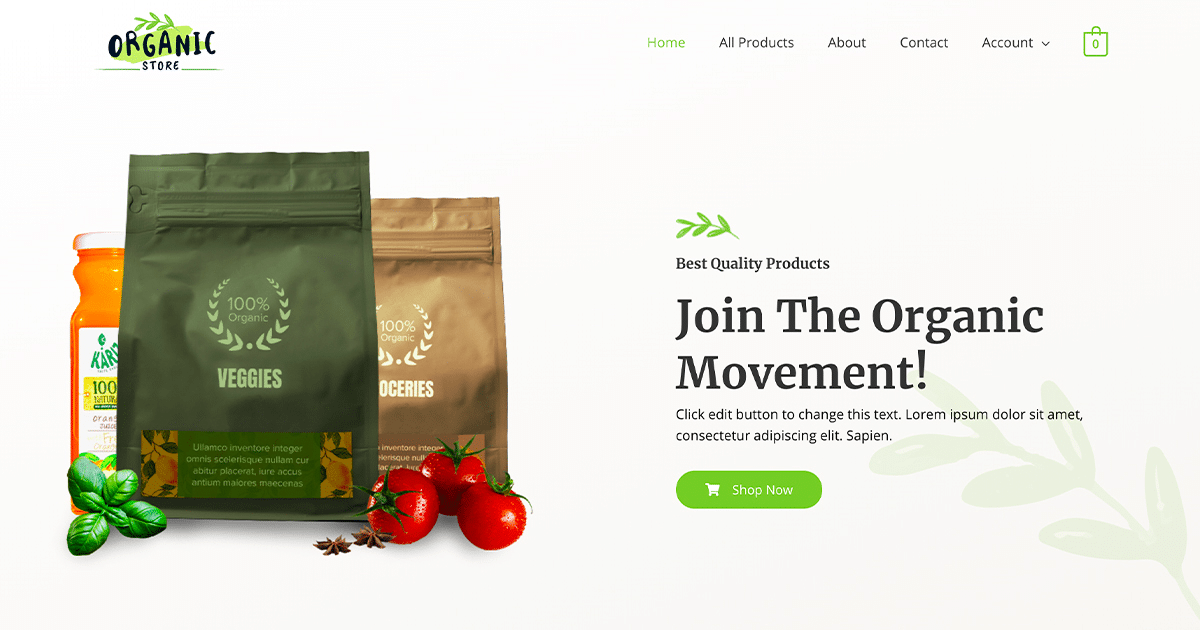 WP.org Ratings: 4.9 out of 5 
Downloads: 1+ million
Integrations: WooCommerce, Beaver Builder, Elementor, Gutenberg, LifterLMS, LearnDash, and many more.
Easy Multilingual Support: Yes
Activello
Activello comes from the development team at Colorlib. It's a simple blog theme with the ability to integrate with WooCommerce and either convert into an online store or simply provide a small store to users. The multipurpose theme is flexible in many ways. First of all, you can easily make a beautiful blog for your lifestyle or travel brand.
It's a clean theme filled with whitespace and many options for imagery. You can also find many widgets for things like About Me information and recent posts.
The Activello WooCommerce theme offers a minimal design, but it also provides the must-have features of responsiveness, JetPack integration, and full SEO support. The fullscreen slider is sure to grab attention, and the content customization tools are there for changing things like colors and fonts.
Some of the other highlights include an infinite scroll function, translation-ready capabilities, and Font Awesome icons. Pair that with the unlimited color options and you have all the customization power you need.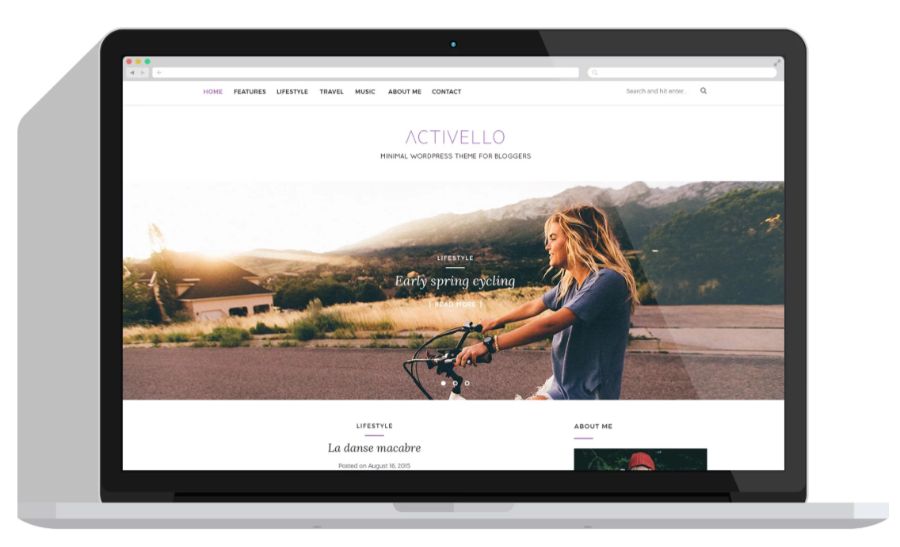 WP.org Ratings: 5 out of 5
Downloads: 10,000+
Integrations: WooCommerce, Jetpack, Yoast SEO, Gravity Forms, and W3 Total Cache. 
Easy Multilingual Support: Yes
Allegiant
Allegiant introduces a wide range of capabilities, making it a multipurpose theme with the ability to also sell online. You can start with the one-page layout and make anything from portfolios to standard business websites. We particularly enjoy this for small businesses, since it's lightweight and ready for you to add WooCommerce whenever you plan on selling online.
The great part about Allegiant is that it includes several prebuilt content modules. One of them is for showcasing team members, while another is great for showing off your client logos. Another thing we enjoy is that you can list testimonials and services without any problems.
Everything is formatted nicely in the Allegiant theme. Not to mention, the responsive design looks wonderful on all mobile devices. Pair that with the WooCommerce support and you've found a sleek selling machine.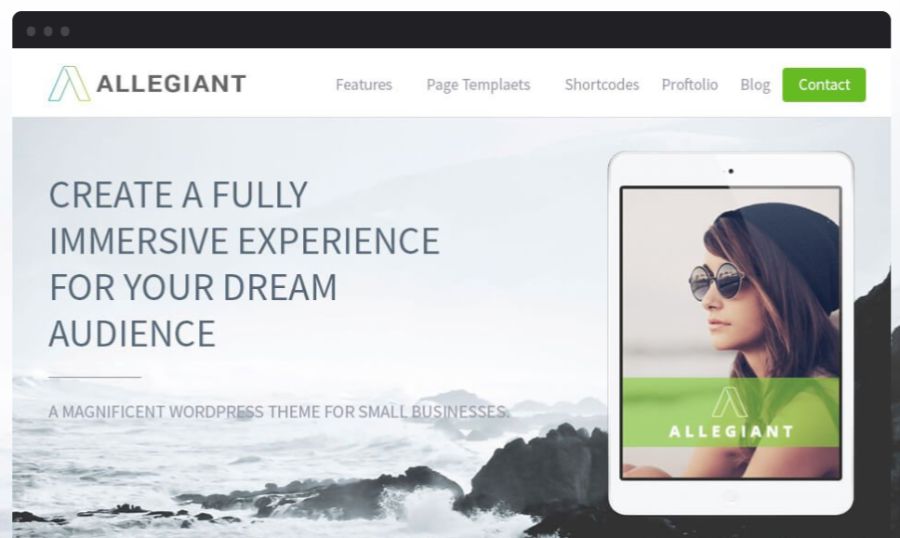 WP.org Ratings: 4 out of 5
Downloads: 8,000+
Integrations: Contact Form 7, WooCommerce, Yoast SEO, and WPML
Easy Multilingual Support: Yes
Sparkling
The Sparkling WooCommerce theme is described as a flat, simplistic theme, boasting some popping colors and beautiful free space for giving your content some room to breathe. At first glance, it appears to be a stunning blog theme. You can add sidebars with social media buttons, About Me information, and Download buttons.
However, you can also integrate with WooCommerce to start selling your ebooks, courses, or software. Overall, the Sparkling theme looks like a steal for those interested in starting blogging.
This is a completely free theme, and the responsive nature of the theme makes sure that all of your customers are able to see your blog posts and product pages on smaller devices. The slider is impressive, since it has some overlaying text and a quick upload button for placing some of your high-resolution photos on the homepage. This is another theme from Colorlib, so you can see just how many free themes the company creates. What's great about Colorlib is that they provide quality support and premium upgrades if you're interested in more features.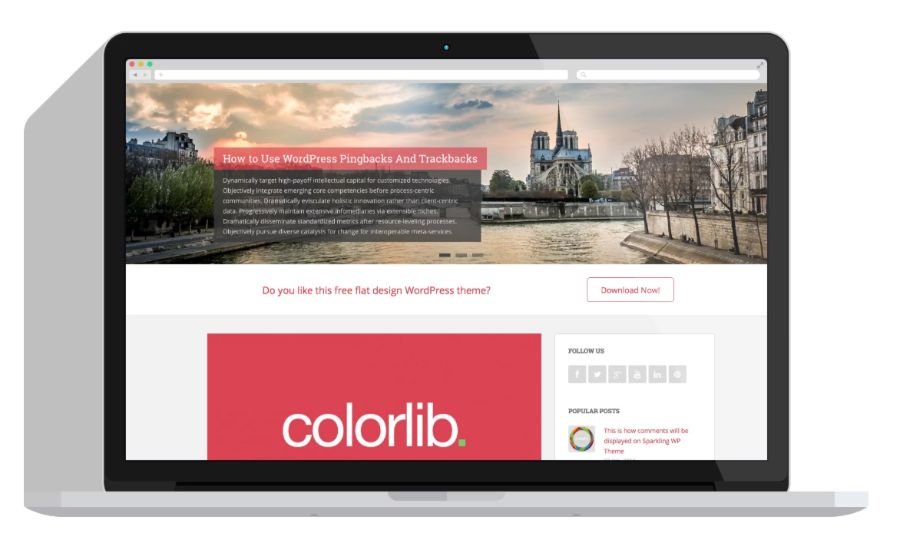 WP.org Ratings: 5 out of 5
Downloads: 40,000+
Integrations: WooCommerce, Jetpack, Contact Form 7, bbPress, and more. 
Easy Multilingual Support: Yes
Dazzling
The Dazzling theme says quite a bit in the name. It's yet another free WooCommerce theme that works wonders for smaller blogs and small businesses. You can utilize the flat, basic design to your advantage since it's easily manipulated for changing around colors and placing widgets in the sidebars. We also like the content slider for highlighting your most recent blog posts and uploading images that may grab attention.
What's awesome about the Sparkling theme is that you could technically use it for any type of business. This is a highly versatile free WooCommerce theme, with the look for a blog and the professionalism for companies like app developers, designers, artists, and travel companies. The Sparkling theme has excellent plugin support, and you receive everything from Font Awesome icons to unlimited color options.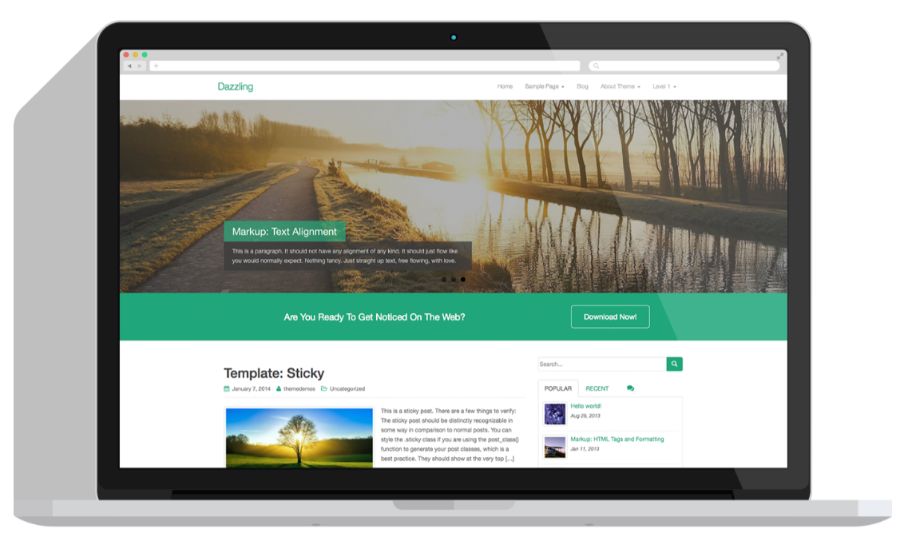 WP.org Ratings: 5 out of 5
Downloads: 40,000+
Integrations: WooCommerce, Contact Form 7, bbPress, Jetpack, and more. 
Easy Multilingual Support: Yes
Fashion Diva
Fashion Diva is a great starting point for fashion and lifestyle bloggers. We wouldn't recommend it for much else, considering the default colors and styles are catering to the fashion industry. It's a feminine-looking theme with beautiful pink colors and social media buttons at the top. You can utilize the image slider to highlight blog posts, while also linking to things like portfolios and online store items.
Keep in mind that this is a child theme to the Blossom Fashion theme. Therefore, you'll need both of them to make your website work properly. Other than that, this theme is built for those fashionistas who spend lots of time posting images to Instagram. You can share those posts on your website and use the 20 widgets for customizing the style to your own preferences.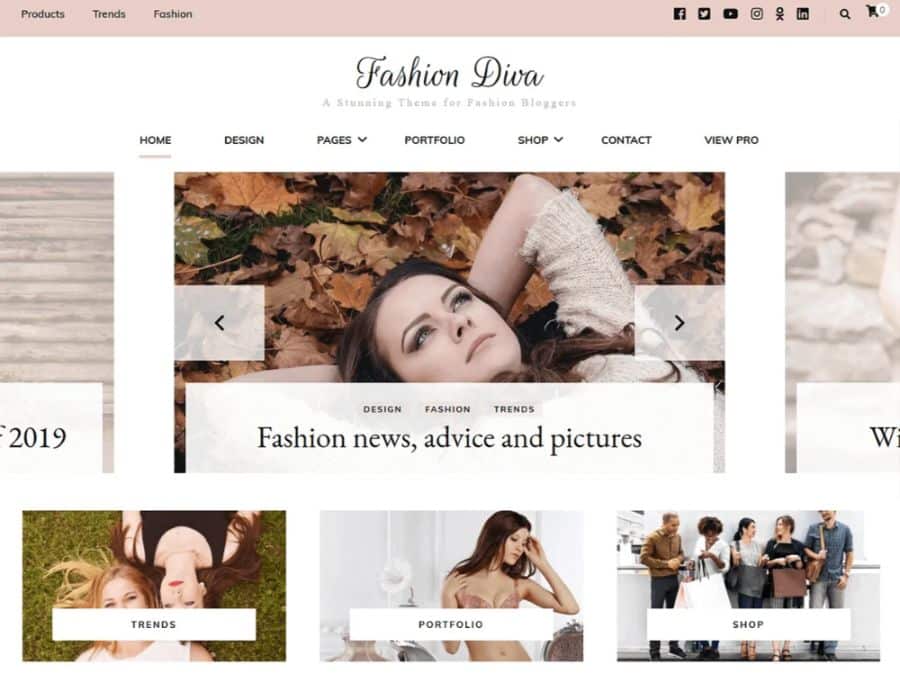 WP.org Ratings: 5 out of 5
Downloads: 1,000+
Integrations: WooCommerce and the major social networks
Easy Multilingual Support: Okay support, but not the best
Di eCommerce
Di eCommerce has the design you would typically think of when constructing a traditional online store. It has that Amazon vibe but cleaner, with large menus, social media buttons at the top, and a shopping cart that's always visible regardless of what page a customer is on. The image slider is a nice bonus, and the multiple columns are great for showcasing your features or products in lists.
The Di eCommerce theme serves as a responsive WooCommerce theme, and you also get the advantage of still having a beautiful WordPress blog. Overall, Di eCommerce features many modern design elements, and the mega menu is there to help you make your navigation simple, yet powerful.
Along with social profiles, sticky menus, and sidebar layouts, the Di eCommerce theme does the trick for making an eCommerce store without the hefty price tag.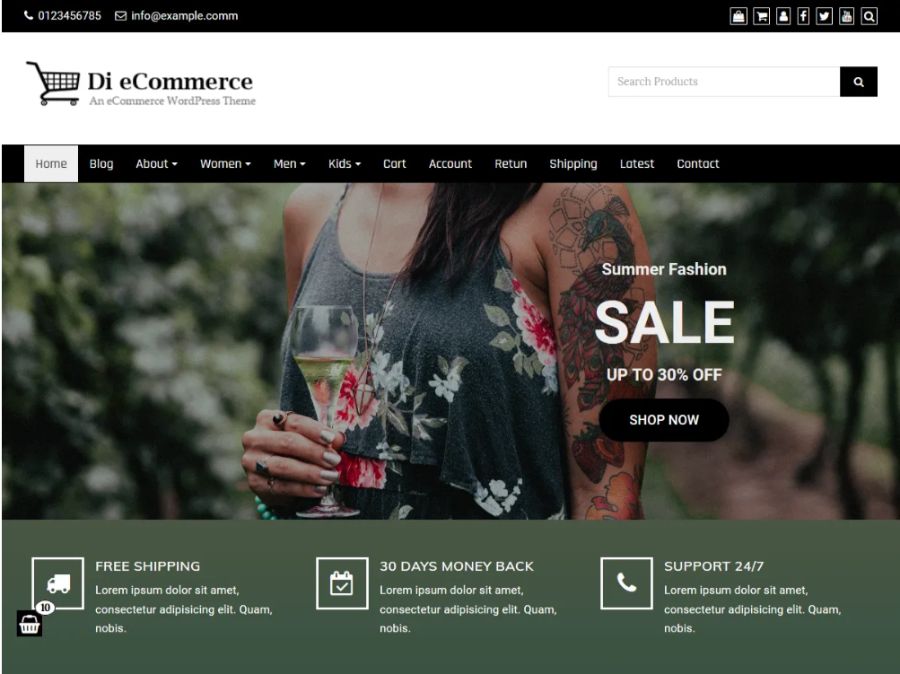 WP.org Ratings: 5 out of 5
Downloads: 1,000+
Integrations: WooCommerce, PDF Invoices, Easy Forms for MailChimp, Elementor, and more
Easy Multilingual Support: Somewhat 
Shoptimizer
Shoptimizer is a performance-focused WooCommerce theme from CommerceGurus. Too many themes ignore just how important speed is when it comes to conversions. If your store takes an extra second to load, page views drop by startling 11%.
Shoptimizer is one of the fastest themes out there, and the demo site scores an impressive 96% on mobile on Google Page Speed Insights.
CommerceGurus have also built-in a number of conversion-focused features into the theme such as:
Instant AJAX search results.
A visual stock meter bar to encourage sales.
Trust badges at key stages of the purchase journey.
Product and checkout page countdowns.
A distraction-free checkout.
A waitlist to remind customers when an item is back in stock.
Shoptimizer costs $49 per year, and this covers updates and speedy support for 12 months. If you want a theme from a company who are really focused on.
WooCommerce performance and conversions, Shoptimizer is the one to go for!
Rating: 5 out of 5
Downloads: 6,000+
Easy Multilingual Support: Yes
Price: $49
Flash
Flash has the functionality of a premium WordPress theme without the price tag. Yes, you can upgrade to the paid version, but many companies will find that this is one of the best free WooCommerce themes to choose from. Not only does it come with a drag and drop builder, but you're given some beautiful widget areas for customizing your content modules.
In fact, there are six areas to place your widgets, expanding on what you would typically get from a free theme. You can even upgrade to more widgets areas when you opt for the Pro theme.
When you work with this theme you'll quickly realize just how important widgets are to its design. The six widget areas are nice, but you also gain access to a custom widget area builder and 18 custom widgets. Some of these widgets are great for sharing unique lists, content, and menus.
The advanced coloring options are available by selecting from a color picker. You can use this area to pick from a wide variety of colors, matching the colors to your logos and other designs. Along with an advanced About Us section, Our Team widget, and much more, the Flash theme delivers on many levels.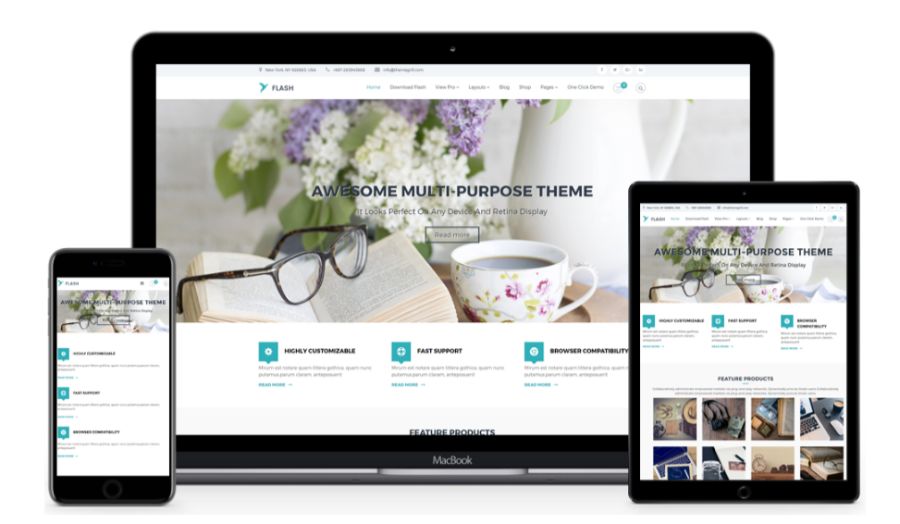 WP.org Ratings: 5 out of 5
Downloads: 30,000+
Integrations: WooCommerce, SiteOrigin, and Flash Toolkit
Easy Multilingual Support: Limited
TH Shop Mania
TH Shop Mania is a free multipurpose WooCommerce theme. Made for page builder lovers (Gutenberg, Elementor, Divi, Brizy, or other any WordPress page builder you like). It comes with premade ready to import starter sites. In just in few clicks your site is ready to use.
No coding skills are required. You can create any type of ecommerce website you like, as the theme is a fully customizable, fast, and SEO-optimized theme. The theme is also compatible with almost all plugins. This is truly a one-stop solution for store website makers.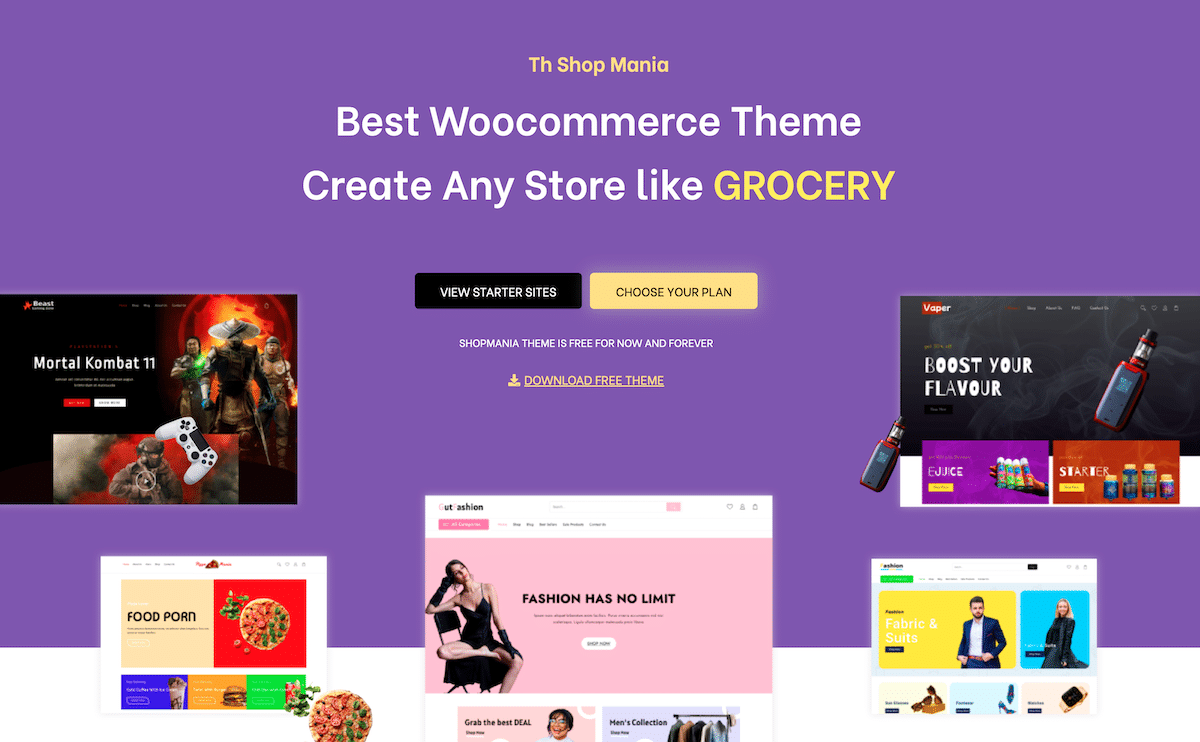 Free multipurpose theme
Downloads: N/A
Integrations: WooCommerce, Elementor, Divi, Brizy, and more. 
Easy Multilingual Support: Yes
ShopIsle
ShopIsle is from ThemeIsle, so if you go with this WooCommerce theme you know that you'll receive quality service and a theme that's no stranger to downloads. The theme is based on bootstrap, and you're given just about every integration in the book.
The good thing about going with a ThemeIsle theme is that the majority of them work well with other plugins, and the customer support is solid. This way, you're not crossing your fingers that your precious online store is going to crash or cause problems on your server.
The elegant ShopIsle WordPress theme is strictly built for online stores, therefore, we would recommend passing it up if you're primarily building a blog and not thinking about an ecommerce shop. Other than that, the live customizer in ShopIsle is perfect for dragging and dropping some of your most important site elements.
The theme also works with your favorite page builders such as Beaver Builder, SiteOrigin, and Divi. We have a few ThemeIsle WooCommerce themes on the list, and we highly recommend testing out most of them for your store.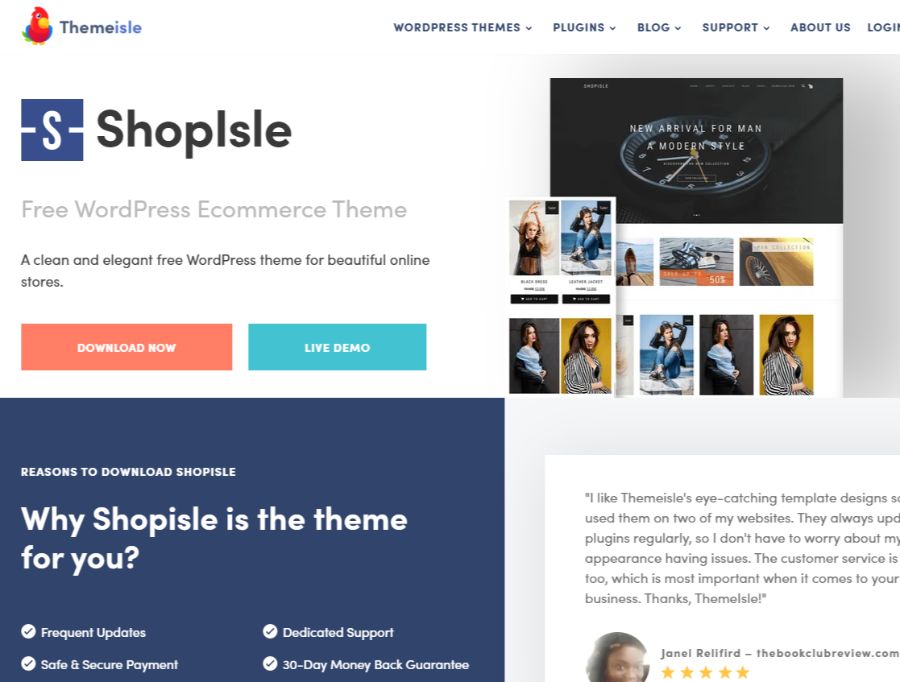 WP.org Ratings: 4.5 out of 5
Downloads: 40,000+
Integrations: WooCommerce, Contact Form 7, Meta Slider, SiteOrigin, WPML, and more. 
Easy Multilingual Support: Yes
Orfeo
Orfeo is a Child theme of Hestia from ThemeIsle. It's not necessarily for an online store, but it does have a nice WooCommerce integration. Some of the suggested niches for Orfeo include medical, blogging, sports, and fashion.
The base design looks appropriate for most small businesses since you receive a solid header image/slider and some great call to action buttons on top of the images. You can also change around how many columns you have on the page, allowing you to add lists of your products or even comparisons of features and services.
All good online stores have email marketing tools. What's great about Orfeo is that it has a SendInBlue integration for collecting those customer emails and sending out the best newsletters and automated campaigns you can design. Some other integrations include Travel Map, Elementor, and Photo Gallery, all of which have their own purposes with online stores.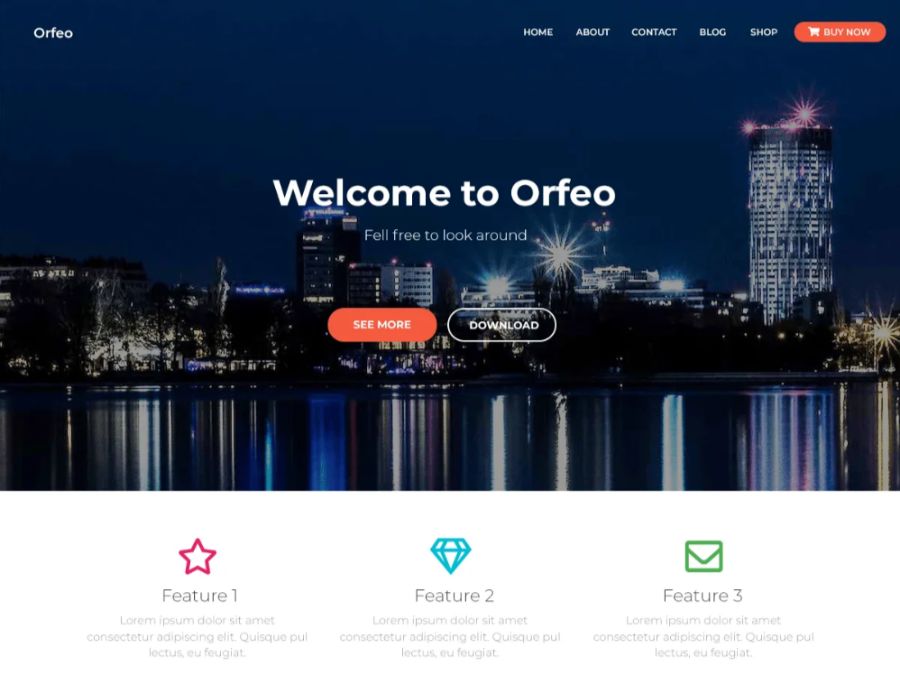 WP.org Ratings: 4 out of 5
Downloads: 20,000+
Integrations: WooCommerce, Travel Map, SendInBlue, Flat Parallax Slider, Photo Gallery, and more. 
Easy Multilingual Support: Limited 
eStore
The eStore WooCommerce theme is a must-have if you're looking for a more traditional design with mega menus and shopping cart icons in the header.
This ThemeGrill product is one of the most popular WooCommerce themes online, especially considering so many users enjoy the fact that you can not only integrate with WooCommerce but the YITH WooCommerce Wishlist plugin.
The eStore theme includes several category colors to choose from, and you can utilize the unique collection template, which helps when trying to highlight collections of products on an individual page.
The responsive design is a plus for people who want to purchase on smaller devices, while the over 10 widget areas are sure to make things easier when designing your store. What's even cooler is that over 12 custom widgets are available for placing in these locations. Pair that with some excellent speed optimization, WPML, and an amazing slider for an impressive solution when building an online store.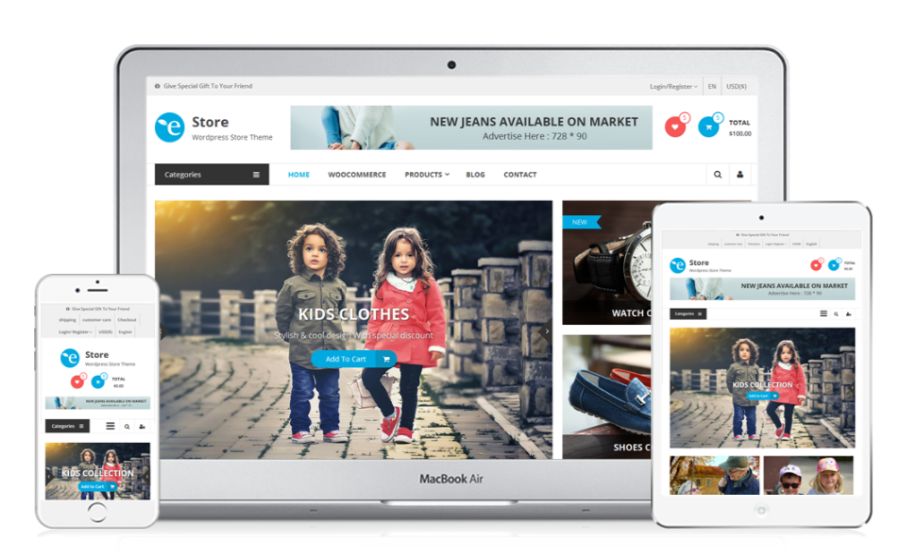 WP.org Ratings: 45 out of 5
Downloads: 10,000+
Integrations: WooCommerce, YITH WooCommerce Wishlist plugin, and a few others
Easy Multilingual Support: Limited
Easy Store
Easy Store is relatively similar to the theme we talked about above, with a classic ecommerce web design layout. The theme can present a gallery of products on the homepage, and you can also have items like category dropdown menus, mega menus, and an interactive shopping cart button. It's a beautifully structured theme for those brands that want to look somewhat similar to Amazon. Not only is it compatible with WooCommerce, but the mobile design declutters the shopping experience for your users.
Some of the integrations are sure to improve the way you do business online, considering you can take advantage of the YITH Wishlist plugin and some other popular plugins for giving your customers more options online. The Mystery Themes company is behind this theme, and from our experience, the customer support online is of high quality. Other than that, you can expect everything from footer widgets to custom menus, and translation options to multiple columns.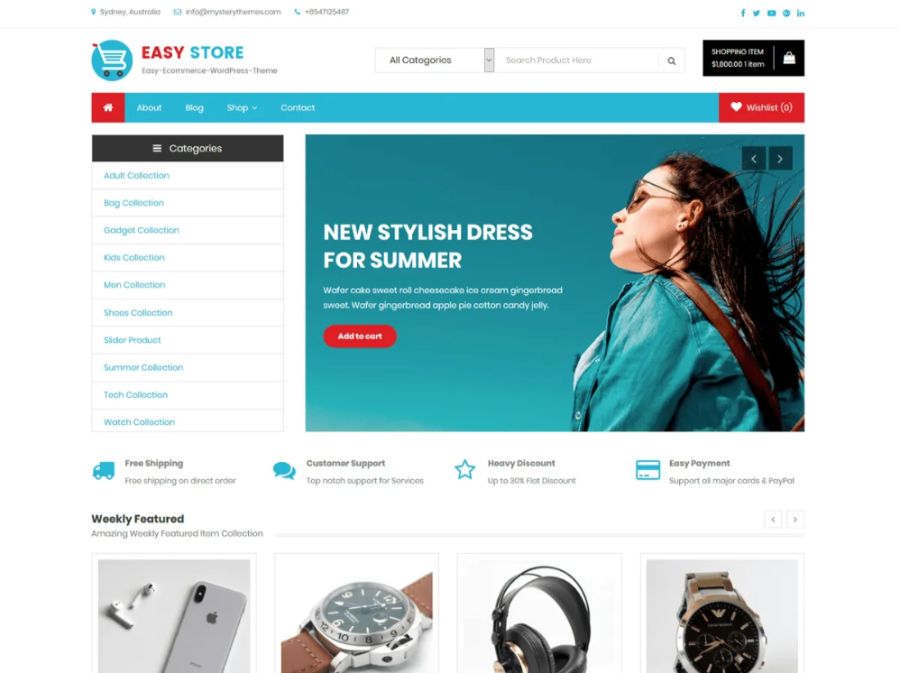 WP.org Ratings: 4 out of 5
Downloads: 3,000+
Integrations: WooCommerce and YITH WooCommerce Wishlist
Easy Multilingual Support: Yes
ECommerce Gem
ECommerce Gem is another one of the best WooCommerce themes, especially since it provides large image spaces and options for having all sorts of banners on your site. It's a multipurpose WooCommerce theme that can be used for many types of stores. For instance, it wouldn't be strange to use ECommerce Gem for a jewelry store as well as a pet shop. As with all of the themes on this list, ECommerce Gem integrates well with WooCommerce. No other integrations are listed, but from our testing, you shouldn't have any problems with third-party plugins.
In addition, the ECommerce Gem theme has multiple sections for reorganizing the content on your homepage and inserting things like sliders and banners. The featured products carousel is also useful for when you have multiple promotions or new products to talk about. Customers have the ability to search with categories or filter down to certain tags. Users will also enjoy the custom logo, custom menu, and the full width template for when you need to make some landing pages.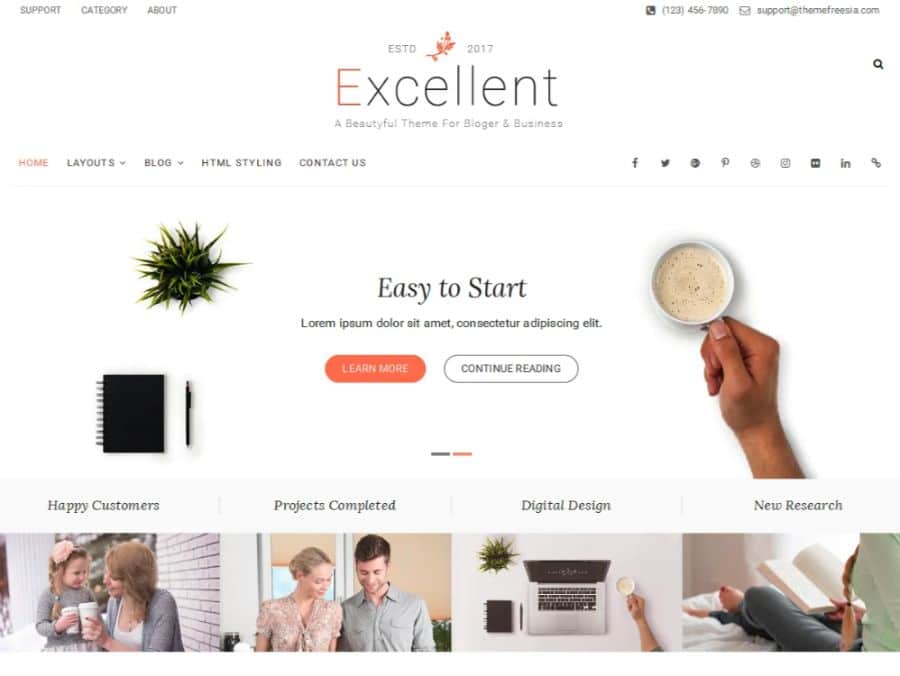 WP.org Ratings: 4 out of 5
Downloads: 5,000+
Integrations: WooCommerce
Easy Multilingual Support: No 
ShoppingCart
For a bright, effective ecommerce website design, consider the ShoppingCart solution from Theme Freesia. It's filled with widget areas and you can post a wide range of banner sizes all over the homepage.
It takes a bit of work to get all of the right modules situated on the theme, but in the end, you can present everything from product lists to filters, and collection galleries to search bars. You also might notice in the screenshot that social media buttons and contact information can be placed in the header of the theme.
It's rather simple to create a stunning ecommerce website with the ShoppingCart WordPress theme. There are quite a few features to unpack, but the components are there to help you organize your site the best you can. That's why we like the theme so much for online stores and even portfolios.
Many industries can take advantage of a theme like this, particularly if you're selling tech products or apparel. Furthermore, several integrations are available for adding breadcrumbs, contact forms, and design navigational tools. You'll also stumble upon some excellent templates for modules like contact forms, sidebars, and galleries.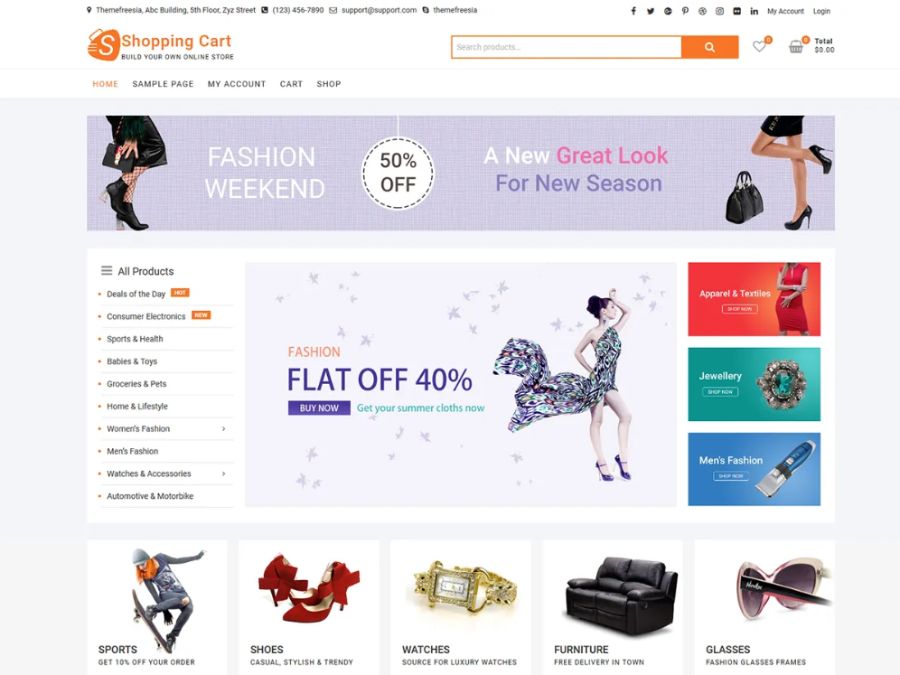 WP.org Ratings: 5 out of 5
Downloads: 5,000+
Integrations: WooCommerce, bbPress, Contact Form 7, Jetpack, Breadcrumb NavXT, WP-PageNavi, and more
Easy Multilingual Support: Yes 
WP Store
WP Store comes from the folks at 8Degree Themes. The design is one of the best free WooCommerce themes with a minimalist style and great areas for banners.
The theme has an image slider for showing off all of your new products, while the header module includes options for a logo, contact information, and shopping cart buttons. You also receive a solid search bar so that customers can find their favorite products without having to sift through a gallery.
The WP Store WooCommerce theme is a beautifully crafted solution for small businesses. We wouldn't recommend it if you plan on scaling quickly, but bloggers and small businesses shouldn't have any problems when it comes to launching a high-quality online store.
The simple design is great for both your company and the users, and you can also utilize features for full-width templates, multiple columns, and custom backgrounds. It's not the most popular WooCommerce theme out there, but it packs quite the punch for smaller businesses.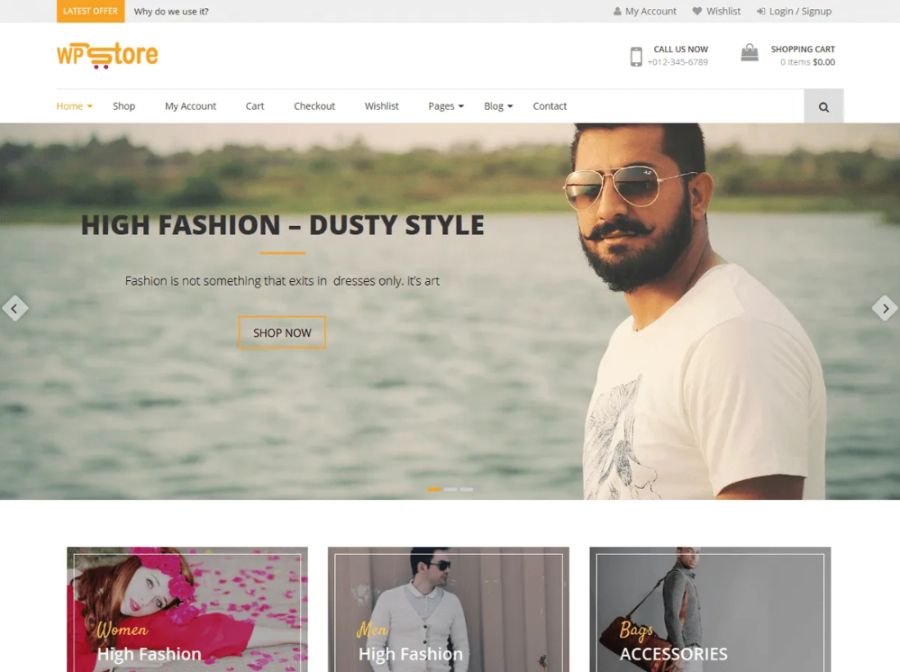 WP.org Ratings: 5 out of 5
Downloads: 2,000+
Integrations: WooCommerce
Easy Multilingual Support: No
The Best Premium WordPress Themes
More often than not a serious online store requires more than a free WooCommerce theme. This isn't to say that free themes aren't any good, but you typically need more advanced features such as social media tools, demos, and better galleries.
One of the first reasons we like premium WooCommerce themes is because they typically don't cost that much in the first place. Secondly, you get premium support, which is often a must-have. Finally, premium themes often come with demos, which are much easier to work with than a blank slate.
Having said that, keep reading to learn about the best WooCommerce themes (premium versions).
Porto
The Porto theme is a professional ecommerce solution that's ranked as one of the top WooCommerce options on ThemeForest. The price tag is currently $59, and that gets you items like over 30 website demos and a giant library of layouts. Some of the demos include designs for online stores, corporate websites, and portfolios.
As mentioned, the theme offers a complete library of drag and drop design elements. Some of our favorites include the FAQ, call to actions, and accordions. You can also place a list of products anywhere on your website. You may also consider something like a portfolio or countdown area.
As for the primary design features, users experience a simple interface with a quick demo import area. You can also choose from an unlimited number of colors for when you need to match your branding. You'll see that several premium plugins integrate nicely with the Porto theme.
In addition to the optional integrations, you receive some premium plugins for free. One of them is Slider Revolution for making beautiful images and video sliders. The other is called WPBakery, a wonderful page building tool with drag and drop elements. Overall, this is the complete package if you're in need of one of the best WordPress themes.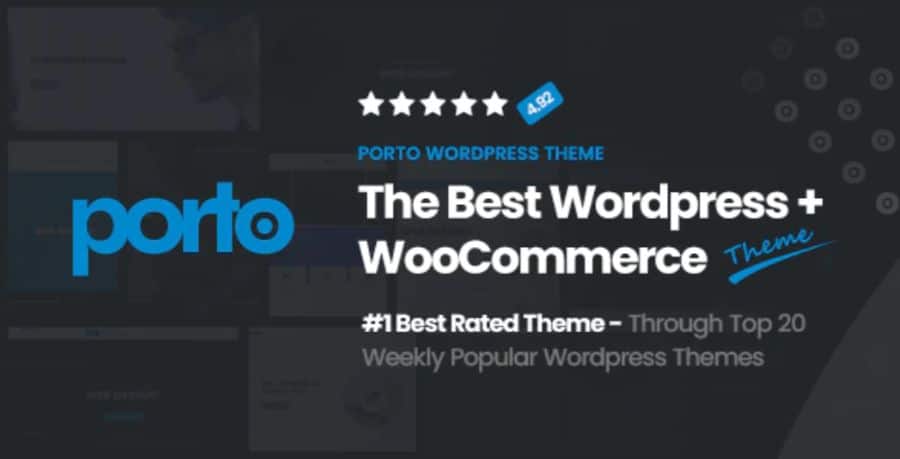 Ratings: 4.91 out of 5
Downloads: 32,000+
Integrations: MailPoet, WooCommerce, WooCommerce Product Filter, GeoDirectory, YITH, WPML, and many more
Easy Multilingual Support: If you install a plugin
The Retailer
The Retailer theme boasts some sleek designs, along with a reasonable price tag of $59. You get to enjoy a classic ecommerce design, with collection galleries, thumbnail images, and a full shopping cart module in the upper right-hand corner.
The customer support from this developer is known to be nicely handled, and the theme itself involves all sorts of elements that are great for speeding up the development process. We like the fact that you can make an unlimited number of unique pages, especially when you need to pump out a wide variety of landing and product pages.
The WordPress block editor is supported through The Retailer theme, but you also have the chance to choose your own page builders, such as Elementor, Visual Composer, or WPBakery. Some of the advantages of the WooCommerce integration include support for shippable products and downloadable items.
You can also configure a dropshipping business if that's more your style. The flexible shop layout is there for you to move around sidebars and columns. Some companies like having filters on the side, while others include them at the top of the page. Other than that, we would need an entire article to go through the entire feature-set of The Retailer theme.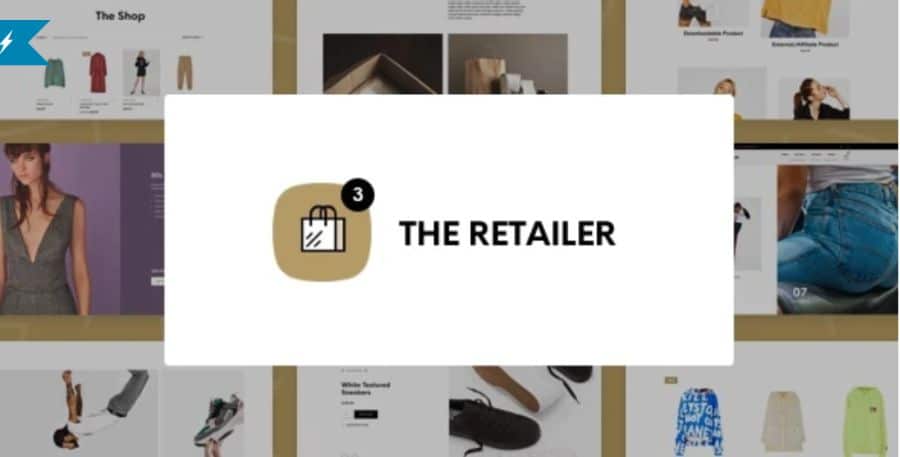 Ratings: 4.63 out of 5
Downloads: 14,000+
Integrations: WooCommerce, WPBakery, Gutenberg, Visual Composer, and more
Easy Multilingual Support: Yes
Divi
Divi is one of the most popular WordPress themes you can go with, primarily because the Elegant Themes team has done a wonderful job of catering to developers with clients. Overall, Elegant Themes lets you sign up for a yearly membership, giving you access to all of its online resources, plugins, and themes. The Divi theme comes with a page builder for some of the easiest designing you can find.
Not only that, but the Divi builder has hundreds of drag and drop elements for online selling. Some of these include call to actions, sliders, galleries, product pages items, and more. Furthermore, there are several Divi layout packs made just for ecommerce shops. For instance, some of the layout packs include full demos for fashion, photo marketplace, and eBook online stores.
After installing your layout pack you can customize beautiful pages like blog posts, About Us pages, and Contact pages.
One license costs $89 per year, and you can also get lifetime access for $249. Overall, the pricing is reasonable from Elegant Themes, and you also get some solid customer service. The forums and knowledgebase areas are filled with information and support reps willing to help you out.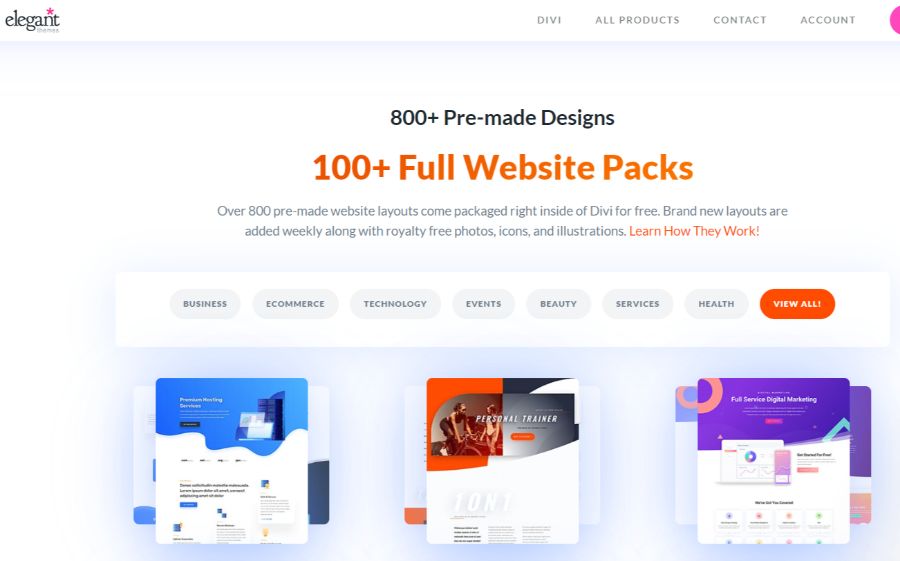 Ratings: No page with ratings
Downloads: No information on this
Integrations: WooCommerce, Major Email Marketing tools, and more 
Easy Multilingual Support: Yes
Recommended reading: Divi vs Elementor: WordPress Page Builder Plugins Comparison
Sober
The Sober theme starts your design off with the Visual Composer plugin. This way, you can drag and drop elements instead of working with code most of the time. The beautiful product pages are highly customizable and can be unique based on the product you're working with.
Sober also comes with several unique header styles to introduce customers to social media buttons, the menu, and more. The built-in live search recommends products as users type in letters.
The theme provides a product quick view with an Add to Cart button shown without having to go to the product page. WooCommerce integrates nicely with Sober and is known to run very fast on the theme. You can even utilize the portfolio functionality, setting up a nice gallery of your favorite products for customers to sift through.
The blog is also a stylish one, with beautiful sidebars and lots of whitespaces to make the reading process easier.
Some of the other elements we really enjoy include the translation tools, the full typography library, and the powerful SEO tools. This is a fully optimized design for mobile devices, and the one-click demo installation means that your design can be launched within a matter of minutes.
You'll also notice that over 12 predefined homepages are there for you to choose whether you'd like more of a modern layout or something rustic. It's all packaged in a nice, neat theme for the ultimate design.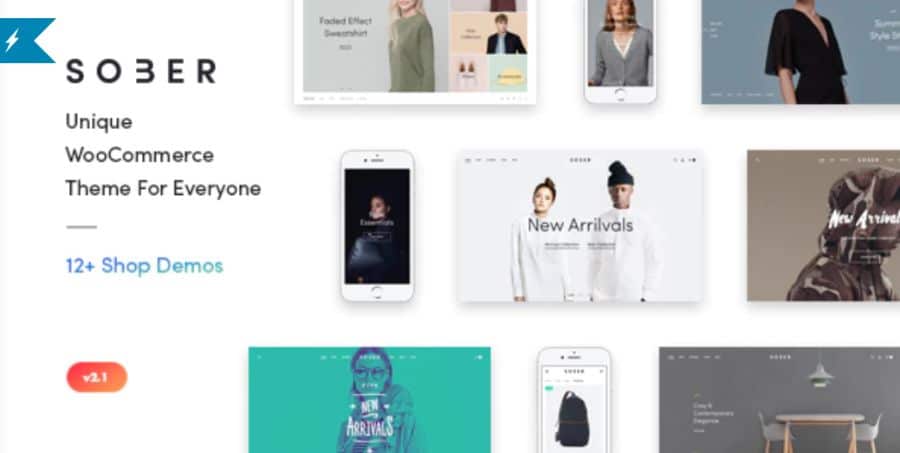 Ratings: 4.77 out of 5
Downloads: 4,000+
Integrations: WooCommerce, EasyCart, WPBakery, Visual Composer, and more
Easy Multilingual Support: Yes
Rara eCommerce Pro
Rara eCommerce Pro offers unlimited color options, 1000+ Google Fonts, and typography flexibility to help you create a unique store that reflects your branding. This versatile and contemporary theme also focuses on lead generation features like Wishlist, Quick View, Product Comparison, CTA Section, and New Arrivals Section, which will help you convert more visitors into customers.
In addition, it is translation-ready, RTL scripts support allows you to develop your website in multiple languages simultaneously. With the Rara eCommerce Pro theme, you get tons of layout options including, 14 homepage sections, 5 header layouts, 3 slider layouts, 4 banner category layouts, 3 blog pages, and more.
If you need help getting started, their beginner-friendly documentation and expert support are always available.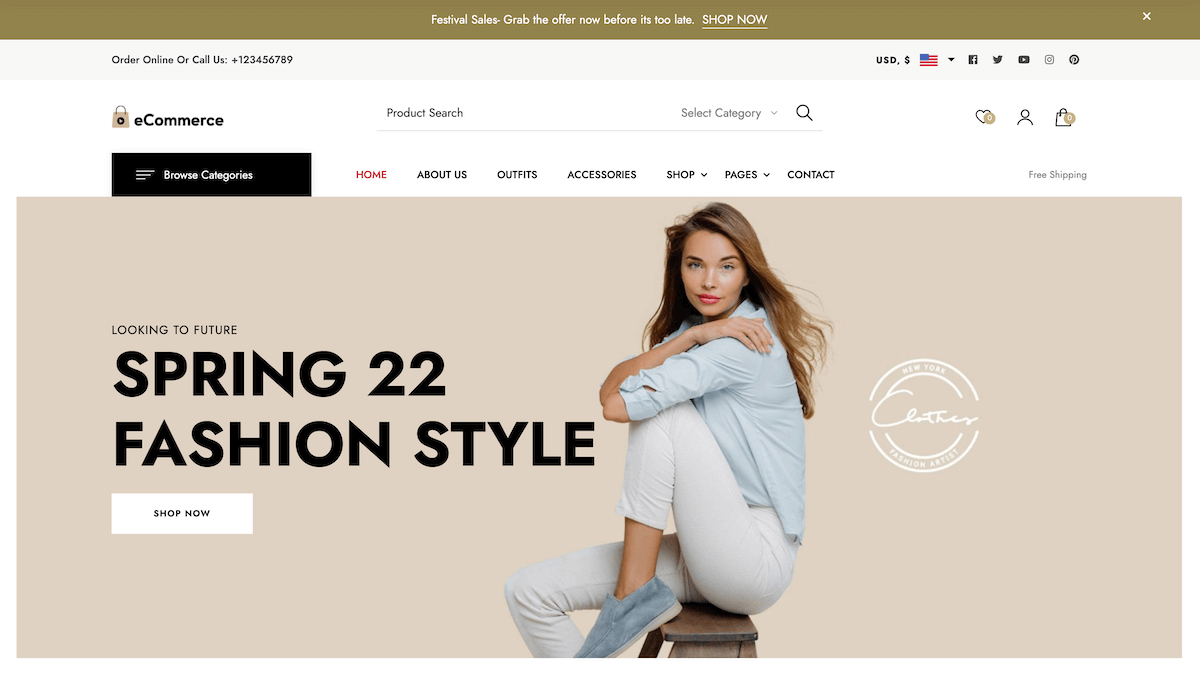 Ratings: No ratings yet
Downloads: 200+
Integrations: WooCommerce, Gutenberg, Elementor, and many more.
Easy Multilingual Support: Yes
WoodMart
WoodMart offers a distinct styling for "woodsy" stores. It's tough to figure out exactly what this means, but from the looks of it, the majority of the demos are nice for furniture, liquor, and outdoor outfitter stores. There are also plenty of other options when building with WoodMart, but this "woodsiness" is certainly prevalent when you're working with the theme.
Having said that, WoodMart provides support and integrations for many premium plugins such as WPBakery and Slider Revolution. The over 60 demos are great for constructing sites and making your product catalogs look professional. This responsive theme offers unlimited header layouts and appearances.
The full AJAX shop and pagination area is useful for filtering based on product variants. For instance, a customer can go to the website and filter based on colors, sizes, and much more. Pair that with some excellent advanced variable products with swatches and you've found yourself a product showcase that can't be beaten.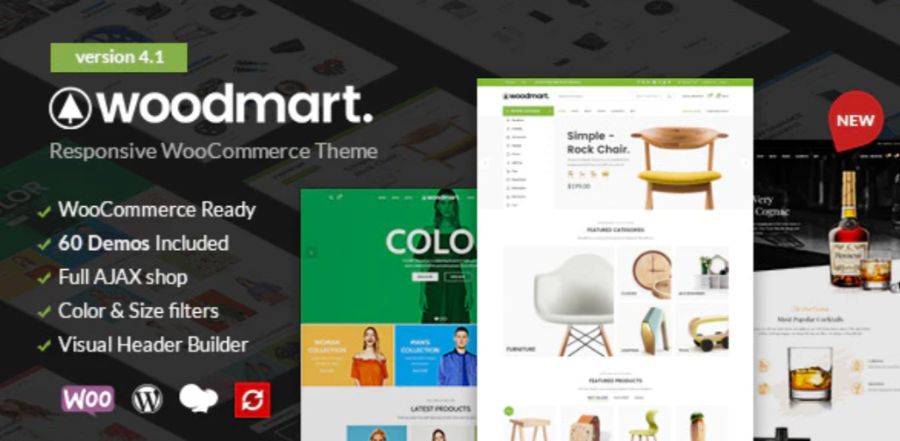 Ratings: 4.95 out of 5
Downloads: 10,000+
Integrations: WooCommerce, Revolution Slider, WPBakery, WPML, MailChimp, and many more
Easy Multilingual Support: Yes
Shopkeeper
Shopkeeper has become a household name in the WooCommerce theme market, building up plenty of ratings and reviews and providing users a huge library of demos. This is one of the most impressive WooCommerce themes you can find, boasting dozens of product page layouts, a beautiful default configuration, and product image zoom capabilities.
YouTube videos are also supported on your product page galleries.
This truly is a hassle-free theme, seeing as how you can save tons of time with the quick demo uploads and the beautiful drag and drop interface. Create stunning product catalogs throughout your website, and utilize the multiple tools for adjusting what the shopping carts look like.
The unlimited header styles are great for changing around what customers see first, and the flexible shop layouts include options for infinite scrolling, Load More buttons, and classic pagination. Finally, the responsive design looks wonderful, and Shopkeeper has one of the best blogging layouts compared to all of the WooCommerce themes on this list.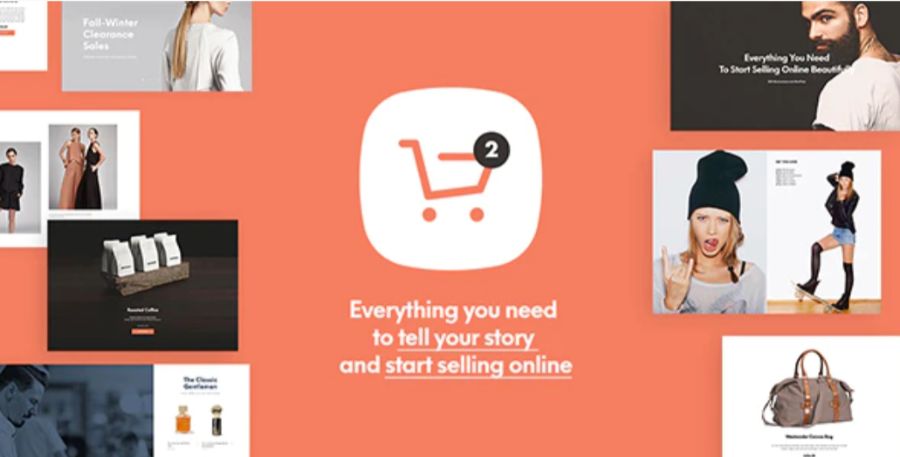 Ratings: 4.62 out of 5
Downloads: 27,000+
Integrations: WooCommerce, EasyCart, WPBakery, WPML, and many more
Easy Multilingual Support: Yes
North
The North WooCommerce theme boasts a beautiful modern layout that's suitable for fashion and technology brands, along with others that are willing to customize a bit. This responsive theme has several demos that can be installed within seconds.
What's great about these demos is that they don't have any industry-specific designs. This way, you aren't limited to how much you customize your websites.
For instance, a product landing page is provided, along with a snap and scroll homepage module. These are great for all types of companies. In addition to that, the North theme has multiple product page styles and listing styles. These work wonders for making your product and category pages more unique. The blog styles are also rather interesting and creative.
The off-canvas filtering tool has the functionality your clients need but it also doesn't take up much space on the website. We also like that the header styles are robust enough to cover plenty of space on the homepage and get users to click on information about new products.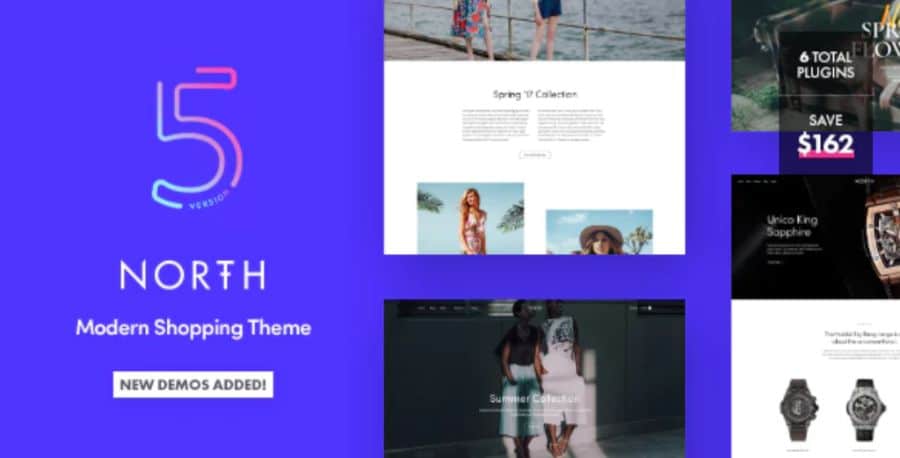 Ratings: 4.47 out of 5
Downloads: 1,000+
Integrations: WooCommerce, WPBakery, WPML, Gravity Forms, and more
Easy Multilingual Support: Yes
Flatsome
Flatsome is one of the best-selling WooCommerce themes on ThemeForest. It sells for $59, and you can build practically any type of ecommerce store you want. The visual builder has a wide range of elements such as videos, portfolios, and maps. You can drag all of these in their proper places and even adjust fonts and colors in the same step.
The theme is optimized for both speed and selling, so you know that the customer experience is going to be improved from anything you had before. Hundreds of predefined layouts are included in the Flatsome library, making it virtually impossible to not make something absolutely unique.
The one-click demo content is installed within seconds, and you can find designs for just about any industry.
Finally, the Flatsome theme provides a custom product page builder for having complete control over each and every one of your product pages. This way, you don't have to stick with one format. Instead, one product page could look completely different than the others.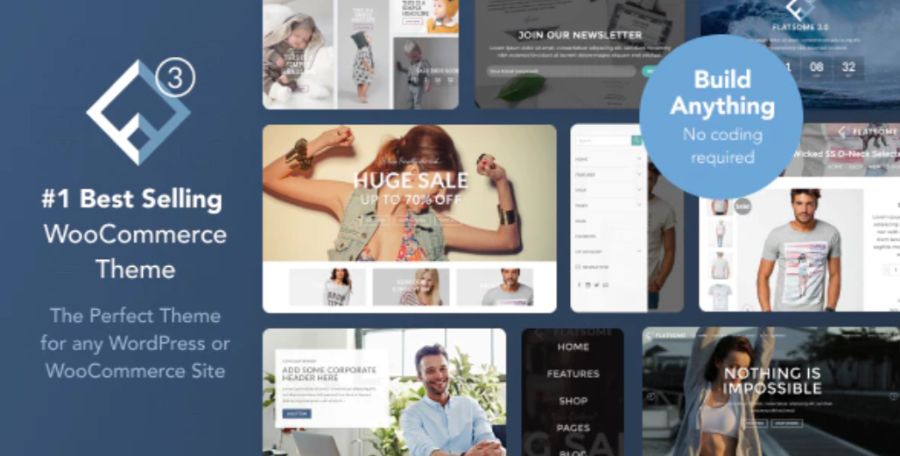 WP.Ratings: 4.80 out of 5
Downloads: 106,000+
Integrations: WooCommerce, Yoast Breadcrumbs, Ubermenu, Sensei, and many more. 
Easy Multilingual Support: Yes
Electro Electronics Store
The Electro Electronics Store theme is listed at $59. That gets you quite a bit of power behind your online store, considering just the homepage looks like its ready to support thousands of products. Electro Electronics Store is meant to look similar to Amazon or Alibaba, where tons of items are listed at all times, and the customers can search or browse through categories right from the homepage.
This is a widescreen-ready theme, and it also has some impressive mobile pages so that all of your product pages have information like reviews and ratings when shown on mobile devices. Several homepage demos are included for you to test out, and the megamenu is great for getting all of your products and categories in the menu.
One interesting part of Electro Electronics Store is that it integrates nicely with the Multivendor plugin. This plugin lets you run a full multivendor marketplace, similar to Etsy or Amazon. You can ask other vendors to sell products and take a cut of all sales.
Then, all payouts are distributed to the right vendors. Overall, we like this theme for electronics stores, but you could actually sell just about anything on here.
Ratings: 4.83 out of 5
Downloads: 10,000+
Integrations: WooCommerce, Visual Composer, Slider Revolution, and YITH
Easy Multilingual Support: Yes
Labomba
Labomba is listed at $49 on the ThemeIsle marketplace. It's one of the best WooCommerce themes because it comes with over 20 unique homepage variations, allowing you to customize the theme for your own industry and make it nicely branded for any company.
The Ajax cart is fast and user-friendly, while the integrated wishlist helps people remember what they wanted to buy.
The Labomba theme provides a drag and drop page builder with a bevy of ecommerce elements. Not only that, but it's nice to see that Labomba is multilingual ready and responsive. By default, this WooCommerce theme has sleek, white and black colors, making it nice for apparel stores and anything else that needs a bold, yet professional appearance.
The off-canvas navigation is sure to improve the user interface, while the unlimited color options make branding easy for everyone. We also like the integration with Revolution Slider, since it's one of the best ways to showcase your new products with visual banners.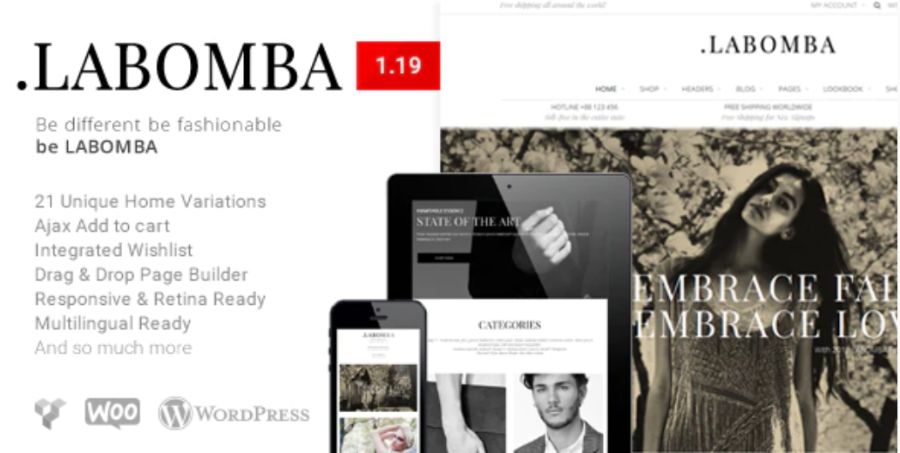 Ratings: 4.29 out of 5
Downloads: 3,000+
Integrations: WooCommerce, Visual Composer, WPBakery, and more
Easy Multilingual Support: Not really
Claue
Claue sells for $60, and it has a wide range of integrations just for online stores. For instance, you can install WooCommerce, but then the true power comes from the dropship integration called AliDropship. If you're interested in dropshipping, this is definitely a theme to keep your eye on. You also get some integration support for plugins like the WooCommerce Bookings extension and WP EasyCart.
All of these integrations are nice, but what about the built-in features and designs? Well, Claue includes social sharing to get the word out about your products. There's also a product detail builder, which is a must-have if you want to make the best product pages possible. We also like the instant product search so that customers can get suggestions about your products while they type in letters.
Along with an Instagram shop, a lookbook collection, and product bundle features, the Claue theme dedicates a significant portion of its features to ecommerce. That's why it's one of the best WooCommerce plugins.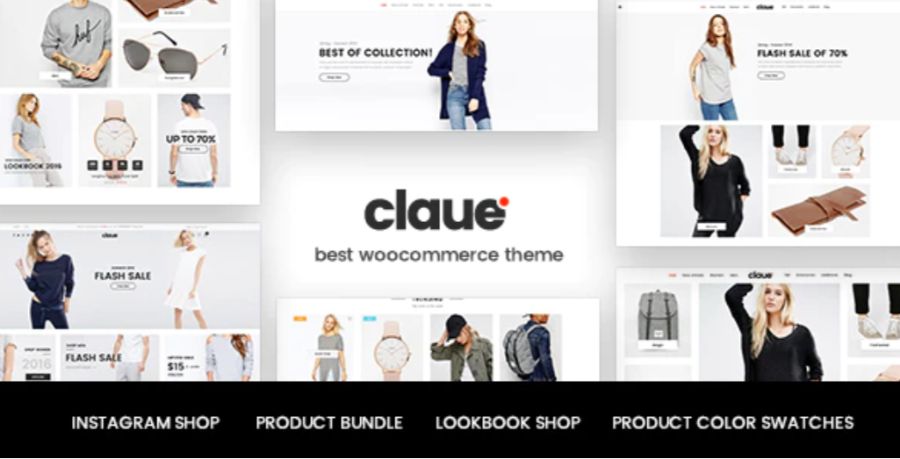 Ratings: 4.96 out of 5
Downloads: 2,000+
Integrations: WooCommerce, AliDropship, YITH, Contact Form 7, and many more. 
Easy Multilingual Support: Yes
EmallShop
EmallShop sells for $39 and it offers a fully responsive online store design with tons of banner locations and spots for collections. This is one of those themes that is strictly meant for online selling, but you can still have a blog to support your store and push people to make purchases.
Quite a few demos are provided if you purchase the theme, including options for women's, organic, and medical stores. Over 15 homepage demos are provided, all of which work well on mobile devices. Furthermore, you get a product image slider for showcasing your best items.
We like the shopping interactive shopping cart icons, and the quick Add to Cart buttons are sure to improve conversions. The mobile navigation is one of the highlights of the EmallShop theme, seeing as how it all fits nicely on the screen, yet you don't completely block out the actual website.
It's also nice to see that the EmallShop theme offers a sizing guide icon and an area for customers to toggle filters.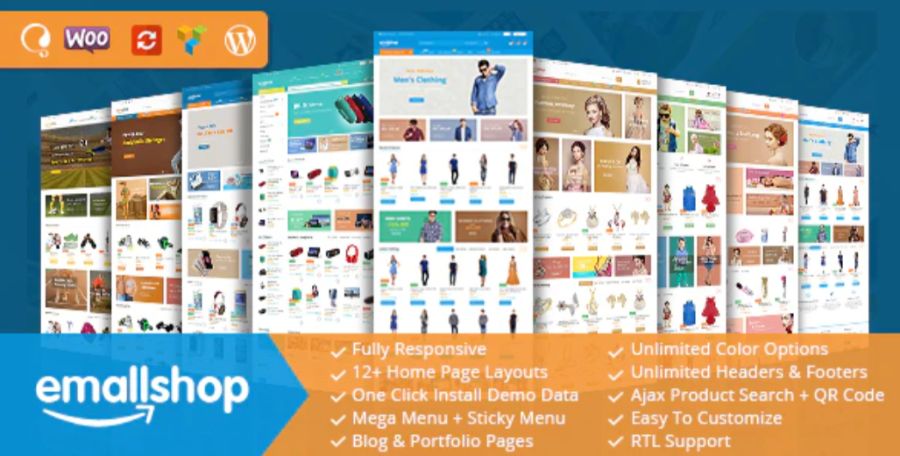 Ratings: 4.88 out of 5
Downloads: 2,000+
Integrations: WooCommerce, Visual Composer, and Revolution Slider 
Easy Multilingual Support: Yes
Eventica
Eventica has a powerful package of tools for building your online store. It's one of the best WooCommerce themes for a reason, and it all starts with the fact that you can design an event calendar and even sell tickets to those events.
So, this theme is definitely more of a niche offering, seeing as how not every designer is looking to make an events website.
The premade design templates are there for you to instantly launch pages like event listings, contact pages, and a homepage. The blogging platform is also beautiful, with even better views from mobile devices. The built-in event slider is one of the easiest ways to get users to buy tickets to your occasions, and the translation-ready tools are there to get the word out across the world.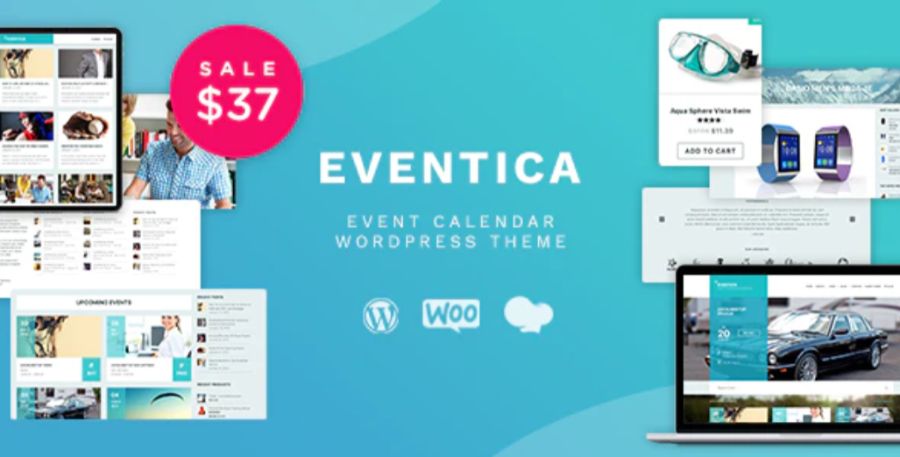 Ratings: 4.39 out of 5
Downloads: 2,000+
Integrations: WooCommerce, Event Slider, WPBakery, Events Calendar, and more
Easy Multilingual Support: Yes
Merchandiser
Merchandiser includes simplicity and style, making for a wonderful frontend interface. You gain access to a theme with all sorts of free space. Some of the default layouts actually look similar to a portfolio, where the main focus is your collection gallery. This way, all of the user's eyes go straight to what matters most, the products.
Not only is Merchandiser a neat looking theme, but it's fast and lightweight. It also plays well with the majority of major plugins out there. The easy customizer is refreshing, and you can always integrate with one of the better page builders on the market.
Some of the selling features include customer reviews, digital product support, and coupons. The product sorting and filtering look clean and organized, allowing your customers to find the products they want and need.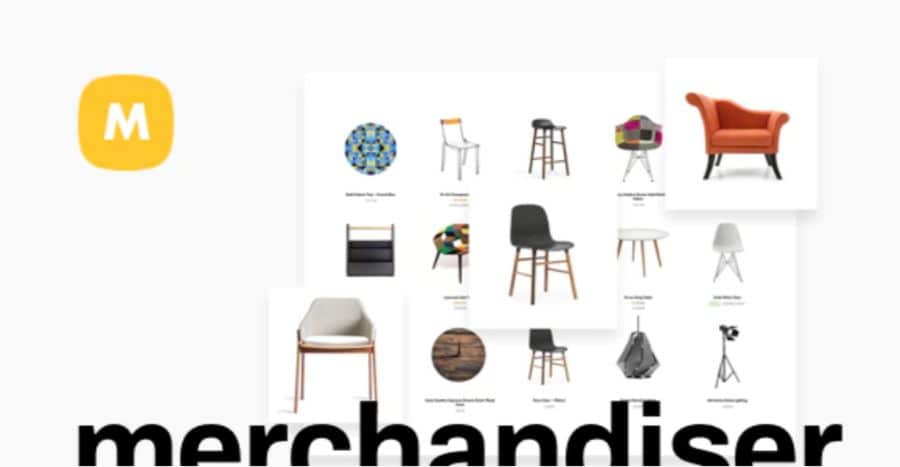 Ratings: 4.29 out of 5
Downloads: 2,000+
Integrations: WooCommerce and WPBakery
Easy Multilingual Support: Yes
Adrenalin
Adrenalin injects something special into your ecommerce design, regardless of the type of industry you're making a site for. By default, it has more of an outdoorsy look, but all of that can change with some adjustments to the fonts, colors, and images. Then you can activate one of the premade demos for companies like restaurants, travel agencies, and electronics stores.
The fantastic theme options are there to ensure that you never have to mess with any code. But if you would like further customization you have access to a sleek CSS area. A few integrations are included such as WPBakery and Layerslider. Not to mention, your store gets some nifty tools such as the Quick View option that lets people quickly see limited details about a product and purchase right from the popup.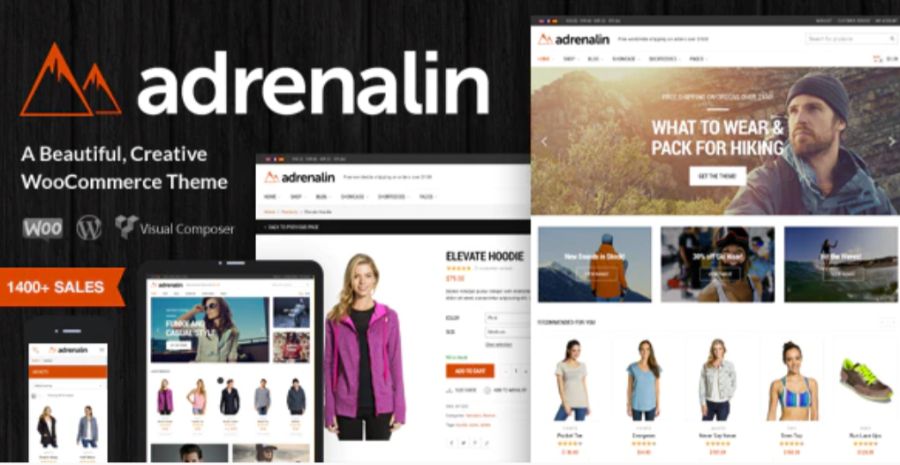 Ratings: 4.83 out of 5
Downloads: 2,000+
Integrations: WooCommerce, WPBakery, and LayerSlider
Easy Multilingual Support: Yes 
Handmade
Handmade offers a rustic structure to your website, with grittier textures and fonts. That doesn't mean it lacks elegance since Handmade does incorporate plenty of dazzling, swooping lines, and fonts. In fact, you have plenty of homepage demos to choose from depending on your industry.
We recommend this if you're selling handmade goods such as candles, woodworking items, or crafts. Essentially, this is one of the best WooCommerce themes for those who would typically sell their creations on Etsy. And since Etsy takes a percentage of your sales, you should always have a website to get most of your revenue from customers.
Several PSD files are included for further customizing the design, and you also get access to premium plugins such as Visual Composer and Revolution Slider, both of which add some pop to your website without cluttering the space.
WooCommerce looks great on the mobile interface, and the one-click demo installation pretty much publishes the website for you. Along with Font Awesome icons, mega menus, and unlimited colors, creatives can't go wrong with the Handmade theme, all for the low price of $60.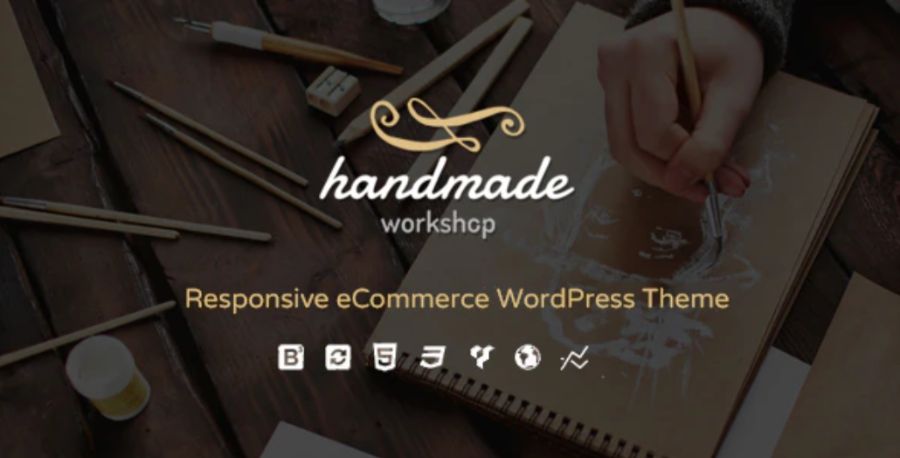 Ratings: 4.24 out of 5
Downloads: 2,000+
Integrations: WooCommerce, Visual Composer, and Revolution Slider
Easy Multilingual Support: Yes
Which of the Best WooCommerce Themes Should You Choose?
This is a tough question, but one that can be answered with the help of a little guidance. After all, with so many themes on the internet, which are the best WooCommerce themes? Even this list is pretty long, so it may be tough for you to decide.
If that's the case, take a look at some of our final suggestions before pulling the trigger.
Seek out themes that have a free version and a premium upgrade. That way you can test them out beforehand and either stick with the free version or go with the upgrade later.
Although it's tempting to always save money with free themes, most legitimate companies start with either a premium theme or a completely custom website design. The reason for this is the quality of support, better features, and the low pricing of premium themes.
Make a list of the features you need before installing a WooCommerce theme. Then, scroll through the feature lists of your favorite themes to see which ones have what you want.
Try to find themes with multiple demos included. This way, you can utilize a demo that's potentially already designed for your industry.
Check comments and questions on the Download pages prior to buying. You may notice that some users are having trouble with some features or that the ratings may not reflect what users are actually thinking. This is also a good chance to see how responsive a developer is.
Consider a child theme with a framework if you're worried about switching themes in the future and losing content and design elements.
That's all we have for the best WooCommerce themes! If you have any questions, or if you'd like to mention some of your favorite WooCommerce themes, let us know in the comments below.