WordPress is different from other platforms like Shopify, Wix, and BigCommerce which have all online ecommerce features built-in for you to start selling immediately.
The reason being: WordPress isn't an ecommerce platform right out of the box. WooCommerce is one of the most adopted solutions in the world not only because it's free to use, but also because it provides a huge plethora of plugins (and extensions) to improve your store.
In the past, we've covered the best WooCommerce extensions. Today we're looking at WooCommerce plugins.
And remember, your ultimate goal is to increase your store's revenue. So be sure to download our free ebook, 10 Ways to Boost Your WooCommerce Product Page Conversions.
Ready to get started?
What's WooCommerce and Why Do I Need It?
In short, WordPress by itself is a CMS with tremendous capabilities. You can easily write articles and publish pages without knowing anything about code. When it comes to how your site will look, WordPress themes also assist in designing a wide variety of layouts, for different industries like hardware, legal, and agencies.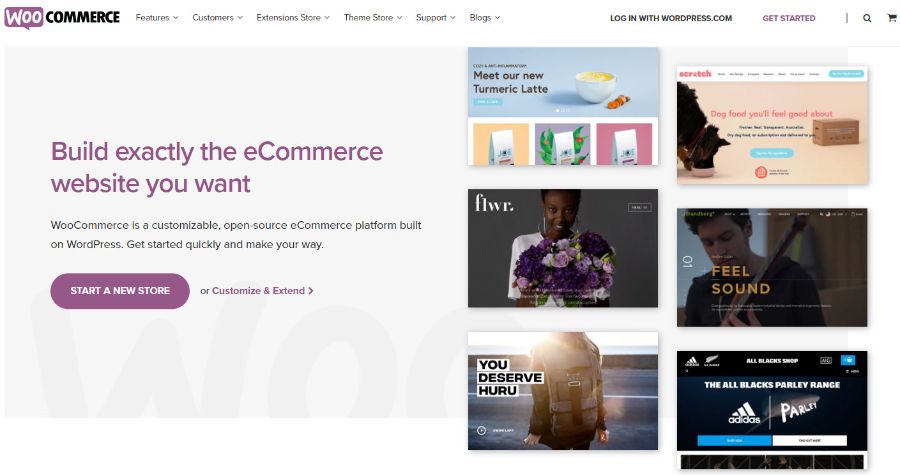 But what about selling products such as audiobooks, shirts, or digital memberships?
Sure, you could add some PayPal buttons on your site, but that doesn't provide any shopping cart functionality or anything you would find on a reputable online store. Not to mention, a solitary PayPal button looks outdated.
That's where WooCommerce comes into play. The plugin converts your WordPress site into a fully functional online store, with product listings, categories, collections, and a shopping cart.
What to Think About When Seeking Out the Best WooCommerce Plugins
Once you have WooCommerce installed, you may find that your particular ecommerce store needs extra functionality.
Quite often, the WooCommerce plugin won't be all you need to run a successful store. In fact, you may want to collect monthly membership fees, or sell tickets, or include product addons.
There are plenty of more advanced ecommerce features that aren't offered in the WooCommerce plugin. So, how should you decide which other plugins are suitable for improving upon WooCommerce?
Here are some tips:
Establish the purpose of your website.
Ask yourself what features are missing from WooCommerce that you need to run an effective business.
Consider finding a WooCommerce theme that satisfies these needs.
If a theme doesn't do the trick, start looking at the best WooCommerce plugins and extensions.
Either buy packages to save money and prepare for the future or opt for individual plugins to save money and stick to what you absolutely need.
Most of your decision relies on what specific features you'd like to add to your WooCommerce store, so make sure you know exactly what your customers will expect.
The Best WooCommerce Plugins for Improving WooCommerce Stores
WordPress is an open source, free solution. You're able to keep costs as low as possible if you're running a very small business site or a personal blog. However, serious online stores typically need premium managed hosting (check out our WooCommerce Hosting) and legitimate plugins with quality customer support.
Some of the plugins listed below are free, but more often than not you should expect to pay for WooCommerce plugins. Sometimes it's a small one-time fee, but sometimes you need to pay monthly.
Having said that, keep reading to learn about our favorite WooCommerce plugins.
1. WooCommerce PDF Invoices & Packing Slips
WooCommerce PDF Invoices & Packing Slips has a large following and for good reason. Invoices and packing slips are required for a wide variety of businesses, but this type of smooth functionality isn't provided in WooCommerce.
Therefore, the plugin lets you automatically attach PDF invoices to certain emails. Not only that, but you receive options for creating and printing packing slips, whether it be in bulk or individually. The simplicity and streamlined nature of the plugin are what draws most users.
Pricing
The core plugin is free, but a Pro version is available with multiple plans starting at €54.00.
Features That Make WooCommerce PDF Invoices & Packing Slips Subscriptions a Great Choice
Within moments of installation, you can print out PDF invoices and packing slips for your current and past orders.
The plugin has multiple languages to use, making it easy for many people throughout the world to run the plugin.
All invoices are organized sequentially and you can format the numbering to your liking.
The plugin lets you generate invoices and packing slips in bulk or individually.
Send out emails with invoices already attached based on who the email is being sent to.
You have extra features in the Pro version for sending packing slips directly to a printer, using premium templates and connecting to Dropbox.
Who Should Consider This WooCommerce Plugin?
B2B online stores typically opt for this plugin because of how easy it is to send out invoices to clients. It's also useful if you ship out your own products and don't use a third-party fulfillment center.
2. YITH WooCommerce Wishlist
YITH WooCommerce Wishlist mimics the "Favorites" list that you can find on many larger ecommerce stores, like Amazon. It's not for every brand, but it often makes sense to give your customers a way to save certain products for later.
The plugin integrates with WooCommerce for a seamless transition. Customers are then able to check back in and find their favorite products for purchase later. This potentially boosts your own sales and makes for a nicer interface for customers.

Pricing
The core plugin is free, but you can opt for more features for $89.99.
Features That Make YITH WooCommerce Wishlist a Great Choice
The plugin provides the potential for increasing sales per checkout and it reminds customers of past interests.
It launches the ability to offer gift lists for events like weddings and baby showers.
Users can share their wishlists on social media.
The plugin has tools for making multiple lists and naming them.
Show an add-to-wishlist button on certain areas of your website.
Customize the wishlist formatting, with adjustments like the number of columns and the number of products showing up on the page.
Who Should Consider This WooCommerce Plugin?
New stores don't have any reason to have a wishlist feature. The same can be said about shops with just a few products. The wishlist plugin looks like a keeper for large, established brands with die-hard customers.
3. WooCommerce Multilingual
With the WooCommerce Multilingual plugin from WPML, you can translate all components of your online store as well as add multiple currencies. This allows you to take advantage of opportunities in global markets and offer customers a great shopping experience in a language of their choice.
With this plugin, you will have the flexibility of automatic and manual translation options, as well as great features for translation reviews and multilingual SEO optimizations.

Pricing
There is a free version of WooCommerce Multilingual & Multicurrency available via the WordPress repo. With this standalone version, users can set up multiple currencies for their WooCommerce store, add a currency switcher, set up exchange rates, and more without needing WPML installed. More info here.
For full multilingual capabilities, it is required to have the paid version of WPML installed. The recommended Multilingual CMS subscription is available at €99.
Features That Make WooCommerce Multilingual a Great Choice
It integrates with WooCommerce and some of the most popular WooCommerce extensions.
The plugin makes it easy to manage and implement translations with simple translation editor interfaces.
Translate all parts of your site from products and shop pages to blog posts and texts from third-party plugins.
Easily configure and offer multiple currencies and use dynamic exchange rate conversions.
Implement a multilingual checkout process (including post-purchase emails).
Who Should Consider This WooCommerce Plugin?
If you have your own online store or build e-commerce stores for your clients, this is the perfect plugin to get your sites multilingual in minutes and start selling in global markets.
4. Custom Product Tabs for WooCommerce
Custom Product Tabs for WooCommerce is a plugin that cleans up your product pages with consolidated tabs. This way, you can title tabs with information like descriptions, specifications, reviews, and more.
All of the tabs you add to your store support multiple forms of content such as images, video, and text. You manage the tabs in the standard WordPress editor, without any need for custom coding.
Pricing
The core plugin is free with an optional feature upgrade for $29.99.
Features That Make Custom Product Tabs for WooCommerce a Great Choice
A quick installation adds simple tabs to your product pages.
You can edit all of the tabs in the basic WordPress editor.
The plugin allows for saving certain tabs to paste into other product pages.
All tabs allow for shortcodes, images, text, and other elements.
The plugin is compatible with WPML for translating in the future.
The tab data is exported with your product data if needed.
Who Should Consider This WooCommerce Plugin?
Just about every online store could use product tabs. It makes your product pages easier to read and opens up space for more important information.
5. WooCommerce Customizer
WooCommerce Customizer expands the number of adjustable settings in WooCommerce. These customization options are already available in WooCommerce, but you typically have to custom code to make them work. Therefore, the WooCommerce Customizer plugin is there to make those tasks easier with visual settings.
From changing the number of products displayed on each page to modifying the login text, this plugin suddenly makes advanced customization possible without needing to hire a developer.

Pricing
The plugin is free.
Some extensions are available. Most of them are free, but you may have to pay for advanced extensions.
Features That Make WooCommerce Customizer a Great Choice
It opens up visual editing settings for those who don't know how to code.
You can change things like sales badges, Add to Cart text, and checkout page coupons.
Quite a few extensions are provided for you to install. For instance, some of them include MailChimp and WooCommerce Memberships
The vast majority of features and extensions are free to use.
Who Should Consider This WooCommerce Plugin?
It's recommended that all WooCommerce site owners at least test out the WooCommerce Customizer plugin. You may find that it makes customizing small elements, like the Create Account button, easier. However, some themes may complete these customizations for you.
6. PickPlugins Product Slider for WooCommerce
The PickPlugins Product Slider for WooCommerce plugin solves a problem that many store owners find themselves in after launching a store. Your WordPress theme or page builder may not have a clean product slider or it's possible you don't have that option at all!
If you'd like a product slider on your homepage or other pages, this is the right plugin to make that happen. This is also a wonderful plugin for recommending products inside of your blog posts since you can often write posts that relate to your products and send users directly to your store.

Pricing
The free plugin has the majority of the features needed.
Download the Premium Version for $29. This adds around 30 themes and other layouts like the top-rated products and recently viewed items.
Features That Make PickPlugins Product Slider for WooCommerce a Great Choice
Add the product slider on any page or post of your choice.
All product sliders look beautiful on desktops and smaller devices.
Dozens of settings are available, including options for auto-playing, touch dragging, and different colors.
The plugin automatically hides out of stock products.
It supports unlimited products and sliders.
Over 20 navigational ribbons are provided.
Customize everything from font sizes to text alignments and item categories to custom ratings.
You have the option to upgrade for more themes and better organization.
The customizations and animations are often far more impressive than what you can find on prebuilt WordPress themes.
Who Should Consider This WooCommerce Plugin?
Go with this plugin if your theme doesn't currently have a product slider or if you don't like the way it functions or looks.
7. ShopEngine
ShopEngine is an all-in-one freemium plugin that made a mark among WooCommerce users shortly after it was launched in 2021. In the recently concluded Monster Awards competition, the WooCommerce plugin stood 1st beating its counterparts. Thanks to its striking modules, widgets, templates, and other features.
Some of ShopEngine's notable modules include Quick Checkout, Product Comparison, Preorder, Backorder, Sales Notification, Flash Sale Countdown, and Partial Payment. You can include these features in your WooCommerce pages, maximizing client satisfaction.
Along with modules, ShopEngine comes with an array of widgets. These drag-and-drop widgets will let you do bottomless customization of your pages.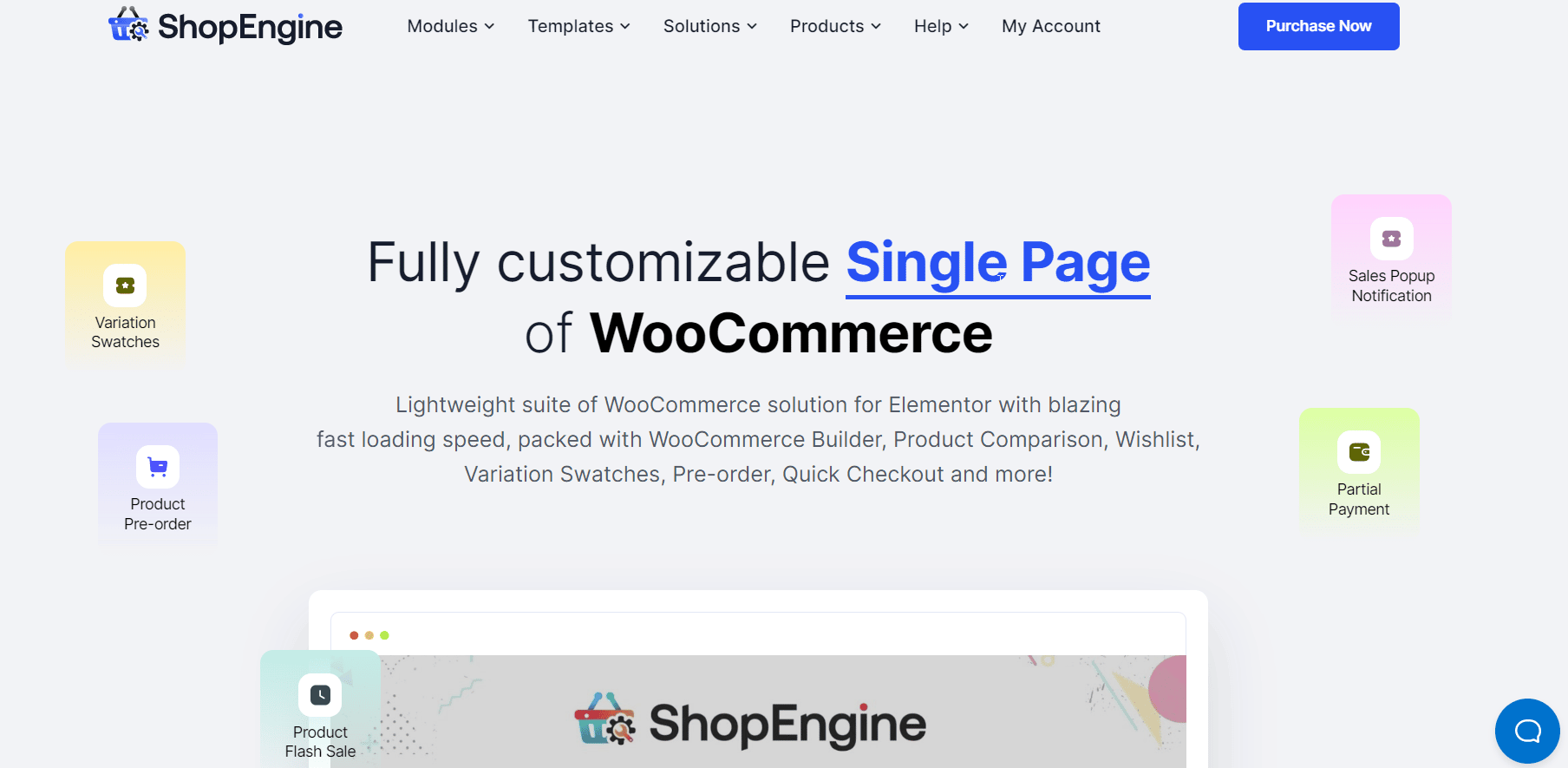 And you know the best part of ShopEngine? It has captivating ready-made templates for all your WooCommerce pages that you can tweak and customize to ensure the best user experience.
Pricing
ShopEngine comes with both free and pro versions. The pro version costs $59/year for 1 site, $149/year for 5 sites, and $299/year for unlimited sites.
Features That Make ShopEngine a Great Choice
ShopEngine is compatible with popular WordPress themes like Astra, Hello Elementor, Divi, Ultra, and others.
The plugin comes with 13+ modules, 65+ widgets, and tons of other stunning features.
It offers limitless customization options.
It works perfectly with Elementor.
Gutenberg integration is available.
It displays related products based on the preference of buyers.
It offers multi-language support.
8. Booster for WooCommerce
Booster for WooCommerce enables an interesting collection of features that you may have found to be missing during your use of WooCommerce. Some of these features include bulk price converting, currencies, global discounts, and tools for letting your customers offer their own pricing.
The list of extra, and many times unique, features goes on and on. You'll find features for payment gateways, the checkout, products, and more. Overall, it's worth testing out before opting for a premium plugin that only solves one problem.

Pricing
The core plugin (with a large list of added features) is free. Booster Plus (with even more features) is sold for $49.99.
Features That Make Booster for WooCommerce a Great Choice
The Booster for WooCommerce plugin is almost a complete ecommerce plugin in itself. It allows for a far more advanced online store experience without the need for a new theme or multiple plugins.
Change pricing and currencies with tools for multicurrency, price formats, and wholesale pricing.
Adjust buttons and price labels with features for custom price labels, free price labels, and more button labels.
Customize products with features for product imaging, input fields, and much more.
Transform the cart and checkout with the help of core fields, checkout fees, and empty cart buttons.
Improve your payment gateways with the help of min/max amounts, gateways by shipping, and gateways based on category.
Amplify your shipping process with a wide range of features for order quantities, shipping calculations, and icons.
Make your emails and PDF invoicing better.
Who Should Consider This WooCommerce Plugin?
It's best to look at the entire list of added features from Booster for WooCommerce. Chances are there is something in the plugin that makes sense for your company. The long list of features is impossible to cover in one short blurb. However, this can often replace the need for other plugins or themes.
9. EU VAT Compliance Assistant for WooCommerce
The EU VAT Compliance Assistant for WooCommerce is a rather niche tool for those conducting business in the EU. As you may know, VAT, or Value-Added Tax, is a fee required for sales in the EU. This tax includes digital goods like ebooks and audio sales.
Therefore, you may find out that your company is required to consider VAT into your costs. This plugin does most of the dirty work for you, identifying customer locations, converting currencies, and applying the VAT fees when necessary.
Pricing
Some of the core plugin features are provided for free. The premium version starts at $50.
Features That Make EU VAT Compliance Assistant for WooCommerce a Great Choice
It ensures that you follow the laws of the EU, whether your company is located in the EU or your customers are buying from there.
The plugin identifies the locations of your customers without you having to do anything.
After showing the location, the plugin automatically changes your website pricing to include EU VAT charges.
All of the extra charges are recorded just in case you get audited or if you need to include the fees in your own accounting.
The VAT fees aren't only shown in the cart. You can rest easy knowing that your customers see the final VAT price on product pages and collections.
VAT rates are different in each country. Therefore, the plugin tries to calculate them all for you. You can also type in your own custom VAT cost if needed.
There's a setting for denying all purchases that include VAT fees.
Advanced reporting is included so that you can break down costs and purchase behaviors when VAT is incorporated.
Digital and physical goods are both supported.
Who Should Consider This WooCommerce Plugin?
The only reason you may need this is if your customers are primarily located in the EU. It also may help out if you'd like to eliminate the possibility of selling an item to a customer in the EU.
10. Checkout Field Editor
The Checkout Field Editor plugin features tools for adding, editing, and deleting custom fields in your checkout area. The standard fields for names, addresses, and payment information are still there, but this plugin recognizes that some companies are unique.
The plugin integrates directly with WooCommerce, turning your checkout module into a more versatile area. For instance, you could edit current fields included with WooCommerce, and you also have the opportunity to add new fields for things like labels, placeholders, and names. Custom fields are important for many types of businesses, especially B2B companies that have custom orders on a regular basis.

Pricing
The core plugin is free, but you can upgrade to get more features for $39.
The premium version includes some interesting new themes, along with a long list of other field types like numbers, checkboxes, and file uploads.
Features That Make Checkout Field Editor a Great Choice
The plugin instantly makes your checkout modules easier to customize. It's not the easiest task to change elements on your WooCommerce checkout, but this helps quite a bit.
Dozens of new field items are provided for you to incorporate options like classes, labels, and types.
Editing fields is possible without knowing anything about coding. So, changing around the standard shipping and billing fields is a viable option now.
The core version of the plugin is entirely free, with field types like selections, text areas, and email.
You can move around fields to place them in different areas of the checkout process. For instance, you might decide that the email field doesn't need to appear until the order details page.
Feel free to remove any fields you would like.
Enabling and disabling fields is done with the click of a button.
The plugin provides somewhat of a drag and drop interface for adjusting the order of your current and new fields.
The premium version is affordable, and it opens up an entirely new batch of demos and fields.
Who Should Consider This WooCommerce Plugin?
If the WooCommerce checkout area already works for your business, there may be no reason to get this plugin. However, some ecommerce stores need to add new fields, like for a B2B store that needs to ask for special details on each order.
11. WooCommerce Menu Cart
The WooCommerce Menu Cart plugin works with many ecommerce plugins such as WooCommerce, WP-Ecommerce, and Easy Digital Downloads. Its main purpose is to add a shopping cart button in your main navigational menu.
The rationale for this is because some WordPress designs and themes don't have shopping cart icons towards the top of the page. This typically indicates that the theme wasn't directly made to work with WooCommerce. However, since most themes are still compatible with WooCommerce, you simply need to add some elements like the shopping cart icon from this plugin.

Pricing
The plugin has a free version. The premium version starts at €27.00 and offers additional cart icons, a cart flyout, and much more.
Features That Make WooCommerce Menu Cart a Great Choice
The plugin turns "non-WooCommerce" themes into fully functional online stores, since the shopping cart icon is so important for pushing sales and reminding people about their carts.
It only takes a few minutes to install the plugin and see the shopping cart icon in your menu.
You can choose to add a shopping cart icon or only the items and prices.
Settings are available for floating the cart icon to different areas of the navigation menu.
Custom CSS is possible for more advanced edits.
The Pro Version adds an impressive list of more cart icons, flyouts, automated updates, and more.
Who Should Consider This WooCommerce Plugin?
Consider the WooCommerce Menu Cart plugin if your current WordPress theme doesn't have a cart icon. This typically happens when you didn't plan on selling items through your site, so you opted for a theme without important ecommerce elements. Consequently, this plugin solves that problem. For instance, you might start realizing that it would be a good idea to sell merchandise from your blog.
12. YITH WooCommerce Compare
The YITH developers are known for adding several features to WooCommerce through the use of plugins and extensions. The YITH WooCommerce Compare plugin is one of the most important ones if you're selling products where the features can be directly compared side-by-side.
Essentially, you install the plugin, set the attributes you would like to compare for each item and add the Compare button for your customers to click on. A popup appears for your customers, placing the compared products next to each other.

Pricing
The YITH WooCommerce Compare plugin is free to use. However, you can upgrade to the YITH Premium Club to gain access to all YITH plugins and premium support. The Premium subscription starts at $63.99.
Features That Make YITH WooCommerce Compare a Great Choice
It allows you to add a quick feature that makes the user experience much nicer for your shoppers.
There's no need to mess with coding, as the plugin is installed within seconds and you can place the Compare button anywhere.
A few translations are available.
You get to choose which features are compared in the table.
The comparison module is a popup, so it doesn't take customers away from their current page. Rather, they see a clean table with the comparison, then they can go back to shopping.
Customers can add items to their cart directly from the comparison page.
Several fields are available for showing in the comparison table. Some of them include availability, image, and title. It also lets you remove any of these.
Some simple settings are provided for adjusting items like button text, table title, and product image size.
Who Should Consider This WooCommerce Plugin?
Adding a comparison to your online store is important if your products have similar features worth comparing side-by-side. Comparing graphic t-shirts wouldn't provide much information, but products with standardized specifications, like jewelry, electronics, and appliances make lots of sense.
So, if your theme lacks a comparison tool, and you sell the right products, this is a plugin that may work for you.
13. WooLentor – WooComerce Builder for Elementor and Gutenberg
WooLentor is a professional, easy-to-use WooCommerce page builder for Elementor and Gutenberg that will help you quickly create beautiful WooCommerce pages without having to learn to code.
This versatile plugin is packed with features and options that will enable you to create a functional WooCommerce store without any hassle. With WooLentor, you can have access to many essential features such as Wishlist For WooCommerce, Product Compare, Quick view, Shopify Style Checkout, Sales Notification, Backorder For WooCommerce, Product Ajax Add To Cart, Rename Label, and so on.
WooLentor WooCommerce page builder is fully compatible with both Elementor and Gutenberg, so you can begin creating unique WooCommerce pages right away.
Pricing
The free version of the plugin gives you all the essentials to get started with the WooCommerce store. Depending on your budget and requirements, the plugin offers a variety of premium options.
Upgrade to the premium packages starting at $39/year for a single website if you want more useful features like Product Filter, Order Bump, WooCommerce Email Automation, WooCommerce Email Customizer, Checkout Field Manager, Pre-Order For WooCommerce, Product Size Chart, Partial Payment, Multi-Step Checkout, GTM Conversion Tracking, and much more.
Features That Make WooLentor Page builder Plugin for WooCommerce a Great Choice
104+ Elementor Widgets, 54+ Gutenberg blocks, 23+ Modules
Fully compatible with both Elementor and Gutenberg
Drag and drop interface makes it easy to create pages without having to learn coding languages.
Customize any WooCommerce pages like the Shop page, Product page, Cart page, My account page, Checkout page, etc.
A wide range of customization options to help you create the perfect WooCommerce pages.
Fully responsive design ensures that your pages look great on all devices
Easy to use, with a user-friendly interface
Comes with several modules that give you the ability to add extra features without having to install more plugins.
Who Should Consider This WooCommerce Plugin?
WooLentor is the perfect WooCommerce plugin for those who want to create a beautiful WooCommerce store without having to learn to code. It is also ideal for those who are already familiar with coding, as it offers a wide range of features and options that will enable you to create stunning WooCommerce pages without any hassle. If you are looking for a WooCommerce plugin that is packed with features and options, then WooLentor is the perfect choice for you.
14. Order Delivery Date for WooCommerce
Order Delivery Date for WooCommerce does exactly what the name implies. It engages customers after a purchase, allowing them to select a delivery date during the checkout process. This varies from the traditional approach where your checkout shows a handful of delivery options and how long they take to arrive.
The plugin has been shown to decrease cart abandonment since customers can now select an exact date, instead of the seemingly arbitrary shipping methods that aren't always that accurate. Instead, the customer chooses an exact date and can look forward to that.
Pricing
The core plugin is free. The Pro Version sells for $99 and has a large list of additional features like next-day delivery, shipment time selection, and time slot blocking.
Features That Make Order Delivery Date for WooCommerce a Great Choice
The plugin presents the opportunity for more transparency because customers are given exact dates that they can choose. This is in comparison to the traditional method of selecting options like USPS and UPS.
You have options to disable certain days and times.
The plugin provides settings to configure the minimum number of days it takes to ship products. For instance, you may want to completely block off dates within one or two days.
You can limit the number of deliveries per day.
The Pro Version expands quite a bit on the feature set, with options for syncing with Google Calendar, blocking time slots, and setting weekend delivery times.
Who Should Consider This WooCommerce Plugin?
The Order Delivery Date for WooCommerce plugin could potentially work for all ecommerce stores. It's somewhat of a "bonus" item for an online store, but it has been shown to decrease cart abandonment. And it could help you stand out from the competition.
15. YITH WooCommerce Quick View
As mentioned before, YITH has many WooCommerce plugins to expand on how the basic plugin works for your store. YITH WooCommerce Quick View adds a quick view popup so that your customers don't have to go all the way to the product page.
They can now add items to the cart directly from the popup and then "X" out of the module to continue shopping. The purpose of a QuickView feature is to cut down on the number of steps required for customers to place items in the cart.
Pricing
The standard plugin is free, but you can pay for the YITH membership (for all of their plugins) for the price of $59.99 per year.
Features That Make YITH WooCommerce Quick View a Great Choice
The YITH WooCommerce Quick View plugin is an easy way to speed up the purchase process for your customers.
It only takes a few moments to install the plugin and see the quick view module for all of your products.
Buttons are added to product loops and collection galleries to open windows with quick product information.
The quick view lightbox is powered by AJAX so that it loads quickly and doesn't interrupt anything on your website.
You're able to customize the styling of the module to fit your own branding.
Who Should Consider This WooCommerce Plugin?
YITH WooCommerce Quick View plugin is recommended for those who would like to make the checkout process faster for customers. However, keep in mind that sometimes the quick view tool makes the shopping experience more cluttered and difficult for customers. Test it and try to get feedback from your customers for a few days first before implementing it site-wide.
16. Livechat – Premium Live Chat Software for WooCommerce
All online stores should have a live chat tool for providing customer support to people already browsing the website. The LiveChat – Premium live chat software for WooCommerce plugin is one of the top solutions for adding a live chat area and managing it from the backend of your website.
Quite a few features are combined into your WooCommerce interface to provide a seamless customer support experience for your users. This is a full-fledged chatting suite, not just a quick opensource fix. It has comprehensive tools for things like visitor tracking, chat triggers, and feedback.

Pricing
There's a free trial, but no free plan after that. The plans are as follows:
Starter – $16 per month per agent.
Team – $33 per agent.
Business – $50 per agent.
Enterprise – Custom pricing.
The pricing increases by plan because more features are added. We recommend going to the website to understand what you may or may not need for your business.
Keep in mind that there are some free live chat plugins out there, but serious online stores eventually need something more powerful like LiveChat.
Features That Make LiveChat – Premium live chat software for WooCommerce a Great Choice
It provides a beautiful, highly customizable live chatbox on your website.
The visitor tracking is indispensable for understanding what your customers are doing on your website and when they may need help.
Collect feedback from your customers after they live chat with one of your reps.
The live chat triggers automate the process of reaching out to your customers, instead of waiting around for them to ask questions.
All offline communications are stored as support tickets, so you can come back to them and help out your customers later.
Live chat transcripts get logged in the system for analysis and seeing which of your reps are the most helpful.
The plugin has multi-channel communication features so that you can reach out to customers on places like Facebook, your website, and more.
Canned responses are provided so that you don't have to type out a response when the question has been asked by other customers before.
Who Should Consider This WooCommerce Plugin?
All ecommerce stores need a live chat module. You can try out a free solution and see if it works for you, but this is typically an area where we recommend paying a little money for more features. Overall, this is one of your top customer support outlets.
17. Direct Checkout for WooCommerce
Direct Checkout for WooCommerce has a unique and potentially lucrative purpose. It completely overrides the shopping cart page on your WooCommerce site, speeding up the checkout and making it easier for your customers to get to the payment area.
It's always a struggle to try to figure out ways to make the checkout simpler. Some stores won't like the idea of removing the shopping cart, but it definitely makes sense for some. After all, the customer can still go back if they would like to edit something.
Pricing
Free, with a $15 upgrade option for a handful of other features.
Features That Make Direct Checkout for WooCommerce a Great Choice
It's free.
The plugin lets you add single, grouped, and variable products to the cart without having to reload the site each time something is added.
Users are instantly redirected to the checkout page to buy items, as opposed to sending them to the shopping cart.
You can also remove some of the checkout fields to make the process even faster.
It lets you choose a one-page checkout process.
The quick purchase button can be placed below every product to send users right to the checkout with that one item.
You can customize the checkout buttons and text items.
Who Should Consider This WooCommerce Plugin?
This is a tough one because some customers may not like the idea of being sent right to the checkout area. However, others are sure to enjoy the convenience. Again, it's best to ask your customers beforehand and to get feedback as you roll out the plugin.
18. WooCommerce Stripe Payment Gateway
WooCommerce Stripe Payment Gateway is one of the more popular plugins for WooCommerce. That's because it's a commonly used payment gateway for just about all of the major ecommerce platforms.
By itself, WooCommerce doesn't have Stripe, and many other payment gateways, to accept transactions. However, you can install this plugin to connect to your Stripe account.
Pricing
Free.
Features That Make WooCommerce Stripe Payment Gateway a Great Choice
Stripe is one of the top payment gateways in the world. This means that it's reputable, secure, and people trust it.
After installation, your site can suddenly accept all major debit and credit cards.
Local payment is possible through Stripe.
Stripe Elements is an included feature that drastically speeds up the checkout process, helping people type in their personal information.
The customer authentication is considered some of the best in the business.
It makes your site optimized for alternative payment methods like Google Pay and Apple Pay.
Stripe supports recurring payments.
You'll get far better customer support from Stripe, as opposed to what you would receive from PayPal. Also, a PayPal Buy button isn't exactly seen as that professional.
Who Should Consider This WooCommerce Plugin?
Every online store should consider Stripe as adding more payment methods increases your conversion rate.
19. YITH Booking and Appointment for WooCommerce
YITH Booking and Appointment for WooCommerce is one of the top choices for turning a WooCommerce website into a booking platform. Whether it's for booking hair care appointments, car maintenance, or dental cleanings, the WooCommerce Bookings system does the trick for all professionals.
Once active, the extension turns on an appointment calendar for customers to book your service on the frontend of your site. You get to define options and set which days and time you're available. You can also break it up into various calendars if you have multiple people in your organization–like for gyms with several trainers.
Pricing
Three plans are available:
Single Site – $169.99
Six Sites – $289.99
30 Sites – $449.99
Features That Make YITH Booking and Appointment for WooCommerce a Great Choice
It's made by YITH, so you know it's reputable and constructed to work well with your site. You also get quality customer service for the plugin.
The plugin activates a clean calendar for customers to book reservations.
You can define options like time slots for tours or appointments.
The booking module looks great on all devices.
Multi-person events and one-on-one appointments are all possible.
Create custom search modules for people to find different events or offerings.
You can set unique options like rejecting bookings automatically depending on who books the appointment or the time of day.
Set special pricing for certain groups or days.
You can make it so that the customer's time zone shows up.
Double bookings are not possible.
Collect payments for your online bookings, and activate when those payments are required.
Sync your website calendar to Google Calendar.
Reminders are sent out to you and the customer, reducing the number of no-shows.
Who Should Consider This WooCommerce Plugin?
Consider the YITH Booking and Appointment plugin if you need a better way to book customers and organize all of the appointments.
Some of these industries and professions include gyms, restaurants, lawyers, doctors, and more.
20. WooCommerce Membership
The WooCommerce Membership plugin is sold on CodeCanyon and it's developed by a group called RightPress. The plugin is a wonderful choice if you plan on converting your WooCommerce site into one that collects membership fees.
You can sell or assign memberships, bring in payments, or even make members who don't have to pay anything. There are plenty of possibilities with the WooCommerce Membership plugin, from purchasing clubs to exclusive content on your blog.

Pricing
The plugin sells for $39, with additional options for extending your customer support.
Features That Make WooCommerce Membership a Great Choice
It turns a seemingly normal online store into one that can collect membership fees and assign membership titles to all customers.
The plugin acts as a content blocker, where you can share certain items with members who pay.
It has features for selling memberships to companies or larger groups of people.
You can send out automated emails to notify members of different actions.
Convert any of your products currently sold on your website to membership items.
Grant access to any people that you want, and remove access for others.
Activate a content drip feed to ensure that members receive information on a regular basis.
Create an unlimited number of memberships with multiple fee levels.
Who Should Consider This WooCommerce Plugin?
There are several types of membership sites. If you'd like to create a stream of recurring income, a membership might be for you.
We suggest membership sites for podcasts, monthly box clubs, exclusive blog posts, online courses, and many more products. Make sure to read our guide on selling subscriptions with WooCommerce.
21. WooCommerce Social Login
Signing up for another account for your online store isn't typically what customers want to do. Facebook, and other social networks, have made it easy for internet users to utilize social login information for other websites.
So, this WooCommerce Social Login plugin is available to cut down on the time required for customers to make their own accounts on your site. In addition, it still provides valuable information for you to analyze site visitors.
Pricing
$39 on CodeCanyon, with options to upgrade your customer support.
What Makes This One of the Best WooCommerce Plugins?
The plugin has features for allowing social logins with data from places like Facebook, Twitter, and Instagram.
You can integrate the plugin with other plugins like BuddyPress and bbPress.
Create your own branded login forms with the social buttons you want.
Include these social login buttons in your checkout module.
Dozens of networks are supported, including Apple, Amazon, and PayPal.
You get to see stats showing you how many people log in to your website using which networks.
The plugin offers a drag and drop builder for making your forms.
Who Should Consider This WooCommerce Plugin?
If you're interested in boosting the number of people who make accounts on your site, this plugin should be considered. Any type of online store can benefit from a quick social login area.
22. Enhanced Ecommerce Google Analytics Plugin for WooCommerce
The Enhanced Ecommerce Google Analytics Plugin for WooCommerce plugin is one of the essentials that all ecommerce websites should have connected to their stores. As you may know, Google Analytics is one of the go-to options for forecasting, checking site statistics, and understanding which products are doing the best. Therefore, it makes sense to integrate your online store with Google Analytics, regardless of what you're selling.
Google Analytics, and this plugin, is completely free. It provides help for discovering which of your sales channels are performing the best. You can also find out which areas of your site are most profitable and which are causing you to lose money. Overall, the Google Analytics plugin for WooCommerce is an integral piece for making decisions based on data as opposed to gut instinct.
Pricing
Free.
Features That Make Enhanced Ecommerce Google Analytics Plugin for WooCommerce a Great Choice
Google Analytics is easy to understand, and most of the features you need are free.
The plugin brings the power of Google Analytics into your WooCommerce dashboard. Therefore, you don't have to keep logging into different platforms.
It allows you to see which areas are leaking money and which areas are making you money.
You can compare traffic for your web pages and find out which of the products are performing best.
See what your customers are actually looking for and when they decide to buy or leave your site.
The plugin lets you track user sessions so that you can learn more about individual customers.
Who Should Consider This WooCommerce Plugin?
Without a doubt, every online store should have an integration to Google Analytics. It's one of the best ways to make informed decisions about your shop.
23. Product Addons for WooCommerce
The Product Addons for WooCommerce plugin is a tool that offers a more unique gift experience by incorporating extras into the product page. Some examples include basics like different colors for your products, while other elements involve things like gift-wrapping or extra items thrown into the packages.
You get the chance to customize all of the extras included with your sales and you can set whether you'd like to have checkboxes or other styles of formatting to showcase your add-ons. You can even choose to have full customization of your product package, with the option to allow customers to name their own pricing.
Pricing
There is a free, core plugin. Two premium plans are available as well:
Single Site – $29.
Five Sites – $59.
You can save a little money by opting for lifetime updates. The above plans provide one year of updates.
Features That Make Product Addons for WooCommerce a Great Choice
The plugin lets your customers customize their products while on your website as opposed to having to type in details in a text box or email you later.
You have several options for people to choose add-ons, including text areas, dropdowns, checkboxes, and more.
Image-based selections are available. For instance, you could show images of different colored shirts.
Choose to price your add-ons by using a flat fee, based on quantity, or based on percentages.
Customers can set a custom price, like if you wanted to ask for donations or have your customers set their price for a promotion.
Some excellent premium features are offered, such as color groups, image selections, and upload fields.
Who Should Consider This WooCommerce Plugin?
The Product Addons extension looks like a great option if your theme currently doesn't offer many product customization tools. We also like this for those selling digital products or services, where they may ask for donations, or for people to decide how much they would like to pay. We've seen this done as promotions in the past as well.
24. WooCommerce ShipStation Gateway
The WooCommerce ShipStation Gateway combines your ShipStation account into WooCommerce, making for a seamless shipping process. In short, ShipStation takes over your shipping infrastructure, helping out with order imports, custom branding on packaging, and actually sending out the items.
What's nice about ShipStation is that you also receive discounts and good deals on your shipping, regardless of what platform you're selling on. So, it's a nice platform to save money on your shipping and automate some of the processes.
Pricing
Free. ShipStation does have its own fee, but the WooCommerce plugin is free for you to install and use.
Features That Make WooCommerce ShipStation Gateway a Great Choice
The plugin is free outside of your ShipStation account.
It integrates one of the most effective shipping services into your online store.
You can save time importing orders from places like WooCommerce, eBay, and Amazon.
You save money on the various types of shipping options, whether it be UPS, USPS, or others.
The plugin offers various types of customization, from custom shipping notifications to packaging slips.
ShipStation also has several features for linking back to your website and social media accounts.
Who Should Consider This WooCommerce Plugin?
Going with ShipStation all depends on the size of your business and whether or not it'll be a good value. In general, ShipStation can help any sized business save money and time. However, we recommend looking at the pricing plans to see if it makes sense for you.
For instance, the Starter plan for ShipStation is $9 per month for 50 shipments a month. With fast, affordable shipping and branded packaging materials, this seems like a great deal for small stores.
25. HubSpot for WooCommerce Integration
The HubSpot for WooCommerce plugin is a powerful free tool for customer relationship management (CRM), email marketing, lists segmentation, abandoned cart tracking reporting, and more.

This plugin lets you integrate your WooCommerce store with HubSpot and unlock the power of the two platforms. With the integration, you can convert visitors into leads, nurture them via email marketing, and most importantly, keep track of their activity.
Pricing
Free.
Features That Make HubSpot's WooCommerce Plugin a Great Choice
Synchronizes your WooCommerce data to HubSpot.
Manage your leads, subscribers, customers, and orders in HubSpot's CRM (free for up to 1,000,000 contacts).
Track and recover customers' abandoned carts.
Build responsive and beautiful nurturing emails using the drag-and-drop email feature or select from one of the ready-made templates available for free.
Create insightful reports to track your marketing and sales performance.
Who Should Consider This WooCommerce Plugin?
This plugin is perfect for WooCommerce store owners who are looking to bridge the gap between ecommerce marketing and the Inbound methodology. You can use the free CRM that comes with the plugin to track leads and customers.
And rather than letting customers abandon items in the cart, store owners can set up abandoned cart automation to follow up and drive more revenue. At the same time, WooCommerce store owners will love the ability to send marketing emails to engage customers, access robust analytics to see how a store is performing, and manage everything in one easy-to-use platform.
Which of the Best WooCommerce Plugins is Right for You?
The answer to this question is that you should take a look at all of them.
All of these WooCommerce plugins are drastically different in what they do. Therefore, it's best to decide on what you would like to improve about your store first, identify issues and/or needs, then choose the right options.
What are your preferred WooCommperce plugins? Let us know in the comments!