Providing high-quality customer support is key to maintaining a successful business. However, fielding queries can become time-consuming and repetitive. This is where WordPress FAQ plugins come in.
To minimize the amount of time you have to spend answering the same questions over and over again, you might want to add a Frequently Asked Questions (FAQ) section to your website. Though you can always create one by hand, using a plugin can streamline the process and incorporate advanced styling.
In this post, we'll dive deeper into the benefits of including an FAQ page on your WordPress website. Then we'll share some of the best WordPress FAQ plugins on the market, and discuss how to create an FAQ section without any extra tools. Let's get started!
Why Your Website May Need an FAQ Page
There's no denying the importance of customer support. Helping the people who use your products or services when they run into issues helps boost your business' reputation, and improve the chance that it will continue to succeed.
Additionally, if your customers are having a good experience with your business, you're more likely to have success retaining them. Since it's six to seven times more expensive to recruit new customers than it is to keep the ones you have, this can go a long way towards stabilizing your revenue.
Happy customers are also more likely to recommend your company to friends and family. This is a prime opportunity to spread the word about your brand at no cost to you. Your customers can become your greatest advocates, so long as they continue to have a positive experience with your business.
With that said, managing support requests isn't always easy. Especially if you're just starting out or your company is still small, it can be hard to find time to dedicate to answering questions. It's really hard and resource-intensive building a 24/7 customer support for many business owners.
This is why it's wise to provide the answers proactively, so customers don't have to contact you.
Having answers to your FAQs available on your site ensures that – regardless of where they are in the world or when they're using your products or services – customers will be able to troubleshoot basic issues on their own. This way, you can quickly alleviate their frustrations without lifting a finger.
10 Best WordPress FAQ Plugins
For WordPress users, it's fairly easy to add an FAQ section to their site using a plugin. There are several available to choose from:
Let's get a closer look!
1. Ultimate FAQ

As the name suggests, Ultimate FAQ plugin strives to do it all when it comes to FAQs. With WooCommerce integration and Block Editor optimization, Ultimate FAQ is extremely flexible and can adapt to nearly any site and level of user ability.
A few key features include:
Three FAQ-related blocks
An FAQ tab for WooCommerce product pages
FAQ categories and tags
You can download Ultimate FAQ for free from the Plugin Directory or invest in the premium version of the plugin. Licenses start at $30 per year and you'll gain access to advanced styling options and functionality.
2. Accordion FAQ

One of the difficult things about FAQ pages is that they can quickly become long and cluttered. Collapsible, accordion-style layouts are a popular solution to this problem, as they keep users from having to scroll excessively.
Accordion FAQ makes achieving this feature easy. With this plugin you can:
Create multiple FAQ accordions
Incorporate FAQ lists with shortcodes
Customize your accordion with various color choices
Access and add Font Awesome icons
Organize your questions with a drag-and-drop builder
If you're on a tight budget, this is also a smart pick. You can download Accordion FAQ for free or access animations, Google Fonts, and other advanced effects with Accordion Pro. This premium plugin is highly affordable at just $9 for a six-month license or $27 for lifetime usage on unlimited sites.
3. Easy Accordion

Considering the advantages of using an accordion layout for your FAQ page, it's no surprise that there is more than one plugin dedicated to helping you incorporate this feature. Easy Accordion is very similar to Accordion FAQ, offering a similar drag-and-drop building experience and responsive design.
However, Easy Accordion also provides unique themes for styling your FAQs. You'll have access to one theme in the free version, or you can upgrade to Easy Accordion Pro to acquire 16 premium theme options. This tier provides a much wider range of styling options and starts at $29.
4. WP Responsive FAQ

With mobile internet use on the rise, responsiveness is a must these days. WP Responsive FAQ has made this function a priority with its collapsible FAQ design. What's more, its unique shortcode system enables you to display exactly the right questions in optimal locations.
Other features include:
The ability to create individual FAQs like you would create WordPress posts
Shortcode parameters for customizing displays
Categories for organizing and displaying your FAQs
WooCommerce product FAQs (premium only)
In addition to improved WooCommerce integration, the premium version of this plugin includes 15 additional shortcode parameters for more flexibility when it comes to customization. You can purchase a license starting at $69 per year.
5. Ultimate Blocks

If you are looking for a content marketing plugin with a schema-enabled FAQ solution, you must try out the Ultimate Blocks plugin. This is a Gutenberg block plugin with 20+ powerful custom blocks. Content Toggle is one of its custom blocks by which you can create collapsible sections on your WordPress posts and pages.
Key features of the Content Toggle block of the plugin:‌
Allows to set heading tag for the FAQ titles
Easy to make the FAQ section collapsible
Responsive on mobile devices
Comes with the FAQ schema
Lets you customize the entire FAQ section
Doesn't depend on shortcode
The Ultimate Blocks plugin has a free version available. Its premium version starts from $39/year with a 14-day refund policy.
6. Knowledge Base for Documents and FAQs

Choosing a WordPress FAQ plugin can be especially difficult because many of them are so similar. One of the nice things about Knowledge Base for Documents and FAQs is that it brings something different to the table. Instead of just creating an accordion-style FAQ list, this plugin builds your site and entire knowledge base.
This means you can:
Incorporate downloadable documents to share user guides and other information
Enable users to search your documents and FAQs to find exactly what they need
Style your knowledge base with pre-built themes
If a simple FAQ page isn't cutting it, or you want to provide detailed manuals for your products, this plugin may be more effective than many of the others on this list. The plugin itself is free, but there are several premium add-ons you can use to extend it. Prices range from $15–$80 per year.
7. HTML5 Responsive FAQ

The last thing you want when adding an FAQ section to your site is for it to stick out like a sore thumb. Being able to integrate this feature with your current WordPress theme and styling is a must if you want your site to stay professional-looking.
HTML5 Responsive FAQ offers features to help with this, including:
Easy customization of color, font size, and more to match your theme
Custom sorting options to give users control
FAQ categories and personalized category titles
Shortcodes for incorporating FAQs wherever you like
Accordion styles for clutter-free pages
This plugin is completely free to use, with no premium version available.
8. FAQ by 10Web

The downside to providing self-serve customer support is that it can be harder to determine whether your answers are effective. The next plugin on our list, FAQ by 10Web, offers some key features that can help with this issue.
You can:
Incorporate a feedback Call to Action (CTA) at the end of each question, so users can rate its helpfulness
Provide a comments section, so users can leave responses regarding your questions and answers
Enable social sharing, which lets visitors spread your content and draw more traffic to your site
Access all the FAQ plugin basics as well, including accordion styling, mobile responsiveness, drag-and-drop reordering, categories, and search functionality
You'll get all of this with the free version of the plugin. If you choose to upgrade to a premium license, you'll be able to access additional support and customization options through a theme system. Pricing starts at $20 for a six-month license.
9. Spider FAQ

Sometimes, when it comes to WordPress plugins, simpler is better. Spider FAQ focuses on the most important features for any question-and-answer page, including categories, search functionality, and collapsible sections to save space and improve organization.
The unique features of this plugin include "like/unlike" buttons for gathering user feedback and an extensive theme system for styling. In order to access the built-in themes, you'll need a premium license. Pricing starts at $20 for six months.
10. Quick and Easy FAQs

Quick and Easy FAQs sports a familiar custom post types and shortcode system, which you can use for adding and displaying your questions and answers. Like many of the other plugins we've explored, it offers a filterable, toggle-accordion display.
Plus, there's no need to worry about breaking the bank with this plugin. No premium version available.
How to Add an FAQ Section to Your WordPress Site Without a Plugin
While there are many handy features plugins can offer, sometimes the easiest way to build your FAQ page is to do it by hand. There are several pros and cons to this method.
The main advantage is that you shouldn't have to worry about your FAQ section not blending in with your active WordPress theme. The FAQ will simply inherit your site's styling, just like any other page would. However, unless you're confident in your coding abilities, you'll also probably miss out on options such as accordion layouts and animations.
If you want to keep things simple and think building your page by hand is the route for you, all you have to do is navigate to Pages > Add New in your WordPress dashboard. You can then enter and format all your questions and answers, just as you would add content to any other post or page: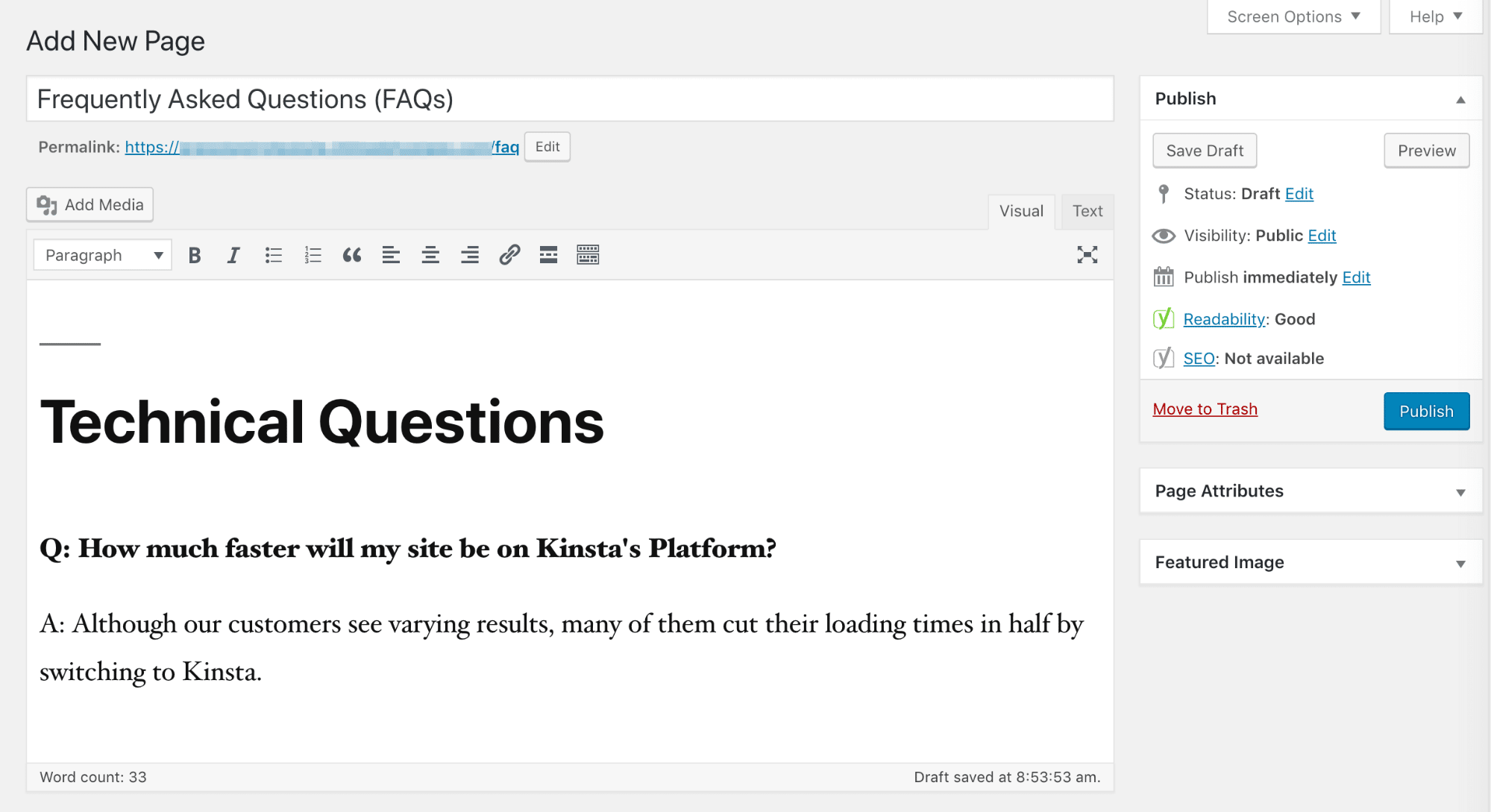 However, it is possible to improve this process using the Block Editor. There are several blocks that can help you achieve impressive layouts, including the Columns block: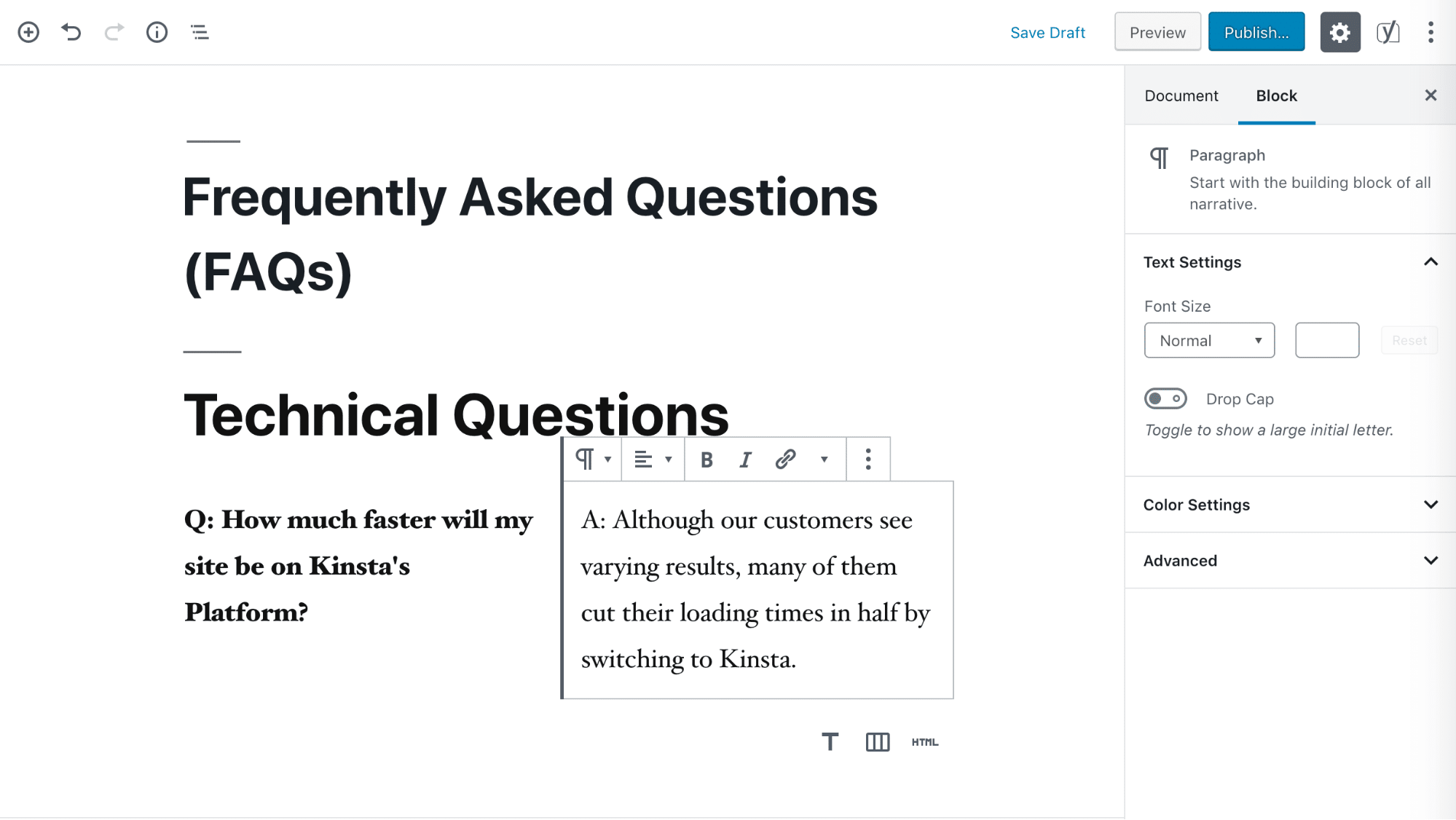 You might also consider using Quote, Table, or Media & Text blocks, in order to achieve a professional and readable FAQ page.
Summary
While providing support to customers is a smart way to retain them and even increase your revenue, you probably don't want to spend your whole day responding to questions. Setting up an FAQ section (or even better a Resource Center) on your WordPress site can help your customers solve their own problems.
WordPress FAQ plugins can make supporting your customers in this way a lot simpler. In addition to the many tools that can help you build a basic collapsible FAQ section, you can incorporate manuals and other documents with Knowledge Base for Documents and FAQs.
Make sure to check out our curated list of the best WordPress survey plugins.
Do you have any questions about setting up your WordPress FAQ page? Let us know in the comments section below!