Shopify Market Share and Usage Statistics in 2023
Global ecommerce had a record year in 2020: Closures and restrictions forced businesses to evolve and adopt an online model. Worldwide ecommerce sales in 2020 grew by 25.7% to $4.2 trillion and are expected to hit $5.5 trillion in 2022.
Put simply, there are plenty of ecommerce sales opportunities, and everyone wants a piece of this delicious pie.
The great thing about the ecommerce boom is that it's now simpler to start an ecommerce store. There are many different ways to do so. You can:
In this guide, we'll focus on Shopify. Shopify is an ecommerce solution that lets you start an online store in 10 minutes or less.
With Shopify, you can sell on:
Social media platforms like Facebook, Twitter, Instagram, Pinterest, TikTok, WhatsApp, and Messenger
Sales channels like Amazon Marketplace, eBay, Etsy, and Google Shopping
Your online and physical stores
Since its inception, Shopify's market share has continued to increase due to its simplicity, versatility, and ease of use. Let's dive into that and more.
Shopify Plans, Themes, and Apps
Part of what makes Shopify popular is its affordable subscription model.
When users subscribe to a plan, they get all the functionality they need to start an ecommerce store — without the need for coding know-how. Also, users can subscribe, upgrade, downgrade, and cancel their plans anytime they want.
Shopify's pricing plans start at $29/month for new and growing businesses, whereas established businesses can use dedicated plans starting at $2,000/month called Shopify Plus.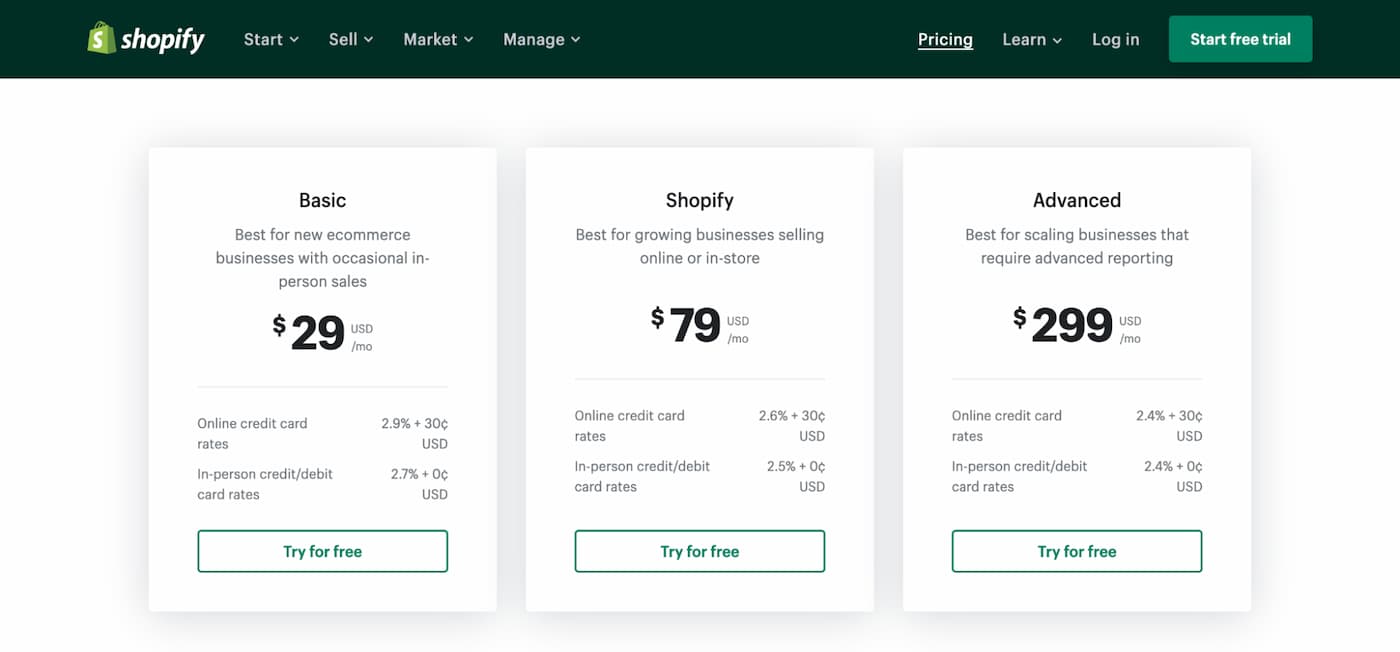 Another thing users like about Shopify is that you can customize your online store using apps and themes.
The Shopify App Store features 8,000+ apps. Product Reviews, Klaviyo, and Shopify Inbox are the top three apps store owners use, according to Store Leads.
On the other hand, the Shopify theme store has 90+ free and paid themes, which gives you plenty of choices.
Shopify: Popular Niches
Let's explore what's trending on Shopify.
According to the Store Leads App, popular niches on Shopify as of June 2022 include:
Apparel (28.1%)
Home and Garden (10.6%)
Beauty and Fitness (9.9%)
Audience Demographics
What about Shopify's demographics? Let's find out:
Almost 60% of Shopify's audience is male, while the rest is female.
One-third of Shopify's audience falls between the 25–34 age bracket demographic.
Shopify: Sales and Revenue
2021 was a fruitful year for Shopify.
Although Shopify surpassed $1 billion in gross merchandise volume (GMV) in 2013, it achieved its first billion-dollar revenue quarter in Q2 2021.
Shopify processed $175 billion in online sales in 2021 — 47% higher than in 2020. From those sales, Shopify earned a total revenue of $4.6 billion (57% higher than in 2020).
As per Shopify's financial reports for the first quarter of 2022:
Their total revenue grew to $1.2 billion, representing a two-year compound annual growth rate of 60%.
Monthly Recurring Revenue (MRR) was $105.2 million, representing a 17% increase year-over-year (YOY).
Shopify Plus contributed $31.8 million (or 30% of the MRR — up from 26% in 2021).
GMV was $43.2 billion, representing a two-year compound annual growth rate of 57% and an increase of $5.9 billion, or 16%, over Q1 2021.
Since most of Shopify's users come from the U.S., most of its revenue comes from the U.S. as well. Shopify generated $2.15 billion from sellers located in North America in 2020, totaling 73.3% of overall revenue.
User Revenue
Let's dive into what you can earn by opening a Shopify store:
Shopify store owners can make between $1,000 and $100,000 per month, depending on the traffic and the type of products they sell.
Shopify users can expect to earn an average of $72 per buyer. Low-earning stores have an average order value (AOV) of $44, while high-performing ones have an AOV of $149.
And you can further increase your profits by optimizing your store for upcoming mega sales:
Shopify merchants made $6.3 billion in global sales during 2021's Black Friday to Cyber Monday weekend, representing a 23% increase compared to 2020's Black Friday weekend.
Peak sales reached $3.1 million per minute on 2021's Black Friday.

Global AOV increased to $100.7, with consumers in Canada (115.14 CAD), Australia (158.80 AUD), and the U.S. ($96.60) spending the most on average.